Song and Dance Man
by Karen Ackerman
Caldecott Medal 1989


Ages 3–7
One afternoon a visit to the attic convinces Grandpa to recreate his vaudeville song and dance act for his three delighted grandchildren. The colorful illustrations capture the children's viewpoint of this delightful event.
---

All of Baby, Nose to Toes
by Victoria Adler, Hiroe Nakata
Ages Birth–2
While exploring a baby's anatomy, this delightful book featuring Adler's poems and Nakata's vivid watercolors celebrates both a baby's joy in exploration and the delight a baby brings to the whole family. This gleeful book would be a perfect new-baby present for any member of the family.
---

Little Santa
by Jon Agee
Ages 3–5
Mr. and Mrs. Claus live at the North Pole with their seven children: Larry, Mary, Willy, Millie, Joey, Zoe, and Santa. Life isn't easy, and it's only little Santa who truly enjoys living in the year-round snow. He even enjoys sliding down the sooty chimney. Finally the Claus family has had enough and decides to move to Florida. When a blizzard traps them inside the house, Santa calls on his new friends the flying reindeer and the elves to rescue his trapped family. Cleverly funny illustrations amplify the short text.
---
Fairy Tales for Mr. Barker: A Peek-Through Story
by Jessica Ahlberg
Ages 2–5
Lucy is reading a fairy tale to her dog Mr. Barker when he suddenly dashes out the window. Lucy follows him into a cottage with three bowls of porridge. Lucy knows just where they are, and the golden-haired girl follows them into the next fairy tale scene, adding characters as they go. Cut-out windows throughout the book add interest to this light-hearted romp through fairy tale land.
---

B Is for Brooklyn
by Selina Alko
Ages 2–6
This exuberant ABC book celebrates the New York City borough of Brooklyn. Bright gouache and collage illustrations present Brooklyn's rich ethnic, culinary, racial, and religious diversity.
---

All Things Bright and Beautiful
by Cecil F. Alexander, Ashley Bryan
Ages 2–5
Ashley Bryan's colorful illustrations celebrate the words of Cecil F. Alexander's 19th-century hymn. Using his mother's embroidery scissors, Bryan has created incredible cut-paper collages that are global in scope, featuring a full range of skin tones and animals from all over the world.
---

Thunder Boy Jr.
by Sherman Alexie, Yuyi Morales
Ages 3–6
Thunder Boy Smith, Jr. longs for a name of his own. Big Thunder, his father's nickname, sounds impressive, but Little Thunder, his own nickname, is less attractive. He goes on a search for the perfect name, considering powerful names like Not Afraid of Ten Thousand Teeth and Touch the Clouds. Finally his father helps him find the perfect name.
---

Itsy Mitsy Runs Away
by Elanna Allen
Ages 3–7
Itsy Mitsy has had it with bedtime, and sets off in her footed pajamas in search of the perfect place where there are no bedtimes ever. Dad helps out by suggesting things that Mitsy can't do without, beginning with her stuffed dinosaur and the contents of the refrigerator until she has packed her entire house, yard and all. This very funny book will become a bedtime favorite.
---

Counting Crows
by Kathi Appelt, Rob Dunlavey
Ages 3–7
Three inquisitive crows wearing red striped sweaters are hungry and head out to search for a snack. They snack from one to a dozen before being eyed by a hungry cat as a snack themselves. Delightful illustration accompany the clever rhymes.
---

Lost. Found.
by Marsha Diane Arnold, Matthew Cordell
Ages 3–6
The wind carries away a bear's soft red scarf (Lost) which is discovered by a pair of raccoons (Found). As the scarf changes hands from animal to animal, it serves various purposes: a game of tug-of-war, a trampoline, a turban. The text consists of only the two words "Lost. Found." while the illustrations add the entertainment.
---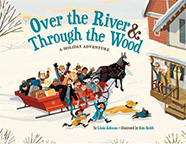 Over the River & Through the Wood: A Holiday Adventure
by Linda Ashman, Kim Smith
Ages 3–up
This modern take on the traditional song follows four diverse families as they head off from different parts of the United States for a holiday gathering at Grandma and Grampa's house. They travel individually via varied transportation modes until their paths cross near their final destination, when they are rescued by a horse drawn sleigh.
---

Rock-a-Bye Romp
by Linda Ashman, Simona Mulazzani
Ages 1–3
This beautifully illustrated read-aloud muses about why a cradle containing a baby would be so high in a tree. The baby has a wonderful adventure from the tree branches to a farm full of animals to a ride down a river and finally to the security of rocking in Mama's arms.
---
William's Winter Nap
by Linda Ashman, Chuck Groenink
Ages 3–6
William is just about to fall asleep snuggled into bed in his cozy log cabin when a chilly chipmunk taps on his window asking for shelter. William says there is plenty of room for two, and makes room for the chipmunk in his bed. More animals appear, each bigger than the last, until a huge bear arrives. Is there really still room to share?
---

Fifty Cents and a Dream: Young Booker T. Washington
by Jabari Asim, Bryan Collier
Ages 3–6
Born into slavery, young Booker T. Washington could only dream of learning to read and write. His youth after freedom was very hard, working in a salt furnace and a coal mine. The heart of this compelling picture book is Washington's 500 mile walk — tired, hungry, and alone — to finally attend school at Hampton Institute, the first step in his journey toward a college education.
---

In a Blue Room
by Jim Averbeck
Ages 3–7
Alice begs for everything blue as her mother tries to put her to bed in a room full of other colors. Turning out the light bathes Alice's room in the pale blue light of the moon and Alice's wishes all come true.
---

The Mitten
by Jim Aylesworth, Barbara McClintock
Ages 3–8
In this retelling of a folk tale, a young boy loses his red mitten while sledding. The mitten is found by a delighted squirrel who enjoys its cosiness until a first a rabbit, then a fox, and finally a bear beg to join in the warmth. McClintock's pen-and-ink illustrations illustrate the silliness in a wonderfully naturalistic way.
---
Pomelo Begins to Grow
by Ramonoa Badescu, Benjamin Chaud
Ages 4–7
As this endearing young elephant begins to grow, he worries that he won't grow equally all over and wonders what is happening to his insides. Pomelo expresses all the frets and fears that young children have yet rarely speak aloud. This reassuring book explores questions about growth with playful humor.
---

Pomelo Explores Color
by Ramona Badescu, Benjamin Chaud
Ages 3–up
The long-trunked Pomelo explores 12 colors in all their shades and nuances. Exploring colors both in the natural world and as a reflection of an emotional state, this beautiful book will appeal to both preschoolers and older children.
---
Before I Leave
by Jessixa Bagley
Ages 3–7
When Zelda, a tiny hedgehog, is told by her parents that they are moving, she tries to convince her parents to bring her best friend Aaron the anteater along. Accepting that they soon must part, the two spend their final time together playing all of their favorite games, hoping their friendship can survive the change.
---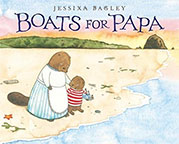 Boats for Papa
by Jessixa Bagley
Ages 3–7
Buckley is a small beaver who lives with his Mama and misses his Papa. Every day Buckley and Mama explore the shore near their home, and Buckley gathers materials to build miniature boats to sail out into the ocean with a loving note for Papa. "If they don't return," he tells his mother, "I'll know they reached Papa." Eventually Buckley realizes Mama has been gathering the boats as they return to shore. This simple book beautifully explores grief and longing.
---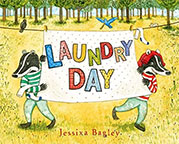 Laundry Day
by Jessixa Bagley
Ages 3–6
Young badgers Tic and Tac have exhausted all their toys and are bored, so their mother enlists their help to hang the family laundry on the clothesline while she runs an errand. Hanging the laundry turns out to be so much fun that the two brothers begin to hang up everything they can find, including the alarm clock, a bunch of carrots, a fishbowl, and everything else that isn't nailed down. This fun tale of badger mischief is perfect as a read-aloud or for beginning readers.
---

When Santa Was a Baby
by Linda Bailey, Geneviève Godbout
Ages 3–7
Santa's parents adore their baby son, despite his somewhat strange habits. He will only wear the color red, and insists on giving away all his birthday presents. He stands by the open refrigerator door enjoying the cool temperature, and trains his hamster to pull a tiny sled made out of a matchbox.
---

LMNO Peas
by Keith Baker
Ages 3–8
A hilarious group of alphabet peas romp through the alphabet, appropriated garbed to illustrate various jobs and occupations for each letter. Bouncy rhyming text accompanies each letter, presented as a large colorful shape surrounded by cheerful busy pea creatures. The book is a fun read-aloud, and young readers will want to spend time examining each page closely.
---

1-2-3 Peas
by Keith Baker
Ages 3–7
The lively peas from LMNO Peas return in this rhyming romp through the numbers. The engaging graphics encourage young readers to count by 1s and 10s to 100 and the funny visual quirks keep both children and adults involved.
---
The Bear in the Book
by Kate Banks, Georg Hallensleben
Ages 3–6

At bedtime a small boy chooses his favorite book for his mother to read to him. Looking over their shoulders, readers join in this special time between mother and child as they read about seasonal change, sleep cycles, and hibernation. Just as the bear wakes up in the spring, the boy drifts off to sleep. Beautifully soothing and engaging.
---

Time Out!
by Ale Barba
Ages 3–7
A small pig causes a mess skateboarding inside the house, and is sent to Time Out. Luckily his pet bird can keep him company and the pig draws a red spaceship to launch themselves into space. The parent's voice prompting "I hope you're really thinking about it!" goes unnoticed as the pig and bird arrive on the moon, a triumph of the power of imagination to transform the worst punishment into a magical experience.
---

Count the Monkeys
by Mac Barnett, Kevin Cornell
Ages 3–6
Instead of monkeys, young readers will enjoy counting the increasing number of predators that have frightened the monkeys away. The single cobra on the first page is fairly realistic, but the silliness mounts to ten polka-dotted rhinoceroses with bagpipes and bad breath. Bright illustrations match the fun of the humorous text.
---

Leo: A Ghost Story
by Mac Barnett, Christian Robinson
Ages 3–5
Leo is a ghost. When a new family moves into the empty house, he welcomes them with a tray of tea and toast. But the family is frightened and Leo is hurt by their fear. He leaves the house and meets Jane, a girl who is eager to have an imaginary friend to share adventures with.
---

All Fall Down
by Mary Brigid Barrett, LeUyen Pham
Ages 2–5
This exuberant book celebrates the universal desire of young children to build things up only to knock them down. The multicultural crew builds towers from toy blocks, piles up sticks and stones, mounds peas on top of mashed potatoes, and plays a rousing game of Ring Around the Rosie.
---

Big Snow
by Jonathan Bean
Ages 3–6
David helps his mother with holiday household chores, but everything makes him think of the "big snow" he is hoping for — flour, white sheets, soap suds. His mother insists on a nap, and David dreams that the snow invades their house, making a huge mess to be cleaned up. When his father comes home, the three bundle up to go outside and enjoy the real snow blanketing the world.
---

Dinosaur Thunder
by Marion Dane Bauer, Margaret Chodos-Irvine
Ages 3–5
Brannon is frightened of the thunder, and the adults try to ease his fears by comparing to something less scary, like cats purring or angels bowling in heaven. But it's big brother Chad who helps Brannon manage his fear by telling him the sound of the thunder is just the dinosaurs stomping around. Brannon knows dinosaurs, and comforts himself by naming and categorizing all the dinosaurs in his repertoire.
---

How Do I Love You?
by Marion Dane Bauer
Ages 3–5
This charming board book, inspired by the poem by Elizabeth Barrett Browning, compares a parent's love to the constant nature of the natural world. The beautifully simple illustrations complement the text perfectly.
---

Knock Knock: My Dad's Dream for Me
by Daniel Beaty
Ages 3–6
Every morning a young boy plays a game with his father who knocks on his bedroom door. The boy pretends to be still asleep until his father gets right to his bed when they share a hug. Then one day his father doesn't knock on his door and disappears. Eventually his father writes to him from prison, turning their knock knock game into a symbol of all the things that are possible for the child, as he knocks down the doors his father was not able to.
---

Where's My T·R·U·C·K?
by Karen Beaumont, David Catrow
Ages 3–5
Tommy has lost his favorite toy truck and is inconsolable, though his family tries everything. His brother and sister offer to play games with him, his parents offer other toys, but Tommy won't be distracted from the hunt for his truck. Finally he discovers the secret stash of Bowser, the family dog, and all is well.
---
King Jack and the Dragon
by Peter Bently, Helen Oxenbury
Ages 3–5
Jack and his friend Zack along with baby Casper build a fabulous fort from a cardboard box and an assortment of discarded materials. They spend a wonderful day defending the fort against a horde of imaginary creatures until Zack and Casper are summoned inside for bed. Alone in the fort, King Jack finds that defending the fort himself is a bit scary. This enchanting tribute to pretend play and the comfort of a parent's embrace is a kid-pleasing read-aloud.
---

Finding Spring
by Carin Berger
Ages 4–8
Maurice is a little bear cub anxious for spring, though not quite sure what it is. Though his mother explains that he must first hibernate through the winter, Maurice can't wait, and sneaks out of their warm den, enlisting his friends in the search for spring. He finally finds something bright and clean and light and fills his sack with the snowflakes he is sure is spring to share with his mother. Since she is fast asleep, Maurice joins her, and awakens months later to discover his sack is empty, but real spring awaits him.
---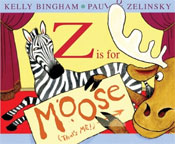 Z Is for Moose
by Kelly Bingham, Paul O. Zelinsky
Ages 3–7
The sensible Zebra tries to direct all of the animals to appear on the right page in the proper order at the correct time, but the irrepressible Moose, who is sure he owns the letter M, cannot contain his enthusiasm and impatience. He pushes Duck out of the way, annoys Elephant, and pops out of the pouch of a surprised Kangaroo. Young readers will revel in Moose's antics as he disrupts the usual calm alphabet procession.
---

I'm Bored
by Michael Ian Black, Debbie Ridpath Ohi
Ages 3–8
A little girl is overwhelmed by boredom when she encounters an equally bored potato, who declares that all children are boring. Our heroine can't let that insult go by and leaps into action, determined to prove that she at least is anything but boring. She plays games, does tricks, and uses her very fertile imagination to try and generate even a tiny spark of interest from the potato. The dry wit of the text is beautifully complemented by the minimalist illustrations.
---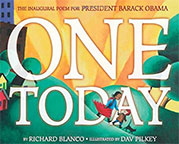 One Today
by Richard Blanco, Dav Pilkey
Ages 3–6
This poem was commissioned by President President Barack Obama to read at his second presidential inauguration. American themes from dawn to dusk are viewed through the eyes of a representative multi-racial city-dwelling family.
---

People
by Blexbolex
All Ages
People of all ages and from all walks of life are linked together in this creative book. A homeless person sleeping in a box is juxtaposed with a camper, a contortionist with a plumber striving to complete a job. Stunning 1960s style silk screen illustrations contrast different people in intriguing ways.
---

Seasons
by Blexbolex
Ages 4–up
This stunning picture book explores the cyclical nature of life by examining the seasons. Beautiful prints present simple yet detailed views of landscapes, objects, and people during different times of the year, encouraging readers to notice subtle details. As time passes and the seasons rotate, a sense of the permanence of the cycle of change is revealed.
---

Tap Tap Boom Boom
by Elizabeth Bluemle, G. Brian Karas
Ages 3–7
In this toe-tapping book a sudden thunderstorm makes friends of city strangers who race to the subway to get out of the rain. Jazzy rhythms and clever rhymes celebrate the unexpected moment of community.
---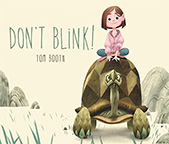 Don't Blink!
by Tom Booth
Ages 3–6
A small girl challenges the reader to a contest: the last to blink is the winner. A series of animals joins the girl in the contest, each reminded "Don't blink!" as they join in. This silly low-tech contest is great fun.
---

Happy Hippo, Angry Duck: A Book of Moods
by Sandra Boynton
Ages 1–4
The animals in this board book display a wide range of emotion in this hilarious look at feelings. Interactive text asks young readers if they are sad as a chicken or excited as a dog, introducing the concept of moods in a charmingly quirky and reassuring way.
---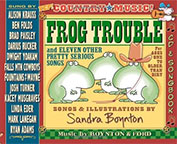 Frog Trouble: And Eleven Other Pretty Serious Songs
by Sandra Boynton
Ages 2–up
Boynton goes country in this toe-tapping CD and illustrated songbook designed with children and parents in mind. Boynton's humor and the talented country performers make a winning combination.
---

Counting
by DK Braille
Ages 2–5
The tactile spreads in this innovative book, designed specifically for blind or visually impaired readers, utilize different textures to explore counting techniques. Braille, large print, and high-contrast photographs take readers on a counting adventure in the park. Text alongside the Braille enables sighted and visually impaired family members to share the book together.
---

The Noisy Book
by Soledad Bravi
Ages 1-up
This 100+ page book is a celebration of sound for the very young. Each spread pairs a simple sentence (The fish go blub blub blub.) with a friendly cartoon heavily outlined in black. The thin glossy paper is sturdy enough to withstand many many readings.
---
Not Very Scary
by Carol Brendler, Greg Pizzoli
Ages 3–6
Melly is a green-skinned little monster who is usually very brave. On her way to cousin Malberta's house for a surprise, Melly encounters a coal-black cat, which she doesn't find very scary. But the two skittish ghosts she sees next make her a bit nervous, and the tongue twisting apparitions keep growing in number. Melly stoutly declares that each one is not scary, using a different adverb each time. This fun read-aloud is perfect for small children who prefer just a smidge of scariness.
---

Cinders: A Chicken Cinderella
by Jan Brett
Ages 3–up
The hen Largessa and her two daughters Pecky and Bossy are excited when the invitation arrives from Prince Cockerel to a feathered frolic. They don't even consider including poor Cinders. After they depart, a Silkie hen arrives to transform Cinders into the most beautiful pullet at the ball. Framed as a dream by an 18th century Russian girl, this re-imagined fairy tale is as elegant as it is enchanting.
---

The Easter Egg
by Jan Brett
Ages 3–5
All the rabbits in this charming book are busily decorating eggs, hoping to win the prize of being named the Easter Rabbit's helper. Hoppi would really like to win, but he is discouraged by the wonderful creations by the other rabbits. Then a robin's egg falls from the nest, and Hoppi is too busy keeping the egg safe and warm to worry about the contest. When the egg hatches, the Easter Rabbit rewards his kindness by choosing the discarded blue eggshell as the winning egg. This sweet story celebrating spring will enchant young readers.
---

The Turnip
by Jan Brett
Ages 3–5
A badger family discovers an enormous turnip growing in their back yard. As the first snow begins to fall, they try to pull it out of the ground to take home and cook for the winter. A hedgehog, a ram, and a horse are also unsuccessful in pulling up the giant vegetable. Then a boastful rooster pulls on the turnip and it flies into the air, kicked by a mother bear trying to make more room in her underground den. This funny retelling of a Russian folk tale will keep young readers laughing.
---

Marc Brown's Playtime Rhymes: A Treasury for Families to Learn and Play Together
by Marc Brown
Ages 3–6
Twenty action rhymes for children and adults to enjoy together are presented in this appealing book. Little drawings illustrate the hand and body motions to accompany each line of verse, offering multiple opportunites for parents and children to play together.
---
The Curious Garden
by Peter Brown
Ages 3–6
While exploring his city neighborhood, Liam notices some flowering plants by an old railway track. He teaches himself to care for the plants, and the energetic plants respond by spreading though the formerly bleak neighborhood. Increasingly vibrant illustrations capture the transformation of Liam's world.
---

Monkey: Not Ready for Kindergarten
by Marc Brown
Ages 3–7
It's only a week before Kindergarten begins, and Monkey is not ready. He worries about getting on the wrong bus, forgetting the middle of the alphabet, and not making friends. His family helps calm his nerves by playing school at home and meeting his new classmates in advance. The reassuring book is perfect for all kids worried about new school year transitions.
---

Mr. Tiger Goes Wild
by Peter Brown
Ages 3–6
Mr. Tiger lives in a polite and well-behaved world where animals wear proper outfits and stand upright. One day Mr. tiger grows tired of dainty tea parties and stiff clothing and decides to have fun. He drops to all fours, sheds his clothing, and goes wild! The message that it's OK to be different is delivered with humor and style in this delightful book.
---

One Gorilla: A Counting Book
by Anthony Browne
Ages 3–up
Beautifully detailed portraits of primates proceed through the counting sequence from one to ten, beginning with the larger rarer animals and moving on to groups of smaller primates. The book ends with a self-portrait of the author/artist and finally a group portrait of humans of various ages and ethnicities. The personality portrayed in each face throughout the book makes this counting book something special, encouraging readers to recognize kinship between the primates.
---

Grandma's Tiny House
by Janay Brown-Wood, Priscilla Burris
Ages 2–5
Grandma's family and friends fill her tiny house on Brown street. Aunts, uncles, nieces, nephews, grandkids, and neighbors arrive with treats for a family feast are counted in groups of 1 through 15. The little house is so full that no one can sit down to eat, but luckily one clever grandchild knows exactly how to solve the problem.
---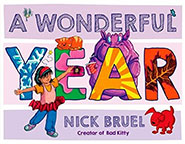 A Wonderful Year
by Nick Bruel
Ages 2–6
Four linked stories follow a young girl experiencing each of the four seasons. In winter, everyone and everything reminds her to dress warmly. In spring the girl and her dog try to involve the cat in a game of make-believe. In summer the girl literally melts in the heat and her purple hippo reconstructs her in the freezer, and in the fall the girl and a tree consider the ramifications of losing leaves. A nice balance between humor and reflection make this a perfect read-aloud.
---
A Christmas Goodnight
by Nola Buck, Sarah Jane Wright
Ages 2–5
This cozy book begins by saying good night in scenes at the birth of Jesus, and then moves to s snowy modern setting where a child settles down to sleep by the Nativity scene in his bedroom that includes figures from the earlier illustration. The soothing rhyming text and soft illustrations are perfect for calming excited children in the evenings before Christmas.
---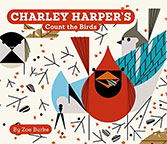 Charley Harper's Count the Birds
by Zoe Burke, Charley Harper
Ages Birth–5
Charley Harper's geometric stylized birds accompany rhyming text, counting from one bunting to ten baby quail. This stylish board book is the perfect gift for new parents.
---

Mouse & Lion
by Rand Burkert, Nancy Ekholm Burkert
All ages
This beautiful book is a retelling of Aesop's fable of the mouse who stumbles into a lion and pleads for his freedom, promising to help the lion if he is ever in need. Burkert's illustrations celebrate the beauty of the African savannah, often from a mouse point of view.
---

There's Going to Be a Baby
by John Burningham, Helen Oxenbury
Ages 2–6
When his mother tells a young boy that there will be a new baby in the family, he is consumed with curiosity. As the seasons change and his mother expands, they wonder together what the baby will do in each new scenario. Excitement and a bit of anxiety are perfectly presented in this gentle exploration of a firstborn's feelings.
---

Whose Tools?
by Toni Buzzeo, Jim Datz
Ages 2–4
This board book presents the building of house in the form of a guessing game. Starting at the bottom, six craftsmen (and women) and their 24 tools are revealed as the house is constructed. The masons, carpenters, roofers, etc. are portrayed in variety of skin tones in this delightful and accurately labeled book.
---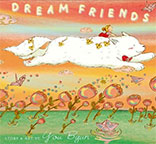 Dream Friends
by You Byun
Ages 3–5
Melody has a wonderful dream friend, a huge white cat who plays with her and shows her amazing things. Melody is lonely in her new home and would love to make a real friend, but she doesn't want to give up her marvelous dream friend. Different color palettes suffuse the beautiful illustrations depicting Melody's dream and real world in this enchanting bedtime book.
---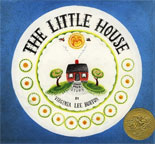 The Little House
by Virginia Lee Burton
Caldecott Medal 1943


Ages 3–6
The little house in the country was happy until the city grew large enough to surround her. Finally a woman rescues the house by moving it back to the country. The whimsical drawings are delightful.
---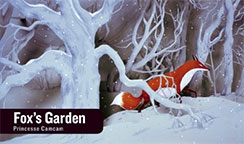 Fox's Garden
by Princesse Camcam
Ages 3–8
This wordless book skillfully tells the story of a fox who becomes disoriented in a village on a cold and snowy night. Chased by the villages, the fox hides in a greenhouse. A small boy brings the fox a basket of food and and discovers that the fox has just given birth to four tiny kits.
---

B Is for Box — The Happy Little Yellow Box: A Pop-Up Book
by David A. Carter
Ages 3–up
The Happy Little Yellow Box is back to help young readers explore the alphabet. Engaging elements like pull-tabs and pop-ups feature The Happy Little Yellow Box interacting with the the letters in creative contexts like a crawling caterpillar, a meteor flying over the moon, and a wintertime wink. (companion volume to The Happy Little Yellow Box: A Pop-Up Book of Opposites)
---

The Happy Little Yellow Box: A Pop-Up Book of Opposites
by David A. Carter
Ages 3–up
This engaging interactive book follows the happy little yellow box through and exploration of opposites. The box is transformed into a helicopter to demonstrate high and low, a truck to show in and out, and peeks out of windows to illustrate near and far.
---

If You're a Robot and You Know It
by David A. Carter
Ages 3–5
The cheerful robots in this adaptation of the classic song perform pop-up actions for each line of verse. Readers can pull tabs to help them raise hands, stomp feet, jump and beep. A free downloadable version of the song by Musical Robot will encourage everyone to sing along.
---

Yellow Square:

A Pop-up Book for Children of All Ages
by David A. Carter
Ages 3–up
A yellow square hides in plain sight, or within the paper engineering on each page, encouraging readers of all ages to explore the modern art inspired pages.
---

The Bear's Song
by Benjamin Chaud
Ages 3–5
Papa Bear is in pursuit of Little Bear who is chasing a bee in the hopes of finding some honey. The chase begins in their native forest, continues through the busy streets of a French city, and ends when Papa Bear takes a dive through the scenery at the opera house and lands in a chandelier onstage. Young readers will enjoy searching for the bear and the bee that appear in the oversized illustrations.
---

The Bear's Sea Escape
by Benjamin Chaud
Ages 3–5
The bears descend from their chilly home on top of the Paris Opera House and try to find a warm place to hibernate in a busy shopping center. Little Bear is mistaken for a stuffed toy and travels to a tropical island. Papa Bear sets off in pursuit, tracking Little Bear through busy streets, on a train and ship, and among the beach crowds and conga lines of the tropical island. Wonderfully detailed illustrations encourage young readers to seek-and-find story elements, including Waldo in a crowded city scene.
---

The Bear's Surprise
by Benjamin Chad
Ages 3–5
Hibernation is over and Little Bear is ready for a new adventure, but Papa Bear is nowhere to be found. Little Bear sets out to find him, moving via interactive cutouts into the forest, through a cave, and finally to a circus where Papa Bear is performing tricks on the high wire. (companion volume to The Bear's Song and The Bear's Sea Escape)
---

Job Site
by Nathan Clement
Ages 2–6
During a day on a construction site, the Boss orders the many vehicles, including a bulldozer, excavator, dump truck, crane, and loader, to perform the tasks needed to construct a community park. Bold and bright illustrations convey the size and power of the machines.
---

Rory the Dinosaur: Me and My Dad
by Liz Climo
Ages 3–6
Rory is an energetic little dinosaur who lives on an island with his father. When his father needs a break one day, Rory sets out on his own to find adventures, unaware that his loving father is always close by, ensuring his son's safety while allowing him to enjoy his independence.
---

Hippopposites
by Janik Coat
Ages 1–4
This clever book uses a simplified red hippopotamus to illustrate antonyms like thick and thin, light and dark, clear and blurry, small and large, soft and rough. The cheerful hippo is a charming device to introduce the concept of opposites.
---

Rhymoceros
by Janik Coat
Ages 2–4

The silhouette of a blue rhinoceros demonstrates 16 pairs o rhyming words in this stylish and clever book. The striking illustrations for the rhyme pairs are simple yet effective: sad/glad, alone/on the phone, stinky/inky, shade/lemonade. This high quality board book introducing a key concept is a perfect gift book.
---

The Big Book for Little Hands
by Marie-Pascale Cocagne
Ages 3–6
This engaging activity book reinforces educational concepts as young artists color and complete the illustrations.
---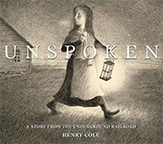 Unspoken: A Story From the Underground Railroad
by Henry Cole
Ages 3–7
This wordless book presents the story of a young girl who discovers a runaway slave on her family's farm. At first frightened, the girl begins bringing food to barn. Beautiful pencil drawings tell this story of quiet courage and compassion.
---

There's a Bear on My Chair
by Ross Collins
Ages 2–5
A huge polar bear settles onto Mouse's favorite chair, ignoring Mouse's efforts to tempt or scare the Bear off the chair. finally Mouse gives up and leaves so Bear goes home, only to found that Mouse has moved into Bear's igloo. Expressive illustrations highlight the silly fun in this hilarious read-aloud.
---
8: An Animal Alphabet
by Elisha Cooper
Ages 3–7
On each of the 26 pages devoted to a letter of the alphabet, young readers are invited to find eight of a certain animal whose name begins with that hidden among other animals sharing the same initial letter. Some letters are easy (there are only eight xeruses on the X page) while others are packed with animals. The names of the featured animals run along the bottom of the page, and a closing list offers interesting facts about the more than 150 animals that appear in the book.
---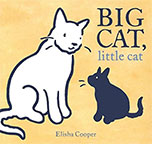 Big Cat, Little Cat
by Elisha Cooper
Ages 3–6
There was once a big white cat that lived alone until a little black kitten arrived. The big cat helps the little cat learn to use the litter box, and shows it where to eat and sleep. The little cat grows and the two are happy together until one day the big cat goes away and doesn't come back. The grief of the human family is simply portrayed. The big black cat lives alone until one day a little white kitten arrives. This quiet story of the circle of life is perfect for little ones.
---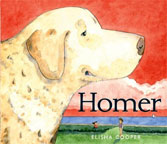 Homer
by Elisha Cooper
Ages 3–8
Family members at a beach house one-by-one ask their dog Homer to join them in an activity. But Homer is content to watch them from the porch. As each returns to the house, they share their discoveries with Homer. This gentle portrait of a loving family and a dog who is content just to be part of the family will resonate with dog lovers of all ages.
---

My First Baby Signs
by Phil Conigliaro and Tae Won Yu
Birth–2
By about six months of age babies know what they want, but dont have the words yet. Pull tabs in this clever book animate the hands of eight babies to demonstrate essential American Sign Language words: milk, eat, more, all done, thank you, help, bath, bed. Parents and preverbal babies will enjoy exploring this interactive and useful book together.
---

Animals Hide and Sneak
by Bastien Contraire
Ages 1–3
This stylish board book presents a series of groups of animals where "One if these things is almost like the others." Young children will have fun spotting the odd one out, and considering why the out-of-place thing is there.
---

Undercover: One of These Things is Almost Like The Others
by Bastien Contraire
Ages 3–6
In this clever book, 64 collections of similar objects rendered in green and fuschia challenge the reader to select the different object hiding in plain sight. Young readers will enjoy closely examining the spreads to find the one thing that does not fit (an egg hiding among a page of birds, an airplane hidden among insects). This wordless book will encourage conversation about form and classification.
---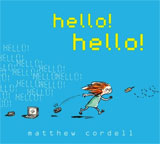 hello! hello!
by Matthew Cordell
Ages 2–6
Lydia's family is too busy with their electronic gadgets to pay attention to anything else. When Lydia tries to attract their attention (hello! hello!), her father answers absently while texting, her mother replies while continuing to focus on her laptop, and her brother doesn't even look up from his video game. The restless Lydia leaves her family, drawn in shades of gray, inside and discovers a whole world in living color outside. Her vibrant adventure is interrupted by the ringing of her cell phone, but luckily she is able to entice her family outside to share the glorious liberation of a gadget free outdoors.
---

Deep in the Woods
by Christopher Corr
Ages 3–6
Deep in the woods a mouse discovers a wonderful little house with nine windows and a red front door. The mouse moves in and wen other animals and birds pass by he invites them to move in. All is well until a gigantic bear appears and destroys the roof. Everyone, including the bear, join together to repair the house. This modern retelling of the classic Russian folktale celebrating of friendly cooperation is beautifully illustrated.
---

Dancing Feet!
by Lindsey Craig, Marc Brown
Ages 1–5
The bouncy rhyming text full of made-up sound words has an addictive beat and a guessing element just easy enough for preschoolers to anticipate. Celebrating movement and sound, the guessing-game story hints at the identity of each creature whose footprints vanish off the page. Marc Brown's collage illustrations are full of simple shapes for kids to find and name. This book is a natural for reading aloud, with lots of noisy help from the audience.
---

Click, Clack, Boo!: A Tricky Treat
by Doreen Cronin, Betsy Lewin
Ages 3–7
Halloween is Farmer Brown's least favorite holiday. So he puts a bowl of candy on the porch, hangs a Do Not Disturb sign, and locks the door. But the animals have other plans and replace his sign with another that reads: Halloween Party at the Barn! This Halloween read-aloud is just scary enough to delight young readers.
---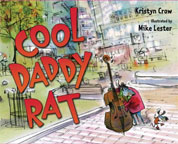 Cool Daddy Rat
by Kristyn Crow
Ages 3–up
Bass player Cool Daddy Rat heads out to perfrom in the big city and his son Ace comes along in this tribute to jazz. Scat lines are delicious to read aloud.
---
Mine!
by Shutta Crum, Patrice Barton
Ages 1–4
A toddler, a baby, and a dog interact in a room full of toys. The toddler grabs everything in sight, declaring "Mine!" with each new acquisition while the enthralled baby watches with glee. When the baby finally holds up the one object the toddler failed to capture, the older child immediately releases everything else to grab it. The discovery of the dog's water dish enables a hilarious finale. This one word book is a winner.
---
Nighttime Ninja
by Barbara DaCosta, Ed Young
Ages 3–6
In the dark of the night, the silhouette of a nighttime ninja steals through a silent house on a mysterious mission. Suddenly a large mother-shaped shadow flicks on the lights, revealing a small boy sneaking into the kitchen for a midnight ice cream snack. This beautifully illustrated picture book is the perfect mix of humor and suspense.
---

What Is This?
by Antje Damm
Ages 2–5
This clever book asks young readers to imagine what everyday objects can become with a few additions. Prompted by the lively text written in an appropriate media for each object, buttons become pig noses and a hose becomes a snake, encouraging children to look at familiar things in new ways.
---

I Love You, Nose! I Love You, Toes!
by Linda Davick
Ages 2–7
Cheerful rhyming text and active children of all races present the human body from head to toe. Young listeners and readers will enjoy this frank and friendly celebration of all the parts of their bodies they are so curious about.
---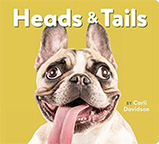 Heads & Tails
by Carli Davidson
Ages 1–3
Animal expert and photographer Caril Davidson uses close-up photos of dogs and puppies to introduce the names of various body parts. Each close-up is paired with a picture of the entire animal that lets young readers see the body part in context.
---
Outside Your Window: A First Book of Nature
by Nicola Davies, Mark Hearld
Ages 3–up
Evocative poetry and mixed media illustrations encourage children to explore the natural world. Divided into seasons, this beautiful book captures the sights and sounds of children interacting with nature, reminding readers that the natural world is waiting to be discovered right outside your door.
---

The Day the Crayons Quit
by Drew Daywalt, Oliver Jeffers
Ages 3–7
Duncan just wants to color, but when he opens his box of crayons all he finds is a pile of letters. Black is tired of just being used only for outlining, Beige is fed-up with being second-choice to Brown, and Gray feels over-used after Duncan colored an elephant, hippo, and rhino. This humorous book will appeal to all young artists.
---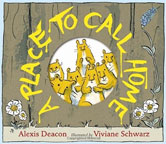 A Place to Call Home
by Alexis Deacon, Viviane Schwarz
Ages 3–8
A band of hamster-like brothers outgrow their birthplace and head off on a grand adventure to find a place to call home. Timid and frightened at first, they don a variety of outrageous headgear and bravely blunder through a variety of obstacles, never losing sight of their goal. Hilarious physical comedy will have young readers clamoring for a another reading.
---

Prickly Jenny
by Sibylle Delacroix
Ages 3–7
Jenny is a prickly child who is rarely satisfied. She doesn't want to wear her new dress, or take a nap, or go to the fair, or do just about anything that anyone wants her to do. She wants to be alone, but doesn't want her mother to leave. Jenny's grumpiness is irresistible, and the reader is assured that Jenny just needs love and time and space to grow at her own pace. "Tomorrow when she's bigger it will get better."
---
Last Stop on Market Street
by Matt de la Peña, Christian Robinson
Ages 3–5
Every Sunday CJ and his Nana ride the Market Street bus to the end of the line after church. One day CJ wonders why he doesn't have the things other kids have. Why do they ride a bus instead of having a car? Why doesn't he have an iPod? His grandmother answers each question by pointing out the richness of his environment. The bus driver is their friend and does tricks for CJ. A passenger on the bus plays his guitar, surrounding CJ and the rest of the passengers with live music. Nana's ability to find beauty and pleasure where most folks don't think to look inspires CJ, and when they reach the soup kitchen CJ is glad they came.
---

The Cake
by Dorothée De Monfreid
Ages 2–up
Tiger suggests to his friends that they make a cake. Everyone agrees that making a cake is a great idea, but deciding on a flavor is difficult. Tiger wants chocolate, Rabbit prefers carrot, Bear likes fish, Monkey insists on banana, and Dog won't settle for anything except bone.
---

Shhh! I'm Sleeping
by Dorothée De Monfreid
Ages 2–5
The eight dogs arranged two to a bunk are sound asleep when Popov's snoring wakes Nono up. He climbs up to the next bunk to ask Misha for a story, which wakes up Pedro. The other dogs all eventually wake up, trading toys and glasses of water until they are all crammed into a single bunk. This funny book will quickly become a bedtime favorite.
---
Naptime
by Iris De Moüy
Ages 2–5
The thirteen jungle animals in this delightful picture book insist each and every one that they are totally uninterested in taking a nap. Each animal has a different reason (too big, too busy, too tall) but the little girl persuades the animals to close just one eye, and then the other, and that's all it takes for naptime!
---
Opposites
by Xavier Deneux
Ages 3–up
This clever multi-sensory board book pairs glued-on cardboard pieces on the left page with recessed shapes on the right. A kitten on the top of a ladder on the left illustrates "high" while a mole peering out of a hole on the right represents "low." Other opposites include caged/free, inside/outside, day/night. Young children will enjoy touching the shapes while learning how things relate to each other. (first in the TouchThinkLearn series)
---
Jack
by Tomie dePaola
Ages 3–5
Young Jack tells his grandfather that he would like to see the world, make new friends, and live in a house in the city. His grandfather encourages him to go to the city and ask the king for a house. Along the way Jack collects a cheerful and noisy bunch of animal friends. Luckily the king provides a house big enough for them all.
---

May I Bring a Friend?
text by Beatrice Schenk de Regniers, illustrations by Beni Montresor
Caldecott Medal 1965


Ages 3–8
The King and Queen are always gracious, even when their guest brings along a wild animal or several. The richly colored illustrations show the well-behaved animals causing unintentional havoc in the palace.
---

Llama Llama Time to Share
by Anna Dewdney
Ages 3–up
Llama Llama's sharing skills are put to the test when Nelly Gnu comes over for a playdate. He's willing to share his blocks and make a castle with Nelly, but Fuzzy Llama is definitely off limits. This humorous book is perfect for reading aloud to any child who need a little encouragement sharing.
---

If Kids Ran the World
by Leo & Diane Dillon
All ages
This final collaboration before Leo's death in 2012 presents an optimistic view of a kinder and better world run by children. The multi-ethnic children declare that they would take care of the important things first, like making sure that everyone has enough food and a safe place to live, stressing that friendship, kindness, and generosity would be valued more than wealth if they ran the world.
---
Clink
by Kelly DiPucchio, Matthew Myers
Ages 4–7
At one time Clink was the most advanced robot available with his ability to make toast and play music at the same time. But the newer robots in the toy store have more advanced talents, like helping with homework and making cookies. No one wants to buy poor Clink until Milton appears, a boy who loves toast and dancing. The charming Clink will appeal to boys and girls alike.
---

Littles: And How They Grow
by Kelly Dipucchio, AG Ford
Ages 3–7
This celebration of early childhood follows multicultural children from giggling babies through toddler-hood and ready to start school. The rhyming text and adorable illustrations make this a perfect gift for soon-to-be older siblings and expectant parents alike.
---

Pablo & Jane and the Hot Air Contraption
by Jose Domingo
Ages 5–7
Pablo and Jane are bored and decide to explore the castle on the hill, where they meet the mouse inventor Dr. Jules who takes them on a journey in his time machine. The evil cat Dr. Felinibus destroys the time machine, scattering pieces all through an alternative world full of monsters. This blend of graphic novel and seek-and-find book is very entertaining.
---

The Giant Jumperee
by Julia Donaldson, Helen Oxenbury
Ages 3–5
Rabbit returns home to hear a loud voice coming from inside his burrow, "I'm the Giant Jumperee and I'm as scary as can be!" Rabbit's friends come to help but Cat, Bear, and Elephant are all frightened by the Giant's Jumperee's threats. Finally Mama Frog saves the day.
---

What the Ladybug Heard
by Julia Donaldson, Lydia Monks
Ages 2–6
All the animals in this colorful barnyard have plenty to say, except the silent ladybug, until she overhears a plot to steal the prize cow. The clever ladybug comes up with a plan to foil the robbers and save the cow, instructing each animal to mimic the sound of another animal. The lilting rhyming text and exuberant illustrations invite young listeners to join in the chorus.
---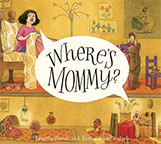 Where's Mommy?
by Beverly Donofrio, Barbara McClintock
Ages 3–7
Maria and her friend Mouse Mouse are best friends but Maria worries her family will get rid of the mice family if they find out. One evening both Maria and Mouse Mouse are surprised that their mothers are gone. They search through the house and finally notice a light in the shed. (follow-up to Mary and the Mouse, The Mouse and Mary)
---
Bear Despair
by Gaëtan Dorémus
Ages 4–7
A blue bear sleeps peacefully in the forest, cuddling his adored teddy bear. When a wolf steals the teddy bear, the bear chases him down and swallows the wolf, but not before he tosses the teddy bear on. The bear's stomach becomes larger and larger as he takes revenge on one animal after another in this wordless tale of childhood passion, frustration, and rage.
---

What Can a Crane Pick Up?
by Rebecca Kai Dotlich, Mike Lowery
Ages 1–4
This exuberant book celebrates the crane in rollicking rhyme and whimsical illustrations. Young fans of construction machines will be enthralled.
---

All the Awake Animals Are Almost Asleep
by Crescent Dragonwagon, David McPhail
Ages 3–6
A mother tries to lull her small son to sleep by describing creatures from A through Z who find sleep a welcome end to the day in unique alliterative ways. Soothing watercolors illustrate the weary animals dropping off to sleep.
---

Animal Masquerade
by Marianne Dubuc
Ages 3–7
A lion sees an invitation to a costume party and soon emerges on the next page in an obviously home-made elephant costume. The real elephant decides to disguise himself as a parrot who darts away to don his own costume. Each turn of the page reveals a new creatively silly costume in this delightful book.
---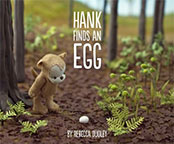 Hank Finds an Egg
by Rebecca Dudley
Ages 3–up
This wordless book presents the story of Hank, a forest creature, who finds an egg that has fallen from a nest in a tree. The branch with the nest is far over Hank's head, so he must use all his ingenuity to safely restore the egg. The photographs of Hank and the hand-cut and posed forest add a touch of realism to his sweet tale.
---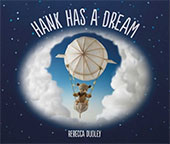 Hank Has a Dream
by Rebecca Dudley
Ages 3–8
Hank, a small stuffed animal who lives in a forest, has an amazing dream about flying that he shares with his hummingbird friend. Side by side diorama photographs contrast the real actions of Hank with the magical mirror events from his dream.
---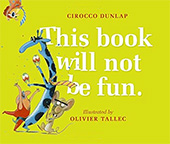 This Book Will Not Be Fun
by Cirocco Dunlap, Olivier Tallec
Ages 3–7
A pompous little mouse assures the reader that this book will be completely boring with not a bit of fun. Interruptions like flying whales cause the mouse to temporarily lose control, but he manages to retain his serious demeanor until the infectious rhythm of the band at the giant zero-gravity dance party is simply impossible to resist.
---
A Christmas Tree for Pyn
by Olivier Dunrea
Ages 3–8
With quiet persistence, young Pyn convinces her mountain man father that they really do need a real Christmas tree. The rustic details of tree stump beds and a stone hearth suggest a historical story land, while the celebration of the warm relationship between father and daughter is timeless.
---

Little Cub
by Olivier Dunrea
Ages 3–up
When Old Bear finds Little Cub all alone and afraid of the dark, he has no choice but to take care of the little one and help him get over his fears. In this prequel to Old Bear and His Cub, the two meet for the first time and gradually grow into a loving family of two.

---

Boy and Bot
by Ame Dyckman, Dan Yaccarino
Ages 1–4
When a boy and a robot meet in the woods the form an instant friendship. When a rock accidentally turns off Bot's power switch, Boy thinks he is sick and takes him home, feeds him applesauce, reads him a story, and tucks him into bed for the night. When Bot switches back on in the middle of the night, he finds Boy sleeping and tries to revive him by giving him oil, reading him an instruction manual, and bringing him a spare battery. Bright illustrations accompany this humorous tale of friendship.
---

Horrible Bear!
by Ame Dyckman, Zachariah OHora
Ages 3–6
When a bear accidentally crushes the kite belonging to a small girl, she is furious and calls him a Horrible Bear. The bear is angry to be unfairly blamed for an accident and plots revenge on the girl. As he arrives at the girl's house, she has just accidently damaged another toy and realizes the kite incident was also an accident. When she apologizes to the bear, all the horrible goes right out of him. This funny book illustrates the way anger causes unforeseen problems.
---

Wolfie the Bunny
by Ame Dyckman, Zachariah OHora
Ages 3–6
When the Bunny family finds a wolf cub in a basket on their doorstep they are delighted. Or at least Papa and Mama are; Dot is worried that the wolf will eat them all up. Wolfie loves carrots, and Dot is sent to the store with the new baby to buy some more. She keeps a close eye on Wolfie in case he shows signs of eating her, but instead a bear at the market decides Wolfie would make a delicious snack. Dot frightens the bear with her tough talk, and the two siblings walk happily home from the market hand-in-hand. Young children will love the endearing Wolfie in his bunny outfit while adults will appreciated the gentle mockery of the hipster Bunny parents.
---

Tea Party Rules
by Ame Dyckman, K.G. Campbell
Ages 3–5
A bear cub discovers a back yard tea party complete with cookies. Before he can begin eating, a small girl appears and explains the Tea Party Rules to the Cub pretending to be her teddy bear: the Cub must have a bath, style his hair, and wear a pink dress before daintily eating the cookies. This sly battle of wills is hilarious.
---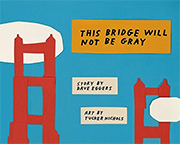 This Bridge Will Not Be Gray
by Dave Eggers, Tucker Nichols
Ages 3–up
Why is the Golden Gate Bridge orange? Most people wanted a typical gray bridge, the Navy wanted black and yellow stripes, but Irving Morrow was determined that the anti-rust paint would be a vivid orange. The story of the iconic bridge is told with humor and flair.
---
Itsy Bitsy Spider
by Richard Egielski
Ages 3–6
This engaging pop-up book sets the familiar nursery rhyme in a town built of tin cans, salt shakers, and teapots and inhabited by a well-dressed cast of insects. The spider boy wearing many-legged overalls disappears up the waterspout and then reappears in a tumble of water.
---
Finn Throws a Fit
by David Elliott, Timothy Basil Ering
Ages 2–5
Finn usually likes peaches, but today the toddler doesn't like anything. His parents try to placate him, but nothing works and Finn's raucous and hilarious tantrum sweeps through the house. Young readers will love the clever text and wild illustrations.
---

Beach Baby
by Laurie Elmquist, Elly MacKay
Ages Birth–3
A mother cradling a sleepy toddler at the beach promises that "everything will be here when you wake." The litany of common beach objects that follow — starfish, sand dollar, seal, sand piper — lull the baby to sleep. The beautifully lit diorama illustrations and restful text reassure young readers drifting off to sleep that everything will be waiting when they wake up.
---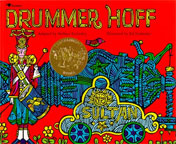 Drummer Hoff
illustrations by Ed Emberley, text by Barbara Emberley
Caldecott Medal 1968


Ages 3–8
Seven soldiers build an incredible cannon which Drummer Hoff sets off. The cumulative rhymes and repetition in the text encourage young children to "read along" while admiring the brightly-colored woodcut illustrations.
---

The Almost Fearless Hamilton Squidlegger
by Timothy Basil Ering
Ages 3–7
Hamilton Squidlegger is almost fearless. During the day he enjoys adventures in the swamp wielding his sword. But at night he quakes in terror, fearful of all the frackensnappers, skelecragons, and bracklesneeds that he conquers during the day. His father bribes him with a double-decker grasshopper worm-cake, with snake-belly frosting for breakfast if the youngster manages to stay in his own bed for the entire night.
---

The Christmas Wish
by Lori Evert, Per Breiehagen
Ages 3–7
This tale set in the far north follows Anja as she sets out on skis to find Santa Claus before Christmas. Anja is helped by several animals along the way, including a polar bear who carries her on his back to the North Pole. Beautiful digitally altered photographs of the authors' daughter illustrate this magical tale.
---
Olivia Goes to Venice
by Ian Falconer
Ages 3–8
The irrepressible piglet is back, this time on a family vacation in Venice. Against a background of beautiful photographs, Olivia survives an attack of pigeons at the Piazza San Marco, barely stays afloat on a gondola, and eats many servings of gelato. A favorite since her first appearance in Olivia, this hilarious entry in the series is sure to delight both children and adults.
---

Olivia and the Fairy Princesses
by Ian Falconer
Ages 3–7
When Olivia decides she is having an identity crisis and can't decide what to be, her father reassures her that she will always be his little princess. But Olivia isn't thrilled about joining the hordes of tiny ruffly sparkling princesses, and searches for a way to express her own individuality. Olivia's stubborn attempts to stand out in the wand-waving crowd will enchant young readers while amusing parents trying to resist the pink princess mania.
---

Rupert Can Dance
by Jules Feiffer
Ages 3–6
Rupert is a cat who loves to watch his owner Mandy dance during the day. At night, Rupert secretly slips on her dancing shoes and dances in the dark. One night Mandy wakes up and spots Rupert dancing. She is thrilled and decides to teach him some new steps. But Rupert is unhappy that his secret has been discovered and hides under the bed. Mandy understands and cleverly lures Rupert out into the open so that they can enjoy dancing together.
---

No Go Sleep!
by Kate Feiffer, Jules Feiffer
Ages 3–7
Despite his parents' attempts, this stubborn baby refuses to go to sleep. The setting sun, rising moon, bunnies, owls, and even a car on the street add to the calming chorus of gentle cajoling to soothe the wide-awake baby. The lulling tone and gentle humor make this a perfect bedtime book.
---

Peekaboo
by Giuliano Ferri
Ages Birth–3
This interactive board book encourages young readers to play peekaboo with a series of engaging animals including a fox, a bear, a porcupine, an owl, and finally a mirror revealing the reader.
---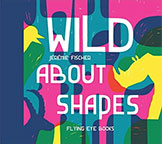 Wild About Shapes
by Jérémie Fischer
Ages 3–7
Alternating acetate pages printed with pink, teal, and yellow abstract shapes transform the abstract paper screen prints into animals in this creative spiral bound book. The simple interactivity will captivate young readers.
---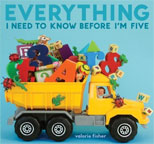 Everything I Need to Know Before I'm Five
by Valorie Fisher
Ages 1–5
Multimedia collages constructed from toys and yard sale treasures illustrate concepts for preschoolers. The retro toys make it fun to learn about letters, numbers, opposites, shapes, and the seasons. Parents and young children will enjoy exploring this book together.
---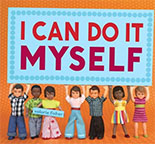 I Can Do It Myself
by Valorie Fisher
Ages 3–7
This upbeat guide presents pointers for young children determined to achieve important milestones of early childhood. Close up photographs of children and plastic toys illustrate tasks like learning to hold a pencil properly (both right and left-handed), brushing teeth, making the bed, writing letters and numbers, getting dressed, and much more.
---

Night Sky Wheel Ride
by Sheree Fitch, Yayo
Ages 3–6
This imaginative book encourages children to embrace new experiences while celebrating a carnival Ferris wheel ride. Brilliantly colored illustrations accompany the poetic text. Even the simplest things become extraordinary during this satisfying book.
---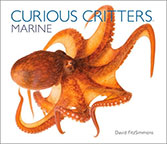 Curious Critters: Marine
by David Fitzsimmons
Ages 3–up
Twenty unusual marine creatures are presented in this accessible book. First-person narration from each creature in the form of poems, songs, monologues, and comedy routines is paired with incredibly detailed photographs. The end of the book includes more details about each marine dweller as well as an identification game using silhouettes.
---

Oh, No!
by Candace Fleming, Eric Rohmann
Ages 3–7
Jungle animals tumble one after another into a deep dark pit. Young children will enjoy chanting the refrain, "Oh, No!" in this lively read-aloud as each animal somersaults into the pit. Rich wood-block styled prints provide a dignified background to the humorous text full of descriptive sound words.
---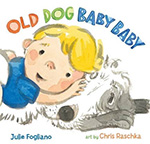 Old Dog Baby Baby
by Julie Fogliano, Chris Raschka
Ages 2–6
The old dog would prefer to sleep in the sun on the kitchen floor, but the little baby crawls in and disturbs his peace. Finally the two settle down for a nap together as an older sibling looks at photos of the old dog as a young puppy, a subtle comment on the inevitability of the passage of time.
---

When's My Birthday?
by Julie Fogliano, Christian Robinson
Ages 3–6
The excited anticipation of an upcoming birthday by young children is perfectly captured in this exuberant book featuring fun collage illustrations.
---

Jane Foster's 123
by Jane Foster
Ages Birth–3
This beautifully illustrated board book presents the numbers from one through ten with bold patterns of polka-dots, checks, and stripes. After introducing each number, the illustrations are grouped together in rows for easy size comparison and then counted down with a rocket blast off.
---
Hello Baby!
by Mem Fox, Steve Jenkins
Ages 3–5
After a series of playful questions about animals, the baby discovers that a baby is the perfect answer. Steve Jenkins's cut-paper illustrations bring the various animals to life in this appealing book.
---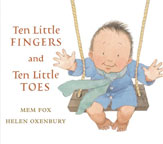 Ten Little Fingers and Ten Little Toes
by Mem Fox, Helen Oxenbury
Ages 3–5
The rhythmic rhyming text in this picture book for very young children is addictive. Adorable multicultural babies are added with each new stanza.
---
Cityblock
by Christopher Franceschelli, Peskimo
Ages 3–5
A grandfather and two children explore the city using various transportation modes. Clever die cuts in this interactive board book encourage young readers to guess what is hidden: a pair of chopsticks reveals a Japanese restaurant, a soccer ball opens to a stadium.
---

Dinoblock
by Christopher Franceschelli, Peskimo
Ages 1–4
The thick pages of this board book are cut into the unique silhouettes of more than 20 different kinds of dinosaurs. Young children will enjoy exploring the shapes of the different dinosaurs as they listen to a short description and learn its name. "I stretch high like the ladder on a fire truck. I am a Brachiosaurus."
---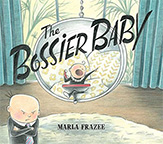 The Bossier Baby
by Marla Frazee
Ages 3–8
The Boss Baby is in for a shock when his new sister comes home from the hospital. Clad in a black onsie with chewable pearls and carrying an Etch-a-Sketch like a computer tablet, the Bossier Baby is even more demanding than her older brother, who has been demoted from Boss Baby to Staff.
---
Hide-and-Squeak
by Heather Vogel Frederick, C.F. Payne
Ages 3–6
A mouse baby starts a wild game of hide-and-squeak with his father in order to put off bedtime as long as possible. His willing father eventually manages to curb his son's rollicking energy and sweeps him off to bed. Warm and detailed drawings complement the rhyming text.
---
By Mouse and Frog
by Deborah Freedman
Ages 3–5
Careful, tidy Mouse is creating a quiet domestic story about a little mouse having a tea party, when his enthusiastic friend Frog jumps in with exciting ideas about dragons and ice cream. The tale gets wilder and wilder until the overwhelmed Mouse shouts, "Stop!" Frog begins to erase his creations, but Mouse offers a compromise and the two begin to collaborate.
---
Step Gently Out
by Helen Frost
Ages 2–5
Stunning close-up photography illustrates this poem capturing the world from an insect's point of view, encouraging young children to experience the natural world with care for the small insect worlds that surround them. Endnotes include more details about the 11 featured insects.
---
Sweep Up the Sun
by Helen Frost, Rick Lieder
Ages 2–5
The motivational poem is illustrated with photographs of 11 different birds captured in flight or at rest. The message of trusting one's ability to thrive in the world is effective for both young readers and graduates.
---
My New Mom & Me
by Renata Galindo
Ages 3–7
This reassuring story of adoption is narrated by a small yellow puppy adopted by a large striped cat. The puppy is worried that they don't look alike, but the cat says she likes that they look different, and soon the puppy likes it too, and stops worrying about what everyone else might think. The puppy's new mother does all the things that other moms do, playing with, caring for, and even making her new child mad. The most important thing is that she always knows what to say when the puppy is sad as the two work together to learn how to be a family. The cross-species adoption illustration highlight the message that adopted families don't necessarily look alike, but are loving families just the same.
---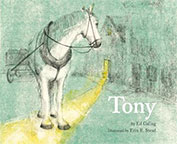 Tony
by Ed Galing, Erin E. Stead
Ages 3–6
In the days before delivery trucks, milk and eggs were delivered to American homes by horse and wagon. Poet Ed Galing pays homage to the horse he loved as a boy, waking up at 3:00 AM every morning to say hello to Tony when he brought the milk.
---

Dinotrux
by Chris Gall
Ages 3–8
Millions of years ago giant part truck, part dinosaur creatures like the Craneosauraus ruled the Earth. Their descendents are the trucks and construction vehicles we see today. The illustrations, text, and the typography all pitch in to bring these fearsome and hilarious Dinotrux to life.
---

Revenge of the Dinotrux
by Chris Gall
Ages 3–6
Tired of being stuck in a dusty museum, the Dinotrux (part truck and part dinosaur former rulers of the world) escape and run wild through the city. Dumplodocus carries off houses while Septisaurus drinks an entire swimming pool. High energy text and illustrations will enthrall young fans of all things big and noisy. (follow up to Dinotrux)
---

Dog vs. Cat
by Chris Gall
Ages 3–6
Mr. Burton adopts a dog from the animal shelter on the same day that Mrs. Burton buys a cat. Forced to share a room, the two are determined to make the other leave home. The messy Dog drops food scraps while the neat Cat organizes a science lab. The Dog rubs balloons and sticks them to the Cat and the Cat pops them and scares the Dog. The trials of the mis-matched roommates will appeal to all siblings.
---

Pug & Pig Trick-or-Treat
by Sue Lowell Gallion, Joyce Wan
Ages 2–8
It's Halloween night and Pug and Pig are dressed in identical skeleton costumes. Pig loves her costume, but Pug hates it and tears it into pieces. Pig is crushed. Halloween is her favorite holiday and now she has no one to share it with. Pug saves the day by covering himself in mud except for a clean "mask" around his eyes, and the two happily pass out treats and go trick-or-treating.
---

Bear Is Not Tired
by Ciara Gavin
Ages 3–7
Bear and his beloved family of ducks do everything together. When he realizes that the ducks will be awake and having fun while he is hibernating, Bear decides to stay awake so he doesn't miss out. But Bear finds it impossible to fight against his own nature, falling asleep during games of tennis and propped up against the humming washing machine. When he awakes in the spring, the ducks surprise him with a photo album so he can share in everything that happened over the winter. (sequel to Room for Bear)
---

Galápagos George
by Jean Craighead George, Wendell Minor
Ages 4–8
This beautifully illustrated book traces the story of the Pinta Island saddleback tortoises from Giantess George, an ancestor in South America who journeyed to the island. The long necked tortoise had longer necked offspring, personalizing the concept of adaptation in natural selection. Lonesome George, the last of his species, died in 2012 at the age of 100.
---

The First Drawing
by Mordicai Gerstein
Ages 3–6
Readers are invited to travel back in time more than 30,000 years to a cave in France occupied by a curious caveboy before drawing was invented. The boy is a close observer of his world, and when he wants to share an encounter with a woolly mammoth, he makes the first drawing on the wall of the cave with a burnt stick, disconcerting his audience, who have never seen a drawing before.
---

The Night World
by Mordicai Gerstein
Ages 3–6
Awakened by his cat Sylvie before dawn, a small boy creeps through the silent house to let Sylvie out. Outside the two discover the shadowy night world, warm and comfortable and full of stars. Then the animals gather, murmuring softly "It's coming…" as the first rays of dawn appear. This quiet enjoyment of the wonders of both the night and the day makes perfect bedtime reading.
---
I Spy With My Little Eye
by Edward Gibbs
Ages 2–5
This interactive book uses die cut holes to provide a glimpse of an animal hidden on the next page. Speech balloons provide clues about the hidden creature. Bold illustrations will captivate young readers learning about colors and animals.
---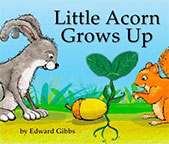 Little Acorn Grows Up
by Edward Gibbs
Ages 3–up
A parade of animals of different colors visit the little acorn, asking what it will be when it grows up. The acorn's promise to provide shade to shelter from the sun and leaves to eat comes true when the acorn grows into a mighty oak tree.
---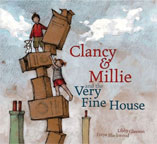 Clancy & Millie and the Very Fine House
by Libby Gleeson, Freya Blackwood
Ages 3–8
Clancy has just moved, and his new house is much too big and far too lonely. He misses his old home terribly. With the help of his new friend Millie and a stack of moving boxes, Clancy builds towers, and trains, and Clancy finally feels at home.
---

Dog in Charge
by K L. Going, Dan Santat
Ages 3–8
Dog is a well-trained and cheerful bulldog who enjoys following the commands of his young owner. When he is commanded to cat-sit five cats, Dog thinks the job will be easy. But the cats disobey Dog at every turn, jumping on the kitchen counters, playing in the sooty fireplace, and hiding from the beleaguered Dog.
---

Mommy! Mommy!
by Taro Gomi
Ages Birth–4
Two little chicks try to keep track of their mother in this seek-and-find board book. The mother replies to their cries, but finding her isn't always easy. Her pink comb peeking out is sometimes a flower or even a monster. The gentle surprises are sure to delight young readers.
---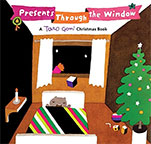 Presents Through the Window: A Taro Gomi Christmas Book
by Taro Gomi
Ages 3–5
The non-traditional Santa in this funny book wears a pink suit and travels by helicopter while delivering presents on Christmas Eve. He chooses the present after peeking through a window of each house, but his quick glimpses inspire incorrect conclusions about each house's occupants. Luckily the presents chosen for the wrong reasons are the perfect fit.
---

Yes, Let's
by Galen Goodwin Longstreth, Maris Wicks
Ages 3–8
This family of seven — parents, four kids, and a lively dog — head out to enjoy a day in the woods. A digital camera appears, but otherwise the outdoor fun is an old-fashioned enjoyment of the simple pleasures: swimming, a picnic, card games, and spending time together as a family. Cheerful cartoons add to the simple rhyming text.
---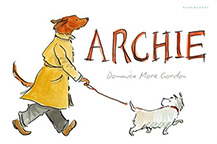 Archie
by Domenica More Gordon
Ages 3–6
Archie leads a quiet life with his faithful pet until the gift of a sewing machine unleashes his inner fashion designer. Soon the entire city of dogs and their walkers are wearing Archie's creations, including the Queen and her royal corgis. This nearly wordless picture book is a delight.
---

The Dinosaur Tamer
by Carol Greathouse, John Shroades
Ages 4–8
This humorous tall tale is set in the old West, when cowboys like young Rocky tamed dinosaurs of all kinds. Narrated in classic tall tale prose, the dinosaur names and characteristics are authentic. Rocky's battle to tame T. Rex is a classic humorous epic that creates several American landmarks along the way.
---

I Am the Wolf… and Here I Come!
by Bénédicte Guettier
Ages 2–up
Beginning with boxer shorts decorated with pink hearts, the wolf narrates his process of getting dressed in his pants, shirt, and socks. The soothing everyday narration provides the perfect foil for the final page just-right surprise of "I'm coming to get you!" guaranteed to elicit giggles.
---

Who Did It?: Who Sneezed? Who Burped? Who Farted? Who Peed? Who Pooped?
by Ohara Hale
Ages 2–5
This boxed set of five board books features silly illustrations of animals and insects demonstrating the bodily noises and functions that fascinate young children, helping them learn to understand and deal with them in a healthy and appropriate way.
---

Cat Tale
by Michael Hall
Ages 2–5
Three curious cats (Lillian, Tilly, William J.) explore verbal puns in this fun tongue-twisting read-aloud. Brightly colored illustrations provide visual explanations of nouns and verbs that might be unfamiliar. "They flee a steer. They steer a plane. They plane a board. They board a train."
---

Over the Hills and Far Away: A Treasury of Nursery Rhymes
collected by Elizabeth Hammill
Ages 3–7
More than 70 artists illustrate this collection of 150 multicultural nursery rhymes from around the world. Versions of the same rhyme from different locales demonstrate both the cross-cultural commonality and the diversity. Versions of Little Miss Muffet show the child being frightened by a spider (England), a grasshopper (America), and a wombat (Australia).
---

The Day Leo Said I Hate You!
by Robie Harris, Molly Bang
Ages 3–8
Leo is sulking after misbehaving and his mother's disciplining sparks words that Leo wishes he could take back as soon as they leave his mouth. Leo worries he has endangered his mother's love, but she manages to heal the breach in a reassuring and sensible manner.
---
Mail Harry to the Moon!
by Robie H. Harris
Ages 3–8
The narrator is less than thrilled with his annoying, attention-hogging new baby brother and has numerous creative suggestions for solving the problem until he is convinced that his parents are ready to act on his moon idea. Fresh and funny look at a classic situation.
---
When Lions Roar
by Robie H. Harris, Chris Raschka
Ages 3–5
On a family visit to the zoo, a small boy is overwhelmed by scary things: monkeys screeching, lions roaring, thunder booming, lightning cracking. The boy crouches down, covers his eyes, and tells the scary to go away. As the quiet descends, the boy's anxiety receeds and he opens his eyes to a sunny world. Sensitive children will appreciate the boy's technique for calming himself when overwhelmed by fears.
---
Bernice Gets Carried Away
by Hannah E. Harrison
Ages 3–5
Bernice is having a terrible time at her friend's birthday party. She is the only one who doesn't get a pink rose on her piece of cake and then they run out of strawberry-melon soda and Bernice gets stuck with prune-grapefruit juice. The last straw is when she manages to retrieve only one squishy piece of candy from the piñata. So when the balloons arrive Bernice grabs them all and is carried away into the air. The delightfully crabby Bernice will resonate with young readers who have bad days themselves.
---

Goodnight Everyone
by Chris Haughton
Ages 2–5
The sun is setting in the forest, and as the background gradually darken, four little mice, three hares, and two deer sigh, yawn, and fall asleep while Great Big Bear tries to get Little Bear to fall asleep. Sleepy readers then say goodnight to each animal family, sleeping peacefully in its home.
---

Little Honey Bee
by Katie Haworth, Jane Ormes
Ages 3–7
Beginning with a snowy winter field, this interactive board book counts flowers from one to ten. Young readers can lift flaps shaped like petals, leaves, and clouds to discover surprises to count again underneath.
---

The Boy Who Loved Math: The Improbable Life of Paul Erdos
by Deborah Heiligman, LeUyen Pham
Ages 3–8
Paul Erdos loved math from the time he was a small boy, but he was unhappy with all the rules he had to follow at school and convinced his mother to let him study at home. Known as "The Magician from Budapest," at the age of four Paul could calculate in his head the number of seconds lived when given a birth date, but he never mastered common life tasks like cooking, laundry, or driving a car. Instead, he flitted around the world, sleeping on the couches of anyone interested in talking math with him. This accessible book celebrates an unconventional and brilliant mathematician in both words and illustrations.
---

Bedtime for Bear
by Brett Helquist
Ages 2–6
Just as Bear is settling in for a long winter nap, two rowdy raccoon friends beg him to come out and play. Bear tries to put them off, but eventually gives in and the three have a marvelous time playing in the snow. Finally even the rambunctious raccoons are ready for sleep. The humor and details in this winter romp make it a perfect read-aloud any time of the year.
---

Kitten's First Full Moon
by Kevin Henkes
Caldecott Medal 2005


Ages 3–5
This lively kitten is positive that the full moon is a bowl of milk and persists in trying to lap it up despite numerous setbacks.
---

My Garden
by Kevin Henkes
Ages 2–7
A young girl helping her mother with their garden dreams of an imaginary garden as she weeds and waters. In her fantasy garden, she would harvest seashells and jelly beans, some vegetables would become invisible, and the rabbits that nibble on the plants would be made of chocolate so that she could also nibble on them. Both the real and fanciful gardens in this book will enchant young readers.
---
Old Bear
by Kevin Henkes
Ages 3–8
A hibernating bear dreams of a spring when he was a cub, followed by dreams of summer, fall, and winter in this beautifully illustrated book about the annual cycle of seasons.
---
Red Light, Green Light
by Yumi Heo
Ages 3–5
This interactive board book is the perfect introduction of the rules of the road to young readers. Lift-the-flap signs and rhyming couplets present nine common road signs that children will recognize from the world around them.
---
Charley's First Night
by Amy Hest, Helen Oxenbury
Ages 3–6
Henry finds a puppy in one snowy evening, he knows that Charley is meant to come home with him. Henry's parents agree, as long as Henry takes responsibility for feeding and taking care of the puppy. Henry is determined to take care of Charley forever, though he isn't so sure about his parents' rule that Charley must sleep alone in the kitchen.
---

When Charley Met Grampa
by Amy Hest, Helen Oxenbury
Ages 3–7
Henry and his adorable puppy Charley are fast friends, but Grampa is coming to visit and has never been friends with a dog before. Henry takes Charley with him to meet Grampa at the train station on a snowy day. Grampa is uncertain about Charley until the wind snatches his cap away. Charley vanishes in the snow after the cap and earns Grampa's respect when he returns with the cap. (sequel to Charley's First Night)
---

Little Chick
by Amy Hest, Anita Jeram
Ages 2–up
Old Auntie helps Little Chick deal with frustration in three stories: waiting for carrots to grow, learning to fly a kite, understanding that the star she wants is better off staying in the sky. The charming illustrations are a perfect match for the light humor of the text.
---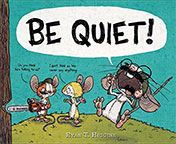 BE QUIET!
by Ryan T. Higgins
Ages 3–5
Rupert the mouse sets out to create a wordless picture book, but his friends Thistle and Nibbs won't stop talking about how much fun the project will be, asking endless questions, and offering off-topic suggestions. Rupert's fury grows more intense as his friends continually undermine his brilliant project, with hilarious results.
---

Katie Loves the Kittens
by John Himmelman
Ages 3–8
Katie the dog loves the new kittens but they are frightened by her barking and leaping. Katie eventually learns that sometimes it is best to let others take the initiative in this heart-warming book.
---

Alphonse, That Is Not OK to Do!
by Daisy Hirst
Ages 2–5
Natalie was an only monster until little Alphonse came along. That's mostly OK but sometimes having a little brother is challenging. Especially when he does things like eating her favorite book. Natalie lets her frustration out with a fearsome drawing with a tornado and a swarm of peas pursuing Alphonse. While bathing she hears sounds that make her fear her drawing has come to life, but it's only Alphonse, who has altered her drawing with humor.
---
A Cat Named Swan
by Holly Hobbie
Ages 3–7
A tiny kitten is left alone to fend for himself on the streets, and is eventually taken to an animal shelter. He is adopted by a family who take him home and name him Swan. Everything changes for the lonely and hungry animal, who is protected and cherished by his new owners.
---

Gem
by Holly Hobbie
Birth–3
Letters between a grandmother and granddaughter frame this story of a toad who is much happier in the wild than kept as a pet. Beautifully detailed watercolor and pen-and-ink illustrations fill in the story on the wordless pages.
---

Hansel & Gretel
by Holly Hobbie
Ages 3–6
Holly Hobbie's watercolor illustrations add emotional impact to this classic Grimm's fairy tale. The plight of the starving family that causes the stepmother to convince the children's father to abandon them in the woods is especially effective.
---

Goldilocks and Just One Bear
by Leigh Hodgkinson
Ages 3–up
In this humorous continuation of the classic story, Baby Bear is all grown up and Goldilocks is only a faint memory. When the bear wanders out of the woods, he makes his way to the penthouse apartment of Snooty Towers, eventually finding just the right porridge, chair, and bed before falling asleep. The family is outraged when they discover the bear, until the "mommy person" and the bear finally recognize each other.
---

Be Patient, Pandora!
by Joan Holub, Leslie Patricelli
Ages 1–3
When Pandora is warned by her mother not to open a wrapped box, the mischievous child confides that she isn't opening it, just touching it, and leaning on it. When the box finally pops open, the evils of the world don't fly out, but Pandora instead discovers that the cupcakes hidden inside are ruined. This funny book is part of the Mini Myth series. An endnote explains the original myth.
---

Just Say Boo!
by Susan Hood, Jed Henry
Ages 3–8
This rhyming book captures the fun, excitement, and nervousness that accompany Halloween. Three costumed children out trick-or-treating banish all fears with one magic word. "If three dinosaurs roar when you open your door, what do you say? Boo!"
---

Grump Groan Growl
by Bell Hooks
Ages 3–8
A child and his inner monster illustrate this effective portrayal of a bad mood on the prowl.
---

Animal Opposites
by Petr Horacek
Ages 3–7
Flaps, pop-ups, and mixed media paintings are used to illustrate the differences between 20 animals. Visual cues encourage young readers to guess what contrasting animal will come next (after the short dog or the quiet rabbit or slow snail).
---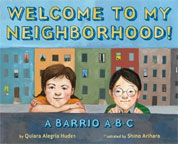 Welcome To My Neighborhood! A Barrio ABC
by Quiara Alegría Hudes, Shino Arihara
Ages 3–7
In this unique ABC book, Cici takes her friend Chien on a tour of her inner-city neighborhood, pointing out all the details that make her neighborhood home unique. The rhyming text celebrates the wide variety found in a city neighborhood while the gouache illustrations portray a vibrant multicultural, urban community that is both full of life and slightly dilapidated. Spanish version: Bienvenidos a mi barrio! Mi mundo de la A a la Z
---

The Little Gardener
by Emily Hughes
Ages 3–7
A little gardener the size of a mouse struggles to control the weeds in his garden, chopping the huge (to him) weeds down like trees. His only success is a red zinnia that attracts the attention of two human children. As the exhausted little gardener naps, the children pull the rest of the weeds, surprising the little gardener with a neat garden when he awakes.
---

Fetch
by Jorey Hurley
Ages 3–7
Using only 15 words, this simple book celebrates the joy of a day at the beach. The large cheerful dog chases his red ball into the ocean, as clownfish, seals, gulls, and a shark hover above and below. One word accompanies each scene — fetch, search, splash, swim — ending with a hopeful "Again?"
---

Flora and the Chicks
by Molly Idle
Ages Birth–3
In this nearly wordless board book, Flora struggles to keep up with a nest full of hatching chicks. As the number of chicks increases to 10, readers can open page-sized flaps to follow the action of Flora and the every growing brood of chicks.
---

Flora and the Flamingo
by Molly Idle
Ages 3–up
This humorous wordless book presents an encounter between a graceful flamingo and a small girl in a pink bathing suit and flippers. As the flamingo poses gracefully, Flora does her best to imitate the poses, with often comic results, eventually collaborating in a graceful duet. Inset flaps add to the fun by revealing new poses in this clever narrative dance between two very different friends.
---

Flora and the Penguin
by Molly Idle
Ages 3–5
Flora takes up ice skating and meets up with a penguin sliding around on the ice. Using skates and flippers, the two glide, leap, and spin in graceful counterpoint. Clever flaps show the two new friends coming together and spiraling apart as true friends do. (follow-up to Flora and the Flamingo)
---

Christmas for Greta and Gracie
by Yasmeen Ismail
Ages 3–7
Younger sister Gracie is quiet and careful, the complete opposite of talkative impulsive older sister Greta, who talks Gracie through a whirlwind round of Christmas preparations, dominating every moment. Finally, during the quiet of Christmas Eve Gracie has a magical encounter all her own.
---
Have a Look, Says Book.
by Richard Jackson, Kevin Hawkes
Ages 3–7
A giant book and a huge armchair invite a small girl and her father to read with them. The two enter the book and encounter friendly animals and objects that ask to be touched and enjoyed. This celebration of reading together and tactile exploration encourages readers to think about words and textures.
---

Count on the Subway
by Paul Dubois Jacobs, Jennifer Swender, Dan Yaccarino
Ages 2–5
This eager little girl and her mother enjoy a subway ride in New York City, with the numbers from 1 to 10 and then back down again appearing in brightly colored circles echoing the the subway system signs. Cheerful simple verse accompanies the bright illustrations: "1 MetroCard, Momma and me. Down 2 flights—to catch the 3."
---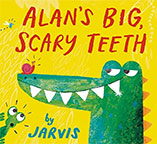 Alan's Big, Scary Teeth
by Jarvis
Ages 2–5
Alan is descended from a long line of very scary alligators. Every day he polishes his scales, practices his frightening faces, and shines his big scary teeth before setting out to scare everyone in the jungle. At the end of the day, Alan relaxes in a warm mud bath, and removes his false scary teeth. Then one morning Alan wakes up to discover his scary false teeth are missing! He doesn't get much sympathy from the animals he has been terrorizing and Alan discovers that frightening others is his only talent. Or is it?
---

Red, Green, Blue: A First Book of Colors
by Alison Jay
Ages 1–5
One a rainy grey day a boy discovers a rainbow of colors hidden in nursery rhymes. Beautiful illustrations bring the colorful rhymes to life.
---

This Moose Belongs to Me
by Oliver Jeffers
Ages 4–7
Wilfred really wants a pet and decides that a wandering moose is what he's been waiting for. But Wilfred finds it very difficult to persuade Marcel the moose to follow Wilfred's many rules for proper conduct. In fact, Marcel seems to only be interested in apples. When an old woman greets Marcel with pleasure, calling him Rodrigo, Wilfred worries that Marcel may have a secret life. This funny story of an unlikely friendship is a winner.
---

Lemonade in Winter: A Book About Two Kids Counting Money
by Emily Jenkins, G. Brian Karas
Ages 3–7
Pauline and her little brother John-John are positive that they can make a fortune selling lemonade in the middle of winter. Their parents aren't so sure, but the siblings persevere and work together to advertise and sell their wares. Readers will enjoy counting out the coins for each sale as they enjoy the trust and companionship of the entrepreneurial siblings.
---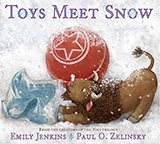 Toys Meet Snow: Being the Wintertime Adventures of a Curious Stuffed Buffalo, a Sensitive Plush Stingray, and a Book-loving Rubber Ball
by Emily Jenkins, Paul O. Zelinsky
Ages 3–7
Lumphy the buffalo, StingRay, and Plastic the ball make their first appearance in a picture book as they venture outside to play in the snow. StingRay, whose plush body is tagged "dry-clean only," protects himself with a plastic baggie. The toys work together to open the front door, and then enjoy themselves building a snowman and making snow angels before heading back inside the cozy house to wait for Little Girl. (Companion volume to beginning reader chapter books Toys Go Out, Toy Dance Party, Toys Come Home)
---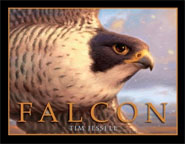 Falcon
by Tim Jessell
Ages 3–6
A boy resting in a sunny field imagines what it would be like to soar like a falcon overhead. Beautifully detailed paintings depict both the falcon and panoramic views of land and sea and city, celebrating both the grandeur of flight and the power of a child's imagination.
---

Same Same
by Marthe Jocelyn
Ages 2–5
This clever book introduces the concept of classification to the very young. Bright cut-paper images illustrate the characteristic that is held by three objects, for example "round things." One object is carried forward to the next page where it has similarities with two new objects. Simple, striking, and delightful.
---

Orange, Triangle, Fox
by Sarah Jones
Ages Birth–3
This engaging book explores colors, shapes, and animals. One one spread the words "brown circle hedgehog" accompany an illustration of a brown hedgehog curled up into a ball to nap. The delightful animals will engage young readers and parents alike.
---

Lovabye Dragon
by Barbara Joosse, Randy Cecil
Ages 3–6
A lonely little girl in her bed in her room in her castle longs for a dragon for a friend while a lonely dragon in his nest in his cave in his mountain dreams of a girl. Eventually the two find each other and happiness in this charming lullaby book.
---
Sleepover at Gramma's House
by Barbara Joosse, Jan Jutte
Ages 3–5
First person narration by an enthusiastic granddaughter celebrates the wonderful anticipation and happy fulfillment of a very special sleepover at Gramma's house. Gramma, an appropriately wrinkled elephant, is an artist, and the detailed illustrations present her artistically cluttered house. The bouncy text and rich illustrations capture the loving relationship between generations.
---

Red Sled
by Lita Judge
Ages 2–5
This nearly wordless picture book takes a child's red sled on a nighttime joy ride. A bear liberates the sled he finds leaning against the house, and picks up passengers as the sled speeds down the hill. Perfectly imagined sound effects accompany the wild ride.
---

This Is Not A Book
by Jean Jullien
Ages 2–4
This interactive board book encourages young readers to see things in a new way. The hinge at the center of each spread transforms the book into a laptop computer, butterfly, toolbox, a tent, the inside of a refrigerator, and more.
---

Into the Snow
by Yuki Kaneko, Masamitsu Saito
Ages 3–7
First person narration perfectly captures the excitement of a toddler who wakes up to find that it is snowing. After bundling up he launches himself into an exuberant exploration of the wintry world outside his door, marveling at the wonders of snow, both soft and cold, and icicles, hard and shiny. A trip down the sledding hill melds terror and exhilaration before heading home for a hot cup of cocoa.
---

Betty Bunny Loves Chocolate Cake
by Michael Kaplan, Stephane Jorisch
Ages 3–7
Betty Bunny adores chocolate cake from the first bite, so much that she declares she will marry it. She refuses to eat anything else, but her mother insists that she eat healthy food first. Betty throws a tantrum—she doesn't want to be patient, she wants chocolate cake! This hilarious book will be a hit with all picky eaters and lovers of chocolate.
---
Betty Bunny Wants Everything
by Michael Kaplan, Stephane Jorisch
Ages 3–5
Betty Bunny can't understand why she is only allowed to buy one toy when she really really wants a whole cartful. Her parents try to convince Betty that she can only choose one, and Betty is equally determined to have them all. Leaving the store with nothing causes Betty to have a meltdown, but her parents just might have a solution. The hilarious portrayal of a very determined young rabbit makes this a great read-aloud.
---

Betty Bunny Didn't Do It
by Michael Kaplan, Stephane Jorisch
Ages 3–5
When four-year-old Betty Bunny breaks a lamp, she has the sudden inspiration to blame the disaster on someone else — the Tooth Fairy. In fact, blaming someone else for her misdeeds is such a brilliant idea she wonders why she hadn't thought of it earlier. Betty's self-interested sense of logic and justice will ring true in this hilarious exploration of the value of truth and honesty.
---

Betty Bunny Wants a Goal
by Michael Kaplan, Stephane Jorisch
Ages 3–5
Betty Bunny assumes she will be a natural soccer star, but when the only thing she manages to kick is her own shin during the first practice she is ready to quit. Older brother Bill, as punishment for his negative comments, becomes her coach, and after lots of practice Betty finally manages to make some progress. Slyly funny artwork highlights the realistic sibling dynamics.
---
Good Morning, City
by Pat Kiernan, Pascal Campion
Ages 2–6
While most city residents are still sleeping, early risers are hard at work baking bread, collecting garbage, delivering papers, and preparing for the morning TV news. Then bus drivers pick up passengers, a construction crew begins work, and a little girl and her family begin their day.
---

Who's Next Door?
by Mayuko Kishira, Jun Takabatake
Ages 3–7
Chicken is thrilled when someone moves into the house next door. His quiet house deep in the woods can get a bit lonely and he longs for a friend. But no matter how often he looks out the window or knocks on the door, he never catches sight of his new neighbor. Eventually a note reveals that the new neighbor Owl has been doing the same thing, but at night.
---

Stay: A Girl, a Dog, a Bucket List
by Kate Klise, M. Sarah Klise
Ages 3–5
Eli the dog has been with Astrid since she was born, her first and best friend. As Astrid grows older she notices that Eli is slowing down, and worries that his time with her is coming to an end. Before he slows down too much, Astrid makes a bucket list for Eli, including all the experiences she thinks he might enjoy. They eat together at a restaurant, slide down the slide at the playground, visit the library, and see Lassie at the movie theater. In the end it is clear that Eli doesn't really care what they do, the important thing is that they spend their time together.
---

Beach Feet
by Kiyomi Konagaya, Masamitsu Saito
Ages 3–7
A visit to the beach is told through the experiences of a small pair of feet. Beautiful pairing of text and illustrations evoke the sensations of hot and cool, sand and water.
---

You Can Do It, Bert!
by Ole Könnecke
Ages 3–up
A small bird named Bert stands at the end of a branch, preparing himself for his big day. He is prepared, but nervous, and has to gather his courage and determination to leap into the air. But Bert doesn't even flap his wings, instead diving into the pool below where all his friends cheer his very first dive. This cheerful book illustrates the fine line between being scared and becoming confident.
---
Now I Am Big!
by Stephen Krensky, Sara Gillingham
Ages 1–3
This joyful board book celebrates the triumphs of babyhood and the growing independence of the toddler. Old fashioned illustrations and energetic text show our narrator demonstrating his increasing capabilities as he grows just a bit bigger.
---
Hank's Big Day: The Story of a Bug
by Evan Kuhlman, Chuck Groenink
Ages 3–7
Tiny Hank is a pill bug, small even in the insect world. He moves through the tall grass, nibbles on leaves, and plays dead to evade a scary grasshopper. Then Hank meets Amelia, a new friend who places him on her helmet and the two take an exciting pretend flight across the Atlantic Ocean, wave to the Queen of England, and barely avoid the Eiffel Tower before returning home.
---

Colors
by Thierry Laval
Ages 1–3
This board book introduces colors to young readers in a surprising way. Simple text and die-cut pictures prompt inquisitive toddlers to identify the color and then guess what lies behind each flap. Lily pads are green… like a frog, flowers are purple… like a butterfly. The peek-a-boo concept will enthrall the target audience.
---

Pool
by Jihyeon Lee
Ages 3–5
At a crowded pool a boy dives beneath the water. There he meets a girl and the two play together amidst schools of colorful fish and dive deeper to discover a huge whale-sized creature. Back at the surface, the two exchange a secret glance hinting at all they shared together under the water. This wordless book celebrates the power of the imagination.
---

Lines
by Suzy Lee
Ages 3–5
This intriguing book explores the parallels between the line a figure skater leaves on the ice and the artist sketching her. At first the skater moves gracefully across the ice and the drawing goes well, but then the skater falls while the artist crumples up the sketch. But the skater is helped to her feet and the artist starts a new sketch, each learning from their mistakes.
---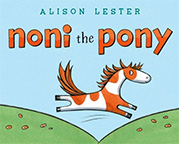 Noni the Pony
by Alison Lester
Ages 2–5
The adorable Noni the Pony frisks through this delightful book, sharing her cheerful nature with the other farm animals. The rhythmic rhyming text complements the charming and simple illustrations.
---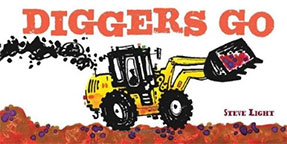 Diggers Go
by Steve Light
Ages Birth–2
This energetic board book is filled with eight different construction vehicles and the sounds they make as they work. Young readers will delight in echoing the sounds of their favorite heavy-duty machines.
---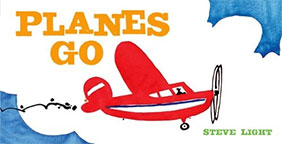 Planes Go
by Steve Light
Ages Birth–2
This oversized board book features planes, helicopters, and other airships. Each of the eight flying machines is expressively illustrated and accompanied with a unique flying sound (HUK HUK HUK WHIRRRRRRR WHIRRRRRR) making it great fun to read aloud to an appreciative youngster.
---

The Christmas Giant
by Steve Light
Ages 3–8
Humphrey, the giant, and Leetree, the elf, create the Christmas wrapping paper used by the North Pole toy makers. They love their job, but are sad when it is done for the year. Santa asks them to grow a special Christmas tree, and the two use their unique talents, like moving big boulders and pulling tiny weeds, and their cleverness when the tree meets with an accident. This sweet story of friendship, persistence, and resourcefulness demonstrates that everyone, big or small, has gifts to offer all through the year.
---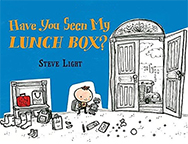 Have You Seen My Lunch Box?
by Steve Light
Ages 2–5
It's almost time for school, and a young boy needs help from the reader to find everything he needs for the day. He is missing his pink socks, a purple robot, a green book, and other objects. Text on the left hand page describes the missing object and brightly colored illustrations highlight the missing object on the right hand page. This interactive seek-and-find book helps young readers see the fun in the often-dreaded morning routine of getting ready for school.
---

The Bear and the Piano
by David Litchfield
Ages 4–7
One day a bear cub finds something strange and wonderful in the middle of the forest. He isn't sure what the large object is, and scares himself with the awful sound it makes. He returns and touches the keys again, eventually teaching himself to play the piano. The other bears are enchanted, and so are two children who discover the talented bear and convince him to move to the city. He is a huge success, but misses his friends. When he returns to the woods he finds they have carefully protected his piano, knowing he would eventually come back home.
---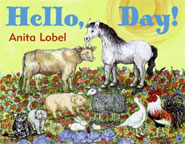 Hello Day
by Anita Lobel
Ages Baby-Preschool
Spend a day in the colorful countryside with nine animals while encouraging babies to imitate sounds.
---

Such a Silly Baby!
by Steffanie Lorig, Richard Lorig
Ages 1–5
Preschoolers will enjoy the story of this mother who can't go on an outing without switching her baby for an animal. The text encourages audience participation in the animal noises and Amanda Shepherd's delightful illustrations add to the fun.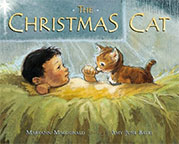 The Christmas Cat
by Maryann Macdonald, Amy Bates
Ages 3–5
This Nativity story presents Mary and Joesph as typical parents who can't get their distressed infant to stop crying. The animals in the stable have no better luck until a curious kitten catches the baby's attention. Later, the same cat keeps the baby calm as the family flees Herod's soldiers. This Christmas story was his perfect read-aloud was inspired by Leonardo da Vinci's drawings of "La Madonna del Gatto," which show Mary cradling the baby Jesus who is cuddling a cat.
---

Ah Ha!
by Jeff Mack
Ages 3–5
Frog is settling in for a relaxing day at the pond, but is captured in a jar by a boy and his dog. Luckily Frog escapes, but lands on the back of a hungry turtle, only to leap onto the back of an even hungrier crocodile. The non-stop action is narrated only by variations on "Ah Ha," conveying a surprising range of emotions.
---

Good News, Bad News
by Jeff Mack
Ages 3–6
Good news: Rabbit appears with a picnic basket. Bad news: Mouse notices that it has started to rain. Good news: Rabbit has an umbrella. Bad news: the wind carries the umbrella and Mouse into a tree. Highlighting the importance of friendship, this hilarious book starring the optimistic Rabbit and the pessimistic Mouse uses only the four words of the title until the final page.
---

Look!
by Jeff Mack
Ages 3–5
The gorilla would love to get the small boy to look at him rather than at the television, but no matter what kooky stunt he comes up with, the boys eyes remain glued to the TV. When the gorilla accidentally breaks the television, the boy orders him out of the room, but then discovers the wonders of reading and entices the gorilla back to look at a book together.
---

Things to Do
by Elaine Magliaro, Catia Chien
Ages 3–5
Whimsical poems in the form of To Do lists from various perspectives beg to be read aloud and shared. Dawn's list begins with "Shoo away night," the bee's with "Flit among flowers," the cricket's with "Rub wings and sing," the moon's with "Hang in the darkness."
---
Sam and Jump
by Jennifer K. Mann
Ages 3–7
Sam and his stuffed bunny Jump do everything together because they are best friends. One day at the beach Sam meets a boy named Thomas and they have so much fun playing together that he forgets all about Jump, who is left behind when he returns home. The following day he returns to the beach to find that his new friend Thomas has rescued his old friend Jump. This reassuring story is the perfect bedtime book for a child with a best stuffed friend of his/her own.
---

Happy in Our Skin
by Fran Manushkin, Lauren Tobia
Ages 2–5
This celebration of skin, that wonderful thing that keeps our insides in, follows a biracial family as they enjoy the day at the park, the pool, and a block party. Various shades of skin are admired along with scabs, the perfect seal when accidents happen. The family interacts with a diverse array of babies, children, and their parents in an urban neighborhood.
---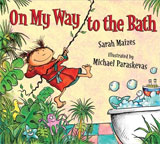 On My Way to the Bath
by Sarah Maizes, Michael Paraskevas
Ages 3–6
Livi isn't fond of baths and finds them boring. But procrastination gives her a wonderful chance to exercise her imagination, creating all kinds of goofy obstacles on the way to the bath.
---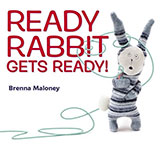 Ready Rabbit Gets Ready!
by Brenna Maloney
Ages 3–5
Ready Rabbit knows he needs to get ready for school when Momma calls him, but he would much rather build a space ship or ride his imaginary motorcycle instead of brushing his teeth or eating breakfast. The charming Ready Rabbit is made from a stuffed sock, and posed with miniature furniture and toys. His inked facial expressions change to match his active imagination.
---

Presto Change-O: A Book of Animal Magic
by Edouard Manceau
Ages 3–up
This clever large-format board book allows the reader to transform everyday objects into animals by swiveling die-cut cardboard pieces. Rhymes provide a hint of what is to come in this very satisfying interactive book.
---

Windblown
by Edouard Manceau
Ages 3–7
A small grey-blue circle is joined by other shapes that join together to create different creatures — a bird, a snail, a frog — while arguing about who the shapes belong to. The shapes are available to download online, allowing young readers to join in the creativity.
---

Good Night!
by Benoit Marchon,Soledad Bravi
Ages Birth–3
Good night my jewel. Good night my shrimp… Twenty different terms of endearment matched with a smiling cartoon face shining through the entire board book help to sooth our youngest readers to sleep.
---
Following Papa's Song
by Gianna Marino
Ages 3–5
Little Blue is anxious when he makes his first annual migration to the summer feeding ground. He is full of questions that Papa patiently answers, including what to do if he gets lost. Papa reassures Little Blue that all he needs to do is listen for Papa's special song. When Little Blue does get distracted and drifts away, he follows Papa's voice echoing across the sea. Beautiful illustrations accompany the solemn text.
---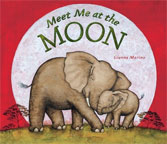 Meet Me at the Moon
by Gianna Marino
Ages 2–6
When a mother elephant tells her Little One that she must climb the high mountain to ask for rain, Little One worries that he will be alone. She reassures him that when they look at the same star it will be as if they are together. Richly textured paintings illustrate this reassuring story of separation and the power of the love between a mother and child.
---

Ten Little Caterpillars
by Bill Martin Jr., Lois Ehlert
Ages 2–6
This reissue with new illustrations provides a vibrant setting for the caterpillar counting rhyme, perfect for reading aloud. Each of the ten caterpillars is modeled on a different species, and a visual glossary describes their individual feeding habits and displays the butterflies they will become.
---

Scarecrow Magic
by Ed Masessa, Matt Myers
Ages 3–5
During the day Scarecrow hangs in the corn field, but as night falls and the full moon rises magic builds in the air. Scarecrow unties his ropes, leaves his clothes behind, and dives into a nearby pond, playing with his friends until the sun rises. The rhyming text balances the illustrations for just the right amount of scary thrills.
---

Finding Winnie: The True Story of the World's Most Famous Bear
by Lindsay Mattick, Sophie Blackall
Caldecott Medal 2016
Ages 3–6
in 1914, a veterinarian named Harry Colebourn who rescued an orphaned black bear cub while on the way to join his army unit during WWI. He named the bear Winnie, after his home town of Winnipeg, and took her with him to England, where she became the mascot of the Second Canadian Infantry Brigade. Since Winnie couldn't come with him to France, Harry donated her to the London Zoo where a boy named Christopher Robin discovered her. Lindsay Mattick, the great granddaughter of Captain Colebourn, frames this story as a bedtime tale for her young son Cole.
---

There, There
by Sam McBratney, Ivan Bates
Ages 3–7
Young Hansie Bear suffers the normal pains of an active childhood, stumbling while trying to walk like a duck, getting sand in his eyes, and bumping his head. Father Bear is always ready to comfort with a big hug and a soothing murmur "there, there." When his father needs a bit of comfort himself, Hansie is ready with a hug and reassuring murmur of his own.
---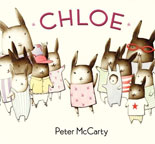 Chloe
by Peter McCarty
Ages 2–6
Chloe is the middle child in a large rabbit family with 10 older siblings and 10 younger ones. Chloe likes being in the middle and loves the nightly "family fun time" after dinner. But then her father brings home a television, and Chloe hates this new version of family fun. Luckily Chloe has a big imagination and recaptures her family's attention with the cardboard box and packing materials. (companion to Henry in Love)
---

The Monster Returns
by Peter McCarty
Ages 3–6
Jeremy is sure that the blue spiky monster he sent away with a one-way bus ticket is gone for good, but he receives a telephone call warning him that the monster is retiurning. Carrying a brown suitcase and wearing a pink hat, the monster approaches Jeremy's door. But Jeremy arms his friends and neighbors with fancy pens, and they create a horde of colorful monsters. (sequel to Jeremy Draws a Monster)
---

Make Way for Ducklings
by Robert McCloskey
Caldecott Medal 1942


Ages 3–8
Mr. and Mrs. Mallard are having trouble finding the perfect nest site until they reach Boston's Public Garden. Safe from foxes and turtles, and plenty of peanuts, this must be the perfect spot. The lovely humorous illustrations beautifully support the gentle minimal text.
---

Apple
by Nikki McClure
Ages 3–6
This simple book follows the life of an apple throughout the year. Each illustration, cut from a single sheet of black paper, is accompanied by a single word. Parents and children will enjoy figuring out how the author/illustrator creates positive and negative space.
---
In
by Nikki McClure
Ages 2–5
A small boy decides that this is the perfect day to stay inside with his toy giraffe. Snug in his pajamas he plays with blocks, reads his books, and enjoys hot popovers. He especially enjoys playing inside a wicker basket that his imagination transforms into a rocket ship. Finally he has had enough of in and rushes out, outside, outdoors in the dark where he climbs trees and hunts for owls with a flashlight until it is time to come in again. This beautifully illustrated book celebrates the power of imaginative play and open exploration.
---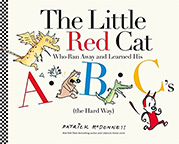 The Little Red Cat Who Ran Away and Learned His ABC's
by Patrick McDonnell
Ages 3–6
The little red cat heads out his front door and is soon pursued by a parade of animals (alligator, bear, chicken, dragon, etc.) while encountering obstacles (ice, jungle) in appropriate alphabetical order. The exciting wordless chase creates a guessing game for young readers.
---

The Monsters' Monster
by Patrick McDonnell
Ages 3–6
Three tiny monsters (Grouch, Grump, and the two-headed Gloom 'n' Doom) decided to end their continual quarrel about who is the meanest by building the monster of all monsters. The monster they create is big and scary looking, but also the happiest creature alive. He giggles and hugs the tiny monsters and transforms them in an entirely believable way.
---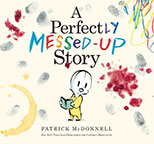 A Perfectly Messed-Up Story
by Patrick McDonnell
Ages 3–6
Little Louie is in the middle of telling a happy story when SPLAT! a splotch of jelly falls onto the pages, soon followed by a gob of chunky peanut butter, a splash of orange juice, and some messy crayon scribbles. Louie is about to give up when he realizes that his story is continuing despite the mess.
---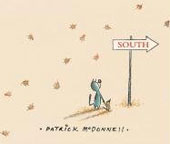 South
by Patrick McDonnell
Ages 3–7
In this nearly wordless book, Mooch the cat helps a small bird whose flock has flown south without him. This humorous and moving story explores crossing boundaries and saying goodbye.
---

Thank You and Good Night
by Patrick McDonnell
Ages 3–6
Maggie arranges a surprise sleepover party for her beloved bunny Clement, inviting his friends Jean the elephant and Alan Alexander the bear. A thoughtful host, Maggie has prepared an appropriate snack for each animal and then reads them bedtime stories. This homage to classic bedtime stories is charming and comforting.
---

Mario Makes a Move
by Jill McElmurry
Ages 3–7
Mario loves to invent amazing moves, like the Super Looper, in his favorite tree. His family is suitably impressed, but his friend Isabelle, busy crafting complicated moves of her own, is not completely wowed. Young readers searching for their own one-of-a-kind talent will love this funny read-aloud.
---
Bye-bye, Crib
by Alison Mcghee
Ages 2–6
A small boy wavers between confidence and hesitation as he graduates from his small but secure crib.
---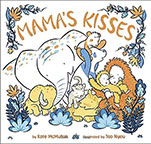 Mama's Kisses
by Kate McMullan, Tao Nyeu
Ages 3–5
It's getting late but the little panda, monkey, elephant, and leopard are in the middle of a game of pirates and have no intention of going to bed. When their mothers come searching for them, they disguise themselves as birds and flowers. But the mothers are determined and persuasive, promising kisses and cuddles in comforting rhymes.
---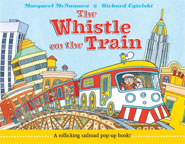 The Whistle on the Train
by Margaret McNamara, Richard Egielski
Ages 2–6
In this colorful pop-up book, the song "Wheels on a Bus" is adapted for a train journey. The lyrics are easy to learn, so young children can "read" this book over to themselves as they enjoy the sturdy pop-up features.
---

Baby Pig Pig Talks
by David McPhail
Ages Birth–3
As Baby Pig Pig's mother pushes him around in his stroller she tells him the words for things they see. When she points out a tricycle, Baby Pig Pig responds with "Dinga." When his mother says snake, he says "Hissa." An affectionate dog prompts Baby Pig Pig to say his first real word, "Mama!"
---
Ben Loves Bear
by David McPhail
Ages 2–4
Little Ben and his stuffed Bear spend every moment together. They wake up together, eat breakfast, play hide-and-seek, and finally snuggle up in bed together at the end of the day. Soft watercolor paintings illustrate the simple text describing the joys of everyday life for a small child and his best friend, content together in their own little world.
---

Peter Loves Penguin
by David McPhail
Ages 1–4
Penguin, a stuffed animal, wakes Peter up to share his excitement that snow is falling. Bundling into coats and scarves, the two head outside to throw snowballs and build a snowman. Returning into the house to warm up, the two share a snack of hot cocoa and toast. This thoroughly satisfying tale about a loving friendship between a boy and his stuffed animal highlights Peter's autonomy and the cooperation necessary for a successful relationship.
---
Olivia Loves Owl
by David McPhail
Ages Birth–3
Olivia and her beloved toy owl play together all day enjoying their similarities (Olivia has a sweater to stay warm; Owl has feathers) and the wonders of an independent day outdoors. At night, Owl stays awake and watches over Olivia's peaceful sleep.
---

Elsa and the Night
by Jons Mellgren
Ages 3–8
Elsa, a badger, finds a strange blob in her apartment and puts it into a cake tin in her basement. The blob is Night, and Elsa's town grows hot without the cooling darkness. Everyone grows more and more tired. Finally Elsa releases Night, who befriends the lonely badger. This strange little story is beautifully illustrated.
---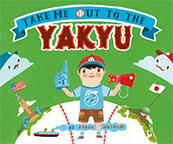 Take Me Out to the Yakyu
by Aaron Meshon
Ages 2–6
The little boy in this story enjoys going to baseball games in America with his Pop Pop and in Japan with his Ji Ji. Though many things are different — he snacks on hot dogs and peanuts in one country and soba noodles and edamame in another — the love of the game and spending time with a beloved grandfather is the same.
---

Santa Duck and His Merry Helpers
by David Milgrim
Ages 4–8
Nicholas Duck is overjoyed that it is again time to help collect wish lists for Santa. Unfortunately his three younger siblings pester him to let them help, trying to bribe him with fantastic presents. When he reminds them that Christmas is about love and goodwill, not just presents, the little ducks convince him that means he must let them help after all. The goofy humor and cartoon-like illustrations will appeal to both younger and older siblings. (follow-up to Santa Duck)
---
Horns, Tails, Spikes, and Claws
by J. Elizabeth Mills, Jef Czekaj
Ages 3–5
This interactive board book, with pages divided into thirds, allows the creation of 125 different monsters. Building from the song "Head, Shoulders, Knees, and Toes" short descriptions accompany wildly creative cartoon creatures.
---

The Tea Party in the Woods
by Akiko Miyakoshi
Ages 3–7
When Kikko realizes her father has forgotten the pie for her grandmother, she sets off through the snowy woods with the pie. Spotting her father far ahead, she follows him to a house she has never seen before, only to discover she has been following a bear wearing a coat and hat. Peering through the windows, she sees a lamb carrying a purse, who kindly invites her inside for a tea party with a friendly group of animals.
---

The Way Home in the Night
by Akiko Miyakoshi
Ages 3–7
A mother rabbit carries her baby home through the dark quiet streets. The baby bunny explains that most of their neighbors are already home, and enjoys figuring out what they are doing by smelling (baking a pie) and listening (talking on the phone). At home the father rabbit tucks the bunny into bed, still wondering what the neighbors are doing.
---

The Night Before Christmas
by Clement Clarke Moore, David Ercolini
Ages 3–5
When Santa arrives, not a creature is stirring. Dad is reading a decorating magazine and Mom is snoozing. But the house is decorated to the hilt. When Santa lands on the roof, he has to battle a massive inflatable version of himself to reach the chimney. Inside, every surface is crowded with Christmas decorations — not just the tree and the mantle, but also the beds and the banisters. The hilarious illustrations will have everyone laughing while sharing the traditional poem.
---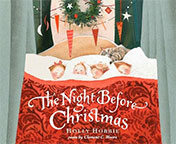 The Night Before Christmas
by Clement Clarke Moore, Holly Hobbie
Ages 3–6
Clement C. Moore's timeless poem is given a fresh perspective through the eyes of a curious toddler and the family cat in this beautifully illustrated picture book. In bed with his three older siblings, a toddler wakes up to see a flying sleigh through the window. He creeps downstairs and peeks around a chair to watch St. Nicholas at work.
---

Captain Cat
by Inga Moore
Ages 3–7
Captain Cat sails the sea with a ship full of beloved cats in search of his heart's desire. He discovers a remote island ruled by a child Queen and overrun by rats. The Queen offers to trade the Captain untold treasure for his rat-hunting cats.
---

The Funny Little Woman
text by Arlene Mosel, illustrations by Blair Lent
Caldecott Medal 1973


Ages 3–8
Long ago in old Japan a funny little woman with a silly little laugh chases a runaway dumpling and soon finds herself cooking dumplings for a band of demons. Her infectious laugh helps her charm the demons into releasing her.
---
Mary and Her Little Lamb
by Will Moses
Ages 1–5
Mary Elizabeth Sawyer was a real little girl who lived on a farm in 19th century Massachusetts. When Mary nursed a newborn lamb back to health, the lamb accepted Mary as its mother and followed her everywhere, even to school one day. John Roulstone was at school that day, and wrote the famous nursery rhyme about Mary who had a little lamb. Beautiful full page paintings, by the great-grandson of Grandma Moses, illustrate the simple story.
---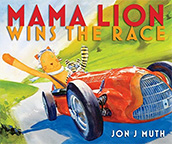 Mama Lion Wins the Race
by Jon J Muth
Ages 3–5
Mama Lion and her sidekick Tigey are all set for the big race in their snazzy red sports car. They are competing against the Flying Pandinis and the Knitted Monkey team. Mama Lion loves racing, but winning isn't as important to her as enjoying the journey.
---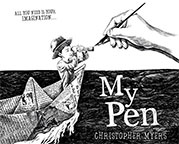 My Pen
by Christopher Myers
Ages 3–5
Aurelio, the fedora-wearing narrator, explains all the wonderful things his pen can do. Even though he often feels small, his pen can create anything he can imagine. Richly detailed black-and-white illustrations portray fanciful scenes (an elephant in a teacup) as well as realistic worries about war. The variety of faces (male, female, young, old, dark, light) will inspire all young artists.
---

A Book of Sleep
by Il Sung Na
Ages 1–5
When the sky grows dark, everyone goes to sleep except the watchful owl, who travels on a moonlit journey while observing the other animals settle into sleep. This beautifully illustrated bedtime book is destined to become a classic.
---

Hide & Seek
by Il Sung Na
Ages 2–5
An elephant in the rain forest begins a game of hide-and-seek, counting to 10 as the other animals find hiding places. The perspective shifts from behind, above, and below, adding interest as young readers enjoy searching for the clever chameleon hiding in each scene.
---

Wait! Wait!
by Hatsue Nakawaki, Komako Sakai
Ages Birth–3
This gentle book follows a toddler's attempts to explore the surrounding world that moves at a faster pace than the child would prefer. A butterfly flies past, a lizard darts, and pigeons move out of reach of the eager child.
---
Winter is for Snow
by Robert Neubecker
Ages 3–5
A boy tries to persuade his younger sister that winter is the most wonderful time of the year, while his sister remains unconvinced. "Winter is for excellent! Come out and play with me!" says the boy. "Winter is to stay inside. Please just let me be! responds his sister. The alternate narrative in color-coded verse begs to be performed.
---

Wow! Ocean!
by Robert Neubecker
Ages 3–8
In this exuberant book, Izzy and her family visit the beach. Izzy and her sister explore tide pools, scuba dive among rays, whales, and sharks, and have a tea party on the ocean floor next to a sunken pirate ship in a perfect blend of fact and fancy. Izzy's previous adventures include Wow! City!, Wow! America!, and Wow! School!.
---
The Potato King
by Christoph Niemann
Ages 3–7
Frederick the Great, King of Prussia, tried to introduce the potato, recently discovered in South America, to his subjects. Potatoes are cheap to grow and healthy, but the suspicious Prussians are leery of the unfamiliar food. So King Fritz puts his guards to work pretending to protect the potato field, and his curious subjects set out to steal the very food they had rejected. Creative potato prints illustrate this funny tale.
---
Subway
by Christoph Niemann
Ages 2–5
Two children and their father, drawn as transit map stick figures, spend a rainy day exploring New York subway routes. The bright gouache illustrations, color-coded to match the appropriate subway line, pop out from the solid black background in this celebration of public transportation.
---
Hunters of the Great Forest
by Dennis Nolan
Ages 3–7
Seven tiny hunters set off from their village on an adventure. The grandmother totes a spear, a girl carries a map, and others carry a spyglass and other gear. The wordless book captures their narrow escape from a hungry blue jay, a giant toad, and a terrifying chipmunk before they finally capture a huge marshmallow to take home to their village.
---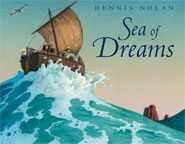 Sea of Dreams
by Dennis Nolan
Ages 3–7
This wordless book begins with a young girl building a sand castle at the beach. As the girl leaves and the waves threaten the castle, a light comes in one of the small windows. The tiny family escapes in a boat where they are rescued by tiny mermaids and delicate seahorses. The next day the young girl returns to the beach and builds a new sand castle, beginning the cycle all over again.
---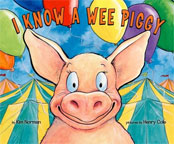 I Know A Wee Piggy
by Kim Norman, Henry Cole
Ages 3–5
A fun day at the fair turns into a colorful chaos when a small boy's energetic piglet gets loose. In cumulative rhyming text, the piggy adds color after color (red tomatoes, white milk, pink cotton-candy, etc.) as he leads a wild chase through the fair. No one will be able to resist this gleeful pig romping though a delightful read-aloud.
---

Bunny Days
by Tao Nyeu
Ages 3–6
The six adorable bunnies in this hilarious picture book are unintended victims of their busy but unobservant neighbors, Mr. and Mrs. Goat. Luckily the Bear is always there to put things right, though sometimes the cure is as bad as the accident. The charming illustrations and prim narration are perfect foils for the silly stories that will keep the audience giggling throughout.
---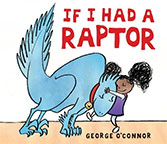 If I Had a Raptor
by George O'Connor
Ages 3–7
The little girl narrating this funny book dreams of bringing home a tiny fluffy raptor. She is sure it will be the perfect playmate and love to curl up in her lap. With the charming obliviousness of the young, the child doesn't seem to notice as Dinah grows too big for her lap. The joys and trials of pet ownership come through loud and clear in this engaging read-aloud.
---

Little Poems for Tiny Ears
by Lin Oliver, Tomie dePaola
Ages Birth–2
The twenty-three short poems in this book are written from the perspective of babies and toddlers celebrating the small discoveries and joyful moments of early childhood. This delightful book is the perfect gift for a baby shower or first birthday.
---

The Baby Swap
by Jan Ormerod, Andrew Joyner
Ages 3–6
Caroline Crocodile is not thrilled with her new baby brother. He drools, smells, and takes up far to much of Mama Crocodile's attention. While her mother is exchanging a hat at the hat shop, Caroline decides to make a swap of her own, and trades her brother for a series of other baby animals. But each new baby comes with new problems. The baby panda devours the cafe's bamboo furniture and the baby elephant breaks the town fountain. Eventually Caroline decides that her own baby brother is the best fit for her family. This engaging story handles the theme of sibling rivalry in a very funny way.
---

Vampirina Ballerina
by Anne Marie Pace, LeUyen Pham
Ages 2–6
Becoming a ballerina is hard for any little girl, but especially challenging for young vampirettes. This how-to book provides helpful hints (find an evening class) in a hilarious tone that balances vampire hauteur with upbeat advice. Young readers will identify with spunky Vampirina as she battles familiar demons, like stage fright, and not so familiar ones, like transforming suddenly into a bat!
---

No Nap! Yes Nap!
by Margie Palatini, Dan Yaccarino
Ages 1–5
Mama and Baby share both curly red hair and a determination to have the last word in the familiar nap time battle. The exuberant chase through the house wins Baby a drink and a song before both are finally ready to settle down and rest. Using only a few words and plenty of rhythm and repetition, this gleeful book will delight the very young through those beginning to read on their own.
---

Little Bot and Sparrow
by Jake Parker
Ages 3–6
One day Little Bot isn't needed any more and is tossed out with the garbage. Luckily Sparrow finds him, and decides to teach him how to survive on Earth. In the spring she teaches him how to have fun outside, in the summer to be curious and safe, in the fall how to live without her. By the time Sparrow has to fly south for winter, Little Bot is self-sufficient.
---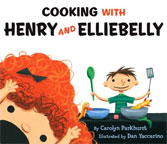 Cooking with Henry and Elliebelly
by Carolyn Parkhurst, Dan Yaccarino
Ages 2–6
Henry's pretend cooking show takes an unexpected turn when his stubborn little sister Eleanor, known as Elliebelly, insists they wear pirate hats and change the name of the show to "Pirate Cooking." The joys and irritations of being a sibling are beautifully portrayed in this exuberant celebration of creative play.
---

Hair
by Leslie Patricelli
Ages Birth–3
It's time for baby's first haircut, which could be a scary experience. But our baby narrator takes it in stride, explaining that one just has to put on a cape and sit in an airplane. Bold illustrations accompany this reassuring story of a baby first.
---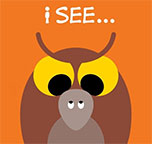 I See…
by PatrickGeorge
Ages 3–5
Brief phrases and bold graphics accompany the sentence starter appearing as this book's title. Clever visual touches make this a light-hearted introduction to one of the five senses.
---

If Animals Kissed Good Night
by Ann Whitford Paul
Ages 3–6
Wonderfully silly presentation of animal parents and children kissing good night complete with nonsense sounds is sure to become a bedtime ritual.
---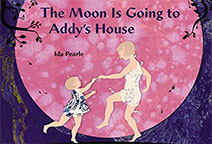 The Moon is Going to Addy's House
by Ida Pearle
Ages 3–5
After a playdate in the city, Addy and her family drive home to the country. The moon appears to follow them, and Addy decides that the moon is coming to her house. Beautiful collage illustrations accompany this soothing bedtime book.
---

The Rooster Crows:

A Book of American Rhymes and Jingles
by Maud & Miska Petersham
Caldecott Medal 1946


Ages 3–8
This book is full of nursery rhymes, counting-out games, skipping-rope songs, finger games, and other jingles.
---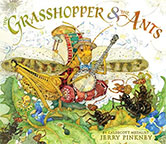 The Grasshopper & the Ants
by Jerry Pinkney
Ages 3–6
In this retelling of the classic fable, the grasshopper is a one-bug band, playing instruments with all of his legs and enjoying the summer while the ants store food for the winter. When the snow arrives the grasshopper shivers outside until the ants invite him into their cozy nest where they share their food as the grasshopper provides the entertainment. This gloriously illustrated book celebrates both planners and artists.
---
The Lion & the Mouse
by Jerry Pinkney
Caldecott Medal 2002


Ages 3–6
This adaptation of Aesop's fable is nearly wordless, but Pinkney's gorgeous illustrations tell the tale in stunning detail.
---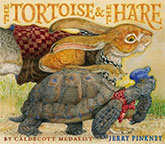 The Tortoise & the Hare
by Jerry Pinkney
Ages 3–6
This retelling of the classic Aesop's fable is set in the desert Southwest. Beautifully lifelike animals gather to watch the race as the perspective changes from the hare's over-confidence and the tortoise's diligent persistance.
---

Number One Sam
by Greg Pizzoli
Ages 3–5
Number One Sam is used to coming in first in everything, so it's a big shock when his friend Maggie takes first place in the race. During the next race Sam is determined to take back the number one spot, but five little chicks try to cross the track right in front of his racecar, forcing Sam to decide if winning is really more important than anything else.
---

The 12 Days of Christmas
by Greg Pizzoli
Ages 3–5
A small elephant is delighted to receive a gift of a partridge in a pear tree, but its parent grows more and more distressed as additional gifts arrive: dancing cats, leaping frogs, etc. Funny illustrations make this the perfect seasonal read-aloud.
---

The Watermelon Seed
by Greg Pizzoli
Ages 3–5
The adorable crocodile narrating this book has loved eating watermelon ever since he was a tiny baby. But his love for the taste of watermelon is darkened by his fear that one day he will swallow a watermelon seed which will take root in his stomach and grown until watermelon vines come out of his ears. Bright illustrations accompany this humorous tale.
---
A Pirate's Guide to Recess
by James Preller, Greg Ruth
Ages 3–6
Molly and Red are the leaders of two pirate bands who meet on the playground at recess. Red orders a siege, but his band mutiny and Red is captured by Molly just as the bell rings. Promising more battles next recess, the pirates troop inside for reading, another joy of escaping into the world of pretend.
---

The Nutcracker
by Niroot Puttapipat
Ages 3–7
Beautiful silhouette illustrations inspired by Marius Petipa's sets for the original production of the ballet tell the story of Clara and the Nutcracker prince as they travel through a land of fantasy, ending with an amazing pop-up ball scene.
---

Shhh! This Book is Sleeping
by Cedric Ramadier, Vincent Bourgeau
Ages Birth–3
A small pink mouse cautions the reader to hold the sleepy book very gently. The reader helps read a bedtime story, tuck the book into bed, give it a nighttime kiss, and turn off the light when finally the book is sleeping.
---

Sally Go Round The Stars: Favourite Rhymes from an Irish Childhood
by Claire Ranson & Sarah Webb, Steve McCarthy
All ages
The authors have collected nearly 70 rhymes from old Irish songbooks, traditional nursery rhyme books, and their own personal childhood memories. Many of the rhymes will be familiar to American readers, while some are new. The humorous illustrations add to the fun.
---

A Ball for Daisy
by Chris Raschka
Caldecott Medal 2012


Ages 3–up
This nearly wordless book tells the story of love and loss. Daisy adores her bright red ball and is heartbroken when it is accidentally destroyed while playing with a bigger dog. Daisy's feelings of both joy and sadness are brilliantly illustrated in watercolor, gouache and ink. This simple story of the pain of loss with a happy ending is sure to appeal to any child who has mourned the loss of a favorite toy.
---

Daisy Gets Lost
by Chris Raschka
Ages 3–7
Daisy is happily chasing her ball when the sight of a squirrel leads her into the forest. Daisy's excitement changes to alarm when she realizes she is lost. A bird's eye view makes it very clear what a small dog Daisy is among the huge trees. The joyful reunion between dog and owner provides the perfect ending.
---

Fletcher and the Falling Leaves
by Julia Rawlinson, Tiphanie Beeke
Ages 3–8
The young fox Fletcher is concerned when leaves begin to fall from his favorite tree. His mother assures him that it is only autumn, but to Fletcher the tree does not seem at all well. He tries to capture the leaves and stick them back on, but eventually the twig breaks off. The next day a beautiful sight reassures him that the tree is fine. The beautiful illustrations echo the magical transformation of the seasons.
---

Fletcher and the Springtime Blossoms
by Julia Rawlinson, Tiphanie Beeke
Ages 3–8
When Fletcher the young fox sees the first spring blossoms flying through the air, he is sure that the snow has returned. At first annoyed by the false alarm, Fletcher's friends soon join him in romping through the petals. Tiphanie Beeke's beautiful illustrations celebrate the season and give each animal a distinctive personality. (follows Fletcher and the Falling Leaves)
---
Stars
by Mary Lyn Ray, Marla Frazee
Ages 2–6
This celebration of the many different ways of viewing and thinking about stars perfectly pairs Ray's musings and Frazee's beautiful illustrations.
---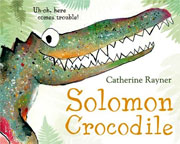 Solomon Crocodile
by Catherine Rayner
Ages 2–6
Young Solomon Crocodile is looking for fun, but his rambunctious behavior annoys the other animals and they all send him away. Eventually Solomon torments the wrong animal, but is saved by another raucous animal. The willful and gleeful mischief Solomon gets into makes this book a much enjoyed read aloud.
---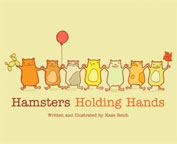 Hamsters Holding Hands
by Kass Reich
Ages Birth–3
This cheerful counting book is designed for the very young. The adorable little hamsters engage in all kinds of fun described in the rhyming text, illustrating the numbers from one through ten.
---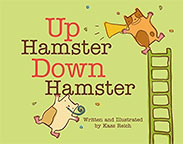 Up Hamster, Down Hamster
by Kass Reich
Ages Birth–3
The adorable hamsters are back to illustrate opposites in this delightful board book. The antics of the hamsters will keep young children giggling as they learn opposite pairs of words. (companion volume to Hamsters Holding Hands and This Little Hamster)
---

A Pop-Up Book of Nursery Rhymes
by Matthew Reinhart
Ages 3–8
Matthew Reinhart's phenomenal paper engineering illustrates these classic nursery rhymes. Ingenious details make this book a family keepsake.
---
Here Comes Destructosaurus!
by Aaron Reynolds, Jeremy Tankard
Ages 2–4
A monster who looks a lot like a toddler is wreaking havoc in New York City. The narrator is appropriately horrified with the monster's behavior until it becomes clear that the rage is inspired by a missing teddy bear. The cartoon illustrations and funny storyline will appeal to both youngsters and the adults who endure their tantrums.
---
The Night Night Book
by Marianne Richmond
Ages 1–5
This quietly charming bedtime board book revisits the highlights of a busy day, wishing "night night" to each one. Comforting mixed media collages accompany the calming verses, a perfect pairing for winding down the day.
---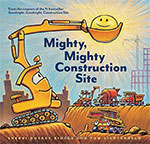 Mighty, Mighty Construction Site
by Sherri Duskey Rinker, Tom Lichtenheld
Ages 2–4
A wide variety of trucks gather at a construction site. The job is challenging, so the call for help goes out, and reinforcements arrive. By working together the trucks can accomplish far more than they can do alone.
---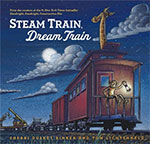 Steam Train, Dream Train
by Sherri Duskey Rinker, Tom Lichtenheld
Ages 1–6
This bedtime book begins energetically, as a variety of animals carry objects onto the train (monkeys with monkey bars, rabbits on pogo sticks, kangaroos tossing balls into a hopper) before settling down slowly to sleep. Beautiful moonlit illustrations add to the soothing tone.
---

The Teacher's Pet
by Anica Mrose Rissi, Zachariah OHora
Ages 3–5
When the classroom tadpoles are big enough, Mr. Stricter tells they can keep just one and must release the rest. The class chooses Bruno, the smallest of the tadpoles. Bruno doesn't stay tiny very long, growing into a giant creature that eats the desks and sneezes slime all over everything. Mr. Stricter doesn't seem to notice the damage his beloved pet is doing, and the students must solve the problem themselves.
---

Joseph Fipps
by Nadine Robert, Geneviève Godbout
Ages 3–7
Joseph Fipps is a five-year old who isn't happy with his new nickname — Gremlin. Then his mother scolds him for trying to climb a tall ladder, and Joseph loses his temper, declaring he wants a new mother. Joseph moves through a range of emotions: anger, frustration, regret, and finally horror when his mother responds that she knows a mother walrus who just may be willing to have him. With time to think (and sulk) Joseph manages to sort through his complicated emotions.
---
What to Do If an Elephant Stands on Your Foot
by Michelle Robinson
Ages 3–5
Safari etiquette is tricky, but the narrator of this tongue-in-cheek guide provides helpful bits of advice to a boy wearing safari gear. Unfortunately, the boy fails again and again to take the narrator's advice, resulting in a series of hilarious disasters.
---

Want to Be in a Band?
by Suzzy Roche, Giselle Potter
Ages 3–5
Suzzy Roche of the folk band the Roches gives advice to young would-be musicians based on her own life. "First you'll need two interesting, smart older sisters who can play guitars and sing." Whimsical illustrations add to the fun in this heart-felt picture book.
---

Chik Chak Shabbat
by Mara Rockliff, Kyrsten Brooker
Ages 3–7
Goldie Simcha always invites her apartment house neighbors to join her for cholent, a fragrant stew designed to cook by itself for 12 hours over the Sabbath when observant Jews cannot perform work. When Goldie is too sick one Friday to cook, her neighbors know you cannot produce a cholent on short notice, and band together to each contribute a dish from their own homelands, all sharing at least one ingredient of cholent, for the weekly communal feast.
---

Me and Momma and Big John
by Mara Rockliff, William Low
Ages 3–8
John's Momma comes home every day tired and covered with dust. But she loves her job as a stonecutter, helping to build the Cathedral of Saint John the Divine. She works day after day on just one stone, and John can't wait to see it. Finally the stone is in place and Momma takes John to see her hard work that has become part of the cathedral. This story illustrating the joy and power of meaningful work includes an afterward with background on the still-unfinished cathedral and the training program that employed people like Momma.
---
Sergio Makes a Splash
by Edel Rodriguez
Ages 3–8
Sergio the penguin loves water, as long as it's not very deep since he can't swim. Poster-like expressive illustrations present Sergio's plunge into the water, armed with floaties, snorkel, and a life preserver.
---

The Hero of Little Street
by Gregory Rogers
Ages 3–8
A small boy fleeing three bullies takes refuge in an art museum. A brown lapdog leaps from a painting by Van Eyck and boy and dog romp in and out of paintings of Delft and Holland. This wordless comic book is a follow-up to The Boy, The Bear, The Baron, The Bard.
---

Awake Beautiful Child
by Amy Krouse Rosenthal, Gracia Lam
Ages 3–up
Three word A-B-C phrases, describe the days of several children from dawn to dusk. The magic of everyday moments is intensified by the beautiful illustrations.
---
Duck! Rabbit!
by Amy Krouse Rosenthal, Tom Lichtenheld
Ages 3–8
This clever book uses a simple version of the classic optical illusion that can look like either a duck or a rabbit, depending on your perspective. As the background details change, snappy dialog, that begs to be read, aloud argues for both creatures, encouraging young readers to also take sides.
---

I'll Save You Bobo!
by Eileen Rosenthal, Marc Rosenthal
Ages 3–6
Willy just wants to peacefully read a dinosaur book to his stuffed monkey Bobo, but Earl the mischievous cat won't leave them alone. The book isn't exciting enough for Willy, so he decides to write his own jungle adventure, with lots of dangers to save Bobo from, as Earl continually tries to steal Bobo away. This charming tribute to imagination and everyday domestic rivalry us the sequel to I Must Have Bobo!.
---

Bobo the Sailor Man!
by Eileen Rosenthal, Marc Rosenthal
Ages 3–6
The imaginative Willy sets off to explore the woods will his stuffed monkey Bobo and his pet cat Earl. They find mushrooms, nuts, and finally a bucket next to the river. Bobo becomes a sailor inside the red bucket and is soon in danger of drifting away.
---

Jumpy Jack & Googily
by Meg Rosoff & Sophie Blackall
Ages 3–8
Jumpy Jack the snail is worried he will meet a monster and describes the dreaded beast to his friend Googily. The comically understated text provides a foil for the vivid visual punch lines.
---

Dragons Love Tacos
by Adam Rubin, Daniel Salmieri
Ages 3–5
This hilarious book is a how-to guide for those who would love to attract dragons to their next party. The secret? Serve tacos, lots and lots of tacos. Dragons love taco parties. But beware of serving spicy tacos; a dragon who eats spicy salsa is not one you want to be around!
---
Moon Rabbit
by Natalie Russell
Ages 3–8
Moon Rabbit loves the city but she is lonely by herself. She meets Brown Rabbit in the park and loves playing with him, but misses her home. Beautiful prints illustrate this tale of balancing friendship and independence.
---

This Is Not a Picture Book!
by Sergio Ruzzier
Ages 3–5
Duck is disgusted to realize that the fat book he picks up has no pictures, only words. His friend Cricket asks if he can read it, and Duck is uncertain since pictures are easy and words are hard. But the two stick with it and struggle through the words. Unfamiliar words are represented by amorphous shapes while recognizable images pop up for familiar words like bee. Their imaginations are caught up by the words and the two are carriage away by the adventure. Emerging readers will identify with this empathetic story.
---
Tony Baloney
by Pam Muñoz Ryan, Edwin Fotheringham
Ages 3–5
Tony is a macaroni penguin caught between his bossy Big Sister Baloney and his smaller twin Bothersome Babies Baloney. His big sister always makes him play the minor role of kitty in their games, and the baby twins often drive him crazy. And then Tony and his stuffed toy Dandelion sometimes act out and are sent to time-out until they apologize. Bold illustrations complement this slyly humorous take on sibling rivalry and the frustrations of being a boy surrounded by girls.
---

Baby Face:


A Book of Love for Baby
by Cynthia Rylant
Ages 1–5
Six poems celebrating universal moments in a baby's life are illustrated with Diane Goode's multiracial watercolors.
---

Mad at Mommy
by Komako Sakai
Ages 3–8
The small rabbit wakes his mother one morning with a long list of grievances about being hurried, ignored, not allowed to watch his favorite TV shows, ending with a final emotional gasp, "And you say you can't marry me, not even when I get bigger." Beautiful pastel artwork illustrates this honest portrayal of the rapidly changing emotions of a small child.
---

The Snow Day
by Komako Sakai
Ages 3–5
A small rabbit wakes up to discover that snow has been falling all night. School is closed and the father rabbit's flight home has been cancelled. The rabbit and his mother are safe and warm inside the apartment, but feel all alone in the world. The small rabbit enjoys the magic of the snow, waiting for the news that his father will return tomorrow.
---

Arlo Needs Glasses
by Barney Saltzberg
Ages 3–up
Arlo's owner, who wears glasses, loves to play catch with Arlo, but Arlo has trouble catching the ball. A trip to the optometrist corrects Arlo's eyesight. This delightful pop-up book introduces the process of getting glasses with interactive tabs and foldouts.
---

A Little Bit of Oomph!
by Barney Saltzberg
Ages 2–5
This clever book illustrates that it takes only a little bit of oomph to transform the ordinary into the extraordinary. Brightly colored words and illustrations plus interactive flaps demonstrate the power of the imagination to transform.
---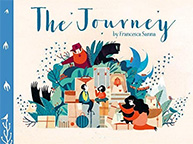 The Journey
by Francesca Sanna
Ages 3–7
A family of four builds a sand castle on the beach as the waves transform into threatening shapes. The father is killed and the refugee family flees for a faraway country. The children are reluctant to leave behind everything they have ever known, and the journey is long and dangerous. The war is unspecific, but the plight of the refugee family is universal. This empathetic book is an excellent starting point for conversation about the impact of war on everyday families.
---

The Adventures of Beekle: The Unimaginary Friend
by Dan Santat
Caldecott Medal 2015


Ages 3–6
Beekle is born on an island of imaginary friends and longs to be imagined by a real child. But though he waits, and waits, and waits, his turn never comes. So Beekle sets out across the water until he reaches the real world where he is eventually spotted by a small girl. They become friends, sharing snacks and jokes and adventures. Beekle's marshmallow-white body stands out in the rich mixed-media illustrations.
---

Are We There Yet?
by Dan Santat
Ages 3–6
On a long car ride to Grandma's house, a small boy grows so weary of the trip that time begins to go backwards. Outside the car he sees a steam train chased by cowboys, pirates fighting, knights jousting, and dinosaurs. Then suddenly the family car zooms into the future just in time for Grandma 's birthday celebration.
---

My Dad Is Big And Strong, BUT…: A Bedtime Story
by Coralie Saudo, Kris DiGiacomo
Ages 3–8
A patient and long-suffering son tries to convince his wide awake father that it is time for bed. But Dad would rather swing from the chandelier and begs for just one more story. Children who hate to end the day will love this gently humorous role reversal.
---
Your Alien
by Tammi Sauer, Goro Fujita
Ages 3–up
When a young boy meets a stranded small, green, tentacled alien, the two strike up an immediate friendship. They go to school together, explore the neighborhood, and have a fabulous day until the alien grows very sad and homesick at bedtime. The two friends light up the house with every light they can find, helping the little alien's parents find their lost child.
---
Supertruck
by Stephen Savage
Ages 2–6
The city is full of flashy trucks that everyone admires as they rush to put out fires and tow cars needing help. No one notices the quiet little garbage truck that collects the trash. But when a big snowstorm mobilizes the city, the little garbage truck emerges as the snow-plowing Supertruck and saves the day.
---

Ten Orange Pumpkins: A Counting Book
by Stephen Savage
Ages 3–5
Counting down from 10, the pumpkins disappear in Halloween fashion. Graveyards, ghosts, and witches make appearances in this rhyming read-aloud, perfect for capturing the attention of young children.
---

Where's Walrus? And Penguin?
by Stephen Savage
Ages 3–6
On a gray and drizzly day Walrus escapes from the zoo again, this time with his new friend Penguin. Pursued by the zookeeper, Walrus and Penguin do their best to hide in plain sight, fooling the zookeeper but not the observant young readers of this charming book.
---

Full of Fall
by April Pulley Sayre
Ages 3–8
Vivid photographs accompany poems that document the progression of changing leaves in the fall. From the first splash of color to the decomposition of fallen leaves, this beautiful book celebrates fall trees around the world.
---
Happy Birthday, Bunny!
by Liz Garton Scanlon, Stephanie Graegin
Ages 2–5
It's Bunny's birthday, and her family and friends gather together to celebrate her special day. Narrated in a series of questions and replies, this joyous book celebrates the simple pleasure of a birthday to the very young.
---

Kids Like Us
by Carole Schaefer & Pierr Morgan
Ages 3–6
Enthusiastic language and appropriate text capture the exuberant yet serious spirit of small multiracial children absorbed in creative play.
---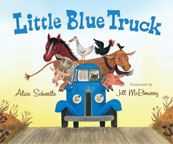 Little Blue Truck
by Alice Schertle
Ages 3–7
All the animals love to see Little Blue Truck coming down the road, but not the obnoxious Dump Truck. Rhyming stanzas encourage joining in on the animal and vehicle noises in this nostalgic homage to friendship and the rewards of helping others.
---

Such a Little Mouse
by Alice Schertle, Stephanie Yue
Ages 3–6
The little mouse is very tiny and very cute, but also self-reliant and self-directed. All through the spring, summer, and fall, the little mouse emerges from his snug underground home to gather food for the winter. As he completes his daily tasks, the mouse takes time to interact with the world around him and his neighbors. This cheerful tale celebrates the independence of the very small.
---
Bedtime Monsters
by Josh Schneider
Ages 4–8
During the day Arnold loves pretending to be a monster, but at night he worries about the large tusked purple Terrible Toe Biter hiding under his bed. But Terrible Toe Biter is afraid of the Horrible Tooth Gnasher who is nervous about the Winged Fargle, and so on. Arnold's bed is soon full of monsters seeking reassurance in this imaginative look at facing fears.
---

100 Things That Make Me Happy
by Amy Schwartz
Ages 3–6
This cheerful book presents 100 things that make young children happy. The rhyming list includes simple things like slippery floors to classic favorites like dinosaurs. Colorful illustrations accompany this celebration of the 100 milestone so important in preschool and early elementary classrooms.
---

There are Cats in this Book
by Viviane Schwarz
Ages 3–8
Three playful cats romp through this interactive book that encourages the reader to join in the fun.
---

100 Animals on Parade!
by Masayuki Sebe
Ages 3–7
This interactive counting book also offers an introduction to animals and insects of all shapes and sizes. Parades of animals march across multi-page spreads, and every 10th animal is labeled in case young counters lose track. Seek-and-find prompts ("There's a rabbit there somewhere.") encourage active participation.
---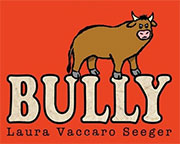 Bully
by Laura Vaccaro Seeger
Ages 3–7
When a young bull is rejected by an older one, he transforms his hurt into anger, insulting the other animals who ask him to play. With each insult he grows larger and more self-important until a goat names his behavior by crying "Bully!" Deflating with the realization of what he has become, the bull makes peace with his friends.
---

I Used to Be Afraid
by Laura Vaccaro Seeger
Ages 3–7
Four common fears are explored in this dynamically illustrated book, demonstrating that what seems very scary at first can become fascinating with a change of perspective. A scary spider produces an intricate and beautiful web, and the looming darkness is host to the magical night sky. This clever and reassuring book suggests that all fears can be overcome.
---
One Boy
by Laura Vaccaro Seeger
Ages 2–6
This clever peek-a-boo book counts from one to ten and also reveals words within words. Young children will enjoy discovering the hidden words—when the boy is alone, the word

one

is revealed within al

one

.
---
What If?
by Laura Vaccaro Seeger
Ages 3–7
In this unique book about friendship, a young boy kicks a beach ball into the water where it is found by three seals. The reader is invited to explore the possibilities of what might happen next in three separate stories, told with minimal text and richly textured illustrations.
---

Pirates Don't Take Baths
by John Segal
Ages 3–5
This determined little pig has decided that there must be a profession that never ever takes baths. As he tries them out one by one on his mother, she gently reminds him why each profession wouldn't suit him. Hilarious illustrations accompany this classic battle of wills between mother and son.
---
Dinosaur vs. Bedtime
by Bob Shea
Ages 2–6
The little red dinosaur is fearless and invincible in his bouts against everyday obstacles like a bowl or spaghetti or talking grown-ups until he meets his nemesis—bedtime.
---

Dinosaur vs. Mommy
by Bob Shea
Ages 3–5
The rambunctious little dinosaur throws himself into enjoying a day with Mommy, beginning with a cannonball dive onto the bed while she is still sleeping. He flushes his toys down the toilet while she is in the shower, and tosses underwear around while she folds the laundry. Shopping, bath time, and bedtime are equal battles, but Mommy remains patient and loving throughout.
---

Dinosaur vs. the Potty
by Bob Shea
Ages 2–6
The irrepressible Dinosaur is back, this time battling lemonade stands, sprinklers, puddles, pools, and other liquids. Dinosaur's stubborn insistence that he "still doesn't need to use the potty!" will stimulate laughter, and empathy, from young readers.
---

Turtle Island
by Kevin Sherry
Ages 3–5
Turtle is proud to be big, but also lonely because the vast ocean is even bigger. In a sudden storm, Turtle rescues Bear, Cat, Frog, and Owl, who take up residence on his shell. Each animal has a unique talent to bring to the community until his four new friends build a raft to return to the families they miss. Turtle is lonelier than ever until the raft returns, crammed with his four friends and all their relations.
---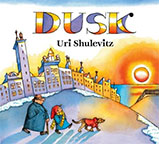 Dusk
by Uri Shulevitz
Ages 3–8
Bundled up against the cold, a boy takes a walk to the river with his grandfather and dog to watch the sun set on a dreary December afternoon. The streets fill with people heading home or out for the night. As the sun slowly sets city lights begin to twinkle on, revealing colorful Hanukkah, Kwanza, and Christmas displays in windows of shops and homes. This celebration of a winter evening captures the magic of twilight as well as the bright joys of city lights.
---

Moving House
by Mark Siegel
Ages 3–6
Foggytown used to be beautiful, but the smog from the factory fills the air and is so thick that people bump into streetlights and each other. Chloe and Joey's parents decide to move away, but the children love their house and wish it could go with them. In the middle of the night, the house takes the children up through the fog to see the stars, a victory of children's dreams over parents' sensible plans.
---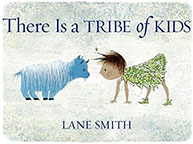 There Is a Tribe of Kids
by Lane Smith
Ages 5–8
A young boy encounters various groups of animals, interacting with them until they part ways and he bids good-bye to them with their collective name: a tribe of goat kids, a bed of clams, a flight of butterflies, a smack of jellyfish. Eventually the solitary child meets his own tribe of human kids.
---

My Heart Fills with Happiness
by Monique Gray Smith, Julie Flett
Ages Birth–5
This cheerful board book celebrates the activities that bring happiness through family and cultural connections. Illustrations featuring First Nations children and their families remind us all to cherish the little moments that bring us joy.
---

The Dark
by Lemony Snicket, Jon Klassen
Ages 3–6
This suspenseful book is the story of Laszlo, a small boy who lives in a house with the dark. The dark often talks to Laszlo, but usually stays in the basement. One night the dark tempts Laszlo out of bed, leading him under the creaky roof, along the bare floors, past uncurtained windows, and finally down to the basement and a closed dresser drawer. The ending is the perfect conclusion to Laszlo's tense journey through the dark.
---
Born Yesterday
by James Solheim, Simon James
Ages 3–8
This funny diary written from a newborn's point of view documents his attempts to understand and conquer the world around him. Our narrator quickly figures out who is the power in his household—his kindergarten-age sister, who is "some kind of monkey-bar superstar," and decides to grow up just like her. This amusing slant on sibling relationships will go a long way toward easing the inevitable jealousy of the older sibling.
---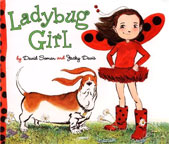 Ladybug Girl
by David Soman and Jacky Davis
Ages 3–5
Lulu's older brother says she is too little to play with him, and her parents are busy, so Lulu invents Ladybug Girl and happily makes her own fun in an imaginative world where she is definitely not too little.
---
Ladybug Girl and Bumblebee Boy
by David Soman and Jacky Davis
Ages 3–5
Lulu meets her friend Sam at the playground, but they have trouble deciding what to play together. Sam is finally intrigued by Lulu's superhero idea and transforms himself into Bumblebee Boy to accompany her Ladybug Girl. Together they battle the Mean Robot, which looks a lot like a tire swing to the uninitiated. (followup to Ladybug Girl)
---

Three Bears in a Boat
by David Soman
Ages 3–5
Dash, Theo, and Charlie are three young bears who break their mother's favorite blue seashell while trying to reach the honey jar. Instead of confessing, the three bears set out on their sailboat to find her a new shell. On their voyage they meet whalers and whales, sail through a storm, and discover strange islands.
---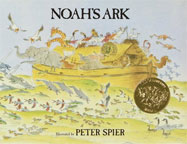 Noah's Ark
by Peter Spier
Caldecott Medal 1978


Ages 2–6
Minimal text and detailed illustrations retell the Biblical story of Noah and the paired animals on his ark.
---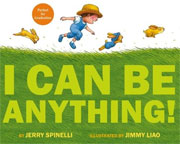 I Can Be Anything!
by Jerry Spinelli, Jimmy Liao
Ages 3–6
Spinelli's exuberant rhymes and Liao's energetic illustrations combine to take the reader on a playful journey through all the wonderful possibilities life has to offer. This imaginative book is sure to please both young readers and the adults that share the pleasure of reading with them.
---

Mama Seeton's Whistle
by Jerry Spinelli
Ages 3–6
Mama Seeton's four children are used to coming quickly when she whistles out the back door to call them home for dinner and chocolate cake. When the four children grow up and leave for new homes around the world, Mama Seeton misses them terribly. Papa Seeton tells her to whistle out the back door, and she does, not believing that anything will happen. But each now-grown child responds to that faint familiar whistle and heads home.
---

The Donut Chef
by Bob Staake
Ages 3–5
Rival donut chefs compete by creating ever more bizarre donuts until a small girl asks for a simple glazed donut. The rhyming couplets and delicious illustrations make this book a treat for both ear and eye.
---

Look! A Book!
by Bob Staake
Ages 3–6
Each themed spread in this seek-and-find book presents a a challenge to find something hidden in the illustrations crammed full of intricate die-cut details. Young children will love exploring these pages over and over again.
---

Look! Another Book!
by Bob Staake
All ages
This interactive seek-and-find book will keep the whole family entertained for hours. Die-cut circles provide glimpses of preceding and following pages, and the ebullient rhyming text begs to be read aloud: "Look! A boot! A fruit! A crossing guard newt!" Spreads portray urban, spooky, and extraterrestrial settings, as well as a museum where modern art paintings creep out of their frames.
---
Monday, Wednesday, and Every Other Weekend
by Karen Stanton
Ages 3–6
Henry Stanton and his dog Pomegranate live in two houses. One Mondays, Wednesdays, and every other weekend they live with Mama in her new apartment, and on Tuesday, Thursday, and every other weekend they live with Papa in his new house. Henry finds things to enjoy at each house, but Pomegranate always wants to be somewhere else. Finally Pomegranate runs away to what he considers home, the place they all used to live together. This sensitive book deals with the changes brought by divorce in a very reassuring way.
---

Red Knit Cap Girl
by Naoko Stoop
Ages 3–7
Red Knit Cap Girl longs to talk to the Moon, and Mr. Owl offers a suggestions. Red Knit Cap Girl and her friends the forest animals work together to convince the moon to come closer. This quiet tale of cooperation and creativity is beautifully illustrated with paintings on plywood.
---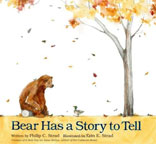 Bear Has a Story to Tell
by Philip C. Stead, Erin Stead
Ages 2–6
Bear has a story to tell, but Mouse is busy gathering seeds to store for the winter and doesn't have time to listen. Duck is getting ready to fly south and Frog is busy searching for a warm place to sleep. Mole is already sleeping in his cozy den deep underground. Bear helps all his friends, but by the time spring comes he has forgotten his story. So they all gather around to help him remember. This gentle story of friendship and patience features beautifully expressive illustrations.
---

Hello, My Name Is Ruby
by Philip C. Stead
Ages 2–6
Ruby is a fearless little yellow bird, willing to strike up a conversation and ask questions of other birds she meets, many resulting in surprising answers. Ruby is willing to see the good in everyone she meets, and her joyousness is echoed in the illustrations — a celebration of line, color, and form.
---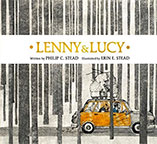 Lenny & Lucy
by Philip C. Stead, Erin E. Stead
Ages 3–7
Peter and his dog Harold are unhappy to find themselves traveling to a new home in the middle of the dark woods. Peter is sure that the woods are filled with terrible creatures, and the first night neither he nor Harold can sleep. In the morning, Peter creates a large creature from pillows and blankets, and names him Lenny, Guardian of the Bridge. Worried that Lenny might be lonely, Peter creates companion named Lucy and the four become friends. Then Millie, who lives next door and loves owls, appears and shows Peter another side of the woods.
---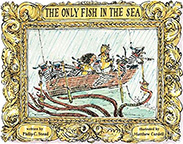 The Only Fish in the Sea
by Philip C. Stead, Matthew Cordell
Ages 3–6
When Sadie learns that Amy Scott has thrown her birthday goldfish into the sea, plastic bag and all, she sets out with her friend Sherman and a gang of monkeys to rescue the fish she names Ellsworth. The monkeys (introduced in Special Delivery) provide a hilarious counterpart to Sadie's calm obliviousness to the dangers of setting out to sea.
---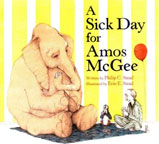 A Sick Day for Amos McGee
by Philip Christian Stead, Erin Stead
Caldecott Medal 2011


Ages 2–6
Elderly zookeeper Amos McGee always makes time in his busy day to spend time with the animals. He plays chess with the elephant, reads to the owl, and sits quietly with the penguin. When Amos catches a cold and can't come to work, the animals miss him and pile onto the bus to pay him a visit, each offering a small kindness in return. Erin Stead's delicate woodblock prints perfectly complement this gentle story of quiet affection.
---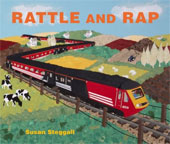 Rattle and Rap
by Susan Steggall
Ages 2–5
Amazing torn paper collages follow a young boy and his family on a train trip through the British countryside to the coast. The text is minimal, and the illustrations richly detailed, combining to make a dynamic and satisfying book.
---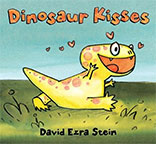 Dinosaur Kisses
by David Ezra Stein
Ages 2–5
Dinah, the newly hatched dinosaur, finds the world an exciting place and wants to try everything. When she sees two tiny creatures kissing each other, she can't wait to give something a kiss. But Dinah is huge and clumsy and injures those she wants to kiss until she finds another dinosaur strong enough to withstand her love.
---
Ol' Mama Squirrel
by David Ezra Stein
Ages 3–5
Ol' Mama Squirrel has raised lots of babies and knows just how to protect them from danger. With a feisty combination of bluff and noise she scares away cats, owls, repairmen, and finally a dog. This rousing book makes an exciting read-aloud.
---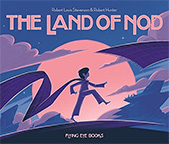 The Land of Nod
by Robert Louis Stevenson, Robert Hunter
Ages 3–7
Robert Louis Stevenson's classic 1885 poem is given new life by vivid illustrations in a palette of pinks and blues. A crutch in the corner hints at the reason the boy is stuck inside while the other children play outdoors, but he can move freely in The Land of Nod, where everyday objects come to life.
---

Mice Mischief: Math Facts in Action
by Caroline Stills, Judith Rossell
Ages 3–6
Ten lively and playful little mice demonstrate all the different ways that the numbers from 1 to 9 can add up to 10. Throughout the book, an decreasing number of mice are doing useful chores while an increasing number are goofing off — Eight mice cook pancakes while two juggle fruit: 8 + 2 = 10.
---
Jack and the Baked Beanstalk
by Colin Stimpson
Ages 3–6
Jack and his mother run a Depression-era café that's fallen on hard times. They are nearly out of money, and when Jack comes home with only a tin of baked beans, his mother throws it out the window in disgust. Overnight, the beans grow into a giant baked beanstalk that takes Jack to the castle of a giant who has piles of money. Luckily the giant has a secret wish to become a chef and the clever Jack comes up with a plan to cheer up the giant and save the café. Beautiful illustrations add to the charm of this humorous retelling of the classic tale.
---

The Loopy Coop Hens Try to Fly
by Janet Morgan Stoeke
Ages 3–6
Pip, Dot, and Midge are three silly hens who adore Rooster Sam. Determined to attract his attention by learning to fly, the three hens try and try, failing hilariously each time. Arranged in chapters to mimic an early reader, this picture book is a perfect first lesson in reading independently.
---

Red Knit Cap Girl
by Naoko Stoop
Ages 3–7
Red Knit Cap Girl longs to talk to the Moon, and Mr. Owl offers a suggestions. Red Knit Cap Girl and her friends the forest animals work together to convince the moon to come closer. This quiet tale of cooperation and creativity is beautifully illustrated with paintings on plywood.
---

The House in the Night
by Susan Marie Swanson,

Beth Krommes
Ages 3–6
Caldecott Medal 2009
Beth Krommes's magical illustrations amplify the minimal text to highlight the things in a house that really matter: books, art, music, and love. This bedtime book will be treasured by children and adults alike.
---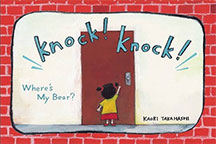 Knock! Knock!
by Kaori Takahashi
Ages 3–8
A small girl returns home to find that her bear is missing. As she knocks on the doors of her apartment building in search of the missing bear, the reader lifts panels vertically and horizontally to gradually reveal the rooms and their unusual occupants. When the girl finds her bear on the roof, a long staircase unfolds to bring her back home. The intricate architecture of this unfolding book is amazing.
---

Beep! Beep! Go to Sleep!
by Todd Tarpley, John Rocco
Ages 3–6
A small boy is trying to get his three lively little robots to go to sleep. Every time he thinks they have settled down to sleep a new problem emerges: My sensor aches! I want more oil! Young children enjoying this bedtime book will empathize with the boy performing the traditional parent role.
---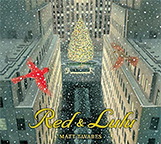 Red & Lulu
by Matt Tavares
Ages 3–7
Red and Lulu are a pair of cardinals who live in a huge evergreen. One day Red returns home to find their tree cut down and Lulu trapped with the tree inside a truck. Red manages to follow the truck to New York City, discovering that their tree has been installed in Rockefeller Center for the holidays.
---

A Brave Bear
by Sean Taylor, Emily Hughes
Ages 2–5
A bear cub and his father decide to cool off in the river on a hot summer day. Little Bear tries to impress his father by making huge leaps amongst the rocks instead of the small jumps his father advises. When he falls and hurts his knee, his father offers to carry him to the river, but Little Bear walks bravely by himself, proud of his own independence.
---
Hoot Owl, Master of Disguise
by Sean Taylor, Jean Jullien
Ages 3–7
This hungry little Hoot Owl considers himself a master of disguise, capable of luring any prey close enough to catch. He disguises himself as a carrot in order to catch a rabbit, who hops off. Then he tries a birdbath disguise to catch a pigeon. But it is not until he disguises himself as a waiter that he finally catches his prey — a pizza!
---

Jack and the Beanstalk and the French Fries
by Mark Teague
Ages 3–5
After Jack trades the family cow for a handful of magic beans his mother is thrilled with all the dishes she can make from the fruit of the magic beanstalk: bean salad, pickled beans, bean soup, refried beans, bean sprouts, bean dip… Jack is less than thrilled and is about to cut down the magic beanstalk when he meets the grumpy giant who is also sick and tired of beans. Together they plant a garden full of more enjoyable vegetables: tomatoes, corn, carrots, and even potatoes to make French Fries.
---

Is That Wise, Pig?
by Jan Thomas
Ages 3–8
Mouse is making soup and his friends Cow and Pig are eager to help. But Pig does not seem to understand how to choose ingredients. Mouse adds one onion, Cow offers two cabbages, and Pig suggests three umbrellas. As the ingredients increase in number, Mouse and Cow replay to each of their friend's suggestions with "Is that wise, Pig?" Eventually Pig gets the hang of soup making, though his odd suggestions come in handy with ten messy pigs show up to share the meal.
---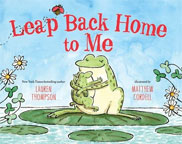 Leap Back Home to Me
by Lauren Thompson, Matthew Cordell
Ages 2–6
This wise mother frog in this delightful book encourages her baby to take small leaps into the big scary world, and then leap back into the safety of her arms. The small frog's increasing confidence and joy in exploring further and further from home is balanced by the mother frog's calm welcomes back. This lively book provides reassurance that no matter how far the journey, the love and safety of home is always waiting.
---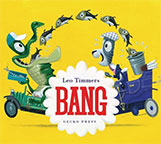 Bang
by Leo Timmers
Ages 1–up
This funny book opens with a deer driving a convertible loaded with books who crashes into a dustbin. The jalopy behind full of chickens is next, and so on until the final four-page spread of the final catastrophe. No one is injured, and the contents of each vehicle interact with each other in delightful ways.
---

The Last Train
by Gordon M. Titcomb, Wendell Minor
Ages 3–8
Based on Gordon Titcomb's 2005 song, this book celebrates the golden age of railway travel. Wendell Minor's glowing and detailed paintings show the narrator as a young boy, walking along the tracks in a misty haze. The lyrics of the text evoke the sounds and tempos of trains traveling the rails: "If you close your eyes and listen, you can almost hear the sound, of those big iron horses, rolling into town."
---

The Secret of Black Rock
by Joe Todd-Stanton
Ages 3–7
Erin Pike, the daughter of a fisherwoman, loves to lie on the jetty, looking for the weirdest fish in the sea. She knows the best ones must be out in the deep water where her mother won't let her go. Out in the deepest water is Black Rock, which is said to destroy any boat that comes near it. Erin sneaks onto her mother's boat and is washed onto Black Rock, discovering that is is really an enormous rock-like creature that provides a home for a variety of sea life. When Erin shares her discovery, the villagers see the creature as a threat.
---

The Island
by Marije Tolman, Ronald Tolman
Ages 3–up
This dreamy wordless book follows a polar bear as he explores a series of islands in the vast blue ocean. Some are natural islands, and others are wooden structures. One island is inhabited by puffins, another has an abandoned waterwheel, and a third is occupied by a violin-playing raccoon.
---

The Tree House
by Mariji Tolman, Ronald Tolman
Ages 2–up
This wordless picture book features a central tree containing a many-storied tree house. A polar bear riding a whale appears first, followed by a brown bear in a boat. A flock of flamingoes bring a cloud of pink. More animals arrive and all are welcomed by the tree house. The youngest readers will enjoy visiting this dreamy book again and again.
---

Bedtime for Chickies
by Janee Trasler
Ages Birth–4
The three little energetic chickies are not ready for sleep. They need a drink, and a story, and a visit to the bathroom, and just can't seem to settle down. Young readers will love going to bed with these adorable and very funny chicks.
---
Don't
by Litsa Trochatos, Virginia Johnson
Ages Birth–4
This funny book offers young children advice by telling them what not to do. For example, it's best not to invite a bear for a sleepover since it won't wake up until spring, and a penguin might not make the best pilot since it can't fly. This delightful book is fun one-on-one or as a read-aloud to amuse a bunch of toddlers.
---
10 times 10
by Hervé Tullet
Ages 2–up
This clever counting book counts to ten in ten creative ways. A monster has multiple eyes, noses, and mouths that add up to ten. A fairy tail features two princes, three princesses, four witches, etc. Numbers from 16 to 20 and multiples of 100 are also illustrated in amusing ways.
---

The Game of Mix-Up Art
by Hervé Tullet
Ages 3–up
This innovative board book allows young readers to create their own paintings by turning page flaps. Designed to stimulate busy little minds and fingers, each page is divided into three sections, encouraging the creation of mix-and-match colorful abstract paintings with designs of polka dots, splotches, swirls, etc. This stylish and clever book is part of a series of board books that includes The Game of Mix and Match, The Game of Patterns, The Game of Let's Go, The Game of Light, and The Game of Finger Worms.
---

I am Blop!
by Hervé Tullet
Ages 3–up
This cheerful book plays with a simple shape, as the Blops do new things on every page. The Blops change color with transparent overlays, are decorated, gnawed on, reflected, scribbled on, and transformed in innovative ways. Even the format of the book itself — an irregular polygon — is creative.
---

Mix It Up!
by Herve Tullet
Ages 3–5
Wet looking colored fingerprint smudges invite young readers to pick up a bit of color from each and mix it up to create new colors. This exploration of basic color mixing is perfect for places where real paints can't be used, like restaurants, waiting rooms, and airplanes.
---

What Does Baby Want?
by Tupera Tupera
Ages Birth–2
The increasingly fussy baby in this circle-shaped book is offered a series of round objects (his ball, his tambourine, his teddy bear) but isn't pacified until his mother offers the one thing her hungry baby wants — her breast. This celebration of the bond between nursing baby and mother is the perfect baby shower gift.
---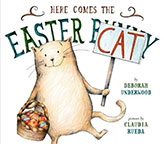 Here Comes the Easter Cat
by Deborah Underwood, Claudia Rueda
Ages 3–5
Cat decides that he is the perfect animal to take over the Easter Bunny's job. He selects a red motorcycle to make the egg delivery task easier, but is horrified that the pressures of the job will leave no time for naps. Cat doesn't talk but conveys his emotions clearly through his expressions, while the unseen narrator asks all the right questions.
---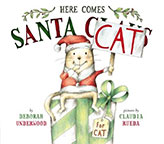 Here Comes Santa Cat
by Deborah Underwood, Claudia Rueda
Ages 3–5
Cat is concerned that he has been too naughty during the past year to earn presents, and has a pie chart to prove it. Dressing up as Santa seems the only way to ensure a gift. The unseen narrator tries to help Cat understand that being nice might be simpler than taking over Santa's job and coaches him through the traditional holiday tasks of caroling and tree decorating. This companion volume to Here Comes the Easter Cat is equally amusing.
---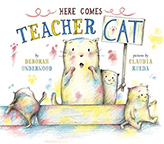 Here Comes Teacher Cat
by Deborah Underwood, Claudia Rueda
Ages 3–5
Cat is not happy with his job as substitute teacher. The roomful of kittens is a bit scary, and the job is cutting into his valuable nap time. Cat soon realizes how much fun school can be, and his six kitten students participate in lessons about music, building, and painting in a style worthy of Cat himself. The only problem is if they will be able to clean up the classroom before Ms. Melba returns.
---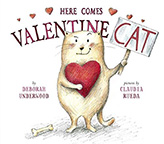 Here Comes Valentine Cat
by Deborah Underwood, Claudia Rueda
Ages 3–5
Cat does not care for Valentine's Day. It's too mushy a holiday, and he is not at all interested in doing something nice for his new neighbor Dog, who annoys him by tossing bones over the fence. Cat is just composing a not-friendly Valentine for his annoying neighbor when Dog surprises him by tossing a ball over the fence instead. Cat is his usual self-centered and hilarious self in this companion volume to Here Comes the Easter Cat, Here Comes Santa Cat, and Here Comes the Tooth Fairy Cat.
---

Interstellar Cinderella
by Deborah Underwood, Meg Hunt
Ages 3–5
In this futuristic version of the classic fairy tale, Cinderella is a talented natural mechanic, tinkering with her stepmother's appliances with the help of a robotic mouse named Murgatroyd, while dreaming of becoming a mechanic specializing in spaceship repair. With the help of her fairy godrobot, Cinderella fixes the Prince's broken rocket. The grateful Prince takes her to the Gravity Free Ball, but she vanishes at midnight, causing him to search the galaxy for her. The Prince proposes marriage, but Cinderella chooses to become his chief mechanic instead.
---

The Little Tree
by Muon Van, JoAnn Adinolfi
Ages 3–up
A little tree in a shrinking forest threatened by a prolonged drought wants her seed to have a better life in a better place. She asks a little brown bird if trees in other parts of the world have a better life. The bird tells of a beautiful forest where trees grow tall and strong, and the little tree entrusts her seed to the bird, who valiantly bears the seed away to grow far away.
---

Little You
by Richard Van Camp, Julie Flett
Ages Birth–3
This beautiful board book celebrates the birth of a beloved child. Both author and illustrator are of aboriginal Canadian descent and that heritage is reflected in the illustrations depicting the baby surrounded by a loving family.
---

King Hugo's Huge Ego
by Chris Van Dusen
Ages 3–6
This comic tale tells the story of King Hugo, a small person with a very large sense of his own importance. King Hugo looks down upon his subjects and mistreats them, and they have no choice but to pretend to admire him. One day King Hugo is rude to Tessa, a peasant maid who just happens to be a sorceress in disguise. Tessa cast a spell on Hugo that causes his head to swell larger with each arrogant act, until his gigantic head finally topples the king right off his throne.
---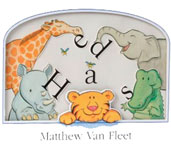 Heads
by Matthew Van Fleet
Ages 2–5
This touch and feel interactive book celebrates the diversity of the animal kingdom with playful rhymes, a variety of textures, and cheerful watercolor illustrations. The youngest readers will enjoy exploring this delightful book again and again.
---
Friends
by Mies van Hout
Ages 2–up
This clever book uses twelve pairs of exuberant monster friends interacting to illustrate different verbs. The words illustrated by monsters in varying situations — cuddle, laugh, play, fight, tease —are recognizable by readers of all ages.
---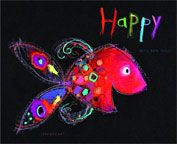 Happy
by Mies van Hout
Ages 2–up
This fabulous book features a different colorful fish that expresses a new emotion on each page. Each emotion word is also expressed in a unique color and style.
---

Flight 1, 2, 3
by Maria van Lieshout
Ages 3–6
As a family moves through the airport, the numbers from one through ten guide the way through the check-in process and through security onto the airplane. The perfect book to pack into a carry-on bag this clever book provides counting practice while also providing a step-by-step guide for young fliers.
---

My Pictures After the Storm
by Eric Veillé
Ages 3–5
This funny look at cause and effect presents "before" and "after" cartoon pictures transformed by various events. A cake after an elephant is flattened, bread after lunch becomes crumbs. Adults and children alike will enjoy exploring this book.
---

Hello Humpback!
by Roy Henry Vickers and Robert Budd
Ages 2–6
Part of the "First Words" series, this board book introduces the animals and landscape of the Pacific Northwest. The rhyming text is accompanied by beautiful illustrations by First Nations artist Roy Henry Vickers, with the animals drawn in the bold abstract style of the region's indigenous artists.
---

1 to 20, Animals Aplenty
by Katie Viggers
Ages 3–7
A menagerie of animals illustrates the numbers from one to twenty both numerically and as a quantity. The rhyming text adds to the fun of animals decked out in amusing apparel or using silly props — "3 llamas wearing pajamas" and "16 chickens reading Dickens". Specific breeds and types of animals are identified — among the "7 pigs wearing wigs" are a Tamworth with a pompadour and a Gloucester Old Spot sporting a green Mohawk.
---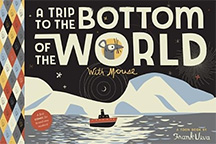 A Trip to the Bottom of the World with Mouse
by Frank Viva
Ages 4–up
A young explorer and his best friend Mouse make a sea journey to the Antarctic, meeting four types of penguins and whales. Throughout the journey, Mouse makes lists of things that are hard to do on a boat and what to wear when it is really cold. This Toon Book is based on the author's experiences aboard a Russian research vessel during a trip to the Antarctic Peninsula.
---

Spots in a Box
by Helen Ward
Ages 3–7
A young guinea fowl is concerned because he doesn't have dense spots like the rest of the flock. He distributes a "please sent spots" appeal and receives a variety of spots in the mail. Unfortunately none of the spots are exactly right. Some are too big, some too tiny, some too sparkley, and some not spots at all. Eventually the guinea fowl finds a pattern of spots that suits him perfectly.
---

What Will Grow?
by Jennifer Ward, Susie Ghahremani
Ages 3–6
Twelve different seeds and the different plants they grow into are cleverly portrayed in words and illustrations. Closing notes give planting guides for all 12 seeds, which include easy-to-grow seeds like carrot, pea, pumpkin, and sunflower.
---

Rude Cakes
by Rowboat Watkins
Ages 3–5
This little pink layer cake has no manners. He doesn't say please or thank you, never waits for his turn, and doesn't obey his parents. He is down right rude! But one night the rude cake is snatched from he bedroom to the land of Giant Cyclopses, extremely polite beings who use cakes as jaunty little hats. There the rude cake learns the value of manners before being returned home. Youngsters just learning to say please and thank you will love this hilarious story.
---

You're Finally Here!
by Mélanie Watt
Ages 3–8
This excitable little bunny has been waiting far too long for a reader to appear and has gotten a bit cranky. After giving several illustrations of how RUDE it is to keep someone waiting, the bunny then celebrates the reader's arrival. But the bunny can't resist taking a cell phone call, assuring the caller that the reader certainly won't mind waiting. Bright cartoons illustrate this funny and very silly story.
---
Little One
by Jo Weaver
Ages 3–7
When spring comes, Big Bear leads her cub Little One out of the cave into the forest. Together they swim, fish, eat, and play throughout the seasons. Big Bear is always patient and encouraging to Little One, as the cub learns all the skills needed to become a Big Bear.
---
Up Close
by Gay Wegerif
Ages 1–4
This large-format board book provides an engaging animal guessing game using geometric shapes to form the animal. The shapes form an abstract picture and then reveal the full animal (still abstract) on the following page. Six animals are included in this creative book.
---

Flo & Wendell
by William Wegman
Ages 3–5
Flo is a big sister who loves to paint and wear the sweaters her mother knits. Wendell is her younger brother who loves to play hide and seek and cook. Photographs of the real Weimaraner puppies are attached to paintings of clothed toddler bodies. The contrast between the mournful looking pups and their placement in ordinary domestic scenes is hilarious.
---

Say Hello, Sophie
by Rosemary Wells
Ages 1–3
Sophie is two and can't quite seem to say Hello and Good-bye no matter how much she is encouraged. Luckily Granny comes to the rescue with the solution to Sophie's problem.
---

Sophie's Terrible Twos
by Rosemary Wells
Ages 2–up
Sophie gets up on the "wrong side of the crib" on the morning of her second birthday and nothing her parents do to cheer her up can break her cranky mood. Then Granny takes Sophie on a wild ride on her toy motorcycle and dresses her in a ferocious saber-toothed tiger costume, which turns out to be just the thing to tame her inner beast. Parents and children alike will identify with Sophie's grumpiness and agree that sometimes only Granny can come up with the perfect solution to the problem.
---

Use Your Words, Sophie
by Rosemary Wells
Ages 1–3
Two-year old Sophie knows a lot of words, but she speaks in her own made-up languages instead, like hyena talk or jellyfish language. When the new baby arrives, Sophie's frazzled parents are desperate to understand what the little one is crying about. Clever Granny helps Sophie calm the baby with her made-up language, and when it is time to decide on a name, only Sophie can figure out the name the baby likes best.
---

Hey, Seymour!
by Walter Wick
Ages 3–5
Seymour, from the Can You See What I See series, returns with Buttons, his little dog. Together they fly a spaceship, explore a tree house, and construct a robot in lavish spreads with plenty of challenging, but not impossible, objects to find. Rhymes prompt readers about what to look for, and fold out segments allow readers to compare two versions of the same scene.
---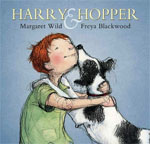 Harry & Hopper
by Margaret Wild, Freya Blackwood
Ages 2–5
Harry and his dog Hopper are constant companions, sharing adventures, baths, and a bed at night. When Hopper dies, Harry has a hard time letting go, and refuses to attend the backyard funeral. Gradually Harry discovers that his beloved dog lives on in his heart and memories in this sensitive portrayal of loss and grief.
---

Cat the Cat, Who Is That?
by Mo Willems
Ages 3–6
In Cat the Cat's world, names are easy to remember. Her friends all have names like Mouse the Mouse and Fish the Fish. But then Cat the Cat meets a strange and colorful new creature with eyestalks and three legs, who greets her with a cheerful, "Blarggie! Blarggie!" Young readers will love spending time with spunky Cat the Cat as she struggles to fit this new creature into her world.
---

Don't Let the Pigeon Finish This Activity Book!
by Mo Willems
Ages 3–up
The Bus Driver gives directions for each perforated page in this fun-filled activity book, as the Pigeon gets in the way. Readers craft an airplane, build an airport, and create an elaborate puppet show with fill-in-the-blanks dialog.
---
The Duckling Gets a Cookie!?
by Mo Willems
Ages 2–6
The Pigeon is horrified that the Duckling receives a cookie simply by asking for it when the Pigeon never gets anything he wants. The outraged Pigeon throws a tantrum listing all the things he as asked for and never received: a walrus, to drive a bus. This hilarious book is a follow up to Don't Let the Pigeon Drive the Bus!, The Pigeon Finds a Hot Dog!, Don't Let the Pigeon Stay Up Late!, The Pigeon Wants a Puppy!.
---

Goldilocks and the Three Dinosaurs
by Mo Willems
Ages 3–7
Once upon a time there were three hungry dinosaurs, Papa, Mama, and a dinosaur visiting from Norway. After baiting their house with chocolate pudding, the three dinosaurs just happen to leave their door unlocked while they lurk in the nearby woods. Goldilocks, who seems to be wandering around unsupervised, enjoys the treat before luckily coming to her senses. This ironic retelling will appeal to those ready to move beyond gentler fare.
---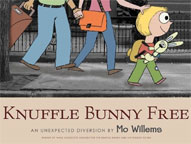 Knuffle Bunny Free: An Unexpected Diversion
by Mo Willems
Ages 3–7
While traveling from Brooklyn to Holland to visit her grandparents, Trixie accidentally leaves her beloved stuffed Knuckle Bunny on the plane. Trixie handles the catastrophe as well as she can, but though everyone stresses how big she is getting, Trixie wishes she weren't expected to be so grown up. This reassuring last book in the series celebrates the unconditional love between parents, a child, and a stuffed bunny.
---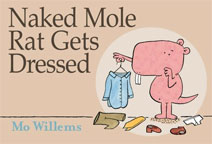 Naked Mole Rat Gets Dressed
by Mo Willems
Ages 3–8
Unlike the rest of his family of naked mole rats, Wilbur likes to wear clothes. When the other mole rats report them to their leader Grand-pah, Wilbur is worried. Wonderful illustrations and funny prose are a perfect match in this tale of tolerance and the importance of being yourself.
---

Hello in There!: A Big Sister's Book of Waiting
by Jo Witek, Christine Roussey
Ages 2–4
The little girl narrating this book is thrilled about her new little sister or brother. But waiting is hard. As the girl wonders about the new baby and anticipates all the fun they will have together, readers can lift the increasingly larger flaps on Mom's growing belly, watching the development of the contented baby inside.
---

Baby Bear Sees Blue
by Ashley Wolff
Ages 2–6
It's Baby Bear's first spring, and everything is new to him. Each new object Mama Bear introduces him to brings a color with it: the yellow of the sun, the brown of a trout, the red of a strawberry, the blue of a jay. Beautiful watercolor-tinted linocuts accompany the simple text.
---

Rainy Day: A Little Moral Story About Worry
by Dan Yaccarino
Ages Birth–4
Glub-Glub awakes to a rainstorm and is worried about venturing outside. He doesn't like the rain, but dons his rain gear and heads outdoors. The sight of his friends Bink and Clyde dancing in the puddles encourages him to enjoy playing in the rain. This first in the Happyland series is designed to give preschoolers the language they need to take the emotional steps to separate from their parents and play with a new set of friends.
---

Owl Moon
text by Jane Yolen, illustrations by John Schoenherr
Caldecott Medal 1988


Ages 3–8
A young girl and her father go owling late one winter night. The lyrical text and beautiful illustrations combine to transform this simple event into a magical adventure.
---

Switching on the Moon: A Very First Book of Bedtime Poems
collected by Jane Yolen and Andrew Fusek Peters, G. Brian Karas
Ages Birth–5
This collection of 60 poems celebrates the universality of bedtime. Dreamy mixed-media illustrations by G. Brian Karas accompany the verses ranging from masters like Alfred, Lord Tennyson and Sylvia Plath to contemporary poets like Lee Bennett Hopkins and Children's Poet Laureate Mary Ann Hoberman.
---

Wee Rhymes: Baby's First Poetry Book
by Jane Yolen, Jane Dyer
Ages Birth–8
This joyous collection of more than 50 poems and rhymes is divided into sections celebrating each part of a young child's daily routine. Pencil-and-watercolor illustrations feature ethnically diverse children and adults.
---

Found
by Salina Yoon
Ages 3–6
Bear finds an abandoned stuffed rabbit in the forest. As he searches for the bunny's owner, Bear becomes attached to the stuffed toy. He wants to keep the rabbit for himself, but empathizes with the rabbit's family who must miss him very much. Brightly colored illustrations portray Bear's attachment to the rabbit and encourage young readers to support Bear through his journey.
---

Kaleidoscope
by Salina Yoon
Ages 3–up
The kaleidoscope lens embedded in the cover flap enables the reader to turn the lens and change the seasonal geometric die-cut images on the right hand pages. Rhyming phrases describe the striking images.
---

Pinwheel
by Salina Yoon
Ages 3–up
This beautifully designed interactive book features pinwheels on each page. Turning the embedded wheels causes a flower's center to change patterns, bees to fly, fish to shimmer, and kites to spiral out across the page.
---

We Love Each Other
by Yusuke Yonezu
Ages Birth–3
Bright colors and simple shapes repeat a reassuring theme of love in this engaging board book. Very young readers will enjoy the surprises revealed beneath the flaps on every page of this inventive book. Two red birds come together to form a heart, two triangular mice form a larger triangle, and two rectangular brown bears join to make a square.
---
Still Stuck
by Shinsuke Yoshitake
Ages 3–8
The small boy narrating this funny book decides that he is old enough to undress himself before his bath. Unfortunately his yellow shirt gets stuck on his head and traps his arms next to his ears. He imagines what his life will be like living with his shirt permanently stuck. His optimism fades and he struggles to get out of his pants, trapping himself even further. Luckily his mother rescues him. After the bath, he decides he is old enough to put his pajamas on by himself…
---
Hook
by Ed Young
Ages 3–8
A Native American boy finds an abandoned egg. Hatched by the boy's chicken, the strange chick grows up to be a bald eagle, named Hook for his curved yellow beak. The chicken tells Hook he is not meant for earth, but Hook can't figure out how to fly until the boy takes him to the canyon. Beautiful chalk sketches illustrate the spare text in this powerful story of friendship and perseverance.
---

Nancy Knows
by Cybèle Young
Ages 3–7
Elephants are supposed to remember everything, but Nancy knows there is something she has forgotten, something important. As she tries to remember, Nancy thinks of all sorts of things, which appear as tiny intricate sculptures inside her large white body. The miniature paper sculptures within the expressive elephant will fascinate young readers.
---
Out the Window
by Cybèle Young
Ages 1–4
This nearly wordless board book follows a small furry creature whose spotted ball sails out the window. Too small to see over the windowsill, the little creature is at first frustrated until he comes up with a solution. Flipping the book over reveals an incredible parade featuring marvelous acts like a juggling rabbit and a shrimp riding a unicycle.
---

A New Year's Reunion: A Chinese Story
by Li Qiong Yu, Zhu Chen Liang
Ages 3–5
Little Maomao's father works far away from home, and returns only once a year, to celebrate Chinese New Year. When her father arrives, Maomao barely recognizes him, but after a shave and a haircut the little family is ready for the simple pleasures of the holiday. Papa hides the lucky coin in a sticky rice ball, and Maomao discovers it. On the day that her father leaves, Maomao presents him with the lucky coin so that he can bring it back and hide it again next year. Beautiful gouaches illustrate this poignant yet joyful story of hardship and celebration.
---

Last Night
by Hyewon Yum
Ages 3–8
A little girl sent to bed early for not finishing her supper dreams of a night in the forest with her teddy bear. In the morning the mother and child make peace in this spell-binding exploration of coping with anger from a child's point of view. Stunning linoleum block prints present the dreamy atmosphere.
---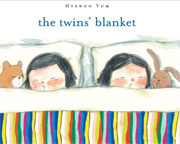 The Twins' Blanket
by Hyewon Yum
Ages 3–6
Two twin girls have shared everything from the moment of their birth: a room, their toys, a crib, and the blanket they have slept under together each night. Now five years old, the twins are ready for their own beds. The blanket has grown too small for both of them, but neither twin is willing to give it up to her sister. Told from the perspective of the twins, this minimalist book perfect pairs illustrations and text to portray the affection, squabble, and solution to the problem.
---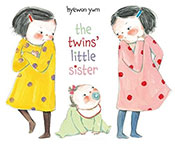 The Twins' Little Sister
by Hyewon Yum
Ages 3–6
The Twins have two of almost everything: two twin beds, two polka dotted dresses, two dolls. But they have only one mother and are constantly competing for her time and attention. The impending arrival of a new baby sister will make everything worse. Mom only has two arms so who is going to hold the baby's hand. When the baby arrives, the twins discover the fun of being a big sister, and are soon in full competition to be the best sister ever.
---

Ninja Baby
by David Zeltser, Diane Goode
Ages 3–6
When newborn Nina's doctor gently spanked her bottom to be sure she was breathing, she karate chopped him in return. A ninja baby from that moment on, Nina turned diaper changes into hand-to-hand combat, gave her applesauce a flying kick, and concealed herself at bath time. When her baby brother arrives, Nina is astounded that the tiny "Kung Fu Master" is able to satisfy his every whim simply by being adorable.
---

The Big Book of Slumber
by Giovanna Zoboli, Simona Mulazzani
Ages 3–7
Even the fiercest animals sleep sweetly in this calming bedtime book. The lion rests his head on a white lace pillow, the fox wears flowered pajamas, the monkey tucks his banana next to him in bed. The peaceful scenes with contented sleepy animals will enchant young children as they drift off to sleep themselves.
---

C Is for City: An Alphabet Book
by Orli Zuravicky, Giuseppe Castellano
Ages 2–6
Mr. Doodle, a stick figure, and his dog Sketch share a noun for every letter of the alphabet. Each page is illustrated with other items beginning with the same letter, and the pages are connected with playful rhyming text. This lively board book encourages attention to detail while introducing the alphabet.