Why Mosquitoes Buzz in People's Ears
illustrations by Leo & Diane Dillon, text by Verna Aardema
Caldecott Medal 1976


Ages 5–8
This retelling of a traditional West African tale reveals how the mosquito developed its annoying habit of buzzing in people's ears. The wax-resist style illustrations are incredible.
---

Song and Dance Man
by Karen Ackerman
Caldecott Medal 1989


Ages 3–7
One afternoon a visit to the attic convinces Grandpa to recreate his vaudeville song and dance act for his three delighted grandchildren. The colorful illustrations capture the children's viewpoint of this delightful event.
---

Things That Float and Things That Don't
by David A. Adler, Anna Raff
Ages 4–7
It can be surprising to discover which things float and which don't. An apple floats, but a ball of aluminum foil doesn't. However, if you shape that same piece of foil into a boat, it will float. This accessible book provides suggestions for testing different materials to allow children to discover the principles of density and flotation, and answers common questions in clear language.
---

Roots and Blues: A Celebration
by Arnold Adoff, R. Gregory Christie
Ages 8–12
Poems, poetic prose, and vibrant paintings honor the legacy of blues music, from the slave ships, to plantation fields, to chain gang labor, to the energy of the juke joints. Words and illustrations work together to portray the pain and misery and memories and hope that was transformed by rhythm and harmony into the music called the blues.
---

It's Only Stanley
by Jon Agee
Ages 5–8
Mysterious noises keep waking up the Wimbledon family, but each time Mr. Wimbledon reassures the family that it is only Stanley, the family beagle, fixing the oil tank or clearing the bathroom drain. But the clever dog has more in mind than fix-it projects, he is transforming the family Victorian house into a rocket ship.
---

The Retired Kid
by Jon Agee
Ages 4–8
Eight-year old Brian, exhausted by school, soccer, and eating his vegetables, decides to retire and heads for Florida. At the Sunset Retirement Center, Brian at first enjoys the leisurely pace, but finally decides to come out of retirement and return to his job.
---
Fairy Tales for Mr. Barker: A Peek-Through Story
by Jessica Ahlberg
Ages 2–5
Lucy is reading a fairy tale to her dog Mr. Barker when he suddenly dashes out the window. Lucy follows him into a cottage with three bowls of porridge. Lucy knows just where they are, and the golden-haired girl follows them into the next fairy tale scene, adding characters as they go. Cut-out windows throughout the book add interest to this light-hearted romp through fairy tale land.
---
The Pencil
by Allan Ahlberg, Bruce Ingman
Ages 4–8
This clever book tells the story of a pencil whose creations come to life. Young readers will love watching the pencil draw his way out of one predicament and straight into another.
---
Starring Jules (as Herself)
by Beth Ain
Ages 7–10
Jules (7) has big plans to accomplish before she turns eight, including finding a new best friend since she and Charlotte aren't getting along. Invited to audition for a mouthwash commercial, Jules prepares to give the perfect audition, but she hates the orange flavor. And Charlotte keeps interfering with Jules's plans to befriend the new girl from London. Jules's funny narration will keep young readers enthralled by this series opener.
---

On a Magical Do-Nothing Day
by Beatrice Alemagna
Ages 4–8
While her mother works at her desk, a small girl plays her hand-held game until her mother convinces her to take a break and go outside. It's raining, and the girl drops her game into a pond, and sinks into despair. Four cheerful snails attract her attention, and she is soon immersed in the amazing diversity of life in the forest.
---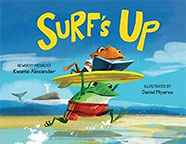 Surf's Up
by Kwame Alexander, Daniel Miyares
Ages 4–8
Two frog friends have different ideas of a fun day at the beach. Dude can't wait to surf the waves, but Bro is completely immersed in the book he is reading. As Bro summarizes the exciting events in Moby Dick, Dude gets caught up in the fictional excitement, letting his imagination carry him away.
---

Thunder Boy Jr.
by Sherman Alexie, Yuyi Morales
Ages 3–6
Thunder Boy Smith, Jr. longs for a name of his own. Big Thunder, his father's nickname, sounds impressive, but Little Thunder, his own nickname, is less attractive. He goes on a search for the perfect name, considering powerful names like Not Afraid of Ten Thousand Teeth and Touch the Clouds. Finally his father helps him find the perfect name.
---

B Is for Brooklyn
by Selina Alko
Ages 2–6
This exuberant ABC book celebrates the New York City borough of Brooklyn. Bright gouache and collage illustrations present Brooklyn's rich ethnic, culinary, racial, and religious diversity.
---

The Case for Loving: The Fight for Interracial Marriage
by Selina Alko, Sean Qualls
Ages 4–8
Richard and Mildred met and fell in love in 1958 Virginia. Richard was white, and Mildred was African American and Cherokee, making it illegal for them to marry under Virginia law. They married in Washington DC, and had three children. When they moved back to their hometown in Virginia, they were arrested for violating that state's laws against interracial marriage. Determined that their children not get the message that there was something wrong with their family, the Lovings fought against the discriminatory Virginia law. Eventually a Supreme Court case in 1967 declared their marriage constitutional. This beautifully illustrated picture book brings the family behind this historic case to life.
---

Itsy Mitsy Runs Away
by Elanna Allen
Ages 3–7
Itsy Mitsy has had it with bedtime, and sets off in her footed pajamas in search of the perfect place where there are no bedtimes ever. Dad helps out by suggesting things that Mitsy can't do without, beginning with her stuffed dinosaur and the contents of the refrigerator until she has packed her entire house, yard and all. This very funny book will become a bedtime favorite.
---

There's a Princess in the Palace
by Zoe Alley, R.W. Alley
Ages 4–8
The tongue-in-cheek retellings of five fairy tales emphasize clever dialog over beauty and romance. The characters in the tales are connected — Cinderella's daughter becomes Sleeping Beauty who is not quite ready for marriage and runs off to live with the dwarves as Snow White. Her daughter in turn falls for The Frog Prince, and her granddaughter is the Princess who tries to sleep on the uncomfortable pea buried under layers of mattresses. Two mice provide running commentary in this lavishly illustrated oversized graphic novel, sure to become a bedtime favorite.
---

Harry Miller's Run
by David Almond, Salvatore Rubbino
Ages 7–9
Liam wants to go out running with his friends, training for Junior Great North Run, but his mother asks him to help old Harry clean out his house instead. Harry tells Liam about the time he and two friends ran all the way from South Shields to Newcastle, a thirteen mile journey to the sea. Old photographs help Harry tell the tale of his run and the girl he loved. Young readers may need help with the working-class British dialect, but Harry's passion for life needs no translation.
---

Slog's Dad
by David Almond, Dave McKean
Ages 7–up
This eerie graphic novel, narrated by Slog's friend Davie, tells the story of a grieving boy who believes that his father has kept his promise to come back and visit him after his death. Slog is positive that the scruffy man outside the butcher's shop is his dad, but Davie isn't convinced. Hauntingly beautiful images accompany this vision of the hopeful fantasy world Slog lives in as he mourns the loss of his father.
---

The Nutcracker
adapted by AnnMarie Anderson, illustrated by Alison Jay
Ages 4–8
On Christmas Eve, Clara and her enchanted toys enjoy themselves in a dreamland full of sweets. Based on the Balanchine staging of the ballet, this retelling of the classic tale features an abbreviated storyline and delicate crackle-varnish oil paintings. Perfect for reading aloud, children will enjoy the tiny details featured in each scene.
---

The Steadfast Tin Soldier
by Hans Christian Anderson, JooHee Yoon
Ages 6–9
The steadfast tin soldier has only one leg and cannot stand as well as the other soldiers. He falls in love with a paper ballerina and incurs the wrath of a frightening jack-in-the-box troll. Falling from the window, the soldier is eventually swallowed by a fish. Mixed-media illustrations accompany this retelling of the tragic fairy tale.
---

Trombone Shorty
by Troy Andrews, Bryan Collier
Ages 4–8
Troy "Trombone Shorty" Andrews earned his nickname at the age of six by playing a trombone longer than he was tall on the streets of the Tremé neighborhood of New Orleans where he grew up. Troy tells of the dream of starting his own band that began when he found a battered trombone and taught himself to play. This accessible autobiography is a celebration of the rich culture of New Orleans and the power of music.
---

Inspector Flytrap
by Tom Angleberger, Cece Bell
Ages 6–9
Inspector Flytrap, a Venus flytrap detective, is wheeled around on a skateboard by his assistant, Nina the Goat. In their first case, Inspector Flytrap heads to the Art Museum to figure out why there is a mysterious glob on a recently discovered flower painting by Leonardo da Vinci. Other cases include "The Big Deal Muster of the Stinky Cookies" and "The Big Deal Mystery of the Missing Rose." Quirky humor and a silly cast of characters add to the fun in this lavishly illustrated early chapter book.
---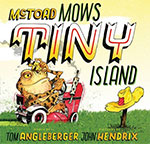 McToad Mows Tiny Island
by Tom Angleberger, John Hendrix
Ages 4–8
Most of the week McToad mows the grass on Big Island. But Thursday is special since McToad has a mowing job on tiny Island. To get to Tiny Island, McToad's lawnmower must travel by truck, train, helicopter, crane, and boat. This celebration of using big machines to move smaller machine around is a winner.
---

Counting Crows
by Kathi Appelt, Rob Dunlavey
Ages 3–7
Three inquisitive crows wearing red striped sweaters are hungry and head out to search for a snack. They snack from one to a dozen before being eyed by a hungry cat as a snack themselves. Delightful illustrations accompany the clever rhymes.
---
The True Blue Scouts of Sugar Man Swamp
by Kathi Appelt
Ages 8–12
The Sugar Man is a giant fur-covered creature who protects the Sugar Man Swamp. Usually asleep, the Sugar Man can be awakened in case of emergency by an offering of sugar cane. Bingo and J'Miah, two raccoon cubs, are the official True Blue Scouts, whose job is to wake the Sugar Man if needed. On the edge of the swamp lives Chap, a 12-year old boy who has just lost his beloved grandfather. Chap and his mother will lose their home to Sonny Boy Beaucoup, who wants to build an alligator wrestling theme park, unless they can bake enough sugar pies to earn the money to buy him off.
---
Before After
by Matthias Arégui, Anne-Margot Ramstein
Ages 4–8
This clever wordless book presents both expected and unexpected answers to this classic question: Which came first, the chicken or the egg. The acorn does grow into the mighty oak, but the cow becomes both a bottle of milk and a painting of a cow. A multi-layered cake is first created and then eaten away slice by slice. Simple graphic illustrations will appeal to children and the musing on the nature of time will captivate parents.
---

A Boy Called Bat
by Elana K. Arnold, Charles Santoso
Ages 6–10
Bixby Alexander Tam, known as Bat, is a third grader on the autism spectrum. One day his veterinarian mother brings home an infant skunk to foster for a month, and Bat is determined to prove that he is responsible enough to care for the kit. In fact, he hopes to convince his mother by the end of the month that the skunk he names Thor would make the perfect pet. This empathetic book presents Bat's inner thoughts and feelings as he struggles to make sense of the confusing world around him. (first in a planned series)
---

Lost. Found.
by Marsha Diane Arnold, Matthew Cordell
Ages 3–6
The wind carries away a bear's soft red scarf (Lost) which is discovered by a pair of raccoons (Found). As the scarf changes hands from animal to animal, it serves various purposes: a game of tug-of-war, a trampoline, a turban. The text consists of only the two words "Lost. Found." while the illustrations add the entertainment.
---
Manners Mash-Up: A Goofy Guide to Good Behavior
by Tedd Arnold, et al.
Ages 5–8
Fourteen gifted illustrators are given a spread to present their individual take on etiquette: Tedd Arnold, Joe Berger, Sophie Blackall, Henry Cole, Frank Morrison, Lynn Munsinger, Tao Nyeu, Le Uyen Pham, Adam Rex, Peter Reynolds, Dan Santat, Judy Schachner, Bob Shea, and Kevin Sherry. Advice ranges from "don't stare" to "don't X-ray your little brother" and includes tips on how to behave in a wide variety of environments from the school bus to the middle of the woods.
---

Creep and Flutter: The Secret World of Insects and Spiders
by Jim Arnosky
Ages 6–10
Larger-than-life foldout spreads display insects like beetles, spiders, mayflies, dragonflies, butterflies, and moths. Vivid descriptions will inspire young readers to follow the author's advice to "be mindful of the small."
---

Shimmer & Splash: The Sparkling World of Sea Life
by Jim Arnosky
Ages 6–10
Striking fold-out spreads capture the diversity of life in the sea. Beautiful sea stars and coral reefs share space with eerie sharks and barracudas. Fascinating details about creatures like jellyfish will entrance young readers.
---
M Is for Mischief: An A to Z of Naughty Children
by Linda Ashman & Nancy Carpenter
Ages 6–10
Packed with assonance and alliteration, twenty-six naughty children romp through this book, illustrated by Carpenter's energetic digital collages.
---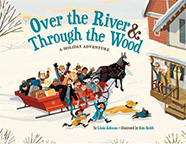 Over the River & Through the Wood: A Holiday Adventure
by Linda Ashman, Kim Smith
Ages 3–up
This modern take on the traditional song follows four diverse families as they head off from different parts of the United States for a holiday gathering at Grandma and Grampa's house. They travel individually via varied transportation modes until their paths cross near their final destination, when they are rescued by a horse drawn sleigh.
---
William's Winter Nap
by Linda Ashman, Chuck Groenink
Ages 3–6
William is just about to fall asleep snuggled into bed in his cozy log cabin when a chilly chipmunk taps on his window asking for shelter. William says there is plenty of room for two, and makes room for the chipmunk in his bed. More animals appear, each bigger than the last, until a huge bear arrives. Is there really still room to share?
---

Fifty Cents and a Dream: Young Booker T. Washington
by Jabari Asim, Bryan Collier
Ages 3–6
Born into slavery, young Booker T. Washington could only dream of learning to read and write. His youth after freedom was very hard, working in a salt furnace and a coal mine. The heart of this compelling picture book is Washington's 500 mile walk — tired, hungry, and alone — to finally attend school at Hampton Institute, the first step in his journey toward a college education.
---

Preaching to the Chickens: The Story of Young John Lewis
by Jabari Asim, E.B. Lewis
Ages 5–8
Young John Lewis wants to be a preacher when he grows up, and when given the task of caring for his family's flock of chickens decides to practice his sermons. The chickens are the prefect congregation, docile, attentive, and responsive to his voice. An author's note fills in the later life of the future civil rights activist: a member of the Freedom Riders, chairman of the Student Nonviolent Coordinating Committee, demonstrator on the Edmund Pettus Bridge in Selma, Alabama, and currently a Georgia congressman.
---

A Beetle Is Shy
by Dianna Hutts Aston, Sylvia Long
Ages 5–8
Beautiful watercolors illustrate this accessible exploration of the vast insect order of beetles. Brief phrases ("A beetle is telegraphic") introduce different characteristics of these fascinating and diverse insects.
---

A Butterfly Is Patient
by Dianna Hutts Aston, Sylvia Long
Ages 5–8
This beautiful and informative book celebrates the world of butterflies. Arranged under simple headings (A butterfly is helpful. A butterfly is poisonous.) the development, habits, migration, and unique features of butterflies are presented in a manner that is both scientific and artistic.
---

Dream Something Big: The Story of the Watts Towers
by Dianna Hutts Aston, Susan L. Roth
Ages 5–8
The 34 year construction of Watts Towers is told from the viewpoint of a small girl who grows up and has a child of her own. Beginning in 1921, Italian immigrant Simon Rodia constructed towering spires from found objects in his property in Watts, California. The stunning collage illustrations mimic the mosaic decorations of the towers, finished in 1955. This beautiful book pays tribute to imagination and perseverance, and includes a "build your own tower" activity.
---

The Moon Over Star
by Dianna Hutts Aston
Ages 6–8
It's July 1969 and eight-year-old May and her community spend the day watching and thinking about the historic moon landing. Beautiful watercolor illustrations capture the wonder and awe of this inspiring event.
---

Worm Loves Worm
by J.J. Austrian, Mike Curato
Ages 4–8
When Worm meets Worm it's love at first sight. Their invertebrate friends are thrilled when they decide to get married and insist on all the trappings of a traditional marriage. The worms accept their friends suggestions, and even figure out they can wear the wedding rings as belts. But when their friends declare there can be only one bride and one groom, the worms rebel and decide they can be both, mixing elements of both the tux and the bridal gown. The only important thing is that Worm loves Worm.
---

In a Blue Room
by Jim Averbeck
Ages 3–7
Alice begs for everything blue as her mother tries to put her to bed in a room full of other colors. Turning out the light bathes Alice's room in the pale blue light of the moon and Alice's wishes all come true.
---

The Mitten
by Jim Aylesworth, Barbara McClintock
Ages 3–8
In this retelling of a folk tale, a young boy loses his red mitten while sledding. The mitten is found by a delighted squirrel who enjoys its cosiness until a first a rabbit, then a fox, and finally a bear beg to join in the warmth. McClintock's pen-and-ink illustrations illustrate the silliness in a wonderfully naturalistic way.
---

My Grandfather's Coat
by Jim Aylesworth, Barbara McClintock
Ages 4–8
A young man comes to America, becomes a tailor, and makes himself a handsome coat to wear to his wedding. When the coat wears out, he alters it into a stylish jacket, a snazzy vest, and finally a stylish tie. This joyful rhyming version of a Yiddish folksong shows grandfather restyling his beloved coat through four generations.
---

Our Abe Lincoln
by Jim Aylesworth
Ages 4–8
The simple text of this biography is adapted by a popular song during Lincoln's presidential campaigns, and can be sung to the tune of "The Old Grey Mare." The charming and detailed illustrations will enchant children as they sing along.
---

The Pied Piper of Hamelin
by Thomas Baas
Ages 6–9
Set in northern Germany near Christmas of 1283, the town is ready to celebrate when a horde of rats arrives. The mayor offers 1000 gold coins for ridding the town of rats, and a stranger with a small pipe charms them outside the town gates. The mayor refused to pay the reward, and the stranger pipes the children away as well. Vibrant illustrations accompany this retelling of the classic legend.
---
Pomelo Begins to Grow
by Ramonoa Badescu, Benjamin Chaud
Ages 4–7
As this endearing young elephant begins to grow, he worries that he won't grow equally all over and wonders what is happening to his insides. Pomelo expresses all the frets and fears that young children have yet rarely speak aloud. This reassuring book explores questions about growth with playful humor.
---

Pomelo Explores Color
by Ramona Badescu, Benjamin Chaud
Ages 3–up
The long-trunked Pomelo explores 12 colors in all their shades and nuances. Exploring colors both in the natural world and as a reflection of an emotional state, this beautiful book will appeal to both preschoolers and older children.
---
Before I Leave
by Jessixa Bagley
Ages 3–7
When Zelda, a tiny hedgehog, is told by her parents that they are moving, she tries to convince her parents to bring her best friend Aaron the anteater along. Accepting that they soon must part, the two spend their final time together playing all of their favorite games, hoping their friendship can survive the change.
---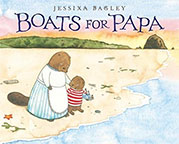 Boats for Papa
by Jessixa Bagley
Ages 3–7
Buckley is a small beaver who lives with his Mama and misses his Papa. Every day Buckley and Mama explore the shore near their home, and Buckley gathers materials to build miniature boats to sail out into the ocean with a loving note for Papa. "If they don't return," he tells his mother, "I'll know they reached Papa." Eventually Buckley realizes Mama has been gathering the boats as they return to shore. This simple book beautifully explores grief and longing.
---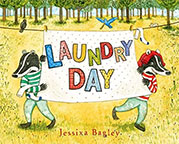 Laundry Day
by Jessixa Bagley
Ages 3–6
Young badgers Tic and Tac have exhausted all their toys and are bored, so their mother enlists their help to hang the family laundry on the clothesline while she runs an errand. Hanging the laundry turns out to be so much fun that the two brothers begin to hang up everything they can find, including the alarm clock, a bunch of carrots, a fishbowl, and everything else that isn't nailed down. This fun tale of badger mischief is perfect as a read-aloud or for beginning readers.
---

When Santa Was a Baby
by Linda Bailey, Geneviève Godbout
Ages 3–7
Santa's parents adore their baby son, despite his somewhat strange habits. He will only wear the color red, and insists on giving away all his birthday presents. He stands by the open refrigerator door enjoying the cool temperature, and trains his hamster to pull a tiny sled made out of a matchbox.
---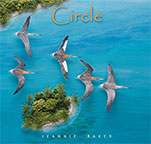 Circle
by Jeannie Baker
Ages 5–8
Each year the bar-tailed godwit completes the longest unbroken migration of any bird, from the Arctic to Australia and New Zealand and then back to the breeding grounds in the Arctic. Beginning in Australia, a boy in a wheelchair watches the godwit flock through binoculars, longing for the freedom of flight. In China the flock discovers buildings where they used to rest, and must search for a new feeding spot. They then travel to Alaska, where disaster strikes their breeding grounds, before returning to Australia, welcomed by the boy who is now on crutches. The incredible strength of the birds is beautifully set against the fragility of the habitat they need to survive.
---

LMNO Peas
by Keith Baker
Ages 3–8
A hilarious group of alphabet peas romp through the alphabet, appropriated garbed to illustrate various jobs and occupations for each letter. Bouncy rhyming text accompanies each letter, presented as a large colorful shape surrounded by cheerful busy pea creatures. The book is a fun read-aloud, and young readers will want to spend time examining each page closely.
---

1-2-3 Peas
by Keith Baker
Ages 3–7
The lively peas from LMNO Peas return in this rhyming romp through the numbers. The engaging graphics encourage young readers to count by 1s and 10s to 100 and the funny visual quirks keep both children and adults involved.
---
Potato Joe
by Keith Baker
Ages 4–8
If it can rhyme with potato, Potato Joe and his nine potato friends have thought of it. The simple illustrations complement the rhymes in this counting book, and kids will be eager to turn the page to see what the silly spuds are up to next.
---
Ocean Sunlight: How Tiny Plants Feed the Seas
by Molly Bang, Penny Chisholm
Ages 4–8
This visually stunning book celebrates the sun's role in the ocean's ecosystems. Poetic language portrays the precarious balance sustaining each life cycle and food change deep within our oceans and the energy transfer between plants and animals.
---

Rivers of Sunlight: How the Sun Moves Water Around the Earth
by Molly Bang, Penny Chisholm
Ages 4–8
Speaking directly to the reader, the Sun explains that the water on Earth is constantly in motion and reveals the role the sun takes in heating and cooling water, keeping the ocean currents in motion, and drawing fresh water out of the ocean. (part of the Sunlight Series that explores our planet's delicate geological cycles)
---
When Sophie's Feelings Are Really, Really Hurt
by Molly Bang
Ages 4–8
Sophie paints a vividly colored picture of her favorite tree, painting the tree blue because it makes her so happy. Her classmates don't appreciate her painting, declaring that trees aren't blue and the sky isn't orange. When the other children laugh at her, Sophie begins to cry. Sophie's teacher helps the students appreciate both Sophie's and more realistic paintings as different ways to see a tree. (companion volume to When Sophie Gets Angry — Really, Really Angry)
---
The Bear in the Book
by Kate Banks, Georg Hallensleben
Ages 3–6

At bedtime a small boy chooses his favorite book for his mother to read to him. Looking over their shoulders, readers join in this special time between mother and child as they read about seasonal change, sleep cycles, and hibernation. Just as the bear wakes up in the spring, the boy drifts off to sleep. Beautifully soothing and engaging.
---

Max's Castle
by Kate Banks, Boris Kulikov
Ages 4–8
The imaginative Max uses a wooden letter blocks to build an enormous castle. Later Max and his two brothers play a three-dimensional word game. King Max is a bit of a pacifist and transforms sword into words, spear into pears, and pirates into rat pies. This creative celebration of word play follows Max's Words and Max's Dragon.
---

Max's Math
by Kate Banks, Boris Kulikov
Ages 4–8
Max and his two brothers head off to Shapeville to search for some problems to solve. They find a number along the road — is it a 6 or a 9? In Shapeville they discover that all the squares have been washed away in a flood, and demonstrate how to construct new squares from triangles. Then they are off to Count Town to restore the lost number to its proper place in the rocket countdown.
---

What's Coming for Christmas?
by Kate Banks, Georg Hallensleben
Ages 3–6
The tranquil text and soft acrylic illustrations perfectly capture the anticipation that fills a snowy day as Christmas approaches. This bedtime book which includes both the Santa and Nativity aspects of the holiday will happily sooth young children to sleep.
---

Time Out!
by Ale Barba
Ages 3–7
A small pig causes a mess skateboarding inside the house, and is sent to Time Out. Luckily his pet bird can keep him company and the pig draws a red spaceship to launch themselves into space. The parent's voice prompting "I hope you're really thinking about it!" goes unnoticed as the pig and bird arrive on the moon, a triumph of the power of imagination to transform the worst punishment into a magical experience.
---

Audrey (cow)
by Dan Bar-El
Ages 7–10
Audrey the cow is a dreamer and a poet living on Bittersweet Farm. Audrey refuses to accept that she is destined for the abattoir and then the meat section of the supermarket. After failing to starve herself, Audrey begins to practice fence jumping, determined to escape her fate. With the help of her barnyard friends, Audrey flees to the forest, pursued by a reporter and a wild-life enforcement officer. Written in the form of transcripts of interviews from the animals and human characters, this light-hearted tale takes a philosophical stance against the meat industry.
---

Count the Monkeys
by Mac Barnett, Kevin Cornell
Ages 3–6
Instead of monkeys, young readers will enjoy counting the increasing number of predators that have frightened the monkeys away. The single cobra on the first page is fairly realistic, but the silliness mounts to ten polka-dotted rhinoceroses with bagpipes and bad breath. Bright illustrations match the fun of the humorous text.
---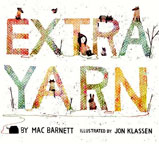 Extra Yarn
by Mac Barnett, Jon Klassen
Ages 4–8
Annabelle, who lives in a world of white snow and black soot, longs for color. When she finds a box full of bright yarn, she sets out to knit colorful sweaters for everyone she knows. No matter how much she knits, the box always seems to hold more yarn. A greedy archduke tries to buy the yarn box, but Annabelle refuses. When he steals the box, he finds that it is empty, though it magically refills when returned to Annabelle.
---

I Love You Like a Pig
by Mac Barnett, Greg Pizzoli
Ages 4–8
The silly similes in this funny read-aloud invite children to think imaginatively — what does it mean to love someone like a pig? Choruses of "Oink! Oink! Oink!" encourage young readers to interact with the text and the goofy cartoon illustrations.
---

Leo: A Ghost Story
by Mac Barnett, Christian Robinson
Ages 3–5
Leo is a ghost. When a new family moves into the empty house, he welcomes them with a tray of tea and toast. But the family is frightened and Leo is hurt by their fear. He leaves the house and meets Jane, a girl who is eager to have an imaginary friend to share adventures with.
---

Oh No!: Or How My Science Project Destroyed the World
by Mac Barnett, Dan Santat
Ages 4–8
When an overly ambitious girl builds a robot for her science project, things get hilariously out of hand very quickly. Speech bubbles tell the tale in this nearly-wordless book as our heroine tries unsuccessfully to control her prize-winning entry in this action-packed kids-eye account of girl versus machine.
---

Oh No! Not Again!: Or How I Built a Time Machine to Save History
by Mac Barnett, Dan Santat
Ages 4–8
When our studious heroine misses a question on her history test, she builds a time machine to travel back in time to alter history so that the oldest cave paintings are found in Belgium. The deadpan text and dramatic illustrations hilariously portray the dangers of altering history, while subtly demonstrating the perils of perfectionism. (follow-up to Oh No!: Or How My Science Project Destroyed the World)
---

Sam and Dave Dig a Hole
by Mac Barnett, Jon Klassen
Ages 4–8
Sam and Dave are on a mission to discover something spectacular so they dig a hole. They keep digging, and digging, and digging until they eventually find themselves back in their own yard. Or are they? Is that exactly the same house? Subtle humor infuses the text and illustrations.
---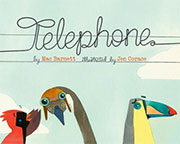 Telephone
by Mac Barnett, Jen Corace
Ages 4–8
This funny take on the classic game begins with a pigeon telling the cardinal perched next to her on a telephone wire, "Tell Peter: Fly home for dinner." Each bird in line filters the message through its own set of mental filters (baseball, aviation, etc.).
---

Triangle
by Mac Barnett, Jon Klassen
Ages 6–9
Triangle decides to play a sneaky trick on his friend Square, frightening him by pretending to be a snake. Square chases Triangle back home and blocks his triangular door, leaving Triangle in the dark and frightening him in return. This funny book is the first in a trilogy featuring geometric shapes.
---

Santa from Cincinnati
by Judi Barrett, Kevin Hawkes
Ages 4–8
This clever picture book presents the first person narration of Santa's birth and childhood in Cincinnati. Born on December 25th, Santa's parents found his name in a bowl of alphabet soup and wrapped the baby in a red blanket, putting a tiny Santa hat on his head. As a child, Santa carries around a pillowcase full of stuffed reindeer toys, and as a boy constructs toys with his father in the basement, giving the toys away every Christmas Eve as a young man. This delightful story will enchant both children and adults.
---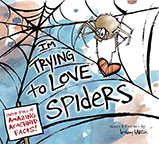 I'm Trying to Love Spiders
by Bethany Barton
Ages 4–8
The narrator of this engaging book is frank about her mixed feelings about spiders. While explaining all sorts of fascinating facts about spiders — anatomy, eating habits, venom, web construction — she verges on the edge of squashing the very arachnoid she is describing.
---

Dazzle Ships: World War I and the Art of Confusion
by Chris Barton, Victo Ngai
Ages 7–11
During World War I, British Lieutenant-commander Norman Wilkinson came up with the idea of painting ships with bold colors and crazy patterns in the hope of confusing the enemy about the ship's speed and direction. By the end of the war, more than four thousand British and American ships were painted in dazzling designs to protect them from German torpedo attacks.
---

The Nutcracker Comes to America: How Three Ballet-loving Brothers Created a Holiday Tradition
by Chris Barton, Cathy Gendron
Ages 7–11
The Nutcracker ballet was well-known in Russia since its composition in the 19th century, but it wasn't known in America until William, Harold, and Lew Christensen, three brothers from a small town in Utah, discovered ballet. They danced on vaudeville and in New York City, where Russian immigrants shared the story of The Nutcracker. On Christmas Eve 1944 the three brothers staged a full-length version of the ballet at the War Memorial Opera House in San Francisco, starting a holiday tradition that continues around the country today.
---
Seeds of Freedom: The Peaceful Integration of Huntsville, Alabama
by Hester Bass, E.B. Lewis
Ages 5–8
The struggle for civil rights in Alabama was often violent. But the citizens of Huntsville felt that creativity, courage, and cooperation were the keys to working together to integrate their city and schools in peace. Not nearly as well known as the story of the violence in Birmingham around the same time, Huntsville demonstrated that racial discrimination, bullying, and unfairness can be faced successfully with perseverance and ingenuity.
---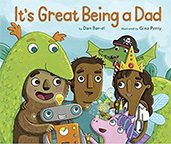 It's Great Being a Dad
by Dan Bar-El, Gina Perry
Ages 4–8
A group of costumed children are having a great game of make believe until Bigfoot gets tangled in a tree, Unicorn's horn becomes stuck in a table, and Robot's arm begins to rust in the rain. Luckily Dad comes to the rescue and even saves Fairy Queen Ballerina Doctor's wand from Sneaky Flying Alligator Pirate.
---
My Bus
by Byron Barton
Ages 4–8
This bus driver on this colorful bus picks up dogs and cats waiting at the bus stops: one dog, two cats, etc. At various destinations — the airport, the harbor, the train station — animals depart the bus, providing multiple opportunities to add, subtract, and examine sets along the way.
---
The Amazing Age of John Roy Lynch
by Chris Barton, Don Tate
Ages 7–10
John Roy Lynch spent his childhood as a slave in Mississippi. After emancipation, Lynch took odd jobs to pay for his education and became a Justice of the Peace and then one of the first African-American Congressmen. This engaging biography portrays the difficulties of the Reconstruction Era while celebrating a talented man determined to succeed.
---

Shark vs. Train
by Chris Barton, Tom Lichtenheld
Ages 4–8
Who is better, Shark or Train? This cleverly funny book proves that it all depends upon the circumstances. When trick-or-treating, Shark's toothy grin fills the bag first, but Train's coal burning engine has the advantage when roasting marshmallows. As the stakes grow more absurd and funnier neither comes out on top — the lack of thumbs make both pathetic at video games. The hilarious expressions in the watercolor cartoon illustrations are the perfect match for the snappy dialog of the text.
---
The Day-Glo Brothers
by Chris Barton, Tony Persiani
Ages 4–8
Brothers Joe and Bob Switzer were very different. Bob was serious and wanted to be a doctor. Joe was an amateur magician and wanted to make a name for himself in show business. When Bob had a serious accident and was confined to a dark basement for recovery, the two brothers began experimenting with ultraviolet light and fluorescent paints, and invented a new kind of intense color they called Day-Glo. Joe used the Day-Glo paint in his magic act, and later Day-Glo paint was used to guide planes to safe landings on aircraft carriers during WWII. The illustrations for this accessible biography are created with three Day-Glo colors: Saturn Yellow, Fire Orange, and Signal Green.
---
Enigma
by Graeme Base
Ages 5–10
Bertie Badger arrives at his grandfather's house expecting a magic show, but the magic props have all disappeared. Readers are encouraged to crack codes and find hidden pictures to solve the mystery, told in rhyming quatrains. A set of bonus challenges will keep kids, and their relatives, glued to the pages for weeks.
---

The Jewel Fish of Karnak
by Graeme Base
Ages 5–8
Jackal and Ibis are two wily thieves living in ancient Egypt. The Car Pharaoh offers them a pardon if they will steal back only a jeweled fish sculpture from the Crocodile Prince. But the two can't restrain themselves and steal gold and other treasures. Condemned to a lifetime of angling for the Jewel Fish, readers can release the endearing thieves from their endless punishment by solving puzzles.
---

The Legend of the Golden Snail
by Graeme Base
Ages 4–10
William' favorite storybook tells of a giant snail which was transformed into a golden galleon, a Snailing Ship, and banished to the ends of the Earth, awaiting rescue by a brave master. Determined to find and rescue the Golden Snail, William and his trusty cat set sail. Along the way he befriends strange creatures in need, who in turn help him along the way. Richly detailed paintings conceal a golden snail and pirate crossbones on each page.
---

ABC3D
by Marion Bataille
Ages 4–up
In this amazing pop-up book, the 26 letters of the alphabet not only pop up, they also move and transform. This clever French book will enchant readers and art lovers of all ages.
---
Out on the Prairie
by Donna M. Bateman, Susan Swan
Ages 4–7
Ten animals that live in Badlands National Park in South Dakota appear in this beautifully illustrated book modeled on the rhyme "Over in the Meadow." Striking collages present familiar and unusual flora and fauna described in vivid text that begs to be read aloud.
---

Winter Dance
by Marion Dane Bauer, Richard Jones
Ages 4–7
Winter is fast approaching and everyone seems to know what to do except the fox. The squirrel advises the fox to gather and store acorns, the snowshoe hare puts on a winter coat, the geese fly south, and the bear prepares to hibernate. None of those plans sound right to the fox until another red fox arrives with the perfect winter plan.
---

Big Snow
by Jonathan Bean
Ages 3–6
David helps his mother with holiday household chores, but everything makes him think of the "big snow" he is hoping for — flour, white sheets, soap suds. His mother insists on a nap, and David dreams that the snow invades their house, making a huge mess to be cleaned up. When his father comes home, the three bundle up to go outside and enjoy the real snow blanketing the world.
---

King Baby
by Kate Beaton
Ages 4–8
King Baby rules his house and issues orders (in baby babble) to an adoring line of subjects (grandparents, relatives, family friends) as his proud parents stand guard. This funny book highlights the way young parents often bow to their baby's every wish.
---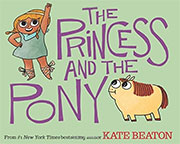 The Princess and the Pony
by Kate Beaton
Ages 4–8
Pinecone, a Viking princess, asks her parents for a warrior's horse for her birthday. The chubby little pony she receives is not at all what she had in mind, plus the pony eats everything and farts constantly. Princess Pinecone worries that the pony will embarrass her during the great battle, but the meanest warrior of all is charmed by the little beast. This funny story full of alliteration is a great read-aloud.
---

Knock Knock: My Dad's Dream for Me
by Daniel Beaty
Ages 3–6
Every morning a young boy plays a game with his father who knocks on his bedroom door. The boy pretends to be still asleep until his father gets right to his bed when they share a hug. Then one day his father doesn't knock on his door and disappears. Eventually his father writes to him from prison, turning their knock knock game into a symbol of all the things that are possible for the child, as he knocks down the doors his father was not able to.
---

Sleuth on Skates
by Clémentine Beauvais, Sarah Horne
Ages 7–11
Sesame Seade (11) roller skates around Cambridge University, searching for a mystery to solve. When Jenna Jenkins, a Cambridge student, ballerina, and aspiring journalist, goes missing, Sesame is delighted that her opportunity has finally arrived. With the help of her friends Gemma and Toby, Sesame skates off to solve the mystery. This hilarious novel is the first in a series.
---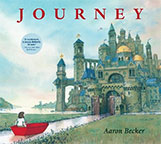 Journey
by Aaron Becker
Ages 4–8
In this wordless adventure, a lonely little girl draws a door on the wall in her drab monochromatic world and escapes into a magical world full of color. Using the same red chalk she draws a boat to take her to a wondrous castle, and then a red hot-air balloon to explore the skies where she rescues a fantastical bird held captive by soldiers in steampunk airships.
---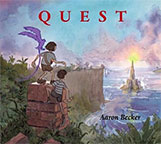 Quest
by Aaron Becker
Ages 4–8
In this wordless follow-up to Journey, the girl and her new friend take refuge from the rain under a bridge in a city park. A king emerges from a door just long enough to hand them a map. They return to the magical city of Pallonezia and find that the city is under siege and in flames, requiring the children to draw their way out of danger again and again.
---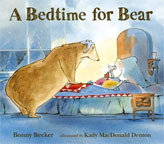 A Bedtime for Bear
by Bonny Becker, Kady MacDonald Denton
Ages 4–8
When Bear's exuberant friend Mouse comes to spend the night, Bear finds being a host difficult to say the least. Bear needs absolute quiet in order to fall to sleep, and Mouse is anything but quiet. But when scary sounds are heard in the middle of the night, Bear realizes that having a friend is more important than having things exactly his own way. Charming watercolor illustrations highlight the dry humor of the text and characterizations.
---

I Yam a Donkey!
by Cece Bell
Ages 4–8
An enthusiastic donkey introduces himself to a small yam by saying, "I yam a donkey!" The pedantic yam tries to correct the donkey's pronunciation by offering the correct "I am a donkey," causing great confusion for the donkey who has never seen such a small funny-shaped donkey before. The escalating series of miscommunications causes donkey grow even more bewildered while the yam becomes more and more furious.
---

Rabbit and Robot: The Sleepover
by Cece Bell
Ages 5–8
Rabbit is very excited about having his friend Robot over for a sleepover. The over-controlling Rabbit has everything organized on his list, but unfortunately he hasn't consulted his overly-logical friend. Robot would rather play Old Maid than Go Fish, and the vegetable pizza doesn't have his favorite toppings: nuts and bolts. Both strong personalities manage to bend just a bit in this funny tale about two mismatched friends.
---
Madeline's Rescue
by Ludwig Bemelmans
Caldecott Medal 1954


Ages 4–8
One day on a walk through Paris Madeline slips and falls off a bridge right into the Seine and is rescued by a brave dog. The girls take the dog home, but she is banned from the house, so the girls must search all of Paris to find her again. Incredible illustrations complement the rhyming text. (sequel to Madeline)
---
A Perfect Day
by Carin Berger
Ages 4–8
Cut paper collages illustrate the activities of children enjoying a snowy day from dawn until dusk. From footprints and ski tracks to snowball tracks to the joy of making snow angels, this quiet book celebrates the joy and beauty of playing in the snow.
---

Dream Dog
by Lou Berger, David J. Catrow
Ages 4–8
Harry really wants a dog, but his parents give him a lizard as a pet instead. So Harry puts on his X-35 Infra-Rocket Imagination Helmet and imagines a dog named Waffles, who is as big as an Irish wolfhound and made entirely from clouds. No one else can see Waffles, but that doesn't bother Harry one bit. Harry and Waffles are completely happy together until Dad brings home a real dog and Harry is torn between the dog he has always wanted and the imaginary creature who has given him so much comfort.
---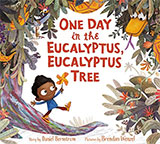 One Day in the Eucalyptus, Eucalyptus Tree
by Daniel Bernstrom, Brendan Wenzel
Ages 4–8
A large yellow snake hiding in a eucalyptus tree, swallows a small boy. The boy cleverly convinces the snake he is still hungry and the greedy snake consumes a series of creatures until his belly rebells and they all come pouring out again. The rhyming text and bold illustrations add to the fun of this funny tale.
---

What Floats in a Moat?
by Lynne Berry, Matthew Cordell
Ages 5–9
Archie the Goat has several barrels of buttermilk to deliver to the Queen. His friend Skinny the Hen suggests the obvious solution of using the drawbridge to cross the moat the the castle, but Archie is determined to use science to figure out what will float across the moat. Through trial and error (while drinking buttermilk) the two replicate Archimedes's discoveries about the displacement of water. This enjoyable read-aloud will be relished by all young lovers of the excitement of discovery.
---

Hannah and Sugar
by Kate Berube
Ages 5–7
Hannah is afraid of dogs, even the friendly Sugar who belongs to a neighbor. Sugar meets Hannah 's school bus every day and the other kids love petting Sugar, but Hannah hides her deathly fear behind a polite refusal. Then one day Sugar goes missing, and Hannah 's empathy conquers her fear.
---

Beatrice Spells Some Lulus and Learns to Write a Letter
by Cari Best, Giselle Potter
Ages 5–8
Beatrice wants to write the kind of letters that are mailed to someone special, but she only knows how to make individual letters like ABCTERIE. Then Nanny Hannah teaches her how to string the letters together to make words, gives her a dictionary, and teaks her to play Scrabble. Inspired by her Nanny's enthusiasm, Beatrice overcomes her classmates' aversion to learning to spell by bringing her pet T-A-R-A-N-T-U-L-A to show-and-tell.
---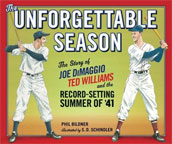 The Unforgettable Season: Joe DiMaggio, Ted Williams and the Record-Setting Summer of 1941
by Phil Bildner, S.D. Schindler
Ages 6–9
In 1941, neither Joe DiMaggio of the New York Yankees nor Ted Williams of the Boston Red Sox were big stars. This book is the story of the season that changed all that, telling of DiMaggio's 56-game hitting streak and Williams's season batting average of .406, amazing records that still stand today. Bright illustrations featuring period details capture the energy and excitement of this amazing baseball season.
---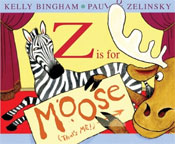 Z Is for Moose
by Kelly Bingham, Paul O. Zelinsky
Ages 3–7
The sensible Zebra tries to direct all of the animals to appear on the right page in the proper order at the correct time, but the irrepressible Moose, who is sure he owns the letter M, cannot contain his enthusiasm and impatience. He pushes Duck out of the way, annoys Elephant, and pops out of the pouch of a surprised Kangaroo. Young readers will revel in Moose's antics as he disrupts the usual calm alphabet procession.
---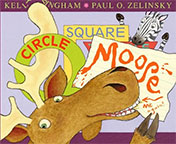 Circle, Square, Moose
by Kelly Bingham, Paul O. Zelinsky
Ages 4–8
Moose just can't help himself. He loves shapes so much that he simply must insert himself into this book about shapes. It's up to his friend Zebra to fix everything when Moose makes a huge mess of all the shapes. A few geometrical concepts are explained, but it's themes of exploration, conflict resolution, and friendship take center stage in this hilarious follow-up to Z Is for Moose.
---

Snakes
by Nic Bishop
Ages 4–8
Photographer and naturalist Nic Bishop presents captive and wild snakes in breathtaking detail. Magnified full-page images leap off the page while the text provides factual information as well as observations about each snake's physical characteristics and behavior.
---

I'm Bored
by Michael Ian Black, Debbie Ridpath Ohi
Ages 3–8
A little girl is overwhelmed by boredom when she encounters an equally bored potato, who declares that all children are boring. Our heroine can't let that insult go by and leaps into action, determined to prove that she at least is anything but boring. She plays games, does tricks, and uses her very fertile imagination to try and generate even a tiny spark of interest from the potato. The dry wit of the text is beautifully complemented by the minimalist illustrations.
---

Naked!
by Michael Ian Black, Debbie Ridpath Ohi
Ages 4–8
The gleeful little boy emerging from a bubble bath discovers the joys of dashing through the house naked. He imagines life without clothes: going to school, playing on the playground, dancing the Hokey Pokey. Artful placement of props, hands, and feet conceal his private parts. Eventually the boy starts to shiver and realizes the joys of snuggling into his favorite dragon pajamas.
---
A Pig Parade Is a Terrible Idea
by Michael Ian Black, Kevin Hawkes
Ages 4–8
A pig parade may sound like a great idea, but this funny book with hilarious illustrations proves that it is not. Pigs don't like to march, they won't wear uniforms, and their hooves are not designed to hold onto balloons. They really don't care about floats, and prefer country ballads to military tunes. This laugh out loud book makes a wonderful read-aloud.
---

The Baby Tree
by Sophie Blackall
Ages 5–8
When told by his parents that a new baby will soon be arriving, the child begins asking everyone where babies come from. The evasive half-answers from the adults are transformed by the child into rich scenarios. When the postman says that he thinks they come from eggs but isn't sure where the eggs come from, the boy imagines a cozy nest of baby eggs just starting to hatch. Eventually the boy's parents explain exactly where babies come from. Beautiful illustrations enhance the story.
---

Ivy Loves To Give
by Freya Blackwood
Ages 4–8
A small girl named Ivy loves to give presents, though the things she gives away aren't always hers to dispose of, and she hasn't a good sense of what the recipient would like to receive. But her family doesn't mind passing the gifts on to a more appropriate receiver and all comes out right in the end. Delicately funny watercolors illustrate the minimal text in this quiet tale of giving and receiving.
---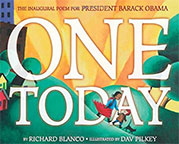 One Today
by Richard Blanco, Dav Pilkey
Ages 3–6
This poem was commissioned by President President Barack Obama to read at his second presidential inauguration. American themes from dawn to dusk are viewed through the eyes of a representative multi-racial city-dwelling family.
---

Seasons
by Blexbolex
Ages 4–up
This stunning picture book explores the cyclical nature of life by examining the seasons. Beautiful prints present simple yet detailed views of landscapes, objects, and people during different times of the year, encouraging readers to notice subtle details. As time passes and the seasons rotate, a sense of the permanence of the cycle of change is revealed.
---

Tap Tap Boom Boom
by Elizabeth Bluemle, G. Brian Karas
Ages 3–7
In this toe-tapping book a sudden thunderstorm makes friends of city strangers who race to the subway to get out of the rain. Jazzy rhythms and clever rhymes celebrate the unexpected moment of community.
---
A Bike Like Sergio's
by Maribeth Boelts, Noah Z. Jones
Ages 5–8
Ruben longs for a bike like all the other kids, but knows that his family can't afford to buy him one even though his birthday is coming soon. While buying groceries for his mother, he finds a $100 bill dropped by another customer. If he keeps the money he can finally have a bike like Sergio's, but can he explain the bike to his parents? Ruben's ethical dilemma is perfectly captured as he struggles to decide what to do with the money.
---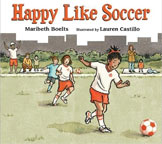 Happy Like Soccer
by Maribeth Boelts, Lauren Castillo
Ages 5–8
Sierra loves soccer, but Sierra's auntie works on Saturdays and can't come cheer her on like the families of the other girls on the team, leaving Sierra feeling a bit left out. So Sierra comes up with a plan to allow her auntie to see her play. Class differences and the clash of city and suburban cultures are sensitively portrayed in this thought-provoking book.
---

The White Cat and the Monk: A Retelling of the Poem "Pangur Bán"
by Jo Ellen Bogart, Sydney Smith
Ages 4–8
This retelling of the old Irish poem tells the story of a solitary monk who observes the white cat who shares his simple life. The monk records the similarities between himself and the cat, noticing the importance of work, companionship, and the pursuit of things that matter. This simple and elegant book will appeal to children and adults alike.
---

That 's My Hat!
by Anouck Boisrobert, Louis Rigaud
Ages 4–8
The wind blows a small boy's hat into the paws of a mischievous monkey who dashes away with it. The boy follows the monkey through familiar places like a department story and a bakery. At each stop, readers can follow clues to lift a pop-up and find the monkey. In the library, the helpful librarian suggests looking for the monkey on the shelf marked M. This engaging visual chase is great fun.
---

Under the Ocean
by Anouck Boisrobert, Louis Rigaud
Ages 4–up
The sailboat Oceano leaves a polluted port, sailing past icebergs in the Arctic and through stormy seas. When it arrives in a beautiful lagoon, the crew scuba dives in the clear blue water. Beautifully constructed pop-ups lift vertically to reveal the wonders of the undersea world throughout the journey in this thought-provoking exploration of the ocean and human-created hazards.
---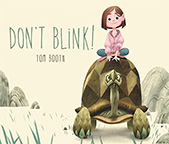 Don't Blink!
by Tom Booth
Ages 3–6
A small girl challenges the reader to a contest: the last to blink is the winner. A series of animals joins the girl in the contest, each reminded "Don't blink!" as they join in. This silly low-tech contest is great fun.
---

The Steel Pan Man of Harlem
by Colin Bootman
Ages 5–9
In this retelling of the Pied Piper of Hamelin folk tale, a steel pan playing man appears and offers to rid Harlem of a plague of rats. Set during the Harlem Renaissance and featuring a mysterious magician from the Caribbean, this spell-binding tale is illustrated with beautifully detailed oil paintings.
---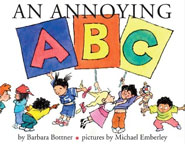 An Annoying ABC
by Barbara Bottner, Michael Emberley
Ages 4–8
This clever alphabet books describes, in alphabetical order, a chain of annoying and unpleasant behavior. "Dexter drooled on Eloise. Eloise elbowed Flora." Eventually, the clever and supportive Miss Mabel engineers a chain of apologies that restore a tranquil peace to the class just in time for story hour, in this hilarious portrayal of the chaos that can erupt in a Kindergarten class.
---

Priscilla Gorilla
by Barbara Bottner, Michael Emberley
Ages 4–7
Priscilla (6) is obsessed with gorillas. She loves everything about them, especially that they always get their way. She dances like a gorilla, eats like a gorilla, and wears her gorilla pajamas as often as she can. Her teacher asks the class to do reports on their favorite animals, and Priscilla is delighted to give her report in costume. Unfortunately she beats her chest and dances around when it's not her turn, ending up in the Thinking Corner. The rest of the class decides being gorillas is great fun, and the Thinking Corner is soon very crowded.
---

Step Right Up: How Doc and Jim Key Taught the World about Kindness
by Donna Janell Bowman, Daniel Minter
Ages 7–12
William "Doc" Key had a connection to animals since he was a child. While growing up as a slave in Tennesee, Doc was sent to plantations around to state to care for sick animals. When Doc was freed after the Civil War, he dreamed of breeding a winning race horse, but his colt was born weak. Instead of euthanzing the colt, Doc nursed the sickly colt back to health and named him Jim. Doc taught Jim to recognize letters and to count. The two traveled around the country, telling the story of how kindness saved Jim and brought them both happiness.
---

Amazing Cows: Udder Absurdity for Children
by Sandra Boynton
Ages 5–8
If you are looking for true facts about cows, this is not the book for you. But if you just want to have fun with cows, dive in! Hilarious drawings illustrate a cow myth from ancient Athens, cow poems, an udderly silly cow fashion show, a cow comic featuring Amazing Cow, and much more.
---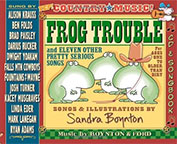 Frog Trouble: And Eleven Other Pretty Serious Songs
by Sandra Boynton
Ages 2–up
Boynton goes country in this toe-tapping CD and illustrated songbook designed with children and parents in mind. Boynton's humor and the talented country performers make a winning combination.
---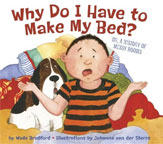 Why Do I Have to Make My Bed?
by Wade Bradford, Johnanna van der Sterre
Ages 4–8
This engaging picture book moves backwards in time, with generation after generation of children asking the same question, "Why do I have to make my bed?" The text and pictures work together to present a humorous look at typical chores in a familiar domestic setting in this clever introduction to history.
---

Pete & Pickles
by Berkeley Breathed
Ages 4–8
Pete the sensible pig leads a predictable life until Pickles, a runaway circus elephant enthusiastically turns it upside down. Breathed's evocative digital illustrations bring this funny and exciting story to life.
---
Not Very Scary
by Carol Brendler, Greg Pizzoli
Ages 3–6
Melly is a green-skinned little monster who is usually very brave. On her way to cousin Malberta's house for a surprise, Melly encounters a coal-black cat, which she doesn't find very scary. But the two skittish ghosts she sees next make her a bit nervous, and the tongue twisting apparitions keep growing in number. Melly stoutly declares that each one is not scary, using a different adverb each time. This fun read-aloud is perfect for small children who prefer just a smidge of scariness.
---
Dirtball Pete
by Eileen Brennan
Ages 4–8
Pete's mother tries to scrub him clean before the class presentation — Fifty States and Why They're Great — but Pete's notes blow away and his chase to catch his speech turns him back into Dirtball Pete. But Pete's charisma triumphs over his appearance and his Pennsylvania presentation makes his mother proud. This hilarious book begs to be read aloud.
---

Cinders: A Chicken Cinderella
by Jan Brett
Ages 3–up
The hen Largessa and her two daughters Pecky and Bossy are excited when the invitation arrives from Prince Cockerel to a feathered frolic. They don't even consider including poor Cinders. After they depart, a Silkie hen arrives to transform Cinders into the most beautiful pullet at the ball. Framed as a dream by an 18th century Russian girl, this re-imagined fairy tale is as elegant as it is enchanting.
---

The Mermaid
by Jan Brett
Ages 4–8
This lavishly illustrated book resets the classic Goldilocks and the Three Bears folk tale under the sea. Kiniro, a young mermaid, discovers a pretty house made of sea shells. She finds a just-right breakfast, a right-sized chair, and a comfy bead that rocks in the current. When the Octopus family returns home they are not pleases to find that someone has been eating their food, and Baby is shocked to find someone sleeping in her bed. Luckily Kiniro has just the right gift to appease the Octopus family.
---

The Turnip
by Jan Brett
Ages 3–5
A badger family discovers an enormous turnip growing in their back yard. As the first snow begins to fall, they try to pull it out of the ground to take home and cook for the winter. A hedgehog, a ram, and a horse are also unsuccessful in pulling up the giant vegetable. Then a boastful rooster pulls on the turnip and it flies into the air, kicked by a mother bear trying to make more room in her underground den. This funny retelling of a Russian folk tale will keep young readers laughing.
---

Mary Wrightly, So Politely
by Shirin Yim Bridges, Maria Monescillo
Ages 4–8
Mary Wrightly is the best behaved little girl, quiet and polite. She always says"please" and "thank you," and never interrupts. Then one day a woman comes between Mary and the blue elephant toy and Mary was just going to buy for her beloved baby brother. Will Mary find the courage to assert herself and get the toy she knows her brother will love?
---

Keep Your Eye on the Kid:

The Early Years of Buster Keaton
by Catherine Brighton
Ages 5–8
This picture biography follows Buster Keaton from his birth to vaudeville parents to his early 30s.
---

Why Am I Me?
by Paige Britt, Selina Alko, Sean Qualls
Ages 4–8
Two children with different physical appearances are heading home with a parent on an elevated train. They are struck by similar wonderings: Why am I me? Why am I not you? Though connected by their parallel thoughts, the two children don't realize they are thinking and asking the same questions. This empathetic picture book invites readers to imagine a world of "us" rather than "me and you."
---

Masterpiece
by Elise Broach, Kelly Murphy
Ages 8–12
Two very different families share a Manhattan apartment. Marvin the beetle follows his family's rules about staying hidden from the humans, though he worries that the human family does not appreciate their 11-year-old son James. Tempted by the pen and ink set James receives for his birthday, Martin draws an intricate picture for James and then reveals himself as the artist. Before James can hide the drawing, his parents have discovered it and proclaim him a talented artist. Soon a museum curator is asking James to forge a Dürer miniature to catch a thief. The fast moving story and wonderfully detailed drawings will captivate young readers.
---

Missing on Superstition Mountain
by Elise Broach, Antonio Javier Caparo
Ages 8–12
Simon, Henry, and Jack Barker have just moved from Illinois to Arizona, and their parents have warned them that Superstition Mountain is totally off limits. But when their cat goes missing, the three brothers chase after her and discover three human skulls. Joining up with their neighbor Delilah, the children research local history and folklore, preparing for a secret return to Superstition Mountain to solve the mystery of the skulls. This exciting novel is the first in a new series.
---
Leave Me Alone
by Vera Brosgol
Ages 4–7
A Russian grandmother tries to concentrate on her knitting as her dozens of grandchildren tumble over her yarn and ask endless distracting questions. When the grandmother can't take any more, she shouts "Leave me alone!" and heads off with her yarn and needles to find some peace and quiet. She travels through the forest, to the mountains, and to the moon, bothered by animals and aliens wherever she goes until she finally finds peace on the other side of a wormhole. In that dark void she can finally finish her knitting — sweaters to keep her many grandchildren warm through the winter.
---

Let It Begin Here!

April 19, 1775: The Day the American Revolution Began
by Don Brown
Ages 6–10
This book begins as King George III wins the Seven Years' War and realizes his country needs money. The taxes imposed on the American colonies eventually lead to the Revolutionary War. Told in a clear and interesting style, young readers will enjoy reading about this time in history. (12/08)
---

All Stations! Distress!

April 15, 1912: The Day the Titanic Sank
by Don Brown
Ages 6–10
This gripping account captures the grandeur of the Titanic, the terror of the disaster, and the rescue the survivors. The watercolor and pencil illustrations capture telling details of of actions and facial expressions. The causes of the disaster are clearly explained and gripping first-hand accounts are included. (12/08)
---

We Go Together!: A Curious Selection of Affectionate Verse
by Calef Brown
Ages 4–8
The 18 poems in this light-hearted book celebrate loving friendship, combining delightful nonsense with deeper observations about the joys of companionship. The cheerful rhyming text begs to be read aloud.
---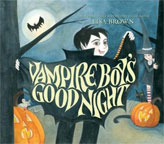 Vampire Boy's Good Night
by Lisa Brown
Ages 4–8
Bela, a young vampire, and his witch friend Morgan head out on Halloween night to discover for themselves if human children really exist. At a party they are surprised to find out that the others are really humans disguised in costumes. Speech balloons add to the fun in this look at Halloween from an outsider's perspective.
---

Marc Brown's Playtime Rhymes: A Treasury for Families to Learn and Play Together
by Marc Brown
Ages 3–6
Twenty action rhymes for children and adults to enjoy together are presented in this appealing book. Little drawings illustrate the hand and body motions to accompany each line of verse, offering multiple opportunites for parents and children to play together.
---

Monkey: Not Ready for Kindergarten
by Marc Brown
Ages 3–7
It's only a week before Kindergarten begins, and Monkey is not ready. He worries about getting on the wrong bus, forgetting the middle of the alphabet, and not making friends. His family helps calm his nerves by playing school at home and meeting his new classmates in advance. The reassuring book is perfect for all kids worried about new school year transitions.
---

Cinderella, or the Little Glass Slipper
by Marcia Brown
Caldecott Medal 1955


Ages 4–8
This retelling of the classic tale by Charles Perrault is a skillful version that is both simple and romantic. The pen and watercolor illustrations complement the story beautifully.
---

Once a Mouse…
by Marcia Brown
Caldecott Medal 1962


Ages 4–8
The mighty tiger challenges anyone to say he was once a mouse, but the hermit knows it to be true, since he himself used magic to transform the mouse into a cat and then a dog and finally a tiger. And unfortunately for the too proud tiger, those changes can be reversed. Beautiful woodcuts illustrate this Indian fable.
---
Shadow
by Marcia Brown
Caldecott Medal 1983


Ages 5–8
Marcia Brown's stunning African-inspired collage illustrations evoke the atmosphere and drama of a life now haunted, now enchanted by Shadow. (translated by Marcia Brown from the French poetry of Blaise Cendrars)
---

The Dead Bird
by Margaret Wise Brown, Christian Robinson
Ages 4–8
When a group of children find a dead bird in a park, they solemnly bury the bird under a leafy tree, making up a song of mourning, and placing a stone marker surrounded by flowers. This simple story of death and the comfort of shared mourning rituals, first published in 1938, has been re-illustrated to help modern parents discuss a difficult subject with a new generation of children.
---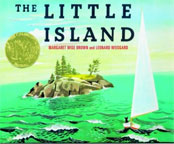 The Little Island
text by Margaret Wise Brown, illustrations by Leonard Weisgard
Caldecott Medal 1947


Ages 4–9
The little island is rich with plant and animal life despite its remote location. The illustrations beautifully document the seasonal changes.
---
The Curious Garden
by Peter Brown
Ages 3–6
While exploring his city neighborhood, Liam notices some flowering plants by an old railway track. He teaches himself to care for the plants, and the energetic plants respond by spreading though the formerly bleak neighborhood. Increasingly vibrant illustrations capture the transformation of Liam's world.
---

My Teacher Is a Monster!
by Peter Brown
Ages 4–8
Bobby is convinced that his teacher, Ms. Kirby, is a monster. When he flies his paper airplanes during class she won't let him enjoy recess. She shouts, gnashes her teeth, stomps, and roars. On weekends Bobby relaxes by playing in his favorite spot in the park by the pond. One day he is horrified to find that Ms. Kirby is there. A wind carries off Ms. Kirby's hat, and Bobby rescues it from a fall into the water. As she thanks him, Ms. Kirby's scary features transform from reptilian into human, and the two discover that the park is the perfect place to fly paper airplanes.
---

Mr. Tiger Goes Wild
by Peter Brown
Ages 3–6
Mr. Tiger lives in a polite and well-behaved world where animals wear proper outfits and stand upright. One day Mr. tiger grows tired of dainty tea parties and stiff clothing and decides to have fun. He drops to all fours, sheds his clothing, and goes wild! The message that it's OK to be different is delivered with humor and style in this delightful book.
---

Soar, Elinor!
by Tami Lewis Brown, Francois Roca
Ages 4–8
Elinor Smith was only six when she went up in her first airplane, and only sixteen when she earned her pilot's license, the youngest pilot in the USA. But most people didn't think women should be pilots, and newspapers belittled her accomplishment. So Elinor took a dare to fly under one of New York City's bridges, and then flew under four of them. Details of Elinor studying each bridge and plotting her route builds the suspense in this exciting story of determination and daring.
---
Me and You
by Anthony Browne
Ages 4–8
Two parallel storylines tell the story of a lost little girl and a contented bear family. While the little blond girl becomes separated from her mother on a busy city street, the small bear and his parents visit a neighborhood park while waiting for their porridge to cool. The lost girl enters their cozy house, but flees when the bears return. Luckily her mother is right outside, and both families end up safe and sound and together.
---

One Gorilla: A Counting Book
by Anthony Browne
Ages 3–up
Beautifully detailed portraits of primates proceed through the counting sequence from one to ten, beginning with the larger rarer animals and moving on to groups of smaller primates. The book ends with a self-portrait of the author/artist and finally a group portrait of humans of various ages and ethnicities. The personality portrayed in each face throughout the book makes this counting book something special, encouraging readers to recognize kinship between the primates.
---

What If…?
by Anthony Browne
Ages 5–8
Joe is a worrier. He walking with his mother to a birthday party, but has lost his invitation and doesn't know the house number. As they pass each house, Joe's mother continues to reassure him, but he imagines strange scenes behind the windows of every house they pass: a pair of aliens, an elephants, two boys stuffing another boy into a teapot. The trust between the boy and his mother eventually calms his fears, and it is the mother who has a moment of panic when they finally arrive at the party.
---

Grandma's Tiny House
by Janay Brown-Wood, Priscilla Burris
Ages 2–5
Grandma's family and friends fill her tiny house on Brown street. Aunts, uncles, nieces, nephews, grandkids, and neighbors arrive with treats for a family feast are counted in groups of 1 through 15. The little house is so full that no one can sit down to eat, but luckily one clever grandchild knows exactly how to solve the problem.
---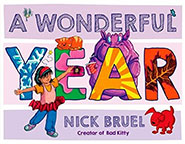 A Wonderful Year
by Nick Bruel
Ages 2–6
Four linked stories follow a young girl experiencing each of the four seasons. In winter, everyone and everything reminds her to dress warmly. In spring the girl and her dog try to involve the cat in a game of make-believe. In summer the girl literally melts in the heat and her purple hippo reconstructs her in the freezer, and in the fall the girl and a tree consider the ramifications of losing leaves. A nice balance between humor and reflection make this a perfect read-aloud.
---

Bad Kitty Scaredy-Cat
by Nick Bruel
Ages 5–8
Bad Kitty is frightened by a scary parade of alphabetical trick-or-treaters including a Noisy Neanderthal and an Odious Ogre. Bad Kitty is so scared that she cowers beneath the couch with a comforting alphabetical collection of Halloween treats including bubble gum and candy corn before emerging to take on the trick-or-treaters with an alphabetical series of actions including kicking and lambasting.
---

Big Wolf and Little Wolf, Such a Beautiful Orange!
by Nadine Brun-Cosme, Olivier Tallec
Ages 4–8
Little Wolf heads off after an orange that Big Wolf tosses over his head, and doesn't return. Worried, Big Wolf begins to search for his friend, but can't find him anywhere. Beautiful illustrations capture his lonely search and his joy when the two friends are finally reunited. This is the third and final book in the trilogy that includes Big Wolf and Little Wolf and Big Wolf and Little Wolf, The Little Leaf That Wouldn't Fall.
---
Ashley Bryan's Puppets: Making Something from Everything
by Ashley Bryan
Ages 4–up
Over time Ashley Bryan has created more than 30 puppets from the flotsam and jetsam he discovers on the beach near his studio on Little Cranberry Island, Maine. Each puppet is beautifully photographed and accompanied with its name, motto, and poem. the close-up photographs reveal details of each puppet's construction, inviting readers to gather their own materials and construct puppets of their own.
---
Ashley Bryan: Words to My Life's Song
by Ashley Bryan
All Ages
This powerful autobiography tells a story of a creative life. Illustrations and memories show a boy finding art materials during the Depression, storing art supplies in his gas mask during WWII, losing an art scholarship because of his race, and an award-winning art career. A book for parents and children to enjoy together, this book will inspire artists of all ages.
---

The Right Word: Roget and His Thesaurus
by Jen Bryant, Melissa Sweet
Ages 7–up
Peter Mark Roget had a chaotic childhood. After his father died, the family moved frequently, a trial for the shy young boy. To satisfy his need for order, Peter began making lists of words. As he arranged the words into long neat rows, he felt comforted. When he began to organize his ideas into written form, Peter found that his lists helped him find just the right word to express himself. This accessible biography celebrates the man who invented the thesaurus and the joy of learning.
---
Six Dots: A Story of Young Louis Braille
by Jen Bryant, Boris Kulikov
Ages 4–8
After an accident left Louis Braille blind, he was sent to Paris at the age of 10 to study at the Royal School for the Blind. Louis was disheartend to discover that each word in the books for the blind was as big as his hand, and a sentence took up half a page, making each book enormous and very expensive. Louis was determined to come up with a more efficient method, eventually adapting a military coding technique. This engaging biography emphacizes Braille's creativity rather than his disability.
---
Jimmy the Greatest!
by Jairo Buitrago, Rafael Yockteng
Ages 4–7
Jimmy lives in a small poverty-stricken Caribbean town where there isn't much to do. Don Apolinar, the owner of the local boxing gym, gives Jimmy a box of old books and newspaper clippings about Muhammad Ali, and suggests that Jimmy learn to box. Inspired by Ali, Jimmy learns to box and finds out he's pretty good at it. Eventually it's Jimmy's trainer who heads off to the big city, leaving Jimmy content to run the gym and coach other kids like himself.
---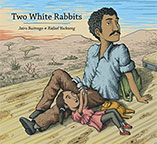 Two White Rabbits
by Jairo Buitrago, Rafael Yockteng
Ages 4–7
This little girl and her father are refugees from an unnamed country south of the United States, heading north in search of a better life. Their journey is often interrupted or sidetracked when the catch a ride that doesn't go exactly where they are heading, or they are stopped by soldiers, or when her father needs to work to earn more money. The girl is curious about where they will end up, but content on the journey with her father and her two white rabbits, amusing herself by counting whatever she sees, chickens on the side of the road, people camped by the train tracks. This engaging book is a great introduction to the topic of immigration.
---

Have You Seen My New Blue Socks?
by Eve Bunting, Sergio Ruzzier
Ages 4–8
Duck can't find his new blue socks and asks his friends for help. His friends (whose names rhyme with socks) offer helpful advice about places (that also rhyme with socks) to look. Young readers will enjoy the gentle humor and the resolution to the mystery of the misplaced blue socks.
---
Mr. Goat's Valentine
by Eve Bunting, Kevin Zimmer
Ages 4–8
Mr. Goat sets out to select the perfect gifts for his "first love." He chooses a bouquet of crabgrass, pigweeds, and ragweed in a rusty tin can and some "guaranteed foul and disgusting" two-year-old rotten eggs. This funny read-aloud keeps the object of Mr. Goat's affections secret until the last page.
---

Smoky Night
text by Eve Bunting, illustrations by David Diaz
Caldecott Medal 1995


Ages 5–10
Daniel's cat doesn't get along with Mrs. Kim's cat and Daniel's mother doesn't shop at Mrs. Kim's store, preferring to patronize African-American stores. But when Daniel's apartment building goes up in flames, all the neighbors, including the cats, learn the importance of working together and accepting differences. Inspired by the Los Angeles riots, this book delivers a message about racism with a light touch supported by dazzling mixed-media collage illustrations.
---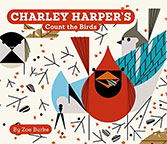 Charley Harper's Count the Birds
by Zoe Burke, Charley Harper
Ages Birth–5
Charley Harper's geometric stylized birds accompany rhyming text, counting from one bunting to ten baby quail. This stylish board book is the perfect gift for new parents.
---

Mouse & Lion
by Rand Burkert, Nancy Ekholm Burkert
All ages
This beautiful book is a retelling of Aesop's fable of the mouse who stumbles into a lion and pleads for his freedom, promising to help the lion if he is ever in need. Burkert's illustrations celebrate the beauty of the African savannah, often from a mouse point of view.
---

The Adventures of Mark Twain by Huckleberry Finn
by Robert Burleigh, Barry Blitt
Ages 7–10
This clever biography of Mark Twain is narrated by Huckleberry Finn in a folksy style that begs to be read aloud. Cartoon-like pen and ink illustrations and a variety of typefaces add to the exaggerated tall tale style of this delightful book.
---

Edward Hopper Paints His World
by Robert Burleigh, Wendell Minor
Ages 5–9
Edward Hopper knew what he wanted to do with his life from a young age, labeling his pencil box with the words EDWARD HOPPER, WOULD-BE ARTIST. This stunning picture book biography presents an artist fascinated by light and shadow, a loner whose works reflect his own isolation.
---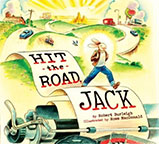 Hit the Road, Jack
by Robert Burleigh, Ross MacDonald
Ages 4–8
This scat-singing jackrabbit travels across the United States, marveling at all the wonders to be found from the subways of New York City to the Golden Gate Bridge in San Francisco. Inspired by Jack Kerouac's On the Road, this picture book is a tribute to his spirit and a simpler era of hitching rides, sleeping in haylofts, and lingering in diners.
---

Night Flight: Amelia Earhart Crosses the Atlantic
by Robert Burleigh, Wendell Minor
Ages 4–8
This exciting book tells the story of Amelia Earhart's historical solo flight across the Atlantic in 1932. The storm and mechanical difficulties that endangered the plane and Amelia's life are portrayed in both the stunning illustrations and text that build tension to the climax of the iced wings that caused Amelia to lose control of the plane. Notes on Amelia's life are included in the afterward.
---

There's Going to Be a Baby
by John Burningham, Helen Oxenbury
Ages 2–6
When his mother tells a young boy that there will be a new baby in the family, he is consumed with curiosity. As the seasons change and his mother expands, they wonder together what the baby will do in each new scenario. Excitement and a bit of anxiety are perfectly presented in this gentle exploration of a firstborn's feelings.
---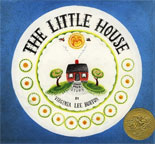 The Little House
by Virginia Lee Burton
Caldecott Medal 1943


Ages 3–6
The little house in the country was happy until the city grew large enough to surround her. Finally a woman rescues the house by moving it back to the country. The whimsical drawings are delightful.
---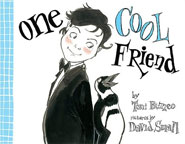 One Cool Friend
by Toni Buzzeo, David Small
Ages 5–8
Elliot is a very proper child. He prefers to dress in tuxedos, unlike his absentminded and slightly messy father. On a visit to the aquarium, Elliot finally discovers the perfect pet—a Magellanic penguin. His father agrees, assuming Elliot is asking about a stuffed toy, and Elliot brings the penguin home, where he constructs the perfect penguin environment while his father doesn't even notice. This clever and silly book has a delightful surprise ending.
---

Brave Chicken Little
by Robert Byrd
Ages 4–up
In this version of the classic folktale, Chicken Little is sent of to the market to buy honey, flour, and milk. When an acorn hitting his head convinces him that the sky is falling, he gathers a group of friends (included Henny Penny, Roly and Poly Moley, and Froggy Wogg) and sets off to warn the king. Captured by a clever Fox, they are imprisoned but make their escape by throwing apples at the Fox, convincing him that the sky is falling.
---
Electric Ben
by Robert Byrd
Ages 5–8
This fascinating illustrated biography includes information about Ben Franklin's early days as a printer, his involvement in politics, and his life-long interest in scientific research, and his amazing inventions.
---

Musk Ox Counts
by Erin Cabatingan, Matthew Myers
Ages 5–7
Zebra is determined to proceed in an orderly fashion through the counting numbers while the irrepressible Musk Ox wrecks havoc on every page. Visual jokes join the textual ones to create a very funny exploration of counting and addition. (companion volume to A Is for Musk Ox)
---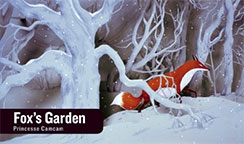 Fox's Garden
by Princesse Camcam
Ages 3–8
This wordless book skillfully tells the story of a fox who becomes disoriented in a village on a cold and snowy night. Chased by the villages, the fox hides in a greenhouse. A small boy brings the fox a basket of food and and discovers that the fox has just given birth to four tiny kits.
---

The Misadventures of Salem Hyde: Book One: Spelling Trouble
by Frank Cammuso
Ages 7–9
Salem Hyde is a young witch who tends to act first and think later, a dangerous quality in a witch. So her parents hire Percival J. Whamsford III, a magical cat, to help her learn to keep her powers under control. Salem's current obsession is outsmarting a teacher by winning the upcoming spelling bee. Salem and Whammy make a delightful odd couple in this graphic novel series opener.
---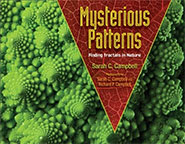 Mysterious Patterns: Finding Fractals in Nature
by Sarah C. Campbell
Ages 5–7
This elegant book simply explains the concepts of fractals with pictures from nature illustrating that every fractal shape has smaller parts that look like the whole shape. Color photograph encourage young readers to look more closely at natural objects while appreciating their intricate shapes.
---
The Artist Who Painted a Blue Horse
by Eric Carle
Ages 4–8
The artist in this book paints the world as he sees it: a blue horse, a red crocodile. As the book progresses, the animals move further away from reality: a polka-dot donkey. This homage to Franz Marc, whose work was banned by the Nazis, celebrates the joy of using one's creative powers. A short afterward includes details about Franz Marc's life.
---

What's Your Favorite Animal?
by Eric Carle
Ages 4–8
Eric Carle and thirteen other favorite illustrators contribute portraits of their favorite real or imagined animals, providing insights into the lives and personalities of the artists.
---

The Happy Little Yellow Box: A Pop-Up Book of Opposites
by David A. Carter
Ages 3–up
This engaging interactive book follows the happy little yellow box through and exploration of opposites. The box is transformed into a helicopter to demonstrate high and low, a truck to show in and out, and peeks out of windows to illustrate near and far.
---

Hide and Seek
by David A. Carter
Ages 5–up
Hundreds of images and words are hidden in the pop-up landscapes of this book, inviting readers to discover new things on each reading. References to artists like Miró, Calder, and Picasso can also be found in the brightly colored structures that spiral out from each page.
---

If You're a Robot and You Know It
by David A. Carter
Ages 3–5
The cheerful robots in this adaptation of the classic song perform pop-up actions for each line of verse. Readers can pull tabs to help them raise hands, stomp feet, jump and beep. A free downloadable version of the song by Musical Robot will encourage everyone to sing along.
---

Yellow Square:

A Pop-up Book for Children of All Ages
by David A. Carter
Ages 3–up
A yellow square hides in plain sight, or within the paper engineering on each page, encouraging readers of all ages to explore the modern art inspired pages.
---

Discovering Nature's Alphabet
by Krystina Castella, Brian Boyl
Ages 6–12
Created by a husband and wife team, this unique book presents letters of the alphabet found in the natural world. The 92 color photographs are neither staged nor retouched, and are spectacular examples of the wonders of nature waiting for the careful observer. Not intended for those just learning the alphabet, this beautiful book may inspire older children to search out letters in their own natural surroundings.
---

Christmas Is Here
adapted from the King James Bible and illustrated by Lauren Castillo
Ages 4–8
As a young family watches a live nativity scene in their snowy city neighborhood, the story shifts to a field with shepherds watching a brilliant star in the night sky. Text from the King James Bible accompanies the cheerful illustrations connecting the traditional account of the birth of Jesus with a modern, and non-commercial, celebration of Christmas.
---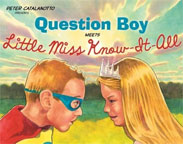 Question Boy Meets Little Miss Know-It-All
by Peter Catalanotto
Ages 4–8
In a town where most of the residents are costumed superheroes, none are a match for Question Boy, who sends them fleeing from his endless litany of unanswerable questions. Little Miss Know-It-All has a similar effect on those she encounters, stunning them with her nonstop stream of information. Eventually the two duel it out in a city park. This slyly funny story highlights the importance of listening.
---

The Bear's Song
by Benjamin Chaud
Ages 3–5
Papa Bear is in pursuit of Little Bear who is chasing a bee in the hopes of finding some honey. The chase begins in their native forest, continues through the busy streets of a French city, and ends when Papa Bear takes a dive through the scenery at the opera house and lands in a chandelier onstage. Young readers will enjoy searching for the bear and the bee that appear in the oversized illustrations.
---

The Bear's Sea Escape
by Benjamin Chaud
Ages 3–5
The bears descend from their chilly home on top of the Paris Opera House and try to find a warm place to hibernate in a busy shopping center. Little Bear is mistaken for a stuffed toy and travels to a tropical island. Papa Bear sets off in pursuit, tracking Little Bear through busy streets, on a train and ship, and among the beach crowds and conga lines of the tropical island. Wonderfully detailed illustrations encourage young readers to seek-and-find story elements, including Waldo in a crowded city scene.
---

The Bear's Surprise
by Benjamin Chad
Ages 3–5
Hibernation is over and Little Bear is ready for a new adventure, but Papa Bear is nowhere to be found. Little Bear sets out to find him, moving via interactive cutouts into the forest, through a cave, and finally to a circus where Papa Bear is performing tricks on the high wire. (companion volume to The Bear's Song and The Bear's Sea Escape)
---

Maude The Not-So-Noticeable Shrimpton
by Lauren Child, Trisha Krauss
Ages 4–8
The Shrimpton family is flamboyant: Mrs. Shrimpton wears extraordinary hats, Mr. Shrimpton has a dramatic mustache, the children are beautiful and talented. And then there is Maude, the only Shrimpton who no one ever notices. Maude asks for a simple goldfish for her birthday, and is presented with a ferocious and very hungry tiger instead. For once Maude's talent for fading into the background is an asset. Artwork reminiscent of Edward Gorey illustrate this humorous tale celebrating the quiet ones.
---

Grand Canyon
by Jason Chin
Ages 7–12
A girl and her father take a day-long hike out of the Grand Canyon. As they move through each rock layer, the girl makes a discovery through a die cut hole that transports her back into the past upon turning the page. This intriguing book provides information about the ecology, geology and anthropology of the Grand Canyon in an engaging way.
---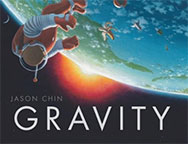 Gravity
by Jason Chin
Ages 5–8
A boy playing at the beach is startled with this book falls from the sky. As he reads the text explaining that without gravity everything would float away, the boy and his toys lift from the ground. Stunning paintings portray a world without gravity. The illustrated afterward explains mass, matter, and force.
---

Island: A Story of the Galápagos
by Jason Chin
Ages 5–9
This beautifully illustrated and accessible book begins with the process that created the islands, and then continues to explain how the reptiles and birds of the Galápagos evolved. Darwin's studies of the trend toward stronger beaks of the Galápagos finches are connected with fact that larger seeds, needed a stronger beak to crack, are all that are left as the islands subside and droughts become more common. Other evolutionary changes are also clearly and simply explained.
---

Redwoods
by Jason Chin
Ages 4–8
A young boy finds a book titled Redwoods on a subway bench and is amazed to find his own picture on the cover. As he reads, he is immersed in the history of the redwoods. When he leaves the train, the boy finds himself in the middle of a redwood forest in California. Beautiful and realistic watercolors accompany the interesting and accurate information.
---

Dad and the Dinosaur
by Gennifer Choldenko, Dan Santat
Ages 5–8
Big Nick doesn't seem to be afraid of anything, but his son Nicholas is afraid of everything, especially the dark, the bushes where the giant bugs live, and the underside of manhole covers. The small plastic dinosaur he carries in his pocket gives him the courage to face his fears, helping him to swim in deep water, climb tall walls, and face the huge goalie nicknamed Gorilla. When Nicholas loses his dinosaur, his father takes him on a nighttime quest to find it, reassuring Nicholas that its OK to get help facing your fears, all guys do.
---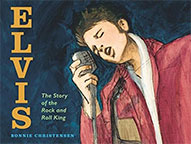 Elvis: The Story of the Rock and Roll King
by Bonnie Christensen
Ages 6–9
This biography concentrates on the early life of Elvis Presley. A shy child, Elvis enjoyed singing in church and learned to play the guitar. In high school he was teased by his classmates because of his interest in music. As part of a customer promotion, he recorded a song as a surprise present for his mother's birthday. The studio loved the record and sent it to local radio stations, this launching the career of the King of Rock and Roll.
---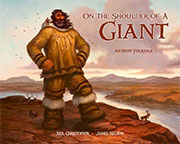 On the Shoulder of a Giant
by Neil Christopher, James Nelson
Ages 5–7
Inukpak is a lonely giant in the Arctic who finds an Inuit hunter one day. The hunter is so small in comparison that Inukpak believes he is a child, and adopts him. Inukpak feeds the hunter a whale, which he sees as a small fish, and makes him a shelter from his boot. The hunter accepts his fate and becomes friends with the giant. This retelling of an Inuit folktale features uniquely Arctic scenery.
---

Super Narwhal and Jelly Jolt
by Ben Clanton
Ages 6–9
The eternally optimistic Narwhal and his down-to-earth friend Jelly return in three short cartoon adventures. Narwhal becomes Super Narwhal, but has trouble discovering his superpower without Jelly's help. He then uses his superpower to help a star return to the sky before using the power of friendship to cheer up Jelly. This funny graphic novel is perfect for beginning readers.
---

Job Site
by Nathan Clement
Ages 2–6
During a day on a construction site, the Boss orders the many vehicles, including a bulldozer, excavator, dump truck, crane, and loader, to perform the tasks needed to construct a community park. Bold and bright illustrations convey the size and power of the machines.
---

Rory the Dinosaur: Me and My Dad
by Liz Climo
Ages 3–6
Rory is an energetic little dinosaur who lives on an island with his father. When his father needs a break one day, Rory sets out on his own to find adventures, unaware that his loving father is always close by, ensuring his son's safety while allowing him to enjoy his independence.
---

Words Set Me Free: The Story of Young Frederick Douglass
by Lesa Cline-Ransome, James E. Ransome
Ages 5–9
Powerful first person narration tells the story of Frederick Douglass's early life as a plantation slave. Learning to read was the catalyst for Frederick's determination to escape from slavery. "I bought my first newspaper and learned new words—liberty, justice, and freedom." Eventually Frederick uses his writing skills to forge a letter from his master releasing him. Though not avoiding the cruel realities of slavery, this accessible biography celebrates determination and hope.
---

Beast Keeper
by Lucy Coats, Brett Bean
Ages 7–9
Pandemonius (Demon) is the son of the god Pan and a mortal woman. When Demon is 10, his father steals him away from his human mother and sets him to work caring for the mythical creatures that reside in the stables of Olympus. Many of the creatures have suffered mistreatment by gods and heroes, so Demon has his work cut out for him. Energetic cartoons add to the fun of this first book in the Beasts of Olympus series.
---

The Big Book for Little Hands
by Marie-Pascale Cocagne
Ages 3–6
This engaging activity book reinforces educational concepts as young artists color and complete the illustrations.
---
Seed by Seed: The Legend and Legacy of John "Appleseed" Chapman
by Esme Raji Codell, Lynne Rae Perkins
Ages 4–8
John Chapman was born in 1774. Today we remember him as Johnny Appleseed and honor him for his simple philosophy: Use what you have. Share with others. Respect nature. Try to make peace where there is war. You can reach your destination by taking small steps. Watercolor and gouache illustrations on burlap and wood highlight the ingenuity Chapman was known for.
---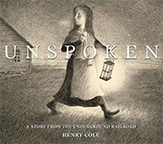 Unspoken: A Story From the Underground Railroad
by Henry Cole
Ages 3–7
This wordless book presents the story of a young girl who discovers a runaway slave on her family's farm. At first frightened, the girl begins bringing food to barn. Beautiful pencil drawings tell this story of quiet courage and compassion.
---

Imaginary Fred
by Eoin Colfer, Oliver Jeffers
Ages 4–8
Fred is an experienced imaginary friend, and knows that he will only be needed until a real human friend appears, usually by lunchtime on the second day of school. But Fred's current friend Sam is special and Fred longs to be his forever friend. When Sam meets a girl named Sammi and begins working on a comic book with her, formerly a passion Sam shared with Fred, he is sure his days are numbered. But Sammi has her own imaginary friend Frieda, and the four friends bond together.
---

There's a Bear on My Chair
by Ross Collins
Ages 2–5
A huge polar bear settles onto Mouse's favorite chair, ignoring Mouse's efforts to tempt or scare the Bear off the chair. finally Mouse gives up and leaves so Bear goes home, only to found that Mouse has moved into Bear's igloo. Expressive illustrations highlight the silly fun in this hilarious read-aloud.
---

Draw!
by Raúl Colón
Ages 4–8
This wordless fantasy follows a small boy who is fascinated by a book called Africa. Taking up his sketchpad, the boy draws himself traveling to Africa where he meets an elephant who poses for his portrait. The elephant carries the boy to other African animals who pose for him. Near disaster occurs when the rhino charges during his portrait and the baboons prefer to draw the boy. Based on the childhood of artist Raúl Colón, this beautifully illustrated book captures the joy of creating and sharing art.
---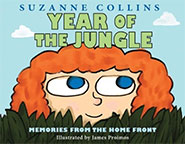 Year of the Jungle
by Suzanne Collins, James Proimos
Ages 4–8
Suzy, the youngest of four children, struggles to understand what it means when her father goes away to war, grappling with questions like, "What is war? Where is Vietnam? How long is a year? What is it like in a jungle?" Suzy at first imagines her father in a setting like her favorite cartoon, but gradually comes to understand the danger he is in though the postcards he sends and bits she sees on the news. This sensitive look at the impact of war on the very young ends on a reassuring note.
---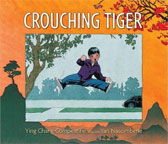 Crouching Tiger
by Ying Chang Compestine, Yan Nascimbene
Ages 6–10
Vinson considers himself completely American, and is uncomfortable when his grandfather comes to visit from China, speaking to him in Chinese and calling him Ming Da, his Chinese name. When his grandfather practices tai chi in the garden, Ming Da is at first fascinated, hoping to learn kung fu kicks and punches, and then bored by tai chi's slow pace. Reluctantly donning a Chinese jacket for the Chinese New Year parade, Ming Da notices the respect given to his grandfather and the lion dancers he trained. As Ming Da allows himself to enter his grandfather's world, their friendship deepens and he realizes it's pretty cool to be Chinese after all.
---
The Runaway Wok: A Chinese New Year Tale
by Ying Chang Compestine, Sebastia Serra
Ages 5–8
Long ago in Beijing, a poor couple send their son Ming to trade some eggs for rice so that they can make a Chinese New Year meal for their neighbors. But Ming trades the eggs for a singing wok who promises exciting things. Ming chases the wok to a rich family's kitchen, where it is filled with delicious food soon delivered to the Ming's poor family's table. The clever wok also transports toys from the greedy rich child, and treasures from the dishonest rich father. Based on a Danish folktale, this jaunty tale will enchant young listeners.
---

America's National Parks, a Pop-Up Book
by Don Compton, Bruce Foster, Dave Ember
All ages
This cleverly-designed guide features 18 National Parks, six featured as double page pop-ups: Everglades, Great Smoky Mountains, Grand Canyon, Yellowstone, Glacier and Yosemite. Detailed text describes other national parks, lavishly illustrated in the style of vintage WPA posters from the 1930s.
---

Undercover: One of These Things is Almost Like The Others
by Bastien Contraire
Ages 3–6
In this clever book, 64 collections of similar objects rendered in green and fuschia challenge the reader to select the different object hiding in plain sight. Young readers will enjoy closely examining the spreads to find the one thing that does not fit (an egg hiding among a page of birds, an airplane hidden among insects). This wordless book will encourage conversation about form and classification.
---

Our Children Can Soar:

A Celebration of Rosa, Barack, and the Pioneers of Change
by Michelle Cook
Ages 4–8
This beautiful book pays tribute to 10 African Americans from the Civil Rights movement to the present. The powerful illustrations by many different artists complement the text, presenting African-American history as the story of hope.
---

A Little Book of Sloth
by Lucy Cooke
Ages 5–up
This photo-essay book presents the adorable sloths in the sanctuary in Costa Rica the author dubs Slothville. The vivid photographs accompany lively informational text about sloths in general and individual sloths. Young readers will enjoy sharing the book as a read-aloud and browsing through the picture pages independently.
---

Hans My Hedgehog: A Tale from the Brothers Grimm
by Kate Coombs, John Nickle
Ages 5–8
Hans is not a normal boy. Born a hedgehog from the waist up, Hans becomes an accomplished fiddle player and loves riding his rooster through the woods with his faithful hogs. After rescuing two kings and visiting their castles, Hans finally meets a princess who loves him as he is. This adaptation is a much happier version of the original fairy tale.
---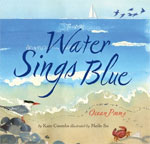 Water Sings Blue
by Kate Coombs, Meilo So
Ages 4–8
Evocative poems paired with detailed watercolors fill this beautiful book of poetry about life in the ocean and on the beach.
---

Chanticleer and the Fox
by Barbara Cooney
Caldecott Medal 1959


Ages 4–8
Chanticleer the rooster falls for the flattery of the fox and is caught. Luckily Chanticleer is clever enough to think himself out of danger in this retelling of the "Nun's Priest's Tale" from Geoffrey Chaucer's Canterbury Tales. Beautiful pen and ink drawings illustrate the fable.
---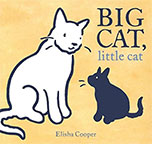 Big Cat, Little Cat
by Elisha Cooper
Ages 3–6
There was once a big white cat that lived alone until a little black kitten arrived. The big cat helps the little cat learn to use the litter box, and shows it where to eat and sleep. The little cat grows and the two are happy together until one day the big cat goes away and doesn't come back. The grief of the human family is simply portrayed. The big black cat lives alone until one day a little white kitten arrives. This quiet story of the circle of life is perfect for little ones.
---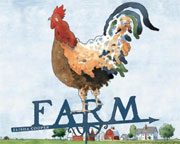 Farm
by Elisha Cooper
Ages 4–8
This beautifully illustrated book is a tribute to family farms. Beginning in March and ending in November, the quietly poetic text follows a family of four through their daily life, introducing the land, buildings, and animals that fill this family's modern rural life.
---
8: An Animal Alphabet
by Elisha Cooper
Ages 3–7
On each of the 26 pages devoted to a letter of the alphabet, young readers are invited to find eight of a certain animal whose name begins with that hidden among other animals sharing the same initial letter. Some letters are easy (there are only eight xeruses on the X page) while others are packed with animals. The names of the featured animals run along the bottom of the page, and a closing list offers interesting facts about the more than 150 animals that appear in the book.
---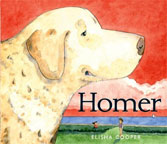 Homer
by Elisha Cooper
Ages 3–8
Family members at a beach house one-by-one ask their dog Homer to join them in an activity. But Homer is content to watch them from the porch. As each returns to the house, they share their discoveries with Homer. This gentle portrait of a loving family and a dog who is content just to be part of the family will resonate with dog lovers of all ages.
---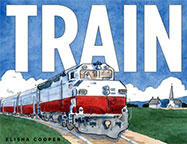 Train
by Elisha Cooper
Ages 4–8
This exciting train ride from new York to San Francisco takes the reader on five different trains: commuter, passenger, freight, overnight, and high-speed. Luminous watercolor illustrations celebrate both the power of trains and the grandeur of the American landscape.
---
Jake's Best Thumb
by Ilene Cooper & Claudio Muñoz
Ages 4–8
Jake is so adept at one-handed life that he sees no reason to stop sucking his thumb until a Kindergarten bully begins to mock him. Quirky illustrations and a charming story will have readers cheering for Jake as he struggles to balance habit and acceptance.
---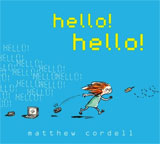 hello! hello!
by Matthew Cordell
Ages 2–6
Lydia's family is too busy with their electronic gadgets to pay attention to anything else. When Lydia tries to attract their attention (hello! hello!), her father answers absently while texting, her mother replies while continuing to focus on her laptop, and her brother doesn't even look up from his video game. The restless Lydia leaves her family, drawn in shades of gray, inside and discovers a whole world in living color outside. Her vibrant adventure is interrupted by the ringing of her cell phone, but luckily she is able to entice her family outside to share the glorious liberation of a gadget free outdoors.
---
The Secret Subway
by Shana Corey, Red Nose Studio
Ages 4–8
The streets of New York City were a mess in the 1860s, crowded and filled with garbage. Alfred Ely Beach came up with the idea of an underground train that could be powered pneumatically. Under Beach 's direction, a short tunnel, a single train car and the machinery to make it move, and an elegant waiting room featuring a fountain were constructed underground. February 26, 1870, after 58 days of construction, Beach unveiled his subway to the wonder of the public. The subway project was quashed by corrupt public officials, but Beach's underground train was a marvelous example of original thinking.
---

Go to Sleep, Monster!
by Kevin Cornell
Ages 4–8
It 's always hard to get George to go to sleep since he worries about the monster under his bed. Then George and his sister Anna discover that the monster can 't get to sleep because it is worried about the monster under its bed who is worried about the monster under its bed and so on to the center of the earth.
---

Deep in the Woods
by Christopher Corr
Ages 3–6
Deep in the woods a mouse discovers a wonderful little house with nine windows and a red front door. The mouse moves in and wen other animals and birds pass by he invites them to move in. All is well until a gigantic bear appears and destroys the roof. Everyone, including the bear, join together to repair the house. This modern retelling of the classic Russian folktale celebrating of friendly cooperation is beautifully illustrated.
---
The Black Book of Colors
by Menena Cottin & Rosana Faria
Ages 5–10
This book attempts to convey the experience of blindness. White text on black pages, with braille above, explain how Thomas tastes, feels, and hears about color words. Raised black lines on black paper, decodable by touch alone, illustrate Thomas's color images. This amazing book allows young readers to experience the world in a new way.
---

Yummy: Eight Favorite Fairy Tales
by Lucy Cousins
Ages 4–10
In the retelling of these fairy tales, the villains are scary and eager to eat their tasty prey. Bold and vibrant illustrations complement the slyly humorous text.
---
Elizabeth, Queen of the Seas
by Lynne Cox, Brian Floca
Ages 4–8
When an elephant seal moves in to the Avon River that runs through Christchurch, New Zealand, city dwellers are surprised and name her after the Queen of England. Elizabeth makes herself at home, and decides to sunbathe in the intersection of a two-lane road and is nearly killed. A volunteer group of residents moves Elizabeth to a nearby elephant seal colony, but the seal keeps returning to her favorite spot. Finally the city posts a "Slow. Elephant Seal Crossing" sign near her napping spot. This charming tale is based on a true story, and a picture of the real Elizabeth appears in the afterword.
---
Game Changer: John McLendon and the Secret Game
by John Coy, Randy Duburke
Ages 7–11
In 1944 rules prevented white and black basketball teams from playing against each other. John McLendon, coach of the North Carolina College of Negros, arranged a secret game between his Eagles and the all-white team from Duke University Medical School. Many of the players on both teams had never been close enough to touch a person of another race, and were at first hesitant to bump into each other. But the exciting hard-driving fast-break style of the Eagles broke down the barriers. In the second game, the teams intermixed so that the white and black players could experience playing as teammates. This true story highlights the importance of the game in changing the nature of basketball play, as well as the dangerous social climate of the time.
---

Their Great Gift: Courage, Sacrifice, and Hope in a New Land
by John Coy
Ages 5–10
Told mainly through photographs, this inspiring look at immigration to the United States focuses on the lives of children. Images of immigrant families from all over the world illustrate the experience of moving to a new country, working hard, making mistakes, and building a new home.
---

Bloom
by Doreen Cronin, David Small
Ages 4–8
Bloom, a Mud Fairy, was banished from the kingdom and its glass palace because her muddy footprints threatened the treasured cleanliness of the kingdom. Bloom, who can spin sand into glass, transform weeds into flowers, and change a trickle of rain into a river, has retired to the nearby forest. When the glass palace begins to fall apart, the king and queen search for Bloom in the forest, but don't recognize the red-headed girl carrying a bucket of mud as the powerful fairy they seek. They send Genevieve, a servant girl responsible for polishing the Queen's crystal sugar spoon, into the forest to find a fairy capable of saving the kingdom. Bloom is horrified that the King and Queen would send a small child into the forest alone, and begins training Genevieve in magic, teaching her to make bricks from mud and build a solid house.
---

Click, Clack, Ho! Ho! Ho!
by Doreen Cronin, Betsy Lewin
Ages 4–8
It's Christmas Eve and Farmer Brown is busy decorating the farmhouse when he thinks he hears Santa on the roof. But it's only Duck, wearing night vision goggles, climbing spurs, and a Santa hat who proceeds to get himself thoroughly stuck in the chimney. The other animals try to "unstuck Duck," but just make things worse until Santa arrives to save the day.
---

Click, Clack, Moo: Cows That Type
by Doreen Cronin, Betsy Lewin
Ages 4–8
Farmer Brown is amazed when his cows discover an old typewriter in the barn and soon learn to use it to air their grievances.
When Farmer Brown denies their requests, the cows go on strike in this hilarious example of the power of the protest.
---

Giggle, Giggle, Quack
by Doreen Cronin, Betsy Lewin
Ages 4–8
When Farmer Brown goes on vacation, he leaves his brother Bob in charge of the animals. Duck finds the written directions, and amends them to add more interesting food, bubble baths, and movie nights to the amusement of all.
---

Duck for President
by Doreen Cronin, Betsy Lewin
Ages 4–8
Duck is tired of doing his chores and decides to hold an election to replace Farmer Brown with himself. Quickly discovering that running a farm is way too much work, Duck moves on to governor and then president. A hilarious look at the electoral process.
---

Doobie, Doobie, Moo
by Doreen Cronin, Betsy Lewin
Ages 4–8
When Duck reads about the upcoming talent show at the county fair, he organizes the animals into nightly rehearsals. This funny book makes a wonderful read-and-sing-aloud!
---

Thump, Quack, Moo
by Doreen Cronin, Betsy Lewin
Ages 4–8
Farmer Brown is trying to build a fabulous Statue of Liberty corn maze, but the subversive duck has other ideas in this hilarious read-aloud winner.
---

Click, Clack, Boo!: A Tricky Treat
by Doreen Cronin, Betsy Lewin
Ages 3–7
Halloween is Farmer Brown's least favorite holiday. So he puts a bowl of candy on the porch, hangs a Do Not Disturb sign, and locks the door. But the animals have other plans and replace his sign with another that reads: Halloween Party at the Barn! This Halloween read-aloud is just scary enough to delight young readers.
---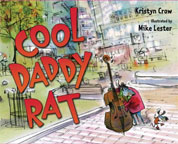 Cool Daddy Rat
by Kristyn Crow
Ages 3–up
Bass player Cool Daddy Rat heads out to perfrom in the big city and his son Ace comes along in this tribute to jazz. Scat lines are delicious to read aloud.
---

From There to Here
by Laurel Croza, Matt James
Ages 4–7
A little girl and her family have moved by train from the wilds of Saskatchewan to the busy city of Toronto, and she is having trouble adjusting to the differences. In Saskatchewan, where her father was building a bridge, he was able to come home every day for lunch, but while building a highway in Toronto he doesn't come home until supper time. There all the kids played together and everyone enjoyed watching the stars at night. Here her older brother has his own friends and the streetlights hide the stars. Meeting a new friend exactly her own age helps make Here more tolerable. (follow-up to I Know Here)
---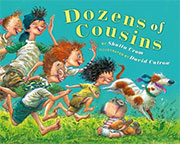 Dozens of Cousins
by Shutta Crum, David Catrow
Ages 4–8
At the annual family reunion, dozens of mild-mannered children are transformed into a wild group determined to enjoy every last second of their time together. The cousins leap and climb and run and devour everything in sight, having a wonderful celebration of play. Humorous verse is the perfect match for wildly colorful illustrations.
---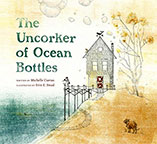 The Uncorker of Ocean Bottles
by Michelle Cuevas, Erin E. Stead
Ages 4–8
The Uncorker of Ocean Bottles lives a cat and a cow in a cottage by the sea, scanning for corked bottles. His job is to deliver the messages he finds. He loves his job, but it is a bit lonely, and he longs to find a message with his name on it. One day he opens a bottle to find an un-addressed invitation to a party on the beach. After searching unsuccessfully for the proper recipient, he ventures down to the party, where he is welcomed.
---

A Hungry Lion, or A Dwindling Assortment of Animals
by Lucy Ruth Cummins
Ages 4–8
A hungry lion is out enjoying the day with 13 cute smaller friends, including a pig, a sheep, a koala, and a hen. The narration "Once upon a time, there was a hungry lion, a penguin, a turtle, a brown mouse, those two rabbits, …" continually restarts with a shorter and shorter list of as the animals begin dwindling until the laugh-out-loud ending is reached.
---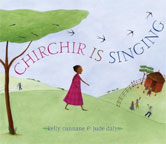 Chirchir Is Singing
by Kelly Cunnane, Jude Daly
Ages 4–8
Little Chirchir wants to be useful like the rest of her family in Kenya, but she is too small to do the chores. She drops the water bucket, spills the tea, and sends the potatoes tumbling down the hill. But when she finds her baby brother Kiprop crying, Chirchir finds a job that suits her perfectly. Information about the life of the Kalenjin tribe and the Kenyan environment are included naturally in this reassuring tale of African life.
---

Deep in the Sahara
by Kelly Cunnane, Hoda Hadadi
Ages 4–8
A young Mauritanian girl is fascinated by the malafa, the veil that the women in her family wear. She wants a malafa so that she can be beautiful like her mother, or mysterious like her older sister. But it is not until she demonstrates that she understands that the malafa is a symbol of Muslim belief that her mother finally gives her a malafa of her own.
---

Little Elliot, Big City
by Mike Curato
Ages 4–8
Little Elliot is a tiny polka-dotted elephant who is overwhelmed by the noise and crowds of 1940s New York City. Then Elliot meets a white mouse, a creature even smaller than he is, and the two set out in pursuit of Elliot's favorite treasure — cupcakes.
---

Little Elliot, Big Family
by Mike Curato
Ages 4–8
Little Elliot is alone again when Mouse heads off for a family reunion with his 15 brothers, 19 sisters, and 147 cousins. As Little Elliot explores the big city, he sees many diverse families, and wonders what it would be like to have a family of his own. Alone in an empty movie theater he feels sad and lonely. Leaving the theater he meets Mouse, who has arrived to take him to his family reunion, where Little Elliot realizes he does have a family after all.
---

Little Elliot, Fall Friends
by Mike Curato
Ages 4–8
Little Elliot and Mouse love living in the big city, but the arrival of fall makes them decide to visit the countryside. They admire the fall colors, eat apples, play hide-and-seek, and enjoy and autumn feast with some new barnyard friends.
---

Billions of Bricks: A Counting Book About Building
by Kurt Cyrus
Ages 4–7
This energetic picture book is set at a busy construction site where men, women, and children bustle around in hard hats building impressive structures. Rhyming text describes the making of the bricks themselves and then the arches, columns, and complex structures that are built.
---

The Voyage of Turtle Rex
by Kurt Cyrus
Ages 4–8
On a primeval beach, a prehistoric turtle hatches and heads off to sea, eventually growing into a two-ton archelon. The majestic sea turtle then returns to the beach to lay her eggs, beginning the cycle again. This moving story of the oceanic world of dinosaurs is a companion volume to Tadpole Rex.
---
Nighttime Ninja
by Barbara DaCosta, Ed Young
Ages 3–6
In the dark of the night, the silhouette of a nighttime ninja steals through a silent house on a mysterious mission. Suddenly a large mother-shaped shadow flicks on the lights, revealing a small boy sneaking into the kitchen for a midnight ice cream snack. This beautifully illustrated picture book is the perfect mix of humor and suspense.
---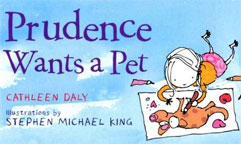 Prudence Wants a Pet
by Cathleen Daly, Stephen Michael King
Ages 4–8
Prudence really wants a pet, but her father thinks they cost too much and her mother thinks they are too noisy. So Prudence adopts a series of inanimate objects: a tree limb dubbed Branch that her father keeps tripping over, a shoe she names Formal Footware, a tire named Mr. Round. Prudence never resorts to whining or complaining, but her misplaced affections finally wear her parents down. Charming pen and ink drawings illustrate this humorous tale of gentle persistence.
---

The Fairy Tales of the Brothers Grimm
edited by Noel Daniel
All ages
This collection includes new translations of 27 of Grimm brothers' fairy tales with vintage illustrations from the 1920s to 1950s. Classic tales like Cinderella, Snow White, Sleeping Beauty, and Hansel and Gretel, have a more modern feel while brief introductions describe the themes, symbolism, and contemporary relevance of the stories. This beautiful book will appeal to readers of all ages.
---

I Love You, Nose! I Love You, Toes!
by Linda Davick
Ages 2–7
Cheerful rhyming text and active children of all races present the human body from head to toe. Young listeners and readers will enjoy this frank and friendly celebration of all the parts of their bodies they are so curious about.
---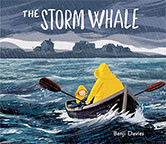 The Storm Whale
by Benji Davies
Ages 4–8
Every morning Noi watches his father leave for a long day of fishing, leaving Noi alone with only the company of six cats. One day Noi discovers a baby whale washed up on the sand, and brings it inside to the bathtub where he plays water-themed music to make it comfortable and tells the whale stories, learning that the whale is a good listener. Noi's father realizes how lonely his son is, and steps outside his grueling routine to help Noi return the whale to the sea, and Noi learns his father is a good listener too.
---

I Don't Like Snakes
by Nicola Davies, Luciano Lozano
Ages 5–8
The little girl narrating his book has a problem: everyone in her family loves snakes except her. Each family member explains why snakes have certain characteristics — they have creepy stares because the can't blink — gradually overcoming her aversion. Captions full of scientific information accompany the playful illustrations.
---

Just Ducks!
by Nicola Davies, Salvatore Rubbino
Ages 5–up
The young narrator of this delightful book lives in the city, but the river outside her window is full of mallard ducks. She hears them when she wakes up in the morning, she watches them feed on her way to school, and she observes them through her window. Her enthusiastic commentary presents both accurate factual information and her pleasure in their personalities. Beautiful watercolor illustrations capture the sleek beauty of these wild neighbors.
---
Outside Your Window: A First Book of Nature
by Nicola Davies, Mark Hearld
Ages 3–up
Evocative poetry and mixed media illustrations encourage children to explore the natural world. Divided into seasons, this beautiful book captures the sights and sounds of children interacting with nature, reminding readers that the natural world is waiting to be discovered right outside your door.
---

The Day the Crayons Quit
by Drew Daywalt, Oliver Jeffers
Ages 3–7
Duncan just wants to color, but when he opens his box of crayons all he finds is a pile of letters. Black is tired of just being used only for outlining, Beige is fed-up with being second-choice to Brown, and Gray feels over-used after Duncan colored an elephant, hippo, and rhino. This humorous book will appeal to all young artists.
---
The Day the Crayons Came Home
by Drew Daywalt, Oliver Jeffers
Ages 5–8
Having dealt with a revolt by the crayons threatening to quit, Duncan now has a new problem — a stack of postcards from crayons who have been lost and are ready to come home. A red crayon has been left behind at a motel, a turquoise crayon has been through the dryer, and a toddler crayon is unhappy with Duncan's baby brother's artistic attempts.
---

The Legend of Rock Paper Scissors
by Drew Daywalt, Adam Rex
Ages 4–8
Rock is the champion of the Kingdom of Backyard, squishing all challengers, Paper has defeated everyone in Mom's Home Office, and Scissors rules the Kitchen Realm. Seeking a new challenge, the three meet up in the garage, but after three exciting rounds they realize they are evenly matched. Expressive fonts and dramatic battle scenes accompany the hilarious text, perfect for sharing and revisiting.
---

Cheese Belongs to You!
by Alexis Deacon, Viviane Schwarz
Ages 4–6
Rat Law is quite clear — if you are a rat, cheese belongs to you. The only problem is that bigger rats have precedence, as do quicker, stronger, scarier, hairier, and dirtier rats! The slow build of this funny book continues until the original dainty rat steals the cheese while the pirate rats are fighting it out with the gangster rats.
---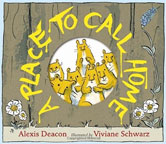 A Place to Call Home
by Alexis Deacon, Viviane Schwarz
Ages 3–8
A band of hamster-like brothers outgrow their birthplace and head off on a grand adventure to find a place to call home. Timid and frightened at first, they don a variety of outrageous headgear and bravely blunder through a variety of obstacles, never losing sight of their goal. Hilarious physical comedy will have young readers clamoring for a another reading.
---

Too Many Toys!
by Heidi Deedman
Ages 4–6
When Julie was a baby she received a cuddly teddy bear named Jupiter. As the years go by, Jupiter is still Julie's favorite, but more and more toys arrive to crowd her shelves and toy box and leave her very little room to sleep in her own bed. Julie tries to give each toy her attention every day, but finally comes to the conclusion that there are just too many toys for her to take care of.
---

The Rooster Who Would Not Be Quiet!
by Carmen Agra Deedy, Eugene Yelchin
Ages 4–8
La Paz is a happy and very noisy village until Don Pepe is elected major and guarantees peace and quiet. Soon singing is illegal and even teakettles are afraid to whistle. After seven years of quiet, a cocky gallito and his family move into the village. The rooster refuses to stop crowing and Don Pepe imprisons him in a cage and threatens him with starvation. The rooster sings a hungrier song, but keeps crowing. The villagers organize a non-violent but very noisy protest to save the noisy bird.
---
¡Olinguito, de La A a la Z!
by Lulu Delacre
Ages 6–10
This bilingual ABC book takes the reader on a search through the cloud forest of Ecuador for the elusive Olinguito, a mammal first identified in 2013. Plants, animals, and other organisms are organized by the alphabet in this beautifully illustrated book full of interesting factual information.
---

Prickly Jenny
by Sibylle Delacroix
Ages 3–7
Jenny is a prickly child who is rarely satisfied. She doesn't want to wear her new dress, or take a nap, or go to the fair, or do just about anything that anyone wants her to do. She wants to be alone, but doesn't want her mother to leave. Jenny's grumpiness is irresistible, and the reader is assured that Jenny just needs love and time and space to grow at her own pace. "Tomorrow when she's bigger it will get better."
---
Last Stop on Market Street
by Matt de la Peña, Christian Robinson
Ages 3–5
Every Sunday CJ and his Nana ride the Market Street bus to the end of the line after church. One day CJ wonders why he doesn't have the things other kids have. Why do they ride a bus instead of having a car? Why doesn't he have an iPod? His grandmother answers each question by pointing out the richness of his environment. The bus driver is their friend and does tricks for CJ. A passenger on the bus plays his guitar, surrounding CJ and the rest of the passengers with live music. Nana's ability to find beauty and pleasure where most folks don't think to look inspires CJ, and when they reach the soup kitchen CJ is glad they came.
---
A Nation's Hope: The Story of Boxing Legend Joe Louis
by Matt de la Peña, Kadir Nelson
Ages 6–8
Beautifully realistic oil paintings illustrate this tribute to Joe Lewis. Focusing on Lewis's 1938 rematch against German boxer Max Schmeling, this accessible biography shows how the match unified, for one evening, a racially divided country, as black and white fans joined together to cheer the son of a black sharecropper as he took on the white symbol of Hitler's "master race."
---

Shhh! I'm Sleeping
by Dorothée De Monfreid
Ages 2–5
The eight dogs arranged two to a bunk are sound asleep when Popov's snoring wakes Nono up. He climbs up the the next bunk to ask Misha for a story, which wakes up Pedro. The other dogs all eventually wake up, trading toys and glasses of water until they are all crammed into a single bunk. This funny book will quickly become a bedtime favorite.
---
Naptime
by Iris De Moüy
Ages 2–5
The thirteen jungle animals in this delightful picture book insist each and every one that they are totally uninterested in taking a nap. Each animal has a different reason (too big, too busy, too tall) but the little girl persuades the animals to close just one eye, and then the other, and that's all it takes for naptime!
---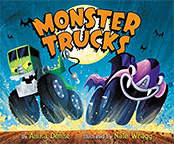 Monster Trucks
by Anika Denise, Nate Wragg
Ages 4–8
Frankentruck, Zombie Truck, Ghost Truck and others come together for Halloween fun on a moonlit night.
---

The Birds of Bethlehem
by Tomie dePaola
Ages 5–8
On the morning of the first Christmas, the birds of Bethlehem gather in a field to share the news of an angel appearing in the night sky. Pairs of birds find the stable where a special child has been born. Simple language and beautiful pictures make this story accessible.
---
Jack
by Tomie dePaola
Ages 3–5
Young Jack tells his grandfather that he would like to see the world, make new friends, and live in a house in the city. His grandfather encourages him to go to the city and ask the king for a house. Along the way Jack collects a cheerful and noisy bunch of animal friends. Luckily the king provides a house big enough for them all.
---

Strega Nona Does It Again
by Tomie dePaola
Ages 5–8
Strega Nona agrees to host the daughter of a cousin, but isn't prepared for the self-centered Angelina who coerces Bambolona and Big Anthony to cater to her every whim. But Strega Nona is up to the challenge of dealing with a guest who has outstayed her welcome with her usual quick thinking and wry wisdom.
---

May I Bring a Friend?
text by Beatrice Schenk de Regniers, illustrations by Beni Montresor
Caldecott Medal 1965


Ages 3–8
The King and Queen are always gracious, even when their guest brings along a wild animal or several. The richly colored illustrations show the well-behaved animals causing unintentional havoc in the palace.
---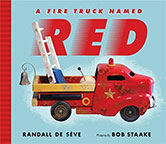 A Fire Truck Named Red
by Randall De Sève, Bob Staake
Ages 5–7
Rowan has his heart set on a shiny new toy fire truck for his birthday, and is disappointed to receive a battered toy truck named Red that belonged to his grandfather. As his father begins to restore Red he tells Rowan about his own pretend adventures with the truck. These memories are rendered in sepia tones, and are so vivid that Rowen is pulled into the final story, riding along with a young Papa to save to save the town library.
---

The Blue Whale
by Jenni Desmond
Ages 4–8
The enormous blue whale is presented with comparisons to help children understand its size, feeding habits, and environment. "Its mouth is so big that 50 people can stand inside it." A boy wearing a striped shirt and crown provides additional context to the engaging illustrations.
---

Hattie the Bad
by Jane Devlin
Ages 4–8
Hattie loves being bad because it is so much fun. She tries to sell her little brother at a garage sale and ties her father's keys to a helium balloon. Her friends love playing with her, but eventually their parents decide she is too bad to be a friend. So Hattie decides to become the best behaved child ever, with hilarious results. Hattie's spirited first person narration is cleverly matched with sly illustrations.
---
Bink and Gollie
by Kate Dicamillo and Alison Mcghee, Tony Fucile
Ages 6–9
Bink is tall, thin, self-confident, strong-willed, and a bit judgmental. Gollie is small, rumpled, strong-willed, and down-to-earth. Like many best friends, the two squabble about just about anything in this early readers series debut. Three connected stories present conflicts about appearance (wild socks), personal boundaries (a trek to the Andes), and pets (jealousy). Friendship triumphs in all three adventures, highlighted by sparkling dialog and supported by Tony Fucile's humorous illustrations.
---
La La La: A Story of Hope
by Kate DiCamillo, Jaime Kim
Ages 4–8
Searching for a response, a small girl sings to the leaves on the trees, but they don't answer back. She sings to the stars, but is met only with silence. Climbing a tall ladder, she sings to the moon, and the moon replies.
---

Leroy Ninker Saddles Up
by Kate DiCamillo, Chris Van Dusen
Ages 6–9
Leroy has almost everything he needs to become a cowboy: a saddle, boots, and a hat. All he needs is a horse. When Leroy meets Maybelline, it is love at first sight, and Leroy is finally ready to ride into the sunset like the heros of his favorite Western movies. This Tales from Dekawoo Drive series opener features characters from other DiCamillo books, like the toast-loving pig Mercy.
---
Louise, The Adventures of a Chicken
by Kate Dicamillo, Harry Bliss
Ages 4–8
Louise is an adventurous chicken who longs for excitement, so she leaves the farm and meets pirates on the high seas and lions under the big top. The comic narration makes for a perfect read-aloud.
---

Mixed Me!
by Tate Digs, Shane W. Evans
Ages 4–8
Mike's parents tell him he is a blend of dark and light mixed together just right. His mother has curly red hair and his father has deep brown skin, and Mike is a combination of the two. He is loved, happy, and confident, but still has to answer a lot of questions about why he doesn't look just like one parent or the other.
---

If Kids Ran the World
by Leo & Diane Dillon
All ages
This final collaboration before Leo's death in 2012 presents an optimistic view of a kinder and better world run by children. The multi-ethnic children declare that they would take care of the important things first, like making sure that everyone has enough food and a safe place to live, stressing that friendship, kindness, and generosity would be valued more than wealth if they ran the world.
---

Antoinette
by Kelly DiPucchio, Christian Robinson
Ages 4–8
Antoinette is the only French poodle in a family of French bulldogs. Her brothers are clever, fast, and strong, and Antoinette feels outclassed. Her mother reassures Antoinette that she has an extra-special talent waiting to be discovered. Antoinette's friend Gaston, the only French bulldog in a family of French poodles, asks her to help look for his missing sister Ooh-La-La. Antoinette discovers that she has an extra-special sense of smell, and tracks the missing puppy to the Louvre. (sequel to Gaston)
---
Clink
by Kelly DiPucchio, Matthew Myers
Ages 4–7
At one time Clink was the most advanced robot available with his ability to make toast and play music at the same time. But the newer robots in the toy store have more advanced talents, like helping with homework and making cookies. No one wants to buy poor Clink until Milton appears, a boy who loves toast and dancing. The charming Clink will appeal to boys and girls alike.
---

Littles: And How They Grow
by Kelly Dipucchio, AG Ford
Ages 3–7
This celebration of early childhood follows multicultural children from giggling babies through toddler-hood and ready to start school. The rhyming text and adorable illustrations make this a perfect gift for soon-to-be older siblings and expectant parents alike.
---

Some Bugs
by Angela DiTerlizzi, Brendan Wenzel
Ages 4–8
This beautifully illustrated book offers brief descriptions of a variety of bugs. Mixed-media illustrations and rhyming text will encourage young readers to search out the creeping and flying wildlife in their own backyards.
---

Maggie and Wendel: Imagine Everything!
by Cori Doerrfeld
Ages 4–8
Maggie and Wendel are elephant siblings with very active imaginations. Three vignettes show the extent of their imaginations: rescuing a friend from a burning building, going on a wild safari in the jungle, and buying a dragon at the pet store. Their real life is rendered in black and white, while the imagined adventures are in full color.
---

The Giant Jumperee
by Julia Donaldson, Helen Oxenbury
Ages 3–5
Rabbit returns home to hear a loud voice coming from inside his burrow, "I'm the Giant Jumperee and I'm as scary as can be!" Rabbit's friends come to help but Cat, Bear, and Elephant are all frightened by the Giant's Jumperee's threats. Finally Mama Frog saves the day.
---

Stick Man
by Julia Donaldson
Ages 4–8
In this bouncy story in verse, Stick Man unwillingly joins a dog's game of fetch and is sent away from his family far downstream. As the seasons change, he becomes part of a swan's nest and finally, almost kindling. Saved by Santa's arrival down the chimney, this book is a perfect winter story.
---

What the Ladybug Heard
by Julia Donaldson, Lydia Monks
Ages 2–6
All the animals in this colorful barnyard have plenty to say, except the silent ladybug, until she overhears a plot to steal the prize cow. The clever ladybug comes up with a plan to foil the robbers and save the cow, instructing each animal to mimic the sound of another animal. The lilting rhyming text and exuberant illustrations invite young listeners to join in the chorus.
---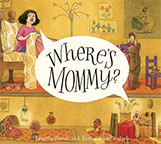 Where's Mommy?
by Beverly Donofrio, Barbara McClintock
Ages 3–7
Maria and her friend Mouse Mouse are best friends but Maria worries her family will get rid of the mice family if they find out. One evening both Maria and Mouse Mouse are surprised that their mothers are gone. They search through the house and finally notice a light in the shed. (follow-up to Mary and the Mouse, The Mouse and Mary)
---
Bear Despair
by Gaëtan Dorémus
Ages 4–7
A blue bear sleeps peacefully in the forest, cuddling his adored teddy bear. When a wolf steals the teddy bear, the bear chases him down and swallows the wolf, but not before he tosses the teddy bear on. The bear's stomach becomes larger and larger as he takes revenge on one animal after another in this wordless tale of childhood passion, frustration, and rage.
---

Empty Fridge
by Gaëtan Dorémus
Ages 5–7
When Andrew opens his fridge he finds only three carrots. So he heads upstairs to see if his neighbor Nabil has anything in his fridge. But it's been a busy week and Nabil hasn't gone shopping either. Nabil has only two eggs and a remnant of cheese. Together they head up to the next floor, gathering bits of food until they reach the top floor of the five-story apartment house and discover they have all the ingredients to make a delicious quiche. Bright colors echo the ingredients gathered on each floor in this delightful retelling of Stone Soup.
---

Her Mother's Face
by Roddy Doyle, Freya Blackwood
Ages 4–8
When Siobhán was three her mother died. Now 10 years old, she cannot remember her mother's face. Then a strange woman in the park tells her to search her own reflection in the mirror. As time passes, Siobhán realizes the woman was her mother. Blackwood's illustrations mirror Doyle's optimism that time heals grief.
---

All the Awake Animals Are Almost Asleep
by Crescent Dragonwagon, David McPhail
Ages 3–6
A mother tries to lull her small son to sleep by describing creatures from A through Z who find sleep a welcome end to the day in unique alliterative ways. Soothing watercolors illustrate the weary animals dropping off to sleep.
---

Animal Masquerade
by Marianne Dubuc
Ages 3–7
A lion sees an invitation to a costume party and soon emerges on the next page in an obviously home-made elephant costume. The real elephant decides to disguise himself as a parrot who darts away to don his own costume. Each turn of the page reveals a new creatively silly costume in this delightful book.
---

The Lion and the Bird
by Marianne Dubuc
Ages 4–up
While working in his garden one fall, Lion rescues a bird with a broken wing. Since the bird can't fly south with the flock, Lion offers to share is cozy hut for the winter. While Lion goes ice fishing, Bird sleeps in a fuzzy slipper. In the spring, Bird rejoins his flock, leaving Lion alone. When autumn returns, Lion longs for Bird's companionship for the winter, and is overjoyed when Bird returns.
---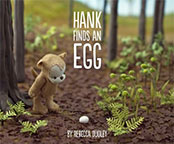 Hank Finds an Egg
by Rebecca Dudley
Ages 3–up
This wordless book presents the story of Hank, a forest creature, who finds an egg that has fallen from a nest in a tree. The branch with the nest is far over Hank's head, so he must use all his ingenuity to safely restore the egg. The photographs of Hank and the hand-cut and posed forest add a touch of realism to his sweet tale.
---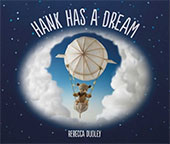 Hank Has a Dream
by Rebecca Dudley
Ages 3–8
Hank, a small stuffed animal who lives in a forest, has an amazing dream about flying that he shares with his hummingbird friend. Side by side diorama photographs contrast the real actions of Hank with the magical mirror events from his dream.
---
Fable Comics
edited by Chris Duffy
Ages 6–12
Twenty-eight fables are retold by 26 talented graphic artists in comic format. Many of the fables are classics from Aesop, but some are more obscure. Though based on the originals, each enjoys artistic freedom as long as there is a moral at the end.
---

Fairy Tale Comics: Classic Tales Told by Extraordinary Cartoonists
edited by Chris Duffy
Ages 6–12
Seventeen classic fairy tales are adapted and illustrated in comics format by seventeen different cartoonists. Well-known tales like "Snow White" and "Goldilocks" are included along with lesser-known tales like The Boy Who Drew Cats," and "Rabbit Will Not Help." Both an introduction to comics and a new way to enjoy old favorites, this volume is fun to read aloud as well as savor independently.
---

Ready for Pumpkins
by Kate Duke
Ages 5–8
Hercules, the classroom guinea pig, is fascinated by the first grade project of growing plants from seeds. During summer vacation on a farm, Hercules and a rabbit named Daisy prepare the soil and plant pumpkin seeds. Daisy's help consists mainly of snacking on tasty leaves and providing encouragement while Hercules works. Hercules finds the long wait difficult, especially when he has to go back to school before the pumpkins are ready. But in October the farmer appears with a pumpkin that mysteriously grew in his yard, and Hercules begins to dream about his next garden project.
---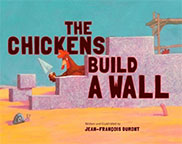 The Chickens Build a Wall
by Jean-François Dumont
Ages 4–8
Everything is fine on this medieval farm until a strange animal appears. No one has ever seen a hedgehog before, and when the creature curls itself into a tight ball, rumors and suspicion circles through the farm. The hedgehog goes on his way, but the chickens are ill at ease, and the rooster convinces the hens to work throughout the winter building a giant wall to keep out prickly invaders. This humorous look at xenophobia and overreaction will appeal to young readers.
---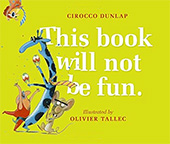 This Book Will Not Be Fun
by Cirocco Dunlap, Olivier Tallec
Ages 3–7
A pompous little mouse assures the reader that this book will be completely boring with not a bit of fun. Interruptions like flying whales cause the mouse to temporarily lose control, but he manages to retain his serious demeanor until the infectious rhythm of the band at the giant zero-gravity dance party is simply impossible to resist.
---
A Christmas Tree for Pyn
by Olivier Dunrea
Ages 3–8
With quiet persistence, young Pyn convinces her mountain man father that they really do need a real Christmas tree. The rustic details of tree stump beds and a stone hearth suggest a historical story land, while the celebration of the warm relationship between father and daughter is timeless.
---

Little Cub
by Olivier Dunrea
Ages 3–up
When Old Bear finds Little Cub all alone and afraid of the dark, he has no choice but to take care of the little one and help him get over his fears. In this prequel to Old Bear and His Cub, the two meet for the first time and gradually grow into a loving family of two.

---
Dessert First
by Hallie Durand, Christine Davenier
Ages 7–10
When 3rd grader Dessert's teacher tells her class to march to their own drummers, Dessert decides that means eating dessert before the meal. But eating all the chocolate in the refrigerator gets Dessert into trouble at home. Her teacher encourages Dessert to find her own way to make amends. The humorous black and white illustrations add to the fun of this book.
---
Under the Mambo Moon
by Julia Durango, Fabricio Vanden Broeck
Ages 8–11
Marisol explores the role music plays in her Latino community by introducing the people who visit her father's music store. Beautiful melding of poetry, narration, and art bring the love of music to life.
---
Mary Mae and the Gospel Truth
by Sandra Dutton
Ages 8–12
Mary Mae (10) loves to sing hymns, go to church, and learn about trilobites in school. Her 5th grade teacher encourages Mary Mae's inquiring mind, but her mother, who believes in the Bible version of creation, is horrified by Mary Mae's questions about how the earth looked millions of years ago. Mary Mae's mother threatens home schooling and Mary Mae has to decide if she will side with science and her teacher, with God and her mother, or somewhere in between. All the caring adults in Mary Mae's life try to provide truthful guidance in this book that respects both viewpoints as well as those in the middle.
---

Horrible Bear!
by Ame Dyckman, Zachariah OHora
Ages 3–6
When a bear accidentally crushes the kite belonging to a small girl, she is furious and calls him a Horrible Bear. The bear is angry to be unfairly blamed for an accident and plots revenge on the girl. As he arrives at the girl's house, she has just accidently damaged another toy and realizes the kite incident was also an accident. When she apologizes to the bear, all the horrible goes right out of him. This funny book illustrates the way anger causes unforeseen problems.
---

Wolfie the Bunny
by Ame Dyckman, Zachariah OHora
Ages 3–6
When the Bunny family finds a wolf cub in a basket on their doorstep they are delighted. Or at least Papa and Mama are; Dot is worried that the wolf will eat them all up. Wolfie loves carrots, and Dot is sent to the store with the new baby to buy some more. She keeps a close eye on Wolfie in case he shows signs of eating her, but instead a bear at the market decides Wolfie would make a delicious snack. Dot frightens the bear with her tough talk, and the two siblings walk happily home from the market hand-in-hand. Young children will love the endearing Wolfie in his bunny outfit while adults will appreciated the gentle mockery of the hipster Bunny parents.
---

The Catawampus Cat
by Jason Carter Eaton, Gus Gordon
Ages 4–8
When Mrs. Grouse the grocer sees the tilted gray cat wandering by, she tilts her head to get a better look and finds the ring she lost 20 years earlier caught in a vegetable bin. As the cat moves through town, everyone bends sideways and sees their world from a different perspective, with surprising results.
---
How to Train a Train
by Jason Carter Eaton, John Rocco
Ages 4–8
This how-to book narrated by a train-obsessed boy, provides information about capturing, caring for, and training your pet train. Recommendations for activities your train will enjoy and tricks to teach your pet train are also included in this must-have book for young train fans.
---
Okay, Andy
by Maxwell Eaton
Ages 5–8
Preston is an excitable coyote whose best friend is an alligator named Andy. Three separate adventures are presented in short illustrated chapters. In the middle chapter Preston drives Andy crazy with his constant question of "Okay?". The layout and text is perfect for beginning readers.
---

A Hat for Mrs. Goldman: A Story About Knitting and Love
by Michelle Edwards, G. Brian Karas
Ages 4–8
Mrs. Goldman knits winter hats for everyone in the neighborhood. Sophia received her first hat when she was a baby, and now helps Mrs. Goldman attach the pom-poms since knitting is too hard. When winter arrives Sophia notices that Mrs. Goldman is the only one in the neighborhood without a warm hat, and makes it her mitzvah (good deed) to use her limited knitting skills to make a hat for Mrs. Goldman.
---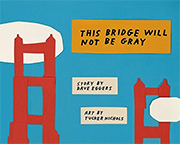 This Bridge Will Not Be Gray
by Dave Eggers, Tucker Nichols
Ages 3–up
Why is the Golden Gate Bridge orange? Most people wanted a typical gray bridge, the Navy wanted black and yellow stripes, but Irving Morrow was determined that the anti-rust paint would be a vivid orange. The story of the iconic bridge is told with humor and flair.
---
Captain Sky Blue
by Richard Egielski
Ages 4–8
On Christmas morning Jack receives a toy pilot, Captain Sky Blue. With Sky's help, Jack builds a model plane. When Jack's hat blows away, Sky heads off in pursuit, facing lightning and a humpback whale before ending up in Santa's underwater workshop, ending with wild ride on Santa's sleigh a year later. Bright and energetic illustrations accompany this old-fashioned adventure.
---
Itsy Bitsy Spider
by Richard Egielski
Ages 3–6
This engaging pop-up book sets the familiar nursery rhyme in a town built of tin cans, salt shakers, and teapots and inhabited by a well-dressed cast of insects. The spider boy wearing many-legged overalls disappears up the waterspout and then reappears in a tumble of water.
---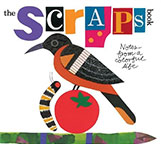 The Scraps Book: Notes from a Colorful Life
by Lois Ehlert
Ages 5–10
Lois Ehlert always knew she was an artist and was encouraged by her parents to make things with leftover scraps of fabric and buttons. Art school gave her the skills to create picture books. This fascinating autobiography helps readers to create projects of their own with directions for making a bird feeder and a cat mask, and makes it clear that creating collage pictures is an art form anyone can enjoy.
---
The Girl Who Wanted to Dance
by Amy Ehrlich
Ages 6–10
Clara, who longs to dance, lives with her sad father and loving grandmother who tells her that her absent mother also loved music and dance. When a traveling dance troupe visits the village, Clara's father recognizes Clara's mother, and forgives her for leaving the family. This haunting fairy tale compassionately addresses the irresistible artistic urge and the pain of those left behind.

---

Baabwaa and Wooliam: A Tale of Literacy, Dental Hygiene, and Friendship
by David Elliott, Melissa Sweet
Ages 4–8
Sheep Baabwaa and Wooliam enjoy their quiet life reading and knitting. Then a strange looking sheep with long teeth appears wearing a wool coat. William recognizes their new acquaintance from his reading, it's the famous Wolf in Sheep's Clothing! The wolf is so charmed by his literary fame that he doesn't eat the sheep, instead becoming a friend. The clever humor makes this book a fun read-aloud.
---

Du Iz Tak?
by Carson Ellis
Ages 4–8
Two dragonflies discover a small plant emerging from the ground, and exclaim, "Du is tak?" As the plant grows they buld a fort and marvel at the huge flower it produces, discussing it in insect language. Detailed illustrations portray the instects' formal outfits and eyeglasses, and portraythe passage of time through the metamorphisis of a caterpillar.
---

Home
by Carson Ellis
Ages 4–8
The exploration of the idea of home begins realistically with a house in the country and an apartment in the city. A ship can be the home of an explorer, a wigwam for a Native American. Storybook homes include palaces, huts, and lairs for thieves. The final pages show the artist at work on illustrations for the book in her home studio.
---

Little Roja Riding Hood
by Susan Middleton Elya, Susan Guevara
Ages 5–8
This retelling of the classic tale is spiced with Spanish words. Roja's mother is busy watching her favorite telenovelas, so she sends her daughter off to deliver some healing sopa to her sick abuela. Riding along the trail on her ATV, Roja meets a wolf who steals her cape to fool Abuelita into letting him into the house. But Abuelita is as clever as her granddaughter and the two deal handily with the wolf.
---

The Ant and the Grasshopper
by Rebecca Emberley, Ed Emberley
Ages 4–8
As a hard-working ant is carrying home a watermelon slide, she takes a break to enjoy a cheerful grasshopper making music with his band. The ant is rejuvenated by the music, but refuses to stop and join the band. So the grasshopper and his friends play the ant all the way home, making her work much more enjoyable, adding a joyful note to the classic tale.
---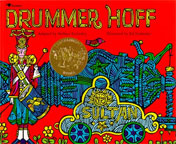 Drummer Hoff
illustrations by Ed Emberley, text by Barbara Emberley
Caldecott Medal 1968


Ages 3–8
Seven soldiers build an incredible cannon which Drummer Hoff sets off. The cumulative rhymes and repetition in the text encourage young children to "read along" while admiring the brightly-colored woodcut illustrations.
---

The Princess and the Pig
by Jonathan Emmett, Poly Bernatene
Ages 4–8
Because of a mix-up in the royal nursery, Priscilla the princess has accidentally switched places with Pigmella the piglet. The king and queen are sure that their daughter's appearance and personality are the result of a bad witch, while the farmer and his wife are convinced that a good witch has given them the daughter they always wanted. Priscilla grows up poor but happy on the farm, but things don't go quite so well for poor Pigmella. This hilarious fractured fairy tale will delight young readers.
---

The Santa Trap
by Jonathan Emmett, Poly Bernatene
Ages 6–10
Bradley Bartleby is a very bad child. His terrified parents buy him everything he wants, but each year Santa leaves him only a pair of socks. Determined to get at Santa's toys, Bradley spends an entire year transforming his mansion into an enormous and very scary trap designed to catch Santa. This darkly funny book is the perfect gift for all children whose favorite holiday is Halloween.
---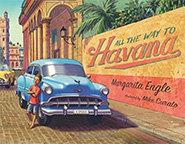 All the Way to Havana
by Margarita Engle, Mike Curato
Ages 4–8
Our young narrator and his family are traveling from their rural home to Havana in a bright blue Chevy Delray they call Cara Cara because her aging engine makes sounds like a chicken: cara, cara, cara, cluck, cluck, cluck. Held together by wire, table, and scraps of dented metal, Cara Cara transports the family along the coast to the busy streets of Havana for a family celebration.
---

The Almost Fearless Hamilton Squidlegger
by Timothy Basil Ering
Ages 3–7
Hamilton Squidlegger is almost fearless. During the day he enjoys adventures in the swamp wielding his sword. But at night he quakes in terror, fearful of all the frackensnappers, skelecragons, and bracklesneeds that he conquers during the day. His father bribes him with a double-decker grasshopper worm-cake, with snake-belly frosting for breakfast if the youngster manages to stay in his own bed for the entire night.
---

To the Big Top
by Jill Esbaum
Ages 5–8
Benny and his friend Sam land jobs helping with the elephants when the circus comes to town. As the boys move from backstage to choice seats in the Big Top, this book captures the excitement of the circus arriving in small town America in the late 1800s.
---
Brief Thief
by Michael Escoffier, Kris Di Giacomo
Ages 4–8
Leon the Chameleon finds himself in the forest without any toilet paper. Spotting a pair of underwear hanging on a tree, Leon convinces himself that his urgent need is worth stealing and using the underwear. But then his conscience gets the better of him, nagging Leon into washing and restoring the underpants to their former place in the tree. Discovering who the underpants belong to provides a surprise ending to this funny book.
---

Moto and Me: My Year as a Wildcat's Foster Mom
by Suzi Eszterhas
Ages 7–10
wildlife photographer Suzi Eszterhas was living on the Masai Mara wildlife reserver in Kenya when she rescued an orphaned serval kitten. She bottle-fed the kitten and carried him in a pouch wile on photography expeditions. Gradually she begins to reintroduce the kitten she names Moto to his natural world, fostering his survival instincts with the goal of returning him to the wild. Beautiful photographs illustrate this poignant story of wildlife rescue.
---

Underground
by Shane W. Evans
Ages 4–8
Minimal text and haunting illustrations tell the story of a slave family creeping away from a plantation on a dark night lit only by the moon. Moving along the underground railroad, the family travels throughout the night until the dawn breaks, illuminating their passage into freedom.
---

Mango & Bambang: The Not-a-Pig
by Polly Faber, Clara Vulliamy
Ages 6–9
Mango Allsorts is good at all kinds of things, but is a bit lonely. One day while coming home from karate lessons, Mango finds a frightened Malayan tapir named Bambang stranded in the middle of the road. Mango takes Bambang home and feeds him banana pancakes. The two become fast friends and have wonderful adventures together. This endearing early chapter book features humorous illustrations that support the text.
---
Wolfie & Fly
by Cary Fagan, Zoe Si
Ages 7–10
Renata Wolfman (Wolfie) prefers to be by herself. She only has time for reading and facts and friends just get in the way. But Livingston Flott (Fly), who lives next door, an exuberant singer-songwriter, breaks through her defenses. The two bond over a refrigerator box submarine Wolfie has built ("for educational purposes, not make-believe") and the two set sail together. This engaging early chapter book featuring a friendship between opposites includes whimsical cartoon illustrations.
---
Snappsy the Alligator (Did Not Ask to Be in This Book!)
by Julie Falatko, Tim J. Miller
Ages 4–8
Snappsy the Alligator is perfectly happy going about his daily business until an unseen narrator begins following him around and adding commentary. Is Snappsy reading a book … or is is making CRAFTY plans? Is he on his way to the grocery store … or is is PROWLING the forest on the hunt for defenseless prey. The cartoon illustrations are the perfect match for the funny text.
---
Olivia Goes to Venice
by Ian Falconer
Ages 3–8
The irrepressible piglet is back, this time on a family vacation in Venice. Against a background of beautiful photographs, Olivia survives an attack of pigeons at the Piazza San Marco, barely stays afloat on a gondola, and eats many servings of gelato. A favorite since her first appearance in Olivia, this hilarious entry in the series is sure to delight both children and adults.
---

Olivia and the Fairy Princesses
by Ian Falconer
Ages 3–7
When Olivia decides she is having an identity crisis and can't decide what to be, her father reassures her that she will always be his little princess. But Olivia isn't thrilled about joining the hordes of tiny ruffly sparkling princesses, and searches for a way to express her own individuality. Olivia's stubborn attempts to stand out in the wand-waving crowd will enchant young readers while amusing parents trying to resist the pink princess mania.
---

The Night Gardener
by Terry Fan, Eric Fan
Ages 4–8
William is an orphan living in a dreary orphanage. One day he is scratching a picture of an owl in the dirt with a stick when a stranger walks by. The next morning William wakes up to find that the tree outside his bedroom window has been transformed into a topiary owl very like the one William sketched in the ground. In the following days more topiaries appear and the grim little town fills with color and life as everyone gathers to marvel at the incredible living sculptures.
---

Rupert Can Dance
by Jules Feiffer
Ages 3–6
Rupert is a cat who loves to watch his owner Mandy dance during the day. At night, Rupert secretly slips on her dancing shoes and dances in the dark. One night Mandy wakes up and spots Rupert dancing. She is thrilled and decides to teach him some new steps. But Rupert is unhappy that his secret has been discovered and hides under the bed. Mandy understands and cleverly lures Rupert out into the open so that they can enjoy dancing together.
---

My Mom Is Trying to Ruin My Life
by Kate Feiffer, Diane Goode
Ages 4–8
Our young narrator's mother seems perfect to others, but she insists on embarrassing her daughter in public by kissing her and telling loud jokes. The watercolor illustrations perfectly complement the text.
---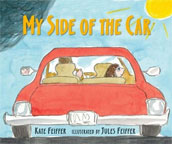 My Side of the Car
by Kate Feiffer, Jules Feiffer
Ages 4–8
Sadie longs to go to the zoo, but family mishaps keep preventing the trip. Finally Sadie and her father head off in the car, and her father tries to convince Sadie that it's not a good day for the zoo because of the rain. But Sadie insists that it's not raining on her side of the car, imagining sunny day explanations, like lawn sprinklers, for the wet car windows. Sadie's wonderful imagination, and her father's enjoyment of her imaginings are beautifully portrayed in Jules Feiffer's watercolor illustrations.
---

Buddy and Earl Go to School
by Maureen Fergus, Carey Sookocheff
Ages 4–7
Buddy the dog and Earl the hedgehog are eager to start school, knowing a good education is the key to getting a fabulous job like a dentist or a hot dog vendor. When their teacher is called away from the classroom, Professor Earl takes charge. Buddy excels at lessons like Sniffing Things, Tail Chasing, and Scratching Itches. The obedient dog and rule-challenging hedgehog demonstrate that school can be fun for all kinds of students.
---

Dare the Wind: The Record-breaking Voyage of Eleanor Prentiss and the Flying Cloud
by Tracey Fern, Emily Arnold McCully
Ages 5–9
Eleanor Prentiss was born into a sailing family, and learned how to handle a sailing ship from her ship-captain father. She married a man who loved sailing as much as she did, and in 1851 served as navigator of their clipper ship The Flying Cloud on its 15,000 maiden voyage from New York City, around the tip of Cape Horn, and into San Francisco to deliver passengers and cargo to the Gold Rush. This accessible biography presents a little-known female sailor at a time when only men were expected to take the helm.
---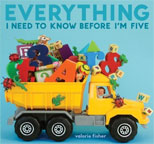 Everything I Need to Know Before I'm Five
by Valorie Fisher
Ages 1–5
Multimedia collages constructed from toys and yard sale treasures illustrate concepts for preschoolers. The retro toys make it fun to learn about letters, numbers, opposites, shapes, and the seasons. Parents and young children will enjoy exploring this book together.
---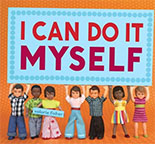 I Can Do It Myself
by Valorie Fisher
Ages 3–7
This upbeat guide presents pointers for young children determined to achieve important milestones of early childhood. Close up photographs of children and plastic toys illustrate tasks like learning to hold a pencil properly (both right and left-handed), brushing teeth, making the bed, writing letters and numbers, getting dressed, and much more.
---

Night Sky Wheel Ride
by Sheree Fitch, Yayo
Ages 3–6
This imaginative book encourages children to embrace new experiences while celebrating a carnival Ferris wheel ride. Brilliantly colored illustrations accompany the poetic text. Even the simplest things become extraordinary during this satisfying book.
---

There
by Marie-Louise Fitzpatrick
Ages 4–8
A small girl wonders what it means to grow up, questioning who she will be, what she will know, and what she must leave behind. This simple and beautiful book leaves the questions unanswered as she decides not to go There yet.
---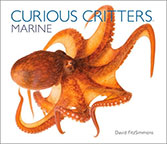 Curious Critters: Marine
by David Fitzsimmons
Ages 3–up
Twenty unusual marine creatures are presented in this accessible book. First-person narration from each creature in the form of poems, songs, monologues, and comedy routines is paired with incredibly detailed photographs. The end of the book includes more details about each marine dweller as well as an identification game using silhouettes.
---

The Dunderheads
by Paul Fleischman, David Roberts
Ages 6–10
Miss Breakbone hates kids and is convinced that her class are all dunderheads. She insults them until they have no choice but to fight back, despite the fact that she owns her own electric chair and subscribes to Guard Dog Lovers Monthly. The class full of underdogs unites under the leadership of Einstein, the class genius, who brings out the hidden talents of each student. The vivid narration is brought to life by Robert's quirky and hilarious illustrations.
---

The Dunderheads Behind Bars
by Paul Fleischman, David Roberts
Ages 6–10
School is out for the summer and the Dunderheads are thrilled to be cast as extras in a movie starring teen idol Ashley Throbb-Hart. Unfortunately Miss Breakbone, their terrifying teacher, also lands an extra spot. When Spider is arrested for stealing a necklace, it takes the combined efforts of the whole Dunderhead gang to identify the real thief and clear his name. This delightful darkly comic mystery is the sequel to The Dunderheads.
---
First Light, First Life: A Worldwide Creation Story
by Paul Fleischman, Julie Paschkis
Ages 6–9
Elements from creation stories from around the world are woven together into one whole, highlighting their similar story lines. Each page represents a different country or culture, celebrating both our commonalties and our differences.
---

The Matchbox Diary
by Paul Fleischman, Bagram Ibatoulline
Ages 6–10
A young girl visiting her great-grandfather wonders how he remembers the important moments of his life since he couldn't read or write for much of his life. Inside a cigar box she discovers a collection of old matchboxes, each holding a memory that the old man explains as she holds the treasures in her hand. An olive pit from his native Italy brings the memory of sucking on the pit when the family had no food, a fish bone tells the story of hard work in a cannery, and a piece of movable type represents his mastery of the written word.
---

Clever Jack Takes the Cake
by Candace Fleming, G. Brian Karas
Ages 4–8
Jack receives in invitation to the Princess's 10th birthday party by mistake. Too poor to buy her a present, Jack cleverly decides to bake her a cake, trading for the ingredients. But on the way to the party the cake is slowly demolished by a variety of creatures and disasters, so Jack arrives at the party empty-handed. When Jack tells the bored Princess the tale of the cake, she is enchanted and exclaims that his adventure story is the finest gift she ever received. Slyly humorous illustrations featuring expressive faces highlight this modern fairy tale that will appeal to both girls and boys.
---

Giant Squid
by Candace Fleming, Eric Rohmann
Ages 6–10
Little is known about the giant squid, which lives in the deepest darkest reaches of the ocean. Some giant squid are as large as a school bus, but they are rarely seen by people. The little we know about these huge cephalopods is what scientists have discovered from pieces of dead squids washed up on the shore or found by fishermen in the sea. This fascinating book reveals what we know about giant squids piece by piece, beginning with a description of their 30-foot-long tentacles, until the entire squid is revealed.
---

Oh, No!
by Candace Fleming, Eric Rohmann
Ages 3–7
Jungle animals tumble one after another into a deep dark pit. Young children will enjoy chanting the refrain, "Oh, No!" in this lively read-aloud as each animal somersaults into the pit. Rich wood-block styled prints provide a dignified background to the humorous text full of descriptive sound words.
---

Locomotive
by Brian Floca
Caldecott Medal 2014


Ages 4–10
It's the summer of 1869, and the Transcontinental Railroad has just been completed. A mother and her two children board the train in Omaha, leaving their old home behind to join Papa who has gone ahead to Sacramento, California to prepare their new home. Details about the construction of the railroad and the crew it takes to run the train provide background to the small family enjoying the cross-country journey.
---

Dinothesaurus: Prehistoric Poems and Paintings
by Douglas Florian
Ages 6–up
These humorous and witty poems and illustrations will appeal to dinosaur and word lovers alike. The facts are accurate, and the combination of poem and collage make them unforgettable.
---

Poem Runs: Baseball Poems
by Douglas Florian
Ages 6–9
Upbeat poems cover the defensive positions on the field as well as batting and running. Exuberant illustrations exaggerate the physical motions of the baseball players as they stretch, swing, bend, and run, complementing the humor and the competitive spirit of the poems.
---

And Then It's Spring
by Julie Fogliano, Erin Stead
Ages 4–7
A boy and his animals endure the late winter doldrums, anxious for spring to finally arrive. The boy plants seeds in a barren farmland and waits for the plants to grow, worrying that the seeds won't survive the birds and the bears. The final change to green is worth all the wait and worry.
---
If You Want to See a Whale
by Julie Fogliano, Erin Stead
Ages 2–6
If you want to see a whale, the main thing you need is a lot of patience. Poetic text and imaginative pencil and linoleum prints celebrate the quiet pleasure of persistence.
---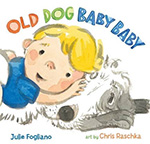 Old Dog Baby Baby
by Julie Fogliano, Chris Raschka
Ages 2–6
The old dog would prefer to sleep in the sun on the kitchen floor, but the little baby crawls in and disturbs his peace. Finally the two settle down for a nap together as an older sibling looks at photos of the old dog as a young puppy, a subtle comment on the inevitability of the passage of time.
---

When Green Becomes Tomatoes: Poems for All Seasons
by Julie Fogliano, Julie Morstad
Ages 6–10
Beginning and ending with the Spring Equinox, this book presents a group of poems for each season. Each poem begins with a date and reads like a diary entry, combining observations about each season with personal connections.
---

When's My Birthday?
by Julie Fogliano, Christian Robinson
Ages 3–6
The excited anticipation of an upcoming birthday by young children is perfectly captured in this exuberant book featuring fun collage illustrations.
---

Willoughby & the Lion
by Greg Foley
Ages 4–8
When Willoughby Smith moves to a new home, it feels small and lonely. Then he finds a golden lion perched on a boulder who offers him 10 wishes, with the warning that unless Willoughby wishes the most wonderful thing of all the lion will be stuck on the rock forever. As Willoughby makes each wish, the illustrations move from black and gray to include more and more gold until he finally does wish for the most wonderful thing of all.
---

The Marvelous Thing That Came from a Spring: The Accidental Invention of the Toy That Swept the Nation
by Gilbert Ford
Ages 4–8
During WWII, naval engineer Richard James was surprised by the unusual properties of a torsion spring that fell from the shelf above his desk and "walked." Richard and his wife Betty decide to market the spring as a toy, and debut their Slinky in the toy department of Gimbels. Playful illustrations capture the American optimism of the time and celebrate the inventor mindset.
---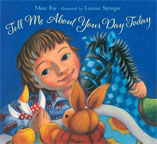 Tell Me About Your Day Today
by Mem Fox, Lauren Stringer
Ages 4–8
Once upon a time there was a small boy who loved bedtime. After a last goodnight from his mother, the boy snuggles up with his beloved toys and listens to their stories about the adventures they had that day. Rhyme and repetition make the tales easy to follow for young readers, with specific details illustrated by the warmly colored pictures.
---
Cityblock
by Christopher Franceschelli, Peskimo
Ages 3–5
A grandfather and two children explore the city using various transportation modes. Clever die cuts in this interactive board book encourage young readers to guess what is hidden: a pair of chopsticks reveals a Japanese restaurant, a soccer ball opens to a stadium.
---

Bees, Snails, & Peacock Tails: Patterns & Shapes… Naturally
by Betsy Franco, Steve Jenkins
Ages 4–8
This inviting book explores geometry in the natural world. The layout of the rhymes often echoes the shapes pictured in the stunning cut-paper collages.
---

Boot & Shoe
by Marla Frazee
Ages 4–8
Boot and Shoe are two nearly identical terriers who share an eating bowl and a sleeping cushion. But each pup likes to guard the house from a different spot. Boot prefers the back porch while Shoe patrols the front. When a squirrel initiates a mad chase around the yard, the dogs end up in the wrong spot, loyally standing guard, waiting for the other to return. This endearingly ordinary story is an homage to the faithfulness of dogs and friendship.
---

The Boss Baby
by Marla Frazee
Ages 4–8
From the moment of his arrival (by taxi clad in a suit-and-tie onesie and carrying a briefcase) the Boss Baby takes command of his new family. Hilarious 1950s style illustrations present the increasingly exhausted parents as they strive to cater to the Boss Baby's demands. This clever and empathetic book will appeal to new parents as well as older siblings dealing with an infant takeover of their own family.
---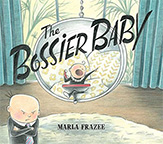 The Bossier Baby
by Marla Frazee
Ages 3–8
The Boss Baby is in for a shock when his new sister comes home from the hospital. Clad in a black onsie with chewable pearls and carrying an Etch-a-Sketch like a computer tablet, the Bossier Baby is even more demanding than her older brother, who has been demoted from Boss Baby to Staff.
---
A Couple of Boys Have the Best Week Ever
by Marla Frazee
Ages 6–9
Frazee's hilarious cartoon drawings illustrate this delightful celebration of summer, best friends, and grandparents.
---

Stanley Goes for a Drive
by Craig Frazier
Ages 4–8
Stanley goes for a drive in his pickup on a hot dry day. He sees a black and white cow in the middle of a herd of solid black cows. As he milks it, the white spots disappear. Stanley throws the milk into the sky. White clouds appear and then rain turns the earth green as Stanley drives home. Incredible illustrations, which move from a orange pallate into greens, support this magical tale of transformation.
---
Stanley Mows the Lawn
by Craig Frazier
Ages 4–8
Stanley heads out to mow the lawn: up and back, up and back. Or is that the only way to do it? This beautifully illustrated book celebrates the imagination and the art of looking at the world in your own way.
---

Stanley Goes Fishing
by Craig Frazier
Ages 4–8
After Stanley pulls a boat out of the water instead of a fish, he casts his line into the sky and hauls in a boatload of golden fish. The story is intriguing, but it is the illustrations that shine in this beautiful picture book which encourages kids to look at the world in a different way.
---

Hank Finds Inspiration
by Craig Frazier
Ages 4–8
Stanley and his snake friend Hank head off to the city in search of inspiration. As Hank travels from one destination to another, he is sent on somewhere new in this beautifully illustrated tale of discovery. Echoes of Stanley's previous adventures appear in the text and illustrations.
---
Hide-and-Squeak
by Heather Vogel Frederick, C.F. Payne
Ages 3–6
A mouse baby starts a wild game of hide-and-squeak with his father in order to put off bedtime as long as possible. His willing father eventually manages to curb his son's rollicking energy and sweeps him off to bed. Warm and detailed drawings complement the rhyming text.
---
A Little Women Christmas
by Heather Vogel Frederick, Bagram Ibatoulline
Ages 4–8
This picture book presents a Christmas with the March family from Louisa May Alcott's Little Women. The accessible language retains the old-fashioned flavor of the original and the illustrations depict a warm and loving 19th century family celebrating a festive Christmas in spite of their need to make do with very little money. Jo and Laurie build a snow maiden to cheer up Beth, who is sick, and the best present of all is a surprise visit from Papa who has been away at war.
---
By Mouse and Frog
by Deborah Freedman
Ages 3–5
Careful, tidy Mouse is creating a quiet domestic story about a little mouse having a tea party, when his enthusiastic friend Frog jumps in with exciting ideas about dragons and ice cream. The tale gets wilder and wilder until the overwhelmed Mouse shouts, "Stop!" Frog begins to erase his creations, but Mouse offers a compromise and the two begin to collaborate.
---

This House, Once
by Deborah Freedman
Ages 4–8
This thought-provoking book suggests that a house can remember the origin of each element it is composed of: the giant oak of the door, the stones of th foundation. Inside the house, readers are invited to speculate on the origin of doorknobs and bookshelves, and to think about the ways their own homes are extensions of the natural world.
---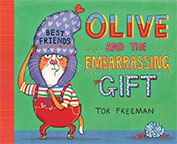 Olive and the Embarrassing Gift
by Tor Freeman
Ages 4–8
Olive's best friend Joe presents her with a knit cap decorated with hearts and the words BEST FRIENDS. Olive thinks the hat is awful, but Joe bought a matching one for himself and wants them to wear them together. As their friends snicker and point, Olive tries to come up with excuses for not wearing the hat, eventually stuffing it into a garbage can. Joe is mortified, and Olive realizes she has hurt her best friend's feelings, and searches for a solution to make everything OK.
---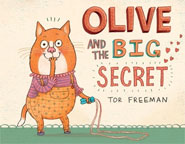 Olive and the Big Secret
by Tor Freeman
Ages 4–7
When Molly shares a secret with Olive she promises not to tell anyone, but the urge to share is just too great and she tells Joe, who tells Matt, who tells Lola… Each of the animals in the chain deals with the secret in a different, a sure-fire conversation started about the dos and don't about secrets among friends. The author never reveals Molly's secret, but observant readers will enjoy using the hints on the end papers to figure it out.
---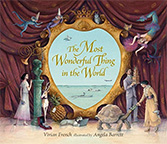 The Most Wonderful Thing in The World
by Vivian French, Angela Barrett
Ages 4–8
An overprotective king and queen worry about how to choose a suitable husband for their daughter, Princess Lucia. Wise Old Angelo advises them to choose the young man who can show them the most wonderful thing in the world. When Angelo's grandson Salvatore delivers his advice, Lucia asks him to show her around the city. Meanwhile a line of suitors show her parents wonder after wonder. Finally Lucia and Salvatore solve Angelo's puzzle together.
---

French Ducks in Venice
by Garret Freymann-Weyr, Erin McGuire
Ages 5–10
Polina Panova, a dressmaker in Venice, California, is heart-broken when her boyfriend leaves her. Georges and Cécile, the two French ducks who live in the canal behind her house, are determined to cheer her up. Luminous digital illustrations accompany this tale of grief, friendship, and the healing power of time.
---
Step Gently Out
by Helen Frost
Ages 2–5
Stunning close-up photography illustrates this poem capturing the world from an insect's point of view, encouraging young children to experience the natural world with care for the small insect worlds that surround them. Endnotes include more details about the 11 featured insects.
---
Sweep Up the Sun
by Helen Frost, Rick Lieder
Ages 2–5
The motivational poem is illustrated with photographs of 11 different birds captured in flight or at rest. The message of trusting one's ability to thrive in the world is effective for both young readers and graduates.
---

Chu's Day
by Neil Gaiman, Adam Rex
Ages 4–8
When Chu sneezes, bad things happen. When the cuddly baby panda's parents take him to the library they worry about the book dust in the air. At a diner they worry about pepper. But Chu manages not to sneeze until the evening performance under a circus big top.
---

Chu's First Day of School
by Neil Gaiman, Adam Rex
Ages 4–8
Chu is nervous about starting school, worried what his teacher and classmates will think if he one of his huge sneezes arrives. The students take turns introducing themselves and describing their special talents. A cloud of chalk dust prompts Chu to sneeze, blowing the roof off the school and sending everyone flying. Luckily Chu's new friends are impressed rather than horrified and the little panda relaxes.
---

Hansel and Gretel
by Neil Gaiman, Lorenzo Mattotti
Ages 7–10
Lorenzo Mattotti's elegant black and white illustrations of the classic fairy tale inspired Neil Gaiman to write his own version. The pitch black of the India ink drawings of terrifying landscapes mirror the dark version of the tale, with a scary witch and a mother who decides abandoning her children is the only way the parents can survive. Though not a true graphic novel, this illustrated story alternates illustrations and text.
---

Planting the Wild Garden
by Kathryn O. Galbraith, Wendy Halperin
Ages 4–8
This lighthearted book explains how the seeds of wild plants are spread by wind, rain, birds, and animals. Delicate pencil and watercolor illustrations capture the large scale forces of nature as well as close ups of tiny seeds and plants.
---
My New Mom & Me
by Renata Galindo
Ages 3–7
This reassuring story of adoption is narrated by a small yellow puppy adopted by a large striped cat. The puppy is worried that they don't look alike, but the cat says she likes that they look different, and soon the puppy likes it too, and stops worrying about what everyone else might think. The puppy's new mother does all the things that other moms do, playing with, caring for, and even making her new child mad. The most important thing is that she always knows what to say when the puppy is sad as the two work together to learn how to be a family. The cross-species adoption illustration highlight the message that adopted families don't necessarily look alike, but are loving families just the same.
---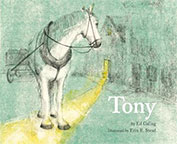 Tony
by Ed Galing, Erin E. Stead
Ages 3–6
In the days before delivery trucks, milk and eggs were delivered to American homes by horse and wagon. Poet Ed Galing pays homage to the horse he loved as a boy, waking up at 3:00 AM every morning to say hello to Tony when he brought the milk.
---

Dinotrux
by Chris Gall
Ages 3–8
Millions of years ago giant part truck, part dinosaur creatures like the Craneosauraus ruled the Earth. Their descendents are the trucks and construction vehicles we see today. The illustrations, text, and the typography all pitch in to bring these fearsome and hilarious Dinotrux to life.
---

Revenge of the Dinotrux
by Chris Gall
Ages 3–6
Tired of being stuck in a dusty museum, the Dinotrux (part truck and part dinosaur former rulers of the world) escape and run wild through the city. Dumplodocus carries off houses while Septisaurus drinks an entire swimming pool. High energy text and illustrations will enthrall young fans of all things big and noisy. (follow up to Dinotrux)
---

Dog vs. Cat
by Chris Gall
Ages 3–6
Mr. Burton adopts a dog from the animal shelter on the same day that Mrs. Burton buys a cat. Forced to share a room, the two are determined to make the other leave home. The messy Dog drops food scraps while the neat Cat organizes a science lab. The Dog rubs balloons and sticks them to the Cat and the Cat pops them and scares the Dog. The trials of the mis-matched roommates will appeal to all siblings.
---
The Littlest Train
by Chris Gall
Ages 4–8
After being accidentally knocked off its tabletop track, the tiny train travels through a mouse hole tunnel into the outside world. There it meets life-sized trains of all kinds, including a cog railway engine, a steam locomotive, a commuter train and a rotary snowplow train. The littlest train's new friends work together to safely deliver the toy train back to his home.
---

Pug & Pig Trick-or-Treat
by Sue Lowell Gallion, Joyce Wan
Ages 2–8
It's Halloween night and Pug and Pig are dressed in identical skeleton costumes. Pig loves her costume, but Pug hates it and tears it into pieces. Pig is crushed. Halloween is her favorite holiday and now she has no one to share it with. Pug saves the day by covering himself in mud except for a clean "mask" around his eyes, and the two happily pass out treats and go trick-or-treating.
---

Grandfather Gandhi
by Arun Gandhi, Bethany Hegedus, Evan Turk
Ages 4–8
Gandhi's grandson narrates this personal story. When he was 12, Arun and his family came to live at the ashram where his grandfather lived, where the boy struggles to learn a new language, to share his grandfather with others, and to control his own temper. His grandfather compares his anger to electricity, which can be both destructive and a power providing light in the darkness, helping Arun master his negative feelings.
---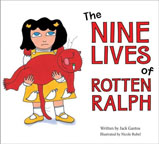 The Nine Lives of Rotten Ralph
by Jack Gantos, Nicole Rubel
Ages 4–8
After a rough night of carousing with his friends, Ralph and his owner Sarah get some bad news from the vet—Ralph has used up eight of his allotted nine lives. Sarah is determined to protect Ralph and coddles him like a helpless baby. Flashbacks to the earlier Ralph books remind Sarah how rotten her beloved cat really is.
---

Operation Bunny
by Sally Gardner, David Roberts
Ages 7–10
Emily Vole (9) inherits an abandoned shop and discovers a magical world she never knew existed. Her kindly neighbor Miss String is willing to help, along with Miss String's talking cat Fidget. Harpella, a fairy-hating witch, is determined to turn the town into rabbits. Emily joins Buster, a grumpy fairy detective, to save the day. This clever and witty book is the first in the Wings & Co. series.
---

Bear Is Not Tired
by Ciara Gavin
Ages 3–7
Bear and his beloved family of ducks do everything together. When he realizes that the ducks will be awake and having fun while he is hibernating, Bear decides to stay awake so he doesn't miss out. But Bear finds it impossible to fight against his own nature, falling asleep during games of tennis and propped up against the humming washing machine. When he awakes in the spring, the ducks surprise him with a photo album so he can share in everything that happened over the winter. (sequel to Room for Bear)
---
Country Road ABC

An Illustrated Journey Through America's Farmland
by Arthur Geisert
Ages 5–8
This ABC book memorializes a way of life in the shrinking Midwest farming community where the author lives. Modern vocabulary (A is for ammonia fertilizer, I is for inoculate) joins the traditional (B is for barn cat) to paint a portrait of the farmland from spring through winter snow. Along the bottom of each page is a continuous panorama that totals nearly 40 feet of art.
---

Hogwash
by Arthur Geisert
Ages 4–8
After the village piglets play in mud and paint they are scrubbed down in a gigantic machine designed by the clever pigs themselves. Hand-colored copperplate etchings illustrate the remarkable technology.
---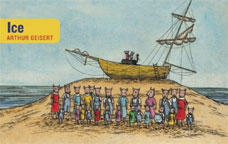 Ice
by Arthur Geisert
Ages 4–7
This resourceful pig family lives in wooden shelters on a desert island. When their water supply runs low, they consult the globe and then launch their balloon-powered air schooner to the seas east of Greenland. The iceberg they tow home provides not only the water they need, but air conditioning to make their wooden shelters more comfortable. Incredible illustrations narrate this detailed and wordless story.
---

Galápagos George
by Jean Craighead George, Wendell Minor
Ages 4–8
This beautifully illustrated book traces the story of the Pinta Island saddleback tortoises from Giantess George, an ancestor in South America who journeyed to the island. The long necked tortoise had longer necked offspring, personalizing the concept of adaptation in natural selection. Lonesome George, the last of his species, died in 2012 at the age of 100.
---

Emma Dilemma: Big Sister Poems
by Kristine O'Connell George, Nancy Carpenter
Ages 6–9
Jess, a 4th grader, is often frustrated by her pre-school aged sister Emma, who copies everything Jess does and embarrasses her in front of her friends. Jess has trouble accepting that she is always expected to be a good big sister, while Emma runs rampant over her life and privacy. Vivid and frank poems present the pains and joys of having a little sister.
---

The First Drawing
by Mordicai Gerstein
Ages 3–6
Readers are invited to travel back in time more than 30,000 years to a cave in France occupied by a curious caveboy before drawing was invented. The boy is a close observer of his world, and when he wants to share an encounter with a woolly mammoth, he makes the first drawing on the wall of the cave with a burnt stick, disconcerting his audience, who have never seen a drawing before.
---

The Man Who Walked Between the Towers
by Mordicai Gerstein
Caldecott Medal 2004


Ages 5–8
In August 1974, Philippe Petit and a friend carry a 440-pound reel of cable and other equipment to the top of the Twin Towers in New York City so that Petit can walk a tight rope between the towers. Beautifully detailed paintings illustrate the beauty and danger of this event.
---

The Night World
by Mordicai Gerstein
Ages 3–6
Awakened by his cat Sylvie before dawn, a small boy creeps through the silent house to let Sylvie out. Outside the two discover the shadowy night world, warm and comfortable and full of stars. Then the animals gather, murmuring softly "It's coming…" as the first rays of dawn appear. This quiet enjoyment of the wonders of both the night and the day makes perfect bedtime reading.
---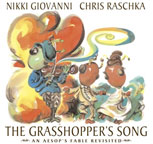 The Grasshopper's Song:

An Aesop's Fable Revisited
by Nikki Giovanni
Ages 4–up
The grasshoppers sing while the ants work in rhythm. When the ants refuse to share the harvest, the grasshoppers take them to court. This amusing retelling will appeal to all ages.
---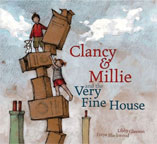 Clancy & Millie and the Very Fine House
by Libby Gleeson, Freya Blackwood
Ages 3–8
Clancy has just moved, and his new house is much too big and far too lonely. He misses his old home terribly. With the help of his new friend Millie and a stack of moving boxes, Clancy builds towers, and trains, and Clancy finally feels at home.
---

The Girl Who Loved Wild Horses
by Paul Goble
Caldecott Medal 1980


Ages 5–8
The girl in this Native American tale loves horses so much that eventually she leaves her people to live with the herd. The bold illustrations beautifully complement this story of a girl who followed her heart with the support of her village.
---

Bear Make Den
by Jane Godwin, Michael Wagner, Andrew Joyner
Ages 4–8
We meet Bear as he is reading How Make Den. Bear is a do-it-now kind of guy and sets right in to carve a cave in the rock. At first happy with the den, Bear decides he needs to make it comfortable and gets to work making furniture, a stove for baking cakes, and a bear-themed chess set. Now only one thing is missing — other bears to enjoy the new den!
---

Dog in Charge
by K L. Going, Dan Santat
Ages 3–8
Dog is a well-trained and cheerful bulldog who enjoys following the commands of his young owner. When he is commanded to cat-sit five cats, Dog thinks the job will be easy. But the cats disobey Dog at every turn, jumping on the kitchen counters, playing in the sooty fireplace, and hiding from the beleaguered Dog.
---

Letters to a Prisoner
by Jacques Goldstyn
Ages 5–up
This nearly wordless book presents Amnesty International's letter-writing campaigns in a very accessible way: describing oppressive military governments, defining free speech, and showing the influence the letters have on the fate of prisoners.
---

That's a Possibility!: A Book About What Might Happen
by Bruce Goldstone
Ages 7–10
Beginning with the basic concepts of possibility, certainty, and impossibility, this accessible book explores probability. Photographs and digital illustrations place the situations firmly in the real world. "Will an elephant hatch from this egg? That's impossible!" An illustration of a field of purple flowers with only two yellow ones demonstrates what is probable. Clear scenarios and simple explanations make the often confusing topic of probability easy to grasp.
---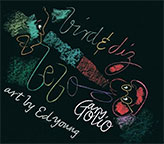 Bird & Diz
by Gary Golio, Ed Young
Ages 4–8
When sax player Charlie "Bird" Parker and trumpeter John "Dizzy" Gillespie play together, they toss notes back and forth and chase each other with sound, creating a new kind of music — bebop. Expressive illustrations accompany the playful, rhythmic narration in this creative book constructed on long long sheet of paper folded accordion-style.
---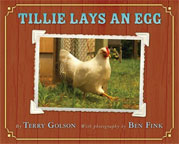 Tillie Lays An Egg
by Terry Golson, Ben Fink
Ages 4–8
The other hens are content to use the henhouse, but Tillie searches for perfect places in the house and Massachusetts farm. Fink's charming photographs with funny close ups of chicken faces beautifully complement the text.
---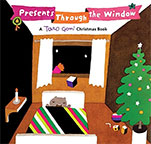 Presents Through the Window: A Taro Gomi Christmas Book
by Taro Gomi
Ages 3–5
The non-traditional Santa in this funny book wears a pink suit and travels by helicopter while delivering presents on Christmas Eve. He chooses the present after peeking through a window of each house, but his quick glimpses inspire incorrect conclusions about each house's occupants. Luckily the presents chosen for the wrong reasons are the perfect fit.
---

The Storyteller's Candle/La velita de los cuentos
by Lucia González, Lulu Delacre
Ages 4–9
This bilingual book set in 1929 tells the story of Pura Belpré, the first Puerto Rican librarian hired by the New York Public Library, through the eyes of two children who are inspired by her to enter the Library for the first time.
---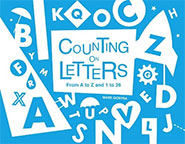 Counting on Letters: From A to Z and 1 to 26
by Mark Gonyea
Ages 4–6
This colorful and appealing lap-sized board book presents the 26 letters of the alphabet and the corresponding numbers. High-contrast saturated color silhouettes make the letters and numbers leap from the page. Parents and children can count the letters and numbers together, reinforcing both the alphabetic and numeric learning process.
---
The Spooky Box
by Mark Gonyea
Ages 4–8
Bold illustrations follow the nervous narrator's ideas of what might be inside the spooky black box that appears on the doorstep. It could be bats, or rats, or toads, or even a haunted cake. Finally the reader gets to open the flap and reveal what is really hidden inside the spooky box.
---
We Forgot Brock!
by Carter Goodrich
Ages 4–8
Phillip and Brock are best friends, but only Phillip can see Brock, despite his huge size and skull and crossbones outfit. At the Big Fair, Phillip and Brock get separated. Phillip is too sleepy to remember to take Brock home, and Brock is taken in by Anne and her imaginary friend Princess Sparkle Dust. After a day of anguished searching, Phillip finally locates Brock playing with his Anne and Princess Sparkle Dust. Brock introduces them and the two pairs of best friends become friends.
---

Yes, Let's
by Galen Goodwin Longstreth, Maris Wicks
Ages 3–8
This family of seven — parents, four kids, and a lively dog — head out to enjoy a day in the woods. A digital camera appears, but otherwise the outdoor fun is an old-fashioned enjoyment of the simple pleasures: swimming, a picnic, card games, and spending time together as a family. Cheerful cartoons add to the simple rhyming text.
---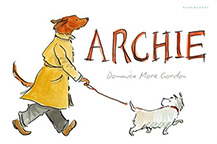 Archie
by Domenica More Gordon
Ages 3–6
Archie leads a quiet life with his faithful pet until the gift of a sewing machine unleashes his inner fashion designer. Soon the entire city of dogs and their walkers are wearing Archie's creations, including the Queen and her royal corgis. This nearly wordless picture book is a delight.
---

Herman and Rosie
by Gus Gordon
Ages 7–10
Herman is a crocodile who likes to play the oboe, and Rosie likes to sing jazz. Though the two live in adjacent buildings in New York City, they have never met. Then Herman loses his job as a salesman, and the club Rosie sings in closes from poor attendance. Rosie is drawn to the music Herman plays to cheer himself up, and the two lonely artistic souls find happiness together.
---

Bring Me Some Apples and I'll Make You a Pie
by Robbin Gourley
Ages 4–8
This book follows Edna Lewis during her childhood in a Virginia farming community. From early spring until first snow, Edna appreciates each crop as it ripens and is ready to be incorporated into a delicious dish. Folk rhymes and sayings are sprinkled throughout the text. A short biography of this famous African-American chef and five kid-friendly recipes are included.
---
Little Fox in the Forest
by Stephanie Graegin
Ages 4–8
A young girl brings her most treasured possession, a stuffed fox, to school to share. When she sets it down on the playground, a real fox snatches it up and runs off into the woods. The girl and her friend chase after the fox, but soon lose sight of it. They ask the animals in the forest for help, and eventually find the fox. This wordless picture books leads us from the dull blue-gray reality of the children to the full color world of the forest inhabitants.
---
It Is Not Time for Sleeping
by Lisa Graff, Lauren Castillo
Ages 4–7
A small boy narrates his nighttime routine after dinner is finished. "It's not time for sleeping," he declares, instead describing how he helps with the dishes, plays with the dog, gets into his pajamas, brushes his teeth, and listens to a story.
---

The Silver Button
by Bob Graham
Ages 4–6
At 9:59 on a Thursday morning Jodie is just about to add a silver button th her drawing of a duck when her little brother pushes himself up and takes his first step. Elsewhere neighbors and strangers spend their own minutes in time — a soldier bids his mother good-bye, a baby is born, and a tanker heads to China. Time comes full circle as Jodie calls her mother from the kitchen to celebrate Jonathan's first step.
---
Little Mouse's Big Book of Beasts
by Emily Gravett
Ages 4–8
Little Mouse does not care for the loud lions, toothy sharks, or huge bears in the Big Book of Beasts. But with a little imagination, a paint set, clever origami folds, and some editorial editions, Little Mouse manages to tame the fierce beasts. This clever interactive book will enthrall young readers.
---

Little Mouse's Big Book of Fears
by Emily Gravett
Ages 4–8
Little Mouse uses a scrapbook diary to confront her fears, and she is afraid of just about everything. Expansive collages with interactive elements illustrate all sorts of esoteric fears, like sciaphobia: the fear of shadows.
---

The Rabbit Problem
by Emily Gravett
Ages 4–8
This whimsical book addresses Fibonacci's question: "If a pair of baby rabbits are put in a field, how many pairs will there be at the end of each month? After each year?" Opening like a calendar, the 12 pages record a full year of the rabbit experiment, beginning with Lonely and Chalk, and including a Baby Book for their first born, a ration book from the carrot shortage, and hilarious documentation of the growing rabbit population. The beautifully detailed illustrations build to a surprising pop-up ending.
---
Halloween Good Night
by Rebecca Grabill, Ella Okstad
Ages 4–8
This clever Halloween bedtime story counts monsters in the format of the "Over in the Meadow" nursery rhyme. Capturing the mischievous fun of Halloween without the terror, this funny book is great fun to read aloud. "Yonder in the boneyard, where the bats swoop and dive, breathes an old granny zombie with her peeling zomblings five."
---

The Dinosaur Tamer
by Carol Greathouse, John Shroades
Ages 4–8
This humorous tall tale is set in the old West, when cowboys like young Rocky tamed dinosaurs of all kinds. Narrated in classic tall tale prose, the dinosaur names and characteristics are authentic. Rocky's battle to tame T. Rex is a classic humorous epic that creates several American landmarks along the way.
---
Human Body Factory: The Nuts and Bolts of Your Insides
by Dan Green, Edmond Davis
Ages 7–up
Using the metaphor of a factory, this entertaining look at the human body begins with the CEO in the brain issuing orders and then presents the different systems and organs working together. Jet-ski riders transport oxygenated blood from the heart, railcars take food through the digestive tract, and lab workers mix gastric juices in the stomach with a giant whisk.
---

Hippopotamister
by John Patrick Green
Ages 5–8
Hippopotamus and his friend Red Panda live in a zoo, which is run-down. Red Panda decides to leave and get a job among humans, and Hippopotamus follows along. Red Panda renames him Hippopotamister, which he considers a more appropriate name out in the world. Their first job is working in a restaurant kitchen, and Hippopotamister worries that his food won't taste good, but his Hippopasta Primavera is a big hit, while Red Panda's antipasta of licorice, mushrooms, and car keys isn't well received. The two are hired and fired from a series of jobs and Hippopotamister picks up a new set of skills each time until he's earned enough to return to the zoo and improve it.
---

Ballet for Martha: Making Appalachian Spring
by Jan Greenberg and Sandra Jordan, Brian Floca
Ages 6–10
This inspired book manages to capture the excitement of dance, music, and stage design while celebrating the collaboration between dancer Martha Graham, composer Aaron Cop,and, and set designer Isamu Noguchi. The book follows the creation of a ballet from Martha's original idea to the opening night, highlighting the vital contributions from each of the artists.
---

Toys in Space
by Mini Grey
Ages 5–8
Seven toys are left outside on a summer night. As they gaze up into the stars for the first time, they notice that one star seems larger than the rest. In fact, it looks like it is coming closer. Soon they are venturing into the unknown, traveling by spaceship, where they meet an alien on a quest. The toys mirror children's desire to have adventures while still feeling safe while exploring the secret lives of toys treated carelessly.
---
Traction Man and the Beach Odyssey
by Mini Grey
Ages 5–8
Traction Man, a molded plastic action figure, and his faithful sidekick Scrubbing Brush, are buried by a dog and swept out to sea. They are rescued by a small girl who is happy to have them join her Breach Time Brenda dolls in a peril-filled day at the Wide Ocean. Super-hero styled narration propels the resourceful Traction Man through comic-book style panels in this funny celebration of imaginative play. (follow-up to Traction Man Is Here! and Traction Man Meets Turbo Dog)
---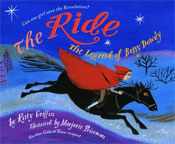 The Ride: The Legend of Betsy Dowdy
by Kitty Griffin, Marjorie Priceman
Ages 4–8
It's 1775 and teenaged Betsy Dowdy secretly sets off on an all-night ride to tell Colonial troops about the British advance on her North Carolina island home. With her red cape swirling behind, Betsy tears through the pages on her trusty black pony, narrowly escaping dangers in order to save her home. The author's note at the end reminds readers that Betsy's ride is only a legend, but the story of this courageous girl seems very real.
---

Little Red Riding Hood
by Brothers Grimm, Sybille Schenker
Ages 5–7
This retelling of the classic fairy tale uses die cuts and hand-cut silhouettes to add suspense and a touch of menace. Little Red Cap, as she is called in this version, is followed through the deep forest by the Wolf to her grandmother's house. the stunning illustrations elevate this picture book into a work of art.
---

The Deadliest Creature in the World
by Brenda Z. Guiberson, Gennady Spirin
Ages 4–8
Which creature is the deadliest? Fourteen creatures speak directly to the reader, describing why they should be awarded the Deadliest Creature title. Young readers will be fascinated by the stories of the insect that carries disease, the bird that kicks, the snake that poisons, and the shrew that paralyzes.
---

Frog Song
by Brenda Z. Guiberson, Gennady Spirin
Ages 4–8
Stunning larger-than-life paintings of eleven frogs from around the world accompany fascinating facts about frog reproduction, their songs, and their dependence upon clean air and water.
---
The Most Amazing Creature in the Sea
by Brenda Z. Guiberson, Gennady Spirin
Ages 4–8
A dozen aquatic creatures vie for the honor of being the most amazing in the sea. Each creature is portrayed in a realistic illustration and proclaims its uniqueness in a short paragraph. Creatures include the blue-blooded vampire squid, the slimy hagfish, the huge leatherback turtle, and the leafy sea dragon. The interesting text and vivid pictures make this an absorbing read-aloud.
---

The Only Child
by Guojing
Ages 5–9
This mesmerizing wordless graphic novel begins when an overall clad child wakes up to find herself alone on a bus. She sets off to find her grandmother's house, and meets a stag in the forest. The two fly beyond the clouds and meet a wonderful creature that seems to be half baby seal and half polar bear cub. The three share adventures until the creature's parent fetches it home. The loyal stag returns the child home. The author explains in an afterward that the story grew out of memories of loneliness and isolation growing up under China's on-child policy.
---

The Big Snow
by Berta & Elmer Hader
Caldecott Medal 1949


Ages 4–8
Simple text and beautiful illustrations tell the story of how the woodland creatures prepare for winter. In the winter of the big snow, the people who live in the little stone house help the animals by putting food out for them.
---

Who Did It?: Who Sneezed? Who Burped? Who Farted? Who Peed? Who Pooped?
by Ohara Hale
Ages 2–5
This boxed set of five board books features silly illustrations of animals and insects demonstrating the bodily noises and functions that fascinate young children, helping them learn to understand and deal with them in a healthy and appropriate way.
---

A Story, A Story
by Gail E. Haley
Caldecott Medal 1971


Ages 4–8
In the beginning there were no stories for children to hear, so Ananse the Spider went to bargain with Nyame, the Sky God, to bring the stories down to Earth. Wonderful woodcut illustrations support the clever text in this retelling of an African folktale.
---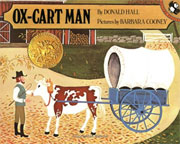 Ox-Cart Man
text by Donald Hall, illustrations by Barbara Cooney
Caldecott Medal 1980


Ages 4–8
The stunning combination of text and illustrations recreates the mood of 19-century rural New England.
---

The Gold Leaf
by Kirsten Hall, Matthew Forsythe
Ages 4–8
When a gold leaf appears in the forest, each of the animals wants it more than anything else in the world. Their struggles to possess the rare leaf destroy it, and the animals are heartbroken, wondering if they will ever see such a wonderful thing again.
---

Perfect Square
by Michael Hall
Ages 4–8
The perfect square forming the pages of this book, is cut or torn into pieces that reform into a new collage image. simple white text stands out on the boldly colored backgrounds as the square is transformed over and over in this celebration of creativity.
---
The Ultimate Pirate Handbook
by Libby Hamilton, Mathieu Leyssenne, Jason Kraft
Ages 5–8
Young wanna-be pirates will find all the information they need in this handy guide, including recruitment, grub, and the parts of a ship. (The poop deck is not a toilet!) Lift-up flaps allow exploration of the secrets of a pirate ship and the diseases and misfortunes of life aboard a pirate ship. A hall of fame introduces notable pirates including three women.
---

Over the Hills and Far Away: A Treasury of Nursery Rhymes
collected by Elizabeth Hammill
Ages 3–7
More than 70 artists illustrate this collection of 150 multicultural nursery rhymes from around the world. Versions of the same rhyme from different locales demonstrate both the cross-cultural commonality and the diversity. Versions of Little Miss Muffet show the child being frightened by a spider (England), a grasshopper (America), and a wombat (Australia).
---

Dory Fantasmagory
by Abby Hanlon
Ages 6–8
Dory (6) is the youngest in her family and she is often frustrated because her older brother and sister refuse to play with her. So Dory creates an imaginary monster friend named Mary who never tires of answering questions like, "What is the opposite of a sandwich?" Her siblings counter with the 507-year-old Mrs. Gobble Gracker who steals little girls. Luckily Dory has Mr, Nuggy, a gnomish fairy-godmother. This funny story presents an imaginative little girl who longs for the attention of her older siblings.
---

Dory and the Real True Friend
by Abby Hanlon
Ages 6–8
When Dory heads off to school, her older siblings tell her to leave her imaginary monster friend Mary at home. Dory decides it is time to make a real friend, and meets the princess-loving Rosabelle, whose imagination just might equal Dory's own. Dory's first friendship attempts are not too successful, but the two eventually become friends. Now Dory's only problem is convincing her siblings that Rosabelle is not imaginary! This funny book is a perfect match for young independent readers.
---
Bernice Gets Carried Away
by Hannah E. Harrison
Ages 3–5
Bernice is having a terrible time at her friend's birthday party. She is the only one who doesn't get a pink rose on her piece of cake and then they run out of strawberry-melon soda and Bernice gets stuck with prune-grapefruit juice. The last straw is when she manages to retrieve only one squishy piece of candy from the piñata. So when the balloons arrive Bernice grabs them all and is carried away into the air. The delightfully crabby Bernice will resonate with young readers who have bad days themselves.
---

Bon Appétit! The Delicious Life of Julia Child
by Jessie Hartland
All ages
This engaging biography follows Julia Child from her childhood in Pasadena, California, her life as a spy in WWII, her experiences taking cooking classes in Paris, her travels around the world, the publication of her cookbook, and her career as a TV chef. Lively illustrations enliven the narrative and highlight humorous moments from Julia's live cooking show.
---

Sadie and Ratz
by Sonya Hartnett
Ages 5–8
Sadie and Ratz are Hannah's hands, and they are always after Baby Boy, the four-year old younger brother Hannah wishes were a dog. Dad says that Sadie and Ratz behave like wild beasts, especially when they try to rub Baby Boy's ears off. Then Baby Boy blames Sadie and Ratz for a string of accidents he caused himself, and given their bad reputation everyone believes him. This funny and perceptive book delves into the issue of sibling rivalry in an age appropriate fashion.
---
I'm Just No Good at Rhyming: And Other Nonsense for Mischievous Kids and Immature Grown-Ups
by Chris Harris, Lane Smith
Ages 6–up
This debut collection of poems is full of creative rhymes, high energy, and clever ideas. Mysteriously mis-numbered pages can be deciphered with a code-cracking poem and a rhyming fact-checker in the footnotes tries to control poetic license. An on-going rivalry between the author and the illustrator adds to the fun.
---

The Day Leo Said I Hate You!
by Robie Harris, Molly Bang
Ages 3–8
Leo is sulking after misbehaving and his mother's disciplining sparks words that Leo wishes he could take back as soon as they leave his mouth. Leo worries he has endangered his mother's love, but she manages to heal the breach in a reassuring and sensible manner.
---
Mail Harry to the Moon!
by Robie H. Harris
Ages 3–8
The narrator is less than thrilled with his annoying, attention-hogging new baby brother and has numerous creative suggestions for solving the problem until he is convinced that his parents are ready to act on his moon idea. Fresh and funny look at a classic situation.
---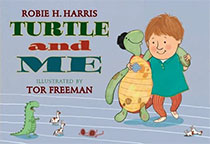 Turtle and Me
by Robie H. Harris
Ages 4–8
The stuffed turtle presented to his parents before he was born has been this little boy's constant companion since birth. Turtle has survived food stains and other accidents, always providing comfort and companionship while the boy makes sure Turtle is cleaned and mended. But when Turtle is badly ripped during a fight with a friend who declares Turtle is a "baby thing," the boy must decide if his friend is right and he has outgrown Turtle.
---

Cecil the Pet Glacier
by Matthea Harvey, Giselle Potter
Ages 4–8
Ruby would love to be just like all her friends, but her eccentric parents embarrass her every day. Her flamboyant mother wears a tiara and her father meticulously trims his animal-shaped topiary. Ruby longs for a normal family with a normal pet dog. On a family trip to Norway, a small glacier named Cecil takes a fancy to Ruby and follows her everywhere. Ruby tries to discourage Cecil, but when he nearly melts after performing a daring rescue Ruby realizes his true worth. The eerie illustrations are the perfect match for this surrealist story about accepting differences.
---

Twenty Heartbeats
by Dennis Haseley, Ed Young
Ages 5–9
Set in the Far East long ago, a rich man hires an artist to paint his beloved horse. After years of waiting, the artists paints the horse in little more than 20 heartbeats. The rich man is furious until he sees thousands of drawings of his horse in the artist's studio. Ed Young's incredible illustrations bring the story to life.
---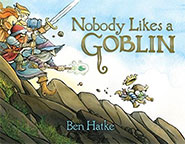 Nobody Likes a Goblin
by Ben Hatke
Ages 4–8
Goblin lives in a cozy rat-infested subterranean dungeon with his best friend Skeleton, playing happily with their treasure. One day marauding treasure hunters arrive and steal everything, including Skeleton. Goblin heads out into the wide world to save his friend, though his troll neighbor warns him that "Nobody likes a goblin." Elves and humans chase him away, but luckily he finds some other goblins who are willing to join the rescue party.
---

Goodnight Everyone
by Chris Haughton
Ages 2–5
The sun is setting in the forest, and as the background gradually darken, four little mice, three hares, and two deer sigh, yawn, and fall asleep while Great Big Bear tries to get Little Bear to fall asleep. Sleepy readers then say goodnight to each animal family, sleeping peacefully in its home.
---
The Otter, the Spotted Frog & the Great Flood
by Gerald Hausman, Ramon Shiloh
Ages 4–8
When Spotted Frog tells of a great flood that will soon destroy all their homes, the only one among the animal people who takes heed is Listener the Otter. Listener follows the directions to build a waterproof raft and anchor it to the tallest water oak in the woods. This beautifully illustrated story is based on a a traditional tale from the Creek Indians of northern Florida.
---

Little Honey Bee
by Katie Haworth, Jane Ormes
Ages 3–7
Beginning with a snowy winter field, this interactive board book counts flowers from one to ten. Young readers can lift flaps shaped like petals, leaves, and clouds to discover surprises to count again underneath.
---

Benny and Penny: Just Pretend
by Geoffrey Hayes
Ages 4–8
Mouse siblings Benny (the pirate) and Penny (the princess) squabble and play together. Skillful drawings help beginning readers make sense of the text. This TOON Level 2 graphic novel is designed for beginning readers.
---

Very Little Red Riding Hood
by Teresa Heapy, Sue Heap
Ages 4–8
Very Little Riding Hood is an energetic toddler looking forward to a sleepover at Grandmamma's house. Very Little Riding Hood loves everything, even the wolf, which she calls Foxie, who appears at Grandmamma's door. The three play happily together until Very Little Riding Hood has a toddler meltdown and demands her Mummy. This delightful retelling is the first of a planned series.
---

Very Little Cinderella
by Teresa Heapy, Sue Heap
Ages 4–8
Very Little Cinderella is upset when her two ugly Sisters head off to a party without her. Luckily her Fairy Godmother (the babysitters) comes to the rescue and takes her to the ball in her favorite blue dress, stripey hat, froggy coat, and yellow boots. She leaves one of the boots behind, which is returned by a princely boy and the two play happily ever after. (companion volume to Very Little Red Riding Hood)
---
Fraidyzoo
by Thyra Heder
Ages 4–8
Little T is afraid to go to the zoo, but can't remember why. Her parents and older sister construct home-made animal costumes to act out the zoo animals from A through Z asking helpful questions throughout the parade. "Can it give itself showers?" "Is it pink?" This delightful book featured a cheerful and imaginative family and cleverly unique illustrations.
---

Black and Bittern Was Night
by Robert Heidbreder, John Martz
Ages 4–8
Written in nonsense verse reminiscent of Lewis Carroll's "Jabberwocky," this fun read-aloud tells the tale of "skul-a-mug-mugs" (skeletons) who try to frighten the "tall-bigs"(adults) into canceling trick-or-treating. But the candy-craving "tyke-tots" are determined to save their favorite holiday.
---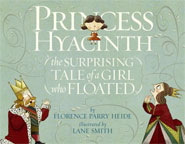 Princess Hyacinth
by Florence Parry Heide, Lane Smith
Ages 4–8
Princess Hyacinth is lighter than air, so her concerned parents weigh her down with diamond pebbles in her socks and a crown decorated with the heaviest jewels in the kingdom. She yearns for freedom as she drags her heavy clothing around the castle. One day she floats free with the help of a balloon and Boy, who lends a hand in her escape from her parents' restrictive rules.
---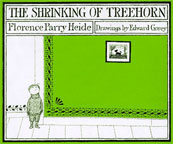 The Shrinking of Treehorn
by Florence Parry Heide, Edward Gorey
Ages 4–8
Treehorn is shrinking, but no one seems to care. His mother is obsessed with her baking, his father refuses to believe him, his teacher and principal think he is behaving badly and seeking attention. Gorey's drawings perfectly complement the story that captures the feeling of any child who has ever been ignored by the adults in his or her life.
---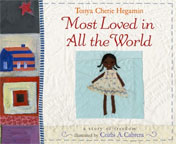 Most Loved in All the World
by Tonya Hegamin, Cozbi A. Cabrera
Ages 4–8
When our heroine is sent north on the Underground Railroad, her mother stays behind to help others make the journey. She sends a beautiful quilt with her daughter to help her find her way, and to remind her that she is the most loved in all the world. This beautiful book uses a child's voice to talk about difficult concepts of slavery, courage, and sacrifice. (12/08)
---
A Pet Named Sneaker
by Joan Heilbroner, Pascal Lemaitre
Ages 5–8
Sneaker is a pet store snake who longs for a real home and luckily a boy named Pete adopts him. The two have a marvelous time pairing Pete's imagination with Sneaker's sinuous talents. Sneaker is not only an exemplary pet, but also a good student, learning to read and write at school with Pete. When Sneaker rescues a toddler at the local swimming pool, he is rewarded with the job of life guard. This funny book will enchant early readers.
---

The Boy Who Loved Math: The Improbable Life of Paul Erdos
by Deborah Heiligman, LeUyen Pham
Ages 3–8
Paul Erdos loved math from the time he was a small boy, but he was unhappy with all the rules he had to follow at school and convinced his mother to let him study at home. Known as "The Magician from Budapest," at the age of four Paul could calculate in his head the number of seconds lived when given a birth date, but he never mastered common life tasks like cooking, laundry, or driving a car. Instead, he flitted around the world, sleeping on the couches of anyone interested in talking math with him. This accessible book celebrates an unconventional and brilliant mathematician in both words and illustrations.
---

Mocha Dick: The Legend and the Fury
by Brian Heinz, Randall Enos
Ages 6–up
Mocha Dick, a white whale named for the island near Chile where he was first sighted in 1810, was hunted, wounded, and barely survived. Harpoons blinded him in one eye, and caused him to attack whale boats in revenge, sinking harpoon boats and killing the whalers. When Mocha Dick was finally killed, heads of 19 harpoons were found in his body. An 1839 magazine article about Mocha Dick inspired Herman Melville to write Moby Dick 12 years later.
---

Bedtime for Bear
by Brett Helquist
Ages 2–6
Just as Bear is settling in for a long winter nap, two rowdy raccoon friends beg him to come out and play. Bear tries to put them off, but eventually gives in and the three have a marvelous time playing in the snow. Finally even the rambunctious raccoons are ready for sleep. The humor and details in this winter romp make it a perfect read-aloud any time of the year.
---

My Garden
by Kevin Henkes
Ages 2–7
A young girl helping her mother with their garden dreams of an imaginary garden as she weeds and waters. In her fantasy garden, she would harvest seashells and jelly beans, some vegetables would become invisible, and the rabbits that nibble on the plants would be made of chocolate so that she could also nibble on them. Both the real and fanciful gardens in this book will enchant young readers.
---
Old Bear
by Kevin Henkes
Ages 3–8
A hibernating bear dreams of a spring when he was a cub, followed by dreams of summer, fall, and winter in this beautifully illustrated book about the annual cycle of seasons.
---

Penny and Her Song
by Kevin Henkes
Ages 4–8
Penny rushes home from school eager to sing the new counting song she learned, but her mother asks her to wait since the babies are sleeping. She tries again at the supper table, but is asked again to wait until later. Finally the whole family gathers to hear Penny's solo, allowing her time in the spotlight with an enthusiastic audience. The text and illustrations help young readers understand why Penny must be patient, and how hard it is for her to do so, while modeling how parents can respond to an attention-seeking sibling.
---

Penny and Her Doll
by Kevin Henkes
Ages 4–8
Penny is thrilled to receive a doll from her grandmother. She loves the doll instantly and everything is perfect until her father asks what the doll's name is. Penny can't think of the perfect name even though her parents offer lots of suggestions.
---

Penny and Her Marble
by Kevin Henkes
Ages 4–8
When Penny sees the beautiful blue marble in her neighbor's lawn she can't resist sneaking it into her pocket and carrying it home. Though Penny loves her new marble, the doubt that it really belongs to her begins to gnaw at her conscience.
---

Waiting
by Kevin Henkes
Ages 4–8
Five small toys share a windowsill, each waiting for something different. The owl waits for the moon, the umbrella toting pig waits for rain, the bear waits for wind to carry his kite, the puppy waits for snow for his sled, but the rabbit is content to just look out the window. Joined by their shared experience windowsill, the five toys are connected by what they see outside their window in this quiet exploration of patience and contentment.
---
Red Light, Green Light
by Yumi Heo
Ages 3–5
This interactive board book is the perfect introduction of the rules of the road to young readers. Lift-the-flap signs and rhyming couplets present nine common road signs that children will recognize from the world around them.
---
Mary Cassatt: Extraordinary Impressionist Painter
by Barbara Herkert, Gabi Swiatkowska
Ages 4–8
Mary Cassatt lived in a time when it wasn't acceptable for proper girls to become artists. But Mary pursued her interest in art with a passion, moving to Paris to study and paint. But her work was rejected by the Salon art judges again and again. Then Edgar Degas invited Mary to join a group of Impressionists artists who refused to follow the rules of painting, preferring to paint their own way. This beautifully illustrated biography highlights the rewards of creating art on one's own terms.
---

Spuds
by Karen Hesse
Ages 4–8
When their mother leaves to work the night shift, the three fatherless children sneak out in the middle of the night to glean potatoes from a neighbor's field. Evocative language and subtle illustrations transform the poverty of the children into an exciting adventure.
---
Charley's First Night
by Amy Hest, Helen Oxenbury
Ages 3–6
Henry finds a puppy in one snowy evening, he knows that Charley is meant to come home with him. Henry's parents agree, as long as Henry takes responsibility for feeding and taking care of the puppy. Henry is determined to take care of Charley forever, though he isn't so sure about his parents' rule that Charley must sleep alone in the kitchen.
---

When Charley Met Grampa
by Amy Hest, Helen Oxenbury
Ages 3–7
Henry and his adorable puppy Charley are fast friends, but Grampa is coming to visit and has never been friends with a dog before. Henry takes Charley with him to meet Grampa at the train station on a snowy day. Grampa is uncertain about Charley until the wind snatches his cap away. Charley vanishes in the snow after the cap and earns Grampa's respect when he returns with the cap. (sequel to Charley's First Night)
---

Little Chick
by Amy Hest, Anita Jeram
Ages 2–up
Old Auntie helps Little Chick deal with frustration in three stories: waiting for carrots to grow, learning to fly a kite, understanding that the star she wants is better off staying in the sky. The charming illustrations are a perfect match for the light humor of the text.
---

Death Is Stupid
by Anastasia Higginbotham
Ages 4–8
A young boy mourning the death of his grandmother is not comforted by the well-meaning but confusing condolences. He's not sure he wants his Gramma watching over him at all times and wonders how she can want to be in a better place than with her family. The boy's anger, confusion, and fear about death is beautifully portrayed as is the ultimate comfort of sharing his memories with his father as they work together in Gramma's garden. This sensitive book is the perfect start to a conversation about death.
---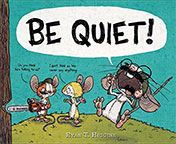 BE QUIET!
by Ryan T. Higgins
Ages 3–5
Rupert the mouse sets out to create a wordless picture book, but his friends Thistle and Nibbs won't stop talking about how much fun the project will be, asking endless questions, and offering off-topic suggestions. Rupert's fury grows more intense as his friends continually undermine his brilliant project, with hilarious results.
---

Rocket Writes a Story
by Tad Hills
Ages 4–8
Rocket, a charming puppy, loves books and wants to write his own. Unfortunately he can't think of a topic or a character to write about. A little yellow bird encourages Rocket to look closely at the world around him, and Rocket finds a timid baby owl in a pine tree who gradually becomes his friend as well as the star of his story. The little yellow bird helps by posting words on the branches of a word tree and encourages Rocket to add details to his story. This appealing book will inspire other young writers. (sequel to How Rocket Learned to Read)
---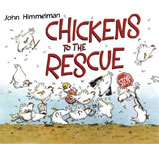 Chickens to the Rescue
by John Himmelman
Ages 4–8
No problem is too small for the intrepid chickens on the Greenstalk farm. Lost sheep? A watch dropped down the well? The cow is stuck in the tree? You can count on this energetic flock to come up with a zany solution. Simple text is paired with detailed and hilarious illustrations that will be appreciated over and over and over again.
---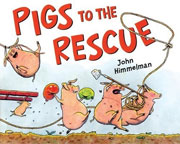 Pigs to the Rescue
by John Himmelman
Ages 4–8
Eight excitable pigs throw themselves into solving minor problems at the Greenstalk farm with over-the-top rescue missions. Hilarious illustrations bring the funny situations to life in this silly book that begs to be read aloud. (follow-up to Chickens to the Rescue)
---

Peaceful Pieces: Poems and Quilts About Peace
by Anna Grossnickle Hines
Ages 4–8
Poems are paired with images of hand-made quilts in this beautiful exploration of peace. Ranging from individual relationships between two feuding sisters to soldiers trying to recover from war experiences, each poem/quilt combination is a reflection on the theme of peace.
---
Good Morning, City
by Pat Kiernan, Pascal Campion
Ages 2–6
While most city residents are still sleeping, early risers are hard at work baking bread, collecting garbage, delivering papers, and preparing for the morning TV news. Then bus drivers pick up passengers, a construction crew begins work, and a little girl and her family begin their day.
---

Jim's Lion
by Russell Hoban, Alexis Deacon
Ages 6–9
This graphic novel retells Russell Hoban's story about a boy battling a mortal illness. Jim is in the hospital and knows he might die. Nurse Bami, an African woman with tribal scars on her cheeks, tells Jim he mist search for his finder, the animal in his head that will bring him back from wherever the doctors send him. Jim's finder is a lion, and the two fight together against his illness, through his surgery, and in dreamlike worlds of death.
---

Rosie's Magic Horse
by Russell Hoban, Quentin Blake
Ages 4–8
Rosie collects ice-pop sticks in a cigar box, and one night the stick collection turns into Stickerino, a flying horse. Rosie's parents have been worrying about the pile of unpaid bills, so Stickerino takes Rosie to a horde of pirate gold. The two manage to steal the treasure and cart it home to surprise Rosie's joyful parents the next morning. This exuberant story is the final picture book from Hoban, who died in 2011.
---
A Cat Named Swan
by Holly Hobbie
Ages 3–7
A tiny kitten is left alone to fend for himself on the streets, and is eventually taken to an animal shelter. He is adopted by a family who take him home and name him Swan. Everything changes for the lonely and hungry animal, who is protected and cherished by his new owners.
---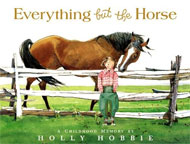 Everything but the Horse
by Holly Hobbie
Ages 4–8
When young Holly moves to a farm in the country, she is a bit afraid at first, but soon falls in love with her new environment and especially with the farm animals. In fact, Holly thinks it is just about perfect, except she doesn't have a horse. While drawing pictures of horses, Holly hints to her parents that a horse is the one and only thing she wants more than anything else in the world. Beautifully realistic watercolors in 1950s style illustrate this charming memoir.
---

Hansel & Gretel
by Holly Hobbie
Ages 3–6
Holly Hobbie's watercolor illustrations add emotional impact to this classic Grimm's fairy tale. The plight of the starving family that causes the stepmother to convince the children's father to abandon them in the woods is especially effective.
---

Forget-Me-Nots: Poems to Learn by Heart
by Mary Ann Hoberman, Michael Emberley
All ages
This collection of poems by a broad spectrum of authors are short enough to invite memorization. Poets include Frost, Hoberman, Keats, Sandburg, Silverstein, and many more. Mixed-media cartoons illustrate the themes and images of the poems.
---

West Coast Wild: A Nature Alphabet
by Deborah Hodge, Karen Reczuch
Ages 4–7
Beautifully detailed pencil and watercolor images illustrate this stunning alphabet book set in the Pacific Northwest. The rain forest, beach, and ocean provide the backdrop for a rich variety of lifeforms, both familiar (bears) and unfamiliar (Velella velella).
---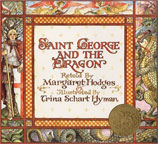 Saint George and the Dragon
text by Margaret Hodges, illustrations by Trina Schart Hyman
Caldecott Medal 1985


Ages 4–8
George, the Red Cross Knight, slays the dreadful dragon that has been terrorizing the countryside for years and brings peace and joy to the land. The illustrations for the retelling of this segment from Spenser's The Faerie Queene are rich in detail and sparkle with gold highlights.
---

Goldilocks and Just One Bear
by Leigh Hodgkinson
Ages 3–up
In this humorous continuation of the classic story, Baby Bear is all grown up and Goldilocks is only a faint memory. When the bear wanders out of the woods, he makes his way to the penthouse apartment of Snooty Towers, eventually finding just the right porridge, chair, and bed before falling asleep. The family is outraged when they discover the bear, until the "mommy person" and the bear finally recognize each other.
---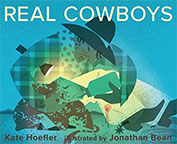 Real Cowboys
by Kate Hoefler, Jonathan Bean
Ages 4–7
This engaging picture book presents a much more diverse look at cowboys than the classic group of rough, tough men. The cowboys (and cowgirls) are a mix of races, have to be good listeners, are good communicators, are sensitive to the needs of their horses and cattle, and are often homesick.
---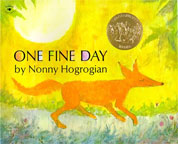 One Fine Day
by Nonny Hogrogian
Caldecott Medal 1972


Ages 4–8
In this humorous retelling of an Armenian folktale, a fox steals some milk from an old farm woman. She cuts off his tail, and the fox spends the rest of the day bargaining to get it back. The vividly beautiful illustrations bring this tale to life.
---

Comics Squad: Recess!
by Jennifer Holm, Matthew Holm, Jarrett J. Krosoczka, Dan Santat, Raina Telgemeier
Ages 7–10

Favorite graphic artists present eight comics celebrating the joys of recess. Comic fans will revisit favorite characters and meet new ones in this anthology.
---

Little Red Writing
by Joan Honolulu, Melissa Sweet
Ages 5–8
Little Red is a brave little pencil with an assignment to write a story for school. While the other pencils choose to write about safe subjects, like Pennsylvanian, Little Red sets out with her basket of 15 words in search of a heroic story. Along the way she visits Principal Granny's office just in time to save her from the sharp teeth of the Wolf 3000 pencil sharpener. This funny mix of fairy tale and story-writing hints will inspire young writers to pick up their own pencils and compose.
---

Ada's Violin: The Story of the Recycled Orchestra of Paraguay
by Susan Hood, Sally Wern Comport
Ages 4–8
Ada Ríos (11) lives in Cateura, Paraguay, a slum whose inhabitants make their living collecting and selling trash from the nearby landfill. Favio Chávez, an engineer, begins teaching music to the at-risk children of Cateura, and Ada learns to play the violin. There aren't enough instruments to go around, and the few available are too precious to take home to practice. Chávez asks the gancheros (recyclers) for help collecting raw materials, and begins constructing musical instruments from discarded trash: cellos from oil drums, flutes from water pipes, guitars from packing crates. The Recycled Orchestra becomes famous and plays in cities around the world. This true story is inspiring. "Buried in the trash was music. And buried in themselves was something to be proud of."
---

Just Say Boo!
by Susan Hood, Jed Henry
Ages 3–8
This rhyming book captures the fun, excitement, and nervousness that accompany Halloween. Three costumed children out trick-or-treating banish all fears with one magic word. "If three dinosaurs roar when you open your door, what do you say? Boo!"
---

Grump Groan Growl
by Bell Hooks
Ages 3–8
A child and his inner monster illustrate this effective portrayal of a bad mood on the prowl.
---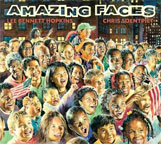 Amazing Faces
poems selected by Lee Bennett Hopkins, illustrated by Chris Soentpiet
Ages 6–up
This collection of poems includes character sketches and descriptions of multi-cultural people from all over the United States. Soentpiet's beautifully lifelike and detailed watercolor illustrations zoom in on the faces of the wide variety of people and scenes depicted in the poems.
---

City I Love
by Lee Bennett Hopkins, Marcellus Hall
Ages 4–8
This poetry collection follows a dog and bluebird who travel to famous cities around the world. The reflective and humorous poems by Lee Bennett Hopkins are illustrated with Marcellus Hall's lively watercolors.
---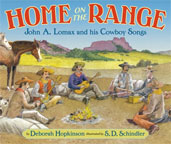 Home on the Range:

John A. Lomax and His Cowboy Songs
by Deborah Hopkinson, S.D. Schindler
Ages 6–8
This colorful biography tells about the early life of John Avery Lomax, an early folk musicologist who got his start collecting the cowboy songs he had loved as a child on his Ediphone recording device. The realistic illustrations bring the old west to life.
---
A Letter to My Teacher
by Deborah Hopkinson, Nancy Carpenter
Ages 4–8
Written in the form of a letter, an impulsive second-grader who prefers jumping and running to reading and listening, chronicles her growth to the teacher who supported her with endless patience and kindness. Her unruly behavior includes stomping through creeks during a field trip and pretending to choke when called on to read aloud, but the teacher listens carefully, always knows the right thing to say, and helps her overcome her difficulty in reading.
---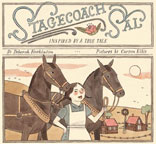 Stagecoach Sal
by Deborah Hopkinson, Carson Ellis
Ages 4–8
Sal can catch a fish with her bare hands, ride a bronco, and drive a stagecoach. When her Pa falls sick, it's up to young Sal to drive the stagecoach alone to deliver the mail. When Poetic Pete, the most polite bandit in all of California, boards the coach, Sal sings him to sleep. She continues her all-night singing marathon until they arrive in town where Sal delivers the bandit to jail. Delicate watercolor illustrations provide the perfect counterpoint for the rambunctious text.
---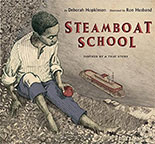 Steamboat School
by Deborah Hopkinson
Ages 4–8
James, his sister, and his mother are free blacks living in 1840s Missouri. Though free, James and other free blacks do not have the same rights as white. An 1847 Missouri law prohibited the education of African Americans, but Reverend John Berry Meachum, a former slave, ran a secret school in the basement of his church. James hates the dark basement school, lit only by a single candle. When the sheriff closes the illegal school, Reverend Meachum builds a steamboat with the help of his students, opening a legal school on the steamboat, anchored mid-river on federal property. This fictionalized story is an eloquent tribute to Revered Meachum, a real-life crusader for equal rights and education.
---

Animal Opposites
by Petr Horacek
Ages 3–7
Flaps, pop-ups, and mixed media paintings are used to illustrate the differences between 20 animals. Visual cues encourage young readers to guess what contrasting animal will come next (after the short dog or the quiet rabbit or slow snail).
---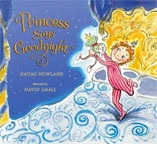 Princess Says Goodnight
by Naomi Howland, David Small
Ages 4–8
In this joyful bedtime story, a small girl imagines herself a princess and transforms her ordinary modern family life into royalty living in a castle. Rhyming text and enchanting watercolor illustrations add to the fun as the nighttime routine ends with the one thing every little girl, whether princess or not, needs before sleep—a kiss good-night.
---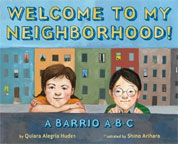 Welcome To My Neighborhood! A Barrio ABC
by Quiara Alegría Hudes, Shino Arihara
Ages 3–7
In this unique ABC book, Cici takes her friend Chien on a tour of her inner-city neighborhood, pointing out all the details that make her neighborhood home unique. The rhyming text celebrates the wide variety found in a city neighborhood while the gouache illustrations portray a vibrant multicultural, urban community that is both full of life and slightly dilapidated. Spanish version: Bienvenidos a mi barrio! Mi mundo de la A a la Z
---

How to Clean Your Room in 10 Easy Steps
by Jennifer Larue Huget, Edward Koren
Ages 4–8
When your mother uses all three of your names, you know it really is time to clean your room, advises this hilarious book. Koren's scratchy ink drawings are the perfect match for the funny directives in the text. A perfect read-aloud, this book will appeal to messy kids and those who live with them.
---

The Little Gardener
by Emily Hughes
Ages 3–7
A little gardener the size of a mouse struggles to control the weeds in his garden, chopping the huge (to him) weeds down like trees. His only success is a red zinnia that attracts the attention of two human children. As the exhausted little gardener naps, the children pull the rest of the weeds, surprising the little gardener with a neat garden when he awakes.
---
I, Too, Am America
by Langston Hughes, Bryan Collier
Ages 4–8
Striking collage illustrations by Bryan Collier document the history of the Pullman railway porters celebrated in the classic poem by Langston Hughes.
---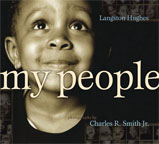 My People
by Langston Hughes, Charles R. Smith Jr.
Ages 4–8
Poetry
Smith's sepia-toned photographs of African-Americans illustrate Langston Hughes's eloquent tribute to his people. This beautiful book will be enjoyed over and over.
---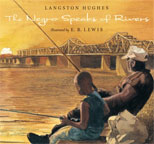 The Negro Speaks of Rivers
by Langston Hughes, E.B. Lewis
Ages 4–8
Poetry
Luminous watercolors by E.B. Hughes of rivers all over the world accompany the poem by Langston Hughes. Together they portray the experiences of black people throughout history.
---

Sally Goes to Heaven
by Stephen Huneck
Ages 5–8
Sally is an elderly black Lab who feels too tired to eat and decides to take a nap in the sun. She wakes up in Heaven, no longer feeling the pain in her joints and able to jump and play again. This final book in the series starring Sally gently explores the life cycle of a pet and is perfect for sharing with young readers who have experienced the loss of a beloved animal. (My Dog's Brain is the first book in the series)
---

Fetch
by Jorey Hurley
Ages 3–7
Using only 15 words, this simple book celebrates the joy of a day at the beach. The large cheerful dog chases his red ball into the ocean, as clownfish, seals, gulls, and a shark hover above and below. One word accompanies each scene — fetch, search, splash, swim — ending with a hopeful "Again?"
---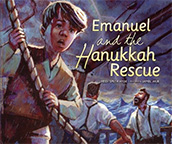 Emanuel and the Hanukkah Rescue
by Heidi Smith Hyde, Jamel Akib
Ages 5–9
Emanuel and his father live in the whaling town of New Bedford, Massachusetts in the 18th century. Emanuel's father lived as a secret Jew in Poland and still fears religious persecution, refusing to place the menorah lights in the window to celebrate Hanukkah. Emanuel stows away on the whaling ship, and when a storm overtakes the ship, the family menorah lights the way home.
---

Flora and the Flamingo
by Molly Idle
Ages 3–up
This humorous wordless book presents an encounter between a graceful flamingo and a small girl in a pink bathing suit and flippers. As the flamingo poses gracefully, Flora does her best to imitate the poses, with often comic results, eventually collaborating in a graceful duet. Inset flaps add to the fun by revealing new poses in this clever narrative dance between two very different friends.
---

Flora and the Penguin
by Molly Idle
Ages 3–5
Flora takes up ice skating and meets up with a penguin sliding around on the ice. Using skates and flippers, the two glide, leap, and spin in graceful counterpoint. Clever flaps show the two new friends coming together and spiraling apart as true friends do. (follow-up to Flora and the Flamingo)
---

Dust Devil
by Anne Isaacs, Paul Zelinsky
Ages 5–9
Angelica Longrider (introduced in Swamp Angel) was the greatest woodsman and wildest wildcat in the state of Tennessee. Grown too large for her home state, Angel moves to the great state of Montana, and wrestles a tornado to the ground, earning herself a giant horse named Dust Devil. The two are soon at work battling a gang of cowboy outlaws riding giant mosquitoes. The outrageous exaggerations of Angel's narration are perfectly matched by the stunning paintings framed by the wood they are painted on. Both boys and girls will identify with this courageous yet kind folk hero.
---

Meanwhile, Back at the Ranch
by Anne Isaacs, Kevin Hawkes
Ages 5–9
This rip-roaring tall tale features Widow Tulip Jones of Bore, England, who inherits a ranch in By-Golly Gully, Texas. Widow Jones arrives in By-Golly Gully in 1870 with two trunks of tea, a dozen pet tortoises, and three servants, determined to turn the ranch into a paradise. Widow Jones is quickly overwhelmed with suitors, since every man in Texas was unmarried at that time, and finding it hard to run a ranch with a staff of only three. But Widow Jones has a hilarious plan to make it all work out to everyone's satisfaction.
---

Christmas for Greta and Gracie
by Yasmeen Ismail
Ages 3–7
Younger sister Gracie is quiet and careful, the complete opposite of talkative impulsive older sister Greta, who talks Gracie through a whirlwind round of Christmas preparations, dominating every moment. Finally, during the quiet of Christmas Eve Gracie has a magical encounter all her own.
---

When Royals Wore Ruffles:

A Funny and Fashionable Alphabet!
by Pamela Jaber, Chesley Mclaren
Ages 5–9
This A–Z of fashion history uses witty text and charming illustrations to demonstrate that the desire to look fabulous can push humans to often hilarious extremes.
---
All Ears, All Eyes
by Richard Jackson, Katherine Tillotson
Ages 4–8
This quiet book visits the forest at twilight, encouraging the use of ears and eyes to identify the forest creatures. The full moon helps to illuminate night creatures like bats, owls, and porcupines. Short lines featuring onomatopoeia encourage curiosity and quiet observation.
---
Have a Look, Says Book.
by Richard Jackson, Kevin Hawkes
Ages 3–7
A giant book and a huge armchair invite a small girl and her father to read with them. The two enter the book and encounter friendly animals and objects that ask to be touched and enjoyed. This celebration of reading together and tactile exploration encourages readers to think about words and textures.
---

In Plain Sight
by Richard Jackson, Jerry Pinkney
Ages 4–7
When Sophie comes home from school every day, her grandfather asks her to find an everyday object that has "gone missing." As Grampa sits in his wheelchair, Sophie enjoys their game, searching for an object in plain sight as they talk about their days. This appealing book about a loving relationship between generations encourages readers to search through the illustrations for the missing object.
---

Snow Scene
by Richard Jackson, Laura Vaccaro Seeger
Ages 4–8
A series of rhyming questions move the reader through connected illustrations of a snowy winter landscape into spring.
---

This Beautiful Day
by Richard Jackson, Suzy Lee
Ages 4–8
Stuck inside on a dreary rainy day, a boy hears music coming from a radio. He begins to dance, and splashes of blue appear in the black and white illustrations. Two girls join him in the dance, and they venture out in the rain with their umbrellas. They stomp in the puddles, and gradually more color appears as the rain stops.
---

Count on the Subway
by Paul Dubois Jacobs, Jennifer Swender, Dan Yaccarino
Ages 2–5
This eager little girl and her mother enjoy a subway ride in New York City, with the numbers from 1 to 10 and then back down again appearing in brightly colored circles echoing the the subway system signs. Cheerful simple verse accompanies the bright illustrations: "1 MetroCard, Momma and me. Down 2 flights—to catch the 3."
---

Firefly July: A Year of Very Short Poems
by Paul B. Janeczko, Melissa Sweet
Ages 6–9
This anthology of 36 short poems is organized by seasons. Accompanying each brief poem is a large-format watercolor, gouache, and mixed-media illustration that nearly leaps off the page. Favorite children's and adult poets like the following are included: Emily Dickinson, Ralph Fletcher, Langston Hughes, J. Patrick Lewis, Eve Merriam, Joyce Sidman, James Stevenson, April Halprin Wayland, William Carlos Williams, Charlotte Zolotow.
---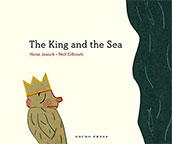 The King and the Sea
by Heinz Janisch, Wolf Erlbruch
Ages 7–up
These 21 very short connected stories explore the idea of what it means to have the power of a king. The king tries to order the natural world about and finds that the power of his crown has little impact on things like a bee, the rain, and the sea. The king is often open to negotiation as he learns that his place in the world has little to do with his crown.
---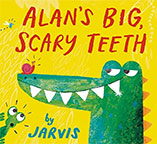 Alan's Big, Scary Teeth
by Jarvis
Ages 2–5
Alan is descended from a long line of very scary alligators. Every day he polishes his scales, practices his frightening faces, and shines his big scary teeth before setting out to scare everyone in the jungle. At the end of the day, Alan relaxes in a warm mud bath, and removes his false scary teeth. Then one morning Alan wakes up to discover his scary false teeth are missing! He doesn't get much sympathy from the animals he has been terrorizing and Alan discovers that frightening others is his only talent. Or is it?
---

The Heart and the Bottle
by Oliver Jeffers
Ages 4–up
When a small girl loses her father, her only parent, she decides that the best thing is to put her heart in a bottle and hang it around her neck. All the wonder, curiosity, and delight in the world they shared together vanishes, but the girl believes her heart at least is safe from further pain. When the girl is older, her heart is restored when she meets someone smaller who still delights in the world. This gentle book is a quietly moving portrait of grief.
---

This Moose Belongs to Me
by Oliver Jeffers
Ages 4–7
Wilfred really wants a pet and decides that a wandering moose is what he's been waiting for. But Wilfred finds it very difficult to persuade Marcel the moose to follow Wilfred's many rules for proper conduct. In fact, Marcel seems to only be interested in apples. When an old woman greets Marcel with pleasure, calling him Rodrigo, Wilfred worries that Marcel may have a secret life. This funny story of an unlikely friendship is a winner.
---
My Chincoteague Pony
by Susan Jeffers
Ages 5–9
Julie works hard all year, but still doesn't have enough money to buy a pony at the yearly auction. When the townspeople chip in to help her out, Julie vows to work just as hard next year so that she can help another girl buy a pony of her own.
---

Lemonade in Winter: A Book About Two Kids Counting Money
by Emily Jenkins, G. Brian Karas
Ages 3–7
Pauline and her little brother John-John are positive that they can make a fortune selling lemonade in the middle of winter. Their parents aren't so sure, but the siblings persevere and work together to advertise and sell their wares. Readers will enjoy counting out the coins for each sale as they enjoy the trust and companionship of the entrepreneurial siblings.
---

Skunkdog
by Emily Jenkins
Ages 4–9
Dumpling the dog has no sense of smell and so no dog friends. Pierre Pratt's amusing illustrations help to bring this tale of a dog forced to choose between obedience and companionship to life.
---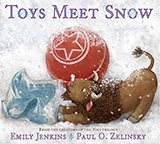 Toys Meet Snow: Being the Wintertime Adventures of a Curious Stuffed Buffalo, a Sensitive Plush Stingray, and a Book-loving Rubber Ball
by Emily Jenkins, Paul O. Zelinsky
Ages 3–7
Lumphy the buffalo, StingRay, and Plastic the ball make their first appearance in a picture book as they venture outside to play in the snow. StingRay, whose plush body is tagged "dry-clean only," protects himself with a plastic baggie. The toys work together to open the front door, and then enjoy themselves building a snowman and making snow angels before heading back inside the cozy house to wait for Little Girl. (Companion volume to beginning reader chapter books Toys Go Out, Toy Dance Party, Toys Come Home)
---

Can We Save the Tiger?
by Martin Jenkins, Vicky White
Ages 5–8
Incredible artwork and a good balance between good and bad news about the tiger and other endangered species make this book an enjoyable and excellent resource. Other species featured are the partula snail, white-rumped vulture, and American bison.
---

The Animal Book: A Collection of the Fastest, Fiercest, Toughest, Cleverest, Shyest—and Most Surprising—Animals on Earth
by Steve Jenkins
Ages 6–10
More than 300 animals appear in this encyclopedic book, arranged in thematic chapters loosely grouped by family, senses, predators, defenses, extremes, and evolution. Cut-paper illustrations in vibrant color accompany the interesting scientific facts.
---

Animals Upside Down: A Pull, Pop, Lift & Learn Book!
by Steve Jenkins, Robin Page
Ages 4–8
This clever interactive book uses tabs, wheels, and pop-ups to examine reasons that animals turn themselves upside down. A jellyfish rests on its back to feed, the flamingo turns its head upside down to use its beak as a filter while feeding, a sparrow hawk flips upside down in midair to catch its prey. Striking artwork makes the unusual animal behavior come alive.
---
The Beetle Book
by Steve Jenkins
Ages 4–8
This large-format book introduces the world of beetles, which make up one-fourth of every kind of plant and animal on Earth. Striking illustrations and intriguing information present basic beetle anatomy and facts about specific species.
---
Creature Features: Twenty-Five Animals Explain Why They Look the Way They Do
by Steve Jenkins, Robin Page
Ages 4–8
Tongue-in-cheek kid-like questions provide a forum for 25 unusual-looking creatures to explain why they look the way they do. The axolotl salamander explains that the feathers on its head are really gills, and the tapir explains why its flexible nose often looks twisted as it bends to reach leaves and fruit. Torn paper illustrations depict each species in this accessible book designed to entertain as it teaches.
---

Eye to Eye: How Animals See The World
by Steve Jenkins
Ages 6–9
The amazing range of eyes in animals is the subject of this artistic science book. Fascinating information about eyes — the eyeballs of the tarsier are larger than its brain, the panther chameleon can look in two directions at once — is presented alongside striking illustrations of torn and cut paper.
---
Flying Frogs and Walking Fish: Leaping Lemurs, Tumbling Toads, Jet-Propelled Jellyfish, and More Surprising Ways That Animals Move
by Steve Jenkins, Robin Page
Ages 4–7
This fascinating book presents the diversity of movement of nearly 50 creatures. Unexpected movements (a batfish walking, an elephant swimming) alternate with an examination of other animals utilizing the same method of movement. Detailed collage illustrations add to the appeal of this fun exploration of biodiversity that combines biology, science, art, and the environment in surprising ways.
---
How to Swallow a Pig: Step-by-Step Advice from the Animal Kingdom
by Steve Jenkins, Robin Page
Ages 6–9
This humorous and scientifically accurate book presents 18 animal behaviors with helpful step-by-step directions. Readers will learn useful skills, like how an octopus disguises itself, how wasps build nests, and how grebes dance. Torn and cut paper collages accompany the witty text.
---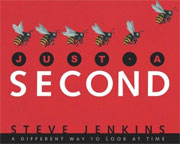 Just a Second
by Steve Jenkins
Ages 4–8
This thought-provoking book examines diverse events that occur in the space of a second, a minute, an hour, etc. In one second, a black mamba snake can slither 24 feet while a cheetah can sprint 100 feet. In one week a ladybug will eat more than 500 aphids. Fascinating observations like these will inspire readers to think about time and the world in new ways.
---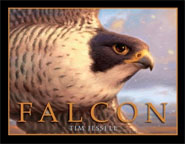 Falcon
by Tim Jessell
Ages 3–6
A boy resting in a sunny field imagines what it would be like to soar like a falcon overhead. Beautifully detailed paintings depict both the falcon and panoramic views of land and sea and city, celebrating both the grandeur of flight and the power of a child's imagination.
---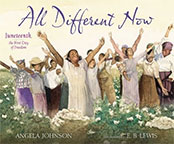 All Different Now: Juneteenth, the First Day of Freedom
by Angela Johnson, E.B. Lewis
Ages 5–9
The little girl narrating this poem tells the story of the day that the slaves on a Texas plantation learn they are free, more than two years after President Lincoln signed the Emancipation Proclamation. Watercolor illustrations display the range of emotions throughout the day, from weary toil in the hot morning sun, through overwhelming emotions when hearing the news, to tranquil joy in the cool of the evening.
---
Magritte's Marvelous Hat
by D.B. Johnson
Ages 4–8
Inspired by the surrealist paintings of René Magritte, this creative picture book follows the artist as he pursues a gravity-defying bowler hat through the streets of Paris. Reversible images printed on transparent paper capture the energy and exuberance of Magritte's art.
---

Levi Strauss Gets a Bright Idea: A Fairly Fabricated Story of a Pair of Pants
by Tony Johnston, Stacy Innerst
Ages 4–8
The story of how Levi Strauss came to invent the sturdy pants that bear his name is told in tall tale fashion in this amusing picture book. When Levi arrived in California in 1853, he noticed that the hard-working miners wore through their pants quickly, and created sturdy canvas jeans designed to last longer. Illustrations painted with acrylics on old jeans accompany this exaggerated tale of the Wild West.
---

A Small Thing… but Big
by Tony Johnston, Hadley Hooper
Ages 4–7
Lizzie is terrified of dogs. One day while in the park with her mother she encounters a man walking his dog Cecile. The man gently responds to her timid questions and encourages her to pat Cecile. This small act is a big step for Lizzie, and she gradually takes makes other small but brave acts until she is finally walking Cecile by her herself.
---
Winter Is Coming
by Tony Johnston, Jim LaMarche
Ages 4–8
Every day a girl sits alone in the woods, observing the behavior of animals from a platform in a tree. As the leaves change color and the temperature drops, she observes each animal begin to prepare for winter. Silently she watches as the season changes from fall to winter.
---

Sarah Emma Edmonds Was a Great Pretender: The True Story of a Civil War Spy
by Carrie Jones, Mark Oldroyd
Ages 7–12
Sarah Emma Edmonds began pretending at a young age. Her father wanted a son, so Sarah pretended to be a boy. When she was a teenager, Sarah realized she would never be the son her father wanted, so she ran away from Canada to America, where she assumed the identity of Frank Thompson. In 1861 she joined the Union Army as a male nurse. When the Union Army needed a spy, she volunteered, pretending to be a male African American slave, a female Irish peddler, and a female African American laundress in order to slip behind enemy lines and gather information. Sly illustrations capture Sarah's joy in her successful deceptions.
---
The Fairy-Tale Princess: Seven Classic Stories from the Enchanted Forest
by Wendy Jones, Su Blackwell
All ages
Seven condensed fairy tales — Sleeping Beauty, The Frog Prince, Rapunzel, Cinderella, Snow White, The Princess and the Pea, and The Twelve Dancing Princesses — are retold with an emphasis on the princess element. The incredible three-dimensional paper sculptures are created from vintage book pages.
---

Lovabye Dragon
by Barbara Joosse, Randy Cecil
Ages 3–6
A lonely little girl in her bed in her room in her castle longs for a dragon for a friend while a lonely dragon in his nest in his cave in his mountain dreams of a girl. Eventually the two find each other and happiness in this charming lullaby book.
---
Billy's Booger
by William Joyce, Moonbot
Ages 4–8
Billy is a fourth grader who loves to draw. He adores the Sunday comics and decides to enter a children's illustrated book contest. His book centers on the small green product of a sneeze that brings him amazing math superpowers. Even the president consults Billy for help. Unfortunately Billy's shaky grasp of grammar and spelling prevent his book from winning the prize, but the librarian tells him that his book, included as an insert, has been checked out more often than any other entry, setting Billy on the path to become a writer. This funny book is based on a true event from William Joyce's own childhood.
---
The Man in the Moon
by William Joyce
Ages 4–8
MiM (Man in the Moon) grows up in a derelict ship orbiting the Earth. When he becomes aware of the hopes and dreams of the children on the planet below him. MiM gathers a team of fellow guardians to protect and console them. This steampunk fairyland fantasy is the first in the Guardians of Childhood series.
---

Born in the Wild: Baby Mammals and Their Parents
by Lita Judge
Ages 4–8
More than 20 wild mammal babies and their parents are presenting in this inviting picture book. Short descriptions of the way baby mammals are cared for and gain independence are matched with endearing illustrations.
---

Good Morning to Me!
by Lita Judge
Ages 4–8
Beatrix the parrot is cheerful and loving, but also LOUD! Her friend Mouse tries to be a supportive friend, but Beatrix is unable to control her enthusiasm or find her inside voice. The family basset hound tries to help keep Beatrix from getting into trouble, while the family cat is convinced that there is a simple and delicious answer to dealing with the noisy bird. Expressive illustrations encourage readers to slow down and enjoy every moment of this sharable book.
---

Red Sled
by Lita Judge
Ages 2–5
This nearly wordless picture book takes a child's red sled on a nighttime joy ride. A bear liberates the sled he finds leaning against the house, and picks up passengers as the sled speeds down the hill. Perfectly imagined sound effects accompany the wild ride.
---

Never Say a Mean Word Again: A Tale from Medieval Spain
by Jacqueline Jules, Durga Yael Bernhard
Ages 4–8
When Samuel accidentally offends Hamza, the tax-collector's son, Hamza unleashes a storm of unfriendly words. Samuel's father tells him to make sure Hamza never says a mean word to him again. Struggling to make sense of his father's advice, Samuel begins spending more time with Hamza and they gradually become friends. This transformation of power struggle into friendship is based on a story from medieval Spain.
---
The Hello, Goodbye Window


text by Norton Juster

,

illustrations by Chris Raschka




Caldecott Medal 2006


Ages 4–7


A girl visits her grandparents, enjoying the house and garden and the surprises through the window. This child-centered view of everyday activities is just right for reading aloud. The bright illustrations are perfect for portraying this happy multi-racial family.
---

Sourpuss And Sweetie Pie
by Norton Juster
Ages 4–8
Our multiracial heroine admits that she has conflicting personalities, sometimes she is Sourpuss, sometimes Sweetie Pie. Her grandparents accept her dual natures, reflected in the different color palettes illustrating her happy moments and her tantrums.
---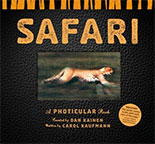 Safari: A Photicular Book
by Dan Kainen, Carol Kaufmann
All ages
Animated by the turning of the page, eight wild animals come alive in this amazing book. A lowland gorilla munches the leaves off a branch, a cheetah runs, a gazelle leaps, an elephant flaps its ears. The amazing photicular technology is accompanied by text about each animal. This beautiful book will mesmerize children and adults of all ages.
---
Tsunami!
by Kimiko Kajikawa, Ed Young
Ages 4–8
Ojiisan, a wealthy rice farmer, sees a tsunami threatening the village and sacrifices his own rice fields in order to save the villagers. Ed Young's stunning collage illustrations vividly portray the power of the tsunami.
---
Looking at Lincoln
by Maira Kalman
Ages 5–8
The little girl in this book wants to see beyond the picture on the penny and discover who Lincoln really was. She discovers that Lincoln believed in freedom for everyone, had a dog named Fido, kept his notes in his hat, and loved Mozart and his wife' s vanilla cake. This fresh look at our 16th president will captivate young readers.
---

Into the Snow
by Yuki Kaneko, Masamitsu Saito
Ages 3–7
First person narration perfectly captures the excitement of a toddler who wakes up to find that it is snowing. After bundling up he launches himself into an exuberant exploration of the wintry world outside his door, marveling at the wonders of snow, both soft and cold, and icicles, hard and shiny. A trip down the sledding hill melds terror and exhilaration before heading home for a hot cup of cocoa.
---

Meaniehead
by Bruce Eric Kaplan
Ages 4–8
Henry and Eve are two siblings who fight about everything. Their constant battles erupt into war when Henry gets a jackhammer and Eve gets a bulldozer. The two begin to destroy everything in sight: their favorite toy store, the San Diego Zoo, the Grand Canyon, and eventually planet Earth. Eventually the joys of joint havoc brings the two siblings back to peaceful co-existence.
---

Betty Bunny Loves Chocolate Cake
by Michael Kaplan, Stephane Jorisch
Ages 3–7
Betty Bunny adores chocolate cake from the first bite, so much that she declares she will marry it. She refuses to eat anything else, but her mother insists that she eat healthy food first. Betty throws a tantrum—she doesn't want to be patient, she wants chocolate cake! This hilarious book will be a hit with all picky eaters and lovers of chocolate.
---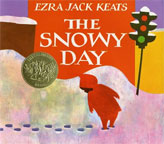 The Snowy Day
by Ezra Jack Keats
Caldecott Medal 1963


Ages 4–8
A small boy wakes up to discover that snow has fallen overnight. The beautiful illustrations of watercolor and collage show the magic of simple experiences in the snow.
---

A Song About Myself
by John Keats, Chris Raschka
Ages 6–9
While hiking the hills of Scotland at the age of 22, poet John Keats wrote to his younger sister Fanny, including a self-deprecative poem about himself. Whimsical watercolor illustrations accompany this playful connection between siblings that is great fun to read aloud.
---

Bowling Alley Bandit
by Laurie Keller
Ages 7–10
Arnie is happy serving as "Doughnut Dog" for Mr. Bing, accompanying him wherever he goes. When Mr. Bing joins a bowling league and can't seem to roll anything except gutter balls, Arnie and his goofy friends decide to help him out. This funny first in an illustrated chapter book series picks up where the picture book Arnie the Doughnut left off.
---
The Scrambled States of America Talent Show
by Laurie Keller
Ages 5–10
The 50 states are gathered for a talent show, and what a bunch of hams! Snappy dialog and energetic illustrations help kids absorb the state and geographic information.
---

Poems to Learn by Heart
by Caroline Kennedy, Jon J. Muth
All ages
More than 100 diverse poems by a wide selection of poets are organized by theme in this poetry book. Beautiful illustrations add to the appeal of the poems, selected to appeal to a variety of readers with a range of memorization skills.
---

The Extraordinary Mark Twain
by Barbara Kerley, Edwin Fotheringham
Ages 7–11
Thirteen-year-old Susy is determined to set the record straight about her famous father, and spends a year writing her own observations. This accessible biography, which includes clever illustrations as well as excerpts from Susy's actual diary, presents an intimate portrait of the real man behind the famous one. Author notes include a timeline of Twain's life as well as tips for writing an extraordinary biography of your own.
---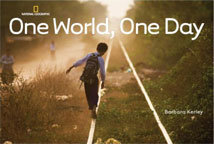 One World, One Day
by Barbara Kerley
Ages 4–up
Sixty beautiful photographs follow children all around the world as they eat breakfast, go to school, and live a normal day. The global perspectives of the numerous photographers echo the theme of one global family.
---
Those Rebels, John and Tom
by Barbara Kerley, Edwin Fotheringham
Ages 7–11
Clever verse and humorous illustrations portray the different personalities of two founding fathers and early presidents: Thomas Jefferson and John Adams. Lively typography and a bold color palette complement this story of strength coming from difference.
---
What To Do About Alice?

How Alice Roosevelt Broke the Rules, Charmed the World, and Drove Her Father Teddy Crazy!
by Barbara Kerley
Ages 4–8
This high energy picture book celebrates a young spirited American heroine who livened up the White House.
---

The World Is Waiting For You
by Barbara Kerley
Ages 4–8
This beautifully illustrated book celebrates the possibilities life holds for children. Photographs of children enjoying outdoor activities as play are paired with photographs of scientists and adventurers enjoying similar outdoor experiences as working adults. Playing in puddles can inspire scuba diving, playing in the dirt may lead to digging up dinosaur bones, backyard star gazing inspires future astronauts.
---

Big Red Lollipop
by Rukhsana Khan, Sophie Blackall
Ages 4–8
Rubina is mortified when her East Indian mother, who doesn't understand the American custom of celebrating birthdays, insists that Rubina take her demanding little sister Sana to a birthday party. Sana's presence at the party turns out as badly as Rubina fears, and Sana makes things worse by stealing Rubina's favorite party favor, a big red lollipop. Eventually Sana herself is invited to a party and the littlest sister demands to go with Sana. Though tempted to let Sana suffer as she did, Rubina uses her experience to counsel her mother about cultural differences. This empathetic story of sibling rivalry is simply told and beautifully illustrated.
---
Come Back, Moon
by David Kherdian, Nonny Hogrogian
Ages 4–8
When the Moon goes missing, a group of forest animals discovers Bear is responsible and work together to get the Moon back. Crow lulls Bear to sleep with a story so Fox can free the Moon. Beautiful watercolor and pencil illustrations accompany the simple text.
---
Good Morning, City
by Pat Kiernan, Pascal Campion
Ages 2–6
While most city residents are still sleeping, early risers are hard at work baking bread, collecting garbage, delivering papers, and preparing for the morning TV news. Then bus drivers pick up passengers, a construction crew begins work, and a little girl and her family begin their day.
---
Everybody Bonjours!
by Leslie Kimmelman
Ages 5–8
On vacation with her family in Paris, a girl visits famous places and enjoys saying "bonjour." Sarah McMenemy's lively mixed-media illustrations support the bouncy text.
---

The Little Red Hen and the Passover Matzah
by Leslie Kimmelman, Paul Meisel
Ages 4–8
This Jewish Little Red Hen asks her friends for help making the traditional Passover matzah. Unfortunately her friends aren't too eager to help. Couldn't they at least help schlep the wheat to the mill? In this hilarious version of the traditional tale, a hard-working hen finds the true meaning of Passover.
---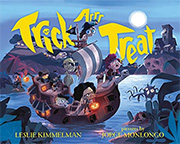 Trick ARRR Treat: A Pirate Halloween
by Leslie Kimmelman, Jorge Monlongo
Ages 4–7
Trick-or-treaters dressed as pirates traverse their neighborhood, demanding treats. Charlotte Blue-Tongue, Peg-Leg Pete, Glass-Eyed Gabby and their friends are so fully in character that they board a pirate ship before a monster appears to send them running home.
---
I Have a Dream
by Martin Luther King Jr., Kadir Nelson
All ages
Slightly edited to make it understandable to children of all ages, Dr. King's famous speech is beautifully illustrated, showing King as both larger-than-life and deeply human. A CD of the speech is included.
---

Who's Next Door?
by Mayuko Kishira, Jun Takabatake
Ages 3–7
Chicken is thrilled when someone moves into the house next door. His quiet house deep in the woods can get a bit lonely and he longs for a friend. But no matter how often he looks out the window or knocks on the door, he never catches sight of his new neighbor. Eventually a note reveals that the new neighbor Owl has been doing the same thing, but at night.
---

The Gingerbread Pirates
by Kristin Kladstrup, Matt Tavares
Ages 4–10
Jim and his mother make gingerbread pirate cookies on Christmas Eve, and Jim likes his Captain Cookie with a gingerbread cutlass and toothpick peg leg too much to leave him on the plate for Santa. In the middle of the night, the brave Captain Cookie dashes down the stairs to save his crew from the mysterious cannibal named Santa. Luckily Santa ends up not being as terrifying as the cookies feared.
---

I Want My Hat Back
by Jon Klassen
Ages 4–8
Bear's hat is missing and he wants it back. Patiently and politely he asks the animals he meets if they have seen his hat. Some don't even know what a hat is, but the rabbit swears he would never steal a hat. Later the bear says he would never eat a rabbit, yet the hat is back on his own head where it belongs. Beautifully simple illustrations mirror the sparse text, yet each animal is a fully realized character.
---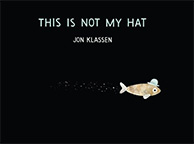 This Is Not My Hat
by Jon Klassen
Caldecott Medal 2013


Ages 4–8
The small fish narrating this story has snatched a tiny bowler hat from a much larger fish. Though he swears a crab to secrecy as he flees with the hat, the unreliable crab betrays him instantly. This wryly funny book uses both pictures and words to tell the story of the small hat thief determined to keep his stolen prize.
---

Stay: A Girl, a Dog, a Bucket List
by Kate Klise, M. Sarah Klise
Ages 3–5
Eli the dog has been with Astrid since she was born, her first and best friend. As Astrid grows older she notices that Eli is slowing down, and worries that his time with her is coming to an end. Before he slows down too much, Astrid makes a bucket list for Eli, including all the experiences she thinks he might enjoy. They eat together at a restaurant, slide down the slide at the playground, visit the library, and see Lassie at the movie theater. In the end it is clear that Eli doesn't really care what they do, the important thing is that they spend their time together.
---
Argus
by Michelle Knudsen, Andrea Wesson
Ages 4–8
When Sally's teacher passes out eggs for each child to hatch as part of a science project, Sally worries that her egg looks different than the others. Fuzzy little yellow chicks emerge from all the other eggs, but something green and scaly comes out of Sally's egg, which she names Argus. Watching her classmates play with their identical chicks, Sally wonders if she wouldn't be happier if her hatchling were just like all the others. But then Argus disappears and Sally realizes that no matter how different Argus is, she loves him more than all the others. Wonderfully goofy pictures illustrate this humorous look at an elementary school classroom.
---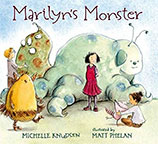 Marilyn's Monster
by Michelle Knudsen, Matt Phelan
Ages 4–8
Marilyn is frustrated. Her friends have all been sought out by monsters to serve as playmates and protectors, but no monster shows an interest in Marilyn. At first uncertain and then angry, Marilyn sets out to find her own monster, discovering it stuck in a tree waiting for her rescue. An incredible cast of monsters illustrate this funny story about searching for your dreams when they don't come find you.
---

Beach Feet
by Kiyomi Konagaya, Masamitsu Saito
Ages 3–7
A visit to the beach is told through the experiences of a small pair of feet. Beautiful pairing of text and illustrations evoke the sensations of hot and cool, sand and water.
---

The Dam Keeper
by Robert Kondo, Dice Tsutsumi
Ages 7–11
Sunrise Village is surrounded by a dangerous black fog. Pig's father built a machine called the dam to keep the fog out of the village, and taught his son how to maintain the machine before vanishing in the fog. Pig's friend Fox and Hippo, the town bully, are the only ones who understand how hard Pig works to keep the town safe. Now the fog is getting worse, and Pig, Fox, and Hippo must leave the safety of the town to fight it. This beautifully drawn graphic novel is based on the author's animated short film.
---

You Can Do It, Bert!
by Ole Könnecke
Ages 3–up
A small bird named Bert stands at the end of a branch, preparing himself for his big day. He is prepared, but nervous, and has to gather his courage and determination to leap into the air. But Bert doesn't even flap his wings, instead diving into the pool below where all his friends cheer his very first dive. This cheerful book illustrates the fine line between being scared and becoming confident.
---

AlphaOops: The Day Z Went First
by Alethea Kontis, Bob Kolar
Ages 4–8
Just as A is preparing to introduce itself, Z interrupts, demanding fair turns at going first. Other letters at the end of the alphabet jostle to the front of the line, some letters insist on second turns, and others vanish to take bathroom breaks in this wild Alphabet book, sure to be an instant favorite with all children, especially those whose names fall at the end of the line!
---
AlphaOops: H is for Halloween
by Alethea Kontis, Bob Kolar
Ages 4–8
The alphabet is putting on a show for Halloween, and chaos erupts. Z insists that the show must start with H because Halloween can't start with any other letter, and the rest of the alphabet appears out of order, dressed in Halloween costumes to suit their letters. Along the bottom of the pages, tiny pumpkins arrange the letters in their proper order.
---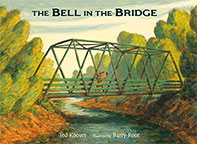 The Bell in the Bridge
by Ted Kooser, Barry Root
Ages 6–9
Charlie is staying for his hard-working grandparents for two weeks during summer vacation. Often left to his own devices, Charlie plays outdoors. He comes across a big metal bridge over a stream and discovers that when he strikes it with a stone the sound resonates through his shoes and echoes throughout the valley. Sometimes he hears an answering sound, and wonders if it is an echo of his own bridge, or perhaps someone on another bridge creating an answering sound.
---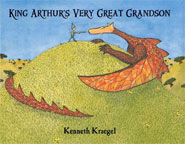 King Arthur's Very Great Grandson
by Kenneth Kraegel
Ages 5–8
When Henry Alfred Grummorson (the many great grandson of King Arthur) turns six, he dons a helmet and sword and sets of in search of monsters to battle. But all the monsters he meets aren't interest in a battle to the death. The cyclops prefers a staring contest, the dragon offers a smoke-ring blowing game, the griffin suggests a game of chess. Beautifully detailed illustrations accompany the lively and humorous text in this stirring read-aloud.
---

The Great Lollipop Caper
by Dan Krall
Ages 4–8
Mr. Caper is not happy. For some reason the kids of the world prefer the taste of the sweet lollipop to the sour delicious briny flavor of the caper. It doesn't placate Mr. Caper that adults rave over his acidic earthiness, he wants the adoration of children that Lollipop has. Cartoon antics and melodramatic dialog illustrate this tale of the rewards of being an acquired taste.
---

Pajama Pirates
by Andrew Kramer, Leslie Lammle
Ages 5–8
Three children and their dog create a nightly adventure for themselves, turning their bed into a boat and their bedroom into the sea. Detailed watercolor illustrations and rhyming text tell the tale of attacking pirates, sword fights, and a storm full of lightning.
---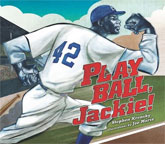 Play Ball, Jackie!
by Stephen Krensky, Joe Morse
Ages 7–10
It's 1947, and 10-year-old Matty Romano is going to his first baseball game with his father to see the Brooklyn Dodgers, his favorite team. It's also the first day for Jackie Robinson, the first Black baseball player in the major leagues. The crowd is divided between those who are outraged and those who just want to see good baseball players, no matter what their color. Matty's conversations with his father provide an intimate look at this historic baseball game.
---

Fartiste
by Kathleen Krull, Paul Brewer, Boris Kulikov
Ages 4–9
Joseph Pujol learns to control his intestines and performs at the legendary Moulin Rouge in this mostly true story. Kulikov's explosive illustrations are sure to amuse the small boy in all of us.
---

Lincoln Tells a Joke

How Laughter Saved the President (and the Country)
by Kathleen Krull and Paul Brewer, Stacy Innerst
Ages 5–8
This accessible biography begins by describing all the reasons Lincoln had to be depressed, including his harsh childhood and homely appearance. Then Lincoln's story is told in chronological order while highlighting his use of humor to deal with disappointment, grief, worry, and pain. The humorous illustrations add to the upbeat portrait of a man who coped with life by staying positive and looking for the lighter side throughout serious events.
---

Beyond the Pond
by Joseph Kuefler
Ages 4–8
Ernest D. is a curious little boy who is bored with is ordinary house and neighborhood. One day he decides to explore the pond in his back yard. Using a stick and a stone he tries to find out how deep it is, concluding that the pond is bottomless when he doesn't hit anything. Ernest dons underwater gear, and dives in with his faithful dog. At first they encounter normal pond dwellers like fish and frogs, but as they go deeper they see squid and shark. Eventually Ernest emerges into a world full of fantastic creatures and strange monsters. When he returns to his ordinary world, everything seems suddenly more interesting.
---
Hank's Big Day: The Story of a Bug
by Evan Kuhlman, Chuck Groenink
Ages 3–7
Tiny Hank is a pill bug, small even in the insect world. He moves through the tall grass, nibbles on leaves, and plays dead to evade a scary grasshopper. Then Hank meets Amelia, a new friend who places him on her helmet and the two take an exciting pretend flight across the Atlantic Ocean, wave to the Queen of England, and barely avoid the Eiffel Tower before returning home.
---

Lindbergh: The Tale of a Flying Mouse
by Torben Kuhlmann
Ages 4–up
Lindbergh is a German mouse who decides to emigrate to America to escape the new mousetraps that have killed so many of his friends. He considers a sea voyage, but the mouse-hunting cats on the ships change his mind. Inspired by his bat cousins, Lindbergh invents an apparatus that will enable him to soar through the air. Lindbergh's daring flight across the Atlantic from Germany to America inspires a young boy named Charles Lindbergh to dream of flying himself. This captivating adventure story is a blend of picture book and graphic novel.
---

Armstrong: The Adventurous Journey of a Mouse to the Moon
by Torben Kuhlmann
Ages 4–8
The young mouse inventor is fascinated by the moon, and visits the Smithsonian Museum for inspiration. An old gray mouse (presumably Lindbergh) shows him a room full of mouse-sized flying machines and encourages him to study and dream. Unfortunately a fire in his workshop destroys most of his designs, and the police are on his trail with arson charges. But the mouse is determined and launches his tin can rocket out the chimney, straight for the moon.
---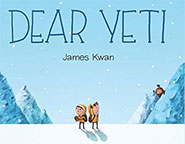 Dear Yeti
by James Kwan
Ages 4–7
A pair of young explorers head off into the frozen wilderness in search of a Yeti. A helpful bird delivers the letters they write to coax the shy creature out of hiding, but the Yeti doesn't appear. The hikers haven't prepared very well, and their supplies grow low as the sky grows darker and a snow storm looms. Snacks and shelter appear along their path, though the Yeti remains hidden until his fans are threatened by a hungry grizzly bear.
---
My Happy Life
by Rose Lagercrantz, Eva Eriksson
Ages 6–up
Dani has experienced sadness — her mother died when she was very young, and her best friend moves far away. But Dani celebrates the things that help her to be happy — her father, her extended family, and her teacher. This early reader (translated from Swedish) is composed of 20 short chapters illustrated with humorous pencil drawings.
---
Pond
by Jim LaMarche
Ages 4–8
Matt is out for a winter hike when he notices a trickle of water in a an abandoned lot. As he looks at the water bubbling up through the trash, he imagines the pond that was once there: freezing in the winter for skating and the perfect place to swim in the summer. He asks his friends Katie and Pablo for help, and throughout the spring the three children clean up the trash and dam the flow. As the water begins to pool up, plants, animals, and birds appear. This celebration of what can be done to restore nature with just a bit of hard work is inspiring.
---

Paul Meets Bernadette
by Rosy Lamb
Ages 4–8
Paul the golden goldfish swims all day swimming around in circles in his bowl until the day Bernadette, a reddish goldfish drops from the sky. Bernadette introduces Paul to the wonderful world outside the fish bowl, filled with wonderful things like a blue elephant (a teapot) who feeds her babies through her trunk. Young readers will enjoy Paul's appreciation of Bernadette's imagination that transforms the ordinary (fried eggs) into the extraordinary (the sun and the moon).
---

In Search of the Little Prince
by Bimba Landmann
Ages 7–up
This picture book biography of Antoine de Saint-Exupéry presents child-friendly events from his life that inspired the eventual writing of The Little Prince. Antoine loved listening to the fairy tales his mother told him, tried to make his bicycle fly, tamed a fox in the Moroccan desert, and found a rose to love and cherish. Moments of loneliness caused him to draw the outline of a child on a sheet of paper, foretelling the book to come.
---

Frog Went A-Courtin'
text by John Langstaff, illustrations by Feodor Rojankovsky
Caldecott Medal 1956


Ages 4–8
In this version of the old song, Froggy puts on his shiny black boots and goes out to court Miss Mousy. The colorful illustrations bring this book to life. Included are the words and music to the song.
---

The Infamous Ratsos
by Kara Lareau, Matt Myers
Ages 5–8
Big Lou tells his sons Louie and Ralphie that there are two kinds of people in the world — tough ones and soft ones. The two brothers are determined to prove that they are just as tough as their truck-driver father, but each of their tough-guy antics turn into good deeds despite their worst intentions. This funny and heartwarming beginning chapter book is perfect for emerging independent readers.
---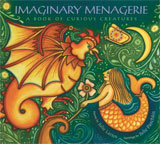 Imaginary Menagerie

A Book of Curious Creatures
by Julie Larios
Ages 4–9
Poetry
Julie Paschkis's incredible gouache paintings illustrate poems about creatures from mythology and folklore.
---
Small and Tall Tales of Extinct Animals
by Damien Laverdunt, Helene Rajcak
Ages 7–10
The over-sized encyclopedia presents extinct animals like the glyptodon and the Sicilian dwarf elephant with descriptions, illustrations, and multi-panel cartoons. While not at all preachy, the message that animals are often in jeopardy when humans believe that there is an inexhaustible supply is clearly and humorously expressed.
---

The Bear Who Wasn't There: And the Fabulous Forest
by Oren Lavie, Wolf Erlbruch
Ages 5–8
Bear begins as an itch that scratches itself against a tree, grows fur, and becomes a bear who finds a note asking "Are you me?" along with three clues. While searching for answers, Bear encounters Penultimate Penguin, Convenience Cow, Lazy Lizard, and Turtle Taxi who speak in riddles and absurdity.
---

Sidewalk Flowers
by Jonarno Lawson, Sydney Smith
Ages 4–7
In this wordless book, a small girl walking home from the store with her distracted father gathers flowers growing in the cracks in the sidewalk. After enjoying the scents, the girl begins to give them away, leaving flashes of color in the grey world around her.
---

Oscar and Arabella
by Neal Layton
Ages 4–8
Oscar and Arabella, a wooly mammoth and a mastodon, have to think fast to outwit the scary creature in the cave. The simple language and lively illustrations will captivate youngsters.
---

Hot, Hot, Hot
by Neal Layton
Ages 4–8
Wooly mammoth Oscar and mastodon Arabella love playing in the ice and snow, but a sudden heat wave makes them uncomfortable. Luckily Oscar has an idea to help them survive the hot weather. This wonderfully silly picture book will charm young readers. (follows Oscar and Arabella)
---

Oscar and Arabella and Ormsby
by Neal Layton
Ages 4–8
When wooly rhino Ormsby arrives, woolly mammoth Oscar fears he has a rival for mastodon Arabella. But every time Oscar performs a show-off trick, Ormsby thinks of something even better. When they fear Arabella is in danger, the two finally join forces for a hilarious ending. (follows Oscar and Arabella and Hot, Hot, Hot) (9/08)
---
The Story of Things: From the Stone Age to the Modern Age in 10 Pop-Up Spreads
by Neal Layton
Ages 5–7
This ingenious pop-up book begins with early humans whose lives are transformed by fire and spears, through the rise and fall of four civilizations, and ending in modern times. The masterful balance of humor, information, and interactive fun celebrates human creativity.
---

Pool
by Jihyeon Lee
Ages 3–5
At a crowded pool a boy dives beneath the water. There he meets a girl and the two play together amidst schools of colorful fish and dive deeper to discover a huge whale-sized creature. Back at the surface, the two exchange a secret glance hinting at all they shared together under the water. This wordless book celebrates the power of the imagination.
---

Lines
by Suzy Lee
Ages 3–5
This intriguing book explores the parallels between the line a figure skater leaves on the ice and the artist sketching her. At first the skater moves gracefully across the ice and the drawing goes well, but then the skater falls while the artist crumples up the sketch. But the skater is helped to her feet and the artist starts a new sketch, each learning from their mistakes.
---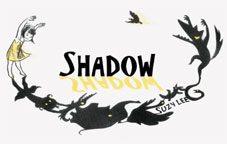 Shadow
by Suzy Lee
Ages 4–8
The young girl in this nearly wordless book finds a secret world in the shadows cast by the light bulb in a storage room. The pages turn from the top binding, and when held at a 90° angle form the wall and floor of the room. The girl begins with simple shadows, but soon lets her imagination loose and creates an incredible shadow world.
---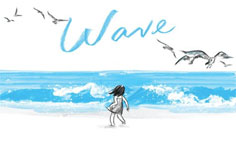 Wave
by Suzy Lee
Ages 4–8
This wordless two-color picture book follows a small girl's interaction with the waves. The vibrant watercolor illustrations capture the joy and laughter of a day at the beach.
---

The Secret Box
by Barbara Lehman
Ages 4–8
Three boys discover a box hidden in their urban boarding school. The box contains old photographs, a postcard, and a map that leads them to a boardwalk amusement park. Later, another pair of children discover the box and make the same journey, continuing the cycle of mystery and the discovery of an older city hidden beneath the modern one.
---
Trainstop
by Barbara Lehman
Ages 4–8
This wordless fantasy takes a young urban girl on a subway train to an idyllic Lilliputian world.
---

The Stratford Zoo Midnight Revue Presents Macbeth
by Ian Lendler, Zack Giallongo
Ages 7–10
The Stratford Zoo looks normal during the daytime, but at night the animals come out of their cages to stage elaborate performances of Shakespeare's greatest works. Tonight's performance is Macbeth, with the lion in the title role. Instead of slaying his enemies with a sword, the lion plans to eat them instead. This funny adaptation of the classic play is the first in a graphic novel series featuring the plays of Shakespeare.
---
Always Room for One More
text by Sorche Nic Leodhas, illustrations by Nonny Hogrogian
Caldecott Medal 1966


Ages 4–8
Travelers in a storm are glad to hear Lachie MacLachlan generously call out that there is always room for one more. Narrated in a lilting, rhyming brogue, the Scottish travelers fill the little house until it explodes.
---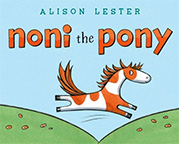 Noni the Pony
by Alison Lester
Ages 2–5
The adorable Noni the Pony frisks through this delightful book, sharing her cheerful nature with the other farm animals. The rhythmic rhyming text complements the charming and simple illustrations.
---

Forgive Me, I Meant to Do It: False Apology Poems
by Gail Carson Levine, Matthew Cordell
Ages 6–9
Modeled after "This Is Just to Say" by William Carlos Williams, each poem in this book describes a horrible offense and continues with a false apology because the poet clearly is not one bit sorry at all. Fairy tale and nursery rhyme characters share the stage with regular folk, animals, and inanimate objects. Playful illustrations add to the fun.
---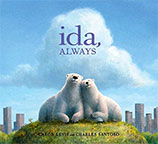 Ida, Always
by Caron Levis, Charles Santoso
Ages 4–8
Gus and Ida are inseparable polar bears living in a zoo, playing and splashing together while listening to the sounds if the city that surrounds them. When the two friends learn that Ida is terminally ill, they move through anger to acceptance as they determine to enjoy the remaining time they have together. This heartfelt story is based on two polar bears who lived in the Central Park Zoo in New York City.
---

Wild Wings
by Gill Lewis, Yuta Onoda
Ages 4–8
Iona (11) moves in with her grandmother, who is considered crazy by the children in the small village in Scotland. Most other children avoid Iona, but her discovery of an osprey nest on her classmate Callum's farm sparks a friendship. The two name the endangered bird Iris, and keep the nest a secret until Iris becomes entangled in a fishing line. A naturalist saves Iris and tags her, allowing the two children to track the osprey's migration from Scotland to Africa online.
---

Edgar Allan Poe's Pie: Math Puzzlers in Classic Poems
by J. Patrick Lewis, Michael Slack
Ages 6–9
Poet laureate Lewis transforms famous poems (like "The Raven" by Edgar Allan Poe, "April Rain Song" by Langston Hughes, "The Termite" by Ogden Nash) into humorous word problems. Brightly colored illustrations complement the offbeat mix of language and mathematics, sure to delight children and adults alike.
---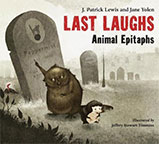 Last Laughs: Animal Epitaphs
by J. Patrick Lewis, Jane Yolen, Jeffrey Stewart Timmins
Ages 7–10
Darkly comic poems celebrating dearly departed animals will appeal to those with a fondness for puns and the macabre. Beautifully detailed illustrations add to the fun.
---
National Geographic Book of Animal Poetry: 200 Poems with Photographs That Squeak, Soar, and Roar!
edited by J. Patrick Lewis
Ages 4–8
Stunning photographs of wild and domestic animal illustrate poems by classic poets and modern children's poets including Navajo traditional verse, Robert Frost, Ogden Nash, Jack Prelutsky, Carl Sandburg, Jane Yolen, and many many more, edited by the U. children's poet laureate for 2011-2013.
---
National Geographic Book of Nature Poetry: More than 200 Poems With Photographs That Float, Zoom, and Bloom!
edited by J. Patrick Lewis
Ages 4–8
Former Children's Poet Laureate

J. Patrick Lewis

pairs poems by both classic and contemporary poets with dynamic photographs from National Geographic, creating a collection that vividly illustrates how nature has inspired poets through time.
---
Poem-mobiles: Crazy Car Poems
by J. Patrick Lewis, Douglas Florian, Jeremy Holmes
Ages 4–8
The thirteen inventive poems in this collection feature imaginative vehicles that really should exist. The mixed-media illustrations match the quirky mood of the poems in this clever book sure to inspire young readers to create their own contraptions.
---

A Well-Mannered Young Wolf
by Jean Leroy, Matthieu Maudet
Ages 4–8
Our young wolf has been raised by his parents to grant the last wish of his prey before devouring it. Unfortunately the rabbit and the chicken the wolf catches aren't as well-mannered and it seems the wolf will go hungry until he catches a human boy, who seems to have also been raised by well-mannered parents.
---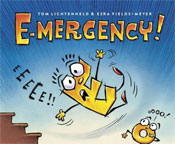 E-mergency!
by Tom Lichtenheld
Ages 4–8
When the letter E breaks her leg falling down the stairs, she ends up in the hospital and ordered to rest. The only way to give her time to heal is for another letter to substitute for her. Puns and jokes ensue as the rest of the alphabet decide which letter is up for the job.
---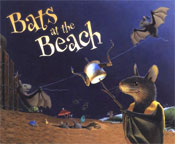 Bats at the Beach
by Brian Lies
Ages 4–8
The bats apply their moon-tan lotion and head out for an incredible night at the beach. The dark yet luminous art and rhyming text are the perfect foil for these furry and friendly creatures.
---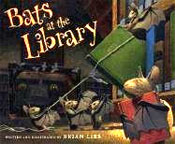 Bats at the Library
by Brian Lies
Ages 4–8
Thanks to an open window, the bats have a wonderful time exploring the books and the library after dark.
---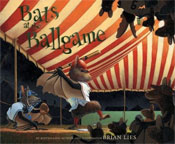 Bats at the Ballgame
by Brian Lies
Ages 4–8
The bats are back for an epic night at the ball park, complete with beenuts, mothdogs, Cricket Jacks and an upside-down group of attentive fans. The graceful rhyming text and magical illustrations illustrate a secret world where the charming bats enjoy America's national pastime as much as their human counterparts.
---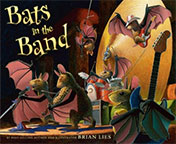 Bats in the Band
by Brian Lies
Ages 4–8
The bats head off to a summer music concert to enjoy a wide variety of night music. A string section hangs upside down while playing; a country vocalists sings of lonesome bats. This celebration of music-making will inspire young readers to make some music of their own.
---

The Bunny Burrow Buyer's Book: A Tale of Rabbit Real Estate
by Steve Light
Ages 4–8
Gregory and Petunia Bunny are about to have babies and need a larger home. Readers can peek into each potential burrow through circular die-cuts, and full-page flaps unfold to reveal the inside. Neighbors often make a possible home less than ideal, and the rabbit family increases with each turn of the page. Lots of bunny puns add to the fun for adult readers sharing this beautiful book with a youngster, especially one about to move to a new home.
---

The Christmas Giant
by Steve Light
Ages 3–8
Humphrey, the giant, and Leetree, the elf, create the Christmas wrapping paper used by the North Pole toy makers. They love their job, but are sad when it is done for the year. Santa asks them to grow a special Christmas tree, and the two use their unique talents, like moving big boulders and pulling tiny weeds, and their cleverness when the tree meets with an accident. This sweet story of friendship, persistence, and resourcefulness demonstrates that everyone, big or small, has gifts to offer all through the year.
---

Canadian Railroad Trilogy
by Gordon Lightfoot, Ian Wallace
Ages 4–up
The lyrics of Lightfoot's 1967 song describe the construction of the transcontinental Canadian Pacific Railway, commissioned to mark Canada's Centennial. Wallace's beautiful paintings celebrate the Canada's natural beauty while also illustrating the damage to First Nation people and the hardships of those who toiled to build the railroad. Many paintings show the railway in detail, while others focus on the history and settlement of Canada.
---

Ling & Ting Share a Birthday
by Grace Lin
Ages 6–9
Twins Ling and Ting are about to celebrate their sixth birthday. Though they look exactly alike, the twins have different personalities that are revealed in the six short chapters where they receive gifts, shop for presents, bake cakes, and make wishes. The loving relationship between the sisters celebrates both their similarities and their differences in this beginning reader.
---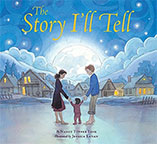 The Story I'll Tell
by Nancy Tupper Ling, Jessica Lanan
Ages 5–9
The mother in this engaging book imagines the ways she might explain how her adored adopted child joined their family. The child might have arrived from a far away land in a hot air balloon. Or delivered on horseback by a winged angel. The beautifully illustrated fantasies highlight the excitement of a family welcoming an adopted child.
---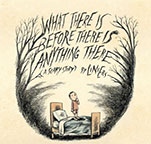 What There Is Before There Is Anything There: A Scary Story
by Liniers
Ages 4–7
Every night when his parents turn off the light, this small boy stares up at the darkness where the ceiling used to be, waiting for the scary creatures to descend. the boy's terror mounts until he dashes for his parents' bed, only to find that isn't safe either. Though the boy's fears don't vanish in this book about nighttime terror, he does find a way to deal with them in a way that will resonate with children afraid of the dark.
---

Written and Drawn by Henrietta
by Liniers
Ages 5–up
Armed with a new box of colored pencils, Henrietta sets out to write and illustrate a story: The Monster with Three Heads and Two Hats. Henrietta's total involvement in her story is captivating — when one of her monsters meets a larger monster she scares herself. This celebration of confidence and creative power is sure to be a hit with young readers.
---

Finders Keepers
text by William Lipkind, illustrations by Nicolas Mordvinoff
Caldecott Medal 1952


Ages 4–8
Nap and Winkle dig up a bone together in the yard and can't decide who it belongs to since Nap saw it first and Winkle touched it first. People passing by can't help them solve their disagreement until another dogs offers a solution both can agree to. The humorous illustrations fit the story perfectly.
---

Applesauce Season
by Eden Ross Lipson, Mordicai Gerstein
Ages 4–8
This delightful picture book tells the story of an urban family who comes together every fall to make homemade applesauce. Every step of the process is celebrated: buying, peeling, cooking, stirring, and tasting. The recipe on the last page encourages families to start their own fall cooking tradition.
---

Immi's Gift
by Karin Littlewood
Ages 4–8
Immi, an Inuit girl, goes ice fishing in a world of white. As she fishes, she pulls a brightly colored wooden bird from under the ice. She adds the bird to her necklace, next to her carved white bear. Over the next few days, Immi pulls other colorful surprises from under the ice — an orange starfish, a green leaf, a purple feather — which she uses to decorate her igloo. When the snow begins to melt, Immi drops her white bear into her ice fishing hole, to be found later by a boy on a tropical beach.
---

The Best Thing about Kindergarten
by Jennifer Lloyd, Qin Leng
Ages 4–8
On the final day of Kindergarten, the children gather around their teacher to guess what she thinks is the best thing about Kindergarten. The teacher affirms each guess (the playhouse, the writing center, the monkey bars) but tells each child that the answer hasn't been guessed yet. Finally the teacher reveals that for her, the children themselves are the best thing of all. This light-hearted look at farewells is the perfect gift for both kindergartners and their teachers.
---

Murilla Gorilla, Jungle Detective
by Jennifer Lloyd, Jacqui Lee
Ages 5–8
Murilla Gorilla has the job of figuring out who ate the banana muffins that Ms. Chimpanzee had baked to sell at the Mango Market. Murilla isn't the most skilled detective — she can't find her own backpack and badge and tends to fall asleep on the job. A perfect blend of mystery and humor will appeal to young readers eager to tackle a short chapter book.
---

His Royal Highness, King Baby: A Terrible True Story
by Sally Lloyd-Jones, David Roberts
Ages 4–8
Once upon a time there was a contented family with parents, a gerbil, and a Princess. Then a new family member arrives — King Baby, who is noisy and smelly and who attracts all the attention that used to go to the Princess. Narrated by the displaced Princess, this funny take-off of a classic fairy tale includes a happy ending.
---

Fables
by Arnold Lobel
Caldecott Medal 1981


Ages 6–10
These short original fables have unexpected morals. The humorous illustrations add to the fun.
---
A Gift for Mama
by Linda Ravin Lodding, Alison Jay
Ages 4–8
Oskar sets out on the streets of Vienna carrying a single coin to buy the perfect birthday gift for his mother. He buys a beautiful yellow rose in the middle of the market. Before he can carry his perfect gift home, an artist offers to trade a paintbrush for the rose. Oskar decides he can paint a picture for Mama and makes the trade. One trade after another leaves Oskar empty-handed, but one if his kind deeds is rewarded, leaving Oskar with the perfect gift for Mama.
---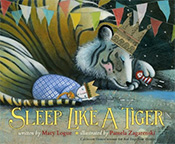 Sleep Like a Tiger
by Mary Logue, Pamela Zagarenski
Ages 4–8
A small crown-wearing girl tells her similarly crowned parents that she is simply not sleepy. They insist that she put on her pajamas and then the three discuss the ways different animals sleep. Bears are mighty sleepers, and snails curl up like cinnamon rolls. The image of the tiger sleeping to stay strong catches her imagination, and she dreams of herself curled up next to a sleeping tiger. This enchanting book will be enjoyed over and over.
---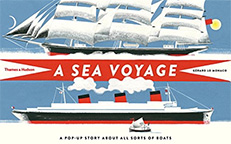 A Sea Voyage
by Gérard Lo Monaco
Ages 4–8
Six three-dimensional sea vessels are featured in this elegant pop-up book, including an ocean liner, tall ship, caravel, and lifeboat. The accompanying rhyming text is reminiscent of sea chanteys. Background details about each boat are included.
---

Take a Picture of Me, James Van Der Zee!
by Andrea J. Loney, Keith Mallett
Ages 7–11
James Van Der Zee was only a young boy when he saved enough money to buy his first camera, taking portraits of his family and his classmates. He was soon the official school photographer and the unofficial town photographer as well. At the age of 18 he moved from Massachusetts to New York City with the dream of becoming a professional photographer. Informed that no one would want their portrait taken by a black name, he opened his own portrait studio in Harlem, taking portraits of legendary figures of the Harlem Renaissance — Marcus Garvey, Florence Mills, Bill (Bojangles) Robinson, Mamie Smith — as well as ordinary people from the neighborhood.
---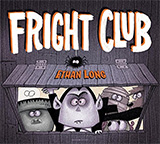 Fright Club
by Ethan Long
Ages 4–8
Each Halloween Eve the Fright Club meets to go over their plan for Operation Kiddie Scare. Only the scariest monsters are allowed, leaving out the cute bunny and squirrel. The rejected animals practice their scariest faces and sounds, proving to the other members of the Fright Club that everyone should be allowed to join.
---

Little Tree
by Loren Long
Ages 5–8
When fall comes all the other saplings let go of their leaves, knowing that will help them grow strong and tall. But Little Tree holds tight to his leaves and refuses to let them fall. As the years pass and the other trees turn green and grow throughout each spring and summer, Little Tree holds on to his brown and withered leaves and remains small. A squirrel, a fawn, and a fox offer advice, and eventually Little Tree knows he must make a decision or remain forever a little tree.
---

Alvin Ho: Allergic to Girls, School, and Other Scary Things
by Lenore Look, Leuyen Pham
Ages 6–10
Alvin Ho, a Chinese-American 2nd grader, is afraid of just about everything: elevators, tunnels, girls, wasabi, and speaking out in school most of all. The comic exaggeration of a small boy's emotions will appeal to young readers facing many of the same fears.
---
Brush of the Gods
by Lenore Look, Meilo So
Ages 4–8
This accessible biography of Chinese painter Wu Daozi (689-758) begins when young Daozi gets in trouble in calligraphy class as a young boy. Later known for his dynamic murals so realistic they seem to come alive, young Daozi can't believe his brush is only made for the ancient art of calligraphy. His brush seems unable to conform — instead of making the usual characters, his straight lines turn into trees, hooks snag fish, dots transform into eyes. This beautifully illustrated biography celebrates the power of art to enchant and delight.
---
Zelda The Varigoose
by Sebastian Loth
Ages 4–up
Transparent overlays containing attributes of various creatures placed on top of Zelda's simple golden shape transform the goose into enchanting goose hybrids like Goosephant and Goosesquid in this clever interactive book. (follow up to Remembering Crystal)
---

Crow Call
by Lois Lowry
Ages 6–12
Lizzie's father has been away in WWII for longer than she can remember, so the fall hunting trip the two take together after his return is awkward. But her father respects her wishes, even when they are fanciful, and gives her the crow call to summon the birds. To Lizzie's relief, her father never fires his gun on the magical day. Based on Lowry's own childhood, this picture book is a loving look at the relationship between parent and child. Though set in the past, it is fully relevant to today's military families.
---

The Lunch Witch
by Deb Lucke
Ages 7–10
Grunhilda the Witch is out of work. For generations the women in her family have stirred up spells in a big black cauldron, but no one wants to buy her magic any more. So Grunhilda checks the classified ads, and gets a job as the lunch lady in a school cafeteria. She delights in frightening the children until a shy little girl named Madison becomes her friend. Madison is struggling both at school and at home, and Grunhilda goes against all her witchy instincts to help her. This darkly funny graphic novel is the first in a planned series.
---

Monsters on Machines
by Deb Lund, Robert Neubecker
Ages 4–8
In this rhyming story a crew of monsters builds a custom (Pre-haunted) house and then clean up. Muck and mud, screams and shouts, monsters and machines—what more could you want?
---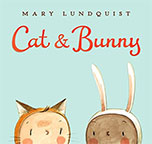 Cat & Bunny
by Mary Lundquist
Ages 4–8
Cat and Bunny have been best friends since birth, right from the start they did everything together. They are an inseparable duo until the day Quail asks to join their new Make-Up game. Bunny says yes, but Cat isn't so sure. Bunny welcomes more and more children to their group, and has having too much fun to notice when Cat quietly leaves. Hoping that Bunny will notice, Cat plays alone under a tree and discovers a new friend — a real kitten! Giraffe asks to play with the kitten and soon Cat has gathered a group of friends, including Bunny. This sensitive story explores the ways that an exclusive friendship can be stifling for some and reassuring for others.
---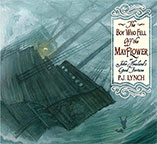 The Boy Who Fell Off the Mayflower, or John Howland's Good Fortune
by P.J. Lynch
Ages 7–10
Based on historical facts, this accessible account of the voyage of the Mayflower and the first year of the Pilgrims in America is narrated by real-life indentured servant John Howland. Beginning in 1620s London, John tells the story of his fall overboard during a storm and his early experiences in the new world. The detailed illustrations are stunning.
---

Boats Float!
by George Ella Lyon, Benn Lyon, Mick Wiggins
Ages 4–8
This beautifully illustrated rhyming book explores a wide variety of boats and ships of all sizes. Nautical language ("A lookout's on the poop deck.") adds to the fun.
Black and White
by David Macaulay
Caldecott Medal 1991


Ages 4–10
Four stories, that at first seem unrelated, each occupy a fourth of each two-page spread. The interactions between the four stories creates a fifth. There is no resolution, challenging readers to discover new meaning with each reading.
---

How Machines Work: Zoo Break!
by David Macaulay
Ages 7–10
Sloth and Sengi are determined to break out of the zoo with the help of six simple machines: levers, pulleys, screws, inclined planes, wedges, and wheels. Pop-ups, pull-outs, and lift-the-flap encourage readers to explore the inner workings of the machines. Illustrations show everyday objects using the same six simple machines.
---

Princess Tales: Once Upon a Time in Rhyme with Seek-and-Find Pictures
by Grace Maccarone, Gail de Marcken
Ages 4–8
Ten familiar fairy tales are retold in poetic form. The intricate pen and watercolor illustrations include many tiny objects for readers to search out while listening to the poems.
---

Look!
by Jeff Mack
Ages 3–5
The gorilla would love to get the small boy to look at him rather than at the television, but no matter what kooky stunt he comes up with, the boys eyes remain glued to the TV. When the gorilla accidentally breaks the television, the boy orders him out of the room, but then discovers the wonders of reading and entices the gorilla back to look at a book together.
---
Miss Mary Reporting: The True Story of Sportswriter Mary Garber
by Sue Macy, C.F. Payne
Ages 5–8
When Mary Garber became a sports writer in the 1940s, there were few women reporters. She was not allowed to sit in the press box at games or to talk to the players in the locker room after the game. Impressed by Jackie Robinson's dignity as well as his baseball skills, Mary began covering African-American sports events. Mary was a sportswriter for fifty-six years, and the first woman to win Associated Press Sports Editors' Red Smith Award for contribution to sports journalism.
---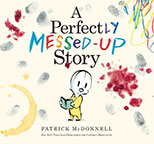 A Perfectly Messed-Up Story
by Patrick McDonnell
Ages 3–6
Little Louie is in the middle of telling a happy story when SPLAT! a splotch of jelly falls onto the pages, soon followed by a gob of chunky peanut butter, a splash of orange juice, and some messy crayon scribbles. Louie is about to give up when he realizes that his story is continuing despite the mess.
---

Good News, Bad News
by Jeff Mack
Ages 3–6
Good news: Rabbit appears with a picnic basket. Bad news: Mouse notices that it has started to rain. Good news: Rabbit has an umbrella. Bad news: the wind carries the umbrella and Mouse into a tree. Highlighting the importance of friendship, this hilarious book starring the optimistic Rabbit and the pessimistic Mouse uses only the four words of the title until the final page.
---

Marshall Armstrong Is New to Our School
by David Mackintosh
Ages 4–8
Marshall Armstrong, the new kid in school, is very weird. His skin is very pale, he eats strange space food lunches in silver wrappers, he doesn't play games at recess, avoids the sun, and never watches television. So when Marshall invites everyone over for his birthday party, our narrator is sure it will be the worst party ever. This slyly illustrated book is a fresh and funny look at the perils of being the new kid and the difficulty of making friends.
---

Before You Came
by Patricia MacLachlan and Emily MacLachlan Charest, David Diaz
Ages 4–8
Against the background of luminous art, a mother tells her child about her life before she was a mother. She shares her love for nature, reading, and listening to the child's father play his guitar. Ending with a promise that all of these pleasures will now be shared together, this beautiful book celebrates the before of parents lives that children are so curious about, while reassuring that the new shared life is even better.
---

Fly Away
by Patricia MacLachlan
Ages 7–up
Every year Lucy travels with family to visit her Aunt Frankie in North Dakota. Lucy loves poetry but not music like the rest of her family. Her father loves opera, her mother sings country, her little sister Grace has a beautiful voice, and even baby Teddy, who can't talk yet, substitutes "la la la" for the words of the songs he sings to Lucy each night. When the river overflows one night at Aunt Frankie's and Teddy vanishes, Lucy is forced to find her own voice to save her baby brother.
---

The Iridescence of Birds: A Book About Henri Matisse
by Patricia MacLachlan, Hadley Hooper
Ages 4–8
This picture book highlights the early influence of his mother on the artistic development of Henri Matisse. When their French village was cold and grey and damp, Henri's mother brought color into her son's life, painting scenes on plates and encouraging the young boy to experiment with mixing paints. As Henri observed the pigeons, his mother points out their iridescent feathers that change color with the light.
---

The Moon's Almost Here
by Patricia MacLachlan, Tomie dePaola
Ages 4–8
Soothing verses welcome the slow rising of the moon. A small boy, wearing an old-fashioned nightgown, and his father, dressed in a Pierrot costume, watch the sky gradually darken from turquoise to deep blue before the moon finally makes a much-anticipated appearance in the final pages. This beautifully illustrated and reassuring book is perfect for bedtime sharing.
---

Someone Like Me
by Patricia MacLachlan, Chris Sheban
Ages 4–8
In this picture book memoir, author Patricia MacLachlan remembers being a little girl who loved listening to stories, climbed trees, read constantly, and tried to teach her dog to talk. That childhood lead to a career writing books about dogs who can speak and chickens who scratch stories in the dirt. MacLachlan makes it clear that ot's not adventures or exotic travel that creates a writer, merely the willingness to watch and listen and imagine.
---
The Truth of Me
by Patricia MacLachlan
Ages 6–10
Robbie is looking forward to spending the summer with his dog and his grandmother Maddy while his parents are on tour with their classical music quartet. Robbie loves Maddy's stories and the way she communicates with the wild animals living near her home. He often feels that his parents love their instruments and their music more than their only son, and the summer with his grandmother helps him learn to be brave enough to express his true feelings.
---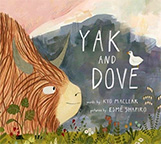 Yak and Dove
by Kyo Maclear, Esme Shapiro
Ages 4–8
Yak is calm and even-tempered while Dove is pushy and a bit annoying. They are complete opposites and begin to wonder if they should really be friends. Yak holds auditions hoping to find a new best friend, and is surprised when Dove shows up and sings Yak's favorite song. Humorous illustrations add to the fun of this whimsical look at an odd-couple friendship.
---

Tiptop Cat
by Roger Mader
Ages 4–8
The black and white cat starring in this elegant picture book revels in the climbing opportunities available in his owner's new Paris apartment. After exploring the rooms inside, the cat ventures onto the balcony, and from there to the rooftop with a wonderful view of the city and the Eiffel Tower. Every day the cat enjoys climbing to the top of his world until the arrival of a pigeon awakens his hunting spirit. the cat's leap for the bird takes him off the roof down past floors of apartments until he lands safely in the arms of a surprised street merchant.
---

Things to Do
by Elaine Magliaro, Catia Chien
Ages 3–5
Whimsical poems in the form of To Do lists from various perspectives beg to be read aloud and shared. Dawn's list begins with "Shoo away night," the bee's with "Flit among flowers," the cricket's with "Rub wings and sing," the moon's with "Hang in the darkness."
---

Mister Whistler
by Margaret Mahy, Gavin Bishop
Ages 4–8
Mister Whistler loves to dance more than anything else on earth. On the way to the train station he puts his ticket between his teeth for safe keeping and then forgets where it is. As he frantically searched all his pockets and then strips down to his polka-dotted boxers hunting for the ticket, onlookers find his dance so amusing that they fill his hat with money, enough to buy a new ticket. This hilarious picture book will become a family favorite.
---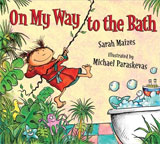 On My Way to the Bath
by Sarah Maizes, Michael Paraskevas
Ages 3–6
Livi isn't fond of baths and finds them boring. But procrastination gives her a wonderful chance to exercise her imagination, creating all kinds of goofy obstacles on the way to the bath.
---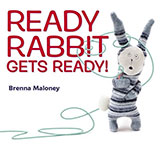 Ready Rabbit Gets Ready!
by Brenna Maloney
Ages 3–5
Ready Rabbit knows he needs to get ready for school when Momma calls him, but he would much rather build a space ship or ride his imaginary motorcycle instead of brushing his teeth or eating breakfast. The charming Ready Rabbit is made from a stuffed sock, and posed with miniature furniture and toys. His inked facial expressions change to match his active imagination.
---

Presto Change-O: A Book of Animal Magic
by Edouard Manceau
Ages 3–up
This clever large-format board book allows the reader to transform everyday objects into animals by swiveling die-cut cardboard pieces. Rhymes provide a hint of what is to come in this very satisfying interactive book.
---

Windblown
by Edouard Manceau
Ages 3–7
A small grey-blue circle is joined by other shapes that join together to create different creatures — a bird, a snail, a frog — while arguing about who the shapes belong to. The shapes are available to download online, allowing young readers to join in the creativity.
---
Sam and Jump
by Jennifer K. Mann
Ages 3–7
Sam and his stuffed bunny Jump do everything together because they are best friends. One day at the beach Sam meets a boy named Thomas and they have so much fun playing together that he forgets all about Jump, who is left behind when he returns home. The following day he returns to the beach to find that his new friend Thomas has rescued his old friend Jump. This reassuring story is the perfect bedtime book for a child with a best stuffed friend of his/her own.
---

Laundry Day
by Maurie J. Manning
Ages 4–8
A shoeshine boy in a 1900s immigrant neighborhood is startled when a length of red silk falls from the sky. Determined to return the scarf to its owner, the boy makes his way up and down fire escapes and back and forth along clotheslines, meeting Chinese, Italian, Polish, Ukrainian, and Yiddish speaking families along the way. His efforts are rewarded with a mooncake, pennies, and a bowl of matzo ball soup in this exuberant celebration of diversity and neighborliness.
---

Journey to the Moon
by Andy Mansfield
Ages 4–8
A rocket's journey to the moon is displayed in six vertically oriented pop-up spreads, illustrating the force needed to achieve liftoff. The rocket's pilot is hidden until the final spread, revealing that the journey is a homecoming rather than an exploration.
---

Happy in Our Skin
by Fran Manushkin, Lauren Tobia
Ages 2–5
This celebration of skin, that wonderful thing that keeps our insides in, follows a biracial family as they enjoy the day at the park, the pool, and a block party. Various shades of skin are admired along with scabs, the perfect seal when accidents happen. The family interacts with a diverse array of babies, children, and their parents in an urban neighborhood.
---

Miracle on 133rd Street
by Sonia Manzano, Marjorie Priceman
Ages 4–8
José and his family are homesick for Puerto Rico. Mami buys a roast for their Christmas Eve dinner, but the oven in their tiny apartment is too small. Papa and José head to the local pizza shop to borrow an oven big enough to cook the roast. Along the way, they pass neighbors who are also feeling lonely, overworked, and poor. When they carry the finished roast back home, the delicious smell entices all the neighbors to join in the holiday celebration.
---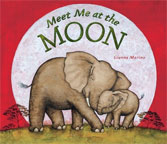 Meet Me at the Moon
by Gianna Marino
Ages 2–6
When a mother elephant tells her Little One that she must climb the high mountain to ask for rain, Little One worries that he will be alone. She reassures him that when they look at the same star it will be as if they are together. Richly textured paintings illustrate this reassuring story of separation and the power of the love between a mother and child.
---

Brave Girl: Clara and the Shirtwaist Makers' Strike of 1909
by Michelle Markel, Melissa Sweet
Ages 4–8
Clara Lemlich came to the United States in 1903 to escape the pogram in the Ukraine. Clara couldn't speak English, and was only five feet tall, but she went to night school, began to study English, and got a job sewing in a factory to help support her family. Horrified by the working conditions, Clara spoke up at a union meeting, encouraging her fellow workers to go on strike for better working conditions. This accessible biography celebrates the power of speaking up for what is right, no matter how poor or small you are.
---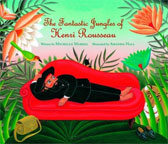 The Fantastic Jungles of Henri Rousseau
by Michelle Markel, Amanda Hall
Ages 5–9
Henri Rousseau was a 40-year old toll collector when he decided to pursue his dream of becoming an artist. Undeterred by his lack of training, Rousseau bought paint, brushes, and canvas and began painting the animals and jungles of distant lands that were so clear in his imagination. Despite the harsh critical judgment of his day, Rousseau continued creating the brilliant paintings that hang in museums all over the world today. Bright illustrations celebrate Rousseau's unique style.
---

Hush, Little Monster
by Denis Markell, Melissa Iwai
Ages 4–6
A monster father trying to calm his cranky child softly sings his own version of the classic lullaby. "Hush, Little Monster, don't you howl. Daddy's gonna give you a screeching owl." Both parents and children will enjoy this beautifully illustrated version of the classic song Hush, Little Baby.
---

Ten Little Caterpillars
by Bill Martin Jr., Lois Ehlert
Ages 2–6
This reissue with new illustrations provides a vibrant setting for the caterpillar counting rhyme, perfect for reading aloud. Each of the ten caterpillars is modeled on a different species, and a visual glossary describes their individual feeding habits and displays the butterflies they will become.
---

The Wonderful Things You Will Be: A Growing-Up Poem
by Emily Martin
Ages 3–7
This rhyming poem expresses all the loving and hopeful things parents feel for their children. The breadth of possibilities contained in even the tiniest of babies is the focus of this beautifully illustrated love letter from a parent to a child. Adults will love reading this book aloud to a beloved child.
---

Chef Roy Choi and the Street Food Remix
by Jacqueline Briggs Martin, June Jo Lee, Man One
Ages 5–12
Chef Roy Choi calls himself a "street cook," dedicated to bringing tasty home-style food to the "hungry" parts of Los Angeles. The food served in his Kogi food trucks is a mixture of the Korean flavors he grew up with and the many cultures that make up the streets of Los Angeles. This accessible biography written in hip hop style verse is a celebration of street food, street art, and the diverse people of Los Angeles.
---

Snowflake Bentley
text by Jacqueline Briggs Martin, illustrations by Mary Azarian
Caldecott Medal 1999


Ages 4–8
This biography of Wilson A. Bentley tells the story of a rural Vermont farmboy in the mid-19th century who became fascinated by snowflakes. Bentley developed a system of microphotography that allowed him to capture images of snowflakes and prove that no two snowflakes are identical. Azarian's woodcuts are perfect.
---

Scarecrow Magic
by Ed Masessa, Matt Myers
Ages 3–5
During the day Scarecrow hangs in the corn field, but as night falls and the full moon rises magic builds in the air. Scarecrow unties his ropes, leaves his clothes behind, and dives into a nearby pond, playing with his friends until the sun rises. The rhyming text balances the illustrations for just the right amount of scary thrills.
---

The McElderry Book of Mother Goose: Revered and Rare Rhymes
by Petra Mathers
Ages 6–10
More than 50 well-known and rarer Mother Goose rhymes are featured in this new collection, illustrated with charming watercolors. Little Miss Muffet and her tuffet make an appearance, as well as Gregory Griggs and his twenty-seven wigs, Terrence McDiddler the Three-Stringed Fiddler, Higgelty, Piggelty Pop, and many more.
---

The Christmas Tugboat: How the Rockefeller Center Christmas Tree Came to New York City
by George Matteson, Adele Ursone, James E. Ransome
Ages 4–8
This dramatic picture book tells the true story of the journey of the author, his wife, and their young daughter, who brought the giant Christmas tree to Rockefeller Center on a small tugboat. Striking paintings illustrate the excitement of the trip and the pride of the young girl riding with her father in the pilot house of the tug and helping to steer the boat into New York harbor.
---

Finding Winnie: The True Story of the World's Most Famous Bear
by Lindsay Mattick, Sophie Blackall
Caldecott Medal 2016
Ages 3–6
in 1914, a veterinarian named Harry Colebourn who rescued an orphaned black bear cub while on the way to join his army unit during WWI. He named the bear Winnie, after his home town of Winnipeg, and took her with him to England, where she became the mascot of the Second Canadian Infantry Brigade. Since Winnie couldn't come with him to France, Harry donated her to the London Zoo where a boy named Christopher Robin discovered her. Lindsay Mattick, the great granddaughter of Captain Colebourn, frames this story as a bedtime tale for her young son Cole.
---

There, There
by Sam McBratney, Ivan Bates
Ages 3–7
Young Hansie Bear suffers the normal pains of an active childhood, stumbling while trying to walk like a duck, getting sand in his eyes, and bumping his head. Father Bear is always ready to comfort with a big hug and a soothing murmur "there, there." When his father needs a bit of comfort himself, Hansie is ready with a hug and reassuring murmur of his own.
---

The Great Cake Mystery: Precious Ramotswe's Very First Case
by Alexander McCall Smith, Iain McIntosh
Ages 7–10
Precious Ramotswe, one of the nicest girls in Botswana, is a natural sleuth. When cakes and other treats go missing at her school, everyone suspects a plump boy, but he swears he's not guilty. Precious believes him and sets out to track down the real culprit. Striking woodcut illustrations present a colorful view of the African setting. (A Number 1 Ladies' Detective Agency Book for Young Readers)
---

Earmuffs for Everyone!: How Chester Greenwood Became Known as the Inventor of Earmuffs
by Meghan McCarthy
Ages 4–8
Chester Greenwood lived in Maine in the late 1800s. In the winter his ears were always cold, so Chester created a pair of ear protectors from beaver fur, cloth, and wire. In 1873, when Chester was 19, he received a patent for his design, and 10 years later his Chester Greenwood & Company factory was manufacturing Champion Ear Protectors and shipping them around the world. This first creation was just the beginning of Chester's successful career as an inventor and businessman.
---

Bunny Dreams
by Peter McCarty
Ages 4–8
In bunny dreams anything can happen. A bunny might find the perfect carrot, or learn the ABCs. A bunny might fly or count 1-2-3. This coy free-floating dream of a book is perfect for relaxing and drifting off to sleep and dreams.
---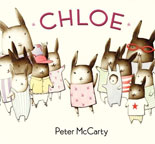 Chloe
by Peter McCarty
Ages 2–6
Chloe is the middle child in a large rabbit family with 10 older siblings and 10 younger ones. Chloe likes being in the middle and loves the nightly "family fun time" after dinner. But then her father brings home a television, and Chloe hates this new version of family fun. Luckily Chloe has a big imagination and recaptures her family's attention with the cardboard box and packing materials. (companion to Henry in Love)
---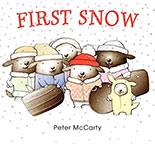 First Snow
by Peter McCarty
Ages 4–8
When Pedro travels to visit his cousins Sancho, Bella, Lola, Ava, and Maria, they are eager to introduce him to a new experience — snow. Pedro isn't too thrilled with snow, but as he learns to make snow angels, catch snowflakes on his tongue, and sled down the hill he gradually comes to enjoy the new experience. The rambunctious optimism of Pedro's cousins and their friends, all snugly bundled into winter coats and snow suits, contrasts with his inherent pessimism. Henry and Chloe (Henry in Love) make brief appearances.
---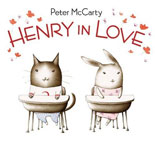 Henry In Love
by Peter McCarty
Ages 4–8
Henry, an open-hearted cat, is totally smitten with Chloe, a flirtatious rabbit. Pitch perfect observations of grade school romance are complemented by the beautiful illustrations.
---

The Monster Returns
by Peter McCarty
Ages 3–6
Jeremy is sure that the blue spiky monster he sent away with a one-way bus ticket is gone for good, but he receives a telephone call warning him that the monster is retiurning. Carrying a brown suitcase and wearing a pink hat, the monster approaches Jeremy's door. But Jeremy arms his friends and neighbors with fancy pens, and they create a horde of colorful monsters. (sequel to Jeremy Draws a Monster)
---
Adèle & Simon
by Barbara McClintock
Ages 4–8
Walking home from school in early 20th century Paris, Adèle's little brother Simon leaves something at every stop, encouraging the reader to search carefully through every beautifully detailed ink and watercolor illustration. A 1907 map of Paris on the endpapers traces the children's route.
---

Adèle & Simon in America
by Barbara McClintock
Ages 4–8
Visiting from Paris, Adèle and Simon take a train journey across early 20th century United States with their Aunt Cécile. The forgetful Simon loses one of his belongings at each stop prompting a visual hide-and-seek through the illustrations, which include historical figures. Sepia endpapers trace their route on an old railway map.
---

Emma and Julia Love Ballet
by Barbara McClintock
Ages 4–8
Two very different dancers mirror each other throughout the day. They stretch their muscles and practice ballet steps and look forward to an evening performance. Little ballet student Emma will be watching from the audience and professional ballerina Julia will be dancing on stage. After the performance Emma meets her idol in person backstage.
---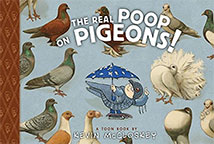 The Real Poop on Pigeons
by Kevin McCloskey
Ages 4–8
A park visitor declares his distaste for the pigeons he calls "rats with wings." A group of children dressed in pigeon costumes appears and shares a series of facts explaining why pigeons are wonderful birds. They once carried mail, they mate for life, they can fly faster than cars. This funny graphic novel is a TOON Book Level 1.
---
We Dig Worms!
by Kevin McCloskey
Ages 4–8
This underground tour to the world of earthworms illustrates the anatomy of an earthworm and explains the different ways that worms improve the earth. A group of children poses questions to focus attention on details. The illustrations painted on brown paper bags add an additional earthy touch. (Toon Book Level 1)
---

Make Way for Ducklings
by Robert McCloskey
Caldecott Medal 1942


Ages 3–8
Mr. and Mrs. Mallard are having trouble finding the perfect nest site until they reach Boston's Public Garden. Safe from foxes and turtles, and plenty of peanuts, this must be the perfect spot. The lovely humorous illustrations beautifully support the gentle minimal text.
---

Time of Wonder
by Robert McCloskey
Caldecott Medal 1958


Ages 4–8
Two sisters spend a glorious summer in Maine on Penobscot Bay, swimming, sailing, and experiencing a storm. The poetic language and beautiful illustrations capture this magical time.
---
In
by Nikki McClure
Ages 2–5
A small boy decides that this is the perfect day to stay inside with his toy giraffe. Snug in his pajamas he plays with blocks, reads his books, and enjoys hot popovers. He especially enjoys playing inside a wicker basket that his imagination transforms into a rocket ship. Finally he has had enough of in and rushes out, outside, outdoors in the dark where he climbs trees and hunts for owls with a flashlight until it is time to come in again. This beautifully illustrated book celebrates the power of imaginative play and open exploration.
---

Waiting for High Tide
by Nikki McClure
Ages 5–7
A small boy waits for high tide at the Salish Sea off Olympia, Washington. The boy longs to swim as he waits with his family for the water to creep back over the mud. His family begins building a raft of logs and the boy discovers a pair of sunglasses covered with barnacles. As the water rises, the family launches the raft and then swims back to the beach.
---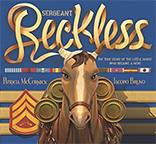 Sergeant Reckless: The True Story of the Little Horse Who Became a Hero
by Patricia McCormick, Iacopo Bruno
Ages 6–10
Abandoned during the Korean War, a starving former racehorse was found by a group of US Marines serving overseas. They wondered if the little mare could be trained to carry ammunition for a cannon nicknamed the "reckless" rifle. The clever little horse quickly bonded with her new owners, and would lick the cook every morning until he woke up and served her breakfast. Eager to serve, she was named Sergeant Reckless, and became the only animal to officially hold military rank in the United States.
---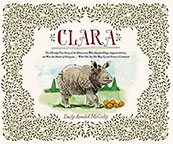 Clara: The (Mostly) True Story of the Rhinoceros who Dazzled Kings, Inspired Artists, and Won the Hearts of Everyone… While She Ate Her Way Up and Down a Continent
by Emily Arnold McCully
Ages 4–8
In 1741 Captain Douwemont Van der Meer transported a young rhinoceros he named Clara from India to his home in Leiden, Holland. Europeans had never seen a rhinoceros, and Van der Meer took Clara to Berlin, Rome, Paris, Vienna, and other cities where she amazed peasants and aristocrats alike. Poets, artists, and musicians created works in her honor, while Van der Meer struggled to raise enough money to keep Clara fed. She consumed 100 pounds of hay and 30 loaves of bread a day, and had a great fondness for oranges and beer. Every day Clara grows in size, necessitating ever larger wagons for transportation. Watercolor illustrations capture the affection between Clara and Van der Meer and the fashions of the time.
---

Mirette on the High Wire
by Emily Arnold McCully
Caldecott Medal 1993


Ages 4–8
Mirette helps "The Great Bellini" regain his confidence while he stays at her mother's boarding house and eventually the two are walking the high wire above the rooftops of the city. Rich illustrations capture 19th-century Paris.
---

Apple
by Nikki McClure
Ages 3–6
This simple book follows the life of an apple throughout the year. Each illustration, cut from a single sheet of black paper, is accompanied by a single word. Parents and children will enjoy figuring out how the author/illustrator creates positive and negative space.
---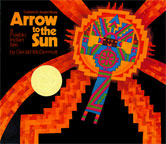 Arrow to the Sun:

A Pueblo Indian Tale
by Gerald McDermott
Caldecott Medal 1975


Ages 4–8
A young boy searches for his father and must prove he is worthy by passing through four ceremonial chambers in this retelling of the Pueblo Native American legend. The bold and colorful geometric illustrations echo Pueblo designs.
---
The Hinky-Pink
by Megan McDonald, Brian Floca
Ages 4–8
In this retelling of a story from 1940, the humble seamstress Anabel is about to realize her dream of sewing a ball gown for a princess when a Hinky-Pink appears to rob her of sleep so that she is too tired to sew. Floca's active and detailed watercolors bring long-ago Florence to life.
---

Shoe Dog
by Megan McDonald, Katherine Tillotson
Ages 4–8
Shoe Dog lives in an animal shelter and dreams of having a real home with lots of things to chew. He is adopted by a woman who has a closet full of his favorite thing to chew — shoes. She Dog cannot control his passion for chewing shoes, and is banished to the basement. Finally his owner solves the problem by bringing home a pair of slippers that brings out Shoe Dog's best behavior.
---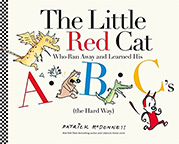 The Little Red Cat Who Ran Away and Learned His ABC's
by Patrick McDonnell
Ages 3–6
The little red cat heads out his front door and is soon pursued by a parade of animals (alligator, bear, chicken, dragon, etc.) while encountering obstacles (ice, jungle) in appropriate alphabetical order. The exciting wordless chase creates a guessing game for young readers.
---

The Monsters' Monster
by Patrick McDonnell
Ages 3–6
Three tiny monsters (Grouch, Grump, and the two-headed Gloom 'n' Doom) decided to end their continual quarrel about who is the meanest by building the monster of all monsters. The monster they create is big and scary looking, but also the happiest creature alive. He giggles and hugs the tiny monsters and transforms them in an entirely believable way.
---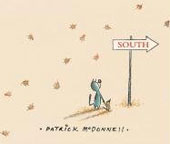 South
by Patrick McDonnell
Ages 3–7
In this nearly wordless book, Mooch the cat helps a small bird whose flock has flown south without him. This humorous and moving story explores crossing boundaries and saying goodbye.
---

Tek: The Modern Cave Boy
by Patrick McDonnell
Ages 4–8
Tek is a cave boy back in the time of the dinosaurs. Though his father hasn't discovered fire yet, he has invented the Internet, and Tek spends every waking hour glued to his phone, tablet, and his game box. Tek's obcession causes him to miss the Ice Age sledding and snowball fights the other children enjoy. He doesn't even know the names of the dinosaurs. Finally a volcanic erruption breaks him out of his digital isolation. The book is the size and shape of an iPad with a rapidly depleteing battery indicator, underscoring the tounge-in-cheek tech addiction message.
---

Thank You and Good Night
by Patrick McDonnell
Ages 3–6
Maggie arranges a surprise sleepover party for her beloved bunny Clement, inviting his friends Jean the elephant and Alan Alexander the bear. A thoughtful host, Maggie has prepared an appropriate snack for each animal and then reads them bedtime stories. This homage to classic bedtime stories is charming and comforting.
---

Even Monsters Need Haircuts
by Matthew McElligott
Ages 4–8
Just before midnight on the night of the full moon, our young hero sneaks out to his father's barbershop to give haircuts to his monster customers. The wide variety of monsters patiently wait their turns as the young barber deals with each monster's individual hair requirements. This delightful book is sure to become a bedtime favorite.
---

Mario Makes a Move
by Jill McElmurry
Ages 3–7
Mario loves to invent amazing moves, like the Super Looper, in his favorite tree. His family is suitably impressed, but his friend Isabelle, busy crafting complicated moves of her own, is not completely wowed. Young readers searching for their own one-of-a-kind talent will love this funny read-aloud.
---

Star Bright: A Christmas Story
by Alison McGhee, Peter H. Reynolds
Ages 4–8
The newest angel wants to participate in the celebration of a very special baby due to arrive in late December, but can't decide on the perfect gift. Then she notices three men riding on camels through the desert who look lost. The angel tumbles down, gathering light on the way, until she is in the perfect spot to guide the travelers to their destination.
---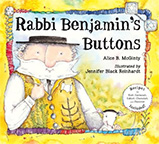 Rabbi Benjamin's Buttons
by Alice B. McGinty, Jennifer Black Reinhardt
Ages 4–8
Rabbi Benjamin's congregation presents him with a token of their love and esteem one Rosh Hashanah: a gold vest held together with shiny silver buttons to wear on holidays. During Sukkot, Chanukah, and Passover, Rabbi Benjamin enjoys the many treats prepared by his friends, but unfortunately his vest is not expandable, and one by one the silver buttons pop off. During the summer the rabbi gets plenty of exercise helping his friends, who gift him with a new vest the next Rosh Hashanah. Cheerful watercolor illustrations celebrate the portly rabbi and his diverse congregation.
---

Lulu and the Duck in the Park
by Hilary McKay, Priscilla Lamont
Ages 7–9
Lulu loves all animals, so when she finds a duck egg in the park she takes it to school for safekeeping, even though pets are strictly not allowed. But it's only an egg, not an animal, so Lulu figures she's not really breaking the rules. Lulu quietly quacks to the egg so it won't get lonely. This engaging book is the first in a series for young readers.
---

One Times Square: A Century of Change at the Crossroads of the World
by Joe McKendry
Ages 6–10
One Times Square, the former headquarters of the New York Times and the skyscraper that gave the square its name in 1904, still stands at the intersection of Broadway and Seventh Avenue in New York City. This fascinating book chronicles the change from livery stables and coal yards to a theater district and advertising mecca with beautifully detailed illustrations of buildings, street scenes, and billboards.
---

Counting Lions
by Virginia McKenna, Katie Cotton, Stephen Walton
All ages
Charcoal portraits of endangered animals are paired with poems by Katie Cotton that describe the animal's behavior and physical attributes. Though presented in the traditional counting book format — one lion through ten zebras — this beautiful book will appeal to animal fans of all ages. A forward written by actress and wildlife campaigner Virginia McKenna urges readers to join the fight to protect endangered animals and explains that a 5% book royalty will be donated to her Born Free foundation.
---

Let's Clap, Jump, Sing & Shout; Dance, Spin & Turn It Out!: Games, Songs, and Stories from an African American Childhood
by Patricia C. McKissack, Brian Pinkney
Ages 5–18
This songbook, storybook, and poetry collection is meant to be shared. Hand clap, jump rope, and circle games encourage partner and group movement. Songs are meant to be sung as a family, while the stories and poems beg to be read aloud. Parents and grandparents will love sharing this book with the children in their lives, while older children will appreciate the comprehensive recording of oral traditions.
---

Ol' Clip-Clop: A Ghost Story
by Patricia C. McKissack, Eric Velasquez
Ages 6–9
The cold-hearted John Leep eagerly anticipates evicting the widow Mayes for not paying her rent. When she comes up with the payment, he hides one of the coins under his boot, and evicts her for being short. Mounting his horse for the ride home through the dark forest, he hears the "clip, clop" of a ghostly rider pursuing him. This ghostly tale will delight lovers of scary stories.
---

Never Forgotten
by Patricia C. McKissack, Leo Dillon, Diane Dillon
All Ages
This powerful book tells the story of Mustafa, a small boy from Mali who is abducted and sold into slavery. The free verse narration follows Mustafa across the ocean to South Carolina, where he becomes a gifted blacksmith like his father. Dramatic paintings by Leo and Diane Dillon intensify the grief and longing for freedom, reminding children of the importance of family and remembering the past.
---
I'm Big!
by Kate & Jim McMullan
Ages 4–8
The big purple sauropod sets out to find his herd when he discovers he's been left behind. Along the way he meets other dinosaurs of all shapes and sizes armed with dangerous claws, fangs, and spikes. Realizing that his size is also a weapon, the sauropod uses it to scare his enemies away. The colorful illustrations and rhyming slangy text make this story of discovering your own strengths a fun adventure.
---
Hang Glider and Mud Mask
by Brian McMullen, Jason Jagel
Ages 4–8
This unusual book has two covers and two stories that meet in the middle. The Mud Mask story follows a girl in the middle of a facial who climbs up stairs and ladders to reach the flying legs under the yellow hang glider. The Hang Glider story follows the boys downward flight to meet the girl. This engaging book can be read from either direction.
---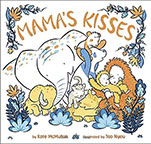 Mama's Kisses
by Kate McMullan, Tao Nyeu
Ages 3–5
It's getting late but the little panda, monkey, elephant, and leopard are in the middle of a game of pirates and have no intention of going to bed. When their mothers come searching for them, they disguise themselves as birds and flowers. But the mothers are determined and persuasive, promising kisses and cuddles in comforting rhymes.
---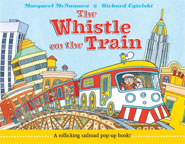 The Whistle on the Train
by Margaret McNamara, Richard Egielski
Ages 2–6
In this colorful pop-up book, the song "Wheels on a Bus" is adapted for a train journey. The lyrics are easy to learn, so young children can "read" this book over to themselves as they enjoy the sturdy pop-up features.
---

I Promise
by David McPhail
Ages 4–8
When his mother promises to sing to him later, Baby Bear asks, "What's a promise?" Mother Bear promises to feed him, play with him, and to do everything she can to keep him safe. Baby Bear asks if she can promise he will always be happy, and she explains that his happiness depends mostly on him, but she promises to do everything she can to help. And she can promise to always love him, no matter what.
---

Pig Pig Meets the Lion
by David McPhail
Ages 4–7
A lion escapes from the zoo, climbs through Pig Pig's window, and takes a rest on his bed. Pig Pig's mother reads about the escape in the newspaper, but doesn't notice as the lion chases Pig Pig through the house. Funny illustrations accompany the prepositions introduced during the wild chase.
---

Mango, Abuela, and Me
by Meg Medina, Angela Dominguez
Ages 5–8
Mia can't wait for her abuela (grandmother) to come and live with them in their small city apartment. Abuela has always been far away in a sunny tropical place. But even though the two share a room Abuela still seems far away since Mia doesn't speak Spanish and Abuela has only a few English words. With the help of Mango, a bilingual parrot, the two are soon happily teaching each other new words.
---

Elsa and the Night
by Jons Mellgren
Ages 3–8
Elsa, a badger, finds a strange blob in her apartment and puts it into a cake tin in her basement. The blob is Night, and Elsa's town grows hot without the cooling darkness. Everyone grows more and more tired. Finally Elsa releases Night, who befriends the lonely badger. This strange little story is beautifully illustrated.
---

How Many Jelly Beans?
by Andrea Menotti, Yancey Labat
Ages 4–8
Emma and Aiden can't decide how many jelly beans is enough. Is 10 too few? Is 1000 too many? When asked how many they want, the two begin an escalating boasting match of how many they need. The bright jelly beans illustrate the numbers: 500 cover a coffee table, 1000 appear on the days of a calendar year, one million take up a 10-panel foldout finale. This large-format book provides an engaging context for a child-friendly exploration of large numbers.
---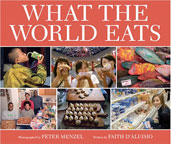 What the World Eats
by Peter Menzel, Faith D'Aluisio
All Ages
Twenty-five families in 21 countries around the world are photographed surrounded by a week's worth of food. The multi-generational portraits provide an avenue for exploring each family's hopes and struggles while gently raising issues about global food supplies. Family recipes, maps, and county information reveal provocative statistics. (adapted from Hungry Planet)
---

Gordon and Tapir
by Sebastian Meschenmoser
Ages 4–8
Gordon the penguin likes everything just so. Tapir is spontaneous and creative. One day Gordon discovers that the toilet paper is missing from the bathroom and finds that Tapir has decorated his room with paper streamers and made himself a paper turban. They fight and Gordon moves out, but the two remain best friends despite their different natures.
---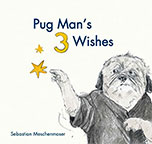 Pug Man's 3 Wishes
by Sebastian Meschenmoser
Ages 4–8
Pug Man is never very cheerful, but this morning nothing is going right and he is grumpier than usual. A magical fairy appears and offers him three wishes. Though startled by the fairy's offer, Pug Man accepts. His choice of wishes will surprise and delight young readers.
---

Waiting for Winter
by Sebastian Meschenmoser
Ages 5–8
Squirrel, Hedgehog, and Bear scurry around searching for the first snowflake of winter, which they are told will be white and wet and soft and cold. They each find a candidate for the snowflake: a toothbrush, a tin can, and an old white sock. The wonderfully detailed and silly illustrations are sure to enchant readers.
---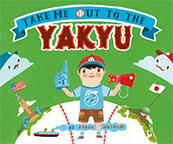 Take Me Out to the Yakyu
by Aaron Meshon
Ages 2–6
The little boy in this story enjoys going to baseball games in America with his Pop Pop and in Japan with his Ji Ji. Though many things are different — he snacks on hot dogs and peanuts in one country and soba noodles and edamame in another — the love of the game and spending time with a beloved grandfather is the same.
---

Grumpy Pants
by Claire Messer
Ages 4–8
Penguin is having a very grumpy day. Arriving home through a rain storm, he takes off his "grumpy coat" and "grumpy boots" all the way down to his "grumpy underpants." Soothed by a hot bath he puts on his pajamas and settles down to read a book. This endearing story of self soothing is empowering for young readers struggling with their own grumpy days.
---

Over and Under the Pond
by Kate Messner, Christopher Silas Neal
Ages 5–8
A boy and his mother observe above and below their rowboat as they row across a mountain pond: moose, turtles, and osprey above; minnows, beavers, and tadpoles below.
---

Over and Under the Snow
by Kate Messner, Christopher Silas Neal
Ages 4–8
A small girl and her father cross-country ski through a snowy forest, spotting the occasional animal. Cutaway illustrations reveal other creatures sheltered under the snow in this evocative and elegant book.
---

Color Magic Sticker Play Book
by Metropolitan Museum of Art
Ages 4–8
More than 2000 red, blue, and yellow translucent stickers in various geometric shapes encourage children to experiment with color and the shapes that make up the world around us. The reusable stickers easily peel away from the laminated pages, making it simple to create new masterpieces.
---

New Shoes
by Susan Lynn Meyer, Eric Velasquez
Ages 6–9
Ella Mae is thrilled when her cousin Charlotte's hand-me-down shoes are too small and she can finally get brand new shoes. But in the 1950s South, Ella Mae is not allowed to try on the shoes at Johnson's General Store because she is black. So Ella Mae and her cousin Charlotte decide to open their own store. Using soap and polish they make hand-me-down shoes look new again and encourage their customers to try on as many pairs as they like. The illustrations portray the 1950s South with accuracy and allow the two girls to shine in their pastel dresses.
---

Bear in the Air
by Susan Meyers, Amy Bates
Ages 4–8
When a beloved teddy bear is lost by the child who loves him, the stuffed animal takes an amazing journey to get back home again. The bear is transported by fish, gulls, sailors, and the wind until he eventually reaches home again. Beautiful illustrations of a pre-WWII seaside resort town accompany the rhythmic verse documenting the journey.
---

Santa Duck
by David Milgrim
Ages 4–8
On Christmas Eve Nicholas Duck rushes outside to find Santa and tell him what he wants for Christmas. He is surprised to find a red coat and official Santa hat on his doorstep. Delighted with his new outfit, Nicholas is soon overwhelmed by the crowds of animals who ask him to deliver their wish lists to Santa. When Nicholas flees from the crowd, he runs into Santa and delivers all the messages, but forgets to relay his own desires. At first frustrated, Nicholas soon realizes that helping others has made him happier that any gift possibly could. The bright illustrations, funny character, and simple message will charm young readers.
---

Santa Duck and His Merry Helpers
by David Milgrim
Ages 4–8
Nicholas Duck is overjoyed that it is again time to help collect wish lists for Santa. Unfortunately his three younger siblings pester him to let them help, trying to bribe him with fantastic presents. When he reminds them that Christmas is about love and goodwill, not just presents, the little ducks convince him that means he must let them help after all. The goofy humor and cartoon-like illustrations will appeal to both younger and older siblings. (follow-up to Santa Duck)
---

The Egg Tree
by Katherine Milhous
Caldecott Medal 1951


Ages 5–8
Katy discovers her grandmother's old hand-painted eggs while on a family Easter egg hunt. Grandmom had painted the eggs when she was a little girl, and shows Katy how to hang them on the special egg tree. The beautiful Pennsylvania-Dutch inspired illustrations will inspire readers to paint eggs of their own.
---

My First Ghost
by Maggie Miller, Michael Leviton, Stephanie Buscema
Ages 4–7
This how-to book comes with a free ghost and is full of advice for novice ghost owners, teaching kids everything they need to know to keep their new pet ghost healthy and happy. Delightful illustrations accompany the humorous tips on feeding, grooming, and the best games to play with your ghost.
---

Sharing the Bread: An Old-Fashioned Thanksgiving Story
by Pat Zietlow Miller, Pat Zietlow Miller
Ages 4–8
This 19th century family works together to prepare Thanksgiving dinner. Grandpa cooks the berries, Sister kneads the bread, Auntie mashes the potatoes, all to the direction of the middle child. The joy of working together toward a common and delicious goal permeates this Thanksgiving story.
---

Sophie's Squash
by Pat Zietlow Miller, Anne Wilsdorf
Ages 5–7
When Sophie picks out a butternut squash at the farmer's market, her parents assume they will be eating the squash for dinner. But Sophie names the squash Bernice and adopts it as her new best friend. Despite hints that Bernice is beginning to decompose, Sophie takes the squash to the library and plays with Bernice on the lawn. When Bernice grows soft in the fall, Sophie plants her in the garden and awaits her children in the spring.
---

The Nora Notebooks, Book 1: The Trouble with Ants
by Claudia Mills, Katie Kath
Ages 7–10
Nora Alpers is obsessed with facts, especially facts about ants. In her new notebook she records all sorts of observations about ants, determined to earn the world record for the youngest published author in a science journal. Her parents, both scientists, support her by providing an ant farm, but the girls in her class aren't interested. So Nora sits at the boys' table at lunch, sharing her passion with her friends Mason and Brody. Nora's love for her unusual pets will resonate with children who share an interest in something out of the ordinary.
---

The Tea Party in the Woods
by Akiko Miyakoshi
Ages 3–7
When Kikko realizes her father has forgotten the pie for her grandmother, she sets off through the snowy woods with the pie. Spotting her father far ahead, she follows him to a house she has never seen before, only to discover she has been following a bear wearing a coat and hat. Peering through the windows, she sees a lamb carrying a purse, who kindly invites her inside for a tea party with a friendly group of animals.
---

The Way Home in the Night
by Akiko Miyakoshi
Ages 3–7
A mother rabbit carries her baby home through the dark quiet streets. The baby bunny explains that most of their neighbors are already home, and enjoys figuring out what they are doing by smelling (baking a pie) and listening (talking on the phone). At home the father rabbit tucks the bunny into bed, still wondering what the neighbors are doing.
---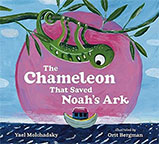 The Chameleon that Saved Noah's Ark
by Yael Molchadsky, Orit Bergman
Ages 5–8
Noah and his family work hard to keep all the animals on the ark happy and well-fed, but the two chameleons are very picky eaters and refuse every offering. Noah begins carrying one of the chameleons around on his shoulder, hoping to find something it will eat. While inspecting some food stores that have become infested with worms the chameleon flicks out her sticky tongue and happily eats the worms, solving both of Noah's problems at once.
---

Monkey with a Tool Belt and the Maniac Muffins
by Chris Monroe
Ages 4–8
Chico Bon Bon, the monkey with a tool belt, is trying to cope with the kitchen disasters created by his friend Clark the elephant. Clark's secret ingredient muffins results in a explosion that shoots muffins all ofer the room, and then a giant pancake crushes the kitchen table. Luckily Chico Bon Bon has the engineering talent to deal with every crisis in this very funny 4th in the series.
---
Sneaky Sheep
by Chris Monroe
Ages 4–8
Rocky and Blossom are sheep troublemakers with poor decision making skills. They skateboard without helmets, sunbathe on the train tracks, and run with the bulls. Murphy the sheepdog doesn't trust them a bit, and watches extra carefully when he overhears them planning to visit the forbidden high meadow where a wolf is known to visit. But the sneaky sheep escape and soon find themselves facing a hungry wolf. Both the text and the illustrations celebrate the disobedience of these two endearing rebels.
---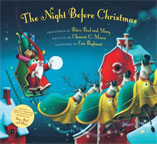 The Night Before Christmas
by Clement C. Moore, Eric Puybaret
Ages 5–8
The classic poem is illustrated with brilliantly colored and lavishly detailed paintings, so rich that the appear almost 3-D. The bundled CD includes the tale set to music by Noel Paul Stookey, a reading of the poem by Mary Travis with a special score composed by Peter Yarrow, plus the classic song "A' Soalin" performed by Peter, Paul, and Mary.
---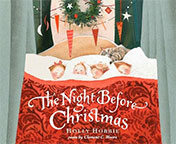 The Night Before Christmas
by Clement Clarke Moore, Holly Hobbie
Ages 3–6
Clement C. Moore's timeless poem is given a fresh perspective through the eyes of a curious toddler and the family cat in this beautifully illustrated picture book. In bed with his three older siblings, a toddler wakes up to see a flying sleigh through the window. He creeps downstairs and peeks around a chair to watch St. Nicholas at work.
---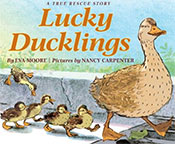 Lucky Ducklings
by Eva Moore, Nancy Carpenter
Ages 5–7
Five little ducklings follow their mother as she crosses a storm drain, falling one by one below the street. A woman calls the fire department, who are unable to pry up the grating to rescue the ducklings. A truck driver pulls in off and the little ducks are reunited with their mother. Charming illustrations accompany the lively text of this retelling of a true duckling rescue that took place in 2000 on Long Island.
---

Captain Cat
by Inga Moore
Ages 3–7
Captain Cat sails the sea with a ship full of beloved cats in search of his heart's desire. He discovers a remote island ruled by a child Queen and overrun by rats. The Queen offers to trade the Captain untold treasure for his rat-hunting cats.
---

Niño Wrestles the World
by Yuyi Morales
Ages 4–8
Using the styling of Mexican professional wrestling, this high-energy picture book presents Niño, clad in mask and red underpants and ready to defeat all comers. Niño defeats the Guanajuato Mummy with a Tickle Tackle, takes down the Weeping Woman with decoy dolls, but meets his match with Las Hemanitas—his little sisters just woken up from their name. Comic book style exclamations and bold illustrations add to the fun.
---

Viva Frida
by Yuyi Morales
Ages 4–8
This homage to artist Frida Kahlo celebrates a woman who lives to love and to create art. A hand-made Frida doll created by Morales is photographed in various scenes with her pet monkey and husband Diego Rivera. Simple text in English and Spanish reveals a new word or phrase with each turn of the page.
---

Come See the Earth Turn
by Lori Mortensen, Raul Allen
Ages 6–10
Léon Foucault was a sickly child, a poor student, and a drop-out from medical school—not a natural candidate for fame. Drawn to science as an adult, Foucault began to perform experiments. Though scientists at the time were certain that the Earth did spin around an axis, no one could prove it until Foucault made an incredible discovery that demonstrated the Earth's rotation—Foucault's Pendulum. This accessible account of Foucault's discovery is beautifully illustrated with Raul Allen's dramatic paintings.
---

The Funny Little Woman
text by Arlene Mosel, illustrations by Blair Lent
Caldecott Medal 1973


Ages 3–8
Long ago in old Japan a funny little woman with a silly little laugh chases a runaway dumpling and soon finds herself cooking dumplings for a band of demons. Her infectious laugh helps her charm the demons into releasing her.
---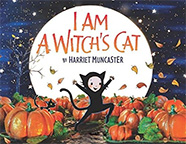 I Am a Witch's Cat
by Harriet Muncaster
Ages 4–8
The little girl narrating this imaginative book believes her mother is a good witch and she is the witch's special black cat. Together the two mix magic potions, grow magical plants, and plan broomstick rides under the full moon.
---

Ashanti to Zulu:

African Traditions
text by Margaret Musgrove, illustrations by Leo & Diane Dillon
Caldecott Medal 1978


Ages 6–12
Incredible pictures illustrate the traditions and customs of 26 African tribes beginning with letters from A to Z. Most paintings include a man, woman, child, artifact, living quarters, and a local animal.
---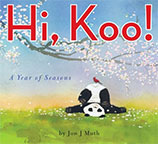 Hi, Koo!: A Year of Seasons
by Jon J Muth
Ages 4–8
The twenty-six haiku in this charming book celebrating the four seasons each contain a word that begins with a consecutive letter of the alphabet. Young readers will enjoy spending time with the adorable panda cub while searching for the next letter of the alphabet.
---

Zen Ghosts
by Jon J. Muth
Ages 4–8
Stillwater the panda dresses as a ghost to join Addy, Michael, and Karl for Halloween. After trick-or-treating they travel to Stillwater's house where another panda joins them and shares a ghost story based on a Zen koan that questions the nature of identity. Beautiful watercolors illustrate this haunting and magical tale.
---
Zen Socks
by Jon J Muth
Ages 4–8
Leo and Molly are new to the neighborhood, and delighted to meet Stillwater, the giant panda who just may be a Zen master. When Molly shares her eagerness to become a famous ballerina, Stillwater tells "The Taste of Banzo's Sword," a humorous tale that emphasizes the importance of patience. Later they discuss selfishness and then discover hundreds of starfish stranded on the beach, realizing that even small acts of kindness make a difference.
---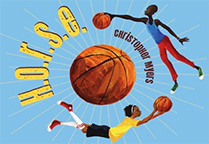 H.O.R.S.E.: A Game of Basketball and Imagination
by Christopher Myers
Ages 5–up
A pair of competitive and creative boys play a game of H.O.R.S.E., challenging each other to ever more improbable shots. Shooting a layup from the other side of the court while standing on one foot with your eyes closed is just the warm-up in this energetic read-aloud.
---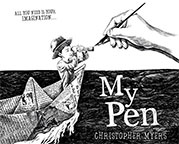 My Pen
by Christopher Myers
Ages 3–5
Aurelio, the fedora-wearing narrator, explains all the wonderful things his pen can do. Even though he often feels small, his pen can create anything he can imagine. Richly detailed black-and-white illustrations portray fanciful scenes (an elephant in a teacup) as well as realistic worries about war. The variety of faces (male, female, young, old, dark, light) will inspire all young artists.
---

Frederick Douglass: The Lion Who Wrote History
by Walter Dean Myers, Floyd Cooper
Ages 4–8
This accessible biography draws on Frederick Douglass's own words to present his story from a slave child who dared to dream of a life of freedom, his determination to become educated, his leading role in the abolitionist movement, and his life as a writer, speaker, and social reformer.
---

The Life of Ty: Penguin Problems
by Lauren Myracle, Jed Henry
Ages 6–9
Ty (7), the little brother of Winnie Years, stars in the first of a new series. Ty's first person narration reveals his uncertainties when his mother is preoccupied with his new baby sister and his best friend is diagnosed with leukemia. Ty's enthusiasm often gets away from him as he battles the family cat with a Dustbuster and smuggles a baby penguin out of the aquarium. This early chapter book is a winner.
---
Blue Sky White Stars
by Sarvinder Naberhaus, Kadir Nelson
Ages 4–8
Simple verses paired with rich illustrations featuring diverse people celebrate iconic American imagery, including the Statue of Liberty, a Civil Rights march, a spacecraft at Cape Canaveral.
---

Mama Miti
by Donna Jo Napoli, Kadir Nelson
Ages 4–8
This story of Wangari Maathai's mission to plant trees in Kenya is told more as a folk tale than a biography. Wangari Wangari becomes known as Mama Miti (Mother of Trees) because she knows her trees, and recommends the perfect one to plant to meet the needs of those she meets. Some trees produce edible berries, some make good firewood, some have roots that purify the water. Beautiful and colorful illustrations bring Mama Miti and her community to life.
---

Something Big
by Sylvie Neeman, Ingrid Godon
Ages 4–8
A small child is frustrated because he wants to do something big, even though he is still small. His father tries to figure out what he means. Big like a mountain? Big like an elephant? The boy can't explain exactly what he longs for. The two take a walk on the beach, where something surprising and big enough to satisfy the boy happens.
---

Baby Bear
by Kadir Nelson
Ages 4–8
Baby Bear is lost and can't find his way home in this gentle bedtime story. Other animals he meets in the forest offer reassurance and wise advice, telling the cub to trust himself and keep walking, listen to his heart and he will find his way home. The simple message of the kindness of strangers and the affirmation of Baby Bear's ability to make the journey alone make this book special, as Baby Bear finds his courage along with the comfort that he is loved and never alone.
---

Nelson Mandela
by Kadir Nelson
Ages 4–8
This picture book biography tells the story of Nelson Mandela in stunning illustrations and verse. Beginning with his tribal childhood, we follow Mandela's journey to a school far away from his village after his father died when he was nine. In Johannesburg, he saw fellow Africans who were poor and powerless. When the government began to segregate people by the color of their skin, Mandela spoke out against the law and worked to make his country one that belonged to all South Africans. This beautiful book presents the cruel apartheid segregation in daily life along with hope for the future.
---

Snook Alone
by Marilyn Nelson, Timothy Basil Ering
Ages 4–8
Snook, a rat terrier, is the beloved companion of Abba Jacob, a monk who lives alone in a hermitage on a far away island. When the two are separated by a storm, Snook must fend for himself, waiting faithfully for his master to return. Poet Marilyn Nelson's graceful text and Timothy Basil Ering's realistic illustrations beautifully support this simple story of friendship lost and found again.
---

Sam, Bangs & Moonshine
by Evaline Ness
Caldecott Medal 1967


Ages 4–8
Samantha is a fisherman's daughter who lives in her imagination. Everyone calls her fantasies moonshine. One day she sends her friend Thomas and her cat Bangs out to sea to look for her escaped pet kangaroo. A sudden storm makes Sam rethink the line between moonshine and reality.
---

Wow! Ocean!
by Robert Neubecker
Ages 3–8
In this exuberant book, Izzy and her family visit the beach. Izzy and her sister explore tide pools, scuba dive among rays, whales, and sharks, and have a tea party on the ocean floor next to a sunken pirate ship in a perfect blend of fact and fancy. Izzy's previous adventures include Wow! City!, Wow! America!, and Wow! School!.
---

Bow-Wow's Nightmare Neighbors
by Mark Newgarden, Megan Montague Cash
Ages 4–8
Bow-Wow's neighbors across the street steal his comfy green bed, and the dog is determined to get it back. Inside the haunted mansion he encounters a trick floorboard, a painting with moving eyes, ghost cats, and other classic haunted house themes. Children and adults alike will enjoy creating a narrative for this wordless book that ends on a happy note.
---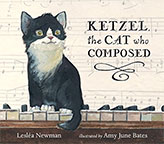 Ketzel, the Cat Who Composed
by Leslea Newman, Amy June Bates
Ages 5–8
Moshe Cotel, a young composer, lives alone in a busy city waiting for inspiration. One day he rescues a small kitten from the street, names her Ketzel, and brings her home. Moshe would like to enter a competition sponsored by the Paris New Music Review, but he can't imagine how to create a composition of 60 seconds or less. Then Ketzel creeps across the piano keys, playing a 21 second piece that Moshe writes down and submits, giving Ketzel full credit. "Piece for Piano: Four Paws" wins an honorable mention the two attend a performance.
---

That's How!
by Christoph Niemann
Ages 4–7
Two children ponder the mysterious workings of machines in this hilarious parody of books explaining how things work. Cutaway cartoon illustrations reveal that a steamroller is powered by two bears that roll over as they are tickled by a parrot, and that an ocean freighter is powered by an octopus twirling a whale by the tail. Young readers will delight in this tongue-in-cheek picture book.
---
The Pet Dragon:

A Story about Adventure, Friendship, and Chinese Characters
by Christoph Niemann
Ages 4–8
As the spunky Lin searches for her runaway pet dragon, young readers are introduced to 33 Chinese characters. The bold black characters are ingeniously integrated into Niemann's vivid computer graphics.
---
The Potato King
by Christoph Niemann
Ages 3–7
Frederick the Great, King of Prussia, tried to introduce the potato, recently discovered in South America, to his subjects. Potatoes are cheap to grow and healthy, but the suspicious Prussians are leery of the unfamiliar food. So King Fritz puts his guards to work pretending to protect the potato field, and his curious subjects set out to steal the very food they had rejected. Creative potato prints illustrate this funny tale.
---

Words
by Christoph Niemann
Ages 4–8
Over 300 words are presented with illustrations drawn with bold black lines: opposites, compound words, simple directions, and a few like lollygag added for fun. This engaging exploration of words and language encourages multiple readings.
---
Life in the Ocean: The Story of Oceanographer Sylvia Earle
by Claire A. Nivola
Ages 4–8
Young Sylvia Earle fell in love with the ocean when her family moved to the Gulf Coast. Beautiful paintings illustrate the incredible underwater world she discovered while scuba diving. This accessible biography of one of the first women in the world of oceanography deftly portrays the transformation of a child's curiosity into a passion to learn about and protect the ocean.
---

Orani: My Father's Village
by Claire A. Nivola
Ages 4–8
The author looks back with loving memory to her summers spent in Orani, the small Sardinian village her father grew up in. In Orani, Claire runs freely through the cobblestone streets with her cousins, later feasting in the homes of her aunts and uncles. Her cousins quiz her about life in America, while Claire revels in the simple and unexpected pleasures of village daily life.
---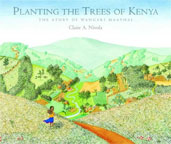 Planting the Trees of Kenya
by Claire A. Nivola
Ages 5–9
This biography of Wangari Maathai, winner of the 2004 Nobel Peace Prize, encourages the belief that anyone can change the course of history.
---

Star Child
by Claire A. Nivola
Ages 5–8
The Star Child, an invisible and timeless flame of vapor, longs to visit the distant planet Earth. His elders explain that to visit Earth, the Star Child will need to be born as a human child, and experience the joys and sorrows of humans. The Star Child appears on Earth as a baby, grows into a boy and then a man, has a family of his own, and finally sits alone on a park bench as an old man, preparing to leave his life on Earth and return to life as a star.
---
Hunters of the Great Forest
by Dennis Nolan
Ages 3–7
Seven tiny hunters set off from their village on an adventure. The grandmother totes a spear, a girl carries a map, and others carry a spyglass and other gear. The wordless book captures their narrow escape from a hungry blue jay, a giant toad, and a terrifying chipmunk before they finally capture a huge marshmallow to take home to their village.
---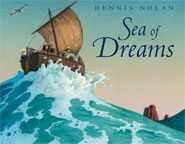 Sea of Dreams
by Dennis Nolan
Ages 3–7
This wordless book begins with a young girl building a sand castle at the beach. As the girl leaves and the waves threaten the castle, a light comes in one of the small windows. The tiny family escapes in a boat where they are rescued by tiny mermaids and delicate seahorses. The next day the young girl returns to the beach and builds a new sand castle, beginning the cycle all over again.
---

Christmas in the Time of Billy Lee
by Jerdine Nolen, Barry Moser
Ages 4–8
Ellie makes three Christmas wishes: that her parents will believe her friend Billy Lee is real and not imaginary, that it will snow again in Septon's Creek, and that her worried parents will be happy again. Her Grandma encourages Ellie to believe in the magic of Christmas and wonderful things begin to happen: broken tree lights begin to work, it snows for the first time in 50 years, and Mama and Daddy are all smiles with some happy news. Ellie is sure it all has something to do with Billy Lee.
---

Swing Café
by Carl Norac, Rebecca Dautremer
Ages 4–8
A Brazilian cricket named Zaz dreams of singing in New York City. She rides a woman's fruit decorated hat from Brazil to Manhattan, where she meets a local fly named Buster who takes Zaz to the Swing Café on East 54th Street where they dance to glorious swing music. The accompanying CD includes a narration of the book with snippets of 1930s jazz songs, plus seven complete classic swing songs by Ella Fitzgerald, Duke Ellington, Cab Calloway, Fats Waller, and more.
---

Georgia in Hawaii: When Georgia O'Keeffe Painted What She Pleased
by Amy Novesky, Yuyi Morales
Ages 6–9
Georgia O'Keeffe was sent to Hawaii by the Hawaiian Pineapple Company to paint two works that celebrated the wonders of pineapple juice. Georgia fell in love with Hawaii and returned home to New York City with more than a dozen paintings. Unfortunately, not one painting featured a pineapple, to the dismay of the Hawaiian Pineapple Company.
---

Do Not Build a Frankenstein!
by Neil Numberman
Ages 4–8
The new boy in town tells his new peers that though it may sound like great fun, having a monster of your very own is really a lot of trouble. The colorful watercolor illustrations deliver the visual punch line to the funny text. (Numberman did the illustrations for the graphic novel Joey Fly, Private Eye.)
---

Bunny Days
by Tao Nyeu
Ages 3–6
The six adorable bunnies in this hilarious picture book are unintended victims of their busy but unobservant neighbors, Mr. and Mrs. Goat. Luckily the Bear is always there to put things right, though sometimes the cure is as bad as the accident. The charming illustrations and prim narration are perfect foils for the silly stories that will keep the audience giggling throughout.
---
Twelve Kinds of Ice
by Ellen Bryan Obed, Barbara McClintock
Ages 6–9
This homage to rural winter begins with the first ice, the thin sheet on a pail that breaks with a mere touch, to the ice strong enough to form a neighborhood hockey rink. The nostalgic illustrations highlight the old-fashioned charm of family and friends celebrating the joys of winter.
---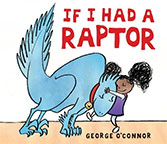 If I Had a Raptor
by George O'Connor
Ages 3–7
The little girl narrating this funny book dreams of bringing home a tiny fluffy raptor. She is sure it will be the perfect playmate and love to curl up in her lap. With the charming obliviousness of the young, the child doesn't seem to notice as Dinah grows too big for her lap. The joys and trials of pet ownership come through loud and clear in this engaging read-aloud.
---

Fancy Nancy's Favorite Fancy Words: From Accessories to Zany
by Jane O'Connor
Ages 4–9
Fancy Nancy makes vocabulary glamorous in this A-Z list of useful words used and illustrated in classic Fancy Nancy style.
---

While You Were Napping
by Jenny Offill, Barry Blitt
Ages 4–8
A small boy's mother promises her son that he won't miss a thing while he is napping, but his older sister tells a different story. According to her, the Best Party Ever took place right outside his window while he was napping. Since none of the other neighborhood kids had to nap, they all came over along with the robots and the astronauts. This hilarious read aloud perfectly captures the taunting of older siblings and the gullibility of younger ones.
---
Little Treasures: Endearments from Around the World
by Jacqueline Ogburn, Chris Raschka
Ages 4–8
This joyful book celebrates family love with endearments from all over the world. Children will enjoy learning the different expressions — ducky, little mischievous pea, nugget of gold — presented both in English and the original language (with phonetic pronunciations).
---

A Family Is a Family Is a Family
by Sara O'Leary, Qin Leng
Ages 4–7
When the topic of what makes a family special comes up in her classroom, our narrator is nervous because her family is different. But as each child shares what makes his or her family special she realizes that difference is an essential quality of what makes a family special. Family types include joint-custody, blended, multiracial, adoptive, gay couples, foster children, grandparents instead of parents. This matter-of-fact celebration of the diversity of modern life is a reassuring reminder that every family is special.
---

The Mighty Lalouche
by Matthew Olshan, Sophie Blackall
Ages 4–8
A humble postman named Lalouche lived in 19th century Paris. Lalouche was small, but quick with nimble hands and feet. When his job was replaced with an electric auto-car, Lalouche took a job as a sparring partner at the Bastille Boxing Club to support himself and his pet finch Genevieve. Larger boxers at first laughed at Lalouche, but soon respected his wiry strength.
---

A Voyage in the Clouds: The (Mostly) True Story of the First International Flight by Balloon in 1785
by Matthew Olshan, Sophie Blackall
Ages 4–8
Since the first manned balloon flight in 1783, an Italian, a Scot, woman, and a sheep have flown, but no one has yet flown a balloon from one country to another. On January 7, 1785, John Jeffries, an Englishman, and his pilot, Jean-Pierre Blanchard, a Frenchman, set off in their balloon to cross the English Channel to France. Jeffries drops the wrench overboard while adjsting the air valve, and they suddenly have no way to keep the rest of the air from escaping. They toss everything overboard, even their clothes, until finally coming up with a clever solution.
---

The Camel in the Sun
by Griffin Ondaatje, Linda Wolfsgruber
Ages 5–up
This retelling of a traditional Muslim hadith tells the story of an overworked camel and his cruel owner. The camel has worked its entire life for Halim, carrying bundles of spices, dates, incense, silver and wool on long journeys across the desert east of the Red Sea. But it is not until Halim and the camel meet the Prophet, who sends Halim a dream in which he experiences the camel's distress, that Halim is able to discover his own compassion.
---
Skit-Scat Raggedy Cat: Ella Fitzgerald
by Roxane Orgill, Sean Qualls
Ages 5–up
This stylish biography begins with the child Ella dancing to her mother's records, and ends with her first big job with the Chick Webb Band in Harlem in 1921. Orphaned at 14, Ella lived for a time in an abusive orphanage and then on the streets, singing and dancing for money. Judged not pretty enough to be a singer, the determined Ella believed in her own talent and refused to be discouraged. Richly colored illustrations capture the spirit a poor young girl chasing her dream of becoming a jazz singer in this frank, yet not frightening, biography.
---

Lazy Little Loafers
by Susan Orlean, G. Brian Karas
Ages 5–8
In this witty new-baby book, our heroine trudges off to school with her enormous backpack to take tests while her little brother lounges around nearly naked in the park.
---

The Baby Swap
by Jan Ormerod, Andrew Joyner
Ages 3–6
Caroline Crocodile is not thrilled with her new baby brother. He drools, smells, and takes up far to much of Mama Crocodile's attention. While her mother is exchanging a hat at the hat shop, Caroline decides to make a swap of her own, and trades her brother for a series of other baby animals. But each new baby comes with new problems. The baby panda devours the cafe's bamboo furniture and the baby elephant breaks the town fountain. Eventually Caroline decides that her own baby brother is the best fit for her family. This engaging story handles the theme of sibling rivalry in a very funny way.
---

Vampirina Ballerina
by Anne Marie Pace, LeUyen Pham
Ages 2–6
Becoming a ballerina is hard for any little girl, but especially challenging for young vampirettes. This how-to book provides helpful hints (find an evening class) in a hilarious tone that balances vampire hauteur with upbeat advice. Young readers will identify with spunky Vampirina as she battles familiar demons, like stage fright, and not so familiar ones, like transforming suddenly into a bat!
---
A Chicken Followed Me Home!: Questions and Answers about a Familiar Fowl
by Robin Page
Ages 5–10
This question-and-answer book helps the young narrator take care of and learn about a chicken. Each section begins with a question. "Will she lay eggs?" introduces the section on reproduction. One page displays 260 eggs, the average number a hen lays in a year. Anatomy, different breeds of chickens, and caring for chickens in urban and rural environments are addressed in this child-friendly introduction to the chicken.
---

No Nap! Yes Nap!
by Margie Palatini, Dan Yaccarino
Ages 1–5
Mama and Baby share both curly red hair and a determination to have the last word in the familiar nap time battle. The exuberant chase through the house wins Baby a drink and a song before both are finally ready to settle down and rest. Using only a few words and plenty of rhythm and repetition, this gleeful book will delight the very young through those beginning to read on their own.
---

The Third Gift
by Linda Sue Park, Bagram Ibatoulline
Ages 6–9
Somewhere in an Arab desert, a young boy learns from his father the art of gathering a fragrant and valuable sap that seeps from small thorny trees. The two sell it to three strangers in rich robes who add it to their previously collected gifts of gold and frankincense that they are taking as a birth gift to a special baby. An author's note includes additional background on myrrh.
---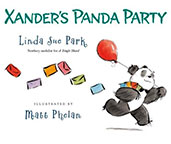 Xander's Panda Party
by Linda Sue Park, Matt Phelan
Ages 4–8
Xander wants to throw a panda party, but he's the only panda in the zoo. So he invites all the bears. Koala tells him she's really a marsupial, so Xander expands his guest list to all mammals. But Rhino won't be separated from his bird, and the reptiles ask to be included. An unexpected mystery guest provides Panda with one more new friend. This charming story explores friendship and inclusion. The afterward expands on facts mentioned in the book, like the symbiotic relationship between the oxpecker and the rhino.
---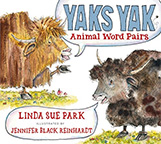 Yaks Yak: Animal Word Pairs
by Linda Sue Park, Jennifer Black Reinhardt
Ages 4–7
This clever book demonstrating words that are spelled and sound alike but have different meanings, presents animals acting out the verbs that are homographs of their names. The comic illustrations show slugs slugging, cranes craning their necks, hogs hogging their food, steers steering bumper cars, etc. Children will enjoy this book as a read aloud as well as an independent experience admiring the detailed illustrations.
---

Little Bot and Sparrow
by Jake Parker
Ages 3–6
One day Little Bot isn't needed any more and is tossed out with the garbage. Luckily Sparrow finds him, and decides to teach him how to survive on Earth. In the spring she teaches him how to have fun outside, in the summer to be curious and safe, in the fall how to live without her. By the time Sparrow has to fly south for winter, Little Bot is self-sufficient.
---
A Paddling of Ducks

Animals in Groups from A to Z
by Marjorie Blain Parker, Joseph Kelly
Ages 4–8
This delightful ABC book presents groups of animals from an army of ants to a herd of zebras. Each group of animals is described with the proper collective noun (a skulk of foxes, a nest of vipers, a labor of moles) and shown in a detailed illustration depicting fantastic yet animal appropriate play.
---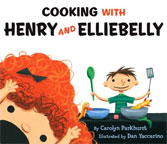 Cooking with Henry and Elliebelly
by Carolyn Parkhurst, Dan Yaccarino
Ages 2–6
Henry's pretend cooking show takes an unexpected turn when his stubborn little sister Eleanor, known as Elliebelly, insists they wear pirate hats and change the name of the show to "Pirate Cooking." The joys and irritations of being a sibling are beautifully portrayed in this exuberant celebration of creative play.
---
Apple Cake: A Recipe for Love
by Julie Paschkis
Ages 4–8
Colorful Alfonso loves brilliant Ida, but she has her nose buried too deep in a book to pay any attention to him. So he decides to bake her an apple cake. He gathers salt from the deep blue sea, butter from the summer sun, and flour like snowflakes from the night sky. This beautifully illustrated story is a celebration of love and the power of the imagination.
---

Flutter and Hum: Animal Poems / Aleteo y Zumbido: Poemas de Animales
by Julie Paschkis
Ages 4–8
This joyful collection of poems in both English and Spanish features animals that flutter and hum, dance and stretch, and slither and leap. Beautiful gouache paintings feature the animals as well as words from the poems.
---

P. Zonka Lays An Egg
by Julie Paschkis
Ages 4–8
P. Zonka is too busy admiring the world around her to lay a daily egg like the rest of the hens. She is captivated by the pale blue sky of morning, the stripes on the crocuses, the shining center of the dandelion. Finally P. Zonka gives in and lays an egg, a marvelous multicolored creation celebrating the beauty she sees all around her. An author's note explains that a pysanka is a Ukrainian decorated egg.
---
The Flint Heart
by Katherine Paterson, John Paterson, John Rocco
Ages 7–12
This retelling of Eden Phillpotts's 1910 fairy tale is both true to the original and adapted for the modern reader. In the Stone Age, an ambitious man demands a talisman that will harden his heart and give him total power over his tribe. The Flint Heart does exactly that, giving the bearer a lust for power and a tolerance for cruelty. After being buried for thousands of years, the Flint Heart is unearthed by a kind-hearted farmer, and wreaks havoc upon the lives of humans, fairy creatures, and animals. This humorous fairy tale is perfectly designed to be shared as a family, one chapter each night.
---

Giving Thanks: Poems, Prayers, and Praise Songs of Thanksgiving
by Katherine Paterson, Pamela Dalton
Ages 5–up
This collection of poetry, prayers, and grateful recollections is perfect for Thanksgiving as well as other times of the year. Beautiful illustrations using the early-nineteenth-century American paper-cutting technique called scherenschnitte ("scissor cuts") add to the appeal.
---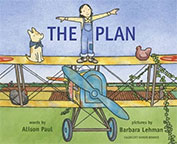 The Plan
by Alison Paul, Barbara Lehman
Ages 4–7
A young girl dreams of flying to Saturn, and wonders about the unused plane in her back yard. Pictures in a scrapbook reveal that her parents were once stunt pilots. Her father realized that his daughter is now old enough to fly with him up into the sky. This simple story is told with only a few words per page.
---

If Animals Kissed Good Night
by Ann Whitford Paul
Ages 3–6
Wonderfully silly presentation of animal parents and children kissing good night complete with nonsense sounds is sure to become a bedtime ritual.
---
Groundhog's Day Off
by Robb Pearlman, Brett Helquist
Ages 4–6
Groundhog is fed up. Every year everyone asks the same boring questions about when winter will end. So he takes the day off and heads off for vacation. The problem is finding someone to fill in as a weather predictor. The animals who audition for the job are failures for one funny reason after another.
---
Hilda and the Bird Parade
by Luke Pearson
Ages 6–up
Hilda and her mother are settling into their new home in the town of Trolberg. Hilda's mother is nervous about letting Hilda roam free, as she could in their idyllic mountain home, and Hilda is unsettled about the behavior of the town kids who pull pranks and throw rocks at birds. When a large black bird is left injured, Hilda helps it remember how to fly, and gradually comes to see the intimidating town as a place where wonderful things can happen. This graphic novel is a sequel to Hildafolk and Hilda and the Midnight Giant.
---

Once Upon a Northern Night
by Jean E. Pendziwol, Isabelle Arsenault
Ages 4–7
This soothing bedtime book paints a picture in words and illustrations of a winter landscape. The beauty of falling snow, nocturnal animals exploring the night, the beauty of the northern lights work together to send the child peacefully off to sleep.
---

The Cardboard Piano
by Lynne Rae Perkins
Ages 4–8
Debbie and Tina share everything, except piano lessons since Tina doesn't have a piano. Debbie constructs a beautiful cardboard piano for her friend, but Tina soon loses interest. The dialog and watercolor illustrations subtly explore what is most important in friendship.
---

Frank and Lucky Get Schooled
by Lynne Rae Perkins
Ages 4–8
Frank's parents take him to the animal shelter and he adopts Lucky, a young Labrador retriever. The two bond instantly and become inseparable, exploring their surroundings. Lucky is interested in science and observes squirrels and snow. An encounter with a skunk leads Frank to discoveries about how chemistry can change smells, and clearing Lucky's coat of burdocks and ticks provides new knowledge about botany and entomology. A series of pictures of the two sharing a bed raises the topic of fractions and percentages, and meetings with others introduce foreign languages (Spanish and Duck). This lighthearted book celebrates the educational rewards of investigating the everyday world around us.
---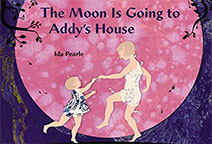 The Moon is Going to Addy's House
by Ida Pearle
Ages 3–5
After a playdate in the city, Addy and her family drive home to the country. The moon appears to follow them, and Addy decides that the moon is coming to her house. Beautiful collage illustrations accompany this soothing bedtime book.
---

The Rooster Crows:

A Book of American Rhymes and Jingles
by Maud & Miska Petersham
Caldecott Medal 1946


Ages 3–8
This book is full of nursery rhymes, counting-out games, skipping-rope songs, finger games, and other jingles.
---

Claymates
by Dev Petty
Ages 4–8
Two blobs of clay, one brown and one gray, wait on an artist's table to see what they will become. Hands shape them into a wolf and an owl and then disappear. The claymates then realize they don't need outside assistance to transform, only their own imagination. They reshape themselves into various creatures, competing to see who can become the flattest or smallest species.
---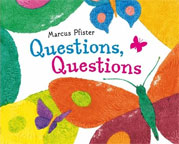 Questions, Questions
by Marcus Pfister
Ages 4–8
The 13 short couplets in this boldly illustrated book demonstrate that questioning is a creative act, a way of becoming engaged in the world around us. The painted paper illustrations provide a dramatic view of each question.
---

The Twelve Days of Christmas
by LeUyen Pham
Ages 3–7
A youthful couple dances their way through the traditional song with an international flair featuring people, costumes, and instruments all over the world. Young readers will enjoy watching the boy trying to organize the unwieldy gifts. Inside the book jacket is a poster illustrating the 78 items that accumulate over the twelve days — perfect for counting over and over.
---

A Different Pond
by Bao Phi, Thi Bui
Ages 6–8
Poet Bao Phi, the son of Vietnamese immigrants, draws on his childhood memories in this reflective book about pre-dawn fishing trips with his father on the lakes of Minneapolis. The fishing trips aren't for fun, they need the fish to put food on the table. "Everything in America costs a lot of money," explains his father. They meet fishermen from other cultures — a Hmong man who speaks broken English and a black man who takes pride in his colorful lures. The fishing is a morning adventure for the boy, but the start of a long work day for his father. This touching book celebrates a father who struggles to adapt to a strange new culture while cherishing time with his son.
---

Jim Curious: A Voyage to the Heart of the Sea in 3-D Vision
by Matthias Picard
Ages 6–10
Packaged with two pairs of 3-D glasses, this nearly wordless book follows young Jim, clanking in his diving suit, out the door and into the depths of the ocean. Though a solo adventure, Jim is not alone, but instead surrounded by a wealth of undersea life including schools of fish, a shark, and a gigantic whale. This stunning graphic novel will provide hours of entrancement.
---

Mr. Elephanter
by Lark Pien
Ages 5–8
Each morning the cheerful Mr. Elephanter goes to work at the Elephantery where is cares for three tiny elephanties. Mr. Elephanter's love for his small charges is evident in every gentle watercolor illustration, presenting a quietly humorous story of loving attention, perfect for soothing youngsters off to sleep.
---

Jingle Bells: A Magical Cut-Paper Edition
by James Lord Pierpont, Niroot Puttapipat
Ages 4–8
Intricate cut paper illustrations of the classic Christmas song follow a sleigh ride across the countryside, featuring new scenes on each page. The finale is a fabulous 3-D popup.
---

Our Love Grows
by Anna Pignataro
Ages 4–8
Little Pip the panda observes the world changing and growing with the seasons, and feels a bit left behind. His loving Mama reassures him that just like the trees in the forest and the stars in the sky, Pip is also slowly changing and growing. The one constant is the love between mother and child.
---

Captain Underpants and the Terrifying Return of Tippy Tinkletrousers
by Dav Pilkey
Ages 7–up
This ninth installment in the Captain Underpants saga takes George and Harold back to Kindergarten, where their biggest problem was Kipper Krupp, a 6th grade bully and the nephew of their clueless school principal. Since George and Harold won't invent Captain Underpants until years later, when they are in 4th grade, the clever kindergartners have only their own creativity to defeat Kipper. Terrible spelling and jokes abound.
---

Black Dog
by Levi Pinfold
Ages 4–7
When a huge black dog appears outside the house one snowy morning, Hope's parents and siblings hide in fear. But Hope, the youngest, confronts the monstrous beast, taunting him into following her through the snow. As the dog chases the brave child, he shrinks smaller and smaller until they arrive back at the house.
---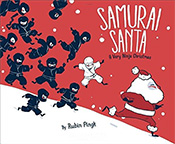 Samurai Santa: A Very Ninja Christmas
by Rubin Pingk
Ages 4–8
It is snowing on Christmas Eve and Yukio is looking forward to an epic snowball fight, but all the other ninjas are on their best behavior so they don't end up on Santa's "naughty" list. so Yukio decides to chase off the mysterious stranger in red, who reappears dressed as a samurai and leading an army of snowball-throwing snowmen.
---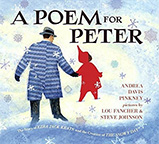 A Poem for Peter: The Story of Ezra Jack Keats and the Creation of The Snowy Day
by Andrea Davis Pinkney, Steve Johnson, Lou Fancher
Ages 7–10
Ezra Jack Keats was born in Brooklyn, New York, to Polish immigrant parents. Ezra's father felt his dream of becoming an artist was unrealistic, but Ezra was determined. He won prizes in high school, and created art for the WPA and Marvel comics, dreaming of the time he could write and illustrate his own book. A photo of an African American child led to The Snowy Day, the first mainstream book to feature an African American child, and a Caldecott medal winner.
---
Sojourner Truth's Step-Stomp Stride
by Andrea Davis Pinkney, Brian Pinkney
Ages 5–9
Belle was born into slavery, and when her master fails to honor his promise to free her, Belle runs away. But she knows that she will never be truly free when others live in slavery, so Belle changes her name to Sojourner and begins to travel across the country, demanding equal rights for black people and for women. Pinkney's glowing illustrations capture the charisma and courage of this larger-than-life heroine.
---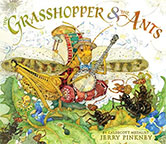 The Grasshopper & the Ants
by Jerry Pinkney
Ages 3–6
In this retelling of the classic fable, the grasshopper is a one-bug band, playing instruments with all of his legs and enjoying the summer while the ants store food for the winter. When the snow arrives the grasshopper shivers outside until the ants invite him into their cozy nest where they share their food as the grasshopper provides the entertainment. This gloriously illustrated book celebrates both planners and artists.
---
The Lion & the Mouse
by Jerry Pinkney
Caldecott Medal 2002


Ages 3–6
This adaptation of Aesop's fable is nearly wordless, but Pinkney's gorgeous illustrations tell the tale in stunning detail.
---
The Three Billy Goats Gruff
by Jerry Pinkney
Ages 4–8
Three hungry goats come to a bridge with lush green grass on the other side. The troll under the bridge is also hungry, eager for a meal of goat. The smaller billy goats convince the troll to wait for a bigger meal until the largest goat tosses him into the water, where a creature even larger than the troll awaits. Pinkney's ending addition changes the classic tale of revenge into one tinged with empathy.
---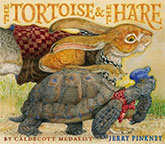 The Tortoise & the Hare
by Jerry Pinkney
Ages 3–6
This retelling of the classic Aesop's fable is set in the desert Southwest. Beautifully lifelike animals gather to watch the race as the perspective changes from the hare's over-confidence and the tortoise's diligent persistance.
---
Mrs. Noodlekugel
by Daniel Pinkwater, Adam Stower
Ages 5–10
Soon after Nick and Maxine move into an apartment in a tall building they spot a tiny cottage surrounded by their apartment building and other skyscrapers. With the help of Mike the janitor, they make their way to the cottage and meet Mrs. Noodlekugel, her talking cat Mr. Fuzzface, and a band of vision-challenged mice who help out in the kitchen. Stower's old-fashioned illustrations complement Pinkwater's oddball humor.
---

Mrs. Noodlekugel and Four Blind Mice
by Daniel Pinkwater, Adam Stower
Ages 5–9
When Mrs. Noodlekugel's four pet mice make a terrible mess of making tea, she decides to take them to the eye doctor. Nick and Maxine help Mrs. Noodlekugel transport the mice on the bus and take the ensuing hilarity in stride in this very funny sequel to Mrs. Noodlekugel.
---

Modern Art Adventures: 36 Creative, Hands-On Projects Inspired by Artists from Monet to Banksy
by Maja Pitamic, Jill Laidlaw
Ages 6–up
Eighteen works of modern art are presented along with two kid-friendly projects based on the techniques and visual effects of the each featured piece of art. The projects vary in difficulty and a wide range of media is explored in this well-organized introduction to modern art concepts, perfect for classroom or home use.
---

Three-Dimensional Art Adventures: 36 Creative, Artist-Inspired Projects in Sculpture, Ceramics, Textiles, and More
by Maja Pitamic, Jill Laidlaw
Ages 6–up
Inspired by 18 works of sculpture or other 3-D work, this excellent collection of art projects provides context about the artists and their movements while bringing the art out of the museum setting into the lives of young readers.
---

Out of Sight
by Pittau & Gervais
Ages 4–8
More than 50 animals hide in this oversized guess the animal book. Large flaps offer visual clues about the animals concealed underneath, and cutouts reveal hints of the snouts and limbs of the hidden animals. Fascinating details about the animals accompany this beautiful book that challenges the reader to see animals in new ways.
---

The 12 Days of Christmas
by Greg Pizzoli
Ages 3–5
A small elephant is delighted to receive a gift of a partridge in a pear tree, but its parent grows more and more distressed as additional gifts arrive: dancing cats, leaping frogs, etc. Funny illustrations make this the perfect seasonal read-aloud.
---

January's Sparrow
by Patricia Polacco
Ages 8–12
The Crosswhite family witness the brutal whipping of January, a slave caught while trying to escape, and flee the Kentucky plantation in the middle of the night. Young Sadie is heartbroken when she realizes she has left the wooden sparrow January carved for her, her only memento of her dead friend. The Crosswhites travel through the Underground Railroad to Marshall, Michigan, where they finally live in freedom. Then January's sparrow appears on their doorstep. Based on a true story, this book is both horrifying and empowering.
---
The Junkyard Wonders
by Patricia Polacco
Ages 4–8
When Tricia enters a new school, she hopes her troubles learning to read won't mean she is placed in a special class. On her first day, she is informed by other children that her room is known as "The Junkyard" since they don't fit in to the regular classrooms. Luckily her new teacher, Mrs. Parkinson, views all her students as treasures, and takes the class to a real junkyard where they discover all sorts of wonderful objects they collect for a class project. They decide to restore a model plane for the school science fair in memory of a classmate whose rapid growth is too much for his heart. Based on her own childhood, this inspiring and complex book with touch all who read it. An endnote tells of the successful lives of the real students in "The Junkyard."
---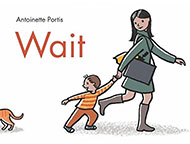 Wait
by Antoinette Portis
Ages 4–8
A boy and his mother walk along a city sidewalk. The mother is anxious to hurry along so they don't miss their train, but the boy continually asks his mother to "Wait" as he spots something to investigate. "Hurry!" she responds until as last something captures both their attention.
---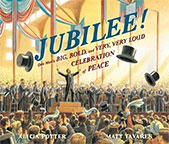 Jubilee!: One Man's Big, Bold, and Very, Very Loud Celebration of Peace
by Alicia Potter, Matt Tavares
Ages 7–10
When Patrick Sarsfield Gilmore was growing up in Ireland, he loved loud music played in celebration. By 1849, Gilmore was a band leader in Boston, using music to keep up the spirits of soldiers and the public during the Civil War. When peace was finally declared, Gilmore decided to stage the biggest and loudest celebration of peace ever held, with a public concert of more than 11,000 performers attended by about 30,000 celebrants.
---

Piper Green and the Fairy Tree
by Ellen Potter, Qin Leng
Ages 7–9
Piper Green lives on tiny Peek-a-Boo Island off the coast of Maine. She rides a lobster boat to school, and wears her older brother's earmuffs. Piper's second grade teacher demands that Piper remove the earmuffs inside, but Piper is missing her brother who is now attending high school on the mainland and refuses. to avoid going to school, Piper pretends to be sick, and hides in her neighbor's tree.
---

This Is My Dollhouse
by Giselle Potter
Ages 4–8
Our narrator has lovingly hand-crafted a cardboard dollhouse with imaginative details like a place of noodles constructed from yarn and a bottle cap. The eclectic residents include a rag doll, two fashion dolls, a mouse, and a bear. She visits her friend Sophie, whose dollhouse is very different, a store-bought picture-perfect house with plastic inhabitants and a realistic bathroom. The dollhouse is beautiful, but the girls become bored playing with it. When Sophie comes to visit our narrator, she is nervous about her home-made creation, but Sophie loves using her imagination and they have a wonderful time. This celebration of creativity is inspiring.
---
Josephine: The Dazzling Life of Josephine Baker
by Patricia Hruby Powell, Christian Robinson
Ages 7–10
African-American dancer Josephine Baker could perform in American clubs, but segregation laws prevented her from entering the club through the front door. Moving to France, Josephine was welcomed for both her talent and her race. This accessible biography follows Josephine from her childhood in St. Louis to her fame in Europe. Josephine's powerful story of struggle and triumph is an inspiration.
---

A Pirate's Guide to First Grade
by James Preller, Greg Ruth
Ages 4–8
Narrated completely in pirate lingo, our young pirate leads an imaginary crew through the perils of the first day of first grade, ending in the library where treasure abounds. Old-fashioned illustrations add to the fun, and luckily there is a glossary for those not quite fluent in pirate speak.
---
A Pirate's Guide to Recess
by James Preller, Greg Ruth
Ages 3–6
Molly and Red are the leaders of two pirate bands who meet on the playground at recess. Red orders a siege, but his band mutiny and Red is captured by Molly just as the bell rings. Promising more battles next recess, the pirates troop inside for reading, another joy of escaping into the world of pretend.
---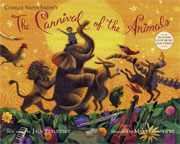 The Carnival of the Animals
by Jack Prelutsky, Mary GrandPré
Ages 6–12
The animals are having a carnival, and each arriving guest is celebrated with both music and words in this book designed to introduce children to classical music. New poems by Jack Prelutsky can be enjoyed both by reading the book with exuberant illustrations by Mary GrandPré, and by listening to the accompanying CD, featuring the Württemberg Chamber Orchestra performing the suite by Camille Saint-Saens as Prelutsky reads the poems, which perfectly capture the essence of each animal featured in the movements of the music.
---

I've Lost My Hippopotamus
by Jack Prelutsky, Jackie Urbanovic
Ages 5–10
The 100+ delightfully silly rhyming poems portray real animals doing strange things and fantasy animals doing even stranger things. Colorful illustrations add to the fun.
---

The Silver Moon: Lullabies and Cradle Songs
by Jack Prelutsky, Jui Ishida
Ages 4–8
Twenty soothing verses are set in a varietry of dreamy landscapes from snug woodland dens to the silvery skies. The mesmerizing lines gently coax youngsters to snuggle down and drift off to sleep.
---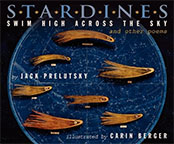 Stardines Swim High Across the Sky: and Other Poems
by Jack Prelutsky, Carin Berger
Ages 4–8
This collection of poems features hybrid creatures whose attributes come from altering one letter of their name. Stardines swim across the sky, jollyfish are round happy creatures, and the gloose is a bird that sticks to anything. The cleverly silly poems are perfectly paired with creative illustrations — a feast for the ears and eyes alike.
---

Wangari Maathai: The Woman Who Planted Millions of Trees
by Franck Prévot, Aurélia Fronty
Ages 6–9
Wangari Maathai, Kenyan founder of the Green Belt movement, led women in a nonviolent struggle to bring peace and democracy to Africa through its reforestation. Over 30 million trees were planted by her organization in 30 years. This beautifully illustrated book tells the story of the perseverance and hard work that earned Wangari Maathai the Nobel Peace Prize in 2004.
---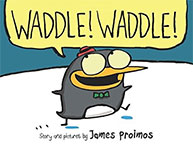 Waddle! Waddle!
by James Proimos
Ages 4–8
The enthusiastic penguin narrating this book is out looking for the new best friend he met yesterday, an amazing dancer. On his journey he meets two penguins with talents of their own: singing and playing the horn. The three encounter a polar bear and work together to avoid becoming dinner. The repetition of the text and the wonderful ending make this a great read-aloud.
---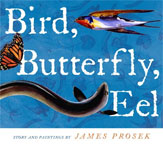 Bird, Butterfly, Eel
by James Prosek
Ages 6–10
A barn swallow, monarch, and American eel spend their summer at the same coastal farm in New England. In the fall, they migrate to three distant and different places. The beautifully detailed watercolors complement the simple text.
---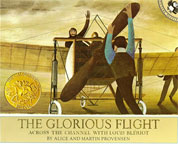 The Glorious Flight:

Across the Channel with Louis Blériot
by Alice & Martin Provensen
Caldecott Medal 1984


Ages 4–8
This book shows the persistence of Louis Blériot, a Frenchman, who was determined to to build a flying machine to cross the English Channel. His glorious flight occurred on July 25, 1909.
---
The Song of the Swallows
by Leo Politi
Caldecott Medal 1950


Ages 4–8
Julian, the gardener and bell-ringer at Mission San Juan Capistrano, shares his love of the swallows that return every year with his young friend Juan. This year Juan plants his own garden and hopes that the swallows will build a nest there. Beautiful watercolor illustrations capture the magic of the migrating birds.
---

The Nutcracker
by Niroot Puttapipat
Ages 3–7
Beautiful silhouette illustrations inspired by Marius Petipa's sets for the original production of the ballet tell the story of Clara and the Nutcracker prince as they travel through a land of fantasy, ending with an amazing pop-up ball scene.
---
A Boy and a Jaguar
by Alan Rabinowitz, Catia Chien
Ages 4–8
This touching autobiography tells the story of young Alan Rabinowitz who loved animals but was confused by the great cats in in Bronx Zoo. Why were they caged all alone? Were they being punished? Alan longs to help them, but he stutters uncontrollably. The only time he can speak fluently is when he is alone talking to an animal. Alan promises a lonely jaguar at the zoo that if he ever finds his voice, he will become a champion of animals and devote his life to protecting them. The adult Rabinowitz is a renowned wildlife conservationist and a spokesperson for the Stuttering Foundation of America.
---

Santa Clauses: Short Poems from the North Pole
by Bob Raczka, Chuck Groenink
Ages 5–9
Beginning on December 1st, Santa Claus writes a poem each day, presenting a peek behind the scenes at the North Pole counting down to Christmas. Santa is surprising calm in this busy time of year, appreciating the beauty of the season and the contentment of his cozy home with Mrs. Claus.
---
I Am So Strong
by Mario Ramos
Ages 4–8
This self-centered wolf strolls through the woods, demanding reassurance from the fairy tale characters he meets that he is indeed the strongest creature in the woods. A small "toad of some sort" finally breaks the pattern by declaring that its mother the dragon is far stronger. Expressive illustrations enhance this satisfying tale.
---

Seven Fathers
by Ashley Ramsden, Ed Young
Ages 4–8
In this retelling of a Scandinavian folktale, a traveler in a blizzard seeks shelter from the storm. When the traveler stumbles upon a house, he asks for the head of the household to request a night's lodging. But the old man at the door says he is not the father of the house, and sends the traveler on a search for his father. Each old man is smaller and more wizened than the one before, until finally the traveler's request to the seventh father breaks the spell and the traveler is fed a feast and given a luxurious bed. The strange collage illustrations complement the suspenseful humor of the prose.
---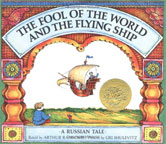 The Fool of the World and the Flying Ship
text by Arthur Ransome, illustrations by Uri Shulevitz
Caldecott Medal 1969


Ages 4–8
In this retelling of a Russian folktale, the simple third son is helped by those with magical powers to perform the impossible tasks set by the Czar and wins the princess. The colorful illustrations have a wonderful Russian folk-art look.
---

The Crown Affair
by Jeanie Franz Ransom, Stephen Axelsen
Ages 6–9
Detective Joe Dumpty is back to investigate another nursery rhyme case. When Jack and Jill tumbled down the hill Jack's crown went missing. Suspicion falls on the other Jack, the nimble and quick one, but his alibi holds up so Detective Dumpty heads off to the Spratt house to question yet another Jack, before visiting the beanstalk to interview another suspect. This funny companion to What Really Happened to Humpty? has plenty of puns to amuse the adults reading aloud.
---

Sally Go Round The Stars: Favourite Rhymes from an Irish Childhood
by Claire Ranson & Sarah Webb, Steve McCarthy
All ages
The authors have collected nearly 70 rhymes from old Irish songbooks, traditional nursery rhyme books, and their own personal childhood memories. Many of the rhymes will be familiar to American readers, while some are new. The humorous illustrations add to the fun.
---
Eleanor, Quiet No More
by Doreen Rappaport, Gary Kelley
Ages 6–10
Written in short, accessible paragraphs, this biography honestly presents Eleanor's unhappy childhood. Each page spread includes a quote from Eleanor that expresses her growing sense of confidence and moral conviction. The beautiful paintings capture Eleanor's intelligence and compassionate heart.
---

A Ball for Daisy
by Chris Raschka
Caldecott Medal 2012


Ages 3–up
This nearly wordless book tells the story of love and loss. Daisy adores her bright red ball and is heartbroken when it is accidentally destroyed while playing with a bigger dog. Daisy's feelings of both joy and sadness are brilliantly illustrated in watercolor, gouache and ink. This simple story of the pain of loss with a happy ending is sure to appeal to any child who has mourned the loss of a favorite toy.
---

Daisy Gets Lost
by Chris Raschka
Ages 3–7
Daisy is happily chasing her ball when the sight of a squirrel leads her into the forest. Daisy's excitement changes to alarm when she realizes she is lost. A bird's eye view makes it very clear what a small dog Daisy is among the huge trees. The joyful reunion between dog and owner provides the perfect ending.
---
Everyone Can Learn to Ride a Bicycle
by Chris Raschka
Ages 4–8
This encouraging and practical book follows a cautious young girl and her reassuring father/grandfather who leads her through the steps of choosing a bicycle and learning to ride. Cheerful watercolor illustrations portray the girl's trials, failures, and eventual success.
---

Give and Take
by Chris Raschka
Ages 4–8
A farmer harvesting apples meets an elf called Take and heeds his advice to take as much as he can, trading his apples for gallons of pumpkin soup. The next day the farmer meets an elf named Give and follows his advice to give everything away, ending up hungry at the end of the day. The third day the farmer balances the advice of Give and Take, ending up with an apple pie that all can share.
---

Officer Buckle and Gloria
by Peggy Rathmann
Caldecott Medal 1996


Ages 4–8
Officer Buckle's school safety assemblies are so boring that his audience falls asleep. Then police dog Gloria joins the act and pantomimes each safety tip behind the unsuspecting Officer Buckle who is amazed that his audience suddenly finds him funny. The hilarious illustrations make this book something special.
---

The Secret River
by Marjorie Kinnan Rawlings, Leo and Diane Dillon
Ages 4–8
Calpurnia's father is a fisherman, but fish have been scarce, so Calpurnia goes to Madame Albirtha, the wisest person in the forest, for advice. Madame Albirtha tells Calpurnia how to find the secret river, which is teaming with catfish. Calpurnia loads her boat with fish, but then has to elude the Florida predators to bring back enough fish to feed the whole town. Dreamy illustrations accompany this magical tale.
---

Fletcher and the Falling Leaves
by Julia Rawlinson, Tiphanie Beeke
Ages 3–8
The young fox Fletcher is concerned when leaves begin to fall from his favorite tree. His mother assures him that it is only autumn, but to Fletcher the tree does not seem at all well. He tries to capture the leaves and stick them back on, but eventually the twig breaks off. The next day a beautiful sight reassures him that the tree is fine. The beautiful illustrations echo the magical transformation of the seasons.
---

Fletcher and the Springtime Blossoms
by Julia Rawlinson, Tiphanie Beeke
Ages 3–8
When Fletcher the young fox sees the first spring blossoms flying through the air, he is sure that the snow has returned. At first annoyed by the false alarm, Fletcher's friends soon join him in romping through the petals. Tiphanie Beeke's beautiful illustrations celebrate the season and give each animal a distinctive personality. (follows Fletcher and the Falling Leaves)
---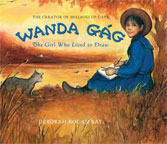 Wanda Gág: The Girl Who Lived to Draw
by Deborah Kogan Ray
Ages 6–9
Best known for her classic picture book Millions of Cats, Wanda Gág loved to draw. This well-researched biography incorporates entries from Wanda's childhood diaries into a compelling picture book format.
---

Goodnight, Good Dog
by Mary Lyn Ray, Rebecca Malone
Ages 4–7
This young dog has had such a wonderful day playing with his owner, running on the grass, and eating a delicious bowlful of food that he can't settle down for the night. He settles into his bed and finds that the same memories that were keeping him awake are just perfect for lulling himself to sleep and revisiting in his dreams. The story of this adorable pup is the perfect bedtime book.
---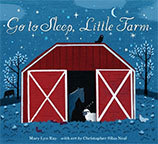 Go to Sleep, Little Farm
by Mary Lyn Ray, Christopher Silas Neal
Ages 4–8
As the animals on a small farm settle down for the night, a small girl inside the farmhouse mirrors their action. The beaver weaves a house in side the bog, a bear settles into a log, and the child snuggles under a mound of covers to enjoy a book. Soothing verse and illustrations convey the cozy sense of falling into slumber.
---
Stars
by Mary Lyn Ray, Marla Frazee
Ages 2–6
This celebration of the many different ways of viewing and thinking about stars perfectly pairs Ray's musings and Frazee's beautiful illustrations.
---

Encyclopedia Mythologica: Dragons and Monsters Pop-Up
by Matthew Reinhart and Robert Sabuda
Ages 5–12
Stunning creatures from both Eastern and Western traditions pop up dramatically from the pages of this incredibly detailed book. A Chinese dragon's body unfolds, Medusa's snaky locks unfurl, and Dracula's coffin lid lifts as he awakens. Lesser known creatures such as the lycanthrope, golem, and wendigo are profiled with details of the cultures that imagined them. The final book in the Encyclopedia Mythologica trilogy that includes Gods and Heroes and Fairies and Magical Creatures.
---

Encyclopedia Mythologica: Gods and Heroes Pop-Up
by Matthew Reinhart, Robert Sabuda
Ages 6–12
This well crafted pop-up book presents a global tour of gods and heroes, including classical mythology, as well as Egyptian, Norse, Eastern, and New World legends. The pop-ups are intricately detailed, exquisitely designed, and sturdier than they look. The stunning art and interesting text will inspire older readers to find out more about these fascinating Gods and Heroes.
---

A Pop-Up Book of Nursery Rhymes
by Matthew Reinhart
Ages 3–8
Matthew Reinhart's phenomenal paper engineering illustrates these classic nursery rhymes. Ingenious details make this book a family keepsake.
---

Star Wars: A Pop-Up Guide to the Galaxy
by Matthew Reinhart
Ages 7–up
Created to celebrate the 30th anniversary of Star Wars, this impressive pop-up book is divided into five dazzling spreads: planets, creatures, evildoers, technology, and the rise of Darth Vader. Paper engineer Matthew Reinhart has produced another marvel of intricacy and skill, including a working light saber.
---

Transformers: The Ultimate Pop-Up Universe
by Matthew Reinhart, Emiliano Santalucia
Ages 6–up
The Autobots and Decepticons don't just pop up in this interactive book, they also transform with the pull of a tab. Multiple generations of transformer characters, from cartoons, comics, toys, and films share the stage.
---

Nothing Rhymes with Orange
by Adam Rex
Ages 5–8
When a group of fruit get together to sing a rhyming song about how wonderful each one is, Orange feels left out because nothing rhymes with Orange. When Apple notices how Orange is feeling, all the fruit begin working together to make Orange feel part of the group despite his non-rhyming uniqueness.
---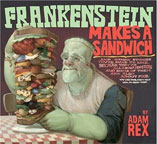 Frankenstein Makes a Sandwich
by Adam Rex
Ages 5–10
This hilarious collection of illustrated poems describes the lives of famous monsters. Kids will love the effortless rhymes and the different art styles, individually tailored for each creature. Great read-aloud.
---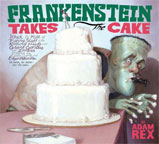 Frankenstein Takes the Cake
by Adam Rex
Ages 5–10
Frankenstein and his bride are planning the wedding, but his best man, Dracula, is worried about the garlic bread, and other B-movie monsters have similar woes in this hilarious book of poems.
---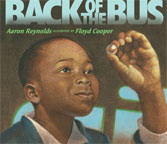 Back of the Bus
by Aaron Reynolds, Floyd Cooper
Ages 6–8
One winter day in Montgomery Alabama, a young boy and his mother are riding where they are supposed to—in the back of the bus. The boy passes the time rolling his marble in the aisle, and Rosa Parks, sitting up in the front of the bus where she isn't supposed to, rolls it back to him. See through the eyes of a child, who begins to wonder if maybe Rosa does belong up there after all, brings Rosa Park' s defiance to vivid life. Beautifully lifelike oil paintings convey the emotional tension of that famous bus ride.
---
Carnivores
by Aaron Reynolds, Dan Santat
Ages 5–8
The lion, great white shark, and timber wolf are finding life a bit lonely at the top of the food chain. For some reason few animals want to hang out with them after they've eaten a few of their friends and relations. They try to disguise themselves as their prey and become vegetarians, but can't help nibbling on those around them. Hilarious illustrations and perfect comic timing of the text makes this tongue-in-cheek book a perfect read-aloud.
---

Creepy Carrots!
by Aaron Reynolds, Peter Brown
Ages 4–8
Jasper Rabbit loves the carrots that grow in Crackenhopper Field, stopping for a snack as he passes on his way to school and Little League practice. But then the carrots start following Jasper around, appearing suddenly behind him in the bathroom mirror and as looming shadows in his bedroom. The orange and black illustrations add just the right touch to this deliciously scary story with a comic conclusion. (Hitchcock and film noir references will divert the adults reading aloud this parody of a paranoid thriller.)
---

Creepy Pair of Underwear!
by Aaron Reynolds, Peter Brown
Ages 4–8
Jasper Rabbit is proud to be growing up. He is not afraid of the dark anymore and has graduated to big-rabbit underwear, special green ones he convinced his mother to buy. But when the lights go out, the underwear have a strange green glow and are very creepy. Jasper tries to get rid of the creepy underwear, but no matter what he does, they keep coming back!
---

The Alphabet Thief
by Bill Richardson, Roxanna Bikadoroff
Ages 5–9
The alphabet thief steals one letter at a time, stealing B and turning bowls into owls, stealing I and turning paints into pants. Funny poems and illustrations document what happens when a letter is stolen in this clever read-aloud.
---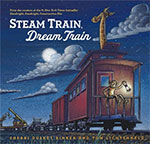 Steam Train, Dream Train
by Sherri Duskey Rinker, Tom Lichtenheld
Ages 1–6
This bedtime book begins energetically, as a variety of animals carry objects onto the train (monkeys with monkey bars, rabbits on pogo sticks, kangaroos tossing balls into a hopper) before settling down slowly to sleep. Beautiful moonlit illustrations add to the soothing tone.
---

The Teacher's Pet
by Anica Mrose Rissi, Zachariah OHora
Ages 3–5
When the classroom tadpoles are big enough, Mr. Stricter tells they can keep just one and must release the rest. The class chooses Bruno, the smallest of the tadpoles. Bruno doesn't stay tiny very long, growing into a giant creature that eats the desks and sneezes slime all over everything. Mr. Stricter doesn't seem to notice the damage his beloved pet is doing, and the students must solve the problem themselves.
---
Margaret and the Moon
by Dean Robbins, Lucy Knisley
Ages 4–8
This accessible picture book biography tells the story of mathematician Margaret Hamilton, who loved playing with numbers ever since she was a small girl. She loved using math to solve real-world problems and went to MIT, where she taught herself computer code. Margaret hand wrote the code that would allow a spaceship's computer to solve unexpected problems. Her code was used in the Apollo 8-11 missions. The cartoon-like illustrations add humor while celebrating her accomplishments.
---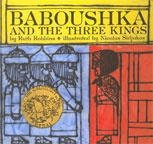 Baboushka and the Three Kings
text by Ruth Robbins, illustrations by Nicolas Sidjakov
Caldecott Medal 1961


Ages 4–8
The Three Kings coming from the East to bring gifts to a new-born child lose their way in the snow in Russia and knock on Baboushka's door. She is too busy with her chores to join them. The next morning she is sorry she refused and tries to follow with her own gifts but the trail is covered by new snow. Baboushka gives her gifts to other children instead. The strong primary colors and bold outlines emphasize the Russian theme of the story.
---

Joseph Fipps
by Nadine Robert, Geneviève Godbout
Ages 3–7
Joseph Fipps is a five-year old who isn't happy with his new nickname — Gremlin. Then his mother scolds him for trying to climb a tall ladder, and Joseph loses his temper, declaring he wants a new mother. Joseph moves through a range of emotions: anger, frustration, regret, and finally horror when his mother responds that she knows a mother walrus who just may be willing to have him. With time to think (and sulk) Joseph manages to sort through his complicated emotions.
---
Whale Shines: An Artistic Tale
by Fiona Robinson
Ages 4–8
Whale has been hired to swim through the sea wearing a poster advertising an upcoming art exhibition: The Hugest Art Show in the Deep & Briny. All the sea creatures Whale meets are enthusiastic about the art they will create for the exhibition. Eel plans to make patterns in the sand, Squid will paint with ink, and Hammerhead Shark with sculpt from salvage. Whale wishes he could be an artist too, but feels too ungainly to be creative until he gets some help from the bioluminescent plankton.
---
Blackout
by John Rocco
Ages 4–8
A small boy tries to convince his family to play a board game on a hot summer night, but they're all too busy cooking dinner, on the phone, and on the computer. Then the power goes out, and the family heads to the roof to escape the heat, and find neighbors they haven't seen for ages and a sky full of amazing stars. The family enjoys their time together so much that when the power comes back on and they return to their apartment, no one complains when the boy turns off the light switch and brings out the board game to enjoy as a family by candlelight. Stunning illustrations complement this story of the importance of taking time to enjoy the simple joy of being together as a family.
---

Anything But Ordinary Addie: The True Story of Adelaide Herrmann, Queen of Magic
by Mara Rockliff, Iacopo Bruno
Ages 6–9
From a young age Adelaide longed for an exciting life. She became a dancer during a time when girls were rarely seen on stage and married world-famous magician Herrmann the Great. Addie loved to help with the stage tricks, even volunteering to be shot out of a cannon. When her husband died unexpectedly, Addie decided to continue the show on her own, becoming one of the first female magicians. An extensive appendix includes directions for performing one of Addie's original magic tricks.
---

Chik Chak Shabbat
by Mara Rockliff, Kyrsten Brooker
Ages 3–7
Goldie Simcha always invites her apartment house neighbors to join her for cholent, a fragrant stew designed to cook by itself for 12 hours over the Sabbath when observant Jews cannot perform work. When Goldie is too sick one Friday to cook, her neighbors know you cannot produce a cholent on short notice, and band together to each contribute a dish from their own homelands, all sharing at least one ingredient of cholent, for the weekly communal feast.
---

Gingerbread for Liberty!: How a German Baker Helped Win the American Revolution
by Mara Rockliff, Vincent X. Kirsch
Ages 6–9
Christopher Ludwick, originally from Germany, was a beloved member of his Philadelphia community, known for his generosity and his talent for baking. Christopher volunteered to help the American troops fighting for freedom, but was told he was too old and too fat to join the army. Determined to support General George Washington and his hungry troops, Christopher baked bread for the soldiers, and was sent on a special mission to convince the mercenary Hessian soldiers to abandon the English army.
---

Me and Momma and Big John
by Mara Rockliff, William Low
Ages 3–8
John's Momma comes home every day tired and covered with dust. But she loves her job as a stonecutter, helping to build the Cathedral of Saint John the Divine. She works day after day on just one stone, and John can't wait to see it. Finally the stone is in place and Momma takes John to see her hard work that has become part of the cathedral. This story illustrating the joy and power of meaningful work includes an afterward with background on the still-unfinished cathedral and the training program that employed people like Momma.
---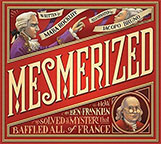 Mesmerized: How Ben Franklin Solved a Mystery that Baffled All of France
by Mara Rockliff, Iacopo Bruno
Ages 6–9
Benjamin Franklin has achieved fame as an American inventor, printer, scientist, thinker, and diplomat. While in Paris raising money for he American rebellion against the British, Franklin was asked by King Louis XVI to investigate Franz Mesmer, a young Austrian who claimed to be able to cure illness by waving an iron wand around their person. Part of Mesmer's treatment involved time spent in a darkened room while spellbinding music played on a glass armonica, invented by none other than Franklin himself. Using the scientific method — observing, hypothesizing, and testing — Franklin proved that Mesmer's "cures" only existed inside his patients' heads. This lavishly illustrated book tells a lively tale in rhythmic text perfect for reading aloud.
---
The Chicken Thief
by Béatrice Rodriguez
Ages 4–8
This wordless book begins with a bear and a rabbit enjoying a picnic lunch. The a fox steals a chicken from her home. The rooster, bear, and rabbit give chase though forests and across the ocean. The shape of the book adds to the excitement, as the fox stays just ahead of his pursuers. The distinct personalities of each character are masterfully portrayed through the body language of the illustrations, and the loving way the fox cradles the hen makes it clear early in the story that all may not be what the reader expects.
---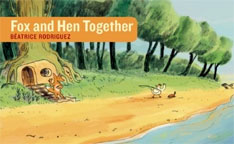 Fox and Hen Together
by Beatrice Rodriguez
Ages 4–8
Fox and Hen are now happily married. Unfortunately, their cupboard is bare, so Hen entrusts her egg to Fox to care for and sets out with the intrepid Crab in search of dinner. Hen catches an enormous fish, but has to defend her prize from a vicious bird and then a sea monster. This wordless book continues the strange and wonderful story that began in The Chicken Thief.
---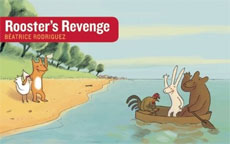 Rooster's Revenge
by Béatrice Rodriguez
Ages 4–8
Leaving the happy Chicken and Fox together in their little house, Rooster is making his way home with Bear and Rabbit in a little boat. A storm strands the three on a mysterious island, where Rooster spots a glowing green ball and takes off with it. Bear and Rabbit pursue Rooster through a series of strange landscapes until they find themselves back at their cozy farm. Rooster gets a big surprise when he drops the ball, a fitting conclusion to the delightful wordless trilogy that began in The Chicken Thief and continued in Fox and Hen Together.
---
Sergio Makes a Splash
by Edel Rodriguez
Ages 3–8
Sergio the penguin loves water, as long as it's not very deep since he can't swim. Poster-like expressive illustrations present Sergio's plunge into the water, armed with floaties, snorkel, and a life preserver.
---

The Hero of Little Street
by Gregory Rogers
Ages 3–8
A small boy fleeing three bullies takes refuge in an art museum. A brown lapdog leaps from a painting by Van Eyck and boy and dog romp in and out of paintings of Delft and Holland. This wordless comic book is a follow-up to The Boy, The Bear, The Baron, The Bard.
---

Bone Dog
by Eric Rohmann
Ages 4–8
Gus doesn't feel like doing much of anything after his old dog Ella dies, not even dressing up for Halloween. But remembering her promise to be with him always, Gus puts on his skeleton costume and sets out on Halloween night. When Gus is threatened by a bunch of graveyard skeletons, Ella, his very own Bone Dog, comes to his rescue, banishing the skeletons along with Gus's grief . Though some may find the bone dog unsettling, the comforting message that a dog's loyalty transcends death is presented with gentle humor.
---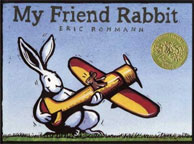 My Friend Rabbit
by Eric Rohmann
Caldecott Medal 2003


Ages 4–8
Mouse narrates this story of his friend Rabbit who has just as much fun getting Mouse out of trouble as he does getting him into it. Incredible and hilarious illustrations support the simple story.
---

The Cuckoo's Haiku:

and Other Birding Poems
by Michael J. Rosen, Stan Fellows
Ages 6–10
Poet and birder Rosen captures the essence of more than 20 common North American birds. Designed like a birding notebook, each haiku is accompanied by Fellows's beautiful watercolors of the birds in their habitats plus notes about their behavior and traits.
---
The Maine Coon's Haiku: And Other Poems for Cat Lovers
by Michael Rosen, Lee Anthony White
Ages 6–9
The unique personalities of twenty breeds of cats are captured in haiku poems in indoor and outdoor settings. An after word includes interesting facts about each featured breed.
---

The Noisy Paint Box: The Colors and Sounds of Kandinsky's Abstract Art
by Barb Rosenstock, Mary GrandPre
Ages 4–8
Vasya Kandinsky was a proper Russian child who followed all the rules until his aunt gives him a paintbox. When Vasya mixed the colors, he heard sounds: blaring crimson, burbling green, tinkling violet. No one knew quite what to make of the wild shapes Vasya created with the noisy colors from his paintbox. This accessible biography of the world's first abstract painter is lavishly illustrated.
---
An Ambush of Tigers: A Wild Gathering of Collective Nouns
by Betsy R. Rosenthal, Jago
Ages 5–9
Clever rhymes and funny illustrations bring these collective nouns to life. A "bed of oysters" sleeps on a comfy mattress, a "bouquet of pheasants" are housed in a vase, and a "shiver of sharks" sport winter scarves. The combination of words and pictures make these collective nouns unforgettable.
---

I'll Save You Bobo!
by Eileen Rosenthal, Marc Rosenthal
Ages 3–6
Willy just wants to peacefully read a dinosaur book to his stuffed monkey Bobo, but Earl the mischievous cat won't leave them alone. The book isn't exciting enough for Willy, so he decides to write his own jungle adventure, with lots of dangers to save Bobo from, as Earl continually tries to steal Bobo away. This charming tribute to imagination and everyday domestic rivalry us the sequel to I Must Have Bobo!.
---

Bobo the Sailor Man!
by Eileen Rosenthal, Marc Rosenthal
Ages 3–6
The imaginative Willy sets off to explore the woods will his stuffed monkey Bobo and his pet cat Earl. They find mushrooms, nuts, and finally a bucket next to the river. Bobo becomes a sailor inside the red bucket and is soon in danger of drifting away.