---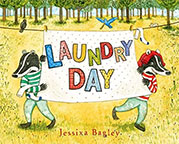 Laundry Day
by Jessixa Bagley
Ages 3–6
Young badgers Tic and Tac have exhausted all their toys and are bored, so their mother enlists their help to hang the family laundry on the clothesline while she runs an errand. Hanging the laundry turns out to be so much fun that the two brothers begin to hang up everything they can find, including the alarm clock, a bunch of carrots, a fishbowl, and everything else that isn't nailed down. This fun tale of badger mischief is perfect as a read-aloud or for beginning readers.
---
A Bike Like Sergio's
by Maribeth Boelts, Noah Z. Jones
Ages 5–8
Ruben longs for a bike like all the other kids, but knows that his family can't afford to buy him one even though his birthday is coming soon. While buying groceries for his mother, he finds a $100 bill dropped by another customer. If he keeps the money he can finally have a bike like Sergio's, but can he explain the bike to his parents? Ruben's ethical dilemma is perfectly captured as he struggles to decide what to do with the money.
---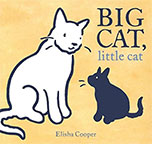 Big Cat, Little Cat
by Elisha Cooper
Ages 3–6
There was once a big white cat that lived alone until a little black kitten arrived. The big cat helps the little cat learn to use the litter box, and shows it where to eat and sleep. The little cat grows and the two are happy together until one day the big cat goes away and doesn't come back. The grief of the human family is simply portrayed. The big black cat lives alone until one day a little white kitten arrives. This quiet story of the circle of life is perfect for little ones.
---

Billions of Bricks: A Counting Book About Building
by Kurt Cyrus
Ages 4–7
This energetic picture book is set at a busy construction site where men, women, and children bustle around in hard hats building impressive structures. Rhyming text describes the making of the bricks themselves and then the arches, columns, and complex structures that are built.
---
It Is Not Time for Sleeping
by Lisa Graff, Lauren Castillo
Ages 4–7
A small boy narrates his nighttime routine after dinner is finished. "It's not time for sleeping," he declares, instead describing how he helps with the dishes, plays with the dog, gets into his pajamas, brushes his teeth, and listens to a story.
---
A Cat Named Swan
by Holly Hobbie
Ages 3–7
A tiny kitten is left alone to fend for himself on the streets, and is eventually taken to an animal shelter. He is adopted by a family who take him home and name him Swan. Everything changes for the lonely and hungry animal, who is protected and cherished by his new owners.
---

The Infamous Ratsos
by Kara Lareau, Matt Myers
Ages 5–8
Big Lou tells his sons Louie and Ralphie that there are two kinds of people in the world — tough ones and soft ones. The two brothers are determined to prove that they are just as tough as their truck-driver father, but each of their tough-guy antics turn into good deeds despite their worst intentions. This funny and heartwarming beginning chapter book is perfect for emerging independent readers.
---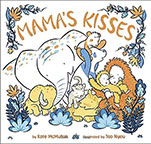 Mama's Kisses
by Kate McMullan, Tao Nyeu
Ages 3–5
It's getting late but the little panda, monkey, elephant, and leopard are in the middle of a game of pirates and have no intention of going to bed. When their mothers come searching for them, they disguise themselves as birds and flowers. But the mothers are determined and persuasive, promising kisses and cuddles in comforting rhymes.
---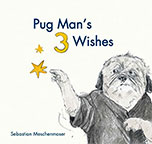 Pug Man's 3 Wishes
by Sebastian Meschenmoser
Ages 4–8
Pug Man is never very cheerful, but this morning nothing is going right and he is grumpier than usual. A magical fairy appears and offers him three wishes. Though startled by the fairy's offer, Pug Man accepts. His choice of wishes will surprise and delight young readers.
---

Hair
by Leslie Patricelli
Ages Birth–3
It's time for baby's first haircut, which could be a scary experience. But our baby narrator takes it in stride, explaining that one just has to put on a cape and sit in an airplane. Bold illustrations accompany this reassuring story of a baby first.
---

What Will Grow?
by Jennifer Ward, Susie Ghahremani
Ages 3–6
Twelve different seeds and the different plants they grow into are cleverly portrayed in words and illustrations. Closing notes give planting guides for all 12 seeds, which include easy-to-grow seeds like carrot, pea, pumpkin, and sunflower.
---

The Secret Project
by Jonah Winter, Jeanette Winter
Ages 5–8
At a former boarding school in the remote desert of New Mexico, a group of scientists have gathered to work on a secret project. They call their invention "The Gadget," since it is too dangerous and classified to call by it's real name — the Atomic Bomb. This simple introduction to the Manhattan project at Los Alamos is perfect for young readers.
---
---
Out of Wonder: Poems Celebrating Poets
by Kwame Alexander, Chris Colderley, Marjory Wentworth, Ekua Holmes
Ages 8–12
Three poets and one artists collaborate to present poems honoring twenty different poets including Gwendolyn Brooks, E.E. Cummings, Emily Dickinson, Langston Hughes, Rumi, and Williams Carlos Williams.
---

The Wolf Keepers
by Elise Broach, Alice Ratterree
Ages 9–14
Lizzie (12) lives in a California wildlife park with her father, the head zookeeper. Lizzie enjoys the time she gets to spend with the animals, but her unique living situation prevents her from making close friends. Then she meets Tyler, a runaway from a foster home who has been hiding out at the zoo. Tyler tells Lizzie what happens at night, including a strange visitor to the new Wolf Woods exhibit he suspects is making the animals sick. The two try to determine the cause of the wolves' illness, and then head out to find John Muir's lost cabin in Yosemite.
---
See You in the Cosmos
by Jack Cheng
Ages 10–up
Alex Petroski (11) loves space, his mother and brother, and his dog named after his hero, astronomer Carl Sagan. Inspired by the Voyager Golden Record released to space in 1977, Alex records his thoughts and adventures into his gold iPad, determined to launch it into space so that intelligent beings light years away will understand Alex's Earth. He sets off with Carl Sagan to the Southwest High-Altitude Rocket Festival in New Mexico, where he meets other space fanatics and persuades two new adult friends to take him to Las Vegas in search of his perhaps-dead father, where he learns the truth about his family.
---

The Lotterys Plus One
by Emma Donoghue, Caroline Hadilaksono
Ages 8–12
The Lotterys are four friends who have become co-parents, a gay couple and a lesbian couple. They re-named themselves after the winning lottery ticket that made their dream of having a family come true, and have seven home-schooled children of various ages, races, and talents. They live unconventionally and happily in their 32-room Toronto mansion until the estranged father of one of the parents arrives for an indefinite stay. The personality of the stubborn and conservative grandfather (quickly dubbed Grumps) is especially hard on Sumac (9), who has been assigned as his personal guide. This funny story of adjusting to new situations is a winner.
---

Fannie Never Flinched: One Woman's Courage in the Struggle for American Labor Union Rights
by Mary Cronk Farrell
Ages 10–14
Fannie Sellins worked in garment sweatshops in St. Louis, Missouri, at the turn of the 20th century. A widow with four children to support, Fannie successfully united her fellow garment workers and fought for better wages and working conditions. She expanded her fight to workers in other industries and was killed by coal company guards on a picket line in Brackenridge, Pennsylvania in 1919. This accessible biography of a little-known union activist is a great introduction to the history of US labor rights.
---

Hello, Universe
by Erin Entrada Kelly, Isabel Roxas
Ages 8–12
Virgil Salinas (11) is shy and struggles in school. His only friends are his guinea pig Gulliver and Kaori Tanka, a self-proclaimed psychic whose little sister Gen won't stop following her around. Valencia is nearly deaf and longs for a friend. She hopes that Kaori can help her conquer her recurring nightmares. Instead, Kaori asks for her help when Virgil doesn't show up for a scheduled meeting. Chet Bullens is the neighborhood bully who wishes the weird kids would go away so he can concentrate on important things like basketball. His thoughtless prank traps Virgil and Gulliver at the bottom of a well. Told from four points of view, this novel explores the power of unexpected friendships.
---

We Are Okay
by Nina Lacour
Ages 14–up
Marin decides to stay in her nearly empty New York college dorm over winter break her freshman year. Her inclination to burrow under the covers and stay in bed is challenged when her friend Mabel comes to visit and persuades her to come back to San Francisco for a visit. But Marin isn't sure she is ready to face the past she would like to forget — the summer that began with her deepening relationship with Mabel, the death of Mabel's grandmother, and the exposure of disturbing secrets.
---

Uprooted: The Japanese American Experience During World War II
by Albert Marrin
Ages 12–up
Seventy-five years ago the American government rounded up over 100,000 American citizens on the basis of their ancestry and suspicions of loyalty and kept them in concentration camps for nearly four years. This powerful book examines the history of racism in America and traces the events that caused this decision, while also looking at the racism and xenophobia in Japan that led to the bombing of Pearl Harbor.
---

Optimists Die First
by Susin Nielsen
Ages 12–up
Petula de Wilde (16) was a normal happy teenager with a passion for crafting until the accidental death of her younger sister Maxine. Her parents have retreated into their books and music while Petula is haunted by the fact that tragedy can strike when least expected and worries about walking near construction sites, the possibility of earthquakes, and catching a rare disease. She is assigned to a youth art therapy group to help with her anxieties, and meets Jacob Cohen, who has a bionic hand and a talent for film-making. This empathetic novel explores the effects of grief and guilt.
---
Holding Up the Universe
by Jennifer Niven
Ages 14–up
High school junior Libby Strout was once so fat she had to be rescued from her house by a crane. Senior Jack Masselin has prosopagnosia (face blindness), which he tries to disguise with a cool-guy facade while keeping everyone at a distance. The two meet when Jack's friends involve him in a cruel taunting of Libby, and they end up in group counseling and community service together. At first angry with each other, they discover that enforced honesty allows them to form a friendship and tentative romance.
---

Bronze and Sunflower
by Cao Wenxuan, Meilo So
Ages 9–12
Sunflower's artist father is sent from the city to the rural Cadre School, where he finds the manual labor difficult and she is lonely. When her father accidentally drowns, Sunflower is taken in by the poorest family in the village, whose son Bronze hasn't spoken a word since he barely escaped a terrible fire. The two children become inseparable. This moving story portrays the power of love and loyalty to overcome the hardship of poverty and grief.
---

The Movie Version
by Emma Wunsch
Ages 14–up
Amelia is eager for the start of her junior year. In her movie-inspired version of life, her popular older brother Tony is the Star, and will sweep her along to parties and introduce her to all his cool friends as she plays her accustomed supporting role of Younger Sister. But Tony begins acting weird, hiding in his room and disappearing for days. Unsure how to play a different role, Amelia covers up for Tony. When he is diagnosed with schizophrenia, the family struggles to deal with the change, and Amelia is forced to learn to play a leading role.
---

The Sun Is Also a Star
by Nicola Yoon
Ages 12–up
Natasha and her family have lived in New York illegally for ten years. Now that her father has been arrested for drunk driving, the family is being deported to Jamaica. On her last day in New York City, she meets Daniel, a first-generation Korean American, in a record store. Daniel is preparing for a college interview at Yale, but finds himself drawn to Natasha, who appeals to the poetic side he has ignored to fulfill his parent's academic expectations. Natasha is practical and immune to dreams of destiny, at least until she meets Daniel.
---