---

A Beetle Is Shy
by Dianna Hutts Aston, Sylvia Long
Ages 5–8
Beautiful watercolors illustrate this accessible exploration of the vast insect order of beetles. Brief phrases ("A beetle is telegraphic") introduce different characteristics of these fascinating and diverse insects.
---

Counting
by DK Braille
Ages 2–5
The tactile spreads in this innovative book, designed specifically for blind or visually impaired readers, utilize different textures to explore counting techniques. Braille, large print, and high-contrast photographs take readers on a counting adventure in the park. Text alongside the Braille enables sighted and visually impaired family members to share the book together.
---

Beach Baby
by Laurie Elmquist, Elly MacKay
Ages Birth–3
A mother cradling a sleepy toddler at the beach promises that "everything will be here when you wake." The litany of common beach objects that follow — starfish, sand dollar, seal, sand piper — lull the baby to sleep. The beautifully lit diorama illustrations and restful text reassure young readers drifting off to sleep that everything will be waiting when they wake up.
---
My New Mom & Me
by Renata Galindo
Ages 3–7
This reassuring story of adoption is narrated by a small yellow puppy adopted by a large striped cat. The puppy is worried that they don't look alike, but the cat says she likes that they look different, and soon the puppy likes it too, and stops worrying about what everyone else might think. The puppy's new mother does all the things that other moms do, playing with, caring for, and even making her new child mad. The most important thing is that she always knows what to say when the puppy is sad as the two work together to learn how to be a family. The cross-species adoption illustration highlight the message that adopted families don't necessarily look alike, but are loving families just the same.
---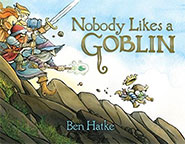 Nobody Likes a Goblin
by Ben Hatke
Ages 4–8
Goblin lives in a cozy rat-infested subterranean dungeon with his best friend Skeleton, playing happily with their treasure. One day marauding treasure hunters arrive and steal everything, including Skeleton. Goblin heads out into the wide world to save his friend, though his troll neighbor warns him that "Nobody likes a goblin." Elves and humans chase him away, but luckily he finds some other goblins who are willing to join the rescue party.
---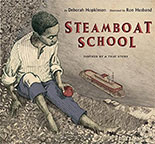 Steamboat School
by Deborah Hopkinson
Ages 4–8
James, his sister, and his mother are free blacks living in 1840s Missouri. Though free, James and other free blacks do not have the same rights as white. An 1847 Missouri law prohibited the education of African Americans, but Reverend John Berry Meachum, a former slave, ran a secret school in the basement of his church. James hates the dark basement school, lit only by a single candle. When the sheriff closes the illegal school, Reverend Meachum builds a steamboat with the help of his students, opening a legal school on the steamboat, anchored mid-river on federal property. This fictionalized story is an eloquent tribute to Revered Meachum, a real-life crusader for equal rights and education.
---
Flying Frogs and Walking Fish: Leaping Lemurs, Tumbling Toads, Jet-Propelled Jellyfish, and More Surprising Ways That Animals Move
by Steve Jenkins, Robin Page
Ages 4–7
This fascinating book presents the diversity of movement of nearly 50 creatures. Unexpected movements (a batfish walking, an elephant swimming) alternate with an examination of other animals utilizing the same method of movement. Detailed collage illustrations add to the appeal of this fun exploration of biodiversity that combines biology, science, art, and the environment in surprising ways.
---

This Is Not A Book
by Jean Jullien
Ages 2–4
This interactive board book encourages young readers to see things in a new way. The hinge at the center of each spread transforms the book into a laptop computer, butterfly, toolbox, a tent, the inside of a refrigerator, and more.
---

The Moon's Almost Here
by Patricia MacLachlan, Tomie dePaola
Ages 4–8
Soothing verses welcome the slow rising of the moon. A small boy, wearing an old-fashioned nightgown, and his father, dressed in a Pierrot costume, watch the sky gradually darken from turquoise to deep blue before the moon finally makes a much-anticipated appearance in the final pages. This beautifully illustrated and reassuring book is perfect for bedtime sharing.
---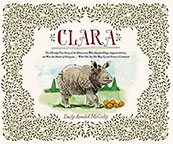 Clara: The (Mostly) True Story of the Rhinoceros who Dazzled Kings, Inspired Artists, and Won the Hearts of Everyone… While She Ate Her Way Up and Down a Continent
by Emily Arnold McCully
Ages 4–8
In 1741 Captain Douwemont Van der Meer transported a young rhinoceros he named Clara from India to his home in Leiden, Holland. Europeans had never seen a rhinoceros, and Van der Meer took Clara to Berlin, Rome, Paris, Vienna, and other cities where she amazed peasants and aristocrats alike. Poets, artists, and musicians created works in her honor, while Van der Meer struggled to raise enough money to keep Clara fed. She consumed 100 pounds of hay and 30 loaves of bread a day, and had a great fondness for oranges and beer. Every day Clara grows in size, necessitating ever larger wagons for transportation. Watercolor illustrations capture the affection between Clara and Van der Meer and the fashions of the time.
---

Frank and Lucky Get Schooled
by Lynne Rae Perkins
Ages 4–8
Frank's parents take him to the animal shelter and he adopts Lucky, a young Labrador retriever. The two bond instantly and become inseparable, exploring their surroundings. Lucky is interested in science and observes squirrels and snow. An encounter with a skunk leads Frank to discoveries about how chemistry can change smells, and clearing Lucky's coat of burdocks and ticks provides new knowledge about botany and entomology. A series of pictures of the two sharing a bed raises the topic of fractions and percentages, and meetings with others introduce foreign languages (Spanish and Duck). This lighthearted book celebrates the educational rewards of investigating the everyday world around us.
---

Our Love Grows
by Anna Pignataro
Ages 4–8
Little Pip the panda observes the world changing and growing with the seasons, and feels a bit left behind. His loving Mama reassures him that just like the trees in the forest and the stars in the sky, Pip is also slowly changing and growing. The one constant is the love between mother and child.
---

Prairie Dog Song: The Key to Saving North America's Grasslands
by Susan L Roth, Cindy Trumbore
Ages 6–11
The prairie of North America was a balanced ecosystem of prairie dogs, owls, bison, and eagles for thousands of years. Within 60 years of the arrival of farmers and ranchers the prairie was nearly destroyed, and many plants and animals vanished. The discovery of a remnant prairie in the 1980s led to the re-introduction of the black-tailed prairie dog and an environmental recovery. Verses set to the tune of The Green Grass Grew All Around celebrate the rebirth of the prairie.
---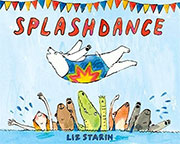 Splashdance
by Liz Starin
Ages 4–7
Ursula, a polar bear, and her human partner Ricardo have trained hard for the water ballet competition with a prize of a million dollars. Then the swimming pool bans bears for being "too hairy," and Ricardo finds himself a new less-hairy partner. Ursula is despondent and cries for weeks under her kitchen table before joining a multi-species group that stands by all its members and works to convince the swimming pool to reopen and include everyone, hairy or not.
---

A Piece of Home
by Jeri Watts, Hyewon Yum
Ages 4–8
Hee Jun and his family move from Korea to West Virginia, where his father has a new teaching job. The whole family struggles to adapt to their new environment. In Korea Hee Jun was an ordinary boy, but now he looks different than his classmates and cannot understand his teacher. His younger sister Se Ra is unhappy and bites and kicks her classmates. His formerly energetic grandmother is so homesick she sits on the porch everyday and does nothing. Then Grandmother begins attending school with Se Ra so they can both learn English together and Hee Jun makes a friend named Steve. At his friend's house Hee Jun spots his grandmother's favorite flower mugunghwa, which Steve explains is called Rose of Sharon. Hee Jun brings a sprig home to his grandmother, a piece of home to brighten their new home in America.
---
---

The Transatlantic Conspiracy
by G.D. Falksen, Nat Iwata
Ages 14–up
It's 1908, and Rosalind Wallace (17) is having a wonderful visit in England with her best friend Cecily de Vere. She is furious when her father decides that it is time for her to return home to America, booking her on the maiden voyage of his amazing Transatlantic Express, the world's first underwater railway. Cecily and her brother Charles offer to accompany her to New York, but Charles disappears and Cecily and her maid are found stabbed to death in their train stateroom. Trapped on the underwater train, Rosalind must overcome her grief to clear herself of suspicion and find Cecily's murderer.
---
We Were Never Here
by Jennifer Gilmore
Ages 14–up
Lizzie Stoller (16) is teaching archery to a group of campers when she suddenly collapses, incapacitated by intense pain. She wakes up in the hospital, diagnosed with ulcerative colitis, a rare disease she has never heard of. Isolated from her past life in the hospital, Lizzie is lonely and afraid until she meets Connor, a teenaged hospital volunteer, and his dog, Verlaine. Lizzie feels an immediate connection with Connor, but senses that he is hiding a deep pain of his own that she feels incapable of easing. Lizzie gradually regains confidence as her focus shifts from what she can no longer do to what she can still accomplish.
---

When Friendship Followed Me Home
by Paul Griffin
Ages 10–up
Ben Coffin (12) has never been good at making friends. A former foster child, he is happy with his elderly adoptive mother and former therapist, and thrilled to be living in Coney Island. Ben loves to read science fiction and gets to know Mrs. Lorentz, the local librarian. Outside the Coney Island Public Library Ben meets Flip, an abandoned dog who follows him home. Through Flip, Ben meets Haley, a fellow book-lover who wears strange combinations of bright colors. They begin writing a fantasy story together during Haley's chemotherapy treatments. When Ben's mother dies and Haley's treatment begins to fail, Ben finds it hard to stay optimistic.
---

Steeplejack
by A.J. Hartley
Ages 13–up
Ang Stonga (16) works as a steeplejack, cleaning and maintaining the towers and spires of Bar-Selehm, an alternative 19th-century South African city. On the same day her young apprentice is murdered, the city's Beacon, an incredibly valuable piece of luxorite that shines a bright light from the highest tower, is stolen. A secret government agency hires Ang to find the killer, sure that the murder is connected to the theft. Ang's investigation reveals a far-reaching conspiracy that could destroy the city. This intense thriller is the first in the Alternative Detective series.
---
The Best Worst Thing
by Kathleen Lane
Ages 8–12
Maggie (11) worries about everything. Why doesn't her older sister want to play with her anymore? What will happen to the baby rabbits next door? Why isn't her father ever home? One day shortly after Maggie and her sister return home from the neighborhood Mini Mart they learn that it was robbed just after they left, and the cashier was shot and killed. Maggie's worries go into overdrive and she begins to obsessively check that all the doors and windows are locked at all times. Starting middle school only makes things worse. What will happen when the school bully gets a gun for his 12th birthday? Maggie becomes increasingly dependent on performing rituals and routines, counting to make sure everything is evenly numbered. A new friendship helps Maggie control her anxiety and begin to form a more positive outlook.
---

Faerie
by Eisha Marjara
Ages 14–up
Lila, the older daughter of a Canadian Punjabi Sikh family, has always hated her body, which she sees as far too chubby, especially compared with her trim younger sister and beautiful older cousin. Lila realizes that food is one of the few things she can control, and becomes an expert calorie counter, determined to release her svelte inner "faerie" persona. At the age of 17, her weight drops dangerously low, and she is admitted to a facility for psychiatric help dealing with anorexia. She breaks the rules, hides food instead of eating, and begins compulsively exercising to stay thin. A friendship with a new patient causes Lila to question whether she wants to live, and she plans a suicide to celebrate her 18th birthday. This poignant novel portrays the insecurity of being a teenager, the pressure to attain ideal beauty, and the complexities of anorexia.
---

Tell Us Something True
by Dana Reinhardt
Ages 14–up
River (17) is heart-broken when his girlfriend Penny breaks up with him. Without Penny to give him a ride home, River walks the streets alone and notices a sign advertising "Second Chance." Hoping for a lonely hearts group, River joins the meeting, only to discover that it is a group struggling with various types of addiction. Too embarrassed to leave, River pretends he has a drug addiction and tells a series of lies that spiral out of control. Attracted to Daphne, a girl fighting her shoplifting addiction, River finds the blog of a marijuana addicted teen online and steals stories to tell at the meetings. Eventually River has no choice but to tell the truth.
---

Prairie Dog Song: The Key to Saving North America's Grasslands
by Susan L Roth, Cindy Trumbore
Ages 6–11
The prairie of North America was a balanced ecosystem of prairie dogs, owls, bison, and eagles for thousands of years. Within 60 years of the arrival of farmers and ranchers the prairie was nearly destroyed, and many plants and animals vanished. The discovery of a remnant prairie in the 1980s led to the re-introduction of the black-tailed prairie dog and an environmental recovery. Verses set to the tune of The Green Grass Grew All Around celebrate the rebirth of the prairie.
---

American Girls
by Alison Umminger
Ages 13–up
Anna (15) is fed up with being the "leftover" of her parent's divorce. When a prank gets out of hand, Anna "borrows" her stepmother's credit card and books a flight to Los Angeles to visit her glamorous older sister Delia, a struggling actress. Delia's ex-boyfriend Roger is making a movie about LA murders. To earn her plane fare home, Anna gets a job doing research on Charlie Manson's female followers for Roger. Immersion in the world of serial killers along with the fear that Delia is being stalked leads to paranoia and the uncomfortable realization that she has more in common with the Manson girls than she should.
---