Odetta: The Queen of Folk
by Stephen Alcorn
Ages 8–12
This accessible biography introduces young readers to the influential folk singer who began to sing in childhood and never stopped. Blessed with a magnificent voice, Odetta uses her talents to inspire others to support the civil rights movement. Lyrical text and rich paintings tell the story of the queen of folk music.
---

Trombone Shorty
by Troy Andrews, Bryan Collier
Ages 4–8
Troy "Trombone Shorty" Andrews earned his nickname at the age of six by playing a trombone longer than he was tall on the streets of the Tremé neighborhood of New Orleans where he grew up. Troy tells of the dream of starting his own band that began when he found a battered trombone and taught himself to play. This accessible autobiography is a celebration of the rich culture of New Orleans and the power of music.
---

Master of Deceit: J. Edgar Hoover and America in the Age of Lies
by Marc Aronson
Ages 14–up
This detailed biography of the controversial FBI director tells the story of the growth of the FBI, under Hoover's leadership for 40 years, against the background of the immigrant history of the United States. Parallels between the historical pursuit of Communists and the current fight against terrorism highlight the price of security and the media's role in keeping secrets. Period photographs, movie posters, cartoons, and FBI documents illustrate this thought-provoking biography.
---

Fifty Cents and a Dream: Young Booker T. Washington
by Jabari Asim, Bryan Collier
Ages 3–6
Born into slavery, young Booker T. Washington could only dream of learning to read and write. His youth after freedom was very hard, working in a salt furnace and a coal mine. The heart of this compelling picture book is Washington's 500 mile walk — tired, hungry, and alone — to finally attend school at Hampton Institute, the first step in his journey toward a college education.
---

Preaching to the Chickens: The Story of Young John Lewis
by Jabari Asim, E.B. Lewis
Ages 5–8
Young John Lewis wants to be a preacher when he grows up, and when given the task of caring for his family's flock of chickens decides to practice his sermons. The chickens are the prefect congregation, docile, attentive, and responsive to his voice. An author's note fills in the later life of the future civil rights activist: a member of the Freedom Riders, chairman of the Student Nonviolent Coordinating Committee, demonstrator on the Edmund Pettus Bridge in Selma, Alabama, and currently a Georgia congressman.
---

Dream Something Big: The Story of the Watts Towers
by Dianna Hutts Aston, Susan L. Roth
Ages 5–8
The 34 year construction of Watts Towers is told from the viewpoint of a small girl who grows up and has a child of her own. Beginning in 1921, Italian immigrant Simon Rodia constructed towering spires from found objects in his property in Watts, California. The stunning collage illustrations mimic the mosaic decorations of the towers, finished in 1955. This beautiful book pays tribute to imagination and perseverance, and includes a "build your own tower" activity.
---

Our Abe Lincoln
by Jim Aylesworth
Ages 4–8
The simple text of this biography is adapted by a popular song during Lincoln's presidential campaigns, and can be sung to the tune of "The Old Grey Mare." The charming and detailed illustrations will enchant children as they sing along.
---

Balcony on the Moon: Coming of Age in Palestine
by Ibtisam Barakat
Ages 12–up
This memoir, beginning in 1972, continues the story begun in Tasting the Sky: A Palestinian Childhood. As a high school student, Ibtisam accepts that she cannot do anything about the wars that surround her, instead concentrating on her schoolwork. Her mother admits that giving up her own education for marriage felt "worse than death" and works on completing her own high school education. The book is divided into five parts, each set in one of the family's five homes, ending in 1981. As she matures Ibtisam becomes more aware of her parents' marriage and gender restrictions, becoming determined not to live her mother's restricted life.
---
The Amazing Age of John Roy Lynch
by Chris Barton, Don Tate
Ages 7–10
John Roy Lynch spent his childhood as a slave in Mississippi. After emancipation, Lynch took odd jobs to pay for his education and became a Justice of the Peace and then one of the first African-American Congressmen. This engaging biography portrays the difficulties of the Reconstruction Era while celebrating a talented man determined to succeed.
---
The Day-Glo Brothers
by Chris Barton, Tony Persiani
Ages 4–8
Brothers Joe and Bob Switzer were very different. Bob was serious and wanted to be a doctor. Joe was an amateur magician and wanted to make a name for himself in show business. When Bob had a serious accident and was confined to a dark basement for recovery, the two brothers began experimenting with ultraviolet light and fluorescent paints, and invented a new kind of intense color they called Day-Glo. Joe used the Day-Glo paint in his magic act, and later Day-Glo paint was used to guide planes to safe landings on aircraft carriers during WWII. The illustrations for this accessible biography are created with three Day-Glo colors: Saturn Yellow, Fire Orange, and Signal Green.
---
El Deafo
by Cece Bell
Ages 8–12
Cece lost her hearing at a young age, and received a Phonic Ear, a very large and very awkward hearing aid. The Phonic Aid allows Cece to hear, sometimes things she shouldn't, but also isolates her from her classmates who find the Phonic Ear very strange. Cece longs to fit in and find a true friends, eventually creating a superhero alter ego — El Deafo, Listener for All. This graphic novel autobiography is both poignant and funny.
---

Alicia Alonso: Prima Ballerina
by Carmen T. Bernier-Grand, Raul Colon
Ages 10–up
This biography in free verse tells the story of Alicia Alonso, the famous Cuban ballerina. From her childhood, to her climb to achieve the rank of prima ballerina, and her fight to keep dancing when she begins to lose her sight, Alicia's grace and strength are celebrated. The physical trials of ballet dancing, and Alicia's complex relationship with the Cuban government give this biography depth.
---

Hillary Rodham Clinton: A Woman Living History
by Karen Blumenthal
Ages 12–up
This biography covers Hillary Rodham Clinton's life from her childhood in Illinois through the beginning of her current presidential campaign, focusing on the experiences that shaped her beliefs and how those principles guide her actions. Clinton's struggle to retain her privacy in a public forum helps shape this compelling portrait of her personality, life, and work.
---

Pathfinders: The Journeys of 16 Extraordinary Black Souls
by Tonya Bolden
Ages 10–14
The 16 short biographical stories are presented in chronological order, beginning with Venture Smith, the son of a West Aftican prince who was sold into slavery, freed himself and his family, and fought in the Revolutionary War. Other little known American men and women of African descent include soprano Sissieretta Jones, banker Maggie Lena Walker, WWI fighter pilot Eugene Bullard, and mathematician and NASA researcher Kathering Coleman Goble Johnson.
---

Survivors Club: The True Story of a Very Young Prisoner of Auschwitz
by Michael Bornstein, Debbie Bornstein Holinstat
Ages 10–14
In 1945, when he was four, Michael Bornstein was filmed by Soviet soldiers as he was carried out of Auschwitz by his grandmother. When he discovered that the image was being used as Holocaust-denying propaganda, he decided to share his memories. Assisted by his daughter Debbie, he learned that of the 3,400 Jews living in Zarki, Poland before the Holocaust, fewer than 30 survived. This moving memoir gives a very human face to the horrors of the Holocaust.
---

Step Right Up: How Doc and Jim Key Taught the World about Kindness
by Donna Janell Bowman, Daniel Minter
Ages 7–12
William "Doc" Key had a connection to animals since he was a child. While growing up as a slave in Tennesee, Doc was sent to plantations around to state to care for sick animals. When Doc was freed after the Civil War, he dreamed of breeding a winning race horse, but his colt was born weak. Instead of euthanzing the colt, Doc nursed the sickly colt back to health and named him Jim. Doc taught Jim to recognize letters and to count. The two traveled around the country, telling the story of how kindness saved Jim and brought them both happiness.
---

Keep Your Eye on the Kid:

The Early Years of Buster Keaton
by Catherine Brighton
Ages 5–8
This picture biography follows Buster Keaton from his birth to vaudeville parents to his early 30s.
---

He Has Shot the President!: April 14, 1865: The Day John Wilkes Booth Killed President Lincoln
by Don Brown
Ages 6–9
This fifth in the "Actual Times" series presents the shooting of President Lincoln and then follows Booth's attempted escape. Lincoln's death, the investigation to track down Booth and his conspirators, and the eventual hanging of the four members of the assassination plot are presented chronologically with water color illustrations.
---

Soar, Elinor!
by Tami Lewis Brown, Francois Roca
Ages 4–8
Elinor Smith was only six when she went up in her first airplane, and only sixteen when she earned her pilot's license, the youngest pilot in the USA. But most people didn't think women should be pilots, and newspapers belittled her accomplishment. So Elinor took a dare to fly under one of New York City's bridges, and then flew under four of them. Details of Elinor studying each bridge and plotting her route builds the suspense in this exciting story of determination and daring.
---
Ashley Bryan: Words to My Life's Song
by Ashley Bryan
All Ages
This powerful autobiography tells a story of a creative life. Illustrations and memories show a boy finding art materials during the Depression, storing art supplies in his gas mask during WWII, losing an art scholarship because of his race, and an award-winning art career. A book for parents and children to enjoy together, this book will inspire artists of all ages.
---

The Right Word: Roget and His Thesaurus
by Jen Bryant, Melissa Sweet
Ages 7–up
Peter Mark Roget had a chaotic childhood. After his father died, the family moved frequently, a trial for the shy young boy. To satisfy his need for order, Peter began making lists of words. As he arranged the words into long neat rows, he felt comforted. When he began to organize his ideas into written form, Peter found that his lists helped him find just the right word to express himself. This accessible biography celebrates the man who invented the thesaurus and the joy of learning.
---
Six Dots: A Story of Young Louis Braille
by Jen Bryant, Boris Kulikov
Ages 4–8
After an accident left Louis Braille blind, he was sent to Paris at the age of 10 to study at the Royal School for the Blind. Louis was disheartend to discover that each word in the books for the blind was as big as his hand, and a sentence took up half a page, making each book enormous and very expensive. Louis was determined to come up with a more efficient method, eventually adapting a military coding technique. This engaging biography emphacizes Braille's creativity rather than his disability.
---

Laughing at My Nightmare
by Shane Burcaw
Ages 14–up
This frank and funny autobiography describes what it is like to grow up dependent on other people for nearly everything. Shane Burcaw was born with spinal muscular atrophy (SMA) leaving him confined to a wheelchair and unable to care for himself. Now 21, Shane has blogged about his disability and launched a nonprofit to spread his message of using humor to deal with adversity.
---

The Adventures of Mark Twain by Huckleberry Finn
by Robert Burleigh, Barry Blitt
Ages 7–10
This clever biography of Mark Twain is narrated by Huckleberry Finn in a folksy style that begs to be read aloud. Cartoon-like pen and ink illustrations and a variety of typefaces add to the exaggerated tall tale style of this delightful book.
---

Edward Hopper Paints His World
by Robert Burleigh, Wendell Minor
Ages 5–9
Edward Hopper knew what he wanted to do with his life from a young age, labeling his pencil box with the words EDWARD HOPPER, WOULD-BE ARTIST. This stunning picture book biography presents an artist fascinated by light and shadow, a loner whose works reflect his own isolation.
---

George Bellows: Painter with a Punch!
by Robert Burleigh
Ages 8–12
This accessible biography of painter George Bellows (1882-1925) is packed with reproductions of his high-energy paintings of New York City, including street scenes, boxing matches, and boys diving into the East River.
---

Night Flight: Amelia Earhart Crosses the Atlantic
by Robert Burleigh, Wendell Minor
Ages 4–8
This exciting book tells the story of Amelia Earhart's historical solo flight across the Atlantic in 1932. The storm and mechanical difficulties that endangered the plane and Amelia's life are portrayed in both the stunning illustrations and text that build tension to the climax of the iced wings that caused Amelia to lose control of the plane. Notes on Amelia's life are included in the afterward.
---
Electric Ben
by Robert Byrd
Ages 5–8
This fascinating illustrated biography includes information about Ben Franklin's early days as a printer, his involvement in politics, and his life-long interest in scientific research, and his amazing inventions.
---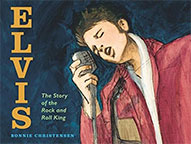 Elvis: The Story of the Rock and Roll King
by Bonnie Christensen
Ages 6–9
This biography concentrates on the early life of Elvis Presley. A shy child, Elvis enjoyed singing in church and learned to play the guitar. In high school he was teased by his classmates because of his interest in music. As part of a customer promotion, he recorded a song as a surprise present for his mother's birthday. The studio loved the record and sent it to local radio stations, this launching the career of the King of Rock and Roll.
---
I, Galileo
by Bonnie Christensen
Ages 8–12
The aging Galileo, sentenced to house arrest, looks back at his life, describing his education, scientific discoveries, and interrogation by the Inquisition. The first person narration and explanatory style make the science and the man accessible to young readers. Galileo's insistence on his right to pursue the truth, no matter what the cost, adds a hopeful note. Dramatic illustrations highlight his fascination with the night sky.
---

Words Set Me Free: The Story of Young Frederick Douglass
by Lesa Cline-Ransome, James E. Ransome
Ages 5–9
Powerful first person narration tells the story of Frederick Douglass's early life as a plantation slave. Learning to read was the catalyst for Frederick's determination to escape from slavery. "I bought my first newspaper and learned new words—liberty, justice, and freedom." Eventually Frederick uses his writing skills to forge a letter from his master releasing him. Though not avoiding the cruel realities of slavery, this accessible biography celebrates determination and hope.
---

Chuck Close: Face Book
by Chuck Close
Ages 8–12
This fascinating autobiography focuses on the evolution of artist Chuck Close's huge portraits. Based on questions submitted by real children, Close talks candidly about his work. Close explains how he coped with a global learning deficit since childhood and then a collapsed spinal artery that left him nearly paralyzed at the age of 48. Now wheelchair-bound, Close paints with a brush strapped to his arm, reveling in the excitement of creating his art.
---
Seed by Seed: The Legend and Legacy of John "Appleseed" Chapman
by Esme Raji Codell, Lynne Rae Perkins
Ages 4–8
John Chapman was born in 1774. Today we remember him as Johnny Appleseed and honor him for his simple philosophy: Use what you have. Share with others. Respect nature. Try to make peace where there is war. You can reach your destination by taking small steps. Watercolor and gouache illustrations on burlap and wood highlight the ingenuity Chapman was known for.
---
A Nation's Hope: The Story of Boxing Legend Joe Louis
by Matt de la Peña, Kadir Nelson
Ages 6–8
Beautifully realistic oil paintings illustrate this tribute to Joe Lewis. Focusing on Lewis's 1938 rematch against German boxer Max Schmeling, this accessible biography shows how the match unified, for one evening, a racially divided country, as black and white fans joined together to cheer the son of a black sharecropper as he took on the white symbol of Hitler's "master race."
---

Taking Flight: From War Orphan to Star Ballerina
by Michaela DePrince, Elaine DePrince
Ages 12–up
Abandoned at a young age in war torn Sierra Leone, Michaela DePrince was known as Girl Number 27 at the orphanage or Devil Child because of a skin condition that caused spots. Her only joy was the picture of a ballerina en pointe on a wall. At the age of four, Michaela was adopted by an American family who encouraged her love of dancing. She was accepted at the American School of Ballet and is now the youngest principal dancer with the Dance Theatre of Harlem. This moving memoir is written by Michaela and her adoptive mother.
---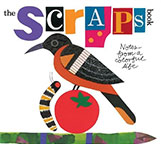 The Scraps Book: Notes from a Colorful Life
by Lois Ehlert
Ages 5–10
Lois Ehlert always knew she was an artist and was encouraged by her parents to make things with leftover scraps of fabric and buttons. Art school gave her the skills to create picture books. This fascinating autobiography helps readers to create projects of their own with directions for making a bird feeder and a cat mask, and makes it clear that creating collage pictures is an art form anyone can enjoy.
---

Fannie Never Flinched: One Woman's Courage in the Struggle for American Labor Union Rights
by Mary Cronk Farrell
Ages 10–14
Fannie Sellins worked in garment sweatshops in St. Louis, Missouri, at the turn of the 20th century. A widow with four children to support, Fannie successfully united her fellow garment workers and fought for better wages and working conditions. She expanded her fight to workers in other industries and was killed by coal company guards on a picket line in Brackenridge, Pennsylvania in 1919. This accessible biography of a little-known union activist is a great introduction to the history of US labor rights.
---

Dare the Wind: The Record-breaking Voyage of Eleanor Prentiss and the Flying Cloud
by Tracey Fern, Emily Arnold McCully
Ages 5–9
Eleanor Prentiss was born into a sailing family, and learned how to handle a sailing ship from her ship-captain father. She married a man who loved sailing as much as she did, and in 1851 served as navigator of their clipper ship The Flying Cloud on its 15,000 maiden voyage from New York City, around the tip of Cape Horn, and into San Francisco to deliver passengers and cargo to the Gold Rush. This accessible biography presents a little-known female sailor at a time when only men were expected to take the helm.
---

Miss Etta and Dr. Claribel: Bringing Matisse to America
by Susan Fillion
Ages 10–up
Miss Etta and Dr. Claribel Cone were two unmarried sisters from Baltimore who fell in love with modern art in Paris. The two sisters, encouraged Leo Stein, supported beginning artists like Henri Matisse and Pablo Picasso, bought their paintings, and brought them back to America. Without professional advice or counsel, trusting their eyes and instincts, the two sisters concentrate on the avant-garde. Few were aware of the extent of their collection until Etta published a catalog in 1934, revealing one of the foremost collections of Matisse's work in the world, bequeathed to The Baltimore Museum of Art in 1949. This touching story is lavishly illustrated with reproductions of the Cone Collection and the colorful Matisse-inspired paintings by the author.
---

Sir Charlie: Chaplin, the Funniest Man in the World
by Sid Fleischman
Ages 9–12
Photographs and newspaper clippings enliven this sympathetic biography of the great silent film star whose career ended with the introduction of sound to movies. Chaplin was one of Fleischman's idols, and his admiration for Chaplin's humor will motivate young readers to seek out some of the silent film gems listed in the filmography.
---

Abraham Lincoln and Frederick Douglass: The Story Behind an American Friendship
by Russell Freedman
Ages 9–12
This fascinating photo biography tells the story of the friendship between two remarkable men. Both Lincoln and Douglass were born poor, and rose to positions of influence through their intelligence and hard work. A brief history of the war that provided the background for their friendship is efficiently presented.
---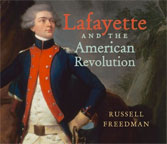 Lafayette and the American Revolution
by Russell Freedman
Ages 10–up
In this accessible biography, we first meet the Marquis de Lafayette as a strong-willed 19-year-old defying the King of France to run off and join the American Revolution. Though young Lafayette had never set foot on a battlefield before, he soon earned the respect of the Americans because of his bravery and drive to succeed. The text is enlivened by quotations and anecdotes from Lafayette's unconventional life, while drawings and portraits help to keep the large cast of characters straight.
---

Lincoln: A Photobiography
by Russell Freedman
Newbery Medal 1988


Ages 8–12
This comprehensive and accessible biography of Abraham Lincoln is enhanced by period photographs and drawings.
---

Strange Fruit: Billie Holiday and the Power of a Protest Song
by Gary Golio, Charlotte Riley-Webb
Ages 8–12
This powerful book focuses on two pivotal moments from Billie Holiday's career as a singer: leaving Artie Shaw's band after the latest in a long string of incidents of discrimination and the first performance of the song "Strange Fruit," a protest song about the lynching of Blacks. At that first performance some audience members got up and left; the remainder were stunned into silence before breaking out into thunderous applause. The vivid illustrations highlight the theme of the power of art to fight against intolerance and hate.
---

The Storyteller's Candle/La velita de los cuentos
by Lucia González, Lulu Delacre
Ages 4–9
This bilingual book set in 1929 tells the story of Pura Belpré, the first Puerto Rican librarian hired by the New York Public Library, through the eyes of two children who are inspired by her to enter the Library for the first time.
---

Bring Me Some Apples and I'll Make You a Pie
by Robbin Gourley
Ages 4–8
This book follows Edna Lewis during her childhood in a Virginia farming community. From early spring until first snow, Edna appreciates each crop as it ripens and is ready to be incorporated into a delicious dish. Folk rhymes and sayings are sprinkled throughout the text. A short biography of this famous African-American chef and five kid-friendly recipes are included.
---

Bon Appétit! The Delicious Life of Julia Child
by Jessie Hartland
All ages
This engaging biography follows Julia Child from her childhood in Pasadena, California, her life as a spy in WWII, her experiences taking cooking classes in Paris, her travels around the world, the publication of her cookbook, and her career as a TV chef. Lively illustrations enliven the narrative and highlight humorous moments from Julia's live cooking show.
---

The Boy Who Loved Math: The Improbable Life of Paul Erdos
by Deborah Heiligman, LeUyen Pham
Ages 3–8
Paul Erdos loved math from the time he was a small boy, but he was unhappy with all the rules he had to follow at school and convinced his mother to let him study at home. Known as "The Magician from Budapest," at the age of four Paul could calculate in his head the number of seconds lived when given a birth date, but he never mastered common life tasks like cooking, laundry, or driving a car. Instead, he flitted around the world, sleeping on the couches of anyone interested in talking math with him. This accessible book celebrates an unconventional and brilliant mathematician in both words and illustrations.
---

Charles and Emma: The Darwins' Leap of Faith
by Deborah Heiligman
Ages 12–up
This biography focuses on the marriage of Charles Darwin to his cousin Emma Wedgwood. Supported by historical context and quotations from their own personal writings as well, we meet a man who believes in reason and a woman who believes in God. This sympathetic account helps readers to understand Darwin's views and the influence of Emma's beliefs.
---

Vincent and Theo: The Van Gogh Brothers
by Deborah Heiligman
Ages 14–up
When they were teenagers, Vincent and Theo Van Gogh vowed to be life companions in the search for meaning in life and art. Though different personalities, the two brothers shared everything. Vincent struggled to find his place in the world while Theo became an art dealer with a stable life. Based on the 658 letters Vincent wrote to Theo, this joint biography documents Vincent's cycles of descent into mental illness and the support Theo provided him.
---

John Brown: His Fight for Freedom
by John Hendrix
Ages 8–12
In the late 1850s, John Brown, the infamous white abolitionist, backed his beliefs with action. This unflinching biography presents Brown's transformation from a supporter of the underground railroad into an activist prepared to use violence to support his beliefs. The violent raid in Harper's Ferry, Virginia, that led to Brown's arrest and execution provides an exciting climax to this compelling biography.
---
Mary Cassatt: Extraordinary Impressionist Painter
by Barbara Herkert, Gabi Swiatkowska
Ages 4–8
Mary Cassatt lived in a time when it wasn't acceptable for proper girls to become artists. But Mary pursued her interest in art with a passion, moving to Paris to study and paint. But her work was rejected by the Salon art judges again and again. Then Edgar Degas invited Mary to join a group of Impressionists artists who refused to follow the rules of painting, preferring to paint their own way. This beautifully illustrated biography highlights the rewards of creating art on one's own terms.
---

Ugly
by Robert Hoge
Ages 8–12
When Robert Hoge was born he was so ugly his mother refused to look at him. He had a tumor the size of a tennis ball in the middle of his face and short twisted legs. The doctors removed the tumor and made him a new nose from one of his toes, but everyone agreed he was ugly. Children mocked him and adults stared. But Robert refused to let his looks define him, and with the help of his supportive parents he had as normal a childhood as possible, playing pranks, getting into trouble, and having adventures with his family. This honest memoir of overcoming bullying and making the best of one's lot in life is narrated with grace and humor.
---

Claudette Colvin: Twice Toward Justice
by Phillip Hoose
Ages 10–up
In March 1955, nine months before Rosa Parks refused to surrender her seat to a white passenger, 15-year old Claudette Colvin was dragged from a bus and arrested for the same reason. This book introduces readers to the courageous teenager who was overshadowed by Rosa Parks as the center of the bus boycott. Young readers are encouraged to empathize with young Claudette, at first dismissed as too "emotional" to withstand public scrutiny, but later a key witness in the federal lawsuit that would end discrimination on public transportation. (2010 Newbery Honor Book)
---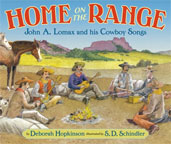 Home on the Range:

John A. Lomax and His Cowboy Songs
by Deborah Hopkinson, S.D. Schindler
Ages 6–8
This colorful biography tells about the early life of John Avery Lomax, an early folk musicologist who got his start collecting the cowboy songs he had loved as a child on his Ediphone recording device. The realistic illustrations bring the old west to life.
---

Levi Strauss Gets a Bright Idea: A Fairly Fabricated Story of a Pair of Pants
by Tony Johnston, Stacy Innerst
Ages 4–8
The story of how Levi Strauss came to invent the sturdy pants that bear his name is told in tall tale fashion in this amusing picture book. When Levi arrived in California in 1853, he noticed that the hard-working miners wore through their pants quickly, and created sturdy canvas jeans designed to last longer. Illustrations painted with acrylics on old jeans accompany this exaggerated tale of the Wild West.
---
Looking at Lincoln
by Maira Kalman
Ages 5–8
The little girl in this book wants to see beyond the picture on the penny and discover who Lincoln really was. She discovers that Lincoln believed in freedom for everyone, had a dog named Fido, kept his notes in his hat, and loved Mozart and his wife' s vanilla cake. This fresh look at our 16th president will captivate young readers.
---

The Extraordinary Mark Twain
by Barbara Kerley, Edwin Fotheringham
Ages 7–11
Thirteen-year-old Susy is determined to set the record straight about her famous father, and spends a year writing her own observations. This accessible biography, which includes clever illustrations as well as excerpts from Susy's actual diary, presents an intimate portrait of the real man behind the famous one. Author notes include a timeline of Twain's life as well as tips for writing an extraordinary biography of your own.
---

A Home for Mr. Emerson
by Barbara Kerley, Edwin Fotheringham
Ages 8–12
This accessible biography tells the story of Ralph Waldo Emerson and his love for Concord, Massachusetts. Imaginative illustrations display Emerson's powerful inner life and the freedom he felt in Concord to create the perfect life for himself.
---
Those Rebels, John and Tom
by Barbara Kerley, Edwin Fotheringham
Ages 7–11
Clever verse and humorous illustrations portray the different personalities of two founding fathers and early presidents: Thomas Jefferson and John Adams. Lively typography and a bold color palette complement this story of strength coming from difference.
---
What To Do About Alice?

How Alice Roosevelt Broke the Rules, Charmed the World, and Drove Her Father Teddy Crazy!
by Barbara Kerley
Ages 4–8
This high energy picture book celebrates a young spirited American heroine who livened up the White House.
---
I Have a Dream
by Martin Luther King Jr., Kadir Nelson
All ages
Slightly edited to make it understandable to children of all ages, Dr. King's famous speech is beautifully illustrated, showing King as both larger-than-life and deeply human. A CD of the speech is included.
---

Lincoln Tells a Joke

How Laughter Saved the President (and the Country)
by Kathleen Krull and Paul Brewer, Stacy Innerst
Ages 5–8
This accessible biography begins by describing all the reasons Lincoln had to be depressed, including his harsh childhood and homely appearance. Then Lincoln's story is told in chronological order while highlighting his use of humor to deal with disappointment, grief, worry, and pain. The humorous illustrations add to the upbeat portrait of a man who coped with life by staying positive and looking for the lighter side throughout serious events.
---

In Search of the Little Prince
by Bimba Landmann
Ages 7–up
This picture book biography of Antoine de Saint-Exupéry presents child-friendly events from his life that inspired the eventual writing of The Little Prince. Antoine loved listening to the fairy tales his mother told him, tried to make his bicycle fly, tamed a fox in the Moroccan desert, and found a rose to love and cherish. Moments of loneliness caused him to draw the outline of a child on a sheet of paper, foretelling the book to come.
---

One Beetle Too Many:

The Extraordinary Adventures of Charles Darwin
by Kathryn Lasky, Matthew Trueman
Ages 7–12
This friendly biography introduces middle-graders to Charles Darwin. We see young Charles and his brother exploding things in their home-made lab, his failures in school, his consuming curiosity, and finally the voyage aboard the Beagle. Readers are invited to follow the reasoning and questioning that let to Darwin's theory of evolution. Matthew Trueman's incredible mixed-media illustrations help the reader feel Darwin's fascination with the natural world.
---

The Boy on the Wooden Box: How the Impossible Became Possible… on Schindler's List
by Leon Leyson
Ages 9–14
This moving autobiography tells the true story of Leon Lyson, the youngest member on Schlinder's List. Leon was just 13 when his father convinced Oskar Schlinder to allow Leon to find refuge along with other family members in the Emalia factory, offering them a shred of hope along with the other Jewish workers that they might escape the worst of the Holocaust. Leon was so small that he had to stand on a box to work the machinery. The personal narration helps the reader make a human connection to the horrors of the time.
---

Snow Falling in Spring:

Coming of Age in China During the Cultural Revolution
by Moying Li
Ages 12–up
In this memoir, Moying, a 12-year old student in Beijing, finds her house ransacked and her father taken to a labor camp. With faith in knowledge and education, Moying survives the climate of fear that accompanies the rise of the Red Guard.
---

Take a Picture of Me, James Van Der Zee!
by Andrea J. Loney, Keith Mallett
Ages 7–11
James Van Der Zee was only a young boy when he saved enough money to buy his first camera, taking portraits of his family and his classmates. He was soon the official school photographer and the unofficial town photographer as well. At the age of 18 he moved from Massachusetts to New York City with the dream of becoming a professional photographer. Informed that no one would want their portrait taken by a black name, he opened his own portrait studio in Harlem, taking portraits of legendary figures of the Harlem Renaissance — Marcus Garvey, Florence Mills, Bill (Bojangles) Robinson, Mamie Smith — as well as ordinary people from the neighborhood.
---
Brush of the Gods
by Lenore Look, Meilo So
Ages 4–8
This accessible biography of Chinese painter Wu Daozi (689-758) begins when young Daozi gets in trouble in calligraphy class as a young boy. Later known for his dynamic murals so realistic they seem to come alive, young Daozi can't believe his brush is only made for the ancient art of calligraphy. His brush seems unable to conform — instead of making the usual characters, his straight lines turn into trees, hooks snag fish, dots transform into eyes. This beautifully illustrated biography celebrates the power of art to enchant and delight.

Someone Like Me
by Patricia MacLachlan, Chris Sheban
Ages 4–8
In this picture book memoir, author Patricia MacLachlan remembers being a little girl who loved listening to stories, climbed trees, read constantly, and tried to teach her dog to talk. That childhood lead to a career writing books about dogs who can speak and chickens who scratch stories in the dirt. MacLachlan makes it clear that ot's not adventures or exotic travel that creates a writer, merely the willingness to watch and listen and imagine.
---
Miss Mary Reporting: The True Story of Sportswriter Mary Garber
by Sue Macy, C.F. Payne
Ages 5–8
When Mary Garber became a sports writer in the 1940s, there were few women reporters. She was not allowed to sit in the press box at games or to talk to the players in the locker room after the game. Impressed by Jackie Robinson's dignity as well as his baseball skills, Mary began covering African-American sports events. Mary was a sportswriter for fifty-six years, and the first woman to win Associated Press Sports Editors' Red Smith Award for contribution to sports journalism.
---

The Iridescence of Birds: A Book About Henri Matisse
by Patricia MacLachlan, Hadley Hooper
Ages 4–8
This picture book highlights the early influence of his mother on the artistic development of Henri Matisse. When their French village was cold and grey and damp, Henri's mother brought color into her son's life, painting scenes on plates and encouraging the young boy to experiment with mixing paints. As Henri observed the pigeons, his mother points out their iridescent feathers that change color with the light.
---

Randolph Caldecott: The Man Who Could Not Stop Drawing
by Leonard S. Marcus
Ages 10–15
This biography begins by setting the historical stage of the changes brought by the introduction of the steam engine, which made travel easier and expanded the distribution of print materials. Randolph Caldecott first worked as a clerk in a bank while searching for opportunities for free-lance illustration. His first book-illustrating assignment was a great success, and he produced celebrated artwork for children's books designed to be purchased by those traveling by train.
---

Brave Girl: Clara and the Shirtwaist Makers' Strike of 1909
by Michelle Markel, Melissa Sweet
Ages 4–8
Clara Lemlich came to the United States in 1903 to escape the pogram in the Ukraine. Clara couldn't speak English, and was only five feet tall, but she went to night school, began to study English, and got a job sewing in a factory to help support her family. Horrified by the working conditions, Clara spoke up at a union meeting, encouraging her fellow workers to go on strike for better working conditions. This accessible biography celebrates the power of speaking up for what is right, no matter how poor or small you are.
---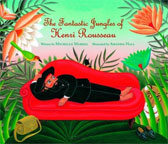 The Fantastic Jungles of Henri Rousseau
by Michelle Markel, Amanda Hall
Ages 5–9
Henri Rousseau was a 40-year old toll collector when he decided to pursue his dream of becoming an artist. Undeterred by his lack of training, Rousseau bought paint, brushes, and canvas and began painting the animals and jungles of distant lands that were so clear in his imagination. Despite the harsh critical judgment of his day, Rousseau continued creating the brilliant paintings that hang in museums all over the world today. Bright illustrations celebrate Rousseau's unique style.
---

Chef Roy Choi and the Street Food Remix
by Jacqueline Briggs Martin, June Jo Lee, Man One
Ages 5–12
Chef Roy Choi calls himself a "street cook," dedicated to bringing tasty home-style food to the "hungry" parts of Los Angeles. The food served in his Kogi food trucks is a mixture of the Korean flavors he grew up with and the many cultures that make up the streets of Los Angeles. This accessible biography written in hip hop style verse is a celebration of street food, street art, and the diverse people of Los Angeles.
---

Snowflake Bentley
text by Jacqueline Briggs Martin, illustrations by Mary Azarian
Caldecott Medal 1999


Ages 4–8
This biography of Wilson A. Bentley tells the story of a rural Vermont farmboy in the mid-19th century who became fascinated by snowflakes. Bentley developed a system of microphotography that allowed him to capture images of snowflakes and prove that no two snowflakes are identical. Azarian's woodcuts are perfect.
---

Earmuffs for Everyone!: How Chester Greenwood Became Known as the Inventor of Earmuffs
by Meghan McCarthy
Ages 4–8
Chester Greenwood lived in Maine in the late 1800s. In the winter his ears were always cold, so Chester created a pair of ear protectors from beaver fur, cloth, and wire. In 1873, when Chester was 19, he received a patent for his design, and 10 years later his Chester Greenwood & Company factory was manufacturing Champion Ear Protectors and shipping them around the world. This first creation was just the beginning of Chester's successful career as an inventor and businessman.
---

The Plot to Kill Hitler: Dietrich Bonhoeffer: Pastor, Spy, Unlikely Hero
by Patricia McCormick
Ages 8–up
This engaging biography tells the story of Dietrich Bonhoeffer, a pastor and pacifist who became an unlikely hero when he joined in a plot to kill Hitler. Bonhoeffer had a privileged childhood, and his travels and studies caused him to grow into a gentle, scholarly pacifist. The rise of Nazi Germany caused Bonhoeffer to break from the German church, which allowed swastikas to replace crosses. Bonhoeffer was one of the first to provide evidence to the Allies that Jews were being deported to death camps, and eventually chose to leave his pacifism behind and participate in the failed campaign to assassinate the evil dictator.
---

Under a Red Sky

Memoir of a Childhood in Communist Romania
by Haya Leah Molnar
Ages 12–up
Eva Zimmerman grew up as an adored only child in an apartment shared by her parents, grandparents, and aunts and uncles in Bucharest, Romania. Sheltered by her protective family from the harsh realities of scarce food and housing under communist rule with the secret police watching every move, religion and politics were never discussed at home. In 1958, Eva is shocked to discover that she is Jewish, and that her whole family has applied to emigrate to Israel. Black and white family photographs illustrate this poignant memoir of a girl struggling to understand her own identity.
---

Come See the Earth Turn
by Lori Mortensen, Raul Allen
Ages 6–10
Léon Foucault was a sickly child, a poor student, and a drop-out from medical school—not a natural candidate for fame. Drawn to science as an adult, Foucault began to perform experiments. Though scientists at the time were certain that the Earth did spin around an axis, no one could prove it until Foucault made an incredible discovery that demonstrated the Earth's rotation—Foucault's Pendulum. This accessible account of Foucault's discovery is beautifully illustrated with Raul Allen's dramatic paintings.
---

Frederick Douglass: The Lion Who Wrote History
by Walter Dean Myers, Floyd Cooper
Ages 4–8
This accessible biography draws on Frederick Douglass's own words to present his story from a slave child who dared to dream of a life of freedom, his determination to become educated, his leading role in the abolitionist movement, and his life as a writer, speaker, and social reformer.
---

Mama Miti
by Donna Jo Napoli, Kadir Nelson
Ages 4–8
This story of Wangari Maathai's mission to plant trees in Kenya is told more as a folk tale than a biography. Wangari Wangari becomes known as Mama Miti (Mother of Trees) because she knows her trees, and recommends the perfect one to plant to meet the needs of those she meets. Some trees produce edible berries, some make good firewood, some have roots that purify the water. Beautiful and colorful illustrations bring Mama Miti and her community to life.
---

Nelson Mandela
by Kadir Nelson
Ages 4–8
This picture book biography tells the story of Nelson Mandela in stunning illustrations and verse. Beginning with his tribal childhood, we follow Mandela's journey to a school far away from his village after his father died when he was nine. In Johannesburg, he saw fellow Africans who were poor and powerless. When the government began to segregate people by the color of their skin, Mandela spoke out against the law and worked to make his country one that belonged to all South Africans. This beautiful book presents the cruel apartheid segregation in daily life along with hope for the future.
---

Sitting Bull: Lakota Warrior and Defender of His People
by S.D. Nelson
Ages 8–12
Imagined first person narration tells the story of Sitting Bull, the great Lakota Sioux warrior and chief. Sitting Bull describes his childhood training to become a hunter and warrior, killing his first buffalo at the age of 10. Sitting Bull was a major force in the fight against the invasive wasichus (white men). He and Crazy Horse were the last to surrender to the US government. The engaging narration and dynamic illustrations present a committed leader trying to protect his people.
---

Bad News for Outlaws: The Remarkable Life of Bass Reeves, Deputy U. S. Marshal
by Vaunda Micheaux Nelson, R. Gregory Christie
Ages 8–12
This spirited biography tells the story of Bass Reeves, the dynamic African-American lawman of the Old West. A former slave who escaped to freedom in the Indian Territories, Reeves was cunning and fearless. By the end of his career, Reeves brought more than 3,000 criminals to justice and killed only 14. The folksy text and arresting illustrations bring this respected lawman to vivid life.
---
Life in the Ocean: The Story of Oceanographer Sylvia Earle
by Claire A. Nivola
Ages 4–8
Young Sylvia Earle fell in love with the ocean when her family moved to the Gulf Coast. Beautiful paintings illustrate the incredible underwater world she discovered while scuba diving. This accessible biography of one of the first women in the world of oceanography deftly portrays the transformation of a child's curiosity into a passion to learn about and protect the ocean.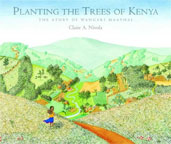 Planting the Trees of Kenya
by Claire A. Nivola
Ages 5–9
This biography of Wangari Maathai, winner of the 2004 Nobel Peace Prize, encourages the belief that anyone can change the course of history.
---

Boys of Steel: The Creators of Superman
by Marc Tyler Nobleman, Ross Macdonald
Ages 10–up
This colorful picture book biography introduces the youthful creators of Superman: writer Jerry Siegel and illustrator Joe Shuster, two mild-mannered misfit teens in depression-era Cleveland who escaped into fantasy worlds of science fiction and adventure. In 1934, at age 20, they created Superman, who was everything they were not. Four years later they convinced a publisher to take a chance on their character in a brand new format—the comic book.
---
Skit-Scat Raggedy Cat: Ella Fitzgerald
by Roxane Orgill, Sean Qualls
Ages 5–up
This stylish biography begins with the child Ella dancing to her mother's records, and ends with her first big job with the Chick Webb Band in Harlem in 1921. Orphaned at 14, Ella lived for a time in an abusive orphanage and then on the streets, singing and dancing for money. Judged not pretty enough to be a singer, the determined Ella believed in her own talent and refused to be discouraged. Richly colored illustrations capture the spirit a poor young girl chasing her dream of becoming a jazz singer in this frank, yet not frightening, biography.
---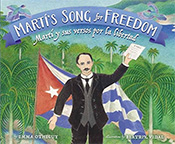 Martí's Song for Freedom / Martí y sus versos por la libertad
by Emma Otheguy
Ages 8–10
This bilingual biography in verse tells the story of Cuban activist José Martí, who worked to free Cuba from Spanish rule and the Cuban people from slavery. Martí wrote for newspapers and passed out pamphlets until he was jailed and exiled to New York, where he continued his work to liberate the Cuban people. Excerpts from Martí's Versos sencillos accompany this moving account of his crusade for justice and freedom.
---
Stories of My Life
by Katherine Paterson
Ages 14–up
Author Katherine Paterson shares stories of her life in this funny and heart-warming autobiography. Paterson tells about her missionary parents, her childhood in China and the US, her own career as a missionary, and finally her career as an author. Fans of her work will enjoy learning about the real-life places and events that inspired her award-winning fiction.
---

The Color Book
by Sophie Benini Pietromarchi
Ages 8–up
Artist and author Sophie Benini Pietromarchi invites the reader to partake in her passion for color by sharing her childhood memories of color and the feeling colors can invoke: "Black is the deafening noise of coal chucked in an oven at night." An exploration of the practicalities of mixing colors and tips for creating a personal color diary round out this imaginative resource for artists of all ages.
---

Hand in Hand: Ten Black Men Who Changed America
by Andrea Pinkney, Brian Pinkney
Ages 9–12
Ten black men from different times in American history from slavery to modern times are presented in this book of poetry, text, and images. Each mans influence on civil rights, culture, art, and politics is clearly described in the context of the time he lived in. Featured men include Frederick Douglass, W.E.B. Du Bois, Thurgood Marshall, Jackie Robinson, and Martin Luther King, Jr.
---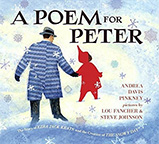 A Poem for Peter: The Story of Ezra Jack Keats and the Creation of The Snowy Day
by Andrea Davis Pinkney, Steve Johnson, Lou Fancher
Ages 7–10
Ezra Jack Keats was born in Brooklyn, New York, to Polish immigrant parents. Ezra's father felt his dream of becoming an artist was unrealistic, but Ezra was determined. He won prizes in high school, and created art for the WPA and Marvel comics, dreaming of the time he could write and illustrate his own book. A photo of an African American child led to The Snowy Day, the first mainstream book to feature an African American child, and a Caldecott medal winner.
---
Sojourner Truth's Step-Stomp Stride
by Andrea Davis Pinkney, Brian Pinkney
Ages 5–9
Belle was born into slavery, and when her master fails to honor his promise to free her, Belle runs away. But she knows that she will never be truly free when others live in slavery, so Belle changes her name to Sojourner and begins to travel across the country, demanding equal rights for black people and for women. Pinkney's glowing illustrations capture the charisma and courage of this larger-than-life heroine.
---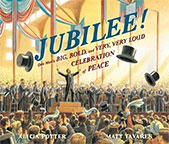 Jubilee!: One Man's Big, Bold, and Very, Very Loud Celebration of Peace
by Alicia Potter, Matt Tavares
Ages 7–10
When Patrick Sarsfield Gilmore was growing up in Ireland, he loved loud music played in celebration. By 1849, Gilmore was a band leader in Boston, using music to keep up the spirits of soldiers and the public during the Civil War. When peace was finally declared, Gilmore decided to stage the biggest and loudest celebration of peace ever held, with a public concert of more than 11,000 performers attended by about 30,000 celebrants.
---
Josephine: The Dazzling Life of Josephine Baker
by Patricia Hruby Powell, Christian Robinson
Ages 7–10
African-American dancer Josephine Baker could perform in American clubs, but segregation laws prevented her from entering the club through the front door. Moving to France, Josephine was welcomed for both her talent and her race. This accessible biography follows Josephine from her childhood in St. Louis to her fame in Europe. Josephine's powerful story of struggle and triumph is an inspiration.
---

Wangari Maathai: The Woman Who Planted Millions of Trees
by Franck Prévot, Aurélia Fronty
Ages 6–9
Wangari Maathai, Kenyan founder of the Green Belt movement, led women in a nonviolent struggle to bring peace and democracy to Africa through its reforestation. Over 30 million trees were planted by her organization in 30 years. This beautifully illustrated book tells the story of the perseverance and hard work that earned Wangari Maathai the Nobel Peace Prize in 2004.
---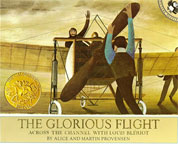 The Glorious Flight:

Across the Channel with Louis Blériot
by Alice & Martin Provensen
Caldecott Medal 1984


Ages 4–8
This book shows the persistence of Louis Blériot, a Frenchman, who was determined to to build a flying machine to cross the English Channel. His glorious flight occurred on July 25, 1909.
---
A Boy and a Jaguar
by Alan Rabinowitz, Catia Chien
Ages 4–8
This touching autobiography tells the story of young Alan Rabinowitz who loved animals but was confused by the great cats in in Bronx Zoo. Why were they caged all alone? Were they being punished? Alan longs to help them, but he stutters uncontrollably. The only time he can speak fluently is when he is alone talking to an animal. Alan promises a lonely jaguar at the zoo that if he ever finds his voice, he will become a champion of animals and devote his life to protecting them. The adult Rabinowitz is a renowned wildlife conservationist and a spokesperson for the Stuttering Foundation of America.
---
Eleanor, Quiet No More
by Doreen Rappaport, Gary Kelley
Ages 6–10
Written in short, accessible paragraphs, this biography honestly presents Eleanor's unhappy childhood. Each page spread includes a quote from Eleanor that expresses her growing sense of confidence and moral conviction. The beautiful paintings capture Eleanor's intelligence and compassionate heart.
---

Paiute Princess: The Story of Sarah Winnemucca
by Deborah Kogan Ray
Ages 8–up
Born into Northern Paiute tribe of Nevada in 1844, Sarah Winnemucca grew up in two cultures, the traditional life of her tribe and the modern ways of her grandfather's white friends. Chief Truckee encouraged his granddaughter to learn the English language and white customs. When the Paiute people were massacred and forced onto reservations, Sarah uses her skills as a writer and dramatic performer to spread the word about the unjust treatment of Native Americans.
---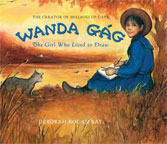 Wanda Gág: The Girl Who Lived to Draw
by Deborah Kogan Ray
Ages 6–9
Best known for her classic picture book Millions of Cats, Wanda Gág loved to draw. This well-researched biography incorporates entries from Wanda's childhood diaries into a compelling picture book format.
---

The Brontë Sisters: The Brief Lives of Charlotte, Emily, and Anne
by Catherine Reef
Ages 10–14
Charlotte, Emily, and Anne Brontë shocked, entertained, and provoked their Victorian readers. This fascinating group biography explores the all-too-short public and private lives of the three sisters, now viewed as pioneers of modern literature. More than 60 black-and-white photographs round out the story of the literary Brontës and the oppressive times they lived in..
---

Florence Nightingale: The Courageous Life of the Legendary Nurse
by Catherine Reef
Ages 12–up
This gripping biography puts Florence Nightingale's ground-breaking work into context. Prior to her insistence on cleanliness, eight out of nine British soldier deaths in hospitals were due to disease rather than their wounds. Extensive use of primary sources reveal Nightingale's complex character, her flaws as well as her virtues.
---
Margaret and the Moon
by Dean Robbins, Lucy Knisley
Ages 4–8
This accessible picture book biography tells the story of mathematician Margaret Hamilton, who loved playing with numbers ever since she was a small girl. She loved using math to solve real-world problems and went to MIT, where she taught herself computer code. Margaret hand wrote the code that would allow a spaceship's computer to solve unexpected problems. Her code was used in the Apollo 8-11 missions. The cartoon-like illustrations add humor while celebrating her accomplishments.
---

Anything But Ordinary Addie: The True Story of Adelaide Herrmann, Queen of Magic
by Mara Rockliff, Iacopo Bruno
Ages 6–9
From a young age Adelaide longed for an exciting life. She became a dancer during a time when girls were rarely seen on stage and married world-famous magician Herrmann the Great. Addie loved to help with the stage tricks, even volunteering to be shot out of a cannon. When her husband died unexpectedly, Addie decided to continue the show on her own, becoming one of the first female magicians. An extensive appendix includes directions for performing one of Addie's original magic tricks.
---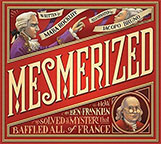 Mesmerized: How Ben Franklin Solved a Mystery that Baffled All of France
by Mara Rockliff, Iacopo Bruno
Ages 6–9
Benjamin Franklin has achieved fame as an American inventor, printer, scientist, thinker, and diplomat. While in Paris raising money for he American rebellion against the British, Franklin was asked by King Louis XVI to investigate Franz Mesmer, a young Austrian who claimed to be able to cure illness by waving an iron wand around their person. Part of Mesmer's treatment involved time spent in a darkened room while spellbinding music played on a glass armonica, invented by none other than Franklin himself. Using the scientific method — observing, hypothesizing, and testing — Franklin proved that Mesmer's "cures" only existed inside his patients' heads. This lavishly illustrated book tells a lively tale in rhythmic text perfect for reading aloud.
---

Fearless: The Story of Racing Legend Louise Smith
by Barb Rosenstock, Scott Dawson
Ages 5–up
From the moment Louise Smith got behind the wheel of her father's car at age seven, she loved driving cars. Years later, when a race promoter was looking for a woman to drive in a race as a joke, Louise volunteered, and came in third. Paving the way for women in racing, Louise eventually become a NASCAR legend, leaving a pile of wrecks and 38 wins behind. Upbeat illustrations capture the breezy spirit of this self-assured woman living the life she loved.
---

The Noisy Paint Box: The Colors and Sounds of Kandinsky's Abstract Art
by Barb Rosenstock, Mary GrandPre
Ages 4–8
Vasya Kandinsky was a proper Russian child who followed all the rules until his aunt gives him a paintbox. When Vasya mixed the colors, he heard sounds: blaring crimson, burbling green, tinkling violet. No one knew quite what to make of the wild shapes Vasya created with the noisy colors from his paintbox. This accessible biography of the world's first abstract painter is lavishly illustrated.
---

The Streak: How Joe DiMaggio Became America's Hero
by Barb Rosenstock, Terry Widener
Ages 8–up
It's the summer of 1941 and Yankee center fielder Joe DiMaggio begins the greatest hitting streak of all time, swinging his beloved bat he calls Betsy Ann. Then Betsy Ann goes missing, and no one knows if Joe will be able to keep his streak alive without his lucky bat. Set on the eve of World War II, this rousing tale celebrates DiMaggio's athletic achievement and describes the importance of that last perfect baseball summer before the war.
---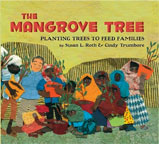 The Mangrove Tree: Planting Trees to Feed Families
by Susan L. Roth, Cindy Trumbore
Ages 6–11
This moving book tells the story of a project spearheaded by Dr. Gordon Sato to plant mangrove trees, which thrive in salty water, to provide food for the village of Hargigo in the impoverished African nation of Eritrea. Lively prose, rhyming text, and beautiful mixed media collage illustrations tell this hopeful story.
---
Irena Sendler and the Children of the Warsaw Ghetto
by Susan Goldman Rubin, Bill Farnsworth
Ages 8–12
Though small in stature, Irena Sendler, a Polish social worker, managed to smuggle more than 400 Jewish children out of the Warsaw ghetto during World War II. Using clever ruses like toolboxes, ambulances, and coffins, Irena defied the Nazis and risked her own life to bring the children to safety. Worried that the children might not be reunited with their families, Irena kept a secret list of the children's identities buried in jars under a tree in war-torn Warsaw. Dramatic paintings illustrate this story of courage and compassion.
---

Jean Laffite: The Pirate Who Saved America
by Susan Goldman Rubin, Jeff Himmelman
Ages 6–9
Jean Laffite grew up hearing stories of the persecution his Jewish family faced in Spain before they fled to Port-au-Prince, now part of Haiti. Young Jean dreamed of becoming a pirate, and joined his brothers and uncle as a teenager on the high seas, capturing vessels flying the Spanish flag. Retiring to New Orleans, Laffite became a respected businessman. During the war of 1812, he warned the Americans of a plot by the British to invade through New Orleans. With the help of Laffite and his pirate friends, General Andrew Jackson was able to beat back the British.
---

For the Love of Music: The Remarkable Story of Maria Anna Mozart
by Elizabeth Rusch, Lou Fancher, Steve Johnson
Ages 4–8
Maria Anna Mozart, Wolfgang's older sister, was also a musical prodigy and one of the most accomplished pianists of her time. As children, Maria and Wolfgang played recitals all over Europe, but as they grew older Maria was told she must marry and have a family while Wolfgang was encouraged to pursue his musical gifts. This biography is organized into the structure of a piano sonata, from First Movement to Finale underscoring the love of music that bound these two siblings together.
---

The Music of Life: Bartolomeo Cristofori & the Invention of the Piano
by Elizabeth Rusch, Marjorie Priceman
Ages 4–8
This inspiring biography tells the story of Bartolomeo Cristofori, a 17th-century Italian musician who longs to create an instrument that can be played both softly (piano in Italian) and loudly (forte in Italian). Prince Ferdinando de Medici, who wants his court to become the musical center of Italy, brings Cristofori to Florence. While wandering around the city Cristofori is fascinated by the small hammers of the goldsmiths whose tiny sounds contrast with the huge thumps of the enormous hammers of the blacksmiths. He wonders if using hammers might be the key to his dream instrument, and creates the pianoforte, capable of both soft and loud sounds.
---

And Picasso Painted Guernica
by Alain Serres
Ages 9–12
This beautifully illustrated book begins with seven-year-old Picasso painting doves, and then highlights his new ways of seeing and painting. The horrifying German bombing of the people of Guernica inspired Picasso to paint the massive Guernica in 1937 as a protest against the bombing of defenseless civilians, and against the brutality of war everywhere. Both the steps of creating the huge painting and the elements that compose it are thoroughly explored in this tribute to the transformative power of art.
---
X: A Novel
by Ilyasah Shabazz, Kekla Magoon
Ages 14–up
Malcolm Little's parents told him he could achieve anything, but when his father dies and his mother is taken away he gives up his dream of law school and takes up a life of jazz, girls, and drugs. Imprisoned for theft at the age of 20, he converted to Islam and changed his name to Malcolm X. Co-written by Malcolm's daughter, this fictionalized first-person narration concentrates on his life from early childhood to imprisonment.
---

Coretta Scott
by Ntozake Shange, Kadir Nelson
Ages 4–9
This picture biography shows important events in Coretta's life from her childhood through her marriage to Martin Luther King. The rhythmic text and powerful illustrations captures the intensity of the Civil Rights Movement.
---

Untamed: The Wild Life of Jane Goodall
by Anita Silvey
Ages 8–12
This accessible biography of scientist Jane Goodall focuses on her ability to connect with another species through observation. After achieving scientific breakthroughs with her chimpanzee studies in her 20s, Goodall used her fame to work to preserve the environment for the primates she had come to love. Stunning photographs illustrate this book that will encourage all young scientists to follow their dreams.
---

Friends for Freedom: The Story of Susan B. Anthony & Frederick Douglass
by Suzanne Slade, Nicole Tadgell
Ages 6–9
Susan B. Anthony and Frederick Douglass lived in a time when it wasn't considered proper for men and women to be friends, and even more strange to be friends with someone whose skin was a different color. Mutual respect and a shared commitment to equality brought the two together to speak against slavery and other injustices. The 15th Amendment proposed voting rights for black men, but not women, caused them to disagree, but not to give up their friendship.
---

Black Jack: The Ballad of Jack Johnson
by Charles R. Smith Jr., Shane W. Evans
Ages 5–8
Jack Johnson was the first black fighter to win a heavyweight championship. The reigning champion, Jim Jeffries, retired in order to avoid being beaten by Black Jack. When Jack won against Jeffries's successor, Jeffries was goaded into returning to the ring for a match against Black Jack, who defeated him. Told in verse, Jack is presented first as simply a shy and fearful young man inspired by books to fight back and make a name for himself. This accessible biography celebrates Jack's dignity, determination, and pride, as well as his success as a boxer.
---

Abe Lincoln's Dream
by Lane Smith
Ages 5–9
Quincy gets separated from her White House tour group and finds herself in the Lincoln bedroom, alone except for the ghost of Abe Lincoln himself. Noticing that Abe seems sad, Quincy takes him on a tour of the country, pointing out all the changes that have happened since he last left the White House in 1865.
---
Small Wonders: Jean-Henri Fabre and His World of Insects
by Matthew Clark Smith, Giuliano Ferri
Ages 6–9
As a child in rural France, Jean-Henri Fabre spent hours watching. Instead of capturing them and drawing the dead specimens, Henri observed the insects in their natural habitat. Considered an eccentric by his neighbors, Fabre was a scientific pioneer who introduced the world to the fascinating lives of insects.
---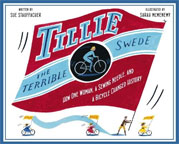 Tillie the Terrible Swede: How One Woman, a Sewing Needle, and a Bicycle Changed History
by Sue Stauffacher, Sarah McMenemy
Ages 5–8
When Tillie arrived in America from Sweden all she had was a needle. So she got a job at a tailor shop and waited for something exciting to happen. Then she saw her first bicycle and knew what she wanted to do, even though everyone told her women couldn't ride bicycles. With her trusty needle, Tillie created an aerodynamic cycling costume and broke all the 1890s records for speed and endurance.
---

Radiant Child: The Story of Young Artist Jean-Michel Basquiat
by Javaka Steptoe
Caldecott Medal 2017


Ages 4–8
This beautifully illustrated biography presents the childhood of artist Jean-Michel Basquiat, who learned to see beauty in the messy streets and games of fellow children. His Puerto Rican mother encouraged him by taking him to museums and anatomy textbooks. The illustrations echo Basquiat's vibrant art with layers of paint and paper scraps on found-wood panels. Basquiat's creativity is celebrated in the text, his heroin addiction and early death is mentioned in the afterword.
---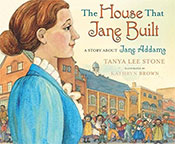 The House That Jane Built: A Story About Jane Addams
by Tanya Lee Stone, Kathryn Brown
Ages 6–9
Determined to improve the lives of the needy, Jane Addams created Hull House, a community refuge in Chicago in 1889. The desperation of the poor is effectively portrayed, as well as the joy of the children as they play in Chicago's first playground. Jane Addams, who also worked for peace, was the first American woman to receive the Nobel Peace Prize.
---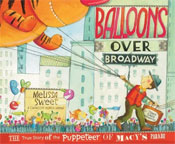 Balloons over Broadway: The True Story of the Puppeteer of Macy's Parade
by Melissa Sweet
Ages 4–8
This accessible biography tells the story of Tony Sarg, the man who invented the giant balloons of the Macy's Thanksgiving Day Parade. Tony Sarg, a self-taught immigrant, was fascinated by puppets and marionettes as a child. His first big break came with a job of designing window displays for Macy's. Next came earthbound creations that were steered down the street, and finally the balloon puppets controlled from below.
---

Some Writer!: The Story of E.B. White
by Melissa Sweet
Ages 7–10
This accessible illustrated biography presents the life of author E.B. White in the form of a scrapbook. White's personal letters, family photographs, and handwritten rough drafts are intermingled with original artwork to tell the story of a humble and talented author with a love for nature.
---

Poet: The Remarkable Story of George Moses Horton
by Don Tate
Ages 6–10
George Moses Horton was born a slave in North Carolina. He taught himself to read, and memorized his own original poems until he learned to write them down. His poems were admired by students at the University of North Carolina he sold produce to, but were dangerous since he protested slavery. George was 66 when he finally gained his freedom with the signing of the Emancipation Proclamation. The warm tones of the illustrations capture George's feeling that poetry set him free long before the law did.
---

Funny Bones: Posada and His Day of the Dead Calaveras
by Duncan Tonatiuh
Ages 6–10
This accessible picture book biography presents José Guadalupe "Lupe" Posada, a Mexican artist and social commentator best known for his calavera drawings, skeletons that have become synonymous with Mexico's Día de los Muertos (Day of the Dead) festival. Reproductions of the calavera images invite the reader to consider their meaning, offering possible interpretations. Biographical and contextual information about lithography, engraving, etching, and the powerful social impact art can have amplify this beautifully illustrated book.
---

My Name Is Truth: The Life of Sojourner Truth
by Ann Turner, James Ransome
Ages 6–10
This powerful picture-book biography follows the transformation of Isabella Baumfree, who began life as a slave, suffering anguish as her 11 brothers and sisters were sold off one by one. After escaping from slavery, Isabella renamed herself Sojourner Truth, freed her enslaved son, and began a new life as a civil rights activist and preacher. Written in imagined first person by the eloquent and impassioned orator, this moving story will captivate young readers.
---

Spinning
by Tillie Walden
Ages 14–up
This memoir in the form of a graphic novel explores an childhood and adolescence spent in the world of competitive figure skating. For ten years figure skating was Tillie's life. She woke up before dawn for morning lessons, went directly to group practice after school, and spent her weekends competing around the state. Skating was a core piece of her identity, her safe haven from the stresses of school and family. A new school caused her to re-examine her priorities. She found she love art, fell in love with her first girlfriend, and realized that she was never going to make it into the Olympics. Understanding that she had outgrown her passion for skating, Tillie knew it was time to find her own voice.
---

Gordon Parks: How the Photographer Captured Black and White America
by Carole Boston Weatherford, Jamey Christoph
Ages 5–8
The white teacher told Gordon Park's all black class that their options were limited: they would grow up to be porters and waiters and maids. But Gordon had a talent for photography and decided to buy a camera teach himself how to become a photographer. After success as a fashion photographer, he moved to Washington DC and began to document racism in America. This accessible biography includes a few of his famous photographs.
---

The Legendary Miss Lena Horne
by Carole Boston Weatherford, Elizabeth Zunon
Ages 4–8
This accessible biography captures the struggles Lena Horne faced throughout her life. Lena's mother dreamed of becoming an actress, and Lena took small roles in vaudeville before being offered the first ever studio contract to a black actress. But the only roles she was offered were stereotypes: maids and mammies that she refused to play. Instead she became a singer, taking "Stormy Weather" as her theme song, and finding her voice as a civil rights activist after singing "This Little Light of Mine" at a civil rights rally.
---

Leontyne Price: Voice of a Century
by Carole Boston Weatherford, Raul Colon
Ages 5–9
Leontyne Price was born in a small town in Mississippi in 1927, the daughter of a midwife and a sawmill worker. She love singing hymns in church and listening to opera on the radio. Racism in the south made it unlikely that a poor African-American girl could pursue a career as an opera singer, but the example of Marian Anderson inspired Leontyne to apply to Julliard and eventually to take center stage at the Metropolitan Opera in New York City. This accessible biography celebrates a singer who followed her dream despite the barriers in her way.
---

Lincoln and His Boys
by Rosemary Wells, P.J. Lynch
Ages 8–12
This accessible biography presents Lincoln from the perspective of his two youngest sons, Willie and Tad. Willie goes with his father to Chicago where it is decided that Lincoln will run for president, the two boys tear through Cabinet Meetings, and Tad goes with his father to Richmond at the end of the war. A playful and loving father, Lincoln comes to life in this book which was inspired by a fragment written by one of his sons.
---

My Havana: Memories of a Cuban Boyhood
by Rosemary Wells & Secundino Fernandez, Peter Ferguson
Ages 7–10
Young Secundino, "Dino" to his friends and family, loves life in 1950s Havana, filling notebook after notebook with sketches of architecture, trying to capture the sense of color, music, and vivid life that surrounds him. When Castro takes over, Dino and his family move to New York City, which the boy at first finds harsh and unwelcoming. To ease his homesickness, Dino builds a model of Havana on his bedroom floor. Eventually Dino makes a new friend and begins to love his new city. (Secundino Fernandez grew up to become a successful architect in New York City.)
---

Wangari's Trees of Peace:

A True Story from Africa
by Jeanette Winter
Ages 4–8
When Wangari Maathai was a child, Kenya was full of trees. When she returns after six years of study in the United States, Wangari is horrified to find whole forests have been cut down. Beginning with nine seedlings in her backyard, Wangari inspires the Green Belt Movement, which has planted 30 million trees in Kenya. This simple biography of the 2004 Nobel Prize winner is a wonderful example of how one person can bring about change.
---

The World Is Not a Rectangle: A Portrait of Architect Zaha Hadid
by Jeanette Winter
Ages 5–10
While growing up in Baghdad, Iraq, Zaha Hadid was fascinated by the local rivers and marshes and dunes and ruins. She dreamed of designing buildings that echoed the beauty she saw around her. As a Muslim woman she faced many obstacles, but her non-traditional buildings can now be seen around the world. This accessible biography celebrates alternative thinking and dedication to one's ideals.
---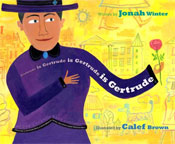 Gertrude is Gertrude is Gertrude is Gertrude
by Jonah Winter, Calef Brown
Ages 4–8
The non-linear and repetitive prose in this book pays homage to Gertrude Stein's own work. The whimsical illustrations of Stein and Alice B. Toklas are a perfect match for the text.
---
Jazz Age Josephine
by Jonah Winter, Marjorie Priceman
Ages 4–8
This accessible biography of Josephine Baker uses the rhythms of blues and jazz to tell the story of the famous singer and dancer. Beginning with her impoverished childhood dancing for money on the streets of St. Louis we follow Josephine to her big break as a chorus line dancer in New York and to her fame in Paris as the American icon of the Jazz Age.
---

Joltin' Joe DiMaggio
by Jonah Winter, James E. Ransome
Ages 4–8
This accessible biography tells the story of Giuseppe Paolo DiMaggio, Jr., a first generation Italian from San Francisco who longed to play baseball. Joe's father advised him that playing baseball wasn't a real job, but Joe grew up to become a sports hero who captured the imagination of a country who needed distraction from the Depression and World War II. Evocative watercolors capture Joe's magnetic personality and the physical talent that made him beloved by his fans.
---
Just Behave, Pablo Picasso!
by Jonah Winter, Kevin Hawkes
Ages 4–8
This dynamic picture book biography presents Pablo Picasso as the rebel he was, bursting into the art scene ready to paint something fresh and new. Picasso is presented as something of a superhero, making his artistic endeavors exciting to young readers.
---

Mickey Mantle: The Commerce Comet
by Jonah Winter, C.F. Payne
Ages 4–8
This accessible picture-book biography tells the story of a poor country boy from Commerce, Oklahoma, who became one of the greatest and most loved baseball stars of all time. Mickey Mantle could run from home plate to first base in 2.9 seconds, hit the longest home run in major league history, and was the greatest switch hitter ever to play the game despite painful injuries.
---

Ruth Bader Ginsburg: The Case of R.B.G. vs. Inequality
by Jonah Winter, Stacy Innerst
Ages 6–9
Framed as a court case, this accessible biography documents Ruth Bader Ginsburg's fight against sexism and discrimination to become a Supreme Court Justice. Hindered by the fact that she was a woman, Jewish, and a mother, Ginsburg had to overcome countless injustices to become the first female Jewish Supreme Court Justice.
---

You Never Heard of Sandy Koufax?!
by Jonah Winter, Andre Carrilho
Ages 4–9
In this striking picture book, an anonymous former teammate tells what made Sandy Koufax, the 1960s pitcher for the Dodgers, so amazing. We learn about his shyness, his physical limitations, and the anti-Semitism he faced. But in the end it's Sandy Koufax in action, boldly portrayed by Andre Carrilho, that captures the mysterious power of the great pitcher.
---
Mumbet's Declaration of Independence
by Gretchen Woelfle, Alix Delinois
Ages 6–10
Mumbet is a slave in 1791 Massachusetts, owned by a cruel mistress. As the colonists protest that the King of England is trying to take away their rights, Mumbet begins to consider what rights she has and begins to dream of freedom. Her successful suit for freedom is a little known chapter in civil rights history.
---

Brown Girl Dreaming
by Jacqueline Woodson
Ages 10–up
This collection of childhood memories in verse tells the story of the author's perspective of growing up in the turbulent 1960s. Born in Ohio, Jacqueline spent most of her childhood years with her grandparents in South Carolina, learning the rules of segregation and following the strict rules of the Jehovah's Witnesses. Despite those restrictions, Jacqueline basked in the security of the love of her family and the natural beauty that surrounded her. Moving to Brooklyn brought more freedom, but she missed the sense of place of South Carolina.
---

All Star! Honus Wagner and the Most Famous Baseball Card Ever
by Jane Yolen, Jim Burke
Ages 6–8
Honus Wagner (1874-1955) was a shortstop for more than 20 seasons, mainly with the Pittsburgh Pirates. In 2007, his baseball card sold for $3 million. This well-written biography, illustrated with paintings that echo period photographs, presents the story of an outstanding athlete who was also an outstanding person: talented, hard-working, and a decent human being.
---

My Uncle Emily
by Jane Yolen, Nancy Carpenter
Ages 6–8
Thomas Gilbert (Gib) feels he needs to defend his aunt Emily's honor when his classmates mock her reclusive nature. Uncle Emily (their private nickname for her) gives Gib a poem to help him understand how to tell his family the truth about the fight while preserving his integrity. This book uses real-life encounters between aunt and nephew to explore the role of poetry in human life.