Far from Fair
by Elana K. Arnold
Ages 10–12
Odette Zyskowski (12) starts her list of "Things that Aren't Fair" with her parents' decision to take the family on the road in an ugly RV they call Coach. Odette's father quit his job and her parents sold the family home in California to move to the state of Washington to take care of her sick Grandmother Sissy. Squashed into the RV are Odette's new dog and her younger brother's ferret. And the four family members all have to share one cell phone. Odette is miserable and her list grows longer every day through the endless hours on the road. When they finally reach their destination, Grandmother Sissy's terminal illness seems even more unfair than the rest of the list.
---
Before I Leave
by Jessixa Bagley
Ages 3–7
When Zelda, a tiny hedgehog, is told by her parents that they are moving, she tries to convince her parents to bring her best friend Aaron the anteater along. Accepting that they soon must part, the two spend their final time together playing all of their favorite games, hoping their friendship can survive the change.
---

Tell Me Three Things
by Julie Buxbaum
Ages 12–up
Jessie's mother died two years ago, and her father just moved them across the country from Chicago to live in Los Angeles with her new stepmother and her pretentious teen-aged son. Jessie is beginning her junior year at Wood Valley High, an exclusive prep school, and feels totally unprepared for fitting in at her new school. Then she gets an email from Somebody/Nobody (SN for short), offering advice. Jessie comes to depend on the emails from SN, but is not sure how far she can trust the advice, and is constantly wondering who SN really is.
---

Their Great Gift: Courage, Sacrifice, and Hope in a New Land
by John Coy
Ages 5–10
Told mainly through photographs, this inspiring look at immigration to the United States focuses on the lives of children. Images of immigrant families from all over the world illustrate the experience of moving to a new country, working hard, making mistakes, and building a new home.
---

From There to Here
by Laurel Croza, Matt James
Ages 4–7
A little girl and her family have moved by train from the wilds of Saskatchewan to the busy city of Toronto, and she is having trouble adjusting to the differences. In Saskatchewan, where her father was building a bridge, he was able to come home every day for lunch, but while building a highway in Toronto he doesn't come home until supper time. There all the kids played together and everyone enjoyed watching the stars at night. Here her older brother has his own friends and the streetlights hide the stars. Meeting a new friend exactly her own age helps make Here more tolerable. (follow-up to I Know Here)
---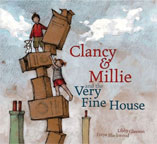 Clancy & Millie and the Very Fine House
by Libby Gleeson, Freya Blackwood
Ages 3–8
Clancy has just moved, and his new house is much too big and far too lonely. He misses his old home terribly. With the help of his new friend Millie and a stack of moving boxes, Clancy builds towers, and trains, and Clancy finally feels at home.

The Bunny Burrow Buyer's Book: A Tale of Rabbit Real Estate
by Steve Light
Ages 4–8
Gregory and Petunia Bunny are about to have babies and need a larger home. Readers can peek into each potential burrow through circular die-cuts, and full-page flaps unfold to reveal the inside. Neighbors often make a possible home less than ideal, and the rabbit family increases with each turn of the page. Lots of bunny puns add to the fun for adult readers sharing this beautiful book with a youngster, especially one about to move to a new home.
---

Hound Dog True
by Linda Urban
Ages 9–12
Mattie Breen doesn't share her mother's eagerness to move to a new place every time the going gets tough. Mattie, now in 5th grade, hates starting over in new schools and has trouble making new friends. But this time they will be staying with Uncle Potluck, who tells funny and exaggerated stories, exactly the kind of stories Mattie likes to write but is too shy to share. Mattie hopes that this time it will be different, and that she will finally find a true "tell your secrets to" friend.
---

A Piece of Home
by Jeri Watts, Hyewon Yum
Ages 4–8
Hee Jun and his family move from Korea to West Virginia, where his father has a new teaching job. The whole family struggles to adapt to their new environment. In Korea Hee Jun was an ordinary boy, but now he looks different than his classmates and cannot understand his teacher. His younger sister Se Ra is unhappy and bites and kicks her classmates. His formerly energetic grandmother is so homesick she sits on the porch everyday and does nothing. Then Grandmother begins attending school with Se Ra so they can both learn English together and Hee Jun makes a friend named Steve. At his friend's house Hee Jun spots his grandmother's favorite flower mugunghwa, which Steve explains is called Rose of Sharon. Hee Jun brings a sprig home to his grandmother, a piece of home to brighten their new home in America.