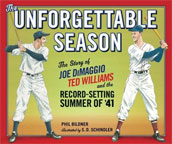 The Unforgettable Season: Joe DiMaggio, Ted Williams and the Record-Setting Summer of 1941
by Phil Bildner, S.D. Schindler
Ages 6–9
In 1941, neither Joe DiMaggio of the New York Yankees nor Ted Williams of the Boston Red Sox were big stars. This book is the story of the season that changed all that, telling of DiMaggio's 56-game hitting streak and Williams's season batting average of .406, amazing records that still stand today. Bright illustrations featuring period details capture the energy and excitement of this amazing baseball season.
---
Jimmy the Greatest!
by Jairo Buitrago, Rafael Yockteng
Ages 4–7
Jimmy lives in a small poverty-stricken Caribbean town where there isn't much to do. Don Apolinar, the owner of the local boxing gym, gives Jimmy a box of old books and newspaper clippings about Muhammad Ali, and suggests that Jimmy learn to box. Inspired by Ali, Jimmy learns to box and finds out he's pretty good at it. Eventually it's Jimmy's trainer who heads off to the big city, leaving Jimmy content to run the gym and coach other kids like himself.
---
Game Changer: John McLendon and the Secret Game
by John Coy, Randy Duburke
Ages 7–11
In 1944 rules prevented white and black basketball teams from playing against each other. John McLendon, coach of the North Carolina College of Negros, arranged a secret game between his Eagles and the all-white team from Duke University Medical School. Many of the players on both teams had never been close enough to touch a person of another race, and were at first hesitant to bump into each other. But the exciting hard-driving fast-break style of the Eagles broke down the barriers. In the second game, the teams intermixed so that the white and black players could experience playing as teammates. This true story highlights the importance of the game in changing the nature of basketball play, as well as the dangerous social climate of the time.
---
A Nation's Hope: The Story of Boxing Legend Joe Louis
by Matt de la Peña, Kadir Nelson
Ages 6–8
Beautifully realistic oil paintings illustrate this tribute to Joe Lewis. Focusing on Lewis's 1938 rematch against German boxer Max Schmeling, this accessible biography shows how the match unified, for one evening, a racially divided country, as black and white fans joined together to cheer the son of a black sharecropper as he took on the white symbol of Hitler's "master race."
---

Poem Runs: Baseball Poems
by Douglas Florian
Ages 6–9
Upbeat poems cover the defensive positions on the field as well as batting and running. Exuberant illustrations exaggerate the physical motions of the baseball players as they stretch, swing, bend, and run, complementing the humor and the competitive spirit of the poems.
---

Roller Girl
by Victoria Jamieson
Ages 9–12
Astrid (12) and her best friend Nicole do everything together until the day Astrid's mother takes them to a roller derby event. Astrid is enchanted by the sport and signs up for derby camp, but Nicole choses dance camp instead. That summer is the most difficult of Astrid's life as she struggles to keep up with the more experienced girls at camp while dealing with the possibility of losing her best friend. A new friendship helps Astrid prepare for her first roller derby and become a true roller girl. This coming-of-age graphic novel is written by a real-life roller-derby girl.
---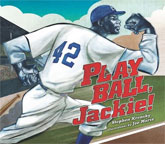 Play Ball, Jackie!
by Stephen Krensky, Joe Morse
Ages 7–10
It's 1947, and 10-year-old Matty Romano is going to his first baseball game with his father to see the Brooklyn Dodgers, his favorite team. It's also the first day for Jackie Robinson, the first Black baseball player in the major leagues. The crowd is divided between those who are outraged and those who just want to see good baseball players, no matter what their color. Matty's conversations with his father provide an intimate look at this historic baseball game.
---

Keeping Score
by Linda Sue Park
Ages 9–12
Jim teaches Maggie the art of scoring a baseball game, and she believes her extra involvement in the game helps support her beloved Dodgers. When Jim is drafted and sent to Korea, she searches for a way to support him, too.
---

Six Innings
by James Preller
Ages 9–14
Perceptive portrait of a group of boys who play Little League baseball. Each character is unique and realistic.
---

Fearless: The Story of Racing Legend Louise Smith
by Barb Rosenstock, Scott Dawson
Ages 5–up
From the moment Louise Smith got behind the wheel of her father's car at age seven, she loved driving cars. Years later, when a race promoter was looking for a woman to drive in a race as a joke, Louise volunteered, and came in third. Paving the way for women in racing, Louise eventually become a NASCAR legend, leaving a pile of wrecks and 38 wins behind. Upbeat illustrations capture the breezy spirit of this self-assured woman living the life she loved.
Miss Mary Reporting: The True Story of Sportswriter Mary Garber
by Sue Macy, C.F. Payne
Ages 5–8
When Mary Garber became a sports writer in the 1940s, there were few women reporters. She was not allowed to sit in the press box at games or to talk to the players in the locker room after the game. Impressed by Jackie Robinson's dignity as well as his baseball skills, Mary began covering African-American sports events. Mary was a sportswriter for fifty-six years, and the first woman to win Associated Press Sports Editors' Red Smith Award for contribution to sports journalism.
---

Fourth Down and Inches: Concussions and Football: Make-or-Break Moment
by Carla Killough McClafferty
Ages 11–up
McClafferty traces the dangers of the game of football from the 1890s, when 10-20 players were killed each year, to the present day. The dangers of this contact sport are clearly documented with research studies, MRI images, and explainations of what concussions are doing to boys and young men.
---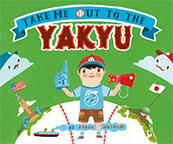 Take Me Out to the Yakyu
by Aaron Meshon
Ages 2–6
The little boy in this story enjoys going to baseball games in America with his Pop Pop and in Japan with his Ji Ji. Though many things are different — he snacks on hot dogs and peanuts in one country and soba noodles and edamame in another — the love of the game and spending time with a beloved grandfather is the same.
---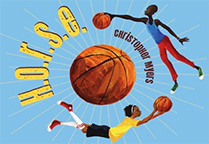 H.O.R.S.E.: A Game of Basketball and Imagination
by Christopher Myers
Ages 5–up
A pair of competitive and creative boys play a game of H.O.R.S.E., challenging each other to ever more improbable shots. Shooting a layup from the other side of the court while standing on one foot with your eyes closed is just the warm-up in this energetic read-aloud.
---

The Streak: How Joe DiMaggio Became America's Hero
by Barb Rosenstock, Terry Widener
Ages 8–up
It's the summer of 1941 and Yankee center fielder Joe DiMaggio begins the greatest hitting streak of all time, swinging his beloved bat he calls Betsy Ann. Then Betsy Ann goes missing, and no one knows if Joe will be able to keep his streak alive without his lucky bat. Set on the eve of World War II, this rousing tale celebrates DiMaggio's athletic achievement and describes the importance of that last perfect baseball summer before the war.
---

Black Jack: The Ballad of Jack Johnson
by Charles R. Smith Jr., Shane W. Evans
Ages 5–8
Jack Johnson was the first black fighter to win a heavyweight championship. The reigning champion, Jim Jeffries, retired in order to avoid being beaten by Black Jack. When Jack won against Jeffries's successor, Jeffries was goaded into returning to the ring for a match against Black Jack, who defeated him. Told in verse, Jack is presented first as simply a shy and fearful young man inspired by books to fight back and make a name for himself. This accessible biography celebrates Jack's dignity, determination, and pride, as well as his success as a boxer.
---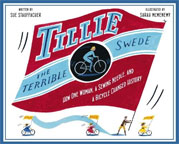 Tillie the Terrible Swede: How One Woman, a Sewing Needle, and a Bicycle Changed History
by Sue Stauffacher, Sarah McMenemy
Ages 5–8
When Tillie arrived in America from Sweden all she had was a needle. So she got a job at a tailor shop and waited for something exciting to happen. Then she saw her first bicycle and knew what she wanted to do, even though everyone told her women couldn't ride bicycles. With her trusty needle, Tillie created an aerodynamic cycling costume and broke all the 1890s records for speed and endurance.
---

Brothers at Bat: The True Story of an Amazing All-Brother Baseball Team
by Audrey Vernick, Steven Salerno
Ages 4–8
In 1938, the 12 Acerra brothers from New Jersey played together on a semi-pro team. The Acerra brothers loved the game, and cared and supported each other. Each brother had his own strengths and weaknesses, and together they made a team. Striking mixed-media illustrations accompany this lively story of a real baseball family.
---

Spinning
by Tillie Walden
Ages 14–up
This memoir in the form of a graphic novel explores an childhood and adolescence spent in the world of competitive figure skating. For ten years figure skating was Tillie's life. She woke up before dawn for morning lessons, went directly to group practice after school, and spent her weekends competing around the state. Skating was a core piece of her identity, her safe haven from the stresses of school and family. A new school caused her to re-examine her priorities. She found she love art, fell in love with her first girlfriend, and realized that she was never going to make it into the Olympics. Understanding that she had outgrown her passion for skating, Tillie knew it was time to find her own voice.
---

Joltin' Joe DiMaggio
by Jonah Winter, James E. Ransome
Ages 4–8
This accessible biography tells the story of Giuseppe Paolo DiMaggio, Jr., a first generation Italian from San Francisco who longed to play baseball. Joe's father advised him that playing baseball wasn't a real job, but Joe grew up to become a sports hero who captured the imagination of a country who needed distraction from the Depression and World War II. Evocative watercolors capture Joe's magnetic personality and the physical talent that made him beloved by his fans.
---

Mickey Mantle: The Commerce Comet
by Jonah Winter, C.F. Payne
Ages 4–8
This accessible picture-book biography tells the story of a poor country boy from Commerce, Oklahoma, who became one of the greatest and most loved baseball stars of all time. Mickey Mantle could run from home plate to first base in 2.9 seconds, hit the longest home run in major league history, and was the greatest switch hitter ever to play the game despite painful injuries.
---

You Never Heard of Casey Stengel?!
by Jonah Winter, Barry Blitt
Ages 4–8
Legendary baseball manager Casey Stengel led the New York Yankees to a record-breaking ten pennants and seven World Series in twelve years. Signed to play for the Brooklyn Dodgers in 1912, he wasn't taken seriously as a player because of his frequent pranks, like having a pilot drop grapefruits on his manager. But he revolutionized the game of baseball as a manager with his invention of "platooning," a new way to use players. his accessible biography includes classic Stengel quotes like sayings like "Everybody line up alphabetically according to your height."
---

You Never Heard of Sandy Koufax?!
by Jonah Winter, Andre Carrilho
Ages 4–9
In this striking picture book, an anonymous former teammate tells what made Sandy Koufax, the 1960s pitcher for the Dodgers, so amazing. We learn about his shyness, his physical limitations, and the anti-Semitism he faced. But in the end it's Sandy Koufax in action, boldly portrayed by Andre Carrilho, that captures the mysterious power of the great pitcher.
---
You Never Heard of Willie Mays?!
by Jonah Winter, Terry Widener
Ages 4–9
This accessible biography tells the story of perhaps the best baseball player ever. Growing up in industrial, segregated Birmingham, Alabama, Willie showed early promise. At the age of 15 he began playing for the Negro Leagues, suddenly making more money than his father. Then the major leagues stopped segregating, and Willie moved on to play for the New York (and later San Francisco) Giants. Baseball fans will love this book, and non-baseball fans will be drawn in by the enthusiastic narrative style.
---

All Star! Honus Wagner and the Most Famous Baseball Card Ever
by Jane Yolen, Jim Burke
Ages 6–8
Honus Wagner (1874-1955) was a shortstop for more than 20 seasons, mainly with the Pittsburgh Pirates. In 2007, his baseball card sold for $3 million. This well-written biography, illustrated with paintings that echo period photographs, presents the story of an outstanding athlete who was also an outstanding person: talented, hard-working, and a decent human being.