Giants Beware!
by Jorge Aguirre, Rafael Rosado
Ages 7–up
Claudette dreams of becoming a giant slayer like her father before her. When she hears there is a giant on the loose, Claudette embarks on a secret quest to find and slay the giant before her parents realize she is gone. Accompanying Claudette are her brother Gaston (who longs to be a pastry chef) and her best friend Marie (who dreams of becoming a princess). Together the three find hidden depths in themselves and each other in this funny fairy tale graphic novel.
---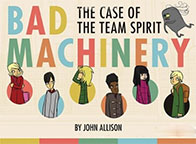 The Case of the Team Spirit
by John Allison
Ages 10–up
Griswalds Grammar School, a high school in a British working class community, has two competing teams of detectives: Shauna, Charlotte, and Mildred vs. Jack, Linton, and Sonny. Luckily there is enough investigating to go around as a Russian owner of a UK football (soccer) team tries to bully an elderly woman into selling her house. This graphic novel, first in the Bad Machinery series, is fast-paced and darkly funny.
---

Slog's Dad
by David Almond, Dave McKean
Ages 7–up
This eerie graphic novel, narrated by Slog's friend Davie, tells the story of a grieving boy who believes that his father has kept his promise to come back and visit him after his death. Slog is positive that the scruffy man outside the butcher's shop is his dad, but Davie isn't convinced. Hauntingly beautiful images accompany this vision of the hopeful fantasy world Slog lives in as he mourns the loss of his father.
---

Yvain: The Knight of the Lion
by M.T. Anderson, Andrea Offermann
Ages 12–up
This compelling graphic novel tells the story of Sir Yvain, a knight at King Arthur's court, who defeats a local lord in battle and becomes involved with Lady Laudine, the beautiful widow, and her sly maid Lunette. Based on a 12th century epic poem by Chrétien de Troyes, this modern version sheds light on the plight of medieval women, often influenced by the actions of others, like the oblivious Yvain.
---
El Deafo
by Cece Bell
Ages 8–12
Cece lost her hearing at a young age, and received a Phonic Ear, a very large and very awkward hearing aid. The Phonic Aid allows Cece to hear, sometimes things she shouldn't, but also isolates her from her classmates who find the Phonic Ear very strange. Cece longs to fit in and find a true friends, eventually creating a superhero alter ego — El Deafo, Listener for All. This graphic novel autobiography is both poignant and funny.
---

The Last Kids on Earth
by Max Brallier, Doug Holgate
Ages 8–12
When the apocalypse hit, Jack Sullivan (13) moved into his tree house to escape the hordes of Zombies, Winged Wretches, Vine Thingies, and especially the intelligent monster known as Blarg. Armed with his catapult and supplied with Oreos and Mountain Dew from abandoned stores, Jack plays video games and builds a moat. Determined to slay the monster Blarg, Jack gathers a support team consisting of his best friend Quint, reformed middle school bully Dirk, the girl he adores, and his loyal pet monster Rover. Narrated with both text and black & white illustrations, this funny graphic novel is the first in a series.
---

The Misadventures of Salem Hyde: Book One: Spelling Trouble
by Frank Cammuso
Ages 7–9
Salem Hyde is a young witch who tends to act first and think later, a dangerous quality in a witch. So her parents hire Percival J. Whamsford III, a magical cat, to help her learn to keep her powers under control. Salem's current obsession is outsmarting a teacher by winning the upcoming spelling bee. Salem and Whammy make a delightful odd couple in this graphic novel series opener.
---

Lowriders in Space
by Cathy Camper, Raul the Third
Ages 8–12
Lupe Impala, a beautiful girl mechanic, El Chavo Flapjack, an octopus who uses his eight arms to detail cars, and Elirio Malaria, a mosquito who does the pin striping, love working together on cars and want to open a garage together. To earn the startup money, they enter a competition to transform a lowrider into a thing of beauty. Translations are provided for the frequent use of Spanish in this energetic graphic novel. The vibrant illustrations, created with three colors of ball point pens, draw upon Mexican folk art, tattoo designs, and cartoons.
---

Super Narwhal and Jelly Jolt
by Ben Clanton
Ages 6–9
The eternally optimistic Narwhal and his down-to-earth friend Jelly return in three short cartoon adventures. Narwhal becomes Super Narwhal, but has trouble discovering his superpower without Jelly's help. He then uses his superpower to help a star return to the sky before using the power of friendship to cheer up Jelly. This funny graphic novel is perfect for beginning readers.
---

Delilah Dirk and the Turkish Lieutenant
by Tony Cliff
Ages 12–up
Delilah Dirk abandons proper court life to become a globe-trotting soldier of fortune. Captured and held prisoner in 1800s Constantinople, the swash-buckling Delilah escapes with mild-mannered Turkish Lieutenant Erdemogul Selim, whose quite life revolves around a perfect cup of tea. The funny adventures of the two mis-matched companions come to vivid life in this beautifully illustrated graphic novel.
---

Hereville: How Mirka Got Her Sword
by Barry Deutsch
Ages 8–12
Mirka (11) wants to be a dragon-slayer, but the entire population of her small Orthodox Jewish community opposes her, especially her brother, seven sisters, and stepmother. But when a witch and a talking pig appear in the woods next to her home, Mirka can't help getting involved. The expressive illustrations and strong story line of this graphic novel (a perfect mix of fantasy, adventure, cultural traditions, and the universal quest to find one's place in the world) will captivate readers.
---

Pablo & Jane and the Hot Air Contraption
by Jose Domingo
Ages 5–7
Pablo and Jane are bored and decide to explore the castle on the hill, where they meet the mouse inventor Dr. Jules who takes them on a journey in his time machine. The evil cat Dr. Felinibus destroys the time machine, scattering pieces all through an alternative world full of monsters. This blend of graphic novel and seek-and-find book is very entertaining.
---
Fable Comics
edited by Chris Duffy
Ages 6–12
Twenty-eight fables are retold by 26 talented graphic artists in comic format. Many of the fables are classics from Aesop, but some are more obscure. Though based on the originals, each enjoys artistic freedom as long as there is a moral at the end.
---

Fairy Tale Comics: Classic Tales Told by Extraordinary Cartoonists
edited by Chris Duffy
Ages 6–12
Seventeen classic fairy tales are adapted and illustrated in comics format by seventeen different cartoonists. Well-known tales like "Snow White" and "Goldilocks" are included along with lesser-known tales like The Boy Who Drew Cats," and "Rabbit Will Not Help." Both an introduction to comics and a new way to enjoy old favorites, this volume is fun to read aloud as well as savor independently.
---

The Graveyard Book Graphic Novel: Volume 1
by Neil Gaiman, P. Craig Russell
Ages 8–12
This stunning first volume of a two volume set contains Chapter One through the Interlude of The Graveyard Book. Russell created the look and layout for the graveyard world, and six artists (Kevin Nowlan, P. Craig Russell, Tony Harris, Scott Hampton, Galen Showman, Jill Thompson, and Stephen B. Scott) each contribute a chapter. The Graveyard Book Graphic Novel: Volume 2, the second volume containing Chapter Six to the end, will be released later this fall.
---

The 13-Story Treehouse
by Andy Griffiths, Terry Denton
Ages 8–12
Best friends Andy and Terry live in an amazing treehouse. It has 13 stories, a bowling alley, a shark tank, and an underground laboratory. Distracted by flying cats, giant bananas, mermaids, and giant gorillas, Andy and Terry have fallen way behind on finishing their next book for their publisher Mr. Big Nose. This lavishly illustrated celebration of the absurd is the first in a series.
---

The 26-Story Treehouse
by Andy Griffiths, Terry Denton
Ages 8–12
Andy and Terry's 13-story treehouse has doubled in size. The tree house now includes a bumper car rink, an anti-gravity chamber, an ice cream parlor with 78 flavors, and a maze so complicated no one has yet come out of it. The two are hard at work on their next book, which will tell the story of how the two friends met, but a pirate from the past derails their writing schedule. This non-stop illustrated adventure is the sequel to The 13-Story Treehouse.
---

The Only Child
by Guojing
Ages 5–9
This mesmerizing wordless graphic novel begins when an overall clad child wakes up to find herself alone on a bus. She sets off to find her grandmother's house, and meets a stag in the forest. The two fly beyond the clouds and meet a wonderful creature that seems to be half baby seal and half polar bear cub. The three share adventures until the creature's parent fetches it home. The loyal stag returns the child home. The author explains in an afterward that the story grew out of memories of loneliness and isolation growing up under China's on-child policy.
---

Rapunzel's Revenge
by Shannon Hale, Dean Hale, Nathan Hale
Ages 9–up
In this graphic novel version of the fairy tale, Rapunzel lives in a fabulous walled garden Wild West. Defying orders, Rapunzel scales the walls to see the rest of the world and is shocked to find a wasteland of mines and factories. Banished to a forest tree house, Rapunzel uses her long braids to escape and fight against the villains.
---

Real Friends
by Shannon Hale, LeUyen Pham
Ages 8–12
In this touching graphic memoir, Shannon Hale tells the story of her childhood from entering school through fifth grade as she struggles to make and keep a friend. Shannon is a shy girl who doesn't make friends easily and hopes her mother is right that she needs only one true friend. She believes Adrienne is that friend is until the day that Adrienne starts hanging out with Jen and The Group that follows her around hoping to become Jen's best friend.
---

The Nameless City
by Faith Erin Hicks
Ages 9–up
Each new nation that invades and conquers the City gives it a new name. The city dwellers just call themselves the Nameless City and try not to get caught up in the unending wars, considering each wave of invaders outsiders not to be trusted. Kaidu is a Dao, the current occupying nation. Rat, an orphan living on the streets, is a native of the Nameless City and is determined not to trust Kaidu. But his love of his adopted city gradually wins her over, and she begins to show Kaidu how to navigate the city 's secret paths in exchange for food. The two learn of an assassination plot and work together to save the city in this first in a graphic novel trilogy.
---
Lucky Penny
by Ananth Hirsh, Yuko Ota
Ages 13–up
Penny Brighton (18) has plenty of luck, the problem is it is all bad luck. On the same day she loses her job and has to move out of her apartment into her friend Helen's storage unit. When she gets a job at a Laundromat managed by Helen's 11-year-old brother and meets a sweet guy working at the desk in the community center, Penny is sure her luck has turned around. This funny and romantic graphic novel grew out of Hirsh and Ota's web comic.
---

Comics Squad: Recess!
by Jennifer Holm, Matthew Holm, Jarrett J. Krosoczka, Dan Santat, Raina Telgemeier
Ages 7–10

Favorite graphic artists present eight comics celebrating the joys of recess. Comic fans will revisit favorite characters and meet new ones in this anthology.
---
Dinosaur Empire!
by Abby Howard
Ages 8–12
Ronnie flunks her fifth grade test on dinosaurs and is given the chance to take it again. Ms. Lernin, her retired paleontologist neighbor, helps out by taking Ronnie back to the Mesozoic era in her TARDIS-like recycling bin time machine. They visit three important time periods: the Triassic, the Jurassic, and the Cretaceous. As she meets real-life dinosaurs and reptiles, Ronnie learns the differences between herbivores, carnivores, and omnivores and between dinosaurs, insects, and reptiles. Full color cartoon illustrations and informative dialog between Ronnie and Ms. Lernin present the facts with humor in this scientifically accurate graphic novel.
---

The Odyssey: A Pop-Up Book
by Sam Ita
Ages 8–up
This graphic novel retelling of Odysseus's epic journey includes brilliant interactive details. A sharpened stick flies into the eye of Polyphemus, and a pull-tab magically transforms a man into a pig on Circe's island. Modern dialog adds humor to this classic tale without detracting from the original story.
---

Roller Girl
by Victoria Jamieson
Ages 9–12
Astrid (12) and her best friend Nicole do everything together until the day Astrid's mother takes them to a roller derby event. Astrid is enchanted by the sport and signs up for derby camp, but Nicole choses dance camp instead. That summer is the most difficult of Astrid's life as she struggles to keep up with the more experienced girls at camp while dealing with the possibility of losing her best friend. A new friendship helps Astrid prepare for her first roller derby and become a true roller girl. This coming-of-age graphic novel is written by a real-life roller-derby girl.
---

All's Faire in Middle School
by Victoria Jamieson
Ages 9–12
Imogene (Impy) Vega (11) is about to attend public school for the first time in her life. Her parents work at a Florida Renaissance fair, and Impy has been immersed in world of jousting and archaic language. She is eager to begin her own training as a squire, and decides that her first quest will be conquering middle school. But its a challenge to act like a noble knight-in-training when confronted by girls who make fun of her thrift shop clothing, small apartment, and unusual life style. This graphic novel humorously captures the challenges of middle school life.
---

A Bag of Marbles: The Graphic Novel
by Joseph Joffo, Vincent Bailly
Ages 12–up
In 1941 occupied Paris, Maurice and Joseph play one last game of marbles before rushing home to their father's barbershop. When the Nazis arrive, the parents send the four children in pairs to separate locations, warning them to never reveal they are Jews. Jo and Maurice travel together, barely staying one step ahead of capture. At times they are saved by French citizens, but more often must rely on their own quick wits. This powerful graphic novel is a retelling of the author's autobiographical novel with the same title.
---
Explorer: The Lost Islands
by Kazu Kibuishi
Ages 9–up
Seven talented cartoonists each contribute an illustrated story on the theme of hidden places. The stories range from funny, thoughtful, to terrifying.
---

City of Spies
by Susan Kim, Laurence Klavan, Pascal Dizin
Ages 12–up
Evelyn's mother is gone and her father is too busy to take car of her, so she is sent to live with her aunt in New York City. It's 1942 and Evelyn spends most of her time reading superhero comics and dreaming of catching a Nazi spy. Tony, the son of the building superintendent, catches Evelyn's spy fever and the two stumble over a real-life Nazi plot. This graphic novel features art reminiscent of Hergé's Tintin and explores themes of friendship, social class, and abandonment while never losing touch with the scary adventure.
---

Diary of a Wimpy Kid
by Jeff Kinney
Ages 9–12
Middle-schooler Greg Heffley's mother forces him to keep a diary, so Greg takes us through an academic year with prose and comic illustrations. Greg's total obliviousness to his own faults makes him an appealing protagonist. This "novel in cartoons" grew out of a popular web comic and will appeal to both reluctant and experienced readers. (1st in series)
---
Diary of a Wimpy Kid: Rodrick Rules
by Jeff Kinney
Ages 9–12
Middle-schooler Greg Heffley is back and just as hilarious as ever as he tries to deal with the punishments of his older brother, try out for the Talent Show, join the swim team, and attempt to avoid embarrassment at all costs. (2nd in series, following Diary of a Wimpy Kid)
---

Diary of a Wimpy Kid: The Last Straw
by Jeff Kinney
Ages 9–12
Middle-schooler Greg Heffley starts this funny diary with his New Year's resolution to help other people improve, and continues to summer vacation. Along the way, Greg struggles with anonymous Valentine cards, trying to impress his classmate Holly, and single-handedly ruining his soccer team's perfect season. (3rd in series, following Diary of a Wimpy Kid and Diary of a Wimpy Kid: Rodrick Rules)
---

Diary of a Wimpy Kid: Dog Days
by Jeff Kinney
Ages 9–12
It's summer vacation, and middle-schooler Greg Heffley hopes to spend it playing video games. Unfortunately his mother has other ideas, and Greg finds himself in a book club for boys, fighting with his friend Rodney over their failed lawn-care business, and trying to escape the horrors of the murderous "muddy hand" that haunts him from a horror film. This hilarious series will enthrall both reluctant and experienced readers. (4th in series, following Diary of a Wimpy Kid, Diary of a Wimpy Kid: Rodrick Rules, Diary of a Wimpy Kid: The Last Straw)
---

Relish: My Life in the Kitchen
by Lucy Knisley
Ages 15–up
The daughter of a chef and a gourmet, cartoonist Lucy Knisley loves food. In this thoughtful and funny memoir, Lucy connects important times in her life with the feed she was eating at the time. Each chapter in this graphic novel includes an illustrated recipe.
---

The Dam Keeper
by Robert Kondo, Dice Tsutsumi
Ages 7–11
Sunrise Village is surrounded by a dangerous black fog. Pig's father built a machine called the dam to keep the fog out of the village, and taught his son how to maintain the machine before vanishing in the fog. Pig's friend Fox and Hippo, the town bully, are the only ones who understand how hard Pig works to keep the town safe. Now the fog is getting worse, and Pig, Fox, and Hippo must leave the safety of the town to fight it. This beautifully drawn graphic novel is based on the author's animated short film.
---

Lindbergh: The Tale of a Flying Mouse
by Torben Kuhlmann
Ages 4–up
Lindbergh is a German mouse who decides to emigrate to America to escape the new mousetraps that have killed so many of his friends. He considers a sea voyage, but the mouse-hunting cats on the ships change his mind. Inspired by his bat cousins, Lindbergh invents an apparatus that will enable him to soar through the air. Lindbergh's daring flight across the Atlantic from Germany to America inspires a young boy named Charles Lindbergh to dream of flying himself. This captivating adventure story is a blend of picture book and graphic novel.

The Lunch Witch
by Deb Lucke
Ages 7–10
Grunhilda the Witch is out of work. For generations the women in her family have stirred up spells in a big black cauldron, but no one wants to buy her magic any more. So Grunhilda checks the classified ads, and gets a job as the lunch lady in a school cafeteria. She delights in frightening the children until a shy little girl named Madison becomes her friend. Madison is struggling both at school and at home, and Grunhilda goes against all her witchy instincts to help her. This darkly funny graphic novel is the first in a planned series.
---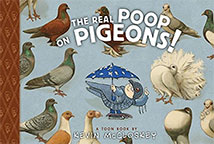 The Real Poop on Pigeons
by Kevin McCloskey
Ages 4–8
A park visitor declares his distaste for the pigeons he calls "rats with wings." A group of children dressed in pigeon costumes appears and shares a series of facts explaining why pigeons are wonderful birds. They once carried mail, they mate for life, they can fly faster than cars. This funny graphic novel is a TOON Book Level 1.
---
We Dig Worms!
by Kevin McCloskey
Ages 4–8
This underground tour to the world of earthworms illustrates the anatomy of an earthworm and explains the different ways that worms improve the earth. A group of children poses questions to focus attention on details. The illustrations painted on brown paper bags add an additional earthy touch. (Toon Book Level 1)
---

The Secret of the Stone Frog
by David Nytra
Ages 8–up
Leah and Alan, a young pair of siblings, awaken in their nightclothes in an enchanted forest. While trying to find their way home, the two encounter pet bees, giant rabbits, and a talking stone frog. Along the way, they discover their own independence. Intricate illustrations capture the power of the imagination in this rich graphic novel.
---
Rickety Stitch and the Gelatinous Goo Book 1: The Road to Epoli
by James Parks, Ben Costa
Ages 12–up
Rickety Stitch is a skeleton minstrel, the only skeleton in the dungeon who seems to have retained his soul. Rickety's sole clue to his former identity is a song he hears in his dreams, describing the Road to Epoli and the land of Eem. His only friend is the gelatinous Goo, who only Rickety can understand. Together they set out in search of Rickety's past. This funny graphic adventure is the first in a trilogy.
---

Jim Curious: A Voyage to the Heart of the Sea in 3-D Vision
by Matthias Picard
Ages 6–10
Packaged with two pairs of 3-D glasses, this nearly wordless book follows young Jim, clanking in his diving suit, out the door and into the depths of the ocean. Though a solo adventure, Jim is not alone, but instead surrounded by a wealth of undersea life including schools of fish, a shark, and a gigantic whale. This stunning graphic novel will provide hours of entrancement.
---
Hilda and the Midnight Giant
by Luke Pearson
Ages 10–14
Hilda isn't happy about leaving her beloved home in the magical fjords and enchanted snow-capped mountains for the big city, where her architect mother has been offered a job. On her daily hour and a half walk to school, Hilda searches for a way to circumvent her mother's decision. Hilda isn't sure if the invisible elves of the mystical Blue Forest will help or hinder her, and even less sure about the mysterious Midnight Giant. This graphic novel is a follow-up to Hildafolk.
---
Hilda and the Bird Parade
by Luke Pearson
Ages 6–up
Hilda and her mother are settling into their new home in the town of Trolberg. Hilda's mother is nervous about letting Hilda roam free, as she could in their idyllic mountain home, and Hilda is unsettled about the behavior of the town kids who pull pranks and throw rocks at birds. When a large black bird is left injured, Hilda helps it remember how to fly, and gradually comes to see the intimidating town as a place where wonderful things can happen. This graphic novel is a sequel to Hildafolk and Hilda and the Midnight Giant.
---
Battling Boy
by Paul Pope
Ages 10–up
This exciting graphic novel finds the city of Acropolis under daily attacks by monsters. When the hero Haggard West falls in battle, the monsters are free to wander the city, swallowing children into the shadowy underworld. Battling Boy (13), a pampered warrior god emerges to take on the battle against the monsters, using the magical powers of his set of totemic t-shirts.
---

The Golden Compass Graphic Novel, Volume 1
by Philip Pullman, Stéphane Melchior-Durand, Clément Oubrerie
Ages 10–up
Celebrating the 20th anniversary of the publication of The Golden Compass, this graphic adaptation is the first of three volumes, following Lyra Belacqua through steam punk Europe until she sets sail for the north with the gyptians. This beautifully illustrated graphic novel will appeal to new readers as well as those familiar with the story of The Golden Compass.
---

Terrorist: Gavrilo Princip, the Assassin Who Ignited World War I
by Henrik Rehr
Ages 13–up
Little is known about Gavrilo Princip, the young Serbian nationalist who assassinated Archduke Franz Ferdinand of Austria and set in motion the events leading to World War I. The 9/11 attacks in New York City caused the Henrik Rehr to wonder what drove ordinary people to become terrorists. This gripping graphic novel imagines the details that drove the young man from poverty-stricken Bosnia to contemplate murder as the only possible solution.
---

The Unsinkable Walker Bean
by Aaron Renier
Ages 9–14
Mild-mannered Walker Bean is happiest in his grandfather's colonial era workshop, helping with the inventions. But when his grandfather is cursed by two lobster-women, Walker knows it is up to him to return a magical skull to the mysterious Mango Islands. Walker stows away on a ship and teams up with a dog named Perrogi, a boy named Shiv, and a tough girl called Genoa. The four encounter pirates and magical machines as they search for clues and escape perilous situations in this engaging graphic adventure novel.
---

Creepy Crawly Crime
by Aaron Reynolds, Neil Numberman
Ages 8–12
Joey Fly is an experienced private investigator with an eager young apprentice named Sammy Stingtail. The pair are hired by a clueless butterfly to find her missing diamond pencil box. Full of insect humor, puns, and nifty similes, this classic mystery will keep young readers glued to the pages. A graphic novel with a film noir look, this is the first in the Joey Fly, Private Eye series.
---

The Lightning Thief: The Graphic Novel
by Rick Riordan, Robert Venditti, Attila Futaki, Jose Villarrubia
Ages 10–up
This adaptation of The Lightning Thief tells the story of Percy Jackson, who discovers he is a demi-god, the son Poseidon, god of the sea, and a mortal woman. Unfortunately he is also the prime suspect in a cosmic theft. Some of the humor and depth of the original are missing, but the illustrations are excellent.
---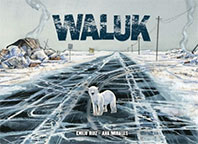 Waluk
by Emilio Ruiz, Ana Miralles
Ages 7–11
Waluk is a polar bear cub who has just been left by his mother to fend for himself. Manitok is an elderly polar bear with few teeth who has lost the speed he needs to catch prey. Together, the two hunt to find the protein they need to survive, but the Arctic world is changing. The ice is melting and prey is hard to find. Then Manitok is captured by scientists, forcing Waluk to take the lead. (graphic novel)
---
The Little Prince Graphic Novel
by Antoine de Saint-Exupéry, Joann Sfar
Ages 9–12
French cartoonist Joann Sfar includes Antoine de Saint-Exupéry himself as a character in this graphic novel adaptation of the beloved classic The Little Prince. Bold and striking illustrations honor the original while remaining fresh and original.
---

Gris Grimly's Frankenstein
by Mary Shelley, Gris Grimly
Ages 13–up
Acclaimed illustrator Gris Grimly presents a full-color graphic novel adaptation of Mary Shelley's original 1818 text. Comically gothic illustrations accompany the stripped down text, allowing modern readers to grasp the emotions within the densely written original story.
---

Nothing Can Possibly Go Wrong
by Prudence Shen, Faith Erin Hicks
Ages 12–up
Nate and Charlie are best friends despite their different personalities. Charlie is the laid-back captain of the basketball team, and Nate is the neurotic president of the robotics club. When it is decided that the high school can afford either uniforms for the basketball cheerleaders or a robotics competition, but not both, Nate declares war on the cheerleaders. The aftermath results in both sides being stripped of their funding for misbehavior. Nate's solution? Enter the club's robot in a battlebot competition in a desperate bid for prize money. This engaging graphic novel balances drama, humor, teenaged angst, and robotic geekiness.
---

Meanwhile: Pick Any Path
by Jason Shiga
Ages 8–12
This enthralling graphic novel allows readers to select from an amazing 3,856 story lines. Starting with an easy question, "Chocolate or Vanilla?" readers follow tubes and tabs through this amazingly constructed book to create a unique story of invention, discovery, and saving or destroying the world. Decisions move the reader up or down, left or right, forward or backwards, through cartoon illustrations of a mad scientist's lab featuring time machines, giant squids, and quantum physics.
---

Julian Rodriguez #1: Trash Crisis on Earth
by Alexander Stadler
Ages 7–10
Julian complains to the Mothership that he has endured eight years of mistreatment in an Earthling home in this hilarious hybrid of fiction and graphic novel.
---

Nimona
by Noelle Stevenson
Ages 13–up
Lord Ballister Blackheart has assumed the role of supervillain in order to expose evil inside the he Institute of Law Enforcement and Heroics. Nimona, a talented young shapeshifter, pesters Ballister until he agrees to take her on as his sidekick. Nimona's anger-management issues make her a chancy ally, but her ability to transform into just about anything is invaluable. This action-packed adventure, based on a web comic, melds medieval and modern elements.
---

This One Summer
by Mariko Tamaki, Jillian Tamaki
Ages 12–up
Every summer Rose and her parents vacation at a lakeside cottage where Rose spends two weeks playing with her friend Windy, who is like the younger sister she always wanted. This summer Rose isn't content as she usually is. Just reaching adolescence, she is fascinated by the older teens and a bit bored by Windy's childishness. Rose's parents are fighting, and her mother seems both angry and sad. This graphic novel captures the pain and joy of growing up with a light touch.
---
Ghosts
by Raina Telgemeier
Ages 8–12
Cat and her family move to Bahía de la Luna in northern California because her little sister Maya has cystic fibrosis and needs the foggy sea air. Cat isn't happy about leaving all her friends behind, and everyone in their new town is obsessed with ghosts, especially as the annual Día de lost Muertos celebration approaches. Carlos, a neighbor boy, tells the sisters that the ghosts aren't frightening, but the spirits of loved ones. And the ghosts are real: making jokes, mourning, and interacting with the sisters, who grapple with the very real possibility that Maya might die. This engaging graphic novel deals with fears of death and loss in an empathetic way.
---

Sisters
by Raina Telgemeier
Ages 8–12
Raina can't wait to be a big sister, but when little Amara arrives things aren't quite what she expected. Armara is cute, but she is a cranky baby and prefers to play by herself. Their relationship doesn't improve much over the years, but when a baby brother arrives and their parents don't seem to be getting along very well, the two decide that sisters need to work together. This graphic novel is a companion volume to Smile.
---

Honor Girl: A Graphic Memoir
by Maggie Thrash
Ages 14–up
Maggie (15) has attended the same Appalachian sleep-away camp for years. Maggie is from Atlanta and looks forward each year to a long peaceful relaxing summer. But this year everything changes when a random touch by an older girl awakens a flood of desire in Maggie. Teens questioning their sexual orientation is totally opposite to the camp's ideal of Southern womanhood, and Maggie must deal with gossip and criticism along with the turmoil of first love.
---
A Year Without Mom
by Dasha Tolstikova
Ages 10–14
Dasha (12) has been dependent on her mother since her father left for Los Angeles, leaving them alone in early 1990s Moscow. Then Dasha's mother departs for a year to study at the University of Illinois, leaving Dasha in her grandparents' care. They are kind and Dasha has two good friends, but she finds life without her mother difficult, especially with the political unrest when Boris Yeltsin replaces Mikhail Gorbachev as the Soviet leader. Then Dasha's mother returns to take her to Urbana, Illinois, for the second year of her master's program. This engaging graphic memoir will be continued in a sequel.
---
The Heartless Troll
by Øyvind Torseter
Ages 10–up
This humorous graphic novel inspired by the the Norwegian folktale "The Troll with No Heart in His Body," uses fairy tale traditions to tell the story of Prince Fred, the seventh son of a King whose six older sons have not returned from combat with a huge troll. Mounted on his reluctant horse, Fred sets off to the troll's lair where he joins forces with a captive Princess to defeat the troll.
---

Moribito: Guardian of the Spirit
by Nahoko Uehashi
Ages 10–up
Balsa was a wandering warrior for hire until the day she rescued a boy, Chagum, from the river. She is then hired by the boy's mother to protect him since Chagum is host to a mythical creature that threatens the rulers. An engaging combination of martial arts, magic, heroic quest, and a totally unique heroine, this quick-paced book will appeal to both boys and girls.
---

Moribito II: Guardian of the Darkness
by Nahoko Uehashi
Ages 10–up
Balsa, a spear-wielding warrior, returns to her homeland of Kanbal in this sequel to Moribito: Guardian of the Spirit. Balsa rescues a pair of siblings from the Guardian of the Darkness and fights a plot to attack the underground kingdom of the Mountain King. Powerful and loyal, Balsa is a compelling character set against a rich background of an imaginary culture.
---
Sea Change
by Frank Viva
Ages 8–12
Eliot Dionisi (12) is sent to stay with relatives in the remote village of Point Aconi, Nova Scotia, for the summer. His first impression is bleak: waking up before dawn each day, terrible food, a nearly silent Uncle Earl, and a town bully. But then things get more interesting. Uncle Earl shares his love of books and his extensive library, the night skies are full of stars, and he meets a new group of friends led by the intriguing Mary Beth. (TOON graphic novel)
---

Spinning
by Tillie Walden
Ages 14–up
This memoir in the form of a graphic novel explores an childhood and adolescence spent in the world of competitive figure skating. For ten years figure skating was Tillie's life. She woke up before dawn for morning lessons, went directly to group practice after school, and spent her weekends competing around the state. Skating was a core piece of her identity, her safe haven from the stresses of school and family. A new school caused her to re-examine her priorities. She found she love art, fell in love with her first girlfriend, and realized that she was never going to make it into the Olympics. Understanding that she had outgrown her passion for skating, Tillie knew it was time to find her own voice.
---

Another Castle: Grimoire
by Andrew Wheeler
Ages 13–up
Princess Misty of Beldora isn't happy with the prince her father has picked out for her and longs for a more exciting future. Getting kidnapped by Lord Badlug of Grimoire, the land of monsters, isn't exactly what she had in mind. Badlug the Terrible is intent on conquering Beldora, and marrying its princess is part of his plot. Misty is determined to escape, but not until she has killed Badlug in revenge for murdering her mother. She gathers an eclectic band of allies, including her gorgon attendant Gorga and Frogmoth, a gay gargoyle whose ex-boyfriend is heir to the Grimoire throne. This graphic novel is a feminist fantasy adventure that challenges genre conventions.
---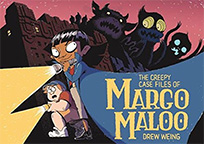 The Creepy Case Files of Margo Maloo
by Drew Weing
Ages 8–12
Charles, who considers himself a journalist and runs a blog, moves with his parents to Echo City to renovate a crumbling apartment building. The first night, a terrifying monster looms over his bed. The next day Charles receives a business card from Margo Maloo, Monster Mediator. Acting as Watson to Margo's Sherlock, Charles works to rid the building of monsters in this intriguing graphic novel.
---

Boxers
by Gene Luen Yang
Ages 12–up
It's 1898 in China, and bands of foreign missionaries and soldiers roam the countryside, bullying and robbing the Chinese peasants. Little Bao, inspired by visions of Chinese gods, and his older brothers embark on a crusade to save China from the "foreign devils." They recruit an army of Boxers, commoners trained in kung fu, to march upon the capital, killing foreigners along the way. (companion graphic novel to Saints)
---

Saints
by Gene Luen Yang
Ages 12–up
Four-Girl is a mistreated and unwanted daughter, not even worth being given a proper name by her family. Baptized by the same Christian priest who bullies Little Bao's village, she is renamed Vibiana. Leaving home, Vibiana finds fullfillment in serving the church and charges herself with defending Peking to prove her faith. (companion graphic novel to Boxers)
---

The Shadow Hero
by Gene Luen Yang, Sonny Liew
Ages 12–up
Green Turtle made a brief appearance during the 1940s comics boom, and then disappeared. Though his face was always obscured, comics lore believed he was Chinese. This modern version casts the Green Turtle as Hank Chu, a Chinese American teen in the 1930s whose parents own a grocery store. After his mother is rescued by a superhero, she pushes her son to become a superhero himself. Hank is exposed to toxic radiation, visits a mystic, and is bitten by an animal used for science experiments, but it is only hard work after a tragedy that finally gives him superpowers. This tongue-in-cheek homage to classic comics is lively and entertaining.