A Song for Ella Grey
by David Almond
Ages 12–up
Claire and Ella are best friends in Tyneside, England. On a trip to the Northumberland beach, Claire is fascinated by Orpheus, a wandering musician who plays the lyre. Ella and Orpheus fall in love, and Claire agrees to help them elope. This modern retelling of the Orpheus and Eurydice myth is spellbinding.
---

Yvain: The Knight of the Lion
by M.T. Anderson, Andrea Offermann
Ages 12–up
This compelling graphic novel tells the story of Sir Yvain, a knight at King Arthur's court, who defeats a local lord in battle and becomes involved with Lady Laudine, the beautiful widow, and her sly maid Lunette. Based on a 12th century epic poem by Chrétien de Troyes, this modern version sheds light on the plight of medieval women, often influenced by the actions of others, like the oblivious Yvain.
---

The Pied Piper of Hamelin
by Thomas Baas
Ages 6–9
Set in northern Germany near Christmas of 1283, the town is ready to celebrate when a horde of rats arrives. The mayor offers 1000 gold coins for ridding the town of rats, and a stranger with a small pipe charms them outside the town gates. The mayor refused to pay the reward, and the stranger pipes the children away as well. Vibrant illustrations accompany this retelling of the classic legend.
---

Beast Keeper
by Lucy Coats, Brett Bean
Ages 7–9
Pandemonius (Demon) is the son of the god Pan and a mortal woman. When Demon is 10, his father steals him away from his human mother and sets him to work caring for the mythical creatures that reside in the stables of Olympus. Many of the creatures have suffered mistreatment by gods and heroes, so Demon has his work cut out for him. Energetic cartoons add to the fun of this first book in the Beasts of Olympus series.
---

The Odyssey
by Gillian Cross, Neil Packer
Ages 8–up
This beautifully illustrated book tells the exciting tale of the ten-year journey of Odysseus returning from the Trojan War, facing storms, the man-eating Cyclops, the alluring but deadly Sirens, and the god Poseidon. Meanwhile, his wife Penelope struggles to protect her virtue and her palace from greedy interlopers who try to convince her that Odysseus must be dead.
---

The Odyssey: A Pop-Up Book
by Sam Ita
Ages 8–up
This graphic novel retelling of Odysseus's epic journey includes brilliant interactive details. A sharpened stick flies into the eye of Polyphemus, and a pull-tab magically transforms a man into a pig on Circe's island. Modern dialog adds humor to this classic tale without detracting from the original story.
---

The Incredible Voyage of Ulysses
by Bimba Landmann
Ages 9–12
After the defeat of the Trojans by the Greeks in a 10-year war, Ulysses, king of Ithaca, heads home to his faithful wife Penelope. His voyage home takes another 10 years, and as Ulysses battles cannibals, monsters, and other magical creatures, Penelope fends off suitors determined to convince her Ulysses is long dead. This retelling of Homer's epic tale is presented in a richly illustrated style designed to draw readers into the gripping adventure.
---

The Fate of Achilles
by Bimba Landmann
Ages 9–12
When Achilles was born, the Fates foretold that his destiny would be tied to that of Rome. The son of the nymph Thetis and King Peleus, Achilles was raised by Chiron, a centaur who taught the boy how to fight and how to live with honor. When asked to help avenge the Greeks against the Trojans, Achilles agrees, though his mother warns him that he will not survive the battle. This retelling of Homer's epic continues the story begun in The Incredible Voyage of Ulysses.
---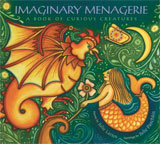 Imaginary Menagerie

A Book of Curious Creatures
by Julie Larios
Ages 4–9
Poetry
Julie Paschkis's incredible gouache paintings illustrate poems about creatures from mythology and folklore.
---
The Girl from the Well
by Rin Chupeco
Ages 14–up
Okiku, a vengeful spirit, wanders the world in search of those who abuse and murder children, killing them in order to free the souls of the tormented children. Okiku discovers that Tark Halloway (15) is possessed by a violent spirit. Okiku feels an unexpected fondness for Tark and his cousin Callie, and their journey to Japan allows Okiku to confront her own tragic origin. This scary tale is based on a Japanese legend.
---

Gifts from the Gods: Ancient Words and Wisdom from Greek and Roman Mythology
by Lise Lunge-Larsen, Gareth Hinds
Ages 9–12
This lavishly illustrated book will appeal to both mythology fans and word lovers. Using dictionary definitions, quotes from children's literature, and graphic-novel style illustrations, the authors trace the origins of common words and expressions to Greek and Roman myths. For example, "museums" were originally temples built to honor the nine muses, and "janitor" comes from Janus, the god of doorways and hallways.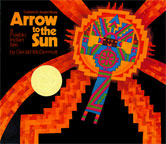 Arrow to the Sun:

A Pueblo Indian Tale
by Gerald McDermott
Caldecott Medal 1975


Ages 4–8
A young boy searches for his father and must prove he is worthy by passing through four ceremonial chambers in this retelling of the Pueblo Native American legend. The bold and colorful geometric illustrations echo Pueblo designs.
---
Treasury of Egyptian Mythology: Classic Stories of Gods, Goddesses, Monsters & Mortals
by Donna Jo Napoli, Christina Balit
Ages 8–12
this lavishly illustrated collection includes tales of Egyptian gods and monsters, placing them within the context of Egyptian history, culture, and beliefs. Powerful storytelling and images make the myths come alive.
---

Treasury of Greek Mythology: Classic Stories of Gods, Goddesses, Heroes & Monsters
by Donna Jo Napoli, Christina Balit
Ages 8–12
Timeless stories of Greek mythology are brought to life through vivid text and stunning illustrations. Sidebars help to make the connections between the characters clear, and connect the myths to real life events and places. This fascinating book will enchant a new generation of readers.
---

Encyclopedia Mythologica: Dragons and Monsters Pop-Up
by Matthew Reinhart and Robert Sabuda
Ages 5–12
Stunning creatures from both Eastern and Western traditions pop up dramatically from the pages of this incredibly detailed book. A Chinese dragon's body unfolds, Medusa's snaky locks unfurl, and Dracula's coffin lid lifts as he awakens. Lesser known creatures such as the lycanthrope, golem, and wendigo are profiled with details of the cultures that imagined them. The final book in the Encyclopedia Mythologica trilogy that includes Gods and Heroes and Fairies and Magical Creatures.
---

Encyclopedia Mythologica: Gods and Heroes Pop-Up
by Matthew Reinhart, Robert Sabuda
Ages 6–12
This well crafted pop-up book presents a global tour of gods and heroes, including classical mythology, as well as Egyptian, Norse, Eastern, and New World legends. The pop-ups are intricately detailed, exquisitely designed, and sturdier than they look. The stunning art and interesting text will inspire older readers to find out more about these fascinating Gods and Heroes.
---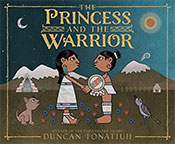 The Princess and the Warrior: A Tale of Two Volcanoes
by Duncan Tonatiuh
Ages 6–9
Aztec Princess Izta had many wealthy men who wanted to become her husband and eventually emperor, but Izta fell in love with Popoca, a humble warrior who loved her for herself. Her father promised Izta that if Popoca could defeat their enemy Jaguar Claw, they could marry. An enemy brought a message that Popoca had been killed, and Izta fell into a deep sleep and could not be awakened, even by Popoca when he returned in triumph. But Popoca kept his promise never to leave her side, and even today two volcanoes guard Mexico City: the sleeping Iztaccíhuatl and Popocatépetl who tries to wake her wth smoke and ash.
---

Golem
by David Wisniewski
Caldecott Medal 1997


Ages 6–10
Elaborate cut-paper collage illustrations provide dramatic visuals for this retelling of the Jewish legend of Rabbi Loew who used his powers to create a gigantic Golem from clay to protect his people from persecution in the ghettos of 16th-century Prague.