Roots and Blues: A Celebration
by Arnold Adoff, R. Gregory Christie
Ages 8–12
Poems, poetic prose, and vibrant paintings honor the legacy of blues music, from the slave ships, to plantation fields, to chain gang labor, to the energy of the juke joints. Words and illustrations work together to portray the pain and misery and memories and hope that was transformed by rhythm and harmony into the music called the blues.
---
Out of Wonder: Poems Celebrating Poets
by Kwame Alexander, Chris Colderley, Marjory Wentworth, Ekua Holmes
Ages 8–12
Three poets and one artists collaborate to present poems honoring twenty different poets including Gwendolyn Brooks, E.E. Cummings, Emily Dickinson, Langston Hughes, Rumi, and Williams Carlos Williams.
---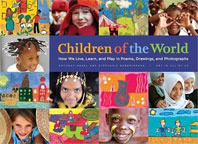 Children of the World: How We Live, Learn, and Play in Poems, Drawings, and Photographs
by Anthony Asael, Stephanie Rabemiafara
All ages
Children from 192 countries around the world celebrate their homelands with words and pictures. Candid photographs, maps, fun facts, artwork, and poems bring the children from different countries to life in this celebration of cultural differences and the similarities of children all over the world.
---

How Do I Love You?
by Marion Dane Bauer
Ages 3–5
This charming board book, inspired by he poem by Elizabeth Barrett Browning, compares a parent's love to the constant nature of the natural world. The beautifully simple illustrations complement the text perfectly.
---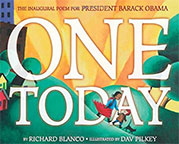 One Today
by Richard Blanco, Dav Pilkey
Ages 3–6
This poem was commissioned by President President Barack Obama to read at his second presidential inauguration. American themes from dawn to dusk are viewed through the eyes of a representative multi-racial city-dwelling family.
---

The White Cat and the Monk: A Retelling of the Poem "Pangur Bán"
by Jo Ellen Bogart, Sydney Smith
Ages 4–8
This retelling of the old Irish poem tells the story of a solitary monk who observes the white cat who shares his simple life. The monk records the similarities between himself and the cat, noticing the importance of work, companionship, and the pursuit of things that matter. This simple and elegant book will appeal to children and adults alike.
---

We Go Together!: A Curious Selection of Affectionate Verse
by Calef Brown
Ages 4–8
The 18 poems in this light-hearted book celebrate loving friendship, combining delightful nonsense with deeper observations about the joys of companionship. The cheerful rhyming text begs to be read aloud.
---
Shadow
by Marcia Brown
Caldecott Medal 1983


Ages 5–8
Marcia Brown's stunning African-inspired collage illustrations evoke the atmosphere and drama of a life now haunted, now enchanted by Shadow. (translated by Marcia Brown from the French poetry of Blaise Cendrars)
---
Ashley Bryan's Puppets: Making Something from Everything
by Ashley Bryan
Ages 4–up
Over time Ashley Bryan has created more than 30 puppets from the flotsam and jetsam he discovers on the beach near his studio on Little Cranberry Island, Maine. Each puppet is beautifully photographed and accompanied with its name, motto, and poem. the close-up photographs reveal details of each puppet's construction, inviting readers to gather their own materials and construct puppets of their own.
---

Kaleidoscope Eyes
by Jen Bryant
Ages 9–13
In the summer of 1968, 13-year-old Lyza and her friends search for Captain Kidd's lost treasure in their New Jersey neighborhood. Narrated in verse, this novel has a strong sense of place and vividly portrays a teenager's conflicting emotions about the onset of adulthood.
---

Because I am Furniture
by Thalia Chaltas
Ages 12–up
Anke's father is abusive to her older brother and sister, but not to her. She is invisible and helpless. Then Anke makes the volleyball team at school and her confidence builds until she begins to hope that her voice will soon be loud enough to rescue everyone at home, including herself. This powerful novel in poems is devastating yet offers empowerment and hope.
---
Where the Steps Were
by Andrea Cheng
Ages 6-up
Poetry: Novel in Verse
Five inner-city third-graders prepare themselves for the demolition of their school. Tribute to educators and children learning to overcome obstacles and accept unwelcome change.
---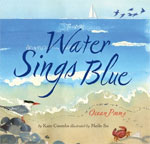 Water Sings Blue
by Kate Coombs, Meilo So
Ages 4–8
Evocative poems paired with detailed watercolors fill this beautiful book of poetry about life in the ocean and on the beach.
---
Outside Your Window: A First Book of Nature
by Nicola Davies, Mark Hearld
Ages 3–up
Evocative poetry and mixed media illustrations encourage children to explore the natural world. Divided into seasons, this beautiful book captures the sights and sounds of children interacting with nature, reminding readers that the natural world is waiting to be discovered right outside your door.
---
Joyful Noise: Poems for Two Voices
by Paul Fleischman
Newbery Medal 1989


Ages 8–up
These poems about insects are designed to be read aloud by two voices, bring the words to life. Eric Beddows's black-and-white drawings echo the realism and fanciful nature of the poems.
---

Dinothesaurus: Prehistoric Poems and Paintings
by Douglas Florian
Ages 6–up
These humorous and witty poems and illustrations will appeal to dinosaur and word lovers alike. The facts are accurate, and the combination of poem and collage make them unforgettable.
---

Poem Runs: Baseball Poems
by Douglas Florian
Ages 6–9
Upbeat poems cover the defensive positions on the field as well as batting and running. Exuberant illustrations exaggerate the physical motions of the baseball players as they stretch, swing, bend, and run, complementing the humor and the competitive spirit of the poems.
---

When Green Becomes Tomatoes: Poems for All Seasons
by Julie Fogliano, Julie Morstad
Ages 6–10
Beginning and ending with the Spring Equinox, this book presents a group of poems for each season. Each poem begins with a date and reads like a diary entry, combining observations about each season with personal connections.
---
Step Gently Out
by Helen Frost, Rick Lieder
Ages 2–5
Stunning close-up photography illustrates this poem capturing the world from an insect's point of view, encouraging young children to experience the natural world with care for the small insect worlds that surround them. Endnotes include more details about the 11 featured insects.
---
Sweep Up the Sun
by Helen Frost, Rick Lieder
Ages 2–5
The motivational poem is illustrated with photographs of 11 different birds captured in flight or at rest. The message of trusting one's ability to thrive in the world is effective for both young readers and graduates.
---

Emma Dilemma: Big Sister Poems
by Kristine O'Connell George, Nancy Carpenter
Ages 6–9
Jess, a 4th grader, is often frustrated by her pre-school aged sister Emma, who copies everything Jess does and embarrasses her in front of her friends. Jess has trouble accepting that she is always expected to be a good big sister, while Emma runs rampant over her life and privacy. Vivid and frank poems present the pains and joys of having a little sister.
---

Over the Hills and Far Away: A Treasury of Nursery Rhymes
collected by Elizabeth Hammill
Ages 3–7
More than 70 artists illustrate this collection of 150 multicultural nursery rhymes from around the world. Versions of the same rhyme from different locales demonstrate both the cross-cultural commonality and the diversity. Versions of Little Miss Muffet show the child being frightened by a spider (England), a grasshopper (America), and a wombat (Australia).
---
I'm Just No Good at Rhyming: And Other Nonsense for Mischievous Kids and Immature Grown-Ups
by Chris Harris, Lane Smith
Ages 6–up
This debut collection of poems is full of creative rhymes, high energy, and clever ideas. Mysteriously mis-numbered pages can be deciphered with a code-cracking poem and a rhyming fact-checker in the footnotes tries to control poetic license. An on-going rivalry between the author and the illustrator adds to the fun.
---
Poisoned Apples: Poems for You, My Pretty
by Christine Heppermann
Ages 13–up
This collection of 50 poems blends fairy tale themes with the demands that society makes upon girls and women. Themes like body image and eating disorders are explored along with the ability to escape societal forces that try to control women. Beautiful black and while photographs complement the poems.
---

Peaceful Pieces: Poems and Quilts About Peace
by Anna Grossnickle Hines
Ages 4–8
Poems are paired with images of hand-made quilts in this beautiful exploration of peace. Ranging from individual relationships between two feuding sisters to soldiers trying to recover from war experiences, each poem/quilt combination is a reflection on the theme of peace.
---

Forget-Me-Nots: Poems to Learn by Heart
by Mary Ann Hoberman, Michael Emberley
All ages
This collection of poems by a broad spectrum of authors are short enough to invite memorization. Poets include Frost, Hoberman, Keats, Sandburg, Silverstein, and many more. Mixed-media cartoons illustrate the themes and images of the poems.
---

Brains For Lunch: A Zombie Novel in Haiku?!
by K.A. Holt, Gahan Wilson
Ages 9–14
Loeb, a zombie, has a problem—the object of his affection is a lifer (human) girl named Siobhan. Narrated entirely in haiku, this clever novel highlights the self-doubt and uncertainity all pre-teens suffer through whether they are human or zombie. Delightfully gruesome illustrations are the perfect match for the funny and unconventional haiku, sure to appeal to teachers of poetry and reluctant readers alike.
---

City I Love
by Lee Bennett Hopkins, Marcellus Hall
Ages 4–8
This poetry collection follows a dog and bluebird who travel to famous cities around the world. The reflective and humorous poems by Lee Bennett Hopkins are illustrated with Marcellus Hall's lively watercolors.
---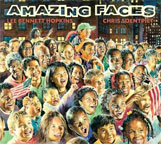 Amazing Faces
poems selected by Lee Bennett Hopkins, illustrated by Chris Soentpiet
Ages 6–up
This collection of poems includes character sketches and descriptions of multi-cultural people from all over the United States. Soentpiet's beautifully lifelike and detailed watercolor illustrations zoom in on the faces of the wide variety of people and scenes depicted in the poems.
---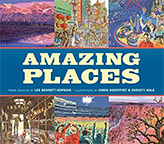 Amazing Places
selected by Lee Bennett Hopkins, illustrated by Chris Soentpiet and Christy Hale
Ages 7–8
Fourteen poems by various poets celebrate landmarks and attractions across the United States, including Harlem, Fenway Park, the Grand Canyon, the Oneida Nation Museum, the Ringling Circus Museum, and Chinatown in San Francisco.
---
I, Too, Am America
by Langston Hughes, Bryan Collier
Ages 4–8
Striking collage illustrations by Bryan Collier document the history of the Pullman railway porters celebrated in the classic poem by Langston Hughes.
---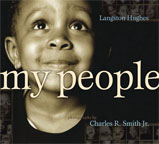 My People
by Langston Hughes, Charles R. Smith Jr.
Ages 4–8
Poetry
Smith's sepia-toned photographs of African-Americans illustrate Langston Hughes's eloquent tribute to his people. This beautiful book will be enjoyed over and over.
---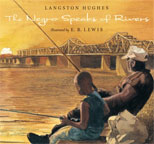 The Negro Speaks of Rivers
by Langston Hughes, E.B. Lewis
Ages 4–8
Poetry
Luminous watercolors by E.B. Hughes of rivers all over the world accompany the poem by Langston Hughes. Together they portray the experiences of black people throughout history.
---

The Death of the Hat: A Brief History of Poetry in 50 Objects
selected by Paul B. Janeczko, illustrated by Chris Raschka
Ages 8–12
This excellent anthology of poems is organized around the theme of objects that have inspired poets through the ages. Poets like Robert Burns, Emily Dickinson, Pablo Neruda, Naomi Shihab Nye, Sylvia Plath, and William Wordsworth write about objects including cobwebs, manhole covers, the moon, and stamp albums.
---

Firefly July: A Year of Very Short Poems
by Paul B. Janeczko, Melissa Sweet
Ages 6–9
This anthology of 36 short poems is organized by seasons. Accompanying each brief poem is a large-format watercolor, gouache, and mixed-media illustration that nearly leaps off the page. Favorite children's and adult poets like the following are included: Emily Dickinson, Ralph Fletcher, Langston Hughes, J. Patrick Lewis, Eve Merriam, Joyce Sidman, James Stevenson, April Halprin Wayland, William Carlos Williams, Charlotte Zolotow.
---
A Foot in the Mouth:

Poems to Speak, Sing and Shout
edited by Paul B. Janeczko, illustrated by Chris Raschka
Ages 8–12
The poems in this book beg to be read aloud. Included are rhyming poems, tongue twisters, bilingual poems, dual voice poems, and poems that will inspire kids to memorize and recite them.
---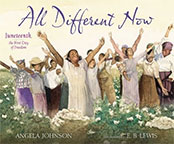 All Different Now: Juneteenth, the First Day of Freedom
by Angela Johnson, E.B. Lewis
Ages 5–9
The little girl narrating this poem tells the story of the day that the slaves on a Texas plantation learn they are free, more than two years after President Lincoln signed the Emancipation Proclamation. Watercolor illustrations display the range of emotions throughout the day, from weary toil in the hot morning sun, through overwhelming emotions when hearing the news, to tranquil joy in the cool of the evening.
---

A Song About Myself
by John Keats, Chris Raschka
Ages 6–9
While hiking the hills of Scotland at the age of 22, poet John Keats wrote to his younger sister Fanny, including a self-deprecative poem about himself. Whimsical watercolor illustrations accompany this playful connection between siblings that is great fun to read aloud.
---

Poems to Learn by Heart
by Caroline Kennedy, Jon J. Muth
All ages
More than 100 diverse poems by a wide selection of poets are organized by theme in this poetry book. Beautiful illustrations add to the appeal of the poems, selected to appeal to a variety of readers with a range of memorization skills.
---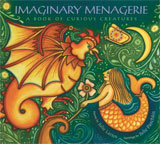 Imaginary Menagerie:

A Book of Curious Creatures
by Julie Larios
Ages 4–9
Poetry
Julie Paschkis's incredible gouache paintings illustrate poems about creatures from mythology and folklore.
---
River of Words:
Young Poets and Artists on the Nature of Things
edited by Pamela Michael
Poetry for all ages
In 1995 Pamela Michael and US Poet Laureate founded the River of Words project, designed to connect student poetry and art to the natural world around them. Divided into nine geographical areas (California, Pacific Northwest, Inland West, Midwest, Southwest, Northwest, Mid Atlantic, South, and International), this book presents writers and artists from ages six to 18.
---

Inside Out and Back Again
by Thanhha Lai
Ages 9–12
After her father has been missing in action for nine years in the Vietnam War, 10-year-old Hà, her mother, and her three older brothers flee to Guam, eventually ending up in Alabama. Though finally safe, Hà finds it difficult to master the new language and customs, and is cruelly mocked by her classmates. Befriended by a teacher who lost a son in Vietnam, Hà gradually adjusts to her new life. Narrated in first person free-verse poems, this poignant novel captures the sense of alienation felt by many immigrants.
---

Forgive Me, I Meant to Do It: False Apology Poems
by Gail Carson Levine, Matthew Cordell
Ages 6–9
Modeled after "This Is Just to Say" by William Carlos Williams, each poem in this book describes a horrible offense and continues with a false apology because the poet clearly is not one bit sorry at all. Fairy tale and nursery rhyme characters share the stage with regular folk, animals, and inanimate objects. Playful illustrations add to the fun.
---

Edgar Allan Poe's Pie: Math Puzzlers in Classic Poems
by J. Patrick Lewis, Michael Slack
Ages 6–9
Poet laureate Lewis transforms famous poems (like "The Raven" by Edgar Allan Poe, "April Rain Song" by Langston Hughes, "The Termite" by Ogden Nash) into humorous word problems. Brightly colored illustrations complement the offbeat mix of language and mathematics, sure to delight children and adults alike.
---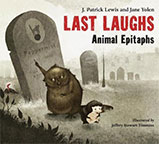 Last Laughs: Animal Epitaphs
by J. Patrick Lewis, Jane Yolen, Jeffrey Stewart Timmins
Ages 7–10
Darkly comic poems celebrating dearly departed animals will appeal to those with a fondness for puns and the macabre. Beautifully detailed illustrations add to the fun.
---
National Geographic Book of Animal Poetry: 200 Poems with Photographs That Squeak, Soar, and Roar!
edited by J. Patrick Lewis
Ages 4–8
Stunning photographs of wild and domestic animal illustrate poems by classic poets and modern children's poets including Navajo traditional verse, Robert Frost, Ogden Nash, Jack Prelutsky, Carl Sandburg, Jane Yolen, and many many more, edited by the U. children's poet laureate for 2011-2013.
---
National Geographic Book of Nature Poetry: More than 200 Poems With Photographs That Float, Zoom, and Bloom!
edited by J. Patrick Lewis
Ages 4–8
Former Children's Poet Laureate

J. Patrick Lewis

pairs poems by both classic and contemporary poets with dynamic photographs from National Geographic, creating a collection that vividly illustrates how nature has inspired poets through time.
---
Poem-mobiles: Crazy Car Poems
by J. Patrick Lewis, Douglas Florian, Jeremy Holmes
Ages 4–8
The thirteen inventive poems in this collection feature imaginative vehicles that really should exist. The mixed-media illustrations match the quirky mood of the poems in this clever book sure to inspire young readers to create their own contraptions.
---

When Thunder Comes: Poems for Civil Rights Leaders
by J. Patrick Lewis, Jim Burke, R. Gregory Christie, Tonya Engel, John Parra, Meilo So
Ages 8–12
Stirring poems celebrate seventeen civil rights leaders. Lesser known figures like Mitsuye Endo, a Japanese-American woman interned during WWII, are represented along with more well known figures like Mohandas Gandhi and Nelson Mandela. Five talented artists provide the distinctive paintings that accompany each poem.

Things to Do
by Elaine Magliaro, Catia Chien
Ages 3–5
Whimsical poems in the form of To Do lists from various perspectives beg to be read aloud and shared. Dawn's list begins with "Shoo away night," the bee's with "Flit among flowers," the cricket's with "Rub wings and sing," the moon's with "Hang in the darkness."
---

The Wonderful Things You Will Be: A Growing-Up Poem
by Emily Martin
Ages 3–7
This rhyming poem expresses all the loving and hopeful things parents feel for their children. The breadth of possibilities contained in even the tiniest of babies is the focus of this beautifully illustrated love letter from a parent to a child. Adults will love reading this book aloud to a beloved child.
---

Counting Lions
by Virginia McKenna, Katie Cotton, Stephen Walton
All ages
Charcoal portraits of endangered animals are paired with poems by Katie Cotton that describe the animal's behavior and physical attributes. Though presented in the traditional counting book format — one lion through ten zebras — this beautiful book will appeal to animal fans of all ages. A forward written by actress and wildlife campaigner Virginia McKenna urges readers to join the fight to protect endangered animals and explains that a 5% book royalty will be donated to her Born Free foundation.
---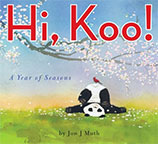 Hi, Koo!: A Year of Seasons
by Jon J Muth
Ages 4–8
The twenty-six haiku in this charming book celebrating the four seasons each contain a word that begins with a consecutive letter of the alphabet. Young readers will enjoy spending time with the adorable panda cub while searching for the next letter of the alphabet.
---
We Are America: A Tribute from the Heart
by Walter Dean Myers, Christopher Myers
Ages 7–12
Told in free verse poetry, this moving book examines the people, ideals, and promise of America. Moving along a rough chronological path, the text and illustrations present the ordinary and extraordinary people and the events that have shaped America.
---
Blue Sky White Stars
by Sarvinder Naberhaus, Kadir Nelson
Ages 4–8
Simple verses paired with rich illustrations featuring diverse people celebrate iconic American imagery, including the Statue of Liberty, a Civil Rights march, a spacecraft at Cape Canaveral.
---

How I Discovered Poetry
by Marilyn Nelson, Hadley Hooper
Ages 12–up
Through 50 poems, the author tells the story of her childhood in the 1950s, when her family frequently moved from one military base to another. Bomb drills at school, the Red Scare, and the civil rights movement appear along with Mrs. Purdy, the teacher who introduced her to the magic of poetry.
---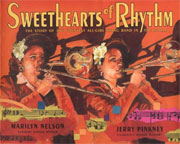 Sweethearts of Rhythm
The Story of the Greatest All-Girl Swing Band in the World
by Marilyn Nelson, Jerry Pinkney
Ages 10–up
Nelson's poems and Pinkney's luminous paintings perfectly complement each other in this tribute to an integrated female swing band that toured the USA from the late 1930s to mid 1940s. Titled after swing tunes, the 20 poems underscore the role of music in bring joy and hope to an era haunted by war and racism.
---

Little Poems for Tiny Ears
by Lin Oliver, Tomie dePaola
Ages Birth–2
The twenty-three short poems in this book are written from the perspective of babies and toddlers celebrating the small discoveries and joyful moments of early childhood. This delightful book is the perfect gift for a baby shower or first birthday.
---

Flutter and Hum: Animal Poems / Aleteo y Zumbido: Poemas de Animales
by Julie Paschkis
Ages 4–8
This joyful collection of poems in both English and Spanish features animals that flutter and hum, dance and stretch, and slither and leap. Beautiful gouache paintings feature the animals as well as words from the poems.
---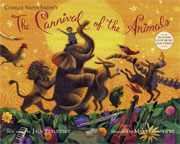 The Carnival of the Animals
by Jack Prelutsky, Mary GrandPré
Ages 6–12
The animals are having a carnival, and each arriving guest is celebrated with both music and words in this book designed to introduce children to classical music. New poems by Jack Prelutsky can be enjoyed both by reading the book with exuberant illustrations by Mary GrandPré, and by listening to the accompanying CD, featuring the Württemberg Chamber Orchestra performing the suite by Camille Saint-Saens as Prelutsky reads the poems, which perfectly capture the essence of each animal featured in the movements of the music.
---

I've Lost My Hippopotamus
by Jack Prelutsky, Jackie Urbanovic
Ages 5–10
These 100+ delightfully silly rhyming poems portray real animals doing strange things and fantasy animals doing even stranger things. Colorful illustrations add to the fun.
---

My Dog May Be a Genius
by Jack Prelutsky
Ages 5-up
Poetry
Light verse by Prelutsky paired with expressive cartoons by James Stevenson.
---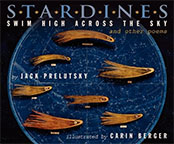 Stardines Swim High Across the Sky: and Other Poems
by Jack Prelutsky, Carin Berger
Ages 4–8
This collection of poems features hybrid creatures whose attributes come from altering one letter of their name. Stardines swim across the sky, jollyfish are round happy creatures, and the gloose is a bird that sticks to anything. The cleverly silly poems are perfectly paired with creative illustrations — a feast for the ears and eyes alike.
---

Santa Clauses: Short Poems from the North Pole
by Bob Raczka, Chuck Groenink
Ages 5–9
Beginning on December 1st, Santa Claus writes a poem each day, presenting a peek behind the scenes at the North Pole counting down to Christmas. Santa is surprising calm in this busy time of year, appreciating the beauty of the season and the contentment of his cozy home with Mrs. Claus.
---

Wet Cement: A Mix of Concrete Poems
by Bob Raczka
Ages 8–12
This inventive collection of 21 poems plays with the shape of the poems and titles as well as the words. By using the arrangement of the words on the page, Raczka encourages readers to look at poetry in a new way. This creative book has to be seen to be fully appreciated.
---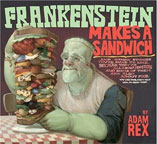 Frankenstein Makes a Sandwich
by Adam Rex
Ages 5–10
This hilarious collection of illustrated poems describes the lives of famous monsters. Kids will love the effortless rhymes and the different art styles, individually tailored for each creature. Great read-aloud.
---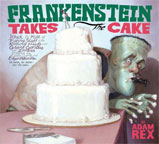 Frankenstein Takes the Cake
by Adam Rex
Ages 5–10
Frankenstein and his bride are planning the wedding, but his best man, Dracula, is worried about the garlic bread, and other B-movie monsters have similar woes in this hilarious book of poems.
---

The Alphabet Thief
by Bill Richardson, Roxanna Bikadoroff
Ages 5–9
The alphabet thief steals one letter at a time, stealing B and turning bowls into owls, stealing I and turning paints into pants. Funny poems and illustrations document what happens when a letter is stolen in this clever read-aloud.
---

The Cuckoo's Haiku:

and Other Birding Poems
by Michael J. Rosen, Stan Fellows
Ages 6–10
Poet and birder Rosen captures the essence of more than 20 common North American birds. Designed like a birding notebook, each haiku is accompanied by Fellows's beautiful watercolors of the birds in their habitats plus notes about their behavior and traits.
---
The Maine Coon's Haiku: And Other Poems for Cat Lovers
by Michael Rosen, Lee Anthony White
Ages 6–9
The unique personalities of twenty breeds of cats are captured in haiku poems in indoor and outdoor settings. An after word includes interesting facts about each featured breed.
---

The Popcorn Astronauts: And Other Biteable Rhymes
by Deborah Ruddell, Joan Rankin
Ages 4–8
Organized into the four seasons, the 21 short poems celebrate tastes throughout the year. Cheerful watercolor illustrations are a perfect match for the whimsical and energetic poems.
---

Baby Face:


A Book of Love for Baby
by Cynthia Rylant
Ages 1–5
Six poems celebrating universal moments in a baby's life are illustrated with Diane Goode's multiracial watercolors.
---

Water Can Be…
by Laura Purdie Salas, Violeta Dabija
Ages 5–8
This imaginative book presents lively poetic descriptions of water matched with beautifully detailed illustrations.
Water can be a…
Thirst quencher, Kid drencher,
Cloud fluffer, Fire snuffer.
---

Full of Fall
by April Pulley Sayre
Ages 3–8
Vivid photographs accompany poems that document the progression of changing leaves in the fall. From the first splash of color to the decomposition of fallen leaves, this beautiful book celebrates fall trees around the world.
---

Raindrops Roll
by April Pulley Sayre
Ages 4–8
Stunning photographs illustrate this verse exploration of a rain shower. The short rhythmic lines are paired with vivid color images that will appeal to children and adults alike. The last two spreads offer scientific information about the three forms of water: ice, liquid water, and water vapor.
---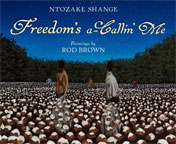 Freedom's a-Callin Me
by Ntozake Shange, Rod Brown
Ages 8–12
This book of illustrated poems tell the story of slaves making their way to freedom on the Underground Railroad. The horrors of the past that haunt the slaves as well as the dangers of the journey are clearly portrayed in this hauntingly beautiful book.
---

We Troubled the Waters
by Ntozake Shange, Rod Brown
Ages 9–12
This unflinching look at the Civil Rights Movement by poet Ntozake Shange and artist Rod Brown presents powerful scenes of the fight for justice from 1941 to the present.
---

Before Morning
by Joyce Sidman, Beth Krommes
Ages 4–7
A small girl wishes for a blizzard so big that everyone will have to stay home, especially her mother who is an airline pilot. She and her father say goodbye and her mother sets of just as a light snow begins to fall, returning home when the airport is closed, to the joy of her family. This heartfelt long poem is beautifully illustrated.
---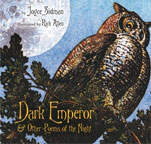 Dark Emperor and Other Poems of the Night
by Joyce Sidman, Rick Allen
Ages 6–10
This collection of poems celebrates nocturnal life in the forest from various point of view including the prey of a horned owl, a baby porcupine, a night spider, the moon. Each poem is illustrated with a detailed print and accompanied by a short factual note about the subject, beautifully blending poetry, science, and art.
---

Red Sings from Treetops: A Year in Colors
by Joyce Sidman, Pamela Zagarenski
Ages 4–8
Stylized figures move through colorful illustrations celebrating the four seasons. The unrhymed poems are filled with imaginative uses of color words to highlight each season. (2010 Caldecott Honor Book)
---

Ubiquitous: Celebrating Nature's Survivors
by Joyce Sidman, Beckie Prange
Ages 6–10
This book of poems pays tribute to biologically successful life forms from lichens to mollusks to ants to coyotes. Arranged in order of each survivor's first appearance, each spread features fascinating facts, beautifully colored linocuts, and a poem which echoes a trait of the subject. The melding of art, science, and poetry stimulates the eye, ear, and mind.
---
What the Heart Knows: Chants, Charms, and Blessings
by Joyce Sidman, Pamela Zagarenski
Ages 12–up
This collection of nearly 50 poems is designed to provide comfort, courage, and humor while suffering through difficult moments in life, offering solace, inspiration, and strength to readers of all ages.
---
Winter Bees & Other Poems of the Cold
by Joyce Sidman, Rick Allen
Ages 6–9
Twelve fascinating poems explore how animals stay alive in the winter and investigate the secret life under the snow. Rich digitally layered lino-cuts add an extra dimension to the lyrical poems.
---

Don't Bump the Glump!


And Other Fantasies
by Shel Silverstein
All ages
Poetry
New edition of Silverstein's 1964 collection of poems with his original watercolors of amazing imaginary creatures.
---

Every Thing On It
by Shel Silverstein
All ages
This posthumous book contains more than one hundred and thirty never-before-seen poems and drawings completed by Shel Silverstein, selected by his family from his archives. The familiar design echoes the successful format of earlier books.
---

Echo Echo: Reverso Poems About Greek Myths
by Marilyn Singer, Josee Masse
Ages 6–9
This collection of "reverso" poems, designed to be read both forward and backward, features characters from Greek myths. Pygmalion and Galatea, the statue he brings to life, muse on the wonders of a statue so ""life like" and that there is no wonder "like life." Other poems feature the contrasting perspectives of famous characters like Perseus and Medusa, Icarus and Daedalus, and Midas and his Golden Touch.
---
Mirror Mirror: A Book of Reversible Verse
by Marilyn Singer, Josee Massee
Ages 7–up
This clever book of poems that can be read forward and backwards, shows that there can be more than one point of view in a fairy tale. "Mirror Mirror" is narrated by Snow White in one direction, and by the wicked queen in the other. "In the Hood" features the wolf anticipating his next meal one way, and Little Red Riding Hood reminding herself not to dawdle on the way to Grandma's. The rich illustrations reflect the dual images of the poems. Singer explains how to create a "reverso" poem in an afterward that encourages readers to try their own.
---

Follow Follow: A Book of Reverso Poems
by Marilyn Singer, Josee Masse
Ages 6–up
Fairy tale characters speak though "reverso" poems that can be read foward and backward, resulting in completely different meanings. Characters appear from many stories, including The Tortoise and the Hare, Thumbelina, The Little Mermaid, The Emperor's New Clothes, The Three Little Pigs, The Princess and the Pea, and Aladdin.
---

My Daddy Rules the World: Poems about Dads
by Hope Anita Smith
Ages 4–8
Told from a child's perspective, the 16 poems in this book celebrate small moments between fathers and their children: haircuts, guitar lessons, wrestling matches, bedtime stories, cuddling in bed.
---
The Dancing Pancake
by Eileen Spinelli, Joanne Lew-Vriethoff
Ages 8–12
Bindi (11) had a normal and happy life until her parents announced they were separating. After her father moves to another city, Bindi's mother and aunt open a diner, The Dancing Pancake, to make ends meet. Told entirely in verse from Bindi's perspective, this accessible book presents Bindi's struggles to deal with her new reality and her wildly changing emotional state in a light-hearted way.
---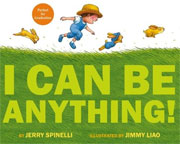 I Can Be Anything!
by Jerry Spinelli, Jimmy Liao
Ages 3–6
Spinelli's exuberant rhymes and Liao's energetic illustrations combine to take the reader on a playful journey through all the wonderful possibilities life has to offer. This imaginative book is sure to please both young readers and the adults that share the pleasure of reading with them.
---

Little Humans
by Brandon Stanton
Ages 4–8
New York City street photographer Stanton has assembled his favorite photographs of children matched with free verse poems celebrating the creativity of childhood. The rich range of ethnic backgrounds, spontaneous poses, and eclectic outfits celebrate both the diversity and commonality of children.
---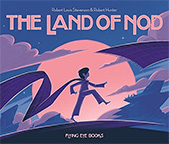 The Land of Nod
by Robert Louis Stevenson, Robert Hunter
Ages 3–7
Robert Louis Stevenson's classic 1885 poem is given new life by vivid illustrations in a palette of pinks and blues. A crutch in the corner hints at the reason the boy is stuck inside while the other children play outdoors, but he can move freely in The Land of Nod, where everyday objects come to life.
---
Hope and Tears: Ellis Island Voices
by Gwenyth Swain
Ages 8–up
Photographs paired with poems give an intimate look at some of the 12 million immigrants that passed through Ellis Island between 1892 and 1954.
---

Poet: The Remarkable Story of George Moses Horton
by Don Tate
Ages 6–10
George Moses Horton was born a slave in North Carolina. He taught himself to read, and memorized his own original poems until he learned to write them down. His poems were admired by students at the University of North Carolina he sold produce to, but were dangerous since he protested slavery. George was 66 when he finally gained his freedom with the signing of the Emancipation Proclamation. The warm tones of the illustrations capture George's feeling that poetry set him free long before the law did.
---

Mama Says: A Book of Love for Mothers and Sons
by Rob D. Walker
Ages 4–up
This beautiful book pairs a series of poems with stunning illustrations to celebrate the bond between mothers and sons. Each poem appears in English and another language (Cherokee, Danish, Hebrew, etc.). The often simple verses are rendered powerful by the illustrations that provide a deeper context.
---

You Can Fly: The Tuskegee Airmen
by Carole Boston Weatherford, Jeffery Boston Weatherford
Ages 9–12
Free verse poems tell the story of the first African-American pilots, trained at the Tuskegee Institute before fighting on the front lines in WWII. Throughout the war these pilots suffered through racial prejudice, separated from the white soldiers by ropes as they traveled across the Atlantic on their way to battle, learning not to stray too far from the military base, and risking their lives to protect a country that did not respect their rights as individuals.
---

A Visit to William Blake's Inn:

Poems for Innocent and Experienced Travelers
by Nancy Willard
Newbery Medal 1982


Ages 10–up
In this fanciful book of poems, William Blake runs an inn populated with guests and staff from his famous poems. Imaginative illustrations by Martin Provensen complement the catchy poems.
---

Make Lemonade
by Virginia Euwer Wolff
Ages 12–up
This novel in blank verse tells the story of LaVaughn, a bright and compassionate inner-city 14-year-old, who takes a babysitting job for Jolly, an abused 17-year-old single mother. LaVaughn is saving her money for college and tries to convince Jolly to go back to school in order to learn the skills to make a better life for herself and her children. This very original and poignant novel is full of hope and the belief that love and education can change your life for the better.
---

True Believer
by Virginia Euwer Wolff
Ages 14–up
Now 15, LaVaughn and her friends struggle with their desire to save their bodies for the right husband when he finally comes along. Her friends choose a controlling religious group, but LaVaughn tries to find her own way through studying for college. Her decision to improve herself while leaving her friends behind causes tension and trouble in this gripping blank verse narration. (sequel to Make Lemonade)
---

Brown Girl Dreaming
by Jacqueline Woodson
Ages 10–up
This collection of childhood memories in verse tells the story of the author's perspective of growing up in the turbulent 1960s. Born in Ohio, Jacqueline spent most of her childhood years with her grandparents in South Carolina, learning the rules of segregation and following the strict rules of the Jehovah's Witnesses. Despite those restrictions, Jacqueline basked in the security of the love of her family and the natural beauty that surrounded her. Moving to Brooklyn brought more freedom, but she missed the sense of place of South Carolina.
---

Pug: And Other Animal Poems
by Valerie Worth, Steve Jenkins
Ages 4–up
Descriptive verses portray both domestic and wild animals, highlighting what makes each animal unique. Expressive cut-paper illustrations accompany each poem.
---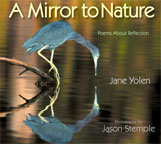 A Mirror to Nature:

Poems About Reflection
by Jane Yolen, Jason Stemple
Ages 9–12
Water acts as a mirror for Stemple's beautiful color nature photographs. Yolen's perfectly matched poems echo the mood of each photograph, encouraging the reader to see things in a new way.
---

My Uncle Emily
by Jane Yolen, Nancy Carpenter
Ages 6–8
Thomas Gilbert (Gib) feels he needs to defend his aunt Emily's honor when his classmates mock her reclusive nature. Uncle Emily (their private nickname for her) gives Gib a poem to help him understand how to tell his family the truth about the fight while preserving his integrity. This book uses real-life encounters between aunt and nephew to explore the role of poetry in human life.
---

Sing a Season Song
by Jane Yolen, Lisel Ashlock
Ages 6–8
Beginning with winter, each of the four seasons is celebrated with poems that celebrate the unique joys of each time of year. Beautifully detailed illustrations featuring animals and their environment bring the words to vivid life.
---

Switching on the Moon: A Very First Book of Bedtime Poems
collected by Jane Yolen and Andrew Fusek Peters, G. Brian Karas
Ages Birth–5
This collection of 60 poems celebrates the universality of bedtime. Dreamy mixed-media illustrations by G. Brian Karas accompany the verses ranging from masters like Alfred, Lord Tennyson and Sylvia Plath to contemporary poets like Lee Bennett Hopkins and Children's Poet Laureate Mary Ann Hoberman.
---

Wee Rhymes: Baby's First Poetry Book
by Jane Yolen, Jane Dyer
Ages Birth–8
This joyous collection of more than 50 poems and rhymes is divided into sections celebrating each part of a young child's daily routine. Pencil-and-watercolor illustrations feature ethnically diverse children and adults.
---
Beastly Verse
collected and illustrated by JooHee Yoon
Ages 4–8
Sixteen real and imagined animals are presented in verse from poets including Hilaire Belloc, William Blake, Lewis Carroll, Ogdan Nash, and Christina Rossetti. Bold prints using only three colors imagine even D.H. Lawrence's "Humming-Bird" as a fearsome creature. Four poems feature stunning fold-out illustrations.
---
Steady Hands:

Poems About Work
by Tracie Vaughn Zimmer, Megan Halsey and Sean Addy
Ages 9–12
Walt Whitman's "I Hear America Singing," these free-verse poems celebrate workers and the work they do. Many different jobs are featured: baker, dog-walker, exterminator, film maker. The collages by Halsey and Addy highlight the active nature of work and workers.