Little Santa
by Jon Agee
Ages 3–5
Mr. and Mrs. Claus live at the North Pole with their seven children: Larry, Mary, Willy, Millie, Joey, Zoe, and Santa. Life isn't easy, and it's only little Santa who truly enjoys living in the year-round snow. He even enjoys sliding down the sooty chimney. Finally the Claus family has had enough and decides to move to Florida. When a blizzard traps them inside the house, Santa calls on his new friends the flying reindeer and the elves to rescue his trapped family. Cleverly funny illustrations amplify the short text.
---

The Nutcracker
adapted by AnnMarie Anderson, illustrated by Alison Jay
Ages 4–8
On Christmas Eve, Clara and her enchanted toys enjoy themselves in a dreamland full of sweets. Based on the Balanchine staging of the ballet, this retelling of the classic tale features an abbreviated storyline and delicate crackle-varnish oil paintings. Perfect for reading aloud, children will enjoy the tiny details featured in each scene.
---

The Steadfast Tin Soldier
by Hans Christian Anderson, JooHee Yoon
Ages 6–9
The steadfast tin soldier has only one leg and cannot stand as well as the other soldiers. He falls in love with a paper ballerina and incurs the wrath of a frightening jack-in-the-box troll. Falling from the window, the soldier is eventually swallowed by a fish. Mixed-media illustrations accompany this retelling of the tragic fairy tale.
---

Lost. Found.
by Marsha Diane Arnold, Matthew Cordell
Ages 3–6
The wind carries away a bear's soft red scarf (Lost) which is discovered by a pair of raccoons (Found). As the scarf changes hands from animal to animal, it serves various purposes: a game of tug-of-war, a trampoline, a turban. The text consists of only the two words "Lost. Found." while the illustrations add the entertainment.
---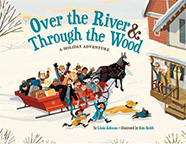 Over the River & Through the Wood: A Holiday Adventure
by Linda Ashman, Kim Smith
Ages 3–up
This modern take on the traditional song follows four diverse families as they head off from different parts of the United States for a holiday gathering at Grandma and Grampa's house. They travel individually via varied transportation modes until their paths cross near their final destination, when they are rescued by a horse drawn sleigh.
---
William's Winter Nap
by Linda Ashman, Chuck Groenink
Ages 3–6
William is just about to fall asleep snuggled into bed in his cozy log cabin when a chilly chipmunk taps on his window asking for shelter. William says there is plenty of room for two, and makes room for the chipmunk in his bed. More animals appear, each bigger than the last, until a huge bear arrives. Is there really still room to share?
---

The Mitten
by Jim Aylesworth, Barbara McClintock
Ages 3–8
In this retelling of a folk tale, a young boy loses his red mitten while sledding. The mitten is found by a delighted squirrel who enjoys its cosiness until a first a rabbit, then a fox, and finally a bear beg to join in the warmth. McClintock's pen-and-ink illustrations illustrate the silliness in a wonderfully naturalistic way.
---

When Santa Was a Baby
by Linda Bailey, Geneviève Godbout
Ages 3–7
Santa's parents adore their baby son, despite his somewhat strange habits. He will only wear the color red, and insists on giving away all his birthday presents. He stands by the open refrigerator door enjoying the cool temperature, and trains his hamster to pull a tiny sled made out of a matchbox.
---
The Bear in the Book
by Kate Banks, Georg Hallensleben
Ages 3–6

At bedtime a small boy chooses his favorite book for his mother to read to him. Looking over their shoulders, readers join in this special time between mother and child as they read about seasonal change, sleep cycles, and hibernation. Just as the bear wakes up in the spring, the boy drifts off to sleep. Beautifully soothing and engaging.
---

What's Coming for Christmas?
by Kate Banks, Georg Hallensleben
Ages 3–6
The tranquil text and soft acrylic illustrations perfectly capture the anticipation that fills a snowy day as Christmas approaches. This bedtime book which includes both the Santa and Nativity aspects of the holiday will happily sooth young children to sleep.
---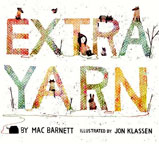 Extra Yarn
by Mac Barnett, Jon Klassen
Ages 4–8
Annabelle, who lives in a world of white snow and black soot, longs for color. When she finds a box full of bright yarn, she sets out to knit colorful sweaters for everyone she knows. No matter how much she knits, the box always seems to hold more yarn. A greedy archduke tries to buy the yarn box, but Annabelle refuses. When he steals the box, he finds that it is empty, though it magically refills when returned to Annabelle.
---

Santa from Cincinnati
by Judi Barrett, Kevin Hawkes
Ages 4–8
This clever picture book presents the first person narration of Santa's birth and childhood in Cincinnati. Born on December 25th, Santa's parents found his name in a bowl of alphabet soup and wrapped the baby in a red blanket, putting a tiny Santa hat on his head. As a child, Santa carries around a pillowcase full of stuffed reindeer toys, and as a boy constructs toys with his father in the basement, giving the toys away every Christmas Eve as a young man. This delightful story will enchant both children and adults.
---

Winter Dance
by Marion Dane Bauer, Richard Jones
Ages 4–7
Winter is fast approaching and everyone seems to know what to do except the fox. The squirrel advises the fox to gather and store acorns, the snowshoe hare puts on a winter coat, the geese fly south, and the bear prepares to hibernate. None of those plans sound right to the fox until another red fox arrives with the perfect winter plan.
---

Big Snow
by Jonathan Bean
Ages 3–6
David helps his mother with holiday household chores, but everything makes him think of the "big snow" he is hoping for — flour, white sheets, soap suds. His mother insists on a nap, and David dreams that the snow invades their house, making a huge mess to be cleaned up. When his father comes home, the three bundle up to go outside and enjoy the real snow blanketing the world.
---
A Perfect Day
by Carin Berger
Ages 4–8
Cut paper collages illustrate the activities of children enjoying a snowy day from dawn until dusk. From footprints and ski tracks to snowball tracks to the joy of making snow angels, this quiet book celebrates the joy and beauty of playing in the snow.
---

Christmas Is Here
adapted from the King James Bible and illustrated by Lauren Castillo
Ages 4–8
As a young family watches a live nativity scene in their snowy city neighborhood, the story shifts to a field with shepherds watching a brilliant star in the night sky. Text from the King James Bible accompanies the cheerful illustrations connecting the traditional account of the birth of Jesus with a modern, and non-commercial, celebration of Christmas.
---

Love, Santa
by Martha Brockenbrough, Lee White
Ages 9–12
This series of letters begins with five-year-old Lucy's first letter to Santa. In return, she receives friendly reply and a warm red coat on Christmas morning. In later letters Lucy asks after Mrs. Claus and life at the North Pole along with her Christmas wishes. When she is eight, Lucy writes to her mother instead, asking if she is really Santa. The reply from her mother, published in the New York Times in 2009, explains that she alone is not Santa, instead he is created by the power of our imaginations and our kindness to one another.
---
A Christmas Goodnight
by Nola Buck, Sarah Jane Wright
Ages 2–5
This cozy book begins by saying good night in scenes at the birth of Jesus, and then moves to s snowy modern setting where a child settles down to sleep by the Nativity scene in his bedroom that includes figures from the earlier illustration. The soothing rhyming text and soft illustrations are perfect for calming excited children in the evenings before Christmas.
---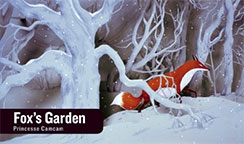 Fox's Garden
by Princesse Camcam
Ages 3–8
This wordless book skillfully tells the story of a fox who becomes disoriented in a village on a cold and snowy night. Chased by the villages, the fox hides in a greenhouse. A small boy brings the fox a basket of food and and discovers that the fox has just given birth to four tiny kits.
---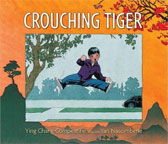 Crouching Tiger
by Ying Chang Compestine, Yan Nascimbene
Ages 6–10
Vinson considers himself completely American, and is uncomfortable when his grandfather comes to visit from China, speaking to him in Chinese and calling him Ming Da, his Chinese name. When his grandfather practices tai chi in the garden, Ming Da is at first fascinated, hoping to learn kung fu kicks and punches, and then bored by tai chi's slow pace. Reluctantly donning a Chinese jacket for the Chinese New Year parade, Ming Da notices the respect given to his grandfather and the lion dancers he trained. As Ming Da allows himself to enter his grandfather's world, their friendship deepens and he realizes it's pretty cool to be Chinese after all.
---
The Runaway Wok: A Chinese New Year Tale
by Ying Chang Compestine, Sebastia Serra
Ages 5–8
Long ago in Beijing, a poor couple send their son Ming to trade some eggs for rice so that they can make a Chinese New Year meal for their neighbors. But Ming trades the eggs for a singing wok who promises exciting things. Ming chases the wok to a rich family's kitchen, where it is filled with delicious food soon delivered to the Ming's poor family's table. The clever wok also transports toys from the greedy rich child, and treasures from the dishonest rich father. Based on a Danish folktale, this jaunty tale will enchant young listeners.
---

Click, Clack, Ho! Ho! Ho!
by Doreen Cronin, Betsy Lewin
Ages 4–8
It's Christmas Eve and Farmer Brown is busy decorating the farmhouse when he thinks he hears Santa on the roof. But it's only Duck, wearing night vision goggles, climbing spurs, and a Santa hat who proceeds to get himself thoroughly stuck in the chimney. The other animals try to "unstuck Duck," but just make things worse until Santa arrives to save the day.
---

The Birds of Bethlehem
by Tomie dePaola
Ages 5–8
On the morning of the first Christmas, the birds of Bethlehem gather in a field to share the news of an angel appearing in the night sky. Pairs of birds find the stable where a special child has been born. Simple language and beautiful pictures make this story accessible.
---

Stick Man
by Julia Donaldson
Ages 4–8
In this bouncy story in verse, Stick Man unwillingly joins a dog's game of fetch and is sent away from his family far downstream. As the seasons change, he becomes part of a swan's nest and finally, almost kindling. Saved by Santa's arrival down the chimney, this book is a perfect winter story.
---
A Christmas Tree for Pyn
by Olivier Dunrea
Ages 3–8
With quiet persistence, young Pyn convinces her mountain man father that they really do need a real Christmas tree. The rustic details of tree stump beds and a stone hearth suggest a historical story land, while the celebration of the warm relationship between father and daughter is timeless.
---

A Hat for Mrs. Goldman: A Story About Knitting and Love
by Michelle Edwards, G. Brian Karas
Ages 4–8
Mrs. Goldman knits winter hats for everyone in the neighborhood. Sophia received her first hat when she was a baby, and now helps Mrs. Goldman attach the pom-poms since knitting is too hard. When winter arrives Sophia notices that Mrs. Goldman is the only one in the neighborhood without a warm hat, and makes it her mitzvah (good deed) to use her limited knitting skills to make a hat for Mrs. Goldman.
---
Captain Sky Blue
by Richard Egielski
Ages 4–8
On Christmas morning Jack receives a toy pilot, Captain Sky Blue. With Sky's help, Jack builds a model plane. When Jack's hat blows away, Sky heads off in pursuit, facing lightning and a humpback whale before ending up in Santa's underwater workshop, ending with wild ride on Santa's sleigh a year later. Bright and energetic illustrations accompany this old-fashioned adventure.
---

The Big Snow
by Berta & Elmer Hader
Caldecott Medal 1949


Ages 4–8
Simple text and beautiful illustrations tell the story of how the woodland creatures prepare for winter. In the winter of the big snow, the people who live in the little stone house help the animals by putting food out for them.
---

The Santa Trap
by Jonathan Emmett, Poly Bernatene
Ages 6–10
Bradley Bartleby is a very bad child. His terrified parents buy him everything he wants, but each year Santa leaves him only a pair of socks. Determined to get at Santa's toys, Bradley spends an entire year transforming his mansion into an enormous and very scary trap designed to catch Santa. This darkly funny book is the perfect gift for all children whose favorite holiday is Halloween.
---

The Christmas Wish
by Lori Evert, Per Breiehagen
Ages 3–7
This tale set in the far north follows Anja as she sets out on skis to find Santa Claus before Christmas. Anja is helped by several animals along the way, including a polar bear who carries her on his back to the North Pole. Beautiful digitally altered photographs of the authors' daughter illustrate this magical tale.
---
A Little Women Christmas
by Heather Vogel Frederick, Bagram Ibatoulline
Ages 4–8
This picture book presents a Christmas with the March family from Louisa May Alcott's Little Women. The accessible language retains the old-fashioned flavor of the original and the illustrations depict a warm and loving 19th century family celebrating a festive Christmas in spite of their need to make do with very little money. Jo and Laurie build a snow maiden to cheer up Beth, who is sick, and the best present of all is a surprise visit from Papa who has been away at war.
---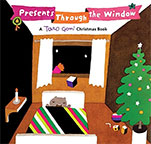 Presents Through the Window: A Taro Gomi Christmas Book
by Taro Gomi
Ages 3–5
The non-traditional Santa in this funny book wears a pink suit and travels by helicopter while delivering presents on Christmas Eve. He chooses the present after peeking through a window of each house, but his quick glimpses inspire incorrect conclusions about each house's occupants. Luckily the presents chosen for the wrong reasons are the perfect fit.
---

Bedtime for Bear
by Brett Helquist
Ages 2–6
Just as Bear is settling in for a long winter nap, two rowdy raccoon friends beg him to come out and play. Bear tries to put them off, but eventually gives in and the three have a marvelous time playing in the snow. Finally even the rambunctious raccoons are ready for sleep. The humor and details in this winter romp make it a perfect read-aloud.
---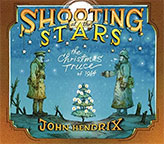 Shooting at the Stars
by John Hendrix
Ages 8–12
A young British soldier on the front lines in World War I describes the brutal conditions of fighting and living in the trenches of a cold, wet winter on the French-Belgian border before an unforgettable Christmas Eve when English, French, and German soldiers put down their weapons and came together to celebrate the holiday. They sang carols, exchanged gifts, and lit candles on miniature Christmas trees before retreating to their separate trenches to wait for the battle to resume.
---
Old Bear
by Kevin Henkes
Ages 3–8
A hibernating bear dreams of a spring when he was a cub, followed by dreams of summer, fall, and winter in this beautifully illustrated book about the annual cycle of seasons.
---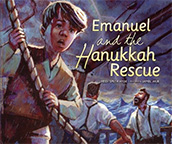 Emanuel and the Hanukkah Rescue
by Heidi Smith Hyde, Jamel Akib
Ages 5–9
Emanuel and his father live in the whaling town of New Bedford, Massachusetts in the 18th century. Emanuel's father lived as a secret Jew in Poland and still fears religious persecution, refusing to place the menorah lights in the window to celebrate Hanukkah. Emanuel stows away on the whaling ship, and when a storm overtakes the ship, the family menorah lights the way home.
---

Christmas for Greta and Gracie
by Yasmeen Ismail
Ages 3–7
Younger sister Gracie is quiet and careful, the complete opposite of talkative impulsive older sister Greta, who talks Gracie through a whirlwind round of Christmas preparations, dominating every moment. Finally, during the quiet of Christmas Eve Gracie has a magical encounter all her own.
---

Snow Scene
by Richard Jackson, Laura Vaccaro Seeger
Ages 4–8
A series of rhyming questions move the reader through connected illustrations of a snowy winter landscape into spring.
---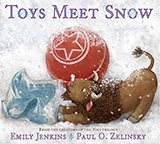 Toys Meet Snow: Being the Wintertime Adventures of a Curious Stuffed Buffalo, a Sensitive Plush Stingray, and a Book-loving Rubber Ball
by Emily Jenkins, Paul O. Zelinsky
Ages 3–7
Lumphy the buffalo, StingRay, and Plastic the ball make their first appearance in a picture book as they venture outside to play in the snow. StingRay, whose plush body is tagged "dry-clean only," protects himself with a plastic baggie. The toys work together to open the front door, and then enjoy themselves building a snowman and making snow angels before heading back inside the cozy house to wait for Little Girl. (Companion volume to beginning reader chapter books Toys Go Out, Toy Dance Party, Toys Come Home)
---
Winter Is Coming
by Tony Johnston, Jim LaMarche
Ages 4–8
Every day a girl sits alone in the woods, observing the behavior of animals from a platform in a tree. As the leaves change color and the temperature drops, she observes each animal begin to prepare for winter. Silently she watches as the season changes from fall to winter.
---

Red Sled
by Lita Judge
Ages 2–5
This nearly wordless picture book takes a child's red sled on a nighttime joy ride. A bear liberates the sled he finds leaning against the house, and picks up passengers as the sled speeds down the hill. Perfectly imagined sound effects accompany the wild ride.
---

Into the Snow
by Yuki Kaneko, Masamitsu Saito
Ages 3–7
First person narration perfectly captures the excitement of a toddler who wakes up to find that it is snowing. After bundling up he launches himself into an exuberant exploration of the wintry world outside his door, marveling at the wonders of snow, both soft and cold, and icicles, hard and shiny. A trip down the sledding hill melds terror and exhilaration before heading home for a hot cup of cocoa.
---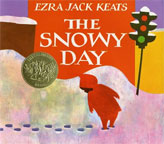 The Snowy Day
by Ezra Jack Keats
Caldecott Medal 1963


Ages 4–8
A small boy wakes up to discover that snow has fallen overnight. The beautiful illustrations of watercolor and collage show the magic of simple experiences in the snow.
---

The Gingerbread Pirates
by Kristin Kladstrup, Matt Tavares
Ages 4–10
Jim and his mother make gingerbread pirate cookies on Christmas Eve, and Jim likes his Captain Cookie with a gingerbread cutlass and toothpick peg leg too much to leave him on the plate for Santa. In the middle of the night, the brave Captain Cookie dashes down the stairs to save his crew from the mysterious cannibal named Santa. Luckily Santa ends up not being as terrifying as the cookies feared.
---

The Christmas Giant
by Steve Light
Ages 3–8
Humphrey, the giant, and Leetree, the elf, create the Christmas wrapping paper used by the North Pole toy makers. They love their job, but are sad when it is done for the year. Santa asks them to grow a special Christmas tree, and the two use their unique talents, like moving big boulders and pulling tiny weeds, and their cleverness when the tree meets with an accident. This sweet story of friendship, persistence, and resourcefulness demonstrates that everyone, big or small, has gifts to offer all through the year.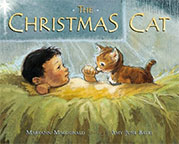 The Christmas Cat
by Maryann Macdonald, Amy Bates
Ages 3–5
This Nativity story presents Mary and Joesph as typical parents who can't get their distressed infant to stop crying. The animals in the stable have no better luck until a curious kitten catches the baby's attention. Later, the same cat keeps the baby calm as the family flees Herod's soldiers. This Christmas story was his perfect read-aloud was inspired by Leonardo da Vinci's drawings of "La Madonna del Gatto," which show Mary cradling the baby Jesus who is cuddling a cat.
---

Miracle on 133rd Street
by Sonia Manzano, Marjorie Priceman
Ages 4–8
José and his family are homesick for Puerto Rico. Mami buys a roast for their Christmas Eve dinner, but the oven in their tiny apartment is too small. Papa and José head to the local pizza shop to borrow an oven big enough to cook the roast. Along the way, they pass neighbors who are also feeling lonely, overworked, and poor. When they carry the finished roast back home, the delicious smell entices all the neighbors to join in the holiday celebration.
---

Snowflake Bentley
text by Jacqueline Briggs Martin, illustrations by Mary Azarian
Caldecott Medal 1999


Ages 4–8
This biography of Wilson A. Bentley tells the story of a rural Vermont farmboy in the mid 19th century who became fascinated by snowflakes. Bentley developed a system of microphotography that allowed him to capture images of snowflakes and prove that no two snowflakes are identical. Azarian's woodcuts are perfect.
---

The Christmas Tugboat: How the Rockefeller Center Christmas Tree Came to New York City
by George Matteson, Adele Ursone, James E. Ransome
Ages 4–8
This dramatic picture book tells the true story of the journey of the author, his wife, and their young daughter, who brought the giant Christmas tree to Rockefeller Center on a small tugboat. Striking paintings illustrate the excitement of the trip and the pride of the young girl riding with her father in the pilot house of the tug and helping to steer the boat into New York harbor.
---

Star Bright: A Christmas Story
by Alison McGhee, Peter H. Reynolds
Ages 4–8
The newest angel wants to participate in the celebration of a very special baby due to arrive in late December, but can't decide on the perfect gift. Then she notices three men riding on camels through the desert who look lost. The angel tumbles down, gathering light on the way, until she is in the perfect spot to guide the travelers to their destination.
---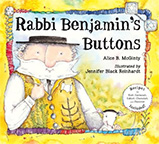 Rabbi Benjamin's Buttons
by Alice B. McGinty, Jennifer Black Reinhardt
Ages 4–8
Rabbi Benjamin's congregation presents him with a token of their love and esteem one Rosh Hashanah: a gold vest held together with shiny silver buttons to wear on holidays. During Sukkot, Chanukah, and Passover, Rabbi Benjamin enjoys the many treats prepared by his friends, but unfortunately his vest is not expandable, and one by one the silver buttons pop off. During the summer the rabbi gets plenty of exercise helping his friends, who gift him with a new vest the next Rosh Hashanah. Cheerful watercolor illustrations celebrate the portly rabbi and his diverse congregation.
---

Waiting for Winter
by Sebastian Meschenmoser
Ages 5–8
Squirrel, Hedgehog, and Bear scurry around searching for the first snowflake of winter, which they are told will be white and wet and soft and cold. They each find a candidate for the snowflake: a toothbrush, a tin can, and an old white sock. The wonderfully detailed and silly illustrations are sure to enchant readers.
---

Over and Under the Snow
by Kate Messner, Christopher Silas Neal
Ages 4–8
A small girl and her father cross-country ski through a snowy forest, spotting the occasional animal. Cutaway illustrations reveal other creatures sheltered under the snow in this evocative and elegant book.
---

Santa Duck
by David Milgrim
Ages 4–8
On Christmas Eve Nicholas Duck rushes outside to find Santa and tell him what he wants for Christmas. He is surprised to find a red coat and official Santa hat on his doorstep. Delighted with his new outfit, Nicholas is soon overwhelmed by the crowds of animals who ask him to deliver their wish lists to Santa. When Nicholas flees from the crowd, he runs into Santa and delivers all the messages, but forgets to relay his own desires. At first frustrated, Nicholas soon realizes that helping others has made him happier that any gift possibly could. The bright illustrations, funny character, and simple message will charm young readers.
---

Santa Duck and His Merry Helpers
by David Milgrim
Ages 4–8
Nicholas Duck is overjoyed that it is again time to help collect wish lists for Santa. Unfortunately his three younger siblings pester him to let them help, trying to bribe him with fantastic presents. When he reminds them that Christmas is about love and goodwill, not just presents, the little ducks convince him that means he must let them help after all. The goofy humor and cartoon-like illustrations will appeal to both younger and older siblings. (follow-up to Santa Duck)
---

The Night Before Christmas
by Clement Clarke Moore, David Ercolini
Ages 3–5
When Santa arrives, not a creature is stirring. Dad is reading a decorating magazine and Mom is snoozing. But the house is decorated to the hilt. When Santa lands on the roof, he has to battle a massive inflatable version of himself to reach the chimney. Inside, every surface is crowded with Christmas decorations — not just the tree and the mantle, but also the beds and the banisters. The hilarious illustrations will have everyone laughing while sharing the traditional poem.
---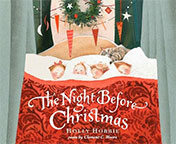 The Night Before Christmas
by Clement Clarke Moore, Holly Hobbie
Ages 3–6
Clement C. Moore's timeless poem is given a fresh perspective through the eyes of a curious toddler and the family cat in this beautifully illustrated picture book. In bed with his three older siblings, a toddler wakes up to see a flying sleigh through the window. He creeps downstairs and peeks around a chair to watch St. Nicholas at work.
---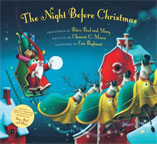 The Night Before Christmas
by Clement C. Moore, Eric Puybaret
Ages 5–8
The classic poem is illustrated with brilliantly colored and lavishly detailed paintings, so rich that the appear almost 3-D. The bundled CD includes the tale set to music by Noel Paul Stookey, a reading of the poem by Mary Travis with a special score composed by Peter Yarrow, plus the classic song "A' Soalin" performed by Peter, Paul, and Mary.
---

A Shiloh Christmas
by Phyllis Reynolds Naylor
Ages 8–12
It's been a year since Marty Preston (12) rescued his beagle pup Shiloh from his abusive owner Judd Travers. Judd has been working on changing his cruel ways, but a fire that destroys his home and many others endanger his new reputation. The new minister seems eager to blame the fire on Judd, perhaps to keep the town from looking too closely at his relationship with his own daughters. Marty's parents offer Judd a place to stay while he searches for his missing dogs, and Marty hopes for a Christmas miracle.
---
Winter is for Snow
by Robert Neubecker
Ages 3–5
A boy tries to persuade his younger sister that winter is the most wonderful time of the year, while his sister remains unconvinced. "Winter is for excellent! Come out and play with me!" says the boy. "Winter is to stay inside. Please just let me be! responds his sister. The alternate narrative in color-coded verse begs to be performed.
---

Christmas in the Time of Billy Lee
by Jerdine Nolen, Barry Moser
Ages 4–8
Ellie makes three Christmas wishes: that her parents will believe her friend Billy Lee is real and not imaginary, that it will snow again in Septon's Creek, and that her worried parents will be happy again. Her Grandma encourages Ellie to believe in the magic of Christmas and wonderful things begin to happen: broken tree lights begin to work, it snows for the first time in 50 years, and Mama and Daddy are all smiles with some happy news. Ellie is sure it all has something to do with Billy Lee.
---
Twelve Kinds of Ice
by Ellen Bryan Obed, Barbara McClintock
Ages 6–9
This homage to rural winter begins with the first ice, the thin sheet on a pail that breaks with a mere touch, to the ice strong enough to form a neighborhood hockey rink. The nostalgic illustrations highlight the old-fashioned charm of family and friends celebrating the joys of winter.
---

The Third Gift
by Linda Sue Park, Bagram Ibatoulline
Ages 6–9
Somewhere in an Arab desert, a young boy learns from his father the art of gathering a fragrant and valuable sap that seeps from small thorny trees. The two sell it to three strangers in rich robes who add it to their previously collected gifts of gold and frankincense that they are taking as a birth gift to a special baby. An author's note includes additional background on myrrh.
---

Giving Thanks: Poems, Prayers, and Praise Songs of Thanksgiving
by Katherine Paterson, Pamela Dalton
Ages 5–up
This collection of poetry, prayers, and grateful recollections is perfect for Thanksgiving as well as other times of the year. Beautiful illustrations using the early-nineteenth-century American paper-cutting technique called scherenschnitte ("scissor cuts") add to the appeal.
---

Once Upon a Northern Night
by Jean E. Pendziwol, Isabelle Arsenault
Ages 4–7
This soothing bedtime book paints a picture in words and illustrations of a winter landscape. The beauty of falling snow, nocturnal animals exploring the night, the beauty of the northern lights work together to send the child peacefully off to sleep.
---

My True Love Gave To Me: Twelve Holiday Stories
by Stephanie Perkins
Ages 13–up
Twelve young adult authors contribute stories to this holiday-themed collection: Holly Black, Ally Carter, Matt de La Peña, Gayle Forman, Jenny Han, David Levithan, Kelly Link, Myra McEntire, Rainbow Rowell, Stephanie Perkins, Laini Tayler, and Kiersten White. The different stories contain something for every reader: holiday romance, a mysterious Christmas Eve visitor, a baby left on Santa's sled, a Jewish boy who dresses as Santa to cheer up his boyfriend's sister.
---

The Twelve Days of Christmas
by LeUyen Pham
Ages 3–7
A youthful couple dances their way through the traditional song with an international flair featuring people, costumes, and instruments all over the world. Young readers will enjoy watching the boy trying to organize the unwieldy gifts. Inside the book jacket is a poster illustrating the 78 items that accumulate over the twelve days — perfect for counting over and over.
---

Jingle Bells: A Magical Cut-Paper Edition
by James Lord Pierpont, Niroot Puttapipat
Ages 4–8
Intricate cut paper illustrations of the classic Christmas song follow a sleigh ride across the countryside, featuring new scenes on each page. The finale is a fabulous 3-D popup.
---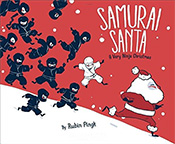 Samurai Santa: A Very Ninja Christmas
by Rubin Pingk
Ages 4–8
It is snowing on Christmas Eve and Yukio is looking forward to an epic snowball fight, but all the other ninjas are on their best behavior so they don't end up on Santa's "naughty" list. so Yukio decides to chase off the mysterious stranger in red, who reappears dressed as a samurai and leading an army of snowball-throwing snowmen.
---

The 12 Days of Christmas
by Greg Pizzoli
Ages 3–5
A small elephant is delighted to receive a gift of a partridge in a pear tree, but its parent grows more and more distressed as additional gifts arrive: dancing cats, leaping frogs, etc. Funny illustrations make this the perfect seasonal read-aloud.
---

The Nutcracker
by Niroot Puttapipat
Ages 3–7
Beautiful silhouette illustrations inspired by Marius Petipa's sets for the original production of the ballet tell the story of Clara and the Nutcracker prince as they travel through a land of fantasy, ending with an amazing pop-up ball scene.
---

Santa Clauses: Short Poems from the North Pole
by Bob Raczka, Chuck Groenink
Ages 5–9
Beginning on December 1st, Santa Claus writes a poem each day, presenting a peek behind the scenes at the North Pole counting down to Christmas. Santa is surprising calm in this busy time of year, appreciating the beauty of the season and the contentment of his cozy home with Mrs. Claus.
---

The Snow Day
by Komako Sakai
Ages 3–5
A small rabbit wakes up to discover that snow has been falling all night. School is closed and the father rabbit's flight home has been cancelled. The rabbit and his mother are safe and warm inside the apartment, but feel all alone in the world. The small rabbit enjoys the magic of the snow, waiting for the news that his father will return tomorrow.
---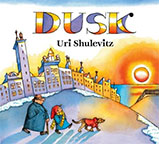 Dusk
by Uri Shulevitz
Ages 3–8
Bundled up against the cold, a boy takes a walk to the river with his grandfather and dog to watch the sun set on a dreary December afternoon. The streets fill with people heading home or out for the night. As the sun slowly sets city lights begin to twinkle on, revealing colorful Hanukkah, Kwanza, and Christmas displays in windows of shops and homes. This celebration of a winter evening captures the magic of twilight as well as the bright joys of city lights.
---
Winter Bees & Other Poems of the Cold
by Joyce Sidman, Rick Allen
Ages 6–9
Twelve fascinating poems explore how animals stay alive in the winter and investigate the secret life under the snow. Rich digitally layered lino-cuts add an extra dimension to the lyrical poems.
---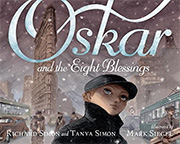 Oskar and the Eight Blessings
by Tanya Simon, Richard Simon, Mark Siegel
Ages 4–8
After Kristallnacht, the massive, coordinated attack on Jews throughout the German Reich, Oskar's parents send him off alone across the ocean to live with his Aunt Esther, who he has never met. He arrives on the seventh day of Hanukkah in 1938, which is also Christmas Eve, with only an address and a photograph in his pocket. While walking the 100 blocks up Broadway to reach Aunt Esther's house, eight New Yorkers from various walks of life offer Oskar small kindnesses that help him reach his goal.
---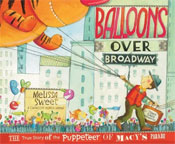 Balloons over Broadway: The True Story of the Puppeteer of Macy's Parade
by Melissa Sweet
Ages 4–8
This accessible biography tells the story of Tony Sarg, the man who invented the giant balloons of the Macy's Thanksgiving Day Parade. Tony Sarg, a self-taught immigrant, was fascinated by puppets and marionettes as a child. His first big break came with a job of designing window displays for Macy's. Next came earthbound creations that were steered down the street, and finally the balloon puppets controlled from below.
---
Adventures in Cartooning Christmas Special
by James Sturm, Andrew Arnold, Alexis Frederick-Frost
Ages 4–up
Santa is concerned because so many kids are asking for high-tech gifts instead of old-fashioned ones. So Santa asks The Magic Cartooning Elf and his friend the Knight to create a Christmas comic book. This very funny story will inspire kids to pick up a pencil and draw their own comics.
---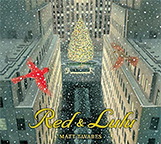 Red & Lulu
by Matt Tavares
Ages 3–7
Red and Lulu are a pair of cardinals who live in a huge evergreen. One day Red returns home to find their tree cut down and Lulu trapped with the tree inside a truck. Red manages to follow the truck to New York City, discovering that their tree has been installed in Rockefeller Center for the holidays.
---

The Christmas Magic
by Lauren Thompson, Jon J Muth
Ages 4–8
In the far far north where the nights are longest and the stars shine brightest, Santa begins to prepare for his long night of toy-giving. This particular Santa is a bunny-slipper-wearing character who feels the approaching holiday through the tingling of his whiskers. The luminous watercolor illustrations add to the reassuring magic of this Christmas story.
---

White Snow, Bright Snow
by Alvin Tresselt, illustrations by Roger Duvoisin
Caldecott Medal 1948


Ages 4–8
When the snow begins to fall, the adults rush around doing important chores, but the children dance and try to catch snowflakes on their tongues. The bright illustrations capture a child's delight in the first snow of the season.
---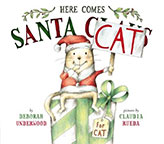 Here Comes Santa Cat
by Deborah Underwood, Claudia Rueda
Ages 3–5
Cat is concerned that he has been too naughty during the past year to earn presents, and has a pie chart to prove it. Dressing up as Santa seems the only way to ensure a gift. The unseen narrator tries to help Cat understand that being nice might be simpler than taking over Santa's job and coaches him through the traditional holiday tasks of caroling and tree decorating. This companion volume to Here Comes the Easter Cat is equally amusing.
---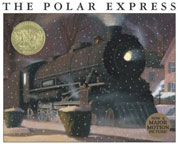 The Polar Express
by Chris Van Allsburg
Caldecott Medal 1986


Ages 6–8
The Polar Express is an old-fashioned steam train that takes children to the North Pole on Christmas Eve. Incredible illustrations evoke a memory of a long-ago time.
---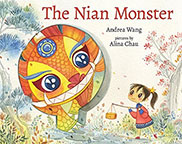 The Nian Monster
by Andrea Wang, Alina Chau
Ages 4–8
In Shanghai, Xingling is hanging red paper decorations for Chinese New Year with her grandmother, who tells her about the Nian Monster who once devoured whole villages. Since the Nian Monster is afraid of loud sounds and the color red, firecrackers and the decorations keep the monster at bay. But while Xingling is cooking, the monster leaps onto the balcony, threatening to devour the city. Quick-witted Xingling offers him food until the fireworks are ready to scare him away.
---

The Christmas Boot
by Lisa Wheeler, Jerry Pinkney
Ages 4–8
Hannah Greyweather, a poor old woman living alone in a remote cabin, finds a boot in she snow. She wishes for a mate to the boot, and when it appears the next morning she adds wishes for warm mittens and a fancy house. But the new house doesn't feel like home, and when Santa arrives looking for his missing boot she happily returns it, and the other magical gifts disappear. Santa asks if there is anything she wants, and she asks for warm shoes, mittens, and someone to talk to, which Santa happily grants.
---
Smudge and the Book of Mistakes: A Christmas Story
by Gloria Whelan, Stephen Costanza
All ages
The Abbot of the medieval monastery of St. Ambrose on the island of Moracrrick in Ireland decides that Brother Bede, the finest illuminator in the monastery, will illustrate a Christmas story that will be so wonderful it will be famous throughout the world. Unfortunately the Abbot selects young Brother Cuthbert to assist Brother Bede, and Cuthbert is impatient and sloppy, making so many mistakes that his nickname is Smudge. This beautifully illustrated story tells a tale of the value of perseverance with humor and empathy.
---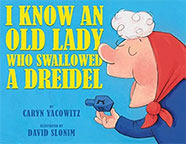 I Know an Old Lady Who Swallowed a Dreidel
by Caryn Yacowitz, David Slonim
Ages 4–8
Bubbe's cat knocks a dreidel onto a plate of cream cheese-schmeared bagels, and she swallows "a Chanukah dreidel she thought was a bagel." An insatiable gluttony for oil, latkes, applesauce, gelt, an even menorahs follows, as her family tries to stop her before the last day of Chanukah. The illustrations are parodies of famous works of art, including van Gogh's Starry Night, Wyeth's Christina's World, Munch's The Scream. An artist's end note identifies all the original works.
---

The Star Maker
by Laurence Yep
Ages 8–12
It's the early 1950s in San Francisco's Chinatown, and everyone is excited about the upcoming festival to celebrate the lunar new year. Eight-year-old Artie is the youngest of the cousins, and when his older cousin Petey puts him down, Artie boasts that he will have so many firecrackers on Chinese New Year that he can give one to every member of the family. Uncle Chester sympathizes and promises to help Artie keep his promise, but as the holiday draws near that seems more and more unlikely. Uncle Chester loses money at the race track and can't find work, while Artie has spent all his money. Based on Yep's own childhood memories, his affectionate book celebrates family and cultural traditions.
---

Owl Moon
text by Jane Yolen, illustrations by John Schoenherr
Caldecott Medal 1988


Ages 3–8
A young girl and her father go owling late one winter night. The lyrical text and beautiful illustrations combine to transform this simple event into a magical adventure.
---

A New Year's Reunion: A Chinese Story
by Li Qiong Yu, Zhu Chen Liang
Ages 3–5
Little Maomao's father works far away from home, and returns only once a year, to celebrate Chinese New Year. When her father arrives, Maomao barely recognizes him, but after a shave and a haircut the little family is ready for the simple pleasures of the holiday. Papa hides the lucky coin in a sticky rice ball, and Maomao discovers it. On the day that her father leaves, Maomao presents him with the lucky coin so that he can bring it back and hide it again next year. Beautiful gouaches illustrate this poignant yet joyful story of hardship and celebration.
---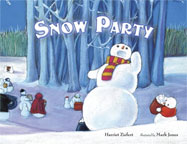 Snow Party
by Harriet Ziefert, Mark Jones
Ages 4–8
When the first snow of the year falls on the winter solstice, the snow people have a party.

Mark Jones

's breathtaking pastel illustrations make this book stand out.