Roots and Blues: A Celebration
by Arnold Adoff, R. Gregory Christie
Ages 8–12
Poems, poetic prose, and vibrant paintings honor the legacy of blues music, from the slave ships, to plantation fields, to chain gang labor, to the energy of the juke joints. Words and illustrations work together to portray the pain and misery and memories and hope that was transformed by rhythm and harmony into the music called the blues.
---
Odetta: The Queen of Folk
by Stephen Alcorn
Ages 8–12
This accessible biography introduces young readers to the influential folk singer who began to sing in childhood and never stopped. Blessed with a magnificent voice, Odetta uses her talents to inspire others to support the civil rights movement. Lyrical text and rich paintings tell the story of the queen of folk music.
---

The Nutcracker
adapted by AnnMarie Anderson, illustrated by Alison Jay
Ages 4–8
On Christmas Eve, Clara and her enchanted toys enjoy themselves in a dreamland full of sweets. Based on the Balanchine staging of the ballet, this retelling of the classic tale features an abbreviated storyline and delicate crackle-varnish oil paintings. Perfect for reading aloud, children will enjoy the tiny details featured in each scene.
---

Trombone Shorty
by Troy Andrews, Bryan Collier
Ages 4–8
Troy "Trombone Shorty" Andrews earned his nickname at the age of six by playing a trombone longer than he was tall on the streets of the Tremé neighborhood of New Orleans where he grew up. Troy tells of the dream of starting his own band that began when he found a battered trombone and taught himself to play. This accessible autobiography is a celebration of the rich culture of New Orleans and the power of music.
---

Our Abe Lincoln
by Jim Aylesworth
Ages 4–8
The simple text of this biography is adapted by a popular song during Lincoln's presidential campaigns, and can be sung to the tune of "The Old Grey Mare." The charming and detailed illustrations will enchant children as they sing along.
---

Chasing Vermeer
by Blue Balliett
Ages 9–12
Petra and Calder, two bright sixth-graders, join together to find a missing Vermeer painting. This mystery sends them on a quest full of patterns, puzzles, as they investigate the meaning of art. (1st in series)
---

The Wright 3
by Blue Balliett
Ages 9–12
Sixth-graders Petra and Calder are joined by Tommy in this architectural mystery as they try to prevent the destruction that threatens Frank Lloyd Wright's Robie House. (2nd in series)
---

The Calder Game
by Blue Balliett
Ages 9–12
Now in 7th grade, series heroes Petra, Tommy, and Calder participate in the Calder Game, trying to join five ideas or things that move in relationship to each other. This provocative mix of mystery, art concepts, and philosophy will appeal to motivated readers. (3rd in series)
---

The Nutcracker Comes to America: How Three Ballet-loving Brothers Created a Holiday Tradition
by Chris Barton, Cathy Gendron
Ages 7–11
The Nutcracker ballet was well-known in Russia since its composition in the 19th century, but it wasn't known in America until William, Harold, and Lew Christensen, three brothers from a small town in Utah, discovered ballet. They danced on vaudeville and in New York City, where Russian immigrants shared the story of The Nutcracker. On Christmas Eve 1944 the three brothers staged a full-length version of the ballet at the War Memorial Opera House in San Francisco, starting a holiday tradition that continues around the country today.
---

Alicia Alonso: Prima Ballerina
by Carmen T. Bernier-Grand, Raul Colon
Ages 10–up
This biography in free verse tells the story of Alicia Alonso, the famous Cuban ballerina. From her childhood, to her climb to achieve the rank of prima ballerina, and her fight to keep dancing when she begins to lose her sight, Alicia's grace and strength are celebrated. The physical trials of ballet dancing, and Alicia's complex relationship with the Cuban government give this biography depth.
---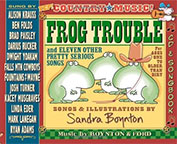 Frog Trouble: And Eleven Other Pretty Serious Songs
by Sandra Boynton
Ages 2–up
Boynton goes country in this toe-tapping CD and illustrated songbook designed with children and parents in mind. Boynton's humor and the talented country performers make a winning combination.
---

Masterpiece
by Elise Broach, Kelly Murphy
Ages 8–12
Two very different families share a Manhattan apartment. Marvin the beetle follows his family's rules about staying hidden from the humans, though he worries that the human family does not appreciate their 11-year-old son James. Tempted by the pen and ink set James receives for his birthday, Martin draws an intricate picture for James and then reveals himself as the artist. Before James can hide the drawing, his parents have discovered it and proclaim him a talented artist. Soon a museum curator is asking James to forge a Dürer miniature to catch a thief. The fast moving story and wonderfully detailed drawings will captivate young readers.
---
Ashley Bryan's Puppets: Making Something from Everything
by Ashley Bryan
Ages 4–up
Over time Ashley Bryan has created more than 30 puppets from the flotsam and jetsam he discovers on the beach near his studio on Little Cranberry Island, Maine. Each puppet is beautifully photographed and accompanied with its name, motto, and poem. the close-up photographs reveal details of each puppet's construction, inviting readers to gather their own materials and construct puppets of their own.
---
Ashley Bryan: Words to My Life's Song
by Ashley Bryan
All Ages
This powerful autobiography tells a story of a creative life. Illustrations and memories show a boy finding art materials during the Depression, storing art supplies in his gas mask during WWII, losing an art scholarship because of his race, and an award-winning art career. A book for parents and children to enjoy together, this book will inspire artists of all ages.
---

Edward Hopper Paints His World
by Robert Burleigh, Wendell Minor
Ages 5–9
Edward Hopper knew what he wanted to do with his life from a young age, labeling his pencil box with the words EDWARD HOPPER, WOULD-BE ARTIST. This stunning picture book biography presents an artist fascinated by light and shadow, a loner whose works reflect his own isolation.
---

George Bellows: Painter with a Punch!
by Robert Burleigh
Ages 8–12
This accessible biography of painter George Bellows (1882-1925) is packed with reproductions of his high-energy paintings of New York City, including street scenes, boxing matches, and boys diving into the East River.
---
Echo After Echo
by Amy Rose Capetta
Ages 14–up
Zara Evans, a Pennsylvania high school senior, sends an audition tape to Broadway's Aurelia Theater, hoping for a role in her favorite Greek tragedy Echo and Ariston. She is stunned and delighted to be offered the role of Echo, and when the world-famous director asks Zara to promise she will have no outside commitments to distract her from the play, she is eager to comply. Zara finds a dead body during her first visit to the theater, a second death occurs during rehearsals, and Zara receives ominous warnings. Zara doesn't know if the deaths are accidents or murders, and she finds it very easy to be distracted by assistant lighting designer Eli Vasquez, a multi-tattooed girl as passionate about her work as Zara is about hers.
---
The Artist Who Painted a Blue Horse
by Eric Carle
Ages 4–8
The artist in this book paints the world as he sees it: a blue horse, a red crocodile. As the book progresses, the animals move further away from reality: a polka-dot donkey. This homage to Franz Marc, whose work was banned by the Nazis, celebrates the joy of using one's creative powers. A short afterward includes details about Franz Marc's life.
---

Hide and Seek
by David A. Carter
Ages 5–up
Hundreds of images and words are hidden in the pop-up landscapes of this book, inviting readers to discover new things on each reading. References to artists like Miró, Calder, and Picasso can also be found in the brightly colored structures that spiral out from each page.
---

If You're a Robot and You Know It
by David A. Carter
Ages 3–5
The cheerful robots in this adaptation of the classic song perform pop-up actions for each line of verse. Readers can pull tabs to help them raise hands, stomp feet, jump and beep. A free downloadable version of the song by Musical Robot will encourage everyone to sing along.
---

Yellow Square:

A Pop-up Book for Children of All Ages
by David A. Carter
Ages 3–up
A yellow square hides in plain sight, or within the paper engineering on each page, encouraging readers of all ages to explore the modern art inspired pages.
---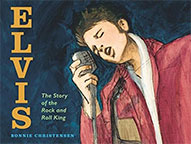 Elvis: The Story of the Rock and Roll King
by Bonnie Christensen
Ages 6–9
This biography concentrates on the early life of Elvis Presley. A shy child, Elvis enjoyed singing in church and learned to play the guitar. In high school he was teased by his classmates because of his interest in music. As part of a customer promotion, he recorded a song as a surprise present for his mother's birthday. The studio loved the record and sent it to local radio stations, this launching the career of the King of Rock and Roll.
---

Chuck Close: Face Book
by Chuck Close
Ages 8–12
This fascinating autobiography focuses on the evolution of artist Chuck Close's huge portraits. Based on questions submitted by real children, Close talks candidly about his work. Close explains how he coped with a global learning deficit since childhood and then a collapsed spinal artery that left him nearly paralyzed at the age of 48. Now wheelchair-bound, Close paints with a brush strapped to his arm, reveling in the excitement of creating his art.
---

The Big Book for Little Hands
by Marie-Pascale Cocagne
Ages 3–6
This engaging activity book reinforces educational concepts as young artists color and complete the illustrations.
---

A Nest for Celeste

A Story About Art, Inspiration, and the Meaning of Home
by Henry Cole
Ages 8–12
Celeste, a quiet mouse who weaves baskets from grass, forages for food in Oakley Plantation near New Orleans, Louisiana, in 1821. Tormented by rats and chased by a cat, she is rescued by Joseph, the young assistant to John James Audubon. Joseph carries Celeste in his pocket as he helps Audubon find plants and birds to serve as models for their illustrations. Beautifully natural pencil drawings capture Celeste's bravery, resourcefulness, and overwhelming need for a home to call her own. A compelling mix of fantasy and fact, this book full of art captures the nature of art and artists. Audubon's time-appropriate habit of hiring hunters to shoot the birds he paints may be unsettling for modern readers.
---

Draw!
by Raúl Colón
Ages 4–8
This wordless fantasy follows a small boy who is fascinated by a book called Africa. Taking up his sketchpad, the boy draws himself traveling to Africa where he meets an elephant who poses for his portrait. The elephant carries the boy to other African animals who pose for him. Near disaster occurs when the rhino charges during his portrait and the baboons prefer to draw the boy. Based on the childhood of artist Raúl Colón, this beautifully illustrated book captures the joy of creating and sharing art.
---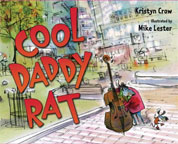 Cool Daddy Rat
by Kristyn Crow
Ages 3–up
Bass player Cool Daddy Rat heads out to perfrom in the big city and his son Ace comes along in this tribute to jazz. Scat lines are delicious to read aloud.
---

Taking Flight: From War Orphan to Star Ballerina
by Michaela DePrince, Elaine DePrince
Ages 12–up
Abandoned at a young age in war torn Sierra Leone, Michaela DePrince was known as Girl Number 27 at the orphanage or Devil Child because of a skin condition that caused spots. Her only joy was the picture of a ballerina en pointe on a wall. At the age of four, Michaela was adopted by an American family who encouraged her love of dancing. She was accepted at the American School of Ballet and is now the youngest principal dancer with the Dance Theatre of Harlem. This moving memoir is written by Michaela and her adoptive mother.
---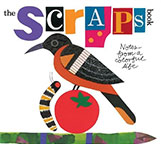 The Scraps Book: Notes from a Colorful Life
by Lois Ehlert
Ages 5–10
Lois Ehlert always knew she was an artist and was encouraged by her parents to make things with leftover scraps of fabric and buttons. Art school gave her the skills to create picture books. This fascinating autobiography helps readers to create projects of their own with directions for making a bird feeder and a cat mask, and makes it clear that creating collage pictures is an art form anyone can enjoy.
---
The Girl Who Wanted to Dance
by Amy Ehrlich
Ages 6–10
Clara, who longs to dance, lives with her sad father and loving grandmother who tells her that her absent mother also loved music and dance. When a traveling dance troupe visits the village, Clara's father recognizes Clara's mother, and forgives her for leaving the family. This haunting fairy tale compassionately addresses the irresistible artistic urge and the pain of those left behind.

---

Better Nate Than Ever
by Tim Federle
Ages 9–13
Nate Foster (13) dreams of starring in a musical on Broadway, but he's never even seen a Broadway show. His best friend Libby is the only other person in their hometown of Jankburg, Pennsylvania, who even appreciates a good show tune. An open casting call for E.T.: The Musical, pulls Nate away from home for a whirlwind weekend getaway to New York City.
---
Five, Six, Seven, Nate!
by Tim Federle
Ages 10–14
Nate Foster (13), from small town Pennsylvania, has realized his dream by landing a part in the Broadway production of E.T.: The Musical. Nate finds Broadway thrilling, but is terrified by the rehearsals. The director can't remember Nate's name, and choreographers ignore Nate since he can't dance. The child stars are unfriendly, and the understudies are worse. And worst of all Nate discovers that he is not the understudy for E.T. , he's E.T.'s understudy's understudy. This funny coming-of-age story is the sequel to Better Nate than Ever.
---

Miss Etta and Dr. Claribel: Bringing Matisse to America
by Susan Fillion
Ages 10–up
Miss Etta and Dr. Claribel Cone were two unmarried sisters from Baltimore who fell in love with modern art in Paris. The two sisters, encouraged Leo Stein, supported beginning artists like Henri Matisse and Pablo Picasso, bought their paintings, and brought them back to America. Without professional advice or counsel, trusting their eyes and instincts, the two sisters concentrate on the avant-garde. Few were aware of the extent of their collection until Etta published a catalog in 1934, revealing one of the foremost collections of Matisse's work in the world, bequeathed to The Baltimore Museum of Art in 1949. This touching story is lavishly illustrated with reproductions of the Cone Collection and the colorful Matisse-inspired paintings by the author.
---

The First Drawing
by Mordicai Gerstein
Ages 3–6
Readers are invited to travel back in time more than 30,000 years to a cave in France occupied by a curious caveboy before drawing was invented. The boy is a close observer of his world, and when he wants to share an encounter with a woolly mammoth, he makes the first drawing on the wall of the cave with a burnt stick, disconcerting his audience, who have never seen a drawing before.
---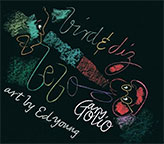 Bird & Diz
by Gary Golio, Ed Young
Ages 4–8
When sax player Charlie "Bird" Parker and trumpeter John "Dizzy" Gillespie play together, they toss notes back and forth and chase each other with sound, creating a new kind of music — bebop. Expressive illustrations accompany the playful, rhythmic narration in this creative book constructed on long long sheet of paper folded accordion-style.
---

Strange Fruit: Billie Holiday and the Power of a Protest Song
by Gary Golio, Charlotte Riley-Webb
Ages 8–12
This powerful book focuses on two pivotal moments from Billie Holiday's career as a singer: leaving Artie Shaw's band after the latest in a long string of incidents of discrimination and the first performance of the song "Strange Fruit," a protest song about the lynching of Blacks. At that first performance some audience members got up and left; the remainder were stunned into silence before breaking out into thunderous applause. The vivid illustrations highlight the theme of the power of art to fight against intolerance and hate.
---

Herman and Rosie
by Gus Gordon
Ages 7–10
Herman is a crocodile who likes to play the oboe, and Rosie likes to sing jazz. Though the two live in adjacent buildings in New York City, they have never met. Then Herman loses his job as a salesman, and the club Rosie sings in closes from poor attendance. Rosie is drawn to the music Herman plays to cheer himself up, and the two lonely artistic souls find happiness together.
---

Ballet for Martha: Making Appalachian Spring
by Jan Greenberg and Sandra Jordan, Brian Floca
Ages 6–10
This inspired book captures the excitement of dance, music, and stage design while celebrating the collaboration between dancer Martha Graham, composer Aaron Cop,and, and set designer Isamu Noguchi. The book follows the creation of a ballet from Martha's original idea to the opening night, highlighting the vital contributions from each of the artists.
---

Radiant Days
by Elizabeth Hand
Ages 14–up
In 1978 painter and graffiti artist Merle Tappitt is in her first year of art school at the Corcoran School of Art, struggling to make the adjustment between her impoverished Appalachian past and the sophisticated and dissipated art scene in Washington DC. In 1870 16-year-old Arthur Rimbaud, on the verge of writing the poetry that will make him famous, sets out for Paris. Both end up spending the night in a lockhouse and wake up together in 1978. The two gay misfits form a mystical bond, slipping back and forth in time and influencing each other to produce great art.
---
Mary Cassatt: Extraordinary Impressionist Painter
by Barbara Herkert, Gabi Swiatkowska
Ages 4–8
Mary Cassatt lived in a time when it wasn't acceptable for proper girls to become artists. But Mary pursued her interest in art with a passion, moving to Paris to study and paint. But her work was rejected by the Salon art judges again and again. Then Edgar Degas invited Mary to join a group of Impressionists artists who refused to follow the rules of painting, preferring to paint their own way. This beautifully illustrated biography highlights the rewards of creating art on one's own terms.
---

Ada's Violin: The Story of the Recycled Orchestra of Paraguay
by Susan Hood, Sally Wern Comport
Ages 4–8
Ada Ríos (11) lives in Cateura, Paraguay, a slum whose inhabitants make their living collecting and selling trash from the nearby landfill. Favio Chávez, an engineer, begins teaching music to the at-risk children of Cateura, and Ada learns to play the violin. There aren't enough instruments to go around, and the few available are too precious to take home to practice. Chávez asks the gancheros (recyclers) for help collecting raw materials, and begins constructing musical instruments from discarded trash: cellos from oil drums, flutes from water pipes, guitars from packing crates. The Recycled Orchestra becomes famous and plays in cities around the world. This true story is inspiring. "Buried in the trash was music. And buried in themselves was something to be proud of."
---
Magritte's Marvelous Hat
by D.B. Johnson
Ages 4–8
Inspired by the surrealist paintings of René Magritte, this creative picture book follows the artist as he pursues a gravity-defying bowler hat through the streets of Paris. Reversible images printed on transparent paper capture the energy and exuberance of Magritte's art.
---
Billy's Booger
by William Joyce, Moonbot
Ages 4–8
Billy is a fourth grader who loves to draw. He adores the Sunday comics and decides to enter a children's illustrated book contest. His book centers on the small green product of a sneeze that brings him amazing math superpowers. Even the president consults Billy for help. Unfortunately Billy's shaky grasp of grammar and spelling prevent his book from winning the prize, but the librarian tells him that his book, included as an insert, has been checked out more often than any other entry, setting Billy on the path to become a writer. This funny book is based on a true event from William Joyce's own childhood.
---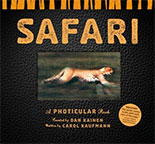 Safari: A Photicular Book
by Dan Kainen, Carol Kaufmann
All ages
Animated by the turning of the page, eight wild animals come alive in this amazing book. A lowland gorilla munches the leaves off a branch, a cheetah runs, a gazelle leaps, an elephant flaps its ears. The amazing photicular technology is accompanied by text about each animal. This beautiful book will mesmerize children and adults of all ages.
---

Pointe, Claw
by Amber J. Keyser
Ages 13–up
Jessie Vale (17) studies at a prestigious program at the Ballet des Artes in Portland, Oregon, hoping to earn a spot at the professional company. Vadim Ivanov, the principal male dancer, selects Jessie to dance in his new animalistic avant-garde ballet. At first put off by the strange choreography, Jessie is attracted to the older dancer and his touch. Jessie's childhood friend Dawn McCormick is suffering blackouts, waking up in strange places with bruises, unable to speak, and feeling a strange attraction to a captive bear. As Dawn battles with her own body and mind, Jessie struggles through the grueling world of ballet, and both girls grapple with the ways girls are judged, used, and discarded.
---

Hold Me Closer: The Tiny Cooper Story
by David Levithan
Ages 14–up
Tiny Cooper, the best friend from Will Grayson, Will Grayson, takes center stage in this companion volume containing the script and lyrics of the autobiographical musical he wrote and staged. Born big boned and happily gay, Tiny was supported by his parents and Phil, his straight BFF, through school bullies and a homophobic coach. Phil offers helpful advice through Tiny's 18 unsuccessful relationships, as Tiny discovers that love is often painful but worth it in the end. This frank and funny novel is only missing the accompanying soundtrack.
---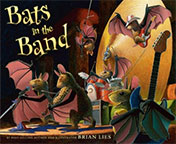 Bats in the Band
by Brian Lies
Ages 4–8
The bats head off to a summer music concert to enjoy a wide variety of night music. A string section hangs upside down while playing; a country vocalists sings of lonesome bats. This celebration of music-making will inspire young readers to make some music of their own.
---

Canadian Railroad Trilogy
by Gordon Lightfoot, Ian Wallace
Ages 4–up
The lyrics of Lightfoot's 1967 song describe the construction of the transcontinental Canadian Pacific Railway, commissioned to mark Canada's Centennial. Wallace's beautiful paintings celebrate the Canada's natural beauty while also illustrating the damage to First Nation people and the hardships of those who toiled to build the railroad. Many paintings show the railway in detail, while others focus on the history and settlement of Canada.
---

Written and Drawn by Henrietta
by Liniers
Ages 5–up
Armed with a new box of colored pencils, Henrietta sets out to write and illustrate a story: The Monster with Three Heads and Two Hats. Henrietta's total involvement in her story is captivating — when one of her monsters meets a larger monster she scares herself. This celebration of confidence and creative power is sure to be a hit with young readers.
---
Brush of the Gods
by Lenore Look, Meilo So
Ages 4–8
This accessible biography of Chinese painter Wu Daozi (689-758) begins when young Daozi gets in trouble in calligraphy class as a young boy. Later known for his dynamic murals so realistic they seem to come alive, young Daozi can't believe his brush is only made for the ancient art of calligraphy. His brush seems unable to conform — instead of making the usual characters, his straight lines turn into trees, hooks snag fish, dots transform into eyes. This beautifully illustrated biography celebrates the power of art to enchant and delight.
---

Wonderful Feels Like This
by Sara Lövestam
Ages 12–up
Steffi Herrera, a Swedish teen, doesn't fit in at her school where the other girls make fun of her dark hair and eyes and mock her Cuban heritage. The only thing that makes Steffi happy is listening to jazz music. Walking home from school one day she hears her favorite song coming through the window of a retirement home and impulsively introduces herself. The man playing jazz is Alvar, an 89-year-old who dreamed of being in a jazz band when he was a teenager in WWII. Their friendship inspires Steffi to ask her parents to let her go to Stockholm to audition for music school and become a real musician.

The Iridescence of Birds: A Book About Henri Matisse
by Patricia MacLachlan, Hadley Hooper
Ages 4–8
This picture book highlights the early influence of his mother on the artistic development of Henri Matisse. When their French village was cold and grey and damp, Henri's mother brought color into her son's life, painting scenes on plates and encouraging the young boy to experiment with mixing paints. As Henri observed the pigeons, his mother points out their iridescent feathers that change color with the light.
---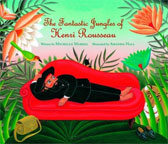 The Fantastic Jungles of Henri Rousseau
by Michelle Markel, Amanda Hall
Ages 5–9
Henri Rousseau was a 40-year old toll collector when he decided to pursue his dream of becoming an artist. Undeterred by his lack of training, Rousseau bought paint, brushes, and canvas and began painting the animals and jungles of distant lands that were so clear in his imagination. Despite the harsh critical judgment of his day, Rousseau continued creating the brilliant paintings that hang in museums all over the world today. Bright illustrations celebrate Rousseau's unique style.
---

Emma and Julia Love Ballet
by Barbara McClintock
Ages 4–8
Two very different dancers mirror each other throughout the day. They stretch their muscles and practice ballet steps and look forward to an evening performance. Little ballet student Emma will be watching from the audience and professional ballerina Julia will be dancing on stage. After the performance Emma meets her idol in person backstage.
---

Color Magic Sticker Play Book
by Metropolitan Museum of Art
Ages 4–8
More than 2000 red, blue, and yellow translucent stickers in various geometric shapes encourage children to experiment with color and the shapes that make up the world around us. The reusable stickers easily peel away from the laminated pages, making it simple to create new masterpieces.
---

Viva Frida
by Yuyi Morales
Ages 4–8
This homage to artist Frida Kahlo celebrates a woman who lives to love and to create art. A hand-made Frida doll created by Morales is photographed in various scenes with her pet monkey and husband Diego Rivera. Simple text in English and Spanish reveals a new word or phrase with each turn of the page.
---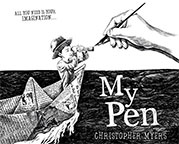 My Pen
by Christopher Myers
Ages 3–5
Aurelio, the fedora-wearing narrator, explains all the wonderful things his pen can do. Even though he often feels small, his pen can create anything he can imagine. Richly detailed black-and-white illustrations portray fanciful scenes (an elephant in a teacup) as well as realistic worries about war. The variety of faces (male, female, young, old, dark, light) will inspire all young artists.
---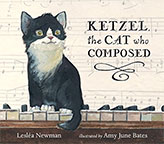 Ketzel, the Cat Who Composed
by Leslea Newman, Amy June Bates
Ages 5–8
Moshe Cotel, a young composer, lives alone in a busy city waiting for inspiration. One day he rescues a small kitten from the street, names her Ketzel, and brings her home. Moshe would like to enter a competition sponsored by the Paris New Music Review, but he can't imagine how to create a composition of 60 seconds or less. Then Ketzel creeps across the piano keys, playing a 21 second piece that Moshe writes down and submits, giving Ketzel full credit. "Piece for Piano: Four Paws" wins an honorable mention the two attend a performance.
---

Swing Café
by Carl Norac, Rebecca Dautremer
Ages 4–8
A Brazilian cricket named Zaz dreams of singing in New York City. She rides a woman's fruit decorated hat from Brazil to Manhattan, where she meets a local fly named Buster who takes Zaz to the Swing Café on East 54th Street where they dance to glorious swing music. The accompanying CD includes a narration of the book with snippets of 1930s jazz songs, plus seven complete classic swing songs by Ella Fitzgerald, Duke Ellington, Cab Calloway, Fats Waller, and more.
---

Georgia in Hawaii: When Georgia O'Keeffe Painted What She Pleased
by Amy Novesky, Yuyi Morales
Ages 6–9
Georgia O'Keeffe was sent to Hawaii by the Hawaiian Pineapple Company to paint two works that celebrated the wonders of pineapple juice. Georgia fell in love with Hawaii and returned home to New York City with more than a dozen paintings. Unfortunately, not one painting featured a pineapple, to the dismay of the Hawaiian Pineapple Company.
---

Jazz Day: The Making of a Famous Photograph
by Roxane Orgill, Francis Vallejo
Ages 8–12
On August 12, 1958, 57 jazz musicians gathered in Harlem for a photo shoot for Esquire magazine. Art Kane, a graphic designer who didn 't even own a camera, was the mastermind behind the plan to gather the musicians together. Twenty-one poems by Roxane Orgill accompany Francis Vallejo's expressive paintings of the process of wrangling the musicians into place among the neighborhood children. The final spread is a foldout of the iconic photograph. End notes include biographies of many of the musicians.
---
Skit-Scat Raggedy Cat: Ella Fitzgerald
by Roxane Orgill, Sean Qualls
Ages 5–up
This stylish biography begins with the child Ella dancing to her mother's records, and ends with her first big job with the Chick Webb Band in Harlem in 1921. Orphaned at 14, Ella lived for a time in an abusive orphanage and then on the streets, singing and dancing for money. Judged not pretty enough to be a singer, the determined Ella believed in her own talent and refused to be discouraged. Richly colored illustrations capture the spirit a poor young girl chasing her dream of becoming a jazz singer in this frank, yet not frightening, biography.
---

Vampirina Ballerina
by Anne Marie Pace, LeUyen Pham
Ages 2–6
Becoming a ballerina is hard for any little girl, but especially challenging for young vampirettes. This how-to book provides helpful hints (find an evening class) in a hilarious tone that balances vampire hauteur with upbeat advice. Young readers will identify with spunky Vampirina as she battles familiar demons, like stage fright, and not so familiar ones, like transforming suddenly into a bat!
---

The Color Book
by Sophie Benini Pietromarchi
Ages 8–up
Artist and author Sophie Benini Pietromarchi invites the reader to partake in her passion for color by sharing her childhood memories of color and the feeling colors can invoke: "Black is the deafening noise of coal chucked in an oven at night." An exploration of the practicalities of mixing colors and tips for creating a personal color diary round out this imaginative resource for artists of all ages.
---

Modern Art Adventures: 36 Creative, Hands-On Projects Inspired by Artists from Monet to Banksy
by Maja Pitamic, Jill Laidlaw
Ages 6–up
Eighteen works of modern art are presented along with two kid-friendly projects based on the techniques and visual effects of the each featured piece of art. The projects vary in difficulty and a wide range of media is explored in this well-organized introduction to modern art concepts, perfect for classroom or home use.
---

Three-Dimensional Art Adventures: 36 Creative, Artist-Inspired Projects in Sculpture, Ceramics, Textiles, and More
by Maja Pitamic, Jill Laidlaw
Ages 6–up
Inspired by 18 works of sculpture or other 3-D work, this excellent collection of art projects provides context about the artists and their movements while bringing the art out of the museum setting into the lives of young readers.
---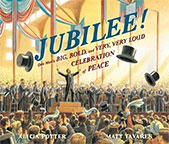 Jubilee!: One Man's Big, Bold, and Very, Very Loud Celebration of Peace
by Alicia Potter, Matt Tavares
Ages 7–10
When Patrick Sarsfield Gilmore was growing up in Ireland, he loved loud music played in celebration. By 1849, Gilmore was a band leader in Boston, using music to keep up the spirits of soldiers and the public during the Civil War. When peace was finally declared, Gilmore decided to stage the biggest and loudest celebration of peace ever held, with a public concert of more than 11,000 performers attended by about 30,000 celebrants.
---
Josephine: The Dazzling Life of Josephine Baker
by Patricia Hruby Powell, Christian Robinson
Ages 7–10
African-American dancer Josephine Baker could perform in American clubs, but segregation laws prevented her from entering the club through the front door. Moving to France, Josephine was welcomed for both her talent and her race. This accessible biography follows Josephine from her childhood in St. Louis to her fame in Europe. Josephine's powerful story of struggle and triumph is an inspiration.
---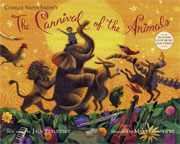 The Carnival of the Animals
by Jack Prelutsky, Mary GrandPré
Ages 6–12
The animals are having a carnival, and each arriving guest is celebrated with both music and words in this book designed to introduce children to classical music. New poems by Jack Prelutsky can be enjoyed both by reading the book with exuberant illustrations by Mary GrandPré, and by listening to the accompanying CD, featuring the Württemberg Chamber Orchestra performing the suite by Camille Saint-Saens as Prelutsky reads the poems, which perfectly capture the essence of each animal featured in the movements of the music.
---

Want to Be in a Band?
by Suzzy Roche, Giselle Potter
Ages 3–5
Suzzy Roche of the folk band the Roches gives advice to young would-be musicians based on her own life. "First you'll need two interesting, smart older sisters who can play guitars and sing." Whimsical illustrations add to the fun in this heart-felt picture book.
---

The Hero of Little Street
by Gregory Rogers
Ages 3–8
A small boy fleeing three bullies takes refuge in an art museum. A brown lapdog leaps from a painting by Van Eyck and boy and dog romp in and out of paintings of Delft and Holland. This wordless comic book is a follow-up to The Boy, The Bear, The Baron, The Bard.
---

The Noisy Paint Box: The Colors and Sounds of Kandinsky's Abstract Art
by Barb Rosenstock, Mary GrandPre
Ages 4–8
Vasya Kandinsky was a proper Russian child who followed all the rules until his aunt gives him a paintbox. When Vasya mixed the colors, he heard sounds: blaring crimson, burbling green, tinkling violet. No one knew quite what to make of the wild shapes Vasya created with the noisy colors from his paintbox. This accessible biography of the world's first abstract painter is lavishly illustrated.
---
Duck! Rabbit!
by Amy Krouse Rosenthal, Tom Lichtenheld
Ages 3–8
This clever book uses a simple version of the classic optical illusion that can look like either a duck or a rabbit, depending on your perspective. As the background details change, snappy dialog, that begs to be read aloud argues for both creatures, encouraging young readers to also take sides.
---

Someday Dancer
by Sarah Rubin
Ages 12–up
Casey Quinn is a farm girl in rural 1959 South Carolina. Casey is sure she was born to dance, but her parents can't afford ballet lessons. Encouraged by her grandmother to follow her dream, Casey makes her way to the open auditions of the American School of Ballet in New York City. Casey is eliminated in the first round, but choreographer George Balanchine sends her to Martha Graham's audition, where Casey falls in love with modern dance. Accepted into the scholarship program, Casey must balance the demands of family, friendship, and school.
---

For the Love of Music: The Remarkable Story of Maria Anna Mozart
by Elizabeth Rusch, Lou Fancher, Steve Johnson
Ages 4–8
Maria Anna Mozart, Wolfgang's older sister, was also a musical prodigy and one of the most accomplished pianists of her time. As children, Maria and Wolfgang played recitals all over Europe, but as they grew older Maria was told she must marry and have a family while Wolfgang was encouraged to pursue his musical gifts. This biography is organized into the structure of a piano sonata, from First Movement to Finale underscoring the love of music that bound these two siblings together.
---

The Music of Life: Bartolomeo Cristofori & the Invention of the Piano
by Elizabeth Rusch, Marjorie Priceman
Ages 4–8
This inspiring biography tells the story of Bartolomeo Cristofori, a 17th-century Italian musician who longs to create an instrument that can be played both softly (piano in Italian) and loudly (forte in Italian). Prince Ferdinando de Medici, who wants his court to become the musical center of Italy, brings Cristofori to Florence. While wandering around the city Cristofori is fascinated by the small hammers of the goldsmiths whose tiny sounds contrast with the huge thumps of the enormous hammers of the blacksmiths. He wonders if using hammers might be the key to his dream instrument, and creates the pianoforte, capable of both soft and loud sounds.
---

Gallop!
by Rufus Butler Seder
Ages 4–8
Inventor, artist, and filmmaker Seder has created Scanimation, a new animation technique. A hidden tab in each page slides an acetate layer over an animal image, creating the illusion of motion reminicent of Eadweard Muybridge's motion photography. Rhyming text accompanies each animated image on this fascinating picture book.
---

Swing!
by Rufus Butler Seder
Ages 4–8
Seder's amazing Scanimation technology animates various activities: hitting a baseball, riding a bike, spinning on the ice. Rhyming text captures in words the energy of the moving images.
---

Radiant Child: The Story of Young Artist Jean-Michel Basquiat
by Javaka Steptoe
Caldecott Medal 2017


Ages 4–8
This beautifully illustrated biography presents the childhood of artist Jean-Michel Basquiat, who learned to see beauty in the messy streets and games of fellow children. His Puerto Rican mother encouraged him by taking him to museums and anatomy textbooks. The illustrations echo Basquiat's vibrant art with layers of paint and paper scraps on found-wood panels. Basquiat's creativity is celebrated in the text, his heroin addiction and early death is mentioned in the afterword.
---

And Picasso Painted Guernica
by Alain Serres
Ages 9–12
This beautifully illustrated book begins with seven-year-old Picasso painting doves, and then highlights his new ways of seeing and painting. The horrifying German bombing of the people of Guernica inspired Picasso to paint the massive Guernica in 1937 as a protest against the bombing of defenseless civilians, and against the brutality of war everywhere. Both the steps of creating the huge painting and the elements that compose it are thoroughly explored in this tribute to the transformative power of art.
---

The Composer Is Dead
by Lemony Snicket, Carson Ellis
Ages 5–up
This introduction to the instruments of the orchestra is cloaked in a murder investigation. When the composer is found dead ("This is called decomposing."), the Inspector begins interrogating the sections of the orchestra. The accompanying CD features Snicket (Daniel Handler) narrating the performance with the San Francisco Symphony Orchestra of Nathaniel Stookey's original score. A national tour begins March 7, 2009, in New York City.
---

All God's Critters
by Bill Staines, Kadir Nelson
Ages 5–8
Kadir Nelson's playful illustrations enliven this energetic spiritual. The song's message of tolerance encourages everyone to sing along—and everyone can thanks to the sheet music included at the end of the book.
---

When Stravinsky Met Nijinsky: Two Artists, Their Ballet, and One Extraordinary Riot
by Lauren Stringer
Ages 4–8
Russian composer Igor Stravinsky and choreographer Vaslav Nijinsky collaborated on the ballet The Rite of Spring which premiered in 1913. The music and dancing were so radically different than the usual fare that fistfights and riots broke out at performances between those who loved and hated the new ballet, the birth of modern music and dance.
---
Adventures in Cartooning Christmas Special
by James Sturm, Andrew Arnold, Alexis Frederick-Frost
Ages 4–up
Santa is concerned because so many kids are asking for high-tech gifts instead of old-fashioned ones. So Santa asks The Magic Cartooning Elf and his friend the Knight to create a Christmas comic book. This very funny story will inspire kids to pick up a pencil and draw their own comics.
---

Somebody Everybody Listens To
by Suzanne Supplee
Ages 12–up
Encouraged by her best friend and biggest fan, recent high school graduate Retta Lee Jones sets off to Nashville to make her name in country music. Living in the car she borrowed from her grandmother, Retta tries to make her hard-earned waitressing money last as long as possible as she searches for a way to break into the completive music scene. Biographical notes about other music stars who overcame great odds to become successful introduce each chapter, giving Retta (and readers) hope that dreams can come true.
---
The Bird King: An Artist's Notebook
by Shaun Tan
Ages 10–up
In this book of sketches and musings, artist Tan wonders why finished artwork is often not as powerful as the original sketch. Details from ideas for Tan's trademark hybrids — light bulbs with tails, cars with antennae, a flower whose bloom is a single human eye — get the attention that may have passed them over in the finished drawing. This visual feast will provide a springboard for the imagination of readers.
---

The Singing Bones
by Shaun Tan
Ages 12–up
Artist Shaun Tan captures the sprit of seventy-five Grimms' fairy tales in haunting sculptures. A short excrpt from the fairy tale appears on the left hand page, while a photgraph of the sculpture appears on the right, embodying the essense of the tale.
---

Drama
by Raina Telgemeier
Ages 9–13
Seventh grader Callie is nuts about musical theater, but can't sing. Instead, she is designing the sets for the school production of Moon Over Mississippi. But Callie doesn't know much about carpentry, and can't decide which boy in the theater group she likes most. The eighth grader playing the lead? The twin (who happens to be gay) playing the comic role? Or the other twin helping with set decoration? The manga inspired illustrations beautifully support this humorous story of friendship, love, and the inner workings of a middle school theater group.
---

The Last Train
by Gordon M. Titcomb, Wendell Minor
Ages 3–8
Based on Gordon Titcomb's 2005 song, this book celebrates the golden age of railway travel. Wendell Minor's glowing and detailed paintings show the narrator as a young boy, walking along the tracks in a misty haze. The lyrics of the text evoke the sounds and tempos of trains traveling the rails: "If you close your eyes and listen, you can almost hear the sound, of those big iron horses, rolling into town."
---

Funny Bones: Posada and His Day of the Dead Calaveras
by Duncan Tonatiuh
Ages 6–10
This accessible picture book biography presents José Guadalupe "Lupe" Posada, a Mexican artist and social commentator best known for his calavera drawings, skeletons that have become synonymous with Mexico's Día de los Muertos (Day of the Dead) festival. Reproductions of the calavera images invite the reader to consider their meaning, offering possible interpretations. Biographical and contextual information about lithography, engraving, etching, and the powerful social impact art can have amplify this beautifully illustrated book.
---

The Game of Mix-Up Art
by Hervé Tullet
Ages 3–up
This innovative board book allows young readers to create their own paintings by turning page flaps. Designed to stimulate busy little minds and fingers, each page is divided into three sections, encouraging the creation of mix-and-match colorful abstract paintings with designs of polka dots, splotches, swirls, etc. This stylish and clever book is part of a series of board books that includes The Game of Mix and Match, The Game of Patterns, The Game of Let's Go, The Game of Light, and The Game of Finger Worms.
---

Leontyne Price: Voice of a Century
by Carole Boston Weatherford, Raul Colon
Ages 5–9
Leontyne Price was born in a small town in Mississippi in 1927, the daughter of a midwife and a sawmill worker. She love singing hymns in church and listening to opera on the radio. Racism in the south made it unlikely that a poor African-American girl could pursue a career as an opera singer, but the example of Marian Anderson inspired Leontyne to apply to Julliard and eventually to take center stage at the Metropolitan Opera in New York City. This accessible biography celebrates a singer who followed her dream despite the barriers in her way.
---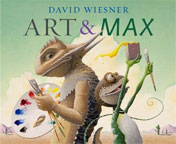 Art & Max
by David Wiesner
Ages 5–8
Art, a desert lizard, is a painter of portraits. When his friend Max decides to also become a painter, he asks Art what he should paint. Art suggests that Max paint him, and the literal-minded Max begins applying paint directly to Art's scaly skin. When Art's painted exterior explodes during a temper tantrum, Max attempts to reconstruct him with unexpected consequences. The expressive illustrations highlight the feisty friendship in this humorous exploration of the creative process.
---

Clayton Byrd Goes Underground
by Rita Williams-Garcia, Frank Morrison
Ages 8–12
Clayton loves playing his blues harp (harmonica) with his grandfather Cool Papa Byrd and his band of Bluesmen in Washington Square Park in New York City. Clayton longs to play his own twelve bar solo as soon as he has a blues song of his own. When his grandfather dies, Clay'ton's mother tells him he can no longer play the blues, but Clayton can't stand the thought of living without the music that connected him to his favorite relative. Claytons grief causes problems at school and church, so he takes his grandfather's favorite hat and runs away, hoping to find the Bluesmen.
---

Henri's Scissors
by Jeanette Winter
Ages 5–8
After a brief introduction to Henri Matisse's early life and art, this picture book concentrates on his life after the cancer surgery at age 72 that left him too weak to paint. His discovery of the joy of collage delighted the artist, clearly illustrated in the paintings of Matisse working from his wheelchair in his studio, happily creating art until his death. The subtle message that age and disability don't mean the end of joy and self-expression is beautifully presented.
---
Jazz Age Josephine
by Jonah Winter, Marjorie Priceman
Ages 4–8
This accessible biography of Josephine Baker uses the rhythms of blues and jazz to tell the story of the famous singer and dancer. Beginning with her impoverished childhood dancing for money on the streets of St. Louis we follow Josephine to her big break as a chorus line dancer in New York and to her fame in Paris as the American icon of the Jazz Age.
---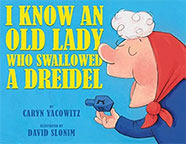 I Know an Old Lady Who Swallowed a Dreidel
by Caryn Yacowitz, David Slonim
Ages 4–8
Bubbe's cat knocks a dreidel onto a plate of cream cheese-schmeared bagels, and she swallows "a Chanukah dreidel she thought was a bagel." An insatiable gluttony for oil, latkes, applesauce, gelt, an even menorahs follows, as her family tries to stop her before the last day of Chanukah. The illustrations are parodies of famous works of art, including van Gogh's Starry Night, Wyeth's Christina's World, Munch's The Scream. An artist's end note identifies all the original works.
---

Paris in the Spring with Picasso
by Joan Yolleck, Marjorie Priceman
Ages 4–8
It's spring in Paris and Gertrude Stein and Alice B. Toklas prepare for an evening party for their friends Pablo Picasso, Max Jacob, Apollinaire, and others. Marjorie Priceman's exuberant illustrations beautifully complement the text presenting a normal day in the lives of creative people as Picasso paints, Stein reads, and Jacob writes a poem.
---

The House Baba Built: An Artist's Childhood in China
by Ed Young
All ages
This picture book memoir begins in 1931, when Ed was born and the crash of the stock market has brought turmoil to China. Baba, Ed's father, convinces a landowner in Shanghai to let him build a huge brick house on his land. Baba promises to return the house after 20 years, long enough to see his family safely through the troubled times. Safe inside the house, Ed grows up surrounded by his extended family and friends, using his imagination to transform chairs into horses and the roof into a roller skating rink, while raising silkworms and training fighting crickets.