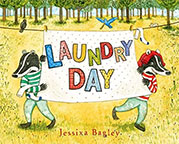 Laundry Day
by Jessixa Bagley
Ages 3–6
Young badgers Tic and Tac have exhausted all their toys and are bored, so their mother enlists their help to hang the family laundry on the clothesline while she runs an errand. Hanging the laundry turns out to be so much fun that the two brothers begin to hang up everything they can find, including the alarm clock, a bunch of carrots, a fishbowl, and everything else that isn't nailed down. This fun tale of badger mischief is perfect as a read-aloud or for beginning readers.
---

LMNO Peas
by Keith Baker
Ages 3–8
A hilarious group of alphabet peas romp through the alphabet, appropriated garbed to illustrate various jobs and occupations for each letter. Bouncy rhyming text accompanies each letter, presented as a large colorful shape surrounded by cheerful busy pea creatures. The book is a fun read-aloud, and young readers will want to spend time examining each page closely.
---
Out on the Prairie
by Donna M. Bateman, Susan Swan
Ages 4–7
Ten animals that live in Badlands National Park in South Dakota appear in this beautifully illustrated book modeled on the rhyme "Over in the Meadow." Striking collages present familiar and unusual flora and fauna described in vivid text that begs to be read aloud.
---
King Jack and the Dragon
by Peter Bently, Helen Oxenbury
Ages 3–5
Jack and his friend Zack along with baby Casper build a fabulous fort from a cardboard box and an assortment of discarded materials. They spend a wonderful day defending the fort against a horde of imaginary creatures until Zack and Casper are summoned inside for bed. Alone in the fort, King Jack finds that defending the fort himself is a bit scary. This enchanting tribute to pretend play and the comfort of a parent's embrace is a kid-pleasing read-aloud.
---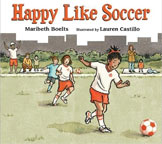 Happy Like Soccer
by Maribeth Boelts, Lauren Castillo
Ages 5–8
Sierra loves soccer, but Sierra's auntie works on Saturdays and can't come cheer her on like the families of the other girls on the team, leaving Sierra feeling a bit left out. So Sierra comes up with a plan to allow her auntie to see her play. Class differences and the clash of city and suburban cultures are sensitively portrayed in this thought-provoking book.
---
Dirtball Pete
by Eileen Brennan
Ages 4–8
Pete's mother tries to scrub him clean before the class presentation — Fifty States and Why They're Great — but Pete's notes blow away and his chase to catch his speech turns him back into Dirtball Pete. But Pete's charisma triumphs over his appearance and his Pennsylvania presentation makes his mother proud. This hilarious book begs to be read aloud.
---

There's a Bear on My Chair
by Ross Collins
Ages 2–5
A huge polar bear settles onto Mouse's favorite chair, ignoring Mouse's efforts to tempt or scare the Bear off the chair. finally Mouse gives up and leaves so Bear goes home, only to found that Mouse has moved into Bear's igloo. Expressive illustrations highlight the silly fun in this hilarious read-aloud.
---

Click, Clack, Boo!: A Tricky Treat
by Doreen Cronin, Betsy Lewin
Ages 3–7
Halloween is Farmer Brown's least favorite holiday. So he puts a bowl of candy on the porch, hangs a Do Not Disturb sign, and locks the door. But the animals have other plans and replace his sign with another that reads: Halloween Party at the Barn! This Halloween read-aloud is just scary enough to delight young readers.
---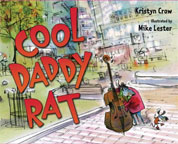 Cool Daddy Rat
by Kristyn Crow
Ages 3–up
Bass player Cool Daddy Rat heads out to perfrom in the big city and his son Ace comes along in this tribute to jazz. Scat lines are delicious to read aloud.
---
A Pig Parade Is a Terrible Idea
by Michael Ian Black, Kevin Hawkes
Ages 4–8
A pig parade may sound like a great idea, but this funny book with hilarious illustrations proves that it is not. Pigs don't like to march, they won't wear uniforms, and their hooves are not designed to hold onto balloons. They really don't care about floats, and prefer country ballads to military tunes. This laugh out loud book makes a wonderful read-aloud.
---

Thump, Quack, Moo
by Doreen Cronin, Betsy Lewin
Ages 4–8
Farmer Brown is trying to build a fabulous Statue of Liberty corn maze, but the subversive duck has other ideas in this hilarious read-aloud winner.
---

The Legend of Rock Paper Scissors
by Drew Daywalt, Adam Rex
Ages 4–8
Rock is the champion of the Kingdom of Backyard, squishing all challengers, Paper has defeated everyone in Mom's Home Office, and Scissors rules the Kitchen Realm. Seeking a new challenge, the three meet up in the garage, but after three exciting rounds they realize they are evenly matched. Expressive fonts and dramatic battle scenes accompany the hilarious text, perfect for sharing and revisiting.
---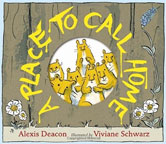 A Place to Call Home
by Alexis Deacon, Viviane Schwarz
Ages 3–8
A band of hamster-like brothers outgrow their birthplace and head off on a grand adventure to find a place to call home. Timid and frightened at first, they don a variety of outrageous headgear and bravely blunder through a variety of obstacles, never losing sight of their goal. Hilarious physical comedy will have young readers clamoring for a another reading.
---

Llama Llama Time to Share
by Anna Dewdney
Ages 3–up
Llama Llama's sharing skills are put to the test when Nelly Gnu comes over for a playdate. He's willing to share his blocks and make a castle with Nelly, but Fuzzy Llama is definitely off limits. This humorous book is perfect for reading aloud to any child who need a little encouragement sharing.
---
Louise, The Adventures of a Chicken
by Kate Dicamillo, Harry Bliss
Ages 4–8
Louise is an adventurous chicken who longs for excitement, so she leaves the farm and meets pirates on the high seas and lions under the big top. The comic narration makes for a perfect read-aloud.
---

Baabwaa and Wooliam: A Tale of Literacy, Dental Hygiene, and Friendship
by David Elliott, Melissa Sweet
Ages 4–8
Sheep Baabwaa and Wooliam enjoy their quiet life reading and knitting. Then a strange looking sheep with long teeth appears wearing a wool coat. William recognizes their new acquaintance from his reading, it's the famous Wolf in Sheep's Clothing! The wolf is so charmed by his literary fame that he doesn't eat the sheep, instead becoming a friend. The clever humor makes this book a fun read-aloud.
---

Oh, No!
by Candace Fleming, Eric Rohmann
Ages 3–7
Jungle animals tumble one after another into a deep dark pit. Young children will enjoy chanting the refrain, "Oh, No!" in this lively read-aloud as each animal somersaults into the pit. Rich wood-block styled prints provide a dignified background to the humorous text full of descriptive sound words.
---
The Most Amazing Creature in the Sea
by Brenda Z. Guiberson, Gennady Spirin
Ages 4–8
A dozen aquatic creatures vie for the honor of being the most amazing in the sea. Each creature is portrayed in a realistic illustration and proclaims its uniqueness in a short paragraph. Creatures include the blue-blooded vampire squid, the slimy hagfish, the huge leatherback turtle, and the leafy sea dragon. The interesting text and vivid pictures make this an absorbing read-aloud.
---

Cat Tale
by Michael Hall
Ages 2–5
Three curious cats (Lillian, Tilly, William J.) explore verbal puns in this fun tongue-twisting read-aloud. Brightly colored illustrations provide visual explanations of nouns and verbs that might be unfamiliar. "They flee a steer. They steer a plane. They plane a board. They board a train."
---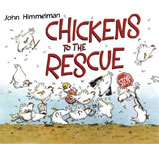 Chickens to the Rescue
by John Himmelman
Ages 4–8
No problem is too small for the intrepid chickens on the Greenstalk farm. Lost sheep? A watch dropped down the well? The cow is stuck in the tree? You can count on this energetic flock to come up with a zany solution. Simple text is paired with detailed and hilarious illustrations that will be appreciated over and over and over again.
---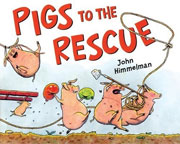 Pigs to the Rescue
by John Himmelman
Ages 4–8
Eight excitable pigs throw themselves into solving minor problems at the Greenstalk farm with over-the-top rescue missions. Hilarious illustrations bring the funny situations to life in this silly book that begs to be read aloud. (follow-up to Chickens to the Rescue)
---

How to Clean Your Room in 10 Easy Steps
by Jennifer Larue Huget, Edward Koren
Ages 4–8
When your mother uses all three of your names, you know it really is time to clean your room, advises this hilarious book. Koren's scratchy ink drawings are the perfect match for the funny directives in the text. A perfect read-aloud, this book will appeal to messy kids and those who live with them.
---

The Abominables
by Eva Ibbotson, Fiona Robinson
Ages 8–12
For a hundred years Lady Amanda has befriended a family of yeti in a secret Himalyian valley, which has become overrun with tourists. With the help of siblings Con aqnd Ellen Bellamy, Lady Amanda sets off on a cross-continental trip to move the excitable yeti family to her London estate. After Ibbotson's death in 2010, this captivating read-aloud was completed by her son and longtime editor.
---
A Foot in the Mouth:

Poems to Speak, Sing and Shout
edited by Paul B. Janeczko, illustrated by Chris Raschka
Ages 8–12
The poems in this book beg to be read aloud. Included are rhyming poems, tongue twisters, bilingual poems, dual voice poems, and poems that will inspire kids to memorize and recite them.
---
Betty Bunny Wants Everything
by Michael Kaplan, Stephane Jorisch
Ages 3–5
Betty Bunny can't understand why she is only allowed to buy one toy when she really really wants a whole cartful. Her parents try to convince Betty that she can only choose one, and Betty is equally determined to have them all. Leaving the store with nothing causes Betty to have a meltdown, but her parents just might have a solution. The hilarious portrayal of a very determined young rabbit makes this a great read-aloud.
---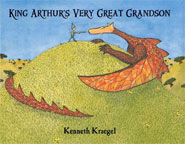 King Arthur's Very Great Grandson
by Kenneth Kraegel
Ages 5–8
When Henry Alfred Grummorson (the many great grandson of King Arthur) turns six, he dons a helmet and sword and sets of in search of monsters to battle. But all the monsters he meets aren't interest in a battle to the death. The cyclops prefers a staring contest, the dragon offers a smoke-ring blowing game, the griffin suggests a game of chess. Beautifully detailed illustrations accompany the lively and humorous text in this stirring read-aloud.

Mario Makes a Move
by Jill McElmurry
Ages 3–7
Mario loves to invent amazing moves, like the Super Looper, in his favorite tree. His family is suitably impressed, but his friend Isabelle, busy crafting complicated moves of her own, is not completely wowed. Young readers searching for their own one-of-a-kind talent will love this funny read-aloud.
---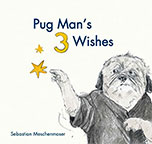 Pug Man's 3 Wishes
by Sebastian Meschenmoser
Ages 4–8
Pug Man is never very cheerful, but this morning nothing is going right and he is grumpier than usual. A magical fairy appears and offers him three wishes. Though startled by the fairy's offer, Pug Man accepts. His choice of wishes will surprise and delight young readers.
---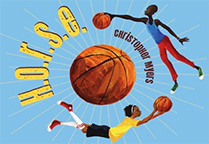 H.O.R.S.E.: A Game of Basketball and Imagination
by Christopher Myers
Ages 5–up
A pair of competitive and creative boys play a game of H.O.R.S.E., challenging each other to ever more improbable shots. Shooting a layup from the other side of the court while standing on one foot with your eyes closed is just the warm-up in this energetic read-aloud.
---

Carmen
by Walter Dean Myers
Ages 12–up
The plot of Bizet's opera is moved from 19th century Spain to current day Spanish Harlem where Carmen seduces a cop and then deserts him for rap star and film producer Escamillo. Instead of helping a gang of smugglers, Carmen and her friends help with a credit card fraud. Written in script format in two acts, the dramatic plot and snappy dialog would make a lively classroom read-aloud.
---

Bunny Days
by Tao Nyeu
Ages 3–6
The six adorable bunnies in this hilarious picture book are unintended victims of their busy but unobservant neighbors, Mr. and Mrs. Goat. Luckily the Bear is always there to put things right, though sometimes the cure is as bad as the accident. The charming illustrations and prim narration are perfect foils for the silly stories that will keep the audience giggling throughout.
---
The Flint Heart
by Katherine Paterson, John Paterson, John Rocco
Ages 7–12
This retelling of Eden Phillpotts's 1910 fairy tale is both true to the original and adapted for the modern reader. In the Stone Age, an ambitious man demands a talisman that will harden his heart and give him total power over his tribe. The Flint Heart does exactly that, giving the bearer a lust for power and a tolerance for cruelty. After being buried for thousands of years, the Flint Heart is unearthed by a kind-hearted farmer, and wreaks havoc upon the lives of humans, fairy creatures, and animals. This humorous fairy tale is perfectly designed to be shared as a family, one chapter each night.
---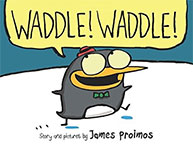 Waddle! Waddle!
by James Proimos
Ages 4–8
The enthusiastic penguin narrating this book is out looking for the new best friend he met yesterday, an amazing dancer. On his journey he meets two penguins with talents of their own: singing and playing the horn. The three encounter a polar bear and work together to avoid becoming dinner. The repetition of the text and the wonderful ending make this a great read-aloud.
---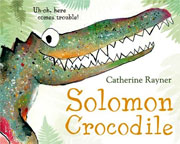 Solomon Crocodile
by Catherine Rayner
Ages 2–6
Young Solomon Crocodile is looking for fun, but his rambunctious behavior annoys the other animals and they all send him away. Eventually Solomon torments the wrong animal, but is saved by another raucous animal. The willful and gleeful mischief Solomon gets into makes this book a much enjoyed read aloud.
---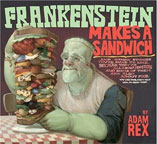 Frankenstein Makes a Sandwich
by Adam Rex
Ages 5–10
This hilarious collection of illustrated poems describes the lives of famous monsters. Kids will love the effortless rhymes and the different art styles, individually tailored for each creature. Great read-aloud.
---
Carnivores
by Aaron Reynolds, Dan Santat
Ages 5–8
The lion, great white shark, and timber wolf are finding life a bit lonely at the top of the food chain. For some reason few animals want to hang out with them after they've eaten a few of their friends and relations. They try to disguise themselves as their prey and become vegetarians, but can't help nibbling on those around them. Hilarious illustrations and perfect comic timing of the text makes this tongue-in-cheek book a perfect read-aloud.
---

The Alphabet Thief
by Bill Richardson, Roxanna Bikadoroff
Ages 5–9
The alphabet thief steals one letter at a time, stealing B and turning bowls into owls, stealing I and turning paints into pants. Funny poems and illustrations document what happens when a letter is stolen in this clever read-aloud.
---
Bob, Not Bob!
by Liz Garton Scanlon, Audrey Vernick, Matthew Cordell
Ages 4–8
Little Louie is sick in bed with a terrible cold. His nose is clogged, his ears are cracking, and he needs his mom. Unfortunately, when he calls out for "Mom" his stuffy nose makes it sound like "Bob" and the family dog comes running, drooling all over Louie and his bed. Funny illustration capture the mess of a sickroom, and kids will love hearing Louie's mangled language as this book is read aloud.
---
Ol' Mama Squirrel
by David Ezra Stein
Ages 3–5
Ol' Mama Squirrel has raised lots of babies and knows just how to protect them from danger. With a feisty combination of bluff and noise she scares away cats, owls, repairmen, and finally a dog. This rousing book makes an exciting read-aloud.
---

Emma-Jean Lazarus Fell Out of a Tree
by Lauren Tarshis
Ages 10–14
Seventh-grader Emma-Jean is extremely bright but doesn't connect socially with her classmates. In fact, she observes their interactions with a scientific detachment. Then Colleen asks Emma-Jean's help in dealing with the class bully, and Emma-Jean applies the principles of logic to the situation. Narrated in alternating chapters by two very different girls, this humorous book makes a great read-aloud.
---

The Rise and Fall of Mount Majestic
by Jennifer Trafton, Brett Helquist
Ages 9–12
One night 10-year-old Persimmony Smudge becomes lost in the woods and overhears a plot to steal the king's gold buried under the castle on the top of Mount Majestic. When Persimmony tells spoiled 12-year-old King Lucas about the intended theft, she learns that the gold is in the form of a belt buckle asleep under the small island they live on, the Island at the Center of Everything. In fact, the mountain is actually the belly of the sleeping giant. Persimmony and her friend Worvil the Worrier race to convince the island's inhabitants that the giant is real and may wake up at any moment. This humorous and fascinating tale would make a perfect read-aloud.
---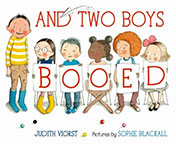 And Two Boys Booed
by Judith Viorst, Sophie Blackall
Ages 4–8
The boy narrating this charming story is totally prepared for the talent show. He is wearing his lucky blue boots and his pants with 10 pockets and is confident his song will be a big hit. But as he waits through the five kids ahead of him to perform his stage fright builds and some teasing erases everything from his mind. What was his talent again? Ten flaps lift throughout the story to reveal his inner thoughts. This funny story about living through embarrassing moments is a kid-pleasing read-aloud.
---

Sophie Peterman Tells the Truth!
by Sarah Weeks, Robert Neubecker
Ages 4–8
Sophie Peterman tells the truth about babies: they aren't cute, or precious, or sweet. In fact, they are smelly crybabies and attention hogs. Sophie's personality leaps off the pages of this funny book that begs to be read aloud.
---