Mr. Goat's Valentine
by Eve Bunting, Kevin Zimmer
Ages 4–8
Mr. Goat sets out to select the perfect gifts for his "first love." He chooses a bouquet of crabgrass, pigweeds, and ragweed in a rusty tin can and some "guaranteed foul and disgusting" two-year-old rotten eggs. This funny read-aloud keeps the object of Mr. Goat's affections secret until the last page.
---
Groundhog's Day Off
by Robb Pearlman, Brett Helquist
Ages 4–6
Groundhog is fed up. Every year everyone asks the same boring questions about when winter will end. So he takes the day off and heads off for vacation. The problem is finding someone to fill in as a weather predictor. The animals who audition for the job are failures for one funny reason after another.
---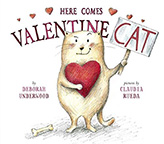 Here Comes Valentine Cat
by Deborah Underwood, Claudia Rueda
Ages 3–5
Cat does not care for Valentine's Day. It's too mushy a holiday, and he is not at all interested in doing something nice for his new neighbor Dog, who annoys him by tossing bones over the fence. Cat is just composing a not-friendly Valentine for his annoying neighbor when Dog surprises him by tossing a ball over the fence instead. Cat is his usual self-centered and hilarious self in this companion volume to Here Comes the Easter Cat, Here Comes Santa Cat, and Here Comes the Tooth Fairy Cat.
---