Kids of Appetite
by David Arnold
Ages 14–up
Vic Benucci (16) has a rare condition that prevents him from using most of his facial muscles. He is still mourning his father's death two years earlier when his mother's new boyfriend proposes. Vic takes his father's ashes and leaves home, meeting Madeline "Mad" Falcon (17), part of a gang of semi-homeless street kids who help Vic decipher his father's final instructions about where to spread his ashes. Alternate chapters from the points of view of both Vic and Mad are interspersed with police interviews of the investigation of the murder of Mad's abusive uncle.
---

Far from Fair
by Elana K. Arnold
Ages 10–12
Odette Zyskowski (12) starts her list of "Things that Aren't Fair" with her parents' decision to take the family on the road in an ugly RV they call Coach. Odette's father quit his job and her parents sold the family home in California to move to the state of Washington to take care of her sick Grandmother Sissy. Squashed into the RV are Odette's new dog and her younger brother's ferret. And the four family members all have to share one cell phone. Odette is miserable and her list grows longer every day through the endless hours on the road. When they finally reach their destination, Grandmother Sissy's terminal illness seems even more unfair than the rest of the list.
---

The Question of Miracles
by Elana K. Arnold
Ages 9–12
Iris Abernathy has just moved to Corvallis, Oregon, with her family. Nothing seems right since her best friend Sarah died, and Iris hates the wet climate of Oregon. At school Iris meets fellow 6th grader Boris, a kind outsider who barely survived infancy. Boris's devout Catholic family considers his inexplicable recovery a miracle, and are attempting to get his survival certified as a genuine miracle by the Vatican. Iris is inspired to contact Sarah's ghost, who just may be living in the cabinet under the stairs in the old farmhouse that is Iris's new home. Sarah includes Boris in her efforts to contact Sarah, giving him the first real friend of his life. This evocative novel explores the long reaches of grief and the longing to know if a loved one is still out there somewhere.
---
Chasing Shadows
by Swati Avasthi, Craig Phillips
Ages 14–up
When Holly's twin brother Corey is murdered, Holly and Savitri, her best friend and Corey's girlfriend, are shattered. Holly, Corey, and Savitri were all "freerunners" who used the city of Chicago as an aerobics course. After Corey is shot, Holly begins to imagine that she is the Leopardess, a character in one of Savitri's comic books, with the mission to avenge her brother's death. Graphic novel elements from Hindu mythology make Holly's mental illness all too real.
---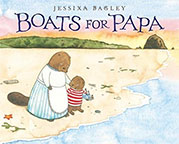 Boats for Papa
by Jessixa Bagley
Ages 3–7
Buckley is a small beaver who lives with his Mama and misses his Papa. Every day Buckley and Mama explore the shore near their home, and Buckley gathers materials to build miniature boats to sail out into the ocean with a loving note for Papa. "If they don't return," he tells his mother, "I'll know they reached Papa." Eventually Buckley realizes Mama has been gathering the boats as they return to shore. This simple book beautifully explores grief and longing.
---

Some of the Parts
by Hannah Barnaby
Ages 12–up
Tallie (16) is grieving over the death of her older brother Nate in a car accident six months early, smiling bravely and pretending she's OK. But Tallie isn't even able to say her brother's name, and completely falls apart when a letter arrives, revealing that he was an organ donor. Tallie becomes obsessed with tracking down the recipients of her brother's organs with the unwilling help of Chase, a new boy in town with an uncanny resemblance to Nate and his own obsession with death.
---

The Thing About Jellyfish
by Ali Benjamin
Ages 8–12
Suzy and Franny were best friends for years, until Franny began to drift away from Suzy and her obsession with scientific facts in middle school. When Franny drowns, Suzy is unable to accept her death. Suzy stops speaking to anyone, throwing herself instead into scientific research. Since Franny was a strong swimmer, Suzy begins looking for a reason for her death, finally settling on a sting from a deadly Irukandji jellyfish. This sensitive exploration of the grieving process is both age authentic and poignant.
---

The Last Leaves Falling
by Sarah Benwell
Ages 14–up
Abe Sora (17) loves baseball, wants to be a history professor, and is dying of ALS (Lou Gehrig's disease, or amyotrophic lateral sclerosis). Now wheel-chair bound, Abe can no longer attend school, and makes new friends online, concealing his illness. His mother, worried about his isolation, convinces him to invite two of his new friends over, and the friendships survive the truth. As his condition grows worse, his counselor gives him a book about samurai death poetry, and Abe decides he wants to meet his own death with equal dignity.
---
A Gathering of Days:

A New England Girl's Journal, 1830-32
by Joan W. Blos
Newbery Medal 1980


Ages 9–12
This novel is written in the form of a diary kept for a year by Catherine Cabot Hill, a 13-year-old girl in New Hampshire. Catherine's mother has died, and she must keep house for her father and younger sister. During the year, Catherine undergoes school discipline, encounters runaway slaves, loses a friend, and faces new relationships when her father remarries a woman with children of her own.
---
Hate List
by Jennifer Brown
Ages 15–up
When Val and her boyfriend Nick wrote the names of people who tormented or annoyed them on a "Hate List," Val had no idea Nick would use the list. When Nick brings a shotgun to school and begins shooting people on the list before killing himself, Val is wounded trying to stop him. But as the co-author of the "Hate List," Val is implicated in the shootings. Val's guilt and her complicated relationships with her family and the surviving victims are realistically and hauntingly portrayed.
---

The Dead Bird
by Margaret Wise Brown, Christian Robinson
Ages 4–8
When a group of children find a dead bird in a park, they solemnly bury the bird under a leafy tree, making up a song of mourning, and placing a stone marker surrounded by flowers. This simple story of death and the comfort of shared mourning rituals, first published in 1938, has been re-illustrated to help modern parents discuss a difficult subject with a new generation of children.
---

All The Broken Pieces
by Ann E. Burg
Ages 11–up
Two years ago Matt Pin was airlifted from war-torn Vietnam. Now 12, and living with his loving adoptive American family, Matt is still haunted by memories of the family he left behind. Told in first person free verse, Matt's present and past are slowly revealed as he begins to come to terms with the guilt of being the only survivor.
---

Essential Maps for the Lost
by Deb Caletti
Ages 14–up
Madison (Mads) Murray is staying with relatives in Seattle while getting her realtor's license. Mads doesn't really want to be a realtor, but it 's important to her mother so Mads fights depression to make her happy. While swimming in Lake Union she discovers the body of Anna Youngwolf Floyd, who jumped off a bridge. Mads tows the body ashore and becomes obsessed by the dead woman and her grieving son, Billy, who frees dogs from owners he considers unfit. When Mads and Billy meet they connect through the book he always carries in his pocket: The Mixed-Up Files of Mrs. Basil E. Frankweiler.
---

The Last Forever
by Deb Caletti
Ages 12–up
When Tess's mother finally dies of cancer, she leaves her one-of-a-kind pixiebell plant in Tess's care. Tess is determined to keep her mother's plant alive, and takes it alone when her impulsive pot-smoking father decides they need to make a journey from San Bernardino to the Grand Canyon. Tess struggles to keep the plant alive through the desert, and on to Oregon where her father leaves her with the grandmother she hasn't seen in 15 years. Tess tries to keep the plant alive and make a new life for herself with the help of a boy she meets at the library. Each chapter begins with information about a seed, underscoring the theme of rebirth and growth.
---

Fat Angie
by E.E. Charlton-Trujillo
Ages 14–up
Angie, a high school freshman, is bullied at school and belittled by her mother and adopted brother. Angie's beloved older sister has been reported missing-in-action in Iraq, and Angie is the only one who clings to the hope that she may still be alive. When KC Romance, a beautiful new transfer student dressed in bad girl clothes arrives in Dryfalls, Ohio, the unlikely pair bonds over shared broken homes, troubled pasts, and love for classic TV shows. The friendship blooms into romance between the two girls who have learned to look beneath the surface to the true person hidden inside.
---

Into the Dangerous World
by Julie Chibbaro, Jean-Marc Superville Sovak
Ages 14–up
Ror (17) grew up in a commune on Staten Island. Ror never attended high school, but she learned about art and literature from her father and longs to be an artist. When her father burns down their home and himself in 1984, Ror and her mother are left homeless and nearly penniless. Ror meets Trey, a street artist, and becomes fascinated with graffiti. She finds the art form a perfect channel for expressing her grief, but worries about being caught. Black and white sketches illustrate Ror's talent as she struggles to find her place in the world.
---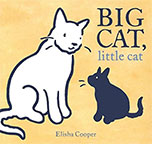 Big Cat, Little Cat
by Elisha Cooper
Ages 3–6
There was once a big white cat that lived alone until a little black kitten arrived. The big cat helps the little cat learn to use the litter box, and shows it where to eat and sleep. The little cat grows and the two are happy together until one day the big cat goes away and doesn't come back. The grief of the human family is simply portrayed. The big black cat lives alone until one day a little white kitten arrives. This quiet story of the circle of life is perfect for little ones.
---
Untwine
by Edwidge Danticat
Ages 12–up
Isabelle (who loves music) and Giselle (who loves art) are identical 16-year-old Haitian-American twins in Miami. The twins are trying to deal with the recent separation of their parents, when the SUV carrying the whole family is in a terrible accident. Giselle is the only surviver, though in a coma. Her Aunt Leslie calls her Isabelle, and Giselle is unable to respond and correct the error. In fact, Giselle isn't sure she ever wants to emerge from the coma since only grief and suffering await her.
---

Ashes to Asheville
by Sarah Dooley
Ages 10–up
Felia (12) lives with her two mothers. When Mama Lacy becomes ill with cancer, they move from Asheville, North Carolina, to a small town in West Virginia to be closer to Mama Lacy's family. After Mama Lacy dies, Mama Lacy's mother sues for custody of her granddaughter and Mama Shannon isn't able to retain custody of Felia. Then Felia's 16-year-old sister Zany shows up late one night with the crazy plan of driving back to Asheville to scatter Mama Lacy's ashes on the lawn of the home they all lived in happily as a family. The road trip is full of disasters, but the two girls discover that the bonds that connect them as sisters cannot be severed by a court decision.
---

Her Mother's Face
by Roddy Doyle, Freya Blackwood
Ages 4–8
When Siobhán was three her mother died. Now 10 years old, she cannot remember her mother's face. Then a strange woman in the park tells her to search her own reflection in the mirror. As time passes, Siobhán realizes the woman was her mother. Blackwood's illustrations mirror Doyle's optimism that time heals grief.
---

A Greyhound of a Girl
by Roddy Doyle
Ages 9–up
Mary O'Hara (12) tries to be brave about the fact that her beloved Granny Emer is dying, but she hates the daily trips to the Dublin hospital. On the way home from school she meets Tansey, a mysterious young woman who seems familiar though she is dressed in old-fashioned clothes. Tansey is the ghost of Emer's mother, who died in 1928 when Emer was only three. Tansey has come to help her daughter say good-bye and guide her safely out of this world. The comforting ghost helps Emer, Mary, and her mother Scarlett overcome their fear of death.
---

The End or Something Like That
by Ann Dee Ellis
Ages 12–up
When Emmy's best friend Kim is dying, she promises to come back from the afterlife and visit. But it has been a year since Kim died, and Emmy hasn't been able to contact her ghost. On the one-year anniversary of Kim's death, Emmy attends the funeral of her science teacher and is shocked to find herself talking to his ghost. Interspersed with the present day narration are flashbacks to the months leading up to Kim's death, presenting the close friendship between the fragile insecure Emmy and the lively Kim.
---
Mockingbird
by Kathryn Erskine
Ages 10–up
Caitlin Smith (10) has Asperger's syndrome. She hates recess with all the noise and confusion, and meets with her counselor, Mrs. Brook, who helps her to understand the reasons behind her discomfort, while offering advice about how to make friends and deal with her grief over her older brother Devon's death in a recent school shooting. Devon had always been Caitlin's interpreter, explaining the grey areas in the world she sees as black and white. Without him, Caitlin struggles more than ever. When she hears the term "closure" Caitlin turns to her dictionary for help and decides to find closure for both herself and her grieving father. Caitlin's first person narration provides insight into her incredible intelligence and conscientiousness paired with her limited social skills and her struggles to comprehend figurative language.
---

If I Stay
by Gayle Forman
Ages 14–up
Mia, a talented 17-year-old cellist, remembers driving on a snowy Oregon road with her family, and then nothing until she is standing next to the wrecked car and her parents' corpses, watching the paramedics tend to the damaged bodies of herself and her little brother. Told in flashbacks, this moving novel explores Mia's life, the power of friends and family, and the things that make life worth living.
---

Stealing Our Way Home
by Cecilia Galante
Ages 8–12
When their mother dies of cancer in the spring, Pippa (10) and Jack (12) have to also deal with the fact that their father falls apart, unable to work or take care of the house, though he does continue to love his children. Pippa stops speaking, and Jack begins to get into fights. School is starting again and Pippa has no idea how she is going to manage a class presentation on Spartan warriors and Jack becomes interested in the mysterious girl next door. This emphatic novel is narrated by Pippa and Jack in alternating chapters.
---

The Honest Truth
by Dan Gemeinhart
Ages 8–12
Mark (12) is a normal kid in every way, except that he is dying of cancer. Mark's dream is to climb a mountain before he dies, and runs away to ascend Mt. Ranier with his dog Beau. Mark's best friend Jessie knows where Mark has gone, and can't decide if she should confess to his parents, who will prevent Mark from achieving his dream, or keep his secret. Alternate chapters are narrated by Mark, who struggles through the climb with the help of Beau, and by Jessie, who vacillates between keeping her promise and giving in.
---
Lost in the Sun
by Lisa Graff
Ages 10–up
Trent Zimmerman (12) is angry all the time. Seven months earlier he hit his teammate Jared in the chest with a badly aimed hockey puck. Jared had an undiagnosed heart ailment, and died. Trent knows it was an accident, but feels responsible for Jared's death. He used to excel at sports, but now suffers panic attacks every time he tries to play. He acts out, which makes everyone mad at him, but doesn't seem able to stop. Then Trent meets Fallon, a new girl with a scarred face. Fallon seems to enjoy spending time with Trent, and almost against his will Trent finds himself with a new friend.
---

Ostrich Boys
by Keith Gray
Ages 12–up
After their friend Ross is killed while riding his bike, Blake, Kenny, and Sim are furious at the fake show of support by previously uncaring teachers and classmates. So the three boys decide to steal his ashes and travel from London to the village of Ross in Scotland for a proper funeral. Along the way they get thrown off a train, chased by police, and meet some flirtations Scottish girls. They also confront their own relationships with Ross and face some hard truths about his death.
---

The Fault in Our Stars
by John Green
Ages 14–up
Hazel Lancaster (16) has terminal thyroid cancer. When an experimental drug extends her life expectancy, her parents insist that she join a cancer support group at a local church. There she meets Agustus, a former basketball player who lost a leg to cancer, and the two feel an instant connection. Agustus's greatest fear isn't death, but that his life will have no meaning, so he uses his Genie Foundation wish to take Hazel to Amsterdam to meet her favorite author. This charming and profoundly sad story presents two endearing personalities struggling with the meaning of life and death.
---

When Friendship Followed Me Home
by Paul Griffin
Ages 10–up
Ben Coffin (12) has never been good at making friends. A former foster child, he is happy with his elderly adoptive mother and former therapist, and thrilled to be living in Coney Island. Ben loves to read science fiction and gets to know Mrs. Lorentz, the local librarian. Outside the Coney Island Public Library Ben meets Flip, an abandoned dog who follows him home. Through Flip, Ben meets Haley, a fellow book-lover who wears strange combinations of bright colors. They begin writing a fantasy story together during Haley's chemotherapy treatments. When Ben's mother dies and Haley's treatment begins to fail, Ben finds it hard to stay optimistic.
---

Paperweight
by Meg Haston
Ages 14–up
Stevie's brother Josh died in a car accident a year ago, and she has been trying to slowly starve herself to death ever since. Now in a 60-day treatment program in rural new Mexico, the 17-year old is under a strict regime of regular meals, medications, and therapy. But Stevie is determined not to live past the anniversary of Josh's death in 27 days, a death she holds herself responsible for.
---

Benny and Penny in How To Say Goodbye
by Geoffrey Hayes
Ages 4–8
When Penny the mouse finds a dead salamander she is very upset, but her brother Benny is disgusted and throws it into a bush. Penny retrieves the body, names it Little Red, and begins planning a funeral with her friends Melina the mole. Eventually Benny admits that he is also sad about the death of the little amphibian. This TOON Level 2 graphic novel presents feelings about death with sympathy and humor.
---

Out of the Dust
by Karen Hesse
Newbery Medal 1998


Ages 11–up
Billie Jo (14) records the grim realities of living in the Oklahoma dust bowl during the Depression. In her free verse journal, she reveals her mother's death and her own burns in a fire and her father's grief. Billie Jo's hope for a better future shines through all the pain and struggle to survive.
---

What I Came to Tell You
by Tommy Hays
Ages 10–up
After his mother dies in an accident, Grover (12) finds himself responsible for his younger sister Sudie, who cries all the time, since his grieving father buries himself in work as the director of the Thomas Wolfe house. Grover spends most of his time in the canebrake, weaving beautiful tapestries from leaves and bamboo, growing more and more isolated. Then a new family moves into the neighborhood with a girl his age who is also missing a parent, helping Grover and his father learn to share their grief and begin to heal.
---

Death Is Stupid
by Anastasia Higginbotham
Ages 4–8
A young boy mourning the death of his grandmother is not comforted by the well-meaning but confusing condolences. He's not sure he wants his Gramma watching over him at all times and wonders how she can want to be in a better place than with her family. The boy's anger, confusion, and fear about death is beautifully portrayed as is the ultimate comfort of sharing his memories with his father as they work together in Gramma's garden. This sensitive book is the perfect start to a conversation about death.
---
The Beginner's Guide to Living
by Lia Hills
Ages 14–up
When his mother dies in a traffic accident, Will (17) is numb and can't feel anything until he meets Taryn at the wake. Confused by love and grief, Will begins to question the meaning of life. His quest for answers leads him to read philosophy, experiment with drugs, and explore sexuality with Taryn. Insightful and thought-provoking, this coming-of-age novel celebrates life, companionship, and love.
---
The Secret Hum of a Daisy
by Tracy Holczer
Ages 10–up
Grace and her mother have always been a family of two. Grace longs to settle down, but her artistic and flighty mother is always ready to move on after only a few months. When Grace is 12 her mother dies in a drowning accident, and Grace is sent to live with her grandmother, a stranger she has never met. The town holds secrets of Grace's past, and she struggles to follow a trail of clues she is sure her mother left for her as she discovers her family's history.
---

Nantucket Blue
by Leila Howland
Ages 14–up
Inseparable friends Cricket Thompson and Jules Clayton (17) are looking forward to their summer in Nantucket. Then Jules's mother Nina dies and the Claytons decided their summer will be "family only," a shock to Cricket who has always been treated like one of the family. So Cricket heads to Nantucket by herself, landing a job as a chambermaid. While dealing with her own grief about Nina's death and rejection by Jules, Cricket finds unexpected romance.
---

The Snowball Effect
by Holly Nicole Hoxter
Ages 12–up
Lainey (18) has a lot to deal with—her mother commits suicide, leaving Lainey in charge of her challenging 5-year-old adopted brother Collin. Then her estranged older step-sister Vallery arrives to take charge. Lainey's long-time boyfriend tries to help out, but she takes her anger out on him and breaks up. Lainey's efforts to deal with her grief as she and Vallery try to work together to raise Collin are honestly and effectively portrayed.
---

Paper Covers Rock
by Jenny Hubbard
Ages 14–up
Alex (16) is devastated when he fails to save his boarding school friend Thomas from drowning in the river. When questioned, Alex and Glen, another friend from Birch School, don't tell the whole truth. Plagued by guilt, Alex tries to explain what really happened to Thomas in his secret journal, but the more he writes, the more complicated the story grows. Alex's English teacher, Miss Dovecott, suspects that Alex is hiding something, and encourages his poetic talent. Stimulated by her encouragement, Alex realizes that he needs to make a choice between his own voice, and the code of Birch School embodied in Glen.
---

Sally Goes to Heaven
by Stephen Huneck
Ages 5–8
Sally is an elderly black Lab who feels too tired to eat and decides to take a nap in the sun. She wakes up in Heaven, no longer feeling the pain in her joints and able to jump and play again. This final book in the series starring Sally gently explores the life cycle of a pet and is perfect for sharing with young readers who have experienced the loss of a beloved animal. (My Dog's Brain is the first book in the series)
---

The Heart and the Bottle
by Oliver Jeffers
Ages 4–up
When a small girl loses her father, her only parent, she decides that the best thing is to put her heart in a bottle and hang it around her neck. All the wonder, curiosity, and delight in the world they shared together vanishes, but the girl believes her heart at least is safe from further pain. When the girl is older, her heart is restored when she meets someone smaller who still delights in the world. This gentle book is a quietly moving portrait of grief.
---

The Theory of Everything
by JJ Johnson
Ages 12–up
Sarah (15) finds it hard to continue with normal life after her friend Jamie dies in a freak accident in the gym. She blames herself since she was operating the moving wall when it malfunctioned and avoids the gym as much as possible. Her grades plummet, she relates to her family and friends with sarcasm, and she feels that life is random and meaningless. A job at a Christmas tree farm working for Ray begins to finally help her turn the corner back to relating honestly to others. Sarah's snarky journal entries add humor to the tragedy she suffers through.
---

Kira-Kira
by Cynthia Kadohata
Newbery Medal 2005


Ages 11–14
In the 1950s, when Katie is five, her family moves from Iowa to Georgia, where there are few Japanese-Americans. Katie's older sister Lynn takes care of her while their parents work long hours in the chicken-processing plant. Their roles reverse when Lynn develops lymphoma. Through the illness and Lynn's death, Katie struggles to remember her sister as kira-kira, glittering and shining. Narrated by Katie, this beautifully written book tells a poignant story of love and loss.
---
Dangerous Neighbors
by Beth Kephart
Ages 12–up
Katherine is still consumed by grief over the death of her identical twin sister Anna in a skating accident months ago. Feeling responsible for her sister's death, Katherine has decided to take her own life, but is continually drawn to the wonders of the 1876 Philadelphia Centennial Exhibition. Among the crowds of strangers, Katherine loses herself in memories of the past and her sister's secret romance with a "dangerous neighbor" that precipitated the sequence of events leading to Anna's death. Set against a detailed background of America's first World's Fair, this engrossing novel presents themes of love and loss, guilt and betrayal, despair and hope.
---
Nothing but Ghosts
by Beth Kephart
Ages 12–up
Katie (16) and her father are grieving the recent death of her mother. Her father, an artist who restores paintings, tries to lose himself in his work while pondering what color would be used to paint regret. Katie takes a summer job gardening for Miss Martine, the town recluse, and stumbles over clues about the mystery of Miss Martine's abrupt withdrawal from the world. With her fellow teen worker Danny, and the help of the town librarian, Katie researches town history to solve the mystery and distract herself from her own grief.
---

Small Damages
by Beth Kephart
Ages 14–up
When Kenzie's father dies suddenly during her senior year of high school, her mother's copying mechanisms drive the two apart. So Kenzie begins spending more time with her boyfriend, and becomes pregnant. Neither her boyfriend nor her mother understand Kenzie's instance on having the baby, and Kenzie is sent to Spain to work on a farm until the baby is born and given up for adoption. Kenzie arrives in Spain sullen and resentful, but Estela, the farm cook, who takes Kenzie under her wing and Estaban, who cares for the horses, help her to see the beauty around her.
---

Fourmile
by Watt Key
Ages 9–12
Foster (12) is still grieving for his dead father when his mother starts dating Dax Ganey. Foster doesn't trust Dax, and is frightened by him in a way he doesn't really understand. Then Foster's mother starts talking about selling their rural Alabama farm. A mysterious stranger arrives at the farm, offering to do some much-needed repairs. Gary is a former Iraq Army Ranger, now hiking aimlessly around the country. Foster hopes that Gary will provide an ally against Dax, but there are signs that Gary may be even more dangerous.
---

Please Ignore Vera Dietz
by A.S. King
Ages 13–up
Vera has spent her whole life in love with her best friend and neighbor Charlie Kahn until he betrayed her and ruined everything. But now Charlie is dead, suspected of being involved in a crime, and only Vera knows the truth. Vera has decided to live at home with her father, a recovering alcoholic, while delivering pizzas to earn money for community college. The relationship between Vera and her father, and her struggle to deal with her memories of Charlie, form the heart of this darkly comic novel.
---

Stay: A Girl, a Dog, a Bucket List
by Kate Klise, M. Sarah Klise
Ages 3–5
Eli the dog has been with Astrid since she was born, her first and best friend. As Astrid grows older she notices that Eli is slowing down, and worries that his time with her is coming to an end. Before he slows down too much, Astrid makes a bucket list for Eli, including all the experiences she thinks he might enjoy. They eat together at a restaurant, slide down the slide at the playground, visit the library, and see Lassie at the movie theater. In the end it is clear that Eli doesn't really care what they do, the important thing is that they spend their time together.
---

Complicit
by Stephanie Kuehn
Ages 13–up
Jamie Henry (15) and his sister Cate were adopted by the wealthy Henry family after their young mother was either murdered or died in an accident. Jamie isn't sure. After their mother's death, Jamie's older sister Cate went wild, drinking and stealing and committing violent acts. Two years ago Cate was arrested and placed in juvenile detention after a barn fire killed several horses and badly injured another girl. Jamie suffers from debilitating neurological attacks that paralyze his arms and cause memory loss. Now Cate is about to be released and Jamie is both terrified by her reappearance in his life and eager to learn more about their mother's mysterious death and the awful fire.
---
The Last Invisible Boy
by Evan Kuhlman
Ages 10–14
In his notebook, Finn Garrett (12) explains that after his father died unexpectedly a few months ago, an eraser fell from the sky and has gradually been erasing him day by day. This painful yet funny novel explores coping with loss in a way middle schoolers can empathize with.

Hold Still
by Nina Lacour
Ages 14–up
Caitlin begins her high school junior year stunned by the suicide of her best friend Ingrid, a talented photographer and artist. Unable to make new friends or work on her own art, Caitlin is emotionally paralyzed until she discovers Ingrid's journal, which is addressed to Caitlin. As Ingrid reveals her chronic depression and the thoughts of her final days, Caitlin begins to feel again, and to reach out to others.
---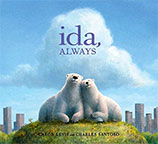 Ida, Always
by Caron Levis, Charles Santoso
Ages 4–8
Gus and Ida are inseparable polar bears living in a zoo, playing and splashing together while listening to the sounds if the city that surrounds them. When the two friends learn that Ida is terminally ill, they move through anger to acceptance as they determine to enjoy the remaining time they have together. This heartfelt story is based on two polar bears who lived in the Central Park Zoo in New York City.
---

Hothouse
by Chris Lynch
Ages 12–up
The fathers of both Russell and his childhood friend DJ are firefighters who die in a fire. The two high school boys had drifted apart, but the tragedy, and the fact that the town treats the grieving sons as heroes, brings them back together. An investigation into the fire changes the town's feeling, and Russell struggles to understand who his father really was. First person narration reveals Russell's internal struggles to come to terms with his grief and begin the healing process.
---

Kindred Souls
by Patricia MacLachlan
Ages 7–10
Jake (10) is sure that his 88-year-old grandfather Billy will live forever on their family farm. When Billy expresses a desire to have a sod house like he lived in as a boy, Jake at first resists the idea, but then researches how to construct one when his grandfather becomes ill. The cycle of birth and death foreshadows Billy's eventual death, and the unexpected arrival of a dog helps Jake through his grief. The bond between grandparent and child is beautifully portrayed in this touching book.
---

The Poet's Dog
by Patricia MacLachlan
Ages 6–10
Teddy, the poet's dog, narrates this touching book exploring love and loss. Teddy can speak, but only poets and children can understand him. When Nickel and his younger sister Flora are lost in a snowstorm, they ask Teddy for help. Teddy's owner and friend Sylvan has died, and Sylvan's student Ellie has been taking care of the mournful dog. Both Ellie and Teddy know that he needs to find a new family, and the chance meeting in the woods may help him leave his grief behind.
---

Sarah, Plain and Tall
by Patricia Maclachlan
Newbery Medal 1986


Ages 8–12
In the late 19th century, a widowed midwestern farmer with two children, Anna and Caleb, advertises for a wife. Sarah responds, saying that she is plain and tall. When Sarah arrives she is homesick for Maine, and especially for her beloved ocean. The children fear she will not stay. Narrated by Anna, this short book gently explores abandonment, loss, and love.
---

The Stars Beneath Our Feet
by David Barclay Moore
Ages 10–up
It's Christmas Eve, but Lolly Rachpaul (12) and his mother aren't celebrating. They are still dealing with the shock and grief of the death of Lolly's older brother in a gang-related shooting a few months earlier. Lolly's mother's boyfriend brings him two huge bags filled with Legos. Lolly has always loved carefully following the instructions to build Lego kits, but isn't sure what to do with a huge pile of raw materials and no guidance. When Lolly and his friends are beaten up and robbed, joining a gang seems like it might be the best thing to do. Instead he begins building a huge Lego city at the community center, discovering that his imagination is a powerful thing.
---

When Mischief Came to Town
by Katrina Nannestad
Ages 10–12
Inge Maria Jensen is sent from her beloved Copenhagen to live on a small island with her stern grandmother after the death of her parents. Inge Maria gradually adjusts to living in the sleepy little town of Bornholm, and decides that a bit of mischief is just what everyone needs to remind the residents how to laugh and shout and enjoy each other's company. This story of a lively little girl dealing with grief in her own way is both touching and funny.
---

The Sky Is Everywhere
by Jandy Nelson
Ages 14–up
Lennie (17), a shy bookworm and band geek, has always been content to live in her older sister Bailey's shadow. When Bailey dies suddenly and unexpectedly of an arrhythmia, Lennie is not prepared to deal with the limelight she is thrust into. Consumed by grief and unsettled by her attraction to Bailey's fiancé, Lennie struggles to deal with her new reality in this honest portrayal of a teen dealing with tragedy.
---

A Monster Calls
by Patrick Ness, Jim Kay
Ages 12–up
Connor O'Malley (13) is having nightmares. His mother has cancer, his father has moved away with his new wife, and the grandmother he lives with cares more about he antique wall clock than her grandson. The bullies at school torment Connor, making fun of his mother's baldness, a result of her cancer treatment. So Connor wakes up most nights screaming because of nightmares. Then one night he awakens to find a real monster outside his window, ancient and wild, who seems to want something from Connor. This moving story of loss and grief was completed by Patrick Ness from a set of notes by Siobhan Dowd, who died of cancer before she could complete a first draft.
---
Season of Secrets
by Sally Nicholls
Ages 8–12
When Molly's mother dies, her father sends her and her older sister to live with Grandma and Grandpa in their half-house half-shop. Uncertain how long their visit will be, Molly and Hannah try to cope with home-sicknesses while adjusting to life in a tiny town with a school of only ten kids. While caught in a storm one night, Molly flees from a horned horseman and worries about the wounded man she finds after the hunt. As he heals, Molly realizes there is something magical about him—he can make things grow in the middle of winter—and wonders if he can somehow bring her mother back to life.
---

Ways To Live Forever
by Sally Nicholls
Ages 9–12
Eleven-year old Sam is in the final stages of leukemia. In his journal he keeps facts, questions, and lists. As the book progresses, Sam's friend Felix dies and Sam begins to decline. Sam and his family face death with humor and grace in this moving novel.
---

Optimists Die First
by Susin Nielsen
Ages 12–up
Petula de Wilde (16) was a normal happy teenager with a passion for crafting until the accidental death of her younger sister Maxine. Her parents have retreated into their books and music while Petula is haunted by the fact that tragedy can strike when least expected and worries about walking near construction sites, the possibility of earthquakes, and catching a rare disease. She is assigned to a youth art therapy group to help with her anxieties, and meets Jacob Cohen, who has a bionic hand and a talent for film-making. This empathetic novel explores the effects of grief and guilt.
---
All the Bright Places
by Jennifer Niven
Ages 14–up
Theodore Finch is fascinated by death, and is always thinking of ways he might kill himself. Violet Markey, another senior, was happy and well-adjusted until her sister died in a car crash. Now Violet is overcome by grief. Each ascends the school bell tower, wondering what it would be like to jump. Meeting on the ledge, they save each other and pair up on a project to discover the natural wonders of their state. This gripping novel is romantic and heartbreaking, the story of two damaged teens looking for love while fighting mental illness.
---

The Sharp Time
by Mary O'Connell
Ages 14–up
When her mother dies, Sandinista Jones (18) retreats from her friends into grief. When she is targeted by an abusive teacher, she feels helpless in her isolation, and simply stops going to school. On impulse she takes a job at Pale Circus, a vintage clothing store, that sooths her with color and texture. But every day her violent urges to take revenge on her teacher grow stronger and harder to ignore. Finally she reaches out to her new community for support. This story of grief and loneliness is told with compassion and humor.
---

Dogtag Summer
by Elizabeth Partridge
Ages 8–12
Tracy (12) has always felt different. In Vietnam she was mocked because her father was an American soldier, and she doesn't fit in with her adoptive family in California either. Then Tracy and her friend Stargazer find a dogtag in her father's ammo box, which sets of a chain of reactions causing painful memories and misunderstandings. Tracy struggles to balance her memories of her natural mother with building a relationship with her father's wife as her step-mother tries to understand the memories haunting both her husband and adoptive daughter. Includes an historical appendix and a teacher's guide for discussing the book in the context of a unit about Vietnam.
---

The Higher Power of Lucky
by Susan Patron
Newbery Medal 2007


Ages 8–12
Lucky (10) lives in a small town in the middle of the California desert with her French guardian, who has been caring for her since her mother died two years ago. Fearing that her guardian will leave her and return to France, Lucky stocks her survival backpack and searches for her Higher Power.
---

My Sister Lives on the Mantelpiece
by Annabel Pitcher
Ages 12–up
Jamie (10) barely remembers his sister Rose, who died in a terrorist bombing five years earlier, but the rest of his family is still struggling to deal with their grief. When Rose's twin Jas declares her independence by dying her hair pink on her 15th birthday, the family falls apart. Their mother runs off with another man, and their alcoholic father moves with the children from London to the Lake District, and spends most of his time lavishing attention on the urn on the mantelpiece containing Rose's ashes. Jamie's first person narration is honest and powerful in this quirky novel.
---

Kissing in America
by Margo Rabb
Ages 14–up
After Eva's father dies in a plane crash when she is 14, she spends the next two years escaping into romance novels. At the age of 16, 118 romance novels later, Eva's grief is still ever present when she meets Will. He understands her sense of loss, and Eva falls in love. When Will moves to California Eva can't bear the loss of the only person who managed to pull her out of overwhelming sadness. With her best friend Annie, Eva sets off on a road trip across the country in search of her true love.
---

Underwater
by Marisa Reichardt
Ages 12–up
Morgan (17) is having trouble coping with the school shooting that killed both students and teachers. Her friends have returned to school, but Morgan, once a competitive swimmer and academically talented student, can't bring herself to leave the small apartment she shares with her mother and brother. Trapped by stifling agoraphobia, Morgan can't move through the apartment door, feeling as if she is trapped underwater. With the help of her therapist and the kind new boy who moves in next door, Morgan gradually manages to face her fears.
---

Bone Dog
by Eric Rohmann
Ages 4–8
Gus doesn't feel like doing much of anything after his old dog Ella dies, not even dressing up for Halloween. But remembering her promise to be with him always, Gus puts on his skeleton costume and sets out on Halloween night. When Gus is threatened by a bunch of graveyard skeletons, Ella, his very own Bone Dog, comes to his rescue, banishing the skeletons along with Gus's grief . Though some may find the bone dog unsettling, the comforting message that a dog's loyalty transcends death is presented with gentle humor.
---

After Eli
by Rebecca Rupp
Ages 9–12
Three years after Daniel's older brother Eli dies in Iraq, Daniel is still wondering if Eli died heroically or accidentally. In an attempt to understand what makes a life or a death matter, Daniel creates a Book of the Dead in an old binder, full of details about dead people, how they died and for what purpose. While dealing with his lingering anger about Eli's death, Daniel tries to cope with his dysfunctional family — his mother is consumed with mourning Eli — his frustrations with his conventional friends, his attraction to free-spirited Isabelle, and his growing friendship with school outcast Walter. This rich novel deals honestly with the pain of loss and the struggles of those left behind to reestablish their own lives.
---

Missing May
by Cynthia Rylant
Newbery Medal 1993


Ages 9–12
When Summer's foster mother Aunt May dies suddenly she is overcome with grief. But her foster father Uncle Ob is so sorrowful that Summer fears he will not be able to go on living without May. In a quest to find closure, Summer, Ob, and Cletus, a classmate of Summer's, search for a spiritualist who may be able to communicate with May. They can't find the spiritualist, but somehow the quest helps them to heal.
---

A Map of the Known World
by Lisa Ann Sandell
Ages 12–up
When 14-year-old Cara's older brother dies in a car accident, her parents cannot rouse themselves from their numbing grief. Cara escapes into her passion for maps and mapmaking. Her art teacher, a new friend, and her brother's best friend all help to slowly revive Cara's emotional life and self-confidence.
---

Somebody Up There Hates You
by Hollis Seamon
Ages 14–up
Richard Casey (17) has terminal cancer. He meets Sylvie Calderone (15) on the hospice ward. Both have been given less than a month to live, and bond while staging a Halloween prank to take their minds off their reality. When Richard's grieving mother catches the flu and is temporarily banned from the hospital, the two escape with Richard's uncle's help for a wild night of Halloween celebration, pretending to be normal teenagers. Back in the hospital Sylvie declares her intention of losing her virginity to Richard. The hospital staff is charmed by their romance, but Sylvie's alcoholic father becomes increasingly unstable in his efforts to protect her.
---

The Way Home Looks Now
by Wendy Wan-Long Shang
Ages 8–12
Peter Lee (12) and his family share a love a baseball, except for Peter's strict Chinese immigrant father who stresses the need for education and respect for authority. When Peter's older brother dies in a car accident in 1972, his grieving mother stops talking and stares blankly at the television. Hoping to restore his family to the closeness they shared before the accident, Peter persuades his father to let him join a Little League team. During try-outs, Peter's father is pressed to become a coach, and Peter realizes his distant father actually knows a lot about baseball.
---

Zayde Comes to Live
by Sheri Sinykin, Kristina Swarner
Ages 6–10
Rachel's grandfather, her zayde, comes to stay, and Rachel soon realizes he is dying. She is worried about where he will go when he dies, and asks her Muslim and Christian friends before finally asking her rabbi. Her zayde helps her understand that there can be peace and contentment in death.
---

Stand-Off
by Andrew Smith, Sam Bosma
Ages 12–up
Ryan Dean West is beginning his senior year at Pine Mountain Academy, still grieving over his friend Joey's death. Ryan Dean's new roommate Sam, a 12-year-old freshman, is driving him crazy. His rugby coach expects him to take over Joey's position on the team and as team captain. Ryan Dean realizes he needs help when he starts experiencing panic attacks and having visions of a figure who looks like the Grim Reaper that he names Nate (Next Acciden+al Terrible Experience). His girlfriend Annie offers sex as a solution to his pain, but it is Sam, whose own trauma helps him identify the pain behind Ryan Dean's facade, and Joey's brother Nico who help him begin to heal. (sequel to Winger)
---

The Way He Lived
by Emily Wing Smith
Ages 14–up
The six teen-aged narrators of this novel don't have much in common except a connection with Joel Espen, who died of dehydration after giving away his water bottle during a badly planned Boy Scout outing. As the six teens from Haven, Utah, try to make sense of Joel's death and his effect on their lives, their views of themselves and their community are transformed.
---

Irises
by Francisco X. Stork
Ages 14–up
Kate (18) dreams of going to medical school at Stanford University, and her sister Mary (16) is a talented painter. When their strict minister father dies, the two sisters are forced to make some painful decisions. Their mother has been in a persistent vegetative state after an accident two years earlier, and the insurance company denies their father's policy. Then the church threatens to evict them from their home. Free of their father's loving but restrictive control, the two sisters begin to grow in unexpected ways as they struggle with supporting themselves and the decision of maintaining their mother's life support.
---
The Last Summer of the Death Warriors
by Francisco Stork
Ages 14–up
Pancho Sanchez (17) is sent to a Catholic orphanage after his father and sister die within a few months. Pancho is determined to avenge the death of his sister by killing the man he believes is responsible. D.Q., a fellow orphan, asks Pancho to come with him to Albuquerque as support during his brain cancer treatment. Pancho agrees since that's where the man he is stalking lives. But D.Q.'s "Death Warrior Manifesto," a document he has composed to help him live out his last days with purpose, gradually influences Pancho to consider choosing life over murder. This powerful novel deals with themes of responsibility, racial and family tension, and the purpose of life.
---

A Series of Small Maneuvers
by Eliot Treichel
Ages 12–up
Emma Wilson (15) is finding it difficult to cope with the changes caused by growing up, feeling isolated from both her friends and family. Her father takes her on a canoe trip exploring the remote Rio Tinto in New Mexico, a trip designed to give them time to get to know each other better. But her father dies in an accident that Emma feels responsible for, and she must cope with both her grief and her guilt.
---
Speed of Life
by Carol Weston
Ages 11–14
Eight months after her mother died suddenly of an aneurysm, Sofia (14) is still grieving. Her friends have been very supportive. Now they think it's time for Sofia to move on, but she can't. She writes Dear Kate, the advice columnist for Fifteen Magazine who visited her school, and is surprised to receive a quick response. The two begin an email correspondence and Sofie shares her secrets and worries before discovering that Kate is the mystery woman her father has been dating. Sofia and her father move in with Kate and her teenage daughter Alexa and Sofia has to decide if she will leave her private school for public school. Each of the 12 chapters represent a month in Sofia's year-long journey from middle to high school, through grief and her first relationship.
---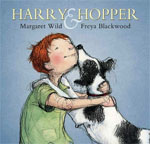 Harry & Hopper
by Margaret Wild, Freya Blackwood
Ages 2–5
Harry and his dog Hopper are constant companions, sharing adventures, baths, and a bed at night. When Hopper dies, Harry has a hard time letting go, and refuses to attend the backyard funeral. Gradually Harry discovers that his beloved dog lives on in his heart and memories in this sensitive portrayal of loss and grief.
---

Beetle Boy
by Margaret Willey
Ages 13–up
When Charlie was seven, his mother abandoned the family, leaving Charlie's grieving father responsible for Charlie and his younger brother. In an effort to comfort his father, Charlie begins telling him the story of Beetle Boy, an invention of his mother's that was part of his bedtime ritual. Charlie's father fixates on the idea that Charlie created the talking beetle all by himself, and transforms the story into a book with Charlie as the world's youngest published author. For three years Charlie was compelled by his father to promote the book wearing a beetle costume. Now 18, Charlie is estranged from his family and living with his girlfriend Clara, who is frustrated by Charlie's unwillingness to talk about his past.
---

Waiting
by Carol Lynch Williams
Ages 14–up
London is devastated when her older brother Zach commits suicide. Growing up the two siblings were very close, but drifted apart as they aged. Now London wonders if there was something she could have done. Her former missionary father is wrapped in his own grief, her mother won't speak a word, and London is overwhelmed by loneliness. Narrated in first-person prose poems, this powerful book explores the sorrow of a broken family, the complexities of denial, and the healing power of friendship.
---

Clayton Byrd Goes Underground
by Rita Williams-Garcia, Frank Morrison
Ages 8–12
Clayton loves playing his blues harp (harmonica) with his grandfather Cool Papa Byrd and his band of Bluesmen in Washington Square Park in New York City. Clayton longs to play his own twelve bar solo as soon as he has a blues song of his own. When his grandfather dies, Clay'ton's mother tells him he can no longer play the blues, but Clayton can't stand the thought of living without the music that connected him to his favorite relative. Claytons grief causes problems at school and church, so he takes his grandfather's favorite hat and runs away, hoping to find the Bluesmen.
---

Locomotion
by Jacqueline Woodson
Ages 9–12
In 60 poems, 11-year-old Lonnie Collins Motion tells his story as he explores different forms of poetry. Called Locomotion because of his constant activity, Lonnie and his sister were orphaned four years earlier. His younger sister Lili was adopted, and Lonnie struggles to stay in touch with her. The poignant poems tell a complex story of loss, grief, and poverty, while also demonstrating Lonnie's creativity and optimism.
---

Peace, Locomotion
by Jacqueline Woodson
Ages 9–12
Now 12, Lonnie Collins Motion, called Locomotion, writes letters to maintain a bond with his younger sister Lili who was adopted after the death of their parents. Miss Edna, Lonnie's foster mother, has a son who returns home from the Iraq war, disabled and traumatized. Though his letters, the kind and sensitive Lonnie struggles to make sense of his life and to achieve a sense of peace. (sequel to Locomotion)
---
Paper Valentine
by Brenna Yovanoff
Ages 12–up
Hannah Wagnor is deeply depressed by the recent death of her best friend Lillian of anorexia. Hannah can't forget, especially since Lillian is haunting her on a daily basis. It's the hottest summer on record for the city of Ludlow, tempers are short, and petty crime is on the rise. Hannah becomes attracted to Finny Boone, a potentially dangerous juvenile delinquent. Then young girls are murdered, their bodies surrounded by toys and paper valentines. Egged on my Lillian, Hannah becomes obsessed with the murders. This dark fantasy is painful but satisfying.
---

How to Save a Life
by Sara Zarr
Ages 12–up
When Jill's father dies unexpectedly, she and her mother drift apart, each isolated in her own grief. When her mother decides to adopt a baby, Jill (17) thinks the idea is crazy, but Mandy, the pregnant teen giving up her baby, is thrilled to escape her abusive family and come live with Jill and her mother. Narrated from the perspectives of both girls, this compassionate book examines the meaning of family.
---

The Lucy Variations
by Sara Zarr
Ages 12–up
Lucy Beck-Moreau was a talented young pianist with the best teachers money could buy and a string of wins at prestigious competitions. Then her grandmother died when Lucy was 14, sending her into a spiral of depression. Lucy refused to compete, leaving her younger brother Gus as the family piano prodigy. Two years later, Lucy begins to reconsider her decision to stop playing the piano when Gus's new teacher encourages her to at play for her own enjoyment without the pressures and triumphs of competition.
---

Goodbye Days
by Jeff Zentner
Ages 14–up
Carver Briggs (17) sends a text message wondering where his friends Mars, Eli, and Blake are. All three are killed in a car accident after the driver opens the message. Carver feels guilty that he may have caused the accident, and a judge is pressuring the district attorney to open a criminal investigation. Blake's grandmother proposes a "Goodbye Day" so they can get together and share memories of Blake, and soon the other families ask for their own goodbye days, but Carver isn't sure if they want to share a joint farewell or gather evidence for the criminal investigation.
---

Protected
by Claire Zorn
Ages 14–up
Awkward and vulnerable, Hannah McCann (15) is targeted and bullied at school. Her best friend deserts her for a group of popular girls, and her social-climbing older sister Katie advises her to stop taking everything so seriously. Katie is killed in a car accident, and the bullying at school stops, but Hannah is too grief-stricken to care. When Josh Chamberlain, a new student, offers friendship, Katie isn't sure she can trust that his intentions are good.