B Is for Brooklyn
by Selina Alko
Ages 2–6
This exuberant ABC book celebrates the New York City borough of Brooklyn. Bright gouache and collage illustrations present Brooklyn's rich ethnic, culinary, racial, and religious diversity.
---

Counting Crows
by Kathi Appelt, Rob Dunlavey
Ages 3–7
Three inquisitive crows wearing red striped sweaters are hungry and head out to search for a snack. They snack from one to a dozen before being eyed by a hungry cat as a snack themselves. Delightful illustration accompany the clever rhymes.
---
M Is for Mischief: An A to Z of Naughty Children
by Linda Ashman & Nancy Carpenter
Ages 6–10
Packed with assonance and alliteration, twenty-six naughty children romp through this book, illustrated by Carpenter's energetic digital collages.
---

LMNO Peas
by Keith Baker
Ages 3–8
A hilarious group of alphabet peas romp through the alphabet, appropriated garbed to illustrate various jobs and occupations for each letter. Bouncy rhyming text accompanies each letter, presented as a large colorful shape surrounded by cheerful busy pea creatures. The book is a fun read-aloud, and young readers will want to spend time examining each page closely.
---

1-2-3 Peas
by Keith Baker
Ages 3–7
The lively peas from LMNO Peas return in this rhyming romp through the numbers. The engaging graphics encourage young readers to count by 1s and 10s to 100 and the funny visual quirks keep both children and adults involved.
---
Potato Joe
by Keith Baker
Ages 4–8
If it can rhyme with potato, Potato Joe and his nine potato friends have thought of it. The simple illustrations complement the rhymes in this counting book, and kids will be eager to turn the page to see what the silly spuds are up to next.
---

Count the Monkeys
by Mac Barnett, Kevin Cornell
Ages 3–6
Instead of monkeys, young readers will enjoy counting the increasing number of predators that have frightened the monkeys away. The single cobra on the first page is fairly realistic, but the silliness mounts to ten polka-dotted rhinoceroses with bagpipes and bad breath. Bright illustrations match the fun of the humorous text.
---
My Bus
by Byron Barton
Ages 4–8
This bus driver on this colorful bus picks up dogs and cats waiting at the bus stops: one dog, two cats, etc. At various destinations — the airport, the harbor, the train station — animals depart the bus, providing multiple opportunities to add, subtract, and examine sets along the way.
---

ABC3D
by Marion Bataille
Ages 4–up
In this amazing pop-up book, the 26 letters of the alphabet not only pop up, they also move and transform. This clever French book will enchant readers and art lovers of all ages.
---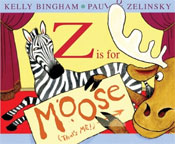 Z Is for Moose
by Kelly Bingham, Paul O. Zelinsky
Ages 3–7
The sensible Zebra tries to direct all of the animals to appear on the right page in the proper order at the correct time, but the irrepressible Moose, who is sure he owns the letter M, cannot contain his enthusiasm and impatience. He pushes Duck out of the way, annoys Elephant, and pops out of the pouch of a surprised Kangaroo. Young readers will revel in Moose's antics as he disrupts the usual calm alphabet procession.
---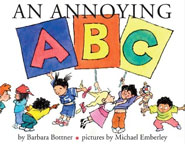 An Annoying ABC
by Barbara Bottner, Michael Emberley
Ages 4–8
This clever alphabet books describes, in alphabetical order, a chain of annoying and unpleasant behavior. "Dexter drooled on Eloise. Eloise elbowed Flora." Eventually, the clever and supportive Miss Mabel engineers a chain of apologies that restore a tranquil peace to the class just in time for story hour, in this hilarious portrayal of the chaos that can erupt in a Kindergarten class.
---

Counting
by DK Braille
Ages 2–5
The tactile spreads in this innovative book, designed specifically for blind or visually impaired readers, utilize different textures to explore counting techniques. Braille, large print, and high-contrast photographs take readers on a counting adventure in the park. Text alongside the Braille enables sighted and visually impaired family members to share the book together.
---

One Gorilla: A Counting Book
by Anthony Browne
Ages 3–up
Beautifully detailed portraits of primates proceed through the counting sequence from one to ten, beginning with the larger rarer animals and moving on to groups of smaller primates. The book ends with a self-portrait of the author/artist and finally a group portrait of humans of various ages and ethnicities. The personality portrayed in each face throughout the book makes this counting book something special, encouraging readers to recognize kinship between the primates.
---

Bad Kitty Scaredy-Cat
by Nick Bruel
Ages 5–8
Bad Kitty is frightened by a scary parade of alphabetical trick-or-treaters including a Noisy Neanderthal and an Odious Ogre. Bad Kitty is so scared that she cowers beneath the couch with a comforting alphabetical collection of Halloween treats including bubble gum and candy corn before emerging to take on the trick-or-treaters with an alphabetical series of actions including kicking and lambasting.
---

Musk Ox Counts
by Erin Cabatingan, Matthew Myers
Ages 5–7
Zebra is determined to proceed in an orderly fashion through the counting numbers while the irrepressible Musk Ox wrecks havoc on every page. Visual jokes join the textual ones to create a very funny exploration of counting and addition. (companion volume to A Is for Musk Ox)
---

Discovering Nature's Alphabet
by Krystina Castella, Brian Boyl
Ages 6–12
Created by a husband and wife team, this unique book presents letters of the alphabet found in the natural world. The 92 color photographs are neither staged nor retouched, and are spectacular examples of the wonders of nature waiting for the careful observer. Not intended for those just learning the alphabet, this beautiful book may inspire older children to search out letters in their own natural surroundings.
---

Hippopposites
by Janik Coat
Ages 1–4
This clever book uses a simplified red hippopotamus to illustrate antonyms like thick and thin, light and dark, clear and blurry, small and large, soft and rough. The cheerful hippo is a charming device to introduce the concept of opposites.
---
8: An Animal Alphabet
by Elisha Cooper
Ages 3–7
On each of the 26 pages devoted to a letter of the alphabet, young readers are invited to find eight of a certain animal whose name begins with that hidden among other animals sharing the same initial letter. Some letters are easy (there are only eight xeruses on the X page) while others are packed with animals. The names of the featured animals run along the bottom of the page, and a closing list offers interesting facts about the more than 150 animals that appear in the book.
---

Billions of Bricks: A Counting Book About Building
by Kurt Cyrus
Ages 4–7
This energetic picture book is set at a busy construction site where men, women, and children bustle around in hard hats building impressive structures. Rhyming text describes the making of the bricks themselves and then the arches, columns, and complex structures that are built.
---
¡Olinguito, de La A a la Z!
by Lulu Delacre
Ages 6–10
This bilingual ABC book takes the reader on a search through the cloud forest of Ecuador for the elusive Olinguito, a mammal first identified in 2013. Plants, animals, and other organisms are organized by the alphabet in this beautifully illustrated book full of interesting factual information.
---

All the Awake Animals Are Almost Asleep
by Crescent Dragonwagon, David McPhail
Ages 3–6
A mother tries to lull her small son to sleep by describing creatures from A through Z who find sleep a welcome end to the day in unique alliterative ways. Soothing watercolors illustrate the weary animals dropping off to sleep.
---

Jane Foster's 123
by Jane Foster
Ages Birth–3
This beautifully illustrated board book presents the numbers from one through ten with bold patterns of polka-dots, checks, and stripes. After introducing each number, the illustrations are grouped together in rows for easy size comparison and then counted down with a rocket blast off.
---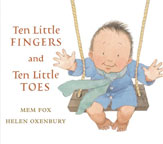 Ten Little Fingers and Ten Little Toes
by Mem Fox, Helen Oxenbury
Ages 3–5
The rhythmic rhyming text in this picture book for very young children is addictive. Adorable multicultural babies are added with each new stanza.
---
Country Road ABC

An Illustrated Journey Through America's Farmland
by Arthur Geisert
Ages 5–8
This ABC book memorializes a way of life in the shrinking Midwest farming community where the author lives. Modern vocabulary (A is for ammonia fertilizer, I is for inoculate) joins the traditional (B is for barn cat) to paint a portrait of the farmland from spring through winter snow. Along the bottom of each page is a continuous panorama that totals nearly 40 feet of art.
---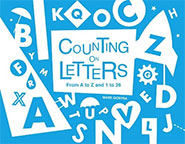 Counting on Letters: From A to Z and 1 to 26
by Mark Gonyea
Ages 4–6
This colorful and appealing lap-sized board book presents the 26 letters of the alphabet and the corresponding numbers. High-contrast saturated color silhouettes make the letters and numbers leap from the page. Parents and children can count the letters and numbers together, reinforcing both the alphabetic and numeric learning process.
---

Little Honey Bee
by Katie Haworth, Jane Ormes
Ages 3–7
Beginning with a snowy winter field, this interactive board book counts flowers from one to ten. Young readers can lift flaps shaped like petals, leaves, and clouds to discover surprises to count again underneath.
---
Fraidyzoo
by Thyra Heder
Ages 4–8
Little T is afraid to go to the zoo, but can't remember why. Her parents and older sister construct home-made animal costumes to act out the zoo animals from A through Z asking helpful questions throughout the parade. "Can it give itself showers?" "Is it pink?" This delightful book featured a cheerful and imaginative family and cleverly unique illustrations.
---

West Coast Wild: A Nature Alphabet
by Deborah Hodge, Karen Reczuch
Ages 4–7
Beautifully detailed pencil and watercolor images illustrate this stunning alphabet book set in the Pacific Northwest. The rain forest, beach, and ocean provide the backdrop for a rich variety of lifeforms, both familiar (bears) and unfamiliar (Velella velella).
---

Animal Opposites
by Petr Horacek
Ages 3–7
Flaps, pop-ups, and mixed media paintings are used to illustrate the differences between 20 animals. Visual cues encourage young readers to guess what contrasting animal will come next (after the short dog or the quiet rabbit or slow snail).
---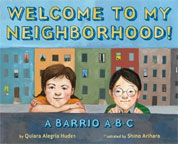 Welcome To My Neighborhood! A Barrio ABC
by Quiara Alegría Hudes, Shino Arihara
Ages 3–7
In this unique ABC book, Cici takes her friend Chien on a tour of her inner-city neighborhood, pointing out all the details that make her neighborhood home unique. The rhyming text celebrates the wide variety found in a city neighborhood while the gouache illustrations portray a vibrant multicultural, urban community that is both full of life and slightly dilapidated. Spanish version: Bienvenidos a mi barrio! Mi mundo de la A a la Z
---

When Royals Wore Ruffles:

A Funny and Fashionable Alphabet!
by Pamela Jaber, Chesley Mclaren
Ages 5–9
This A–Z of fashion history uses witty text and charming illustrations to demonstrate that the desire to look fabulous can push humans to often hilarious extremes.
---

Count on the Subway
by Paul Dubois Jacobs, Jennifer Swender, Dan Yaccarino
Ages 2–5
This eager little girl and her mother enjoy a subway ride in New York City, with the numbers from 1 to 10 and then back down again appearing in brightly colored circles echoing the the subway system signs. Cheerful simple verse accompanies the bright illustrations: "1 MetroCard, Momma and me. Down 2 flights—to catch the 3."
---

AlphaOops: The Day Z Went First
by Alethea Kontis, Bob Kolar
Ages 4–8
Just as A is preparing to introduce itself, Z interrupts, demanding fair turns at going first. Other letters at the end of the alphabet jostle to the front of the line, some letters insist on second turns, and some vanish to take bathroom breaks in this wild Alphabet book, sure to be an instant favorite with all children, especially those whose names fall at the end of the line!
---
AlphaOops: H is for Halloween
by Alethea Kontis, Bob Kolar
Ages 4–8
The alphabet is putting on a show for Halloween, and chaos erupts. Z insists that the show must start with H because Halloween can't start with any other letter, and the rest of the alphabet appears out of order, dressed in Halloween costumes to suit their letters. Along the bottom of the pages, tiny pumpkins arrange the letters in their proper order.
---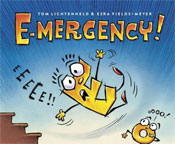 E-mergency!
by Tom Lichtenheld
Ages 4–8
When the letter E breaks her leg falling down the stairs, she ends up in the hospital and ordered to rest. The only way to give her time to heal is for another letter to substitute for her. Puns and jokes ensue as the rest of the alphabet decide which letter is up for the job.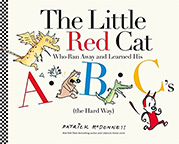 The Little Red Cat Who Ran Away and Learned His ABC's
by Patrick McDonnell
Ages 3–6
The little red cat heads out his front door and is soon pursued by a parade of animals (alligator, bear, chicken, dragon, etc.) while encountering obstacles (ice, jungle) in appropriate alphabetical order. The exciting wordless chase creates a guessing game for young readers.
---

Counting Lions
by Virginia McKenna, Katie Cotton, Stephen Walton
All ages
Charcoal portraits of endangered animals are paired with poems by Katie Cotton that describe the animal's behavior and physical attributes. Though presented in the traditional counting book format — one lion through ten zebras — this beautiful book will appeal to animal fans of all ages. A forward written by actress and wildlife campaigner Virginia McKenna urges readers to join the fight to protect endangered animals and explains that a 5% book royalty will be donated to her Born Free foundation.
---

Ashanti to Zulu:

African Traditions
text by Margaret Musgrove, illustrations by Leo & Diane Dillon
Caldecott Medal 1977


Ages 6–12
Incredible pictures illustrate the traditions and customs of 26 African tribes beginning with letters from A to Z. Most paintings include a man, woman, child, artifact, living quarters, and a local animal.
---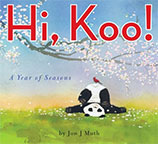 Hi, Koo!: A Year of Seasons
by Jon J Muth
Ages 4–8
The twenty-six haiku in this charming book celebrating the four seasons each contain a word that begins with a consecutive letter of the alphabet. Young readers will enjoy spending time with the adorable panda cub while searching for the next letter of the alphabet.
---

Fancy Nancy's Favorite Fancy Words: From Accessories to Zany
by Jane O'Connor
Ages 4–9
Fancy Nancy makes vocabulary glamorous in this A-Z list of useful words used and illustrated in classic Fancy Nancy style.
---
A Paddling of Ducks

Animals in Groups from A to Z
by Marjorie Blain Parker, Joseph Kelly
Ages 4–8
This delightful ABC book presents groups of animals from an army of ants to a herd of zebras. Each group of animals is described with the proper collective noun (a skulk of foxes, a nest of vipers, a labor of moles) and shown in a detailed illustration depicting fantastic yet animal appropriate play.
---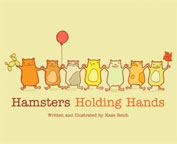 Hamsters Holding Hands
by Kass Reich
Ages Birth–3
This cheerful counting book is designed for the very young. The adorable little hamsters engage in all kinds of fun described in the rhyming text, illustrating the numbers from one through ten.
---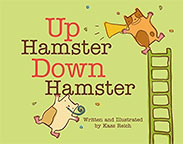 Up Hamster, Down Hamster
by Kass Reich
Ages Birth–3
The adorable hamsters are back to illustrate opposites in this delightful board book. The antics of the hamsters will keep young children giggling as they learn opposite pairs of words. (companion volume to Hamsters Holding Hands and This Little Hamster)
---

Ten Orange Pumpkins: A Counting Book
by Stephen Savage
Ages 3–5
Counting down from 10, the pumpkins disappear in Halloween fashion. Graveyards, ghosts, and witches make appearances in this rhyming read-aloud, perfect for capturing the attention of young children.
---

G Is for Googol: A Math Alphabet Book
by David M. Schwartz, Marissa Moss
Ages 9–12
This clever math alphabet books takes readers through 26+ important math ideas and concepts in an amusing and entertaining way. The informative and light-hearted text is perfectly paired with bright cartoon-like illustrations, bringing the mathematics alive. Students and teachers alike will enjoy exploring this rich book.
---

100 Animals on Parade!
by Masayuki Sebe
Ages 3–7
This interactive counting book also offers an introduction to animals and insects of all shapes and sizes. Parades of animals march across multi-page spreads, and every 10th animal is labeled in case young counters lose track. Seek-and-find prompts ("There's a rabbit there somewhere.") encourage active participation.
---
One Boy
by Laura Vaccaro Seeger
Ages 2–6
This clever peek-a-boo book counts from one to ten and also reveals words within words. Young children will enjoy discovering the hidden words—when the boy is alone, the word

one

is revealed within al

one

.
---

Is That Wise, Pig?
by Jan Thomas
Ages 3–8
Mouse is making soup and his friends Cow and Pig are eager to help. But Pig does not seem to understand how to choose ingredients. Mouse adds one onion, Cow offers two cabbages, and Pig suggests three umbrellas. As the ingredients increase in number, Mouse and Cow replay to each of their friend's suggestions with "Is that wise, Pig?" Eventually Pig gets the hang of soup making, though his odd suggestions come in handy with ten messy pigs show up to share the meal.
---
10 times 10
by Hervé Tullet
Ages 2–up
This clever counting book counts to ten in ten creative ways. A monster has multiple eyes, noses, and mouths that add up to ten. A fairy tail features two princes, three princesses, four witches, etc. Numbers from 16 to 20 and multiples of 100 are also illustrated in amusing ways.
---

Flight 1, 2, 3
by Maria van Lieshout
Ages 3–6
As a family moves through the airport, the numbers from one through ten guide the way through the check-in process and through security onto the airplane. The perfect book to pack into a carry-on bag this clever book provides counting practice while also providing a step-by-step guide for young fliers.
---

1 to 20, Animals Aplenty
by Katie Viggers
Ages 3–7
A menagerie of animals illustrates the numbers from one to twenty both numerically and as a quantity. The rhyming text adds to the fun of animals decked out in amusing apparel or using silly props — "3 llamas wearing pajamas" and "16 chickens reading Dickens". Specific breeds and types of animals are identified — among the "7 pigs wearing wigs" are a Tamworth with a pompadour and a Gloucester Old Spot sporting a green Mohawk.
---

ABCs from Space: A Discovered Alphabet
by Adam Voiland
Ages 4–8
Dramatic images of Earth taken from space present a found alphabet hidden in lakes, clouds, rivers, and other landscapes. Closing pages identify the images in the wordless book, and explain the false-color photography that highlights the letters.
---

Lyle Walks the Dogs
by Bernard Waber, Paulis Waber
Ages 4–8
In this charming counting book, Lyle the Crocodile goes into the dog walking business. Every day Lyle adds a new dog, with a distinct personality, to his client list. Daughter Paulis Waber makes her illustrating debut, and her cheerful drawings echo the humor of her father's art. Together, the text and illustrations convey the energy and enthusiasm of the dogs which must be controlled by Lyle's patience and good humor. Young readers will enjoy counting along to make sure that Lyle ends his journey with all the dogs he started with.
---

Alphabeasties:

And Other Amazing Types
by Sharon Werner and Sarah Forss
Ages 4–8
This amazing ABC book begins by introducing various typefaces and their different personalities. From the alligator made form As through the zebra composed of Zs, each page presents an innovative use of type, encouraging repeat visits.
---

Alphasaurs and Other Prehistoric Types
by Sharon Werner, Sarah Forss
Ages 6–12
The dinosaurs in this stylish book are constructed from the first letter in their names. Unusual species, like the utahraptor, are included along with the more familiar ones. Phonetic spellings, flaps, die-cuts, and alliterative trivia add to the appeal of this typographical introduction to dinosaurs.
---

Bugs by the Numbers
by Sharon Werner & Sarah Forss
Ages 6–12
The bugs in the book are created using only numbers. A mosquito silhouette is composed of 75s since a mosquito can detect human breath from 75 feet away, and a group of ladybugs are created from numbers that match the number of spots on their wings. This creative book also includes interesting facts about the featured bugs.
---

Baby Bear Sees Blue
by Ashley Wolff
Ages 2–6
It's Baby Bear's first spring, and everything is new to him. Each new object Mama Bear introduces him to brings a color with it: the yellow of the sun, the brown of a trout, the red of a strawberry, the blue of a jay. Beautiful watercolor-tinted linocuts accompany the simple text.
---
A Zeal of Zebras: An Alphabet of Collective Nouns
by Woop Studios
All Ages
This colorful book is both an introduction to animals and the alphabet for young children and a beautiful art book for older readers. As we move through the alphabet we meet groups like an embarrassment of pandas, a galaxy of starfish, a pandemonium of parrots, and a shiver of sharks. Created by the Harry Potter design franchise, the digitally created whimsical illustrations perfectly complement the clever wordplay.
---

C Is for City: An Alphabet Book
by Orli Zuravicky, Giuseppe Castellano
Ages 2–6
Mr. Doodle, a stick figure, and his dog Sketch share a noun for every letter of the alphabet. Each page is illustrated with other items beginning with the same letter, and the pages are connected with playful rhyming text. This lively board book encourages attention to detail while introducing the alphabet.