Lunch-Box Dream
by Tony Abbott
Ages 10–14
It's the summer of 1959 and Bobby is on a trip to visit Civil War battlefields with his mother, older brother, and recently widowed grandmother. Bobby is not comfortable around "chocolate colored" people or death, so the trip from Ohio to Florida is difficult for him. Interwoven with Bobby's narration is the story of a black family in Georgia, told from a variety of first-person viewpoints. This beautifully written books deals with the uncomfortable subjects of racial conflict, sibling rivalry, and marital discord.
---

There's Going to Be a Baby
by John Burningham, Helen Oxenbury
Ages 2–6
When his mother tells a young boy that there will be a new baby in the family, he is consumed with curiosity. As the seasons change and his mother expands, they wonder together what the baby will do in each new scenario. Excitement and a bit of anxiety are perfectly presented in this gentle exploration of a firstborn's feelings.
---

Wolfie the Bunny
by Ame Dyckman, Zachariah OHora
Ages 3–6
When the Bunny family finds a wolf cub in a basket on their doorstep they are delighted. Or at least Papa and Mama are; Dot is worried that the wolf will eat them all up. Wolfie loves carrots, and Dot is sent to the store with the new baby to buy some more. She keeps a close eye on Wolfie in case he shows signs of eating her, but instead a bear at the market decides Wolfie would make a delicious snack. Dot frightens the bear with her tough talk, and the two siblings walk happily home from the market hand-in-hand. Young children will love the endearing Wolfie in his bunny outfit while adults will appreciated the gentle mockery of the hipster Bunny parents.
---

The Boss Baby
by Marla Frazee
Ages 4–8
From the moment of his arrival (by taxi clad in a suit-and-tie onesie and carrying a briefcase) the Boss Baby takes command of his new family. Hilarious 1950s style illustrations present the increasingly exhausted parents as they strive to cater to the Boss Baby's demands. This clever and empathetic book will appeal to parents and older siblings dealing with an infant takeover of their own family.
---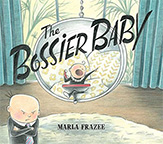 The Bossier Baby
by Marla Frazee
Ages 3–8
The Boss Baby is in for a shock when his new sister comes home from the hospital. Clad in a black onsie with chewable pearls and carrying an Etch-a-Sketch like a computer tablet, the Bossier Baby is even more demanding than her older brother, who has been demoted from Boss Baby to Staff.
---

Dog vs. Cat
by Chris Gall
Ages 3–6
Mr. Burton adopts a dog from the animal shelter on the same day that Mrs. Burton buys a cat. Forced to share a room, the two are determined to make the other leave home. The messy Dog drops food scraps while the neat Cat organizes a science lab. The Dog rubs balloons and sticks them to the Cat and the Cat pops them and scares the Dog. The trials of the mis-matched roommates will appeal to all siblings.
---

Emma Dilemma: Big Sister Poems
by Kristine O'Connell George, Nancy Carpenter
Ages 6–9
Jess, a 4th grader, is often frustrated by her pre-school aged sister Emma, who copies everything Jess does and embarrasses her in front of her friends. Jess has trouble accepting that she is always expected to be a good big sister, while Emma runs rampant over her life and privacy. Vivid and frank poems present the pains and joys of having a little sister.
---

Dory Fantasmagory
by Abby Hanlon
Ages 6–8
Dory (6) is the youngest in her family and she is often frustrated because her older brother and sister refuse to play with her. So Dory creates an imaginary monster friend named Mary who never tires of answering questions like, "What is the opposite of a sandwich?" Her siblings counter with the 507-year-old Mrs. Gobble Gracker who steals little girls. Luckily Dory has Mr, Nuggy, a gnomish fairy-godmother. This funny story presents an imaginative little girl who longs for the attention of her older siblings.
---

Sadie and Ratz
by Sonya Hartnett
Ages 5–8
Sadie and Ratz are Hannah's hands, and they are always after Baby Boy, the four-year old younger brother Hannah wishes were a dog. Dad says that Sadie and Ratz behave like wild beasts, especially when they try to rub Baby Boy's ears off. Then Baby Boy blames Sadie and Ratz for a string of accidents he caused himself, and given their bad reputation everyone believes him. This funny and perceptive book delves into the issue of sibling rivalry in an age appropriate fashion.
---
Mail Harry to the Moon!
by Robie H. Harris
Ages 3–8
The narrator is less than thrilled with his annoying, attention-hogging new baby brother and has numerous creative suggestions for solving the problem until he is convinced that his parents are ready to act on his moon idea. Fresh and funny look at a classic situation.
---

Alphonse, That Is Not OK to Do!
by Daisy Hirst
Ages 2–5
Natalie was an only monster until little Alphonse came along. That's mostly OK but sometimes having a little brother is challenging. Especially when he does things like eating her favorite book. Natalie lets her frustration out with a fearsome drawing with a tornado and a swarm of peas pursuing Alphonse. While bathing she hears sounds that make her fear her drawing has come to life, but it's only Alphonse, who has altered her drawing with humor.
---

Meaniehead
by Bruce Eric Kaplan
Ages 4–8
Henry and Eve are two siblings who fight about everything. Their constant battles erupt into war when Henry gets a jackhammer and Eve gets a bulldozer. The two begin to destroy everything in sight: their favorite toy store, the San Diego Zoo, the Grand Canyon, and eventually planet Earth. Eventually the joys of joint havoc brings the two siblings back to peaceful co-existence.
---

His Royal Highness, King Baby: A Terrible True Story
by Sally Lloyd-Jones, David Roberts
Ages 4–8
Once upon a time there was a contented family with parents, a gerbil, and a Princess. Then a new family member arrives — King Baby, who is noisy and smelly and who attracts all the attention that used to go to the Princess. Narrated by the displaced Princess, this funny take-off of a classic fairy tale includes a happy ending.

Ten Rules for Living with My Sister
by Ann M. Martin
Ages 9–12
Pearl (9) knows she doesn't measure up to her perfect older sister Lexie. Lexie has a boyfriend and Pearl has only Bitey the cat. Lexie is popular, but Pearl is not, because of the Three Bad Things that happened at school. Everything Pearl does seems to drive Lexie crazy, but their grandfather is taking over Pearl's room and the two sisters will have to share Lexie's room. So Pearl begins making a list of rules to help them survive. This humorous and poignant novel captures the affectionate bickering of sisters.
---

While You Were Napping
by Jenny Offill, Barry Blitt
Ages 4–8
A small boy's mother promises her son that he won't miss a thing while he is napping, but his older sister tells a different story. According to her, the Best Party Ever took place right outside his window while he was napping. Since none of the other neighborhood kids had to nap, they all came over along with the robots and the astronauts. This hilarious read aloud perfectly captures the taunting of older siblings and the gullibility of younger ones.
---

Lazy Little Loafers
by Susan Orlean, G. Brian Karas
Ages 5–8
In this witty new-baby book, our heroine trudges off to school with her enormous backpack to take tests while her little brother lounges around nearly naked in the park.
---

The Baby Swap
by Jan Ormerod, Andrew Joyner
Ages 3–6
Caroline Crocodile is not thrilled with her new baby brother. He drools, smells, and takes up far to much of Mama Crocodile's attention. While her mother is exchanging a hat at the hat shop, Caroline decides to make a swap of her own, and trades her brother for a series of other baby animals. But each new baby comes with new problems. The baby panda devours the cafe's bamboo furniture and the baby elephant breaks the town fountain. Eventually Caroline decides that her own baby brother is the best fit for her family. This engaging story handles the theme of sibling rivalry in a very funny way.
---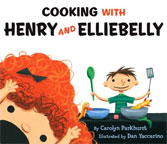 Cooking with Henry and Elliebelly
by Carolyn Parkhurst, Dan Yaccarino
Ages 2–6
Henry's pretend cooking show takes an unexpected turn when his stubborn little sister Eleanor, known as Elliebelly, insists they wear pirate hats and change the name of the show to "Pirate Cooking." The joys and irritations of being a sibling are beautifully portrayed in this exuberant celebration of creative play.
---

Jacob Have I Loved
by Katherine Paterson
Newbery Medal 1981


Ages 12–up
Growing up on Chesapeake Bay island in the early 1940s, Louise knows that she is hated, like Esau from the Bible, while her twin sister Caroline, like Jacob, is the one everyone loves. While the family pampers the beautiful and gifted Caroline, lonely and miserable Louise learns the way of the watermen from old Captain Wallace. Eventually Louise learns that she has her own strengths.
---

The Tapper Twins Go to War
by Geoff Rodkey
Ages 8–12
Claudia and Reese Tapper (12) are twins who can't agree on anything. When Reese loudly accuses Claudia of farting in the cafeteria in front of everyone, she is determined on revenge. Hiding a dead fish in his backpack is a dud since he doesn't even notice the smell, so Claudia takes the war where it will really count — to the online game Reese is devoted to. This hilarious book is told with the help of photos, text messages, screenshots, and interview transcripts.
---
Tony Baloney
by Pam Muñoz Ryan, Edwin Fotheringham
Ages 3–5
Tony is a macaroni penguin caught between his bossy Big Sister Baloney and his smaller twin Bothersome Babies Baloney. His big sister always makes him play the minor role of kitty in their games, and the baby twins often drive him crazy. And then Tony and his stuffed toy Dandelion sometimes act out and are sent to time-out until they apologize. Bold illustrations complement this slyly humorous take on sibling rivalry and the frustrations of being a boy surrounded by girls.
---

Dee Dee and Me
by Amy Schwartz
Ages 4–8
Hannah's big sister Dee Dee is bigger, taller, quicker, and bullies Hannah non-stop. One day Dee Dee decides she has had enough, and pretends to run away. While playing by herself, Hannah discovers that she enjoys being in charge of decisions. When Dee Dee asks her to play dress-up, Hannah sets some ground rules so that both sisters can have fun playing together.
---
Born Yesterday
by James Solheim, Simon James
Ages 3–8
This funny diary written from a newborn's point of view documents his attempts to understand and conquer the world around him. Our narrator quickly figures out who is the power in his household—his kindergarten-age sister, who is "some kind of monkey-bar superstar," and decides to grow up just like her. This amusing slant on sibling relationships will go a long way toward easing the inevitable jealousy of the older sibling.
---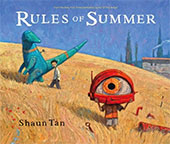 Rules of Summer
by Shaun Tan
Ages 5–up
In this sibling dynamic, it's the older brother who sets the rules and the younger brother who struggles to follow them, despite the fact that the rules are impossible to anticipate. Brilliantly colored pictures illustrate the dangers of not following the rules. An enormous red rabbit towers over the boys warned to "Never leave a red sock on the clothesline," and a scary group of raptors enforce "Never eat the last olive at a party." This creative book captures the frustration and joy of a sibling relationship.
---

Hello in There!: A Big Sister's Book of Waiting
by Jo Witek, Christine Roussey
Ages 2–4
The little girl narrating this book is thrilled about her new little sister or brother. But waiting is hard. As the girl wonders about the new baby and anticipates all the fun they will have together, readers can lift the increasingly larger flaps on Mom's growing belly, watching the development of the contented baby inside.