Mixed Me!
by Tate Digs, Shane W. Evans
Ages 4–8
Mike's parents tell him he is a blend of dark and light mixed together just right. His mother has curly red hair and his father has deep brown skin, and Mike is a combination of the two. He is loved, happy, and confident, but still has to answer a lot of questions about why he doesn't look just like one parent or the other.
---

The Lotterys Plus One
by Emma Donoghue, Caroline Hadilaksono
Ages 8–12
The Lotterys are four friends who have become co-parents, a gay couple and a lesbian couple. They re-named themselves after the winning lottery ticket that made their dream of having a family come true, and have seven home-schooled children of various ages, races, and talents. They live unconventionally and happily in their 32-room Toronto mansion until the estranged father of one of the parents arrives for an indefinite stay. The personality of the stubborn and conservative grandfather (quickly dubbed Grumps) is especially hard on Sumac (9), who has been assigned as his personal guide. This funny story of adjusting to new situations is a winner.
---

Ashes to Asheville
by Sarah Dooley
Ages 10–up
Felia (12) lives with her two mothers. When Mama Lacy becomes ill with cancer, they move from Asheville, North Carolina, to a small town in West Virginia to be closer to Mama Lacy's family. After Mama Lacy dies, Mama Lacy's mother sues for custody of her granddaughter and Mama Shannon isn't able to retain custody of Felia. Then Felia's 16-year-old sister Zany shows up late one night with the crazy plan of driving back to Asheville to scatter Mama Lacy's ashes on the lawn of the home they all lived in happily as a family. The road trip is full of disasters, but the two girls discover that the bonds that connect them as sisters cannot be severed by a court decision.
---

The Other F-Word
by Natasha Friend
Ages 12–up
Milo loves his two moms, but has always wondered about his sperm-donor father. When his doctor suggests asking his biological father to undergo testing to shed light on Milo's extreme allergies, Milo reaches out to Hollis, the daughter of another lesbian couple who used the same sperm donor. As they search for their biological father, Hollis and Milo locate three other donor half-siblings and the true meaning of the other F-word: Family.
---
My New Mom & Me
by Renata Galindo
Ages 3–7
This reassuring story of adoption is narrated by a small yellow puppy adopted by a large striped cat. The puppy is worried that they don't look alike, but the cat says she likes that they look different, and soon the puppy likes it too, and stops worrying about what everyone else might think. The puppy's new mother does all the things that other moms do, playing with, caring for, and even making her new child mad. The most important thing is that she always knows what to say when the puppy is sad as the two work together to learn how to be a family. The cross-species adoption illustration highlight the message that adopted families don't necessarily look alike, but are loving families just the same.
---

See No Color
by Shannon Gibney
Ages 12–up
Alex Kirtridge (16) is the transracial adopted daughter of white parents who have two biological children. Alex and her family try hard not to see the color difference, but Alex has never fit in with either the white or black kids at school. Baseball has always united the family; Alex is a talented player and her father is a coach. But she has no one to confide in about her secret feelings of isolation. Then she finds letters from her birth father and wonders if she dares try to contact him.
---

When Friendship Followed Me Home
by Paul Griffin
Ages 10–up
Ben Coffin (12) has never been good at making friends. A former foster child, he is happy with his elderly adoptive mother and former therapist, and thrilled to be living in Coney Island. Ben loves to read science fiction and gets to know Mrs. Lorentz, the local librarian. Outside the Coney Island Public Library Ben meets Flip, an abandoned dog who follows him home. Through Flip, Ben meets Haley, a fellow book-lover who wears strange combinations of bright colors. They begin writing a fantasy story together during Haley's chemotherapy treatments. When Ben's mother dies and Haley's treatment begins to fail, Ben finds it hard to stay optimistic.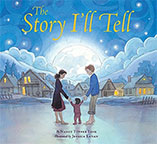 The Story I'll Tell
by Nancy Tupper Ling, Jessica Lanan
Ages 5–9
The mother in this engaging book imagines the ways she might explain how her adored adopted child joined their family. The child might have arrived from a far away land in a hot air balloon. Or delivered on horseback by a winged angel. The beautifully illustrated fantasies highlight the excitement of a family welcoming an adopted child.
---

A Family Is a Family Is a Family
by Sara O'Leary, Qin Leng
Ages 4–7
When the topic of what makes a family special comes up in her classroom, our narrator is nervous because her family is different. But as each child shares what makes his or her family special she realizes that difference is an essential quality of what makes a family special. Family types include joint-custody, blended, multiracial, adoptive, gay couples, foster children, grandparents instead of parents. This matter-of-fact celebration of the diversity of modern life is a reassuring reminder that every family is special.
---
Silence Is Goldfish
by Annabel Pitcher
Ages 12–up
Tess Turner (15) reads a blog post by her father about the baby he couldn't love her since she was the result of a sperm donation and not his biological daughter. Deciding she will no longer try to live up to her father's expectations, she stops speaking, which has unexpected results. Tess is bullied and loses her best friend, but feels that she has finally taken control of her own life and becomes more confident. She becomes obsessed with a substitute teacher she imagines might be her real father, befriends the teacher's handsome son, and has imaginary conversations with her goldfish-shaped flashlight. Her silence forces her to examine her family more closely, gaining new insights into the family dynamics.
---

Stella Brings the Family
by Miriam B. Schiffer, Holly Clifton-Brown
Ages 5–8
Stella's class is having a Mother's Day party, and Stella isn't sure what to do. She is the only one in her class without a mom, and Howie even has two! Stella has two fathers, but no one to invite to the Mother's Day party. Stella's classmates are concerned. Who packs her lunch? Who tucks her into bed at night? Who takes care of her when she is hurt? Stella begins listing all the family members who take care of her, and her friends suggest bringing them all to the party.
---

Home at Last
by Vera B. Williams
Ages 4–8
When Lester is adopted by Daddy Rich and Daddy Albert he loves living with them and their dog Wincka, but has trouble falling asleep at night. Keeping his suitcase packed with his best toys helps him feel safe, but he can't sleep alone in his room. Finally he confesses to his new parents that he fears that someone will come and take him away in the middle of the night. Luckily Wincka comes up with the perfect solution. This beautifully illustrated book, completed shortly before the author's death in 2015, captures the joys and challenges of building a new family.