Lunch-Box Dream
by Tony Abbott
Ages 10–14
It's the summer of 1959 and Bobby is on a trip to visit Civil War battlefields with his mother, older brother, and recently widowed grandmother. Bobby is not comfortable around "chocolate colored" people or death, so the trip from Ohio to Florida is difficult for him. Interwoven with Bobby's narration is the story of a black family in Georgia, told from a variety of first-person viewpoints. This beautifully written books deals with the uncomfortable subjects of racial conflict, sibling rivalry, and marital discord.
---

Roots and Blues: A Celebration
by Arnold Adoff, R. Gregory Christie
Ages 8–12
Poems, poetic prose, and vibrant paintings honor the legacy of blues music, from the slave ships, to plantation fields, to chain gang labor, to the energy of the juke joints. Words and illustrations work together to portray the pain and misery and memories and hope that was transformed by rhythm and harmony into the music called the blues.
---

Giants Beware!
by Jorge Aguirre, Rafael Rosado
Ages 7–up
Claudette dreams of becoming a giant slayer like her father before her. When she hears there is a giant on the loose, Claudette embarks on a secret quest to find and slay the giant before her parents realize she is gone. Accompanying Claudette are her brother Gaston (who longs to be a pastry chef) and her best friend Marie (who dreams of becoming a princess). Together the three find hidden depths in themselves and each other in this funny fairy tale graphic novel.
---

The Lost Island of Tamarind
by Nadia Aguiar
Ages 10–14
When a sudden storm hits the Nelson's research boat, the parents are swept overboard. Maya (13) sails the boat to Tamarind, the island setting for her father's fantastic tales. Stranded on the island, Maya, her brother Peter, and baby sister Penny, find themselves surrounded by pirates and involved in one exciting adventure after another in this high-energy fantasy.
---
Starring Jules (as Herself)
by Beth Ain
Ages 7–10
Jules (7) has big plans to accomplish before she turns eight, including finding a new best friend since she and Charlotte aren't getting along. Invited to audition for a mouthwash commercial, Jules prepares to give the perfect audition, but she hates the orange flavor. And Charlotte keeps interfering with Jules's plans to befriend the new girl from London. Jules's funny narration will keep young readers enthralled by this series opener.
---
Odetta: The Queen of Folk
by Stephen Alcorn
Ages 8–12
This accessible biography introduces young readers to the influential folk singer who began to sing in childhood and never stopped. Blessed with a magnificent voice, Odetta uses her talents to inspire others to support the civil rights movement. Lyrical text and rich paintings tell the story of the queen of folk music.
---

The Crossover
by Kwame Alexander
Newbery Medal 2015


Ages 9–12
Josh Bell (12) and his twin brother JB are talented basketball players. Josh is also talented with words, and narrates this story of family and brotherhood in rapping verse. Josh has to deal with his brother's attraction to a new girl at school and his father's failing health and must face the consequences of breaking the rules.
---
Out of Wonder: Poems Celebrating Poets
by Kwame Alexander, Chris Colderley, Marjory Wentworth, Ekua Holmes
Ages 8–12
Three poets and one artists collaborate to present poems honoring twenty different poets including Gwendolyn Brooks, E.E. Cummings, Emily Dickinson, Langston Hughes, Rumi, and Williams Carlos Williams.
---
How Lamar's Bad Prank Won a Bubba-Sized Trophy
by Crystal Allen
Ages 8–12
Lamar Washington (13) is a spectacular bowler, a sport he enjoyed with his mother before she died of cancer. But Lamar is helpless around girls. And Lamar's father doesn't admire bowling talent nearly as much as his older brother Xavier's basketball talent. Lamar is busy hustling bowling games to earn some money to attract a girl and buy a new bowling ball before his hero, bowling champ Bubba Sanders, comes to town. But when Xavier forgets to take his anger control medicine and beats up Lamar, he retaliates by pulling the fire alarm in the middle of Xavier's big game. The fast talking Lamar will have readers on his side from the first page.
---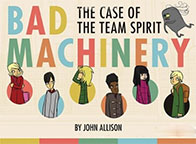 The Case of the Team Spirit
by John Allison
Ages 10–up
Griswalds Grammar School, a high school in a British working class community, has two competing teams of detectives: Shauna, Charlotte, and Mildred vs. Jack, Linton, and Sonny. Luckily there is enough investigating to go around as a Russian owner of a UK football (soccer) team tries to bully an elderly woman into selling her house. This graphic novel, first in the Bad Machinery series, is fast-paced and darkly funny.
---

Harry Miller's Run
by David Almond, Salvatore Rubbino
Ages 7–9
Liam wants to go out running with his friends, training for Junior Great North Run, but his mother asks him to help old Harry clean out his house instead. Harry tells Liam about the time he and two friends ran all the way from South Shields to Newcastle, a thirteen mile journey to the sea. Old photographs help Harry tell the tale of his run and the girl he loved. Young readers may need help with the working-class British dialect, but Harry's passion for life needs no translation.
---

My Name Is Mina
by David Almond
Ages 10–up
Mina, a home-schooled girl, loves the night when she feels totally free. One night she begins writing in a blank journal, and begins a journey of self discovery. Mina's imagination soars in the pages of her journal, and she gradually breaks free from her isolation to befriend a boy named Michael, the protagonist of Skellig, in this absorbing prequel.
---

Slog's Dad
by David Almond, Dave McKean
Ages 7–up
This eerie graphic novel, narrated by Slog's friend Davie, tells the story of a grieving boy who believes that his father has kept his promise to come back and visit him after his death. Slog is positive that the scruffy man outside the butcher's shop is his dad, but Davie isn't convinced. Hauntingly beautiful images accompany this vision of the hopeful fantasy world Slog lives in as he mourns the loss of his father.
---

Frostborn
by Lou Anders
Ages 8–12
Karn (12) is destined to take over the family farm in Norrøngard, but he is far more interested in imagining adventures while playing the board game Thrones and Bones. Thianna is half human and half frost giantess. She is too tall to blend in with humans but far too short to be taken seriously as a giant. The two become reluctant friends when fate sends them both fleeing into the frozen wilderness, Karn on the run from an evil undead lord and Thianna escaping her human mother's people who seek an ancient artifact. Cleverness is as valued as strength in this strong opener to the Thrones and Bones series.
---

The Steadfast Tin Soldier
by Hans Christian Anderson, JooHee Yoon
Ages 6–9
The steadfast tin soldier has only one leg and cannot stand as well as the other soldiers. He falls in love with a paper ballerina and incurs the wrath of a frightening jack-in-the-box troll. Falling from the window, the soldier is eventually swallowed by a fish. Mixed-media illustrations accompany this retelling of the tragic fairy tale.
---

My Diary from the Edge of the World
by Jodi Lynn Anderson
Ages 8–12
Gracie Lockwood (12) has lived in Camden, Maine, her whole life, right down the street from a T.J.Maxx that was just burned down by dragons. Sasquatches roam the forests near her house, and her grandmother keeps ghosts in her backyard. The most fearsome thing is the dark cloud that appears over a house where someone is soon to die. When the cloud appears over Gracie's house, her family is sure that it has come for her sick brother Sam, and the family flees in search of the Extraordinary World, a perhaps mythical place without supernatural beings.
---
The Dungeoneers
by John David Anderson
Ages 8–12
Colm Candorly lives with his parents and eight sisters, helping out the family by picking pockets. Colm's father insists that he confess to the magistrate, and Finn Argos whisks him away to Thwodin's Legions, where he is trained to use his talents as part of a guild of dungeoneers who take what they please and live as they like. Colm's new family includes hunters, druids, and warriors who work together to find treasure while hopefully surviving the quest.
---

Sidekicked
by John David Anderson
Ages 8–12
Andrew "The Sensationalist" Bean (13) is part of the H.E.R.O. program for aspiring sidekicks, but the superhero he is paired with has an alcohol problem and rarely shows up for Super duty. When the infamous Dealer returns from the dead and captures most of the superheroes, Andrew leaps to the rescue. Andrew's self-deprecating and sarcastic humor carries this action-fantasy.
---

Chains
by Laurie Halse Anderson
Ages 10–up
As the Revolutionary War begins, 13-year-old Isabel and her 5-year-old sister Ruth are about to be freed from slavery by the will of their Rhode Island mistress. However, the unscrupulous heir prevents the reading of the will and the girls are soon the property of an abusive Loyalist couple in New York. Isabel agrees to spy for the Patriots in exchange for passage back to Rhode Island for herself and her sister. This well researched exploration of the treatment of slaves is contained in a gripping story.
---

Forge
by Laurie Halse Anderson
Ages 10–up
This sequel to Chains is narrated by Curzon, the young slave Isabel freed from prison while escaping from New York City in 1777. After staying for a few months in New Jersey, Isabel runs away to find her sister, a quest Curzon feels is futile. Curzon joins the army, passing as a freed slave, and suffers through the harsh winter at Valley Forge. His fragile acceptance is threatened when his owner arrives. Readers will be anxious to read the final book in the trilogy to learn the fate of Curzon and Isabel.
---

Inspector Flytrap
by Tom Angleberger, Cece Bell
Ages 6–9
Inspector Flytrap, a Venus flytrap detective, is wheeled around on a skateboard by his assistant, Nina the Goat. In their first case, Inspector Flytrap heads to the Art Museum to figure out why there is a mysterious glob on a recently discovered flower painting by Leonardo da Vinci. Other cases include "The Big Deal Muster of the Stinky Cookies" and "The Big Deal Mystery of the Missing Rose." Quirky humor and a silly cast of characters add to the fun in this lavishly illustrated early chapter book.
---

Keeper
by Kathi Appelt, August Hall
Ages 8–12
Since her mother swam away and never returned seven years ago, 10-year-old Keeper, convinced that her mother is a mermaid, has lived on the Texas coast with her guardian Signe. Keeper has waited all summer for the blue moon, when Signe will make a special gumbo, but she accidentally spoils everything. So Keeper sets out in a small boat into the sea to find her mother and set everything right. Mermaid lore, local legends, Cajun superstitions, and natural history enliven this magical tale.
---
The True Blue Scouts of Sugar Man Swamp
by Kathi Appelt
Ages 8–12
The Sugar Man is a giant fur-covered creature who protects the Sugar Man Swamp. Usually asleep, the Sugar Man can be awakened in case of emergency by an offering of sugar cane. Bingo and J'Miah, two raccoon cubs, are the official True Blue Scouts, whose job is to wake the Sugar Man if needed. On the edge of the swamp lives Chap, a 12-year old boy who has just lost his beloved grandfather. Chap and his mother will lose their home to Sonny Boy Beaucoup, who wants to build an alligator wrestling theme park, unless they can bake enough sugar pies to earn the money to buy him off.
---

Crenshaw
by Katherine Applegate
Ages 10–14
Jackson (10), his parents, and his younger sister are about to be evicted again. Jackson's artistic parents don't seem capable of dealing with the crisis, responding to Jackson's inquiry about their plan with vague references to planting a money tree in the back yard. Then Crenshaw, a seven-foot talking cat reappears for the first time in three years. Jackson hasn't seen Crenshaw since three years ago, when his father was diagnosed with multiple sclerosis and the family was living in their van. Jackson was sure he had outgrown Crenshaw, and is both pleased and concerned that Crenshaw has returned to offer playful antics to amuse him as well as thought-provoking answers to his questions and worries.
---

The One and Only Ivan
by Katherine Applegate
Newbery Medal 2013


Ages 8–up
Ivan is a silverback gorilla who has been confined for 27 years at the Exit 8 Big Top Mall and Video Arcade along with an aging elephant named Stella and a stray dog named Bob. While the other animals perform, Ivan makes art and watches TV. When Ruby, a baby elephant, arrives, Stella dies of neglect, asking Ivan to promise to help Ruby escape.
---

Wishtree
by Katherine Applegate
Ages 8–12
Red is an enormous red oak tree near an elementary school. Once a year the schoolchildren and neighbors deposit wishes in Red's branches and hollows. Samar and her Muslim family move into the neighborhood and are not welcomed by everyone. A boy carves "Leave" into Red's trunk and Samar is bullied. Red's generous spirit and centuries of observations bring a unique perspective to the importance of kindness.
---

A Boy Called Bat
by Elana K. Arnold, Charles Santoso
Ages 6–10
Bixby Alexander Tam, known as Bat, is a third grader on the autism spectrum. One day his veterinarian mother brings home an infant skunk to foster for a month, and Bat is determined to prove that he is responsible enough to care for the kit. In fact, he hopes to convince his mother by the end of the month that the skunk he names Thor would make the perfect pet. This empathetic book presents Bat's inner thoughts and feelings as he struggles to make sense of the confusing world around him. (first in a planned series)
---

Far from Fair
by Elana K. Arnold
Ages 10–12
Odette Zyskowski (12) starts her list of "Things that Aren't Fair" with her parents' decision to take the family on the road in an ugly RV they call Coach. Odette's father quit his job and her parents sold the family home in California to move to the state of Washington to take care of her sick Grandmother Sissy. Squashed into the RV are Odette's new dog and her younger brother's ferret. And the four family members all have to share one cell phone. Odette is miserable and her list grows longer every day through the endless hours on the road. When they finally reach their destination, Grandmother Sissy's terminal illness seems even more unfair than the rest of the list.
---

The Question of Miracles
by Elana K. Arnold
Ages 9–12
Iris Abernathy has just moved to Corvallis, Oregon, with her family. Nothing seems right since her best friend Sarah died, and Iris hates the wet climate of Oregon. At school Iris meets fellow 6th grader Boris, a kind outsider who barely survived infancy. Boris's devout Catholic family considers his inexplicable recovery a miracle, and are attempting to get his survival certified as a genuine miracle by the Vatican. Iris is inspired to contact Sarah's ghost, who just may be living in the cabinet under the stairs in the old farmhouse that is Iris's new home. Sarah includes Boris in her efforts to contact Sarah, giving him the first real friend of his life. This evocative novel explores the long reaches of grief and the longing to know if a loved one is still out there somewhere.
---

Creep and Flutter: The Secret World of Insects and Spiders
by Jim Arnosky
Ages 6–10
Larger-than-life foldout spreads display insects like beetles, spiders, mayflies, dragonflies, butterflies, and moths. Vivid descriptions will inspire young readers to follow the author's advice to "be mindful of the small."
---

Shimmer & Splash: The Sparkling World of Sea Life
by Jim Arnosky
Ages 6–10
Striking fold-out spreads capture the diversity of life in the sea. Beautiful sea stars and coral reefs share space with eerie sharks and barracudas. Fascinating details about creatures like jellyfish will entrance young readers.
---

Trapped: How the World Rescued 33 Miners from 2,000 Feet Below the Chilean Desert
by Marc Aronson
Ages 8–12
In 2010, 33 miners were trapped in a Chilean copper mine 2000 feet below the surface for more than two months. This riveting book tells the story of those 69 days in 12 short chapters. Photos and diagrams illustrate both above- and below-ground scenes, showing the struggles of the trapped men to stay alive deep inside the mine as their rescuers work frantically from above. This well-researched and positive book highlights the amazing technology and the helping hands from around the world that transformed what could have been a horrendous tragedy into an amazing story of survival.
---
M Is for Mischief: An A to Z of Naughty Children
by Linda Ashman & Nancy Carpenter
Ages 6–10
Packed with assonance and alliteration, twenty-six naughty children romp through this book, illustrated by Carpenter's energetic digital collages.
---

Catch You Later, Traitor
by Avi
Ages 8–12
Pete Collison (12) is a regular kid in 1951 Brooklyn who loves Sam Spade detective books and radio crime dramas. Then the FBI shows up on their doorstep, accusing Pete's father of being a Communist spy. Pete stands up for his father, but his classmates turn against him, his own teacher helps spread the rumors, and his best friend's parents won't let her speak to Pete. So Pete decides to discover the truth about his father and find the informant who turned him in. Following the methods of his hero Sam Spade, Pete discovers facts about his relatives that could hurt his father's case. This accessible look at McCarthyism has powerful connections to contemporary questions of democracy and individual freedoms.
---

City of Orphans
by Avi, Greg Ruth
Ages 10–14
Maks Geless, a 13-year-old Danish immigrant, makes 8¢ a day selling newspapers on the street corners of 1893 Manhattan to help support his family. Things aren't easy for the Geless family: the shoe factory where Mr. Geless works is closing, Maks's sister Agnes has tuberculosis and his sister Emma, a maid at the Waldorf Hotel, is accused of stealing. But the Geless family finds room in their humble home for Willa, a homeless girl who saves Maks from a street gang. Maks and Willa join forces to clear Emma's name and rescue her from the Tombs, the city's infamous prison. The stark contrast between the struggles of the Geless family to survive and the easy splendor of the Waldorf make this historical fiction come alive.
---

Crispin: The Cross of Lead
by Avi
Newbery Medal 2003


Ages 10–14
Set in 14th century England, Crispin is a 13-year-old illiterate peasant who flees his village after being accused of a crime he did not commit on the day of his mother's death. He hopes that the words on his mother's lead cross will provide a clue to his unknown father. He falls in with Bear, a huge traveling juggler, and their relationship is the heart of the book.
---

The Most Important Thing: Stories about Sons, Fathers, and Grandfathers
by Avi
Ages 10–up
Relationships between fathers, sons, and grandfathers are the common theme between the seven stories in this book. One boy sees the ghost of his father, one goes camping with the erratic grandfather he has just met, one interviews a candidate for the job of stepfather. Some boys have fathers at home and some do not. Some have close relationships with their fathers and grandfathers, some would prefer never to see the men in their lives again. The overarching question is, "What is the most important thing a father can do for his son?"
---

The Seer of Shadows
by Avi
Ages 9–12
This scary ghost story, set in 19th century New York City, is narrated by 14-year-old Horace Carpentine, apprentice to a photographer intent on duping a wealthy client.
---

Sophia's War: A Tale of the Revolution
by Avi
Ages 8–12
Sophia Calderwood (12) lives in British-occupied New York City on the eve of the Revolutionary War. When her brother William, a Patriot soldier, goes missing at the Battle of Brooklyn, Sophia searches for him in the prisons where rebels are held. When she witnesses the execution of Nathan Hale three years later, she is horrified and resolves to do all she can to help the American cause. Recruited as a spy, she is sent undercover as a maid in General Clinton's household, the supreme commander of the British forces in America, eventually uncovering the truth about Benedict Arnold.
---

The Pied Piper of Hamelin
by Thomas Baas
Ages 6–9
Set in northern Germany near Christmas of 1283, the town is ready to celebrate when a horde of rats arrives. The mayor offers 1000 gold coins for ridding the town of rats, and a stranger with a small pipe charms them outside the town gates. The mayor refused to pay the reward, and the stranger pipes the children away as well. Vibrant illustrations accompany this retelling of the classic legend.
---

Chasing Vermeer
by Blue Balliett
Ages 9–12
Petra and Calder, two bright sixth-graders, join together to find a missing Vermeer painting. This mystery sends them on a quest full of patterns, puzzles, as they investigate the meaning of art. (1st in series)
---

The Wright 3
by Blue Balliett
Ages 9–12
Sixth-graders Petra and Calder are joined by Tommy in this architectural mystery as they try to prevent the destruction that threatens Frank Lloyd Wright's Robie House. (2nd in series)
---

The Calder Game
by Blue Balliett
Ages 9–12
Now in 7th grade, series heroes Petra, Tommy, and Calder participate in the Calder Game, trying to join five ideas or things that move in relationship to each other. This provocative mix of mystery, art concepts, and philosophy will appeal to motivated readers. (3rd in series)
---
Finding Serendipity
by Angelica Banks, Stevie Lewis
Ages 8–up
Tuesday McGillycuddy's mother writes popular children's books under the pen name Serendipity Smith. Tuesday is looking forward to the day her mother finishes her latest book so they can spend more time together. But then her mother mysteriously disappears, leaving behind only the words "The End" floating above her computer. Tuesday begins typing her own story, which magically transports her along with her dog Baxterr into a story tale world. With the help of her mother's character Vivienne, Tuesday sets off to find her mother.
---

Audrey (cow)
by Dan Bar-El
Ages 7–10
Audrey the cow is a dreamer and a poet living on Bittersweet Farm. Audrey refuses to accept that she is destined for the abattoir and then the meat section of the supermarket. After failing to starve herself, Audrey begins to practice fence jumping, determined to escape her fate. With the help of her barnyard friends, Audrey flees to the forest, pursued by a reporter and a wild-life enforcement officer. Written in the form of transcripts of interviews from the animals and human characters, this light-hearted tale takes a philosophical stance against the meat industry.
---

Triangle
by Mac Barnett, Jon Klassen
Ages 6–9
Triangle decides to play a sneaky trick on his friend Square, frightening him by pretending to be a snake. Square chases Triangle back home and blocks his triangular door, leaving Triangle in the dark and frightening him in return. This funny book is the first in a trilogy featuring geometric shapes.
---

The Mostly True Story of Jack
by Kelly Barnhill
Ages 9–12
Jack's parents are too caught up in the emotions of their divorce to pay attention to their son, so Jack is sent to spend the summer with his eccentric aunt and uncle in Hazelwood, Ohio. Used to feeling invisible and playing with imaginary friends, Jack is amazed to suddenly be the center of attention. He makes some real friends, is beaten up by the town bully, and fears the town's richest man wants to see him dead. On top of all that, his aunt and uncle's house seems to be possessed. This suspenseful mystery explores themes of the struggle between good and evil, and the power of love and sacrifice.
---
The Witch's Boy
by Kelly Barnhill
Ages 9–up
When Ned and his identical twin brother Tam fall off their raft into the river, Tam drowns. The villagers are convinced that the wrong boy died, and the stuttering Ned becomes ostracized by the rest of the village. On the other side of the enchanted forest, Áine lives with her widowed father, the Bandit King. Áine is haunted by her mother's last words, "The wrong boy will save your life and you will save his." The Bandit King comes to the village to steal the magic that Ned's mother, the village Sister Witch, guards, and Áine and Ned realize it is up to them to stop the war that threatens to erupt between their two kingdoms.
---

The Worst Class Trip Ever
by Dave Barry
Ages 8–12
Wyatt Palmer and his best friend Matt Diaz are off to Washington, D.C. with the rest of the 8th grade civics students from Culver Middle School in Miami. On the plane, Wyatt and Matt spot some suspicious passengers who have aerial photos of the White House and a backpack they are strangely protective of. Matt scoops up an electronic device that falls from the bag, and gets into trouble with both their teacher and the FSA. For the remainder of the trip the two boy, with the help of some of their classmates, track the bad guys, determined to save the president who just may be in danger. This suspenseful and hilarious book is a winner.
---
The Amazing Age of John Roy Lynch
by Chris Barton, Don Tate
Ages 7–10
John Roy Lynch spent his childhood as a slave in Mississippi. After emancipation, Lynch took odd jobs to pay for his education and became a Justice of the Peace and then one of the first African-American Congressmen. This engaging biography portrays the difficulties of the Reconstruction Era while celebrating a talented man determined to succeed.
---

The Nutcracker Comes to America: How Three Ballet-loving Brothers Created a Holiday Tradition
by Chris Barton, Cathy Gendron
Ages 7–11
The Nutcracker ballet was well-known in Russia since its composition in the 19th century, but it wasn't known in America until William, Harold, and Lew Christensen, three brothers from a small town in Utah, discovered ballet. They danced on vaudeville and in New York City, where Russian immigrants shared the story of The Nutcracker. On Christmas Eve 1944 the three brothers staged a full-length version of the ballet at the War Memorial Opera House in San Francisco, starting a holiday tradition that continues around the country today.
---
Enigma
by Graeme Base
Ages 5–10
Bertie Badger arrives at his grandfather's house expecting a magic show, but the magic props have all disappeared. Readers are encouraged to crack codes and find hidden pictures to solve the mystery, told in rhyming quatrains. A set of bonus challenges will keep kids, and their relatives, glued to the pages for weeks.
---

Heck: Where the Bad Kids Go
by Dale E. Basye, Bob Dob
Ages 9–12
Milton, an innocent 11-year-old bookworm, and his 13-year-old rebellious sister Margo, meet their end in a ludicrous accident at the mall. Unfortunately Margo has been shoplifting and hid her loot in Milton's backpack, so they are both sent to Heck, purgatory for children. Clever allusions (Heck's ruler is Bea Elsa Bubb) make this funny book sparkle.
---

The Peculiar
by Stefan Bachmann
Ages 8–12
Bartholomew Kettle and his sister Hettie are changelings—"Peculiars"—, and neither humans nor the faery folk want anything to do with them. Bartholomew and Hettie try hard not to be noticed, until the day Bartholomew sees a friend abducted by magic in broad daylight. Arthur Jelliby, a young man who also keeps a low profile, joins with Bartholomew to save England from a terrible secret. Part steampunk adventure story, part murder mystery, and part fantasy, this unforgettable book was written by Bachmann as a teenager.
---

The Whatnot
by Stefan Bachmann
Ages 8–12
Bartholomew, a half-fairy changeling, and Pikey Thomas, a street child with a magical eye, search for Bartholomew's kidnapped sister Hettie through the streets of steampunk Victorian London. This surreal and sometimes violent adventure is best appreciated if read after The Peculiar.
---
The Girl Who Drank the Moon
by Kelly Barnhill
Newbery Medal 2017


Ages 10–up
Xan is a kind witch who lives in the woods with Glerk, a swamp monster, and Fyrian, a tiny dragon. Every year the fearful people of Protectorate leave the youngest baby in the woods on the Day of Sacrifice, hoping to appease the witch they believe is vengeful. Xan has no idea why the babies are left in the woods, but carefully feeds them starlight and delivers them to grateful adoptive parents in the Outside Cities. One year Xan accidentally feeds the baby moonlight instead of starlight, filling her with glowing magic. She falls in love with the baby, naming her Luna for the crescent moon birthmark on her forehead, and raises her as her own daughter with the help of Glerk and Fyrian. When Luna is 13 her magic has grown strong, and she is ready to fight the true evil that threatens Protectorate.
---

Dazzle Ships: World War I and the Art of Confusion
by Chris Barton, Victo Ngai
Ages 7–11
During World War I, British Lieutenant-commander Norman Wilkinson came up with the idea of painting ships with bold colors and crazy patterns in the hope of confusing the enemy about the ship's speed and direction. By the end of the war, more than four thousand British and American ships were painted in dazzling designs to protect them from German torpedo attacks.
---

Come Fall
by A.C.E. Bauer
Ages 9–12
This mix of reality and magic expands on a plot line from A Midsummer Night's Dream: a foundling who disrupts the harmony of fairyland. Salman, a perpetual foster-child new to school, Lu-Ellen, the buddy assigned to help Salman adjust to 7th grade, and Blos, a socially-challenged boy who befriends them both, are just beginning to bond when Salman becomes the target of the school bully. Then Lu-Ellen's pregnant mother develops complications and the three begin to wonder why bad luck seems to follow them around. Through no fault of their own, the three have become pawns in a power struggle between Oberon and Titania, King and Queen of Faery, when they have more than enough problems in their own reality. This magically realistic story celebrates the power of friendship while portraying the dark hazards of middle school.
---
A Psalm for Lost Girls
by Katie Bayerl
Ages 12–up
Many residents of New Avon, Massachusetts, believe that Tess da Costa can channel God's divine will. When Tess dies suddenly from an untreated heart defect, her mother starts a petition to the Pope to declare Tess a saint. Tess's sister Callie (16) is against the petition; she wants everyone to see Tess as a real person, not a creation of their own desires. Then Ana Langone, a local girl who has been missing for six months, is found alive at one of Tess's shrines, intensifying the sainthood movement. Working with Tess's secret boyfriend, Callie sets out to prove that Ana's return was not a miracle, and that her sister was a real girl, not a saint.
---
Circus Mirandus
by Cassie Beasley
Ages 9–12
Fifth grader Micah Tuttle has been living with his Grandpa Ephraim since his parents died when he was very young. Micah loves listening to his Grandpa's stories about the magical Circus Mirandus and the fascinating performers like the Lightbender, an illusionist. When Grandpa Ephraim falls gravely ill, Micah's strict Aunt Gertrudis comes to live with them, and limits Micah's time with his grandfather. Grandpa Ephraim tells Micah that the Circus Mirandus is real, and that the Lightbender owes him a miracle. Micah and his friend Jenny set out to find the Lightbender, hoping for a miracle to save Grandpa Ephraim's life.
---

Tumble & Blue
by Cassie Beasley
Ages 8–12
When the red moon rises over the Okefenokee swamp, the legendary golden alligator Munch is said to grant good luck to anyone brave enough to face him. In 1817 two from the Montgomery family arrive at the same time causing a disaster: half of their descendants will have wonderful fates (like a powerful connection to animals) and half will have terrible fates (like early deaths). Blue Montgomery draws an unlucky fate: no matter what he will always lose. Tumble Wilson (11) has just moved to Murky Branch. Determined to be a hero, she decides to make it her quest to alter Blue's fate.
---

Sleuth on Skates
by Clémentine Beauvais, Sarah Horne
Ages 7–11
Sesame Seade (11) roller skates around Cambridge University, searching for a mystery to solve. When Jenna Jenkins, a Cambridge student, ballerina, and aspiring journalist, goes missing, Sesame is delighted that her opportunity has finally arrived. With the help of her friends Gemma and Toby, Sesame skates off to solve the mystery. This hilarious novel is the first in a series.
---

Raucous Royals:

Test your Royal Wits: Crack Codes, Solve Mysteries, and Deduce Which Royal Rumors are True
by Carlyn Beccia
Ages 9–12
This fascinating mix of costumed caricatures, interactive text, and quizzes encourages the reader to participate in history rather than just read about it. The combination picture book/graphic novel is sure to appeal to middle grade kids.
---
El Deafo
by Cece Bell
Ages 8–12
Cece lost her hearing at a young age, and received a Phonic Ear, a very large and very awkward hearing aid. The Phonic Aid allows Cece to hear, sometimes things she shouldn't, but also isolates her from her classmates who find the Phonic Ear very strange. Cece longs to fit in and find a true friends, eventually creating a superhero alter ego — El Deafo, Listener for All. This graphic novel autobiography is both poignant and funny.
---

Alicia Alonso: Prima Ballerina
by Carmen T. Bernier-Grand, Raul Colon
Ages 10–up
This biography in free verse tells the story of Alicia Alonso, the famous Cuban ballerina. From her childhood, to her climb to achieve the rank of prima ballerina, and her fight to keep dancing when she begins to lose her sight, Alicia's grace and strength are celebrated. The physical trials of ballet dancing, and Alicia's complex relationship with the Cuban government give this biography depth.
---

The Thing About Jellyfish
by Ali Benjamin
Ages 8–12
Suzy and Franny were best friends for years, until Franny began to drift away from Suzy and her obsession with scientific facts in middle school. When Franny drowns, Suzy is unable to accept her death. Suzy stops speaking to anyone, throwing herself instead into scientific research. Since Franny was a strong swimmer, Suzy begins looking for a reason for her death, finally settling on a sting from a deadly Irukandji jellyfish. This sensitive exploration of the grieving process is both age authentic and poignant.
---

The Amaranth Enchantment
by Julie Berry
Ages 10–14
Lucinda is a 15-year-old orphan who lives a life of miserable servitude in her evil aunt's jewelry store until the day she finds an unusual gemstone belonging to Beryl, who just might be a witch. The stone is stolen and sold to a prince and Lucinda sets out to get it back. A clever twist on the Cinderella story, this funny and suspenseful fantasy is also a fast-paced adventure.
---

What Floats in a Moat?
by Lynne Berry, Matthew Cordell
Ages 5–9
Archie the Goat has several barrels of buttermilk to deliver to the Queen. His friend Skinny the Hen suggests the obvious solution of using the drawbridge to cross the moat the the castle, but Archie is determined to use science to figure out what will float across the moat. Through trial and error (while drinking buttermilk) the two replicate Archimedes's discoveries about the displacement of water. This enjoyable read-aloud will be relished by all young lovers of the excitement of discovery.
---

Book Scavenger
by Jennifer Chambliss Bertman
Ages 9–14
Emily Crane (12) has lived all over the country. Her parents blog is called 50 Homes in 50 States. When the family moves to San Francisco, Emily is thrilled since that's the home of Garrison Griswold, creator of the online game Book Scavenger where books hidden all over the country are located by solving clues within puzzles. But Griswold was recently attacked by thieves and is now in a coma, leaving the game in limbo. Emily and her new friend James discover an odd book that just may contain the only copy of Griswold's new game.
---

Beatrice Spells Some Lulus and Learns to Write a Letter
by Cari Best, Giselle Potter
Ages 5–8
Beatrice wants to write the kind of letters that are mailed to someone special, but she only knows how to make individual letters like ABCTERIE. Then Nanny Hannah teaches her how to string the letters together to make words, gives her a dictionary, and teaks her to play Scrabble. Inspired by her Nanny's enthusiasm, Beatrice overcomes her classmates' aversion to learning to spell by bringing her pet T-A-R-A-N-T-U-L-A to show-and-tell.
---

Funny Girl: Funniest. Stories. Ever.
edited by Betsy Bird
Ages 8–12
Twenty-five female authors contribute to this very funny collection of stories, comics, poems, and magazine-style quizzes. Contributers include Cece Bell, Sophie Blackall, Libba Bray, Shannon Hale, Lisa Graff, and Raina Telgemeier.
---

The Penderwicks on Gardam Street
by Jeanne Birdsall
Ages 8–12
The four appealing soccer-playing Penderwick sisters (Rosalind, 12; Sky, 11; Jane, 10; Batty, 4) hatch the Save Daddy plan and orchestrate a series of disastrous dates to convince him that widowed life is far preferable to remarriage. This cozy book is the sequel to The Penderwicks.
---
The Penderwicks at Point Mouette
by Jeanne Birdsall
Ages 8–12
In this third Penderwick adventure, the three youngest sisters head off to Maine with Aunt Claire and friend Jeffrey while their father is honeymooning in England and oldest sister Rosalind is visiting a friend in New Jersey. This leaves Skye as OAP (oldest available Penderwick), in charge of Batty and Jane, a frightening notion for everyone, but especially for Skye herself. This humorous and nostalgic summer adventure follows The Penderwicks and The Penderwicks on Gardam Street.
---

Whitefoot: A Story from the Center of the World
by Wendell Berry, Davis Te Selle
Ages 8–12
The tiny mouse, Whitefoot, is comfortable in her nest in the woods, which she knows is the center of the world. When a flood carries her far from home, she must use all her skills to survive. David Te Selle's beautifully detailed realistic drawings highlight Whitefoot's exploration of a whole new world.
---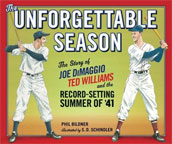 The Unforgettable Season: Joe DiMaggio, Ted Williams and the Record-Setting Summer of 1941
by Phil Bildner, S.D. Schindler
Ages 6–9
In 1941, neither Joe DiMaggio of the New York Yankees nor Ted Williams of the Boston Red Sox were big stars. This book is the story of the season that changed all that, telling of DiMaggio's 56-game hitting streak and Williams's season batting average of .406, amazing records that still stand today. Bright illustrations featuring period details capture the energy and excitement of this amazing baseball season.
---

The Penderwicks in Spring
by Jeanne Birdsall
Ages 8–12
The Penderwick family is changing: baby sister Lydia has arrived, Rosalind is in college, and Skye and Jane are in high school. Fifth grader Batty is delighted when the dull music teacher is replaced by the enticing Mrs. Frunfeld, who admires Batty's singing voice. To earn money for lessons, Batty takes a job walking neighborhood dogs while mourning the recent death of the family dog. An overheard comment causes Batty to believe she was responsible for her mother's death when she was just a baby. It takes the efforts of all her family and neighbors to figure out why Batty is so sad and clear up the misunderstanding. This fourth in the series celebrates the warmth and compassion of the blended Penderwick family.
---

Doll Bones
by Holly Black, Eliza Wheeler
Ages 10–14
Zach, Poppy, and Alice have been friends forever, playing imaginative games of pirates, thieves, mermaids, and warriors. Ruling over every game of make-believe is the Great Queen, a bone-china doll who attacks all who displease her. But now that Zach is 12 his father insists that he give up playing games and takes all his action figures to the dump. Alice and Poppy convince him to take part in one last game, a bus trip to bury the Great Queen doll, which Poppy insists is made from the bones of a murdered girl. Creepy things begin to happen during their trip, cause the three to wonder if Poppy's fantasy is reality, that the doll is really in the clutches of the ghost of a murdered girl.
---

The Iron Trial
by Holly Black & Cassandra Clare
Ages 8–12
Callum Hunt (12) has been raised to distrust magic. His mother was killed by mages, and his father warns him that Magesterium, the training school for young mages, is a death trap. Callum tries to fail the required entrance exam — the Iron Trial — but is selected to apprentice under Master Rufus along with fellow students Aaron and Tamara. As he begins the first of five years of schooling, Callum realizes how little he knows of his own family and heritage. Set in a magical version of present day America, this thrilling coming-of-age fantasy is the first in a planned series.
---
Jinx
by Sage Blackwood
Ages 8–12
Jinx lives in the Urwald, a sentient forest where humans don't dare stray off the paths. Trolls, werewolves, and dangerous witches and wizards live deep in the forest. Jinx's cruel stepfather abandons him in the forest, and the boy is taken in by a Wizard named Simon, who uses him as a servant and eventually teaches him a bit of magic. Years later, when he is 12, Jinx sets off with two friends to find the wizard named Bonemaster, hoping they can master enough magic to keep themselves safe. This adventure is full of funny dialog and eccentric characters.
---

People
by Blexbolex
All Ages
People of all ages and from all walks of life are linked together in this creative book. A homeless person sleeping in a box is juxtaposed with a camper, a contortionist with a plumber striving to complete a job. Stunning 1960s style silk screen illustrations contrast different people in intriguing ways.
---
A Gathering of Days:

A New England Girl's Journal, 1830-32
by Joan W. Blos
Newbery Medal 1980


Ages 9–12
This novel is written in the form of a diary kept for a year by Catherine Cabot Hill, a 13-year-old girl in New Hampshire. Catherine's mother has died, and she must keep house for her father and younger sister. During the year, Catherine undergoes school discipline, encounters runaway slaves, loses a friend, and faces new relationships when her father remarries a woman with children of her own.
---

Pathfinders: The Journeys of 16 Extraordinary Black Souls
by Tonya Bolden
Ages 10–14
The 16 short biographical stories are presented in chronological order, beginning with Venture Smith, the son of a West Aftican prince who was sold into slavery, freed himself and his family, and fought in the Revolutionary War. Other little known American men and women of African descent include soprano Sissieretta Jones, banker Maggie Lena Walker, WWI fighter pilot Eugene Bullard, and mathematician and NASA researcher Kathering Coleman Goble Johnson.
---

The Steel Pan Man of Harlem
by Colin Bootman
Ages 5–9
In this retelling of the Pied Piper of Hamelin folk tale, a steel pan playing man appears and offers to rid Harlem of a plague of rats. Set during the Harlem Renaissance and featuring a mysterious magician from the Caribbean, this spell-binding tale is illustrated with beautifully detailed oil paintings.
---
Small Persons With Wings
by Ellen Booraem
Ages 10–up
When Mellie was five, she told her Kindergarten class about the fairy living in her bedroom. Her classmates teased her unmercifully, and the Parvi Pennati (a Small Person with Wings who hates to be called a fairy) moved out. Now 13, Mellie and her family move into an inn inherited from her grandfather. Before long Mellie finds that she has not left her problems behind. The inn is infested with Parvi, and Mellie learns that her family must honor a thousand-year old agreement to provide a home for the Parvi. Themes of bullying and alcoholism are explored in this clever and humorous fairy story.
---

Survivors Club: The True Story of a Very Young Prisoner of Auschwitz
by Michael Bornstein, Debbie Bornstein Holinstat
Ages 10–14
In 1945, when he was four, Michael Bornstein was filmed by Soviet soldiers as he was carried out of Auschwitz by his grandmother. When he discovered that the image was being used as Holocaust-denying propaganda, he decided to share his memories. Assisted by his daughter Debbie, he learned that of the 3,400 Jews living in Zarki, Poland before the Holocaust, fewer than 30 survived. This moving memoir gives a very human face to the horrors of the Holocaust.
---

Big & Little Questions
by Julie Bowe
Ages 10–14
After her parents tell her they are divorcing, Wren Jo Byrd (9) is sent to spend the summer with her grandparents. When she returns for the start of the next school year, she is worried that everyone will find out. She doesn't tell anyone the truth, not even her best friend Amber or her new teacher. Marianna, the new girl in town, wants Amber for her best friend, and Wren is compromised by the secret she is hiding. Then Wren learns that Marianna had to ask the same questions that Wren is worrying about now.
---

Step Right Up: How Doc and Jim Key Taught the World about Kindness
by Donna Janell Bowman, Daniel Minter
Ages 7–12
William "Doc" Key had a connection to animals since he was a child. While growing up as a slave in Tennesee, Doc was sent to plantations around to state to care for sick animals. When Doc was freed after the Civil War, he dreamed of breeding a winning race horse, but his colt was born weak. Instead of euthanzing the colt, Doc nursed the sickly colt back to health and named him Jim. Doc taught Jim to recognize letters and to count. The two traveled around the country, telling the story of how kindness saved Jim and brought them both happiness.
---

Chitty Chitty Bang Bang Flies Again
by Frank Cottrell Boyce, Joe Berger
Ages 9–12
When the Tooting family finds an old engine and installs it in their camper van, the adventure begins. Once part of the amazing Chitty Chitty Bang Bang, the engine wants to rebuild its original bodywork and takes the Tootings around the world searching for parts. Unfortunately, a sinister villain is on their trail, determined to possess the incredible car himself. This authorized sequel to Sir Ian Fleming's original Chitty Chitty Bang Bang: The Magical Car, is the first in a planned trilogy.
---

Cosmic
by Frank Cottrell Boyce
Ages 8–12
Over the summer 12-year-old Liam grows 7 inches and develops facial hair. It's frustrating being a kid and looking like an adult, though sometimes fun, like when his new principal mistakes him for a teacher on the first day of school. Then Liam passes himself off as his own father and wins a trip to a new theme park in China that includes new ride: The Rocket. The Rocket turns out to be just that and Liam finds himself the adult chaperone on a trip to outer space. Who knew all those hours honing his spaceship piloting skills while playing World of Warcraft would come in handy after all?
---

The Unforgotten Coat
by Frank Cottrell Boyce
Ages 8–12
When Chingis and Nergui, two Mongolian boys wearing fur coats, appear in Julie's Year Six class in England, no one knows what to make of them. The teacher asks Nergui to remove the hat pulled low over his eyes but he refuses, and Chingis explains that "When you need your eagle to be calm you cover its eyes with a hood." He then selects Julie to be their "Good Guide" and she accepts the task of helping the boys learn slang and the rules of football. This moving story of illegal immigration is told with humor.
---

The Terrible Thing that Happened to Barnaby Brocket
by John Boyne, Oliver Jeffers
Ages 8–12
Barnaby Brocket is a perfectly normal boy in a perfectly normal family in New South Wales, Australia, except for one thing — Barnaby is not restrained by gravity. His parents try confining him inside the house and weighting him down, but when he is eight his mother lets him float away. In his journey around the world Barnaby meets people of all ages who have accepted their own uniqueness and found happiness.
---

The Dreadful Tale of Prosper Redding
by Alexandra Bracken
Ages 8–12
Prosperity "Prosper" Redding and his twin sister Prue are approaching their thirteenth birthday. While their parents are away, their grandmother holds a family meeting, and they learn their many great-grandfather made a contract with a demon named Alastor who has reawakened after many many years determined to get revenge. Prosper is unwittingly host to the demon, and has only days to break the curse and banish Alastor back to the demon realm. His uncle Barnabas and cousin Nell, a witch-in-training, are his only hope of defeating the demon.
---

Young Samurai: The Way of the Warrior
by Chris Bradford
Ages 10–up
A British merchant ship is attacked by Japanese ninja pirates who murder the entire crew, including Jack Fletcher's father. Young Jack is rescued by a powerful Samurai who adopts him and trains him to join the warrior class. Since he is a foreigner, Jack is treated as an outcast at Samurai school and must use all his wit and skill to survive and succeed. First in a projected trilogy, this fast-paced adventure set in medieval Japan is full of spellbinding bits of history, culture, and martial arts.
---

The Last Kids on Earth
by Max Brallier, Doug Holgate
Ages 8–12
When the apocalypse hit, Jack Sullivan (13) moved into his tree house to escape the hordes of Zombies, Winged Wretches, Vine Thingies, and especially the intelligent monster known as Blarg. Armed with his catapult and supplied with Oreos and Mountain Dew from abandoned stores, Jack plays video games and builds a moat. Determined to slay the monster Blarg, Jack gathers a support team consisting of his best friend Quint, reformed middle school bully Dirk, the girl he adores, and his loyal pet monster Rover. Narrated with both text and black & white illustrations, this funny graphic novel is the first in a series.
---
The Lost Track of Time
by Paige Britt, Lee White
Ages 8–12
Penelope wants to become a writer, but she doesn't have time to be creative, even during the summer since her mother has scheduled every minute of every day. Then she discovers that an entire day has accidentally been left unscheduled. She falls into the hole in her schedule into the Realm of Possibility where she searches for the Great Moodler, who may be able to solve her problem. Along the way she battles an army of Clockworkers and takes a daring Flight of Fancy. This whimsical fantasy celebrates the power of the imagination, creative problem-solving, and the importance of making time for your dreams and your friends.
---

The Wonder Garden
by Jenny Broom
Ages 7–10
Five habitats, each filled with incredible creatures and scenery, are explored in this beautiful book: the Chihuahuan Desert, Amazon Rainforest, Black Forest, Himalayan Mountains, and the Great Barrier Reef. Detailed engravings of 80 mammals, birds, reptiles, and insects are accompanied with facts about the creatures and descriptions of their habitats.
---
The War that Saved My Life
by Kimberly Brubaker Bradley
Ages 9–12
Ada (9) lives with her younger brother Jamie and her mother in WWII London. Because Ada was born with a clubfoot, her mother is ashamed of her and never lets her leave the apartment, abusing her both physically and emotionally. When the Germans begin bombing London and children are evacuated to the country, Ada sneaks onto the train with Jamie. None of the villagers are willing to take the neglected siblings, so they are sent home with Susan Smith, a reclusive woman with no experience with children. Miss Smith provides the children with food, new clothing, and the security they have never know. She also has a pony, which Ada is determined to learn to ride and earn the freedom to roam the countryside at will.
---

3 Willows: The Sisterhood Grows
by Ann Brashares
Ages 12–up
Ama, Polly, and Jo live in the same town as the famed Sisterhood of the Traveling Pants. They decide to share a scarf, but worry that their rituals are lame in comparison. This start of a new series follows the three girls in the summer before they begin high school as each faces unexpected challenges.
---

Masterpiece
by Elise Broach, Kelly Murphy
Ages 8–12
Two very different families share a Manhattan apartment. Marvin the beetle follows his family's rules about staying hidden from the humans, though he worries that the human family does not appreciate their 11-year-old son James. Tempted by the pen and ink set James receives for his birthday, Martin draws an intricate picture for James and then reveals himself as the artist. Before James can hide the drawing, his parents have discovered it and proclaim him a talented artist. Soon a museum curator is asking James to forge a Dürer miniature to catch a thief. The fast moving story and wonderfully detailed drawings will captivate young readers.
---

Missing on Superstition Mountain
by Elise Broach, Antonio Javier Caparo
Ages 8–12
Simon, Henry, and Jack Barker have just moved from Illinois to Arizona, and their parents have warned them that Superstition Mountain is totally off limits. But when their cat goes missing, the three brothers chase after her and discover three human skulls. Joining up with their neighbor Delilah, the children research local history and folklore, preparing for a secret return to Superstition Mountain to solve the mystery of the skulls. This exciting novel is the first in a new series.
---
Treasure on Superstition Mountain
by Elise Broach, Antonio Javier Caparo
Ages 9–12
Two weeks after their last adventure on Superstition Mountain, Henry, Simon, Jack, Delilah, and Josie the cat, continue their quest to find the hidden gold mine and discover who is trying to stop them. A sinister librarian, anonymous warnings, threatening rattlesnakes, and a terrifying rock slide make this sequel as exciting as the first book in the series: Missing on Superstition Mountain.
---

The Wolf Keepers
by Elise Broach, Alice Ratterree
Ages 9–14
Lizzie (12) lives in a California wildlife park with her father, the head zookeeper. Lizzie enjoys the time she gets to spend with the animals, but her unique living situation prevents her from making close friends. Then she meets Tyler, a runaway from a foster home who has been hiding out at the zoo. Tyler tells Lizzie what happens at night, including a strange visitor to the new Wolf Woods exhibit he suspects is making the animals sick. The two try to determine the cause of the wolves' illness, and then head out to find John Muir's lost cabin in Yosemite.
---

Love, Santa
by Martha Brockenbrough, Lee White
Ages 9–12
This series of letters begins with five-year-old Lucy's first letter to Santa. In return, she receives friendly reply and a warm red coat on Christmas morning. In later letters Lucy asks after Mrs. Claus and life at the North Pole along with her Christmas wishes. When she is eight, Lucy writes to her mother instead, asking if she is really Santa. The reply from her mother, published in the New York Times in 2009, explains that she alone is not Santa, instead he is created by the power of our imaginations and our kindness to one another.
---

Animalium
by Jenny Broom
Ages 8–12
This beautifully illustrated book feels like a visit to a natural history museum. Detailed pen-and-ink illustrations resemble vintage taxonomical etchings. Each "gallery" features a different class of animal: invertebrates, fish, amphibians, reptiles, birds, and mammals. This first in a planned series is stunning.
---

All Stations! Distress!

April 15, 1912: The Day the Titanic Sank
by Don Brown
Ages 6–10
This gripping account captures the grandeur of the Titanic, the terror of the disaster, and the rescue the survivors. The watercolor and pencil illustrations capture telling details of of actions and facial expressions. The causes of the disaster are clearly explained and gripping first-hand accounts are included.
---

He Has Shot the President!: April 14, 1865: The Day John Wilkes Booth Killed President Lincoln
by Don Brown
Ages 6–9
This fifth in the "Actual Times" series presents the shooting of President Lincoln and then follows Booth's attempted escape. Lincoln's death, the investigation to track down Booth and his conspirators, and the eventual hanging of the four members of the assassination plot are presented chronologically with water color illustrations.
---

Let It Begin Here!

April 19, 1775: The Day the American Revolution Began
by Don Brown
Ages 6–10
This book begins as King George III wins the Seven Years' War and realizes his country needs money. The taxes imposed on the American colonies eventually lead to the Revolutionary War. Told in a clear and interesting style, young readers will enjoy reading about this time in history.
---
The Wild Robot
by Peter Brown
Ages 8–12
A hurricane carries a robot named Roz (ROZZUM unit 7134) to a rocky island where it is accidentally activated by a group of curious sea otters. At first the island inhabitants are frightened of the shiny monster, but after Roz adopts an abandoned gosling she is gradually accepted as a part of the island community. This heartwarming novel examines what happens when nature and technology collide.
---
To Stay Alive: Mary Ann Graves and the Tragic Journey of the Donner Party
by Skila Brown
Ages 10–14
This compelling novel in verse is written from the fictionalized perspective of real-life Mary Ann Graves, one of the few survivors of the Donnor Party. In 1846, Mary and her family left Illinois to settle in California. At first Mary shares her father's excitment about the adventure, but the reality of life on the trail is not what she expected. Mary cares for her younger siblings, helps move rocks and trees blocking the wagons, and endures thirst in the desert. The worst is the final ordeal when they become trapped in the ice and snow at Donnor Pass, resorting to cannibalism in order to survive.
---
Ashley Bryan's Puppets: Making Something from Everything
by Ashley Bryan
Ages 4–up
Over time Ashley Bryan has created more than 30 puppets from the flotsam and jetsam he discovers on the beach near his studio on Little Cranberry Island, Maine. Each puppet is beautifully photographed and accompanied with its name, motto, and poem. the close-up photographs reveal details of each puppet's construction, inviting readers to gather their own materials and construct puppets of their own.
---
Ashley Bryan: Words to My Life's Song
by Ashley Bryan
All Ages
This powerful autobiography tells a story of a creative life. Illustrations and memories show a boy finding art materials during the Depression, storing art supplies in his gas mask during WWII, losing an art scholarship because of his race, and an award-winning art career. A book for parents and children to enjoy together, this book will inspire artists of all ages.
---

Kaleidoscope Eyes
by Jen Bryant
Ages 9–13
In the summer of 1968, 13-year-old Lyza and her friends search for Captain Kidd's lost treasure in their New Jersey neighborhood. Narrated in verse, this novel has a strong sense of place and vividly portrays a teenager's conflicting emotions about the onset of adulthood.
---

The Right Word: Roget and His Thesaurus
by Jen Bryant, Melissa Sweet
Ages 7–up
Peter Mark Roget had a chaotic childhood. After his father died, the family moved frequently, a trial for the shy young boy. To satisfy his need for order, Peter began making lists of words. As he arranged the words into long neat rows, he felt comforted. When he began to organize his ideas into written form, Peter found that his lists helped him find just the right word to express himself. This accessible biography celebrates the man who invented the thesaurus and the joy of learning.
---

Felix Yz
by Lisa Bunker
Ages 10–up
Felix Yz (13) has a secret crush on Hector, but that's not his main worry. At the age of three Felix was accidentally fused with Zyx, a hyper-intelligent being from the fourth dimension. Felix and Zyx have co-existed well for ten years, but Felix can't grow into adulthood while they are fused together. A risky procedure to separate them is scheduled in 29 days. If it works Felix will have to say goodbye to his constant companion, if it doesn't they may both die. Luckily Felix is supported by his loving parents, his piano prodigy older sister, and his gender-fluid grandparent who alternates between Vera and Vern. Narrated by Felix in a secret blog, this captivating book is a celebration of the wonders of being "different."
---

Smoky Night
text by Eve Bunting, illustrations by David Diaz
Caldecott Medal 1995


Ages 5–10
Daniel's cat doesn't get along with Mrs. Kim's cat and Daniel's mother doesn't shop at Mrs. Kim's store, preferring to patronize African-American stores. But when Daniel's apartment building goes up in flames, all the neighbors, including the cats, learn the importance of working together and accepting differences. Inspired by the Los Angeles riots, this book delivers a message about racism with a light touch supported by dazzling mixed-media collage illustrations.
---

All The Broken Pieces
by Ann E. Burg
Ages 11–up
Two years ago Matt Pin was airlifted from war-torn Vietnam. Now 12, and living with his loving adoptive American family, Matt is still haunted by memories of the family he left behind. Told in first person free verse, Matt's present and past are slowly revealed as he begins to come to terms with the guilt of being the only survivor.
---
A Thousand Never Evers
by Shana Burg
Ages 9–12
Set in rural Mississippi during the civil rights movement, this emotionally compelling novel shows the racism and violence endured by the African-American community through Addie Ann Pickett, a junior high school girl. Caught between her mother's rule to stay away from trouble and her brother and minister who argue that there comes a time when dignity is worth more than life, Addie has to make some difficult decisions.
---

Mouse & Lion
by Rand Burkert, Nancy Ekholm Burkert
All ages
This beautiful book is a retelling of Aesop's fable of the mouse who stumbles into a lion and pleads for his freedom, promising to help the lion if he is ever in need. Burkert's illustrations celebrate the beauty of the African savannah, often from a mouse point of view.
---

The Adventures of Mark Twain by Huckleberry Finn
by Robert Burleigh, Barry Blitt
Ages 7–10
This clever biography of Mark Twain is narrated by Huckleberry Finn in a folksy style that begs to be read aloud. Cartoon-like pen and ink illustrations and a variety of typefaces add to the exaggerated tall tale style of this delightful book.
---

Edward Hopper Paints His World
by Robert Burleigh, Wendell Minor
Ages 5–9
Edward Hopper knew what he wanted to do with his life from a young age, labeling his pencil box with the words EDWARD HOPPER, WOULD-BE ARTIST. This stunning picture book biography presents an artist fascinated by light and shadow, a loner whose works reflect his own isolation.
---

George Bellows: Painter with a Punch!
by Robert Burleigh
Ages 8–12
This accessible biography of painter George Bellows (1882-1925) is packed with reproductions of his high-energy paintings of New York City, including street scenes, boxing matches, and boys diving into the East River.
---

Lowriders in Space
by Cathy Camper, Raul the Third
Ages 8–12
Lupe Impala, a beautiful girl mechanic, El Chavo Flapjack, an octopus who uses his eight arms to detail cars, and Elirio Malaria, a mosquito who does the pin striping, love working together on cars and want to open a garage together. To earn the startup money, they enter a competition to transform a lowrider into a thing of beauty. Translations are provided for the frequent use of Spanish in this energetic graphic novel. The vibrant illustrations, created with three colors of ball point pens, draw upon Mexican folk art, tattoo designs, and cartoons.
---

Heap House
by Edward Carey
Ages 10–up
The Iremonger family of Filching has made a fortune from junk, and the extensive family lives in a mansion constructed from salvaged materials. It's 1875 and young Clod Iremonger is about to officially become an adult, and is unhappily betrothed to his cousin Pinalippy. Each Iremonger possesses a birth object (like a sink plug or mustache cup) that they must always keep close or face death or transformation. Clod is considered strange because he can hear the birth objects speak. Orphaned Lucy Pennant comes to Heap House as a servant, and Clod finds himself falling in love as he and Lucy uncover dark Iremonger family secrets. (first in a projected trilogy)
---
The Very Nearly Honorable League of Pirates #1: Magic Marks the Spot
by Caroline Carlson, Dave Phillips
Ages 8–12
Hilary Westfield, the daughter of an admiral, longs to be a pirate but is sent to finishing school to learn to embroider and faint gracefully. Running away from school, Hilary joins an enchanted gargoyle, an arrogant boy named Oliver, and her former governess as the crew of "freelance" pirate Jasper Fletcher. A race to long-lost magical treasure pits the pirate boat against Hilary's father in this delightful first in a swashbuckling new series.
---

Discovering Nature's Alphabet
by Krystina Castella, Brian Boyl
Ages 6–12
Created by a husband and wife team, this unique book presents letters of the alphabet found in the natural world. The 92 color photographs are neither staged nor retouched, and are spectacular examples of the wonders of nature waiting for the careful observer. Not intended for those just learning the alphabet, this beautiful book may inspire older children to search out letters in their own natural surroundings.
---

Happenstance Found
by P.W. Catanese
Ages 8–12
Happenstance, a boy with weird green eyes, wakes up in a cave with no memories of his past life or his present surroundings. He meets Lord Umber, who seems to know as much about our world as his own. They discover that Hap has strange powers—he can see in the dark, speak many languages, and leap high in the air. First in a new series (Books of Umber), this strange tale is action-packed and surprising.
---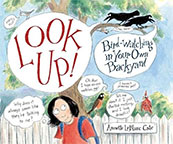 Look Up!: Bird-Watching in Your Own Backyard
by Annette LeBlanc Cate
Ages 8–up
Recognizable cartoon birds chat about their distinctive characteristics (color, shape, beak type, plumage, etc.) in this accessible introduction to bird-watching. This informal and enthusiastic book encourages children to enjoy the great outdoors while being aware of the birds that live in their own backyards.
---
See You in the Cosmos
by Jack Cheng
Ages 10–up
Alex Petroski (11) loves space, his mother and brother, and his dog named after his hero, astronomer Carl Sagan. Inspired by the Voyager Golden Record released to space in 1977, Alex records his thoughts and adventures into his gold iPad, determined to launch it into space so that intelligent beings light years away will understand Alex's Earth. He sets off with Carl Sagan to the Southwest High-Altitude Rocket Festival in New Mexico, where he meets other space fanatics and persuades two new adult friends to take him to Las Vegas in search of his perhaps-dead father, where he learns the truth about his family.
---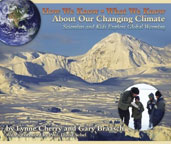 How We Know What We Know About Our Changing Climate:

Scientists and Kids Explore Global Warming
by Lynne Cherry & Gary Braasch
Ages 10–14
Hopeful tone and comprehensive resource list.
---

Ruby Redfort Look Into My Eyes
by Lauren Child
Ages 10–13
Middle-schooler Ruby Redfort, the observant daughter of clueless socialite parents, has been hired by Spectrum, a top-secret intelligence agency. Ruby's code-cracking skills are what got her the job, but she is quickly bored with investigations from inside a well-hidden office. With the help of classmate Clancy Crew, Ruby ventures out to prevent the theft of a priceless jade Buddha. This clever novel packed with puzzles is the first in a new adventure series. (Ruby Redfort is the fictional heroine of Clarice Bean.)
---

The Goblin's Puzzle: Being the Adventures of a Boy with No Name and Two Girls Called Alice
by Andrew Chilton
Ages 8–12
A nameless young slave escapes from his master and becomes tied to a mischievous goblin. Plain Alice is the bookish daughter of a sage who longs to continue in his footsteps but is kidnapped by a dragon in a case of mistaken identity. Princess Alice, heir to the kingdom of West Stahope is pursued by the treacherous Duke Geoffrey who hopes to take over the kingdom by marrying her. Together the three fight against their dangerous foes, learning that a combination of logic and bravery is the best defense. This alternative fairy tale is great fun.
---

Island: A Story of the Galápagos
by Jason Chin
Ages 5–9
This beautifully illustrated and accessible book begins with the process that created the islands, and then continues to explain how the reptiles and birds of the Galápagos evolved. Darwin's studies of the trend toward stronger beaks of the Galápagos finches are connected with fact that larger seeds, needed a stronger beak to crack, are all that are left as the islands subside and droughts become more common. Other evolutionary changes are also clearly and simply explained.
---

Al Capone Does My Homework
by Gennifer Choldenko
Ages 10–up
Moose Flanagan (13) is happy when his father is promoted to associate warden at Alcatraz, but the good fortune makes the family a target. A fire breaks out while Moose and his autistic sister Natalie are alone in their apartment. Moose is afraid it is his fault since he fell asleep, and a neighbor blames Natalie for the fire. Moose and the other Alcatraz kids band together to figure out the cause of the fire. Inmate No. 85 (Al Capone) sends Moose a note on his homework that helps solve the mystery. This final trilogy volume follows Al Capone Does My Shirts and Al Capone Shines My Shoes.
---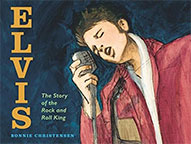 Elvis: The Story of the Rock and Roll King
by Bonnie Christensen
Ages 6–9
This biography concentrates on the early life of Elvis Presley. A shy child, Elvis enjoyed singing in church and learned to play the guitar. In high school he was teased by his classmates because of his interest in music. As part of a customer promotion, he recorded a song as a surprise present for his mother's birthday. The studio loved the record and sent it to local radio stations, this launching the career of the King of Rock and Roll.
---

Dear Mr. Henshaw
by Beverly Cleary
Newbery Medal 1984


Ages 8–12
Leigh begins writing to Mr. Henshaw, an author, when he is in 2nd grade as a school assignment. Leigh is lonely and unhappy. He's the new kid in town with recently divorced parents, his lunch is stolen every day, and he doesn't even have a dog. Mr. Henshaw writes back and encourages Leigh to keep a journal to express his feelings. This outlet allows Leigh to slowly develop confidence in himself. The reader will enjoy watching Leigh's writing improve over the four years covered in the book.
---

Beast Keeper
by Lucy Coats, Brett Bean
Ages 7–9
Pandemonius (Demon) is the son of the god Pan and a mortal woman. When Demon is 10, his father steals him away from his human mother and sets him to work caring for the mythical creatures that reside in the stables of Olympus. Many of the creatures have suffered mistreatment by gods and heroes, so Demon has his work cut out for him. Energetic cartoons add to the fun of this first book in the Beasts of Olympus series.
---

A Nest for Celeste

A Story About Art, Inspiration, and the Meaning of Home
by Henry Cole
Ages 8–12
Celeste, a quiet mouse who weaves baskets from grass, forages for food in Oakley Plantation near New Orleans, Louisiana, in 1821. Tormented by rats and chased by a cat, she is rescued by Joseph, the young assistant to John James Audubon. Joseph carries Celeste in his pocket as he helps Audubon find plants and birds to serve as models for their illustrations. Beautifully natural pencil drawings capture Celeste's bravery, resourcefulness, and overwhelming need for a home to call her own. A compelling mix of fantasy and fact, this book full of art captures the nature of art and artists. Audubon's time-appropriate habit of hiring hunters to shoot the birds he paints may be unsettling for modern readers.
---

The Reluctant Assassin
by Eoin Colfer
Ages 10–up
Riley is a teen-aged orphan in Victorian London, apprenticed to Albert Garrick, a magician turned assassin. Chevron Savant (17) is an FBI agent sent to London as punishment after a bungled mission. Cherie's job is to babysit a metal capsule, one end of a wormhole that connects the present to the year 1898. Riley is tasked by his master to perform his first killing, but luckily for the reluctant assassin, his victim is a scientist from the future, part of the FBI's Witness Anonymous Relocation Program (WARP). This blend of horror, humor, and science fiction is the first in the W.A.R.P. series.
---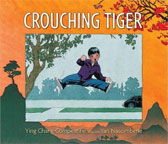 Crouching Tiger
by Ying Chang Compestine, Yan Nascimbene
Ages 6–10
Vinson considers himself completely American, and is uncomfortable when his grandfather comes to visit from China, speaking to him in Chinese and calling him Ming Da, his Chinese name. When his grandfather practices tai chi in the garden, Ming Da is at first fascinated, hoping to learn kung fu kicks and punches, and then bored by tai chi's slow pace. Reluctantly donning a Chinese jacket for the Chinese New Year parade, Ming Da notices the respect given to his grandfather and the lion dancers he trained. As Ming Da allows himself to enter his grandfather's world, their friendship deepens and he realizes it's pretty cool to be Chinese after all.
---

Summerlost
by Ally Condie
Ages 10–up
It's been a year since the accident that killed Cedar Lee's father and younger brother Ben. Cedar (12), her mother, and her brother Miles move to Iron Creek, Utah for the summer. When Leo, wearing a costume, rides by on his bike, Cedar follows him to the Summerlost Shakespeare festival. She gets a job working concessions with Leo and learning about the ghost of the Hollywood actress who haunts the halls of Summerlost.
---
I, Galileo
by Bonnie Christensen
Ages 8–12
The aging Galileo, sentenced to house arrest, looks back at his life, describing his education, scientific discoveries, and interrogation by the Inquisition. The first person narration and explanatory style make the science and the man accessible to young readers. Galileo's insistence on his right to pursue the truth, no matter what the cost, adds a hopeful note. Dramatic illustrations highlight his fascination with the night sky.
---

Super Narwhal and Jelly Jolt
by Ben Clanton
Ages 6–9
The eternally optimistic Narwhal and his down-to-earth friend Jelly return in three short cartoon adventures. Narwhal becomes Super Narwhal, but has trouble discovering his superpower without Jelly's help. He then uses his superpower to help a star return to the sky before using the power of friendship to cheer up Jelly. This funny graphic novel is perfect for beginning readers.
---

Words Set Me Free: The Story of Young Frederick Douglass
by Lesa Cline-Ransome, James E. Ransome
Ages 5–9
Powerful first person narration tells the story of Frederick Douglass's early life as a plantation slave. Learning to read was the catalyst for Frederick's determination to escape from slavery. "I bought my first newspaper and learned new words—liberty, justice, and freedom." Eventually Frederick uses his writing skills to forge a letter from his master releasing him. Though not avoiding the cruel realities of slavery, this accessible biography celebrates determination and hope.
---

Chuck Close: Face Book
by Chuck Close
Ages 8–12
This fascinating autobiography focuses on the evolution of artist Chuck Close's huge portraits. Based on questions submitted by real children, Close talks candidly about his work. Close explains how he coped with a global learning deficit since childhood and then a collapsed spinal artery that left him nearly paralyzed at the age of 48. Now wheelchair-bound, Close paints with a brush strapped to his arm, reveling in the excitement of creating his art.
---

America's National Parks, a Pop-Up Book
by Don Compton, Bruce Foster, Dave Ember
All ages
This cleverly-designed guide features 18 National Parks, six featured as double page pop-ups: Everglades, Great Smoky Mountains, Grand Canyon, Yellowstone, Glacier and Yosemite. Detailed text describes other national parks, lavishly illustrated in the style of vintage WPA posters from the 1930s.
---
The Gates
by John Connolly
Ages 12–up
While doing some early trick-or-treating with his dog Boswell in Biddlecombe, England, 11-year-old Samuel Johnson witnesses a strange happening at 666 Crowley Road. Experimenting with one of the spells in a old book, Mrs. Abernathy inadvertently opens the Gates of Hell and allows a powerful demon through. Horrified, Samuel tries to convince various adults of the mounting danger, but finds they don't believe him. Billed as an "adult book for children," this whimsical fantasy features a quirky and imaginative hero, an amusingly incompetent subdemon named Nurd, and accessible explanations of quantum mechanics, wormholes, and black holes.
---
Ghost Hawk
by Susan Cooper
Ages 10–14
Returning from his three-month test of solitude, Little Hawk returns to his Pokanoket village to discover that diseases brought by the Pilgrims in nearby Plymouth have killed everyone except his grandmother. Later Little Hawk befriends a Pilgrim boy named John Wakely, but the Pilgrims' bigotry and a shocking act of violence permanently change both their lives.
---
The Black Book of Colors
by Menena Cottin & Rosana Faria
Ages 5–10
This book attempts to convey the experience of blindness. White text on black pages, with braille above, explain how Thomas tastes, feels, and hears about color words. Raised black lines on black paper, decodable by touch alone, illustrate Thomas's color images. This amazing book allows young readers to experience the world in a new way.
---

Love Me Tender
by Audrey Couloumbis
Ages 8–12
Elvira (13) is horrified when her father leaves home for an Elvis convention and then her pregnant mother takes the rest of the family to stay with grandmother. Perceptive and lively portrayal of family dynamics.
---

Yummy: Eight Favorite Fairy Tales
by Lucy Cousins
Ages 4–10
In the retelling of these fairy tales, the villains are scary and eager to eat their tasty prey. Bold and vibrant illustrations complement the slyly humorous text.
---

Their Great Gift: Courage, Sacrifice, and Hope in a New Land
by John Coy
Ages 5–10
Told mainly through photographs, this inspiring look at immigration to the United States focuses on the lives of children. Images of immigrant families from all over the world illustrate the experience of moving to a new country, working hard, making mistakes, and building a new home.
---

The Unfinished Angel
by Sharon Creech
Ages 8–12
Zola, an imaginary and determined child in a small village in the Swiss Alps, discovers an endearing angel who has trouble with "peoples" language. Zola knows about all sorts of problems that need fixing — lonely people, orphan children — and the two work together to create small miracles that are really ordinary acts of kindness. The angel's narration adds a hilarious touch to this uplifting novel.
---
Walk Two Moons
by Sharon Creech
Newbery Medal 1995


Ages 10–14
Salamanca Tree Hiddle's mother leaves home on a spiritual quests, but promises to return. She doesn't, and Sal and her father move from Kentucky to Idaho. Her new friend Phoebe is also 13 and also has a mother who vanished. Sal convinces her grandparents to drive to Idaho in search of her mother while telling the story of Phoebe. Sal's journey through the grieving process of denial, anger, and acceptance is presented realistically and with compassion.
---

The Trouble with Chickens: A J.J. Tully Mystery
by Doreen Cronin, Kevin Cornell
Ages 8–12
After seven years working as a search-and-rescue dog, J.J. Tully and retired to the country. Despite his considerable ego, J.J. agrees to help a mother hen find her missing chicks, in exchange for a cheeseburger. Working against J.J. is Vince the Funnel, who looks like a cross between a dachshund and a lamp because of the collar he is forced to wear. Fast-paced and funny, this illustrated book is perfect for readers making the transition between picture and chapter books.
---

The Odyssey
by Gillian Cross, Neil Packer
Ages 8–up
This beautifully illustrated book tells the exciting tale of the ten-year journey of Odysseus returning from the Trojan War, facing storms, the man-eating Cyclops, the alluring but deadly Sirens, and the god Poseidon. Meanwhile, his wife Penelope struggles to protect her virtue and her palace from greedy interlopers who try to convince her that Odysseus must be dead.
---

The Weight of Water
by Sarah Crossan
Ages 10–14
Kasienka (12) and her broken-hearted mother leave Poland for England, searching for the father and husband that left them a few years earlier. Arriving in England with only an old laundry bag containing a few clothes, Kasienka has to cope to adjusting to a new language and culture along with caring for a mother who hasn't the skills to track down a man who may not want to be found. Bullied at her new school Kasienka is only happy when she is swimming in the pool. This emotionally powerful novel is written in verse.
---

A Nearer Moon
by Melanie Crowder
Ages 8–12
Luna and her younger sister Willow live in a swamp caused by the mysterious damming of the river that used to flow through their village. Back in Granny Tu's time, the healthy river was full of fairies and sprites and magic. Now the swamp water is believed to be cursed, capable of causing a wasting sickness that kills in three weeks after only one sip of swamp water. When Willow falls ill, Luna searches everywhere for a cure. Alternating chapters tell the story of water sprite sisters Perdita and Pelagia who prepare to leave the human world.
---
Confessions of an Imaginary Friend: A Memoir by Jacques Papier
by Michelle Cuevas
Ages 9–12
Jacques Papier is convinced that his only friend is his twin sister Fleur. He is never chosen for a kickball team, the bus driver closes the door in his face, his teachers ignore him, and his parents don't notice him at all. Then Jacques learns the awful truth — he isn't Fleur's twin brother, he's her imaginary friend. In his quest to become real, Jacques joins support group called Imaginaries Anonymous, and investigates The Office of Reassignment, which claims to reassign imaginary friends when their real friends outgrow them.
---

Bud, Not Buddy
by Christopher Paul Curtis
Newbery Medal 2000


Ages 9–12
Bud is a 10-year-old orphan in Depression-era Michigan. He runs away to Grand Rapids, searching for the man he believes might be his father, jazz musician Herman E. Calloway. Along the way Bud has all sorts of exciting adventures, narrated in his own authentic and often hilarious voice. Calloway is less than thrilled to meet Bud, but the other members of his band make Bud feel at home.
---

The Mighty Miss Malone
by Christopher Paul Curtis
Ages 10–14
In 1936 Gary, Indiana, the Great Depression causes Roscoe Malone to lose his job. He leaves for Flint hoping to find another job, leaving his wife, son Jimmy, and daughter Deza (12) behind. When Deza's mother also loses her job, the family becomes homeless and sets off to Flint. In a camp on the journey, Jimmy's beautiful voice is recognized, and he leaves to pursue a career as a performer. Deza and her mother find a new home and cling to the hope that they will find her father. (Deza makes an appearance as a minor character in Bud, Not Buddy.)
---
The Midwife's Apprentice
by Karen Cushman
Newbery Medal 1996


Ages 10–up
In medieval England, a young girl rises from dire poverty by becoming the apprentice to Jane Sharp, a cranky and bossy midwife. First known as Beetle, since she was found living in a dung heap, the girl struggles to learn the skills of her new profession. As she grows in knowledge and self-confidence, the girl finally respects herself enough to choose a real name: Alyce.
---

Will Sparrow's Road
by Karen Cushman
Ages 10–14
Abandoned by his mother and sold to an innkeeper for an unlimited supply of ale by his father, Will Sparrow (13) is a self-confessed liar and thief. Running away from the inn, Will sets out on the open road, trying to outsmart the thieves, tricksters, and con artists, and repeatedly being taken advantage of. Will finally ends up with Master Tidball and his caravan of oddities, befriending Grace, a girl billed as a monster because of the silky hair growing on her face. Elizabethan England comes to vivid life in this lively and amusing tale.
---

The Fairy Tales of the Brothers Grimm
edited by Noel Daniel
All ages
This collection includes new translations of 27 of Grimm brothers' fairy tales with vintage illustrations from the 1920s to 1950s. Classic tales like Cinderella, Snow White, Sleeping Beauty, and Hansel and Gretel, have a more modern feel while brief introductions describe the themes, symbolism, and contemporary relevance of the stories. This beautiful book will appeal to readers of all ages.
---

Amber Brown Is Tickled Pink
by Paula Danziger, Bruce Coville, Elizabeth Levy, Tony Ross
Ages 8–12
Amber Brown (9) is thrilled that her divorced mother is marrying Max, but uneasy because Dad isn't part of the celebration. Amber can't wait to be Best Child, but she can't find the right dress, Mom and Max can't agree on how much to spend on the wedding, and Dad keeps making mean comments about Max. Luckily Amber is up to the task of negotiating between her parents and finding just the right wedding location that both Mom and Max will love. Bruce Coville and Elizabeth Levy do a fine job of continuing the saga of Paula Danziger's beloved Amber Brown.
---

Just Ducks!
by Nicola Davies, Salvatore Rubbino
Ages 5–up
The young narrator of this delightful book lives in the city, but the river outside her window is full of mallard ducks. She hears them when she wakes up in the morning, she watches them feed on her way to school, and she observes them through her window. Her enthusiastic commentary presents both accurate factual information and her pleasure in their personalities. Beautiful watercolor illustrations capture the sleek beauty of these wild neighbors.
---

Superstar
by Mandy Davis
Ages 8–12
Lester Musselbaum (10) is finding the transition from homeschooling to fifth grade at Quarry Elementary School. Lester's father, an astronaut, died five years earlier, and his mother resists her son's obsession with space. Lester finds the cafeteria far too loud, is overwhelmed by the number of kids, and is targeted by a bully. But he works to make a friend, enters the science fair, and even joins a kickball game. Opening a letter addressed to his mother, Lester learns that he has been diagnosed with "autism spectrum disorder" and works to understand what that means.
---

The Cheshire Cheese Cat: A Dickens of a Tale
by Carmen Agra Deedy, Randall Wright, Barry Moser
Ages 8–12
Skilley is an alley cat who longs for a comfortable life at the Cheshire Cheese Inn, the pub where Charles Dickens is struggling to write the opening of his new novel. When given the job of mouser, Skilley strikes a bargain with Pip, the lead mouse: Skilley will protect the mice if they supply him with the tasty Cheshire cheese produced by the inn. The unlikely pair work together to restore Maldwyn, a wounded raven, to his rightful place serving Queen Victoria in The Tower. This delightful book is beautifully illustrated.
---

The ACB with Honora Lee
by Kate De Goldi, Gregory O'Brien
Ages 10–up
Perry (9) is the only child of very busy parents who structure every minute of her life. When Perry's Thursday after school activity is canceled, she persuades her parents to let her spend one afternoon a week with her Gran, Honora Lee, who is hospitalized with dementia. Though Gran has trouble recognizing people, the two bond over Gran's eccentric interest in the alphabet, and Perry begins an alphabet book with the help of Gran and others in the dementia care unit. "W is for Walking Stick, which Melvyn uses as a Weapon." This honest and humorous look at aging and the need of a child to relate to her grandmother is highly recommended.
---
¡Olinguito, de La A a la Z!
by Lulu Delacre
Ages 6–10
This bilingual ABC book takes the reader on a search through the cloud forest of Ecuador for the elusive Olinguito, a mammal first identified in 2013. Plants, animals, and other organisms are organized by the alphabet in this beautifully illustrated book full of interesting factual information.
---

The Cats of Tanglewood Forest
by Charles de Lint, Charles Vess
Ages 8–12
Lillian Kindred, an orphan living with her beloved aunt, spends her days exploring Tanglewood Forest, befriending the feral cats and imagining how wonderful it would be if the forest were full of fairies. One day Lillian is bitten by a snake, and the magical cats turn her into a kitten to save her life. Now Lillian must journey through the forest to negotiate with Old Mother Possum to restore the balance.
---

Titanic Sinks!
by Barry Denenberg
Ages 10–up
This intriguing mix of fact and fiction gives a "you are there" feeling to the infamous disaster, commemorating 100th anniversary of the sinking of the Titanic. Fictional characters supplement the recollections of actual survivors, presented in the pages of a fictional magazine. Period photographs add to the dramatic effect.
---

Hereville: How Mirka Got Her Sword
by Barry Deutsch
Ages 8–12
Mirka (11) wants to be a dragon-slayer, but the entire population of her small Orthodox Jewish community opposes her, especially her brother, seven sisters, and stepmother. But when a witch and a talking pig appear in the woods next to her home, Mirka can't help getting involved. The expressive illustrations and strong story line of this graphic novel (a perfect mix of fantasy, adventure, cultural traditions, and the universal quest to find one's place in the world) will captivate readers.
---
Bink and Gollie
by Kate Dicamillo and Alison Mcghee, Tony Fucile
Ages 6–9
Bink is tall, thin, self-confident, strong-willed, and a bit judgmental. Gollie is small, rumpled, strong-willed, and down-to-earth. Like many best friends, the two squabble about just about anything in this early readers series debut. Three connected stories present conflicts about appearance (wild socks), personal boundaries (a trek to the Andes), and pets (jealousy). Friendship triumphs in all three adventures, highlighted by sparkling dialog and supported by Tony Fucile's humorous illustrations.
---

Flora and Ulysses: The Illuminated Adventures
by Kate DiCamillo, K.G. Campbell
Newbery Medal 2014


Ages 10–up
Flora (10), bitter about her parents' divorce, becomes obsessed with superhero comics. When a squirrel is swallowed whole by a Ulysses Super-Suction Multi-Terrain 200X vacuum cleaner, Flora rescues him and names him after the machine. Transformed by his experience, Ulysses the squirrel become super-strong, learns to fly, and begins to compose poetry on Flora's mother's typewriter. This clever novel is a wonderful combination of realistic sadness and comedy.
---

Leroy Ninker Saddles Up
by Kate DiCamillo, Chris Van Dusen
Ages 6–9
Leroy has almost everything he needs to become a cowboy: a saddle, boots, and a hat. All he needs is a horse. When Leroy meets Maybelline, it is love at first sight, and Leroy is finally ready to ride into the sunset like the heros of his favorite Western movies. This Tales from Dekawoo Drive series opener features characters from other DiCamillo books, like the toast-loving pig Mercy.
---

Raymie Nightingale
by Kate DiCamillo
Ages 10–up
Raymie Clarke is crushed when her father runs off with a dental hygienist in 1975. She decides that if she can win the Little Miss Central Florida Tire competition and get her picture in the paper, her father will see it and come home. To win, Raymie has to learn to twirl a baton and to do good deeds. Her competition is Louisiana Elefante, a wispy orphan who claims to be the daughter of the famous Flying Elefantes, and Beverly Tapinski, a fierce girl who vows to sabotage the contest. Tragedies have influenced all three girls, and as the contest grows closer they gradually begin to trust and rely on each other.
---

The Tale of Despereaux
by Kate DiCamillo
Newbery Medal 2004


Ages 8–up
When Despereaux is born within the walls of the castle, he is such tiny mouse with such huge ears that his parents fear he won't live long. Despereaux falls in love with the beautiful human Princess Pea and is banished to the dungeon. Chiaroscuro is a rat who hates the dark dungeon and longs to live in the light above. Miggery Sow is a peasant servant who dreams of wearing a princess crown herself. These four characters interact in unexpected ways in this delightful and suspenseful fairy tale.
---

If Kids Ran the World
by Leo & Diane Dillon
All ages
This final collaboration before Leo's death in 2012 presents an optimistic view of a kinder and better world run by children. The multi-ethnic children declare that they would take care of the important things first, like making sure that everyone has enough food and a safe place to live, stressing that friendship, kindness, and generosity would be valued more than wealth if they ran the world.
---

The Lotterys Plus One
by Emma Donoghue, Caroline Hadilaksono
Ages 8–12
The Lotterys are four friends who have become co-parents, a gay couple and a lesbian couple. They re-named themselves after the winning lottery ticket that made their dream of having a family come true, and have seven home-schooled children of various ages, races, and talents. They live unconventionally and happily in their 32-room Toronto mansion until the estranged father of one of the parents arrives for an indefinite stay. The personality of the stubborn and conservative grandfather (quickly dubbed Grumps) is especially hard on Sumac (9), who has been assigned as his personal guide. This funny story of adjusting to new situations is a winner.
---

The London Eye Mystery
by Siobhan Dowd
Ages 8–12
Ted and Kat take their cousin Salim to ride on the London Eye. While waiting in a long line, a stranger gives them a free ticket and Salim boards the ride. When his pod arrives back in half an hour, Salim is missing. Ted and Kat overcome their usual sibling friction to work together to solve the mystery. Ted, the endearing narrator, has an unnamed Asberger's-like syndrome which adds an intriguing dimension to this clever puzzle.
---
The Second Life of Abigail Walker
by Frances O'Roark Dowell
Ages 8–12
Sixth-grader Abby Walker is sick to death of the girls at school who make fun of her for being chubby, and of her parents who nag her about dieting and fitting in. She is even more upset with herself because it matters so much to her that she is not accepted by the clique of "medium girls" who weigh the right amount and say the right things. Finally she walks away from their taunts into an overgrown lot where she is bitten by a fox and meets Anders and his father, who is suffering from the effects of serving in the Iraq war. Anders asks for Abby's help with a research project, which leads to new friends at school and a new sense of self-worth. Occasional chapters follow the fox, whose story intersects with Abby's.
---

A Greyhound of a Girl
by Roddy Doyle
Ages 9–up
Mary O'Hara (12) tries to be brave about the fact that her beloved Granny Emer is dying, but she hates the daily trips to the Dublin hospital. On the way home from school she meets Tansey, a mysterious young woman who seems familiar though she is dressed in old-fashioned clothes. Tansey is the ghost of Emer's mother, who died in 1928 when Emer was only three. Tansey has come to help her daughter say good-bye and guide her safely out of this world. The comforting ghost helps Emer, Mary, and her mother Scarlett overcome their fear of death.
---

Stella by Starlight
by Sharon M. Draper
Ages 9–13
Stella (11) lives in segregated 1932 Bumblebee, North Carolina. Some stores she can go inside, others she can't. But at least the Ku Klux Klan hasn't bothered their community for years. But one night Stella and her little brother are out late at night and witness a meeting of the Klan, a signal of trouble to come to the black community of Bumblebee. Stella envies the fine school buildings for the white children and dreams of becoming a writer. Her father is equally determined to vote. This compelling story of a community that comes together to find the strength to fight injustice features a humble heroine who doesn't recognize the power of her own words.
---
Fable Comics
edited by Chris Duffy
Ages 6–12
Twenty-eight fables are retold by 26 talented graphic artists in comic format. Many of the fables are classics from Aesop, but some are more obscure. Though based on the originals, each enjoys artistic freedom as long as there is a moral at the end.
---

Fairy Tale Comics: Classic Tales Told by Extraordinary Cartoonists
edited by Chris Duffy
Ages 6–12
Seventeen classic fairy tales are adapted and illustrated in comics format by seventeen different cartoonists. Well-known tales like "Snow White" and "Goldilocks" are included along with lesser-known tales like The Boy Who Drew Cats," and "Rabbit Will Not Help." Both an introduction to comics and a new way to enjoy old favorites, this volume is fun to read aloud as well as savor independently.
---
Dessert First
by Hallie Durand, Christine Davenier
Ages 7–10
When 3rd grader Dessert's teacher tells her class to march to their own drummers, Dessert decides that means eating dessert before the meal. But eating all the chocolate in the refrigerator gets Dessert into trouble at home. Her teacher encourages Dessert to find her own way to make amends. The humorous black and white illustrations add to the fun of this book.
---
Under the Mambo Moon
by Julia Durango, Fabricio Vanden Broeck
Ages 8–11
Marisol explores the role music plays in her Latino community by introducing the people who visit her father's music store. Beautiful melding of poetry, narration, and art bring the love of music to life.
---
Mary Mae and the Gospel Truth
by Sandra Dutton
Ages 8–12
Mary Mae (10) loves to sing hymns, go to church, and learn about trilobites in school. Her 5th grade teacher encourages Mary Mae's inquiring mind, but her mother, who believes in the Bible version of creation, is horrified by Mary Mae's questions about how the earth looked millions of years ago. Mary Mae's mother threatens home schooling and Mary Mae has to decide if she will side with science and her teacher, with God and her mother, or somewhere in between. All the caring adults in Mary Mae's life try to provide truthful guidance in this book that respects both viewpoints as well as those in the middle.
---

Hour of the Bees
by Lindsay Eagar
Ages 10–14
Carol (12) reluctantly travels with her parents to Albuquerque, New Mexico, to help sell her grandfather's sheep ranch and move him into a nursing home. At first Carol avoids the prickly grandfather she never met, but his questions about why she chose to abandon her real name Carolina for the Anglicized Carol makes her reflect on her heritage. And Grandpa Serge tells the most amazing stories infused with magical realism about the hardships of living on a sheep ranch in the high New Mexican desert, tales that put Carol's minor woes in perspective.
---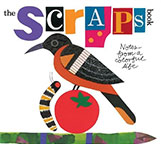 The Scraps Book: Notes from a Colorful Life
by Lois Ehlert
Ages 5–10
Lois Ehlert always knew she was an artist and was encouraged by her parents to make things with leftover scraps of fabric and buttons. Art school gave her the skills to create picture books. This fascinating autobiography helps readers to create projects of their own with directions for making a bird feeder and a cat mask, and makes it clear that creating collage pictures is an art form anyone can enjoy.
---
The Girl Who Wanted to Dance
by Amy Ehrlich
Ages 6–10
Clara, who longs to dance, lives with her sad father and loving grandmother who tells her that her absent mother also loved music and dance. When a traveling dance troupe visits the village, Clara's father recognizes Clara's mother, and forgives her for leaving the family. This haunting fairy tale compassionately addresses the irresistible artistic urge and the pain of those left behind.

---

Nest
by Esther Ehrlich
Ages 8–12
Naomi "Chirp" Orenstein (11) lives with her psychiatrist father, her dancer mother, and her older sister Rachel in 1972 Cape Cod. Chirp is content in their cozy "nest" on the beach until her mother is diagnosed with multiple sclerosis, fading into a depressed shadow of her former vivacious self. Chirp finds comfort watching her beloved birds, and makes friends with Joey, a mysterious boy who lives across the street. The two create their own private world and dream of escape to a world free of sick mothers and abusive fathers.
---

The Santa Trap
by Jonathan Emmett, Poly Bernatene
Ages 6–10
Bradley Bartleby is a very bad child. His terrified parents buy him everything he wants, but each year Santa leaves him only a pair of socks. Determined to get at Santa's toys, Bradley spends an entire year transforming his mansion into an enormous and very scary trap designed to catch Santa. This darkly funny book is the perfect gift for all children whose favorite holiday is Halloween.
---

Forest World
by Margarita Engle
Ages 10–up
Edver (11) has lived with his cryptozoologist mother in Miami for most of his life. Sent to visit his father, who patrols the forest for poachers, in the Cuban village of La Selva, Edver is surprised to discover that he has a sister his mother left behind when she fled to America ten years earlier. The two sibling have conflicted feelings about the mother that separated them and left Luza behind, but find a connection in their love for the natural world that both their parents protect. The two come up with a plan to lure their mother back to Cuba, accidentally creating a dangerous situation they must work together to resolve.
---
Mockingbird
by Kathryn Erskine
Ages 10–up
Caitlin Smith (10) has Asperger's syndrome. She hates recess with all the noise and confusion, and meets with her counselor, Mrs. Brook, who helps her to understand the reasons behind her discomfort, while offering advice about how to make friends and deal with her grief over her older brother Devon's death in a recent school shooting. Devon had always been Caitlin's interpreter, explaining the grey areas in the world she sees as black and white. Without him, Caitlin struggles more than ever. When she hears the term "closure" Caitlin turns to her dictionary for help and decides to find closure for both herself and her grieving father. Caitlin's first person narration provides insight into her incredible intelligence and conscientiousness paired with her limited social skills and her struggles to comprehend figurative language.
---

Moto and Me: My Year as a Wildcat's Foster Mom
by Suzi Eszterhas
Ages 7–10
wildlife photographer Suzi Eszterhas was living on the Masai Mara wildlife reserver in Kenya when she rescued an orphaned serval kitten. She bottle-fed the kitten and carried him in a pouch wile on photography expeditions. Gradually she begins to reintroduce the kitten she names Moto to his natural world, fostering his survival instincts with the goal of returning him to the wild. Beautiful photographs illustrate this poignant story of wildlife rescue.
---

Mango & Bambang: The Not-a-Pig
by Polly Faber, Clara Vulliamy
Ages 6–9
Mango Allsorts is good at all kinds of things, but is a bit lonely. One day while coming home from karate lessons, Mango finds a frightened Malayan tapir named Bambang stranded in the middle of the road. Mango takes Bambang home and feeds him banana pancakes. The two become fast friends and have wonderful adventures together. This endearing early chapter book features humorous illustrations that support the text.
---
Wolfie & Fly
by Cary Fagan, Zoe Si
Ages 7–10
Renata Wolfman (Wolfie) prefers to be by herself. She only has time for reading and facts and friends just get in the way. But Livingston Flott (Fly), who lives next door, an exuberant singer-songwriter, breaks through her defenses. The two bond over a refrigerator box submarine Wolfie has built ("for educational purposes, not make-believe") and the two set sail together. This engaging early chapter book featuring a friendship between opposites includes whimsical cartoon illustrations.
---

The Sea of Trolls
by Nancy Farmer
Ages 9–up
Jack (11) is a scrawny medieval Saxon boy who has never been much good at anything until the Bard of his village makes him an apprentice. Jack is slowly learning to call on magical powers when the Bard realizes that Viking berserkers are about to attack the village. They raise a fog to hide the village, but Jack and his sister Lucy (5) are kidnapped by by Ivan One-Brow and his crew. Jack impresses Ivan with his ability to control the weather and things aren't nearly as bad as they could be until Lucy is given to King Ivan the Boneless and Frith, his evil half-troll wife. By mistake, Jack detaches Frith's hair and is sent on a quest with Ivan and Thorgil to the Troll kingdom to find Mimir's Well and the secret to restore Frith's hair. This skillful amalgam of history, myth, and humor will appeal to fantasy lovers of all ages.
---

The Land of Silver Apples
by Nancy Farmer
Ages 9–up
Jack (13) and his sister Lucy (7) are safely back home with their parents, and Lucy is even more spoiled than ever. When her behavior grows too bad to ignore, the family takes her to a monastery for an exorcism. Jack's father admits that their real baby was stolen at birth, and Lucy left in her place. Lucy is stolen by the Lady of the Lake and Jack's mother insists that her real daughter be found, and Jack is off on another quest. Assisted by Pega, a slave girl, and Thorgil, the ex-berserker, Jack journeys through the lands of hobgoblins, kelpies, yarthkins, and elves in this thoroughly satisfying sequel to The Sea of Trolls.
---

The Island of the Blessed
by Nancy Farmer
Ages 9–up
Jack, 14-year old apprentice bard, is now living with Thorgil, shield maiden, and the Bard. A draugr, the undead spirit of a wronged mermaid, is roused by the village priest's mystical bell, sending Jack and his friends to the kingdom of the fin folk seeking a way to bring the draugr peace. (conclusion to The Sea of Trolls and The Land of Silver Apples)
---

Fannie Never Flinched: One Woman's Courage in the Struggle for American Labor Union Rights
by Mary Cronk Farrell
Ages 10–14
Fannie Sellins worked in garment sweatshops in St. Louis, Missouri, at the turn of the 20th century. A widow with four children to support, Fannie successfully united her fellow garment workers and fought for better wages and working conditions. She expanded her fight to workers in other industries and was killed by coal company guards on a picket line in Brackenridge, Pennsylvania in 1919. This accessible biography of a little-known union activist is a great introduction to the history of US labor rights.
---

The Vengekeep Prophecies
by Brian Farrey, Brett Helquist
Ages 8–12
For generations the Grimjinx clan has produced the most talented thieves in Vengekeep, and Jaxter (12) is determined to uphold the family tradition. Unfortunately his first attempt results in a house fire and lands his family in jail. His family has already put their biggest con ever in motion, replacing the tapestry that predicts the events of the coming year in Vengekeep with one that portrays the Grimjinx clan as heroes. The family discovers that the tapestry is enchanted, the disasters depicted are really happening, and the Grimjinxs must destroy the tapestry before it destroys Vengekeep.
---

Better Nate Than Ever
by Tim Federle
Ages 9–13
Nate Foster (13) dreams of starring in a musical on Broadway, but he's never even seen a Broadway show. His best friend Libby is the only other person in their hometown of Jankburg, Pennsylvania, who even appreciates a good show tune. An open casting call for E.T.: The Musical, pulls Nate away from home for a whirlwind weekend getaway to New York City.
---
Five, Six, Seven, Nate!
by Tim Federle
Ages 10–14
Nate Foster (13), from small town Pennsylvania, has realized his dream by landing a part in the Broadway production of E.T.: The Musical. Nate finds Broadway thrilling, but is terrified by the rehearsals. The director can't remember Nate's name, and choreographers ignore Nate since he can't dance. The child stars are unfriendly, and the understudies are worse. And worst of all Nate discovers that he is not the understudy for E.T. , he's E.T.'s understudy's understudy. This funny coming-of-age story is the sequel to Better Nate than Ever.
---

The Problem with the Puddles
by Kate Feiffer, Tricia Tusa
Ages 8–12
Mr. and Mrs. Puddles disagree on everything. One daughter is called Baby because they couldn't agree on a name. They have two dogs, both named Sally, because they couldn't agree on a breed. And for some reason the family attracts clouds. Told from both the human and canine perspectives, this lively and funny novel is full of quirky characters that enchant and amuse.
---

Dare the Wind: The Record-breaking Voyage of Eleanor Prentiss and the Flying Cloud
by Tracey Fern, Emily Arnold McCully
Ages 5–9
Eleanor Prentiss was born into a sailing family, and learned how to handle a sailing ship from her ship-captain father. She married a man who loved sailing as much as she did, and in 1851 served as navigator of their clipper ship The Flying Cloud on its 15,000 maiden voyage from New York City, around the tip of Cape Horn, and into San Francisco to deliver passengers and cargo to the Gold Rush. This accessible biography presents a little-known female sailor at a time when only men were expected to take the helm.
---
The Big Splash
by Jack D. Ferraiolo
Ages 10–14
Seventh grader Matt Stevens walks the mean hallways of Franklin Middle School in this clever and funny middle school noir. Tough guy Vinny Biggio and his gang of trigger girls and boys armed with squirt guns rule the campus until Matt decides to figure out who took down Nikki Fingers in this exciting mystery.
---

Sidekicks
by Jack D. Ferraiolo
Ages 10–14
Scott "Bright Boy" Hutchinson is an ordinary school boy by day, and the intrepid sidekick to the grim avenger Phantom Justice by night. Scott is content with his life, until he and another sidekick accidentally discover each other's secret identities. Though the superheroes they support are arch-enemies, the two sidekicks realize that they have much in common. When Scott realizes that Phantom Justice may not be the good guy he pretends to be, Scott is forced to make a choice about which side to support.
---
Once Upon a Marigold
by Jean Ferris
Ages 9–12
Chris runs away from home when he is six and is raised in the forest by trolls. After spotting Marigold in her castle through his telescope, he sends a p-mail (pigeon mail) and they become friends. When he learns her life may be in danger, he heads off to save her. This fast-paced fantasy, romance, comedy, and coming-of-age novel is a lot of fun.
---

Twice Upon a Marigold
by Jean Ferris
Ages 9–12
This hilarious warping of fairy-tail conventions continues the story of Marigold, her new husband, her father the king, and her evil step-mother who is not as dead as they hoped.
---

Miss Etta and Dr. Claribel: Bringing Matisse to America
by Susan Fillion
Ages 10–up
Miss Etta and Dr. Claribel Cone were two unmarried sisters from Baltimore who fell in love with modern art in Paris. The two sisters, encouraged Leo Stein, supported beginning artists like Henri Matisse and Pablo Picasso, bought their paintings, and brought them back to America. Without professional advice or counsel, trusting their eyes and instincts, the two sisters concentrate on the avant-garde. Few were aware of the extent of their collection until Etta published a catalog in 1934, revealing one of the foremost collections of Matisse's work in the world, bequeathed to The Baltimore Museum of Art in 1949. This touching story is lavishly illustrated with reproductions of the Cone Collection and the colorful Matisse-inspired paintings by the author.
---
Saint Training
by Elizabeth Fixmer
Ages 9–12
It's the late 1960s, and sixth-grader Mary Clare longs for the quiet orderly life of the convent. The fourth of nine children in a Catholic family in a small town in Wisconsin, Mary Clare works hard to help her mother maintain some sort of order in their chaotic household, while writing letters to a Mother Superior, describing her daily life and hopes for the future. Mary Clare's older brothers argue about the Vietnam War (one wants to enlist, the other applies for conscientious objector status), her mother is depressed with yet another pregnancy, and Mary Clare struggles for acceptance among her Protestant neighbors and at school where she feels ashamed of her poverty. This painfully honest novel is both funny and hopeful.
---

Pinned
by Sharon Flake
Ages 10–14
Autumn and Adonis are both ninth-graders. Autumn is a talented wrestler but has a learning disability and struggles with reading. Adonis was born without legs but is a talented student. Autumn wants to get to know Adonis better, but he wants nothing to do with her. this story of two headstrong teens is narrated by two distinct voices with total honesty.
---

The Dunderheads
by Paul Fleischman, David Roberts
Ages 6–10
Miss Breakbone hates kids and is convinced that her class are all dunderheads. She insults them until they have no choice but to fight back, despite the fact that she owns her own electric chair and subscribes to Guard Dog Lovers Monthly. The class full of underdogs unites under the leadership of Einstein, the class genius, who brings out the hidden talents of each student. The vivid narration is brought to life by Robert's quirky and hilarious illustrations.
---

The Dunderheads Behind Bars
by Paul Fleischman, David Roberts
Ages 6–10
School is out for the summer and the Dunderheads are thrilled to be cast as extras in a movie starring teen idol Ashley Throbb-Hart. Unfortunately Miss Breakbone, their terrifying teacher, also lands an extra spot. When Spider is arrested for stealing a necklace, it takes the combined efforts of the whole Dunderhead gang to identify the real thief and clear his name. This delightful darkly comic mystery is the sequel to The Dunderheads.
---
First Light, First Life: A Worldwide Creation Story
by Paul Fleischman, Julie Paschkis
Ages 6–9
Elements from creation stories from around the world are woven together into one whole, highlighting their similar story lines. Each page represents a different country or culture, celebrating both our commonalties and our differences.
---
Joyful Noise: Poems for Two Voices
by Paul Fleischman
Newbery Medal 1989


Ages 8–up
These poems about insects are designed to be read aloud by two voices, bring the words to life. Eric Beddows's black-and-white drawings echo the realism and fanciful nature of the poems.
---

The Matchbox Diary
by Paul Fleischman, Bagram Ibatoulline
Ages 6–10
A young girl visiting her great-grandfather wonders how he remembers the important moments of his life since he couldn't read or write for much of his life. Inside a cigar box she discovers a collection of old matchboxes, each holding a memory that the old man explains as she holds the treasures in her hand. An olive pit from his native Italy brings the memory of sucking on the pit when the family had no food, a fish bone tells the story of hard work in a cannery, and a piece of movable type represents his mastery of the written word.
---

Sir Charlie: Chaplin, the Funniest Man in the World
by Sid Fleischman
Ages 9–12
Photographs and newspaper clippings enliven this sympathetic biography of the great silent film star whose career ended with the introduction of sound to movies. Chaplin was one of Fleischman's idols, and his admiration for Chaplin's humor will motivate young readers to seek out some of the silent film gems listed in the filmography.
---

The Whipping Boy
by Sid Fleischman
Newbery Medal 1987


Ages 8–12
Jemmy is an orphan whose job is to take the whippings for Prince Brat since it is forbidden to punish the royal heir. When Brat decides to see life outside the castle, he forces Jemmy to come with him, and Jemmy is accused of kidnapping the prince. The boys are captured by Hold-Your-Nose Billy, a notorious outlaw, and Jemmy must use all his cleverness to keep them both alive in this funny and adventurous book.
---

Giant Squid
by Candace Fleming, Eric Rohmann
Ages 6–10
Little is known about the giant squid, which lives in the deepest darkest reaches of the ocean. Some giant squid are as large as a school bus, but they are rarely seen by people. The little we know about these huge cephalopods is what scientists have discovered from pieces of dead squids washed up on the shore or found by fishermen in the sea. This fascinating book reveals what we know about giant squids piece by piece, beginning with a description of their 30-foot-long tentacles, until the entire squid is revealed.
---
On the Day I Died: Stories from the Grave
by Candace Fleming
Ages 11–14
Mike Kowalski (16) discovers an abandoned Chicago cemetery where nine teenaged ghosts tell him how they died from the 1860s to the present. From all classes, the teens die from supernatural causes against the backdrop of Chicago's rich history, including the Great Depression, the World's Fair, and Al Capone. The tenth story describes the death of the narrator.
---

Locomotive
by Brian Floca
Caldecott Medal 2014


Ages 4–10
It's the summer of 1869, and the Transcontinental Railroad has just been completed. A mother and her two children board the train in Omaha, leaving their old home behind to join Papa who has gone ahead to Sacramento, California to prepare their new home. Details about the construction of the railroad and the crew it takes to run the train provide background to the small family enjoying the cross-country journey.
---

Dinothesaurus: Prehistoric Poems and Paintings
by Douglas Florian
Ages 6–up
These humorous and witty poems and illustrations will appeal to dinosaur and word lovers alike. The facts are accurate, and the combination of poem and collage make them unforgettable.
---

Poem Runs: Baseball Poems
by Douglas Florian
Ages 6–9
Upbeat poems cover the defensive positions on the field as well as batting and running. Exuberant illustrations exaggerate the physical motions of the baseball players as they stretch, swing, bend, and run, complementing the humor and the competitive spirit of the poems.
---

When Green Becomes Tomatoes: Poems for All Seasons
by Julie Fogliano, Julie Morstad
Ages 6–10
Beginning and ending with the Spring Equinox, this book presents a group of poems for each season. Each poem begins with a date and reads like a diary entry, combining observations about each season with personal connections.
---

Dragonborn
by Toby Forward
Ages 8–12
Sam (12) is a half-trained wizard when his beloved master Flaxfield dies unexpectedly. Sam doesn't know that he has great untouched powers, but he does know that he needs a new master if he wants to become a wizard. With his dragon Starback, Sam sets out to find a way to continue his education. This adventure story told with a touch of humor is the first in a new series.
---

The Charmed Children of Rookskill Castle
by Janet Fox
Ages 10–up
Katherine (12) and her two younger siblings are sent away from London along with a group of classmates to keep them safe during the bombings of the 1940s Blitz. Rookskill Castle, owned by a distant relative, is an ancient place in the Scottish highlands. But the castle appears to be haunted, and by something far more dangerous than ghosts. Kat believes that Lady Eleanor is hiding a Nazi spy, but when her classmates begin disappearing one by one she fears that the danger may be even older and more terrifying.
---

Ophelia and the Marvelous Boy
by Karen Foxlee
Ages 8–12
Ophelia Jane Worthington-Whittard (11) is visiting a strange city where it never stops snowing with her father and sister after her mother dies. Ophelia is a sensible girl who doesn't believe in anything that can't be proved with science, so she doesn't quite know how to deal with the Marvelous Boy she discovers imprisoned in a nearly empty museum. The boy tells Ophelia that he was locked away by the evil Snow Queen, and recruits Ophelia to help him save the world from the Snow Queen. This re-imagining of the tale of the Snow Queen is magical.
---
The Bone Sparrow
by Zana Fraillon
Ages 9–12
Subhi's mother and older sister were exiled from Burma with other Rohingya, the persecuted ethnic Muslim minority, to a detention center in Australia, where Subhi was born. Now ten, the refugee camp run by abusive guards is the only life Subhi has ever known. As his mother sinks deeper into depression, Subhi's imagination helps him survive the injustice and boredom. One day a girl named Jimmie appears at the bars of the camp, holding a notebook written by her dead mother. Jimmie can't read, and sneaks into the camp to listen to Subhi read her mother's stories.
---
A Couple of Boys Have the Best Week Ever
by Marla Frazee
Ages 6–9
Frazee's hilarious cartoon drawings illustrate this delightful celebration of summer, best friends, and grandparents.
---

Abraham Lincoln and Frederick Douglass: The Story Behind an American Friendship
by Russell Freedman
Ages 9–12
This fascinating photo biography tells the story of the friendship between two remarkable men. Both Lincoln and Douglass were born poor, and rose to positions of influence through their intelligence and hard work. A brief history of the war that provided the background for their friendship is efficiently presented.
---

Angel Island: Gateway to Gold Mountain
by Russell Freedman
Ages 9–12
Angel Island, in the San Francisco bay, served as the "Ellis Island" of the west coast, processing around one million people from Japan, China, and Korea, between 1892 and 1940. Because of the strict exclusion laws aimed first at the Chinese, Angel Island was more a detention center than a welcome to the United States. This poignant history is interspersed with the despairing poems written on the barrack walls along with archival photographs and personal vignettes.
---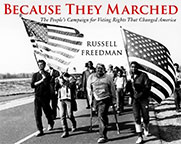 Because They Marched: The People's Campaign for Voting Rights That Changed America
by Russell Freedman
Ages 10–up
This powerful photo-essay commemorates the 50th anniversary of the march for voting rights from Selma to Montgomery. Frustrated with reprisals for attempting to register to vote, the black community of Selma began to protest. In January 1965, Dr. Martin Luther King, Jr. was attacked by a segregationist while leading a voting rights march. In February, an an Alabama state trooper shot an unarmed demonstrator, inspiring a march from Selma to the state capital. On March 7th, law officers attacked the peaceful demonstrators. Broadcast around the world, this attack spurred the protesters to complete the march at any cost, finally completing the 54 mile walk on March 25th, arriving in Montgomery, Alabama, to the cheers of a crowd of 25,000 supporters.
---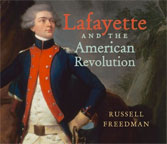 Lafayette and the American Revolution
by Russell Freedman
Ages 10–up
In this accessible biography, we first meet the Marquis de Lafayette as a strong-willed 19-year-old defying the King of France to run off and join the American Revolution. Though young Lafayette had never set foot on a battlefield before, he soon earned the respect of the Americans because of his bravery and drive to succeed. The text is enlivened by quotations and anecdotes from Lafayette's unconventional life, while drawings and portraits help to keep the large cast of characters straight.
---

Lincoln: A Photobiography
by Russell Freedman
Newbery Medal 1988


Ages 8–12
This comprehensive and accessible biography of Abraham Lincoln is enhanced by period photographs and drawings.
---

We Will Not Be Silent: The White Rose Student Resistance Movement That Defied Adolf Hitler
by Russell Freedman
Ages 10–12
Hans Scholl and his sister Sophie belonged to the Hitler Youth as children just like everyone else their age. But the enforced conformity of the Hitler Youth repelled Hans, and he joined a banned group that read forbidden books. Sophie read a book by a Jewish German poet and got into trouble for questioning the pervasive anti-Semitism. While attending school in Munich, the two and a few friends formed the White Rose, a campaign of active resistance to Hitler and the Nazis, distributing leaflets urging Germans to defy the Nazi government. Hans and Sophie were eventually tried and executed by guillotine, but the message of the importance of defiant resistance in the face of overwhelming evil shines through.
---

French Ducks in Venice
by Garret Freymann-Weyr, Erin McGuire
Ages 5–10
Polina Panova, a dressmaker in Venice, California, is heart-broken when her boyfriend leaves her. Georges and Cécile, the two French ducks who live in the canal behind her house, are determined to cheer her up. Luminous digital illustrations accompany this tale of grief, friendship, and the healing power of time.
---
The Girl in Red
by Aaron Frisch, Roberto Innocenti
Ages 8–up
In this updated fairy tale, Sophie, dressed in red, travels through dangerous city streets on the way to her Nana's house. As she moves past walls covered with graffiti along the trash on the sidewalk, Sophie is trailed by a city predator, a frightening man in a dark coat. Alternative endings raise questions about violence and safety.
---
The Graveyard Book
by Neil Gaiman
Ages 10–up
When a murderer kills the rest of his family, the toddler escapes to the graveyard next door where the ghosts take him in and raise him as their own. The boy, called Bod (short for Nobody) grows up fairly normal despite his ghoulish guardians and the fact that the killer is still stalking him. This gothic fantasy is downright terrifying at times.
---

The Graveyard Book Graphic Novel: Volume 1
by Neil Gaiman, P. Craig Russell
Ages 8–12
This stunning first volume of a two volume set contains Chapter One through the Interlude of The Graveyard Book. Russell created the look and layout for the graveyard world, and six artists (Kevin Nowlan, P. Craig Russell, Tony Harris, Scott Hampton, Galen Showman, Jill Thompson, and Stephen B. Scott) each contribute a chapter. The Graveyard Book Graphic Novel: Volume 2, the second volume containing Chapter Six to the end, will be released later this fall.
---

Hansel and Gretel
by Neil Gaiman, Lorenzo Mattotti
Ages 7–10
Lorenzo Mattotti's elegant black and white illustrations of the classic fairy tale inspired Neil Gaiman to write his own version. The pitch black of the India ink drawings of terrifying landscapes mirror the dark version of the tale, with a scary witch and a mother who decides abandoning her children is the only way the parents can survive. Though not a true graphic novel, this illustrated story alternates illustrations and text.
---
Unnatural Creatures
edited by Neil Gaiman, Maria Dahvana Headley
Ages 13–up
The 16 stories that comprise this anthology all feature fantastic creatures that exist only in the imaginations of the authors and readers. Ranging from the whimsical to the terrifying, the collection includes classics from the late 1880s through the present.
---

Stealing Our Way Home
by Cecilia Galante
Ages 8–12
When their mother dies of cancer in the spring, Pippa (10) and Jack (12) have to also deal with the fact that their father falls apart, unable to work or take care of the house, though he does continue to love his children. Pippa stops speaking, and Jack begins to get into fights. School is starting again and Pippa has no idea how she is going to manage a class presentation on Spartan warriors and Jack becomes interested in the mysterious girl next door. This emphatic novel is narrated by Pippa and Jack in alternating chapters.
---

The Doldrums
by Nicholas Gannon
Ages 8–12
Archer Helmsley's grandparents disappear while exploring an iceberg in Antarctica when Archer is nine. Two years later, along with Oliver, the boy who lives next door, and Adelaide, a French girl with a wooden leg, Archer is prepared to set off on a rescue mission. Unfortunately Archer's mother is so over-protective that she barely lets him leave the safety of the house. Stunning illustrations add dimension to this tale of friendship and adventure.
---

Dead End in Norvelt
by Jack Gantos
Newbery Medal 2012
Ages 10–up
Jack Gantos's summer 1962 vacation plans take an unexpected turn when he is grounded "for life" by his bickering parents. But then his mother loans him out to a neighbor, and Jack finds himself typing obituaries of the strange and wonderful people who founded his small town. This funny and mysterious semi-autobiographic mix of fact and fiction is fast-paced and immensely entertaining.
---
From Norvelt to Nowhere
by Jack Gantos
Ages 10–up
When an explosion closes his school, Jackie (12) is free to travel to Hyde Park, New York, with Miss Volker to pay their last respects to Eleanor Roosevelt. Mr. Spizz, the murder suspect from Dead End in Norvelt, is still at large when a new victim dies. Miss Volker learns that her twin sister is dead, and the two head to Florida to bring the murderer to justice. While traveling, Jackie enjoys reading the Classic Illustrated comics his mother forbids, and Miss Volker draws hilarious parellels between their lives and the classic stories.
---

The Key That Swallowed Joey Pigza
by Jack Gantos
Ages 10–14
Suffering from severe postpartum depression, Joey's mom checks into the hospital, leaving Joey to take care of his new baby brother Carter Junior. Joey's mother has hidden his ADD meds, cockroaches infest the apartment, and there is nothing to eat except the pizza Joey illegally pays for with food stamps. And to make matters even worse, Joey's estranged father, recuperating from a botched face lift that left him looking monstrous, is trying to kidnap the baby. This darkly funny and emotionally powerful novel is the finale to the groundbreaking five-book series that began with Joey Pigza Swallowed the Key.
---
I Wanna Be Your Shoebox
by Cristina Garcia
Ages 8–12
Yumi Ruíz-Hirsch, an 8th grader in Southern California, comes from a mixed Cuban, Jewish, Japanese family. Three events force her to face the loss of something she loves: her school plans to cut the orchestra, her mother wants to marry and move, and her grandfather is diagnosed with cancer. Each character in this moving novel has a powerful voice in helping Yumi cope with change.
---

Optical Illusion Play Pack
by Martin Gardner
Ages 10–up
Packaged with 40+ punch-out pieces, readers are challenged to re-create optical illusions, experiencing rather than simply observing these illusions aptly explained by puzzle master and mathematician Gardner.
---

Operation Bunny
by Sally Gardner, David Roberts
Ages 7–10
Emily Vole (9) inherits an abandoned shop and discovers a magical world she never knew existed. Her kindly neighbor Miss String is willing to help, along with Miss String's talking cat Fidget. Harpella, a fairy-hating witch, is determined to turn the town into rabbits. Emily joins Buster, a grumpy fairy detective, to save the day. This clever and witty book is the first in the Wings & Co. series.
---

There Will Be Bears
by Ryan Gebhart
Ages 10–up
Tyson(13) is angry with his best friend who no longer has time for him now that he is on the football team and has a girlfriend. So Tyson is really looking forward to an elk-hunting trip to Bridger-Teton National Forest with his Grandpa Gene. But grizzly bear attacks threaten to cancel the trip, and Tyson suspects that something is wrong with Grandpa Gene that his parents don't want him to know. Tyson is determined to get his elk despite the bears and his Grandpa's failing health.
---

The Honest Truth
by Dan Gemeinhart
Ages 8–12
Mark (12) is a normal kid in every way, except that he is dying of cancer. Mark's dream is to climb a mountain before he dies, and runs away to ascend Mt. Ranier with his dog Beau. Mark's best friend Jessie knows where Mark has gone, and can't decide if she should confess to his parents, who will prevent Mark from achieving his dream, or keep his secret. Alternate chapters are narrated by Mark, who struggles through the climb with the help of Beau, and by Jessie, who vacillates between keeping her promise and giving in.
---

Emma Dilemma: Big Sister Poems
by Kristine O'Connell George, Nancy Carpenter
Ages 6–9
Jess, a 4th grader, is often frustrated by her pre-school aged sister Emma, who copies everything Jess does and embarrasses her in front of her friends. Jess has trouble accepting that she is always expected to be a good big sister, while Emma runs rampant over her life and privacy. Vivid and frank poems present the pains and joys of having a little sister.
---

Zebra Forest
by Adina Rishe Gewirtz
Ages 9–12
Annie (11) has the same three wishes every summer: to grow taller, to have and adventure, and to finally meet her father. But nothing exciting ever happens in her little town, and the only thing Annie knows about her father is that Gram said he was killed in a fight with a bad men who was sent to jail. Annie and her younger brother Rev spend hours in Zebra Forest making up extravagant lies about their father — that he's a pirate or a secret agent — but deep down they know he is dead. When a prisoner escapes from the nearby jail and holds the three of them hostage, two of Annie's wishes come true in ways she never imagined.
---

The Inquisitor's Tale: Or, The Three Magical Children and Their Holy Dog
by Adam Gidwitz, Hatem Aly
Ages 10–up
In 1242 France, travelers at an inn tell stories of three children and their dog Gwenforte, who miraculously returned from the dead. Jeanne is a peasant girl who can see the future, William is of African heritage and has amazing strength, and Jacob is a Jewish boy with the power to heal the sick. The travelers wonder if the three children are saints, frauds, or in league with the devil as they tell of their individual encounters with the trio. A flatulent dragon adds to the mystery and fun.
---

A Tale Dark and Grimm
by Adam Gidwitz
Ages 10–up
In this irreverent and retelling of eight Grimm inspired fairy tales, Hansel and Gretel take their fate into their own capable hands, and walk out of their own story and into the other tales. Avoiding the modern trend of softening the original tales, these instead revel in bloodthirsty scariness, sure to delight readers ready for some wickedly funny terror.
---

In a Glass Grimmly
by Adam Gidwitz
Ages 10–up
Classic fairy tales are re-imagined in this collection, which is not for the faint hearted! Jack, Jill, and a talking frog take on "The Frog Prince," "The Emperor's New Clothes", and "Jack and the Beanstalk." Dark humor abounds in this companion volume to A Tale Dark and Grimm.
---

The Grimm Conclusion
by Adam Gidwitz, Hugh D'Andrade
Ages 10–up
Jorinda and Joringel venture through forests and kingdoms, facing ogres and monsters, as they try to find their way home. Along the way they encounter dark versions of Cinderella and Sleeping Beauty as well as other less well known fairy tales. This witty and gory book is the third and final volume of the series that includes A Tale Dark and Grimm and In a Glass Grimmly.
---

Storyteller
by Patricia Reilly Giff
Ages 8–14
While staying with her aunt, Elizabeth finds a portrait of Eliza, known as Zee, an ancestor who looks just like her. Zee's father died in the American Revolution, and her mother when their cabin was ambushed. A map on the back of the sketch helps Elizabeth puzzle out the story of Zee's life. As Elizabeth follows in Zee's footsteps, the stories of the two girls intertwine as each searches for inner strength and a sense of belonging.
---
George
by Alex Gino
Ages 8–12
George (10) is a boy in the eyes of everyone, but inside she knows she is really a girl. Before her mother and older brother come home each day, George comes her hair into bangs and calls herself Melissa, burying her secret after those few treasured moments. When George's fourth grade class holds try-outs for a performance of Charlotte's Web, George longs for the part of Charlotte, but her teacher doesn't allow boys to audition for the part. George's best friend Kelly wins the part, and the two come up with a plan for helping George's peers and family to accept her as transgender.
---
Now
by Morris Gleitzman
Ages 10–up
Felix is now a grandfather living in Australia. His ten-year-old granddaughter Zelda continues the story, describing the 2009 heat wave and devastating bush fires. When Felix confronts some local bullies, Zelda gets a rare glimpse into her grandfather's past. Felix's survivor's guilt and Zelda's doubts that she will ever live up to the courage of her namesake both come into play in this poignant close to the powerful trilogy that began with Once and continued in Then.
---

Timeline: A Visual History of Our World
by Peter Goes
Ages 10–up
This large-format book examines the history of the world from the Big Bang through modern day. Each spread covers a different time period with illustrations, captions, and short blocks of text highlighting mass extinctions, wars, natural disasters, and cultural trends. The visual timeline is powerful and has plenty of details to spark interest.
---

The Diamond of Drury Lane
by Julia Golding
Ages 10–14
Cat has lived in the Drury Lane Theater Royal ever since she was abandoned as a baby and taken in by Mr. Sheridan, the owner of the theater. After Cat sees Mr. Sheridan hiding a valuable diamond, she and her friends decide to help safeguard the treasure. Set in 1790s London, England, this thrilling mystery will keep readers glued to the pages. (first in a projected quartet)
---

The Museum of Mary Child
by Cassandra Golds
Ages 11–up
Heloise is kept secluded by her stern god mother. When the lonely girl discovers a beautiful doll, Maria, hidden under the floorboards, she hides the doll from her godmother who prohibits play, beautiful things, and talk of love. When Maria is discovered, Heloise learns the dreadful truth about the museum adjoining her godmother's cottage. This mysterious and creepy novel is enthralling.
---

Letters to a Prisoner
by Jacques Goldstyn
Ages 5–up
This nearly wordless book presents Amnesty International's letter-writing campaigns in a very accessible way: describing oppressive military governments, defining free speech, and showing the influence the letters have on the fate of prisoners.
---

That's a Possibility!: A Book About What Might Happen
by Bruce Goldstone
Ages 7–10
Beginning with the basic concepts of possibility, certainty, and impossibility, this accessible book explores probability. Photographs and digital illustrations place the situations firmly in the real world. "Will an elephant hatch from this egg? That's impossible!" An illustration of a field of purple flowers with only two yellow ones demonstrates what is probable. Clear scenarios and simple explanations make the often confusing topic of probability easy to grasp.
---

Strange Fruit: Billie Holiday and the Power of a Protest Song
by Gary Golio, Charlotte Riley-Webb
Ages 8–12
This powerful book focuses on two pivotal moments from Billie Holiday's career as a singer: leaving Artie Shaw's band after the latest in a long string of incidents of discrimination and the first performance of the song "Strange Fruit," a protest song about the lynching of Blacks. At that first performance some audience members got up and left; the remainder were stunned into silence before breaking out into thunderous applause. The vivid illustrations highlight the theme of the power of art to fight against intolerance and hate.
---

The Storyteller's Candle/La velita de los cuentos
by Lucia González, Lulu Delacre
Ages 4–9
This bilingual book set in 1929 tells the story of Pura Belpré, the first Puerto Rican librarian hired by the New York Public Library, through the eyes of two children who are inspired by her to enter the Library for the first time.
---

Herman and Rosie
by Gus Gordon
Ages 7–10
Herman is a crocodile who likes to play the oboe, and Rosie likes to sing jazz. Though the two live in adjacent buildings in New York City, they have never met. Then Herman loses his job as a salesman, and the club Rosie sings in closes from poor attendance. Rosie is drawn to the music Herman plays to cheer himself up, and the two lonely artistic souls find happiness together.
---

Absolutely Almost
by Lisa Graff
Ages 8–12
Albie (10) is a half-Korean only child with learning difficulties, especially with math and spelling. His father isn't around much except to tell him to try harder, his grandfather predicts a life of failure, and his mother tells him the Captain Underpants books he loves are for babies. After transferring to the public school to take advantage of increased services for his learning problems, Albie's life gets even harder since he has to deal with a name-calling bully. The one bright spot is his new baby-sitter Calista, a college art student, who shares her love for art with him and appreciates him for who he is.
---

Refugee
by Alan Gratz
Ages 9–12
Intertwined narratives tell the story of three children seeking asylum with their families. Josef (12) lives in Nazi Germany. When his father returns from a concentration camp nearly destroyed, Josef must help his family board a ship for Cuba in 1938 to escape Germany. Isabel (11) lives in Cuba with her family. In 1994 they board a raft, hoping to find safety in America. Mamoud (12) leaves Syria with his family after a bomb destroys their apartment building, hoping to find a new life in Greece. Full of tragedy and resilience, these stories illuminate the desperate need of refugees around the world to find a place of security and safety.
---
Human Body Factory: The Nuts and Bolts of Your Insides
by Dan Green, Edmond Davis
Ages 7–up
Using the metaphor of a factory, this entertaining look at the human body begins with the CEO in the brain issuing orders and then presents the different systems and organs working together. Jet-ski riders transport oxygenated blood from the heart, railcars take food through the digestive tract, and lab workers mix gastric juices in the stomach with a giant whisk.
---

Ballet for Martha: Making Appalachian Spring
by Jan Greenberg and Sandra Jordan, Brian Floca
Ages 6–10
This inspired book manages to capture the excitement of dance, music, and stage design while celebrating the collaboration between dancer Martha Graham, composer Aaron Cop,and, and set designer Isamu Noguchi. The book follows the creation of a ballet from Martha's original idea to the opening night, highlighting the vital contributions from each of the artists.
---

The 13-Story Treehouse
by Andy Griffiths, Terry Denton
Ages 8–12
Best friends Andy and Terry live in an amazing treehouse. It has 13 stories, a bowling alley, a shark tank, and an underground laboratory. Distracted by flying cats, giant bananas, mermaids, and giant gorillas, Andy and Terry have fallen way behind on finishing their next book for their publisher Mr. Big Nose. This lavishly illustrated celebration of the absurd is the first in a series.
---

The 26-Story Treehouse
by Andy Griffiths, Terry Denton
Ages 8–12
Andy and Terry's 13-story treehouse has doubled in size. The tree house now includes a bumper car rink, an anti-gravity chamber, an ice cream parlor with 78 flavors, and a maze so complicated no one has yet come out of it. The two are hard at work on their next book, which will tell the story of how the two friends met, but a pirate from the past derails their writing schedule. This non-stop illustrated adventure is the sequel to The 13-Story Treehouse.
---

When Friendship Followed Me Home
by Paul Griffin
Ages 10–up
Ben Coffin (12) has never been good at making friends. A former foster child, he is happy with his elderly adoptive mother and former therapist, and thrilled to be living in Coney Island. Ben loves to read science fiction and gets to know Mrs. Lorentz, the local librarian. Outside the Coney Island Public Library Ben meets Flip, an abandoned dog who follows him home. Through Flip, Ben meets Haley, a fellow book-lover who wears strange combinations of bright colors. They begin writing a fantasy story together during Haley's chemotherapy treatments. When Ben's mother dies and Haley's treatment begins to fail, Ben finds it hard to stay optimistic.
---
The Glass Sentence
by S.E. Grove
Ages 10–up
In the Great Disruption of 1799 time itself broke apart and reassembled stranding countries and continents in different time periods, some thousands of years apart. A century later, Sophia (13) lives with her Uncle Shadrack in New Occident Boston, where Shadrack specializes in the science and magic of maps. One day Sophia returns home to find their secret map room emptied of all their treasured maps, and Uncle Shadrack kidnapped by religious zealots searching for a legendary map that records the memories of the whole world from the distant past to the present. With the help of her friend Theo and bunch of pirates, Sophia sails to Nochtland, a kingdom in the former Mexico, searching for traces of her uncle. This exciting adventure story is the first in the Mapmakers series.
---

Somewhere There Is Still a Sun: A Memoir of the Holocaust
by Michael Gruenbaum
Ages 10–14
Michael "Misha" Gruenbaum is 10 when the Nazi's invade his home city of Prague. Increasingly repressive rules, including no soccer, soon result in the forced relocation of the Gruenbaum family into the Jewish Ghetto. Then Misha, his mother, and his sister were deported to the Terezin concentration camp, where Misha roomed with 40 other boys, who became like brothers to him. The boys played soccer matches and tried not to succumb to terror as the names were read of each new family on the list for transportation to Auschwitz. First person narration adds immediacy to this memoir of defiance, love, and courage in the face of increasingly appalling events.
---

The Only Child
by Guojing
Ages 5–9
This mesmerizing wordless graphic novel begins when an overall clad child wakes up to find herself alone on a bus. She sets off to find her grandmother's house, and meets a stag in the forest. The two fly beyond the clouds and meet a wonderful creature that seems to be half baby seal and half polar bear cub. The three share adventures until the creature's parent fetches it home. The loyal stag returns the child home. The author explains in an afterward that the story grew out of memories of loneliness and isolation growing up under China's on-child policy.
---

Found
by Margaret Peterson Haddix
Ages 8–12
Jonah has always known he was adopted, and at age 13 he and his friends begin receiving mysterious messages. The kids track down other adoptees and learn the FBI is involved. The first in a new series: The Missing.
---

Rapunzel's Revenge
by Shannon Hale, Dean Hale, Nathan Hale
Ages 9–up
In this graphic novel version of the fairy tale, Rapunzel lives in a fabulous walled garden Wild West. Defying orders, Rapunzel scales the walls to see the rest of the world and is shocked to find a wasteland of mines and factories. Banished to a forest tree house, Rapunzel uses her long braids to escape and fight against the villains.
---

Real Friends
by Shannon Hale, LeUyen Pham
Ages 8–12
In this touching graphic memoir, Shannon Hale tells the story of her childhood from entering school through fifth grade as she struggles to make and keep a friend. Shannon is a shy girl who doesn't make friends easily and hopes her mother is right that she needs only one true friend. She believes Adrienne is that friend is until the day that Adrienne starts hanging out with Jen and The Group that follows her around hoping to become Jen's best friend.
---

Fly Trap
by Frances Hardinge
Ages 10–up
Mosca Mye, her con man friend Eponymous Clent, and her fierce goose Saracen have barely escaped from the revolution, which they helped start, in the city of Mandelion. But the new town they find themselves in isn't much safer. Toll is a wealthy town, but transforms into a dangerous place after dark, known as Toll-by-Night. Mosca and her companions are soon involved in a plot to kidnap the Mayor's beloved daughter while trying to escape the clutches of Goshawk, who wants vengeance for their deeds in Mandelion. This humorous and inventive fantasy novel is the sequel to Fly by Night.
---

The Lost Conspiracy
by Frances Hardinge
Ages 10–up
On the enchanted island of Gullstrick, Arilou is proclaimed to be a mystic, the next Lady Lost of the Lace people. Her younger sister Hathin acts as her translator and guardian. But neither sister is exactly what she seems, and when a Lost Inspector arrives to authenticate Arilou's claim, the sisters and the Lace people are in danger. This complex tale is an entrancing story.
---
Well Witched
by Frances Hardinge
Ages 8–12
Stranded in a forbidden place, three friends steal coins from a wishing well for bus fare. To their horror, they find themselves possessed by powers they cannot control: Chelle voices the thoughts of others, Josh conducts electrical currents, Ryan grows warts with eyes. Told from Ryan's point of view, this chilling supernatural thriller is distinguished by the vivid imagery of its language.
---

Mayday
by Karen Harrington
Ages 8–12
Wayne Kovok (12) is a descendant of war heroes from the Revolution to the present. His uncle was killed overseas while serving in the army, and Wayne and his mother survive a plane crash coming home from the funeral at Arlington National Cemetery. Wayne has always loved using random facts to communicate ("Did you know more people die each year from shaking a vending machine than from shark attacks?"), but the plane crash has left him mute. Unable to speak, Wayne is forced to reconsider his identity and his relationships to other people. (Wayne appeared in Courage for Beginners.)
---
I'm Just No Good at Rhyming: And Other Nonsense for Mischievous Kids and Immature Grown-Ups
by Chris Harris, Lane Smith
Ages 6–up
This debut collection of poems is full of creative rhymes, high energy, and clever ideas. Mysteriously mis-numbered pages can be deciphered with a code-cracking poem and a rhyming fact-checker in the footnotes tries to control poetic license. An on-going rivalry between the author and the illustrator adds to the fun.
---

13 Treasures
by Michelle Harrison
Ages 8–12
Tanya (13) is tormented by evil fairies that no one else can see. Tanya's mother blames Tanya for the fairies' pranks, and sends Tanya off to visit her unloving grandmother at the isolated Elvesden Manor on the edge of a mysterious wilderness. In partnership with Fabian, the son of the groundskeeper, and Red, a girl wanted by the police for kidnapping a changeling, Tanya becomes involved in the decades old mystery of the disappearance of children from the nearby town. This appealing modern-day fairy tale will keep readers enthralled.
---

Bon Appétit! The Delicious Life of Julia Child
by Jessie Hartland
All ages
This engaging biography follows Julia Child from her childhood in Pasadena, California, her life as a spy in WWII, her experiences taking cooking classes in Paris, her travels around the world, the publication of her cookbook, and her career as a TV chef. Lively illustrations enliven the narrative and highlight humorous moments from Julia's live cooking show.
---

The Midnight Zoo
by Sonya Hartnett, Andrea Offermann
Ages 10–up
When German soldiers attack their Romany encampment and arrest their relatives, Andrej (12) and Tomas (9) flee to hide in the woods with their baby sister. They discover a bombed out town with an intact zoo filled with creatures in need of hope. Like the children, the animals have stories to tell and a burning desire to reclaim their lives. This somber fable explores themes of responsibility and freedom.
---

Twenty Heartbeats
by Dennis Haseley, Ed Young
Ages 5–9
Set in the Far East long ago, a rich man hires an artist to paint his beloved horse. After years of waiting, the artists paints the horse in little more than 20 heartbeats. The rich man is furious until he sees thousands of drawings of his horse in the artist's studio. Ed Young's incredible illustrations bring the story to life.
---

The Castle Behind Thorns
by Merrie Haskell
Ages 8–12
Sand (13) is an apprentice blacksmith who wakes up trapped in a castle with no idea how he got there. Sundered Castle, now surrounded by a thicket of impenetrable thorns, was believed destroyed by an earthquake 20 years earlier. Sand begins to repair pieces of the castle, and the ruined building begins to come back to life. Then Perrotte, the long lost heir to the throne, appears, and the two work together to restore the castle and hopefully free themselves.
---

Slider
by Pete Hautman
Ages 10–14
David Miller, an almost high school freshman, can eat an entire 16-inch pepperoni pizza in under five minutes. After an accidental $2000 charge to his mother's credit card, David decides the only way to earn the money back is to win the Super Pigorino Bowl, the Super Bowl of pizza eating contests. Throughout the summer David trains by scarfing down pizzas and burgers and taking care of his younger brother Mal, who is autistic though his family won't admit it.
---

What I Came to Tell You
by Tommy Hays
Ages 10–up
After his mother dies in an accident, Grover (12) finds himself responsible for his younger sister Sudie, who cries all the time, since his grieving father buries himself in work as the director of the Thomas Wolfe house. Grover spends most of his time in the canebrake, weaving beautiful tapestries from leaves and bamboo, growing more and more isolated. Then a new family moves into the neighborhood with a girl his age who is also missing a parent, helping Grover and his father learn to share their grief and begin to heal.
---

The Hero's Guide to Saving Your Kingdom
by Christopher Healy, Todd Harris
Ages 8–12
Known only as Prince Charming in the fairy tales, the saviors of Sleeping Beauty, Cinderella, Snow White, and Rapunzel were actually named Prince Liam, Prince Frederic, Prince Duncan, and Prince Gustav. Happily ever after isn't working out as well as expected, and the four princes find themselves cast out of their kingdoms. When Cinderella is captured by a witch, Frederic calls on the other princes for help and the four very different heroes must overcome their egos and work together to foil an evil plot against their kingdoms. This fast-paced adventure is very funny.
---

The Hero's Guide to Storming the Castle
by Christopher Healy, Todd Harris
Ages 8–12
The Princes Charming (Prince Liam, Prince Frederic, Prince Duncan, and Prince Gustav) reunite to help Briar Rose recover the Sword of Erinthia which has been stolen by the evil Deeb Rauber. The friendships and romantic entanglements between the Princes and their Princesses continue to grow despite the collective bungling of the Princes in this funny sequel to The Hero's Guide to Saving Your Kingdom.
---

Unusual Creatures: A Mostly Accurate Account of Some of Earth's Strangest Animals
by Michael Hearst, Jelmer Noordeman, Christie Wright, Arjen Noordeman
Ages 8–12
This informative and entertaining guide features 50 unusual creatures. The guidebook format provides illustrations, habits, behaviors, and descriptions of physical characteristics. Quizzes, fun tidbits, and poems add to the appeal.
---

Mocha Dick: The Legend and the Fury
by Brian Heinz, Randall Enos
Ages 6–up
Mocha Dick, a white whale named for the island near Chile where he was first sighted in 1810, was hunted, wounded, and barely survived. Harpoons blinded him in one eye, and caused him to attack whale boats in revenge, sinking harpoon boats and killing the whalers. When Mocha Dick was finally killed, heads of 19 harpoons were found in his body. An 1839 magazine article about Mocha Dick inspired Herman Melville to write Moby Dick 12 years later.
---

The End of the Wild
by Nicole Helget
Ages 8–12
Fern is a sixth-grader in the fictional town of Colter, Michigan. She lives in a rundown house at the edge of a pristine forest, where her impoverished family hunts and forages for food. Fern's mother and youngest brother died in a car accident. Her stepfather suffers from PTSD, and Fern is responsible for her younger brothers, who run wild in the woods. Fern's wealthy grandfather is trying to get custody of Fern and her brothers when a hydrolic fracking operation opens up. Her grandfather likes the business it brings to his manufacturing company and her stepfather hopes he can finally get a steady job, but Fern worries her beloved forest will be demolished. Inspired by her mother's recipe book featuring forest ingredients, Fern enters the science fair, hoping to make the community aware of the forest resources that are endangered.
---

Junonia
by Kevin Henkes
Ages 8–12
Every year Alice Rice (9) looks forward to celebrating her birthday during her family's vacation to the beach cottage named Scallop on Sanibel Island, Florida. But this year things aren't the same: some of her favorite people are missing a new and disruptive six-year-old has arrived. Alice spends more time than usual on the beach, hoping this will be the summer she finally finds the rare junonia shell. Alice's discoveries aren't what she expects, but she does learn new things about old and new friends.
---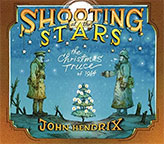 Shooting at the Stars
by John Hendrix
Ages 8–12
A young British soldier on the front lines in World War I describes the brutal conditions of fighting and living in the trenches of a cold, wet winter on the French-Belgian border before an unforgettable Christmas Eve when English, French, and German soldiers put down their weapons and came together to celebrate the holiday. They sang carols, exchanged gifts, and lit candles on miniature Christmas trees before retreating to their separate trenches to wait for the battle to resume.
---

John Brown: His Fight for Freedom
by John Hendrix
Ages 8–12
In the late 1850s, John Brown, the infamous white abolitionist, backed his beliefs with action. This unflinching biography presents Brown's transformation from a supporter of the underground railroad into an activist prepared to use violence to support his beliefs. The violent raid in Harper's Ferry, Virginia, that led to Brown's arrest and execution provides an exciting climax to this compelling biography.
---

Bird Lake Moon
by Kevin Henkes
Ages 10–14
Mitch (12) is brooding about his parents' upcoming divorce when he meets Spencer (10) who has been shaken by a drowning at Bird Lake. Told in alternating chapters from both viewpoints, this novel explores secrets, loss, and acceptance of what cannot be changed.
---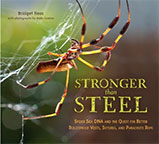 Stronger Than Steel: Spider Silk DNA and the Quest for Better Bulletproof Vests, Sutures, and Parachute Rope
by Bridget Heos, Andy Comins
Ages 10–14
This exciting book presents the real-life research in Randy Lewis's lab, where he studies the potential uses of spider silk. Lewis and his team inject goat embryos with spider genes, resulting in goats who produce spider silk proteins in their milk. Vivid photographs and a lively narration make the subject of DNA and gene theory accessible and interesting.
---
Brooklyn Bridge
by Karen Hesse, Chris Sheban
Ages 10–14
It's 1903 in Brooklyn and all 14-year-old Joseph Michtom wants to do is go to the brand-new amusement park at Coney Island. But his Russian immigrant parents have just invented the stuffed teddy bear, and Joseph is too busy working to have fun. Meanwhile the street children living under the Brooklyn Bridge are haunted by a ghost they call the Radiant Boy.
---

Out of the Dust
by Karen Hesse
Newbery Medal 1998


Ages 11–up
Billie Jo (14) records the grim realities of living in the Oklahoma dust bowl during the Depression. In her free verse journal, she reveals her mother's death and her own burns in a fire and her father's grief. Billie Jo's hope for a better future shines through all the pain and struggle to survive.
---

The Nameless City
by Faith Erin Hicks
Ages 9–up
Each new nation that invades and conquers the City gives it a new name. The city dwellers just call themselves the Nameless City and try not to get caught up in the unending wars, considering each wave of invaders outsiders not to be trusted. Kaidu is a Dao, the current occupying nation. Rat, an orphan living on the streets, is a native of the Nameless City and is determined not to trust Kaidu. But his love of his adopted city gradually wins her over, and she begins to show Kaidu how to navigate the city 's secret paths in exchange for food. The two learn of an assassination plot and work together to save the city in this first in a graphic novel trilogy.
---

The Black Book of Secrets
by F.E. Higgins
Ages 10–14
Young Ludlow Fitch, fleeing a terrible past, arrives in a peaceful village. Ludlow becomes the assistant to the mysterious pawnbroker who trades cash for people's deepest, darkest secrets. It's Ludlow's job to record the secrets in the leather bound Black Book of Secrets. The vaguely Dickensian late 1800s atmosphere is the perfect backdrop for this historical fantasy.
---

The Bone Magician
by F.E. Higgins
Ages 10–14
Young Pin Carpue is left to survive on his own in the crime-ridden city of Urbs Umida when his father, a suspected murderer, disappears. Pin gets a job as a corpse watcher, standing guard in the morgue for three days to ensure that the deceased really are dead and not just sleeping. There he meets the Bone Magician who claims to be able to reanimate the dead to answer last questions from the living. This dark and funny fantasy is a companion volume to The Black Book of Secrets.
---

The Eyeball Collector
by F.E. Higgins
Ages 10–14
Young Hector finds himself alone, homeless, and penniless when his father dies after being blackmailed and disgraced. Hector sets out to find revenge against the man he thinks is responsible for the blackmail—Gulliver Truepin, a one-eyed con artist who steals jewels to make a different jeweled eyeball for each day of the week. The two end up at Withypitts Hall, home of the cruel Lady Mandible and all plots come together on the night of an extravagant feast. (Companion volume to The Black Book of Secrets and The Bone Magician)
---

The Whole Story of Half a Girl
by Veera Hiranandani
Ages 9–12
Sonia Nadhamuni, half Indian and half Jewish American, loves her private school. But when her father loses his job at the end of her 5th grade year, Sonia enters a racially divided public school. For the first time her mixed heritage is an issue, and she begins to think about who she really is. Even harder to deal with is the depression that overtakes her father when he can't find another job. Sonia's struggles to cope with new family problems and to fit into her new school without losing her own individuality are beautifully portrayed.
---

Jim's Lion
by Russell Hoban, Alexis Deacon
Ages 6–9
This graphic novel retells Russell Hoban's story about a boy battling a mortal illness. Jim is in the hospital and knows he might die. Nurse Bami, an African woman with tribal scars on her cheeks, tells Jim he mist search for his finder, the animal in his head that will bring him back from wherever the doctors send him. Jim's finder is a lion, and the two fight together against his illness, through his surgery, and in dreamlike worlds of death.
---
The Last Best Days of Summer
by Valerie Hobbs
Ages 10–14
Lucy (12) is highly influenced by her friend Megan, who gives her tips about how to be popular in junior high, including not being friendly with Eddie, a boy with Down syndrome. Lucy eagerly heads off to her annual trip to her grandmother's lake cabin, anxious to escape her over-protective parents and enjoy doing all her favorite summer things with Grams. But Grams isn't acting like herself (early Alzheimer's) and Eddie shows up expecting Lucy to be the friend she's always been. This thoughtful coming-of-age story is simply and effectively told.
---

Forget-Me-Nots: Poems to Learn by Heart
by Mary Ann Hoberman, Michael Emberley
All ages
This collection of poems by a broad spectrum of authors are short enough to invite memorization. Poets include Frost, Hoberman, Keats, Sandburg, Silverstein, and many more. Mixed-media cartoons illustrate the themes and images of the poems.
---

Ugly
by Robert Hoge
Ages 8–12
When Robert Hoge was born he was so ugly his mother refused to look at him. He had a tumor the size of a tennis ball in the middle of his face and short twisted legs. The doctors removed the tumor and made him a new nose from one of his toes, but everyone agreed he was ugly. Children mocked him and adults stared. But Robert refused to let his looks define him, and with the help of his supportive parents he had as normal a childhood as possible, playing pranks, getting into trouble, and having adventures with his family. This honest memoir of overcoming bullying and making the best of one's lot in life is narrated with grace and humor.
---
The Secret Hum of a Daisy
by Tracy Holczer
Ages 10–up
Grace and her mother have always been a family of two. Grace longs to settle down, but her artistic and flighty mother is always ready to move on after only a few months. When Grace is 12 her mother dies in a drowning accident, and Grace is sent to live with her grandmother, a stranger she has never met. The town holds secrets of Grace's past, and she struggles to follow a trail of clues she is sure her mother left for her as she discovers her family's history.
---

Comics Squad: Recess!
by Jennifer Holm, Matthew Holm, Jarrett J. Krosoczka, Dan Santat, Raina Telgemeier
Ages 7–10

Favorite graphic artists present eight comics celebrating the joys of recess. Comic fans will revisit favorite characters and meet new ones in this anthology.
---

The Fourteenth Goldfish
by Jennifer Holm
Ages 8–12
Ellie (11) doesn't like change, and the start of fifth grade is especially hard. Her best friend from fourth grade has become passionate about volleyball and likes hanging out with her new teammates. Ellie doesn't care for sports, and can't get into her parents' passion for theater either. Then Grandpa Melvin, a scientist who has just discovered a cure for aging, transforms himself into a teenaged boy and moves in with Ellie's family. Grandpa still dresses and thinks like a grumpy old man, but he and Ellie bond over discussions of scientific discoveries and ethics.
---

The Trouble with May Amelia
by Jennifer L. Holm, Adam Gustavson
Ages 8–10
May Amelia (12) lives on a farm in Washington state in 1900 with her parents, Finnish immigrants, and seven brothers. Life is hard, especially when your father doesn't think girls are worth much, but May Amelia manages to have plenty of fun as she defends her beloved teacher from persistent suitors. When Pappa asks May Amelia to translate for a gentleman who is interested in buying their land, she thinks she has finally earned her father's respect, until the gentleman turns out to be a scoundrel. A salting of Finnish phrases and accurate historical details spice up this historical fiction, a sequel to Our Only May Amelia.
---

Turtle in Paradise
by Jennifer L. Holm
Ages 8–12
Turtle (11) knows that life isn't like the happy Hollywood movies her mother adores. It's 1935 and jobs are scarce, so when her mother gets a job as a live-in housekeeper with a woman who doesn't like children, Turtle heads off without complaint to stay with relatives she's never met in Key West, Florida. Turtle's dreamy mother insists that Turtle is going to live in paradise, but down-to-earth Turtle doesn't expect much. Eventually Turtle warms to her eccentric relatives and begins to see the natural beauty hidden under the trash. Turtle's amusing first-person narration brings the Depression era to vivid life.
---

The Water Seeker
by Kimberly Willis Holt
Ages 10–14
Jake Kincaid is a skilled dowser, a finder of water, but leaves that calling behind to become a trapper in 1833. He returns a year later to find that his wife has died, leaving him a baby named Amos. Jake leaves Amos to be raised by his relatives in Nebraska, returning each summer to visit. In 1841, Jake brings his new Shoshone wife with him and they take Amos with them to Missouri. When Amos is 13, the family joins a wagon train headed west on the Oregon Trail. The hardships of the journey are beautifully portrayed in this historical coming-of-age novel.
---

Brains For Lunch: A Zombie Novel in Haiku?!
by K.A. Holt, Gahan Wilson
Ages 9–14
Loeb, a zombie, has a problem—the object of his affection is a lifer (human) girl named Siobhan. Narrated entirely in haiku, this clever novel highlights the self-doubt and uncertainity all pre-teens suffer through whether they are human or zombie. Delightfully gruesome illustrations are the perfect match for the funny and unconventional haiku, sure to appeal to teachers of poetry and reluctant readers alike.
---

Claudette Colvin: Twice Toward Justice
by Phillip Hoose
Ages 10–up
In March 1955, nine months before Rosa Parks refused to surrender her seat to a white passenger, 15-year old Claudette Colvin was dragged from a bus and arrested for the same reason. This book introduces readers to the courageous teenager who was overshadowed by Rosa Parks as the center of the bus boycott. Young readers are encouraged to empathize with young Claudette, at first dismissed as too "emotional" to withstand public scrutiny, but later a key witness in the federal lawsuit that would end discrimination on public transportation. (2010 Newbery Honor Book)
---

Moonbird: A Year on the Wind with the Great Survivor B95
by Phillip Hoose
Ages 10–up
B95 is a red knot shorebird about the size of a robin. Each February he joins a flock that flies from Tierra del Fuego to the breeding grounds in the Canadian Arctic 9000 miles away. In late summer he makes the return journey. B95 can fly for days without eating or sleeping, but stops for food and rest are necessary, and changes to the migration path threaten the red knot with extinction. This detailed look at the red knot and the scientists who study the species is fascinating.
---
Mao and Me
by Chen Jiang Hong
Ages 8–12
Chen's direct and honest picture book memoir of growing up during the Cultural Revolution is an excellent representation of political upheaval seen through the eyes of a child. Ink and wash paintings document both beautiful moments and unpleasant events.
---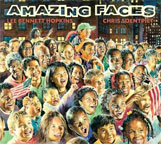 Amazing Faces
poems selected by Lee Bennett Hopkins, illustrated by Chris Soentpiet
Ages 6–up
This collection of poems includes character sketches and descriptions of multi-cultural people from all over the United States. Soentpiet's beautifully lifelike and detailed watercolor illustrations zoom in on the faces of the wide variety of people and scenes depicted in the poems.
---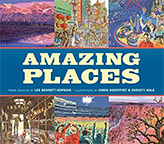 Amazing Places
selected by Lee Bennett Hopkins, illustrated by Chris Soentpiet and Christy Hale
Ages 7–8
Fourteen poems by various poets celebrate landmarks and attractions across the United States, including Harlem, Fenway Park, the Grand Canyon, the Oneida Nation Museum, the Ringling Circus Museum, and Chinatown in San Francisco.
---

A Bandit's Tale: The Muddled Misadventures of a Pickpocket
by Deborah Hopkinson
Ages 8–12
Rocco Zaccara (11) is sold by his poverty-stricken parents to a padrone in New York City who compells his group of children to earn money by performing as street musicians. Rocco joins a band of pickpockets to save enough money to buy his way back home to Italy. He is uncomfortable stealing money until he meets Meddlin' Mary, a young Irish girl who works with her father to take care of the city's mistreated and overworked horses. First person narration brings this late 19th-century picaresque tale to life.
---

The Great Trouble: A Mystery of London, the Blue Death, and a Boy Called Eel
by Deborah Hopkinson
Ages 10–up
Eel is an orphan and a mudlark, combing through the filthy banks of the Thames for anything he can sell to earn enough to survive. 1894 London is a dangerous place during the cholera outbreak, but Eel is also pursued by his evil stepfather. Polluted air is blamed for the cholera epidemic, but Eel and his mentor Dr. Snow believe the disease is being spread through a local water pump. This exciting tale mixes mystery, science, medicine, and history.
---

Titanic: Voices From the Disaster
by Deborah Hopkinson
Ages 8–12
This intimate view of the Titanic disaster is told through the stories of a handful of survivors including an American teenager, a science teacher from England, a stewardess born in Argentina, and a nine-year-old British boy. The sinking of the ship, the rush for the lifeboats, and the terrifying wait for the arrival of the rescue ship Carpathia are presented with fast-paced drama.
---
Mr. and Mrs. Bunny—Detectives Extraordinaire!
by Polly Horvath, Sophie Blackall
Ages 8–12
When 5th grader Madeline's parents are kidnapped by the Grand Poobah of foxes, Madeline asks Mr. and Mrs. Bunny, a fedora-wearing pair of neophyte detectives, to track them down. This hilarious and witty adventure story, narrated by Mrs. Bunny and translated from Rabbit by Polly Horvath, is hopefully the first in a series.
---

My One Hundred Adventures
by Polly Horvath
Ages 8–12
Restless with her family's comfortable routine, 12-year-old Jane longs for adventures. Over the course of the summer, Jane finds plenty of adventures thanks to the other residents of her small Massachusetts beach town, eventually realizing that it's not what you do that matters, but rather what you learn about yourself.
---
Northward to the Moon
by Polly Horvath
Ages 10–13
Jane and her family have moved to Saskatchewan, where her new stepfather Ned has a job as a French teacher. Unfortunately Ned doesn't speak French, and the family heads west to visit a friend of Ned's, and then to Vegas to find Ned's brother. At first it's fun for Jane to imagine they are outlaws on the run, but when they settle with Ned's mother on her remote horse ranch Jane longs to be back home in Massachusetts before Ned joined the family. Jane's changing moods and her ambivalent feelings about her unpredictable yet endearing family members are beautifully portrayed. (sequel to My One Hundred Adventures)
---

One Year in Coal Harbor
by Polly Horvath
Ages 9–12
Primrose Squarp is now 12 and happily reunited with her family in her small British Columbia fishing village. Primrose is writing a cookbook and helping Miss Bowser at the Girl on the Red Swing restaurant, while trying to encourage the romance between Miss Bowser and Uncle Jack. The arrival of Ked, a foster child, gives Primrose an ally in her cooking experiments and her fight against a logging operation, and maybe even the best friend she has always longed for. This humorous and honest story is a sequel to Everything on a Waffle.
---

Same Sun Here
by Silas House, Neela Vaswani
Ages 9–up
Meena (12) lives with her recently immigrated Indian family in New York City. River lives with his grandmother, an environmental activist, in rural Kentucky. Connected by their pen pal letters, the two find many differences in their lives, and a few connections, as they share their feelings about religion, politics, prejudice, and music. Narrated by the two authors in alternate chapters, the two establish a friendship strong enough to surmount distance and difference.
---
Dinosaur Empire!
by Abby Howard
Ages 8–12
Ronnie flunks her fifth grade test on dinosaurs and is given the chance to take it again. Ms. Lernin, her retired paleontologist neighbor, helps out by taking Ronnie back to the Mesozoic era in her TARDIS-like recycling bin time machine. They visit three important time periods: the Triassic, the Jurassic, and the Cretaceous. As she meets real-life dinosaurs and reptiles, Ronnie learns the differences between herbivores, carnivores, and omnivores and between dinosaurs, insects, and reptiles. Full color cartoon illustrations and informative dialog between Ronnie and Ms. Lernin present the facts with humor in this scientifically accurate graphic novel.
---

Addie on the Inside
by James Howe
Ages 10–14
Seventh grader Addie is outspoken, and often a target of ridicule from her classmates. Though confident on the outside, Addie is riddled with self-doubt on the inside, especially about her relationship with her boyfriend DuShawn and her former friend Becca. Addie's plan to organize a school Day of Silence doesn't turn out the way she planned, but her self-imposed silence has unexpected benefits. Told in rhythmic narrative verse, this empathetic novel is a companion to The Misfits and Totally Joe.
---

Hero on a Bicycle
by Shirley Hughes
Ages 10-14
1944 Florence is occupied by the Germans. Rosemary and her children, Paolo Crivelli (13) and his sister Constanza (16), feel isolated and oppressed by the Nazi security rules and the suspicion of their neighbors, who believe their absent father may be a Partisan, part of the pro-Allied resistance. Against all the rules, Paolo secretly violates curfew every night by riding his bicycle around the town. One night Paolo is approached by the Partisans, asking for his British mother's help in sheltering escaped Allied prisoners of war. This tense historical thriller, told from the perspective of all three characters, captures the dangers and uncertainties of war.
---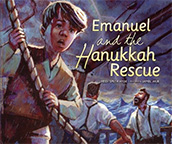 Emanuel and the Hanukkah Rescue
by Heidi Smith Hyde, Jamel Akib
Ages 5–9
Emanuel and his father live in the whaling town of New Bedford, Massachusetts in the 18th century. Emanuel's father lived as a secret Jew in Poland and still fears religious persecution, refusing to place the menorah lights in the window to celebrate Hanukkah. Emanuel stows away on the whaling ship, and when a storm overtakes the ship, the family menorah lights the way home.
---

The Abominables
by Eva Ibbotson, Fiona Robinson
Ages 8–12
For a hundred years Lady Amanda has befriended a family of yeti in a secret Himalyian valley, which has become overrun with tourists. With the help of siblings Con aqnd Ellen Bellamy, Lady Amanda sets off on a cross-continental trip to move the excitable yeti family to her London estate. After Ibbotson's death in 2010, this captivating read-aloud was completed by her son and longtime editor.
---

The Ogre of Oglefort
by Eva Ibbotson
Ages 8–12
When Princess Mirella is captured by the dread Ogre of Oglefort, the young orphan boy Ivo sets out to rescue her with the help of a hag, a wizard, and a troll. But when they arrive at Oglefort castle, they realize that it's not the princess that needs rescuing, but the poor ogre. To avoid being forced to marry a nitwit of a prince, Mirella has been badgering the ogre to turn her into a bird for so long that he has sunk into a sickly depression. This hilarious book has a great time poking fun at fairy tale stereotypes.
---

Dust Devil
by Anne Isaacs, Paul Zelinsky
Ages 5–9
Angelica Longrider (introduced in Swamp Angel) was the greatest woodsman and wildest wildcat in the state of Tennessee. Grown too large for her home state, Angel moves to the great state of Montana, and wrestles a tornado to the ground, earning herself a giant horse named Dust Devil. The two are soon at work battling a gang of cowboy outlaws riding giant mosquitoes. The outrageous exaggerations of Angel's narration are perfectly matched by the stunning paintings framed by the wood they are painted on. Both boys and girls will identify with this courageous yet kind folk hero.
---

Meanwhile, Back at the Ranch
by Anne Isaacs, Kevin Hawkes
Ages 5–9
This rip-roaring tall tale features Widow Tulip Jones of Bore, England, who inherits a ranch in By-Golly Gully, Texas. Widow Jones arrives in By-Golly Gully in 1870 with two trunks of tea, a dozen pet tortoises, and three servants, determined to turn the ranch into a paradise. Widow Jones is quickly overwhelmed with suitors, since every man in Texas was unmarried at that time, and finding it hard to run a ranch with a staff of only three. But Widow Jones has a hilarious plan to make it all work out to everyone's satisfaction.
---

The Odyssey: A Pop-Up Book
by Sam Ita
Ages 8–up
This graphic novel retelling of Odysseus's epic journey includes brilliant interactive details. A sharpened stick flies into the eye of Polyphemus, and a pull-tab magically transforms a man into a pig on Circe's island. Modern dialog adds humor to this classic tale without detracting from the original story.
---

When Royals Wore Ruffles:

A Funny and Fashionable Alphabet!
by Pamela Jaber, Chesley Mclaren
Ages 5–9
This A–Z of fashion history uses witty text and charming illustrations to demonstrate that the desire to look fabulous can push humans to often hilarious extremes.
---

Roller Girl
by Victoria Jamieson
Ages 9–12
Astrid (12) and her best friend Nicole do everything together until the day Astrid's mother takes them to a roller derby event. Astrid is enchanted by the sport and signs up for derby camp, but Nicole choses dance camp instead. That summer is the most difficult of Astrid's life as she struggles to keep up with the more experienced girls at camp while dealing with the possibility of losing her best friend. A new friendship helps Astrid prepare for her first roller derby and become a true roller girl. This coming-of-age graphic novel is written by a real-life roller-derby girl.
---

All's Faire in Middle School
by Victoria Jamieson
Ages 9–12
Imogene (Impy) Vega (11) is about to attend public school for the first time in her life. Her parents work at a Florida Renaissance fair, and Impy has been immersed in world of jousting and archaic language. She is eager to begin her own training as a squire, and decides that her first quest will be conquering middle school. But its a challenge to act like a noble knight-in-training when confronted by girls who make fun of her thrift shop clothing, small apartment, and unusual life style. This graphic novel humorously captures the challenges of middle school life.
---

The Death of the Hat: A Brief History of Poetry in 50 Objects
selected by Paul B. Janeczko, illustrated by Chris Raschka
Ages 8–12
This excellent anthology of poems is organized around the theme of objects that have inspired poets through the ages. Poets like Robert Burns, Emily Dickinson, Pablo Neruda, Naomi Shihab Nye, Sylvia Plath, and William Wordsworth write about objects including cobwebs, manhole covers, the moon, and stamp albums.
---

Firefly July: A Year of Very Short Poems
by Paul B. Janeczko, Melissa Sweet
Ages 6–9
This anthology of 36 short poems is organized by seasons. Accompanying each brief poem is a large-format watercolor, gouache, and mixed-media illustration that nearly leaps off the page. Favorite children's and adult poets like the following are included: Emily Dickinson, Ralph Fletcher, Langston Hughes, J. Patrick Lewis, Eve Merriam, Joyce Sidman, James Stevenson, April Halprin Wayland, William Carlos Williams, Charlotte Zolotow.
---
A Foot in the Mouth:

Poems to Speak, Sing and Shout
edited by Paul B. Janeczko, illustrated by Chris Raschka
Ages 8–12
The poems in this book beg to be read aloud. Included are rhyming poems, tongue twisters, bilingual poems, dual voice poems, and poems that will inspire kids to memorize and recite them.
---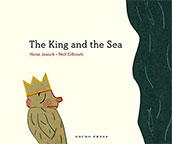 The King and the Sea
by Heinz Janisch, Wolf Erlbruch
Ages 7–up
These 21 very short connected stories explore the idea of what it means to have the power of a king. The king tries to order the natural world about and finds that the power of his crown has little impact on things like a bee, the rain, and the sea. The king is often open to negotiation as he learns that his place in the world has little to do with his crown.
---

Fatal Fever: Tracking Down Typhoid Mary
by Gail Jarrow
Ages 10–up
Mary Mallon worked as a cook in 1907 New York City. Mary was infected with typhoid, but had no symptoms of the disease, and inadvertently infected numerous people with the deadly disease. George Albert Soper, a sanitation engineer and typhoid expert, and Sara Josephine Baker, a doctor working at the New York City Department of Health, followed the trail of infection back to Mary, who was virtually imprisoned on North Brother Island in New York's East River order to prevent the further spread of the disease. This true story is written in the style of a gripping thriller.
---

The Heart and the Bottle
by Oliver Jeffers
Ages 4–up
When a small girl loses her father, her only parent, she decides that the best thing is to put her heart in a bottle and hang it around her neck. All the wonder, curiosity, and delight in the world they shared together vanishes, but the girl believes her heart at least is safe from further pain. When the girl is older, her heart is restored when she meets someone smaller who still delights in the world. This gentle book is a quietly moving portrait of grief.
---

The Animal Book: A Collection of the Fastest, Fiercest, Toughest, Cleverest, Shyest—and Most Surprising—Animals on Earth
by Steve Jenkins
Ages 6–10
More than 300 animals appear in this encyclopedic book, arranged in thematic chapters loosely grouped by family, senses, predators, defenses, extremes, and evolution. Cut-paper illustrations in vibrant color accompany the interesting scientific facts.
---

Eye to Eye: How Animals See The World
by Steve Jenkins
Ages 6–9
The amazing range of eyes in animals is the subject of this artistic science book. Fascinating information about eyes — the eyeballs of the tarsier are larger than its brain, the panther chameleon can look in two directions at once — is presented alongside striking illustrations of torn and cut paper.
---
How to Swallow a Pig: Step-by-Step Advice from the Animal Kingdom
by Steve Jenkins, Robin Page
Ages 6–9
This humorous and scientifically accurate book presents 18 animal behaviors with helpful step-by-step directions. Readers will learn useful skills, like how an octopus disguises itself, how wasps build nests, and how grebes dance. Torn and cut paper collages accompany the witty text.
---

How to Catch a Bogle
by Catherine Jinks, Sarah Watts
Ages 9–12
Birdie McAdam, a ten-year old orphan, is apprenticed to Alfred the Bogler. Birdie uses her beautiful singing voice to lure monsters from the chimneys, wells, and other dark places of Victorian London, and Alfred kills them before they can pounce on Birdie. Miss Eames, a wealthy folklorist, is determined to find a more scientific way of catching bogles, thus saving Birdie from a dangerous occupation. But Birdie loves her job, which seems safe to her compared to the jobs her fellow orphans have. This engaging adventure is the first in a planned trilogy.
---

Rise of the Wolf
by Curtis Jobling
Ages 10–up
Drew lives in a world ruled by Werelords, men and women who can shift at will into the form of creatures like bears and serpents. When Drew's mother is attacked by a monster, Drew's true nature as a werewolf is unleashed. As the last of the royal werewolves, Drew is hunted by the current ruler of the Seven Realms, Leopold the werelion. With the help of a wereboar and werefox, Drew tries to escape death and accidentally sparks a revolution against the corrupt leaders. This exciting and action-filled book is the first in the Wereworld series.
---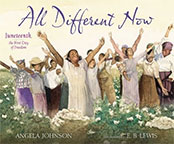 All Different Now: Juneteenth, the First Day of Freedom
by Angela Johnson, E.B. Lewis
Ages 5–9
The little girl narrating this poem tells the story of the day that the slaves on a Texas plantation learn they are free, more than two years after President Lincoln signed the Emancipation Proclamation. Watercolor illustrations display the range of emotions throughout the day, from weary toil in the hot morning sun, through overwhelming emotions when hearing the news, to tranquil joy in the cool of the evening.
---

The Story of Owen: Dragon Slayer of Trondheim
by E.K. Johnston
Ages 11–up
Owen Thorskard (16) lives in a world where dragons, attracted to the carbon emissions of cars and campfires, are a persistent threat. Owen and his dragon-slaying family move to Siobhan McQuaid's small Ontario town, and she agrees to become the bard for the young dragon-slayer-in-training. This clever alternative Earth imagines a very similar world, which the exception of the dragons who have influenced art, music, and history.
---

Fearsome Creatures of the Lumberwoods: 20 Chilling Tales from the Wilderness
by Hal Johnson, Tom Mead
Ages 9–12
The twenty tall tales in this book of scary stories are told from the perspective of a cryptozoologist, recounting all the horrifying incidents he witnessed while seeking strange wild creatures in the lumberwoods of North America. The Snoligoster feeds on the shadows of its victims, the Hoop Snake can chase prey at speeds of up to 60 miles per hour, and the wampus cat punctures its victims with the spiked ball on the end of its tail. This re-imagining of a book originally published in 1910, includes eerie black and white cartoons.
---

Sarah Emma Edmonds Was a Great Pretender: The True Story of a Civil War Spy
by Carrie Jones, Mark Oldroyd
Ages 7–12
Sarah Emma Edmonds began pretending at a young age. Her father wanted a son, so Sarah pretended to be a boy. When she was a teenager, Sarah realized she would never be the son her father wanted, so she ran away from Canada to America, where she assumed the identity of Frank Thompson. In 1861 she joined the Union Army as a male nurse. When the Union Army needed a spy, she volunteered, pretending to be a male African American slave, a female Irish peddler, and a female African American laundress in order to slip behind enemy lines and gather information. Sly illustrations capture Sarah's joy in her successful deceptions.
---

Earwig and the Witch
by Diana Wynne Jones, Paul O. Zelinsky
Ages 8–12
The orphaned Earwig has been at the St. Morwald's Home for Children since she was a baby. Everyone does whatever Earwig says, and she is happy there with her best friend Custard. When adoptive parents arrive, Earwig make sure that none pick her. But then Bella Yaga, a strange woman with one blue eye and one brown, adopts Earwig and sets her to the daily task of grinding up disgusting things to use in spells. But the determined Earwig is more than a match for the evil witch and her grouchy assistant Mandrake.
---

The Islands of Chaldea
by Diana Wynne Jones, Ursula Jones
Ages 8–12
Aileen just turned 12, but the ceremony at the Palace doesn't reveal the magical talent needed to secure her place in her family's long line of Wise Women. Her Aunt Beck assures her the magic will reveal itself eventually, and takes her on a quest to break the Logra barrier that is draining the magic from three of the islands of Chaldea. On the journey Aunt Beck's sharp tongue gets her into trouble, and Aileen is forced to take charge. This enchanting novel was finished by Diana Wynne Jones's sister after her death in 2011.
---
The Fairy-Tale Princess: Seven Classic Stories from the Enchanted Forest
by Wendy Jones, Su Blackwell
All ages
Seven condensed fairy tales — Sleeping Beauty, The Frog Prince, Rapunzel, Cinderella, Snow White, The Princess and the Pea, and The Twelve Dancing Princesses — are retold with an emphasis on the princess element. The incredible three-dimensional paper sculptures are created from vintage book pages.
---

Kira-Kira
by Cynthia Kadohata
Newbery Medal 2005


Ages 11–14
In the 1950s, when Katie is five, her family moves from Iowa to Georgia, where there are few Japanese-Americans. Katie's older sister Lynn takes care of her while their parents work long hours in the chicken-processing plant. Their roles reverse when Lynn develops lymphoma. Through the illness and Lynn's death, Katie struggles to remember her sister as kira-kira, glittering and shining. Narrated by Katie, this beautifully written book tells a poignant story of love and loss.
---

The Thing About Luck
by Cynthia Kadohata, Julia Kuo
Ages 10–14
It hasn't been an easy year for Summer's family. She has suffered through a near-fatal bout of malaria, her grandmother has severe back pain, and her little brother Jaz is unable to make friends. When her parents have to suddenly return to Japan to care for an ailing relative, Summer (12) and Jaz are cared for by their grandparents. To earn money to pay the mortgage, the grandparents come out of retirement to return to migrant work following the custom wheat harvesters throughout the Midwest. Summer's courage and uncertainties are portrayed with humor and compassion.
---
A Million Shades of Gray
by Cynthia Kadohata
Ages 10–up
After American troops leave his village in South Vietnam, Y'Tin, who dreams of opening an elephant training school, and his village are left to fend for themselves. When North Vietnamese troops destroy the village, Y'Tin escapes into the jungle with Lady, his pet elephant. As the days go by, he becomes angrier and less trusting, fearing that he will never feel safe again. Truth has as many shades of gray as an elephant in this emotional survival story.
---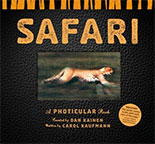 Safari: A Photicular Book
by Dan Kainen, Carol Kaufmann
All ages
Animated by the turning of the page, eight wild animals come alive in this amazing book. A lowland gorilla munches the leaves off a branch, a cheetah runs, a gazelle leaps, an elephant flaps its ears. The amazing photicular technology is accompanied by text about each animal. This beautiful book will mesmerize children and adults of all ages.
---

A Song About Myself
by John Keats, Chris Raschka
Ages 6–9
While hiking the hills of Scotland at the age of 22, poet John Keats wrote to his younger sister Fanny, including a self-deprecative poem about himself. Whimsical watercolor illustrations accompany this playful connection between siblings that is great fun to read aloud.
---

Dogs of War
by Sheila Keenan, Nathan Fox
Ages 8–12
The three historical fiction stories in this book focus on soldiers and their dogs in three different wars. In WWI, Marcellinus McDonald (16) is a doctor's assistant on the Western Front in 1914, and Boots is his beloved "mercy dog," who finds the wounded in No Man's Land. Loki is a sled dog in a rescue unit stationed in 1942 Greenland, where his master relies on him in a solo encounter with some Nazis. The final story is about a boy named Henry in 1968 North Carolina whose struggles to control his beagle puppy bring him friendship with a recently returned Vietnam vet haunted by his experience on patrol with his German shepherd, Sheba.
---

Bowling Alley Bandit
by Laurie Keller
Ages 7–10
Arnie is happy serving as "Doughnut Dog" for Mr. Bing, accompanying him wherever he goes. When Mr. Bing joins a bowling league and can't seem to roll anything except gutter balls, Arnie and his goofy friends decide to help him out. This funny first in an illustrated chapter book series picks up where the picture book Arnie the Doughnut left off.
---
The Scrambled States of America Talent Show
by Laurie Keller
Ages 4–10
The 50 states are gathered for a talent show, and what a bunch of hams! Snappy dialog and energetic illustrations help kids absorb the state and geographic information.
---

Hello, Universe
by Erin Entrada Kelly, Isabel Roxas
Ages 8–12
Virgil Salinas (11) is shy and struggles in school. His only friends are his guinea pig Gulliver and Kaori Tanka, a self-proclaimed psychic whose little sister Gen won't stop following her around. Valencia is nearly deaf and longs for a friend. She hopes that Kaori can help her conquer her recurring nightmares. Instead, Kaori asks for her help when Virgil doesn't show up for a scheduled meeting. Chet Bullens is the neighborhood bully who wishes the weird kids would go away so he can concentrate on important things like basketball. His thoughtless prank traps Virgil and Gulliver at the bottom of a well. Told from four points of view, this novel explores the power of unexpected friendships.
---

The Evolution of Calpurnia Tate
by Jacqueline Kelly
Ages 10–up
Eleven-year old Calpurnia (Callie) Tate is a middle child with six brothers in isolated 1899 Fentress, Texas. To her family's distress, Callie isn't interested in normal girl occupations and would rather learn about the natural world with her grandfather. As Callie grows through the year of this book, she gradually defines for herself what it means to be a girl. (2010 Newbery Honor Book)
---

The Curious World of Calpurnia Tate
by Jacqueline Kelly
Ages 9–12
Callie (13) continues in her quest to become a scientist with the help of her grandfather. Her brother Travis brings home an assortment of pets with disastrous results despites Callie's attempts to help. The 1900 Galveston hurricane brings cousin Aggie to live with them, and an injured veterinarian who reluctantly accepts the eager help of Callie, despite the fact that she is only a girl. But Callie is determined to fight against the imbalance and unfairness of the gender divide that expects girls to concentrate on the domestic arts.
---

Melonhead
by Katy Kelly
Ages 9–12
Adam Melon is an active nine-year-old with a knack for finding trouble and a goofy sense of humor. Along with his friend Sam, Melonhead is busy dreaming up plans for the invention fair when he isn't trying to hide his secret pet snake from his parents. This engaging book is perfectly geared for its target audience and a good recommendation for reluctant readers. (Adam was introduced in the Lucy Rose series: Lucy Rose: Here's the Thing About Me, etc.)
---

Poems to Learn by Heart
by Caroline Kennedy, Jon J. Muth
All ages
More than 100 diverse poems by a wide selection of poets are organized by theme in this poetry book. Beautiful illustrations add to the appeal of the poems, selected to appeal to a variety of readers with a range of memorization skills.
---

The Extraordinary Mark Twain
by Barbara Kerley, Edwin Fotheringham
Ages 7–11
Thirteen-year-old Susy is determined to set the record straight about her famous father, and spends a year writing her own observations. This accessible biography, which includes clever illustrations as well as excerpts from Susy's actual diary, presents an intimate portrait of the real man behind the famous one. Author notes include a timeline of Twain's life as well as tips for writing an extraordinary biography of your own.
---

A Home for Mr. Emerson
by Barbara Kerley, Edwin Fotheringham
Ages 8–12
This accessible biography tells the story of Ralph Waldo Emerson and his love for Concord, Massachusetts. Imaginative illustrations display Emerson's powerful inner life and the freedom he felt in Concord to create the perfect life for himself.
---
Those Rebels, John and Tom
by Barbara Kerley, Edwin Fotheringham
Ages 7–11
Clever verse and humorous illustrations portray the different personalities of two founding fathers and early presidents: Thomas Jefferson and John Adams. Lively typography and a bold color palette complement this story of strength coming from difference.
---

Fourmile
by Watt Key
Ages 9–12
Foster (12) is still grieving for his dead father when his mother starts dating Dax Ganey. Foster doesn't trust Dax, and is frightened by him in a way he doesn't really understand. Then Foster's mother starts talking about selling their rural Alabama farm. A mysterious stranger arrives at the farm, offering to do some much-needed repairs. Gary is a former Iraq Army Ranger, now hiking aimlessly around the country. Foster hopes that Gary will provide an ally against Dax, but there are signs that Gary may be even more dangerous.
---
Explorer: The Lost Islands
by Kazu Kibuishi
Ages 9–up
Seven talented cartoonists each contribute an illustrated story on the theme of hidden places. The stories range from funny, thoughtful, to terrifying.
---
I Have a Dream
by Martin Luther King Jr., Kadir Nelson
All ages
Slightly edited to make it understandable to children of all ages, Dr. King's famous speech is beautifully illustrated, showing King as both larger-than-life and deeply human. A CD of the speech is included.
---

Diary of a Wimpy Kid
by Jeff Kinney
Ages 9–12
Middle-schooler Greg Heffley's mother forces him to keep a diary, so Greg takes us through an academic year with prose and comic illustrations. Greg's total obliviousness to his own faults makes him an appealing protagonist. This "novel in cartoons" grew out of a popular web comic and will appeal to both reluctant and experienced readers. (1st in series)
---
Diary of a Wimpy Kid: Rodrick Rules
by Jeff Kinney
Ages 9–12
Middle-schooler Greg Heffley is back and just as hilarious as ever as he tries to deal with the punishments of his older brother, try out for the Talent Show, join the swim team, and attempt to avoid embarrassment at all costs. (2nd in series, following Diary of a Wimpy Kid)
---

Diary of a Wimpy Kid: The Last Straw
by Jeff Kinney
Ages 9–12
Middle-schooler Greg Heffley starts this funny diary with his New Year's resolution to help other people improve, and continues to summer vacation. Along the way, Greg struggles with anonymous Valentine cards, trying to impress his classmate Holly, and single-handedly ruining his soccer team's perfect season. (3rd in series, following Diary of a Wimpy Kid and Diary of a Wimpy Kid: Rodrick Rules)
---

Diary of a Wimpy Kid: Dog Days
by Jeff Kinney
Ages 9–12
It's summer vacation, and middle-schooler Greg Heffley hopes to spend it playing video games. Unfortunately his mother has other ideas, and Greg finds himself in a book club for boys, fighting with his friend Rodney over their failed lawn-care business, and trying to escape the horrors of the murderous "muddy hand" that haunts him from a horror film. This hilarious series will enthrall both reluctant and experienced readers. (4th in series, following Diary of a Wimpy Kid, Diary of a Wimpy Kid: Rodrick Rules, Diary of a Wimpy Kid: The Last Straw)
---

The Clockwork Three
by Matthew J. Kirby
Ages 8–14
Giuseppe, an orphaned street musician, dreams of freedom from his oppressive master and returning home to Italy. Hannah, who works as a maid to help support her family, longs for a cure for her dying father. Frederick, apprenticed to a clockmaker, wants to discover the identity of his mother. Each of the three children begin their searches independently, but discover they have more power when they team up to work together. This urban steampunk fantasy is a captivating and exciting adventure story.
---

The Gingerbread Pirates
by Kristin Kladstrup, Matt Tavares
Ages 4–10
Jim and his mother make gingerbread pirate cookies on Christmas Eve, and Jim likes his Captain Cookie with a gingerbread cutlass and toothpick peg leg too much to leave him on the plate for Santa. In the middle of the night, the brave Captain Cookie dashes down the stairs to save his crew from the mysterious cannibal named Santa. Luckily Santa ends up not being as terrifying as the cookies feared.
---
The Green Glass Sea
by Ellen Klages
Ages 10–14
It's 1943 and 10-year-old budding inventor Dewey Kerrigan sets off with her father to do secret war work in New Mexico. As the adults work on "the gadget," the kids at Los Alamos are often left to their own devices. When the atomic bomb tests are finally successful, both children and adults grapple with the ethical implications as they realize how "the gadget" will be used. The unique atmosphere of the secretive scientific community is clearly presented in this excellent historical novel, but the true nature of "the gadget" may not be understood by kids who don't know it already.
---

White Sands, Red Menace
by Ellen Klages
Ages 10–14
It's 1946, and Suze and Dewey are living near Los Alamos with Suze's parents who helped build the atom bomb with Dewey's late father. Suze's father is working on rockets to maintain the US edge over the Soviets while her mother organizes scientists against the war. This excellent historical fiction helps middle graders grapple with moral dilemmas while creating strong characters with realistic emotional issues. (sequel to The Green Glass Sea)
---
Freedom Stone
by Jeffrey Kluger
Ages 9–12
When the Confederate Army promised freedom to the family of any slave who served in the army, whether he made it home or not, Lillie's father decided he had to take the chance. But when Lillie's father is killed in the war, the army claimed he was a thief and the plantation master refused to free the family. In fact, he decided to sell Lillie's little brother Plato. With the help of another slave, Lillie travels to the battlefield to prove her father's innocence and win freedom for her family.
---

The Dam Keeper
by Robert Kondo, Dice Tsutsumi
Ages 7–11
Sunrise Village is surrounded by a dangerous black fog. Pig's father built a machine called the dam to keep the fog out of the village, and taught his son how to maintain the machine before vanishing in the fog. Pig's friend Fox and Hippo, the town bully, are the only ones who understand how hard Pig works to keep the town safe. Now the fog is getting worse, and Pig, Fox, and Hippo must leave the safety of the town to fight it. This beautifully drawn graphic novel is based on the author's animated short film.
---
The View From Saturday
by E.L. Konigsburg
Newbery Medal 1997


Ages 8–12
Four brilliant but shy 12-year-olds meet every Saturday for tea and preparation for their Academic Bowl competitions. First person narrations from each character reveal their offbeat personalities and the characteristics that help their individual differences unite into a cohesive whole. This compassionate and imaginative novel is a humorous look at friendship and the power of small deeds to make big changes.
---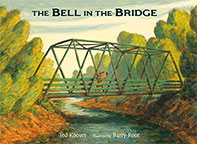 The Bell in the Bridge
by Ted Kooser, Barry Root
Ages 6–9
Charlie is staying for his hard-working grandparents for two weeks during summer vacation. Often left to his own devices, Charlie plays outdoors. He comes across a big metal bridge over a stream and discovers that when he strikes it with a stone the sound resonates through his shoes and echoes throughout the valley. Sometimes he hears an answering sound, and wonders if it is an echo of his own bridge, or perhaps someone on another bridge creating an answering sound.
---

You Can't See the Elephants
by Susan Kreller
Ages 10–up
Each summer Mascha (13) is sent to spend a few weeks with her grandparents in a small town. This summer Mascha meets Julia and Max, young siblings who are very shy and timid. Noticing bruises on the children, Mascha suspects that their father is physically abusing them, but her grandparents can't believe the respected member of the community can be at fault. Then Mascha sees something so terrible she is compelled to take matters into her own hands.
---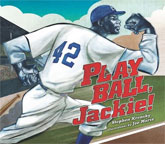 Play Ball, Jackie!
by Stephen Krensky, Joe Morse
Ages 7–10
It's 1947, and 10-year-old Matty Romano is going to his first baseball game with his father to see the Brooklyn Dodgers, his favorite team. It's also the first day for Jackie Robinson, the first Black baseball player in the major leagues. The crowd is divided between those who are outraged and those who just want to see good baseball players, no matter what their color. Matty's conversations with his father provide an intimate look at this historic baseball game.
---

Griff Carver, Hallway Patrol
by Jim Krieg
Ages 9–12
Griff Carver, a seasoned safety-patrol officer, is new to Rampart Middle School. His mother tries to convince Griff to join the band instead, but Griff can't escape his need to catch rule-breakers, even if it's the principal dropping a straw wrapper and not picking it up. Discovering a counterfeiting ring producing hall passes, Griff recruits a girl reporter and a rookie on the safety patrol. Told in police procedural style, this humorous book will keep readers glued to the page.
---

The Grand Plan to Fix Everything
by Uma Krishnaswami, Abigail Halpin
Ages 8–12
Dini (11) loves movies. She has introduced her best friend Maddie to the wonders of Bollywood, and the two girls adore film star Dolly Singh. When Dini's mother gets a grant to work as a doctor for two years in the tiny village of Swapnagiri in India, Dini is heart-broken to leave Maddie and her contented life in suburban Maryland. But Dini begins to prescript her life to include her new environment and characters, which include a postal worker, a baker, a car mechanic, and a host of monkeys. This delightful novel with a distinctive heroine is fast paced and fun.
---

Big Wig
by Kathleen Krull, Peter Malone
Ages 8–12
This playful "history of hair" follows our fascination with hair from prehistory to the punks. The humorous gouache illustrations beautifully complement the information about hair fashions and follies in ancient Egypt, Mexican, and Indian societies and through the royal courts of Europe to modern times.
---
The Last Invisible Boy
by Evan Kuhlman
Ages 10–14
In his notebook, Finn Garrett (12) explains that after his father died unexpectedly a few months ago, an eraser fell from the sky and has gradually been erasing him day by day. This painful yet funny novel explores coping with loss in a way middle schoolers can empathize with.
---

Brave Red, Smart Frog: A New Book of Old Tales
by Emily Jenkins, Rohan Daniel Eason
Ages 8–12
Seven classic fairy tales are retold in contemporary language. The basic stories aren't altered, but rather expanded with added character development. Additional whimsical details appear in the illustrations. Included are both well-known and lesser-known fairy tales: Little Red Riding Hood, Snow White, The Frog Prince, Hansel and Gretel, Three Wishes, The Three Great Noodles, Toads and Pearls.

Beautiful Blue World
by Suzanne LaFleur
Ages 8–12
Fictional Sofarende is at war. For Mathilde (12) the war means not enough food and bombings. The army is recruiting children and paying their families well, and Mathilde's best friend Meg is determined to take the entry test and join in order to save her family. Mathilde reluctantly takes the test to support Meg, and is horrified when she is accepted while Meg is not. Frightened by the what might be expected of her, Mathilde is relieved to discover that the Adolescent Army is comfortably housed in a huge mansion where they are trained to decode messages and predict bomb strikes. This suspenseful novel is the first in a series.
---

Eight Keys
by Suzanne LaFleur
Ages 9–12
Elsie and Franklin have always been best friends, ever since she came to live with her aunt and uncle after her parents died when she was very young. Before he died, her father made eight rooms on the second floor of the barn for her to open when the time was right. When they enter middle school, things start going wrong. Elsie is bullied, she doesn't fit in, and Franklin seems unwilling to leave childish toys at home. When Elsie turns 12, keys to the rooms appear one at a time, and she discovers things about her parents, her aunt and uncle, and herself as she explores the rooms. This sensitive novel beautifully portrays the transition between childhood and the teenaged years.
---

Listening for Lucca
by Suzanne LaFleur
Ages 8–12
About two years ago Siena (now 13) began to dream about a house by the sea and war planes crashing. Around the same time, Siena's little brother Lucca (now 3) stopped talking. Obsessed by visions from the past, Siena grows apart from her friends and begins collecting abandoned objects. Hoping that a change of scene will help both children, their parents move the family from Brooklyn to Maine, moving into a house that has an eerie resemblance to the one from Siena's dreams. Siena connects to the ghost of a dead girl from the past, whose brother died in WWII. This suspenseful book is an engaging mix of history, mystery, and family life.
---

Inside Out and Back Again
by Thanhha Lai
Ages 9–12
After her father has been missing in action for nine years in the Vietnam War, 10-year-old Hà, her mother, and her three older brothers flee to Guam, eventually ending up in Alabama. Though finally safe, Hà finds it difficult to master the new language and customs, and is cruelly mocked by her classmates. Befriended by a teacher who lost a son in Vietnam, Hà gradually adjusts to her new life. Narrated in first person free-verse poems, this poignant novel captures the sense of alienation felt by many immigrants.
---

Listen, Slowly
by Thanhha Lai
Ages 8–12
Mai (12) can't wait to enjoy her summer hanging out at home in Laguna Beach, California, with her best friends. Instead, her parents arrange for Mai to accompany her grandmother (Bà) to Vietnam. New information has just been found about her long lost grandfather (Ông) who disappeared over 40 years ago in "THE WAR." Mai is reluctant. She doesn't speak the language and knows very little about her Vietnamese heritage. Stuck in a village with limited Internet access, Mai makes friends with a headstrong girl, gradually becomes interested in what might have happened to Ông, and reconnects to the grandmother she was close to as a young child. This powerful novel is an effective companion novel to Inside Out & Back Again, which presents the author's near-opposite journey fleeing Vietnam after the fall of Saigon.
---

The Incredible Voyage of Ulysses
by Bimba Landmann
Ages 9–12
After the defeat of the Trojans by the Greeks in a 10-year war, Ulysses, king of Ithaca, heads home to his faithful wife Penelope. His voyage home takes another 10 years, and as Ulysses battles cannibals, monsters, and other magical creatures, Penelope fends off suitors determined to convince her Ulysses is long dead. This retelling of Homer's epic tale is presented in a richly illustrated style designed to draw readers into the gripping adventure.
---

The Fate of Achilles
by Bimba Landmann
Ages 9–12
When Achilles was born, the Fates foretold that his destiny would be tied to that of Rome. The son of the nymph Thetis and King Peleus, Achilles was raised by Chiron, a centaur who taught the boy how to fight and how to live with honor. When asked to help avenge the Greeks against the Trojans, Achilles agrees, though his mother warns him that he will not survive the battle. This retelling of Homer's epic continues the story begun in The Incredible Voyage of Ulysses.
---

In Search of the Little Prince
by Bimba Landmann
Ages 7–up
This picture book biography of Antoine de Saint-Exupéry presents child-friendly events from his life that inspired the eventual writing of The Little Prince. Antoine loved listening to the fairy tales his mother told him, tried to make his bicycle fly, tamed a fox in the Moroccan desert, and found a rose to love and cherish. Moments of loneliness caused him to draw the outline of a child on a sheet of paper, foretelling the book to come.
---
The Best Worst Thing
by Kathleen Lane
Ages 8–12
Maggie (11) worries about everything. Why doesn't her older sister want to play with her anymore? What will happen to the baby rabbits next door? Why isn't her father ever home? One day shortly after Maggie and her sister return home from the neighborhood Mini Mart they learn that it was robbed just after they left, and the cashier was shot and killed. Maggie's worries go into overdrive and she begins to obsessively check that all the doors and windows are locked at all times. Starting middle school only makes things worse. What will happen when the school bully gets a gun for his 12th birthday? Maggie becomes increasingly dependent on performing rituals and routines, counting to make sure everything is evenly numbered. A new friendship helps Maggie control her anxiety and begin to form a more positive outlook.
---
Audacity Jones to the Rescue
by Kirby Larson
Ages 8–12
Audacity Jones (11) is an orphan living in Miss Maisie's School for Wayward Girls in Swayzee, Indiana, in 1910. Audie has a pet cat named Minivar, a good friend, and plenty of books to read, but longs for adventure. When Commodore Crutchfield whisks her off to Washington, DC, Minivar slips into the car. Audie isn't sure she can trust the Commodore, and makes friends with a newsboy named Juice and his grandfather, who works in the White House stables. This clever historical mystery is the first in a planned series.
---
Dash
by Kirby Larson
Ages 8–12
After the Japanese attack on Pearl Harbor life changes for Mitsi Kashino (11) and her Japanese-American family. Mitsi tries to stay strong as she and her family are taunted, shunned, fingerprinted, and told they will be relocated to in interment camp. The news that she cannot take her beloved dog Dash to the camp, Mitsi begs her neighbor, Mrs. Bowker, to take care of Dash. Mrs. Bowker agrees to take care of Dash, and writes letters from Dash to Mitsi that follow the family from Seattle, Washington, to Minidoka, Idaho.
---

Duke
by Kirby Larson
Ages 8–12
Hobie Hanson (11) is determined to do everything he can to help the war effort while his father is overseas flying B-24s in WWII. He makes do with less, collects rubber, and buys War Bonds. When his father is taken prisoner, Hobie decides to donate his beloved German Shepherd Duke to Dogs for Defense, which trains dogs to act as act as sentries, mine sniffers, and patrol dogs for the military. Hobie immediately regrets his decision, and does everything he can to get Duke back, even answering letters from Duke's Marine handler with misinformation. Finally Hobie divulges information that enables Duke and his handler to save lives in battle.
---

One Beetle Too Many:

The Extraordinary Adventures of Charles Darwin
by Kathryn Lasky, Matthew Trueman
Ages 7–12
This friendly biography introduces middle-graders to Charles Darwin. We see young Charles and his brother exploding things in their home-made lab, his failures in school, his consuming curiosity, and finally the voyage aboard the Beagle. Readers are invited to follow the reasoning and questioning that let to Darwin's theory of evolution. Matthew Trueman's incredible mixed-media illustrations help the reader feel Darwin's fascination with the natural world.
---
Small and Tall Tales of Extinct Animals
by Damien Laverdunt, Helene Rajcak
Ages 7–10
The over-sized encyclopedia presents extinct animals like the glyptodon and the Sicilian dwarf elephant with descriptions, illustrations, and multi-panel cartoons. While not at all preachy, the message that animals are often in jeopardy when humans believe that there is an inexhaustible supply is clearly and humorously expressed.
---

Savvy
by Ingrid Law
Ages 9–12
In Mississippi Beaumont's family turning 13 means your savvy kicks in—like causing a hurricane. With her father in a coma after a car accident and her birthday only two days away, Mississippi is sure her savvy will be waking people up. This vibrant novel explores finding your own voice in a book that should appeal to both girls and boys.
---

The Giant-Slayer
by Iain Lawrence
Ages 8–12
This touching novel is set in 1955, during the polio epidemic right before the Salk vaccine. Dickie, Caroline, and Chip are three children living in iron lungs in the polio ward. Dickie's best friend, 11-year-old Laurie, visits and begins an episodic tale of a boy's quest to slay a giant with the help of a unicorn hunter, an oxen driver, and a swamp witch. As the story progresses, the sick children begin to recognize themselves in the heroic characters and experience their first glimmer of hope in years. The difficult subject, emotionally honest characters, and captivating fantasy combine to make this novel something special.
---

The Actual & Truthful Adventures of Becky Thatcher
by Jessica Lawson, Iacopo Bruno
Ages 8–12
In this clever retelling of the classic Mark Twain story, Becky Thatcher is the adventurous troublemaker and Tom Sawyer is the goody-goody tattletale. Becky is still grieving for her brother Jon who died a year earlier, and neglected by her mother who has shut herself away to mourn. So Becky plans mischief with her friend Amy Lawrence in memory of her spirited brother who encouraged her to become a brave tomboy while Sam Clemens is visiting with the Sawyers.
---

Nooks & Crannies
by Jessica Lawson, Natalie Andrewson
Ages 8–12
Six English schoolchildren just about to turn 12 are summoned to a country estate by Countess Camilla DeMoss in 1907 to participate in a competition. Tabitha Crum, whose parents plan to abandon her to an orphanage, has only one friend — her pet mouse Pemberley. Tabitha, who loves mystery books and plans to work for Scotland Yard when she grows up, finds the competition perfectly suited to her talents.
---
Blue Mountain
by Martine Leavitt
Ages 8–12
Tuk is a young bighorn sheep, larger and stronger than others born his year. Tuk has seen a Blue Mountain far away, where humans have never been. When the herd's winter feeding grounds are paved over, Tuk tries to convince the herd to make the long journey to a new home. Though some protest, the herd follows Tuk, braving many dangers along the way.
---

Foxheart
by Claire Legrand, Jaime Zollars
Ages 8–12
Quicksilver (12) is an orphan who lives as a thief in Willow-on-the-River. With her faithful dog Fox, she meets Sly Boots, a shy boy who lets them sleep in his attic when its too cold on the rooftops. One day Quicksliver discovers that she can do magic, which is forbidden. Anatazia, a mysterious old woman who may be a witch, transports them into the past where they take on the task of protecting the witches.
---

Some Kind of Happiness
by Claire Legrand
Ages 8–12
Finley Hart (11) is sent to spend the summer with the grandparents she has never met while her parents finalize their divorce. Finley's escape from the sadness that often overwhelms her has been the magical forest kingdom of Everwood, which she created and recorded in her notebook. While exploring the woods behind her grandparents' country estate, Finley discovers that Everwood is real, and more mysterious than she ever imagined with a family of pirates and a wizard living in a house constructed of bones. As she allows her cousins into her imaginary world, the mysteries increase and the sadness grows. Her quest to understand the secrets of her family helps her understand why her father avoids his relatives and that a family sticks together through good times and bad.
---

The Stratford Zoo Midnight Revue Presents Macbeth
by Ian Lendler, Zack Giallongo
Ages 7–10
The Stratford Zoo looks normal during the daytime, but at night the animals come out of their cages to stage elaborate performances of Shakespeare's greatest works. Tonight's performance is Macbeth, with the lion in the title role. Instead of slaying his enemies with a sword, the lion plans to eat them instead. This funny adaptation of the classic play is the first in a graphic novel series featuring the plays of Shakespeare.
---

Ever
by Gail Carson Levine
Ages 10–up
In this mythological tale, Kezi is the only daughter of a wealthy and devout family in an ancient vaguely Middle Eastern city. When her mother falls deathly ill, her father promises to sacrifice the first person who congratulates him if the god Admat will let her live. Another god tries to help Keri, who is the first to congratulate her father.
---

Forgive Me, I Meant to Do It: False Apology Poems
by Gail Carson Levine, Matthew Cordell
Ages 6–9
Modeled after "This Is Just to Say" by William Carlos Williams, each poem in this book describes a horrible offense and continues with a false apology because the poet clearly is not one bit sorry at all. Fairy tale and nursery rhyme characters share the stage with regular folk, animals, and inanimate objects. Playful illustrations add to the fun.
---

The Best Bad Luck I Ever Had
by Kristin Levine
Ages 10–up
It's 1917 in a small town in Alabama and 12-year-old Dit has been looking forward to the arrival of the new postmaster who is said to have a son his age. But when the new family arrives, the son turns out to be a girl called Emma. And everyone is surprised that the new family is "colored." But Dit is impressed with Emma's intelligence and determination and he begins to reconsider his views about race and justice.
---
The Lions of Little Rock
by Kristin Levine
Ages 10–up
It's 1958, the year after the Little Rock Nine integrated the city's public high schools, and Little Rock has closed the high schools rather than follow the federal mandate to integrate. Twelve-year old Marlee, who doesn't speak outside her family, has no friends at school until befriended by Liz, the new girl. Liz begins to coax Marlee out of her silence and then suddenly disappears. Rumors fly that Liz was a colored girl passing for white. Marlee is determined to stay in touch with the only close friend she ever had, and struggles to find the courage to speak out.
---
We've Got a Job: The 1963 Birmingham Children's March
by Cynthia Levinson
Ages 10–up
This powerful book tells the story of 4,000 black elementary, middle, and high school students who voluntarily went to jail in Birmingham, Alabama, between May 2 and May 11, 1963, while boycotting school in order to participate in a march to boycott segregation. Intimate profiles of four black children give a powerfully personal feel to this courageous children' s crusade and the change it helped to bring about in a time of widespread prejudice and brutality.
---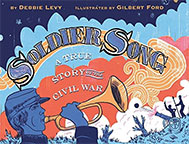 Soldier Song: A True Story of the Civil War
by Debbie Levy, Gilbert Ford
Ages 8–10
Two years into the Civil War the Union army has just been defeated in the battle of Fredericksburg, Virginia, and retreats across the river. Entrenched for the winter, songs floating across the water create a temporary connection. Interspersed excerpts from the letters soldiers wrote home add a personal poinancy, hightlighted by a final exchange of "Home, Sweet Home" sung by homesick soldiers on both sides of the river.
---

The Year of Goodbyes: A True Story of Friendship, Family and Farewells
by Debbie Levy
Ages 10–up
This book tells the true story of a year in the life of Jutta, a 12-year-old girl in 1938 Nazi Germany, and the author's mother. Photos and translations of comments from friends written in Jutta's diary introduce each chapter, giving a vivid picture of an ordinary teenager in an extraordinary time and place. This very personal and powerful book in verse documents a year of change, confusion, cruelty, and farewells.
---

Edgar Allan Poe's Pie: Math Puzzlers in Classic Poems
by J. Patrick Lewis, Michael Slack
Ages 6–9
Poet laureate Lewis transforms famous poems (like "The Raven" by Edgar Allan Poe, "April Rain Song" by Langston Hughes, "The Termite" by Ogden Nash) into humorous word problems. Brightly colored illustrations complement the offbeat mix of language and mathematics, sure to delight children and adults alike.
---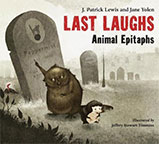 Last Laughs: Animal Epitaphs
by J. Patrick Lewis, Jane Yolen, Jeffrey Stewart Timmins
Ages 7–10
Darkly comic poems celebrating dearly departed animals will appeal to those with a fondness for puns and the macabre. Beautifully detailed illustrations add to the fun.
---

When Thunder Comes: Poems for Civil Rights Leaders
by J. Patrick Lewis, Jim Burke, R. Gregory Christie, Tonya Engel, John Parra, Meilo So
Ages 8–12
Stirring poems celebrate seventeen civil rights leaders. Lesser known figures like Mitsuye Endo, a Japanese-American woman interned during WWII, are represented along with more well known figures like Mohandas Gandhi and Nelson Mandela. Five talented artists provide the distinctive paintings that accompany each poem.
---

The Boy on the Wooden Box: How the Impossible Became Possible… on Schindler's List
by Leon Leyson
Ages 9–14
This moving autobiography tells the true story of Leon Lyson, the youngest member on Schlinder's List. Leon was just 13 when his father convinced Oskar Schlinder to allow Leon to find refuge along with other family members in the Emalia factory, offering them a shred of hope along with the other Jewish workers that they might escape the worst of the Holocaust. Leon was so small that he had to stand on a box to work the machinery. The personal narration helps the reader make a human connection to the horrors of the time.
---

Ling & Ting Share a Birthday
by Grace Lin
Ages 6–9
Twins Ling and Ting are about to celebrate their sixth birthday. Though they look exactly alike, the twins have different personalities that are revealed in the six short chapters where they receive gifts, shop for presents, bake cakes, and make wishes. The loving relationship between the sisters celebrates both their similarities and their differences in this beginning reader.
---

Starry River of the Sky
by Grace Lin
Ages 8–12
Rendi has run away from home and ends up in the tiny Village of Clear Sky where he becomes the chore boy for the innkeeper. Rendi is worried about the moans he hears at night, and concerned that the moon seems to have vanished. The mysterious Madame Chang arrives and trades her wonderful stories for tales from Rendi, gradually transforming the unhappy village. This compelling tale based on Chinese folklore is a companion volume to Where the Mountain Meets the Moon.
---

Where the Mountain Meets the Moon
by Grace Lin
Ages 8–12
Minli and her parents live on the Jade River in the shadow of Fruitless Mountain, growing barely enough rice to feed themselves. Her father tells stories every night to brighten their impoverished existence. One day Minli spends her only two coins on a talking goldfish, sure that it can bring her family good fortune. With help from her fish, Minli sets out to find the Old Man of the Moon, who she hopes will provide the secret to good fortune. Along the way she befriends the unfortunate and uses her wits to escape traps in this beautifully illustrated adventure that draws upon the rich history of Chinese folktales. (2010 Newbery Honor Book)
---

When the Sea Turned to Silver
by Grace Lin
Ages 8–12
The Tiger Emperor is forcing all the men of the mountain villages to build the vast wall surrounding their kingdom. At Pinmei's village, the emperor's soldiers also take her grandmother, the Storyteller. To save her, Pinmei and her friend Yishan set out to find the Luminous Stone That Lights the Night, the only thing the emperor values more. This beautifully illustrated retelling of the Chinese folktale is very exciting.
---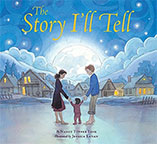 The Story I'll Tell
by Nancy Tupper Ling, Jessica Lanan
Ages 5–9
The mother in this engaging book imagines the ways she might explain how her adored adopted child joined their family. The child might have arrived from a far away land in a hot air balloon. Or delivered on horseback by a winged angel. The beautifully illustrated fantasies highlight the excitement of a family welcoming an adopted child.
---

A Snicker of Magic
by Natalie Lloyd
Ages 8–12
Felicity Pickle (12) and her little sister Frannie Jo have traveled all over with Mama in their old van. When they arrive in Midnight Gulch, Tennessee, where Mama grew up, they immediately feel at home. Midnight Gulch used to be a magical place until a duel between two magician brothers laid a curse upon the remote mountain town. Felicity has a talent with words, but suffers from debilitating stage fright. Her new friend Jonah convinces Felicity to enter the Duel, the annual talent show, and finally express her hidden verbal talent.
---

Fables
by Arnold Lobel
Caldecott Medal 1981


Ages 6–10
These short original fables have unexpected morals. The humorous illustrations add to the fun.
---

Take a Picture of Me, James Van Der Zee!
by Andrea J. Loney, Keith Mallett
Ages 7–11
James Van Der Zee was only a young boy when he saved enough money to buy his first camera, taking portraits of his family and his classmates. He was soon the official school photographer and the unofficial town photographer as well. At the age of 18 he moved from Massachusetts to New York City with the dream of becoming a professional photographer. Informed that no one would want their portrait taken by a black name, he opened his own portrait studio in Harlem, taking portraits of legendary figures of the Harlem Renaissance — Marcus Garvey, Florence Mills, Bill (Bojangles) Robinson, Mamie Smith — as well as ordinary people from the neighborhood.
---

Alvin Ho: Allergic to Girls, School, and Other Scary Things
by Lenore Look, Leuyen Pham
Ages 6–10
Alvin Ho, a Chinese-American 2nd grader, is afraid of just about everything: elevators, tunnels, girls, wasabi, and speaking out in school most of all. The comic exaggeration of a small boy's emotions will appeal to young readers facing many of the same fears.
---

A Handful of Stars
by Cynthia Lord
Ages 8–12
Lily (12) lives with her grandparents above their general store in rural Maine. Lily's best friend has become obsessed with boys, and her dog Lucky is rapidly going blind. When Lucky escapes into the blueberry fields, Salma Santiago, the daughter of migrant fruit pickers, rescues him. The two girls bond over their shared grief: Lily's for her absent mother, and Salma for the loss of her own dog and friends due to the family's constant moves. Together they confront prejudice and revel in the power of the imagination.
---
Number the Stars
by Lois Lowry
Newbery Medal 1990


Ages 10–up
It's 1943 in Nazi-occupied Denmark, and the Jews are about to be rounded up and sent to the death camps. Annemarie Johannesen's best friend Ellen Rosen is Jewish. The Johannesen family helps Ellen's parents go into hiding and take Ellen into their own home, pretending she is part of their family. Narrated by 10-year-old Annemarie, this book vividly portrays the Nazi threat and the courage it takes to help friends while possibly endangering your own family. This moving and suspenseful book is based on true events.
---

The Lunch Witch
by Deb Lucke
Ages 7–10
Grunhilda the Witch is out of work. For generations the women in her family have stirred up spells in a big black cauldron, but no one wants to buy her magic any more. So Grunhilda checks the classified ads, and gets a job as the lunch lady in a school cafeteria. She delights in frightening the children until a shy little girl named Madison becomes her friend. Madison is struggling both at school and at home, and Grunhilda goes against all her witchy instincts to help her. This darkly funny graphic novel is the first in a planned series.
---

Gifts from the Gods: Ancient Words and Wisdom from Greek and Roman Mythology
by Lise Lunge-Larsen, Gareth Hinds
Ages 9–12
This lavishly illustrated book will appeal to both mythology fans and word lovers. Using dictionary definitions, quotes from children's literature, and graphic-novel style illustrations, the authors trace the origins of common words and expressions to Greek and Roman myths. For example, "museums" were originally temples built to honor the nine muses, and "janitor" comes from Janus, the god of doorways and hallways.
---

Bang
by Barry Lyga
Ages 8–12
When he was four, Sebastian Cody accidentally shot and killed his baby sister with their father's gun. Ten years later, Sebastian still can't shake the guilt of being the boy who killed, and is considering suicide. Then he meets Anessa, a new neighbor whose headscarf and brown skin make her an outcast as well. Their friendship causes him to reconsider his own self-worth, though the weight of the past may be too much for him to escape.
---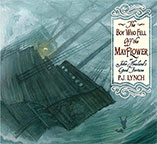 The Boy Who Fell Off the Mayflower, or John Howland's Good Fortune
by P.J. Lynch
Ages 7–10
Based on historical facts, this accessible account of the voyage of the Mayflower and the first year of the Pilgrims in America is narrated by real-life indentured servant John Howland. Beginning in 1620s London, John tells the story of his fall overboard during a storm and his early experiences in the new world. The detailed illustrations are stunning.
---

The Unlikely Adventures of Mabel Jones
by Will Mabbitt, Ross Collins
Ages 8–12
After an unfortunate nose-picking event, Mabel Jones finds herself thrust through a porthole into another world where she is forced to serve aboard the pirate ship The Feroshus Maggot. Captain Idryss Ebenezer Split, a smelly wolf, refuses to release Mabel until she helps the pirates collect all the pieces of a shattered key, hopefully before a comet seals the porthole between worlds for another 100 years.
---
Black and White
by David Macaulay
Caldecott Medal 1991


Ages 4–10
Four stories, that at first seem unrelated, each occupy a fourth of each two-page spread. The interactions between the four stories creates a fifth. There is no resolution, challenging readers to discover new meaning with each reading.
---

How Machines Work: Zoo Break!
by David Macaulay
Ages 7–10
Sloth and Sengi are determined to break out of the zoo with the help of six simple machines: levers, pulleys, screws, inclined planes, wedges, and wheels. Pop-ups, pull-outs, and lift-the-flap encourage readers to explore the inner workings of the machines. Illustrations show everyday objects using the same six simple machines.
---
The Way We Work
by David Macaulay
Ages 10–up
This comprehensive and entertaining illustrated guide to the workings of the human body is the result of years of research. Seven sections move from the structure of a cell through the systems of the body. The full color drawings present information in a friendly way, but the language is often highly technical. Motivated teens will love this book.
---

Fly Away
by Patricia MacLachlan
Ages 7–up
Every year Lucy travels with family to visit her Aunt Frankie in North Dakota. Lucy loves poetry but not music like the rest of her family. Her father loves opera, her mother sings country, her little sister Grace has a beautiful voice, and even baby Teddy, who can't talk yet, substitutes "la la la" for the words of the songs he sings to Lucy each night. When the river overflows one night at Aunt Frankie's and Teddy vanishes, Lucy is forced to find her own voice to save her baby brother.
---

Just Dance
by Patricia MacLachlan
Ages 7–up
Sylvia Bloom (10) lives on a farm in rural Wyoming. Sylvia is looking for a summer project, and her teacher suggests that she take over the newspaper column reporting on all the important events that happen in their small town. Sylvia's mother, a former opera singer, now uses her singing talent to calm the farm animals. Sylvia can't understand why her mother gave up singing on the stage, and wonders if she and her brother Nate are to blame. When her mother's old duet partner writes that he is coming to perform nearby, Sylvia worries that her mother may be tempted to return to the stage, leaving her children behind.
---

Kindred Souls
by Patricia MacLachlan
Ages 7–10
Jake (10) is sure that his 88-year-old grandfather Billy will live forever on their family farm. When Billy expresses a desire to have a sod house like he lived in as a boy, Jake at first resists the idea, but then researches how to construct one when his grandfather becomes ill. The cycle of birth and death foreshadows Billy's eventual death, and the unexpected arrival of a dog helps Jake through his grief. The bond between grandparent and child is beautifully portrayed in this touching book.
---

The Poet's Dog
by Patricia MacLachlan
Ages 6–10
Teddy, the poet's dog, narrates this touching book exploring love and loss. Teddy can speak, but only poets and children can understand him. When Nickel and his younger sister Flora are lost in a snowstorm, they ask Teddy for help. Teddy's owner and friend Sylvan has died, and Sylvan's student Ellie has been taking care of the mournful dog. Both Ellie and Teddy know that he needs to find a new family, and the chance meeting in the woods may help him leave his grief behind.
---

Sarah, Plain and Tall
by Patricia Maclachlan
Newbery Medal 1986


Ages 8–12
In the late 19th century, a widowed midwestern farmer with two children, Anna and Caleb, advertises for a wife. Sarah responds, saying that she is plain and tall. When Sarah arrives she is homesick for Maine, and especially for her beloved ocean. The children fear she will not stay. Narrated by Anna, this short book gently explores abandonment, loss, and love.
---
The Truth of Me
by Patricia MacLachlan
Ages 6–10
Robbie is looking forward to spending the summer with his dog with his grandmother Maddy while his parents are on tour with their classical music quartet. Robbie loves Maddy's stories and the way she communicates with the wild animals living near her home. He often feels that his parents love their instruments and their music more than their only son, and the summer with his grandmother helps him learn to be brave enough to express his true feelings.
---

The Story of the Blue Planet
by Andri Snaer Magnason, Áslaug Jónsdóttir
Ages 8–12
Brimir and Hulda are best friends who live on a small island on a beautiful blue planet inhabited only by children. The planet is wild and sometimes dangerous, but everything is free and everyone is friends with everyone else. Then an adult named Gleesome Goodday crashes his rocket ship on the beach and begins to exchange wonders like flying lessons for small amounts of the children's youth. Eager for more fun, the children are eager to trade until they discover that every additional bit of fun and happiness they receive means someone else suffers hunger and cold. This parable, first published in Iceland in 1999, asks us to consider the question of exchanging personal happiness for the suffering of others.
---

Randolph Caldecott: The Man Who Could Not Stop Drawing
by Leonard S. Marcus
Ages 10–15
This biography begins by setting the historical stage of the changes brought by the introduction of the steam engine, which made travel easier and expanded the distribution of print materials. Randolph Caldecott first worked as a clerk in a bank while searching for opportunities for free-lance illustration. His first book-illustrating assignment was a great success, and he produced celebrated artwork for children's books designed to be purchased by those traveling by train.
---

Boys Are Dogs
by Leslie Margolis
Ages 8–12
When sixth-grader Annabelle returns from summer camp she finds her mother and boyfriend have set up house together. The surprise bribe gift of a puppy helps, but her new school is awful. It's Annabelle's first experience with coed education and the boys drive her crazy until she decides to try her puppy training manual on them.
---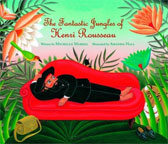 The Fantastic Jungles of Henri Rousseau
by Michelle Markel, Amanda Hall
Ages 5–9
Henri Rousseau was a 40-year old toll collector when he decided to pursue his dream of becoming an artist. Undeterred by his lack of training, Rousseau bought paint, brushes, and canvas and began painting the animals and jungles of distant lands that were so clear in his imagination. Despite the harsh critical judgment of his day, Rousseau continued creating the brilliant paintings that hang in museums all over the world today. Bright illustrations celebrate Rousseau's unique style.
---
Flesh and Blood So Cheap: The Triangle Fire and its Legacy
by Albert Marrin
Ages 10–up
On March 25, 1911, the Triangle Shirtwaist Factory in New York City burst into flames. The factory was crowded with workers, mainly young Italian and Jewish women. The doors were locked to prevent the workers from leaving before the end of the work day, and 146 people died in the fire. One hundred years later, this powerful book examines the poor working conditions the immigrant factory workers endured, the greed that motivated the bosses and owners, and the courage of the workers who banded together to change working conditions for everyone in America.
---
The Night Tourist
by Katherine Marsh
Ages 10–up
Jack Perdu is a 9th grade classics prodigy. One evening Jack goes to New York City, a place he has not visited since his mother died there eight years ago. In Grand Central Station he meets Euri, a mysterious girl who offers to show him the train station's secret places. Eight flights below, Jack realizes he is in New York's ghostly underworld and hopes to meet his mother. The ghosts are suspicious of Jack, who becomes increasingly uncertain if he himself is dead or alive. This intricate adventure is a magical combination of modern characters, New York history, and classical mythology.
---

The Twilight Prisoner
by Katherine Marsh
Ages 10–up
Jack Perdu takes his friend Carla to visit the New York City underworld, but once inside they realize that their escape route has been blocked. A beguiling mix of mystery, humor, historical ghosts, and Greek myths, this book continues the story begun in The Night Tourist.
---

Better to Wish
by Ann M. Martin
Ages 8–12
Abby Nichols (8) is the oldest daughter of a carpenter determined to give his family a better life in 1930s Maine. Due to her father's hard work, the family prospers, moving into a bigger house in the city. But Abby is disturbed by her father's mistreatment of her mentally impaired baby brother and his orders that she is not to play with her Irish Catholic neighbors. The powerlessness of women and children during this time period is deftly portrayed.
---

A Dog's Life: The Autobiography of a Stray
by Ann M. Martin
Ages 9–12
From the comfort of her new home, Squirrel tells the story of her life as a stray. Squirrel and her brother Bone lose their mother when they are puppies. Luckily she has already taught them many skills they will need to survive as strays. When the young dogs are separated, Squirrel must make her own way in the world.
---

Everything for a Dog
by Ann M. Martin
Ages 9–12
This companion novel to A Dog's Life: The Autobiography of a Stray tells the story of Bone, the brother of the stray puppy Squirrel. Told from the alternating perspectives of Bone and the two boys who enter his life: Henry (11) who wants a dog more than anything else in the world, and Charlie, who has a dog but is consumed with grief over the recent death of his older brother. This moving novel will appeal to all animal lovers.
---
The Doll People
Doll People #1
by Ann M. Martin, Laura Godwin, Brian Selznick
Ages 8–12
Annabelle Doll has been eight years old for over 100 years. Not much has changed in that time, except for the disappearance of Aunt Sarah Doll 45 years ago. When Annabelle discovers Aunt Sarah's diary she is determined to solve the mystery, though her ultra-cautious antique china family tries to discourage her. Then Tiffany and the rest of the totally modern "Real Pink Plastic" Funcraft family move in next door and Annabelle's world is totally shaken up. This witty and intriguing tale will appeal to those who like action and suspence mixed with their fantasy.
---

The Meanest Doll in the World
Doll People #2
by Ann M. Martin, Laura Godwin, Brian Selznick
Ages 8–12
Annabelle Doll and Tiffany Funcraft end up in the wrong backpack at school and end up in a house where the rest of the dolls live in fear of Mimi, a princess doll who is convinced she should be the queen of all dolls. Mimi smuggles herself back home with Annabelle and Tiffany and is soon at work causing discord between the Doll and Funcraft families. (sequel to The Doll People)
---

The Runaway Dolls
Doll People #3

by Ann M. Martin, Laura Godwin, Brian Selznick
Ages 8–12
Annabelle Doll and Tiffany Funcraft are convinced that the new doll that arrives in a mysterious package is Annabelle's long lost baby sister. When the package containing Tilly May is at risk of being returned, the dolls run away and have all sorts of exciting adventures. Told solidly from the doll point of view, this is the 3rd in the series following The Doll People and The Meanest Doll in the World.
---

The Doll People Set Sail
Doll People #4


by Ann M. Martin, Laura Godwin, Brett Helquist
Ages 8–12
The antique Doll family and the contemporary Funcraft dolls are mistakenly packed into a box set to a charity in England. Tiffany Funcraft opens a seam in the box so they can escape, and Bailey, Nanny, and Dad Funcraft fall through the hole. Annabelle Doll and Tiffany lead the rescue mission, making new doll friends along the way. This high seas adventure is the fourth in the Doll People series, following The Doll People, The Meanest Doll in the World, and The Runaway Dolls.
---

Missy Piggle-Wiggle and the Whatever Cure
by Ann M. Martin, Annie Parnell, Ben Hatke
Ages 8–11
Mrs. Piggle-Wiggle has gone in search of her husband who joined the pirates, so her great-niece Missy Piggle-Wiggle has arrived to live in the Upside-Down House and take care of Lester the pig, Wag the dog, and Penelope the parrot. Luckily Missy Piggle-wiggle has inherited her great-aunt's talent for finding inventive cures for all kinds of annoying or impolite childhood behavior, like the Whatever Cure and the Just-a-Minute Cure. (Annie Parnell is the great-granddaughter of Betty MacDonald, the author of the Mrs. Piggle-Wiggle books.)
---

Rain Reign
by Ann M. Martin
Ages 9–12
Rose Howard, a fifth grader with high-functioning autism, is obsessed with homonyms and following rules. Rose named her dog Rain because there are two homonyms (reign and rein). Her inability to read social cues causes trouble at school and often frustrates her single father. When a storm hits her little town the river overflows, roads are flooded, and Rain goes missing. Her sense of order is disrupted, but Rose is determined to find Rain. This powerful story is told from Rose's perspective.
---

Ten Rules for Living with My Sister
by Ann M. Martin
Ages 9–12
Pearl (9) knows she doesn't measure up to her perfect older sister Lexie. Lexie has a boyfriend and Pearl has only Bitey the cat. Lexie is popular, but Pearl is not, because of the Three Bad Things that happened at school. Everything Pearl does seems to drive Lexie crazy, but their grandfather is taking over Pearl's room and the two sisters will have to share Lexie's room. So Pearl begins making a list of rules to help them survive. This humorous and poignant novel captures the affectionate bickering of sisters.
---

Chef Roy Choi and the Street Food Remix
by Jacqueline Briggs Martin, June Jo Lee, Man One
Ages 5–12
Chef Roy Choi calls himself a "street cook," dedicated to bringing tasty home-style food to the "hungry" parts of Los Angeles. The food served in his Kogi food trucks is a mixture of the Korean flavors he grew up with and the many cultures that make up the streets of Los Angeles. This accessible biography written in hip hop style verse is a celebration of street food, street art, and the diverse people of Los Angeles.
---

Planet Ark: Preserving Earth's Biodiversity
by Adrienne Mason, Margot Thompson
Ages 8–12
Comparing the planet Earth to an ark sailing through the universe, this informative book explores the importance of biodiversity. Food chains, habitats, and environmental threats are explained, as readers are encouraged to do their part in protecting biodiversity.
---

11 Birthdays
by Wendy Mass
Ages 9–12
It's Amanda's 11th birthday, and everything seems to go wrong. She doesn't make the gymnastics team, her mother is fired, and her former best friend and birthday-twin Leo hosts a separate party for the first time ever. And worst of all, Amanda is trapped and has to relive the awful day again, and again, and again… until finally she begins to resolve the misunderstandings that lead to the repeating day.
---
Pi in the Sky
by Wendy Mass
Ages 8–12

As the seventh (and least-skilled) son of the Supreme Overlord of the Universe, Joss has the job of delivering pies for the Powers That Be. These are special pies since they hold the fabric of the universe together. When the Earth suddenly disappears, Joss and an outspoken Earthling named Annika must recreate the entire solar system. This exciting extraterristrial adventure story is packed with science and humor.
---
Migrant: The Journey of a Mexican Worker
by José Manuel Mateo, Javier Martínez Pedro
Ages 8–up
Narrated by a young Mexican boy, this bilingual book presents his family's desperate journey from Mexico to California. Unfolding accordion-style like an Aztec codex, the seven panels form one tall image that presents the boy, his sister, and their mother as they travel from a small village to the busy streets of Los Angeles.
---

The Great Cake Mystery: Precious Ramotswe's Very First Case
by Alexander McCall Smith, Iain McIntosh
Ages 7–10
Precious Ramotswe, one of the nicest girls in Botswana, is a natural sleuth. When cakes and other treats go missing at her school, everyone suspects a plump boy, but he swears he's not guilty. Precious believes him and sets out to track down the real culprit. Striking woodcut illustrations present a colorful view of the African setting. (A Number 1 Ladies' Detective Agency Book for Young Readers)
---

The Death-Defying Pepper Roux
by Geraldine McCaughrean
Ages 10–up
Pepper Roux's death by age 14 was foretold in a dream, and his aunt Mireille has prayed over him everyday. When Pepper wakes up on the morning of his 14th birthday, he is amazed to find himself still alive, and runs off to sea hoping to escape death a bit longer. Pepper then flees across the French countryside from one disastrous job to another until the totally satisfying climax.
---

Fourth Down and Inches: Concussions and Football: Make-or-Break Moment
by Carla Killough McClafferty
Ages 11–up
McClafferty traces the dangers of the game of football from the 1890s, when 10-20 players were killed each year, to the present day. The dangers of this contact sport are clearly documented with research studies, MRI images, and explainations of what concussions are doing to boys and young men.
---

The Plot to Kill Hitler: Dietrich Bonhoeffer: Pastor, Spy, Unlikely Hero
by Patricia McCormick
Ages 8–up
This engaging biography tells the story of Dietrich Bonhoeffer, a pastor and pacifist who became an unlikely hero when he joined in a plot to kill Hitler. Bonhoeffer had a privileged childhood, and his travels and studies caused him to grow into a gentle, scholarly pacifist. The rise of Nazi Germany caused Bonhoeffer to break from the German church, which allowed swastikas to replace crosses. Bonhoeffer was one of the first to provide evidence to the Allies that Jews were being deported to death camps, and eventually chose to leave his pacifism behind and participate in the failed campaign to assassinate the evil dictator.
---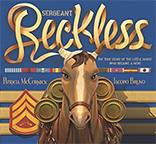 Sergeant Reckless: The True Story of the Little Horse Who Became a Hero
by Patricia McCormick, Iacopo Bruno
Ages 6–10
Abandoned during the Korean War, a starving former racehorse was found by a group of US Marines serving overseas. They wondered if the little mare could be trained to carry ammunition for a cannon nicknamed the "reckless" rifle. The clever little horse quickly bonded with her new owners, and would lick the cook every morning until he woke up and served her breakfast. Eager to serve, she was named Sergeant Reckless, and became the only animal to officially hold military rank in the United States.
---

School for Sidekicks
by Kelly McCullough
Ages 10–14
Evan Quick (13) has spent his whole life dreaming of becoming a hero. Every morning he checks to see if his superpowers have developed yet, but so far no flying ability, heat rays, or other magical powers have arrived. At a class trip to the Mask (superhero) museum, the Hoods (villains) attack, and Evan somehow survives a death ray. His all-time hero Captain Commanding arrives to save the day, but is defeated by supervillain Spartanicus. Evan manages to capture the villain, but Captain Commanding takes the credit and Evan is relegated to the School for Sidekicks.
---

Firefly Hollow
by Alison McGhee, Christopher Denise
Ages 8–12
Firefly longs to fly to the moon, Cricket wants to be the next Yogi Berra, and Peter wants his best friend back. Firefly has been taught to avoid giants, even mini-giants like young Peter. Cricket has also been warned to stay away from giants, but he knows he will never learn to play baseball if he stays in Cricket Nation. Vole is an elderly River Vole, the last of his kind, who doesn't have the courage to set sail for the sea. Together the four form a friendship that helps each follow his dream.
---

Pablo and Birdy
by Alison McGhee, Ana Juan
Ages 8–12
Pablo drifted to the seaside town of Isla as a baby in an inflated swimming pool with a lavender colored parrot by his side. As his tenth birthday draws near, Pablo becomes obsessed with his unknown past. His neighbors tell the legend of the Seafaring Parrot, a magical bird that remembers every sound ever uttered. No one has ever seen the Seafaring Parrot, but everyone wonders if Birdy, Pablo's silent companion who cannot fly, might be it. One day strange winds, like those that blew Pablo ashore, begin to blow, and Birdy begins to mutter. Pablo is torn: Will Birdy begin to speak and tell him of his past? And if she does, will she fly away forever as the legend of Seafaring Parrot foretells?
---

National Parks: A Kid's Guide to America's Parks, Monuments and Landmarks
by Erin McHugh, Neal Aspinall
Ages 8–up
This fascinating guide is arranged alphabetically by state. Original and vintage graphics accompany the history and information about wildlife for each national park area. Monuments and landmarks are also highlighted. The book includes an album for collecting commemorative quarters.
---

Forever Rose
by Hilary McKay
Ages 9–14
This fifth book in the delightfully daffy Casson family series is narrated by the youngest child, Rose, now 11. Rose is coping with her separated parents, talented siblings and their friends, and wondering if she is brilliant herself, or simply daft. (Previous books in the series: Saffy's Angel, Indigo's Star, Permanent Rose, Caddy Ever After)
---
Caddy's World
by Hilary McKay
Ages 10–up
Cadmium Casson is having a tough time. Her mother is in the hospital after giving birth to premature baby Rose, younger siblings Indigo and Saffy are up to their usual mischief, and their father, who tries to introduce order into the chaotic household, is often absent. Caddy's three best friends all have troubles of their own, and then Dingbat tries to woo all four friends at once, with disastrous results. This funny and poignant sixth in the saga of the Casson family moves back in time for this focus on Caddy.
---

Lulu and the Duck in the Park
by Hilary McKay, Priscilla Lamont
Ages 7–9
Lulu loves all animals, so when she finds a duck egg in the park she takes it to school for safekeeping, even though pets are strictly not allowed. But it's only an egg, not an animal, so Lulu figures she's not really breaking the rules. Lulu quietly quacks to the egg so it won't get lonely. This engaging book is the first in a series for young readers.
---

Wishing for Tomorrow
by Hilary McKay, Nick Maland
Ages 8–12
This sequel to A Little Princess takes up the story of life at Miss Minchin's Select Seminary for Young Ladies after Sara has departed with the Indian gentleman. Ermengarde misses Sara dreadfully and writes long letters to her, most of which are never posted. Sara's story is continued in flashbacks, letters, and one personal appearance, while Alice, the new school maid, and the stubborn and unsquashable Lottie help Ermengarde find her own way. Period illustrations complete this thoroughly satisfying and heartwarming story.
---

One Times Square: A Century of Change at the Crossroads of the World
by Joe McKendry
Ages 6–10
One Times Square, the former headquarters of the New York Times and the skyscraper that gave the square its name in 1904, still stands at the intersection of Broadway and Seventh Avenue in New York City. This fascinating book chronicles the change from livery stables and coal yards to a theater district and advertising mecca with beautifully detailed illustrations of buildings, street scenes, and billboards.
---

Counting Lions
by Virginia McKenna, Katie Cotton, Stephen Walton
All ages
Charcoal portraits of endangered animals are paired with poems by Katie Cotton that describe the animal's behavior and physical attributes. Though presented in the traditional counting book format — one lion through ten zebras — this beautiful book will appeal to animal fans of all ages. A forward written by actress and wildlife campaigner Virginia McKenna urges readers to join the fight to protect endangered animals and explains that a 5% book royalty will be donated to her Born Free foundation.
---
Below
by Meg McKinlay
Ages 9–12
Cassie (12) was the first child born in New Lower Grange, Australia, after the intentional flooding of the previous town. Born eight weeks early, Cassie swims laps in the pool everyday to keep her lungs strong. Though forbidden to swim in the lake above Old Lower Grange, Cassie is drawn there, along with her classmate Liam whose life was forever changed by a tragic accident. As the level of the man-made lake drops during the hot summer, the two see glimpses of the submerged town, and begin to search for the truth about the town's past.
---

Let's Clap, Jump, Sing & Shout; Dance, Spin & Turn It Out!: Games, Songs, and Stories from an African American Childhood
by Patricia C. McKissack, Brian Pinkney
Ages 5–18
This songbook, storybook, and poetry collection is meant to be shared. Hand clap, jump rope, and circle games encourage partner and group movement. Songs are meant to be sung as a family, while the stories and poems beg to be read aloud. Parents and grandparents will love sharing this book with the children in their lives, while older children will appreciate the comprehensive recording of oral traditions.
---

Ol' Clip-Clop: A Ghost Story
by Patricia C. McKissack, Eric Velasquez
Ages 6–9
The cold-hearted John Leep eagerly anticipates evicting the widow Mayes for not paying her rent. When she comes up with the payment, he hides one of the coins under his boot, and evicts her for being short. Mounting his horse for the ride home through the dark forest, he hears the "clip, clop" of a ghostly rider pursuing him. This ghostly tale will delight lovers of scary stories.
---

Never Forgotten
by Patricia C. McKissack, Leo Dillon, Diane Dillon
All Ages
This powerful book tells the story of Mustafa, a small boy from Mali who is abducted and sold into slavery. The free verse narration follows Mustafa across the ocean to South Carolina, where he becomes a gifted blacksmith like his father. Dramatic paintings by Leo and Diane Dillon intensify the grief and longing for freedom, reminding children of the importance of family and remembering the past.
---

The Apothecary
by Maile Meloy, Ian Schoenherr
Ages 10–up
Jamie (14) is the daughter of two television writers targeted by the House Committee on Un-American Activities in 1952. Unable to get work, the family moves to London, where Jamie meets Benjamin Burrows, a classmate whose father is the neighborhood apothecary. Benjamin dreams of being a spy and has no trouble defying authority. When Benjamin's father is kidnapped, the two teens work together to uncover the secrets of the apothecary's sacred book, the Pharmacopoeia, in order to find him and thwart the Russian spies with nuclear weapons.
---
The Apprentices
by Maile Meloy, Ian Schoenherr
Ages 10–up
It's 1954 and Janie Scott is attending a boarding school in New Hampshire, Two years have passed since she last saw the mysterious apothecary and his defiant son, Benjamin. On the other side of the world, Benjamin is treating the wounded in a jungle war and trying to perfect a magical formula that will let him communicate with Janie so they can continue their quest to keep the world safe from atomic threats. (sequel to The Apothecary)
---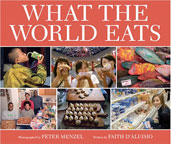 What the World Eats
by Peter Menzel, Faith D'Aluisio
All Ages
Twenty-five families in 21 countries around the world are photographed surrounded by a week's worth of food. The multi-generational portraits provide an avenue for exploring each family's hopes and struggles while gently raising issues about global food supplies. Family recipes, maps, and county information reveal provocative statistics. (adapted from Hungry Planet)
---

New Shoes
by Susan Lynn Meyer, Eric Velasquez
Ages 6–9
Ella Mae is thrilled when her cousin Charlotte's hand-me-down shoes are too small and she can finally get brand new shoes. But in the 1950s South, Ella Mae is not allowed to try on the shoes at Johnson's General Store because she is black. So Ella Mae and her cousin Charlotte decide to open their own store. Using soap and polish they make hand-me-down shoes look new again and encourage their customers to try on as many pairs as they like. The illustrations portray the 1950s South with accuracy and allow the two girls to shine in their pastel dresses.
---

The Nora Notebooks, Book 1: The Trouble with Ants
by Claudia Mills, Katie Kath
Ages 7–10
Nora Alpers is obsessed with facts, especially facts about ants. In her new notebook she records all sorts of observations about ants, determined to earn the world record for the youngest published author in a science journal. Her parents, both scientists, support her by providing an ant farm, but the girls in her class aren't interested. So Nora sits at the boys' table at lunch, sharing her passion with her friends Mason and Brody. Nora's love for her unusual pets will resonate with children who share an interest in something out of the ordinary.
---
Katerina's Wish
by Jeannie Mobley
Ages 8–12
Katerina (13) and her father are both dreamers. It was her father' s dream of owning their own farm that brought the family from Bohemia to Colorado in 1900. But it's been a year now and Papa is still working in the dangerous coal mine that was supposed to be a temporary solution to earn enough money to buy the farm. Then Trina sees a fish that reminds her of the magical wish-granting carp from an old fairy tale. When her two younger sisters' frivolous wishes are granted, Trina wishes for the farm that will make her family happy and secure. Themes of optimism versus realism, magic versus hard work, and xenophobia versus neighborliness make this debut novel stand out.
---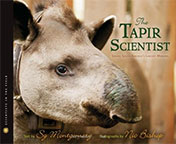 The Tapir Scientist: Saving South America's Largest Mammal
by Sy Montgomery, Nic Bishop
Ages 10–up
Lowland tapirs are so rare that most of the people who live near the tapir habitat in Brazil's vast Pantanal have never glimpsed the fascinating creature. Montgomery and Bishop follow a group of scientists tracking the tapirs through the grasslands and subtropical forests in an effort to learn more about the reclusive animals.
---

The Stars Beneath Our Feet
by David Barclay Moore
Ages 10–up
It's Christmas Eve, but Lolly Rachpaul (12) and his mother aren't celebrating. They are still dealing with the shock and grief of the death of Lolly's older brother in a gang-related shooting a few months earlier. Lolly's mother's boyfriend brings him two huge bags filled with Legos. Lolly has always loved carefully following the instructions to build Lego kits, but isn't sure what to do with a huge pile of raw materials and no guidance. When Lolly and his friends are beaten up and robbed, joining a gang seems like it might be the best thing to do. Instead he begins building a huge Lego city at the community center, discovering that his imagination is a powerful thing.
---

The Inquisitor's Apprentice
by Chris Moriarty, Mark Edward Geyer
Ages 9–12
This historical fantasy is set in an early 20th century New York City where each ethnic group has its own magic. When the police learn that Sacha Kessler, a 13-year-old Jewish boy, can see witches, he is immediately apprenticed to the department's star Inquisitor, Maximillian Wolf, whose mission is to stop magical crime. Sacha is partnered with fellow apprentice Lily Astral, the spoiled daughter of a rich Wall Street Wizard, to find out who is trying to kill Thomas Edison, who has invented a witch-hunting device. Solid period detail and a great sense of humor enliven this possible first in a series.
---

Come See the Earth Turn
by Lori Mortensen, Raul Allen
Ages 6–10
Léon Foucault was a sickly child, a poor student, and a drop-out from medical school—not a natural candidate for fame. Drawn to science as an adult, Foucault began to perform experiments. Though scientists at the time were certain that the Earth did spin around an axis, no one could prove it until Foucault made an incredible discovery that demonstrated the Earth's rotation—Foucault's Pendulum. This accessible account of Foucault's discovery is beautifully illustrated with Raul Allen's dramatic paintings.
---
Sky Raiders
by Brandon Mull
Ages 8–12
Cole Randolph and his sixth-grade friends are lured into a haunted house on Halloween, kidnapped by slavers, and transported into the Outskirts, where magic is real and dreams have power. Cole is separated from his friends and sentenced to salvage treasure from flying castles. As Cole tries to escape, he is befriended by an unlikely group who possess magical powers. This action-packed adventure is the first in the Five Kingdoms series.
---

A World Without Heroes
by Brandon Mull
Ages 8–12
Jason Walker (13) always wished for a more exciting life, until the day he was transported by hippopotamus from Colorado to Lyrian, a magical world ruled by the evil sorcerer Maldor. Jason discovers that his only chance of returning home is by defeating Maldor with a long lost magic word which erases itself from the memory of anyone who says it. But with the help of the Blind King, and Rachel, another refugee from Earth, Jason is determined to succeed. (1st in a planned Beyonders trilogy)
---

Ashanti to Zulu:

African Traditions
text by Margaret Musgrove, illustrations by Leo & Diane Dillon
Caldecott Medal 1977


Ages 6–12
Incredible pictures illustrate the traditions and customs of 26 African tribes beginning with letters from A to Z. Most paintings include a man, woman, child, artifact, living quarters, and a local animal.
---
We Are America: A Tribute from the Heart
by Walter Dean Myers, Christopher Myers
Ages 7–12
Told in free verse poetry, this moving book examines the people, ideals, and promise of America. Moving along a rough chronological path, the text and illustrations present the ordinary and extraordinary people and the events that have shaped America.
---

The Life of Ty: Penguin Problems
by Lauren Myracle, Jed Henry
Ages 6–9
Ty (7), the little brother of Winnie Years, stars in the first of a new series. Ty's first person narration reveals his uncertainties when his mother is preoccupied with his new baby sister and his best friend is diagnosed with leukemia. Ty's enthusiasm often gets away from him as he battles the family cat with a Dustbuster and smuggles a baby penguin out of the aquarium. This early chapter book is a winner.
---

When Mischief Came to Town
by Katrina Nannestad
Ages 10–12
Inge Maria Jensen is sent from her beloved Copenhagen to live on a small island with her stern grandmother after the death of her parents. Inge Maria gradually adjusts to living in the sleepy little town of Bornholm, and decides that a bit of mischief is just what everyone needs to remind the residents how to laugh and shout and enjoy each other's company. This story of a lively little girl dealing with grief in her own way is both touching and funny.
---
Treasury of Egyptian Mythology: Classic Stories of Gods, Goddesses, Monsters & Mortals
by Donna Jo Napoli, Christina Balit
Ages 8–12
this lavishly illustrated collection includes tales of Egyptian gods and monsters, placing them within the context of Egyptian history, culture, and beliefs. Powerful storytelling and images make the myths come alive.
---

Treasury of Greek Mythology: Classic Stories of Gods, Goddesses, Heroes & Monsters
by Donna Jo Napoli, Christina Balit
Ages 8–12
Timeless stories of Greek mythology are brought to life through vivid text and stunning illustrations. Sidebars help to make the connections between the characters clear, and connect the myths to real life events and places. This fascinating book will enchant a new generation of readers.
---

Our White House: Looking In, Looking Out
by National Children's Book and Literary Alliance
Ages 10–up
An all-star roster of 108 children's authors and illustrators plus scholars and former White House employees and residents combine to make up this multifaceted view of the White House from the inside as well as the outside, a personal and ongoing history from 1792 to the present.
---

Faith, Hope, and Ivy June
by Phyllis Reynolds Naylor
Ages 9–12
Ivy June lives with her grandparents in a remote mountain hollow with no indoor bathroom and no phone. Catherine lives in a big house in Lexington and goes to a private school. Both Kentucky girls participate in a 7th grade exchange program, and spend two weeks with each family. First person journal entries and third person chapters tell the story of two very different girls and settings and two unexpectedly similar lives.
---

Shiloh
by Phyllis Reynolds Naylor
Newbery Medal 1992


Ages 8–12
Marty Preston (11) rescues a mistreated beagle pup. He knows the pup should be returned to its owner, but fears it will be abused. So he hides it from his parents and then has to steal food to feed it. Marty's struggles to do the right thing form the heart of this heartwarming story.
---

A Shiloh Christmas
by Phyllis Reynolds Naylor
Ages 8–12
It's been a year since Marty Preston (12) rescued his beagle pup Shiloh from his abusive owner Judd Travers. Judd has been working on changing his cruel ways, but a fire that destroys his home and many others endanger his new reputation. The new minister seems eager to blame the fire on Judd, perhaps to keep the town from looking too closely at his relationship with his own daughters. Marty's parents offer Judd a place to stay while he searches for his missing dogs, and Marty hopes for a Christmas miracle.
---

Impyrium
by Henry H. Neff
Ages 8–12
The Faeregine dynasty has ruled Impyrium for 3,000 years, since they defeated the demon Astaroth, but the family's magic is fading. Hazel Faeregine (12), the albino youngest of the triplet sisters who are heirs to the throne, is looked down on by her family who aren't aware of her powers. The exception is her grandmother, the Empress, who plans to exploit Hazel in order to revitalize the family. Hob, a commoner from the northern wastelands, is sent to serve the Faeregines, and to spy on them. Hob and Hazel form an unexpected friendship in this exciting first in the Impyrium series.
---

Heart and Soul: The Story of America and African Americans
by Kadir Nelson
Ages 9–up
From pre-Revolutionary slavery to the election of President Obama, this powerful book documents the story of a people whose struggles and achievements helped to define America. The grandmotherly narrator tells the story of injustice, courage, hope, and inspiration from her ancestors arrival on a slave ship to her recent vote for an African American president. Dramatic oil paintings present the determination and strength of both well known historical figures and everyday people. The intimate and personal narration make this inspiring book accessible to young readers.
---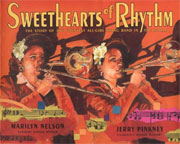 Sweethearts of Rhythm
The Story of the Greatest All-Girl Swing Band in the World
by Marilyn Nelson, Jerry Pinkney
Ages 10–up
Nelson's poems and Pinkney's luminous paintings perfectly complement each other in this tribute to an integrated female swing band that toured the USA from the late 1930s to mid 1940s. Titled after swing tunes, the 20 poems underscore the role of music in bring joy and hope to an era haunted by war and racism.
---

Sitting Bull: Lakota Warrior and Defender of His People
by S.D. Nelson
Ages 8–12
Imagined first person narration tells the story of Sitting Bull, the great Lakota Sioux warrior and chief. Sitting Bull describes his childhood training to become a hunter and warrior, killing his first buffalo at the age of 10. Sitting Bull was a major force in the fight against the invasive wasichus (white men). He and Crazy Horse were the last to surrender to the US government. The engaging narration and dynamic illustrations present a committed leader trying to protect his people.
---

Bad News for Outlaws: The Remarkable Life of Bass Reeves, Deputy U. S. Marshal
by Vaunda Micheaux Nelson, R. Gregory Christie
Ages 8–12
This spirited biography tells the story of Bass Reeves, the dynamic African-American lawman of the Old West. A former slave who escaped to freedom in the Indian Territories, Reeves was cunning and fearless. By the end of his career, Reeves brought more than 3,000 criminals to justice and killed only 14. The folksy text and arresting illustrations bring this respected lawman to vivid life.
---
Lost Boy
by Linda Newbery
Ages 8–12
Just after moving to Wales, Matt imagines a car crash and finds himself next to the grave of a boy with his initials. Soon he is involved in trying to solve the mystery of three lost boys while trying to fit into a village with well-kept secrets.
---
Season of Secrets
by Sally Nicholls
Ages 8–12
When Molly's mother dies, her father sends her and her older sister to live with Grandma and Grandpa in their half-house half-shop. Uncertain how long their visit will be, Molly and Hannah try to cope with home-sicknesses while adjusting to life in a tiny town with a school of only ten kids. While caught in a storm one night, Molly flees from a horned horseman and worries about the wounded man she finds after the hunt. As he heals, Molly realizes there is something magical about him—he can make things grow in the middle of winter—and wonders if he can somehow bring her mother back to life.
---

Ways To Live Forever
by Sally Nicholls
Ages 9–12
Eleven-year old Sam is in the final stages of leukemia. In his journal he keeps facts, questions, and lists. As the book progresses, Sam's friend Felix dies and Sam begins to decline. Sam and his family face death with humor and grace in this moving novel.
---

The False Prince
by Jennifer A. Nielsen
Ages 8–14
Sage (15) is an orphan in the medieval kingdom of Carthya. When the entire royal family dies under mysterious circumstances, Conner, one of the king's regents, begins collecting orphans who might be substituted for the king's youngest son, who was reported lost at sea several years earlier. Sage and two other boys are selected, and soon engaged in a winner-take-all contest to earn the right to impersonate Prince Jaron. Humorous first-person narration places the reader firmly in Sage's court in this first in the Ascendancy Trilogy.
---

Dear George Clooney: Please Marry My Mom
by Susin Nielsen
Ages 11–14
Violet (12) is devastated when her TV-producer father leaves their run-down home in Vancouver and moves to Los Angeles to marry an actress and live in a fancy house with a pool. Violet is angry, her younger sister Rosie reverts to bed-wetting, and her mother begins to date one loser after another. When her mother begins to date Dudley Wiener, Violet and her friend Phoebe decide to take matters into their own hands. Since Violet's mother can't find a decent man herself, they decide to set her up with George Clooney. Violet's attempts to sabotage her mother's relationship with Dudley are hilarious, while her struggles to accept her father's new life are realistically poignant.
---

Boys of Steel: The Creators of Superman
by Marc Tyler Nobleman, Ross Macdonald
Ages 10–up
This colorful picture book biography introduces the youthful creators of Superman: writer Jerry Siegel and illustrator Joe Shuster, two mild-mannered misfit teens in depression-era Cleveland who escaped into fantasy worlds of science fiction and adventure. In 1934, at age 20, they created Superman, who was everything they were not. Four years later they convinced a publisher to take a chance on their character in a brand new format—the comic book.
---
Friends for Life
by Andrew Norriss
Ages 8–12
Jessica has been dead for a year, and is shocked when she sits on a bench next to Francis who offers her tea. No one else has been able to see or hear her since her death. Francis, a quiet boy whose interest in fashion has made him an outcast at the middle school, is grateful for any friend, even a ghost. Andi, a new student who is shunned for her masculine looks and antagonistic nature, and Roland, who is bullied for his extreme weight, also see Jessica. The four become fast friends, bound by their previous isolation and tendencies toward suicide. While trying to discover why Jessica is still roaming the world, the friends discover the truth behind her death. This powerful novel deals sensitively with issues of depression in vulnerable young teens.
---

Georgia in Hawaii: When Georgia O'Keeffe Painted What She Pleased
by Amy Novesky, Yuyi Morales
Ages 6–9
Georgia O'Keeffe was sent to Hawaii by the Hawaiian Pineapple Company to paint two works that celebrated the wonders of pineapple juice. Georgia fell in love with Hawaii and returned home to New York City with more than a dozen paintings. Unfortunately, not one painting featured a pineapple, to the dismay of the Hawaiian Pineapple Company.
---

The Secret of the Stone Frog
by David Nytra
Ages 8–up
Leah and Alan, a young pair of siblings, awaken in their nightclothes in an enchanted forest. While trying to find their way home, the two encounter pet bees, giant rabbits, and a talking stone frog. Along the way, they discover their own independence. Intricate illustrations capture the power of the imagination in this rich graphic novel.
---
Twelve Kinds of Ice
by Ellen Bryan Obed, Barbara McClintock
Ages 6–9
This homage to rural winter begins with the first ice, the thin sheet on a pail that breaks with a mere touch, to the ice strong enough to form a neighborhood hockey rink. The nostalgic illustrations highlight the old-fashioned charm of family and friends celebrating the joys of winter.
---

Look… Look Again!
by John O'Brien
Ages 8–up
The 30 two to six panel stories in this clever book are full of puns and fun poked at cartooning conventions. Starring a farmer, a chef, a knight, a doorman, a clown, and a group of woodsmen, each tale is surprising and entertaining.
---

The Small Adventure of Popeye and Elvis
by Barbara O'Connor
Ages 8–12
It's summer in rainy and rural Fayette, South Carolina, and Popeye is totally bored. Then a motor home gets stuck in the mud and he befriends Elvis, one of the five rowdy siblings. The two discover small hand made boats containing cryptic messages floating down the creek, and are soon happily engaged in a small adventure. Underlying themes of poverty and dysfunction are handled with subtle humor.
---

Keeping Safe the Stars
by Sheila O'Connor
Ages 10–up
The orphaned Star children — Pride, Nightingale, and Baby — live with their grandfather, Old Finn, in rural Minnesota in 1974. The children have been raised to be wary of outsiders and to rely on themselves, so when Old Finn is suddenly taken ill and transported to the hospital in far-away Duluth, Pride (13) tries to keep the Stars safe by caring for them all by herself, hiding her grandfathers absence from increasingly suspicious adults. While watching Nixon's resignation speech, Pride is empathetic when he explains he tried to do what was best for the nation, thinking of the lies she told to try and keep her family together.
---

Auma's Long Run
by Eucabeth Odhiambo
Ages 8–up
Auma (13) loves to run, and hopes to win a track scholarship so that she can go to high school and eventually become a doctor. But then a strange new sickness arrives in her small Kenyan village, her father falls ill, and her family needs her help at home. Auma has to choose between leaving her family to go to school, or quitting school to get a job to support her family.
---

Flying Lessons & Other Stories
edited by Ellen Oh
Ages 8–12
The ten stories in this diverse collection from We Need Diverse Books are intented to appeal to "all of us." The stories by Kwame Alexander, Kelly J. Baptist, Soman Chainani, Matt de la Peña, Tim Federle, Grace Lin, Meg Medina, Walter Dean Myers, Tim Tingle, and Jacqueline Woodson range form the humorous to the heartfelt, and highlight the importance of perspective, perservance, courage, and creativity during the middle school years.
---

Spirit Hunters
by Ellen Oh
Ages 8–12
Harper Raine (12) has just moved with her family to Washington DC. She doesn't trust her new house from the first moment, and feels especially uncomfortable in her four-year-old-brother Michael's bedroom, which always feels cold. At first Michael new imaginary friend named Billy seems harmless, but Michael begins acting strangely and Harper wonders if the rumors about the house being haunted might be true. Buried memories of the time Harper was caught in a school fire that left her with numerous broken bones begin to emerge.
---

Liesl & Po
by Lauren Oliver, Kei Acedera
Ages 8–12
Liesl lives in a tiny bedroom in the attic, locked away by her wicked stepmother. Then one night Po appears, a ghost from the Other Side, bringing Liesl a task — to bury her father's ashes under a willow tree. This gives Liesl the courage to escape. Meanwhile, Will, an alchemist's apprentice is making a delivery for his evil master, a nearly identical box holding The Most Powerful Magic in the World. When the boxes are mixed up, unexpected things begin to happen in this magical adventure, brightening a world where the sun has not risen for 1,728 days.
---
The Spindlers
by Lauren Oliver, Iacopo Bruno
Ages 8–12
Overnight, Liza's irritating and amusing younger brother changes personality, and Liza knows that the spider-like Spindlers have stolen his soul. Her busy parents think Liza is just playing make-believe, so she crawls through the hole behind the bookshelf in the basement and falls into the world Below in order to save her brother. There she meets Mirabelle, a talkative and well-dressed rat, who agrees to lead Liza to the Spindlers' nests, through paths haunted by strange and frightening creatures.
---

The Camel in the Sun
by Griffin Ondaatje, Linda Wolfsgruber
Ages 5–up
This retelling of a traditional Muslim hadith tells the story of an overworked camel and his cruel owner. The camel has worked its entire life for Halim, carrying bundles of spices, dates, incense, silver and wool on long journeys across the desert east of the Red Sea. But it is not until Halim and the camel meet the Prophet, who sends Halim a dream in which he experiences the camel's distress, that Halim is able to discover his own compassion.
---

The Boundless
by Kenneth Oppel, Jim Tierney
Ages 8–12
James Everett was just another railroad worker laying track for the Canadian Pacific Railway until the day he saved the railroad's president from an avalanche in 1885. Three years later James is a railroad executive traveling with his son Will on the first journey of the Boundless, the largest train ever assembled. Among the 947 cars is a circus, and Will befriends Maren, a beautiful high wire walker. Will learns that a plot is afoot to steal treasure, including the golden spike, from the vault-like mausoleum car. This action adventure is set in a slightly alternative reality, where sasquatches roam the northern forests.
---

The Nest
by Kenneth Oppel, Jon Klassen
Ages 8–12
Steve's baby brother Theodore is born with a rare congenital disorder. Steve's parents are frantic as Theodore grows weaker. A gray and white wasp from the hive above their house stings Steve, and he develops the ability to speak to the queen wasp. She offers to replace the sick baby with a healthy one, and Steve is tempted to agree to the offer. Steve's parents begin to worry about his mental stability as Steve struggles to decide what he is willing to do to save his brother. This emotionally haunting thriller explores anxiety and the dangers of searching for perfection.
---

Jazz Day: The Making of a Famous Photograph
by Roxane Orgill, Francis Vallejo
Ages 8–12
On August 12, 1958, 57 jazz musicians gathered in Harlem for a photo shoot for Esquire magazine. Art Kane, a graphic designer who didn 't even own a camera, was the mastermind behind the plan to gather the musicians together. Twenty-one poems by Roxane Orgill accompany Francis Vallejo's expressive paintings of the process of wrangling the musicians into place among the neighborhood children. The final spread is a foldout of the iconic photograph. End notes include biographies of many of the musicians.
---
Skit-Scat Raggedy Cat: Ella Fitzgerald
by Roxane Orgill, Sean Qualls
Ages 5–up
This stylish biography begins with the child Ella dancing to her mother's records, and ends with her first big job with the Chick Webb Band in Harlem in 1921. Orphaned at 14, Ella lived for a time in an abusive orphanage and then on the streets, singing and dancing for money. Judged not pretty enough to be a singer, the determined Ella believed in her own talent and refused to be discouraged. Richly colored illustrations capture the spirit a poor young girl chasing her dream of becoming a jazz singer in this frank, yet not frightening, biography.
---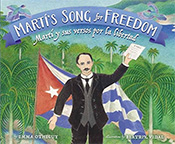 Martí's Song for Freedom / Martí y sus versos por la libertad
by Emma Otheguy
Ages 8–10
This bilingual biography in verse tells the story of Cuban activist José Martí, who worked to free Cuba from Spanish rule and the Cuban people from slavery. Martí wrote for newspapers and passed out pamphlets until he was jailed and exiled to New York, where he continued his work to liberate the Cuban people. Excerpts from Martí's Versos sencillos accompany this moving account of his crusade for justice and freedom.
---
A Chicken Followed Me Home!: Questions and Answers about a Familiar Fowl
by Robin Page
Ages 5–10
This question-and-answer book helps the young narrator take care of and learn about a chicken. Each section begins with a question. "Will she lay eggs?" introduces the section on reproduction. One page displays 260 eggs, the average number a hen lays in a year. Anatomy, different breeds of chickens, and caring for chickens in urban and rural environments are addressed in this child-friendly introduction to the chicken.
---

Keeping Score
by Linda Sue Park
Ages 9–12
Jim teaches Maggie the art of scoring a baseball game, and she believes her extra involvement in the game helps support her beloved Dodgers. When Jim is drafted and sent to Korea, she searches for a way to support him, too.
---

A Long Walk to Water
by Linda Sue Park
Ages 10–up
Based on a true story, this moving novel tells the story one of the "lost boys" from Sudan. In 1956, when Salva is 11, his school is attacked by brutal rebel solders. Covering the next 23 years of his life, Salva's narration tells of hunger, death, refugee camps, and his eventual relocation to New York. Interspersed with Salva's narrative is that of Nya, who tells of her life in modern (2008) Sudan, which revolves around her daily eight hour walk to fetch water for her family. The two stories meet when Salva returns to Sudan to help his people and builds a well in Nya's village. This honest book presents harsh realities in terrifying detail, yet ends on a note of hope for a better future.
---

A Single Shard
by Linda Sue Park
Newbery Medal 2002


Ages 10–14
In a potter's village in 12th century Korea, the orphan Tree Ear is raised by a lame straw weaver. One day Tree Ear breaks a piece of Min's pottery and pays his debt by working for the potter and dreaming of making beautiful pots himself. Tree Ear is sent by Min to the king's court, carrying an example of Min's new celadon ware. After robbers shatter the pot, Tree Ear continues the dangerous journey, now carrying only one precious single shard.
---

The Third Gift
by Linda Sue Park, Bagram Ibatoulline
Ages 6–9
Somewhere in an Arab desert, a young boy learns from his father the art of gathering a fragrant and valuable sap that seeps from small thorny trees. The two sell it to three strangers in rich robes who add it to their previously collected gifts of gold and frankincense that they are taking as a birth gift to a special baby. An author's note includes additional background on myrrh.
---

Dogtag Summer
by Elizabeth Partridge
Ages 8–12
Tracy (12) has always felt different. In Vietnam she was mocked because her father was an American soldier, and she doesn't fit in with her adoptive family in California either. Then Tracy and her friend Stargazer find a dogtag in her father's ammo box, which sets of a chain of reactions causing painful memories and misunderstandings. Tracy struggles to balance her memories of her natural mother with building a relationship with her father's wife as her step-mother tries to understand the memories haunting both her husband and adoptive daughter. Includes an historical appendix and a teacher's guide for discussing the book in the context of a unit about Vietnam.
---
Marching For Freedom:

Walk Together Children and Don't You Grow Weary
by Elizabeth Partridge
Ages 9–12
Told in the voices of men and women who participated as children and teens, this powerful book tells the disturbing yet hopeful story of the march from Selma to Montgomery in 1965. The dramatic personal stories are illustrated by striking and unforgettable photographs.
---
The Flint Heart
by Katherine Paterson, John Paterson, John Rocco
Ages 7–12
This retelling of Eden Phillpotts's 1910 fairy tale is both true to the original and adapted for the modern reader. In the Stone Age, an ambitious man demands a talisman that will harden his heart and give him total power over his tribe. The Flint Heart does exactly that, giving the bearer a lust for power and a tolerance for cruelty. After being buried for thousands of years, the Flint Heart is unearthed by a kind-hearted farmer, and wreaks havoc upon the lives of humans, fairy creatures, and animals. This humorous fairy tale is perfectly designed to be shared as a family, one chapter each night.
---

Giving Thanks: Poems, Prayers, and Praise Songs of Thanksgiving
by Katherine Paterson, Pamela Dalton
Ages 5–up
This collection of poetry, prayers, and grateful recollections is perfect for Thanksgiving as well as other times of the year. Beautiful illustrations using the early-nineteenth-century American paper-cutting technique called scherenschnitte ("scissor cuts") add to the appeal.
---

The Higher Power of Lucky
by Susan Patron
Newbery Medal 2007


Ages 8–12
Lucky (10) lives in a small town in the middle of the California desert with her French guardian, who has been caring for her since her mother died two years ago. Fearing that her guardian will leave her and return to France, Lucky stocks her survival backpack and searches for her Higher Power.
---
Hilda and the Midnight Giant
by Luke Pearson
Ages 10–14
Hilda isn't happy about leaving her beloved home in the magical fjords and enchanted snow-capped mountains for the big city, where her architect mother has been offered a job. On her daily hour and a half walk to school, Hilda searches for a way to circumvent her mother's decision. Hilda isn't sure if the invisible elves of the mystical Blue Forest will help or hinder her, and even less sure about the mysterious Midnight Giant. This graphic novel is a follow-up to Hildafolk.
---
Hilda and the Bird Parade
by Luke Pearson
Ages 6–up
Hilda and her mother are settling into their new home in the town of Trolberg. Hilda's mother is nervous about letting Hilda roam free, as she could in their idyllic mountain home, and Hilda is unsettled about the behavior of the town kids who pull pranks and throw rocks at birds. When a large black bird is left injured, Hilda helps it remember how to fly, and gradually comes to see the intimidating town as a place where wonderful things can happen. This graphic novel is a sequel to Hildafolk and Hilda and the Midnight Giant.
---

Secrets at Sea
by Richard Peck
Ages 8–12
When house-mouse Helena and her three younger siblings discover that the Cranstons, the human family who provides the necessary crumbs, is taking a cruise ship to England, the mice decide to sneak onto the ship. They are horrified to find that hordes of other mice are traveling with their human families and have to keep a sharp eye out to avoid the ship's mousing cat. Full of adventures and humor, this playful book is beautifully illustrated with detailed pencil depictions of the irresistible mice.
---
A Year Down Yonder
by Richard Peck
Newbery Medal 2001


Ages 10–up
It's 1937 and Mary Alice (15) is banished from Chicago to spend a year with Grandma Dowdel in rural Illinois while her parents struggle to make ends meet and her brother Joey heads west with the Civilian Conservation Corps. Mary Alice knows it won't be easy being the new city kid in a country school, especially with an outrageous relative like Grandma. This hilarious and touching book is the sequel to A Long Way to Chicago.
---

A Season of Gifts
by Richard Peck
Ages 9–12
It's 1958, and Mrs. Dowdel, the irrepressible grandmother from A Year Down Yonder and A Long Way from Chicago, returns in full force. This funny and touching book is narrated by Bob Barnhart, a 12-year-old new who is less than thrilled with his new town, and who is fascinated, and maybe a tiny bit afraid, of his new neighbor. With her usual brand of humorous wisdom, Mrs. Dowdel helps Bob outwit the neighbor hood bullies while also managing to round up support for his father's Methodist church. By Christmas time, the whole Barnhart family realizes they have found a new home with a neighbor who gives gifts both in and out of season.
---

Pax
by Sara Pennypacker, Jon Klassen
Ages 8–12
Just after his mother's death five years earlier, Peter found an orphaned fox kit that he named Pax and raised as a pet. Now 12, Peter is forced to release Pax into the wild when his father goes off to war and he is sent to live with his grandfather. Peter can't stand the thought of poor Pax trying to take care of himself in the wild and sets off to walk hundreds of miles back to the spot where he abandoned Pax. Meanwhile, the sheltered fox is struggling to learn to fend for himself. Alternating chapters from the perspectives of Pax and Peter in this dramatic and gritty story.
---

Summer of the Gypsy Moths
by Sara Pennypacker
Ages 8–12
Stella (11) has been taken from her unstable single mother and sent to live with her great-aunt Louise on Cape Cod. Also living in her aunt's big old house on the water is Angel, an orphaned foster child. The two girls barely speak until Louise unexpectedly dies. Fearing that they will be placed in another foster home, the two girls bury Louise in the garden and try to hide the fact that they are alone. They take on Louise's housekeeping job, trying to earn enough money to buy food. As they become self-sufficient, the two girls bond together, discovering that they are stronger together than apart.
---

Nuts to You
by Lynne Rae Perkins
Ages 8–12
When gray squirrel Jay is snatched up by a hawk, his three courageous friends rush off to rescue him. While tracking down Jay, Chai and TsTs discover that their habitat is being threatened by humans trimming trees. Determined to convince their squirrel friends and neighbors to move to a safer environment is difficult, since squirrels aren't a species known for their listening skills. This adventure story features funny illustrations and witty footnotes.
---
Bamboo People
by Mitali Perkins
Ages 11–14
Chiko (15) is pressed into military service by the Burmese government. A scholar rather than a soldier by nature, Chiko finds himself involved in the ongoing war against the Karenni people, one of the many ethnic minorities in modern Myanmar (formerly Burma). Chiko is wounded and found by Tu Reh, an angry Karenni teen. Told from both perspectives, this novel shows both teens struggling with the prejudices of culture and class. Themes of family, friendship, and the circumstances of war are explored in this accessible story.
---

Isabel's War
by Lila Perl
Ages 8–12
Isabel Brandt (12) lives in 1942 New York City. Like most girls her age, the war in Europe seems very far away. Then Helga, a refugee from Germany arrives. At first jealous and resentful of the beautiful stranger, Isabel is horrified when she learns of Helga's horrific experiences in Germany before being transported to England as part of the Kindertransport. Learning the truth about the treatment of Jews by Nazis changes Isabel, and she begins to try to help Helga come to terms with her guilt for escaping and leaving her family behind.
---

The Mostly True Adventures of Homer P. Figg
by Rodman Philbrick
Ages 9–12
When Uncle Squinton sells off Homer P. Figg's older brother Harold to take the place of a rich man's son in the Union army, Homer sets off to rescue him. Told in the form of a rip-roaring yarn, Homer's adventures are exciting and funny, but the horror of war and injustice of slavery aren't ignored. (2010 Newbery Honor Book)
---

Zane and the Hurricane: A Story of Katrina
by Rodman Philbrick
Ages 10–14
Zane Dupree (12), a mixed race boy who knows nothing about his father's side of the family, is sent to New Orleans in 2005 with his dog Bandy to stay with Miss Trissy, his father's grandmother. When Hurricane Katrina arrives, Bandy escapes from the evacuation bus, and Zane follows him back to Miss Trissy's house. They are rescued from the rising waters by Malvina Rawlins and her elderly guardian, musician Trudell Manning. Zane's first person account of their journey in a small boat through the aftermath of the hurricane is enthralling.
---

Jim Curious: A Voyage to the Heart of the Sea in 3-D Vision
by Matthias Picard
Ages 6–10
Packaged with two pairs of 3-D glasses, this nearly wordless book follows young Jim, clanking in his diving suit, out the door and into the depths of the ocean. Though a solo adventure, Jim is not alone, but instead surrounded by a wealth of undersea life including schools of fish, a shark, and a gigantic whale. This stunning graphic novel will provide hours of entrancement.
---

The Color Book
by Sophie Benini Pietromarchi
Ages 8–up
Artist and author Sophie Benini Pietromarchi invites the reader to partake in her passion for color by sharing her childhood memories of color and the feeling colors can invoke: "Black is the deafening noise of coal chucked in an oven at night." An exploration of the practicalities of mixing colors and tips for creating a personal color diary round out this imaginative resource for artists of all ages.
---

Captain Underpants and the Terrifying Return of Tippy Tinkletrousers
by Dav Pilkey
Ages 7–up
This ninth installment in the Captain Underpants saga takes George and Harold back to Kindergarten, where their biggest problem was Kipper Krupp, a 6th grade bully and the nephew of their clueless school principal. Since George and Harold won't invent Captain Underpants until years later, when they are in 4th grade, the clever kindergartners have only their own creativity to defeat Kipper. Terrible spelling and jokes abound.
---

Hand in Hand: Ten Black Men Who Changed America
by Andrea Pinkney, Brian Pinkney
Ages 9–12
Ten black men from different times in American history from slavery to modern times are presented in this book of poetry, text, and images. Each mans influence on civil rights, culture, art, and politics is clearly described in the context of the time he lived in. Featured men include Frederick Douglass, W.E.B. Du Bois, Thurgood Marshall, Jackie Robinson, and Martin Luther King, Jr.
---

The Red Pencil
by Andrea Davis Pinkney, Shane Evans
Ages 9–up
Now that Amira is 12, she is finally old enough to wear a toob, and perhaps old enough to attend school in Nyala. But life in her peaceful Sudanese village is destroyed when the Janjaweed attack the village. Amira loses everything and must find the strength for the long journey on foot to the safety of the refugee camp. Then the gift of a single red pencil opens new possibilities.
---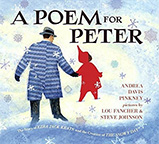 A Poem for Peter: The Story of Ezra Jack Keats and the Creation of The Snowy Day
by Andrea Davis Pinkney, Steve Johnson, Lou Fancher
Ages 7–10
Ezra Jack Keats was born in Brooklyn, New York, to Polish immigrant parents. Ezra's father felt his dream of becoming an artist was unrealistic, but Ezra was determined. He won prizes in high school, and created art for the WPA and Marvel comics, dreaming of the time he could write and illustrate his own book. A photo of an African American child led to The Snowy Day, the first mainstream book to feature an African American child, and a Caldecott medal winner.
---
Sojourner Truth's Step-Stomp Stride
by Andrea Davis Pinkney, Brian Pinkney
Ages 5–9
Belle was born into slavery, and when her master fails to honor his promise to free her, Belle runs away. But she knows that she will never be truly free when others live in slavery, so Belle changes her name to Sojourner and begins to travel across the country, demanding equal rights for black people and for women. Pinkney's glowing illustrations capture the charisma and courage of this larger-than-life heroine.
---
Mrs. Noodlekugel
by Daniel Pinkwater, Adam Stower
Ages 5–10
Soon after Nick and Maxine move into an apartment in a tall building they spot a tiny cottage surrounded by their apartment building and other skyscrapers. With the help of Mike the janitor, they make their way to the cottage and meet Mrs. Noodlekugel, her talking cat Mr. Fuzzface, and a band of vision-challenged mice who help out in the kitchen. Stower's old-fashioned illustrations complement Pinkwater's oddball humor.
---

Mrs. Noodlekugel and Four Blind Mice
by Daniel Pinkwater, Adam Stower
Ages 5–10
When Mrs. Noodlekugel's four pet mice make a terrible mess of making tea, she decides to take them to the eye doctor. Nick and Maxine help Mrs. Noodlekugel transport the mice on the bus and take the ensuing hilarity in stride in this very funny sequel to Mrs. Noodlekugel.
---

Modern Art Adventures: 36 Creative, Hands-On Projects Inspired by Artists from Monet to Banksy
by Maja Pitamic, Jill Laidlaw
Ages 6–up
Eighteen works of modern art are presented along with two kid-friendly projects based on the techniques and visual effects of the each featured piece of art. The projects vary in difficulty and a wide range of media is explored in this well-organized introduction to modern art concepts, perfect for classroom or home use.
---

Three-Dimensional Art Adventures: 36 Creative, Artist-Inspired Projects in Sculpture, Ceramics, Textiles, and More
by Maja Pitamic, Jill Laidlaw
Ages 6–up
Inspired by 18 works of sculpture or other 3-D work, this excellent collection of art projects provides context about the artists and their movements while bringing the art out of the museum setting into the lives of young readers.
---

The Someday Birds
by Sally J. Pla, Julie McLaughlin
Ages 8–12
Charles had a perfectly ordinary life until his father was injured while working as a journalist in Afghanistan. Charles feels safe at home in California, where his family accepts his ritualistic behaviors and fascination with birds, but when his father is sent to a hospital in Virginia to treat his brain injury, Charles is forced to leave his familiar environment. As he travels across the country with his boy-crazy older sister, his rambunctious twin brothers, under the supervision of a pink-haired woman from Sarajevo, he decides that if he can spot all the birds he and his father were hoping to see that everything will be OK.
---

January's Sparrow
by Patricia Polacco
Ages 8–12
The Crosswhite family witness the brutal whipping of January, a slave caught while trying to escape, and flee the Kentucky plantation in the middle of the night. Young Sadie is heartbroken when she realizes she has left the wooden sparrow January carved for her, her only memento of her dead friend. The Crosswhites travel through the Underground Railroad to Marshall, Michigan, where they finally live in freedom. Then January's sparrow appears on their doorstep. Based on a true story, this book is both horrifying and empowering.
---
Battling Boy
by Paul Pope
Ages 10–up
This exciting graphic novel finds the city of Acropolis under daily attacks by monsters. When the hero Haggard West falls in battle, the monsters are free to wander the city, swallowing children into the shadowy underworld. Battling Boy (13), a pampered warrior god emerges to take on the battle against the monsters, using the magical powers of his set of totemic t-shirts.
---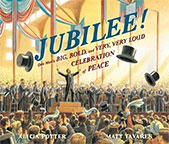 Jubilee!: One Man's Big, Bold, and Very, Very Loud Celebration of Peace
by Alicia Potter, Matt Tavares
Ages 7–10
When Patrick Sarsfield Gilmore was growing up in Ireland, he loved loud music played in celebration. By 1849, Gilmore was a band leader in Boston, using music to keep up the spirits of soldiers and the public during the Civil War. When peace was finally declared, Gilmore decided to stage the biggest and loudest celebration of peace ever held, with a public concert of more than 11,000 performers attended by about 30,000 celebrants.
---

The Humming Room
by Ellen Potter
Ages 9–12
Roo Fanshaw (12) is an expert at hiding, living in an unstable family often requires her to disappear at a moment's notice. When her parents are murdered, Roo's special hiding spot under their trailer saves her life. To her surprise, Roo has a rich uncle who agrees to let her live in his strange house on Cough Rock Island in the St. Lawrence River, a sprawling former tuberculosis sanitarium for the children of the rich. There Roo discovers Emmett, a cousin she didn't know existed, and a domed dying garden in a remote corner of the estate. This modern ghost story, inspired by The Secret Garden, will entrance young readers.
---

Piper Green and the Fairy Tree
by Ellen Potter, Qin Leng
Ages 7–9
Piper Green lives on tiny Peek-a-Boo Island off the coast of Maine. She rides a lobster boat to school, and wears her older brother's earmuffs. Piper's second grade teacher demands that Piper remove the earmuffs inside, but Piper is missing her brother who is now attending high school on the mainland and refuses. to avoid going to school, Piper pretends to be sick, and hides in her neighbor's tree.
---
Josephine: The Dazzling Life of Josephine Baker
by Patricia Hruby Powell, Christian Robinson
Ages 7–10
African-American dancer Josephine Baker could perform in American clubs, but segregation laws prevented her from entering the club through the front door. Moving to France, Josephine was welcomed for both her talent and her race. This accessible biography follows Josephine from her childhood in St. Louis to her fame in Europe. Josephine's powerful story of struggle and triumph is an inspiration.
---

Six Innings
by James Preller
Ages 9–14
Perceptive portrait of a group of boys who play Little League baseball. Each character is unique and realistic.
---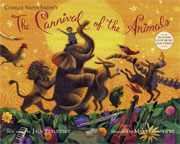 The Carnival of the Animals
by Jack Prelutsky, Mary GrandPré
Ages 6–12
The animals are having a carnival, and each arriving guest is celebrated with both music and words in this book designed to introduce children to classical music. New poems by Jack Prelutsky can be enjoyed both by reading the book with exuberant illustrations by Mary GrandPré, and by listening to the accompanying CD, featuring the Württemberg Chamber Orchestra performing the suite by Camille Saint-Saens as Prelutsky reads the poems, which perfectly capture the essence of each animal featured in the movements of the music.
---

I've Lost My Hippopotamus
by Jack Prelutsky, Jackie Urbanovic
Ages 5–10
The 100+ delightfully silly rhyming poems portray real animals doing strange things and fantasy animals doing even stranger things. Colorful illustrations add to the fun.
---

Heart of a Samurai
by Margi Preus
Ages 10–14
In 1841, Japan is closed to outsiders, and Japanese leaving the country are not permitted to return. Manjiro Nakahama (14) is out fishing with four others when a storm destroys their small boat and strands them on a small island. Rescued five months later by an American whaling ship. Manjiro's companions are frightened of the "barbarians," but he is curious to learn more about the world. Adopted by the captain, Manjiro learns English and the whaling trade, and eventually becomes the first Japanese to come to America. Despite prejudice, hardships, and homesickness, Manjiro never loses his curiosity. After living in New England, Manjiro travels to California to pan for gold, and eventually makes his way back to Japan, where he is imprisoned as an outsider. Period illustrations by Manjiro himself, as well as new art by Jillian Tamaki, enliven this fictionalized true story.
---

Wangari Maathai: The Woman Who Planted Millions of Trees
by Franck Prévot, Aurélia Fronty
Ages 6–9
Wangari Maathai, Kenyan founder of the Green Belt movement, led women in a nonviolent struggle to bring peace and democracy to Africa through its reforestation. Over 30 million trees were planted by her organization in 30 years. This beautifully illustrated book tells the story of the perseverance and hard work that earned Wangari Maathai the Nobel Peace Prize in 2004.
---

The Magic Thief
by Sarah Prineas
Ages 10–up
Connwaer, a preteen pickpocket, steals a magical stone from Nevery, the most powerful wizard in Wellmet. Surprised that the boy was not killed by the strong magic, the wizard takes Conn on as an apprentice and enrolls him in magic school. Nevery's journal entries offer an intriguing counterpoint to Conn's candid perspective in this first of a trilogy.
---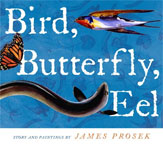 Bird, Butterfly, Eel
by James Prosek
Ages 6–10
A barn swallow, monarch, and American eel spend their summer at the same coastal farm in New England. In the fall, they migrate to three distant and different places. The beautifully detailed watercolors complement the simple text.
---

The Golden Compass Graphic Novel, Volume 1
by Philip Pullman, Stéphane Melchior-Durand, Clément Oubrerie
Ages 10–up
Celebrating the 20th anniversary of the publication of The Golden Compass, this graphic adaptation is the first of three volumes, following Lyra Belacqua through steam punk Europe until she sets sail for the north with the gyptians. This beautifully illustrated graphic novel will appeal to new readers as well as those familiar with the story of The Golden Compass.
---

A Dog's Way Home
by Bobbie Pyron
Ages 9–12
Tam, a champion Shetland sheepdog, is nearly killed when his crate slides off the truck after an accident on the way home from a competition. Tam escapes drowning, but must find his own way home. Abby, his 11-year owner, is hospitalized after the accident but refuses to believe that her beloved dog is dead. Told from both Tam's and Abby's perspectives, this moving story celebrates loyalty, devotion, and perseverance.
---

Wet Cement: A Mix of Concrete Poems
by Bob Raczka
Ages 8–12
This inventive collection of 21 poems plays with the shape of the poems and titles as well as the words. By using the arrangement of the words on the page, Raczka encourages readers to look at poetry in a new way. This creative book has to be seen to be fully appreciated.
---

The Crown Affair
by Jeanie Franz Ransom, Stephen Axelsen
Ages 6–9
Detective Joe Dumpty is back to investigate another nursery rhyme case. When Jack and Jill tumbled down the hill Jack's crown went missing. Suspicion falls on the other Jack, the nimble and quick one, but his alibi holds up so Detective Dumpty heads off to the Spratt house to question yet another Jack, before visiting the beanstalk to interview another suspect. This funny companion to What Really Happened to Humpty? has plenty of puns to amuse the adults reading aloud.
---

Beyond Courage: The Untold Story of Jewish Resistance During the Holocaust
by Doreen Rappaport
Ages 10–up
This well-researched book contains more than 20 stories highlighting the courage of countless Jews who organized to sabotage the Nazis and help other Jews during the Holocaust. Georges Loinger smuggles thousands of children out of occupied France into Switzerland. Three resisters in Belgium ambush a train, allowing the Jewish prisoners to escape into the woods. Four Polish brothers lead more than 1,200 ghetto refugees into the forest to build a guerrilla force and self-sufficient village. These heart-breaking yet hopeful accounts pay tribute to all those who defied their oppressors with both small and large acts of courage.
---
Eleanor, Quiet No More
by Doreen Rappaport, Gary Kelley
Ages 6–10
Written in short, accessible paragraphs, this biography honestly presents Eleanor's unhappy childhood. Each page spread includes a quote from Eleanor that expresses her growing sense of confidence and moral conviction. The beautiful paintings capture Eleanor's intelligence and compassionate heart.
---

Captain Coconut and the Case of the Missing Bananas
by Anushka Ravishankar, Priya Sundram
Ages 8–up
Captain Coconut so brilliant he often outsmarts himself. When four of Mrs Y's bananas disappear, Captain Coconut must use his mathematical skills to identify the thief. Musical interludes punctuate the goofy narration, just right for readers ready to take on short chapters. Bright digital collage illustrations add to the fun.
---

Paiute Princess: The Story of Sarah Winnemucca
by Deborah Kogan Ray
Ages 8–up
Born into Northern Paiute tribe of Nevada in 1844, Sarah Winnemucca grew up in two cultures, the traditional life of her tribe and the modern ways of her grandfather's white friends. Chief Truckee encouraged his granddaughter to learn the English language and white customs. When the Paiute people were massacred and forced onto reservations, Sarah uses her skills as a writer and dramatic performer to spread the word about the unjust treatment of Native Americans.
---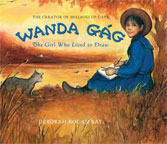 Wanda Gág: The Girl Who Lived to Draw
by Deborah Kogan Ray
Ages 6–9
Best known for her classic picture book Millions of Cats, Wanda Gág loved to draw. This well-researched biography incorporates entries from Wanda's childhood diaries into a compelling picture book format.
---

The Brontë Sisters: The Brief Lives of Charlotte, Emily, and Anne
by Catherine Reef
Ages 10–14
Charlotte, Emily, and Anne Brontë shocked, entertained, and provoked their Victorian readers. This fascinating group biography explores the all-too-short public and private lives of the three sisters, now viewed as pioneers of modern literature. More than 60 black-and-white photographs round out the story of the literary Brontës and the oppressive times they lived in..
---

Encyclopedia Mythologica: Dragons and Monsters Pop-Up
by Matthew Reinhart and Robert Sabuda
Ages 5–12
Stunning creatures from both Eastern and Western traditions pop up dramatically from the pages of this incredibly detailed book. A Chinese dragon's body unfolds, Medusa's snaky locks unfurl, and Dracula's coffin lid lifts as he awakens. Lesser known creatures such as the lycanthrope, golem, and wendigo are profiled with details of the cultures that imagined them. The final book in the Encyclopedia Mythologica trilogy that includes Gods and Heroes and Fairies and Magical Creatures.
---

Encyclopedia Mythologica: Gods and Heroes Pop-Up
by Matthew Reinhart, Robert Sabuda
Ages 6–12
This well crafted pop-up book presents a global tour of gods and heroes, including classical mythology, as well as Egyptian, Norse, Eastern, and New World legends. The pop-ups are intricately detailed, exquisitely designed, and sturdier than they look. The stunning art and interesting text will inspire older readers to find out more about these fascinating Gods and Heroes.
---

Star Wars: A Pop-Up Guide to the Galaxy
by Matthew Reinhart
Ages 7–up
Created to celebrate the 30th anniversary of Star Wars, this impressive pop-up book is divided into five dazzling spreads: planets, creatures, evildoers, technology, and the rise of Darth Vader. Paper engineer Matthew Reinhart has produced another marvel of intricacy and skill, including a working light saber.
---

Transformers: The Ultimate Pop-Up Universe
by Matthew Reinhart, Emiliano Santalucia
Ages 6–up
The Autobots and Decepticons don't just pop up in this interactive book, they also transform with the pull of a tab. Multiple generations of transformer characters, from cartoons, comics, toys, and films share the stage.
---

The Unsinkable Walker Bean
by Aaron Renier
Ages 9–14
Mild-mannered Walker Bean is happiest in his grandfather's colonial era workshop, helping with the inventions. But when his grandfather is cursed by two lobster-women, Walker knows it is up to him to return a magical skull to the mysterious Mango Islands. Walker stows away on a ship and teams up with a dog named Perrogi, a boy named Shiv, and a tough girl called Genoa. The four encounter pirates and magical machines as they search for clues and escape perilous situations in this engaging graphic adventure novel.
---

Creepy Crawly Crime
by Aaron Reynolds, Neil Numberman
Ages 8–12
Joey Fly is an experienced private investigator with an eager young apprentice named Sammy Stingtail. The pair are hired by a clueless butterfly to find her missing diamond pencil box. Full of insect humor, puns, and nifty similes, this classic mystery will keep young readers glued to the pages. A graphic novel with a film noir look, this is the first in the Joey Fly, Private Eye series.
---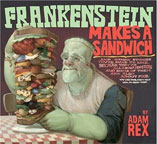 Frankenstein Makes a Sandwich
by Adam Rex
Ages 5–10
This hilarious collection of illustrated poems describes the lives of famous monsters. Kids will love the effortless rhymes and the different art styles, individually tailored for each creature. Great read-aloud.
---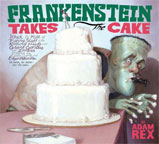 Frankenstein Takes the Cake
by Adam Rex
Ages 5–10
Frankenstein and his bride are planning the wedding, but his best man, Dracula, is worried about the garlic bread, and other B-movie monsters have similar woes in this hilarious book of poems.
---

Ninth Ward
by Jewell Parker Rhodes
Ages 10–up
Lanesha (12) has had the power to communicate with ghosts, including her mother who died giving birth to her, as long as she can remember. Mama Ya-Ya, a midwife and healer who cares for Lanesha, has the power to predict the future. When Mama Ya-Ya foresees a huge storm (Hurricane Katrina) threatening their beloved Ninth Ward of New Orleans, she warns the community, which bands together. Afloat in a small rowboat, Lanesha escapes the rising water and saves others along the way. This powerful story, alive with magical realism, is full of tragedy and hope.
---

Eighth-Grade Superzero
by Olugbemisola Rhuday-Perkovich
Ages 10–14
Reggie McKnight earned the nickname "Pukey" thanks to a disaster on the first day of middle school. So he decides to hide out for the rest of the year with his two best friends: Ruthie, a fellow Jamaican and political activist, and Joe C. White, an aspiring rapper working on a project at a homeless shelter with his church's youth group. Reggie becomes increasingly interested in the homeless shelter project and his community, leading to his eventual participation in his school's presidential race. There aren't easy answers or solutions in this book that deals honestly with issues of racial bias and social justice.
---

The Natural World
by Jon Richards, Ed Simkins
Ages 8–up
Infographics (digital graphs, charts, pictographs, and other high-impact graphics) are utilized to explore topics of life on Earth in this dynamic book. Topics include the life span, speed, and size of animals; human diseases; life cycles; and the evolution of animal life. Visual learners and young scientists will find this book fascinating.
---

The Alphabet Thief
by Bill Richardson, Roxanna Bikadoroff
Ages 5–9
The alphabet thief steals one letter at a time, stealing B and turning bowls into owls, stealing I and turning paints into pants. Funny poems and illustrations document what happens when a letter is stolen in this clever read-aloud.
---

10 Plants That Shook The World
by Gillian Richardson, Kim Rosen
Ages 10–12
This accessible and informative book explores the cultural and scientific significance of 10 plants including tea, sugarcane, cacao, cinchona, rubber, potato, and corn. Countries went to war to control trade centers for pepper. A grass called papyrus became the first effective tool for sharing knowledge through writing. Cotton improved the livelihoods of a few, but caused suffering for many more.
---
The 39 Clues: A Maze of Bones
by Rick Riordan
Ages 9–14
In this first of 10 books, orphans Amy and Dan Cahill take on the challenge of winning a fortune by collecting all 39 clues. They also hope to find their parents along the way. Unfortunately they are competing against the rest of the Cahill clan, many of whom are less than honorable. Riordan created the story arc for the series; authors will write also for the series. This fast-paced book has plenty of suspense, danger, and puzzles. Readers between the age of 6–14 can also create online accounts to play the online game and compete for $100,000 in prizes.
---

Anything But Ordinary Addie: The True Story of Adelaide Herrmann, Queen of Magic
by Mara Rockliff, Iacopo Bruno
Ages 6–9
From a young age Adelaide longed for an exciting life. She became a dancer during a time when girls were rarely seen on stage and married world-famous magician Herrmann the Great. Addie loved to help with the stage tricks, even volunteering to be shot out of a cannon. When her husband died unexpectedly, Addie decided to continue the show on her own, becoming one of the first female magicians. An extensive appendix includes directions for performing one of Addie's original magic tricks.
---

Gingerbread for Liberty!: How a German Baker Helped Win the American Revolution
by Mara Rockliff, Vincent X. Kirsch
Ages 6–9
Christopher Ludwick, originally from Germany, was a beloved member of his Philadelphia community, known for his generosity and his talent for baking. Christopher volunteered to help the American troops fighting for freedom, but was told he was too old and too fat to join the army. Determined to support General George Washington and his hungry troops, Christopher baked bread for the soldiers, and was sent on a special mission to convince the mercenary Hessian soldiers to abandon the English army.
---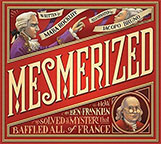 Mesmerized: How Ben Franklin Solved a Mystery that Baffled All of France
by Mara Rockliff, Iacopo Bruno
Ages 6–9
Benjamin Franklin has achieved fame as an American inventor, printer, scientist, thinker, and diplomat. While in Paris raising money for he American rebellion against the British, Franklin was asked by King Louis XVI to investigate Franz Mesmer, a young Austrian who claimed to be able to cure illness by waving an iron wand around their person. Part of Mesmer's treatment involved time spent in a darkened room while spellbinding music played on a glass armonica, invented by none other than Franklin himself. Using the scientific method — observing, hypothesizing, and testing — Franklin proved that Mesmer's "cures" only existed inside his patients' heads. This lavishly illustrated book tells a lively tale in rhythmic text perfect for reading aloud.
---
May B.
by Caroline Starr Rose
Ages 8–12
May B. (12) lives with her family on the Kansas prairie. After a bad harvest, May B. is sent to a farm 15 miles away to help out the farmer and his new wife. Her father promises that it's only until Christmas, but May B. misses her family and the opportunity to attend school. Then the homesick farmer's wife runs off to her Ohio home, followed by the farmer, leaving May B. alone on the farm. Alone in the sod house, May B. bravely faces bad weather and dwindling supplies.
---

The Cuckoo's Haiku:

and Other Birding Poems
by Michael J. Rosen, Stan Fellows
Ages 6–10
Poet and birder Rosen captures the essence of more than 20 common North American birds. Designed like a birding notebook, each haiku is accompanied by Fellows's beautiful watercolors of the birds in their habitats plus notes about their behavior and traits.
---
The Maine Coon's Haiku: And Other Poems for Cat Lovers
by Michael Rosen, Lee Anthony White
Ages 6–9
The unique personalities of twenty breeds of cats are captured in haiku poems in indoor and outdoor settings. An after word includes interesting facts about each featured breed.
---
An Ambush of Tigers: A Wild Gathering of Collective Nouns
by Betsy R. Rosenthal, Jago
Ages 5–9
Clever rhymes and funny illustrations bring these collective nouns to life. A "bed of oysters" sleeps on a comfy mattress, a "bouquet of pheasants" are housed in a vase, and a "shiver of sharks" sport winter scarves. The combination of words and pictures make these collective nouns unforgettable.
---

The Streak: How Joe DiMaggio Became America's Hero
by Barb Rosenstock, Terry Widener
Ages 8–up
It's the summer of 1941 and Yankee center fielder Joe DiMaggio begins the greatest hitting streak of all time, swinging his beloved bat he calls Betsy Ann. Then Betsy Ann goes missing, and no one knows if Joe will be able to keep his streak alive without his lucky bat. Set on the eve of World War II, this rousing tale celebrates DiMaggio's athletic achievement and describes the importance of that last perfect baseball summer before the war.
---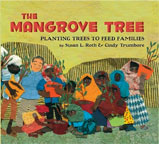 The Mangrove Tree: Planting Trees to Feed Families
by Susan L. Roth, Cindy Trumbore
Ages 6–11
This moving book tells the story of a project spearheaded by Dr. Gordon Sato to plant mangrove trees, which thrive in salty water, to provide food for the village of Hargigo in the impoverished African nation of Eritrea. Lively prose, rhyming text, and beautiful mixed media collage illustrations tell this hopeful story.
---

Parrots Over Puerto Rico
by Susan L. Roth, Cindy Trumbore
Ages 6–11
Once abundant in Puerto Rico, by 1975 only 13 parrots survived in the wild, decimated by deforestation and invasive species. Using vertical (calendar-style) binding, the illustrations and photographs dramically present the history of the decline of the parrots and the gradual efforts to rebuild the parrot population.
---

Prairie Dog Song: The Key to Saving North America's Grasslands
by Susan L. Roth, Cindy Trumbore
Ages 6–11
The prairie of North America was a balanced ecosystem of prairie dogs, owls, bison, and eagles for thousands of years. Within 60 years of the arrival of farmers and ranchers the prairie was nearly destroyed, and many plants and animals vanished. The discovery of a remnant prairie in the 1980s led to the re-introduction of the black-tailed prairie dog and an environmental recovery. Verses set to the tune of The Green Grass Grew All Around celebrate the rebirth of the prairie.
---

Eleanor & Park
by Rainbow Rowell
Ages 13–up
It's 1986, and half-Korean Park Sheridan's plan for getting through high school is to keep a low profile, never raise his hand in class, and hope to pass unnoticed. Then Eleanor, the new girl with bright red hair and a strange taste in clothing, gets on his bus. Park is too nice not to let her sit next to him, but he is resentful for the attention she attracts to him and guilty that he isn't more friendly. When he notices that she is reading his comics over his shoulder, a silent friendship begins. Eleanor and Park narrate in alternating segments, creating a believable story of love in the face of adversity.
---

How to Be an Elephant
by Katherine Roy
Ages 7–11
A baby elephant has many skills to learn to survive in the African savanna. With the help of her mother, sisters, cousins, and aunts, the little elephant learns to communicate, stay cool, and keep up with the herd. Beautiful watercolors augment the informative and interesting text.
---

Neighborhood Sharks: Hunting with the Great Whites of California's Farallon Islands
by Katherine Roy
Ages 7–11
Every September the great white sharks return to San Francisco, California, in their annual migration. Their favorite hunting grounds are in the Farallon Islands, just 30 miles from the Golden Gate Bridge, where the sharks prey upon the seals that live on the island's rocky coast. The massive sharks are incredibly fast, perfectly adapted for ocean hunting. This intimate portrait of the life cycle and biology of this amazing predator is fascinating.
---
Irena Sendler and the Children of the Warsaw Ghetto
by Susan Goldman Rubin, Bill Farnsworth
Ages 8–12
Though small in stature, Irena Sendler, a Polish social worker, managed to smuggle more than 400 Jewish children out of the Warsaw ghetto during World War II. Using clever ruses like toolboxes, ambulances, and coffins, Irena defied the Nazis and risked her own life to bring the children to safety. Worried that the children might not be reunited with their families, Irena kept a secret list of the children's identities buried in jars under a tree in war-torn Warsaw. Dramatic paintings illustrate this story of courage and compassion.
---

Jean Laffite: The Pirate Who Saved America
by Susan Goldman Rubin, Jeff Himmelman
Ages 6–9
Jean Laffite grew up hearing stories of the persecution his Jewish family faced in Spain before they fled to Port-au-Prince, now part of Haiti. Young Jean dreamed of becoming a pirate, and joined his brothers and uncle as a teenager on the high seas, capturing vessels flying the Spanish flag. Retiring to New Orleans, Laffite became a respected businessman. During the war of 1812, he warned the Americans of a plot by the British to invade through New Orleans. With the help of Laffite and his pirate friends, General Andrew Jackson was able to beat back the British.
---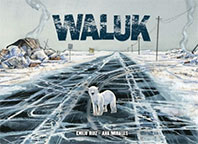 Waluk
by Emilio Ruiz, Ana Miralles
Ages 7–11
Waluk is a polar bear cub who has just been left by his mother to fend for himself. Manitok is an elderly polar bear with few teeth who has lost the speed he needs to catch prey. Together, the two hunt to find the protein they need to survive, but the Arctic world is changing. The ice is melting and prey is hard to find. Then Manitok is captured by scientists, forcing Waluk to take the lead. (graphic novel)
---
Cartwheeling in Thunderstorms
by Katherine Rundell, Melissa Castrillón
Ages 8–12
Wilhelmina Silver (12) loves the freedom of living on a farm in Zimbabwe, training her monkey, riding her horse, and playing with her best friend Jack. The neighbors criticize her wild behavior, but her widowed father thinks she is perfect. When her father dies, she is sent to an English boarding school where the other girls call her a savage and mock her constantly. Running away to the streets of London, she finds that the survival skills developed in Africa were the perfect preparation for this new environment.
---

The Explorer
by Katherine Rundell
Ages 8–12
Four children are on a plane from Brazil to England when it crashes in the Amazon. The pilot is killed, and Fred, Con, Lila, and Lila's little brother Max are on their own. They struggle to find food and evade predators until they find a map that leads them to a secret ruined city.
---

Rooftoppers
by Katherine Rundell, Terry Fan
Ages 8–12
After a ship sinks, a baby girl is found floating in a cello case, wrapped in the score of a symphony. Charles Maxwell, a young fellow passenger, saves the baby and decides to keep her, despite social pressure of 1890s London to give her up. When Sophie is 12, the authorities order that she be given to an orphanage, so Charles and Sophie flee to Paris, where the cello case was made. Sophie is convince that her mother is still alive, and sets off to search Paris with her new friend Matteo, a street child who lives on the rooftops.
---

After Eli
by Rebecca Rupp
Ages 9–12
Three years after Daniel's older brother Eli dies in Iraq, Daniel is still wondering if Eli died heroically or accidentally. In an attempt to understand what makes a life or a death matter, Daniel creates a Book of the Dead in an old binder, full of details about dead people, how they died and for what purpose. While dealing with his lingering anger about Eli's death, Daniel tries to cope with his dysfunctional family — his mother is consumed with mourning Eli, his frustrations with his conventional friends, his attraction to free-spirited Isabelle, and his growing friendship with school outcast Walter. This rich novel deals honestly with the pain of loss and the struggles of those left behind to reestablish their own lives.
---

Octavia Boone's Big Questions about Life, the Universe and Everything
by Rebecca Rupp
Ages 9–12
Seventh grader Octavia Boone is used to her flaky mother moving from cause to cause, but when she joins a fundamentalist religious group and wants to move in with her fellow Redeemers, Octavia is worried. She is respectful of religion, but doesn't like or trust the Redeemers and decides to use her science-fair project to prove there is no god, hoping that will bring her mother to her senses. Octavia's artist father is convinced that Henry David Thoreau holds the key and her parents begin to drift apart. Octavia tries to understand everyone's viewpoints, but can't find the one answer that will bring her parents back together. This humorous and touching novel celebrates those who seek the truth in a complicated world.
---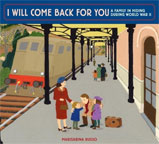 I Will Come Back for You: A Family in Hiding During World War II
by Marisabina Russo
Ages 5–9
A small girl wonders why her grandmother always wears a bracelet with curious charms on it, and eventually Nonna tells the story of her childhood in Rome during World War II. When the Nazis threatened the Jews, Nonna was separated from her father and sent to hide in the mountains with her mother and brother. Each of the seven charms represents one of the months the family was separated, and there is a story of fear, ingenuity, and compassion to go with each one. Based on her own family history, Russo tells the tale of this terrifying time in a reassuring way that is appropriate for young children.
---

The Cabinet of Wonders:

The Kronos Chronicles: Book I
by Marie Rutkoski
Ages 10–up
In 16th century Bohemia Prince Rodolfo commissions Kronos, a gifted metalworker, to build a magical clock. When the clock is finished, the evil prince steals the metalworker's eyes and wears them himself. When the blinded Kronos returns home, his 12-year-old daughter Petra sneaks off to Prague to recover her father's eyes with her pet tin spider Astrophil. An astonishing mix of history and enchantment will entrance readers.
---

The Celestial Globe
The Kronos Chronicles: Book II
by Marie Rutkoski
Ages 10–up
When Prince Rudolfo's monsters attack her, 13-year-old Petra escapes from 16th century Bohemia to London through a "Loophole" permitting instant time-space travel. Meanwhile, Petra's magician friend Tomik is captured by pirates seeking the second of two magical globes which offer Loophole control when combined. Supported by British spy John Dee, Petra builds her own strengths before rejoining the fight against the evil Prince Rudolfo. This fascinating mix of history and fantasy is the sequel to The Cabinet of Wonders.
---

The Map to Everywhere
by Carrie Ryan, J.P. Davis
Ages 8–12
Fin was left by his mother at an orphanage in the pirate city of Khaznot Quay when he was four. Fin is such a forgettable sight that no one ever notices him, a curse that makes him very lonely but also a master thief. Fin receives a letter telling him to steal a key that will show him the way back to his mother, and accidentally releases the Oracle, an insane wizard who has been imprisoned for centuries. Marrill, an intrepid girl from Earth, is traveling on a quest for the Map to Everywhere, which she needs to find her way back to Arizona. Fin and Marrill join forces in this action-packed adventure, first in a planned series.
---

The Dreamer
by Pam Muñoz Ryan, Peter Sís
Ages 9–14
This fictionalized story of Pablo Neruda's early life in the small town of Temuco, Chile presents a shy child curious about the wonders of nature. Young Neftalí Reyes (Neruda's real name) admires his uncle who owns the local newspaper, but the boy's father has no patience for Neftalí's daydreaming and love of reading and writing. The poetic text captures the spirit of an artist who savors the sound of words and the importance of dreaming in the development of a poet.
---

Echo
by Pam Muñoz Ryan
Ages 10–14
Otto, who lives in the magical past, is lost in the woods when he is rescued by three sisters held captive by a witch's curse. He helps break the curse by carrying their spirits out of the wood in a harmonica, promising to pass the instrument along when the time is right. On Germany, Friedrich, an aspiring conductor, is trying to rescue his father from a Nazi prison camp. In Pennsylvania, Mike, a piano prodigy, hopes he and his brother Frankie can escape the orphanage by being adopted. In California, Ivy Maria struggles with her school's segregation policy and the accusations against Japanese landowners. All three are linked by their love of music and each recognizes the power of the harmonica when it enters their lives.
---
The Invisible Kingdom
by Rob Ryan
Ages 8–up
The Prince (13) lives in a palace in the middle of the city. He doesn't see much of his elderly parents, and Lord Von Dronus, his stern tutor, demands that he follow all the rules of protocol, trapping the prince inside the palace. The Prince knows the palace inside out, and has made one friend, the young Bootman who lives in the basement and keeps the palace footwear shiny. The Bootman gives the Prince a special pen that writes in invisible ink revealed by a special torch, and the Prince decorates the drapes around his bed with an imaginary village. Discovering a window in the attic, the Prince begins to sneak out of the palace at night, fascinated by ordinary people going about their usual nighttime tasks. This modern fairy tale is the first of a trilogy.
---

Gooseberry Park and the Master Plan
by Cynthia Rylant, Arthur Howard
Ages 8–12
There has been no rain for months, and the animals of Gooseberry Park are worried about what might happen to their beloved home. Herman, the clever crow, comes up with a plan to secure the water needed to save the park from the ravages of drought. The scheme is a bit convoluted (requiring 200 owls, a raccoon, 20 packs of gum, and a lot of drinking straws) but cooperation saves the day. (companion to Gooseberry Park)
---

Missing May
by Cynthia Rylant
Newbery Medal 1993


Ages 9–12
When Summer's foster mother Aunt May dies suddenly she is overcome with grief. But her foster father Uncle Ob is so sorrowful that Summer fears he will not be able to go on living without May. In a quest to find closure, Summer, Ob, and Cletus, a classmate of Summer's, search for a spiritualist who may be able to communicate with May. They can't find the spiritualist, but somehow the quest helps them to heal.
---
The Little Mermaid
by Robert Sabuda
Ages 6–up
Ingenious pop-up engineering illustrates the classic Hans Christian Andersen fairy tale of the mermaid who leaves her home in the sea to follow her love.
---

Peter Pan:

A Classic Collectible Pop-Up
by Robert Sabuda
Ages 4–10
Amazing pop-up illustrations bring characters from J.M. Barrie's classic Peter Pan to 3-D life.
---

Holes
by Louis Sachar
Newbery Medal 1999


Ages 10–up
Stanley Yelnats has been sent to Camp Green Lake, a juvenile detention facility in the desert. Each day the boys are required to did a hole five feet deep and five feet in diameter, and then fill it in again. Stanley suspects that this is not a character-building exercise—the warden is searching for something. This strange book will keep kids glued to the pages, eager to find out what will happen next.
---

A Perfect Season for Dreaming
Una temporada perfecta para soñar
by Benjamin Alire Sáenz, Esau Andrade Valencia
Ages 7–12
In this bilingual book 92-year old Octavio Rivera shares his beautiful and fantastic dreams with his young granddaughter. The combination of Sáenz's lyrical prose and Valencia's incredible illustrations is mesmerizing.
---
The Little Prince Graphic Novel
by Antoine de Saint-Exupéry, Joann Sfar
Ages 9–12
French cartoonist Joann Sfar includes Antoine de Saint-Exupéry himself as a character in this graphic novel adaptation of the beloved classic The Little Prince. Bold and striking illustrations honor the original while remaining fresh and original.
---

Usagi Yojimbo: Yokai
by Stan Sakai
Ages 9–12
Usagi, a heroic but kind samurai rabbit, is walking through the forest one dark night when a mother begs him to find her daughter who has been stolen by the Yokai, evil supernatural spirits who can change their shapes at will. Luckily he is joined by Sasuke the Demon Queller, but the two have a fight on their hands against the Demon Queen and her forces. This fully painted hardcover book is a celebration of the 25th anniversary of Usagi's first appearance, bringing Sakai's beautifully drawn, and often scary, graphic illustrations to a new audience.
---

Aviary Wonders Inc. Spring Catalog and Instruction Manual
by Kate Samworth
Ages 9–12
This faux-catalog offers bird lovers the chance to replace extinct birds by assembling their own unique birds from hand-crafted parts. Each created bird can be taught to sing and fly. The founder of the company "discovered a passion for bird-watching while working for my family's logging company." Beautiful illustrations accompany the mock sales pitches. The company motto "Renewing the World's Bird Supply Since 2031" encapsulates the clever combination of humor and ecological warning.
---
The Impossible Rescue: The True Story of an Amazing Arctic Adventure
by Martin W. Sandler
Ages 10–14
In 1897 the early arrival of winter trapped eight San Francisco-based whaling ships off the western coast of Alaska. President McKinley ordered an expedition to rescue the 265 stranded whalers. Brought to vivid life through the use of primary sources — journals, reports, letters, and photographs — this suspenseful rescue attempts is told from both the perspective of the rescuers facing danger to save the whalers, and the whalers themselves struggling to survive in life-threatening conditions.
---

The Blackthorn Key
by Kevin Sands
Ages 10–14
Life is hard for orphans in the 1600s in London, and Christopher Rowe (14) is lucky to be apprenticed to Master Benedict Blackthorn, a kind apothecary. But someone is murdering apothecaries, and Master Blackthorn is attacked. Christopher flees, and with his friend Tom uses all the scientific skills he has learned to rescue his master and find the killers.
---
Pinocchio: The Origin Story
by Alessandro Sanna
Ages 5–14
This nearly wordless version of the Pinocchio story begins when a meteor crashes to Earth. A tree grows in the crater. Lightning hits a branch, and it scurries away on twiggy limbs. Pinocchio fights fire, snake, and shark before growing into a tree.
---

Fires of Invention
by J. Scott Savage
Ages 10–up
Trenton Colman (13) lives in Cove, an underground multi-level steam-powered city where inventions are illegal though mechanics are valued. Trenton is mechanically talented, but also creative, which may endanger his dream of becoming a city mechanic. When the city goes dark, one of Trenton's illegal inventions is blamed, but he discovers that the true cause is another unapproved device. His search for the inventor leads him to Kallista Babbage, a repair technician and the daughter of the infamous Leo Babbage who died in the explosion of one of his inventions. This exciting adventure is the first in the Mysteries of Cove series.
---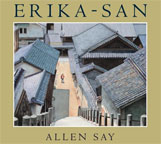 Erika-san
by Allen Say
Ages 6–10
Erika always loved her Grandmother's print of a small Japanese teahouse with lighted windows, and dreamed of traveling to Japan one day. After college she travels to Japan to teach and finally finds exactly the right spot. The beautiful watercolors are the perfect match for the tranquil text.
---
Good Masters! Sweet Ladies!

Voices from a Medieval Village
by Laura Amy Schlitz
Newbery Medal 2008


Ages 10–up
Written to be performed by a classroom of students, these 23 short monologues in prose and verse bring to life an English village in 1255.
---
The Great Good Summer
by Liz Garton Scanlon
Ages 8–12
Ivy Green (12) lives in the east Texas town of Loomer, which has more churches than stores. A series of wildfires destroys the countryside and the church where Ivy's grandfather was the preacher. So Ivy's Mama left town with Hallelujah Dave, heading to the Great Good Bible Church of Panhandle, Florida. At least that's where Ivy and her father think her Mama has gone. The church doesn't have a website or phone listing and Mama didn't leave a note. Ivy's friend Paul Dobbs is also having a terrible summer. Paul dreams of being an astronaut, and the news that NASA is shutting down the space shuttle program causes him to fear he will never get into space. The two decide to run away to Florida to say goodbye to the space program and look for Ivy's mother at the same time.
---
Battle Bunny
by Jon Scieszka, Mac Barnett, Matthew Myers
Ages 5–9
Presented with a too-sweet picture book called Birthday Bunny, Alex transforms the title character into Battle Bunny, complete with eye-patch and and Evil Plan. Scrawling over the vintage oil paintings and the text, Alex uses his vivid imagination to create a story of his own that nearly obliderates the original. Young readers will need to be cautioned not to try this with library books once they stop laughing.
---
The Meanest Birthday Girl
by Josh Schneider
Ages 6–9
Dana is not a nice girl. She pinches her classmates, calls them names, and steals their dessert. She is amazed when a classmate presents her with an amazing white elephant as a birthday gift. Determined to take good care of her new pet, Dana sacrifices sleep and food to make the elephant comfortable. This funny book provides a fresh perspective on birthdays, bullies, and what it takes to transform a mean girl into something better.
---

G Is for Googol: A Math Alphabet Book
by David M. Schwartz, Marissa Moss
Ages 9–12
This clever math alphabet books takes readers through 26+ important math ideas and concepts in an amusing and entertaining way. The informative and light-hearted text is perfectly paired with bright cartoon-like illustrations, bringing the mathematics alive. Students and teachers alike will enjoy exploring this rich book.
---

Guys Read: Funny Business
by Jon Scieszka
Ages 8–12
This first volume in the Guys Read Library, intended to encourage reluctant readers, contains 10 humorous short stories written by today's top writers of fiction for children. The stories include a bloodthirsty turkey pursuing the narrator (David Yoo), a hilarious correspondence between a student and a writer (Jon Scieszka and Kate DiCamillo), the inspiration for Artemis Fowl (Eoin Colfer), and more designed to whet the appetite for longer works by the featured authors.
---

Nocturne: Creatures of the Night
by Traer Scott
Ages 7–12
Dramatic photographs of 42 creatures of the night are accompanied by intriguing information about the animals. These close-ups of animals include common animals like the raccoon and possum to more exotic creatures like the spotted salamander and the giant luna moth.
---

Vordak the Incomprehensible: How to Grow Up and Rule the World
by Scott Seegert, John Martin
Ages 8–up
The ultra-evil Vordak the Incomprehensible narrates this hilarious step-by-step guide to world domination, aptly illustrated with John Martin's bright cartoons. Including the basics of choosing a name with the correct dastardly ring, how to pick the perfect henchmen, and tips about engaging in witty conversation with other super heroes, this book will captivate readers eager to share Vordak's absurd advice with their peers.
---

Firstborn
by Tor Seidler, Chris Sheban
Ages 9–14
Maggie the Magpie meets a crow named Jackson who helps her navigate the prejudice and stereotypes that surround her, and teaches her the ways of humans and other animals. When Jackson is shot, Maggie is lonely until she meets Blue Boy, a solitary alpha male wolf. The unlikely pair become friends and Blue Boy eventually joins a pack and has a family of his own, while retaining his friendship with Maggie. Lamar, the firstborn pup, disappoints his father by not being the alpha male everyone expects.
---

Gully's Travels
by Tor Seidler, Brock Cole
Ages 8–12
Gulliver the pampered Lhasa apso is banished from his ritzy Manhattan apartment to the doorman's overcrowded apartment in Queens when his master proposes marriage to a woman allergic to dogs. Believing he has been kidnapped, Gulliver cleverly finds his way back to Manhattan and then to Paris as he comes to understand the true nature of loyalty.
---
The Invention of Hugo Cabret
by Brian Selznick
Caldecott Medal 2008


Ages 9–12
Hugo, a 12-year-old-orphan lives in the walls of a Paris train station at the turn of the 20th century, trying to finish an invention his father left. Black and white pencil illustrations pay homage to flickering silent movies.
---

The Marvels
by Brian Selznick
Ages 8–12
This amazingly inventive book imagines the life of the family who lived in the real Dennis Severs House in London. The first part of the story is told entirely in pictures that span nearly 400 pages, beginning with Billy Marvel, a boy who survives a shipwreck in 1766 and finds work in a London theatre. The family flourishes as actors until 1900, when young Leontes Marvel is banished from the stage. The story continues in 200 pages of prose. Nearly a century later, Joseph Jervis runs away from home and takes refuge with his uncle Albert Nightingale in his strange and beautiful house, leading Joseph into a quest to learn about the history of the house and his family.
---

And Picasso Painted Guernica
by Alain Serres
Ages 9–12
This beautifully illustrated book begins with seven-year-old Picasso painting doves, and then highlights his new ways of seeing and painting. The horrifying German bombing of the people of Guernica inspired Picasso to paint the massive Guernica in 1937 as a protest against the bombing of defenseless civilians, and against the brutality of war everywhere. Both the steps of creating the huge painting and the elements that compose it are thoroughly explored in this tribute to the transformative power of art.
---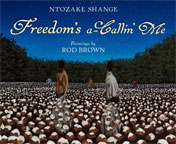 Freedom's a-Callin Me
by Ntozake Shange, Rod Brown
Ages 8–12
This book of illustrated poems tell the story of slaves making their way to freedom on the Underground Railroad. The horrors of the past that haunt the slaves as well as the dangers of the journey are clearly portrayed in this hauntingly beautiful book.
---

We Troubled the Waters
by Ntozake Shange, Rod Brown
Ages 9–12
This unflinching look at the Civil Rights Movement by poet Ntozake Shange and artist Rod Brown presents powerful scenes of the fight for justice from 1941 to the present.
---

The Way Home Looks Now
by Wendy Wan-Long Shang
Ages 8–12
Peter Lee (12) and his family share a love a baseball, except for Peter's strict Chinese immigrant father who stresses the need for education and respect for authority. When Peter's older brother dies in a car accident in 1972, his grieving mother stops talking and stares blankly at the television. Hoping to restore his family to the closeness they shared before the accident, Peter persuades his father to let him join a Little League team. During try-outs, Peter's father is pressed to become a coach, and Peter realizes his distant father actually knows a lot about baseball.
---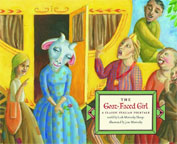 The Goat-Faced Girl
by Leah Marinsky Sharpe, Jane Marinsky
Ages 6–up
A lizard who is really a witch trips over an abandoned baby and adopts her. Raised by her lizard-mother, Isabella grows up beautiful but lazy. When she becomes engaged to Prince Rupert, her mother gives her the head of a goat in order to spur her into action. Rupert is repulsed by her goat head, and gives her three impossible tasks to complete before he will marry her. Beautifully detailed paintings illustrate the retelling of this classic Italian folktale.
---

Bomb: The Race to Build—and Steal—the World's Most Dangerous Weapon
by Steve Sheinkin
Ages 10–up
This high-interest book tells the exciting tale of the race to build the first atomic weapon. In 1938, a German chemist split the first Uranium atom. Soviet spies worked their way into American and British scientific communities. A Norwegian commando force attacked a German heavy-water plant. And in the American desert a group of brilliant scientists worked in secret labs in Los Alamos. The suspenseful narration transforms this history into a thriller.
---

Lincoln's Grave Robbers
by Steve Sheinkin
Ages 10–12
In 1875, master counterfeiter Ben Boyd is arrested by the Secret Service and thrown into prison. James Kennally, leader of one of the largest counterfeiting rings in the Midwest comes up with a plan to spring his best engraver from jail — steal Lincoln's body from the tomb in Springfield and ransom it back for Boyd's release and $200,000 in cash. This suspenseful tale of real-life historical intrigue is as exciting as a fictional thriller.
---
Most Dangerous: Daniel Ellsberg and the Secret History of the Vietnam War
by Steve Sheinkin
Ages 10–14
In 1971, Daniel Ellsberg, an obscure government analyst, leaked The Pentagon Papers, a 7,000 page collection of papers documenting the secret history of the Vietnam War. The Pentagon Papers exposed a pattern of deception that spanned 20 years and four presidencies, forever changing the relationship between the American people and the politicians who claimed to represent their interests. This accessible history presents the story with the excitement of a spy novel, portraying Daniel Ellsberg as a man who risked everything to expose years of government lies.
---

The Port Chicago 50: Disaster, Mutiny, and the Fight for Civil Rights
by Steve Sheinkin
Ages 10–14
On July 17, 1944, an accidental explosion at Port Chicago, a segregated California Navy base, killed more than 300 African-American service men and injured and additional 400. To protest the unsafe working conditions, 244 men refused to go back to work until the unfair conditions at the segregated dock were addressed. After the protest, 5o men were arrested and charged with mutiny, facing years in prison or execution. This well-documented look at a little known civil rights issue is fascinating and frightening.
---

My So-Called Family
by Courtney Sheinmel
Ages 9–12
When Leah Hoffman-Ross's family moves to New York shortly before the start of the 8th grade year, she decides to try and pass as normal, instead of the child of Donor 730 from a Maryland sperm back. Her mother thinks her new stepfather and little brother should be all the family she needs, but Leah finds the database of the sperm registry and discovers she has a half-sister her own age. This thought-provoking book encourages readers to think about what really makes a family.
---

Dream On, Amber
by Emma Shevah, Helen Crawford-White
Ages 9–12
Amber Alessandra Leola Kimiko Miyamoto (11) finds it confusing to be both Italian and Japanese. What's worse is that her Japanese father abandoned the family years ago, leaving both Amber and her younger sister Bella angry and hurt. So Amber creates an imaginary father to listen to her secrets and writes letters to Bella from this pretend father, busy on secret agent missions around the world.
---

Meanwhile: Pick Any Path
by Jason Shiga
Ages 8–12
This enthralling graphic novel allows readers to select from an amazing 3,856 story lines. Starting with an easy question, "Chocolate or Vanilla?" readers follow tubes and tabs through this amazingly constructed book to create a unique story of invention, discovery, and saving or destroying the world. Decisions move the reader up or down, left or right, forward or backwards, through cartoon illustrations of a mad scientist's lab featuring time machines, giant squids, and quantum physics.
---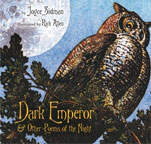 Dark Emperor and Other Poems of the Night
by Joyce Sidman, Rick Allen
Ages 6–10
This collection of poems celebrates nocturnal life in the forest from various point of view including the prey of a horned owl, a baby porcupine, a night spider, the moon. Each poem is illustrated with a detailed print and accompanied by a short factual note about the subject, beautifully blending poetry, science, and art.
---

Ubiquitous: Celebrating Nature's Survivors
by Joyce Sidman, Beckie Prange
Ages 6–10
This book of poems pays tribute to biologically successful life forms from lichens to mollusks to ants to coyotes. Arranged in order of each survivor's first appearance, each spread features fascinating facts, beautifully colored linocuts, and a poem which echoes a trait of the subject. The melding of art, science, and poetry stimulates the eye, ear, and mind.
---
Winter Bees & Other Poems of the Cold
by Joyce Sidman, Rick Allen
Ages 6–9
Twelve fascinating poems explore how animals stay alive in the winter and investigate the secret life under the snow. Rich digitally layered lino-cuts add an extra dimension to the lyrical poems.
---

Sex Is a Funny Word: A Book About Bodies, Feelings, and YOU
by Cory Silverberg, Fiona Smyth
Ages 7–10
This comic book for children and their parents and caregivers is an accessible resource for questions about bodies, gender, and sexuality. Designed to open up conversations between children and adults, this book explores the various meanings of the word "sex," with four wildly colored children as guides.
---

I'll Pass For Your Comrade:

Women Soldiers in the Civil War
by Anita Silvey
Ages 10–14
This non-fiction book tells the fascinating story of the women who risked their lives and reputations to fight in the Civil War. Vintage photographs, etchings, and memoirs illuminate the adventures and struggles of the women who cut their hair and disguised themselves as men to join the fight. Highly accessible language helps to put these unconventional women in historic context.
---

Untamed: The Wild Life of Jane Goodall
by Anita Silvey
Ages 8–12
This accessible biography of scientist Jane Goodall focuses on her ability to connect with another species through observation. After achieving scientific breakthroughs with her chimpanzee studies in her 20s, Goodall used her fame to work to preserve the environment for the primates she had come to love. Stunning photographs illustrate this book that will encourage all young scientists to follow their dreams.
---

Echo Echo: Reverso Poems About Greek Myths
by Marilyn Singer, Josee Masse
Ages 6–9
This collection of "reverso" poems, designed to be read both forward and backward, features characters from Greek myths. Pygmalion and Galatea, the statue he brings to life, muse on the wonders of a statue so ""life like" and that there is no wonder "like life." Other poems feature the contrasting perspectives of famous characters like Perseus and Medusa, Icarus and Daedalus, and Midas and his Golden Touch.
---
Mirror Mirror: A Book of Reversible Verse
by Marilyn Singer, Josee Massee
Ages 7–up
This clever book of poems that can be read forward and backwards, shows that there can be more than one point of view in a fairy tale. "Mirror Mirror" is narrated by Snow White in one direction, and by the wicked queen in the other. "In the Hood" features the wolf anticipating his next meal one way, and Little Red Riding Hood reminding herself not to dawdle on the way to Grandma's. The rich illustrations reflect the dual images of the poems. Singer explains how to create a "reverso" poem in an afterward that encourages readers to try their own.
---

Follow Follow: A Book of Reverso Poems
by Marilyn Singer, Josee Masse
Ages 6–up
Fairy tale characters speak though "reverso" poems that can be read foward and backward, resulting in completely different meanings. Characters appear from many stories, including The Tortoise and the Hare, Thumbelina, The Little Mermaid, The Emperor's New Clothes, The Three Little Pigs, The Princess and the Pea, and Aladdin.
---

Zayde Comes to Live
by Sheri Sinykin, Kristina Swarner
Ages 6–10
Rachel's grandfather, her zayde, comes to stay, and Rachel soon realizes he is dying. She is worried about where he will go when he dies, and asks her Muslim and Christian friends before finally asking her rabbi. Her zayde helps her understand that there can be peace and contentment in death.
---

Friends for Freedom: The Story of Susan B. Anthony & Frederick Douglass
by Suzanne Slade, Nicole Tadgell
Ages 6–9
Susan B. Anthony and Frederick Douglass lived in a time when it wasn't considered proper for men and women to be friends, and even more strange to be friends with someone whose skin was a different color. Mutual respect and a shared commitment to equality brought the two together to speak against slavery and other injustices. The 15th Amendment proposed voting rights for black men, but not women, caused them to disagree, but not to give up their friendship.
---

The Georges and the Jewels
by Jane Smiley
Ages 10–up
Abby Lovitt (12) lives on a horse farm with her evangelical parents in California in the mid-1960s. Abbey's father warns her not to get too attached to any of the horses, and names all the mares Jewel and all the geldings George. Abby is being bullied by the "Big Four" girls at school and her older brother Danny has left home. Abby spends most of her time with the horses, especially with "Onery George," a gelding who will not look her in the eye and bucks her off his back every chance he gets.
---

Abe Lincoln's Dream
by Lane Smith
Ages 5–9
Quincy gets separated from her White House tour group and finds herself in the Lincoln bedroom, alone except for the ghost of Abe Lincoln himself. Noticing that Abe seems sad, Quincy takes him on a tour of the country, pointing out all the changes that have happened since he last left the White House in 1865.
---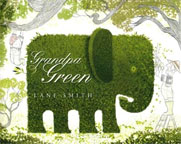 Grandpa Green
by Lane Smith
Ages 5–9
A small boy tells the story of his great-grandfather's life, who was born before computers and television. As the boy waters plants and tends a magnificent topiary garden, he tells a story to accompany each creation. Eventually the boy catches up with his forgetful and much loved great-grandfather in this beautiful book celebrating creativity and family history.
---

Return to Augie Hobble
by Lane Smith
Ages 8–12
Augie Hobble is a talented artist but has failed his Creative Arts class at Gerald R. Ford Middle School and is tasked with re-doing his final project over the summer. His journal is illustrated with cartoon ideas for his assignment. Augie also has a summer job, picking up garbage at Fairy Tale Place, a struggling New Mexico amusement park managed by his father. The girl he has a crush on doesn't seem to realize he exists, and the school bullies aren't inclined to take a vacation. On top of all that, a series of events has convinced Augie that he is turning into a werewolf.
---
Small Wonders: Jean-Henri Fabre and His World of Insects
by Matthew Clark Smith, Giuliano Ferri
Ages 6–9
As a child in rural France, Jean-Henri Fabre spent hours watching. Instead of capturing them and drawing the dead specimens, Henri observed the insects in their natural habitat. Considered an eccentric by his neighbors, Fabre was a scientific pioneer who introduced the world to the fascinating lives of insects.
---

Thornhill
by Pam Smy
Ages 10–14
In 2017 Ella Clark and her father move to a house that overlooks the Thornhill Institute for Children, a dilapidated former orphanage. Ella's father is rarely home, so when the lonely teenager sees a girl wandering around the Thornhill grounds, she crawls under the fence to introduce herself. In 1932 Mary Baines (13) is a lonely orphan at Thornhill when it is in the process of closing. Her few friends are adopted or moved to another orphanage, leaving Mary in the company of an unstable bully. As the staff is reduced, the bulling increases, and Mary plots her revenge. Intertwined narrations feature entries from Mary's diary, newspaper clippings, and eerie black and white illustrations documenting Ella's interactions with Mary's ghost.
---

The Composer Is Dead
by Lemony Snicket, Carson Ellis
Ages 5–up
This introduction to the instruments of the orchestra is cloaked in a murder investigation. When the composer is found dead ("This is called decomposing."), the Inspector begins interrogating the sections of the orchestra. The accompanying CD features Snicket (Daniel Handler) narrating the performance with the San Francisco Symphony Orchestra of Nathaniel Stookey's original score. A national tour begins March 7, 2009, in New York City.
---

"Who Could That Be at This Hour?"
by Lemony Snicket, Seth
Ages 9–up
Young Lemony Snicket tells the tale of his apprenticeship for a mysterious organization under the care of S. Theodora Markson, voted the least successful in the entire agency. Markson and Snicket are assigned the investigation of a theft in a seaside town that has been robbed of its sea, encountering deception and double crosses wherever they turn. In usual Snicket fashion, straight answers are hard to find in this open-ended first in a projected four-volume series: All the Wrong Questions.
---

Charlie & Mouse
by Laurel Snyder, Emily Hughes
Ages 6–9
Four linked stories tell the story of two brothers whose mother refuses to get out of bed one morning. The inventive brothers talk to lumps, organize a party at the playground, open up a rock-selling business, and create the tradition of the Bedtime Banana to postpone bedtime as long as possible. The engaging illustrations help to make this funny book even more accessible for beginning readers.
---

Red Butterfly
by A.L. Sonnichsen, Amy June Bates
Ages 8–12
Kara (11) is a Chinese orphan abandoned by her mother as an infant, perhaps because of her misshapen right hand that she hides under her long sleeves. She lives in China in near poverty with her Caucasian mother, speaking English at home and unable to attend school. Kara doesn't understand why she and her adoptive mother have to stay in China instead of joining her father in Montana. Eventually Kara realizes Mama stayed in China illegally to raise the baby she found abandoned. Kara is taken to an orphanage, and another family tries to adopt her. This evocative novel is narrated in first-person poetry.
---
The Dancing Pancake
by Eileen Spinelli, Joanne Lew-Vriethoff
Ages 8–12
Bindi (11) had a normal and happy life until her parents announced they were separating. After her father moves to another city, Bindi's mother and aunt open a diner, The Dancing Pancake, to make ends meet. Told entirely in verse from Bindi's perspective, this accessible book presents Bindi's struggles to deal with her new reality and her wildly changing emotional state in a light-hearted way.
---

Jake and Lily
by Jerry Spinelli
Ages 8–12
Twins Jake and Lily are best friends, sharing a special connection and always knowing what the other is thinking until they turn 11. Then Jake starts spending more time with his friends and less with Lily, leaving her feeling upset and rejected. Lily tries to find out who she is as an individual, but it's hard work. Jake's need for independence is balanced by Lily's feeling of abandonment in this funny examination of individualism and self-awareness.
---

Maniac Magee
by Jerry Spinelli
Newbery Medal 1991


Ages 8–12
After being orphaned as a baby, Jerry Magee is brought up by his aunt and uncle, who fight all the time. He runs away at age eight to Two Mills, Pennsylvania and becomes a folk hero—Maniac Magee, the boy who can outrun any dog, hit any pitch, untie any knot. He is taken in by a black family but that causes problems in the racially divided town. Maniac keeps searching for the perfect family and eventually helps the town bridge the gap between racial and cultural differences.
---

Smiles to Go
by Jerry Spinelli
Ages 9–12
Ninth grader Will Tuppance plays chess, gazes at stars, makes plans, and is in love with baffling Mi-Su.
---

The Warden's Daughter
by Jerry Spinelli
Ages 9–12
Cammie (12) is the daughter of a prison warden in 1950s Two Mills, Pennyslvania. Cammie's mother died saving Cammie's life when she was just a baby, and she lives a lonely life living with her father above the town prison. During the summer she fills the hours visiting the women inmates, plays records with her best friend, and trying to transform the prison housekeeper into a mother-figure. Cammie's unresolved grief and guilt over the sacrifice her mother made cause her to lash out at everyone when Boo Boo Dunbar, one of the few African-American prisoners, commits suicide.
---

Alex the Parrot: No Ordinary Bird: A True Story
by Stephanie Spinner, Meilo So
Ages 8–12
Graduate student Irene Pepperberg bought an African Grey parrot from a pet shop in 1977. She named him Alex, short for Avian Learning EXperiment, since she planned to study him. At that time, scientists thought that the bigger the brain the smarter the creature, so birds like Alex hadn't been used in intelligence testing. But Alex surprised everyone, including Irene, learning to count, add, and subtract; to identify shapes, sizes, and colors; and to speak and understand hundreds of words.
---

Friday Barnes, Girl Detective
by R.A. Spratt, Phil Gosier
Ages 8–12
Friday Barnes (11) is used to being invisible. Ignored by her parents, theoretical physicists. Friday reads detective novels and watches Agatha Christie films. With the reward earned by solving a bank robbery, Friday sends herself to an exclusive boarding school. She shrugs off the taunts of the pampered students and begins to solve a series of crimes ranging from disappearing homework to a Yeti who haunts the nearby swamp. This hilarious novel is the first in a series.
---

Moonpenny Island
by Tricia Springstubb, Gilbert Ford
Ages 8–12
Moonpenny Island is an isolated spot in the middle of a big lake. During the summer the island is crowded with tourists, but by fall Flor and her best friend Sylvie are the only two 11-year-old girls for miles, which suits them just fine. But this fall everything changes. Sylvie is sent to school on the mainland, Mama goes away to take care of Flor's sick grandmother, and Flor's big sister begins acting very strangely. Then geologist and his peculiar daughter arrive to excavate prehistoric trilobites, one of the first creatures to develop sight. Flor begins helping them and realizes that not all change is a bad thing.
---

Julian Rodriguez #1: Trash Crisis on Earth
by Alexander Stadler
Ages 7–10
Julian complains to the Mothership that he has endured eight years of mistreatment in an Earthling home in this hilarious hybrid of fiction and graphic novel.
---

The Secret Tree
by Natalie Standiford
Ages 9–12
Minty and her best friend Paz plan to spend the summer before middle school working on their roller derby moves and annoying their older sisters. Then Minty discovers a tree in the nearby woods where someone is depositing anonymous notes full of heart-felt secrets. Raymond, who has a connection with the "Witch Lady" on the other side of the woods, asks Minty to help him figure out who belongs to the secrets in the tree.
---
Joplin, Wishing
by Diane Stanley
Ages 8–12
Fifth grader Joplin Danforth travel from New York City to her recently deceased grandfather's cabin in rural Maine to take care of his possessions. Joplin finds a broken platter and glues it back together, revealing a beautiful painting of a girl standing beside a stream. As she admires the painting, Joplin wishes she will find a friend at school and meet the girl painted on the platter. The next day Joplin befriends a boy named Barrett and notices a girl lurking in the shadows who looks a lot like the painting. The girl says her name is Sofie, and that she is has been trapped in the platter for centuries, cursed to grant the wishes of the owner. Joplin and Barrett join forces with Sofie to break the curse and return her to her Dutch village 400 years in the past.
---

Goodbye Stranger
by Rebecca Stead
Ages 10–up
Bridge Barsamian is now in 7th grade. When she was eight, she nearly died in a traffic accident and has been introspective ever since. Bridge and her two best friends swear never to fight, but Em's developing figure is beginning to attract boys and Tab is interested in feminism and social justice. Bridge's new friend Sherm unbalances the trio. This captivating novel captures the challenges of change, friendship, and love.
---

Liar & Spy
by Rebecca Stead
Ages 9–12
Georges is not having a good seventh grade year. His architect father can't find work, and even though his mother works double shifts a nurse the family is forced to give up their house and move into a Brooklyn apartment. Georges's former best friend Jason ignores the bullies who harass Georges. Luckily new neighbors Safer, twelve-year-old coffee-drinking loner and self-appointed spy, and his younger sister Candy, provide distraction. Safer recruits Georges to spy on a mysterious tenant with the lobby cam and observe a nest of green parrots with the lobby cam. Home-schooled Safer and Candy (who were allowed to name themselves) provide Georges with much needed perspective on his problems at school. Georges was named by his mother after her favorite painter, pointillist Georges Seurat, and Seurat's painting methods become a metaphor for what Georges is going through and how he can survive it.
---

When You Reach Me
by Rebecca Stead
Ages 9–14
Miranda (12) is the latchkey kid of a single mother law school dropout in late 1970s Manhattan. After reading A Wrinkle in Time, Miranda is obsessed with time travel, and receives mysterious notes which accurately predict the future. Over the course of her 6th grade year, Miranda describes the three important themes in her life: her mother's upcoming appearance on The $20,000 Pyramid, the sudden end of her lifelong friendship with her neighbor Sal, and the appearance of a deranged homeless man. This thought-provoking realistic science fiction is enthralling.
---

Spyology:

The Complete Book of Spycraft
by Dugald A. Steer
Ages 8–12
It's 1958 and Agent K, a British spy, reveals his secret techniques in a manual for new recruits. As he pursues the evil Operation Codex, Agent K sets challenges and reveals clues. Included are a magnifying glass, a code-breaker, and a secret compartment in the spine.
---

Breakfast on Mars and 37 Other Delectable Essays
by Rebecca Stern, Brad Wolfe
Ages 10–up
This collection of essays will appeal to all students and teachers who have grown weary of the traditional five-paragraph essay structure. The 38 short essays range from the fully to the poignant and demonstrate that essays can be both inspiring and entertaining even when constrained by a style and a topic. A fifth grade teacher, Stern has collected exactly what every teacher of writing needs, great examples appropriate for middle and high school kids.
---

The Fire Chronicle
by John Stephens
Ages 8–12
Kate (15) and her younger siblings Michael and Emma escape from the Edgar Allan Poe Home for Hopeless and Incorrigible Orphans with the evil forces of Dire Magus right behind them. Kate uses the Emerald Atlas to travel to 1899 New York City where she joins forces with the heroic Rafe. Michael and Emma are reunited with their wizard guardian Dr. Pym and travel to southern South America and Antarctica in search of the legendary Fire Chronicle. This delightful adventure fantasy is the second in the Books of Beginning series, following The Emerald Atlas.
---

Murder Is Bad Manners
by Robin Stevens
Ages 10–up
Hazel Wong, a shy new girl from Hong Kong, and Daisy Wells, an outspoken English beauty, are best friends at the Deepdean School for Girls, bonded by their love for detective fiction and the intelligence they try to hide from their classmates in 1930s England. The two form the secret Wells & Wong Detective Society, and open their first big case when one of their teachers dies under mysterious circumstances.
---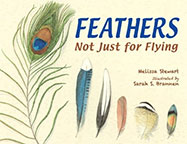 Feathers: Not Just for Flying
by Melissa Stewart, Sarah S. Brannen
Ages 6–9
Young naturalists are introduced to 16 different birds in this elegant book explaining the various uses of feathers: to warm like a blanket, protect skin like sunscreen, cushion like a pillow. Beautiful watercolor illustrations display the feathers and give the feel of a treasured birder's notebook.
---

The Quiet Place
by Sarah Stewart, David Small
Ages 5–10
When Isabel and her family move from Mexico to the United States in 1957, she loves her new teacher with the big smile and is thrilled by her first snowstorm. But Isabel misses the things she left behind, especially her aunt Lupita. Her loving Papa and big brother Chavo help her turn a big box into her own quiet place, where she keeps her books and toys and writes letters to Aunt Lupita. As she decorates her Quiet Place, she gradually adjusts to her new life. Twelve letters from Isabel to her aunt form the text of this beautiful book.
---

The Secret Keepers
by Trenton Lee Stewart, Diana Sudyka
Ages 8–12
It's summer vacation for Reuben Pedley (12), who lives in a rundown neighborhood of New Umbria, a city ruled by the mysterious Smoke and patrolled by his minions, the Directions. One afternoon Reuben finds an antique watch and teams up with Penny and Jack Meyers, descendants of the original owners of the watch, to outwit the Smoke and Directions and free New Umbria.
---

So You Want to Be President?
text by Judith St. George, illustrations by David Small
Caldecott Medal 2001


Ages 8–12
This lighthearted book uses anecdotes and trivia to convey the message that anyone can be president. The humorous caricatures highlight each president's best known qualities.
---

The Boy on Cinnamon Street
by Phoebe Stone
Ages 8–12
Something isn't right with 7th grader Louise. Something happened a year ago that was so terrible that Louise has blocked out a whole week of her life. She has moved from Cinnamon Street to a condo with her grandparents and started a new school. Louise has changed to a new school, given up gymnastics, and has only two friends: Reni and Reni's brother Henderson. Then Louise receives an anonymous love note the disaster that follows is strong enough to shake Louise out of her torpor and begin the healing process of remembering the past.
---

The Romeo And Juliet Code
by Phoebe Stone
Ages 8–12
In the middle of WWII, eleven-year-old Felicity's parents send her from the dangers of England to the safety of her father's family in Maine. When her Uncle Gideon begins to receive mysterious letters in her father's handwriting from Portugal, Felicity and her new friend Captain Derek set out to crack the code of the letters and figure out what is being hidden from her. Themes of culture shock, adaptation, and perseverance are explored in this romantic mystery.
---
Courage Has No Color, The True Story of the Triple Nickles: America's First Black Paratroopers
by Tanya Lee Stone
Ages 10–up
During World War II enlisted black men are segregated from while soldiers and given less important assignments. At Fort Benning, Georgia, the black soldiers in First Sergeant Walter Morris's unit act as guards while the white soldiers are trained as paratroopers. The story of the 555th Parachute Infantry Battalion tells the story of America's first black paratroopers who had to battle against racism to earn the right to fight for their country.
---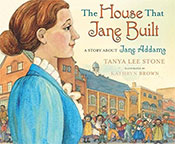 The House That Jane Built: A Story About Jane Addams
by Tanya Lee Stone, Kathryn Brown
Ages 6–9
Determined to improve the lives of the needy, Jane Addams created Hull House, a community refuge in Chicago in 1889. The desperation of the poor is effectively portrayed, as well as the joy of the children as they play in Chicago's first playground. Jane Addams, who also worked for peace, was the first American woman to receive the Nobel Peace Prize.
---

Fallout
by Todd Strasser
Ages 10–up
Scott (11) is the only kid in the neighborhood with a bomb shelter in his back yard. When the disaster everyone mocked actually happens, the shelter is sealed with 10 people inside, six more than it was designed for. As time passes, supplies dwindle, and the adults begin to argue about who should be ejected from the shelter as they wait for the radiation levels to receed.
---

Heroes of the Valley
by Jonathan Stroud
Ages 10–up
Halli Sveinsson isn't handsome or tall or blonde like his siblings. He's short and dark and loves playing practical jokes. When one of his jokes back-fires, Halli is forced to set out on a quest where he encounters robbers and monsters and a girl who may have as quick a mind as his own. This coming-of-age-novel is a surprising look at what bravery really is.
---

The Ring of Solomon
by Jonathan Stroud
Ages 10–up
This prequel to the trilogy featuring Bartimaeus, an egotistical wise-cracking djinn, takes place in 950 BCE Jerusalem. Thanks to his magical ring, King Solomon has great power, and threatens the kingdom of Sheba when the queen rejects his marriage proposal. Asmira, the captain of the queen's guards, is sent to Israel to assassinate King Solomon and steal his ring. Asmira connects with Bartimaeus, then held captive by one of King Solomon's wicked court magicians, and great magic erupts. (Bartimaeus trilogy: The Amulet of Samarkand, The Golem's Eye, and Ptolemy's Gate)
---

Some Writer!: The Story of E.B. White
by Melissa Sweet
Ages 7–10
This accessible illustrated biography presents the life of author E.B. White in the form of a scrapbook. White's personal letters, family photographs, and handwritten rough drafts are intermingled with original artwork to tell the story of a humble and talented author with a love for nature.
---

Louis I, King of the Sheep
by Olivier Tallec
Ages 6–9
When the wind blows a paper crown onto the head of Louis, he is immediately convinced that he has been crowned King of the Sheep. As each day passes, Louis becomes bossier and more convinced that what's good for the King is good for all the sheep, until the breeze snatches his crown away. This humorous look at bullying and self-importance is a great conversation starter.
---
The Bird King: An Artist's Notebook
by Shaun Tan
Ages 10–up
In this book of sketches and musings, artist Tan wonders why finished artwork is often not as powerful as the original sketch. Details from ideas for Tan's trademark hybrids — light bulbs with tails, cars with antennae, a flower whose bloom is a single human eye — get the attention that may have passed them over in the finished drawing. This visual feast will provide a springboard for the imagination of readers.
---

The Night Parade
by Kathryn Tanquary
Ages 10–14
Saki Yamamoto isn't happy when her family takes her away from her friends in Tokyo to visit her grandmother's remote village for the festival of Obon, honoring the spirits of the dead. The cell phone reception is terrible and Saki is bored by the preparations for the festival. When the local kids dare her to play a game in the graveyard, she rings the sacred bell, invoking a death curse. Saki has only three nights to reverse the curse with the help of three spirit guides. this modern fantasy highlights the contrast between Saki's devotion to modern technology and the power of cultural tradition.
---

Discovering Black America: From the Age of Exploration to the Twenty-First Century
by Linda Tarrant-Reid
Ages 10–up
This comprehensive history of black Americans begins with early black explorers and the roots of slavery and concludes with the inauguration of Barack Obama as president. Chapters examine the Revolutionary War, the Civil War, Reconstruction, the Jim Crow era, and 20th century social, political, and artistic movements. This accessible book will inspire readers to think more broadly and deeply about the African-American experience.
---

The Harlem Charade
by Natasha Tarpley
Ages 8–12
Jin (12) helps her Korean grandparents run their corner store in Harlem, and is fascinated by Alex, an African-American girl who is ashamed of her family's wealth and does secret good deeds. Jin orchestrates working with Alex on a school project, alone with Elvin, whose grandfather was recently attacked and is in a coma. The three join forces to figure out who attacked him, sharing Harlem landmarks and history with Elvin, who just moved from Berkeley, California.
---

Emma-Jean Lazarus Fell Out of a Tree
by Lauren Tarshis
Ages 10–14
Seventh-grader Emma-Jean is extremely bright but doesn't connect socially with her classmates. In fact, she observes their interactions with a scientific detachment. Then Colleen asks Emma-Jean's help in dealing with the class bully, and Emma-Jean applies the principles of logic to the situation. Narrated in alternating chapters by two very different girls, this humorous book makes a great read-aloud.
---

Emma-Jean Lazarus Fell in Love
by Lauren Tarshis
Ages 10–14
The intensely analytical Emma-Jean is beginning to appreciate emotions that logic can't explain. Emma-Jean has made friends some friends in her 7th grade class, and is even considering asking a boy to the Spring Fling. This funny and heart-warming sequel to Emma-Jean Lasarus Fell Out of a Tree is sure to please.
---

Poet: The Remarkable Story of George Moses Horton
by Don Tate
Ages 6–10
George Moses Horton was born a slave in North Carolina. He taught himself to read, and memorized his own original poems until he learned to write them down. His poems were admired by students at the University of North Carolina he sold produce to, but were dangerous since he protested slavery. George was 66 when he finally gained his freedom with the signing of the Emancipation Proclamation. The warm tones of the illustrations capture George's feeling that poetry set him free long before the law did.
---

Doom Machine
by Mark Teague
Ages 9–12
It's 1956 and young Jack Creedle and his disreputable Uncle Bud are trying to fix a dead car which stranded scientist Dr. Shumway and her daughter, Isadora, in the small town of Vern Hollow. When the aliens land, Bud knows they are there to steal one of his inventions, but everyone else is amazed when the aliens kidnap seven people and take them off to the planet Skreepia. This lively illustrated interstellar adventure will captivate middle school readers.
---

Drama
by Raina Telgemeier
Ages 9–13
Seventh grader Callie is nuts about musical theater, but can't sing. Instead, she is designing the sets for the school production of Moon Over Mississippi. But Callie doesn't know much about carpentry, and can't decide which boy in the theater group she likes most. The eighth grader playing the lead? The twin (who happens to be gay) playing the comic role? Or the other twin helping with set decoration? The manga inspired illustrations beautifully support this humorous story of friendship, love, and the inner workings of a middle school theater group.
---
Ghosts
by Raina Telgemeier
Ages 8–12
Cat and her family move to Bahía de la Luna in northern California because her little sister Maya has cystic fibrosis and needs the foggy sea air. Cat isn't happy about leaving all her friends behind, and everyone in their new town is obsessed with ghosts, especially as the annual Día de lost Muertos celebration approaches. Carlos, a neighbor boy, tells the sisters that the ghosts aren't frightening, but the spirits of loved ones. And the ghosts are real: making jokes, mourning, and interacting with the sisters, who grapple with the very real possibility that Maya might die. This engaging graphic novel deals with fears of death and loss in an empathetic way.
---

Sisters
by Raina Telgemeier
Ages 8–12
Raina can't wait to be a big sister, but when little Amara arrives things aren't quite what she expected. Armara is cute, but she is a cranky baby and prefers to play by herself. Their relationship doesn't improve much over the years, but when a baby brother arrives and their parents don't seem to be getting along very well, the two decide that sisters need to work together. This graphic novel is a companion volume to Smile.
---
Fat & Bones: And Other Stories
by Larissa Theule, Adam S. Doyle
Ages 9–up
Seven interconnected short stories tell about the isolated Bald farm, where Farmer Bald has recently died. The framer's cruel son Bones and Fat, the resident fairy, set out to destroy each other. In the process they endanger all the living creatures on the farm.
---

The Seven Tales of Trinket
by Shelley Moore Thomas
Ages 8–12
Trinket (11) is determined to become a bard like her father, who disappeared years earlier. Guided by an old map and accompanied by her friend Thomas the Pig Boy, Trinket has seven adventures that turn into the tales that eventually define her as the Story Lass. Inspired by Celtic folklore, the often frightening stories feature ghosts, faeries, selkies, and banshees. The seventh tale reveals the truth about her father's fate.
---

The Very Inappropriate Word
by Jim Tobin, Dave Coverly
Ages 5–9
Michael loves collecting words at school, on signs, at baseball practice, and on TV. Whenever Michael learns a new word, he can't wait to share them with everyone he knows. When Michael learns a new word on the school bus and shares it with his older sister, she informs him that it is a very inappropriate word. Learning that inappropriate means bad, Michael hides the word in his pocket, but can't resist sharing it with his classmates. His teacher redirects him to the library where he happily collects even more fascinating words from a stack of books.
---
A Year Without Mom
by Dasha Tolstikova
Ages 10–14
Dasha (12) has been dependent on her mother since her father left for Los Angeles, leaving them alone in early 1990s Moscow. Then Dasha's mother departs for a year to study at the University of Illinois, leaving Dasha in her grandparents' care. They are kind and Dasha has two good friends, but she finds life without her mother difficult, especially with the political unrest when Boris Yeltsin replaces Mikhail Gorbachev as the Soviet leader. Then Dasha's mother returns to take her to Urbana, Illinois, for the second year of her master's program. This engaging graphic memoir will be continued in a sequel.
---
Pancho Rabbit and the Coyote: A Migrant's Tale
by Duncan Tonatiuh
Ages 6–9
Papa Rabbit traveled north two years ago to find work in the carrot and lettuce fields. The family prepares a fiesta in celebration of Papa's return home, but he never arrives. Pancho packs his father's favorite foods and sets off to find him. A coyote offers to lead the way in exchange for some of the food, but when the meal is finished, he decides he is still hungry. This allegorical picture book combines folklore elements with the realities of modern life among migrant families seeking to make a better life for themselves and their families by crossing the border illegally.
---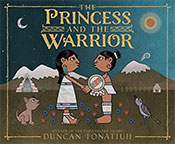 The Princess and the Warrior: A Tale of Two Volcanoes
by Duncan Tonatiuh
Ages 6–9
Aztec Princess Izta had many wealthy men who wanted to become her husband and eventually emperor, but Izta fell in love with Popoca, a humble warrior who loved her for herself. Her father promised Izta that if Popoca could defeat their enemy Jaguar Claw, they could marry. An enemy brought a message that Popoca had been killed, and Izta fell into a deep sleep and could not be awakened, even by Popoca when he returned in triumph. But Popoca kept his promise never to leave her side, and even today two volcanoes guard Mexico City: the sleeping Iztaccíhuatl and Popocatépetl who tries to wake her wth smoke and ash.
---

The Last Wild
by Piers Torday
Ages 8–12
Kester Jaynes (12) lives in a future world where nearly all of the animals have been killed by global warming and a plague. Kester, who hasn't spoken a word since his mother died six years earlier, is a prisoner at the Spectrum all Academy for Challenging Children. One day Kester discovers that he can communicate with cockroaches and pigeons, who urge him to escape from the academy and save the few remaining animals in the wild.
---
The Heartless Troll
by Øyvind Torseter
Ages 10–up
This humorous graphic novel inspired by the the Norwegian folktale "The Troll with No Heart in His Body," uses fairy tale traditions to tell the story of Prince Fred, the seventh son of a King whose six older sons have not returned from combat with a huge troll. Mounted on his reluctant horse, Fred sets off to the troll's lair where he joins forces with a captive Princess to defeat the troll.
---

The Rise and Fall of Mount Majestic
by Jennifer Trafton, Brett Helquist
Ages 9–12
One night 10-year-old Persimmony Smudge becomes lost in the woods and overhears a plot to steal the king's gold buried under the castle on the top of Mount Majestic. When Persimmony tells spoiled 12-year-old King Lucas about the intended theft, she learns that the gold is in the form of a belt buckle asleep under the small island they live on, the Island at the Center of Everything. In fact, the mountain is actually the belly of the sleeping giant. Persimmony and her friend Worvil the Worrier race to convince the island's inhabitants that the giant is real and may wake up at any moment. This humorous and fascinating tale would make a perfect bedtime read-aloud.
---

Three Times Lucky
by Sheila Turnage
Ages 10–up
Moses LoBeau washed ashore in Tupelo Landing, North Carolina eleven years earlier. The newborn baby girl was rescued by the Colonel, a stranger who can't remember anything of his own past. The two are taken in by Miss Lana, the owner of the Tupola Cafe. Mo loves Miss Lana and the Colonel, but is curious about her own past, sending regular messages in bottles to her "Upstream Mother." Then a detective arrives investigating a murder with a connection to Tupelo Landing, and Mo and her best friend, Dale Earnhardt Johnson III, set out to find the truth and protect Miss Lana and the Colonel.
---

The Ghosts of Tupelo Landing
by Sheila Turnage
Ages 10–up
Sixth grade has started, and Mo LoBeau and her friends have been assigned to interview the town's elderly residents in preparation for the town's 250th anniversary. Then Miss Lana, Mo's guardian, makes an accidental bid and ends up owning a dilapidated inn that appears to be haunted. So the Desperado Detective Agency (Mo and her friend Dale) open up a paranormal division to solve the mystery of the ghost's identity. This funny mystery is the sequel to Three Times Lucky.
---

My Name Is Truth: The Life of Sojourner Truth
by Ann Turner, James Ransome
Ages 6–10
This powerful picture-book biography follows the transformation of Isabella Baumfree, who began life as a slave, suffering anguish as her 11 brothers and sisters were sold off one by one. After escaping from slavery, Isabella renamed herself Sojourner Truth, freed her enslaved son, and began a new life as a civil rights activist and preacher. Written in imagined first person by the eloquent and impassioned orator, this moving story will captivate young readers.
---

A Conspiracy of Kings
by Megan Whalen Turner
Ages 10–up
Sophos, the reluctant heir to the Sounis throne who is more interested in poetry than power, is kidnapped and sold into slavery. This absorbing political adventure is the fourth in the Queen's Thief series: The Thief, The Queen of Attolia, The King of Attolia. The books should be read in order for full appreciation of the complex plots.
---

Last in a Long Line of Rebels
by Lisa Lewis Tyre
Ages 10–up
In the summer of 1999, Lou Mayhew (12) learns that her beloved 175-year old home in Zollicoffer, Tennessee, right next to her father's junkyard, is due to be torn down through the process of eminent domain to build new city offices. Isaac, the star of the high school football team who works weekends for her father, has just learned that he was not awarded a scholarship to the University of Tennessee because of the coach's prejudice. With the help of her friends, Lou works to find a way to save her home and get Isaac to UT by solving a Civil War mystery and locating a cache of missing gold.
---

Moribito: Guardian of the Spirit
by Nahoko Uehashi
Ages 10–up
Balsa was a wandering warrior for hire until the day she rescued a boy, Chagum, from the river. She is then hired by the boy's mother to protect him since Chagum is host to a mythical creature that threatens the rulers. An engaging combination of martial arts, magic, heroic quest, and a totally unique heroine, this quick-paced book will appeal to both boys and girls.
---

Moribito II: Guardian of the Darkness
by Nahoko Uehashi
Ages 10–up
Balsa, a spear-wielding warrior, returns to her homeland of Kanbal in this sequel to Moribito: Guardian of the Spirit. Balsa rescues a pair of siblings from the Guardian of the Darkness and fights a plot to attack the underground kingdom of the Mountain King. Powerful and loyal, Balsa is a compelling character set against a rich background of an imaginary culture.
---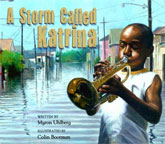 A Storm Called Katrina
by Myron Uhlberg, Colin Bootman
Ages 7–11
Louis Daniel (10) plays the cornet like his idol Louis Armstrong. When a storm arrives in New Orleans, he takes his horn to bed with him, just in case. In the morning, Louis and his family escape from the rising water through the wreckage to the promised safety of the Superdome. As the days pass, the electricity goes out, the air conditioning dies, the bathrooms are closed, and people around them begin to bicker as they run out of food and water. When Louis and his mother become separated from his father, Louis is sure he can do something to help. Many questions go unanswered in this this affecting story. The first person narration and dramatic oil paintings provide a deeply personal and often uncomfortable look at a disaster whose ramifications are still being felt.
---

Otto: The Autobiography of a Teddy Bear
by Tomi Ungerer
Ages 8–up
Otto the teddy bear belongs to David, a Jewish boy living in German. When David and his family are taken away to the camps, he gives Otto to his best friend Oskar. Oskar's father soon leaves for the front, and Oskar loses Otto in the bombing raids. Otto is found by an American soldier, and stops the bleeding that would have killed him. Years later, Oskar finds Otto in an American antique store, and their picture in the paper leads to a reunion with David. Narrated by Otto in a calm voice, this moving book presents the reality of war, loss, and abandonment.
---

Hound Dog True
by Linda Urban
Ages 9–12
Mattie Breen doesn't share her mother's eagerness to move to a new place every time the going gets tough. Mattie, now in 5th grade, hates starting over in new schools and has trouble making new friends. But this time they will be staying with Uncle Potluck, who tells funny and exaggerated stories, exactly the kind of stories Mattie likes to write but is too shy to share. Mattie hopes that this time it will be different, and that she will finally find a true "tell your secrets to" friend.
---

Weekends with Max and His Dad
by Linda Urban, Katie Kath
Ages 6–9
Third grader Max Leroy spends weekends with his father when his parents get divorced. The first weekend together Max transforms himself into Agent Pepperoni and his father into Agent Cheese and the two form a new bond as they play spy. On later weekends Max helps his father meet his new neighbors and buy new furniture. This funny story portrays an imaginative child working through a difficult transition to form a new relationship.
---

Breadcrumbs
by Anne Ursu, Erin Mcguire
Ages 8–12
Hazel, an imaginative 5th grader adopted from India, has just switched schools and can't seem to fit in. Her parents have just gotten divorced, and her best friend Jack refuses to speak to her. When he disappears with an eerie woman on a sled pulled by wolves, Hazel sets out into the snowy and enchanted Minnesota woods to rescue him. What Hazel doesn't know is that a shard of magical mirror is stuck in Jack's heart, causing the drastic change in his personality. Using elements of Hans Christian Anderson's "The Snow Queen," this magical fantasy explores the power of friendship.
---
The Girl Who Circumnavigated Fairyland in a Ship of Her Own Making
by Catherynne M. Valente, Ana Juan
Ages 10–14
September (12) lived a normal life in Omaha, Nebraska until her father went to war and her mother went to work, leaving her on her own much of the time. One day a man who calls himself Green Wind appears and tells September that her help is needed in Fairyland, to retrieve a witch's spoon from the terrible Marquess. Originally published in serialized form online, this was the first e-book to win the Andre Norton Award for Young Adult Science Fiction and Fantasy.
---
The Glass Town Game
by Catherynne M. Valente, Rebecca Green
Ages 10–up
Charlotte, Branwell, Emily, and Anne Brontë are mourning the death of two older sisters and dreading the day when Charlotte and Emily have to go back to boarding school. When Anne and Branwell walk them to the train station, the train takes them all to Glass Town, a real version of their invented escape populated by their favorite toys and Napoleon riding a giant chicken. Anne and Branwell are kidnapped, and their rescue is up to Charlotte and Emily, two clever and brave schoolgirls. This exciting adventure story is based on real-life childhood writing by the Brontë siblings.
---

In a Village by the Sea
by Muon Van, April Chu
Ages 4–10
This beautifully illustrated book takes readers to a fishing village by the sea where there is a small house. Inside the house is a kitchen were a woman cooks, a dog plays, and a baby sleeps. Under the kitchen floor a cricket paints a fisherman on the sea dreaming of returning to his family in a small house in a village by the sea.
---
The Chronicles of Harris Burdick: Fourteen Amazing Authors Tell the Tales
by Chris Van Allsburg
Ages 10–14
This companion volume to The Mysteries of Harris Burdick contains short stories by fourteen authors to accompany the eerie original charcoal-pencil illustrations. Each story includes the cryptic sentences used to caption each illustration. Featured authors: Sherman Alexie, M.T. Anderson, Kate DiCamillo, Cory Doctorow, Jules Feiffer, Stephen King, Tabitha King, Lois Lowry, Gregory Maguire, Walter Dean Myers, Linda Sue Park, Louis Sachar, Jon Scieszka, Lemony Snicket, and Chris Van Allsburg himself.
---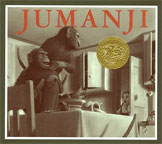 Jumanji
by Chris Van Allsburg
Caldecott Medal 1982


Ages 8–12
When Judy and Peter find a board game in the park, they take it home and begin to play. Soon the jungle adventure comes to life and chimps and rhinos are roaming through the house. Incredibly detailed illustrations bring the perilous predicaments to life.
---

Queen of the Falls
by Chris Van Allsburg
Ages 6–9
Annie Edson Taylor, a 62-year-old widow, decided she needed a way to strike it rich after closing her Michigan charm school. In 1901 she read an article about the popular tourist attraction Niagara Falls, and decided to become a popular attraction herself. She commissioned a barrel large enough to hold herself and a layer of soft pillows, hired a publicist, notified the press, and launched herself over the falls. Sepia-tinted illustrations accompany this story of a courageous woman determined to earn fame and fortune.
---

Drizzle
by Kathleen Van Cleve
Ages 8–12
Polly (11) knows that her family's rhubarb farm is magical: the plants taste like chocolate, it rains every day at exactly 1:00 PM, and her best friend is a rhubarb plant named Harry. But one day a mysterious mist appears and everything changes: it stops raining, her brother Harry becomes deathly ill, and Aunt Edith threatens to sell the farm. Polly knows it is up to her alone to overcome her numerous fears (of giant insects and slimy sand), discover her own unique gift, and save the farm. This debut fantasy with an environmental slant will appeal to young readers of both sexes.
---

Moon Over Manifest
by Clare Vanderpool
Newbery Medal 2011


Ages 9–12
In 1936, while her father is away on a railroad job, 12-year-old Abeline Tucker spends the summer in her father's hometown of Manifest, Kansas. Based on her father's stories, Abeline expects something magical, and is disappointed to find only a worn out old town. But Abeline is determined to find out what her father was like at her age, and explores the past through stories and newspaper columns. When she finds a hidden cigar box full of old letters, Abeline and her new friends are quickly involved in a spy hunt, eager to unveil the secrets of the past.
---

Navigating Early
by Clare Vanderpool
Ages 9–12
Before Jack's mother dies at the end of World War II she tells him to keep looking for the things that connect us all, the ways our paths cross, the places our hearts collide. Jack (13) is sent from his Kansas home to a boarding school in Maine where he meets an eccentric student named Early Auden. Early is obsessed with the mathematical concept of pi, believing that Pi is a boy endangered on an epic journey. Jack agrees to accompany Early on his quest to rescue Pi, and the two set off into the wilderness. This intricately plotted story is spellbinding.
---
Sweaterweather & Other Short Stories
by Sara Varon
Ages 8–up
Ten new comic stories join the original eight from the 2003 collection of the same name, most featuring adorably awkward anthropomorphic animals. Essays and journal entries provide additional insight into the creative process. A fake flyer and carefully engineered paper dolls add to the fun.
---

Paperboy
by Vince Vawter
Ages 10–up
Vincent Vollmer III (11) takes over a friend's paper route through segregated Memphis in the summer of 1959. Vincent is a good observer and an excellent listener, but his stutter is so bad that he can't even pronounce his own name. Forced to try and communicate with his new customers, Vincent gains a new awareness of racial tension and inequality. Encounters with a bully and a thief put both Vincent and his family's beloved housekeeper in danger. Vawter's own experiences growing up before modern speech therapy techniques add an extra touch of realism to this gripping novel.
---

Hamster Princess: Harriet the Invincible
by Ursula Vernon
Ages 8–12
This funny interpretation of the Sleeping Beauty fairy tale begins when an evil fairy curses the baby Harriett with a deathlike sleep to begin on her twelfth birthday. At the age of 10 Harriet learns of the curse and decides that since she must be alive for the curse to work she is invincible. She celebrates her new freedom by jumping off the tower and taking up professional jousting. Cartoon sequences are interwoven with text in this laugh-out-loud first in the Hamster Princess series.
---
Sea Change
by Frank Viva
Ages 8–12
Eliot Dionisi (12) is sent to stay with relatives in the remote village of Point Aconi, Nova Scotia, for the summer. His first impression is bleak: waking up before dawn each day, terrible food, a nearly silent Uncle Earl, and a town bully. But then things get more interesting. Uncle Earl shares his love of books and his extensive library, the night skies are full of stars, and he meets a new group of friends led by the intriguing Mary Beth. (TOON graphic novel)
---

Silverwood
by D.E. Vollrath
Ages 10–up
Eleanor Wigton (12) is in her second year at the prestigious Penwick Academy at the port city of Flooston Moor. Eleanor and five older students are selected to work on a secret project by the head mistress, helping to crack a code by a mysterious visitor. In Penwick's vast library Eleanor discovers that the code refers to a ship that visited a strange island nearly 100 years earlier, before magic vanished from the land. A group known as the Forgotten is also trying to crack the code and is willing to do just about anything to discover what Eleanor has learned.
---
Dr. Frankenstein's Human Body Book
by Richard Walker
Ages 10–up
Dr. Frankenstein invites readers to join him as he creates a human being. From atoms and the skeleton to tissues and muscles, this anatomy book is as fascinating as science fiction. Gothic fonts and illustrations blend with state of the art images from gamma scans and other advanced technology.
---

Loot
by Jude Watson
Ages 8–12
March McQuinn (12) has lived a live of ease as the son of a very successful cat burglar until the day his father falls to his death during a burglary. With his dying breath, March's father reveals that March has a twin sister Jules, who has been traveling with their aunt's street performance group. They two unite and use their father's cryptic notes to reclaim seven cursed moonstone gems once stolen by their father and earn the reward of seven million dollars.
---

Leontyne Price: Voice of a Century
by Carole Boston Weatherford, Raul Colon
Ages 5–9
Leontyne Price was born in a small town in Mississippi in 1927, the daughter of a midwife and a sawmill worker. She love singing hymns in church and listening to opera on the radio. Racism in the south made it unlikely that a poor African-American girl could pursue a career as an opera singer, but the example of Marian Anderson inspired Leontyne to apply to Julliard and eventually to take center stage at the Metropolitan Opera in New York City. This accessible biography celebrates a singer who followed her dream despite the barriers in her way.
---

You Can Fly: The Tuskegee Airmen
by Carole Boston Weatherford, Jeffery Boston Weatherford
Ages 9–12
Free verse poems tell the story of the first African-American pilots, trained at the Tuskegee Institute before fighting on the front lines in WWII. Throughout the war these pilots suffered through racial prejudice, separated from the white soldiers by ropes as they traveled across the Atlantic on their way to battle, learning not to stray too far from the military base, and risking their lives to protect a country that did not respect their rights as individuals.
---
Yankee at the Seder
by Elka Weber, Adam Gustavson
Ages 7–10
Jacob is horrified when his mother invites a Union soldier to join their Confederate family for Passover just one day after Lee's surrender. But his mother reminds him that Jews are commanded to welcome "all who are hungry… all who are in need" to their seder table. At first all are awkward, but the Jewish tradition of debate allow all views to be heard, and a tenuous connection begins the postwar healing process.
---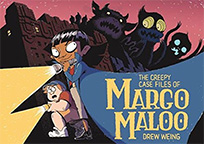 The Creepy Case Files of Margo Maloo
by Drew Weing
Ages 8–12
Charles, who considers himself a journalist and runs a blog, moves with his parents to Echo City to renovate a crumbling apartment building. The first night, a terrifying monster looms over his bed. The next day Charles receives a business card from Margo Maloo, Monster Mediator. Acting as Watson to Margo's Sherlock, Charles works to rid the building of monsters in this intriguing graphic novel.
---

Lincoln and His Boys
by Rosemary Wells, P.J. Lynch
Ages 8–12
This accessible biography presents Lincoln from the perspective of his two youngest sons, Willie and Tad. Willie goes with his father to Chicago where it is decided that Lincoln will run for president, the two boys tear through Cabinet Meetings, and Tad goes with his father to Richmond at the end of the war. A playful and loving father, Lincoln comes to life in this book which was inspired by a fragment written by one of his sons.
---

My Havana: Memories of a Cuban Boyhood
by Rosemary Wells & Secundino Fernandez, Peter Ferguson
Ages 7–10
Young Secundino, "Dino" to his friends and family, loves life in 1950s Havana, filling notebook after notebook with sketches of architecture, trying to capture the sense of color, music, and vivid life that surrounds him. When Castro takes over, Dino and his family move to New York City, which the boy at first finds harsh and unwelcoming. To ease his homesickness, Dino builds a model of Havana on his bedroom floor. Eventually Dino makes a new friend and begins to love his new city. (Secundino Fernandez grew up to become a successful architect in New York City.)
---

Alphasaurs and Other Prehistoric Types
by Sharon Werner, Sarah Forss
Ages 6–12
The dinosaurs in this stylish book are constructed from the first letter in their names. Unusual species, like the utahraptor, are included along with the more familiar ones. Phonetic spellings, flaps, die-cuts, and alliterative trivia add to the appeal of this typographical introduction to dinosaurs.
---

Bugs by the Numbers
by Sharon Werner & Sarah Forss
Ages 6–12
The bugs in the book are created using only numbers. A mosquito silhouette is composed of 75s since a mosquito can detect human breath from 75 feet away, and a group of ladybugs are created from numbers that match the number of spots on their wings. This creative book also includes interesting facts about the featured bugs.
---

The Shadows
by Jacqueline West
Ages 9–12
Soon after Olive Dunwoody (11) and her mathematician parents move into an old Victorian house, Olive realizes that something isn't right. She discovers that wearing a pair of spectacles allows her to enter the unsettling paintings into Elsewhere, where she meets Morton (9), who tells her about the secrets the house and the previous owner are hiding. With the help of three talking house cats, Olive begins to patch together a series of clues she hopes will help her save those living inside the paintings from their dark fate. This deliciously creepy novel is the first in a series: The Books of Elsewhere.
---

Small Acts of Amazing Courage
by Gloria Whelan
Ages 9–12
Rosy, the 15-year-old daughter of a major in the British Indian army, has a strong sense of independence and justice. When her father returns from WWI, he is horrified to find that she has saved an Indian infant from being sold and has secretly been to one of Gandhi's speeches promoting non-violent protests. Rosy's father ships her off to England to stay with her proper aunts and keep her out of trouble, but it doesn't take Rosy long to shake up the somber household with her progressive ideas about Indian independence.
---

All My Noble Dreams and Then What Happens
by Gloria Whelan
Ages 9–12
It's 1921, and Rosy has returned to her beloved India after an extended stay in the United States. Her maiden aunts Ethyl and Louise have joined the busy household, caught up in frantic preparations for a visit by the Prince of Wales. Rosy has promised to deliver a letter written by Mahatma Gandhi, an appeal to Britain to give India its freedom. Rosy's proper British officer father can't understand her sympathies for the native Indians, but Rosy can't stop fighting for justice. (sequel to Small Acts of Amazing Courage)
---
Smudge and the Book of Mistakes: A Christmas Story
by Gloria Whelan, Stephen Costanza
All ages
The Abbot of the medieval monastery of St. Ambrose on the island of Moracrrick in Ireland decides that Brother Bede, the finest illuminator in the monastery, will illustrate a Christmas story that will be so wonderful it will be famous throughout the world. Unfortunately the Abbot selects young Brother Cuthbert to assist Brother Bede, and Cuthbert is impatient and sloppy, making so many mistakes that his nickname is Smudge. This beautifully illustrated story tells a tale of the value of perseverance with humor and empathy.
---

The Thickety: A Path Begins
by J.A. White, Andrea Offermann
Ages 8–12
Kara Westfall (12) is the daughter of the last known witch, who was hanged by the people of De'Noran when Kara was five. Ostracized by their community, Kara cares for her sickly brother and dysfunctional father, trying to convince the villages that the family is harmless. A journey into the deep woods called Thickety awakens Kara's magical powers, which Kara finds addictive though she can't decide if they are good or evil.
---

The Thickety: The Whispering Trees
by J.A. White, Andrea Offermann
Ages 8–12
Kara and Taff are still on the run inside the dangerous forest known as the Thickety, chased by the Forest Demon Sordyr. Kara's ability to communicate with animals is improving, but her memory begins to fade. The legendary witch Mary Kettle offers to lead them out of the Thickety but the siblings aren't sure if they can trust her. This fast-paced adventure is the second in the series that began with The Thickety: A Path Begins.
---

A Visit to William Blake's Inn:

Poems for Innocent and Experienced Travelers
by Nancy Willard
Newbery Medal 1982


Ages 10–up
In this fanciful book of poems, William Blake runs an inn populated with guests and staff from his famous poems. Imaginative illustrations by Martin Provensen complement the catchy poems.
---

The Elephant's Friend and Other Tales from Ancient India
by Marcia Williams
Ages 8–12
Eight classic Indian folk tales are retold in this graphic storybook collection. Brightly colored comic-book style illustrations highlight the sly humor that runs through the tales in this accessible book.
---

Clayton Byrd Goes Underground
by Rita Williams-Garcia, Frank Morrison
Ages 8–12
Clayton loves playing his blues harp (harmonica) with his grandfather Cool Papa Byrd and his band of Bluesmen in Washington Square Park in New York City. Clayton longs to play his own twelve bar solo as soon as he has a blues song of his own. When his grandfather dies, Clay'ton's mother tells him he can no longer play the blues, but Clayton can't stand the thought of living without the music that connected him to his favorite relative. Claytons grief causes problems at school and church, so he takes his grandfather's favorite hat and runs away, hoping to find the Bluesmen.
---

P.S. Be Eleven
by Rita Williams-Garcia
Ages 8–12
After returning from a visit to their estranged mother and a summer spent at a camp run by the Black Panthers, Delphine (11) and her sisters are back in Brooklyn in 1968 with Big Ma, their grandmother. Delphine is self-conscious about being the tallest girl in her sixth grade class, her uncle Darnell returns from Vietnam a damaged man, her pa has a new girlfriend, and Big Ma is stricter than ever. Delphine is supposed to watch over her younger sisters, but they are hard to control and she isn't too sure what to do. (sequel to One Crazy Summer)
---

Down the Mysterly River
by Bill Willingham, Mark Buckingham
Ages 10–up
Max (12), a Boy Scout and a master of orienteering, finds himself in a strange forest with no idea how he got there. He meets a group of talking animals who are equally confused about their environment. soon Max and his new friends are on the run from a group of hunters called the Blue Cutters, who use their blades to sever creatures from their past. This action-packed adventure celebrating friendship is original and enthralling.
---

Countdown
by Deborah Wiles
Ages 9–12
Franny (11) and her family live in Maryland in 1962. Her father is a pilot stationed at Andrews Air Force Base, and it's the middle of the Cuban Missile Crisis. To Franny, it seems like everyone is afraid most of the time. Air-raid sirens and duck-and-cover drills are routine, the evening news contains scary thoughts about nuclear war, and pamphlets about how to build a bomb shelter are readily available. Franny's first person narration is supplemented with period photographs, newspaper clippings, song lyrics, etc. Franny's realization that managing to love your family through a crisis can often be harder than facing the crisis itself will resonate with those living through hard times today.
---
Botanicum: Welcome to the Museum
by Kathy Willis, Katie Scott
Ages 8–12
The seven galleries in this virtual museum cover plants and trees, from perennials to bulbs to tropical exotica to edibles. Detailed illustrations and vivid descriptions combine to provide an engrossing look at Earth's diverse plant life. (companion volume to Animalium and Historium)
---

The World Is Not a Rectangle: A Portrait of Architect Zaha Hadid
by Jeanette Winter
Ages 5–10
While growing up in Baghdad, Iraq, Zaha Hadid was fascinated by the local rivers and marshes and dunes and ruins. She dreamed of designing buildings that echoed the beauty she saw around her. As a Muslim woman she faced many obstacles, but her non-traditional buildings can now be seen around the world. This accessible biography celebrates alternative thinking and dedication to one's ideals.
---

Ruth Bader Ginsburg: The Case of R.B.G. vs. Inequality
by Jonah Winter, Stacy Innerst
Ages 6–9
Framed as a court case, this accessible biography documents Ruth Bader Ginsburg's fight against sexism and discrimination to become a Supreme Court Justice. Hindered by the fact that she was a woman, Jewish, and a mother, Ginsburg had to overcome countless injustices to become the first female Jewish Supreme Court Justice.
---

You Never Heard of Sandy Koufax?!
by Jonah Winter, Andre Carrilho
Ages 4–9
In this striking picture book, an anonymous former teammate tells what made Sandy Koufax, the 1960s pitcher for the Dodgers, so amazing. We learn about his shyness, his physical limitations, and the anti-Semitism he faced. But in the end it's Sandy Koufax in action, boldly portrayed by Andre Carrilho, that captures the mysterious power of the great pitcher.
---
You Never Heard of Willie Mays?!
by Jonah Winter, Terry Widener
Ages 4–9
This accessible biography tells the story of perhaps the best baseball player ever. Growing up in industrial, segregated Birmingham, Alabama, Willie showed early promise. At the age of 15 he began playing for the Negro Leagues, suddenly making more money than his father. Then the major leagues stopped segregating, and Willie moved on to play for the New York (and later San Francisco) Giants. Baseball fans will love this book, and non-baseball fans will be drawn in by the enthusiastic narrative style.
---

The Secret Life of Ms. Finkleman
by Ben H. Winters
Ages 9–12
Bethesda Fielding and her 7th grade friends suspect that their drab and boring music teacher Ms. Finkleman has a secret past as a punk rock star. This fast-paced and very funny book will appeal to a wide range of readers.
---

Golem
by David Wisniewski
Caldecott Medal 1997


Ages 6–10
Elaborate cut-paper collage illustrations provide dramatic visuals for this retelling of a Jewish legend of Rabbi Loew who used his powers to create a gigantic Golem from clay to protect his people from persecution in the ghettos of 16th-century Prague.
---
Mumbet's Declaration of Independence
by Gretchen Woelfle, Alix Delinois
Ages 6–10
Mumbet is a slave in 1791 Massachusetts, owned by a cruel mistress. As the colonists protest that the King of England is trying to take away their rights, Mumbet begins to consider what rights she has and begins to dream of freedom. Her successful suit for freedom is a little known chapter in civil rights history.
---

The Enduring Ark
by Gita Wolf, Joydeb Chitrakar
Ages 6–up
This beautiful book retells the story of Noah and his wife Na'mah, clad in traditional Indian clothing on a fabulous carved boat. Constructed in accordion style, the pages can be turned to read one by one and also unfolded to reveal one continuous image of the entire tale.
---

The Fingertips of Duncan Dorfman
by Meg Wolitzer
Ages 8–12
Duncan Dorfman is trying to adjust to life in a new town while looking after his single mom and also managing his new Scrabble power—he can sense words and letters before turning over the tiles. April Blunt's family is obsessed with sports, and can't understand her talent for word games. Nate Saviano's father is home schooling him in Scrabble only so that his son can win the Youth Scrabble Tournament he lost as a boy. The three meet at the tournament and struggle separately and together with fairness, competition, and teamwork in this fascinating novel.
---

Natural World: A Visual Compendium of Wonders from Nature
by Amanda Wood, Mike Jolley, Owen Davey
Ages 8–12
This introduction to the natural world is organized as a "cabinet of curiosities," intended to be browsed through at random. The 67 charts are organized conceptually: orange tabs delve into a particular species, blue tabs examine animal behavior and adaptation, yellow tabs focus on habitats and environments.
---

The Incorrigible Children of Ashton Place: Book I: The Mysterious Howling
by Maryrose Wood
Ages 8–12
Penelope Lumley, a 15-year-old educated at the Swanburne Academy for Poor Bright Females, has just accepted her first post as governess. The three children in her charge were found running wild in the woods, and are now living in a barn on the estate of Lord Frederic Ashton. More animal than human, Alexander keeps his younger siblings in line with gentle nips while Beowulf chases squirrels and Cassiopeia barks. First in a new series, this cleverly funny book will have readers clamoring for the next.
---

Brown Girl Dreaming
by Jacqueline Woodson
Ages 10–up
This collection of childhood memories in verse tells the story of the author's perspective of growing up in the turbulent 1960s. Born in Ohio, Jacqueline spent most of her childhood years with her grandparents in South Carolina, learning the rules of segregation and following the strict rules of the Jehovah's Witnesses. Despite those restrictions, Jacqueline basked in the security of the love of her family and the natural beauty that surrounded her. Moving to Brooklyn brought more freedom, but she missed the sense of place of South Carolina.
---

Locomotion
by Jacqueline Woodson
Ages 9–12
In 60 poems, 11-year-old Lonnie Collins Motion tells his story as he explores different forms of poetry. Called Locomotion because of his constant activity, Lonnie and his sister were orphaned four years earlier. His younger sister Lili was adopted, and Lonnie struggles to stay in touch with her. The poignant poems tell a complex story of loss, grief, and poverty, while also demonstrating Lonnie's creativity and optimism.
---

Peace, Locomotion
by Jacqueline Woodson
Ages 9–12
Now 12, Lonnie Collins Motion, called Locomotion, writes letters to maintain a bond with his younger sister Lili who was adopted after the death of their parents. Miss Edna, Lonnie's foster mother, has a son who returns home from the Iraq war, disabled and traumatized. Though his letters, the kind and sensitive Lonnie struggles to make sense of his life and to achieve a sense of peace. (sequel to Locomotion)
---
A Zeal of Zebras: An Alphabet of Collective Nouns
by Woop Studios
All Ages
This colorful book is both an introduction to animals and the alphabet for young children and a beautiful art book for older readers. As we move through the alphabet we meet groups like an embarrassment of pandas, a galaxy of starfish, a pandemonium of parrots, and a shiver of sharks. Created by the Harry Potter design franchise, the digitally created whimsical illustrations perfectly complement the clever wordplay.
---

Rosie Sprout's Time to Shine
by Allison Wortche, Patrice Barton
Ages 5–9
Violet is the loudest and fanciest girl in Rosie's class and everyone agrees she is the best. Except Rosie, who would like just once to be best at something herself. So when Violet's and Rosie's pea plants both sprout first, Rosie covers Violet's sprout with dirt to slow it down a little. But then Rosie feels terrible, especially when Violet comes down with the chicken pox. Rosie volunteers to take care of Violet's plant along with her own, and her teacher declares Rosie is the best gardener she has ever seen.
---

Crow
by Barbara Wright
Ages 8–12
It's the summer of 1898 in Wilmington, North Carolina, and Moses (11) is teaching Boo Nanny, his slave-born grandmother, to read. For the first time, Boo Nanny shares stories of her youth as a slave. Moses's Harvard-educated father is a respected reporter for the newspaper, and Moses believes the troubles his grandmother experienced are a thing of the past. Then an editorial sparks the Wilmington Race Riots. The first-person narration in this powerful book presents an intimate look at race relations and injustice.
---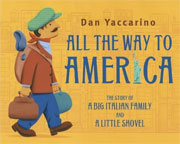 All the Way to America: The Story of a Big Italian Family and a Little Shovel
by Dan Yaccarino
Ages 5–9
This four-generational story of an Italian-American family begins with an immigrant who came through Ellis Island with a small shovel and his parents' advice to work hard, enjoy life, and always remember your family. The shovel has many uses as it is passed from father to son, at a pushcart stand, measuring ingredients for sauce in a restaurant, and to pour rock salt on the icy sidewalk outside a barber shop. Warm illustrations illustrate this family story, sure to encourage kids to ask parents and grandparents for their own family story.
---

The Dragon's Child:

A Story of Angel Island
by Laurence Yep with Kathleen S. Yep
Ages 8–12
Based on transcripts of Laurence Yep's father's 1922 immigration interview, this short novel relates the harrowing experiences of ten-year-old Gim Lew, who is interned on Angel Island in San Francisco Bay, where he must submit to lengthy detailed interviews about his home, village and neighbors, in order to prove he is who he claims to be.
---

The Star Maker
by Laurence Yep
Ages 8–12
It's the early 1950s in San Francisco's Chinatown, and everyone is excited about the upcoming festival to celebrate the lunar new year. Eight-year-old Artie is the youngest of the cousins, and when his older cousin Petey puts him down, Artie boasts that he will have so many firecrackers on Chinese New Year that he can give one to every member of the family. Uncle Chester sympathizes and promises to help Artie keep his promise, but as the holiday draws near that seems more and more unlikely. Uncle Chester loses money at the race track and can't find work, while Artie has spent all his money. Based on Yep's own childhood memories, his affectionate book celebrates family and cultural traditions.
---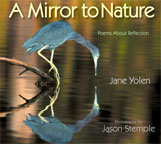 A Mirror to Nature:

Poems About Reflection
by Jane Yolen, Jason Stemple
Ages 9–12
Water acts as a mirror for Stemple's beautiful color nature photographs. Yolen's perfectly matched poems echo the mood of each photograph, encouraging the reader to see things in a new way.
---

The House Baba Built: An Artist's Childhood in China
by Ed Young
All ages
This picture book memoir begins in 1931, when Ed was born and the crash of the stock market has brought turmoil to China. Baba, Ed's father, convinces a landowner in Shanghai to let him build a huge brick house on his land. Baba promises to return the house after 20 years, long enough to see his family safely through the troubled times. Safe inside the house, Ed grows up surrounded by his extended family and friends, using his imagination to transform chairs into horses and the roof into a roller skating rink, while raising silkworms and training fighting crickets.
---

Brenda Berman, Wedding Expert
by Jane Breskin Zalben, Victoria Chess
Ages 6–9
Headstrong Brenda is crushed when her favorite uncle announces that he is getting married, especially when she learns that the bride does not intend to attire the flower girl in gold lamé. And worst of all, Brenda will have to share that starring role with the golden-curled niece of the bride. This early chapter book pairs lively text with amusing watercolor illustrations that perfectly capture our heroine's facial expressions.
---

Rapunzel
by Paul O. Zelinsky
Caldecott Medal 1998


Ages 4–10
The beautiful Italian Renaissance-styled illustrations with warm golden tones bring the classic Brothers Grimm fairy tale to life.
---

The Garden of My Imaan
by Farhana Zia
Ages 8–12
Aliya is an Indian-American preteen trying to find a balance between school and home, religion and modern American life. Aliya is too embarrassed to talk to the boy she likes, nervous about running for student council, annoyed by her younger brother, and struggling to maintain the Ramadan fast while everyone around her is celebrating Thanksgiving. Then Marwa, a Moroccan girl who wears a hijab and seems to handle all the contrasts with ease, arrives at school. Embarrassed by her failings compared to Marwa, Aliya begins writing letters to Allah, in this homage to Are You There God? It's Me, Margaret.
---
Steady Hands:

Poems About Work
by Tracie Vaughn Zimmer, Megan Halsey and Sean Addy
Ages 9–12
Walt Whitman's "I Hear America Singing," these free-verse poems celebrate workers and the work they do. Many different jobs are featured: baker, dog-walker, exterminator, film maker. The collages by Halsey and Addy highlight the active nature of work and workers.
---
The Rosemary Spell
by Virginia Zimmerman
Ages 10–14
Rosemary "Rosie" Bennet (13) and her friend Adam feel abandoned by Adam's older sister Shelby who no longer wants to spend time with them. Rosie and Adam find an old book locked in a cupboard in Rosie's house, which was once owned by the poet Constance Brooke. The blank pages of the book fill with handwriting before their eyes. The writing is a spell that makes people vanish, even from memories. When Shelby disappears, Rosie and Adam race against time to bring her back.
---