The Secret Sky: A Novel of Forbidden Love in Afghanistan
by Atia Abawi
Ages 14–up
Pastun landowners and Hazara farmers maintain a respectful peace in a small village in Afghanistan, but everyone knows that the two cultures never mix. Fatima is a dutiful and obedient Hazara girl who dreams of a future in Kabul where girls are allowed to be doctors, lawyers, and even artists. Samiullah is a Pastun boy raised to defend the traditions of his tribe who becomes disillusioned with the cruel indoctrination at his madrassa. When he returns to the village, the childhood friendship between the two blossoms into love. When their attachment is reported to the local Taliban, horrific consequences follow for both families.
---

The Case for Loving: The Fight for Interracial Marriage
by Selina Alko, Sean Qualls
Ages 4–8
Richard and Mildred met and fell in love in 1958 Virginia. Richard was white, and Mildred was African American and Cherokee, making it illegal for them to marry under Virginia law. They married in Washington DC, and had three children. When they moved back to their hometown in Virginia, they were arrested for violating that state's laws against interracial marriage. Determined that their children not get the message that there was something wrong with their family, the Lovings fought against the discriminatory Virginia law. Eventually a Supreme Court case in 1967 declared their marriage constitutional. This beautifully illustrated picture book brings the family behind this historic case to life.
---

Chains
by Laurie Halse Anderson
Ages 10–up
As the Revolutionary War begins, 13-year-old Isabel and her 5-year-old sister Ruth are about to be freed from slavery by the will of their Rhode Island mistress. However, the unscrupulous heir prevents the reading of the will and the girls are soon the property of an abusive Loyalist couple in New York. Isabel agrees to spy for the Patriots in exchange for passage back to Rhode Island for herself and her sister. This well researched exploration of the treatment of slaves is contained in a gripping story.
---

Forge
by Laurie Halse Anderson
Ages 10–up
This sequel to Chains is narrated by Curzon, the young slave Isabel freed from prison while escaping from New York City in 1777. After staying for a few months in New Jersey, Isabel runs away to find her sister, a quest Curzon feels is futile. Curzon joins the army, passing as a freed slave, and suffers through the harsh winter at Valley Forge. His fragile acceptance is threatened when his owner arrives. Readers will be anxious to read the final book in the trilogy to learn the fate of Curzon and Isabel.
---

Ashes
by Laurie Halse Anderson
Ages 10–14
It's June 1781, and former slaves Isobel and Cruzon have finally located Isobel's younger sister Ruth on a South Carolina plantation. Now 12, Ruth has been cared for by the other plantation slaves, and has no use for her sister. Isobel doesn't understand Curzon's desire to enlist in the fight for independence. Taking Ruth and Aberdeen, an escaped slave from the plantation, they head north to Williamsburg, Virginia, where patriots are preparing for an assault on Yorktown. This gripping story is a satisfying conclusion to the Seeds of America trilogy (Chains, Forge).
---

The Astonishing Life of Octavian Nothing, Traitor to the Nation, Volume 1: The Pox Party
by M.T. Anderson
Ages 14–up
Octavian, a black youth in Revolution-era America, is raised in a Boston household of radical philosophers. He is given a classical education and kept with his mother, an African princess, in comfort. As he matures, Octavian realizes he is an experiment to discover the intellectual capability of Africans. When his mother dies, Octavian runs away and joins the Patriot army. Though written in 18th century language in the form of letters, this powerful novel raises contemporary issues of racism, human rights, the causes of war, and the struggle of an individual to define himself.
---

The Astonishing Life of Octavian Nothing, Traitor to the Nation, Volume II: The Kingdom on the Waves
by M.T. Anderson
Ages 14–up
Octavian heads to Virginia where Lord Dunmore, the colony's governor, is emancipating slaves in exchange for military service. Octavian soon realizes that his liberation is not a moral decision, but a political expediency. As the Revolutionary War, explodes around him, Octavian struggles with ideals of liberty and his own personal growth in this fascinating perspective on our national origins. (sequel to The Astonishing Life of Octavian Nothing, Traitor to the Nation, Volume 1: The Pox Party)
---

Fifty Cents and a Dream: Young Booker T. Washington
by Jabari Asim, Bryan Collier
Ages 3–6
Born into slavery, young Booker T. Washington could only dream of learning to read and write. His youth after freedom was very hard, working in a salt furnace and a coal mine. The heart of this compelling picture book is Washington's 500 mile walk — tired, hungry, and alone — to finally attend school at Hampton Institute, the first step in his journey toward a college education.
---
They Called Themselves the K.K.K.: The Birth of an American Terrorist Group
by Susan Campbell Bartoletti
Ages 12–up
This accessible book presents the origins and development of the Ku Klux Klan through slave narratives, newspapers, congressional testimony, and other sources, against the background of the complex Reconstruction era of 1865–1877. Photographs, engravings, and illustrations provide a graphic context for KKK terrorism and the societal forces that provide a growth medium for hate and terrorist groups.
---
Seeds of Freedom: The Peaceful Integration of Huntsville, Alabama
by Hester Bass, E.B. Lewis
Ages 5–8
The struggle for civil rights in Alabama was often violent. But the citizens of Huntsville felt that creativity, courage, and cooperation were the keys to working together to integrate their city and schools in peace. Not nearly as well known as the story of the violence in Birmingham around the same time, Huntsville demonstrated that racial discrimination, bullying, and unfairness can be faced successfully with perseverance and ingenuity.
---

The March Against Fear: The Last Great Walk of the Civil Rights Movement and the Emergence of Black Power
by Ann Bausum
Ages 12–up
In 1966 James Meredith organized a peaceful march for voter registration in Mississippi. Black rights leaders like leaders like Martin Luther King Jr. and Stokely Carmichael joined the march, an unlikely alliance that resulted in the Black Power movement. Beginning with Meredith's assassination, this powerful book goes back in time to explain the events that led to the 200-mile walk, known as the March Against Fear, and its aftermath.
---

Stonewall: Breaking Out in the Fight for Gay Rights
by Ann Bausum
Ages 12–up
In 1969 being gay in the United States was a criminal offense. Most hid their sexual orientation for fear of losing their jobs or becoming estranged from their families. The Stonewall Inn, a Mafie-run bar in New York City, was one of the few places gays could feel free to be themselves. One hot night in June, the police raided the bar. But the crowd refused to leave quietly and the raid became a riot that triggered a demand for gay civil rights. This exploration of the Stonewall Riots and the national gay rights movement that continues to the present is powerful.
---

LIE
by Caroline Bock
Ages 12–up
Skylar Thompson (17) feels she has to lie to protect her boyfriend Jimmy Seeger. Jimmy was the only person who made Skylar feel safe and protected when her mother died, and now Jimmy needs Skylar's help. Jimmy has been leading a gang that goes out on Saturday nights looking for Latinos to terrorize. Now Jimmy and his best friend Sean have been arrested for a vicious beating of a young El Salvadoran, who dies of his injuries. Another victim of the attack demands justice, and Skylar can't decide if she should keep covering up for Jimmy or not. This powerful novel honestly deals with the theme of a racially motivated hate crime within a community determined to cover it up.
---
A Time of Miracles
by Anne-Laure Bondoux
Ages 12–up
Gloria was picking peaches in her father's orchard in the Republic of Georgia when she heard a train derail. An badly injured French woman gave Gloria her baby to care for. As Gloria and the child flee the Republic of Georgia to escape the fighting during the collapse of the Soviet Union, she tells the boy, now 7 years old and known as Koumaïl, the story of his past. The two make a perilous five-year journey to France, retelling the boy's story and embellishing it to give him hope for the future.
---

Survivors Club: The True Story of a Very Young Prisoner of Auschwitz
by Michael Bornstein, Debbie Bornstein Holinstat
Ages 10–14
In 1945, when he was four, Michael Bornstein was filmed by Soviet soldiers as he was carried out of Auschwitz by his grandmother. When he discovered that the image was being used as Holocaust-denying propaganda, he decided to share his memories. Assisted by his daughter Debbie, he learned that of the 3,400 Jews living in Zarki, Poland before the Holocaust, fewer than 30 survived. This moving memoir gives a very human face to the horrors of the Holocaust.
---
Ashley Bryan: Words to My Life's Song
by Ashley Bryan
All Ages
This powerful autobiography tells a story of a creative life. Illustrations and memories show a boy finding art materials during the Depression, storing art supplies in his gas mask during WWII, losing an art scholarship because of his race, and an award-winning art career. A book for parents and children to enjoy together, this book will inspire artists of all ages.
---

Smoky Night
text by Eve Bunting, illustrations by David Diaz
Caldecott Medal 1995


Ages 5–10
Daniel's cat doesn't get along with Mrs. Kim's cat and Daniel's mother doesn't shop at Mrs. Kim's store, preferring to patronize African-American stores. But when Daniel's apartment building goes up in flames, all the neighbors, including the cats, learn the importance of working together and accepting differences. Inspired by the Los Angeles riots, this book delivers a message about racism with a light touch supported by dazzling mixed-media collage illustrations.
---

All The Broken Pieces
by Ann E. Burg
Ages 11–up
Two years ago Matt Pin was airlifted from war-torn Vietnam. Now 12, and living with his loving adoptive American family, Matt is still haunted by memories of the family he left behind. Told in first person free verse, Matt's present and past are slowly revealed as he begins to come to terms with the guilt of being the only survivor.
---
A Thousand Never Evers
by Shana Burg
Ages 9–12
Set in rural Mississippi during the civil rights movement, this emotionally compelling novel shows the racism and violence endured by the African-American community through Addie Ann Pickett, a junior high school girl. Caught between her mother's rule to stay away from trouble and her brother and minister who argue that there comes a time when dignity is worth more than life, Addie has to make some difficult decisions.
---

The Tyrant's Daughter
by J.C. Carleson
Ages 12–up
Laila (15) grew up believing she was a princess. When her father is killed in a coup and Laila and her mother escape from the war-torn middle east to the United States, she learns the rest of the world viewed her father as a cruel dictator. Living in anonymity, Laila gradually grows accustomed to her new life and friends, but her mother can't accept the change and conspires to regain the throne she is convinced belongs to the family.
---

Words Set Me Free: The Story of Young Frederick Douglass
by Lesa Cline-Ransome, James E. Ransome
Ages 5–9
Powerful first person narration tells the story of Frederick Douglass's early life as a plantation slave. Learning to read was the catalyst for Frederick's determination to escape from slavery. "I bought my first newspaper and learned new words—liberty, justice, and freedom." Eventually Frederick uses his writing skills to forge a letter from his master releasing him. Though not avoiding the cruel realities of slavery, this accessible biography celebrates determination and hope.
---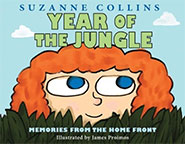 Year of the Jungle
by Suzanne Collins, James Proimos
Ages 4–8
Suzy, the youngest of four children, struggles to understand what it means when her father goes away to war, grappling with questions like, "What is war? Where is Vietnam? How long is a year? What is it like in a jungle?" Suzy at first imagines her father in a setting like her favorite cartoon, but gradually comes to understand the danger he is in though the postcards he sends and bits she sees on the news. This sensitive look at the impact of war on the very young ends on a reassuring note.
---
Game Changer: John McLendon and the Secret Game
by John Coy, Randy Duburke
Ages 7–11
In 1944 rules prevented white and black basketball teams from playing against each other. John McLendon, coach of the North Carolina College of Negros, arranged a secret game between his Eagles and the all-white team from Duke University Medical School. Many of the players on both teams had never been close enough to touch a person of another race, and were at first hesitant to bump into each other. But the exciting hard-driving fast-break style of the Eagles broke down the barriers. In the second game, the teams intermixed so that the white and black players could experience playing as teammates. This true story highlights the importance of the game in changing the nature of basketball play, as well as the dangerous social climate of the time.
---

Bog Child
by Siobhan Dowd
Ages 12–up
When Fergus McCann is digging for peat for his uncle to sell in 1981, he finds the body of a small boy. Archaeologists suspect the body is ancient and arrive in droves to study the find. Trying to earn entrance to medical school 18-year-old Fergus is haunted by his find and confused by the hunger strike his imprisoned IRA brother has joined. This compelling book raises questions about moral choices and highlights the impact of political conflict on innocent bystanders.
---

Stella by Starlight
by Sharon M. Draper
Ages 9–13
Stella (11) lives in segregated 1932 Bumblebee, North Carolina. Some stores she can go inside, others she can't. But at least the Ku Klux Klan hasn't bothered their community for years. But one night Stella and her little brother are out late at night and witness a meeting of the Klan, a signal of trouble to come to the black community of Bumblebee. Stella envies the fine school buildings for the white children and dreams of becoming a writer. Her father is equally determined to vote. This compelling story of a community that comes together to find the strength to fight injustice features a humble heroine who doesn't recognize the power of her own words.
---

Underground
by Shane W. Evans
Ages 4–8
Minimal text and haunting illustrations tell the story of a slave family creeping away from a plantation on a dark night lit only by the moon. Moving along the underground railroad, the family travels throughout the night until the dawn breaks, illuminating their passage into freedom.
---

Fannie Never Flinched: One Woman's Courage in the Struggle for American Labor Union Rights
by Mary Cronk Farrell
Ages 10–14
Fannie Sellins worked in garment sweatshops in St. Louis, Missouri, at the turn of the 20th century. A widow with four children to support, Fannie successfully united her fellow garment workers and fought for better wages and working conditions. She expanded her fight to workers in other industries and was killed by coal company guards on a picket line in Brackenridge, Pennsylvania in 1919. This accessible biography of a little-known union activist is a great introduction to the history of US labor rights.
---

March On! The Day My Brother Martin Changed The World
by Christine King Farris, London Ladd
Ages 9–12
Christine King Farris

, Martin Luther King, Junior's older sister describes the 1963 March on Washington with an intimate down-to-earth perspective, presenting her brother as a man rather than as an icon.
---
The Bone Sparrow
by Zana Fraillon
Ages 9–12
Subhi's mother and older sister were exiled from Burma with other Rohingya, the persecuted ethnic Muslim minority, to a detention center in Australia, where Subhi was born. Now ten, the refugee camp run by abusive guards is the only life Subhi has ever known. As his mother sinks deeper into depression, Subhi's imagination helps him survive the injustice and boredom. One day a girl named Jimmie appears at the bars of the camp, holding a notebook written by her dead mother. Jimmie can't read, and sneaks into the camp to listen to Subhi read her mother's stories.
---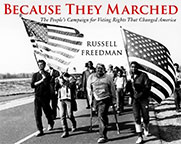 Because They Marched: The People's Campaign for Voting Rights That Changed America
by Russell Freedman
Ages 10–up
This powerful photo-essay commemorates the 50th anniversary of the march for voting rights from Selma to Montgomery. Frustrated with reprisals for attempting to register to vote, the black community of Selma began to protest. In January 1965, Dr. Martin Luther King, Jr. was attacked by a segregationist while leading a voting rights march. In February, an an Alabama state trooper shot an unarmed demonstrator, inspiring a march from Selma to the state capital. On March 7th, law officers attacked the peaceful demonstrators. Broadcast around the world, this attack spurred the protesters to complete the march at any cost, finally completing the 54 mile walk on March 25th, arriving in Montgomery, Alabama, to the cheers of a crowd of 25,000 supporters.
---

The War to End All Wars: World War I
by Russell Freedman
Ages 12–up
This powerful book begins with the assassination of Archduke Franz Ferdinand in 1914 and ends with the Treaty of Versailles in 1918. The accessible narrative shows the brutality and horror of trench warfare along with the leaders and the new technology that made it all possible. The ramifications of the war—the end to American isolation, the Russian revolution, and the defeat that provided a foundation for Fascism and Nazism—are clearly demonstrated.
---

We Will Not Be Silent: The White Rose Student Resistance Movement That Defied Adolf Hitler
by Russell Freedman
Ages 10–12
Hans Scholl and his sister Sophie belonged to the Hitler Youth as children just like everyone else their age. But the enforced conformity of the Hitler Youth repelled Hans, and he joined a banned group that read forbidden books. Sophie read a book by a Jewish German poet and got into trouble for questioning the pervasive anti-Semitism. While attending school in Munich, the two and a few friends formed the White Rose, a campaign of active resistance to Hitler and the Nazis, distributing leaflets urging Germans to defy the Nazi government. Hans and Sophie were eventually tried and executed by guillotine, but the message of the importance of defiant resistance in the face of overwhelming evil shines through.
---

Once
by Morris Gleitzman
Ages 12–up
Everybody deserves to have something good in their life at least once, believes Felix, a 10-year old Polish Jew, who runs away from a Catholic orphanage to search for his parents. After finding his home occupied by hostile neighbors, Felix lives in hiding, in constant fear of discovery, as he slowly becomes aware of the Nazi atrocities. Felix's traumatized present-tense narrative drives this powerful novel which manages to find welcome bits of humor and heroic kindness in the midst of horror and tragedy.
---

Then
by Morris Gleitzman
Ages 12–up
Felix (10) and Zelda (6) have escaped from the train carrying Jews to the death camp, but as two children alone in Nazi-occupied Poland they are surrounded by danger. Felix uses his masterful storytelling skills to create new denies for himself and Zelda, allowing them to live safely in public for a time. Seeking to protect each other, the two children secretly put a locket containing a picture of Zelda's Nazi parents among the other's possession. They form a family with a woman named Genia and begin to heal, but with no certainty that their temporary safety will last. (sequel to Once)
---
Now
by Morris Gleitzman
Ages 10–up
Felix is now a grandfather living in Australia. His ten-year-old granddaughter Zelda continues the story, describing the 2009 heat wave and devastating bush fires. When Felix confronts some local bullies, Zelda gets a rare glimpse into her grandfather's past. Felix's survivor's guilt and Zelda's doubts that she will ever live up to the courage of her namesake both come into play in this poignant close to the powerful trilogy that began with Once and continued in Then.
---

Strange Fruit: Billie Holiday and the Power of a Protest Song
by Gary Golio, Charlotte Riley-Webb
Ages 8–12
This powerful book focuses on two pivotal moments from Billie Holiday's career as a singer: leaving Artie Shaw's band after the latest in a long string of incidents of discrimination and the first performance of the song "Strange Fruit," a protest song about the lynching of Blacks. At that first performance some audience members got up and left; the remainder were stunned into silence before breaking out into thunderous applause. The vivid illustrations highlight the theme of the power of art to fight against intolerance and hate.
---

Somewhere There Is Still a Sun: A Memoir of the Holocaust
by Michael Gruenbaum
Ages 10–14
Michael "Misha" Gruenbaum is 10 when the Nazi's invade his home city of Prague. Increasingly repressive rules, including no soccer, soon result in the forced relocation of the Gruenbaum family into the Jewish Ghetto. Then Misha, his mother, and his sister were deported to the Terezin concentration camp, where Misha roomed with 40 other boys, who became like brothers to him. The boys played soccer matches and tried not to succumb to terror as the names were read of each new family on the list for transportation to Auschwitz. First person narration adds immediacy to this memoir of defiance, love, and courage in the face of increasingly appalling events.
---

The Midnight Zoo
by Sonya Hartnett, Andrea Offermann
Ages 10–up
When German soldiers attack their Romany encampment and arrest their relatives, Andrej (12) and Tomas (9) flee to hide in the woods with their baby sister. They discover a bombed out town with an intact zoo filled with creatures in need of hope. Like the children, the animals have stories to tell and a burning desire to reclaim their lives. This somber fable explores themes of responsibility and freedom.
---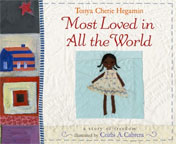 Most Loved in All the World
by Tonya Hegamin, Cozbi A. Cabrera
Ages 4–8
When our heroine is sent north on the Underground Railroad, her mother stays behind to help others make the journey. She sends a beautiful quilt with her daughter to help her find her way, and to remind her that she is the most loved in all the world. This beautiful book uses a child's voice to talk about difficult concepts of slavery, courage, and sacrifice. (12/08)
---

John Brown: His Fight for Freedom
by John Hendrix
Ages 8–12
In the late 1850s, John Brown, the infamous white abolitionist, backed his beliefs with action. This unflinching biography presents Brown's transformation from a supporter of the underground railroad into an activist prepared to use violence to support his beliefs. The violent raid in Harper's Ferry, Virginia, that led to Brown's arrest and execution provides an exciting climax to this compelling biography.
---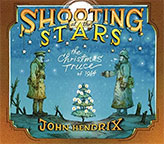 Shooting at the Stars
by John Hendrix
Ages 8–12
A young British soldier on the front lines in World War I describes the brutal conditions of fighting and living in the trenches of a cold, wet winter on the French-Belgian border before an unforgettable Christmas Eve when English, French, and German soldiers put down their weapons and came together to celebrate the holiday. They sang carols, exchanged gifts, and lit candles on miniature Christmas trees before retreating to their separate trenches to wait for the battle to resume.
---

Girl in the Blue Coat
by Monica Hesse
Ages 12–up
In 1943 Nazi-occupied Amsterdam, teenager Hanneke Bakker helps support her family by delivering black market goods while mourning the death of her boyfriend, killed on the Dutch front lines when the Germans invaded. Mrs. Janssen, one of her customers, asks for help locating Mirjam, a 15-year old Jewish girl who was hiding in a secret room in Mrs. Janssen's home. Hanneke at first wants nothing to do with the dangerous search for the missing girl, but soon learns more than she wants to know about the horrors Jewish people are suffering under the Nazis, realizeing that refusing to join the underground resistance will make her part of the evil Nazi war machine.
---

The Boys Who Challenged Hitler: Knud Pedersen and the Churchill Club
by Phillip Hoose
Ages 12–up
In April 1940, Germany made Denmark a "protectorate" of the Third Reich. The Danish government did not oppose the German invasion, but a small group of Danish teens were ashamed of their nation's cowardice and decided to fight back. Led by 15-year-old Knud Pedersen, the teens formed the Churchill Club, named after British Prime Minister Winston Churchill. For five months in 1940, members of the club performed daring acts of sabotage, mostly from their bikes and often in broad daylight. The boys were arrested and imprisoned, but their courage fueled Danish resistance. Verbatim quotes from a 2012 interview with Knud Petersen are interwoven with the narration. An epilogue tells what happened to each member of the Churchill Club after the end of the war.
---

Claudette Colvin: Twice Toward Justice
by Phillip Hoose
Ages 10–up
In March 1955, nine months before Rosa Parks refused to surrender her seat to a white passenger, 15-year old Claudette Colvin was dragged from a bus and arrested for the same reason. This book introduces readers to the courageous teenager who was overshadowed by Rosa Parks as the center of the bus boycott. Young readers are encouraged to empathize with young Claudette, at first dismissed as too "emotional" to withstand public scrutiny, but later a key witness in the federal lawsuit that would end discrimination on public transportation. (2010 Newbery Honor Book)
---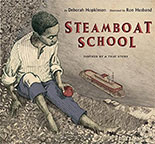 Steamboat School
by Deborah Hopkinson
Ages 4–8
James, his sister, and his mother are free blacks living in 1840s Missouri. Though free, James and other free blacks do not have the same rights as white. An 1847 Missouri law prohibited the education of African Americans, but Reverend John Berry Meachum, a former slave, ran a secret school in the basement of his church. James hates the dark basement school, lit only by a single candle. When the sheriff closes the illegal school, Reverend Meachum builds a steamboat with the help of his students, opening a legal school on the steamboat, anchored mid-river on federal property. This fictionalized story is an eloquent tribute to Revered Meachum, a real-life crusader for equal rights and education.
---

To the Mountaintop: My Journey Through the Civil Rights Movement
by Charlayne Hunter-Gault
Ages 12–up
This accessible historical memoir tells the story of the author's harassment and threats when she entered the University of Georgia in 1959. Other chapters tell of other struggles for equal rights: lunch counter sit-ins, Freedom Riders, voter registration drives. The personal look at political struggle is both educational and inspiring.
---

A Bag of Marbles: The Graphic Novel
by Joseph Joffo, Vincent Bailly
Ages 12–up
In 1941 occupied Paris, Maurice and Joseph play one last game of marbles before rushing home to their father's barbershop. When the Nazis arrive, the parents send the four children in pairs to separate locations, warning them to never reveal they are Jews. Jo and Maurice travel together, barely staying one step ahead of capture. At times they are saved by French citizens, but more often must rely on their own quick wits. This powerful graphic novel is a retelling of the author's autobiographical novel with the same title.
---

Dogs of War
by Sheila Keenan, Nathan Fox
Ages 8–12
The three historical fiction stories in this book focus on soldiers and their dogs in three different wars. In WWI, Marcellinus McDonald (16) is a doctor's assistant on the Western Front in 1914, and Boots is his beloved "mercy dog," who finds the wounded in No Man's Land. Loki is a sled dog in a rescue unit stationed in 1942 Greenland, where his master relies on him in a solo encounter with some Nazis. The final story is about a boy named Henry in 1968 North Carolina whose struggles to control his beagle puppy bring him friendship with a recently returned Vietnam vet haunted by his experience on patrol with his German shepherd, Sheba.
---
Freedom Stone
by Jeffrey Kluger
Ages 9–12
When the Confederate Army promised freedom to the family of any slave who served in the army, whether he made it home or not, Lillie's father decided he had to take the chance. But when Lillie's father is killed in the war, the army claimed he was a thief and the plantation master refused to free the family. In fact, he decided to sell Lillie's little brother Plato. With the help of another slave, Lillie travels to the battlefield to prove her father's innocence and win freedom for her family.
---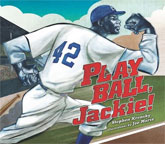 Play Ball, Jackie!
by Stephen Krensky, Joe Morse
Ages 7–10
It's 1947, and 10-year-old Matty Romano is going to his first baseball game with his father to see the Brooklyn Dodgers, his favorite team. It's also the first day for Jackie Robinson, the first Black baseball player in the major leagues. The crowd is divided between those who are outraged and those who just want to see good baseball players, no matter what their color. Matty's conversations with his father provide an intimate look at this historic baseball game.
---

Inside Out and Back Again
by Thanhha Lai
Ages 9–12
After her father has been missing in action for nine years in the Vietnam War, 10-year-old Hà, her mother, and her three older brothers flee to Guam, eventually ending up in Alabama. Though finally safe, Hà finds it difficult to master the new language and customs, and is cruelly mocked by her classmates. Befriended by a teacher who lost a son in Vietnam, Hà gradually adjusts to her new life. Narrated in first person free-verse poems, this poignant novel captures the sense of alienation felt by many immigrants.
---

Listen, Slowly
by Thanhha Lai
Ages 8–12
Mai (12) can't wait to enjoy her summer hanging out at home in Laguna Beach, California, with her best friends. Instead, her parents arrange for Mai to accompany her grandmother (Bà) to Vietnam. New information has just been found about her long lost grandfather (Ông) who disappeared over 40 years ago in "THE WAR." Mai is reluctant. She doesn't speak the language and knows very little about her Vietnamese heritage. Stuck in a village with limited Internet access, Mai makes friends with a headstrong girl, gradually becomes interested in what might have happened to Ông, and reconnects to the grandmother she was close to as a young child. This powerful novel is an effective companion novel to Inside Out & Back Again, which presents the author's near-opposite journey fleeing Vietnam after the fall of Saigon.
---
In Darkness
by Nick Lake
Ages 14–up
Shorty (15) is trapped in the rubble left by a collapsed hospital during the 2010 earthquake in Haiti. As he waits, hoping to be rescued, Shorty relives his life's journey running drugs until ending up in the hospital with a bullet wound. As he waits in darkness, Shorty is joined by Toussaint L'Ouverture, a slave and revolutionary leader 200 years earlier. The parallels between the two stories highlight the violence and brutality of Haiti's history. This disturbing and challenging book faces hard truths head-on.
---
Dash
by Kirby Larson
Ages 8–12
After the Japanese attack on Pearl Harbor life changes for Mitsi Kashino (11) and her Japanese-American family. Mitsi tries to stay strong as she and her family are taunted, shunned, fingerprinted, and told they will be relocated to in interment camp. The news that she cannot take her beloved dog Dash to the camp, Mitsi begs her neighbor, Mrs. Bowker, to take care of Dash. Mrs. Bowker agrees to take care of Dash, and writes letters from Dash to Mitsi that follow the family from Seattle, Washington, to Minidoka, Idaho.
---
The Lions of Little Rock
by Kristin Levine
Ages 10–up
It's 1958, the year after the Little Rock Nine integrated the city's public high schools, and Little Rock has closed the high schools rather than follow the federal mandate to integrate. Twelve-year old Marlee, who doesn't speak outside her family, has no friends at school until befriended by Liz, the new girl. Liz begins to coax Marlee out of her silence and then suddenly disappears. Rumors fly that Liz was a colored girl passing for white. Marlee is determined to stay in touch with the only close friend she ever had, and struggles to find the courage to speak out.
---
We've Got a Job: The 1963 Birmingham Children's March
by Cynthia Levinson
Ages 10–up
This powerful book tells the story of 4,000 black elementary, middle, and high school students who voluntarily went to jail in Birmingham, Alabama, between May 2 and May 11, 1963, while boycotting school in order to participate in a march to boycott segregation. Intimate profiles of four black children give a powerfully personal feel to this courageous children' s crusade and the change it helped to bring about in a time of widespread prejudice and brutality.
---

The Year of Goodbyes: A True Story of Friendship, Family and Farewells
by Debbie Levy
Ages 10–up
This book tells the true story of a year in the life of Jutta, a 12-year-old girl in 1938 Nazi Germany, and the author's mother. Photos and translations of comments from friends written in Jutta's diary introduce each chapter, giving a vivid picture of an ordinary teenager in an extraordinary time and place. This very personal and powerful book in verse documents a year of change, confusion, cruelty, and farewells.
---

The Boy on the Wooden Box: How the Impossible Became Possible… on Schindler's List
by Leon Leyson
Ages 9–14
This moving autobiography tells the true story of Leon Lyson, the youngest member on Schlinder's List. Leon was just 13 when his father convinced Oskar Schlinder to allow Leon to find refuge along with other family members in the Emalia factory, offering them a shred of hope along with the other Jewish workers that they might escape the worst of the Holocaust. Leon was so small that he had to stand on a box to work the machinery. The personal narration helps the reader make a human connection to the horrors of the time.
---

Snow Falling in Spring:

Coming of Age in China During the Cultural Revolution
by Moying Li
Ages 12–up
In this memoir, Moying, a 12-year old student in Beijing, finds her house ransacked and her father taken to a labor camp. With faith in knowledge and education, Moying survives the climate of fear that accompanies the rise of the Red Guard.
---
Draw the Line
by Laurent Linn
Ages 12–up
Adrian Piper is a gay teen in a small homophobic Texas high school, reluctant to display his true identity. He escapes into the comic world he draws featuring Graphite, a Renaissance-art-inspired gay superhero who has adventures with disguised versions of Adrian's friends. When bullies attack another gay student, Adrian can no longer hide under the radar and steps up to confront the bullies, exposing his own secrets. Dramatic pencil illustrations of Graphite's adventures add to this emotionally rich book.
---

Crow Call
by Lois Lowry
Ages 6–12
Lizzie's father has been away in WWII for longer than she can remember, so the fall hunting trip the two take together after his return is awkward. But her father respects her wishes, even when they are fanciful, and gives her the crow call to summon the birds. To Lizzie's relief, her father never fires his gun on the magical day. Based on Lowry's own childhood, this picture book is a loving look at the relationship between parent and child. Though set in the past, it is fully relevant to today's military families.
---
Number the Stars
by Lois Lowry
Newbery Medal 1990


Ages 10–up
It's 1943 in Nazi-occupied Denmark, and the Jews are about to be rounded up and sent to the death camps. Annemarie Johannesen's best friend Ellen Rosen is Jewish. The Johannesen family helps Ellen's parents go into hiding and take Ellen into their own home, pretending she is part of their family. Narrated by 10-year-old Annemarie, this book vividly portrays the Nazi threat and the courage it takes to help friends while possibly endangering your own family. This moving and suspenseful book is based on true events.
How It Went Down
by Kekla Magoon
Ages 14–up
Tariq Johnson (16), a black teen, was shot on the street by Jack Franklin, a white gang member. No one disputes that fact, but each witness has a different perspective on the events that led up to the killing. Family, friends, neighbors, gang members, the police, and a minster offer their own point of view. When combined, the narratives build a heart-breaking picture of perception and race.
---

Brave Girl: Clara and the Shirtwaist Makers' Strike of 1909
by Michelle Markel, Melissa Sweet
Ages 4–8
Clara Lemlich came to the United States in 1903 to escape the pogram in the Ukraine. Clara couldn't speak English, and was only five feet tall, but she went to night school, began to study English, and got a job sewing in a factory to help support her family. Horrified by the working conditions, Clara spoke up at a union meeting, encouraging her fellow workers to go on strike for better working conditions. This accessible biography celebrates the power of speaking up for what is right, no matter how poor or small you are.
---
Flesh and Blood So Cheap: The Triangle Fire and its Legacy
by Albert Marrin
Ages 10–up
On March 25, 1911, the Triangle Shirtwaist Factory in New York City burst into flames. The factory was crowded with workers, mainly young Italian and Jewish women. The doors were locked to prevent the workers from leaving before the end of the work day, and 146 people died in the fire. One hundred years later, this powerful book examines the poor working conditions the immigrant factory workers endured, the greed that motivated the bosses and owners, and the courage of the workers who banded together to change working conditions for everyone in America.
---

Uprooted: The Japanese American Experience During World War II
by Albert Marrin
Ages 12–up
Seventy-five years ago the American government rounded up over 100,000 American citizens on the basis of their ancestry and suspicions of loyalty and kept them in concentration camps for nearly four years. This powerful book examines the history of racism in America and traces the events that caused this decision, while also looking at the racism and xenophobia in Japan that led to the bombing of Pearl Harbor.
---

Never Fall Down
by Patricia McCormick
Ages 14–up
When the Khmer Rouge soldiers march into his village in Cambodia, Arn Chorn Pond is only 11, busy selling ice cream with his brother and dancing to rock and roll. The Communist revolution changes his life forever. Sent to a labor camp, Arn learns to be invisible, hiding from the soldiers who dispense death at a whim. Then one day the soldiers ask if any of the children can play an instrument, and Arn learns to play the revolutionary songs the soldiers demand, earning enough food to keep himself and the other children alive. This powerful true story doesn't hide the brutality of the Khmer Rouge, yet celebrates the power of the human spirit.
---

The Plot to Kill Hitler: Dietrich Bonhoeffer: Pastor, Spy, Unlikely Hero
by Patricia McCormick
Ages 8–up
This engaging biography tells the story of Dietrich Bonhoeffer, a pastor and pacifist who became an unlikely hero when he joined in a plot to kill Hitler. Bonhoeffer had a privileged childhood, and his travels and studies caused him to grow into a gentle, scholarly pacifist. The rise of Nazi Germany caused Bonhoeffer to break from the German church, which allowed swastikas to replace crosses. Bonhoeffer was one of the first to provide evidence to the Allies that Jews were being deported to death camps, and eventually chose to leave his pacifism behind and participate in the failed campaign to assassinate the evil dictator.
---
Purple Heart
by Patricia McCormick
Ages 12–up
Matt Duffy, an 18-year old private with memory problems following a traumatic brain injury in Iraq, receives the Purple Heart. Haunted by the image of a young Iraqi boy being killed, Matt slowly remembers the contradictory events that led to the honor. This gripping book raises moral issues without judgment, encouraging readers to think deeply about loyalty, war, and the nature of heroism.
---

Never Forgotten
by Patricia C. McKissack, Leo Dillon, Diane Dillon
All Ages
This powerful book tells the story of Mustafa, a small boy from Mali who is abducted and sold into slavery. The free verse narration follows Mustafa across the ocean to South Carolina, where he becomes a gifted blacksmith like his father. Dramatic paintings by Leo and Diane Dillon intensify the grief and longing for freedom, reminding children of the importance of family and remembering the past.
---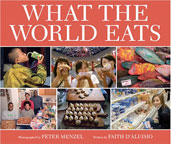 What the World Eats
by Peter Menzel, Faith D'Aluisio
All Ages
Twenty-five families in 21 countries around the world are photographed surrounded by a week's worth of food. The multi-generational portraits provide an avenue for exploring each family's hopes and struggles while gently raising issues about global food supplies. Family recipes, maps, and county information reveal provocative statistics. (adapted from Hungry Planet)
---

New Shoes
by Susan Lynn Meyer, Eric Velasquez
Ages 6–9
Ella Mae is thrilled when her cousin Charlotte's hand-me-down shoes are too small and she can finally get brand new shoes. But in the 1950s South, Ella Mae is not allowed to try on the shoes at Johnson's General Store because she is black. So Ella Mae and her cousin Charlotte decide to open their own store. Using soap and polish they make hand-me-down shoes look new again and encourage their customers to try on as many pairs as they like. The illustrations portray the 1950s South with accuracy and allow the two girls to shine in their pastel dresses.
---

Under a Red Sky

Memoir of a Childhood in Communist Romania
by Haya Leah Molnar
Ages 12–up
Eva Zimmerman grew up as an adored only child in an apartment shared by her parents, grandparents, and aunts and uncles in Bucharest, Romania. Sheltered by her protective family from the harsh realities of scarce food and housing under communist rule with the secret police watching every move, religion and politics were never discussed at home. In 1958, Eva is shocked to discover that she is Jewish, and that her whole family has applied to emigrate to Israel. Black and white family photographs illustrate this poignant memoir of a girl struggling to understand her own identity.
---
Trash
by Andy Mulligan
Ages 12–up
Raphael is a 14-year-old trash-picker in an unnamed 3rd world Latin American country. One day he finds a leather bag containing a wallet, a map, and a key. Raphael and his two friends are soon involved in exposing political corruption and abuse of the poor as they puzzle out a secret code and follow clues to a hidden cache of money. Realistic details of the lives of desperate children living in the dump provide a sobering background to this gripping adventure tale.
---

Frederick Douglass: The Lion Who Wrote History
by Walter Dean Myers, Floyd Cooper
Ages 4–8
This accessible biography draws on Frederick Douglass's own words to present his story from a slave child who dared to dream of a life of freedom, his determination to become educated, his leading role in the abolitionist movement, and his life as a writer, speaker, and social reformer.
---

Sunrise Over Fallujah
by Walter Dean Myers
Ages 12–up
Robin Perry, nephew to Myer's Vietnam soldier from Fallen Angel, writes to his uncle from Iraq in this powerful novel that may help American teens grapple intelligently and thoughtfully with the war in Iraq.
---

Nelson Mandela
by Kadir Nelson
Ages 4–8
This picture book biography tells the story of Nelson Mandela in stunning illustrations and verse. Beginning with his tribal childhood, we follow Mandela's journey to a school far away from his village after his father died when he was nine. In Johannesburg, he saw fellow Africans who were poor and powerless. When the government began to segregate people by the color of their skin, Mandela spoke out against the law and worked to make his country one that belonged to all South Africans. This beautiful book presents the cruel apartheid segregation in daily life along with hope for the future.
---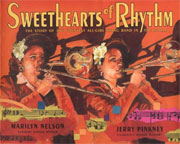 Sweethearts of Rhythm
The Story of the Greatest All-Girl Swing Band in the World
by Marilyn Nelson, Jerry Pinkney
Ages 10–up
Nelson's poems and Pinkney's luminous paintings perfectly complement each other in this tribute to an integrated female swing band that toured the USA from the late 1930s to mid 1940s. Titled after swing tunes, the 20 poems underscore the role of music in bring joy and hope to an era haunted by war and racism.
---

Miles to Go for Freedom: Segregation and Civil Rights in the Jim Crow Years
by Linda Barrett Osborne
Ages 10–14
Continuing the story begun in Traveling the Freedom Road, this thought-provoking book examines racial segregation and early civil rights efforts in the United States from the 1890s to 1954—the Jim Crow years. First-person accounts, photographs, and other primary sources capture the period's violence, dehumanization, and individual and collective defiance.
---
Marching For Freedom:

Walk Together Children and Don't You Grow Weary
by Elizabeth Partridge
Ages 9–12
Told in the voices of men and women who participated as children and teens, this powerful book tells the disturbing yet hopeful story of the march from Selma to Montgomery in 1965. The dramatic personal stories are illustrated by striking and unforgettable photographs.
---

Keeping Score
by Linda Sue Park
Ages 9–12
Jim teaches Maggie the art of scoring a baseball game, and she believes her extra involvement in the game helps support her beloved Dodgers. When Jim is drafted and sent to Korea, she searches for a way to support him, too.
---

A Long Walk to Water
by Linda Sue Park
Ages 10–up
Based on a true story, this moving novel tells the story one of the "lost boys" from Sudan. In 1956, when Salva is 11, his school is attacked by brutal rebel solders. Covering the next 23 years of his life, Salva's narration tells of hunger, death, refugee camps, and his eventual relocation to New York. Interspersed with Salva's narrative is that of Nya, who tells of her life in modern (2008) Sudan, which revolves around her daily eight hour walk to fetch water for her family. The two stories meet when Salva returns to Sudan to help his people and builds a well in Nya's village. This honest book presents harsh realities in terrifying detail, yet ends on a note of hope for a better future.
---
Bamboo People
by Mitali Perkins
Ages 11–14
Chiko (15) is pressed into military service by the Burmese government. A scholar rather than a soldier by nature, Chiko finds himself involved in the ongoing war against the Karenni people, one of the many ethnic minorities in modern Myanmar (formerly Burma). Chiko is wounded and found by Tu Reh, an angry Karenni teen. Told from both perspectives, this novel shows both teens struggling with the prejudices of culture and class. Themes of family, friendship, and the circumstances of war are explored in this accessible story.
---

Isabel's War
by Lila Perl
Ages 8–12
Isabel Brandt (12) lives in 1942 New York City. Like most girls her age, the war in Europe seems very far away. Then Helga, a refugee from Germany arrives. At first jealous and resentful of the beautiful stranger, Isabel is horrified when she learns of Helga's horrific experiences in Germany before being transported to England as part of the Kindertransport. Learning the truth about the treatment of Jews by Nazis changes Isabel, and she begins to try to help Helga come to terms with her guilt for escaping and leaving her family behind.
---

Burn
by Suzanne Phillips
Ages 12–up
This thought-provoking book tells the story of Cameron Grady, a badly bullied freshman who escapes by playing with fire. When fatal results occur, the reader is challenged to examine some hard questions about who is a victim and who is a criminal, and how far a victim is allowed to go in the struggle to stand up for himself.
---
Sojourner Truth's Step-Stomp Stride
by Andrea Davis Pinkney, Brian Pinkney
Ages 5–9
Belle was born into slavery, and when her master fails to honor his promise to free her, Belle runs away. But she knows that she will never be truly free when others live in slavery, so Belle changes her name to Sojourner and begins to travel across the country, demanding equal rights for black people and for women. Pinkney's glowing illustrations capture the charisma and courage of this larger-than-life heroine.
---

The Red Pencil
by Andrea Davis Pinkney, Shane Evans
Ages 9–up
Now that Amira is 12, she is finally old enough to wear a toob, and perhaps old enough to attend school in Nyala. But life in her peaceful Sudanese village is destroyed when the Janjaweed attack the village. Amira loses everything and must find the strength for the long journey on foot to the safety of the refugee camp. Then the gift of a single red pencil opens new possibilities.
---

January's Sparrow
by Patricia Polacco
Ages 8–12
The Crosswhite family witness the brutal whipping of January, a slave caught while trying to escape, and flee the Kentucky plantation in the middle of the night. Young Sadie is heartbroken when she realizes she has left the wooden sparrow January carved for her, her only memento of her dead friend. The Crosswhites travel through the Underground Railroad to Marshall, Michigan, where they finally live in freedom. Then January's sparrow appears on their doorstep. Based on a true story, this book is both horrifying and empowering.
---

Hidden Like Anne Frank: 14 True Stories of Survival
by Marcel Prins, Peter Henk Steenhuis
Ages 12–up
Hundreds of children went into hiding, like Anne Frank, to escape the Nazis. This powerful book presents 14 accounts from Dutch-born children, including the story of Prins's own mother, who went into hiding and survived the war. though these 14 survived, the trauma wasn't over when the war ended, since most lost family members and their homes forever. This powerful book makes the 14 different experiences real and dramatic.
---

When Morning Comes
by Arushi Raina
Ages 14–up
Four teens from different backgrounds participate in the student uprising that began in Soweto, South Africa, on June 16, 1976. Zanele, an African student, secretly organizes the protest against the Afrikaans Medium Decree Act, which required native Africans to speak only English and Afrikaans in school. Thabo leads a local gang, extorting money from an Indian store owner whose daughter Meena is sympathetic to the students. Jack, a white Afrikaner, befriends Zanele. Each character feels pressure from their loved ones to conform to expectations, yet each feels that change is coming.
---

Beyond Courage: The Untold Story of Jewish Resistance During the Holocaust
by Doreen Rappaport
Ages 10–up
This well-researched book contains more than 20 stories highlighting the courage of countless Jews who organized to sabotage the Nazis and help other Jews during the Holocaust. Georges Loinger smuggles thousands of children out of occupied France into Switzerland. Three resisters in Belgium ambush a train, allowing the Jewish prisoners to escape into the woods. Four Polish brothers lead more than 1,200 ghetto refugees into the forest to build a guerrilla force and self-sufficient village. These heart-breaking yet hopeful accounts pay tribute to all those who defied their oppressors with both small and large acts of courage.
---

The Things a Brother Knows
by Dana Reinhardt
Ages 14–up
Levi Katznelson's older brother Boaz joined the marines and spent three long years overseas. Levi didn't understand how Boaz could give up his life as the high school football star, and has waited impatiently for Boaz to return home to Boston. But as soon as Boaz walks through the door, Levi knows that his brother has changed, and he fears that life will never return to normal. When Boaz leaves to hike the Appalachian Trail, Levi follows, determined to save his brother and bring him back home. Together they walk to Washington, DC, visiting ex-Marines and families of soldiers along the way, as Levi slowly comes to understand the trauma of his brother's wartime experiences.
---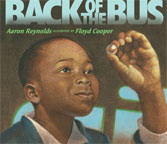 Back of the Bus
by Aaron Reynolds, Floyd Cooper
Ages 6–8
One winter day in Montgomery Alabama, a young boy and his mother are riding where they are supposed to—in the back of the bus. The boy passes the time rolling his marble in the aisle, and Rosa Parks, sitting up in the front of the bus where she isn't supposed to, rolls it back to him. See through the eyes of a child, who begins to wonder if maybe Rosa does belong up there after all, brings Rosa Park' s defiance to vivid life. Beautifully lifelike oil paintings convey the emotional tension of that famous bus ride.
---

Eighth-Grade Superzero
by Olugbemisola Rhuday-Perkovich
Ages 10–14
Reggie McKnight earned the nickname "Pukey" thanks to a disaster on the first day of middle school. So he decides to hide out for the rest of the year with his two best friends: Ruthie, a fellow Jamaican and political activist, and Joe C. White, an aspiring rapper working on a project at a homeless shelter with his church's youth group. Reggie becomes increasingly interested in the homeless shelter project and his community, leading to his eventual participation in his school's presidential race. There aren't easy answers or solutions in this book that deals honestly with issues of racial bias and social justice.
---
Irena Sendler and the Children of the Warsaw Ghetto
by Susan Goldman Rubin, Bill Farnsworth
Ages 8–12
Though small in stature, Irena Sendler, a Polish social worker, managed to smuggle more than 400 Jewish children out of the Warsaw ghetto during World War II. Using clever ruses like toolboxes, ambulances, and coffins, Irena defied the Nazis and risked her own life to bring the children to safety. Worried that the children might not be reunited with their families, Irena kept a secret list of the children's identities buried in jars under a tree in war-torn Warsaw. Dramatic paintings illustrate this story of courage and compassion.
---
Silent Music
by James Rumford
Ages 4–9
Like his hero Yakut, who wrote about the destruction of Baghdad in 1258, Ali turns to calligraphy during the bombing of Baghdad in 2003.
---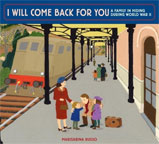 I Will Come Back for You: A Family in Hiding During World War II
by Marisabina Russo
Ages 5–9
A small girl wonders why her grandmother always wears a bracelet with curious charms on it, and eventually Nonna tells the story of her childhood in Rome during World War II. When the Nazis threatened the Jews, Nonna was separated from her father and sent to hide in the mountains with her mother and brother. Each of the seven charms represents one of the months the family was separated, and there is a story of fear, ingenuity, and compassion to go with each one. Based on her own family history, Russo tells the tale of this terrifying time in a reassuring way that is appropriate for young children.
---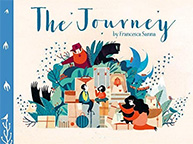 The Journey
by Francesca Sanna
Ages 3–7
A family of four builds a sand castle on the beach as the waves transform into threatening shapes. The father is killed and the refugee family flees for a faraway country. The children are reluctant to leave behind everything they have ever known, and the journey is long and dangerous. The war is unspecific, but the plight of the refugee family is universal. This empathetic book is an excellent starting point for conversation about the impact of war on everyday families.
---

Anna and the Swallow Man
by Gavriel Savit
Ages 12–up
In 1939 Kraków, Anna (7) is left in the care of Herr Doktor Fuchsmann, a neighborhood pharmacist for a few hours while her father, a linguistics professor, is summoned to a meeting with the Gestapo. None of the university professors return from the meeting, and Herr Doktor Fuchsmann is too nervous to allow Anna to stay. Cast into the streets, Anna follows the strange tall man who talks to the birds. The Swallow Man teaches Anna how to survive in the hostile landscape that was her home, sometimes challenging her instincts for honesty and compassion.
---

The War within These Walls
by Aline Sax, Caryl Strzelecki
Ages 14–up
Misha, a Jewish teenager in 1940 Warsaw, is walled into a section of the city by the Nazis. Misha fights against the overcrowding and inhumane conditions of the ghetto by smuggling food until his younger sister disappears during a trek through the sewer system. When he learns that the Nazis plan to kill all the Jews by transporting them to concentration camps, he joins a rebel group led by Mordechai Anielewicz, determined to fight back no matter how hopeless their cause might be. Somber blue-and-white illustrations and spare prose tell the nightmarish story.
---

Between Shades of Gray
by Ruta Sepetys
Ages 12–up
Lina is a normal 15-year old girl who loves to draw and paint and dream about boys until the night in 1941 when Soviet soldiers invade her town. Separated from her father on a crowded train, Lina is sent to a work camp with her mother and younger brother. The three make a long and arduous journey north to the Siberian work camp north of the Arctic Circle, where they are forced to dig for beets as they struggle to survive. Using her art to maintain her sense of hope, Lina illustrates messages she hopes will reach her father in prison. Based on historical fact, this gripping novel illustrates the persecution suffered by the millions of Stalin's victims.
---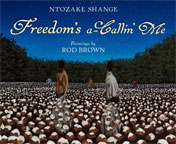 Freedom's a-Callin Me
by Ntozake Shange, Rod Brown
Ages 8–12
This book of illustrated poems tell the story of slaves making their way to freedom on the Underground Railroad. The horrors of the past that haunt the slaves as well as the dangers of the journey are clearly portrayed in this hauntingly beautiful book.
---

We Troubled the Waters
by Ntozake Shange, Rod Brown
Ages 9–12
This unflinching look at the Civil Rights Movement by poet Ntozake Shange and artist Rod Brown presents powerful scenes of the fight for justice from 1941 to the present.
---
The Berlin Boxing Club
by Robert Sharenow
Ages 12–up
Karl Stern (14) has never thought of himself as Jewish since his family isn't religious. But in 1930s Berlin he is tormented and beaten by his classmates so his father's friend Max Schmeling, a boxing champ, agrees to train Karl as a boxer so he can defend himself and his younger sister. As the Nazi regime gains power, it becomes clear that Karl and his family aren't safe in German. A talented artist, Karl draws cartoons and comics as he dreams of finding freedom in America, falls in love with a Catholic neighbor, and meets a cross-dressing homosexual. This powerful historical novel examines racism and prejudice through the lens of both fictional children and real historical figures.
---

The Port Chicago 50: Disaster, Mutiny, and the Fight for Civil Rights
by Steve Sheinkin
Ages 10–14
On July 17, 1944, an accidental explosion at Port Chicago, a segregated California Navy base, killed more than 300 African-American service men and injured and additional 400. To protest the unsafe working conditions, 244 men refused to go back to work until the unfair conditions at the segregated dock were addressed. After the protest, 5o men were arrested and charged with mutiny, facing years in prison or execution. This well-documented look at a little known civil rights issue is fascinating and frightening.
---

How I Learned Geography
by Uri Shulevitz
Ages 4–8
Uri's boyhood memories of WWII: using geography and imagination to combat fear and rage while fleeing Warsaw for Kazakhstan.
---

Friends for Freedom: The Story of Susan B. Anthony & Frederick Douglass
by Suzanne Slade, Nicole Tadgell
Ages 6–9
Susan B. Anthony and Frederick Douglass lived in a time when it wasn't considered proper for men and women to be friends, and even more strange to be friends with someone whose skin was a different color. Mutual respect and a shared commitment to equality brought the two together to speak against slavery and other injustices. The 15th Amendment proposed voting rights for black men, but not women, caused them to disagree, but not to give up their friendship.
---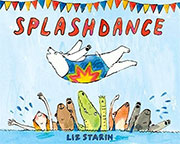 Splashdance
by Liz Starin
Ages 4–7
Ursula, a polar bear, and her human partner Ricardo have trained hard for the water ballet competition with a prize of a million dollars. Then the swimming pool bans bears for being "too hairy," and Ricardo finds himself a new less-hairy partner. Ursula is despondent and cries for weeks under her kitchen table before joining a multi-species group that stands by all its members and works to convince the swimming pool to reopen and include everyone, hairy or not.
---
Courage Has No Color, The True Story of the Triple Nickles: America's First Black Paratroopers
by Tanya Lee Stone
Ages 10–up
During World War II enlisted black men are segregated from while soldiers and given less important assignments. At Fort Benning, Georgia, the black soldiers in First Sergeant Walter Morris's unit act as guards while the white soldiers are trained as paratroopers. The story of the 555th Parachute Infantry Battalion tells the story of America's first black paratroopers who had to battle against racism to earn the right to fight for their country.
---

Borderline
by Allan Stratton
Ages 12–up
Mohammed "Sami" Sabiri's life falls apart when his father is accused of collaborating with Muslim terrorists to poison the water supply of New York City and Toronto. In the wave of discrimination that follows, Sami's mother is fired from her job and Sami is bullied at school. Sami goes undercover in an attempt to prove his father's innocence in this gripping thriller that grapples with the terrifying reality of racial and religious discrimination.
---

The Bitter Side of Sweet
by Tara Sullivan
Ages 12–up
Amadou (15) and his brother Seydou (8) are slaves on a modern-day Ivory Coast cacao plantation. Two years earlier the brothers were tricked into captivity by the promise of seasonal work, locked into a shed each night, and beaten if they do not harvest their quota of cacao pods each day. The arrival of Khadija, the first girl in camp, changes everything. Khadija fights back every day, struggling to escape, and reminding Amadou of what it means to be free. When Seydou is injured, Amadou realizes he will die if they don't escape, and the three make one final attempt.
---

My Name Is Truth: The Life of Sojourner Truth
by Ann Turner, James Ransome
Ages 6–10
This powerful picture-book biography follows the transformation of Isabella Baumfree, who began life as a slave, suffering anguish as her 11 brothers and sisters were sold off one by one. After escaping from slavery, Isabella renamed herself Sojourner Truth, freed her enslaved son, and began a new life as a civil rights activist and preacher. Written in imagined first person by the eloquent and impassioned orator, this moving story will captivate young readers.
---

Otto: The Autobiography of a Teddy Bear
by Tomi Ungerer
Ages 8–up
Otto the teddy bear belongs to David, a Jewish boy living in German. When David and his family are taken away to the camps, he gives Otto to his best friend Oskar. Oskar's father soon leaves for the front, and Oskar loses Otto in the bombing raids. Otto is found by an American soldier, and stops the bleeding that would have killed him. Years later, Oskar finds Otto in an American antique store, and their picture in the paper leads to a reunion with David. Narrated by Otto in a calm voice, this moving book presents the reality of war, loss, and abandonment.
---

Climbing the Stairs
by Padma Venkatraman
Ages 12–up
Set in World War II India, 15-year-old Vidya's father joins the freedom fighters who follow Gandhi's nonviolent protest of British rule. During a rally he is severely beaten and left too brain-damaged to support his family, who must move in with relatives and work as servants. This novel movingly presents a unique time and place and shows how love and hope can blossom in even the most dismal of circumstances.
---

Like Water on Stone
by Dana Walrath
Ages 14–up
Shahen Donabedian dreams of going to New York while his twin sister Sosi is perfectly happy with their life in 1914 Anatolia, in the Armenian Highlands, living peacefully as Christians among the Muslims. Then the Ottoman pashas begin to eliminate all Armenians, and their parents are killed in the attack. Shahen and Sosi flee into the mountains with their little sister Mariam, watched over by an eagle. Four sections span a five year period, telling the story of the atrocities of the Armenian genocide in multiple perspective first person verse narratives.
---

The Legendary Miss Lena Horne
by Carole Boston Weatherford, Elizabeth Zunon
Ages 4–8
This accessible biography captures the struggles Lena Horne faced throughout her life. Lena's mother dreamed of becoming an actress, and Lena took small roles in vaudeville before being offered the first ever studio contract to a black actress. But the only roles she was offered were stereotypes: maids and mammies that she refused to play. Instead she became a singer, taking "Stormy Weather" as her theme song, and finding her voice as a civil rights activist after singing "This Little Light of Mine" at a civil rights rally.
---

You Can Fly: The Tuskegee Airmen
by Carole Boston Weatherford, Jeffery Boston Weatherford
Ages 9–12
Free verse poems tell the story of the first African-American pilots, trained at the Tuskegee Institute before fighting on the front lines in WWII. Throughout the war these pilots suffered through racial prejudice, separated from the white soldiers by ropes as they traveled across the Atlantic on their way to battle, learning not to stray too far from the military base, and risking their lives to protect a country that did not respect their rights as individuals.
---

Small Acts of Amazing Courage
by Gloria Whelan
Ages 9–12
Rosy, the 15-year-old daughter of a major in the British Indian army, has a strong sense of independence and justice. When her father returns from WWI, he is horrified to find that she has saved an Indian infant from being sold and has secretly been to one of Gandhi's speeches promoting non-violent protests. Rosy's father ships her off to England to stay with her proper aunts and keep her out of trouble, but it doesn't take Rosy long to shake up the somber household with her progressive ideas about Indian independence.
---

Speak a Word for Freedom: Women against Slavery
by Janet Willen, Marjorie Gann
Ages 12–up
This tribute to the women who fought and continue to fight against human rights abuses is inspiring, and perhaps unsettling to those who think of slavery as only a historical fact. Familiar women like Harriet Tubman and Harriet Beecher Stowe share the limelight with lesser known women. Ellen Craft, the daughter of a slave and the plantation owner, disguised herself as a white slave owner to escape north with her black husband. Alice Seeley Harris documented the atrocities against Congolese rummer workers with her powerful photographs. Micheline Slattery, who was enslaved in both Haiti and the United States speaks on behalf of other victims.
---

Diamond Boy
by Michael Williams
Ages 12–up
Patson Moyo (15) lives with his father, stepmother, and little sister in Zimbabwe. Though Patson's father had been named Outstanding Teacher four years in a row, he barely makes enough money to support the family because of government corruption and the devaluation of the Zimbabwean dollar. His stepmother convinces the family to move to Marange where her brother lives and believes there are diamonds enough for everyone. soon Patson is working in the Marange diamond mines with four friends, hoping to find a girazi, a priceless stone that will bring fortune enough for everyone. Then the government soldiers arrive in Marange, shattering everyone's dream.
---
Now Is the Time for Running
by Michael Williams
Ages 12–up
Deo (14) and his friends are playing soccer in the dusty field outside their Zimbabwe village, cheered on by Deo's older brother Innocent, who was born brain damaged. The village is destroyed by soldiers, and the two brothers flee for their lives, traveling with no shoes and little money. They confront a hungry lion in a game preserve, and encounter repeated prejudice as unwanted refugees. The loving relationship between the brothers is often the only thing they can depend on as they struggle to survive.
---
Mumbet's Declaration of Independence
by Gretchen Woelfle, Alix Delinois
Ages 6–10
Mumbet is a slave in 1791 Massachusetts, owned by a cruel mistress. As the colonists protest that the King of England is trying to take away their rights, Mumbet begins to consider what rights she has and begins to dream of freedom. Her successful suit for freedom is a little known chapter in civil rights history.
---

Crow
by Barbara Wright
Ages 8–12
It's the summer of 1898 in Wilmington, North Carolina, and Moses (11) is teaching Boo Nanny, his slave-born grandmother, to read. For the first time, Boo Nanny shares stories of her youth as a slave. Moses's Harvard-educated father is a respected reporter for the newspaper, and Moses believes the troubles his grandmother experienced are a thing of the past. Then an editorial sparks the Wilmington Race Riots. The first-person narration in this powerful book presents an intimate look at race relations and injustice.