Things That Float and Things That Don't
by David A. Adler, Anna Raff
Ages 4–7
It can be surprising to discover which things float and which don't. An apple floats, but a ball of aluminum foil doesn't. However, if you shape that same piece of foil into a boat, it will float. This accessible book provides suggestions for testing different materials to allow children to discover the principles of density and flotation, and answers common questions in clear language.
---

Creep and Flutter: The Secret World of Insects and Spiders
by Jim Arnosky
Ages 6–10
Larger-than-life foldout spreads display insects like beetles, spiders, mayflies, dragonflies, butterflies, and moths. Vivid descriptions will inspire young readers to follow the author's advice to "be mindful of the small."
---

Shimmer & Splash: The Sparkling World of Sea Life
by Jim Arnosky
Ages 6–10
Striking fold-out spreads capture the diversity of life in the sea. Beautiful sea stars and coral reefs share space with eerie sharks and barracudas. Fascinating details about creatures like jellyfish will entrance young readers.
---

A Beetle Is Shy
by Dianna Hutts Aston, Sylvia Long
Ages 5–8
Beautiful watercolors illustrate this accessible exploration of the vast insect order of beetles. Brief phrases ("A beetle is telegraphic") introduce different characteristics of these fascinating and diverse insects.
---

A Butterfly Is Patient
by Dianna Hutts Aston, Sylvia Long
Ages 5–8
This beautiful and informative book celebrates the world of butterflies. Arranged under simple headings (A butterfly is helpful. A butterfly is poisonous.) the development, habits, migration, and unique features of butterflies are presented in a manner that is both scientific and artistic.
---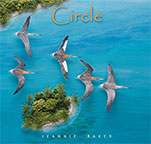 Circle
by Jeannie Baker
Ages 5–8
Each year the bar-tailed godwit completes the longest unbroken migration of any bird, from the Arctic to Australia and New Zealand and then back to the breeding grounds in the Arctic. Beginning in Australia, a boy in a wheelchair watches the godwit flock through binoculars, longing for the freedom of flight. In China the flock discovers buildings where they used to rest, and must search for a new feeding spot. They then travel to Alaska, where disaster strikes their breeding grounds, before returning to Australia, welcomed by the boy who is now on crutches. The incredible strength of the birds is beautifully set against the fragility of the habitat they need to survive.
---
Ocean Sunlight: How Tiny Plants Feed the Seas
by Molly Bang, Penny Chisholm
Ages 4–8
This visually stunning book celebrates the sun's role in the ocean's ecosystems. Poetic language portrays the precarious balance sustaining each life cycle and food change deep within our oceans and the energy transfer between plants and animals.
---

Rivers of Sunlight: How the Sun Moves Water Around the Earth
by Molly Bang, Penny Chisholm
Ages 4–8
Speaking directly to the reader, the Sun explains that the water on Earth is constantly in motion and reveals the role the sun takes in heating and cooling water, keeping the ocean currents in motion, and drawing fresh water out of the ocean. (part of the Sunlight Series that explores our planet's delicate geological cycles)
---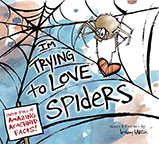 I'm Trying to Love Spiders
by Bethany Barton
Ages 4–8
The narrator of this engaging book is frank about her mixed feelings about spiders. While explaining all sorts of fascinating facts about spiders — anatomy, eating habits, venom, web construction — she verges on the edge of squashing the very arachnoid she is describing.
---

What Floats in a Moat?
by Lynne Berry, Matthew Cordell
Ages 5–9
Archie the Goat has several barrels of buttermilk to deliver to the Queen. His friend Skinny the Hen suggests the obvious solution of using the drawbridge to cross the moat the the castle, but Archie is determined to use science to figure out what will float across the moat. Through trial and error (while drinking buttermilk) the two replicate Archimedes's discoveries about the displacement of water. This enjoyable read-aloud will be relished by all young lovers of the excitement of discovery.
---

Whitefoot: A Story from the Center of the World
by Wendell Berry, Davis Te Selle
Ages 8–12
The tiny mouse, Whitefoot, is comfortable in her nest in the woods, which she knows is the center of the world. When a flood carries her far from home, she must use all her skills to survive. David Te Selle's beautifully detailed realistic drawings highlight Whitefoot's exploration of a whole new world.
---

Snakes
by Nic Bishop
Ages 4–8
Photographer and naturalist Nic Bishop presents captive and wild snakes in breathtaking detail. Magnified full-page images leap off the page while the text provides factual information as well as observations about each snake's physical characteristics and behavior.
---

Seasons
by Blexbolex
Ages 4–up
This stunning picture book explores the cyclical nature of life by examining the seasons. Beautiful prints present simple yet detailed views of landscapes, objects, and people during different times of the year, encouraging readers to notice subtle details. As time passes and the seasons rotate, a sense of the permanence of the cycle of change is revealed.
---

Animalium
by Jenny Broom
Ages 8–12
This beautifully illustrated book feels like a visit to a natural history museum. Detailed pen-and-ink illustrations resemble vintage taxonomical etchings. Each "gallery" features a different class of animal: invertebrates, fish, amphibians, reptiles, birds, and mammals. This first in a planned series is stunning.
---

The Wonder Garden
by Jenny Broom
Ages 7–10
Five habitats, each filled with incredible creatures and scenery, are explored in this beautiful book: the Chihuahuan Desert, Amazon Rainforest, Black Forest, Himalayan Mountains, and the Great Barrier Reef. Detailed engravings of 80 mammals, birds, reptiles, and insects are accompanied with facts about the creatures and descriptions of their habitats.
---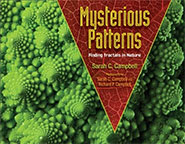 Mysterious Patterns: Finding Fractals in Nature
by Sarah C. Campbell
Ages 5–7
This elegant book simply explains the concepts of fractals with pictures from nature illustrating that every fractal shape has smaller parts that look like the whole shape. Color photograph encourage young readers to look more closely at natural objects while appreciating their intricate shapes.
---

Discovering Nature's Alphabet
by Krystina Castella, Brian Boyl
Ages 6–12
Created by a husband and wife team, this unique book presents letters of the alphabet found in the natural world. The 92 color photographs are neither staged nor retouched, and are spectacular examples of the wonders of nature waiting for the careful observer. Not intended for those just learning the alphabet, this beautiful book may inspire older children to search out letters in their own natural surroundings.
---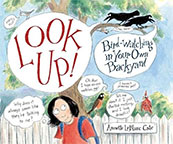 Look Up!: Bird-Watching in Your Own Backyard
by Annette LeBlanc Cate
Ages 8–up
Recognizable cartoon birds chat about their distinctive characteristics (color, shape, beak type, plumage, etc.) in this accessible introduction to bird-watching. This informal and enthusiastic book encourages children to enjoy the great outdoors while being aware of the birds that live in their own backyards.
---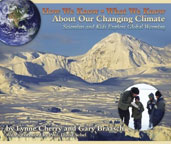 How We Know What We Know About Our Changing Climate:

Scientists and Kids Explore Global Warming
by Lynne Cherry & Gary Braasch
Ages 10–14
Hopeful tone and comprehensive resource list.
---

Grand Canyon
by Jason Chin
Ages 7–12
A girl and her father take a day-long hike out of the Grand Canyon. As they move through each rock layer, the girl makes a discovery through a die cut hole that transports her back into the past upon turning the page. This intriguing book provides information about the ecology, geology and anthropology of the Grand Canyon in an engaging way.
---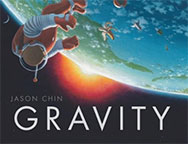 Gravity
by Jason Chin
Ages 5–8
A boy playing at the beach is startled with this book falls from the sky. As he reads the text explaining that without gravity everything would float away, the boy and his toys lift from the ground. Stunning paintings portray a world without gravity. The illustrated afterward explains mass, matter, and force.
---

Island: A Story of the Galápagos
by Jason Chin
Ages 5–9
This beautifully illustrated and accessible book begins with the process that created the islands, and then continues to explain how the reptiles and birds of the Galápagos evolved. Darwin's studies of the trend toward stronger beaks of the Galápagos finches are connected with fact that larger seeds, needed a stronger beak to crack, are all that are left as the islands subside and droughts become more common. Other evolutionary changes are also clearly and simply explained.
---

Redwoods
by Jason Chin
Ages 4–8
A young boy finds a book titled Redwoods on a subway bench and is amazed to find his own picture on the cover. As he reads, he is immersed in the history of the redwoods. When he leaves the train, the boy finds himself in the middle of a redwood forest in California. Beautiful and realistic watercolors accompany the interesting and accurate information.
---

A Little Book of Sloth
by Lucy Cooke
Ages 5–up
This photo-essay book presents the adorable sloths in the sanctuary in Costa Rica the author dubs Slothville. The vivid photographs accompany lively informational text about sloths in general and individual sloths. Young readers will enjoy sharing the book as a read-aloud and browsing through the picture pages independently.
---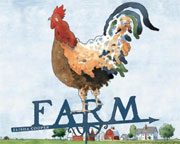 Farm
by Elisha Cooper
Ages 4–8
This beautifully illustrated book is a tribute to family farms. Beginning in March and ending in November, the quietly poetic text follows a family of four through their daily life, introducing the land, buildings, and animals that fill this family's modern rural life.
---

I Don't Like Snakes
by Nicola Davies, Luciano Lozano
Ages 5–8
The little girl narrating his book has a problem: everyone in her family loves snakes except her. Each family member explains why snakes have certain characteristics — they have creepy stares because the can't blink — gradually overcoming her aversion. Captions full of scientific information accompany the playful illustrations.
---

Just Ducks!
by Nicola Davies, Salvatore Rubbino
Ages 5–up
The young narrator of this delightful book lives in the city, but the river outside her window is full of mallard ducks. She hears them when she wakes up in the morning, she watches them feed on her way to school, and she observes them through her window. Her enthusiastic commentary presents both accurate factual information and her pleasure in their personalities. Beautiful watercolor illustrations capture the sleek beauty of these wild neighbors.
---
Outside Your Window: A First Book of Nature
by Nicola Davies, Mark Hearld
Ages 3–up
Evocative poetry and mixed media illustrations encourage children to explore the natural world. Divided into seasons, this beautiful book captures the sights and sounds of children interacting with nature, reminding readers that the natural world is waiting to be discovered right outside your door.
---
¡Olinguito, de La A a la Z!
by Lulu Delacre
Ages 6–10
This bilingual ABC book takes the reader on a search through the cloud forest of Ecuador for the elusive Olinguito, a mammal first identified in 2013. Plants, animals, and other organisms are organized by the alphabet in this beautifully illustrated book full of interesting factual information.
---

The Blue Whale
by Jenni Desmond
Ages 4–8
The enormous blue whale is presented with comparisons to help children understand its size, feeding habits, and environment. "Its mouth is so big that 50 people can stand inside it." A boy wearing a striped shirt and crown provides additional context to the engaging illustrations.
---

Some Bugs
by Angela DiTerlizzi, Brendan Wenzel
Ages 4–8
This beautifully illustrated book offers brief descriptions of a variety of bugs. Mixed-media illustrations and rhyming text will encourage young readers to search out the creeping and flying wildlife in their own backyards.
---

Moto and Me: My Year as a Wildcat's Foster Mom
by Suzi Eszterhas
Ages 7–10
wildlife photographer Suzi Eszterhas was living on the Masai Mara wildlife reserver in Kenya when she rescued an orphaned serval kitten. She bottle-fed the kitten and carried him in a pouch wile on photography expeditions. Gradually she begins to reintroduce the kitten she names Moto to his natural world, fostering his survival instincts with the goal of returning him to the wild. Beautiful photographs illustrate this poignant story of wildlife rescue.
---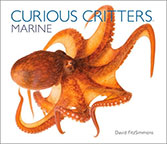 Curious Critters: Marine
by David Fitzsimmons
Ages 3–up
Twenty unusual marine creatures are presented in this accessible book. First-person narration from each creature in the form of poems, songs, monologues, and comedy routines is paired with incredibly detailed photographs. The end of the book includes more details about each marine dweller as well as an identification game using silhouettes.
---

Giant Squid
by Candace Fleming, Eric Rohmann
Ages 6–10
Little is known about the giant squid, which lives in the deepest darkest reaches of the ocean. Some giant squid are as large as a school bus, but they are rarely seen by people. The little we know about these huge cephalopods is what scientists have discovered from pieces of dead squids washed up on the shore or found by fishermen in the sea. This fascinating book reveals what we know about giant squids piece by piece, beginning with a description of their 30-foot-long tentacles, until the entire squid is revealed.
---

Eyes Wide Open: Going Behind the Environmental Headlines
by Paul Fleischman
Ages 14–up
This compact yet thorough guide to climate change urges readers to think critically and broadly about the world's problems. Fleischman gives readers a grounding in critical reading skills needed to recognize the vested interests make by those in power, and to understand media and PR distortions of the truth. Photographs, sidebars, and suggested resources support the hard truths presented. "solving the environment requires looking straight at reality and calculating the costs of our lifestyle and options." The lively prose style and abundance of illustrations will appeal to young adults while providing the tools they need to become informed, responsible global citizens.
---

Bees, Snails, & Peacock Tails: Patterns & Shapes… Naturally
by Betsy Franco, Steve Jenkins
Ages 4–8
This inviting book explores geometry in the natural world. The layout of the rhymes often echoes the shapes pictured in the stunning cut-paper collages.
---
Step Gently Out
by Helen Frost
Ages 2–5
Stunning close-up photography illustrates this poem capturing the world from an insect's point of view, encouraging young children to experience the natural world with care for the small insect worlds that surround them. Endnotes include more details about the 11 featured insects.
---

Planting the Wild Garden
by Kathryn O. Galbraith, Wendy Halperin
Ages 4–8
This lighthearted book explains how the seeds of wild plants are spread by wind, rain, birds, and animals. Delicate pencil and watercolor illustrations capture the large scale forces of nature as well as close ups of tiny seeds and plants.
---

Optical Illusion Play Pack
by Martin Gardner
Ages 10–up
Packaged with 40+ punch-out pieces, readers are challenged to re-create optical illusions, experiencing rather than simply observing these illusions aptly explained by puzzle master and mathematician Gardner.
---

Galápagos George
by Jean Craighead George, Wendell Minor
Ages 4–8
This beautifully illustrated book traces the story of the Pinta Island saddleback tortoises from Giantess George, an ancestor in South America who journeyed to the island. The long necked tortoise had longer necked offspring, personalizing the concept of adaptation in natural selection. Lonesome George, the last of his species, died in 2012 at the age of 100.
---
Human Body Factory: The Nuts and Bolts of Your Insides
by Dan Green, Edmond Davis
Ages 7–up
Using the metaphor of a factory, this entertaining look at the human body begins with the CEO in the brain issuing orders and then presents the different systems and organs working together. Jet-ski riders transport oxygenated blood from the heart, railcars take food through the digestive tract, and lab workers mix gastric juices in the stomach with a giant whisk.
---

The Deadliest Creature in the World
by Brenda Z. Guiberson, Gennady Spirin
Ages 4–8
Which creature is the deadliest? Fourteen creatures speak directly to the reader, describing why they should be awarded the Deadliest Creature title. Young readers will be fascinated by the stories of the insect that carries disease, the bird that kicks, the snake that poisons, and the shrew that paralyzes.
---

Frog Song
by Brenda Z. Guiberson, Gennady Spirin
Ages 4–8
Stunning larger-than-life paintings of eleven frogs from around the world accompany fascinating facts about frog reproduction, their songs, and their dependence upon clean air and water.
---
The Most Amazing Creature in the Sea
by Brenda Z. Guiberson, Gennady Spirin
Ages 4–8
A dozen aquatic creatures vie for the honor of being the most amazing in the sea. Each creature is portrayed in a realistic illustration and proclaims its uniqueness in a short paragraph. Creatures include the blue-blooded vampire squid, the slimy hagfish, the huge leatherback turtle, and the leafy sea dragon. The interesting text and vivid pictures make this an absorbing read-aloud.
---

Unusual Creatures: A Mostly Accurate Account of Some of Earth's Strangest Animals
by Michael Hearst, Jelmer Noordeman, Christie Wright, Arjen Noordeman
Ages 8–12
This informative and entertaining guide features 50 unusual creatures. The guidebook format provides illustrations, habits, behaviors, and descriptions of physical characteristics. Quizzes, fun tidbits, and poems add to the appeal.
---
Old Bear
by Kevin Henkes
Ages 3–8
A hibernating bear dreams of a spring when he was a cub, followed by dreams of summer, fall, and winter in this beautifully illustrated book about the annual cycle of seasons.
---

It's Getting Hot in Here: The Past, Present, and Future of Climate Change
by Bridget Heos
Ages 12–up
This accessible examination of climate change explores the history of climate change, the science behind it, and the ways in which people have influenced it. The current grim situation is explained, along ways readers can make a positive change.
---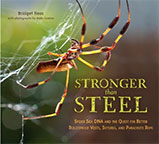 Stronger Than Steel: Spider Silk DNA and the Quest for Better Bulletproof Vests, Sutures, and Parachute Rope
by Bridget Heos, Andy Comins
Ages 10–14
This exciting book presents the real-life research in Randy Lewis's lab, where he studies the potential uses of spider silk. Lewis and his team inject goat embryos with spider genes, resulting in goats who produce spider silk proteins in their milk. Vivid photographs and a lively narration make the subject of DNA and gene theory accessible and interesting.
---

West Coast Wild: A Nature Alphabet
by Deborah Hodge, Karen Reczuch
Ages 4–7
Beautifully detailed pencil and watercolor images illustrate this stunning alphabet book set in the Pacific Northwest. The rain forest, beach, and ocean provide the backdrop for a rich variety of lifeforms, both familiar (bears) and unfamiliar (Velella velella).
---

Moonbird: A Year on the Wind with the Great Survivor B95
by Phillip Hoose
Ages 10–up
B95 is a red knot shorebird about the size of a robin. Each February he joins a flock that flies from Tierra del Fuego to the breeding grounds in the Canadian Arctic 9000 miles away. In late summer he makes the return journey. B95 can fly for days without eating or sleeping, but stops for food and rest are necessary, and changes to the migration path threaten the red knot with extinction. This detailed look at the red knot and the scientists who study the species is fascinating.
---

Can We Save the Tiger?
by Martin Jenkins, Vicky White
Ages 5–8
Incredible artwork and a good balance between good and bad news about the tiger and other endangered species make this book an enjoyable and excellent resource. Other species featured are the partula snail, white-rumped vulture, and American bison.
---

The Animal Book: A Collection of the Fastest, Fiercest, Toughest, Cleverest, Shyest—and Most Surprising—Animals on Earth
by Steve Jenkins
Ages 6–10
More than 300 animals appear in this encyclopedic book, arranged in thematic chapters loosely grouped by family, senses, predators, defenses, extremes, and evolution. Cut-paper illustrations in vibrant color accompany the interesting scientific facts.
---

Animals Upside Down: A Pull, Pop, Lift & Learn Book!
by Steve Jenkins, Robin Page
Ages 4–8
This clever interactive book uses tabs, wheels, and pop-ups to examine reasons that animals turn themselves upside down. A jellyfish rests on its back to feed, the flamingo turns its head upside down to use its beak as a filter while feeding, a sparrow hawk flips upside down in midair to catch its prey. Striking artwork makes the unusual animal behavior come alive.
---
The Beetle Book
by Steve Jenkins
Ages 4–8
This large-format book introduces the world of beetles, which make up one-fourth of every kind of plant and animal on Earth. Striking illustrations and intriguing information present basic beetle anatomy and facts about specific species.
---
Creature Features: Twenty-Five Animals Explain Why They Look the Way They Do
by Steve Jenkins, Robin Page
Ages 4–8
Tongue-in-cheek kid-like questions provide a forum for 25 unusual-looking creatures to explain why they look the way they do. The axolotl salamander explains that the feathers on its head are really gills, and the tapir explains why its flexible nose often looks twisted as it bends to reach leaves and fruit. Torn paper illustrations depict each species in this accessible book designed to entertain as it teaches.
---

Eye to Eye: How Animals See The World
by Steve Jenkins
Ages 6–9
The amazing range of eyes in animals is the subject of this artistic science book. Fascinating information about eyes — the eyeballs of the tarsier are larger than its brain, the panther chameleon can look in two directions at once — is presented alongside striking illustrations of torn and cut paper.
---
Flying Frogs and Walking Fish: Leaping Lemurs, Tumbling Toads, Jet-Propelled Jellyfish, and More Surprising Ways That Animals Move
by Steve Jenkins, Robin Page
Ages 4–7
This fascinating book presents the diversity of movement of nearly 50 creatures. Unexpected movements (a batfish walking, an elephant swimming) alternate with an examination of other animals utilizing the same method of movement. Detailed collage illustrations add to the appeal of this fun exploration of biodiversity that combines biology, science, art, and the environment in surprising ways.
---
How to Swallow a Pig: Step-by-Step Advice from the Animal Kingdom
by Steve Jenkins, Robin Page
Ages 6–9
This humorous and scientifically accurate book presents 18 animal behaviors with helpful step-by-step directions. Readers will learn useful skills, like how an octopus disguises itself, how wasps build nests, and how grebes dance. Torn and cut paper collages accompany the witty text.
---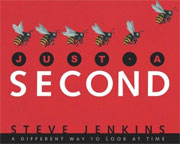 Just a Second
by Steve Jenkins
Ages 4–8
This thought-provoking book examines diverse events that occur in the space of a second, a minute, an hour, etc. In one second, a black mamba snake can slither 24 feet while a cheetah can sprint 100 feet. In one week a ladybug will eat more than 500 aphids. Fascinating observations like these will inspire readers to think about time and the world in new ways.
---

Born in the Wild: Baby Mammals and Their Parents
by Lita Judge
Ages 4–8
More than 20 wild mammal babies and their parents are presenting in this inviting picture book. Short descriptions of the way baby mammals are cared for and gain independence are matched with endearing illustrations.
Small and Tall Tales of Extinct Animals
by Damien Laverdunt, Helene Rajcak
Ages 7–10
The over-sized encyclopedia presents extinct animals like the glyptodon and the Sicilian dwarf elephant with descriptions, illustrations, and multi-panel cartoons. While not at all preachy, the message that animals are often in jeopardy when humans believe that there is an inexhaustible supply is clearly and humorously expressed.
---

Wild Wings
by Gill Lewis, Yuta Onoda
Ages 4–8
Iona (11) moves in with her grandmother, who is considered crazy by the children in the small village in Scotland. Most other children avoid Iona, but her discovery of an osprey nest on her classmate Callum's farm sparks a friendship. The two name the endangered bird Iris, and keep the nest a secret until Iris becomes entangled in a fishing line. A naturalist saves Iris and tags her, allowing the two children to track the osprey's migration from Scotland to Africa online.
---

How Machines Work: Zoo Break!
by David Macaulay
Ages 7–10
Sloth and Sengi are determined to break out of the zoo with the help of six simple machines: levers, pulleys, screws, inclined planes, wedges, and wheels. Pop-ups, pull-outs, and lift-the-flap encourage readers to explore the inner workings of the machines. Illustrations show everyday objects using the same six simple machines.
---
The Way We Work
by David Macaulay
Ages 10–up
This comprehensive and entertaining illustrated guide to the workings of the human body is the result of years of research. Seven sections move from the structure of a cell through the systems of the body. The full color drawings present information in a friendly way, but the language is often highly technical. Motivated teens will love this book.
---

Planet Ark: Preserving Earth's Biodiversity
by Adrienne Mason, Margot Thompson
Ages 8–12
Comparing the planet Earth to an ark sailing through the universe, this informative book explores the importance of biodiversity. Food chains, habitats, and environmental threats are explained, as readers are encouraged to do their part in protecting biodiversity.
---
We Dig Worms!
by Kevin McCloskey
Ages 4–8
This underground tour to the world of earthworms illustrates the anatomy of an earthworm and explains the different ways that worms improve the earth. A group of children poses questions to focus attention on details. The illustrations painted on brown paper bags add an additional earthy touch. (Toon Book Level 1)
---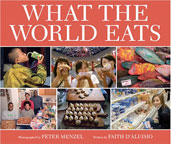 What the World Eats
by Peter Menzel, Faith D'Aluisio
All Ages
Twenty-five families in 21 countries around the world are photographed surrounded by a week's worth of food. The multi-generational portraits provide an avenue for exploring each family's hopes and struggles while gently raising issues about global food supplies. Family recipes, maps, and county information reveal provocative statistics. (adapted from Hungry Planet)
---

Over and Under the Pond
by Kate Messner, Christopher Silas Neal
Ages 5–8
A boy and his mother observe above and below their rowboat as they row across a mountain pond: moose, turtles, and osprey above; minnows, beavers, and tadpoles below.
---

Over and Under the Snow
by Kate Messner, Christopher Silas Neal
Ages 4–8
A small girl and her father cross-country ski through a snowy forest, spotting the occasional animal. Cutaway illustrations reveal other creatures sheltered under the snow in this evocative and elegant book.
---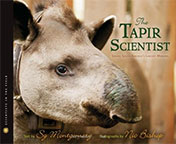 The Tapir Scientist: Saving South America's Largest Mammal
by Sy Montgomery, Nic Bishop
Ages 10–up
Lowland tapirs are so rare that most of the people who live near the tapir habitat in Brazil's vast Pantanal have never glimpsed the fascinating creature. Montgomery and Bishop follow a group of scientists tracking the tapirs through the grasslands and subtropical forests in an effort to learn more about the reclusive animals.
---

Come See the Earth Turn
by Lori Mortensen, Raul Allen
Ages 6–10
Léon Foucault was a sickly child, a poor student, and a drop-out from medical school—not a natural candidate for fame. Drawn to science as an adult, Foucault began to perform experiments. Though scientists at the time were certain that the Earth did spin around an axis, no one could prove it until Foucault made an incredible discovery that demonstrated the Earth's rotation—Foucault's Pendulum. This accessible account of Foucault's discovery is beautifully illustrated with Raul Allen's dramatic paintings.
---
A Chicken Followed Me Home!: Questions and Answers about a Familiar Fowl
by Robin Page
Ages 5–10
This question-and-answer book helps the young narrator take care of and learn about a chicken. Each section begins with a question. "Will she lay eggs?" introduces the section on reproduction. One page displays 260 eggs, the average number a hen lays in a year. Anatomy, different breeds of chickens, and caring for chickens in urban and rural environments are addressed in this child-friendly introduction to the chicken.
---

Out of Sight
by Pittau & Gervais
Ages 4–8
More than 50 animals hide in this oversized guess the animal book. Large flaps offer visual clues about the animals concealed underneath, and cutouts reveal hints of the snouts and limbs of the hidden animals. Fascinating details about the animals accompany this beautiful book that challenges the reader to see animals in new ways.
---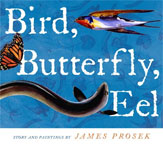 Bird, Butterfly, Eel
by James Prosek
Ages 6–10
A barn swallow, monarch, and American eel spend their summer at the same coastal farm in New England. In the fall, they migrate to three distant and different places. The beautifully detailed watercolors complement the simple text.
---

Fletcher and the Falling Leaves
by Julia Rawlinson, Tiphanie Beeke
Ages 3–8
The young fox Fletcher is concerned when leaves begin to fall from his favorite tree. His mother assures him that it is only autumn, but to Fletcher the tree does not seem at all well. He tries to capture the leaves and stick them back on, but eventually the twig breaks off. The next day a beautiful sight reassures him that the tree is fine. The beautiful illustrations echo the magical transformation of the seasons.
---

Fletcher and the Springtime Blossoms
by Julia Rawlinson, Tiphanie Beeke
Ages 3–8
When Fletcher the young fox sees the first spring blossoms flying through the air, he is sure that the snow has returned. At first annoyed by the false alarm, Fletcher's friends soon join him in romping through the petals. Tiphanie Beeke's beautiful illustrations celebrate the season and give each animal a distinctive personality. (follows Fletcher and the Falling Leaves)
---

The Natural World
by Jon Richards, Ed Simkins
Ages 8–up
Infographics (digital graphs, charts, pictographs, and other high-impact graphics) are utilized to explore topics of life on Earth in this dynamic book. Topics include the life span, speed, and size of animals; human diseases; life cycles; and the evolution of animal life. Visual learners and young scientists will find this book fascinating.
---

10 Plants That Shook The World
by Gillian Richardson, Kim Rosen
Ages 10–12
This accessible and informative book explores the cultural and scientific significance of 10 plants including tea, sugarcane, cacao, cinchona, rubber, potato, and corn. Countries went to war to control trade centers for pepper. A grass called papyrus became the first effective tool for sharing knowledge through writing. Cotton improved the livelihoods of a few, but caused suffering for many more.
---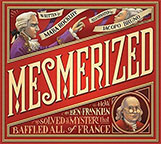 Mesmerized: How Ben Franklin Solved a Mystery that Baffled All of France
by Mara Rockliff, Iacopo Bruno
Ages 6–9
Benjamin Franklin has achieved fame as an American inventor, printer, scientist, thinker, and diplomat. While in Paris raising money for he American rebellion against the British, Franklin was asked by King Louis XVI to investigate Franz Mesmer, a young Austrian who claimed to be able to cure illness by waving an iron wand around their person. Part of Mesmer's treatment involved time spent in a darkened room while spellbinding music played on a glass armonica, invented by none other than Franklin himself. Using the scientific method — observing, hypothesizing, and testing — Franklin proved that Mesmer's "cures" only existed inside his patients' heads. This lavishly illustrated book tells a lively tale in rhythmic text perfect for reading aloud.
---

The Cuckoo's Haiku:

and Other Birding Poems
by Michael J. Rosen, Stan Fellows
Ages 6–10
Poet and birder Rosen captures the essence of more than 20 common North American birds. Designed like a birding notebook, each haiku is accompanied by Fellows's beautiful watercolors of the birds in their habitats plus notes about their behavior and traits.
---

Parrots Over Puerto Rico
by Susan L. Roth, Cindy Trumbore
Ages 6–11
Once abundant in Puerto Rico, by 1975 only 13 parrots survived in the wild, decimated by deforestation and invasive species. Using vertical (calendar-style) binding, the illustrations and photographs dramically present the history of the decline of the parrots and the gradual efforts to rebuild the parrot population.
---

Prairie Dog Song: The Key to Saving North America's Grasslands
by Susan L. Roth, Cindy Trumbore
Ages 6–11
The prairie of North America was a balanced ecosystem of prairie dogs, owls, bison, and eagles for thousands of years. Within 60 years of the arrival of farmers and ranchers the prairie was nearly destroyed, and many plants and animals vanished. The discovery of a remnant prairie in the 1980s led to the re-introduction of the black-tailed prairie dog and an environmental recovery. Verses set to the tune of The Green Grass Grew All Around celebrate the rebirth of the prairie.
---

How to Be an Elephant
by Katherine Roy
Ages 7–11
A baby elephant has many skills to learn to survive in the African savanna. With the help of her mother, sisters, cousins, and aunts, the little elephant learns to communicate, stay cool, and keep up with the herd. Beautiful watercolors augment the informative and interesting text.
---

Neighborhood Sharks: Hunting with the Great Whites of California's Farallon Islands
by Katherine Roy
Ages 7–11
Every September the great white sharks return to San Francisco, California, in their annual migration. Their favorite hunting grounds are in the Farallon Islands, just 30 miles from the Golden Gate Bridge, where the sharks prey upon the seals that live on the island's rocky coast. The massive sharks are incredibly fast, perfectly adapted for ocean hunting. This intimate portrait of the life cycle and biology of this amazing predator is fascinating.
---

Aviary Wonders Inc. Spring Catalog and Instruction Manual
by Kate Samworth
Ages 9–12
This faux-catalog offers bird lovers the chance to replace extinct birds by assembling their own unique birds from hand-crafted parts. Each created bird can be taught to sing and fly. The founder of the company "discovered a passion for bird-watching while working for my family's logging company." Beautiful illustrations accompany the mock sales pitches. The company motto "Renewing the World's Bird Supply Since 2031" encapsulates the clever combination of humor and ecological warning.
---

Eat Like a Bear
by April Pulley Sayre, Steve Jenkins
Ages 4–8
A hungry brown bear wakes in the spring and goes out in search of food. Beginning in the month of April, readers follow the bear month by month, eating through the seasons until the time for winter hibernation arrives again.
---

Raindrops Roll
by April Pulley Sayre
Ages 4–8
Stunning photographs illustrate this verse exploration of a rain shower. The short rhythmic lines are paired with vivid color images that will appeal to children and adults alike. The last two spreads offer scientific information about the three forms of water: ice, liquid water, and water vapor.
---

Squirrels Leap, Squirrels Sleep
by April Pulley Sayre, Steve Jenkins
Ages 4–8
Four types of squirrels are introduced through rhyming text and realistic illustration. The active squirrels of all types busily explore their world, gather food, and even fly. Back matter presents more information about the different squirrels.
---
Lifetime: The Amazing Numbers in Animal Lives
by Lola M. Schaefer, Christopher Silas Neal
Ages 4–8
This fascinating book relates the numbers associated with the traits and development of 11 different animals. A spider will spin only one egg case in her life, while a seahorse will give birth to 1,000 tiny little babies. An afterward includes more information about each species as well as how to compute averages and solve story problems.
---

Nocturne: Creatures of the Night
by Traer Scott
Ages 7–12
Dramatic photographs of 42 creatures of the night are accompanied by intriguing information about the animals. These close-ups of animals include common animals like the raccoon and possum to more exotic creatures like the spotted salamander and the giant luna moth.
---

Welcome to the Neighborwood
by Shawn Sheehy
Ages 4–8
This beautifully crafted pop-up book presents seven woodland creatures who have special construction skills. The spider spins a web, a hummingbird uses strands of spider silk to build a nest, the land snail's shell is constructed from calcium that oozes from folds on its back. The closing scene brings all seven creatures together in a celebration of their interdependence.
---

Red Sings from Treetops: A Year in Colors
by Joyce Sidman, Pamela Zagarenski
Ages 4–8
Stylized figures move through colorful illustrations celebrating the four seasons. The unrhymed poems are filled with imaginative uses of color words to highlight each season. (2010 Caldecott Honor Book)
---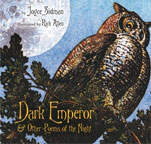 Dark Emperor and Other Poems of the Night
by Joyce Sidman, Rick Allen
Ages 6–10
This collection of poems celebrates nocturnal life in the forest from various point of view including the prey of a horned owl, a baby porcupine, a night spider, the moon. Each poem is illustrated with a detailed print and accompanied by a short factual note about the subject, beautifully blending poetry, science, and art.
---

Ubiquitous: Celebrating Nature's Survivors
by Joyce Sidman, Beckie Prange
Ages 6–10
This book of poems pays tribute to biologically successful life forms from lichens to mollusks to ants to coyotes. Arranged in order of each survivor's first appearance, each spread features fascinating facts, beautifully colored linocuts, and a poem which echoes a trait of the subject. The melding of art, science, and poetry stimulates the eye, ear, and mind.
---

E-I-E-I-O: How Old MacDonald Got His Farm with a Little Help From a Hen
by Judy Sierra, Matthew Myers
Ages 4–8
Once upon a time Old MacDonald didn't have a farm, just a huge high-maintenance lawn that always needed to be watered or mowed. The Little Red Hen, an expert with an impressive Resume of Horticultural Fowlishness, helps Old MacDonald transform his backyard into a low-impact high-yield organic garden. The neighbors aren't thrilled with the yard's new look, and need some convincing to appreciated the change.
---

Untamed: The Wild Life of Jane Goodall
by Anita Silvey
Ages 8–12
This accessible biography of scientist Jane Goodall focuses on her ability to connect with another species through observation. After achieving scientific breakthroughs with her chimpanzee studies in her 20s, Goodall used her fame to work to preserve the environment for the primates she had come to love. Stunning photographs illustrate this book that will encourage all young scientists to follow their dreams.
---
Small Wonders: Jean-Henri Fabre and His World of Insects
by Matthew Clark Smith, Giuliano Ferri
Ages 6–9
As a child in rural France, Jean-Henri Fabre spent hours watching. Instead of capturing them and drawing the dead specimens, Henri observed the insects in their natural habitat. Considered an eccentric by his neighbors, Fabre was a scientific pioneer who introduced the world to the fascinating lives of insects.
---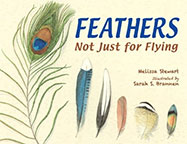 Feathers: Not Just for Flying
by Melissa Stewart, Sarah S. Brannen
Ages 6–9
Young naturalists are introduced to 16 different birds in this elegant book explaining the various uses of feathers: to warm like a blanket, protect skin like sunscreen, cushion like a pillow. Beautiful watercolor illustrations display the feathers and give the feel of a treasured birder's notebook.
---

A Tree Is Nice
text by Janice Udry, illustrations by Marc Simont
Caldecott Medal 1957


Ages 4–8
This book explores all the benefits that trees bring us in simple text suitable for young readers. The elongated shape of the book allows the beautiful illustrations to capture the graceful height of trees.
---
Dr. Frankenstein's Human Body Book
by Richard Walker
Ages 10–up
Dr. Frankenstein invites readers to join him as he creates a human being. From atoms and the skeleton to tissues and muscles, this anatomy book is as fascinating as science fiction. Gothic fonts and illustrations blend with state of the art images from gamma scans and other advanced technology.
---

Mama Built a Little Nest
by Jennifer Ward, Steve Jenkins
Ages 4–8
Fourteen different bird nests are presented in this inviting book. Each double page spread includes a four-line rhyming verse as well as informational text to appeal to older children. This science picture book is perfect for both classroom libraries and bedtime reading.
---

What Will Grow?
by Jennifer Ward, Susie Ghahremani
Ages 3–6
Twelve different seeds and the different plants they grow into are cleverly portrayed in words and illustrations. Closing notes give planting guides for all 12 seeds, which include easy-to-grow seeds like carrot, pea, pumpkin, and sunflower.
---

Bugs by the Numbers
by Sharon Werner & Sarah Forss
Ages 6–12
The bugs in the book are created using only numbers. A mosquito silhouette is composed of 75s since a mosquito can detect human breath from 75 feet away, and a group of ladybugs are created from numbers that match the number of spots on their wings. This creative book also includes interesting facts about the featured bugs.
---

City Dog, Country Frog
by Mo Willems, Jon J Muth
Ages 4–8
City Dog, enthusiastic about his new life without a leash, meets Country Frog in the spring and the two frolic throughout the summer and fall. But winter finds Country Frog's favorite rock empty. In the spring, City Dog meets a new friend and extends the same welcome he received from Country Frog. Beautiful watercolors expand the emotional depth of this simple story about the transitory nature of the seasons and the cycle of life.
---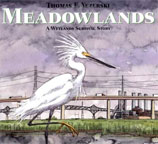 Meadowlands: A Wetlands Survival Story
by Thomas F. Yezerski
Ages 5–8
The 20,000 acres of wetlands in New Jersey, known as the Meadowlands, were once home to a rich variety of plants and animals. But in the 400 years since the European explorers first arrived, the habitat has been dammed up, drained, logged built over, polluted, and nearly destroyed. But signs of life remained under bridges, on the edges of parking lots, and beside train tracks, and with the help of activist groups, government organizations, and ordinary people, the Meadowlands is beginning to come back to life.
---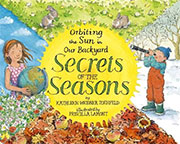 Secrets of the Seasons: Orbiting the Sun in Our Backyard
by Kathleen Weidner Zoehfeld, Priscilla Lamont
Ages 5–8
This accessible backyard science book follows Alice and her friend Zack as they explore the reasons for seasonal change. Alice explains clearly and simply how the earth's yearlong journey around the sun along with the tilt of the earth's axis make the seasons. A couple of helpful and very funny chickens provide additional scientific information with charts and diagrams.
---
Botanicum: Welcome to the Museum
by Kathy Willis, Katie Scott
Ages 8–12
The seven galleries in this virtual museum cover plants and trees, from perennials to bulbs to tropical exotica to edibles. Detailed illustrations and vivid descriptions combine to provide an engrossing look at Earth's diverse plant life. (companion volume to Animalium and Historium)
---

Natural World: A Visual Compendium of Wonders from Nature
by Amanda Wood, Mike Jolley, Owen Davey
Ages 8–12
This introduction to the natural world is organized as a "cabinet of curiosities," intended to be browsed through at random. The 67 charts are organized conceptually: orange tabs delve into a particular species, blue tabs examine animal behavior and adaptation, yellow tabs focus on habitats and environments.