The Secret Sky: A Novel of Forbidden Love in Afghanistan
by Atia Abawi
Ages 14–up
Pastun landowners and Hazara farmers maintain a respectful peace in a small village in Afghanistan, but everyone knows that the two cultures never mix. Fatima is a dutiful and obedient Hazara girl who dreams of a future in Kabul where girls are allowed to be doctors, lawyers, and even artists. Samiullah is a Pastun boy raised to defend the traditions of his tribe who becomes disillusioned with the cruel indoctrination at his madrassa. When he returns to the village, the childhood friendship between the two blossoms into love. When their attachment is reported to the local Taliban, horrific consequences follow for both families.
---

Lunch-Box Dream
by Tony Abbott
Ages 10–14
It's the summer of 1959 and Bobby is on a trip to visit Civil War battlefields with his mother, older brother, and recently widowed grandmother. Bobby is not comfortable around "chocolate colored" people or death, so the trip from Ohio to Florida is difficult for him. Interwoven with Bobby's narration is the story of a black family in Georgia, told from a variety of first-person viewpoints. This beautifully written books deals with the uncomfortable subjects of racial conflict, sibling rivalry, and marital discord.
---

The Lost Island of Tamarind
by Nadia Aguiar
Ages 10–14
When a sudden storm hits the Nelson's research boat, the parents are swept overboard. Maya (13) sails the boat to Tamarind, the island setting for her father's fantastic tales. Stranded on the island, Maya, her brother Peter, and baby sister Penny, find themselves surrounded by pirates and involved in one exciting adventure after another in this high-energy fantasy.
---

Simon vs. the Homo Sapiens Agenda
by Becky Albertan
Ages 14–up
Simon Speir, a high school junior, is successfully hiding his homosexuality until his classmate Martin discovers his secret email correspondence with another boy. Martin blackmails Simon into helping him get to know Abby, a new girl who is part of Simon's lunch clique. The treat of being outed by Martin forces Simon into coming to terms with his sexuality in this poignant and funny novel full of wit and wordplay.
---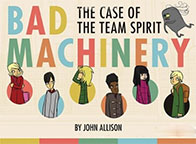 The Case of the Team Spirit
by John Allison
Ages 10–up
Griswalds Grammar School, a high school in a British working class community, has two competing teams of detectives: Shauna, Charlotte, and Mildred vs. Jack, Linton, and Sonny. Luckily there is enough investigating to go around as a Russian owner of a UK football (soccer) team tries to bully an elderly woman into selling her house. This graphic novel, first in the Bad Machinery series, is fast-paced and darkly funny.
---

My Name Is Mina
by David Almond
Ages 10–up
Mina, a home-schooled girl, loves the night when she feels totally free. One night she begins writing in a blank journal, and begins a journey of self discovery. Mina's imagination soars in the pages of her journal, and she gradually breaks free from her isolation to befriend a boy named Michael, the protagonist of Skellig, in this absorbing prequel.
---

Half a Creature from the Sea: A Life in Stories
by David Almond, Eleanor Taylor
Ages 12–up
The eight short stories in this collection are set in the author's childhood home in the northern English Tyneside country. Autobiographical preludes to each story explain how even the smallest things in a person's life can become the kernel of a piece of fiction.
---

Raven Summer
by David Almond
Ages 12–up
Liam is walking home with a friend when a mysterious raven leads them to an abandoned baby. The boys are praised for saving the child, but Liam doesn't feel heroic. Instead, he is consumed with thoughts of violence. In the end, Liam is convinced that only an act of violence can save a friend. This thought-provoking coming-of-age novel explores the dark and conflicting urges of adolescence.
---

A Song for Ella Grey
by David Almond
Ages 12–up
Claire and Ella are best friends in Tyneside, England. On a trip to the Northumberland beach, Claire is fascinated by Orpheus, a wandering musician who plays the lyre. Ella and Orpheus fall in love, and Claire agrees to help them elope. This modern retelling of the Orpheus and Eurydice myth is spellbinding.
---

The Tightrope Walkers
by David Almond
Ages 14–up
Dominic Hall is the son of a shipbuilder growing up in 1960s England. His two best friends are Holly Stroud, the dreamy girl next door, with whom he balances on a make-shift tightrope, and Vincent McAlinden, a complex neighborhood bully. With Holly, Dom dreams of an artistic life far different than his life with his barely educated father, while Vincent awakens Dom's reckless inner violence. This coming-of-age story is powerful.
---

The True Tale of the Monster Billy Dean
by David Almond
Ages 14–up
Billy Dean was born the same day terrorists destroyed his town, starting WWIII. Billy Dean's mother Veronica was seduced by Father Wilfred, the town priest, who convinces Veronica to hide the baby away to preserve his reputation. It's not until he is 13 that Billy Dean sees the light of day, and begins to exhibit strange gifts like healing the sick and talking to the dead. From far away people arrive to ask for Billy's help and to worship him. This intense post-apocalyptic novel explores faith, betrayal, reconciliation, and triumph.
---

The Possible
by Tara Altebrando
Ages 13–up
Kaylee Novell (17) has managed to keep her past secret until the producer of a podcast called The Possible appears at her door. When Kaylee's mother Crystal Bryar was 14, she became famous for her telekinetic powers. At the age of 23 she was convicted for killing Kaylee's two-year-old brother and is serving a life-sentence in prison. Four years old at the time, Kaylee was the prime witness for the prosecution. The interest in her mother's story causes Kaylee to wonder about the past. Does her mother really have telekinetic powers? Has she inherited those powers? What really did happen thirteen years ago?
---
Midnight at the Electric
by Jodi Lynn Anderson
Ages 14–up
Adri Ortiz, an orphan, has been accepted in a prestigious Mars colony project in 2065. Before her relocation she is reunited with a long-lost elderly relative in Kansas. Adri discovers a postcard dating back to 1919 when Lenore in England is dealing with the death of her beloved brother in WWI and about to set sail for a new life in America. In 1934 Oklahoma, Catherine discovers the same postcard as her family is struggling through the economic uncertainties of the Dust Bowl. Each young woman's independent spirit binds the three stories into an unforgettable whole.
---

Tiger Lily
by Jodi Lynn Anderson
Ages 14–up
Tiger Lily (15) is engaged to another member of her tribe she despise. Then she meets Peter Pan in the forbidden woods of Neverland, and falls in love. The two teenagers are in the midst of sorting out their feelings about love, responsibility, freedom, and power, when a strange girl from England arrives. Wendy Darling is everything Tiger Lily is not, and Tiger Lily is consumed with jealousy. This dark retelling of the Peter Pan story is narrated by Tinker Bell.
---
The Vanishing Season
by Jodi Lynn Anderson
Ages 14–up
Maggie Larsen isn't thrilled when her parents relocate from a lively neighborhood of Chicago to the remote town of Gill Creek. She is befriended by her beautiful neighbor Pauline and Pauline's best friend from childhood Liam. Then someone begins killing teenaged girls, and the quiet little town suddenly seems menacing.
---

Chains
by Laurie Halse Anderson
Ages 10–up
As the Revolutionary War begins, 13-year-old Isabel and her 5-year-old sister Ruth are about to be freed from slavery by the will of their Rhode Island mistress. However, the unscrupulous heir prevents the reading of the will and the girls are soon the property of an abusive Loyalist couple in New York. Isabel agrees to spy for the Patriots in exchange for passage back to Rhode Island for herself and her sister. This well researched exploration of the treatment of slaves is contained in a gripping story.
---

Forge
by Laurie Halse Anderson
Ages 10–up
This sequel to Chains is narrated by Curzon, the young slave Isabel freed from prison while escaping from New York City in 1777. After staying for a few months in New Jersey, Isabel runs away to find her sister, a quest Curzon feels is futile. Curzon joins the army, passing as a freed slave, and suffers through the harsh winter at Valley Forge. His fragile acceptance is threatened when his owner arrives. Readers will be anxious to read the final book in the trilogy to learn the fate of Curzon and Isabel.
---

Ashes
by Laurie Halse Anderson
Ages 10–14
It's June 1781, and former slaves Isobel and Cruzon have finally located Isobel's younger sister Ruth on a South Carolina plantation. Now 12, Ruth has been cared for by the other plantation slaves, and has no use for her sister. Isobel doesn't understand Curzon's desire to enlist in the fight for independence. Taking Ruth and Aberdeen, an escaped slave from the plantation, they head north to Williamsburg, Virginia, where patriots are preparing for an assault on Yorktown. This gripping story is a satisfying conclusion to the Seeds of America trilogy (Chains, Forge).
---

The Impossible Knife of Memory
by Laurie Halse Anderson
Ages 12–up
Hayley Kincaid (17) has not had an easy life. Her mother died while she was small, and she was later abandoned by her father's alcoholic girlfriend while he was overseas. For the past five years Hayley and her father have been on the road, as he struggles to escape the flashbacks of his service in Iran and Afghanistan. Finally settling down in her father's hometown, Hayley hopes for a more normal life, but can't escape her anxiety over her father's unpredictable behavior.
---

Wintergirls
by Laurie Halse Anderson
Ages 12–up
Lia learns that her estranged best friend Cassie has been found dead in a hotel room, and doesn't tell anyone that she ignored 33 calls from Cassie two days earlier. Lia's narration reveals how anorexia can take over the lives of those who suffer from it, showing the two girls as secret sharers and competitors. This difficult and engrossing novel also touches on self-mutilation and dysfunctional families.
---

The Astonishing Life of Octavian Nothing, Traitor to the Nation, Volume 1: The Pox Party
by M.T. Anderson
Ages 14–up
Octavian, a black youth in Revolution-era America, is raised in a Boston household of radical philosophers. He is given a classical education and kept with his mother, an African princess, in comfort. As he matures, Octavian realizes he is an experiment to discover the intellectual capability of Africans. When his mother dies, Octavian runs away and joins the Patriot army. Though written in 18th century language in the form of letters, this powerful novel raises contemporary issues of racism, human rights, the causes of war, and the struggle of an individual to define himself.
---

The Astonishing Life of Octavian Nothing, Traitor to the Nation, Volume II: The Kingdom on the Waves
by M.T. Anderson
Ages 14–up
Octavian heads to Virginia where Lord Dunmore, the colony's governor, is emancipating slaves in exchange for military service. Octavian soon realizes that his liberation is not a moral decision, but a political expediency. As the Revolutionary War, explodes around him, Octavian struggles with ideals of liberty and his own personal growth in this fascinating perspective on our national origins. (sequel to The Astonishing Life of Octavian Nothing, Traitor to the Nation, Volume 1: The Pox Party)
---

Landscape with Invisible Hand
by M.T. Anderson
Ages 14–up
When the aliens called the vuvv arrive, Adam Costello (15) and the rest of the Earth's inhabitants are startled. The vuvv offer advanced technology and cures for all diseases, which everyone is eager to purchase. Unfortunately the vuvv products cause the collapse of Earth's economy since most, including Adam's parents, are soon out of work and desperate for money to buy food, clean water, and the vuvv medicine to cure Adam's chronic gastrointestinal illness. The vuvv love "classic" Earth culture like doo-wap music from the 1950s, still-life paintings of fruit, and true love. So Adam and his girlfriend Chloe broadcast an exaggerated pay-per-view nostalgic version of their romance, which the vuvv are eager to purchase. But with every episode Chloe and Adam begin to hate each other a little more, and Adam's illness gets a bit worse.
---

Yvain: The Knight of the Lion
by M.T. Anderson, Andrea Offermann
Ages 12–up
This compelling graphic novel tells the story of Sir Yvain, a knight at King Arthur's court, who defeats a local lord in battle and becomes involved with Lady Laudine, the beautiful widow, and her sly maid Lunette. Based on a 12th century epic poem by Chrétien de Troyes, this modern version sheds light on the plight of medieval women, often influenced by the actions of others, like the oblivious Yvain.
---

City of Saints & Thieves
by Natalie C. Anderson
Ages 12–up
Tina and her mother are refugees from the Congo. In Sangui City, Kenya, her mother finds work as a maid in the home of Roland Greyhill, a prominent businessman whose fortune was made from a life of corruption and crime. When her mother is murdered, Tina is sure Greyhill is responsible, but no one listens to the refugee girl. Homeless, she is recruited by the Goondas, a gang of orphans and street kids, and trained to become a thief. Four years later, Tina is closer to getting revenge for her mother's death when she discovers she may not know all the facts.
---

Maybe a Fox
by Kathi Appelt, Alison Mcghee
Ages 10–14
Sylvie and Jules are sisters who are also best friends. Sylvie loves to run, and is always trying to run farther and faster than ever before. When she disappears while running in a Vermont forest to throw a wish rock into the river, everyone except Jules believes she is dead. Jules can't believe her sister is gone forever, and heads off alone into the forest to throw a wish rock for her sister. Meanwhile, a shadow fox, half real and half spirit, is born. The fox also loves to run. Alternate chapters are narrated from the perspectives of Jules and the fox.
---

Crenshaw
by Katherine Applegate
Ages 10–14
Jackson (10), his parents, and his younger sister are about to be evicted again. Jackson's artistic parents don't seem capable of dealing with the crisis, responding to Jackson's inquiry about their plan with vague references to planting a money tree in the back yard. Then Crenshaw, a seven-foot talking cat reappears for the first time in three years. Jackson hasn't seen Crenshaw since three years ago, when his father was diagnosed with multiple sclerosis and the family was living in their van. Jackson was sure he had outgrown Crenshaw, and is both pleased and concerned that Crenshaw has returned to offer playful antics to amuse him as well as thought-provoking answers to his questions and worries.
---

The Masked Truth
by Kelley Armstrong
Ages 14–up
Riley Vasquez is traumatized by a violent crime committed while she was babysitting. Max Cross has just been diagnosed with schizophrenia. The two meet at a weekend therapy camp for troubled teens. When the camp attendees are taken hostage by three masked men, Riley and Max are forced to trust each other in order to escape from the warehouse with sealed exits and no windows before they are killed.
---

Kids of Appetite
by David Arnold
Ages 14–up
Vic Benucci (16) has a rare condition that prevents him from using most of his facial muscles. He is still mourning his father's death two years earlier when his mother's new boyfriend proposes. Vic takes his father's ashes and leaves home, meeting Madeline "Mad" Falcon (17), part of a gang of semi-homeless street kids who help Vic decipher his father's final instructions about where to spread his ashes. Alternate chapters from the points of view of both Vic and Mad are interspersed with police interviews of the investigation of the murder of Mad's abusive uncle.
---

Mosquitoland
by David Arnold
Ages 12–up
Mim Malone (16) is transported to Mississippi from Ohio to live with her father and new step-mother. Blind in one eye from a solar eclipse, suffering from unpredictable spells of vomiting, and medicated for a psychiatric diagnosis, Mim is unwilling to adapt to a new life in the wasteland of Mississippi. Hopping a bus back to Cleveland to rejoin her mother, Mim begins a journey full of eccentric characters.
---

The Trap
by Steven Arntson
Ages 12–up
Something strange is happening in the small town of Farro, Iowa, in the summer of 1963. The school's bully has gone missing and 7th grader Henry Nilsson finds a moldy book in the woods, an instruction guide for "subtle travel." Henry, his twin sister Helen, and their two best friends learn to separate from their bodies and wander free through some very dangerous things in the woods. This suspenseful science fiction adventure mixes adventure, first crushes, and social issues.
---

Master of Deceit: J. Edgar Hoover and America in the Age of Lies
by Marc Aronson
Ages 14–up
This detailed biography of the controversial FBI director tells the story of the growth of the FBI, under Hoover's leadership for 40 years, against the background of the immigrant history of the United States. Parallels between the historical pursuit of Communists and the current fight against terrorism highlight the price of security and the media's role in keeping secrets. Period photographs, movie posters, cartoons, and FBI documents illustrate this thought-provoking biography.
---
Chasing Shadows
by Swati Avasthi, Craig Phillips
Ages 14–up
When Holly's twin brother Corey is murdered, Holly and Savitri, her best friend and Corey's girlfriend, are shattered. Holly, Corey, and Savitri were all "freerunners" who used the city of Chicago as an aerobics course. After Corey is shot, Holly begins to imagine that she is the Leopardess, a character in one of Savitri's comic books, with the mission to avenge her brother's death. Graphic novel elements from Hindu mythology make Holly's mental illness all too real.
---

City of Orphans
by Avi, Greg Ruth
Ages 10–14
Maks Geless, a 13-year-old Danish immigrant, makes 8¢ a day selling newspapers on the street corners of 1893 Manhattan to help support his family. Things aren't easy for the Geless family: the shoe factory where Mr. Geless works is closing, Maks's sister Agnes has tuberculosis and his sister Emma, a maid at the Waldorf Hotel, is accused of stealing. But the Geless family finds room in their humble home for Willa, a homeless girl who saves Maks from a street gang. Maks and Willa join forces to clear Emma's name and rescue her from the Tombs, the city's infamous prison. The stark contrast between the struggles of the Geless family to survive and the easy splendor of the Waldorf make this historical fiction come alive.
---

Crispin: The Cross of Lead
by Avi
Newbery Medal 2003


Ages 10–14
Set in 14th century England, Crispin is a 13-year-old illiterate peasant who flees his village after being accused of a crime he did not commit on the day of his mother's death. He hopes that the words on his mother's lead cross will provide a clue to his unknown father. He falls in with Bear, a huge traveling juggler, and their relationship is the heart of the book.
---

The Most Important Thing: Stories about Sons, Fathers, and Grandfathers
by Avi
Ages 10–up
Relationships between fathers, sons, and grandfathers are the common theme between the seven stories in this book. One boy sees the ghost of his father, one goes camping with the erratic grandfather he has just met, one interviews a candidate for the job of stepfather. Some boys have fathers at home and some do not. Some have close relationships with their fathers and grandfathers, some would prefer never to see the men in their lives again. The overarching question is, "What is the most important thing a father can do for his son?"
---

The Doubt Factory
by Paolo Bacigalupi
Ages 15–up
Alix Banks is a smart, compassionate, and privileged teen. She is happy with her life until an activist group led by a black teen named Moses targets her family. Moses is living off the settlement money from a pharmaceutical company after one if its medications killed his parents. Four other teens who lost family in similar circumstances are part of the group led by Moses. Alix finds it hard to believe that her father's firm is covering up wrongdoing by powerful corporations that have allowed innocent victims to die. Moses hopes that Alix will help release incriminating data from her father's files, and Alix isn't sure if she should trust her father or the charismatic activist.
---

Ship Breaker
by Paolo Bacigalupi
Ages 12–up
In this futuristic adventure, Nailer, a teenager on the Gulf Coast, works on a crew scavenging parts from grounded oil tankers. Along with crushing poverty, Nailer must survive dangerous hurricanes and his violent and drug-addicted father. When a beautiful shipping heiress, nick-named Lucky Girl, is stranded on the beach, Nailer becomes aware of the extremes of class disparity. Defying both his crew and his father, Nailer helps Lucky Girl escape toward the ruins of New Orleans, expanding his understanding of the larger world around him and working to transcend expectations of who he is and what he can be.
---

The Drowned Cities
by Paolo Bacigalupi
Ages 14–up
Mahlia and Mouse, two young refugees from the Drowned Cities that were once Washington DC, struggle to survive in the jungle. Gangs of marauding soldiers sweep through the land, recruiting boy soldiers for half-remembered patriotic and religious causes, raping and pillaging as they go. Mouse is captured, and Mahlia makes a foolhardy rescue attempt with the help of Tool, a wounded bio engineered war beast. This violent and beautifully written thriller is set in the same horrific world as Ship Breaker.
---

The Inconceivable Life of Quinn
by Marianna Baer
Ages 13–up
Quinn Cutler (16) is the daughter of a candidate for US Congress. Quinn has no memory of ever having sex, and is shocked to discover she is pregnant. When word gets out that she is both pregnant and claiming to be a virgin, devout pilgrims begin appearing at their Brooklyn home, hoping to witness the birth of the next messiah.
---

Balcony on the Moon: Coming of Age in Palestine
by Ibtisam Barakat
Ages 12–up
This memoir, beginning in 1972, continues the story begun in Tasting the Sky: A Palestinian Childhood. As a high school student, Ibtisam accepts that she cannot do anything about the wars that surround her, instead concentrating on her schoolwork. Her mother admits that giving up her own education for marriage felt "worse than death" and works on completing her own high school education. The book is divided into five parts, each set in one of the family's five homes, ending in 1981. As she matures Ibtisam becomes more aware of her parents' marriage and gender restrictions, becoming determined not to live her mother's restricted life.
---

Six of Crows
by Leigh Bardugo
Ages 12–up
Ketterdam is a hub of international trade where just about anything can be bought for the right price. Young criminal mastermind Kaz Brekker is offered a small fortune to rescue a prisoner from the most secure prison in the world. Kaz assembles a team of six dangerous outcast to help him pull off the heist: a vengeful convict, a sharpshooter addicted to gambling, a spy, a thief, a runaway, and girl who used magic to escape from the slums. Each of the six has ties to Kaz, but no reason to trust anyone else. Told from the perspectives of each of the characters, this thrilling fantasy is the first in a series.
---

Some of the Parts
by Hannah Barnaby
Ages 12–up
Tallie (16) is grieving over the death of her older brother Nate in a car accident six months early, smiling bravely and pretending she's OK. But Tallie isn't even able to say her brother's name, and completely falls apart when a letter arrives, revealing that he was an organ donor. Tallie becomes obsessed with tracking down the recipients of her brother's organs with the unwilling help of Chase, a new boy in town with an uncanny resemblance to Nate and his own obsession with death.
---
The Witch's Boy
by Kelly Barnhill
Ages 9–up
When Ned and his identical twin brother Tam fall off their raft into the river, Tam drowns. The villagers are convinced that the wrong boy died, and the stuttering Ned becomes ostracized by the rest of the village. On the other side of the enchanted forest, Áine lives with her widowed father, the Bandit King. Áine is haunted by her mother's last words, "The wrong boy will save your life and you will save his." The Bandit King comes to the village to steal the magic that Ned's mother, the village Sister Witch, guards, and Áine and Ned realize it is up to them to stop the war that threatens to erupt between their two kingdoms.
---

The Stepsister's Tale
by Tracy Barrett
Ages 14–up
Halsey Hall has been falling into disrepair since Lord Mountjoy squandered the family fortune and drank himself to death. Lady Margaret Mountjoy is in denial, and Jane (15) and Maude (13) tend to the livestock and chop firewood, making them look more like peasants than proper ladies. Then Lady Mountjoy suddenly remarries, presenting her stunned daughters with a new step-father and a pampered new stepsister Isabella (13) who treats them like servants.
---
They Called Themselves the K.K.K.: The Birth of an American Terrorist Group
by Susan Campbell Bartoletti
Ages 12–up
This accessible book presents the origins and development of the Ku Klux Klan through slave narratives, newspapers, congressional testimony, and other sources, against the background of the complex Reconstruction era of 1865–1877. Photographs, engravings, and illustrations provide a graphic context for KKK terrorism and the societal forces that provide a growth medium for hate and terrorist groups.
---

Can I See Your I.D.?: True Stories of False Identities
by Chris Barton, Paul Hoppe
Ages 12–up
This fascinating book tells the true stories of 10 people who assumed false identities for amusement, profit, or survival. The 2nd person narration places the reader inside the mind of the masquerader, illustrated by bold graphics illustrations. The profiles include a teenager who impersonated a transit worker in order to fulfill his dream of driving a New York City subway train, a young woman who enchanted 19th century British society while pretending to be an Asian princess, and a woman who disguised herself as a man in order to fight in the Civil War.
---

Peeled
by Joan Bauer
Ages 12–up
Hildy Biddle, a feisty and funny aspiring teen journalist in an appealing upstate New York town famous for its apples, loves her staff position on her high school paper. When the local paper publishes sensational ghostly happening stories, Hildy and her friends are determined to discover and publish the truth.
---

Useless Bay
by M.J. Beaufrand
Ages 13–up
The Gray quintuplets live on Whitby Island,Washington. Pixie has a reputatation for finding things with the help of her bloodhound Patience and her four brothers. When 10-year-old Grant Shepherd, the younger brother of Pixie's friend Henry, goes missing, his millionaire father is frantic and asks the Gray quintuplets for help. Pixie discovers the body of Henry's stepmother and suspects that something very sinister is going on. This atmoshpheric thriller includes a touch of the supernatural.
---

Jersey Angel
by Beth Ann Bauman
Ages 14–up
Angel plans on enjoying the summer before her senior year on the Jersey shore. She spends her days anointing out with her friends and half-siblings in the family house on the beach, and working at her father's marina gas station. Each evening she haunts her ex-boyfriend, trying to get him back after rejecting him once too often. Her more serious best-friend Iggy goes on college tours, but Angel has a fling with Iggy's boyfriend instead, and tries to better understand herself and her relationships.
---

The March Against Fear: The Last Great Walk of the Civil Rights Movement and the Emergence of Black Power
by Ann Bausum
Ages 12–up
In 1966 James Meredith organized a peaceful march for voter registration in Mississippi. Black rights leaders like leaders like Martin Luther King Jr. and Stokely Carmichael joined the march, an unlikely alliance that resulted in the Black Power movement. Beginning with Meredith's assassination, this powerful book goes back in time to explain the events that led to the 200-mile walk, known as the March Against Fear, and its aftermath.
---

Stonewall: Breaking Out in the Fight for Gay Rights
by Ann Bausum
Ages 12–up
In 1969 being gay in the United States was a criminal offense. Most hid their sexual orientation for fear of losing their jobs or becoming estranged from their families. The Stonewall Inn, a Mafie-run bar in New York City, was one of the few places gays could feel free to be themselves. One hot night in June, the police raided the bar. But the crowd refused to leave quietly and the raid became a riot that triggered a demand for gay civil rights. This exploration of the Stonewall Riots and the national gay rights movement that continues to the present is powerful.
---

Fall from Grace
by Charles Benoit
Ages 13–up
Sawyer is an easy-going high school student with supportive parents, a sexy girlfriend, a job, and a car. Then he meets Grace who convinces him to participate in her wild plans to become a celebrity. Grace's courage and willingness to take risks cause Sawyer to re-examine his other relationships, wondering if his passive conflict-avoidance is stifling rather than comforting.
---
You
by Charles Benoit
Ages 12–up
Kyle Chase (15) is one of the "hoodies," the hooded sweatshirt clad slackers that lurk in the corridors in every high school. Kyle is bright, but unmotivated, and drifts through school. When Kyle meets Zach, a witty and sarcastic newcomer, he is fascinated, and soon absorbed into Zach's dangerous orbit. Eventually Kyle figures out that Zach may be out to destroy him, but Kyle's defeatist perspective makes it difficult for him to break away. This quick-paced thriller is disturbingly realistic.
---

Audrey, Wait!
by Robin Benway
Ages 12–up
When Audrey breaks up with her boyfriend, he writes a song about it that hits the top of the charts. Audrey is famous, and mortified. This irresistible debut novel captures teenage dialogue and wit.
---
Emmy & Oliver
by Robin Benway
Ages 13–up
Emmy and Oliver were best friends until third grade, when Oliver disappeared after being kidnapped by his father. Ten years later, Emmy still lives next door to Oliver's mother, who has never stopped searching for him. In response to Oliver's disappearance, Emmy's parents became over-protective, terrified that a child could simple vanish. Oliver is found in New York City and returns to live next door with his mother. Emmy tries to rekindle the close friendship she shared with Oliver, but he is confused and disoriented, thrust back into a past he barely remembers and forced to reconsider his beloved father as the villain.
---

The Extraordinary Secrets of April, May, & June
by Robin Benway
Ages 12–up
In the year of their parents' divorce, three high-school sisters rediscover their secret childhood powers: April can see the future, May can vanish, and June can read minds. At first the three use their powers to navigate the troubled waters of a new school, but when April foresees a disaster, the three work together to use their powers for a higher purpose. Narrated in turn by each of the sisters, this funny book celebrates the power of sisterhood.
---

The Last Leaves Falling
by Sarah Benwell
Ages 14–up
Abe Sora (17) loves baseball, wants to be a history professor, and is dying of ALS (Lou Gehrig's disease, or amyotrophic lateral sclerosis). Now wheel-chair bound, Abe can no longer attend school, and makes new friends online, concealing his illness. His mother, worried about his isolation, convinces him to invite two of his new friends over, and the friendships survive the truth. As his condition grows worse, his counselor gives him a book about samurai death poetry, and Abe decides he wants to meet his own death with equal dignity.
---

Alicia Alonso: Prima Ballerina
by Carmen T. Bernier-Grand, Raul Colon
Ages 10–up
This biography in free verse tells the story of Alicia Alonso, the famous Cuban ballerina. From her childhood, to her climb to achieve the rank of prima ballerina, and her fight to keep dancing when she begins to lose her sight, Alicia's grace and strength are celebrated. The physical trials of ballet dancing, and Alicia's complex relationship with the Cuban government give this biography depth.
---

All the Truth That's In Me
by Julie Berry
Ages 12–up
Judith was kidnapped and held captive for two years before being released with a severed tongue to keep her from talking. The body of another girl from the same small village who went missing at the same time was found in the stream. Judith is shunned by the village, and even her own mother. Told from Judith's perspective as a troubled outcast, this haunting novel set in the undefined past gradually reveals the truth of the last two years.
---

The Amaranth Enchantment
by Julie Berry
Ages 10–14
Lucinda is a 15-year-old orphan who lives a life of miserable servitude in her evil aunt's jewelry store until the day she finds an unusual gemstone belonging to Beryl, who just might be a witch. The stone is stolen and sold to a prince and Lucinda sets out to get it back. A clever twist on the Cinderella story, this funny and suspenseful fantasy is also a fast-paced adventure.
---

The Passion of Dolssa
by Julie Berry
Ages 12–up
In 1241 Provensa (Provence) the inquisition seeks to rid the Christian world of heretics. Dolssa de Stigata's mother was condemned by a Dominican friar to burn at the stake, but Dolssa escapes. She is rescued by Botille, a young matchmaker who runs a tavern with her two sisters in the seaside town of Bajas. They try to keep the fugitive hidden, but Dolssa feels called to heal the sick and her small miracles bring the wrath of the Church to Bajas, endangering everyone in the small town.
---

The Scandalous Sisterhood of Prickwillow Place
by Julie Berry
Ages 10–14
The students of St. Etheldreda's School for Young Ladies in Cambridgeshire England have a problem — their stern headmistress Constance Plackett and her despised brother drop dead at the dinner table, apparently poisoned. The girls decide to pretend that everything is normal while hunting for the murderer. This hilarious Victorian farce is full of mystery, surprising plot twists, and a hint of romance.
---

Book Scavenger
by Jennifer Chambliss Bertman
Ages 9–14
Emily Crane (12) has lived all over the country. Her parents blog is called 50 Homes in 50 States. When the family moves to San Francisco, Emily is thrilled since that's the home of Garrison Griswold, creator of the online game Book Scavenger where books hidden all over the country are located by solving clues within puzzles. But Griswold was recently attacked by thieves and is now in a coma, leaving the game in limbo. Emily and her new friend James discover an odd book that just may contain the only copy of Griswold's new game.
---

The Sin Eater's Confession
by Ilsa J. Bick
Ages 14–up
Wisconsin high school senior Ben hopes to go to Yale and become a doctor. When his friend Del dies in an accident, Ben helps the family out on their farm, and befriends Del's younger brother, Jimmy, who dreams of becoming a photographer. But Jimmy's evangelical father fears that Jimmy's artistic interest and his friendship with Ben are signs of homosexuality. The rumors and fears result in Ben witnessing a hate crime against Jimmy. Told in flashbacks from Ben's perspective as a medic in Afghanistan, this compelling book examines bigotry and the power of peer pressure.
---

Chime
by Franny Billingsley
Ages 12–up
Briony (17) believes she is a witch. Her step-mother blamed her for all the family's hardships, including her twin sister's disabling fall from a swing years earlier. Briony also blames herself for her step-mother's death and often escapes to the swamp to tell her secrets to the Old Ones. New technology has arrived in her tiny town of Swampsea, England, with the turn of the 20th century, and a new pumping station is built to drain the bog. But the supernatural Old Ones have sent a fever to punish Swampsea. Then Eldric arrives, and Briony is torn between her attraction to Eldric and her overwhelming guilt.
---

Doll Bones
by Holly Black, Eliza Wheeler
Ages 10–14
Zach, Poppy, and Alice have been friends forever, playing imaginative games of pirates, thieves, mermaids, and warriors. Ruling over every game of make-believe is the Great Queen, a bone-china doll who attacks all who displease her. But now that Zach is 12 his father insists that he give up playing games and takes all his action figures to the dump. Alice and Poppy convince him to take part in one last game, a bus trip to bury the Great Queen doll, which Poppy insists is made from the bones of a murdered girl. Creepy things begin to happen during their trip, cause the three to wonder if Poppy's fantasy is reality, that the doll is really in the clutches of the ghost of a murdered girl.
---
The Coldest Girl in Coldtown
by Holly Black
Ages 15–up
Vampires have gone public, and are in constant pursuit of new victims. Tara was only six when her mother was infected by a vampire, turning on her own daughter in a desperate quest for blood. Now 17, Tara awakes one morning after a wild party, to discover that almost everyone else at the party has been killed by vampires, leaving only Gavriel, a vampire, and Aidan, her newly infected ex-boyfriend. Tara decides to take them to Coldtown, a walled city for vampires and their infected human pets, even though crossing the barricades into Coldtown may mean Tara can never return to the world outside.
---

White Cat
by Holly Black
Ages 14–up
Cassel Sharpe (14) comes from a family of curse workers, people who have to power to change luck, emotion, or memories with the touch of a finger. Curseworking is illegal, so all curse workers are mobsters or con artists, and everyone wears gloves to avoid being taken advantage of. But Cassel doesn't seem to have the family power, except for the fact that he killed his best friend three years earlier. Cassel has tried to bury that event in the past, but now he is having dreams of a white cat that wants to tell him something, and he fears that he may be in the middle of the biggest con ever.
---

Red Glove
by Holly Black
Ages 14–up
Cassel Sharpe (17) is a transformation worker, the rarest type of curse worker who can transmute people and objects into whatever he wishes. Growing up in a crime family, Cassel is used to being on the wrong side of the law, but now the mob boss wants him to become a hit man, and US agents want him to become an informant. Cassel's mother has put a love curse on the mobster's daughter Lila, and Cassel can't trust that she really loves him. This dark fantasy is the second in the Curse Workers series, following White Cat.
---

Zombies vs. Unicorns
edited by Holly Black & Justine Larbalestier
Ages 14–up
The writers featured in this clever anthology defend either Zombies or Unicorns as the superior creature. Hilarious editorial prefaces introduce the excellent stories by Diana Peterfreund, Libba Bray, Maureen Johnson, Meg Cabot, Carrie Ryan, Scott Westerfeld, and Alaya Dawn Johnson.
---

The Twyning
by Terence Blacker
Ages 12–up
Efren is a young rat living in the sewers of London during the reign of elderly Rat King Tzuriel. Peter (13) lives in a garbage dump and makes a tenuous living catching rats for sportsmen and their dogs and working for Dr. Ross-Gibbon, a scientist who wants to wipe out all the rats in London. Peter captures King Tzuriel for the doctor's experiments, which Efren reports back to the rat elders. Peter's gift for understanding animals, including rats, places him in a position of deciding where his true sympathies lie.
---

Antigoddess
by Kendare Blake
Ages 12–up
Cassandra Weaver (18) is an ordinary teenager Kincaid, New York, except for her clairvoyance. Cassandra is haunted by visions of dying gods as the Greek gods are living out their final days in war and suffering. The gods realize that Cassandra has a connection to their world, and reach out to her for help. This eerie thriller is the first in a planned series.
---

Prisoner of Night and Fog
by Anne Blankman
Ages 13–up
Gretchen Müller has been her Uncle Dolf's favorite ever since her father sacrificed himself to shield him from police bullets during his failed attempt to overthrow the government in 1923. Then Gretchen meets Daniel Cohen, a reporter who believes that her father is not a Nazi hero, but instead a murder victim. Gretchen doesn't believe Daniel, and begins her own investigation, discovering that many things she accepted as truths are really lies, and that her Uncle Dolf (Adolf Hitler) is not the man she thought he was.
---

Love in the Time of Global Warming
by Francesca Lia Block
Ages 14–up
Los Angeles has been destroyed by an earthquake and tidal wave, sweeping Penelope's family. The emergency provisions stored in the house keep Pen alive until men break into the house. Pen escapes and sets out to search for her family, joining up with three other searchers, in a journey that parallels Homer's Odyssey. Eventually they arrive in Las Vegas, the contemporary land of the dead, and confront the evil genius behind the destruction of the world.
---

Pink Smog: Becoming Weetzie Bat
by Francesca Lia Block
Ages 14–up
In this prequel to Weetzie Bat, we meet Louise as a 7th grader. When her father suddenly leaves for New York City, she must cope with her own grief as well as her mother's depression. It doesn't help that she faces a clique of mean girls at school and the sinister family in Unit 13 of her condominium. Anonymous notes, an attractive older boy, and two new friends who are also outcasts help Louise transform herself into Weetzie, the artist.
---

Teen Spirit
by Francesca Lia Block
Ages 14–up

When Julie's beloved grandmother dies, she and her mother are forced to move out of their cozy Hollywood cottage to a bleak apartment in Beverly Hills. Julie enters her senior year in a new school where she meets Clark, who is also mourning a loss, and discovers they are both fans of Buffy the Vampire Slayer. Julie and Clark try to contact Julie's grandmother with a Ouija board, and instead make contact with a spirit who is desperate to come back to the world of the living.
---

The Waters & the Wild
by Francesca Lia Block
Ages 14–up
Bee (13) is startled out of her social isolation by a nighttime apparition of a girl who could be her twin. She befriends two other outcasts at school: one who thinks she is a reincarnated slave from the 1880s, the other who believes he is the offspring of an alien. The three come to believe that Bee is a changeling, a hideous elf who was switched at birth for the human Bee. This spooky short novel includes tantalizing fragments of poems by Yeats and Shelley.
---

Hillary Rodham Clinton: A Woman Living History
by Karen Blumenthal
Ages 12–up
This biography covers Hillary Rodham Clinton's life from her childhood in Illinois through the beginning of her current presidential campaign, focusing on the experiences that shaped her beliefs and how those principles guide her actions. Clinton's struggle to retain her privacy in a public forum helps shape this compelling portrait of her personality, life, and work.
---

Tommy: The Gun That Changed America
by Karen Blumenthal
Ages 12–up
John Taliaferro Thompson designed a light quick-firing weapon to help Americans win on the World War I battlefield, but the military wan't interested in his Thompson submachine gun. Instead, American gangsters, including Chicago's rival bootlegging gangs, adopted the Tommy gun, which was not covered by concealed-weapons laws and could be purchased at sporting and hardware stores. Mug shots and crime scene photographs capture the lawlessness of the period. An epilogue highlights recent shootings, legislation, and continuing questions about guns in America.
---

What I Saw And How I Lied
by Judy Blundell
Ages 12–up
This noir mystery is set in 1947. Evie (15) and her mother set off for Florida with her stepfather Joe. Evie falls in love with Peter, an army buddy of Joe's. A suspicious boating accident forces Evie to re-examine her relationships with Peter, her mother, and her stepfather. This stylish novel has the atmosphere of a glamorous old movie.
---

Strings Attached
by Judy Blundell
Ages 13–up
Kit Corrigan (17) leaves her home in Providence, Rhode Island, hoping to find fame and fortune on Broadway. It's 1950, and Billy, Kit's ex-boyfriend, has joined the army, but his mob-connected father offers Kit a Manhattan apartment and a nightclub job if she agrees to keep him informed about Billy and his friends. Soon Kit is way over her head, caught in a web of intrigue, love, betrayal, and murder.
---

Above
by Leah Bobet
Ages 14–up
Safe is an underground refuge for the misfits and the sick who have escaped from Above. Matthew is the Teller of Safe, responsible for remembering and guarding the stories of all who live in Safe. Then the only person ever to have been exiled from Safe returns with an army of shadows and Matthew escapes with Jack Flash, who can generate electricity, and Ariel, who turns into a bee when stressed. As the three try to reclaim Safe they must grapple with long-hidden secrets and truths. This magical fantasy blends the real and the fantastic into a complex and heartbreaking whole.
---

An Inheritance of Ashes
by Leah Bobet
Ages 12–up
Set in a future North America where civilization has reverted to a 19th century level, Hallie (16) and her older sister Marthe wait on the family farm for whoever will return from the distant battlefield to the south. The battle is against the Wicket God Southward, who arrived through a rent in the universe along with its Twisted Things. Hallie hires Heron, a strange veteran, to help with the farm when her brother-in-law doesn't return, but comes to realize that Heron may have brought remnants of the war back with him.
---

LIE
by Caroline Bock
Ages 12–up
Skylar Thompson (17) feels she has to lie to protect her boyfriend Jimmy Seeger. Jimmy was the only person who made Skylar feel safe and protected when her mother died, and now Jimmy needs Skylar's help. Jimmy has been leading a gang that goes out on Saturday nights looking for Latinos to terrorize. Now Jimmy and his best friend Sean have been arrested for a vicious beating of a young El Salvadoran, who dies of his injuries. Another victim of the attack demands justice, and Skylar can't decide if she should keep covering up for Jimmy or not. This powerful novel honestly deals with the theme of a racially motivated hate crime within a community determined to cover it up.
---

The Compound
by S.A. Bodeen
Ages 12–up
Ellis, the 15-year old son of a billionaire, has spent the last six years in the massive underground shelter his father built to shelter the family from the nuclear war that destroyed the world above. With nine years to go before the air above is safe, the food begins to run out, and Ellis is caught in an ethical and moral dilemma as he becomes increasingly suspicious about his father's choices and actions.
---
The Witch Hunter
by Virginia Boecker
Ages 15–up
Elizabeth (16) and her best friend Caleb hunt witches for the Inquisitor, Lord Blackwell, in an alternative medieval England where witchcraft of any kind is banned. Elizabeth firmly believes that witches are evil and deserve to be burnt at the stake, until her own innocent possession of herbs causes Lord Blackwell to arrest her and sentences her to death. Elizabeth is rescued by Nicholas Perevil, a wizard who hopes Elizabeth can rescue him from a deadly curse. Elizabeth doesn't trust the band of pirates, witches, and other healers in Perevil's band, and worries what will happen when they discover she is a witch hunter.
---

Pathfinders: The Journeys of 16 Extraordinary Black Souls
by Tonya Bolden
Ages 10–14
The 16 short biographical stories are presented in chronological order, beginning with Venture Smith, the son of a West Aftican prince who was sold into slavery, freed himself and his family, and fought in the Revolutionary War. Other little known American men and women of African descent include soprano Sissieretta Jones, banker Maggie Lena Walker, WWI fighter pilot Eugene Bullard, and mathematician and NASA researcher Kathering Coleman Goble Johnson.
---
A Time of Miracles
by Anne-Laure Bondoux
Ages 12–up
Gloria was picking peaches in her father's orchard in the Republic of Georgia when she heard a train derail. An badly injured French woman gave Gloria her baby to care for. As Gloria and the child flee the Republic of Georgia to escape the fighting during the collapse of the Soviet Union, she tells the boy, now 7 years old and known as Koumaïl, the story of his past. The two make a perilous five-year journey to France, retelling the boy's story and embellishing it to give him hope for the future.
---
Small Persons With Wings
by Ellen Booraem
Ages 10–up
When Mellie was five, she told her Kindergarten class about the fairy living in her bedroom. Her classmates teased her unmercifully, and the Parvi Pennati (a Small Person with Wings who hates to be called a fairy) moved out. Now 13, Mellie and her family move into an inn inherited from her grandfather. Before long Mellie finds that she has not left her problems behind. The inn is infested with Parvi, and Mellie learns that her family must honor a thousand-year old agreement to provide a home for the Parvi. Themes of bullying and alcoholism are explored in this clever and humorous fairy story.
---
Saving Hamlet
by Molly Booth
Ages 12–up
Emma is excited about the start of her high school sophomore year. She has joined the drama club and is given the job of assistant stage manager for the production of Hamlet. But everything goes wrong very quickly: the soccer star playing Hamlet is terrible, her best friend stops talking to her, and she is suddenly promoted to stage manager despite having no experience at all. Then Emma falls through a trapdoor and comes out in the Globe Theater in 1601. With her short hair everyone, including Will Shakespeare, thinks she is a boy and she struggles to understand Elizabethan English while learning the job of backstage assistant in the premiere of Hamlet.
---

Survivors Club: The True Story of a Very Young Prisoner of Auschwitz
by Michael Bornstein, Debbie Bornstein Holinstat
Ages 10–14
In 1945, when he was four, Michael Bornstein was filmed by Soviet soldiers as he was carried out of Auschwitz by his grandmother. When he discovered that the image was being used as Holocaust-denying propaganda, he decided to share his memories. Assisted by his daughter Debbie, he learned that of the 3,400 Jews living in Zarki, Poland before the Holocaust, fewer than 30 survived. This moving memoir gives a very human face to the horrors of the Holocaust.
---

The Scorpion Rules
by Erin Bow
Ages 14–up
Four centuries after an AI known as Talis took over the world to prevent humanity from destroying itself, peace is maintained by keeping one child of each world leader hostage. If a war is started, the child of that leader will be killed. Greta is the Crown Princess of the Pan Polar Confederacy, a superpower formed of the former Canada. Greta is used to her role, but the arrival of Elian, a new hostage from the American Alliance who has no intention of playing by the rules, changes everything. Greta has been content waiting for her release on her 18th birthday, but Elian's rebellion makes her view her situation with new eyes. Then the American Alliance declares war on the Pan Polar Confederacy, putting both of their lives at risk.
---

Big & Little Questions
by Julie Bowe
Ages 10–14
After her parents tell her they are divorcing, Wren Jo Byrd (9) is sent to spend the summer with her grandparents. When she returns for the start of the next school year, she is worried that everyone will find out. She doesn't tell anyone the truth, not even her best friend Amber or her new teacher. Marianna, the new girl in town, wants Amber for her best friend, and Wren is compromised by the secret she is hiding. Then Wren learns that Marianna had to ask the same questions that Wren is worrying about now.
---

Blade: Playing Dead
by Tim Bowler
Ages 14–up
Blade (14) is a British boy with a mysterious past living on the streets. He is attacked by a gang and fleeing a group of armed men when he stumbles across a toddler, Jen, and her teen-aged mother, Becky. Blade becomes their unwilling protector as he tries to elude his pursuers, unsure if they are after him or Becky. This intense and bleak thriller ends with a cliff-hanger.
---
Starfish
by Akemi Dawn Bowman
Ages 12–up
Kiko Himura has just graduated from high school and is hoping to attend Prism Art School in New York City. Half-Japanese and half-white, Kiko has always felt like an outsider, and her low self-esteem isn't helped by the cruelty she endures from her emotionally abusive mother. When Kiko isn't accepted at Prism, and learns that her sexually abusive uncle is about to return, she heads off to California with her childhood friend to visit art schools. Artist Hiroshi Matsumoto recognizes Kiko's talent, and becomes the mentor she badly needs.
---

Vengeance Road
by Erin Bowman
Ages 14–up
It's 1887 when Kate Thompson's father is killed by the Rose Riders, searching for a mysterious journal that reveals the secret location of a gold mine. Disguised as a boy, Kate (18) sets off west in search of vengeance. She is joined by Jesse and Will Colton, brothers in search of gold, and guided by Liluye, an Apache girl. This vivid portrayal of a lawless world doesn't shrink from violence.
---

Young Samurai: The Way of the Warrior
by Chris Bradford
Ages 10–up
A British merchant ship is attacked by Japanese ninja pirates who murder the entire crew, including Jack Fletcher's father. Young Jack is rescued by a powerful Samurai who adopts him and trains him to join the warrior class. Since he is a foreigner, Jack is treated as an outcast at Samurai school and must use all his wit and skill to survive and succeed. First in a projected trilogy, this fast-paced adventure set in medieval Japan is full of spellbinding bits of history, culture, and martial arts.
---

The Whole Thing Together
by Ann Brashares
Ages 14–up
Before Ray's parents met, Ray's mother was married to Robert and had three daughters, his half-sisters Emma, Mattie, and Quinn. Robert also remarried and has a daughter Ray's age named Sascha. Both families share a summer house on Long Island since neither Ray's mother nor Robert were willing to give it up. On alternating weeks, Ray and Sascha, who he has never met, stay in the same bedroom at the summerhouse. One summer Emma gets engaged, Mattie discovers a family secret, and Ray finally gets to meet Sascha. This funny and tragic novel explores the long-held grudges of split families.
---
Going Bovine
by Libba Bray
Ages 14–up
Cameron Smith (16) is coasting through high school in the shadow of his perfect sister. While working at Buddha Burger, Cameron comes down with mad cow disease and the prognosis isn't good. In the hospital he is visited by Dulcie, a neon pink angel who just may be a hallucination. Dulcie convinces Cameron to go on a quest to find a cure and save the world with the help of Gonzo, a neurotic dwarf, and Balder, a Norse god who is trapped in the form of a garden elf. This wacky fantasy adventure will appeal to fans of The Hitchhiker's Guide to the Galaxy.
---

Merrow
by Ananda Braxton-Smith
Ages 14–up
Neen Marrey (12) has been raised by her aunt Ushag since she was a toddler, her father downed while out fishing, and her mother disappeared soon afterward. The villagers of Carrick whisper unkind speculations, but Neen, who loves the tales of blind fiddler Skully Slevin of merrow (mermaids), selkies, krakens, and changelings, secretly believes that her mother returned to her merrow family to live below the sea.
---

The Hawkweed Prophecy
by Irena Brignull
Ages 12–up
Poppy Hooper and Ember Hawkweed have completely different realities. Poppy is a troubled teen, causing trouble wherever she goes. Ember is a young witch, struggling to make a place for herself within the coven. Both girls are outsiders, feeling they don't fit in and searching for a way out. After a chance meeting in the woods they become friends, they share knowledge of their different worlds and discover the reason for their uneasiness — the evil witch Raven Hawkweed switched the babies at birth. A homeless boy named Leo captures both of their hearts and drives them apart, just as they are trying to come to terms with their true identities. (first in a series)
---

The Game of Love and Death
by Martha Brockenbrough
Ages 12–up
Flora is black and Henry is white, and the odds of them becoming a couple in depression-era Seattle are slight. But their similarities outweigh their differences: both are 17, orphans, and musicians. And they are the current pawns of Love (Henry who plays bass and baseball) and Death (Flora who sings and wants to be a pilot). Airplanes and music bring the two together with surprising results.
---
Black Rabbit Summer
by Kevin Brooks
Ages 12–up
Five teens, formerly close friends and now acquaintances, visit their long-abandoned hideout. The next morning Raymond, who believes his black rabbit can talk, and a young starlet who was taunting him the evening before are missing. As the police hunt for the celebrity, Pete searches for Raymond. This brooding thriller explores teenaged alienation and the nature of relationships.
---

Debbie Harry Sings in French
by Meagan Brothers
Ages 14–up
Johnny, a 17-year-old recovering alcoholic, is sent to live with his uncle Sam. He bonds with fellow outcast Maria, who encourages him to pursue his love for Debbie Harry's music, even when he decides to perform in drag. Touching portrayal of tough issues with an empathetic narrator who introduces shades of gray into the usual black and white view of sexuality and gender.
---

Drowned City: Hurricane Katrina and New Orleans
by Don Brown
Ages 12–up
Hurricane Katrina's monstrous winds and surging water overwhelmed the protective levees around New Orleans, Louisiana, on August 29, 2005. Dynamic as-it-happened narration presents the power of the storm that flooded 80% of the city and claimed 1,833 lives. Stories of selflessness and courage are balanced against examples of racism, incompetence, and criminality. Marking the ten year anniversary of Hurricane Katrina,a portion of the proceeds from this book has been donated to Habitat for Humanity New Orleans.
---

Bitter End
by Jennifer Brown
Ages 15–up
Alex is looking forward to visiting the Colorado Mountains that were her mother's destination when she died in a car accident years earlier. As a graduation present, her best friends Bethany and Zack have the road trip all planned. Then Alex falls for Cole, a new senior who she feels truly loves and understands her. But Cole is jealous of her friendship with Zack, and prone to violent rages. Alex's inability to reveal Cole's escalating put-downs, threats, and manipulation frustrates Bethany and Zack, who know something is wrong in this honest portrayal of abuse.
---
Hate List
by Jennifer Brown
Ages 15–up
When Val and her boyfriend Nick wrote the names of people who tormented or annoyed them on a "Hate List," Val had no idea Nick would use the list. When Nick brings a shotgun to school and begins shooting people on the list before killing himself, Val is wounded trying to stop him. But as the co-author of the "Hate List," Val is implicated in the shootings. Val's guilt and her complicated relationships with her family and the surviving victims are realistically and hauntingly portrayed.
---

Perfect Escape
by Jennifer Brown
Ages 12–up
Kendra (17) has always felt overshadowed by her older brother Grayson, who suffers from Obsessive Compulsive Disorder. Their family life centers around establishing routines to make Grayson feel comfortable, so Kendra compensates by trying to be perfect academically and personally. When a cheating scandal threatens to destroy her academic success, Kendra snaps and drags Grayson off on a road trip from Missouri to California, hoping to find a way to fix both their lives. The bond and rivalry between siblings is sensitively explored in this road trip novel.
---
To Stay Alive: Mary Ann Graves and the Tragic Journey of the Donner Party
by Skila Brown
Ages 10–14
This compelling novel in verse is written from the fictionalized perspective of real-life Mary Ann Graves, one of the few survivors of the Donnor Party. In 1846, Mary and her family left Illinois to settle in California. At first Mary shares her father's excitment about the adventure, but the reality of life on the trail is not what she expected. Mary cares for her younger siblings, helps move rocks and trees blocking the wagons, and endures thirst in the desert. The worst is the final ordeal when they become trapped in the ice and snow at Donnor Pass, resorting to cannibalism in order to survive.
---

Kaleidoscope Eyes
by Jen Bryant
Ages 9–13
In the summer of 1968, 13-year-old Lyza and her friends search for Captain Kidd's lost treasure in their New Jersey neighborhood. Narrated in verse, this novel has a strong sense of place and vividly portrays a teenager's conflicting emotions about the onset of adulthood.
---
Ringside 1925:


Views from the Scopes Trial
by Jen Bryant
Ages 12–up
The fictionalized inhabitants of Dayton, TN, home of the infamous "monkey trial," speak in a range of perspectives about the teaching of evolution.
---

The Many Lives of John Stone
by Linda Buckley-Archer
Ages 12–up
Stella Park, known as Spark, takes a summer job cataloging John Stone's historical archives in his isolated and beautiful Stowney House in Suffolk, England. Spark is horrified to discover that Stowney House has no modern conveniences, not even a telephone or electricity. The handwritten notebooks begin in the court of Louis XIV in Versailles and continue to the present, all written in the same handwriting. John Stone is a 350-year-old semperviven, both blessed and cursed with very long life, who hopes that Spark will help him and the other sempervivens hide their true nature.
---

Felix Yz
by Lisa Bunker
Ages 10–up
Felix Yz (13) has a secret crush on Hector, but that's not his main worry. At the age of three Felix was accidentally fused with Zyx, a hyper-intelligent being from the fourth dimension. Felix and Zyx have co-existed well for ten years, but Felix can't grow into adulthood while they are fused together. A risky procedure to separate them is scheduled in 29 days. If it works Felix will have to say goodbye to his constant companion, if it doesn't they may both die. Luckily Felix is supported by his loving parents, his piano prodigy older sister, and his gender-fluid grandparent who alternates between Vera and Vern. Narrated by Felix in a secret blog, this captivating book is a celebration of the wonders of being "different."
---

Laughing at My Nightmare
by Shane Burcaw
Ages 14–up
This frank and funny autobiography describes what it is like to grow up dependent on other people for nearly everything. Shane Burcaw was born with spinal muscular atrophy (SMA) leaving him confined to a wheelchair and unable to care for himself. Now 21, Shane has blogged about his disability and launched a nonprofit to spread his message of using humor to deal with adversity.
---

All The Broken Pieces
by Ann E. Burg
Ages 11–up
Two years ago Matt Pin was airlifted from war-torn Vietnam. Now 12, and living with his loving adoptive American family, Matt is still haunted by memories of the family he left behind. Told in first person free verse, Matt's present and past are slowly revealed as he begins to come to terms with the guilt of being the only survivor.
---

The Hit
by Melvin Burgess
Ages 14–up
Everyone is talking about the expensive new drug is called Death, which gives the ultimate high for a week and then kills you. Adam is celebrating with his girlfriend Lizzie and witnesses a rock star's death on stage after an amazing concert. When Adam learns that his brother Jess is also dead, taking Death himself sounds like the perfect escape from his dead-end life in Manchester.
---

Tell Me Three Things
by Julie Buxbaum
Ages 12–up
Jessie's mother died two years ago, and her father just moved them across the country from Chicago to live in Los Angeles with her new stepmother and her pretentious teen-aged son. Jessie is beginning her junior year at Wood Valley High, an exclusive prep school, and feels totally unprepared for fitting in at her new school. Then she gets an email from Somebody/Nobody (SN for short), offering advice. Jessie comes to depend on the emails from SN, but is not sure how far she can trust the advice, and is constantly wondering who SN really is.
---

Lottery Boy
by Michael Byrne
Ages 12–up
Since his mother's death from cancer, Bully (12) has been living on the streets of London with his dog, Jack. He forages for food in dumpsters or steals, protected by his well-trained dog and his own courage. Bully's prized possession is a birthday card from his mother with a recording of her voice. Inside the card he discovers a lottery ticket he had forgotten about, containing the winning numbers. Bully has only five days to find an adult he can trust to help him claim his prize. Janks, a pit bull breeder who runs dog fights, learns of the ticket and pursues Bully.
---

Swim the Fly
by Don Calame
Ages 14–up
Fifteen-year-old Matt and his two swim team friends always set a summer goal. This year's goal is to see a girl naked, quite challenging since none of the trio have the nerve to even ask a girl out for a date. Matt also sets himself a personal goal—master the grueling 100-yard butterfly to impress the team's star female member. Sometimes crude but always funny, this book will appeal to teenaged male readers.
---

Essential Maps for the Lost
by Deb Caletti
Ages 14–up
Madison (Mads) Murray is staying with relatives in Seattle while getting her realtor's license. Mads doesn't really want to be a realtor, but it 's important to her mother so Mads fights depression to make her happy. While swimming in Lake Union she discovers the body of Anna Youngwolf Floyd, who jumped off a bridge. Mads tows the body ashore and becomes obsessed by the dead woman and her grieving son, Billy, who frees dogs from owners he considers unfit. When Mads and Billy meet they connect through the book he always carries in his pocket: The Mixed-Up Files of Mrs. Basil E. Frankweiler.
---

The Last Forever
by Deb Caletti
Ages 12–up
When Tess's mother finally dies of cancer, she leaves her one-of-a-kind pixiebell plant in Tess's care. Tess is determined to keep her mother's plant alive, and takes it alone when her impulsive pot-smoking father decides they need to make a journey from San Bernardino to the Grand Canyon. Tess struggles to keep the plant alive through the desert, and on to Oregon where her father leaves her with the grandmother she hasn't seen in 15 years. Tess tries to keep the plant alive and make a new life for herself with the help of a boy she meets at the library. Each chapter begins with information about a seed, underscoring the theme of rebirth and growth.
---

The Secret Life of Prince Charming
by Deb Caletti
Ages 12–up
Quinn is surrounded by women who have been disappointed by love. When her own romance also disintegrates, Quinn wonders if there are any good men out there. Then she discovers that her womanizing father, Prince Charming, may have stolen more than the hearts of the women he charmed. With her step-sisters, Quinn sets out to right her father's wrongs by returning the stolen treasures.
---
Echo After Echo
by Amy Rose Capetta
Ages 14–up
Zara Evans, a Pennsylvania high school senior, sends an audition tape to Broadway's Aurelia Theater, hoping for a role in her favorite Greek tragedy Echo and Ariston. She is stunned and delighted to be offered the role of Echo, and when the world-famous director asks Zara to promise she will have no outside commitments to distract her from the play, she is eager to comply. Zara finds a dead body during her first visit to the theater, a second death occurs during rehearsals, and Zara receives ominous warnings. Zara doesn't know if the deaths are accidents or murders, and she finds it very easy to be distracted by assistant lighting designer Eli Vasquez, a multi-tattooed girl as passionate about her work as Zara is about hers.
---

Entangled
by Amy Rose Capetta
Ages 14–up
The scattered remains of the human race live as second-class citizens on alien worlds, weakened by a sickness brought on by space travel. Cade (17) lives on the desert planet of Andana, playing her guitar for other "spacesicks" as a distraction from the Noise, a jumble of sound that fills her head. When the Noise suddenly stops, Cade learns she is the product of an experiment and has been entangled since birth with a boy named Xan, now held captive in an area of space infested with black holes. With the help of a human smuggler, an alien captain, and his sentient ship, Cade sets out to rescue Xan.
---

Jump
by Elisa Carbone
Ages 12–up
P.K. (16) runs away from home to avoid being sent off to boarding school. Critter, who has the ability to see colors that reveal emotions, escapes from a psychiatric hospital. Bonded by a shared love of rock-climbing, the two hitchhike to Las Vegas to attempt the first-ever climb up a steep rock face. Pursued by the police, who believe that P.K.'s life is in danger, the pair share their hopes and fears of the past and present. Told from the perspectives of both teens, this exciting book explores themes of independence, belonging, love, and endurance.
---

Pathfinder
by Orson Scott Card
Ages 12–up
Two stories intertwine in this complex fantasy. Rigg (13) lives a quiet life with his father in the backwoods, using his ability to see the trails left by animals and people anywhere from minutes to thousands of years earlier. When his father dies suddenly, Rigg becomes an outcast with his friend Umbo, wrongly blamed for Umbo's brother's death. The second story is that of starship captain Ram Odin, whose interspacial jump to a new colony planet causes a paradox with far-reaching consequences. The twin stories stretch across centuries in this fascinating series opener.
---

Heap House
by Edward Carey
Ages 10–up
The Iremonger family of Filching has made a fortune from junk, and the extensive family lives in a mansion constructed from salvaged materials. It's 1875 and young Clod Iremonger is about to officially become an adult, and is unhappily betrothed to his cousin Pinalippy. Each Iremonger possesses a birth object (like a sink plug or mustache cup) that they must always keep close or face death or transformation. Clod is considered strange because he can hear the birth objects speak. Orphaned Lucy Pennant comes to Heap House as a servant, and Clod finds himself falling in love as he and Lucy uncover dark Iremonger family secrets. (first in a projected trilogy)
---

The Tyrant's Daughter
by J.C. Carleson
Ages 12–up
Laila (15) grew up believing she was a princess. When her father is killed in a coup and Laila and her mother escape from the war-torn middle east to the United States, she learns the rest of the world viewed her father as a cruel dictator. Living in anonymity, Laila gradually grows accustomed to her new life and friends, but her mother can't accept the change and conspires to regain the throne she is convinced belongs to the family.
---

Etiquette & Espionage
by Gail Carriger
Ages 12–up
Sophronia (14) is now growing into the lady her mother hopes for, so she enrolls Sophronia in Mademoiselle Geraldine's Finishing Academy for Young Ladies of Quality. But Sophronia quickly realizes that the school, a giant dirigible floating above the moors, is not quite what her mother envisioned. Along with the other young ladies, Sophronia learns the skills of deceit, espionage, and assissination along with etiquette. This skillful blend of paranormal and steampunk is the first in the Finishing School series.
---

Curtsies & Conspiracies
by Gail Carriger
Ages 12–up
After six months in Mademoiselle Geraldine's Finishing Academy for Young Ladies of Quality, Sophronia is earning top marks in her classes, and doing especially well in portion allotment, puddings, and preemptive poisonings. The floating school travels to London to witness a technological breakthrough: a new guidance valve that makes travel through the aetherosphere possible. Sophronia discovers a plot to steal the valve while being courted by two young men from Bunson & Lacroix's Polytechnique. This clever steampunk adventure is the second in the Finishing School series, following Etiquette & Espionage.
---

The Girl of Fire and Thorns
by Rae Carson
Ages 12–up
Princess Elisa (16) is a disappointment to her parents. She is plain, overweight, and has never done anything remarkable, though she does hold the rare and mysterious Godstone embedded in her stomach. Offered a safe marriage with a handsome neighboring king, Elisa agrees, but is surprised when she arrives to her new home and discovers that her husband wants to keep their marriage a secret. Then Elisa is kidnapped by an invading army and realizes she is also being hunted by dark magicians. Instead of crumbling in the face of danger, Elisa grows in strength and resourcefulness. This engaging fantasy is the first in a planned trilogy.
---
The Crown of Embers
by Rae Carson
Ages 13–up
Queen Elisa (17) fears there is a possible traitor in her palace and is being pressured by her council to either marry or give up her power to a regent. She also has the Inviernos to deal with, who threaten to destroy her people if she doesn't surrender to them. Evading assassination and kidnapping, Elisa is guided by the mysterious Godstone embedded in her navel to search for the zafira — the soul of the world and the source of all magic. This gripping romantic novel is the sequel to The Girl of Fire and Thorns.
---
The Bitter Kingdom
by Rae Carson
Ages 13–up
Queen Elisa (17) heads off to enemy territory with her companions to rescue the man she loves. Meanwhile, a traitor at home plots to overthrow her. The journey takes the young sorcerer queen through the bitterly cold land of Invierne, where she she hopes to destroy the source of their magic and win peace, and to the Basajuan desert where peace will be even more difficult to attain. This thrilling fantasy is the concluding volume in the trilogy that includes The Girl of Fire and Thorns and The Crown of Embers.
---

Walk on Earth a Stranger
by Rae Carson
Ages 13–up
Leah (15) lives in an isolated part of Georgia with her ailing parents in the early 1800s. Leah has the ability to know when gold is near, and uses her talent to support her parents. When a gold rush hits Dahlonega, her parents are murdered, and Leah flees her uncle who wants to utilize her talents. Disguised as a boy, Leah joins a wagon train headed to California with her friend Jefferson, who is half-white and half-Cherokee. This exciting adventure is the first in the Gold Seer trilogy.
---
Graceling
by Kristin Cashore
Ages 14–up
People with special talents, called Gracelings, are identified by their unusual eyes. Katsa has one green and one blue eye, but it is not until she is eight that her special talent is discovered—killing. By age 18 she is henchwoman to the king. Hating her job, Katsa creates a secret council to work against corrupt power. Teens (and adults) struggling to put their own talents to good use will enjoy this riveting novel.
---

Fire
by Kristin Cashore
Ages 14–up
Fire, an orphan with hair as red as her name, can control the minds of everyone around her. Young King Nash is barely holding on to his throne, while rebel lords in the north and south build armies in hopes of taking over the throne. This suspenseful and romantic companion volume (prequel) to Graceling, shares one pivotal character.
---

Bitterblue
by Kristin Cashore
Ages 14–up
Now 18, Bitterblue, the Queen of Monsea is ready to take control of her kingdom. Her advisors, who have run the kingdom since her psychopathic father King Leck died, want to pardon anyone who committed crimes during Leck's rule and forget the past. Bitterblue sneaks out of the castle in disguise, and realizes that her father's evil influence lives on, and that the only way to prepare for the future is to face the past. (companion to Graceling and Fire)
---

The Radiant Road
by Katherine Catmull
Ages 12–up
After years in America, Clare Macleod and her father return to live in the ancient stone house In Ireland where she was born. The house is build into a green hillside, and has a yew tree as one wall. Clare discovers that the tree has a door, and Finn, a sort-of-human boy, lives on the other side. both Finn and Clare's worlds are threated by an frightening enemy. This luminous fantasy is often quite scary.
---

Because I am Furniture
by Thalia Chaltas
Ages 12–up
Anke's father is abusive to her older brother and sister, but not to her. She is invisible and helpless. Then Anke makes the volleyball team at school and her confidence builds until she begins to hope that her voice will soon be loud enough to rescue everyone at home, including herself. This powerful novel in poems is devastating yet offers empowerment and hope.
---

Dying to Know You
by Aidan Chambers
Ages 14–up
Karl, a dyslexic 18-year-old plumber, enlists the help of a 75-year-old author in meeting his girlfriend's request that he write to her and describe his innermost secrets. To Karl, the task seems impossible, but the author is challenged in a way he hasn't been engaged in many years. Narrated by the nameless elderly author, this engaging examination of love and the art of storytelling is intricately told.
---
The Testing
by Joelle Charbonneau
Ages 12–up
Cia Vale (16) hopes to be chosen for the annual Testing as a way out of a rural farming life to the University in Tosu City. The Testing is an intensive mental and physical trials to choose the best and the brightest youth to attend the university and work to repair the damage to their world by the Seven Stages of War. Exactly 80% of those tested will be eliminated in the trials, and Cia is warned to trust no one, but can't resist her attraction to Tomas. (first in a planned trilogy)
---

Fat Angie
by E.E. Charlton-Trujillo
Ages 14–up
Angie, a high school freshman, is bullied at school and belittled by her mother and adopted brother. Angie's beloved older sister has been reported missing-in-action in Iraq, and Angie is the only one who clings to the hope that she may still be alive. When KC Romance, a beautiful new transfer student dressed in bad girl clothes arrives in Dryfalls, Ohio, the unlikely pair bonds over shared broken homes, troubled pasts, and love for classic TV shows. The friendship blooms into romance between the two girls who have learned to look beneath the surface to the true person hidden inside.
---

When We Was Fierce
by E.E. Charlton-Trujillo
Ages 14–up
Theo (15) lives in a bad neighborhood full of drugs and rival gangs. When he witnesses the brutal attack on a mentally-impaired young man he tries to help and is badly beaten up. Along with his friends, T is in the spotlight of both the police and the gangs. T's mother tries to send him away to keep him safe, but T is determined to stand his ground in the neighborhood that is his home. This unflinching novel of survival is narrated mainly in street dialect.
---

The Reader
by Traci Chee
Ages 12–up
Sefia's father is murdered, and she flees into the wilderness with her aunt Nin, who teaches her to track hunt, and steal. When Sefia is 15, Nin is kidnapped, leaving her completely alone. None of her survival skills help her discover where Nin has been taken. The only clue is the strange rectangular object her father left behind. She learns that the strange object, bound paper covered with symbols, is called a book. Reading and writing are unheard of in the land of Kelanna, but Sefia is determined to decipher the hidden secrets of the book. With the help of a mute boy she rescues, Sefia sets out to rescue Nin and discover the truth of her father's murder.
---
See You in the Cosmos
by Jack Cheng
Ages 10–up
Alex Petroski (11) loves space, his mother and brother, and his dog named after his hero, astronomer Carl Sagan. Inspired by the Voyager Golden Record released to space in 1977, Alex records his thoughts and adventures into his gold iPad, determined to launch it into space so that intelligent beings light years away will understand Alex's Earth. He sets off with Carl Sagan to the Southwest High-Altitude Rocket Festival in New Mexico, where he meets other space fanatics and persuades two new adult friends to take him to Las Vegas in search of his perhaps-dead father, where he learns the truth about his family.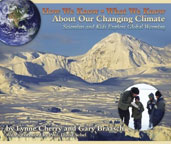 How We Know What We Know About Our Changing Climate:

Scientists and Kids Explore Global Warming
by Lynne Cherry & Gary Braasch
Ages 10–14
Hopeful tone and comprehensive resource list.
---

Into the Dangerous World
by Julie Chibbaro, Jean-Marc Superville Sovak
Ages 14–up
Ror (17) grew up in a commune on Staten Island. Ror never attended high school, but she learned about art and literature from her father and longs to be an artist. When her father burns down their home and himself in 1984, Ror and her mother are left homeless and nearly penniless. Ror meets Trey, a street artist, and becomes fascinated with graffiti. She finds the art form a perfect channel for expressing her grief, but worries about being caught. Black and white sketches illustrate Ror's talent as she struggles to find her place in the world.
---

Ruby Redfort Look Into My Eyes
by Lauren Child
Ages 10–13
Middle-schooler Ruby Redfort, the observant daughter of clueless socialite parents, has been hired by Spectrum, a top-secret intelligence agency. Ruby's code-cracking skills are what got her the job, but she is quickly bored with investigations from inside a well-hidden office. With the help of classmate Clancy Crew, Ruby ventures out to prevent the theft of a priceless jade Buddha. This clever novel packed with puzzles is the first in a new adventure series. (Ruby Redfort is the fictional heroine of Clarice Bean.)
---

Oh. My. Gods.
by Tera Lynn Childs
Ages 12–up
Phoebe is shocked when her widowed mother returns from a Greek vacation not only engaged to a man she has just meet, but determined that Phoebe will complete her senior year of high school at her future stepfather's private academy. The twist is that the school caters to the descendents of the Greek gods and goddesses, cleverly mixing mythology into the usual high school cliques.
---

Stolen
by Lucy Christopher
Ages 14–up
This intense psychological thriller begins when Gemma (16), steps away from her British parents for a moment at a layover in the Bangkok Airport, to get a cup of coffee. Ty, the handsome young Australian who pays for her coffee seems oddly familiar. After drugging the coffee, Ty whisks Gemma away to the home he has built in the isolated Australian outback, believing he is rescuing her from her shallow parents and a city life in London where she could never be happy. At first repelled by both her kidnapper and her new environment, Gemma slowly warms to both as she realizes she must either come to terms with her new reality or die trying to fight it.
---
The Bone Witch
by Rin Chupeco
Ages 12–up
When Tea accidentally resurrects her brother from the dead, Tea learns she is a bone witch, able to raise and control the dead. Her fearful power cause her to be ostracized by her community. An older bone witch takes Tea and her brother to another land for training. As she trains to be an asha, a witch who can wield elemental power, Tea learns that bone witches don't live long. This dark fantasy is the first in the Bone Witch series.
---
The Girl from the Well
by Rin Chupeco
Ages 14–up
Okiku, a vengeful spirit, wanders the world in search of those who abuse and murder children, killing them in order to free the souls of the tormented children. Okiku discovers that Tark Halloway (15) is possessed by a violent spirit. Okiku feels an unexpected fondness for Tark and his cousin Callie, and their journey to Japan allows Okiku to confront her own tragic origin. This scary tale is based on a Japanese legend.
---

Freakboy
by Kristin Elizabeth Clark
Ages 12–up
Brendan seems to have it all. He's a star wrestler and a loving boyfriend to his girlfriend Vanessa. But Brendan secretly struggles with his desire to sometimes be a girl. Then Brendan meets transgendered Angel, who introduces Brendan to terms like gender identity. Separate narrations in free verse from the perspectives of Vanessa, Brendan, and Angel reveal each character's internal turmoil.
---

The Winds of Heaven
by Judith Clarke
Ages 14–up
Clementine is charmed by her cousin Fan from their first meeting at age 10 at Fan's home in the Australian countryside in 1952. But she does not like Fan's cruel aunt, who doesn't treat Fan well. As the two grow older, Clementine feels guilty about her own luck and financial security. Clementine goes to university while the ever more depressed Fan suffers through an unhappy teenaged marriage and children before she is ready for them. This heart-felt novel captures the powerlessness of children to change their circumstances while celebrating the power of friendship illustrated by the bond between the cousins despite their different situations.
---

Delilah Dirk and the Turkish Lieutenant
by Tony Cliff
Ages 12–up
Delilah Dirk abandons proper court life to become a globe-trotting soldier of fortune. Captured and held prisoner in 1800s Constantinople, the swash-buckling Delilah escapes with mild-mannered Turkish Lieutenant Erdemogul Selim, whose quite life revolves around a perfect cup of tea. The funny adventures of the two mis-matched companions come to vivid life in this beautifully illustrated graphic novel.
---
A Shadow Bright and Burning
by Jessica Cluess
Ages 12–up
Henrietta Howel (16) can start fire with her mind, but keeps her talent secret since women aren't permitted to practice magic. Henrietta teaches at the Brimthorn School for girls in an alternative Victorian England, and is noticed by a visiting sorcerer who offers to train her as one of Queen Victoria's royal sorcerers. (first in the Kingdom on Fire trilogy)
---

Witchlanders
by Lena Coakley
Ages 12–up
When Ryder's father dies, he struggles to keep up the family's remote farm in the Witchlands. Ryder isn't sure that the annual payment of one quarter of the crops to the witches is worth it, especially since his people's old enemy the Baen has been defeated. His mother, a lapsed witch, had mocked the power of the coven, and Ryder is pretty sure she was right. But a terrifying new magic threatens the village and the coven, and Ryder must confront all his beliefs, even his hatred of the Baen.
---
The Kingdom of Little Wounds
by Susann Cokal
Ages 16–up
Ava Bingham is a young seamstress in the palace in 16th century Skyggehaven, ruled by the mad Queen Isabel and the weak King Christian. On the eve of Princess Sophia's wedding, the prick of a needle sets off a series of events that will change everything, especially for Ave and the mute African nursery slave. Frank depictions of violence are set in a dark fairy tale world.
---

Pointe
by Brandy Colbert
Ages 14–up
Theo Cartwright (17), from one of the few black families in her Chicago suburb, is a gifted and driven ballet dancer. Theo is also working hard to control an eating disorder and hiding secrets about her best friend Donovan, who disappeared when they were 13. When Donovan returns home after enduring four long years with his kidnapper, he refuses to talk about what happened. Theo can no longer suppress her memories of the past, and begins to relive the abduction.
---

The Reluctant Assassin
by Eoin Colfer
Ages 10–up
Riley is a teen-aged orphan in Victorian London, apprenticed to Albert Garrick, a magician turned assassin. Chevron Savant (17) is an FBI agent sent to London as punishment after a bungled mission. Cherie's job is to babysit a metal capsule, one end of a wormhole that connects the present to the year 1898. Riley is tasked by his master to perform his first killing, but luckily for the reluctant assassin, his victim is a scientist from the future, part of the FBI's Witness Anonymous Relocation Program (WARP). This blend of horror, humor, and science fiction is the first in the W.A.R.P. series.
---

The Hunger Games
by Suzanne Collins
Ages 12–up
In this future world the United States is gone and North America has become Panem, a TV-dominated dictatorship. Every year 24 teenagers are chosen by lottery to fight in the Hunger Games, a reality TV show where the only rule is that you cannot eat the dead contestants. Katniss takes the place of her younger sister and is soon being groomed for maximum camera appeal. As Katniss struggles to win both the Games and audience approval, the reader is forced to confront the question: What happens if we choose entertainment over humanity? (1st in a trilogy)
---

Catching Fire
by Suzanne Collins
Ages 12–up
Katniss Everdeen and won the annual Hunger Games against all odds and should be enjoying the new prosperity their win brought to their district. But President Snow is angry about being outsmarted and rumblings of uprisings inspired by Katniss's defiance of the rules are heard across the land. And the upcoming Hunger games will be the 75th anniversary so there are sure to be some extra-special challenges for the next round of Hunger Game contestants. (sequel to The Hunger Games)
---
A Banquet for Hungry Ghosts:

A Collection of Deliciously Frightening Tales
by Ying Chang Compestine, Coleman Polhemus
Ages 12–up
This collection of eight gruesomely delightful tales feature hungry ghosts—the spirits of those who died hungry or unjustly and have returned to seek vengeance. The chilling tales are illustrated with lurid images of the ghosts and their victims.
---

Matched
by Ally Condie
Ages 14–up
In Cassia's world, the Society makes all the decisions: what to wear, where to work, when to die, and who to marry. When Cassia turns 17 she is Matched with her best friend Xander. But her neighbor Ky also shows up on her Match disk. Cassia is told that was an error, but can't resist getting to know Ky better. She is amazed to find that Ky has a unique secret—creativity. As Cassia begins to understand that their are options other than being controlled by the Society, things get uncomfortable.
---

Reached
by Ally Condie
Ages 12–up
Cassia, Ky, and Xander are separated, each doing their part as agents of the Rising rebellion, working against the repressive Society. An introduced plague saps the resources of the Society, allowing the Rising to step in with a cure and prove itself the better choice for the people. But the plague mutates out of control, and the trio work together to fight it. This finale in the Matched trilogy follows Matched and Crossed.
---

Summerlost
by Ally Condie
Ages 10–up
It's been a year since the accident that killed Cedar Lee's father and younger brother Ben. Cedar (12), her mother, and her brother Miles move to Iron Creek, Utah for the summer. When Leo, wearing a costume, rides by on his bike, Cedar follows him to the Summerlost Shakespeare festival. She gets a job working concessions with Leo and learning about the ghost of the Hollywood actress who haunts the halls of Summerlost.
---

No Such Person
by Caroline B. Cooney
Ages 12–up
Miranda (15) and her college-bound sister Lander are spending the summer with their parents on the Connecticut River. The two sisters see a water-skiing accident, but only Miranda notices that the motorboat driver intentionally steers the skier in front of a barge. Lander begins dating the motorboat driver though Miranda urges her not to trust him. A week later Lander is found on a boat carrying drugs with a gun in her hand and a dead body next to her. Lander is charged with murder, but Miranda is sure her boyfriend is the real culprit.
---
The Gates
by John Connolly
Ages 12–up
While doing some early trick-or-treating with his dog Boswell in Biddlecombe, England, 11-year-old Samuel Johnson witnesses a strange happening at 666 Crowley Road. Experimenting with one of the spells in a old book, Mrs. Abernathy inadvertently opens the Gates of Hell and allows a powerful demon through. Horrified, Samuel tries to convince various adults of the mounting danger, but finds they don't believe him. Billed as an "adult book for children," this whimsical fantasy features a quirky and imaginative hero, an amusingly incompetent subdemon named Nurd, and accessible explanations of quantum mechanics, wormholes, and black holes.
---

The Things You Kiss Goodbye
by Leslie Connor
Ages 14–up
Bettina Vasilis (15) is lonely after her best friend moves away, leaving her isolated within her traditional Greek family. During the summer after her sophomore year, her strict father unexpectedly allows her to date basketball star, Brady Cullen. Bettina finds it a bit odd that their outings are always just the two of them alone, but it's not until school begins again that she realizes Brady wants to keep her to himself, hurting her when she doesn't obey. After a painful experience she meets a kindly car mechanic she calls Cowboy, who challenges her to focus on her own interest in art. Bettina knows her father would never approve of her relationship with an older man, even through makes her happy.
---

Waiting for Normal
by Leslie Connor
Ages 10–up
Sixth-grader Addie's mother disappears for days at a time, leaving the resilient Addie to struggle to maintain a normal life. Addie's optimism in the face of child neglect makes for a powerful story.
---
Ghost Hawk
by Susan Cooper
Ages 10–14
Returning from his three-month test of solitude, Little Hawk returns to his Pokanoket village to discover that diseases brought by the Pilgrims in nearby Plymouth have killed everyone except his grandmother. Later Little Hawk befriends a Pilgrim boy named John Wakely, but the Pilgrims' bigotry and a shocking act of violence permanently change both their lives.
---

Changers Book One: Drew
by T Cooper, Allison Glock-Cooper
Ages 12–up
Ethan Miller is looking forward to his first day of high school in a new town. He has grown taller over the summer, has a new haircut, and can't wait to try out for the soccer team. But when he wakes up the first morning of school, Ethan discovers he is now a girl. His parents reveal that Ethan is a Changer, a race that changes gender each year for four years before finally settling on a permanent gender. So Ethan begins freshman year as Drew Bohner, adapting to life from a female perspective while understanding that everything will change again in a year. This first in a four book series will strike a chord with teens questioning their sense of self or gender as well as those seeking to understand gender identity.
---

Accomplice
by Eireann Corrigan
Ages 12–up
When their high school guidance counselor reveals that good grades and community service aren't enough anymore, Finn and Chloe decide to create their own fame. They fake Chloe's disappearance, sending her horse home without a rider. Planning a spectacular rescue by Finn later, they hide Chloe in Finn's grandmother's basement for 11 days. It sounds like a good plan, but the girls didn't expect the psychological challenges of Chloe's loneliness and Finn's lies, and the effect the disappearance has on others. This haunting thriller explores the dynamics of the relationship between the two girls as Finn struggles to come to terms with guilt and remorse.
---

Of Fire and Stars
by Audrey Coulthurst, Jordan Saia
Ages 13–up
At the age of seven, Princess Dennaleia of Havemont discovers that she has a magical "affinity" for fire. Unfortunately, she is already betrothed to Prince Thandilimon of neighboring Mynaria, where the practice of magic is banned. Dennaleia's mother believes that if she ignores her gift it will fade away, but her affinity grows stronger, and she almost causes a fire when she arrives in Mynaria at the age of 16. She tries to hide her affinity from the prince's family, especially his prickly older sister Amaranthine, for whom she feels an unexpected attraction.
---

Vivian Apple at the End of the World
by Katie Coyle
Ages 14–up
The leader of the Church of America has declared that the Rapture will occur in late March of an unspecified year. While some Believers follow instructions for preparing for the Rapture, others, like Vivian Apple (16) and her best friend Harpreet Janda have Rapture Eve parties. Returning home from a party, Vivian finds her parents missing, and two person-sized holes in the roof. Certain that her parents haven't really been "raptured," Vivian, Harp, and the mysterious Peter who attended the Rapture Eve party, set out in search of them through a post-rapture America that has become paranoid and dangerous.
---

All the Major Constellations
by Pratima Cranse
Ages 14–up
A tragedy just before graduation leaves Andrew without the support of his two best friends the summer before college. His family's alcoholic dysfunction is harder to deal with than ever, and Andrew finds himself unexpectedly attracted to Laura, a member of a fundamentalist Christian group. Laura's friendship brings he support of her Christian youth group, but Andrew can't figure out if she is attracted to him or just wants to convince him to join her church.
---

Carter Finally Gets It
by Brent Crawford
Ages 13–up
Entering freshman Carter isn't good at talking to girls—he battles Attention Deficit Disorder and stutters, but is determined to get a girlfriend anyway. This often hilarious first person narrative will engage and amuse male teenaged readers.
---
Walk Two Moons
by Sharon Creech
Newbery Medal 1995


Ages 10–14
Salamanca Tree Hiddle's mother leaves home on a spiritual quests, but promises to return. She doesn't, and Sal and her father move from Kentucky to Idaho. Her new friend Phoebe is also 13 and also has a mother who vanished. Sal convinces her grandparents to drive to Idaho in search of her mother while telling the story of Phoebe. Sal's journey through the grieving process of denial, anger, and acceptance is presented realistically and with compassion.
---

Invisibility
by Andrea Cremer & David Levithan
Ages 12–up
Stephen was born invisible, not even his parents have seen him. Now 16 Stephen is alone in his Manhattan apartment, his father long gone and his mother dead. Then Elizabeth (16) and her family move into the building, having left Minnesota after her younger brother Laurie was badly beaten for being gay. Amazingly Elizabeth can see Stephen. Learning that Stephen's invisibility is the result of a curse, Elizabeth and Laurie join Stephen in a quest to reverse the curse.
---

After the Snow
by S.D. Crockett
Ages 12–up
Willo (15) lives in the barren snow-covered mountains of northern Wales and has never known anything but cold. His father tells stories of warm times before global warming destroyed the North Atlantic Current, dooming the UK and most of the US to a new ice age. One day Willo returns home to find that his family has been taken away by government men. Setting off in search of his family, Willo discovers two abandoned children. At first tempted not to burden himself with caring for others, Willo finds himself unable to leave them to starve, and takes them with him on the journey to the city he has always avoided.
---

Original Fake
by Kirstin Cronn-Mills, E. Eero Johnson
Ages 12–up
Frankie Neumann (17) feels like a misfit in his flamboyant family. His theater obsessed sister Lou wears a tutu, and his parents impersonate Frank Sinatra and Dr. Frank-N-Furter. When his girlfriend Rory and her cousin ask Frankie to help their mysterious Uncle Epic, an anonymous street artist, with a new project, Frankie eagerly agrees. But his desire to participate in a risky form of art threaten his relationship with his family.
---

One
by Sarah Crossan
Ages 13–up
Tippi and Grace (16) are conjoined twins, with separate heads, arms, and torsos, but joined from the belly down. Since birth they have happily done everything as a unit, choosing not to chance the dangerous separation surgery. Previously home-schooled, the twins are now in a private school, where they are befriended by Yasmeen and Jon, two other outcasts who treat the twins as equals. Tippy warns Grace that they can never fall in love, but Grace finds herself attracted to Jon just as the twins learn that a shared illness threatens them both. Their doctor recommends separation as the only chance for survival, despite the dangers of the surgery.
---

The Weight of Water
by Sarah Crossan
Ages 10–14
Kasienka (12) and her broken-hearted mother leave Poland for England, searching for the father and husband that left them a few years earlier. Arriving in England with only an old laundry bag containing a few clothes, Kasienka has to cope to adjusting to a new language and culture along with caring for a mother who hasn't the skills to track down a man who may not want to be found. Bullied at her new school Kasienka is only happy when she is swimming in the pool. This emotionally powerful novel is written in verse.
---

An Uninterrupted View of the Sky
by Melanie Crowder
Ages 12–up
In 1999 Bolivia Francisco (17) is having trouble finding his place in the world. Light-skinned people can get good jobs working in places like banks while dark-skinned people work in the fields and the mines. Francisco is somewhere in the middle, more interested in playing soccer than school. When his father is arrested on false charges, Francisco and his sister have no choice but to move into the prison with their father. Francisco realizes that education is the only opportunity to rescue his family from the unjust political system that that targets the uneducated, the poor, and the indigenous majority.
---

Hot Pterodactyl Boyfriend
by Alan Cumyn
Ages 14–up
Shiels is happy with her life. She's smart, popular, Student Body Chair, has a loving boyfriend and is totally in control. Then the first-ever interspecies transfer student arrives. Pyke is a pterodactyl, and has a very powerful effect on the other students. He is asked to join a band, and sends everyone into a frenzy while playing at the Autumn Whirl dance. Shiels has only a foggy memory of the dance, but when she wakes up the next morning her nose is purple and she thinks she danced far too long with Pyke and did something crazy with her boyfriend. This very funny book shows that not being in control at all times is sometimes a good thing.
---

The Mighty Miss Malone
by Christopher Paul Curtis
Ages 10–14
In 1936 Gary, Indiana, the Great Depression causes Roscoe Malone to lose his job. He leaves for Flint hoping to find another job, leaving his wife, son Jimmy, and daughter Deza (12) behind. When Deza's mother also loses her job, the family becomes homeless and sets off to Flint. In a camp on the journey, Jimmy's beautiful voice is recognized, and he leaves to pursue a career as a performer. Deza and her mother find a new home and cling to the hope that they will find her father. (Deza makes an appearance as a minor character in Bud, Not Buddy.)
---
The Midwife's Apprentice
by Karen Cushman
Newbery Medal 1996


Ages 10–up
In medieval England, a young girl rises from dire poverty by becoming the apprentice to Jane Sharp, a cranky and bossy midwife. First known as Beetle, since she was found living in a dung heap, the girl struggles to learn the skills of her new profession. As she grows in knowledge and self-confidence, the girl finally respects herself enough to choose a real name: Alyce.
---

Will Sparrow's Road
by Karen Cushman
Ages 10–14
Abandoned by his mother and sold to an innkeeper for an unlimited supply of ale by his father, Will Sparrow (13) is a self-confessed liar and thief. Running away from the inn, Will sets out on the open road, trying to outsmart the thieves, tricksters, and con artists, and repeatedly being taken advantage of. Will finally ends up with Master Tidball and his caravan of oddities, befriending Grace, a girl billed as a monster because of the silky hair growing on her face. Elizabethan England comes to vivid life in this lively and amusing tale.
---

Cherry Money Baby
by John M. Cusick
Ages 14–up
Cherry Kerrigan is content with her simple life living in a trailer, preparing to marry her sweetheart who lives next door, and working in the Burrito Barn. When she rescues visiting movie star Ardelia Deen from choking, Ardelia is so grateful she presents Cherry with the Alfa Romeo. Impressed by Cherry's ability to see through pretense, Ardelia hires Cherry as a consultant to help her choose a surrogate mother for the baby she longs for. Cherry is a refreshing down-to-earth heroine in this realistic fiction.
---

The Year We Were Famous
by Carole Estby Dagg
Ages 12–up
Clara (17), who dreads settling down with the boring young farmer who wants to marry her, is convinced by her mother to take a 4,000 mile walk to save their farm from foreclosure. Inspired by Nellie Bly's trip around the world, Clara's mother accepts a $10,000 challenge from a publisher to walk from Washington state to New York City in seven months. Based on the real journey taken by the author's great-aunt and great-grandmother, this exciting book recreates the hardships and adventures the two women faced as they learned to rely on each other and the kindness of strangers to find food and shelter along the trek.
---
Flirt Club
by Cathleen Daly
Ages 12–up
Isabelle and Annie (AKA Cisco and the Bean) are middle school drama geeks who are hopeless at romance. So they start the Flirt Club, an after school support group for friends who share their affliction. Told through notes, journal entries, and minutes from the Flirt Club, this funny and endearing story is a refreshing change from the mean girl middle school storyline.
---
The Miseducation of Cameron Post
by Emily M. Danforth
Ages 14–up
Cameron Post is just beginning to come to terms with the realization that she might be a lesbian when her parents suddenly die in a car accident. Cameron is sent to live with her conservative Aunt Ruth in rural Montana and Cam tries to keep a low profile and fit in. Then Coley Taylor moves to town and the two girls form an intense friendship. Aunt Ruth is horrified when Cam's secret questionings are revealed, and sends her to God's Promise, a residential school designed to help teens break free from "sexual sin" and welcome Jesus Christ into their lives. This funny and heart-breaking coming of age story is beautifully written.
---
Untwine
by Edwidge Danticat
Ages 12–up
Isabelle (who loves music) and Giselle (who loves art) are identical 16-year-old Haitian-American twins in Miami. The twins are trying to deal with the recent separation of their parents, when the SUV carrying the whole family is in a terrible accident. Giselle is the only surviver, though in a coma. Her Aunt Leslie calls her Isabelle, and Giselle is unable to respond and correct the error. In fact, Giselle isn't sure she ever wants to emerge from the coma since only grief and suffering await her.
---
The Awesome
by Eva Darrows
Ages 15–up
Maggie Cunningham (17) has been raised by her monster-hunting single mother to be skilled in the art of combat, but not so good at social relationships. Maggie wants to follow in her mother's footsteps, but in order to graduate to hunting the more dangerous monsters (like vampires), Maggie must lose her virginity (since virgins are the favorite food of vampires). Maggie has successfully battled ghosts and goblins, but finding herself a boyfriend may just be a task beyond her skills. Trying to fit in with normal girls, Maggie discovers that cleaning a gun blindfolded is not a valued attribute, but she is unprepared for long conversations about shoes. Maggie's narration is crass, snarky, and hilarious.
---
The Odds of Lightning
by Jocelyn Davies
Ages 14–up
During a party on a rooftop in New York City the night before they are to take their SATs, four students are struck by lightning and transformed in ways connected to their insecurities. Nathaniel is a science whiz living in the shadow of his older brother, Will has conquered a weight problem to become a soccer star, Lu hides herself behind a theater persona, and Tiny feels so insignificant he might as well be invisible.
---

The ACB with Honora Lee
by Kate De Goldi, Gregory O'Brien
Ages 10–up
Perry (9) is the only child of very busy parents who structure every minute of her life. When Perry's Thursday after school activity is canceled, she persuades her parents to let her spend one afternoon a week with her Gran, Honora Lee, who is hospitalized with dementia. Though Gran has trouble recognizing people, the two bond over Gran's eccentric interest in the alphabet, and Perry begins an alphabet book with the help of Gran and others in the dementia care unit. "W is for Walking Stick, which Melvyn uses as a Weapon." This honest and humorous look at aging and the need of a child to relate to her grandmother is highly recommended.
---

Dingo
by Charles De Lint
Ages 12–up
Incorporating Australian folklore, this fantasy tells the tale of Michael Schreiber who discovers that his new girlfriend is something other than human. A mixture of darkness and hope, humor and mystery, and the friendship within love.
---

Titanic Sinks!
by Barry Denenberg
Ages 10–up
This intriguing mix of fact and fiction gives a "you are there" feeling to the infamous disaster, commemorating 100th anniversary of the sinking of the Titanic. Fictional characters supplement the recollections of actual survivors, presented in the pages of a fictional magazine. Period photographs add to the dramatic effect.
---
Truthwitch
by Susan Dennard
Ages 13–up
In the Witchlands there are many different kinds of magic. Safiya is a Truthwitch, able to distinguish truth from lies, and Iseult, is a Threadwitch, able to see the invisible ties that connect the people around her. Safiya is born to the nobility while Iseult comes from the despised outcasts. Safiya hides her gift, aware that if revealed she would be pressed into service by those seeking power. The two become friends, Threadsisters bound by their shared experiences. The Twenty Year Truce is coming to an end, and the renegotiation threatens to end in war. Prince Merik, a Windwitch, joins forces with the Threadsisters, determined to fight for freedom against those who would do just about anything to capture a Truthwitch. This exciting novel is the first in the Witchlands series.
---

Taking Flight: From War Orphan to Star Ballerina
by Michaela DePrince, Elaine DePrince
Ages 12–up
Abandoned at a young age in war torn Sierra Leone, Michaela DePrince was known as Girl Number 27 at the orphanage or Devil Child because of a skin condition that caused spots. Her only joy was the picture of a ballerina en pointe on a wall. At the age of four, Michaela was adopted by an American family who encouraged her love of dancing. She was accepted at the American School of Ballet and is now the youngest principal dancer with the Dance Theatre of Harlem. This moving memoir is written by Michaela and her adoptive mother.
---
Lock and Key
by Sarah Dessen
Ages 12–up
After her mother abandons her, Ruby Cooper is taken in by the older sister she hasn't seen in 10 years and her wealthy husband. Ruby now has everything she's dreamed of: fancy house, private school, new wardrobe. But Ruby is a reluctant Cinderella, suspicious of her own good fortune.
---

The Moon and More
by Sarah Dessen
Ages 12–up
Emaline lives in the quiet beach town of Colby, North Carolina, with her mother, step-father and step-sisters. Emaline has been dating Luke for four years, and they plan to attend East U in the fall. Then Emaline's estranged father and her half-brother Benji suddenly arrive, throwing her calm life into confusion. Another complication is Theo, an ambitious outsider from New York, in town as part of the crew working on a documentary film about a reclusive local artist. Emaline finds Theo exciting, and he tries to convince her that neither Luke nor the town of Colby are good enough for a girl like her.
---

Saint Anything
by Sarah Dessen
Ages 12–up
Sydney has always felt invisible since her parents lavish all their attention on her older brother Peyton. When Peyton is arrested injuring another boy while drunk driving and sent to jail, her parents throw themselves into supporting Peyton. Sydney suffers pangs of guilt for the paralyzed victim of Peyton's accident and feels even more alone until she meets the Chatham family, who welcome her into the warm chaos of their family and accept Sydney as a person in her own right.
---
Wither
by Lauren DeStefano
Ages 14–up
War has destroyed most of the continents, and a virus has killed all females by age 20 and males by age 25 for generations. Healthy teenaged girls are prized as breeding stock, and Rhine is kidnapped and forced into a polygamous marriage in a lavish Florida home where Gabriel is a servant. Though pampered in her luxurious prison, Rhine wants to get back to her twin brother Rowan, and infects Gabriel with her dreams of escape. (1st in a planned trilogy)
---

Blind
by Rachel Dewoskin
Ages 12–up
Emma Sasha Silver loses her eyesight in an accident when she is 14. A year later she is still struggling to find her way around her large school and finds it difficult to deal with everyday life. It's not until her best friend from her pre-accident life commits suicide that Emma begins to re-examine her "poor blind kid" attitude and reconsider her conviction that she has no future now that she is blind.
---

Flora and Ulysses: The Illuminated Adventures
by Kate DiCamillo, K.G. Campbell
Newbery Medal 2014
Ages 10–up
Flora (10), bitter about her parents' divorce, becomes obsessed with superhero comics. When a squirrel is swallowed whole by a Ulysses Super-Suction Multi-Terrain 200X vacuum cleaner, Flora rescues him and names him after the machine. Transformed by his experience, Ulysses the squirrel become super-strong, learns to fly, and begins to compose poetry on Flora's mother's typewriter. This clever novel is a wonderful combination of realistic sadness and comedy.
---

Raymie Nightingale
by Kate DiCamillo
Ages 10–up
Raymie Clarke is crushed when her father runs off with a dental hygienist in 1975. She decides that if she can win the Little Miss Central Florida Tire competition and get her picture in the paper, her father will see it and come home. To win, Raymie has to learn to twirl a baton and to do good deeds. Her competition is Louisiana Elefante, a wispy orphan who claims to be the daughter of the famous Flying Elefantes, and Beverly Tapinski, a fierce girl who vows to sabotage the contest. Tragedies have influenced all three girls, and as the contest grows closer they gradually begin to trust and rely on each other.
---

Entwined
by Heather Dixon
Ages 12–up
Azela, the heir to the throne, and her 11 sisters live in the half-magical world of Eathesbury. When their mother dies after a long illness, their father the King banishes the girls from his sight and goes off to war without even saying good-bye. The sisters find a secret passageway to an enchanted pavilion under the castle, where they dance all night, breaking the rules of mourning. This magical tale is based on "The Worn-Out Dancing Shoes" by the Brothers Grimm.
---

Illusionarium
by Heather Dixon
Ages 13–up
Jonathan Gouden is the son and apprentice to the second-best scientist in the empire. The king demands that Dr. Gouden find a cure for the Venen plague, mysterious illness that kills women six days after being exposed. Fantillium, a new drug that allows illusionists to create a reality that others can share, offers a hope of discovering a cure before the Queen dies of the plague. But fantillium causes one's conscience to whither away, and has already destroyed the moral compass of Lady Florel, the best scientist in the empire. This suspenseful and humorous steampunk adventure is set in an alternate London.
---

Little Brother
by Cory Doctorow
Ages 13–up
Set in near-future San Francisco after a terrorist attack, 17-year-old Marcus and his friends (guilty only of cutting school) are arrested and interrogated by the Department of Homeland Security. Released, techno-geek Marcus and his crew fight against the oppressive police state.
---

Annexed
by Sharon Dogar
Ages 12–up
On July 13, 1942, 15-year-old Peter van Pels and his family entered the attic that would be their home for two years. Written from the viewpoint of 15-year-old Peter van Pels, this captivating historical novel presents a boy struggling to understand himself, religion, and the members of the Frank family who share the small living space. Peter's growing interest in Anne will intrigue readers of The Diary of Anne Frank. Ending with reports from the death camps of Auschwitz and Mauthausen, Peter struggles to maintain his sense of identity to the very end.
---

These Shallow Graves
by Jennifer Donnelly
Ages 12–up
It's 1890 and rich and beautiful Josephine Montfort is expected to marry a suitable man as soon as she graduates from Miss Sparkwell's School for Young Ladies in New York City. Secretly, Jo dreams of becoming a newspaper reported like Nellie Bly. When Jo's father is found dead, presumably in an accident while cleaning his pistol, Jo knows he was far too smart to clean a loaded gun. She doesn't believe the rumors of suicide either, and teams up with Eddie Gallagher, a young reporter, to discover the truth.
---

Ashes to Asheville
by Sarah Dooley
Ages 10–up
Felia (12) lives with her two mothers. When Mama Lacy becomes ill with cancer, they move from Asheville, North Carolina, to a small town in West Virginia to be closer to Mama Lacy's family. After Mama Lacy dies, Mama Lacy's mother sues for custody of her granddaughter and Mama Shannon isn't able to retain custody of Felia. Then Felia's 16-year-old sister Zany shows up late one night with the crazy plan of driving back to Asheville to scatter Mama Lacy's ashes on the lawn of the home they all lived in happily as a family. The road trip is full of disasters, but the two girls discover that the bonds that connect them as sisters cannot be severed by a court decision.
---

Bog Child
by Siobhan Dowd
Ages 12–up
When Fergus McCann is digging for peat for his uncle to sell in 1981, he finds the body of a small boy. Archaeologists suspect the body is ancient and arrive in droves to study the find. Trying to earn entrance to medical school 18-year-old Fergus is haunted by his find and confused by the hunger strike his imprisoned IRA brother has joined. This compelling book raises questions about moral choices and highlights the impact of political conflict on innocent bystanders.
---

Anybody Shining
by Frances O'Roark Dowell
Ages 10-12
Arie Mae Sparks (12) is imaginative and full of energy, and considered a bit strange by her small 1920s North Carolina town. Arie Mae longs for a true friend, a friend that shines, but she doesn't have much choice in her small community. Arie Mae begins writing letters to a distant cousin she has never met, hoping she might be the friend she needs. Then a visiting boy named Tom catches her interest. He limps, and isn't a girl, but Arie Mae is sure a light shines from inside him, as she confesses in a letter to her cousin Caroline, who never answers her letters.
---

Fell of Dark
by Patrick Downes
Ages 14–up
Erik suffers severe headaches and stigmata-like bleeding and is haunted by the loss of his father. He is obsessed by his beautiful mother and dreams of his future wife. Thorn has lost his sister, hears voices, and is drawn to violence. The two disturbed young men meet only at the end of the book, when Erik is drawn to prevent Thorn from doing something terrible. This dark and intricate book exploring mental illness is difficult to read but thought-provoking.
---

Unbecoming
by Jenny Downham
Ages 14–up
Katie (17) helps take care of her disabled younger brother and tries to deal with her mother's controlling nature. Everything gets worse when her estranged grandmother Mary, just diagnosed with Alzheimer's, moves into their tiny apartment. Katie's mother tries to find somewhere else for Mary to live, but Katie develops an unexpected bond with the grandmother she never knew, gradually learning about Mary's troubled past as it emerges in flashes of memory. The more she learns about her grandmother, the more she understands about her mother, and her own fears about her sexuality and her future subside.
---

You Against Me
by Jenny Downham
Ages 14–up
When Mikey's 15-year-old younger sister claims Tom, a college student, assaulted her, Mikey decides to avenge her. But then Mikey meets Tom's younger sister Ellie and the attraction between them makes it difficult for the two to choose sides in the conflict. Details of the English legal and school system are explained in this powerful novel that explores universal themes of loyalty to family, class, gender, and power.
---

A Greyhound of a Girl
by Roddy Doyle
Ages 9–up
Mary O'Hara (12) tries to be brave about the fact that her beloved Granny Emer is dying, but she hates the daily trips to the Dublin hospital. On the way home from school she meets Tansey, a mysterious young woman who seems familiar though she is dressed in old-fashioned clothes. Tansey is the ghost of Emer's mother, who died in 1928 when Emer was only three. Tansey has come to help her daughter say good-bye and guide her safely out of this world. The comforting ghost helps Emer, Mary, and her mother Scarlett overcome their fear of death.
---

The Letter for the King
by Tonke Dragt
Ages 12–up
Tiuri (16) is about to earn his knighthood when he takes on the task of delivering a vitally important letter to King Unauwen of the neighboring kingdom. His trek is long and dangerous, and he meets both friends and foes along the way. This exciting adventure is the first US publication of the 1962 Dutch classic.
---

Stella by Starlight
by Sharon M. Draper
Ages 9–13
Stella (11) lives in segregated 1932 Bumblebee, North Carolina. Some stores she can go inside, others she can't. But at least the Ku Klux Klan hasn't bothered their community for years. But one night Stella and her little brother are out late at night and witness a meeting of the Klan, a signal of trouble to come to the black community of Bumblebee. Stella envies the fine school buildings for the white children and dreams of becoming a writer. Her father is equally determined to vote. This compelling story of a community that comes together to find the strength to fight injustice features a humble heroine who doesn't recognize the power of her own words.
---

The Golden Day
by Ursula Dubosarsky
Ages 12–up
In 1967 Miss Renshaw takes her class from the Australian all-girls school on a field trip to a public garden. They meet a strange grounds keeper named Morgan who takes them into a cave to view ancient Aboriginal paintings. The 11 girls exit the cave, but Miss Renshaw and Morgan never reappear. The girls are questioned about the disappearance, but band together to keep part of the day secret. This chilling novel is told from multiple perspectives.
---

Otherbound
by Corinne Duyvis
Ages 14–up
The doctors treating Nolan Santiago, a high school student in Arizona, believe he is suffering from epilepsy and hallucinations. The truth is that for the past few years whenever Nolan closes his eyes he is transported into the mind of Amara, a mute servant girl with healing powers living in the magical realm of Dunelands. Amara was chosen as a child by a mage to protect Cilla, a princess in exile after a violent revolution. Nolan, an amputee, overdoses on his pain medications and discovers he can leave Amara's body. But when he goes, so do Amara's healing powers, leaving Cilla in danger. Finally able to communicate, Nolan and Amara to work together to find the truth behind the revolution.
---

Hour of the Bees
by Lindsay Eagar
Ages 10–14
Carol (12) reluctantly travels with her parents to Albuquerque, New Mexico, to help sell her grandfather's sheep ranch and move him into a nursing home. At first Carol avoids the prickly grandfather she never met, but his questions about why she chose to abandon her real name Carolina for the Anglicized Carol makes her reflect on her heritage. And Grandpa Serge tells the most amazing stories infused with magical realism about the hardships of living on a sheep ranch in the high New Mexican desert, tales that put Carol's minor woes in perspective.
---
Da Vinci's Tiger
by L.M. Elliott
Ages 13–up
Ginevra de' Benci (17) is the pampered daughter of a wealthy family trapped in an unfullfilling arranged marriage in Renaissance Florence. Bernardo Bembo, the new ambassador from Venice, introduces Ginevra to a stimulating group of artists and philosophers and their patrons. Bembo chooses Ginevra as his Platonic muse and commissions her portrait by the young Leonardo da Vinci. During the long sessions posing for the portrait, Ginevra bonds with the talented painter. This intriguing novel is based on the real-life Ginevra de' Benci who posed for one of Leonardo da Vinci's earliest masterpieces.
---

The End or Something Like That
by Ann Dee Ellis
Ages 12–up
When Emmy's best friend Kim is dying, she promises to come back from the afterlife and visit. But it has been a year since Kim died, and Emmy hasn't been able to contact her ghost. On the one-year anniversary of Kim's death, Emmy attends the funeral of her science teacher and is shocked to find herself talking to his ghost. Interspersed with the present day narration are flashbacks to the months leading up to Kim's death, presenting the close friendship between the fragile insecure Emmy and the lively Kim.
---

Happyface
by Stephen Emond
Ages 12–up
Our narrator, an introverted and artistically talented high school sophomore, decides to try out a new happy-go-lucky persona at his new school, and quickly earns the nickname Happyface. The plan works, and Happyface soon has a new collection of friends who accept him at face value. But his sketchbook reveals the truth: his parents' failing marriage, his own broken heart, and the real reason he had to switch schools. Happyface is able to illustrate the feelings he can't write about, and the reader is gradually able to get to know the real person behind the facade.
---

Forest World
by Margarita Engle
Ages 10–up
Edver (11) has lived with his cryptozoologist mother in Miami for most of his life. Sent to visit his father, who patrols the forest for poachers, in the Cuban village of La Selva, Edver is surprised to discover that he has a sister his mother left behind when she fled to America ten years earlier. The two sibling have conflicted feelings about the mother that separated them and left Luza behind, but find a connection in their love for the natural world that both their parents protect. The two come up with a plan to lure their mother back to Cuba, accidentally creating a dangerous situation they must work together to resolve.
---

Boy on the Edge
by Fridrik Erlings
Ages 14–up
Henry has a clubfoot and is the target of relentless bullying. In a fit of despair and anger he lashes out at his mother and is sent to the Home of Lesser Brethren, an isolated farm on the Icelandic coast that takes in troubled boys. Henry finds some peace among the cows, and begins to feel at home until another boy arrives. Henry fears that Ollie Henry will also mock him, but Ollie's gentleness and love of books and stories gradually give Henry a chance to heal. This novel is quietly powerful.
---
Mockingbird
by Kathryn Erskine
Ages 10–up
Caitlin Smith (10) has Asperger's syndrome. She hates recess with all the noise and confusion, and meets with her counselor, Mrs. Brook, who helps her to understand the reasons behind her discomfort, while offering advice about how to make friends and deal with her grief over her older brother Devon's death in a recent school shooting. Devon had always been Caitlin's interpreter, explaining the grey areas in the world she sees as black and white. Without him, Caitlin struggles more than ever. When she hears the term "closure" Caitlin turns to her dictionary for help and decides to find closure for both herself and her grieving father. Caitlin's first person narration provides insight into her incredible intelligence and conscientiousness paired with her limited social skills and her struggles to comprehend figurative language.
---

The Transatlantic Conspiracy
by G.D. Falksen, Nat Iwata
Ages 14–up
It's 1908, and Rosalind Wallace (17) is having a wonderful visit in England with her best friend Cecily de Vere. She is furious when her father decides that it is time for her to return home to America, booking her on the maiden voyage of his amazing Transatlantic Express, the world's first underwater railway. Cecily and her brother Charles offer to accompany her to New York, but Charles disappears and Cecily and her maid are found stabbed to death in their train stateroom. Trapped on the underwater train, Rosalind must overcome her grief to clear herself of suspicion and find Cecily's murderer.
---
Buzz Kill
by Beth Fantaskey
Ages 12–up
Millie Ostermeyer (17), a reporter for her school newspaper, discovers the body of the head football coach "Hollerin' Hank" Killdare. Millie is determined to scoop her rival Viv Fitch, while also clearing the name of her father, the assistant football coach and prime suspect in the murder of the detested coach. While Millie's mother was dying of cancer, the two read Nancy Drew books together, and Millie is sure the detective skills she learned from Nancy Drew will help her track down the real killer. The off-beat Millie is assisted by quarterback Chase Albright, whose good looks and astounding vocabulary mask a secretive past.
---

Jessica's Guide to Dating on the Dark Side
by Beth Fantaskey
Ages 14–up
Jessica Packward, 17-year-old mathlete, is flabbergasted when a Romanian named Lucius Vladescu appears and informs her that they are vampire royalty and pledged to be wed since infancy. When her adoptive parents confirm that her real parents claimed to be vampires, Jessica is stunned. But Lucius is attractive, and armed with Growing Up Undead: A Teen Vampire's Guide to Dating, Health, and Emotions, Jessica begins to transform herself into a Vampire Princess. Funny, satirical, and suspenseful, this vampire novel is a cut above the competition.
---

Tell Me Again How a Crush Should Feel
by Sara Farizan
Ages 14–up
Leila Azadi has made it most of the way through the elite Armstead Academy in New England without having a crush on anyone. As an Iranian-American Leila feels different enough without suffering that sort of drama. Then Saskia, a beautiful new girl, arrives, and Leila is confused by the attraction between them. Leia confides in her friend Lisa and their drama-tech group, discovering that she isn't the only one with secrets and fears of not fitting in.
---

The Lord of Opium
by Nancy Farmer
Ages 12–up
Matteo Alacrán (14), originally created as an organ donor for drug lord El Patrón, is now the ruler of Opium, the land between the United States and Mexico. As well as drugs, Opium is the source of food plants and animals that grow in Opium's protected ecosystem and nowhere else in the polluted world. Matt's goal is to stop the drug trade, grow crops, and help the eejits, micro-chipped mindless robots who provide the manual labor, become fully-functioning humans. This sequel to The House of the Scorpion is best understood if the previous volume is read first.
---

The Sea of Trolls
by Nancy Farmer
Ages 9–up
Jack (11) is a scrawny medieval Saxon boy who has never been much good at anything until the Bard of his village makes him an apprentice. Jack is slowly learning to call on magical powers when the Bard realizes that Viking berserkers are about to attack the village. They raise a fog to hide the village, but Jack and his sister Lucy (5) are kidnapped by by Ivan One-Brow and his crew. Jack impresses Ivan with his ability to control the weather and things aren't nearly as bad as they could be until Lucy is given to King Ivan the Boneless and Frith, his evil half-troll wife. By mistake, Jack detaches Frith's hair and is sent on a quest with Ivan and Thorgil to the Troll kingdom to find Mimir's Well and the secret to restore Frith's hair. This skillful amalgam of history, myth, and humor will appeal to fantasy lovers of all ages.
---

The Land of Silver Apples
by Nancy Farmer
Ages 9–up
Jack (13) and his sister Lucy (7) are safely back home with their parents, and Lucy is even more spoiled than ever. When her behavior grows too bad to ignore, the family takes her to a monastery for an exorcism. Jack's father admits that their real baby was stolen at birth, and Lucy left in her place. Lucy is stolen by the Lady of the Lake and Jack's mother insists that her real daughter be found, and Jack is off on another quest. Assisted by Pega, a slave girl, and Thorgil, the ex-berserker, Jack journeys through the lands of hobgoblins, kelpies, yarthkins, and elves in this thoroughly satisfying sequel to The Sea of Trolls.
---

The Island of the Blessed
by Nancy Farmer
Ages 9–up
Jack, 14-year old apprentice bard, is now living with Thorgil, shield maiden, and the Bard. A draugr, the undead spirit of a wronged mermaid, is roused by the village priest's mystical bell, sending Jack and his friends to the kingdom of the fin folk seeking a way to bring the draugr peace. (conclusion to The Sea of Trolls and The Land of Silver Apples)
---

Fannie Never Flinched: One Woman's Courage in the Struggle for American Labor Union Rights
by Mary Cronk Farrell
Ages 10–14
Fannie Sellins worked in garment sweatshops in St. Louis, Missouri, at the turn of the 20th century. A widow with four children to support, Fannie successfully united her fellow garment workers and fought for better wages and working conditions. She expanded her fight to workers in other industries and was killed by coal company guards on a picket line in Brackenridge, Pennsylvania in 1919. This accessible biography of a little-known union activist is a great introduction to the history of US labor rights.
---

March On! The Day My Brother Martin Changed The World
by Christine King Farris, London Ladd
Ages 9–12
Christine King Farris

, Martin Luther King, Junior's older sister describes the 1963 March on Washington with an intimate down-to-earth perspective, presenting her brother as a man rather than as an icon.
---

Better Nate Than Ever
by Tim Federle
Ages 9–13
Nate Foster (13) dreams of starring in a musical on Broadway, but he's never even seen a Broadway show. His best friend Libby is the only other person in their hometown of Jankburg, Pennsylvania, who even appreciates a good show tune. An open casting call for E.T.: The Musical, pulls Nate away from home for a whirlwind weekend getaway to New York City.
---
Five, Six, Seven, Nate!
by Tim Federle
Ages 10–14
Nate Foster (13), from small town Pennsylvania, has realized his dream by landing a part in the Broadway production of E.T.: The Musical. Nate finds Broadway thrilling, but is terrified by the rehearsals. The director can't remember Nate's name, and choreographers ignore Nate since he can't dance. The child stars are unfriendly, and the understudies are worse. And worst of all Nate discovers that he is not the understudy for E.T. , he's E.T.'s understudy's understudy. This funny coming-of-age story is the sequel to Better Nate than Ever.
---
The Big Splash
by Jack D. Ferraiolo
Ages 10–14
Seventh grader Matt Stevens walks the mean hallways of Franklin Middle School in this clever and funny middle school noir. Tough guy Vinny Biggio and his gang of trigger girls and boys armed with squirt guns rule the campus until Matt decides to figure out who took down Nikki Fingers in this exciting mystery.
---

Sidekicks
by Jack D. Ferraiolo
Ages 10–14
Scott "Bright Boy" Hutchinson is an ordinary school boy by day, and the intrepid sidekick to the grim avenger Phantom Justice by night. Scott is content with his life, until he and another sidekick accidentally discover each other's secret identities. Though the superheroes they support are arch-enemies, the two sidekicks realize that they have much in common. When Scott realizes that Phantom Justice may not be the good guy he pretends to be, Scott is forced to make a choice about which side to support.
---

The Last Dragonslayer
by Jasper Fforde
Ages 12–up
The bottom has fallen out of the magic market — drain cleaner is cheaper than a spell and magic carpets are used for pizza delivery. Jennifer, 15-year-old foundling, has taken over Kazam Mystical Arts Management, an employment agency for wizards and magicians, since the Great Zambini disappeared six months earlier. Jennifer has just started mentoring another foundling, Horton "Tiger" Prawns, when she discovers that she is the Last Dragonslayer, and that Maltcassion, the last dragon on Earth, is due to die from her hand at noon on Sunday. This comedic adventure is the first in the Chronicles of Kazam.
---
The Song of the Quarkbeast
by Jasper Fforde
Ages 12–up
King Snodd IV hopes to put the wizards who work at Kazam Mystical Arts Management under his control by proposing a merger with iMagic, the rival magic house let by the Amazing Blix. Jennifer Strange (16), the foundling who has been running Kazam since the Great Zambini's disappearance is determined to maintain Kazam's independence and agrees to a magic duel to decide the issue. This funny book filled with witty wordplay is the sequel to The Last Dragonslayer.
---

Miss Etta and Dr. Claribel: Bringing Matisse to America
by Susan Fillion
Ages 10–up
Miss Etta and Dr. Claribel Cone were two unmarried sisters from Baltimore who fell in love with modern art in Paris. The two sisters, encouraged Leo Stein, supported beginning artists like Henri Matisse and Pablo Picasso, bought their paintings, and brought them back to America. Without professional advice or counsel, trusting their eyes and instincts, the two sisters concentrate on the avant-garde. Few were aware of the extent of their collection until Etta published a catalog in 1934, revealing one of the foremost collections of Matisse's work in the world, bequeathed to The Baltimore Museum of Art in 1949. This touching story is lavishly illustrated with reproductions of the Cone Collection and the colorful Matisse-inspired paintings by the author.
---

Starbird Murphy and the World Outside
by Karen Finneyfrock
Ages 12–up
Starbird (16) grew up on the Free Family commune, a peaceful community founded by a man named EARTH in the woods outside Seattle. Until she received her "Calling" Starbird had never handled money, been in a car, or used a phone. Assigned to work in the Free Family's restaurant in Seattle, Starbird attends the public high school and becomes romantically involved with an "Outsider," discovering that her former life was not as simple and straight-forward as she thought it was.
---

Incarceron
by Catherine Fisher
Ages 12–up
In this complex and inventive fantasy, civilization was frozen in late-medieval development to save the world from dangerous technology. All of the madmen and malcontents were sealed into a huge and sentient prison named Incarceron. Claudia, the brilliant daughter of the prison warden, is doomed to a loveless marriage with the simpleminded heir to the throne. But when Finn, a prisoner without a past, finds a crystal key that lets him communicate with Claudia, each decides to escape their own prison with unexpected consequences.
---

My Life Next Door
by Huntley Fitzpatrick
Ages 12–up
Samantha Reed and Jase Garrett have lived next door for ten years. Though neighbors, the families couldn't be more different. Samantha lives with only her rich and strict mother; Jase is part of a large and noisy family that has to work hard. Samantha longs to be part of a family like the Garretts. When the two teens fall in love, the Garretts willingly include Samantha, but Samantha's mother despises the Garretts. Then Samantha discovers a political secret that could either destroy the Garretts or ruin her mother's political career. There aren't any easy answers to Samantha's dilemma.
---

What I Thought Was True
by Huntley Fitzpatrick
Ages 14–up
Gwen Castle comes from a family of fishermen and house cleaners who serve the rich summer people who live in the mansions on the island. Cass Somers is rich, and it's hard for Gwen to believe he wants more than a quick fling, but throughout the summer before her senior year he gradually wins her trust and her love. (follow-up to My Life Next Door)
---

Pinned
by Sharon Flake
Ages 10–14
Autumn and Adonis are both ninth-graders. Autumn is a talented wrestler but has a learning disability and struggles with reading. Adonis was born without legs but is a talented student. Autumn wants to get to know Adonis better, but he wants nothing to do with her. this story of two headstrong teens is narrated by two distinct voices with total honesty.
---

Eyes Wide Open: Going Behind the Environmental Headlines
by Paul Fleischman
Ages 14–up
This compact yet thorough guide to climate change urges readers to think critically and broadly about the world's problems. Fleischman gives readers a grounding in critical reading skills needed to recognize the vested interests make by those in power, and to understand media and PR distortions of the truth. Photographs, sidebars, and suggested resources support the hard truths presented. "solving the environment requires looking straight at reality and calculating the costs of our lifestyle and options." The lively prose style and abundance of illustrations will appeal to young adults while providing the tools they need to become informed, responsible global citizens.
---
On the Day I Died: Stories from the Grave
by Candace Fleming
Ages 11–14
Mike Kowalski (16) discovers an abandoned Chicago cemetery where nine teenaged ghosts tell him how they died from the 1860s to the present. From all classes, the teens die from supernatural causes against the backdrop of Chicago's rich history, including the Great Depression, the World's Fair, and Al Capone. The tenth story describes the death of the narrator.
---

The Family Romanov: Murder, Rebellion, and the Fall of Imperial Russia
by Candace Fleming
Ages 12–up
This fascinating history presents an intimate portrait of Tsar Nicholas, his wife Alexandra, and their five children, placing their story firmly in their time of increasing social unrest and turmoil. Letters, diary entries, and memoirs are interwoven with the narration, demonstrating Nicholas's inability to face the reality of the desperately impoverished Russian peasants, and Alexandra's dependence on the advice of the the evil monk Rasputin.
---

The Morgue and Me
by John C. Ford
Ages 12–up
Christopher Newell takes a summer job in the morgue before heading off to college and stumbles across $15,000 in cash and a dead body that the medical examiner has ruled a suicide despite multiple bullet wounds in the torso. Tina, a young reporter for the local paper, joins Christopher's investigation and the two uncover blackmail and corruption going back for years. This dark teen novel holds its own as a mainstream mystery.
---

Suicide Notes
by Michael Thomas Ford
Ages 14–up
Jeff, the 15-year-old narrator, is in a psychiatric ward after a suicide attempt. At first convinced he is the only sane one surrounded by crazy kids, Jeff slowly begins to form relationships and to understand his own problems and confusions. This darkly humorous novel presents issues of identity in a compelling and witty manner.
---

If I Stay
by Gayle Forman
Ages 14–up
Mia, a talented 17-year-old cellist, remembers driving on a snowy Oregon road with her family, and then nothing until she is standing next to the wrecked car and her parents' corpses, watching the paramedics tend to the damaged bodies of herself and her little brother. Told in flashbacks, this moving novel explores Mia's life, the power of friends and family, and the things that make life worth living.
---

I Was Here
by Gayle Forman
Ages 14–up
Cody and Meg have been best friends since childhood and plan to leave their small town in Washington to attend college together in Seattle. Then Meg is awarded a full scholarship to a private college in Tacoma and Cody is stuck at home cleaning houses so she can take a couple of classes at the local community college. Then Cody receives the news that Meg has killed herself by drinking poison. Cody discovers that the last six months of emails are missing from Meg's computer and finds that Meg has been visiting a chat room where someone has been encouraging suicide as a solution to unhappiness.
---
Just One Day
by Gayle Forman
Ages 14–up
Allyson Healey is a sheltered American recent high school graduate touring Europe where she meets Willem, a handsome Dutch actor. The two take an impulsive trip to Paris, and Allyson wakes up the next morning to find that Willem is gone and she is stranded in Paris. Returning to the US and college, Allyson continues to wonder what happened to Willem as she tries to get on with her life. A companion volume from Willem's perspective is in the works.
---

Just One Year
by Gayle Forman
Ages 14–up
In Just One Day, Allyson struggled to understand why Willem disappeared without a trace after their magical day and night in Paris. This companion volume from Willem's perspective picks up with his search for the girl he knew as Lulu. With few details to help him locate her, Willem travels to Mexico and India, looking for the girl he met by accident and left stranded in Paris.
---
City of a Thousand Dolls
by Miriam Forster
Ages 13–up
Nisha Arvi (16) has grown up in the walled estated known as the City of a Thousand Dolls with other orphaned or unwanted girls trained in six Houses to be wives, courtesans, artists, entertainers, healers, or soldiers. As assistant to the Matron, Nisha doesn't belong to a House, and dreams of being Redeemed by a handsome young courier who can pass outside the walls. One by one, girls inside the walls begin to die, and Nisha knows she has to figure out what is happening before she becomes the next victim. This fantasy set in a world with a strict caste system, a two-child limit, and telepathic cats is the first in a planned series.
---

The Charmed Children of Rookskill Castle
by Janet Fox
Ages 10–up
Katherine (12) and her two younger siblings are sent away from London along with a group of classmates to keep them safe during the bombings of the 1940s Blitz. Rookskill Castle, owned by a distant relative, is an ancient place in the Scottish highlands. But the castle appears to be haunted, and by something far more dangerous than ghosts. Kat believes that Lady Eleanor is hiding a Nazi spy, but when her classmates begin disappearing one by one she fears that the danger may be even older and more terrifying.
---

The Midnight Dress
by Karen Foxlee
Ages 14–up
Rose Lovell (17) ends up in a little Australian beach town with her alcoholic father in the mid 1980s. Rose doesn't expect to like living in the beach town, but finds herself befriended by exuberant Pearl Kelly. Pearl persuades Rose to ask Edie Baker, the local dressmaker and possible witch, to help her make her a dark blue dress for the upcoming Harvest Parade. The unforgettable dress is destined to have far-reaching consequences in this complex tale of friendship, magic, and murder.
---

Dime
by E.R. Frank
Ages 14–up
Dime (13), a foster child in Newark, New Jersey, longs to be cared for as part of a loving family. But she is neglected by her foster mother, and is failing at school because she is required to care for the younger foster children. She meets a group of girls who seem to care for her, and moves in with them and the man they call Daddy. Before she quite realizes what is happening, Dime is part of a prostitution ring, still searching for love and protection. Written in the form of a note hoping to save at least one innocent victim, this haunting novel illuminates both the physical abuse and the emotional manipulation that ties young girls to those who groom them for prostitution.
---

Secrets of Truth and Beauty
by Megan Frazer
Ages 12–up
Dara Cohen won the title of Little Miss Maine when she was seven. Now 17, Dara is overweight with a control-freak mother and a missing older sister that her parents try to erase from their lives. Dara's school project about society's preoccupation with thinness is horribly misunderstood and she ends up in the counselor's office. Her parents pull her out of school to save face, and Dara decides it's time to reconnect with her sister, now living on a Massachusetts goat farm. This coming of age novel has a likeable heroine whose growing self-confidence is inspiring.
---
The Girl in the Park
by Mariah Fredericks
Ages 14–up
Rain and Wendy used to be best friends, but by their junior year of high school the two have grown apart. Rain, self-conscious because of her speech impediment, is an observer, and Wendy is an out-going party girl. When Wendy's body is found in Central Park after a party, the tabloids and school gossips have a field day trashing Wendy. But Rain knows Wendy had secret depths, and puts herself in danger trying to protect her dead friend's reputation in this haunting psychological thriller.
---

Season of the Witch
by Mariah Fredericks
Ages 14–up
The summer after her junior year, Toni has a fling with Oliver, who was "taking a break" from his relationship with Chloe. When Chloe and Oliver get back together, Chloe and her friends organize an attack against Toni, escalating from text messages and rumors to physical attack. Unable to stop the attacks by herself, Toni connects with Cassandra, who uses witchcraft to help Toni get revenge.
---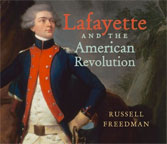 Lafayette and the American Revolution
by Russell Freedman
Ages 10–up
In this accessible biography, we first meet the Marquis de Lafayette as a strong-willed 19-year-old defying the King of France to run off and join the American Revolution. Though young Lafayette had never set foot on a battlefield before, he soon earned the respect of the Americans because of his bravery and drive to succeed. The text is enlivened by quotations and anecdotes from Lafayette's unconventional life, while drawings and portraits help to keep the large cast of characters straight.
---

The War to End All Wars: World War I
by Russell Freedman
Ages 12–up
This powerful book begins with the assassination of Archduke Franz Ferdinand in 1914 and ends with the Treaty of Versailles in 1918. The accessible narrative shows the brutality and horror of trench warfare along with the leaders and the new technology that made it all possible. The ramifications of the war—the end to American isolation, the Russian revolution, and the defeat that provided a foundation for Fascism and Nazism—are clearly demonstrated.
---

The Possibilities of Sainthood
by Donna Freitas
Ages 12–up
Antonia is a 15-year-old Catholic schoolgirl who petitions the saints to help her deal with the angst of adolescence. When St. Augustine lets her down, she proposes herself as the new Saint of the First Kiss and sends regular emails to the Pope in the Vatican. The warm portrayal of Italian-American life add depth to this coming-of-age novel.
---

After the Moment
by Garret Freymann-Weyr
Ages 14–up
Leigh Hunter moves to Washington DC during his senior year and falls for Maia Morland—smart, pretty, anorexic, and germ-phobic. When Maia is threatened, Leigh commits an act of violence trying to protect her that endangers their love and haunts Leigh. This story of a complicated first love examines love itself.
---

The Other F-Word
by Natasha Friend
Ages 12–up
Milo loves his two moms, but has always wondered about his sperm-donor father. When his doctor suggests asking his biological father to undergo testing to shed light on Milo's extreme allergies, Milo reaches out to Hollis, the daughter of another lesbian couple who used the same sperm donor. As they search for their biological father, Hollis and Milo locate three other donor half-siblings and the true meaning of the other F-word: Family.
---

Escape Theory
by Margaux Froley
Ages 14–up
Scholarship student Devon Mackintosh (16) has always felt a bit of an outsider in the ritzy Keaston School, a boarding school in California. Devon, hoping to add to her Stanford application, becomes the school's first peer counselor, assuming that it will be a job in name only. But when popular Jason "Hutch" Hutchings dies in a presumed suicide, Devon's therapy sessions with grieving students become intense. Haunted by her own past relationship with Hutch — he was the only one who accepted her freshman year — Devon decides that Hutch could never have killed himself and sets out to find his killer.
---
The Graveyard Book
by Neil Gaiman
Ages 10–up
When a murderer kills the rest of his family, the toddler escapes to the graveyard next door where the ghosts take him in and raise him as their own. The boy, called Bod (short for Nobody) grows up fairly normal despite his ghoulish guardians and the fact that the killer is still stalking him. This gothic fantasy is downright terrifying at times.
---

The Sleeper and the Spindle
by Neil Gaiman, Chris Riddell
Ages 13–up
This re-imagined fairly tale combines elements of two classic fairy tales: Sleeping Beauty and Snow White. Intricate pen and ink drawings add an eerie element to the darkly funny tale.
---

Dead End in Norvelt
by Jack Gantos
Newbery Medal 2012
Ages 10–up
Jack Gantos's summer 1962 vacation plans take an unexpected turn when he is grounded "for life" by his bickering parents. But then his mother loans him out to a neighbor, and Jack finds himself typing obituaries of the strange and wonderful people who founded his small town. This funny and mysterious semi-autobiographic mix of fact and fiction is fast-paced and immensely entertaining.
---
From Norvelt to Nowhere
by Jack Gantos
Ages 10–up
When an explosion closes his school, Jackie (12) is free to travel to Hyde Park, New York, with Miss Volker to pay their last respects to Eleanor Roosevelt. Mr. Spizz, the murder suspect from Dead End in Norvelt, is still at large when a new victim dies. Miss Volker learns that her twin sister is dead, and the two head to Florida to bring the murderer to justice. While traveling, Jackie enjoys reading the Classic Illustrated comics his mother forbids, and Miss Volker draws hilarious parellels between their lives and the classic stories.
---

The Key That Swallowed Joey Pigza
by Jack Gantos
Ages 10–14
Suffering from severe postpartum depression, Joey's mom checks into the hospital, leaving Joey to take care of his new baby brother Carter Junior. Joey's mother has hidden his ADD meds, cockroaches infest the apartment, and there is nothing to eat except the pizza Joey illegally pays for with food stamps. And to make matters even worse, Joey's estranged father, recuperating from a botched face lift that left him looking monstrous, is trying to kidnap the baby. This darkly funny and emotionally powerful novel is the finale to the groundbreaking five-book series that began with Joey Pigza Swallowed the Key.
---

Writing Radar: Using Your Journal to Snoop Out and Craft Great Stories
by Jack Gantos
Ages 9–12
Newbery Award Medalist Jack Gantos uses stories he wrote as a youth in his journal as proof that keeping a journal is the best tool for aspiring authors. Short chapters give practical advice about developing technique and activating one's Writing Radar — the heightened awareness an author must have. "You need a certain writerly attitude as you walk down the street — a kind of stealthy, snoopy, slinky, shifty, sinister, and silent confidence." This encouraging and humorous guide is the perfect gift for all aspiring writers.
---

Dreams of Significant Girls
by Cristina García
Ages 12–up
This story of three girls who spend summers in an exclusive boarding school in Switzerland begins in 1971. The three girls from very different backgrounds form a bond as they spend the summer as roommates and the school year apart. Shirin is a pampered Iranian, Ingrid is a sexually adventurous German-Canadian with a talent for photography, and Vivien is a Cuban-Jewish New Yorker with a flair for the culinary arts. The boarding school setting provides an intriguing background for this coming of age story celebrating the power of female friendships.
---

Optical Illusion Play Pack
by Martin Gardner
Ages 10–up
Packaged with 40+ punch-out pieces, readers are challenged to re-create optical illusions, experiencing rather than simply observing these illusions aptly explained by puzzle master and mathematician Gardner.
---

Maggot Moon
by Sally Gardner, Julian Crouch
Ages 12–up
Standish Treadwell (15) lives in the Motherland, a totalitarian society determined to be the first to the moon no matter what the cost to the people. The Motherland has taken away Standish's parents and he lives with his grandfather. Standish is dyslexic, and when his best friend who protected him at school vanishes, his life becomes nearly unbearable. Standish discovers a secret the government would like to keep hidden, and determines to reveal the truth, no matter what the risk to himself. This violent novel, narrated in short chapters with frightening illustrations, does a masterful job of presenting the realities of dyslexia.
---
The Red Necklace
by Sally Gardner
Ages 12–up
This suspenseful and haunting book is set during the French Revolution. Yann Magoza, an orphan traveling with a troupe of magicians, can read minds. While performing at a castle, Yann meets Sidonie, the daughter of a cruel marquis, and a scheming count murders one of the troupe of magicians.
---

The Dead I Know
by Scot Gardner
Ages 14–up
Aaron Rowe has trouble connecting with people. He sleepwalks, suffers from recurring nightmares, and has attended five schools in five years. His new high school counselor suggests that Aaron take a job with John Barton, a funeral director, who teaches him all aspects of the funeral business: attending funerals, assembling coffins, and preparing dead bodies. Aaron excels at the work, and finds it comforting to provide each dead person with a peaceful end. Aaron's mother suffers from undiagnosed dementia, and Aaron must learn to connect to the living as well as the dead if he is to protect his grandmother and himself.
---

Symptoms of Being Human
by Jeff Garvin
Ages 14–up
Riley Cavanaugh is starting junior year at a new high school, worried about the usual problems about what to wear and where to sit at lunch. Riley's gender-nonconforming appearance makes things even more difficult since Riley is gender-fluid, some days identifying as male and some days as female. And Riley's father is running for reelection as a congressman in ultra-conservative Orange County, California. Riley's therapist advises an anonymous blog to release pent-up feeling, which works just fine until the blog goes viral and an unnamed commentator threatens to expose Riley's true identity. Riley is faced with a dilemma — walk away from the new friends made through the blog or go public and risk everything.
---

There Will Be Bears
by Ryan Gebhart
Ages 10–up
Tyson(13) is angry with his best friend who no longer has time for him now that he is on the football team and has a girlfriend. So Tyson is really looking forward to an elk-hunting trip to Bridger-Teton National Forest with his Grandpa Gene. But grizzly bear attacks threaten to cancel the trip, and Tyson suspects that something is wrong with Grandpa Gene that his parents don't want him to know. Tyson is determined to get his elk despite the bears and his Grandpa's failing health.
---

The Difference Between You and Me
by Madeleine George
Ages 12–up
Jesse (15) cuts her own hair, wears funny boots, and is the founder (and only member) of NOLAW, the National Organization to Liberate All Weirdos. Emily wears pearls, has a boyfriend, and is president of the student council. The two girls have nothing in common except their attraction for each other and secret passionate meetings every Tuesday. Jesse wants to make their relationship public, but Emily is afraid to. When they find themselves on opposite sides of a local political issue, they have to decide what's most important.
---

Rookie Yearbook One
by Tavi Gevinson
Ages 12–up
This book compiles essays, interviews, and photographs from the first year of the online magazine Rookie, created by 17-year-old fashion blogger Tavi Gevinson in 2011, covering subjects like dating, music, sexuality, and pop culture.
---

See No Color
by Shannon Gibney
Ages 12–up
Alex Kirtridge (16) is the transracial adopted daughter of white parents who have two biological children. Alex and her family try hard not to see the color difference, but Alex has never fit in with either the white or black kids at school. Baseball has always united the family. Alex is a talented player and her father is a coach. But she has no one to confide in about her secret feelings of isolation. Then she finds letters from her birth father and wonders if she dares try to contact him.
---

A Tale Dark and Grimm
by Adam Gidwitz
Ages 10–up
In this irreverent and retelling of eight Grimm inspired fairy tales, Hansel and Gretel take their fate into their own capable hands, and walk out of their own story and into the other tales. Avoiding the modern trend of softening the original tales, these instead revel in bloodthirsty scariness, sure to delight readers ready for some wickedly funny terror.
---

In a Glass Grimmly
by Adam Gidwitz
Ages 10–up
Classic fairy tales are re-imagined in this collection, which is not for the faint hearted! Jack, Jill, and a talking frog take on "The Frog Prince," "The Emperor's New Clothes", and "Jack and the Beanstalk." Dark humor abounds in this companion volume to A Tale Dark and Grimm.
---

The Grimm Conclusion
by Adam Gidwitz, Hugh D'Andrade
Ages 10–up
Jorinda and Joringel venture through forests and kingdoms, facing ogres and monsters, as they try to find their way home. Along the way they encounter dark versions of Cinderella and Sleeping Beauty as well as other less well known fairy tales. This witty and gory book is the third and final volume of the series that includes A Tale Dark and Grimm and In a Glass Grimmly.
---

Storyteller
by Patricia Reilly Giff
Ages 8–14
While staying with her aunt, Elizabeth finds a portrait of Eliza, known as Zee, an ancestor who looks just like her. Zee's father died in the American Revolution, and her mother when their cabin was ambushed. A map on the back of the sketch helps Elizabeth puzzle out the story of Zee's life. As Elizabeth follows in Zee's footsteps, the stories of the two girls intertwine as each searches for inner strength and a sense of belonging.
---
Girls Like Us
by Gail Giles
Ages 14–up
Biddy and Quincy (18) are recent graduates from their high school's special education track. Biddy is obese and illiterate, but has more emotional intelligence that Quincy, whose normal brain development was shattered when her mother's boyfriend hit her with a brick when she was six. Paired by social services, the two are roommates in a live-work apartment in the home of a wealthy widow. Biddy cleans and provides physical assistance to the widow, while Quincy, who loves to cook, works in a market. The two share stories of their past, realistic descriptions of loneliness and abuse, as they support each other in their journey towards independence.
---
We Were Never Here
by Jennifer Gilmore
Ages 14–up
Lizzie Stoller (16) is teaching archery to a group of campers when she suddenly collapses, incapacitated by intense pain. She wakes up in the hospital, diagnosed with ulcerative colitis, a rare disease she has never heard of. Isolated from her past life in the hospital, Lizzie is lonely and afraid until she meets Connor, a teenaged hospital volunteer, and his dog, Verlaine. Lizzie feels an immediate connection with Connor, but senses that he is hiding a deep pain of his own that she feels incapable of easing. Lizzie gradually regains confidence as her focus shifts from what she can no longer do to what she can still accomplish.
---

Truthers
by Geoffrey Girard
Ages 12–up
Katie Wallace (17) was only a year old when terrorists attacked the Twin Towers and has never given much thought to 9/11. She is shocked when her father has a breakdown and is sent to a mental institution, claiming that Katie is not his daughter, instead living proof of a government cover-up of the 9/11 attacks. Katie doesn't believe his wild claims, but hopes that investigating them will help bring him back to mental health. Her research brings her into contact with the Truthers, a secretive group of 9/11 conspiracy theorists who believe 9/11 was an inside job.
---

Once
by Morris Gleitzman
Ages 12–up
Everybody deserves to have something good in their life at least once, believes Felix, a 10-year old Polish Jew, who runs away from a Catholic orphanage to search for his parents. After finding his home occupied by hostile neighbors, Felix lives in hiding, in constant fear of discovery, as he slowly becomes aware of the Nazi atrocities. Felix's traumatized present-tense narrative drives this powerful novel which manages to find welcome bits of humor and heroic kindness in the midst of horror and tragedy.
---

Then
by Morris Gleitzman
Ages 12–up
Felix (10) and Zelda (6) have escaped from the train carrying Jews to the death camp, but as two children alone in Nazi-occupied Poland they are surrounded by danger. Felix uses his masterful storytelling skills to create new denies for himself and Zelda, allowing them to live safely in public for a time. Seeking to protect each other, the two children secretly put a locket containing a picture of Zelda's Nazi parents among the other's possession. They form a family with a woman named Genia and begin to heal, but with no certainty that their temporary safety will last. (sequel to Once)
---
Now
by Morris Gleitzman
Ages 10–up
Felix is now a grandfather living in Australia. His ten-year-old granddaughter Zelda continues the story, describing the 2009 heat wave and devastating bush fires. When Felix confronts some local bullies, Zelda gets a rare glimpse into her grandfather's past. Felix's survivor's guilt and Zelda's doubts that she will ever live up to the courage of her namesake both come into play in this poignant close to the powerful trilogy that began with Once and continued in Then.
---

The Inquisitor's Tale: Or, The Three Magical Children and Their Holy Dog
by Adam Gidwitz, Hatem Aly
Ages 10–up
In 1242 France, travelers at an inn tell stories of three children and their dog Gwenforte, who miraculously returned from the dead. Jeanne is a peasant girl who can see the future, William is of African heritage and has amazing strength, and Jacob is a Jewish boy with the power to heal the sick. The travelers wonder if the three children are saints, frauds, or in league with the devil as they tell of their individual encounters with the trio. A flatulent dragon adds to the mystery and fun.
---

Girl Mans Up
by M-E Girard
Ages 14–up
Pen Oliveira (16) looks and dresses like a boy, and doesn't understand why the way she looks is such a big deal to everyone. Though her Portuguese immigrant parents are conservative, Pen has always been protected by her older brother and accepted by her best friend Colby, who treats her like one of the guys. But Colby's new interest in girls causes them to grow apart, and Pen's new friend Blake, who wants to be her girlfriend, cause her to examine the meaning of respect.
---

Timeline: A Visual History of Our World
by Peter Goes
Ages 10–up
This large-format book examines the history of the world from the Big Bang through modern day. Each spread covers a different time period with illustrations, captions, and short blocks of text highlighting mass extinctions, wars, natural disasters, and cultural trends. The visual timeline is powerful and has plenty of details to spark interest.
---

King of the Screwups
by K.L. Going
Ages 12–up
Liam Geller (17) has everything, a super-model mother, CEO father, popularity, and good looks. But somehow he always manages to do exactly the wrong thing and infuriate his father. When he is kicked out of the house he is sent to stay with his gay uncle who lives in a trailer in the middle of nowhere. To regain his father's approval, Liam tries to reinvent himself as a nerd, but eventually the likeable Liam learns to just be himself.
---

The Diamond of Drury Lane
by Julia Golding
Ages 10–14
Cat has lived in the Drury Lane Theater Royal ever since she was abandoned as a baby and taken in by Mr. Sheridan, the owner of the theater. After Cat sees Mr. Sheridan hiding a valuable diamond, she and her friends decide to help safeguard the treasure. Set in 1790s London, England, this thrilling mystery will keep readers glued to the pages. (first in a projected quartet)
---

The Museum of Mary Child
by Cassandra Golds
Ages 11–up
Heloise is kept secluded by her stern god mother. When the lonely girl discovers a beautiful doll, Maria, hidden under the floorboards, she hides the doll from her godmother who prohibits play, beautiful things, and talk of love. When Maria is discovered, Heloise learns the dreadful truth about the museum adjoining her godmother's cottage. This mysterious and creepy novel is enthralling.
---

Imaginary Enemy
by Julie Gonzalez
Ages 12–up
Jane writes to her imaginary enemy "Bubba" and he replies, in this entrancing and witty novel that follows Jane from elementary school into high school.
---

I Believe in a Thing Called Love
by Maurene Goo
Ages 14–up
Desi Lee (17) excels at just about everything. She is student body president, a varsity soccer star, and is sure she will be accepted to Stanford to study pre-med. The only thing Desi has failed is getting a boyfriend. She is a disaster at romance and can't manage to flirt without embarrassing herself. When Lucas Drakos arrives at her school, Desi turns for help to her father's obsession with serialized Korean TV shows and makes note of the romantic formulas that work in the TV world. Her "K Drama Steps to True Love" are hilarious.
---

The Dark Days Club
by Alison Goodman
Ages 14–up
Lady Helen Wrexhall (18) is about to make her debut at the court of King George III in 1812. The Duke of Selburn, the most eligible bachelor of the season, is interested in Helen, as is the disreputable Earl of Carlston who does not seem to have marriage in mind. Helen is dissatisfied with her life of endless parties and vapid conversation. When one of her maids disappears, Helen is drawn into the investigation. Lord Carlston introduces her to the Dark Days Club, a secret organization working to preserve English society from the dark forces that threaten it. Lord Carlston believes that Helen has the talents to join the fight, but she isn't sure she can trust a man whose existence is shrouded by lies and rumors of scandal. This supernatural adventure novel is the first in a series.
---

Eon: Dragoneye Reborn
by Alison Goodman
Ages 12–up
In a world where women are forbidden to study Dragon magic, Eona (16) disguises herself as a 12-year-old boy (Eon) to enter a competition to become an apprentice Dragoneye. Against all odds, the crippled Eon is selected and is soon fighting against the corrupt Lord Ido in this compelling fantasy.
---

The Other Side of the Island
by Allegra Goodman
Ages 12–up
Honor (10) and her parents are brought to Island 365 by the Corporation led by Earth Mother. Using memory-altering substances and misinformation, the Corporation lulls its citizens into believing that the rest of the world is uninhabitable. Honor's parents rebel and are captured and Honor and a friend must rescue them.
---

Poisoned Honey

A Story of Mary Magdalene
by Beatrice Gormley
Ages 12–up
Mari (13) wants to be in control of her own destiny, but women in 1st century Palestine have little power, so Mari submits to an arranged marriage. But her father and fiancé die of fever and Mari finds herself at the mercy of others. An Egyptian wisewoman teaches Mari the ways of the occult arts and she is gradually consumed by evil spirits before her eventual redemption. This biblical fiction brings the culture of early Palestine to vivid life.
---
Lost in the Sun
by Lisa Graff
Ages 10–up
Trent Zimmerman (12) is angry all the time. Seven months earlier he hit his teammate Jared in the chest with a badly aimed hockey puck. Jared had an undiagnosed heart ailment, and died. Trent knows it was an accident, but feels responsible for Jared's death. He used to excel at sports, but now suffers panic attacks every time he tries to play. He acts out, which makes everyone mad at him, but doesn't seem able to stop. Then Trent meets Fallon, a new girl with a scarred face. Fallon seems to enjoy spending time with Trent, and almost against his will Trent finds himself with a new friend.
---

Front Lines
by Michael Grant
Ages 14–up
In this alternative history, a court decision makes women subject to the draft. In 1942, three young women enlist after Pearl Harbor. Small town girl Rio Richlin wants to honor her older sister who died in the war, African-American Frangie Marr needs the money to support her disabled father, and Jewish New Yorker Rainy Schulterman is determined to kill Nazis. The three go through basic training together, struggling together against sexism and racism, and are sent to North Africa. This gripping tale of three heroic young women promises a sequel to continue their adventures.
---

Invictus
by Ryan Graudin
Ages 15–up
Farway Gaius McCarthy is the son of a time traveler from 2354 and a gladiator living in ancient Rome. When he was seven, his mother Empra disappeared during a mission for the Corps of Central Time Travelers. Now 17, Far hopes to join the corps and find his mother, but fails the entry exams. Instead he accepts an offer to pilot the Invictus, a pirate ship that steals lost treasure. He is aboard the Titanic searching for a priceless book when a girl named Eliot gets to the treasure first. She trades the book for a berth on the Invictus, but Far soon discovers she has brought a destructive force known as the Fade with her. Snarky humor pervades this intricate science fiction.
---

Wolf by Wolf
by Ryan Graudin
Ages 15–up
It's 1956 in an alternate reality where the Axis powers won the war, and the Third Reich and Imperial Japan rule. Concentration camp experiments to alter Jewish features to Aryan ones, have given Yael, a Jewish born 17-year-old, the secret power to alter her appearance like a shape-shifter. The five wolves tattooed on her arm are a constant reminder of the loved ones she lost. Now a member of the resistance, Yael enters the Axis Tour, a motorcycle race with the opportunity to meet the elusive Adolf Hitler at the Victor's ball in Tokyo, by by impersonating last year's only female racer, Adele Wolfe.
---

Defy the Stars
by Claudia Gray
Ages 15–up
In this future world resources are scarce and humans have settled on multiple planets. Genesis, a colony world, is fighting a war of independence with Earth. Noemi Vidal (17) is a Genesis fighter pilot on a training run when her squadron is attacked by an Earth army of mechs, humanoid robots. Noemi is separated from her squadron and takes refuge on an abandoned research vessel occupied by Abel, the first mech ever created. After years of lonely abandonment, Abel has begun to evolve. He wants only to protect his creator, and to be free. Noemi views all mechs as abominations and works to destroy him, until she begins to wonder if he has transcended his programming and become something new. As they spend more time together, both Abel and Noemi begin to question their own beliefs about what is true and right.
---

Ostrich Boys
by Keith Gray
Ages 12–up
After their friend Ross is killed while riding his bike, Blake, Kenny, and Sim are furious at the fake show of support by previously uncaring teachers and classmates. So the three boys decide to steal his ashes and travel from London to the village of Ross in Scotland for a proper funeral. Along the way they get thrown off a train, chased by police, and meet some flirtations Scottish girls. They also confront their own relationships with Ross and face some hard truths about his death.
---

The Fault in Our Stars
by John Green
Ages 14–up
Hazel Lancaster (16) has terminal thyroid cancer. When an experimental drug extends her life expectancy, her parents insist that she join a cancer support group at a local church. There she meets Agustus, a former basketball player who lost a leg to cancer, and the two feel an instant connection. Agustus's greatest fear isn't death, but that his life will have no meaning, so he uses his Genie Foundation wish to take Hazel to Amsterdam to meet her favorite author. This charming and profoundly sad story presents two endearing personalities struggling with the meaning of life and death.
---
Half Bad
by Sally Green
Ages 12–up
In modern-day England witches live among normal folk. White Witches are good, Black witches are evil. Nathan (16) is the son of the worst of the Black witches and a White witch, who has died. Rejected by both the Black and White witches, Nathan is imprisoned and trained to kill his own father. Just before his 17th birthday Nathan escapes, and has only months to find someone willing to help him utilize his own magical gifts. This dark fantasy is the first of a trilogy.
---

Half Wild
by Sally Green
Ages 12–up
Nathan (17) is an outcast in a modern day Britain where the White and Black Witches war for control. The son of a White Witch, Nathan struggles to control his new-found magical Gifts and the prophecy that foretells that he will kill his father Marcus, the most powerful Black Witch in Europe. With a few trusted allies, Nathan sets out to rescue Annalise, who is trapped in a death-like coma. Readers will want to read Half Bad, the dark fantasy series opener, before this exciting sequel.
---

Half Lost
by Sally Green
Ages 14–up
Nathan Brynn, a 17-year-old witch, is obsessed with tracking down his former lover Annalise, who was responsible for his father's death. As part of the Alliance, Nathan is working to end the tyrannical rule of the Council of White Witches in England, but despite his recent killing spree, the Alliance is still losing. The amulet protected by the powerful witch Ledger may tip the scales, but it is not easy to capture. This final installment in the Half Bad trilogy brings the series to a powerful conclusion. (follow-up to Half Bad and Half Wild)
---

Picture the Dead
by Adele Griffin, Lisa Brown
Ages 12–up
When Jennie's twin brother dies in the Civil War in 1864, Jennie feels his loss like a wound. A year later, her cousin Quinn arrives home to Massachusetts with the news that his brother Will, Jennie's fiancé, is also dead. Quinn, who is much changed by the war, begins to court Jennie, who responds though she senses that something mysterious surrounds Will's death. Jennie is haunted by both her dead brother and Will, and suffers a recurring sensation of being choked. Newspaper clippings, scrapbook entries, and black-and-white drawings illustrate Jennie's first person narration in this effective gothic ghost story portraying a country recovering from the horrors and loss of war.
---

The Whole Stupid Way We Are
by N. Griffin
Ages 14–up
Dinah (14) is optimistic and warm-hearted, the total opposite from her best friend Skint, who is depressed and nihilistic. Dinah is a member of the Girls' Friendly Society, a service group founded to help others in their small town, but the membership has dwindled to just Dinah, three older women, and Skint, who as a boy shouldn't even belong. Skint could use some help himself, since his father has early-onset dementia, his mother is bitter and angry, and Skint doesn't even have a coat to protect himself from the cold Maine winter, but Dinah can't quite figure out how to help the family.
---

Adrift
by Paul Griffin
Ages 12–up
Matt and his friend John are working in Nontauk, New York for the summer where they meet Driana, her Brazilian cousin Estafania and Estafania's boyfriend João. One night Estafania tries some daring night surfing and the rest of the teenagers try to rescue her in a small boat. The engine stalls, leaving them stranded in the ocean. This survival story is terrifying.
---

Burning Blue
by Paul Griffin
Ages 14–up
New Jersey high school senior Nicole Castro is smart, popular, and beautiful until she is sprayed in the face with acid in the school hallway. Classmate and computer geek Jay Nazarro is determined to unmask the attacker. Jay, who suffered a humiliating seizure in front of the entire student body, emerges from his self-imposed reclusion to befriend Nicole. This powerful novel is mainly follows Jay's investigation, interspersed with entries from Nicole's diary, notes from her therapist, and emails from the attacker.
---

The Orange Houses
by Paul Griffin
Ages 14–up
Tamika (Mik) Sykes is a bright hearing-impared 15-year old loner living in a Bronx housing project known as The Orange Houses. Mik becomes friends with Fatima, a teenaged illegal refugee from Africa who sells newspapers on Mik's block. The two befriend Jimmi Sixes, a disturbed 18-year old homeless veteran who is shunned by the rest of the community. The story of the three outcasts, who connect artistically and emotionally, is tense and powerful.
---

Saving Marty
by Paul Griffin
Ages 10–14
Lorenzo (Renzo) Ventura (11) is already over six feet tall and unsure of his place in the world. Renzo finds a runt piglet left behind on his family's Pennsylvania peach orchard. Bella, the family Lab, has just given birth to a litter of puppies and fosters the piglet Renzo names Marty after his dead father, an Army sergeant. In the next few months Marty is shaken by things he learns about his father and the changes caused by his best friend Paloma's musical success. Renzo relies on Marty's steadying influence, but as the pig approaches 350 pounds his mother is less sure the pig makes a good pet. When Marty causes an accident, Renzo must find a way to save his best friend.
---
Ten Mile River
by Paul Griffin
Ages 12–up
Ray and José, two homeless teenaged boys, are hiding from their parole officer in New York City's Ten Mile River Park. Ray meets Trini, who encourages the boys to go straight, and Ray is caught between his loyalty to his friend and his desire to make something of himself. Griffin's ear for authentic dialog makes his gritty novel memorable.
---

When Friendship Followed Me Home
by Paul Griffin
Ages 10–up
Ben Coffin (12) has never been good at making friends. A former foster child, he is happy with his elderly adoptive mother and former therapist, and thrilled to be living in Coney Island. Ben loves to read science fiction and gets to know Mrs. Lorentz, the local librarian. Outside the Coney Island Public Library Ben meets Flip, an abandoned dog who follows him home. Through Flip, Ben meets Haley, a fellow book-lover who wears strange combinations of bright colors. They begin writing a fantasy story together during Haley's chemotherapy treatments. When Ben's mother dies and Haley's treatment begins to fail, Ben finds it hard to stay optimistic.
---

Garvey's Choice
by Nikki Grimes
Ages 8–12
Garveys father wants him to excell in sports, but Garvey dislikes athletics, preferring astronomy and reading science fiction. Feeling that he has failed his father, Garvey comforts himself by eating and is teased for being overweight. But Garvey is smart, funny, and kind and has two good friends, who encourage him to join the school chorus. Garvey excells at singing, and finds a different avenue to connect to his father. This engaging novel about being true to oneself is told in tanka verse.
---
The Glass Sentence
by S.E. Grove
Ages 10–up
In the Great Disruption of 1799 time itself broke apart and reassembled stranding countries and continents in different time periods, some thousands of years apart. A century later, Sophia (13) lives with her Uncle Shadrack in New Occident Boston, where Shadrack specializes in the science and magic of maps. One day Sophia returns home to find their secret map room emptied of all their treasured maps, and Uncle Shadrack kidnapped by religious zealots searching for a legendary map that records the memories of the whole world from the distant past to the present. With the help of her friend Theo and bunch of pirates, Sophia sails to Nochtland, a kingdom in the former Mexico, searching for traces of her uncle. This exciting adventure story is the first in the Mapmakers series.
---

Somewhere There Is Still a Sun: A Memoir of the Holocaust
by Michael Gruenbaum
Ages 10–14
Michael "Misha" Gruenbaum is 10 when the Nazi's invade his home city of Prague. Increasingly repressive rules, including no soccer, soon result in the forced relocation of the Gruenbaum family into the Jewish Ghetto. Then Misha, his mother, and his sister were deported to the Terezin concentration camp, where Misha roomed with 40 other boys, who became like brothers to him. The boys played soccer matches and tried not to succumb to terror as the names were read of each new family on the list for transportation to Auschwitz. First person narration adds immediacy to this memoir of defiance, love, and courage in the face of increasingly appalling events.
---

A Creature of Moonlight
by Rebecca Hahn
Ages 12–up
Marnie lives in a hut at the edge of the wood with her Gramps, tending flowers. As she grows older, the woods begin to expand into the neighboring villages, but keep their distance from their hut. The dangerous woods are ruled by a powerful dragon who lured Marnie's princess mother away from the castle. After giving birth to half-human half-dragon Marnie, her mother died and Marnie and her grandfather were banished from the castle. When her grandfather dies, Marnie is sent to live with her uncle the king, but cannot escape the lure of the woods.
---

Peanut
by Ayun Halliday, Paul Hoppe
Ages 11–14
When Sophie Wildhack transfers to a new high school in her sophomore year, she invents a deadly peanut allergy to make herself more interesting and hopefully make new friends quickly. But her new classmates are less than sympathetic and Sophie keeps running into peanut traps like the health form her mother is supposed to sign, the school bake sale, and peanut butter sandwiches for lunch. Only the friendship of Chris "Zoo" Suzuki manages to save Sophie from total social embarrassment in this appealing graphic novel.
---

Into the Wild Nerd Yonder
by Julie Halpern
Ages 12–up
Jessie is having a bad sophomore year in high school. Her two best friends have turned punk and boy-crazy, and her beloved older brother is preparing to leave for college. Jessie retreats into sewing and audio books until Dottie, the class nerd, introduces her to Dungeons and Dragons, which Jessie is surprised to find she actually enjoys. Jessie's honest, funny, and sympathetic narration allows the reader to see how exceptional Jessie truly is, even though she can't see it herself.
---

The Summer I Turned Pretty
by Jenny Han
Ages 12–up
For Isabel, known as Belly, summers are the most important part of the year. Every summer Belly's family shares a beach house with her mother's best friend and her two sons. Until Belly's 15th summer, the boys have treated Belly as a sister, but this year everything changes. This coming-of-age novel is the first in a planned trilogy.
---

To All the Boys I've Loved Before
by Jenny Han
Ages 12–up
Lara Jean, the middle of three sisters whose mother is dead, writes romantic good-bye letters to all five of the boys she has ever secretly loved. The private letters aren't meant to be read, and she stores them in a hat box in her closet. When the letters are mailed by mistake, Lara Jean's imaginary love life is suddenly public. Lara Jean's older sister is leaving for college, and her younger sister looks to her for support, but Lara Jean feels that her life is suddenly totally out of control.
---

Unearthly
by Cynthia Hand
Ages 12–up
Clara (16) is a Quartarius, a quarter-angel. Her half-angel single mother helps Clara interpret the visions that will reveal her purpose, the reason that each angel exists on Earth. Clara's visions lead them from California to Jackson Hole, Wyoming, where she meets the boy in her visions at the local high school. Clara negotiates the normal perils of high school cliques while also learning to use her wings. (first in a projected trilogy)
---

Radiant Days
by Elizabeth Hand
Ages 14–up
In 1978 painter and graffiti artist Merle Tappitt is in her first year of art school at the Corcoran School of Art, struggling to make the adjustment between her impoverished Appalachian past and the sophisticated and dissipated art scene in Washington DC. In 1870 16-year-old Arthur Rimbaud, on the verge of writing the poetry that will make him famous, sets out for Paris. Both end up spending the night in a lockhouse and wake up together in 1978. The two gay misfits form a mystical bond, slipping back and forth in time and influencing each other to produce great art.
---

Why We Broke Up
by Daniel Handler, Maira Kalman
Ages 15–up
Min and Ed are breaking up, and Min is writing a long letter to Ed to accompany a box of souvenirs of their two-month romance. Illustrations of each item separate the chapters documenting Min's doomed affair, which she is sure has broken her heart. This bittersweet novel makes excellent use of poignant dialogue to tell the story of teenaged romance. (Daniel Handler writes for younger readers under the pen name Lemony Snicket.)
---

Cuckoo Song
by Frances Hardinge
Ages 12–up
Triss (11) lives in England just after WWI with her protective parents and younger sister Pen. After falling into the pond, Triss barely escapes with her life and wakes up to find her world changed. Dolls and store mannequins turn their heads to follow her movement, her dreams are strange and overwhelming, and she is constantly hungry yet unsatisfied by the food she loved in the past. Her parents whisper behind closed doors, her sister seems frightened of her, and Triss fears she is no longer human.
---

Fly Trap
by Frances Hardinge
Ages 10–up
Mosca Mye, her con man friend Eponymous Clent, and her fierce goose Saracen have barely escaped from the revolution, which they helped start, in the city of Mandelion. But the new town they find themselves in isn't much safer. Toll is a wealthy town, but transforms into a dangerous place after dark, known as Toll-by-Night. Mosca and her companions are soon involved in a plot to kidnap the Mayor's beloved daughter while trying to escape the clutches of Goshawk, who wants vengeance for their deeds in Mandelion. This humorous and inventive fantasy novel is the sequel to Fly by Night.
---

The Lie Tree
by Frances Hardinge
Ages 14–up
On the surface Faith Sunderly (14) is a dull and proper young lady, but she is secretly a budding scientist consumed with curiosity. Her father, Reverend Erasmus Sunderly, unexpectedly moves his family to a remove island to escape a scandal that threatens to destroy his reputation. Though the intellectual talents of girls and women are deprecated in Victorian society, Faith helps discover a mysterious tree that feeds upon lies, rewarding the liar with amazing visions. When her father is found dead, a presumed suicide, Faith is determined to clear his name and expose his murderer.
---

The Lost Conspiracy
by Frances Hardinge
Ages 10–up
On the enchanted island of Gullstrick, Arilou is proclaimed to be a mystic, the next Lady Lost of the Lace people. Her younger sister Hathin acts as her translator and guardian. But neither sister is exactly what she seems, and when a Lost Inspector arrives to authenticate Arilou's claim, the sisters and the Lace people are in danger. This complex tale is an entrancing story.
---

The Last Exit to Normal
by Michael Harmon
Ages 14–up
When 17-year-old Ben's father announces he's gay and the family splits up, Ben figures it can't get worse. But then his father and boyfriend move with Ben from big-city Spokane to a rural Montana town—no place for a boy with spiked hair, a skateboard habit, and two dads.
---

Clarity
by Kim Harrington
Ages 14–up
Clarity "Clare" Fern (16) works for the family business doing psychic readings for summer tourists in Cape Cod. Clare can retrieve memories and emotions by touching objects, her mother can read minds, and her brother is a medium. When a tourist is found murdered, Clare is eager to help the police. When two more people are murdered, and her brother becomes a suspect, Clare realizes she needs to find the truth quickly before she becomes the next victim. (1st in a planned series)
---

Steeplejack
by A.J. Hartley
Ages 13–up
Ang Stonga (16) works as a steeplejack, cleaning and maintaining the towers and spires of Bar-Selehm, an alternative 19th-century South African city. On the same day her young apprentice is murdered, the city's Beacon, an incredibly valuable piece of luxorite that shines a bright light from the highest tower, is stolen. A secret government agency hires Ang to find the killer, sure that the murder is connected to the theft. Ang's investigation reveals a far-reaching conspiracy that could destroy the city. This intense thriller is the first in the Alternative Detective series.
---

Seraphina
by Rachel Hartman
Ages 12–up
Seraphina Dombegh (16) lives in an alternate medieval world where mathematically talented dragons live among humans in human form. The dragons could easily crush humans, but luckily find it fascinating to study them instead. A gifted musician, Seraphina joins the royal court just as a member of the royal family is murdered in a very draconian fashion. Seraphina is drawn into the investigation, helping Prince Lucian Kiggs, while trying to keep her own dangerous secret hidden. Seraphina is half-dragon, the source of her musical talent as well as misshapen personalities that inhabit her mind. This fantasy debut is enthralling.
---
Shadow Scale
by Rachel Hartman
Ages 12–up
In Goredd, the uneasy peace between humans and dragons breaks out into war. Seraphina, part girl and part dragon, begins to search for others like herself who have been hiding their dual nature as ituasaari, hoping they can pool their talents to end the war. Seraphina and her fellow ituasaari are pursued by both humans and dragons, but their most powerful foe is an ituasaari who would like them to work toward her own purpose. (sequel to Seraphina)
---

Butterfly
by Sonya Hartnett
Ages 14–up
Plum Coyle is just about to celebrate her 14th birthday, unsure if she wants to be older and fit in with her friends, or younger and still babied by her older brothers Justin and Cydar. Plum's friends taunt and tease her, her perhaps untrustworthy neighbor Maureen tries to advise her, and her family seems unable to help her conquer her insecurity. Secrets and betrayals and the pain of being unable to help those you love permeate this novel about an ordinary Australian suburban family.
---

The Ghost's Child
by Sonya Hartnett
Ages 12–up
One day 75-year-old Maddy comes home to find a peculiar young boy waiting for her. The boy is eager for stories so she tells him of her past, her imaginary best friend, and her lost love—a feral man of the sea. Beautiful prose supports this tale of magical realism.
---
Golden Boys
by Sonya Hartnett
Ages 14–up
When the Jenson family moves into a working class Australian neighborhood they seem like a family out of a movie. Rex showers his sons Colt and Bastian with fancy toys and bikes and an above-ground pool that is the envy of the neighborhood kids, but Colt is repulsed by his father. Syd Kiley befriends the new boys and his older sister Freya thinks the world of Rex, who seems to be the complete opposite of her own alcoholic father. Narrations from the perspectives of Colt, Syd, and Freya gradually reveal the similarities and differences between the fathers and their families.
---

The Midnight Zoo
by Sonya Hartnett, Andrea Offermann
Ages 10–up
When German soldiers attack their Romany encampment and arrest their relatives, Andrej (12) and Tomas (9) flee to hide in the woods with their baby sister. They discover a bombed out town with an intact zoo filled with creatures in need of hope. Like the children, the animals have stories to tell and a burning desire to reclaim their lives. This somber fable explores themes of responsibility and freedom.
---

Paperweight
by Meg Haston
Ages 14–up
Stevie's brother Josh died in a car accident a year ago, and she has been trying to slowly starve herself to death ever since. Now in a 60-day treatment program in rural new Mexico, the 17-year old is under a strict regime of regular meals, medications, and therapy. But Stevie is determined not to live past the anniversary of Josh's death in 27 days, a death she holds herself responsible for.
---
Slide
by Jill Hathaway
Ages 14–up
High school junior Vee Bell, her younger sister Mattie, and her father have not recovered from her mother's death five years earlier. Vee's life is further complicated by the fact that whenever she holds an object another person has touched, she unwillingly slides into that person's mind, leaving her own body vulnerable. When Vee finds herself next to the dead body of a cheerleader, she realizes that she is in the mind of a killer. When a second cheerleader dies, Vee decides to stop fighting against her secret power, and use her gift to find the killer before her own sister becomes the next victim.
---
Blank Confession
by Pete Hautman
Ages 12–up
Shayne Blank, a 16-year-old stranger, appears at the police station to confess to a murder. Detective Rawls, a veteran cop, listens to Shayne's story about Mickey Martin, the smallest junior at Wellstone High, who discards a bag of drugs given to him for safekeeping by his sister's drug-dealing boyfriend. This gripping story is told from both the viewpoints of Mickey, narrating the back story, and Detective Rawls, listening to the confession. Snappy dialog, skillful pacing, and great characters make this exciting mystery hard to put down.
---

The Obsidian Blade
by Pete Hautman
Ages 12–up
Tucker Feye (13) lives a completely normal life in a small town in Minnesota until his father, a preacher, disappears through a mysterious disk above their roof. When his father reappears an hour later he has lost his faith and gained a strange young woman named Lahlia who claims to be from Bulgaria. When both of Tucker's parents vanish a year later, he sets out to find them with Lahlia and his uncle Kosh. They discover that the diskos allow travel through time and space and visit some very unpleasant moments in human history. This fascinating science fiction novel is the first in a planned trilogy.
---

Slider
by Pete Hautman
Ages 10–14
David Miller, an almost high school freshman, can eat an entire 16-inch pepperoni pizza in under five minutes. After an accidental $2000 charge to his mother's credit card, David decides the only way to earn the money back is to win the Super Pigorino Bowl, the Super Bowl of pizza eating contests. Throughout the summer David trains by scarfing down pizzas and burgers and taking care of his younger brother Mal, who is autistic though his family won't admit it.
---
School Spirits
by Rachel Hawkins
Ages 12–up
Izzy Brannick (15) comes from a family who has hunted monsters for centuries. When Izzy's older sister vanishes while on a hunt, Izzy's mother decides they need to take a break and moves with Izzy to a small Mississippi town to investigate a simple haunting. Unfortunately the ghost is more powerful than expected, and home-schooled Izzy finds it difficult to take on the persona of a normal high school student. Snappy dialog and clever plotting enliven this stand-alone spin-off from the Hex Hall series.
---

OCD Love Story
by Corey Ann Haydu
Ages 14–up
Bea is a high school senior who struggles with obsessive-compulsive disorder. Bea tries to think of herself as a normal teen with a few interesting quirks, but her therapy sessions reveal deeper problems. Bea stalks the couple that has a therapy session before hers and avoids all sharp objects since she fears she will hurt someone. Group therapy adds a new complication when Bea falls for Beck, who washes his hands compulsively and is driven to do everything in sets of eight. This novel is a sensitive and realistic portrayal of OCD and the power of therapy.
---

What I Came to Tell You
by Tommy Hays
Ages 10–up
After his mother dies in an accident, Grover (12) finds himself responsible for his younger sister Sudie, who cries all the time, since his grieving father buries himself in work as the director of the Thomas Wolfe house. Grover spends most of his time in the canebrake, weaving beautiful tapestries from leaves and bamboo, growing more and more isolated. Then a new family moves into the neighborhood with a girl his age who is also missing a parent, helping Grover and his father learn to share their grief and begin to heal.
---

North of Beautiful
by Justina Chen Headley
Ages 12–up
Terra has a birthmark on her face and a father who tells her she is ugly and not artistically talented. Then she meets Jacob, an Asian-born adoptee who introduces her to geocaching, a treasure hunt using GPS technology. When the two travel to China with their mothers, Terra redefines her definition of art and beauty.
---
Magonia
by Maria Dahvana Headley
Ages 13–up
Since birth Aza suffered from a terminal lung disease that made it difficult for her to breathe. When she tells her parents she hears someone calling her name from a spaceship, her parents think the hallucination is a side effect of her medication. Only her friend Jason believes her. Then Aza finds herself aboard a Magonian airship able to breathe normally for the first time in her life. The captain declares she is Aza's true mother and demands her help in the upcoming war between Magonia and Earth.
---
The Shattering
by Karen Healey
Ages 12–up
Keri (17) always likes to be prepared for the unexpected. She knows how to give first aid and what to do in case of an earthquake. But her brother's unexplained suicide takes her by surprise, especially when her friend Janna tells her there might be a reason for Jake's death. Keri learns that her small town of Summerton, New Zealand, may have a magical history that compels a teenaged boy to kill himself. Unsure who to trust, Keri and her friends take on the dangerous task of uncovering the truth.
---
Ivy
by Julie Hearn
Ages 12–up
Two 19th century London women of the Ragged Children's Welfare Association rescue the orphan Ivy, a Pre-Raphaelite beauty, who has been discarded by her family as useless. The laudanum addicted Ivy spends most of her time in a swoon, but the other characters scheme and frolic in this lush absorbing novel.
---

Charles and Emma:

The Darwins' Leap of Faith
by Deborah Heiligman
Ages 12–up
This biography focuses on the marriage of Charles Darwin to his cousin Emma Wedgwood. Supported by historical context and quotations from their own personal writings as well, we meet a man who believes in reason and a woman who believes in God. This sympathetic account helps readers to understand Darwin's views and the influence of Emma's beliefs.
---

Vincent and Theo: The Van Gogh Brothers
by Deborah Heiligman
Ages 14–up
When they were teenagers, Vincent and Theo Van Gogh vowed to be life companions in the search for meaning in life and art. Though different personalities, the two brothers shared everything. Vincent struggled to find his place in the world while Theo became an art dealer with a stable life. Based on the 658 letters Vincent wrote to Theo, this joint biography documents Vincent's cycles of descent into mental illness and the support Theo provided him.
---

Beastkeeper
by Cat Hellisen
Ages 12–up
Sarah (13) has never lived anywhere very long. Her mother hates the cold, so every winter her parents pack their bags and move the family somewhere warm. Sarah is lonely, and it only gets worse after her mother leaves following a late-night argument. Sarah's grief-stricken father undergoes a strange transformation, and sends Sarah to live with her grandmother, who lives in a ruined castle deep in the woods. Even stranger is meeting a talking white raven and learning that her grandfather has been changed into a terrifying beast. Sarah discovers that her family is cursed, and that she herself will become a beast the first time she falls in love. This dark re-telling of Beauty and the Beast is complex and magical.
---

Wicked Girls: A Novel of the Salem Witch Trials
by Stephanie Hemphill
Ages 12–up
It began as a girls' game, but ended as a witch hunt. When two village girls fall ill and accuse neighbors as witches, Ann, Mercy, and Margaret jump on the chance to have influence over others and begin to accuse neighbors who have harmed them or their families. Told in verse from each girl's perspective, this powerful novel explores the motivations that could have driven the girls to make the false accusations that resulting in the hangings of 19 people in 1692. And the motivations are all too believable—jealousy, boredom, longing for friendship and acceptance—inspiring uncomfortable parallels to group dynamics of modern teens.
---

Bird Lake Moon
by Kevin Henkes
Ages 10–14
Mitch (12) is brooding about his parents' upcoming divorce when he meets Spencer (10) who has been shaken by a drowning at Bird Lake. Told in alternating chapters from both viewpoints, this novel explores secrets, loss, and acceptance of what cannot be changed.
---

It's Getting Hot in Here: The Past, Present, and Future of Climate Change
by Bridget Heos
Ages 12–up
This accessible examination of climate change explores the history of climate change, the science behind it, and the ways in which people have influenced it. The current grim situation is explained, along ways readers can make a positive change.
---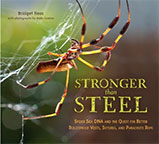 Stronger Than Steel: Spider Silk DNA and the Quest for Better Bulletproof Vests, Sutures, and Parachute Rope
by Bridget Heos, Andy Comins
Ages 10–14
This exciting book presents the real-life research in Randy Lewis's lab, where he studies the potential uses of spider silk. Lewis and his team inject goat embryos with spider genes, resulting in goats who produce spider silk proteins in their milk. Vivid photographs and a lively narration make the subject of DNA and gene theory accessible and interesting.
---

Ask Me How I Got Here
by Christine Heppermann
Ages 14–up
Addie is a sophomore, a good student, and the star of the cross-country team at her private Catholic high school. When she becomes pregnant she gets an abortion with the support of her boyfriend and her parents. Afterwards she struggles with how the pregnancy and her decision to abort influence her self-perception and the feelings of those around her. Addie's poems, with frequent references to the Virgin Mary, highlight Addie's frustrations, guilt, and her attempts to understand her own emotions.
---
Poisoned Apples: Poems for You, My Pretty
by Christine Heppermann
Ages 13–up
This collection of 50 poems blends fairy tale themes with the demands that society makes upon girls and women. Themes like body image and eating disorders are explored along with the ability to escape societal forces that try to control women. Beautiful black and while photographs complement the poems.
---

Why We Took the Car
by Wolfgang Herrndorf
Ages 14–up
Mike Klingenberg, an eighth-grader in Berlin, Germany, is facing two weeks of boredom home alone. His mother is in rehab (again) and his father is off on a "business trip" with his very attractive personal assistant. Mike is crushed when he is not invited to the birthday party of the girl he secretly adores. When Tschick, a new classmate from Russia, shows up driving a stolen car, Mike figures he doesn't have anything better to do and goes along for the ride. Driving all over Germany the two boys face constant problems like buying as and avoiding the police, but amazingly meet people who deepen their appreciation of humanity and life itself.
---
Brooklyn Bridge
by Karen Hesse, Chris Sheban
Ages 10–14
It's 1903 in Brooklyn and all 14-year-old Joseph Michtom wants to do is go to the brand-new amusement park at Coney Island. But his Russian immigrant parents have just invented the stuffed teddy bear, and Joseph is too busy working to have fun. Meanwhile the street children living under the Brooklyn Bridge are haunted by a ghost they call the Radiant Boy.
---

Out of the Dust
by Karen Hesse
Newbery Medal 1998


Ages 11–up
Billie Jo (14) records the grim realities of living in the Oklahoma dust bowl during the Depression. In her free verse journal, she reveals her mother's death and her own burns in a fire and her father's grief. Billie Jo's hope for a better future shines through all the pain and struggle to survive.
---

Girl in the Blue Coat
by Monica Hesse
Ages 12–up
In 1943 Nazi-occupied Amsterdam, teenager Hanneke Bakker helps support her family by delivering black market goods while mourning the death of her boyfriend, killed on the Dutch front lines when the Germans invaded. Mrs. Janssen, one of her customers, asks for help locating Mirjam, a 15-year old Jewish girl who was hiding in a secret room in Mrs. Janssen's home. Hanneke at first wants nothing to do with the dangerous search for the missing girl, but soon learns more than she wants to know about the horrors Jewish people are suffering under the Nazis, realizeing that refusing to join the underground resistance will make her part of the evil Nazi war machine.
---

The Nameless City
by Faith Erin Hicks
Ages 9–up
Each new nation that invades and conquers the City gives it a new name. The city dwellers just call themselves the Nameless City and try not to get caught up in the unending wars, considering each wave of invaders outsiders not to be trusted. Kaidu is a Dao, the current occupying nation. Rat, an orphan living on the streets, is a native of the Nameless City and is determined not to trust Kaidu. But his love of his adopted city gradually wins her over, and she begins to show Kaidu how to navigate the city 's secret paths in exchange for food. The two learn of an assassination plot and work together to save the city in this first in a graphic novel trilogy.
---

The Black Book of Secrets
by F.E. Higgins
Ages 10–14
Young Ludlow Fitch, fleeing a terrible past, arrives in a peaceful village. Ludlow becomes the assistant to the mysterious pawnbroker who trades cash for people's deepest, darkest secrets. It's Ludlow's job to record the secrets in the leather bound Black Book of Secrets. The vaguely Dickensian late 1800s atmosphere is the perfect backdrop for this historical fantasy.
---

The Bone Magician
by F.E. Higgins
Ages 10–14
Young Pin Carpue is left to survive on his own in the crime-ridden city of Urbs Umida when his father, a suspected murderer, disappears. Pin gets a job as a corpse watcher, standing guard in the morgue for three days to ensure that the deceased really are dead and not just sleeping. There he meets the Bone Magician who claims to be able to reanimate the dead to answer last questions from the living. This dark and funny fantasy is a companion volume to The Black Book of Secrets.
---

The Eyeball Collector
by F.E. Higgins
Ages 10–14
Young Hector finds himself alone, homeless, and penniless when his father dies after being blackmailed and disgraced. Hector sets out to find revenge against the man he thinks is responsible for the blackmail—Gulliver Truepin, a one-eyed con artist who steals jewels to make a different jeweled eyeball for each day of the week. The two end up at Withypitts Hall, home of the cruel Lady Mandible and all plots come together on the night of an extravagant feast. (Companion volume to The Black Book of Secrets and The Bone Magician)
---

Department 19
by Will Hill
Ages 14–up
Jamie Carpenter's father died a traitor when Jamie was 14. Now 16, Jamie is rescued by Frankenstein from vampires and taken to Department 19, the top-secret government organization founded by Dracula's killers, dedicated to protecting mankind from the supernatural. When Jamie's mother is kidnapped by vampires, Jamie sets off with Frankenstein and an untrustworthy vampire girl to rescue her. This non-stop adventure is part mystery, part classic horror story, and all thriller.
---
The Beginner's Guide to Living
by Lia Hills
Ages 14–up
When his mother dies in a traffic accident, Will (17) is numb and can't feel anything until he meets Taryn at the wake. Confused by love and grief, Will begins to question the meaning of life. His quest for answers leads him to read philosophy, experiment with drugs, and explore sexuality with Taryn. Insightful and thought-provoking, this coming-of-age novel celebrates life, companionship, and love.
---
Lucky Penny
by Ananth Hirsh, Yuko Ota
Ages 13–up
Penny Brighton (18) has plenty of luck, the problem is it is all bad luck. On the same day she loses her job and has to move out of her apartment into her friend Helen's storage unit. When she gets a job at a Laundromat managed by Helen's 11-year-old brother and meets a sweet guy working at the desk in the community center, Penny is sure her luck has turned around. This funny and romantic graphic novel grew out of Hirsh and Ota's web comic.
---
The Last Best Days of Summer
by Valerie Hobbs
Ages 10–14
Lucy (12) is highly influenced by her friend Megan, who gives her tips about how to be popular in junior high, including not being friendly with Eddie, a boy with Down syndrome. Lucy eagerly heads off to her annual trip to her grandmother's lake cabin, anxious to escape her over-protective parents and enjoy doing all her favorite summer things with Grams. But Grams isn't acting like herself (early Alzheimer's) and Eddie shows up expecting Lucy to be the friend she's always been. This thoughtful coming-of-age story is simply and effectively told.
---

Soonchild
by Russell Hoban, Alexis Deacon
Ages 14–up
Sixteen-Face John is a former shaman in an Arctic world where humans, animals, and underworld spirits share magical powers. His wife is expecting their first child—a "soonchild"— but Soonchild refuses to be born. So John sets out to find the World Songs that will coax the child to leave the womb. Hoban's distinctive mix of humor and horror permeates this last book completed before his death in 2011.
---

Green Witch
by Alice Hoffman
Ages 12–up
A year after losing her family in the destruction of the city, Green (16) finds that tending her garden and collecting the stories of other survivors helps the healing process. But she can't stop thinking of her beloved Diamond, a mute boy who stole her heart, and her former schoolmate Heather. Green consults a series of women believed to be witches whose advice leads her to the island of prisoners where she finds old acquaintances and strangers who share her grief and suffering. Together they to try to change the future. This poetic and haunting novel is the sequel to Green Angel.
---

This is the Part Where You Laugh
by Peter Brown Hoffmeister
Ages 14–up
Travis lives in a trailer park in Eugene, Oregon, with his grandmother, who is dying of cancer. During summer vacation Travis practices basketball with his friend Creature, canoes around the lake in search of the beautiful girl who just moved into the neighborhood, and searches homeless encampments for his drug-addicted mother. Despite Travis's best efforts to stay out of trouble, everything spirals out of control when Creature tangles with a vicious gang. This honest coming-of-age novel is funny and powerful.
---

Too Shattered for Mending
by Peter Brown Hoffmeister
Ages 14–up
Gavin "Little" McCardell is having a hard time after the disappearance of his grandfather "Big" and the arrest of his older brother JT. Little takes care of his younger cousin, works in the town graveyard for extra cash, pines for JT's girlfriend Rowan, and has his usual struggles in school because of a learning disability. When the police come around asking questions about Big McCardell, Little won't answer. Then he is caught hunting deer out of season and threatened with arrest unless he cooperates.
---
The Secret Hum of a Daisy
by Tracy Holczer
Ages 10–up
Grace and her mother have always been a family of two. Grace longs to settle down, but her artistic and flighty mother is always ready to move on after only a few months. When Grace is 12 her mother dies in a drowning accident, and Grace is sent to live with her grandmother, a stranger she has never met. The town holds secrets of Grace's past, and she struggles to follow a trail of clues she is sure her mother left for her as she discovers her family's history.
---

Brains For Lunch: A Zombie Novel in Haiku?!
by K.A. Holt, Gahan Wilson
Ages 9–14
Loeb, a zombie, has a problem—the object of his affection is a lifer (human) girl named Siobhan. Narrated entirely in haiku, this clever novel highlights the self-doubt and uncertainity all pre-teens suffer through whether they are human or zombie. Delightfully gruesome illustrations are the perfect match for the funny and unconventional haiku, sure to appeal to teachers of poetry and reluctant readers alike.
---

The Water Seeker
by Kimberly Willis Holt
Ages 10–14
Jake Kincaid is a skilled dowser, a finder of water, but leaves that calling behind to become a trapper in 1833. He returns a year later to find that his wife has died, leaving him a baby named Amos. Jake leaves Amos to be raised by his relatives in Nebraska, returning each summer to visit. In 1841, Jake brings his new Shoshone wife with him and they take Amos with them to Missouri. When Amos is 13, the family joins a wagon train headed west on the Oregon Trail. The hardships of the journey are beautifully portrayed in this historical coming-of-age novel.
---

How I Saved My Father's Life

(and Ruined Everything Else)
by Ann Hood
Ages 11–up
Madeline (11) believes she saved her father from an avalanche, and is hoping for another miracle to undo her parents' divorce and father's remarriage. Perceptive view of divorce from a child's perspective.
---

The Boys Who Challenged Hitler: Knud Pedersen and the Churchill Club
by Phillip Hoose
Ages 12–up
In April 1940, Germany made Denmark a "protectorate" of the Third Reich. The Danish government did not oppose the German invasion, but a small group of Danish teens were ashamed of their nation's cowardice and decided to fight back. Led by 15-year-old Knud Pedersen, the teens formed the Churchill Club, named after British Prime Minister Winston Churchill. For five months in 1940, members of the club performed daring acts of sabotage, mostly from their bikes and often in broad daylight. The boys were arrested and imprisoned, but their courage fueled Danish resistance. Verbatim quotes from a 2012 interview with Knud Petersen are interwoven with the narration. An epilogue tells what happened to each member of the Churchill Club after the end of the war.
---

Claudette Colvin: Twice Toward Justice
by Phillip Hoose
Ages 10–up
In March 1955, nine months before Rosa Parks refused to surrender her seat to a white passenger, 15-year old Claudette Colvin was dragged from a bus and arrested for the same reason. This book introduces readers to the courageous teenager who was overshadowed by Rosa Parks as the center of the bus boycott. Young readers are encouraged to empathize with young Claudette, at first dismissed as too "emotional" to withstand public scrutiny, but later a key witness in the federal lawsuit that would end discrimination on public transportation. (2010 Newbery Honor Book)
---

Moonbird: A Year on the Wind with the Great Survivor B95
by Phillip Hoose
Ages 10–up
B95 is a red knot shorebird about the size of a robin. Each February he joins a flock that flies from Tierra del Fuego to the breeding grounds in the Canadian Arctic 9000 miles away. In late summer he makes the return journey. B95 can fly for days without eating or sleeping, but stops for food and rest are necessary, and changes to the migration path threaten the red knot with extinction. This detailed look at the red knot and the scientists who study the species is fascinating.
---
Identical
by Ellen Hopkins
Ages 14–up
Kaeleigh and Reanne are identical 16-year-old twins. From the outside their family seems perfect, but since an accident their mother is emotionally unreachable and the girls are self destructive in different ways. Narrated in free verse, this disturbing novel is both beautiful and shocking.
---

The Great Trouble: A Mystery of London, the Blue Death, and a Boy Called Eel
by Deborah Hopkinson
Ages 10–up
Eel is an orphan and a mudlark, combing through the filthy banks of the Thames for anything he can sell to earn enough to survive. 1894 London is a dangerous place during the cholera outbreak, but Eel is also pursued by his evil stepfather. Polluted air is blamed for the cholera epidemic, but Eel and his mentor Dr. Snow believe the disease is being spread through a local water pump. This exciting tale mixes mystery, science, medicine, and history.
---

The Chaos
by Nalo Hopkinson
Ages 14–up
Sojourner "Scotch" Smith (16) is finding it hard to fit in with her Canadian peers. Her mixed Jamaican, black, and white heritage makes it hard to know who she really is. Plus weird black dots are growing on her skin and she keeps seeing floating horse heads. The whole planet seems to have gone crazy and Scotch must find her friends and family and come to terms with her own changing reality.
---

Same Sun Here
by Silas House, Neela Vaswani
Ages 9–up
Meena (12) lives with her recently immigrated Indian family in New York City. River lives with his grandmother, an environmental activist, in rural Kentucky. Connected by their pen pal letters, the two find many differences in their lives, and a few connections, as they share their feelings about religion, politics, prejudice, and music. Narrated by the two authors in alternate chapters, the two establish a friendship strong enough to surmount distance and difference.
---

Rootless
by Chris Howard
Ages 14–up
Banyan (17) is an artist who builds trees from scrap metal for rich patrons longing for a glimpse of the past in their desolate locust infested landscape when he is not searching for his missing father. Banyon has never seen a real tree, and when he discovers a map to the rumored last trees on Earth he sets out on a perilous search for the mythical land. This post-apocalyptic adventure is the first in a planned series.
---

Addie on the Inside
by James Howe
Ages 10–14
Seventh grader Addie is outspoken, and often a target of ridicule from her classmates. Though confident on the outside, Addie is riddled with self-doubt on the inside, especially about her relationship with her boyfriend DuShawn and her former friend Becca. Addie's plan to organize a school Day of Silence doesn't turn out the way she planned, but her self-imposed silence has unexpected benefits. Told in rhythmic narrative verse, this empathetic novel is a companion to The Misfits and Totally Joe.
---

Conversion
by Katherine Howe
Ages 12–up
Colleen Rowley is in her senior year at St. Joan's Academy in Danvers, Massachusetts, applying for colleges and worrying if she will earn the title of valedictorian. Then her classmate Clara suffers a seizure during class and develops verbal and facial tics reminiscent of Tourette's Syndrome. Soon dozens of girls are exhibiting strange maladies, like coughing up pins. Colleen has been studying the Salem witch trials, and realizes that the epidemic afflicting the girls at St. Joan's is eerily similar to the bizarre behavior of the girls of Salem Village three centuries earlier.
---

Nantucket Blue
by Leila Howland
Ages 14–up
Inseparable friends Cricket Thompson and Jules Clayton (17) are looking forward to their summer in Nantucket. Then Jules's mother Nina dies and the Claytons decided their summer will be "family only," a shock to Cricket who has always been treated like one of the family. So Cricket heads to Nantucket by herself, landing a job as a chambermaid. While dealing with her own grief about Nina's death and rejection by Jules, Cricket finds unexpected romance.
---

The Snowball Effect
by Holly Nicole Hoxter
Ages 12–up
Lainey (18) has a lot to deal with—her mother commits suicide, leaving Lainey in charge of her challenging 5-year-old adopted brother Collin. Then her estranged older step-sister Vallery arrives to take charge. Lainey's long-time boyfriend tries to help out, but she takes her anger out on him and breaks up. Lainey's efforts to deal with her grief as she and Vallery try to work together to raise Collin are honestly and effectively portrayed.
---

Try Not to Breathe
by Jennifer Hubbard
Ages 14–up
Ryan (16) hasn't had a good year. He's endured a new school, mono, romantic rejection, and a suicide attempt that sent him to a psychiatric facility. The awful year is finally over, but Ryan is finding that there wasn't a happy ending. He is back in school, has the same parents, and nothing has gotten easier while he was gone. His only friends are those he met in the hospital; the kids at school think he is creepy. Then he befriends Nicki, who demands that he explain in words what he has gone through, which finally brings about change.
---

Paper Covers Rock
by Jenny Hubbard
Ages 14–up
Alex (16) is devastated when he fails to save his boarding school friend Thomas from drowning in the river. When questioned, Alex and Glen, another friend from Birch School, don't tell the whole truth. Plagued by guilt, Alex tries to explain what really happened to Thomas in his secret journal, but the more he writes, the more complicated the story grows. Alex's English teacher, Miss Dovecott, suspects that Alex is hiding something, and encourages his poetic talent. Stimulated by her encouragement, Alex realizes that he needs to make a choice between his own voice, and the code of Birch School embodied in Glen.
---

Hero on a Bicycle
by Shirley Hughes
Ages 10-14
1944 Florence is occupied by the Germans. Rosemary and her children, Paolo Crivelli (13) and his sister Constanza (16), feel isolated and oppressed by the Nazi security rules and the suspicion of their neighbors, who believe their absent father may be a Partisan, part of the pro-Allied resistance. Against all the rules, Paolo secretly violates curfew every night by riding his bicycle around the town. One night Paolo is approached by the Partisans, asking for his British mother's help in sheltering escaped Allied prisoners of war. This tense historical thriller, told from the perspective of all three characters, captures the dangers and uncertainties of war.
---

Thirteen Days of Midnight
by Leo Hunt
Ages 14–up
Luke Manchett (16) discovers that his estranged father was a necromancer when he dies and leaves Luke millions of pounds and a Host of eight restless ghosts. The Host supposedly is required to follow Luke's orders, but the malevolent spirits hope to become free by arranging the deaths of Luke and his disabled mother. Halloween is approaching, the time when the Host is strongest. With the help of Elza Moss, an outsider with second sight, Luke tries to find a way to release the Host while protecting himself and his mother. This gripping novel is both terrifying and funny.
---

To the Mountaintop: My Journey Through the Civil Rights Movement
by Charlayne Hunter-Gault
Ages 12–up
This accessible historical memoir tells the story of the author's harassment and threats when she entered the University of Georgia in 1959. Other chapters tell of other struggles for equal rights: lunch counter sit-ins, Freedom Riders, voter registration drives. The personal look at political struggle is both educational and inspiring.
---

ghostgirl
by Tonya Hurley
Ages 12–up
Charlotte Usher is determined to join the ranks of the popular when she enters Hawthorn High, but she chokes to death on a gummi bear the first day of school and is sent to Deadiquette School instead. This witty satire of a teen who refuses to stay dead will appeal to teens and adults alike.
---

Through No Fault of My Own: A Girl's Diary of Life on Summit Avenue in the Jazz Age
by Coco Irvine
Ages 12–up
Clotilde "Coco" Irvine, the daughter of a wealthy lumber baron, lived in a mansion in St. Paul, Minnesota. Her diary from 1927, the year she turned 13, presents a precocious and daring girl who gets into frequent trouble at school and at home. Recently discovered in the archives of the Minnesota Historical Society, Coco's diary is reprinted virtually unchanged. Many entries begin, "I'm in deep trouble through no fault of my own…" Coco's descriptions of her adventures, problems, and romances will captivate modern readers as she explains her side of the messes she created.
---
Voss:

How I Came to America and Am Hero, Mostly
by David Ives
Ages 12–up
In a series of hilarious letters, Vospop Vsklzwczdztwczky (Voss for short) tells how he smuggles himself to America from Slobovia in a crate of cheese puffs with his gloomy father Bogdown and his nutty uncle Shpoont. Voss chases the American dream while a Slobovian black marketeer chases him in this funny book that manages to deliver pointed social commentary without damaging Voss's idealistic optimism.
---

Allegedly
by Tiffany D. Jackson
Ages 14–up
Mary Addison, a black 15-year-old from Brooklyn, was convicted of killing Alyssa, a white baby she was babysitting at the age of nine. After six years in "baby jail" Mary has been released to a group home. Quiet and bright, Mary is targeted by the other girls, finding solace in her volunteer work at a nursing home and her secret meetings with Ted, a fellow volunteer living at another group home. When Mary becomes pregnant ans is told she cannot keep the baby because of her history, she declares she did not kill Alyssa. Interspersed police interviews with 9-year-old Mary expose issues of race, age, and mental illness.
---

Fatal Fever: Tracking Down Typhoid Mary
by Gail Jarrow
Ages 10–up
Mary Mallon worked as a cook in 1907 New York City. Mary was infected with typhoid, but had no symptoms of the disease, and inadvertently infected numerous people with the deadly disease. George Albert Soper, a sanitation engineer and typhoid expert, and Sara Josephine Baker, a doctor working at the New York City Department of Health, followed the trail of infection back to Mary, who was virtually imprisoned on North Brother Island in New York's East River order to prevent the further spread of the disease. This true story is written in the style of a gripping thriller.
---

Here We Are: Feminism for the Real World
by Kelly Jensen
Ages 14–up
This powerful yet accessible scrapbook style book presents reflections by 44 writers, dancers, actors, and artists on the topic of feminism. The contributions include essays, illustrations, playlists, comics, and poems from diverse perspectives, covering topics including gender identity, body image, creativity, mental illness, etc.
---

Genius Squad
by Catherine Jinks
Ages 12–up
Cadel Piggot and his disabled friend Sonja Pirovic join the Genius Squad, hoping that the superhuman Brainiacs and their technology will be powerful enough to protect them from Prosper English. [sequel to Evil Genius]
---

The Reformed Vampire Support Group
by Catherine Jinks
Ages 12–up
The members of this group know they must admit their addiction and conquer it before they are staked, so they attend the hated meetings every Tuesday night. When one of the vampires is destroyed by a silver bullet, the group of misfits bands together to find the killer. Plot twists and character development combine to make this murder mystery a winner.
---

Rise of the Wolf
by Curtis Jobling
Ages 10–up
Drew lives in a world ruled by Werelords, men and women who can shift at will into the form of creatures like bears and serpents. When Drew's mother is attacked by a monster, Drew's true nature as a werewolf is unleashed. As the last of the royal werewolves, Drew is hunted by the current ruler of the Seven Realms, Leopold the werelion. With the help of a wereboar and werefox, Drew tries to escape death and accidentally sparks a revolution against the corrupt leaders. This exciting and action-filled book is the first in the Wereworld series.
---
Would You
by Marthe Jocelyn
Ages 14–up
In the summer before their junior year in high school, Natalie and her friends play the "Would you…" game. Everything changes when her older sister is struck by a car and rendered comatose. Her mother grows numb, her father becomes angry, and Natalie struggles to cope with a situation that grows more difficult every day. Jocelyn's humanity in handling tragedy lets the reader experience both grief and eventual peace.
---

A Bag of Marbles: The Graphic Novel
by Joseph Joffo, Vincent Bailly
Ages 12–up
In 1941 occupied Paris, Maurice and Joseph play one last game of marbles before rushing home to their father's barbershop. When the Nazis arrive, the parents send the four children in pairs to separate locations, warning them to never reveal they are Jews. Jo and Maurice travel together, barely staying one step ahead of capture. At times they are saved by French citizens, but more often must rely on their own quick wits. This powerful graphic novel is a retelling of the author's autobiographical novel with the same title.
---
The Summer Prince
by Alaya Dawn Johnson
Ages 14–up
June Costa (18) lives in Palmares Tres, a vertically structured city in the former Brazil. The rich live at closer to the top, and the poor live on the lower levels. June and her friend Gil live on Tier Eight. Enki is a bottom level resident who will live for a year as the Summer Prince before his ritual sacrifice. Their friendship influences June's political art, and causes the trio to challenge their world's injustice.
---

The Theory of Everything
by JJ Johnson
Ages 12–up
Sarah (15) finds it hard to continue with normal life after her friend Jamie dies in a freak accident in the gym. She blames herself since she was operating the moving wall when it malfunctioned and avoids the gym as much as possible. Her grades plummet, she relates to her family and friends with sarcasm, and she feels that life is random and meaningless. A job at a Christmas tree farm working for Ray begins to finally help her turn the corner back to relating honestly to others. Sarah's snarky journal entries add humor to the tragedy she suffers through.
---

The Story of Owen: Dragon Slayer of Trondheim
by E.K. Johnston
Ages 11–up
Owen Thorskard (16) lives in a world where dragons, attracted to the carbon emissions of cars and campfires, are a persistent threat. Owen and his dragon-slaying family move to Siobhan McQuaid's small Ontario town, and she agrees to become the bard for the young dragon-slayer-in-training. This clever alternative Earth imagines a very similar world, which the exception of the dragons who have influenced art, music, and history.
---

Howl's Moving Castle
by Diana Wynne Jones
Ages 12–up
As the oldest of three, Sophie knows that she is doomed to try and fail so that her youngest sister will win fame and fortune. Then the Witch of the Waste comes into the family hat shop and turns Sophie into an old lady and she is forced to go and seek her fortune as housekeeper for the Wizard Howl in his flying castle. A wonderful blend of humor and magic will enthrall lovers of fantasy.
---

House of Many Ways
by Diana Wynne Jones
Ages 12–up
When bookish, self-centered Charmain leaves home to care for her great-uncle's magical house, she surprises herself by discovering her own hidden talents. The flamboyant Wizard Howl (from Howl's Moving Castle) appears mid-way through the book, yet Charmain manages to hold her own.
---

Bridge
by Patrick Jones
Ages 11–up
José struggles to keep up with his classwork at Rondo Alternative High School. The only English speaker in a family of undocumented immigrants, José is responsible for taking family members to the doctor and negotiating with the landlord and other officials. José also works two jobs to help support his family. He misses a lot of school and has trouble staying awake when he attends. But José dreams of a better life and knows he needs to finish high school and hopefully attend college. Classwork involving Tim O'Brien's The Things They Carried is interwoven with the narration of this powerful novel. (part of the Alternative series written at a 4th grade level)
---

The Fashion Committee
by Susan Juby, Soleil Ignacio
Ages 12–up
Charlene "Charlie" Dean is a fashion-obsessed girl who immerses herself in the world of fashion to escape the reality of her life with a drug-addicted father and his series of loser girlfriends. John Thomas-Smith forges metal sculptures in his garage and couldn't care less about clothes. The two are rivals in a garment design competition with the prize of a scholarship to a prestigious fine arts high school both are desperate to attend. Alternating chapters reveal the similiarities between the two very different teens who share both an artistic drive and a need to change their lives. Black and white drawings by fashion and beauty illustrator Soleil Ignacio add to the appeal of this funny and touching book.
---

The Truth Commission
by Susan Juby
Ages 14–up
Normandy Pale has grown up in the shadow of her talented and temperamental older sister, Keira, who writes a successful graphic novel series lampooning her own family. Keira has unexpectedly returned from college and refuses to explain why or discuss her latest book contract. Normandy is a junior at Green Pastures Academy of Art and Applied Design. With her two best friends, Normandy forms a Truth Commission to answer questions like: Why did a pretty classmate get plastic surgery? Why is the school secretary so grouchy. Written in the form of a non-fiction writing assignment, complete with footnotes, this sharp and surprising examination of a dysfunctional family is thought provoking and funny.
---

The May Queen Murders
by Sarah Jude
Ages 14–up
Ivy Templeton (16) loves the ancient traditions and time-honored superstitions of Roway's Glen, a remote farming community in the Ozarks of Missouri, where her family has lived for generations. Ivy's cousin Heather is her best friend, and Ivy thinks they share all their secret thoughts until the night Heather goes missing. Heather was crowned May Queen at the first May Day celebration in 25 years. Until this year the May Day celebration was not held, cancelled after Birch Markle killed a woman and disappeared into the forest before vanishing. Heather's disappearance causes Ivy to investigate the secrets her best friend and beloved town have hidden from her.
---

Half a World Away
by Cynthia Kadohata
Ages 10–14
Jaden (12) was born in Romania and abandoned by his mother at the age of four. After moving from foster home to foster home, Jaden is finally adopted by an American couple. Jaden's view of himself as an "epic fail" grows stronger when his parents decide to adopt another child. They travel to Kazakhstan to meet his new baby brother, where Jaden is drawn to a special needs toddler at the orphanage while feeling nothing for the baby his parents have chosen. This emotionally satisfying book deals honestly with the pitfalls of overseas adoption while celebrating hope and second chances.
---

Kira-Kira
by Cynthia Kadohata
Newbery Medal 2005


Ages 11–14
In the 1950s, when Katie is five, her family moves from Iowa to Georgia, where there are few Japanese-Americans. Katie's older sister Lynn takes care of her while their parents work long hours in the chicken-processing plant. Their roles reverse when Lynn develops lymphoma. Through the illness and Lynn's death, Katie struggles to remember her sister as kira-kira, glittering and shining. Narrated by Katie, this beautifully written book tells a poignant story of love and loss.
---
A Million Shades of Gray
by Cynthia Kadohata
Ages 10–up
After American troops leave his village in South Vietnam, Y'Tin, who dreams of opening an elephant training school, and his village are left to fend for themselves. When North Vietnamese troops destroy the village, Y'Tin escapes into the jungle with Lady, his pet elephant. As the days go by, he becomes angrier and less trusting, fearing that he will never feel safe again. Truth has as many shades of gray as an elephant in this emotional survival story.
---

Outside Beauty
by Cynthia Kadohata
Ages 12–up
When 12-year old Shelby's beautiful mother is critically injured in a car crash, Shelby and her three sisters are parceled out to their four different fathers. As Shelby plans to reunite the sisters, she begins to appreciate her father's kindness and begins to understand the difference between beauty and perfection.
---

The Thing About Luck
by Cynthia Kadohata, Julia Kuo
Ages 10–14
It hasn't been an easy year for Summer's family. She has suffered through a near-fatal bout of malaria, her grandmother has severe back pain, and her little brother Jaz is unable to make friends. When her parents have to suddenly return to Japan to care for an ailing relative, Summer (12) and Jaz are cared for by their grandparents. To earn money to pay the mortgage, the grandparents come out of retirement to return to migrant work following the custom wheat harvesters throughout the Midwest. Summer's courage and uncertainties are portrayed with humor and compassion.
---

Illuminae
by Amie Kaufman, Jay Kristoff
Ages 14–up
It's 2575 on the tiny planet Kerenza, and Kady Grant has the typical teenage problems; school, parents, and the fact she has just broken up with her boyfriend Ezra Mason. Then her planet is attacked, a victim of the war between two rival mega-corporations. Kady and Ezra end up on two different ships in the fleet fleeing the destruction. A plague breaks out, and it's possible that the fleet's AI is working for the enemy. This visually powerful novel, first in a trilogy, is narrated through instant messages, email, interview transcripts, memos, security footage, and a host of other documents.
---

The Great War: Stories Inspired by Items from the First World War
illustrated by Jim Kay
Ages 12–up
Each of the 11 short stories in this collection marking the centenary of WWI was inspired by an artifact from the war. Striking black and white photographs accompany each story, by authors including David Almond, Michael Morpurgo, Marcus Sedgwick, and Sheena Wilkinson.
---

The Sound of Letting Go
by Stasia Ward Kehoe
Ages 12–up
Daisy (17) has always been sort of a third parent for her autistic brother Steven. When her parents decide without consulting her to place Steven in an institution, Daisy rebels. She quits the jazz band, gives up a friendship with another talented musician, and begins to hang out with bad-boy Dave. But Cal, the Irish exchange student who shares her passion for music, won't give up on her. This powerful book explores themes of love, responsibility, and self-sacrifice.
---

The Evolution of Calpurnia Tate
by Jacqueline Kelly
Ages 10–up
Eleven-year old Calpurnia (Callie) Tate is a middle child with six brothers in isolated 1899 Fentress, Texas. To her family's distress, Callie isn't interested in normal girl occupations and would rather learn about the natural world with her grandfather. As Callie grows through the year of this book, she gradually defines for herself what it means to be a girl. (2010 Newbery Honor Book)
---
Dangerous Neighbors
by Beth Kephart
Ages 12–up
Katherine is still consumed by grief over the death of her identical twin sister Anna in a skating accident months ago. Feeling responsible for her sister's death, Katherine has decided to take her own life, but is continually drawn to the wonders of the 1876 Philadelphia Centennial Exhibition. Among the crowds of strangers, Katherine loses herself in memories of the past and her sister's secret romance with a "dangerous neighbor" that precipitated the sequence of events leading to Anna's death. Set against a detailed background of America's first World's Fair, this engrossing novel presents themes of love and loss, guilt and betrayal, despair and hope.
---
House of Dance
by Beth Kephart
Ages 12–up
Abandoned by her father at a young age, detached from her mother who is involved in an affair with her married boss, 15-year old Rosie is sent to spend the summer before her junior year with her terminally ill grandfather. Helping him sort through his belongings, Rosie realizes that memories are the only meaningful possessions and decides to recreate the time her grandfather loved most—when his wife danced to the music that filled the house.
---
Nothing but Ghosts
by Beth Kephart
Ages 12–up
Katie (16) and her father are grieving the recent death of her mother. Her father, an artist who restores paintings, tries to lose himself in his work while pondering what color would be used to paint regret. Katie takes a summer job gardening for Miss Martine, the town recluse, and stumbles over clues about the mystery of Miss Martine's abrupt withdrawal from the world. With her fellow teen worker Danny, and the help of the town librarian, Katie researches town history to solve the mystery and distract herself from her own grief.
---

Small Damages
by Beth Kephart
Ages 14–up
When Kenzie's father dies suddenly during her senior year of high school, her mother's copying mechanisms drive the two apart. So Kenzie begins spending more time with her boyfriend, and becomes pregnant. Neither her boyfriend nor her mother understand Kenzie's instance on having the baby, and Kenzie is sent to Spain to work on a farm until the baby is born and given up for adoption. Kenzie arrives in Spain sullen and resentful, but Estela, the farm cook, who takes Kenzie under her wing and Estaban, who cares for the horses, help her to see the beauty around her.
---

Pointe, Claw
by Amber J. Keyser
Ages 13–up
Jessie Vale (17) studies at a prestigious program at the Ballet des Artes in Portland, Oregon, hoping to earn a spot at the professional company. Vadim Ivanov, the principal male dancer, selects Jessie to dance in his new animalistic avant-garde ballet. At first put off by the strange choreography, Jessie is attracted to the older dancer and his touch. Jessie's childhood friend Dawn McCormick is suffering blackouts, waking up in strange places with bruises, unable to speak, and feeling a strange attraction to a captive bear. As Dawn battles with her own body and mind, Jessie struggles through the grueling world of ballet, and both girls grapple with the ways girls are judged, used, and discarded.
---

The Gospel of Winter
by Brendan Kiely
Ages 14–up
Aidan Donovan (16) is part of a privileged but dysfunctional family just after 9/11. His father is in Europe with his latest fling, and his mother is totally focused on planning her next huge party. Aidan begins taking drugs and raiding the family bar. His only solace is Father Greg, the local priest and the only adult who listens to him. When Christmas arrives, Aidan's world collapses with Father Greg's sexual abuse, and he turns to a new trio of friends for help making sense of his life.
---

City of Spies
by Susan Kim, Laurence Klavan, Pascal Dizin
Ages 12–up
Evelyn's mother is gone and her father is too busy to take car of her, so she is sent to live with her aunt in New York City. It's 1942 and Evelyn spends most of her time reading superhero comics and dreaming of catching a Nazi spy. Tony, the son of the building superintendent, catches Evelyn's spy fever and the two stumble over a real-life Nazi plot. This graphic novel features art reminiscent of Hergé's Tintin and explores themes of friendship, social class, and abandonment while never losing touch with the scary adventure.
---

Keeping the Castle
by Patrice Kindl
Ages 12–up
Althea Crawley (17) must marry a rich man if she is to keep the family castle from ruin and support her widowed mother and younger brother. Unfortunately there aren't many wealthy bachelors in the small Yorkshire town of Lesser Hoo. Then Lord Boring arrives (young, rich, and available) and Althea sets her plans in motion. The only problem is Lord Boring's companion Mr. Fredricks, who always seems to come between them. Set in the 19th century, this witty novel features an endearing and ingenious heroine.
---
Ask the Passengers
by A.S. King
Ages 15–up
Astrid, a high school senior, moved from New York City to Unity Valley, Pennsylvania, years ago, but the intolerant town still doesn't feel like home. She doesn't feel comfortable coming out as gay and exposing herself to the homophobic gossip mill, and longs for someone to confide in. She can't talk honestly to her parents, so spends hours lying on the picnic table in her back yard, talking to the passengers in the airplanes that fly overhead.
---

I Crawl Through It
by A.S. King
Ages 15–up
Four teens struggle to cope with the pressure of high-stakes testing, bomb threats, grief, loss, and past trauma. Their parents don't recognize their anguish. Gustav builds an invisible helicopter, China is convinced she can swallow herself and her pain, Lansdale is a pathological liar who believes her hair grows a foot with every lie, and Stanzi can't ever remove her lab coat. This exploration of the culture of modern schools and mental illness is full of surreal imagery.
---

Please Ignore Vera Dietz
by A.S. King
Ages 13–up
Vera has spent her whole life in love with her best friend and neighbor Charlie Kahn until he betrayed her and ruined everything. But now Charlie is dead, suspected of being involved in a crime, and only Vera knows the truth. Vera has decided to live at home with her father, a recovering alcoholic, while delivering pizzas to earn money for community college. The relationship between Vera and her father, and her struggle to deal with her memories of Charlie, form the heart of this darkly comic novel.
---

Reality Boy
by A.S. King
Ages 15–up
When he was five years old, Gerald's mother invited the reality film crew of "Network Nanny" into their lives. Dubbed the Crapper, Gerald has never been able to live down the invasion of privacy. Now 17, he struggles with keeping his violent urges controlled, feeling safe only in his special education classroom. Flashbacks reveal the secrets of Gerald's home that were not caught on camera, as Gerald tries to emerge from the fantasy world he created for himself, to trust others, and to finally begin to heal.
---

Still Life with Tornado
by A.S. King
Ages 14–up
Sarah (16) can no longer keep up the fiction that is her life, and wanders the streets of Philadelphia in search of a homeless artist and herself. Six years ago her bother Bruce left the family, for reason she can't remember. Her parents' marriage has grown more toxic ever since. Conversations with her 10-year-old self force Sarah to confront the past as she tries to make sense of the present.
---

The Clockwork Three
by Matthew J. Kirby
Ages 8–14
Giuseppe, an orphaned street musician, dreams of freedom from his oppressive master and returning home to Italy. Hannah, who works as a maid to help support her family, longs for a cure for her dying father. Frederick, apprenticed to a clockmaker, wants to discover the identity of his mother. Each of the three children begin their searches independently, but discover they have more power when they team up to work together. This urban steampunk fantasy is a captivating and exciting adventure story.
---
A Taste for Monsters
by Matthew J. Kirby
Ages 12–up
It's 1888 in London, and Jack the Ripper is terrorizing the city. Evelyn, a young woman disfigured by her dangerous work in a matchstick factory, has been hired as a maid for Joesph Merrick, known as the Elephant Man because of his deformities. Evelyn's jaw has been destroyed by phosphorus necrosis, and she is happy to hide away in London Hospital with Merrick, once she can see past his deformities to his gentle nature. Merrick is haunted by the ghosts of Jack the Ripper's victims, and Evelyn ventures from the safety of the hospital to the dangers of the slums to put the ghosts to rest.
---

Between Two Worlds
by Katherine Kirkpatrick
Ages 14–up
Billy Bah (16) lives in Itta, Greenland, about as far north as you can get. As a child, Billy lived in America with Arctic explorer Robert E. Perry and his family. Back in Greenland and married to another Inuit, Billy spots an American ship bringing supplies for Perry. Billy's husband begins trading her to an American sailor, a common Inuit practice in 1900, and she finds herself becoming attracted to the American. Rich details of Inuit life provide the background to the story of a young woman caught between cultures.
---
The Green Glass Sea
by Ellen Klages
Ages 10–14
It's 1943 and 10-year-old budding inventor Dewey Kerrigan sets off to join her father who is doing secret war work in New Mexico. As the adults work on "the gadget," the kids at Los Alamos are often left to their own devices. When Dewey's father is killed in an accident, she moves in with another family. The growing friendship between Dewey and Suze, both misfits in different ways, forms the bulk of the book. The unique atmosphere of the secretive scientific community is clearly presented in this excellent historical novel, but the true nature of "the gadget" may not be understood by kids who don't know it already.
---

White Sands, Red Menace
by Ellen Klages
Ages 10–14
It's 1946, and Suze and Dewey are living near Los Alamos with Suze's parents who helped build the atom bomb with Dewey's late father. Suze's father is working on rockets to maintain the US edge over the Soviets while her mother organizes scientists against the war. This excellent historical fiction helps middle graders grapple with moral dilemmas while creating strong characters with realistic emotional issues. (sequel to The Green Glass Sea)
---

Grandmaster
by David Klass
Ages 12–up
Daniel Pratzer joins his school chess club in his freshman year. Daniel is surprised when the competitive co-captains of the team invite him to play in a New York City father-son tournament until he learns his father was once a famous chess grandmaster. Daniel's father reluctantly admits the rumor is true and agrees to play with Daniel. Over the course of the three-day tournament, Daniel watches his father change from his usual relaxed self into a driven cutthroat competitor, and is forced to confront the nature of competition and its influence on personal values.
---
Stuck on Earth
by David Klass
Ages 11–14
Ketchvarr III, an alien snail, is sent to Earth to inhabit the body of an average teenager and decide if the human race should be annihilated. Ketchvarr chooses Tom Filber, an average 14-year old, and at first believes that humans should be wiped out before they destroy themselves and the environment. But Ketchvarr begins to sympathize with Tom, who is ostracized by his peers, and wonders if humans might be worth saving after all. This wry and funny look at teen life and human flaws is surprisingly thoughtful and affecting.
---

Relish: My Life in the Kitchen
by Lucy Knisley
Ages 15–up
The daughter of a chef and a gourmet, cartoonist Lucy Knisley loves food. In this thoughtful and funny memoir, Lucy connects important times in her life with the feed she was eating at the time. Each chapter in this graphic novel includes an illustrated recipe.
---

Jumping Off Swings
by Jo Knowles
Ages 14–up
Ellie craves a boyfriend, but instead she gets pregnant by Josh, who avoids her after their one time together. Afraid to tell her parents, she confides in her best friend Corinne, and the compassionate mother of her childhood friend Caleb. Josh confides in Caleb, who begins spending time with Corinne because of their shared concern for Ellie. This sensitive and absorbing novel shows how a crisis can change a person's life as well as the lives of others around her.
---
Living with Jackie Chan
by Jo Knowles
Ages 14–up
Josh had a one-night-stand with Ellie when he was 16, leading to a baby given up for adoption. Josh can't face his guilt, refuses to speak to Ellie, and changes high schools to avoid seeing her. Josh moves in with his karate-obcessed Uncle Larry, and agrees to help him teach a karate summer camp at the Y along with Stella, a classmate living in his uncle's bullding. His energetic uncle helps Josh turn his life around: eating healthy food, exercising, not drinking, and taking responsibility for his actions. This companion volume to Jumping Off Swings, Ellie's story, can be read independently.
---

Lies, Knives, and Girls in Red Dresses
by Ron Koertge, Andrea Dezso
Ages 14–up
Twenty-three fairy tales are updated and retold in free verse written from the perspectives of both major and minor characters. This darkly humorous collection includes some gruesome surprises and unhappily-ever-after endings.
---

Headlong
by Kathe Koja
Ages 14–up
Lily is a privileged boarder at the exclusive Vaughan School. She knows all the rules and everyone knows all about her. Then in sophomore year Hazel arrives, a scholarship student with an unconventional family. This intelligent novel explores class, identity, and friendship.
---

Radical
by E.M. Kokie
Ages 14–up
Bex Mullin (16) is obsessed with preparing for the catastrophe she is sure will come soon. She spends as much time as she can practicing her marksmanship and improving her survival skills despite her family's disapproval of her unfeminine appearance and hobbies. Bex's older brother discovers the Clearview survival group takes preparing for disaster as seriously as Bex does. Then Bex falls for Lucy, who wants nothing to do with guns and survival training, and her brother's involvement with Clearview becomes worrisome. When the government takes an interest in Bex's family, she must decide where her loyalties lie.
---
Honestly Ben
by Bill Konigsberg
Ages 14–up
Ben Carver (17) is having a tough year. He isn't doing well in calculus, endangering his GPS and his chance of winning a scholarship. He is attracted to Hannah, a beautiful neighborhood girl. But the real trouble is that Ben is in love with his former best friend Rafe. Ben isn't against gays, but as the son of a farmer and captain of the baseball team, he has trouble accepting that he is sexually attracted to a boy. This excellent exploration of modern relationships and the many forms of love is a companion to Openly Straight.
---

You Can't See the Elephants
by Susan Kreller
Ages 10–up
Each summer Mascha (13) is sent to spend a few weeks with her grandparents in a small town. This summer Mascha meets Julia and Max, young siblings who are very shy and timid. Noticing bruises on the children, Mascha suspects that their father is physically abusing them, but her grandparents can't believe the respected member of the community can be at fault. Then Mascha sees something so terrible she is compelled to take matters into her own hands.
---

Complicit
by Stephanie Kuehn
Ages 13–up
Jamie Henry (15) and his sister Cate were adopted by the wealthy Henry family after their young mother was either murdered or died in an accident. Jamie isn't sure. After their mother's death, Jamie's older sister Cate went wild, drinking and stealing and committing violent acts. Two years ago Cate was arrested and placed in juvenile detention after a barn fire killed several horses and badly injured another girl. Jamie suffers from debilitating neurological attacks that paralyze his arms and cause memory loss. Now Cate is about to be released and Jamie is both terrified by her reappearance in his life and eager to learn more about their mother's mysterious death and the awful fire.
---

Delicate Monsters
by Stephanie Kuehn
Ages 14–up
Sadie Su (17) has been expelled from her third boarding school after her sadistic tendencies nearly killed a classmate. Back at the family estate in Sonoma, California, Sadie is bored and looking for trouble. Emerson Tate isn't happy that his childhood friend Sadie is back in town. He wants his senior year to be perfect, playing basketball and wooing the girl of his dreams. But Sadie knows his darkest secrets and has the power to destroy his dreams. Emerson's younger brother Miles is haunted by his ability to see the future, and the vision of violence at his school terrifies him.
---
The Last Invisible Boy
by Evan Kuhlman
Ages 10–14
In his notebook, Finn Garrett (12) explains that after his father died unexpectedly a few months ago, an eraser fell from the sky and has gradually been erasing him day by day. This painful yet funny novel explores coping with loss in a way middle schoolers can empathize with.
---
Beyond Magenta: Transgender Teens Speak Out
by Susan Kuklin
Ages 14–up
This frank and sensitive resource presents the stories of six transgender or gender-neutral teenagers. Readers will gain an understanding of gender as a spectrum and the challenges transgender teens face as they work through accepting their own feelings and bodies. Portraits, family images, and candid shots enhance the personal feel of this honest look at gender preference.
---

Monkey Wars
by Richard Kurti
Ages 12–up
In this dark fable, the aggressive langur monkeys, led by Lord Gospodar, attack the peaceful rhesus monkeys, seizing their territory and driving the survivors into ghettos. When Lord Gospodar is murdered, the cunning Tyrell takes over, determined to conquer the entire city of Kolkata by driving out monkeys and humans alike. Caught in the middle are a pair of unlikely friends, rhesus Papina and langur Mico. Parallels between the monkeys and Nazi Germany become more apparent as the story progresses.
---
The Disenchantments
by Nina Lacour
Ages 14–up
Best friends Colby and Bev have a longstanding agreement. The summer after graduating they will hit the road with Bev's band Disenchantments, and then spend a year traveling through Europe. But then Bev decides that she would rather go to art school in the fall. Colby is crushed, but honors his agreement to act as roadie for the summer tour along the West Coast, as the two friends explore their commitment to music and art while facing the big question about which path their lives will take.
---

Everything Leads to You
by Nina Lacour
Ages 14–up
Emi Price (18) is settled in Los Angeles for the summer, living rent-free in her brother's apartment and working as an intern designing sets for both a blockbuster film and a low budget indie production. Her dream summer is complicated by her brother's request that something wonderful happen while he is gone. Emi and her friend Charlotte find a letter hidden at the estate sale of Hollywood legend, and begin searching for the recipient. They find Eva, the long-lost granddaughter of a film cowboy, and Emi is immediately attracted to the mysterious beauty. The two young women are from different backgrounds — Emi's parents are college professors and Eva lives in a shelter for homeless teens — but grow closer as the summer progresses.
---

Hold Still
by Nina Lacour
Ages 14–up
Caitlin begins her high school junior year stunned by the suicide of her best friend Ingrid, a talented photographer and artist. Unable to make new friends or work on her own art, Caitlin is emotionally paralyzed until she discovers Ingrid's journal, which is addressed to Caitlin. As Ingrid reveals her chronic depression and the thoughts of her final days, Caitlin begins to feel again, and to reach out to others.
---

We Are Okay
by Nina Lacour
Ages 14–up
Marin decides to stay in her nearly empty New York college dorm over winter break her freshman year. Her inclination to burrow under the covers and stay in bed is challenged when her friend Mabel comes to visit and persuades her to come back to San Francisco for a visit. But Marin isn't sure she is ready to face the past she would like to forget — the summer that began with her deepening relationship with Mabel, the death of Mabel's grandmother, and the exposure of disturbing secrets.
---
Grave Mercy
by Robin LaFevers
Ages 14–up
Ismae, a badly scarred 17-year old peasant girl, is taken in by the convent of St. Mortain when she runs away from her abusive husband in 15th-century Brittany. The convent's patron saint is the pre-Christian god of death. Believed to be Death's daughter, Ismae is trained as an assassin, proficient with both weapons and poison. She is sent to the court of Anne of Brittany to watch Duval, the duchess's allegiant older brother. Despite the fact that she may one day be called to end his life, Ismae finds herself falling in love with Duval. This complex and powerful novel is the first in the His Fair Assassin series.
---
Mortal Heart
by Robin LaFevers
Ages 14–up
Annith (17) has been waiting for her turn to leave the convent of St. Mortain in 15th-century Brittany to serve as a Handmaiden of Death. Instead, the Abbess appoints her Seeress, which will require a life of celibacy and isolation within the convent walls. With the help of the Helloquins (damned souls seeking redemption) and the Arduinnites (protectors of women and innocents), Annith escapes to the Breton court, where Duchess Anne and her followers are preparing to fight off the invading French. This powerful novel is the conclusion of the His Fair Assassin trilogy, following Grave Mercy and Dark Triumph.
---
Hostage Three
by Nick Lake
Ages 12–up
The Somali pirates who capture a British yacht dehumanize the three captives by referring to them only by numbers. Amy Fields (17) is Hostage Three, and her father and new stepmother are Hostages One and Two. Amy, resentful and sullen after her father's new marriage, isn't enthusiastic about her father's plan to sail around the world. The life-threatening capture re-awakens her will to live, as does the budding romance with Farouz, the Somali interpreter.
---
In Darkness
by Nick Lake
Ages 14–up
Shorty (15) is trapped in the rubble left by a collapsed hospital during the 2010 earthquake in Haiti. As he waits, hoping to be rescued, Shorty relives his life's journey running drugs until ending up in the hospital with a bullet wound. As he waits in darkness, Shorty is joined by Toussaint L'Ouverture, a slave and revolutionary leader 200 years earlier. The parallels between the two stories highlight the violence and brutality of Haiti's history. This disturbing and challenging book faces hard truths head-on.
---

Like No Other
by Una Lamarche
Ages 12–up
Jaxon and Devorah are two teenagers who live in the same Brooklyn neighborhood but inhabit completely different worlds. Devorah is a Hasidic Jew who is surrounded by a loving family, living a life of constant ritual avoiding outsiders. Jaxon is a smart and funny black teenager who is nervous around girls. By chance the two are trapped in an elevator stuck during a hurricane. Though Devorah isn't allowed to speak to boys, she is grateful to the friendly stranger who tries everything he can think of to get them out of the elevator. Alternating chapters trace the development of the forbidden friendship that blossoms into love.
---

The Brides of Rollrock Island
by Margo Lanagan
Ages 14–up
Misskaella, a lonely and bitter young woman living on a wind-swept island, discovers that she has the power to pull humans from seals. After first making herself a lover, Misskaella takes her revenge on the men of Rollrock Island, who never valued her, by selling them beautiful seal women wives, who never lose their longing to return to their true shapes.
---

Yellowcake
by Margo Lanagan
Ages 14–up
The ten short stories in this collection range from fantasy, to fairy tale, to horror, to stark realism. Each features Lanagan's trademark originality and heartbreaking exploration of what it means to be human.
---

Hell and High Water
by Tanya Landman
Ages 12–up
Caleb, the dark-skinned son of a white puppeteer, has always helped his father with their Punch and Judy shows until his father is arrested for a theft he didn't commit and sentenced to be transported to the American colonies. Caleb is sent to live with an aunt he didn't know he had. She welcomes him, but the other villagers are suspicious of Caleb's dark skin. A body washes up on shore with an unrecognizable face but wearing Caleb's father's ring. Then his uncle returns from sea acting very strangely. Caleb is determined to find the truth despite racism and danger.
---
Liar
by Justine Larbalestier
Ages 14–up
Micah admits she is a compulsive liar. She has pretended she is a boy, a hermaphrodite, that her father is an arms dealer. But now, when she is accused of killing her boyfriend, Micah insists she is telling the truth. But is she? This compelling first person narrative will have readers guessing all through the book, and even after the final page.
---

My Sister Rosa
by Justine Larbalestier
Ages 14–up
When Che Taylor (17) and his family move from Bangkok to New York City, his biggest concern is controlling his 10-year-old sister Rosa. Originally from Australia, the family has moved frequently because of work, and his parents are too busy to worry about Rosa's behavior. Che loves his sister, and he is the only one she trusts, but he is sure she is a true psychopath — clever, manipulative, and very dangerous. He has been able to control her in the past, but the big city provides far too many opportunities for her "acting out" to cause real damage.
---
Razorhurst
by Justine Larbalestier
Ages 14–up
The Razorhurst neighborhood in 1932 mob-run Sydney is bloody and dangerous. Guns are outlawed, so men kill with blades. Gloriana Nelson and Mr. Davidson, two ruthless mob bosses, have reached a fragile peace—one maintained by the "razor men." Kelpie, a homeless orphan, has the ability to see Razorhurst's numerous ghosts. Dymphna, the top-earning teenaged prostitute working for Gloriana Nelson, is known as the "Angel of Death" because of the string of dead lovers she leaves behind. Kelpie and Dymphna meet over a dead body, and both fear they may not live to see another day.
---

Team Human
by Justine Larbalestier, Sarah Rees Brennan
Ages 13–up
Mel Duan knows that vampires live in her home town of New Whitby, Maine, but since they keep to themselves she isn't concerned until the day Francis, a 150-year old vampire, enrolls in her high school. When her best friend Cathy falls for Francis and considers becoming a vampire herself, Mel knows it's up to her to save Cathy from a mistake she will regret for all eternity. This funny novel explores themes of friendship, love, and freedom of choice.
---

Monument 14
by Emmy Laybourne
Ages 13–up
A sudden hailstorm in the not-too-distant future forces 14 Colorado students on their way to school to take shelter in a superstore. Cut off from the Network of information, the students (ranging in age from elementary school through high school) must cope with the usual range of personality conflicts and a biochemical weapon that causes behavioral shifts.
---

My Book of Life by Angel
by Martine Leavitt
Ages 14–up
When sixteen-year old Angel's father throws her out of the house, she is befriended by Call, who says he loves her and gives her "candy" that makes her feel wonderful. Soon she is working as a prostitute in Vancouver. After Angel's friend Serena disappears, she decides to give up the "candy" and try to return home. But the drug withdrawal is awful, and then Call brings home 11-year-old Melli to take Angel's place on the streets. Angel is determined to keep Melli safe as other street girls vanish around her. This beautifully written novel in verse is painfully realistic.
---

The Gentleman's Guide to Vice and Virtue
by Mackenzi Lee
Ages 13–up
Lord Henry "Monty" Montague (18) sets off on a year-long grand tour of Europe with his best friend (and not-so-secret crush) Percy and his sister Felicity, a final taste of freedom before Monty is required to take on the management of the family estate. Monty is caught in a compromising situation with a young lady at Versailles and flees with a small trinket, which may be the key to unlock powerful alchemical secrets. Pursued by the Duke of Bourbon, Monty, Percy (a biracial epileptic), and Felicity (who longs to go to medical school) journey across the continent having adventures all the way.
---

Under a Painted Sky
by Stacey Lee
Ages 12–up
Samantha, a 15-year-old Chinese American, helps her father with their successful dry goods store in 1849 Saint Joseph, Missouri. Samantha is a talented musician and dreams of returning to New York to pursue a career in music while her father dreams of moving west to California. When her father dies in a fire, their landlord Ty Yorkshire, puts Samantha up in the town hotel where she becomes friends with Annamae, a teenaged house slave. After accidentally killing Ty during a rape attempt, Samantha and Annamae disguise themselves as boys and join a wagon train heading to California in search of gold. This exciting adventure story provides a rare multi-cultural look at the Oregon Trail era.
---

invisible i
by Stella Lennon
Ages 12–up
Callie, our narrator, Nia, and Hal are three unlikely allies who join forces to find 15-year-old Amanda who has vanished. Before disappearing, Amanda told each person a different story about her past and gave each a different animal totem. This intriguing mystery is the first in "The Amanda Project" series, written by different authors under the pen name Stella Lennon.
---
The Half Life of Molly Pierce
by Katrina Leno
Ages 13–up
Molly Pierce (17) suffers from Dissociative Identity Disorder, characterized by frequent blackouts and memory loss. After witnessing a fatal motorcycle accident where the dying stranger seems to recognize her, Molly begins to remember pieces from her blackouts. She feels an unexplained attraction to the victim's brother, which accelerates her memory and alternative identity called Mabel, and of events farther and farther back into their shared past.
---

Daughter of the Pirate King
by Tricia Levenseller
Ages 13–up
Alosa (17) is sent on a secret mission to retrieve an ancient map to a legendary treasure by her father, an infamous pirate king. Alosa allows herself to be captured by a rival pirate gang, sure that her years of training and experience pirating will allow her to steal the map without being caught. But Riven, the very attractive first mate, is unexpectedly clever and may just be her match. This funny action adventure includes a bit of magic.
---

The Island
by Olivia Levez
Ages 13–up
Frances Stanton (16) is heading to an Indonesian island along with other British juvenile offenders and staff campers for a skills-based intervention when the plane crashes. Frances reaches a deserted island where she struggles to find water and food, with only a dog for companionship. Flashbacks fill in the story of her sick mother, her half-brother, and her mother's distasteful boyfriend. After a storm, Frances encounters another survivor. Their relationship is rocky at first, but the two bond as they try to survive.
---

Ever
by Gail Carson Levine
Ages 10–up
In this mythological tale, Kezi is the only daughter of a wealthy and devout family in an ancient vaguely Middle Eastern city. When her mother falls deathly ill, her father promises to sacrifice the first person who congratulates him if the god Admat will let her live. Another god tries to help Kezi, who is the first to congratulate her father.
---

The Best Bad Luck I Ever Had
by Kristin Levine
Ages 10–up
It's 1917 in a small town in Alabama and 12-year-old Dit has been looking forward to the arrival of the new postmaster who is said to have a son his age. But when the new family arrives, the son turns out to be a girl called Emma. And everyone is surprised that the new family is "colored." But Dit is impressed with Emma's intelligence and determination and he begins to reconsider his views about race and justice.
---
The Lions of Little Rock
by Kristin Levine
Ages 10–up
It's 1958, the year after the Little Rock Nine integrated the city's public high schools, and Little Rock has closed the high schools rather than follow the federal mandate to integrate. Twelve-year old Marlee, who doesn't speak outside her family, has no friends at school until befriended by Liz, the new girl. Liz begins to coax Marlee out of her silence and then suddenly disappears. Rumors fly that Liz was a colored girl passing for white. Marlee is determined to stay in touch with the only close friend she ever had, and struggles to find the courage to speak out.
---
We've Got a Job: The 1963 Birmingham Children's March
by Cynthia Levinson
Ages 10–up
This powerful book tells the story of 4,000 black elementary, middle, and high school students who voluntarily went to jail in Birmingham, Alabama, between May 2 and May 11, 1963, while boycotting school in order to participate in a march to boycott segregation. Intimate profiles of four black children give a powerfully personal feel to this courageous children' s crusade and the change it helped to bring about in a time of widespread prejudice and brutality.
---

Hold Me Closer: The Tiny Cooper Story
by David Levithan
Ages 14–up
Tiny Cooper, the best friend from Will Grayson, Will Grayson, takes center stage in this companion volume containing the script and lyrics of the autobiographical musical he wrote and staged. Born big boned and happily gay, Tiny was supported by his parents and Phil, his straight BFF, through school bullies and a homophobic coach. Phil offers helpful advice through Tiny's 18 unsuccessful relationships, as Tiny discovers that love is often painful but worth it in the end. This frank and funny novel is only missing the accompanying soundtrack.
---

The Year of Goodbyes: A True Story of Friendship, Family and Farewells
by Debbie Levy
Ages 10–up
This book tells the true story of a year in the life of Jutta, a 12-year-old girl in 1938 Nazi Germany, and the author's mother. Photos and translations of comments from friends written in Jutta's diary introduce each chapter, giving a vivid picture of an ordinary teenager in an extraordinary time and place. This very personal and powerful book in verse documents a year of change, confusion, cruelty, and farewells.
---

Thrice Told Tales: Three Mice Full of Writing Advice
by Catherine Lewis, Joost Swarte
Ages 12–up
This clever book uses the three blind mice to illustrate nearly 100 elements of writing and literature: plot, dialog, flashbacks, coincidence, etc. Literary styles are presented with samples like Dickens Mouse and Hemingway Mouse. Witty cartoons add to the fun in this funny and useful reference for writers and their teachers.
---

The Boy on the Wooden Box: How the Impossible Became Possible… on Schindler's List
by Leon Leyson
Ages 9–14
This moving autobiography tells the true story of Leon Lyson, the youngest member on Schlinder's List. Leon was just 13 when his father convinced Oskar Schlinder to allow Leon to find refuge along with other family members in the Emalia factory, offering them a shred of hope along with the other Jewish workers that they might escape the worst of the Holocaust. Leon was so small that he had to stand on a box to work the machinery. The personal narration helps the reader make a human connection to the horrors of the time.
---

Snow Falling in Spring:

Coming of Age in China During the Cultural Revolution
by Moying Li
Ages 12–up
In this memoir, Moying, a 12-year old student in Beijing, finds her house ransacked and her father taken to a labor camp. With faith in knowledge and education, Moying survives the climate of fear that accompanies the rise of the Red Guard.
---
Nine Open Arms
by Benny Lindelauf
Ages 9–up
The motherless Boon family are down on their luck when the move to a leaky old house on the edge of a small Dutch town in 1937. Fing (10) and her sisters are sure that the house and the cemetery are haunted by tragedy. Against their grandmother's orders they explore the dark cellar and venture through the strange hole in the hedge. Their father's latest get-rich-scheme falls apart as usual, and there is a bully at the new school, but the mystery of their isolated location gives the children plenty to keep their minds off other things. Four older brothers add to the chaos of this engaging family.
---

Monstrous Affections: An Anthology of Beastly Tales
by Kelly Link, Gavin J. Grant
Ages 14–up
This anthology includes 15 stories the share the theme of love and monsters. The protagonists often discover that the monsters are less dangerous than the real people in their lives. Fifteen top young adult authors explore ambition, sacrifice, loneliness, rage, along with the power of love.
---

Pretty Monsters: Stories
by Kelly Link
Ages 12–up
In this short story collection nothing is what it seems, and everything deserves a second look. The stories are funny, quirky, full of unexpected insights and skewed perspectives on the world.
---

Steampunk!: An Anthology of Fantastically Rich and Strange Stories
by Kelly Link, Gavin J. Grant
Ages 14–up
This anthology contains original steampunk stories from 14 different writers and artists: M. T. Anderson, Holly Black, Libba Bray, Shawn Cheng, Cassandra Clare, Cory Doctorow, Dylan Horrocks, Kathleen Jennings, Elizabeth Knox, Kelly Link, Garth Nix, Christopher Rowe, Delia Sherman, Ysabeau S. Wilce.
---
Draw the Line
by Laurent Linn
Ages 12–up
Adrian Piper is a gay teen in a small homophobic Texas high school, reluctant to display his true identity. He escapes into the comic world he draws featuring Graphite, a Renaissance-art-inspired gay superhero who has adventures with disguised versions of Adrian's friends. When bullies attack another gay student, Adrian can no longer hide under the radar and steps up to confront the bullies, exposing his own secrets. Dramatic pencil illustrations of Graphite's adventures add to this emotionally rich book.
---

Huntress
by Malinda Lo
Ages 15–up
Nature is out of balance, the sun been seen for years, and crops are failing. Two 17-year-old girls — Tasin, a sage who has visions, and Kaede, a brave warrior — are chosen to make a long and dangerous journey to the Fairy Queen to save their people. Along the way the two girls face many dangers and tests of their ability, coming to rely on each other as they begin to fall in love. But the Kingdom needs only one Huntress to save it, which threatens to tear them apart.
---

Genuine Fraud
by E. Lockhart
Ages 12–up
Jule and Immie are two orphans who look similar but have very different lives. Jule is a fierce fighter and a master of disguise, determined to do just about anything to escape her past. Immie has an easy life, living on Martha's Vineyard while taking time off from college. A case of mistaken identity sweeps Jule into Immie's privileged inner circle and the two form an intense friendship. This haunting mystery thriller pays tribute to Patricia Highsmith's The Talented Mr. Ripley.
---

We Were Liars
by E. Lockhart
Ages 12–up
Every year the wealthy Sinclair family gathers on their own private island for what seems to be a perfect summer retreat. Cadence Sinclair Easton, her cousins Johnny and Mirren, and her friend Gat — the four "Liars" — have been inseparable each summer since they were eight. The summer they all turn 15 is different. Cadence suffers a mysterious accident, and spends the next two years in a haze of migraines, pain killers, and amnesia, trying to remember just what happened that summer.
---

Wonderful Feels Like This
by Sara Lövestam
Ages 12–up
Steffi Herrera, a Swedish teen, doesn't fit in at her school where the other girls make fun of her dark hair and eyes and mock her Cuban heritage. The only thing that makes Steffi happy is listening to jazz music. Walking home from school one day she hears her favorite song coming through the window of a retirement home and impulsively introduces herself. The man playing jazz is Alvar, an 89-year-old who dreamed of being in a jazz band when he was a teenager in WWII. Their friendship inspires Steffi to ask her parents to let her go to Stockholm to audition for music school and become a real musician.
---

The Giver
by Lois Lowry
Newbery Medal 1994


Ages 12–up
Jonas lives in an ideal world with no pain, poverty, unemployment, or unhappiness. The Elders arrange marriages, assign careers, control sexual and aggressive impulses with drugs, and manage the "release" of the old and the weak. At age 12, Jonas is chosen to be the Receiver of Memories and is trained by an old man known as the Giver to finally understand that their utopian world is maintained by the loss of free will and humanity. This thought-provoking is both powerful and disturbing.
---
Number the Stars
by Lois Lowry
Newbery Medal 1990


Ages 10–up
It's 1943 in Nazi-occupied Denmark, and the Jews are about to be rounded up and sent to the death camps. Annemarie Johannesen's best friend Ellen Rosen is Jewish. The Johannesen family helps Ellen's parents go into hiding and take Ellen into their own home, pretending she is part of their family. Narrated by 10-year-old Annemarie, this book vividly portrays the Nazi threat and the courage it takes to help friends while possibly endangering your own family. This moving and suspenseful book is based on true events.
---

Legend
by Marie Lu
Ages 13–up
Its 2130 and the former United States is now the Republic, a nation permanently at war with its neighbors. June (15) is from the elite class and on track for a brilliant military career. When her brother Metias is murdered, June is added to the team tracking his accused killer Day, a 15-year-old criminal from the plague-ridden slums of Los Angeles. Accustomed to using her intellect to make decisions, June's grief makes her distracted and vulnerable. This stunning dystopian novel is the first in a projected series.
---

Prodigy
by Marie Lu
Ages 12–up
It's been only a week since June and Day escaped from Los Angeles and the Republic. Day is believed to be dead, and June is the Republic's most sought after traitor. Desperate, they turn to the Patriots, a vigilante group working to bring down the Republic, but they fear they may have just made themselves into pawns in a power struggle they barely understand. This dystopian thriller is the second in the Legend trilogy, following Legend.
---

Champion
by Marie Lu
Ages 12–up
Now that the political transition has been established, June and Day finally have time to concentrate on their romance. June is working as Princeps Elect for the government, and Day Day has been assigned a high level military position. Just as the peace treaty is about to be signed, a plague outbreak causes panic in the Colonies and war threatens the Republic's borders. June has the solution, but it will mean asking Day to give up everything. This finale to the dystopian Legend trilogy follows Legend and Prodigy.
---

The Young Elites
by Marie Lu
Ages 12–up
Adelina Amouteru, the privileged daughter of a merchant, catches blood fever, an epidemic that kills adults and leaves the few child survivors permanently scarred. Known as malfettos, the survivors often possess magical gifts. Adelina survives, but is missing an eye, and is ostracized by her family and society. She unwittingly joins the Elites, a group of malfettos working to use their supernatural abilities to escape the Inquisition's genocide and place their leader, Enzo, on the throne of Kenettras. Struggling to harness her new power of illusion, Adelina isn't sure if she trusts Enzo or the other Elites. This exciting fantasy is the first in a new series.
---

Warcross
by Marie Lu
Ages 12–up
Emika Chen (18), a former hacker, struggles to support herself in New York City by tracking down criminals using the virtual world of Warcross to make illegal profits. Warcross began ten years ago, an immersive game accessed by a brain-computer interface. Popular with gaming fans, Warcross is now infiltrated by those who bet on the game illegally. Faced with eviction, Emika hacks into the opening game of the international Warcross Championships, unintentionally exposing her identity to millions of viewers, including Hideo Tanaka, the game's 21-year-old billionaire inventor. Hideo invites her to Henka Games headquarters in Tokyo, recruiting her to track down a hacker called Zero. Emika is entered into the Championships as a wild card player, and she soon uncovers a sinister plot.
---

Character, Driven
by David Lubar
Ages 13–up
Cliff Sparks (17) is determined to find a girlfriend and "come of age" in his final year of high school. Unfortunately he has never had much luck with girls, and when he falls for Jillian he can't summon up the courage to do more than worship her from afar. Cliff is often bullied, and works two jobs to replenish his college fund that his father has been spending since losing his job. Cliff is sure his father will turn him out of the house as soon as he turns 18. Cliff's humorous narration balances his tumultuous life.
---

I Hunt Killers
by Barry Lyga
Ages 15–up
Jasper (Jazz) Dent (17) is the son of Billy Dent, a brilliant serial killer who tried to bring up his son to follow in his footsteps. With his father in prison, Jazz tries to put it all behind him, but when a new serial killer strikes in his small town Jazz is drawn into the investigation. With his best friend Howie, a hemophiliac, and his girlfriend Connie, Jazz uses the knowledge his father passed on to him to try and discover the killer before he strikes again. Jazz hopes that finding the killer will overcome his own fear that exposure to his father's evil has made him a killer himself. This gory thriller is the first in a planned series.
---
Angry Young Man
by Chris Lynch
Ages 12–up
Xan (17) is so enraged by unsportsmanlike behavior by the opposing soccer team that he fouls a player so hard that he is given a two-week suspension. Narrated by Xan's older half-brother Robert, who isn't crazy about Xan's loner tendencies, this book reveals the stresses of life in a single-parent household with money troubles. Robert realizes that he has been so caught up in his own problems, that he didn't understand how much his brother needs emotional support. This honest book doesn't shy away from the brutal truth of an angry youth who longs desperately to belong, yet manages to portray some hope.
---

Hothouse
by Chris Lynch
Ages 12–up
The fathers of both Russell and his childhood friend DJ are firefighters who die in a fire. The two high school boys had drifted apart, but the tragedy, and the fact that the town treats the grieving sons as heroes, brings them back together. An investigation into the fire changes the town's feeling, and Russell struggles to understand who his father really was. First person narration reveals Russell's internal struggles to come to terms with his grief and begin the healing process.

Throne of Glass
by Sarah J. Maas
Ages 12–up
Celaena Sardothien (18), considered the best assassin in Ardarlan, has been condemned to the salt mines. After serving a year of her sentence, Celaena is summoned by Crown Prince Dorian, who offers her freedom in exchange for serving as his champion in the competition to become the enforcer for the king. The stakes are freedom or death — if Celaena doesn't succeed she will be returned to the slow death of serving her sentence in the salt mines.
---

Rot & Ruin
by Jonathan Maberry
Ages 12–up
In Mountainside, a community surrounded by zombies, everyone 15 or older must find work or receive only half rations. Since Benny Imura can't find any other job, he reluctantly apprentices himself to his older brother Tom as a zombie killer. During their journey into the hostile wilderness, Benny realizes that many of the things he believed before, including the true nature of zombies, simply aren't true. This intense coming-of-age novel is touching and thought-provoking.
---
The Way We Work
by David Macaulay
Ages 10–up
This comprehensive and entertaining illustrated guide to the workings of the human body is the result of years of research. Seven sections move from the structure of a cell through the systems of the body. The full color drawings present information in a friendly way, but the language is often highly technical. Motivated teens will love this book.
---
Nobody's Secret
by Michaela MacColl
Ages 12–up
Emily Dickinson (15) is restless growing up in 1845 Amherst, Massachusetts, seeing her daily round of chores as the path to a boring grown-up life as a housewife. She meets a handsome traveler who flirts with her, but refuses to give his name, so Emily calls him Mr. Nobody. When he turns up dead in her family's pond, Emily is determined to find out his identity before he is buried in an anonymous grave. Lines from Dickinson's poems open each chapter in this intriguing mystery, first in a planned series featuring literary figures as detectives.
---

The Future of Us
by Carolyn Mackler, Jay Asher
Ages 12–up
It's 1996 and Emma and her neighbor Josh have been friends forever. But now that they are high school juniors things have gotten a bit awkward between them. Then Emma gets a new computer and Josh brings over an AOL CD so Emma can get online. They are automatically logged into their Facebook pages, even though Facebook hasn't been invented yet, and realize they are looking at their lives 15 years in the future. They discover that their actions in the present changes their future lives, forcing them to grapple with the consequences of their current decisions. This fascinating look at possibilities is told in alternating chapters from the point of view of both Emma and Josh.
---
Infinite in Between
by Carolyn Mackler
Ages 13–up
Zoe, Jake, Mia, Gregor, and Whitney meet at freshman orientation. They write letters to their future selves, promising to meet on graduation day and read them together. Jake came out to his best friend in 8th grade, and now avoids sports and hides out in the art room. Whitney is popular, but those she chooses as friends eat away at her confidence, leaving her vulnerable to the shock of her parents' divorce. Zoe is overshadowed by her mother's fame, Mia can't quite decide who she really is, and Gregor isn't sure how much he is willing to give up for the school band. During the first years of high school, the five don't see much of each other, but come together to support each other as the years go by.
---

September Girls
by Bennett Madison
Ages 14–up
Sam (17) travels with his father and older brother to a small beach town. Sam is prepared to be totally bored, but the town is full of beautiful blond girls who only wear flat shoes because heels make their feet bleed, never go swimming, and all seem strangely attracted to him. Sam feels an instant connection to one of the girls named DeeDee, but she pulls away just as they are getting to know each other. Sam knows that to win her back he will have to uncover the secret of the September Girls.
---
How It Went Down
by Kekla Magoon
Ages 14–up
Tariq Johnson (16), a black teen, was shot on the street by Jack Franklin, a white gang member. No one disputes that fact, but each witness has a different perspective on the events that led up to the killing. Family, friends, neighbors, gang members, the police, and a minster offer their own point of view. When combined, the narratives build a heart-breaking picture of perception and race.
---

Egg and Spoon
by Gregory Maguire
Ages 12–up
Elena Rudina lives in the Russian countryside with her dying mother in a tiny hut with very little food. Her father has been dead for years, one of her brothers was conscripted into the Tsar's army, and her other brother has been taken as a servant by the local landowner. A train arrives carrying a wealthy family on a visit to the Tsar in Saint Petersburg. When the train is stranded by a broken bridge, Elena begs for food, and meets Ekaterina, a girl of her own age. The two girls begin a tentative friendship, and when the train departs, the wrong girl is aboard. This masterful tale includes elements from Russian folklore, Cinderella, and The Prince and the Pauper.
---

Finnikin of the Rock
by Melina Marchetta
Ages 14–up
Years ago, the royal family of Lumatere was brutally murdered, and an imposter seized the throne. a curse locks the inhabitants of Lumatere inside the walls, while those outside live as exile. Finnikin, who was only a child at the time of the murders, has spent the last decade gathering stories from the exiles. Evanjalin, a strange young woman, claims to know the location of the missing heir who can lift the curse and bring the exiles home. This dark and believable fantasy is full of complex characters, adventure, romance, and intrigue.
---

Froi of the Exiles: The Lumatere Chronicles
by Melina Marchetta
Ages 14–up
Froi, a former street thief, has begun a new life in Lumatere under the care of the Guard to the Lumatere royal family. Sent to neighboring Charyn in disguise to assassinate the King of Charyn, Froi is attracted to Princess Quintana, who has suffered horribly in an attempt to break Charyn's curse. Froi is torn between his loyalty to Lumatere and what he learns about the politics of Charyn and his own past. The brutal worst of humanity is contrasted with the struggle of damaged characters to rebuild their lives. (sequel to Finnikin of the Rock)
---

Quintana of Charyn
by Melina Marchetta
Ages 14–up
Froi and his companions search for Quintana, the rightful ruler of Charyn, building an army to help her fight against Isaboe of Lumatere. In this satisfying conclusion to the Lumatere Chronicles, the new generation of leaders of the kingdoms of Lumatere and Charyn struggle to put the atrocities of the past behind them and build a new alliance. Follow up to Finnikin of the Rock and Froi of the Exiles.
---

The Piper's Son
by Melina Marchetta
Ages 14–up
After Thomas Mackee's young uncle was killed by a suicide bomber, his family fell apart. His grieving father becomes an alcoholic, and mother leaves town with his younger sister. Tom, who is living with his single and pregnant Aunt Georgie, drops out of university. Tom doesn't feel capable of helping his family heal, but knows that if he doesn't no one else will either. This intense novel is a sequel to Saving Francesca, taking up the story five years later.
---

Randolph Caldecott: The Man Who Could Not Stop Drawing
by Leonard S. Marcus
Ages 10–15
This biography begins by setting the historical stage of the changes brought by the introduction of the steam engine, which made travel easier and expanded the distribution of print materials. Randolph Caldecott first worked as a clerk in a bank while searching for opportunities for free-lance illustration. His first book-illustrating assignment was a great success, and he produced celebrated artwork for children's books designed to be purchased by those traveling by train.
---

Shadowfell
by Juliet Marillier
Ages 12–up
Neryn (16) is alone in the land of Alban, whose king has ordered that anyone with magical powers be captured. Neryn hides her ability to communicate with the Good Folk, fairy-like creatures, and sets out for the legendary Shadowfell where she hopes to find a secret rebel group working to overthrow the evil King Keldec. The Good Folk help her along the way and explain that she must pass a series of tests to realize her full potential. Flint, a mysterious young man, rescues Neryn from certain death, but she is unsure how far she can trust him.
---

Faerie
by Eisha Marjara
Ages 14–up
Lila, the older daughter of a Canadian Punjabi Sikh family, has always hated her body, which she sees as far too chubby, especially compared with her trim younger sister and beautiful older cousin. Lila realizes that food is one of the few things she can control, and becomes an expert calorie counter, determined to release her svelte inner "faerie" persona. At the age of 17, her weight drops dangerously low, and she is admitted to a facility for psychiatric help dealing with anorexia. She breaks the rules, hides food instead of eating, and begins compulsively exercising to stay thin. A friendship with a new patient causes Lila to question whether she wants to live, and she plans a suicide to celebrate her 18th birthday. This poignant novel portrays the insecurity of being a teenager, the pressure to attain ideal beauty, and the complexities of anorexia.
---

Ink Exchange
by Melissa Marr
Ages 12–up
This suspenseful fantasy takes place in a fully realized world that conveys the details and the politics of faery life. Seventeen-year-old Leslie is attracted to an eerie tattoo of eyes and wings that binds her to Irial, the dark king of the faery world. (Leslie made a cameo appearance in Wicked Lovely.)
---
Flesh and Blood So Cheap: The Triangle Fire and its Legacy
by Albert Marrin
Ages 10–up
On March 25, 1911, the Triangle Shirtwaist Factory in New York City burst into flames. The factory was crowded with workers, mainly young Italian and Jewish women. The doors were locked to prevent the workers from leaving before the end of the work day, and 146 people died in the fire. One hundred years later, this powerful book examines the poor working conditions the immigrant factory workers endured, the greed that motivated the bosses and owners, and the courage of the workers who banded together to change working conditions for everyone in America.
---

Uprooted: The Japanese American Experience During World War II
by Albert Marrin
Ages 12–up
Seventy-five years ago the American government rounded up over 100,000 American citizens on the basis of their ancestry and suspicions of loyalty and kept them in concentration camps for nearly four years. This powerful book examines the history of racism in America and traces the events that caused this decision, while also looking at the racism and xenophobia in Japan that led to the bombing of Pearl Harbor.
---
Jepp, Who Defied the Stars
by Katherine Marsh
Ages 12–up
Jepp (15) is a dwarf living at the end of the 16th century. While caged and transported, Jepp looks back on his childhood at a humble inn and his life as a court dwarf at Coudenberg Palace, the royal court of the Spanish Infanta in Brussels. From that luxurious prison, Jepp finally arrives at the island castle of the astronomer Tycho Brahe. Inspired by an actual dwarf who served Brahe, this novel explores love, family, and making one's own destiny.
---
The Night Tourist
by Katherine Marsh
Ages 10–up
Jack Perdu is a 9th grade classics prodigy. One evening Jack goes to New York City, a place he has not visited since his mother died there eight years ago. In Grand Central Station he meets Euri, a mysterious girl who offers to show him the train station's secret places. Eight flights below, Jack realizes he is in New York's ghostly underworld and hopes to meet his mother. The ghosts are suspicious of Jack, who becomes increasingly uncertain if he himself is dead or alive. This intricate adventure is a magical combination of modern characters, New York history, and classical mythology.
---

The Twilight Prisoner
by Katherine Marsh
Ages 10–up
Jack Perdu takes his friend Carla to visit the New York City underworld, but once inside they realize that their escape route has been blocked. A beguiling mix of mystery, humor, historical ghosts, and Greek myths, this book continues the story begun in The Night Tourist.
---
I Know It's Over
by C.K. Kelly Martin
Ages 14–up
Still coping with his parents' divorce, 16-year-old Nick is stunned when his ex-girlfriend Sasha tells him she is pregnant. Nick struggles to do the right thing by Sasha. His pain and uncertainty are portrayed with frankness in this emotionally complex coming-of-age story.
---

Kiss Kill Vanish
by Jessica Martinez
Ages 14–up
Valentina Cruz (17) lives a privileged life in Miami until the day she discovers her father and her boyfriend Emilio are killers. She flees to Montreal where she lives under an assumed name, works as an artist's model, and practices her stolen mandolin in an empty cafe at night. Emilio tracks her down and explains his actions, and the two construct a plot to escape from Valentina's father.
---

Devil and the Bluebird
by Jennifer Mason-Black
Ages 13–up
After her mother's death of cancer, Blue Riley (17) is in search of her sister Cass, who vanished after making a deal with the Devil. The Devil gives Blue six months to find her runaway sister and takes her voice as part of the bargain. Armed only with her mother's guitar and a pair of enchanted boots, Blue sets off across the country to find her sister. The Devil keeps changing the rules, forcing Blue to think quickly. As Blue encounters the ghosts of the road and her own past, she comes to understand both herself and her complicated family.
---

A Beautiful Lie
by Irfan Master
Ages 13–up
It's 1947 in India, and Bilal (13) is determined to protect his dying father's peace of mind by concealing the imminent Partition and creation of Pakistan, which will divide the country along religious lines, separating Muslims like Bilal's family from the predominantly Hindu population. With the help of his friends, Bilal builds an elaborate deception, even printing false pages of the local newspaper to hide the truth from his father, a staunch supporter of a united India. This intense and fascinating novel deals with themes of love, loss, religious intolerance, and the wisdom of hiding the truth.
---

Amy & Roger's Epic Detour
by Morgan Matson
Ages 12–up
The summer after her junior year Amy is still grieving the loss of her father in a car accident. Her mother has decided to move the family from California to Connecticut, and has given Amy the task of driving the family car to their new home. But Amy won't drive since the accident. Luckily Roger, the 19 year old son of a family friend, is on his way to visit relatives in Philadelphia and volunteers to chauffeur Amy and the car across the country. Along the way, Roger helps Amy confront her grief and guilt about her father's death, and she helps him recover from a painful breakup.
---
Love and Other Foreign Words
by Erin McCahan
Ages 12–up
Josie Sheridan (15.4) has a genius level IQ but little understanding of people. Josie is sure that romantic love is scientifically impossible, and can't understand why her sister Kate is overjoyed to be engaged to someone Josie thinks is totally uninteresting. Josie and her best friend Stu (also extremely smart) attend classes at the local community college where Josie becomes obsessed with understanding the nuances of social communication. This quirky love story is great fun.
---

The Death-Defying Pepper Roux
by Geraldine McCaughrean
Ages 10–up
Pepper Roux's death by age 14 was foretold in a dream, and his aunt Mireille has prayed over him everyday. When Pepper wakes up on the morning of his 14th birthday, he is amazed to find himself still alive, and runs off to sea hoping to escape death a bit longer. Pepper then flees across the French countryside from one disastrous job to another until the totally satisfying climax.
---

Fourth Down and Inches: Concussions and Football: Make-or-Break Moment
by Carla Killough McClafferty
Ages 11–up
McClafferty traces the dangers of the game of football from the 1890s, when 10-20 players were killed each year, to the present day. The dangers of this contact sport are clearly documented with research studies, MRI images, and explainations of what concussions are doing to boys and young men.
---

Never Fall Down
by Patricia McCormick
Ages 14–up
When the Khmer Rouge soldiers march into his village in Cambodia, Arn Chorn Pond is only 11, busy selling ice cream with his brother and dancing to rock and roll. The Communist revolution changes his life forever. Sent to a labor camp, Arn learns to be invisible, hiding from the soldiers who dispense death at a whim. Then one day the soldiers ask if any of the children can play an instrument, and Arn learns to play the revolutionary songs the soldiers demand, earning enough food to keep himself and the other children alive. This powerful true story doesn't hide the brutality of the Khmer Rouge, yet celebrates the power of the human spirit.
---

The Plot to Kill Hitler: Dietrich Bonhoeffer: Pastor, Spy, Unlikely Hero
by Patricia McCormick
Ages 8–up
This engaging biography tells the story of Dietrich Bonhoeffer, a pastor and pacifist who became an unlikely hero when he joined in a plot to kill Hitler. Bonhoeffer had a privileged childhood, and his travels and studies caused him to grow into a gentle, scholarly pacifist. The rise of Nazi Germany caused Bonhoeffer to break from the German church, which allowed swastikas to replace crosses. Bonhoeffer was one of the first to provide evidence to the Allies that Jews were being deported to death camps, and eventually chose to leave his pacifism behind and participate in the failed campaign to assassinate the evil dictator.
---
Purple Heart
by Patricia McCormick
Ages 12–up
Matt Duffy, an 18-year old private with memory problems following a traumatic brain injury in Iraq, receives the Purple Heart. Haunted by the image of a young Iraqi boy being killed, Matt slowly remembers the contradictory events that led to the honor. This gripping book raises moral issues without judgment, encouraging readers to think deeply about loyalty, war, and the nature of heroism.
---

Planesrunner
by Ian McDonald
Ages 12–up
Everett Singh (14) is still dealing with the effects of his parents' divorce when his father, a quantum physicist, is kidnapped. Everett is emailed a computer program called the Infundibulum that allows him to map out alternate worlds. He realizes that the governments of the Ten Known Worlds want the computer program for themselves, and sets out to rescue his father. He ends up in an alternative "electropunk" England where Sen, the pilot of the dirigible Everness, tries to steal his computer before the two eventually become allies. This action-packed humorous adventure is the first in the Everness series.
---

Say What You Will
by Cammie McGovern
Ages 14–up
Amy was born with cerebral palsy and can't walk without her walker, talk without a voice box, or completely control her facial expressions. But Amy is an optimistic over-achiever and has the grades to allow her to pick and choose between elite colleges. Matthew suffers from obsessive-compulsive disorder, and is consumed by obsessive worrying, repeated thoughts, and nearly paralyzing fears. When Amy decides to hire student aides to help her with the physical challenges of her senior year at Coral Hills High School, the two very different teens are forced to spend enough time together to break through their separate isolations to form a friendship that may develop into something more than either ever expected.
---

A Step Toward Falling
by Cammie McGovern
Ages 14–up
Emily has always tried to do the right thing, but for some reason she didn't help Belinda, a special needs student, who was attacked at a football game. Along with Lucas, a football star who also failed to act, Emily is required to volunteer at a social skills class for adults with developmental disabilities. Belinda, who successfully fended off the attack on her own, returns to school and befriends Emily and Lucas, proving herself more capable at some things than they are.
---

School for Sidekicks
by Kelly McCullough
Ages 10–14
Evan Quick (13) has spent his whole life dreaming of becoming a hero. Every morning he checks to see if his superpowers have developed yet, but so far no flying ability, heat rays, or other magical powers have arrived. At a class trip to the Mask (superhero) museum, the Hoods (villains) attack, and Evan somehow survives a death ray. His all-time hero Captain Commanding arrives to save the day, but is defeated by supervillain Spartanicus. Evan manages to capture the villain, but Captain Commanding takes the credit and Evan is relegated to the School for Sidekicks.
---

Forever Rose
by Hilary McKay
Ages 9–14
This fifth book in the delightfully daffy Casson family series is narrated by the youngest child, Rose, now 11. Rose is coping with her separated parents, talented siblings and their friends, and wondering if she is brilliant herself, or simply daft. (Previous books in the series: Saffy's Angel, Indigo's Star, Permanent Rose, Caddy Ever After)
---
Caddy's World
by Hilary McKay
Ages 10–up
Cadmium Casson is having a tough time. Her mother is in the hospital after giving birth to premature baby Rose, younger siblings Indigo and Saffy are up to their usual mischief, and their father, who tries to introduce order into the chaotic household, is often absent. Caddy's three best friends all have troubles of their own, and then Dingbat tries to woo all four friends at once, with disastrous results. This funny and poignant sixth in the saga of the Casson family moves back in time for this focus on Caddy.
---

The Devil's Paintbox
by Victoria McKernan
Ages 12–up
It's 1865 and Aiden (16) and his younger sister Maddie are nearly starving on their late parent's farm in Kansas. The guide of a wagon train heading west offers free passage to Aiden and Maddie in return for their labor at a logging camp at journey's end. While traveling across the country, Aiden works through his despair and begins to hope again. The strong characters and honest look at our sometimes brutal history will keep teen readers glued to the pages.
---
Chalice
by Robin McKinley
Ages 12–up
Mirasol, a humble beekeeper, has been chosen to take the role of Chalice, communicator with the sentient land. While trying to heal the trouble caused by the former Master, Mirasol is drawn to the new master in this lavish magical fantasy.
---

The Hero and the Crown
by Robin McKinley
Newbery Medal 1985


Ages 12–up
Aerin is the only child of the king of Damar, but since she is the daughter of a witchwoman the Damarians do not trust her. Outcast by her own people, Aerin slowly begins to trust in her own developing strengths. With the guidance of the wizard Luthe and the help of the blue sword she battles Maur, the Black Dragon to win her birthright.
---
Pegasus
by Robin McKinley
Ages 12–up
In the 1000 years since the alliance between humans and the pegasi, the two races have lived in harmony, joining together to fight against their common enemies. But communication is limited until 12-year old Princess Sylvi and her pegasus Ebon form a telepathic bond. First in a two-part series, this novel concentrates on the relationship between Sylvi and Ebon as she comes to understand pegasi culture.
---

Let's Clap, Jump, Sing & Shout; Dance, Spin & Turn It Out!: Games, Songs, and Stories from an African American Childhood
by Patricia C. McKissack, Brian Pinkney
Ages 5–18
This songbook, storybook, and poetry collection is meant to be shared. Hand clap, jump rope, and circle games encourage partner and group movement. Songs are meant to be sung as a family, while the stories and poems beg to be read aloud. Parents and grandparents will love sharing this book with the children in their lives, while older children will appreciate the comprehensive recording of oral traditions.
---

The Incident on the Bridge
by Laura McNeal
Ages 12–up
After Thisbe Locke (17) is wooed and then abandoned by Clay Moorehead, she becomes depressed and loses interest in school. She is last seen standing on the edge of the Coronado Bridge, a common suicide spot, before disappearing. The police decide it is a suicide, but Thisbe's younger sister Ted doesn't believe that Thisbe jumped off the bridge and begins her own search to find the truth along with the help of Fen, the new kid in town.
---

Criminal
by Terra Elan McVoy
Ages 14–up
Nikki (18) doesn't have much of a home life. Her mother is an abusive drug addict, causing Nikki to drop out of school to work in a hair salon and move in with her only real friend Bird, a single mother. Nikki finds solace in an intense relationship with Dee (20) until he murders a deputy. Dee and Nikki fabricate an alibi to protect him from arrest, but when the police arrest him, Dee betrays Nikki, forcing her to choose between testifying against him or destroying what is left of her own life.
---

Blowback '07: When the Only Way Forward Is Back
by Brian Meehl
Ages 12–up
Arky Jongler-Jinx is into sports. He is on the high school cross country team and his best friends Matt and Danny are on the football team. Arky's twin sister Iris is a musician, preferring to play the antique English horn her mother secretly left her before vanishing. One day while Iris is playing the horn, she accidentally sends Matt back to 1907. Iris and Arky try to find a way to bring Matt back home, wondering if perhaps they can find their mother as well. Meanwhile, Matt has to adjust to his new century, playing on the high school team coached by Pop Warner. This time-traveling science fiction novel is the first in a planned series.
---
Suck It Up
by Brian Meehl
Ages 12–up
Morning McCobb, recent graduate of Vampire International, is charged with telling the world about vampires. Morning is not the usual vampire—he's a vegan, subsisting on a soy-based product called Blood Lite. This very funny book with an appealing misfit protagonist is a welcome change from the usual brooding vampire romance.
---

You Don't Know About Me
by Brian Meehl
Ages 12–up
Billy, nearly 16, has spend his whole life traveling from place to place with his mother working as "ninja warriors for the Lord." Billy is a willing crusader, but he longs to give up home schooling and settle down for awhile, living a normal life and attending a regular high school. The arrival of a message from the father he thought was dead prompts Billy to break free and head out on a wild road trip, joining forces with Ruah, a closeted gay professional baseball player. The friendship between the unlikely pair causes Billy to question everything he's ever known as the two try to figure out who they really are.
---

The Apothecary
by Maile Meloy, Ian Schoenherr
Ages 10–up
Jamie (14) is the daughter of two television writers targeted by the House Committee on Un-American Activities in 1952. Unable to get work, the family moves to London, where Jamie meets Benjamin Burrows, a classmate whose father is the neighborhood apothecary. Benjamin dreams of being a spy and has no trouble defying authority. When Benjamin's father is kidnapped, the two teens work together to uncover the secrets of the apothecary's sacred book, the Pharmacopoeia, in order to find him and thwart the Russian spies with nuclear weapons.
---
The Apprentices
by Maile Meloy, Ian Schoenherr
Ages 10–up
It's 1954 and Janie Scott is attending a boarding school in New Hampshire, Two years have passed since she last saw the mysterious apothecary and his defiant son, Benjamin. On the other side of the world, Benjamin is treating the wounded in a jungle war and trying to perfect a magical formula that will let him communicate with Janie so they can continue their quest to keep the world safe from atomic threats. (sequel to The Apothecary)
---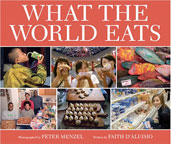 What the World Eats
by Peter Menzel, Faith D'Aluisio
All Ages
Twenty-five families in 21 countries around the world are photographed surrounded by a week's worth of food. The multi-generational portraits provide an avenue for exploring each family's hopes and struggles while gently raising issues about global food supplies. Family recipes, maps, and county information reveal provocative statistics. (adapted from Hungry Planet)
---
Perfectly Good White Boy
by Carrie Mesrobian
Ages 13–up
Sean Norwhalt isn't surprised when his girlfriend Hallie breaks up with him before she heads off to college. They had a summer romance, but he still has another year of high school. Hallie talks about all the possibilities ahead of them, but Sean isn't too sure. His family has just moved into a depressing rental when his father left them, and his job at the thrift store only intensifies his feeling that everything is disposable. The only hope he sees ahead is the possibility of joining the Marines and a growing friendship with Neecie, a classmate and fellow employee at the Thrift Bin.
---
A Trick of the Light
by Lois Metzger
Ages 14–up
Mike Wells appears to be a normal teen until his parents' marriage falls apart. The stress causes Mike to over-eat and he starts to gain weight. His girlfriend Amber shares her secrets for controlling her appetite, pushing him to exercise and eat nearly nothing. His weight is the only thing in his life he can control, so Mike grows thinner and thinner until a therapist helps him begin to come to terms with his eating disorder.
---

Cinder
by Marissa Meyer
Ages 12–up
Cinder lives in New Beijing with Adri, her demanding step-mother, and two step-sisters Peony and Pearl. Half human and half robot, Cinder was rescued from a hovercraft accident by the inventor Galen, Adri's husband. As a cyborg, Cinder is a second-class citizen, but is a gifted mechanic and is immune to the plague that threatens humans. This clever dystopian fairy tale is the first in a planned series—the Lunar Chronicles.
---

Scarlet
by Marissa Meyer
Ages 12–up
Linh Cinder, a mechanically talented cyborg, has discovered that she is Princess Selene, a Lunar who was believed to have been murdered by her aunt, Queen Levana. Meanwhile, Scarlet Beniot and her former pilot grandmother are making a living as farmers in France, the target of a pack of wolflike humans who will kill them to get the information they seek. The intricate plot alternates between the two narratives in this sequel to Cinder.
---

Cress
by Marissa Meyer
Ages 12–up
Cress has been imprisoned on an orbiting satellite for more than seven years with only her netscreens for company. She has never been allowed to cut her hair, which now rivals Rapunzel's in length. Forced to work for Queen Levana, Cress has been assigned to track down Cinder and her accomplices — Captain Thorne, Scarlet, and Wolf — who are working to overthrow Queen Levana and prevent her army from invading Earth. Cinder and crew try to rescue Cress, but the plan self-destructs leaving the group scattered and fighting for survival. Third in the Lunar Chronicles, this fast moving adventure follows Cinder and Scarlet.
---

Railsea
by China Miéville
Ages 12–up
On the molesea, a vast prairie covered with crisscrossing train tracks, orphan Sham Yes ap Soorap has gone to railsea as an apprentice to a moletrain's doctor. Medes is a moletrain that hunts the giant moldywarpes, harpooning the great moles that live underground and taking their fur, fat, and meat to be sold on the mainland. Naphi, the train's captain, is obsessed with killing an enormous ivory mole called MockerJack who took her arm many years ago. This imaginative and playful novel combines themes from Moby Dick, Robinson Crusoe, and A Wizard of Earthsea.
---

The Eternal Ones
by Kirsten Miller
Ages 12–up
Haven Moore (17) has been watched over her whole life by her religious grandmother and the priest in the small town of Snope City, Tennessee. Haven has successfully suppressed memories of a former life with a man named Ethan until she sees a picture of Iain Morrow, a New York playboy in the paper. More memories emerge, and Haven becomes convinced that she and Iain have a relationship going back for centuries. After running away to New York, Haven discovers the Ouroboros Society, that claims to be able to help people discover their former lives. Suspecting that both Iain and the Society are keeping secrets from her, Haven begins an investigation that eventually threatens her life.
---

Free to Fall
by Lauren Miller
Ages 13–up
It's 2030 and everyone depends on Lux, a decision-making app that helps maximize happiness for every decision, even small daily ones like ordering coffee. Rory Vaughn (16) is thrilled to be accepted to Theden Academy, the most prestigious school in the country. Rory's mother attended Theden, though she left before graduating and died in childbirth soon after. When Rory discovers inconsistencies about her own birth, she is drawn to the rebellious hacker North and his outsider lifestyle where he dares to make decisions without consulting Lux. this engaging and thought-provoking novel is a mix of thriller and romance.
---
The Art of Starving
by Sam J. Miller
Ages 13–up
Matt, a gay high school junior, hasn't eaten in days. Matt's older sister Maya suddenly left town after meeting with Tariq, a senior soccer star. Matt is certain that Tariq did something to drive Maya away, and works to earn Tariq's trust — ignoring his own attraction to him — in order to get revenge. Matt denies that he has an eating disorder, sure that hunger sharpens his senses, giving him the power to see beneath the surface. This disturbing novel doesn't pull any punches about the dangers of anorexia.
---

Fracture
by Megan Miranda
Ages 12–up
Delany Maxwell (17) falls into a frozen Maine lake. After 11 minutes under the ice, she is rescued by her best friend Decker. After six days in a coma, Delany wakes up. But her brush with death has changed her, and she is drawn again and again to people on the verge of death. Delany's friendship with Decker is threatened by feelings of guilt over her near drowning, and by Troy, an older boy who is also drawn toward the dying.
---

The Safest Lies
by Megan Miranda
Ages 14–up
Kelsey Thomas lives with her mother Amanda in a beautiful house Amanda hasn't left since Kelsey was born 17 years earlier. A surviver of kidnapping, Amanda is consumed by fear and has raised Kelsey to stay off the grid as much as possible and to be constantly aware of the dangers that surround her. When Kelsey is in a car accident, her rescue by a classmate and volunteer fireman is covered by the news. A few days later Kelsey comes home to find that her mother has vanished and Kelsey fears that she may be next.
---

Soulprint
by Megan Miranda
Ages 12–up
Alina Chase (17) has spent her entire life imprisoned on an island, punishment for a crime committed in a past life as June Calahan, a destructive blackmailer. Alina is sick and tired of being punished for something she didn't do, and escapes with the help of three teens. But Alina can't escape the imprinting of June on her soul since her rescuers want her to access the soul database June used for her crimes. Unused to human companionship, Alina discovers friendship, mistrust, and love while fleeing from the authorities determined to recapture June's soul.
---

All We Know of Heaven
by Jacquelyn Mitchard
Ages 12–up
Based on a true story, this gripping novel tells the story of two girls involved in a car crash. One dies and is buried, the other lies in a coma. When the girl emerges from the coma, inconsistencies alert the hospital staff that the girls have been misidentified.
---

Don't Even Think About It
by Sarah Mlynowski
Ages 12–up
A tainted batch of flu shots has unexpected consequences when a group of Manhattan 10th graders develop telepathic abilities. Too much information has disastrous and often hilarious results as the teens read the minds of both their Bloomberg High School classmates and their families. The lies we tell ourselves and others become all too apparent in this collective first-person novel.
---

Ten Things We Did (And Probably Shouldn't Have)
by Sarah Mlynowski
Ages 14–up
April (16) is thrilled when her father agrees to let her stay with her friend Vi while he moves their things from Connecticut to Ohio. April neglected to mention that Vi's mother will be away, so the two girls are staying alone in the house. April is sure that she and Vi are totally responsible, but the ten escapades she describes (#3 Skipping School, #4 Buying a Hot Tub, #7 Harboring a Fugitive) highlight the perils of freedom from adult supervision.
---

Under a Red Sky

Memoir of a Childhood in Communist Romania
by Haya Leah Molnar
Ages 12–up
Eva Zimmerman grew up as an adored only child in an apartment shared by her parents, grandparents, and aunts and uncles in Bucharest, Romania. Sheltered by her protective family from the harsh realities of scarce food and housing under communist rule with the secret police watching every move, religion and politics were never discussed at home. In 1958, Eva is shocked to discover that she is Jewish, and that her whole family has applied to emigrate to Israel. Black and white family photographs illustrate this poignant memoir of a girl struggling to understand her own identity.
---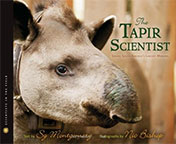 The Tapir Scientist: Saving South America's Largest Mammal
by Sy Montgomery, Nic Bishop
Ages 10–up
Lowland tapirs are so rare that most of the people who live near the tapir habitat in Brazil's vast Pantanal have never glimpsed the fascinating creature. Montgomery and Bishop follow a group of scientists tracking the tapirs through the grasslands and subtropical forests in an effort to learn more about the reclusive animals.
---

The Stars Beneath Our Feet
by David Barclay Moore
Ages 10–up
It's Christmas Eve, but Lolly Rachpaul (12) and his mother aren't celebrating. They are still dealing with the shock and grief of the death of Lolly's older brother in a gang-related shooting a few months earlier. Lolly's mother's boyfriend brings him two huge bags filled with Legos. Lolly has always loved carefully following the instructions to build Lego kits, but isn't sure what to do with a huge pile of raw materials and no guidance. When Lolly and his friends are beaten up and robbed, joining a gang seems like it might be the best thing to do. Instead he begins building a huge Lego city at the community center, discovering that his imagination is a powerful thing.
---

Amber House
by Kelly Moore, Tucker Reed, Larkin Reed
Ages 14–up
Sarah (15) and her family move to Amber House, a mansion that has been in the family for generations, after the death of her grandmother. With her new friend Jackson, Sarah searches for the treasure that is said to be hidden in the house, discovering that the house is full of ghosts and memories of the past. The two are drawn into a mystery that spans generations, a mystery only Sarah can solve before tragedy strikes again. This haunting gothic tale is the first in a planned series.
---

V is for Villain
by Peter Moore
Ages 12–up
Brad Baron is used to not measuring up to his older brother Blake. Brad is very smart, but Blake is bigger, stronger, faster, and he can fly. In Brad's world intelligence doesn't much count in a culture that measures worth by superpowers. Brad is placed in a school track with other students lacking superpowers and falls in with a band of malcontents who decide to change the system by using their intelligence for villainy.
---

The Ghosts of Ashbury High
by Jaclyn Moriarty
Ages 12–up
Amelia and Riley are new students at the exclusive Australian Ashbury High and everyone is talking about them though they rarely attend classes. Caught up in their own world, they smile politely when spoken to, but usually don't answer back. Told mainly through the students' gothic fiction essays for their final year exam, reality is filtered through different perspectives and elements of gothic tales. This clever novel touches on themes of friendship, perception, secrets, and the scary feeling of facing the future that happens in the last year of high school. (follow-up to The Year of Secret Assignments)
---
Ruined
by Paula Morris
Ages 12–up
Rebecca Brown (15) is sent from New York City to live with her aunt in New Orleans while her father travels overseas for a year. Rebecca feels out of place at the snooty prep school. In fact, to the rich girls she is nearly invisible. Rebecca befriends Lisette, a ghost who has haunted the cemetery since her mysterious death 155 years earlier. This atmospheric ghost story captures the rich history of New Orleans, and doesn't shy away from issues of race, ethnicity, class, and culture.
---

Taken by Storm
by Angela Morrison
Ages 12–up
Leesie is a devout Mormon who lives by the teachings of her church (no kissing, no dating noncommunist) until she meets Michael, an troubled outsider and scuba diver. Michael can't forget the hurricane that killed his parents, but he gradually learns to accept Leesie's help. Told in alternating viewpoints through Michael's dive log, Leesie's poetry, and online chats, this romantic novel sensitively handles the difficult topics of religion and premarital sex.
---
Trash
by Andy Mulligan
Ages 12–up
Raphael is a 14-year-old trash-picker in an unnamed 3rd world Latin American country. One day he finds a leather bag containing a wallet, a map, and a key. Raphael and his two friends are soon involved in exposing political corruption and abuse of the poor as they puzzle out a secret code and follow clues to a hidden cache of money. Realistic details of the lives of desperate children living in the dump provide a sobering background to this gripping adventure tale.
---

The Disappearances
by Emily Bain Murphy
Ages 12–up
It's 1942, and Aila Quinn (16) and her younger brother Miles are sent to their mother's hometown of Sterling to live with the Cliftons when their father is drafted. Malcolm and Matilda Clifton are old friends of their mother Juliet, who died recently. The Cliftons welcome Aila and Miles, but the rest of the town is not happy to see them. The Quinns discover that eveyr seven years, beginning with the year Juliet was born, the town residents lose something, like the ability to smell the flowers or see reflections. No one knows why the Disappearances happen, but they always suspected Juliet was somehow responsible. As the next seventh year approaches, Aila follows a sequence of literary clues her mother left behind, hoping to solve the mystery of the Disappearances.
---

Dumplin'
by Julie Murphy
Ages 13–up
Willowdean Dickson (16) is a self-described "fat girl" who knows she will never be a beauty queen like her mother, who calls her Dumplin'. Willowdean accepts her size until Bo, her handsome co-worker at a fast food restaurant, kisses her. The kiss awakens Willowdean's insecurities and she begins to doubt her own worth. to get her confidence back Willowdean decides to do the most terrifying thing she can imagine: entering the Miss Teen Blue Bonnet Pageant.
---

This Impossible Light
by Lily Myers
Ages 12–up
Ivy (15) is finding life difficult. Her father has moved out, her mother is depressed, her brother has left for college, and her best friend Anna has become distant. Worst of all her body keeps growing and changing and she just keeps getting taller and curvier. Even her beloved math class doesn't offer the usual comfort of balance and control. Then a skipped meal restores Ivy's sense of control over her life. If she just stops eating, Ivy hopes that her body will cease to grow and she can concentrate on math and take back control over her life.
---

Carmen
by Walter Dean Myers
Ages 12–up
The plot of Bizet's opera is moved from 19th century Spain to current day Spanish Harlem where Carmen seduces a cop and then deserts him for rap star and film producer Escamillo. Instead of helping a gang of smugglers, Carmen and her friends help with a credit card fraud. Written in script format in two acts, the dramatic plot and snappy dialog would make a lively classroom read-aloud.
---

All the Right Stuff
by Walter Dean Myers
Ages 14–up
After his father is killed by a stray bullet, Paul DuPree takes a summer job in a soup kitchen. Elijah, the soup man, won't stop talking about important stuff like the social contract and the teachings of philosophy. When he's not working, Paul spends his time hanging out with Keisha, an unwed teen mother who plays basketball as well as he does. Sly, the neighborhood Harlem gangster tries to convince Paul that the social contract is a tool used by the rich to control the disadvantaged. Paul starts to think about what you really need to get ahead, deciding that he needs to take charge of his life instead of just drifting through it.
---

Dope Sick
by Walter Dean Myers
Ages 14–up
Lil J (17) is wounded and hiding in an abandoned building. The police believe he shot an undercover cop in a drug bust and surround the building. Kelly, a vagrant with a strange TV, shows Lil J scenes from his own life and asks, "If you could take back one thing you did… what would it be?" This gripping novel mixes magical realism with the violence of street life as it examines second changes and the power of hope.
---

Sunrise Over Fallujah
by Walter Dean Myers
Ages 12–up
Robin Perry, nephew to Myer's Vietnam soldier from Fallen Angel, writes to his uncle from Iraq in this powerful novel that may help American teens grapple intelligently and thoughtfully with the war in Iraq.
---

Dark Shimmer
by Donna Jo Napoli
Ages 14–up
Dolce grows up on the small island of Torcello in the lagoon near medieval Venice. Freakishly large, Dolce is mocked by everyone except her mother. She learns the valued skill of making mirrors and is relatively content until her mother dies. Hoping to find other "giants," Dolce swims to Venice and is taken in by a nobleman and his daughter Biancaneve, soon marrying into the family. Prolonged exposure to the quicksilver vapors required by mirror-making drives her mad. While her husband is away, Dolce makes several attempts to kill her stepdaughter, who flees into the forest to take shelter with the dwarves. This clever spin on the Snow White fairy tale transforms the evil stepmother into a sympathetic character.
---
The Wager
by Donna Jo Napoli
Ages 12–up
Set in 1169, this novel tells the story of Don Giovanni, a wealthy 19-year-old orphan who suddenly loses his riches and his castle in a tidal wave and is reduced to begging for food to survive. The devil appears to offer a wager—if Don Giovanni agrees not to bathe or change his clothes for three years, three months, and three days, he will receive a purse that magically refills. Giovanni's descent into foul decay and eventual redemption is colorfully portrayed in this retelling of a traditional Italian fairy tale.
---

Our White House: Looking In, Looking Out
by National Children's Book and Literary Alliance
Ages 10–up
An all-star roster of 108 children's authors and illustrators plus scholars and former White House employees and residents combine to make up this multifaceted view of the White House from the inside as well as the outside, a personal and ongoing history from 1792 to the present.
---

Recovery Road
by Blake Nelson
Ages 13–up
Maddy (16) is sent to the Spring Meadows rehab center to learn to cope with her drinking problem and her rage. At the weekly movie night in town, she meets Stewart, who is at another rehab center. After her release, Maddy struggles to deal with her loneliness, and pressure from her old drinking buddies to become a party girl again. Maddy hopes that Stewart's release will be her salvation, but learns that she is the only one who can take control of her own life. This gripping novel shows the often fatal consequences of addiction, and the hard-to-resist temptation of relapse.
---
I'll Give You the Sun
by Jandy Nelson
Ages 14–up
Twins Jude and Noah are incredibly close until they are 13. Noah retreats into drawing while secretly falling in love with the boy next door, while daredevil Jude begins wearing lipstick and doing the talking for both of them. A bad first sexual experience when they are 14 cause Jude to stop dating and by the age of 16 they are barely speaking to each other. Each twin narrates a different section, Noah when they are 13 and Jude when they are 16, giving different viewpoints of the events that separated them and their struggles to come back together.
---

The Sky Is Everywhere
by Jandy Nelson
Ages 14–up
Lennie (17), a shy bookworm and band geek, has always been content to live in her older sister Bailey's shadow. When Bailey dies suddenly and unexpectedly of an arrhythmia, Lennie is not prepared to deal with the limelight she is thrust into. Consumed by grief and unsettled by her attraction to Bailey's fiancé, Lennie struggles to deal with her new reality in this honest portrayal of a teen dealing with tragedy.
---

Heart and Soul: The Story of America and African Americans
by Kadir Nelson
Ages 9–up
From pre-Revolutionary slavery to the election of President Obama, this powerful book documents the story of a people whose struggles and achievements helped to define America. The grandmotherly narrator tells the story of injustice, courage, hope, and inspiration from her ancestors arrival on a slave ship to her recent vote for an African American president. Dramatic oil paintings present the determination and strength of both well known historical figures and everyday people. The intimate and personal narration make this inspiring book accessible to young readers.
---

How I Discovered Poetry
by Marilyn Nelson, Hadley Hooper
Ages 12–up
Through 50 poems, the author tells the story of her childhood in the 1950s, when her family frequently moved from one military base to another. Bomb drills at school, the Red Scare, and the civil rights movement appear along with Mrs. Purdy, the teacher who introduced her to the magic of poetry.
---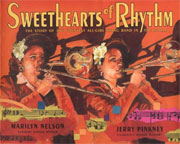 Sweethearts of Rhythm
The Story of the Greatest All-Girl Swing Band in the World
by Marilyn Nelson, Jerry Pinkney
Ages 10–up
Nelson's poems and Pinkney's luminous paintings perfectly complement each other in this tribute to an integrated female swing band that toured the USA from the late 1930s to mid 1940s. Titled after swing tunes, the 20 poems underscore the role of music in bring joy and hope to an era haunted by war and racism.
---

Days of Little Texas
by R.A. Nelson
Ages 12–up
At the age of 10, Ronald Earl earned the nickname "Little Texas" when he performed a spontaneous healing at his great aunt's evangelical revival ministry. By the time he is 16, the ghost of a girl who died when he failed to heal her and his own sexual awakening cause him to question his integrity as a spiritual healer. His great-aunt takes him to a former slave plantation to deliver what is hoped to be his greatest sermon which will free the ghosts of the slaves, leading Ronald to a personal crisis. This fascinating and original book will engender passionate discussions.
---

The Knife of Never Letting Go
by Patrick Ness
Ages 14–up
The youngest in Prentisstown, Todd Hewitt (12) lives in a world without women, a world where the thoughts of men and animals are audible as Noise, an oppressive chaos of words and images. When Todd and his dog Manchee notice a silence in the Noise, Todd know he must keep this secret from the others and flees, chased by Aaron, a zealot preacher, and his supporters. Viola, the source of the silence, joins Todd and Manchee in a desperate flight from the men of Prentisstown. (Book One in the Chaos Walking series)
---

The Ask and the Answer
by Patrick Ness
Ages 14–up
Todd and Viola have fled to Haven, only to discover that Mayor Prentiss has arrived first and is now intent on controlling the entire planet. Todd is sent to prison, and Viola to the House of Healing to recover from her wounds. Viola is recruited by the Answer, a group aimed at overthrowing the government, while Todd is forced to join the mayor's new regime. This powerful science fiction novel is Book Two in the Chaos Walking series, following The Knife of Never Letting Go.
---

A Monster Calls
by Patrick Ness, Jim Kay
Ages 12–up
Connor O'Malley (13) is having nightmares. His mother has cancer, his father has moved away with his new wife, and the grandmother he lives with cares more about he antique wall clock than her grandson. The bullies at school torment Connor, making fun of his mother's baldness, a result of her cancer treatment. So Connor wakes up most nights screaming because of nightmares. Then one night he awakens to find a real monster outside his window, ancient and wild, who seems to want something from Connor. This moving story of loss and grief was completed by Patrick Ness from a set of notes by Siobhan Dowd, who died of cancer before she could complete a first draft.
---
Monsters of Men
by Patrick Ness
Ages 14–up
A world-ending war between the armies of the Mayor, Mistress Coyle, and the Spackle is about to erupt. Todd and Viola, now in a position of power with the colonists, along with Return, a former slave of the Spackle, must each confront their own fear and anger in order to make a decision that won't lead to world wide destruction. This powerful third in the Chaos Walking science fiction trilogy follows The Knife of Never Letting Go and The Ask and the Answer.
---

Release
by Patrick Ness
Ages 14–up
Adam Thorne is a gay teenager with homophobic parents whose creepy boss has been sexually harassing him. Hours before the going-away party for his ex-boyfriend Enzo, his best friend Angela tells him that she is moving to the Netherlands for senior year. The ghost of a classmate murdered by her met-addicted boyfriend wanders through Adam's day, as he tries to make sense of his sexuality and his life.
---

Now That You're Here
by Amy K. Nichols
Ages 12–up
Danny Ogden, a teen-aged graffiti artist for an extremist sect, is running from the cops when he is suddenly jolted into a Phoenix classroom in a parallel universe — our Earth. Eevee Solomon, a romantic interest in Danny's parallel world, is a talented science nerd in this one. Eevee is perhaps the only person who can help Danny return home, but she has trouble trusting this new Danny who replaced the one who tormented her best friend. A mirror image sequel will focus on the other Danny and Eevee in the parallel Earth.
---

The False Prince
by Jennifer A. Nielsen
Ages 8–14
Sage (15) is an orphan in the medieval kingdom of Carthya. When the entire royal family dies under mysterious circumstances, Conner, one of the king's regents, begins collecting orphans who might be substituted for the king's youngest son, who was reported lost at sea several years earlier. Sage and two other boys are selected, and soon engaged in a winner-take-all contest to earn the right to impersonate Prince Jaron. Humorous first-person narration places the reader firmly in Sage's court in this first in the Ascendancy Trilogy.
---

Dear George Clooney: Please Marry My Mom
by Susin Nielsen
Ages 11–14
Violet (12) is devastated when her TV-producer father leaves their run-down home in Vancouver and moves to Los Angeles to marry an actress and live in a fancy house with a pool. Violet is angry, her younger sister Rosie reverts to bed-wetting, and her mother begins to date one loser after another. When her mother begins to date Dudley Wiener, Violet and her friend Phoebe decide to take matters into their own hands. Since Violet's mother can't find a decent man herself, they decide to set her up with George Clooney. Violet's attempts to sabotage her mother's relationship with Dudley are hilarious, while her struggles to accept her father's new life are realistically poignant.
---

Optimists Die First
by Susin Nielsen
Ages 12–up
Petula de Wilde (16) was a normal happy teenager with a passion for crafting until the accidental death of her younger sister Maxine. Her parents have retreated into their books and music while Petula is haunted by the fact that tragedy can strike when least expected and worries about walking near construction sites, the possibility of earthquakes, and catching a rare disease. She is assigned to a youth art therapy group to help with her anxieties, and meets Jacob Cohen, who has a bionic hand and a talent for film-making. This empathetic novel explores the effects of grief and guilt.
---
All the Bright Places
by Jennifer Niven
Ages 14–up
Theodore Finch is fascinated by death, and is always thinking of ways he might kill himself. Violet Markey, another senior, was happy and well-adjusted until her sister died in a car crash. Now Violet is overcome by grief. Each ascends the school bell tower, wondering what it would be like to jump. Meeting on the ledge, they save each other and pair up on a project to discover the natural wonders of their state. This gripping novel is romantic and heartbreaking, the story of two damaged teens looking for love while fighting mental illness.
---
Holding Up the Universe
by Jennifer Niven
Ages 14–up
High school junior Libby Strout was once so fat she had to be rescued from her house by a crane. Senior Jack Masselin has prosopagnosia (face blindness), which he tries to disguise with a cool-guy facade while keeping everyone at a distance. The two meet when Jack's friends involve him in a cruel taunting of Libby, and they end up in group counseling and community service together. At first angry with each other, they discover that enforced honesty allows them to form a friendship and tentative romance.
---

Clariel: The Lost Abhorsen
by Garth Nix
Ages 13–up
Clariel (17) is the daughter of a talented goldsmith mother. Clariel isn't interest in learning the craft, she dreams of becoming a Borderer, one of the warders who patrol the forests and woods of the kingdom. Clariel is related to both the aging king and the Abhorsen, the kingdom's master of magic and becomes a pawn in political struggle for power. This prequel to the Old Kingdom series is set 600 years before the rest of the series.
---

Evermore
by Alyson Noël
Ages 12–up
Ever (17) survived the car crash that killed the rest of her family, and can now hear the thoughts of everyone around her. She retreats into a shell, keeping her hoodie up and her iPod loud to isolate herself. Damen, the cute new boy who can produce tulips from thin air, coaxes her back into human contact and to the discovery of her own immortality.
---
Blue Moon
by Alyson Noël
Ages 12–up
Still learning to control her powers as an immortal, 17-year-old Ever is crushed when her boyfriend, and fellow Immortal, Damen breaks up with her, and can't seem to remember their time together. When Damon begins growing weaker, Ever is determined to save him and is confronted by a hard decision: should she change the past or not? (sequel to Evermore)
---

Starglass
by Phoebe North
Ages 12–up
Terra Fineberg (15) lives aboard the Asherah, a mainly Jewish city within a spaceship that launched 500 years earlier when the Earth was destroyed by an asteroid strike. Life aboard the Asherah is not easy. Everything is strictly regulated by the ruling Council, and resources are scarce. The Asherah is headed for the planet Zehava, only a few months away. Terra witnesses a murder, and becomes entangled in a conspiracy to overthrown the Council.
---
Gentlemen
by Michael Northrop
Ages 15–up
This dark novel for tells the story of four high school sophomores who are outsiders, ignored by everyone at school except their remedial English teacher who calls them "gentlemen." Then one disappears and the other three suspect that their teacher is involved. Gritty and building to a violent climax, this fast-paced novel takes an unflinching look at what holds friends together and what tears them apart.
---

Into That Forest
by Louis Nowra
Ages 12–up
Hannah and Becky go for a picnic with Hannah's parents and are caught up in a sudden storm. Hannah's parents are killed, and the two girls are adopted and raised by a pair of Tasmanian tigers. Over time, the girls grow wilder, losing their clothes and their language and hunting with their new tiger parents. When they are found four years later by Becky's father, the girls are heart-broken to leave their tiger parents and suffer through a tramatic re-adjustment to human society.
---

Encyclopedia of the End:

Mysterious Death in Fact, Fancy, Folklore, and More
by Deborah Noyes
Ages 12–up
This engrossing A–Z of death and dying touches upon the spiritual, historical, and biological aspects of death throughout history. Paintings, photographs, and engravings add fascinating details and visual appeal.
---

The Sacred Lies of Minnow Bly
by Stephanie Oakes
Ages 14–up
Minnow Bly's parents joined the an oppressive, polygamous Kevinian cult in the Montana wilderness when Minnow was only five. Girls are not taught to read, and raised only to give birth to more Kevinites. When Minnow refuses to become another wife to the the Prophet Kevin, he orders her hands chopped off. Fleeing at the age of 17 after the fire that destroys the community, Minnow is arrested after assaulting a young man she perceived as a threat. In the juvenile facility Minnow learns to read and is offered her freedom in exchange for revealing the secrets of the Kevinians.
---

The Sharp Time
by Mary O'Connell
Ages 14–up
When her mother dies, Sandinista Jones (18) retreats from her friends into grief. When she is targeted by an abusive teacher, she feels helpless in her isolation, and simply stops going to school. On impulse she takes a job at Pale Circus, a vintage clothing store, that sooths her with color and texture. But every day her violent urges to take revenge on her teacher grow stronger and harder to ignore. Finally she reaches out to her new community for support. This story of grief and loneliness is told with compassion and humor.
---

Keeping Safe the Stars
by Sheila O'Connor
Ages 10–up
The orphaned Star children — Pride, Nightingale, and Baby — live with their grandfather, Old Finn, in rural Minnesota in 1974. The children have been raised to be wary of outsiders and to rely on themselves, so when Old Finn is suddenly taken ill and transported to the hospital in far-away Duluth, Pride (13) tries to keep the Stars safe by caring for them all by herself, hiding her grandfathers absence from increasingly suspicious adults. While watching Nixon's resignation speech, Pride is empathetic when he explains he tried to do what was best for the nation, thinking of the lies she told to try and keep her family together.
---
Shadowshaper
by Daniel José Older
Ages 14–up
Sierra Santiago is looking forward to a relaxed summer hanging out with her friends in Brooklyn and painting a mural on an abandoned building. Then her grandfather, disoriented after a stroke, begins urging her to finish the mural quickly, and Sierra is attacked by what appears to be a walking corpse. With the help of a fellow artist, Sierra discovers shapeshifting, an ancient magic that infuses paintings and music with ancestral spirits.
---

The Call
by Peadar O'Guilin
Ages 14–up
In this alternative Ireland, the Sídhe, Irish faeries, have cut Ireland off from the rest of the world and plot to take over their former home by kidnapping human teenagers. During the "Call" the teenagers disappear for only three minutes in human time, but an entire day in the Grey Land. When the teens disappear, they are often dead or disfigured by magic. Nessa, who is on crutches because of polio since there are no vaccines in isolated Ireland, is not expected to survive her Call, but is determined to survive. This gripping book is horrifying.
---

Before I Fall
by Lauren Oliver
Ages 14–up
Samantha has it all. She is beautiful and popular and has three best friends and an enviable boyfriend. Friday, February 12th should be another wonderful day in her wonderful life, but instead it is her last. Samantha gets a second chance at re-living her last day, seven chances in all. Each day she faces the consequences of even her smallest actions and tries to get things right, and maybe even redeem herself.
---

Vanishing Girls
by Lauren Oliver
Ages 14–up
Though completely different, sisters Dara and Nick are inseparable until the accident that left Dara scarred and created a rift between them. Nick tries to recreate their bond, but Dara vanishes on her birthday. At first Nick thinks Dara is just trying for attention, but the disappearance of another girl cause Nick to fear that something has happened to Dara. Alternating perspectives from both sisters before and after the accident along with blog and news reports from the media fill in the mystery.
---

Only Ever Yours
by Louise O'Neill
Ages 13–up
In this future world, girls are no longer born naturally but instead raised in Schools and trained in the art of pleasing men until they come of age. Known as "eves" the women don't even rate a capital on their names. Best friends frieda and isabel have just turned 16 and are in their final year at School. If they are in the top 10 of their class, they will become companions, wives to powerful men. If not, the alternatives are to become a concubine or a chastity, doomed for a loveless life teaching endless generations of eves. The pressure of their final year sends isabel into s self-destructive spiral, and frieda worries that securing her own future may mean betraying her only friend. This dystopian novel presents a terrifying reality.
---

This Dark Endeavor: The Apprenticeship of Victor Frankenstein
by Kenneth Oppel
Ages 12–up
Twin brothers Victor and Konrad Frankenstein are nearly inseparable. Their father forbids them to enter The Dark Library, but when Konrad falls deathly ill Victor can't resist. He discovers the formula for the Elixir of Life and sets off with his friend Henry and adopted sister Elizabeth in search of the ingredients, which prove nearly impossible to obtain. This compelling gothic mix of science, history, and horror is the first in a planned series.
---

The Wendy Project
by Melissa Jane Osborne, Veronica Fish
Ages 12–up
Wendy Davies (16) crashes her car in to a New England lake one summer night with her two younger brothers in the back seat. When she wakes up in the hospital her parents tell her that John is fine but her youngest brother Michael is dead. Wendy shocks her family by insisting that Michael was carried away by a flying boy dressed in green. Wendy's parents send her to a therapist and transfer her to a new school, where the students and adults resemble characters from Peter Pan's Neverland. Given a sketchbook by her therapist, Wendy begins to draw what she calls The Wendy Project: her presumed reality in stark black and white and the Neverland characters in brilliant color.
---

Radio Silence
by Alice Oseman
Ages 13–up
Frances Janvier, a high-achieving British student with few friends, has been a fan of the podcast Universe City since its first episode. She even created a fan art site for the show under the pseudonym Toulouse. Aled Last is a quiet straight-A student with few friends who lives next door to Frances. He is the creator of Universe City. When the two realize their connection, they form a friendship, bonding while collaborating over the podcast and receiving much-needed support as fellow queers.
---

Brett McCarthy:


Work In Progress
by Maria Padian
Ages 12–up
Brett McCarthy lives for soccer, vocabulary words, and her larger-than-life grandmother, Nonna. Funny coming of age novel about a smart-mouthed 14-year old.
---

A Single Shard
by Linda Sue Park
Newbery Medal 2002


Ages 10–14
In a potter's village in 12th century Korea, the orphan Tree Ear is raised by a lame straw weaver. One day Tree Ear breaks a piece of Min's pottery and pays his debt by working for the potter and dreaming of making beautiful pots himself. Tree Ear is sent by Min to the king's court, carrying an example of Min's new celadon ware. After robbers shatter the pot, Tree Ear continues the dangerous journey, now carrying only one precious single shard.
---
Blue Like Friday
by Siobhán Parkinson
Ages 11–14
Olivia tells the story of her friend Hal, who sees the world in colors and tastes and is determined to get rid of his sort-of-stepfather. This portrayal of family and friend relationships is funny and sad at the same time.
---
Rickety Stitch and the Gelatinous Goo Book 1: The Road to Epoli
by James Parks, Ben Costa
Ages 12–up
Rickety Stitch is a skeleton minstrel, the only skeleton in the dungeon who seems to have retained his soul. Rickety's sole clue to his former identity is a song he hears in his dreams, describing the Road to Epoli and the land of Eem. His only friend is the gelatinous Goo, who only Rickety can understand. Together they set out in search of Rickety's past. This funny graphic adventure is the first in a trilogy.
---

Long Story Short
by Siobhán Parkinson
Ages 12–up
Jonathan (14) has learned to cope with his mother's drinking, but when she hits his little sister Julie hard enough to break her cheekbone, he decides it's time to run away before the social workers take Julie away. Their escape isn't too successful, and they are soon picked up by the police. Jonathan's narration is both funny and heart-breaking, revealing his world with a mother who fails to care for her children, leaving them with a choice of options ranging from bad to worse.
---

Jacob Have I Loved
by Katherine Paterson
Newbery Medal 1981


Ages 12–up
Growing up on Chesapeake Bay island in the early 1940s, Louise knows that like Esau from the Bible she is hated while her twin sister Caroline, like Jacob, is the one everyone loves. While the family pampers the beautiful and gifted Caroline, lonely and miserable Louise learns the way of the watermen from old Captain Wallace. Eventually Louise learns that she has her own strengths.
---

The Originals
by Cat Patrick
Ages 12–up
Lizzie, Ella, and Betsey Best (16) are illegal clones. Everyone outside the family thinks they are the same person — Elizabeth Best — since their mother has organized their lives into shifts. Ella goes to school in the mornings, Lizzie takes the afternoons, and Betsey does the evening appearances. The three girls are growing more and more uncomfortable with the masquerade, especially when Lizzie and Ella fall for two different boys at school. Lizzie is attracted to Sean, and comes to realize that she is not a carbon copy of her sisters, but a unique individual with her own dreams and desires.
---

Rani Patel In Full Effect
by Sonia Patel
Ages 12–up
It's 1991 and Rani Patel (16) lives on the tiny Hawaiian island of Moloka'i with her Gujarati immigrant parents. In Gujarati culture "the husband is God," and her parents arranged marriage brings neither of them happiness. Rani's father dependes on her for all his needs, including intimate ones, until Rani discovers he is having an affair with a girl barely older than she is. Rani shaves off her hair, as Gujarati widows do, and catches the attention of Mark, a man near her father's age, who introduces Rani to 4eva Flowin', an underground hip-hop movement that encourages her to make bad choices. But Rani's unexcpected success as a hip-hop performer restores her confidence which allows her to reconnect to her mother.
---
Stories of My Life
by Katherine Paterson
Ages 14–up
Author Katherine Paterson shares stories of her life in this funny and heart-warming autobiography. Paterson tells about her missionary parents, her childhood in China and the US, her own career as a missionary, and finally her career as an author. Fans of her work will enjoy learning about the real-life places and events that inspired her award-winning fiction.
---

Road Trip
by Gary Paulsen, Jim Paulsen
Ages 12–up
Dad and Ben haven't been getting along too well lately since Ben (14) is unhappy that his father quit his job to start flipping houses, leaving no extra cash to send Ben to soccer camp. Dad proposes a road trip to rescue a border collie, and Ben reluctantly agrees, providing he cam bring along his friend Theo, a tattooed 18-year-old who has had problems with the law. The family dog Atticus adds his own perceptive narration to this entertaining story.
---
Woods Runner
by Gary Paulsen
Ages 12–up
Sam (13) is a skilled hunter, a "woods runner" with an instinctive knowledge of the western Pennsylvania forest. When word of the fighting between the British and the American colonists reaches the family, they worry that their safe world is endangered. One day Sam returns from hunting to find the houses in their settlement burned to the ground and the scalped bodies of neighbors. Sam sets off on a harrowing quest to find and rescue his parents, taken prisoner by British soldiers aided by Iroquois. Interspersed historical sections help place Sam's struggle in context.
---
Hilda and the Midnight Giant
by Luke Pearson
Ages 10–14
Hilda isn't happy about leaving her beloved home in the magical fjords and enchanted snow-capped mountains for the big city, where her architect mother has been offered a job. On her daily hour and a half walk to school, Hilda searches for a way to circumvent her mother's decision. Hilda isn't sure if the invisible elves of the mystical Blue Forest will help or hinder her, and even less sure about the mysterious Midnight Giant. This graphic novel is a follow-up to Hildafolk.
---

The Adoration of Jenna Fox
by Mary E. Pearson
Ages 14–up
Awakening from a coma, 17-year old Jenna Fox with almost no memories of her past and is unsure the memories she has are really hers. A thrilling look at bio-medical ethics and the nature of humanity.
---

The Fox Inheritance
by Mary E. Pearson
Ages 12–up
This sequel to The Adoration of Jenna Fox takes place 260 years later. Locke and Kara, whose bodies were destroyed in an accident, have been existing as disembodied minds in a computer netherworld since Jenna disappeared. New medical advances have made restoration of their minds into look-alike bodies, but the two wonder if they are really human. Locke and Kara discover that Jenna has been alive for centuries, and are desperate to find her. But the world is totally changed. A civil was has divided the United States, and Mars has been colonized for over 150 years. This challenging blend of science fiction and mystery, told from Locke's perspective, is best appreciated read in sequence.
---

The Kiss of Deception
by Mary E. Pearson
Ages 14–up
Lia (17) is a princess destined for an arranged marriage to cement an alliance. Determined to decide her own fate, Lia runs away on the eve of her wedding with her lady-in-waiting, Pauline to Pauline's home town. The two get jobs as barmaids at an inn, sure that their secret is safe. Then two handsome young men arrive separately at the inn. Lia is attracted to both, not knowing that one is the prince she was about the marry and the other is an assassin determined to prevent the marriage.
---
A Year Down Yonder
by Richard Peck
Newbery Medal 2001


Ages 10–up
It's 1937 and Mary Alice (15) is banished from Chicago to spend a year with Grandma Dowdel in rural Illinois while her parents struggle to make ends meet and her brother Joey heads west with the Civilian Conservation Corps. Mary Alice knows it won't be easy being the new city kid in a country school, especially with an outrageous relative like Grandma. This hilarious and touching book is the sequel to A Long Way to Chicago.
---

Beck
by Mal Peet, Meg Rosoff
Ages 16–up
Beck is the result of a brief encounter in 1907 between a Liverpool prostitute and an African soldier. Orphaned at the age of 10, Beck is sent to a Catholic orphanage and shipped off to Canada. There he is subjected to sexual abuse in the Christian Brotherhood facility until the age of 15, when he is sent to work at a farm. Beck escapes and runs away, heading west in search of his place in the world. This final book by Mal Peet, completed after his death by Meg Rosoff, celebrates the strength of the human spirit fighting against pain, suffering, and loneliness.
---
The Murdstone Trilogy
by Mal Peet
Ages 16–up
Award-winning YA author Philip Murdstone is in trouble. His thoughtful, sensitive series is no longer popular, and his agent is demanding that he write a fantasy trilogy that will please the modern audience and make piles of money. Unfortunately, Murdstone has no talent for writing an epic fantasy trilogy. At the end of his rope, Murdstone makes a deal with Pocket Wellfair, a dwarfish stranger who offers to supply him with the text he needs. This black comedy will appeal to teens and adults alike.
---
As Easy as Falling Off the Face of the Earth
by Lynne Rae Perkins
Ages 12–up
Ry (16) discovers that his summer camp has been cancelled. When he steps off the train to call his grandfather, the train leaves without him. Unfortunately Ry's grandfather has suffered a concussion and is missing, and Ry can't reach his parents, whose cell phone has been stolen by a monkey as they sailing around the Caribbean, so Ry is on his own. He meets Del, a helpful stranger who offers to drive Ry home to Wisconsin, and then to rescue Ry's parents. Told from all three viewpoints, including a comic strip version from the dogs staying with Ry's grandfather, this humorous misadventure is delightful.
---

Criss Cross
by Lynne Rae Perkins
Newbery Medal 2006


Ages 12–up
Two 14-year old narrators tell their story in prose, poems, and question-and-answer sessions. Debbie wishes something would happen so that she can become a different person; Hector feels unfinished. Young teens will relate to the feelings of self-consciousness and uncertainty as the characters strive for self-awareness. Perkin's amusing drawings add to the charm. (sequel to All Alone in the Universe)
---
Bamboo People
by Mitali Perkins
Ages 11–14
Chiko (15) is pressed into military service by the Burmese government. A scholar rather than a soldier by nature, Chiko finds himself involved in the ongoing war against the Karenni people, one of the many ethnic minorities in modern Myanmar (formerly Burma). Chiko is wounded and found by Tu Reh, an angry Karenni teen. Told from both perspectives, this novel shows both teens struggling with the prejudices of culture and class. Themes of family, friendship, and the circumstances of war are explored in this accessible story.
---

You Bring the Distant Near
by Mitali Perkins
Ages 12–up
Three generations of Indian women struggle to bridge cultures in this exploration of a family in transition. In 1965 sisters Sonia and Tara Das move from Ghana to London and finally to New York City, eager for new experiences but influenced by the cultural expectations of their Bengali parents. In 1998 their daughters Chantal and Anna help their grandmother Ranee accept American culture as all three generations blend their heritage with that of their adopted country.
---

My True Love Gave To Me: Twelve Holiday Stories
edited by Stephanie Perkins
Ages 13–up
Twelve young adult authors contribute stories to this holiday-themed collection: Holly Black, Ally Carter, Matt de La Peña, Gayle Forman, Jenny Han, David Levithan, Kelly Link, Myra McEntire, Rainbow Rowell, Stephanie Perkins, Laini Tayler, and Kiersten White. The different stories contain something for every reader: holiday romance, a mysterious Christmas Eve visitor, a baby left on Santa's sled, a Jewish boy who dresses as Santa to cheer up his boyfriend's sister.
---

Summer Days and Summer Nights: Twelve Love Stories
edited by Stephanie Perkins
Ages 13–up
Twelve best-selling young adult authors each contribute a love story to this collection. The stories range from heartfelt to spooky, but all capture the vulnerability and excitement of first love.
---

Blood Wounds
by Susan Beth Pfeffer
Ages 14–up
Willa (16) knows she is lucky that her blended family (mother, stepfather, two stepsisters) gets along so well. But then her biological father Dwayne, who Willa hasn't seen for over 10 years, appears in the news. Dwayne is suspected of murdering his new wife and daughters, and the police fear that Willa and her mother are next. Willa's family goes into hiding, but even when it is safe to return home, Willa isn't ready. Compelled by guilt and shame to mourn the dead step-sisters she never met, Willa travels to her hometown in Texas where she confronts uncomfortable memories and her own future.
---

This World We Live In
The Last Survivors, Book 3
by Susan Beth Pfeffer
Ages 12–up
A year after the moon was thrown off course by a meteor, natural disasters and climate change are making life on Earth a challenge. Miranda (17) and her mother are barely surviving on food rations in rural Pennsylvania when her father arrives with his new family and three other refugees, including Alex Morales from New York City. Miranda and Alex are drawn to each other as they spend hours together scavenging for food and supplies. This moving novel continues the story of the struggle to keep hope alive in the face of grim reality. (sequel to In Life as We Knew It and In The Dead and the Gone)
---

Zane and the Hurricane: A Story of Katrina
by Rodman Philbrick
Ages 10–14
Zane Dupree (12), a mixed race boy who knows nothing about his father's side of the family, is sent to New Orleans in 2005 with his dog Bandy to stay with Miss Trissy, his father's grandmother. When Hurricane Katrina arrives, Bandy escapes from the evacuation bus, and Zane follows him back to Miss Trissy's house. They are rescued from the rising waters by Malvina Rawlins and her elderly guardian, musician Trudell Manning. Zane's first person account of their journey in a small boat through the aftermath of the hurricane is enthralling.
---

Burn
by Suzanne Phillips
Ages 12–up
This thought-provoking book tells the story of Cameron Grady, a badly bullied freshman who escapes by playing with fire. When fatal results occur, the reader is challenged to examine some hard questions about who is a victim and who is a criminal, and how far a victim is allowed to go in the struggle to stand up for himself.
---
Even in Paradise
by Chelsey Philpot
Ages 13–up
Charlotte Ryder is from a working class family and attends St. Anne's, a private New England boarding school. When rich Julia Buchanan arrives at the beginning of junior year, Charlotte thinks she knows all about Julie and her infamous family from the news. Charlotte, quickly renamed Charlie by Julia, is swept up in the glamor and privileged life of the Buchanans, especially Julia's older brother Sebastian. Eventually Charlie discovers that the Buchanan family has a hidden tragedy that casts a shadow over Julia.
---

The Color Book
by Sophie Benini Pietromarchi
Ages 8–up
Artist and author Sophie Benini Pietromarchi invites the reader to partake in her passion for color by sharing her childhood memories of color and the feeling colors can invoke: "Black is the deafening noise of coal chucked in an oven at night." An exploration of the practicalities of mixing colors and tips for creating a personal color diary round out this imaginative resource for artists of all ages.
---
Silence Is Goldfish
by Annabel Pitcher
Ages 12–up
Tess Turner (15) reads a blog post by her father about the baby he couldn't love her since she was the result of a sperm donation and not his biological daughter. Deciding she will no longer try to live up to her father's expectations, she stops speaking, which has unexpected results. Tess is bullied and loses her best friend, but feels that she has finally taken control of her own life and becomes more confident. She becomes obsessed with a substitute teacher she imagines might be her real father, befriends the teacher's handsome son, and has imaginary conversations with her goldfish-shaped flashlight. Her silence forces her to examine her family more closely, gaining new insights into the family dynamics.
---

Ketchup Clouds
by Annabel Pitcher
Ages 12–up
Zoe (15) writes to Stuart Harris, an inmate on Death Row in Texas, confessing that she is also guilty in a murder. Writing from London, Zoe tells Stuart about meeting Aaron while dating his brother Max. One of the brothers ended up dead and Zoe was involved, but the truth is not revealed until the very end of this powerful novel.
---

My Sister Lives on the Mantelpiece
by Annabel Pitcher
Ages 12–up
Jamie (10) barely remembers his sister Rose, who died in a terrorist bombing five years earlier, but the rest of his family is still struggling to deal with their grief. When Rose's twin Jas declares her independence by dying her hair pink on her 15th birthday, the family falls apart. Their mother runs off with another man, and their alcoholic father moves with the children from London to the Lake District, and spends most of his time lavishing attention on the urn on the mantelpiece containing Rose's ashes. Jamie's first person narration is honest and powerful in this quirky novel.
---

The Someday Birds
by Sally J. Pla, Julie McLaughlin
Ages 8–12
Charles had a perfectly ordinary life until his father was injured while working as a journalist in Afghanistan. Charles feels safe at home in California, where his family accepts his ritualistic behaviors and fascination with birds, but when his father is sent to a hospital in Virginia to treat his brain injury, Charles is forced to leave his familiar environment. As he travels across the country with his boy-crazy older sister, his rambunctious twin brothers, under the supervision of a pink-haired woman from Sarajevo, he decides that if he can spot all the birds he and his father were hoping to see that everything will be OK.
---

After the End
by Amy Plum
Ages 13–up
Raised in a tiny isolated Alaskan wilderness, Juneau (17) discovers that the nuclear war she believed destroyed most of civilization never happened when the rest of her clan is kidnapped. While struggling to separate the truth from the lies she has been told, Juneau also has to learn to live in a modern world in order to rescue her clan. Supported by her connection to the Yara, a mystical nature-force, and Miles Blackwell, a spoiled rich kid who is drawn into her need to find her people, Juneau sets off on her quest. (first in a planned series)
---

The City's Son
by Tom Pollock
Ages 12–up
Beth Bradley, a graffiti artist on the run from her father and the best friend who betrayed her, encounters Filius on the streets of London. Filius is the son of Mater Viae, goddess of rats, feral cats, and creatures constructed from garbage. Beth, Filius, and his faithful trash monster named Gutterglass, join the fight against Reach, the Crane King, a god seeking to destroy the city with sterile and soulless urban development. This dark fantasy is the first in the Skyscraper Throne trilogy.
---
Battling Boy
by Paul Pope
Ages 10–up
This exciting graphic novel finds the city of Acropolis under daily attacks by monsters. When the hero Haggard West falls in battle, the monsters are free to wander the city, swallowing children into the shadowy underworld. Battling Boy (13), a pampered warrior god emerges to take on the battle against the monsters, using the magical powers of his set of totemic t-shirts.
---

Anatomy of a Misfit
by Andrea Portes
Ages 14–up
Anika Dragomir is the third most popular girl at Pound High School in Nebraska, a position that requires tolerating the bullying of the most popular. She is determined to hold onto her status, but is strangely attracted to Logan McDonough, a former loner nerd who has returned to their 10th grade class after a mysterious absence. Anika suspects that Logan's anti-social behavior is a result of his troubled home life and is sure she is the girl who can redeem him. But is Logan worth sacrificing all her work to become popular? Intense first-person narration explores the futility of pretending to be someone other than we really are.
---
Queer, There, and Everywhere: 23 People Who Changed the World
by Sarah Prager, Zoe More O'Ferrall
Ages 13–up
This insightful, respectful, and sometimes irreverent book explores gender identity and sexuality by focusing on 23 individuals from different times and nations defined by a broad definition of queerness: "anyone outside society's gender and sexuality norms." Among those featured are Joan of Arc, Abraham Lincoln, Eleanor Roosevelt, baseball player Glenn Burke, blues singer Ma Rainey, queer rights activist Sylvia Rivera, actor George Takai, and gender-ambiguous Christina, the Queen of Sweden.
---

Dodger
by Terry Pratchett
Ages 13–up
Dodger (17) is a street urchin and thief living in Victorian London. One night he sees a girl leap from a horse drawn carriage and comes to her rescue. Charles Dickens and social reformer Henry Mayhew appear on the scene, and the three work to protect the girl, known only as Simplicity, from the powerful people who want her dead. The crazed barber Sweeney Todd, Benjamin Disraeli, Queen Victoria, and others appear in this comedic coming-of-age story of a boy who embodies Dickens's desire for social justice.
---

I Shall Wear Midnight
by Terry Pratchett
Ages 12–up
Now nearly 16, Tiffany Aching has spent years studying with senior witches and can competently take on the minor tasks required of a good witch. However to become a great witch, Tiffany must battle with the Cunning Man the ghost of a dead witch finder, while also keeping the peace between the humans and the wee Nac Mac Feegles. This hilarious adventure completes the Diskworld Tiffany Aching series: The Wee Free Men, A Hat Full of Sky, Wintersmith.
---

Nation
by Terry Pratchett
Ages 12–up
Mau is the only one left when a giant wave destroys his island village. Daphne is the only survivor of a ship sunk in the storm. Together they re-establish Mau's nation with the other survivors who gradually wash up on shore. The clever balance between serious issues and wildly funny events make this tale of discovery special.
---

Trouble
by Non Pratt
Ages 14–up
Hannah (15) is not an ambitious student, instead spending her evenings partying at the park. When she discovers she is pregnant, Hannah is reluctant to identify the baby's father. Aaron, a recent transfer student, offers to pretend he is the father. Hannah's former best friend turns on her, causing her to grow closer to Aaron, who hopes that his altruistic act will compensate in some small way for a former action that ended in tragedy. Alternate narrations by Aaron and Hannah reveal a growing trust in each other that helps give them strength to survive family battles and broken relationships.
---

Heart of a Samurai
by Margi Preus
Ages 10–14
In 1841, Japan is closed to outsiders, and Japanese leaving the country are not permitted to return. Manjiro Nakahama (14) is out fishing with four others when a storm destroys their small boat and strands them on a small island. Rescued five months later by an American whaling ship. Manjiro's companions are frightened of the "barbarians," but he is curious to learn more about the world. Adopted by the captain, Manjiro learns English and the whaling trade, and eventually becomes the first Japanese to come to America. Despite prejudice, hardships, and homesickness, Manjiro never loses his curiosity. After living in New England, Manjiro travels to California to pan for gold, and eventually makes his way back to Japan, where he is imprisoned as an outsider. Period illustrations by Manjiro himself, as well as new art by Jillian Tamaki, enliven this fictionalized true story.
---

I Am Princess X
by Cherie Priest, Kali Ciesemier
Ages 12–up
Back in fifth grade, May and her best friend Libby created Princess X. May wrote the stories, Libby drew the pictures, and the two loved creating adventures for the intrepid Princess. A few years later, Libby and her mother died in an accident, and most of the color and joy vanished from May's life. Now 16, May is walking around the gray Seattle streets on a rainy night when she spots a Princess X sticker stuck on a window. Looking around, May spots Princess X stickers, patches, and graffiti everywhere, and discovers an online web comic, leading her to believe Libby may still be alive. With the help of a hacker, May follows the trail of Princess X online, hoping to find Libby at the other end.
---

Hidden Like Anne Frank: 14 True Stories of Survival
by Marcel Prins, Peter Henk Steenhuis
Ages 12–up
Hundreds of children went into hiding, like Anne Frank, to escape the Nazis. This powerful book presents 14 accounts from Dutch-born children, including the story of Prins's own mother, who went into hiding and survived the war. though these 14 survived, the trauma wasn't over when the war ended, since most lost family members and their homes forever. This powerful book makes the 14 different experiences real and dramatic.
---
12 Things to Do Before You Crash and Burn
by James Proimos
Ages 14–up
James "Hercules" Martino (16) is spending the summer in Baltimore with his Uncle Anthony after the death of his father, a popular self-help author and talk show host. To keep Hercules from becoming bored, Uncle Anthony assigns him a list twelve tasks to complete in the remaining two weeks of summer vacation. Hercules shares his misadventures in a hilarious first person narration.
---

The Golden Compass Graphic Novel, Volume 1
by Philip Pullman, Stéphane Melchior-Durand, Clément Oubrerie
Ages 10–up
Celebrating the 20th anniversary of the publication of The Golden Compass, this graphic adaptation is the first of three volumes, following Lyra Belacqua through steam punk Europe until she sets sail for the north with the gyptians. This beautifully illustrated graphic novel will appeal to new readers as well as those familiar with the story of The Golden Compass.
---

Every Exquisite Thing
by Matthew Quick
Ages 15–up
Nanette O'Hare, a high school junior, has been a dutiful daughter, dedicated student, and star athlete her entire school career. Everything changes for Nanette when her favorite teacher gives her a copy of an out-of-print cult classic novel called The Bubblegum Reaper. Multiple readings of the novel awake her inner rebel, and Nanette quits the soccer team and deserts her friends in order to spend time with Booker, the elderly author, and Alex, another Bubblegum Reaper fan. Alex is a talented poet but also a troubled young man. Their romance forces Nanette to realize that rebellion comes with a price she may not be willing to pay.
---

Forgive Me, Leonard Peacock
by Matthew Quick
Ages 15–up
Leonard Peacock plans to celebrate his 18th birthday in a big way. Leonard feels let down by the adults in his life, has few connections with his peers, and is hiding a secret that is eating away at him. So he packs up his grandfather's handgun and heads to school, determined to kill his best friend and then himself. But first Leonard plans to visit the important people in his life: a film-obsessed neighbor, a musically gifted classmate, the teacher of his Holocaust studies class, and a home-schooled girl who distributes religions pamphlets in the train station. As he gives his parting gifts, Leonard reveals some of his anguish and his teacher hears the suicidal desperation he is concealing and offers the listening ear Leonard needs so badly.
---
Gabi, a Girl in Pieces
by Isabel Quintero
Ages 14–up
Gabi Hernandez (16) chronicles her senior year with a frank and funny narration in her diary. It's not an easy year. Gabi's father is unsuccessfully fighting a meth addiction, her best friend Cindy is pregnant, and her other best friend Sebastian has just been thrown out of his house after revealing his homosexuality to his strict parents. Gabi feels too American to fit in with her Mexican family, and not white enough to fit in with her Berkeley neighborhood.
---

Efrain's Secret
by Sofia Quintero
Ages 12–up
High school senior Efrain Rodriguez dreams of escaping his South Bronx neighborhood for an Ivy League college, but although he is smart, he is "too brown and too poor." So Efrain begins selling drugs to earn the money for college, sure that doing the wrong thing for the right reason is somehow OK. Efrain's efforts to justify his choice and deal with the consequences enliven this gritty tale of an urban teen trying to make a better future.
---

Kissing in America
by Margo Rabb
Ages 14–up
After Eva's father dies in a plane crash when she is 14, she spends the next two years escaping into romance novels. At the age of 16, 118 romance novels later, Eva's grief is still ever present when she meets Will. He understands her sense of loss, and Eva falls in love. When Will moves to California Eva can't bear the loss of the only person who managed to pull her out of overwhelming sadness. With her best friend Annie, Eva sets off on a road trip across the country in search of her true love.
---

When Morning Comes
by Arushi Raina
Ages 14–up
Four teens from different backgrounds participate in the student uprising that began in Soweto, South Africa, on June 16, 1976. Zanele, an African student, secretly organizes the protest against the Afrikaans Medium Decree Act, which required native Africans to speak only English and Afrikaans in school. Thabo leads a local gang, extorting money from an Indian store owner whose daughter Meena is sympathetic to the students. Jack, a white Afrikaner, befriends Zanele. Each character feels pressure from their loved ones to conform to expectations, yet each feels that change is coming.
---

Beyond Courage: The Untold Story of Jewish Resistance During the Holocaust
by Doreen Rappaport
Ages 10–up
This well-researched book contains more than 20 stories highlighting the courage of countless Jews who organized to sabotage the Nazis and help other Jews during the Holocaust. Georges Loinger smuggles thousands of children out of occupied France into Switzerland. Three resisters in Belgium ambush a train, allowing the Jewish prisoners to escape into the woods. Four Polish brothers lead more than 1,200 ghetto refugees into the forest to build a guerrilla force and self-sufficient village. These heart-breaking yet hopeful accounts pay tribute to all those who defied their oppressors with both small and large acts of courage.
---

GIRL: Love, Sex, Romance, and Being You
by Karen Rayne, Ramsey Beyer, Nyk Rayne
Ages 13–up
This empowering guide to sexuality is designed for all "older teenagers who identify as female," candidly examining gender, healthy relationships, consent, and various types of sex. Handwritten entries from six teens and young women proved intimate and honest perspectives.
---
Divided We Fall
by Trent Reedy
Ages 14–up
Danny Wright is a high school senior and member of the Idaho National Guard in a near-future America on the verge of disaster. A controversial new law has created tensions between states and the federal government. Danny and his unit are called by the governor to police a riot in Boise. Danny's gun misfires, spooking both his fellow guards and the protesters, and 12 people are killed. This all-too-believable thriller is the first of a trilogy.
---

The Brontë Sisters: The Brief Lives of Charlotte, Emily, and Anne
by Catherine Reef
Ages 10–14
Charlotte, Emily, and Anne Brontë shocked, entertained, and provoked their Victorian readers. This fascinating group biography explores the all-too-short public and private lives of the three sisters, now viewed as pioneers of modern literature. More than 60 black-and-white photographs round out the story of the literary Brontës and the oppressive times they lived in..
---

Sovay
by Celia Rees
Ages 12–up
Raised in the English countryside during the French Revolution, 17-year-old Sovay sets out to find her father and brother who have been condemned for supporting the Revolution. Playing the roles of highway robber, spy, and socialite, Sovay travels from London to Paris in this romantic and suspenseful story of political intrigue and class struggle.
---

Fever Crumb
by Philip Reeve
Ages 12–up
Fever Crumb is a 14-year old orphan in the far future who has been adopted and raised by Dr. Crumb, a member of the Order of Engineers, in the huge head of an unfinished statue. Fever is the only girl ever accepted as an apprentice by the logic obsessed Order of Engineers. Sent into Hungry City for the first time in her life to assist Auric Godshawk, an eccentric archeologist, Fever is shunned by the city dwellers who believe she is part Scriven, the non-humans, who ruled the city but were hunted down and killed in a victorious uprising by the people. This beautifully written and creative fantasy is a prequel to the Hungry City Chronicles: Mortal Engines, Predator's Gold, Infernal Devices, A Darkling Plain.
---

Here Lies Arthur
by Philip Reeve
Ages 12–up
Gwynna escapes down the river when her village is burned by the warlord Arthur and is rescued by Myrddin who offers to protect her in exchange for her service. Myrddin disguises Gwynna as various people in order to transform the warlord into the hero King Arthur. Reeve's cynical take on Arthurian legends will enchant teens.
---

Terrorist: Gavrilo Princip, the Assassin Who Ignited World War I
by Henrik Rehr
Ages 13–up
Little is known about Gavrilo Princip, the young Serbian nationalist who assassinated Archduke Franz Ferdinand of Austria and set in motion the events leading to World War I. The 9/11 attacks in New York City caused the Henrik Rehr to wonder what drove ordinary people to become terrorists. This gripping graphic novel imagines the details that drove the young man from poverty-stricken Bosnia to contemplate murder as the only possible solution.
---

Underwater
by Marisa Reichardt
Ages 12–up
Morgan (17) is having trouble coping with the school shooting that killed both students and teachers. Her friends have returned to school, but Morgan, once a competitive swimmer and academically talented student, can't bring herself to leave the small apartment she shares with her mother and brother. Trapped by stifling agoraphobia, Morgan can't move through the apartment door, feeling as if she is trapped underwater. With the help of her therapist and the kind new boy who moves in next door, Morgan gradually manages to face her fears.
---

How to Build a House
by Dana Reinhardt
Ages 12–up
Harper Evans is shaken by her father's second divorce and her separation from her beloved stepmother and best friend stepsister. Participating in a summer program to build a house for a needy family helps Harper see how both houses and relationships can be resurrected through hard work, hope, and teamwork.
---

The Summer I Learned to Fly
by Dana Reinhardt
Ages 12–up
Drew (13) is a bit of a loner. She has a pet rat, a treasured book of lists from her dead father, and an encyclopedic knowledge of cheese from working at her mother's gourmet cheese shop. Drew meets a strange boy named Emmett in the alley behind the shop while searching for her escaped pet. Emmett surprises Drew with his knowledge of rats and the two become friends. Emmett confides his dream of finding a legendary spring with healing powers, and Drew betrays her mother's trust by running away with Emmett in search of the magic waters. Set in California in the 1980s, this quiet novel touches on themes of friendship, love, and sacrifice.
---

Tell Us Something True
by Dana Reinhardt
Ages 14–up
River (17) is heart-broken when his girlfriend Penny breaks up with him. Without Penny to give him a ride home, River walks the streets alone and notices a sign advertising "Second Chance." Hoping for a lonely hearts group, River joins the meeting, only to discover that it is a group struggling with various types of addiction. Too embarrassed to leave, River pretends he has a drug addiction and tells a series of lies that spiral out of control. Attracted to Daphne, a girl fighting her shoplifting addiction, River finds the blog of a marijuana addicted teen online and steals stories to tell at the meetings. Eventually River has no choice but to tell the truth.
---

The Things a Brother Knows
by Dana Reinhardt
Ages 14–up
Levi Katznelson's older brother Boaz joined the marines and spent three long years overseas. Levi didn't understand how Boaz could give up his life as the high school football star, and has waited impatiently for Boaz to return home to Boston. But as soon as Boaz walks through the door, Levi knows that his brother has changed, and he fears that life will never return to normal. When Boaz leaves to hike the Appalachian Trail, Levi follows, determined to save his brother and bring him back home. Together they walk to Washington, DC, visiting ex-Marines and families of soldiers along the way, as Levi slowly comes to understand the trauma of his brother's wartime experiences.
---

We Are the Goldens
by Dana Reinhardt
Ages 14–up
Nell has always been very close to her older sister Layla. As a small child she thought of the two of them as one entity, dubbed Nellayla. When Nell enters high school she is disturbed by her sister's withdrawal from their closeness. Rumors of a relationship between Layla and the charismatic art teacher cause Nell to waver between her desire to support her sister and her conviction that the relationship between a student and a teacher is wrong. This absorbing story is written as a confession from Nell to Layla.
---

The Unsinkable Walker Bean
by Aaron Renier
Ages 9–14
Mild-mannered Walker Bean is happiest in his grandfather's colonial era workshop, helping with the inventions. But when his grandfather is cursed by two lobster-women, Walker knows it is up to him to return a magical skull to the mysterious Mango Islands. Walker stows away on a ship and teams up with a dog named Perrogi, a boy named Shiv, and a tough girl called Genoa. The four encounter pirates and magical machines as they search for clues and escape perilous situations in this engaging graphic adventure novel.
---

When I Was the Greatest
by Jason Reynolds
Ages 12–up
Life is dangerous in Bed Stuy, Brooklyn, where the wrong decision can have far reaching consequences. Ali (15) lives with his mother and sister. His father isn't around much, but Ali thinks he's not a bad guy, just unlucky. Ali's best friend is Noodles, and his brother Needles (who has Tourette syndrome) is usually around. The defining moment happens at a party, when Ali stands up for what is right and throws a punch to defend Needles. This fast moving novel is funny and rewarding.
---

Ninth Ward
by Jewell Parker Rhodes
Ages 10–up
Lanesha (12) has had the power to communicate with ghosts, including her mother who died giving birth to her, as long as she can remember. Mama Ya-Ya, a midwife and healer who cares for Lanesha, has the power to predict the future. When Mama Ya-Ya foresees a huge storm (Hurricane Katrina) threatening their beloved Ninth Ward of New Orleans, she warns the community, which bands together. Afloat in a small rowboat, Lanesha escapes the rising water and saves others along the way. This powerful story, alive with magical realism, is full of tragedy and hope.
---

Eighth-Grade Superzero
by Olugbemisola Rhuday-Perkovich
Ages 10–14
Reggie McKnight earned the nickname "Pukey" thanks to a disaster on the first day of middle school. So he decides to hide out for the rest of the year with his two best friends: Ruthie, a fellow Jamaican and political activist, and Joe C. White, an aspiring rapper working on a project at a homeless shelter with his church's youth group. Reggie becomes increasingly interested in the homeless shelter project and his community, leading to his eventual participation in his school's presidential race. There aren't easy answers or solutions in this book that deals honestly with issues of racial bias and social justice.
---

Alis
by Naomi Rich
Ages 12–up
Alis (14) lives in Freeborn, a strict religious community. When her mother tells her she has been chosen to marry the 40-year-old minister she decides to join her runaway brother in the nearby city. Things don't go well and she is accused of committing a murder. Returning to Freeborn Alis is put on trial for the crime she did not commit. Her struggle to make her own choices is sympathetically portrayed in this compelling novel.
---
The 39 Clues: A Maze of Bones
by Rick Riordan
Ages 9–14
In this first of 10 books, orphans Amy and Dan Cahill take on the challenge of winning a fortune by collecting all 39 clues. They also hope to find their parents along the way. Unfortunately they are competing against the rest of the Cahill clan, many of whom are less than honorable. Riordan created the story arc for the series; authors will write also for the series. This fast-paced book has plenty of suspense, danger, and puzzles. Readers between the age of 6–14 can also create online accounts to play the online game and compete for $100,000 in prizes.
---

The Tapper Twins Go to War
by Geoff Rodkey
Ages 8–12
Claudia and Reese Tapper (12) are twins who can't agree on anything. When Reese loudly accuses Claudia of farting in the cafeteria in front of everyone, she is determined on revenge. Hiding a dead fish in his backpack is a dud since he doesn't even notice the smell, so Claudia takes the war where it will really count — to the online game Reese is devoted to. This hilarious book is told with the help of photos, text messages, screenshots, and interview transcripts.
---

An Enchantment of Ravens
by Margaret Rogerson
Ages 14–up
Isobel (16) lives in the town of Whimsey where it is always summer. She is a master of her Craft of painting portraits, a favorite of the "fair folk" who live in the woods bordering Whimsey. Rook, the Autumn Prince of the fair folk, requests a portrait. She paints the sorrow she sees in his eyes, and Rook abducts her, taking her to his kingdom to stand trial for painting a weakness that could cost Rook his life. They learn to trust each other, and fall in love, which breaks another of the fair folks' laws. The only thing that might save them both is Isobel's skill as an artist to make the fair folk feel the emotions they deny having.
---

First There Was Forever
by Juliana Romano
Ages 14–up
Lima and Hailey have been best friends forever. But as they begin their sophomore year, a rift opens between them. Hailey is now hanging out with a group of mean party girls and is obsessed with Nate. Lima feels abandoned, she begins spending more time with Nate and an attraction grows between them. Lima hides her new feelings for Nate from Hailey, knowing that a relationship with Nate will destroy their friendship.
---

Amelia Anne Is Dead and Gone
by Kat Rosenfield
Ages 14–up
Becca has sex with her boyfriend James in the back of his truck on the night of her high school graduation, right before he breaks up with her. The next day the body of an unknown girl is found by the side of the road. Amelia Anne, the dead girl, had just graduated from college and was on her way to Cape Cod with her boyfriend. Flashbacks explore Becca's romance with James and the suffocation she feels living in a small town as well as Amelia's last night.
---

All the Wrong People Have Self-Esteem:

An Inappropriate Book for Young Ladies
by Laurie Rosenwald
Ages 12–up
Graphic designer and professional nonconformist Laurie Rosenwald tackles political correctness and shares hilarious advice on all sorts of subjects. Her amazing collages add to the fun in this appealing book.
---
The Girl With Borrowed Wings
by Rinsai Rossetti
Ages 12–up
Frenenqer Paje, of Thai descent, lives with her controlling father in a desert oasis in the Middle East. Frenenqer attends a private school for expatriates and finds her life tediously the same every day. Her life changes when she disobeys her father and rescues a mistreated cat, who turns out to be a shape-shifter named Sangris. Each night he flies Frenenqer to real and imagined places around the world, slowly building her courage to demand a little freedom of her own. The first draft of this novel was written when Rossetti was a teenager, a fact sure to inspire other youthful authors.
---

Picture Me Gone
by Meg Rosoff
Ages 12–up
Mila (12) is very observant and can read the emotions of others around her. When her father's lifelong friend Matthew goes missing, Mila's father takes her with him from London to New York to help him search. In New York, Mila finds it harder than she expected to put together the clues, and discovers that her father has not been completely honest.
---

There Is No Dog
by Meg Rosoff
Ages 12–up
Bob's mother won Earth in a poker game, and gave the plant to her teen-aged son to play with. Bob is inspired during Creation, but then loses interest and Earth is plagued with natural disasters, injustice, and chaos. When Bob falls in love with a human named Lucy, his relatives scheme to keep them apart, causing even more problems for poor planet Earth.
---

Divergent
by Veronica Roth
Ages 14–up
Beatrice "Tris" Prior lives in dystopian Chicago where the citizens are divided into five factions depending on their beliefs, talents, and loyalties. At age 16, Tris is required to choose between her boring family and the adventurous life she dreams of living. She abandons the Abnegation faction to become one of the wild and fearless Dauntless, all the while hiding her true nature as a Divergent, one who has the talents of many factions. The highly competitive initiation rites Tris must undergo include sadistic tests of strength and courage. This spellbinding book is not for the faint hearted.
---

Fangirl
by Rainbow Rowell
Ages 13–up
Cath Avery, now in her first year of college, has depended on her twin sister Wren her whole life. Other than Wren, Cath's life has been defined by her role as Magicath, the fanfiction reporter on the Simon Snow series (a Harry Potter-like phenomenon). Wren decides that she doesn't want to room with Cath at college, leaving Cath hiding in her room writing. This coming of age story is both touching and funny.
---

Someday Dancer
by Sarah Rubin
Ages 12–up
Casey Quinn is a farm girl in rural 1959 South Carolina. Casey is sure she was born to dance, but her parents can't afford ballet lessons. Encouraged by her grandmother to follow her dream, Casey makes her way to the open auditions of the American School of Ballet in New York City. Casey is eliminated in the first round, but choreographer George Balanchine sends her to Martha Graham's audition, where Casey falls in love with modern dance. Accepted into the scholarship program, Casey must balance the demands of family, friendship, and school.
---
Gorgeous
by Paul Rudnick
Ages 14–up
Becky Randle lives in a Missouri trailer park until her mother dies when she is 18. Whisked to New York City by top designer Tom Kelly, an old friend of her mother's, ordinary Becky is transformed into elegant Rebecca through the magic of three incredible dresses. Her new beauty earns Rebecca a photo shoot in Vogue, a part in a movie, and a date with Prince Gregory, heir to the English throne. The only problem is that Becky begins to fall in love with the prince, and doesn't know if he will be able to see through her transformation to the real girl inside.
---

Surface Tension:

A Novel in Four Summers
by Brent Runyon
Ages 14–up
Luke and his parents spend two weeks every summer at a lakeside cottage. Beginning at age 13, each of the four chapters presents a different year of Luke's summers, tracing his emotional and physical changes and his changing perception of his surroundings and his neighbors. Luke's changes bring him both turmoil and wonder in this coming-of-age novel.
---

After Eli
by Rebecca Rupp
Ages 9–12
Three years after Daniel's older brother Eli dies in Iraq, Daniel is still wondering if Eli died heroically or accidentally. In an attempt to understand what makes a life or a death matter, Daniel creates a Book of the Dead in an old binder, full of details about dead people, how they died and for what purpose. While dealing with his lingering anger about Eli's death, Daniel tries to cope with his dysfunctional family — his mother is consumed with mourning Eli, his frustrations with his conventional friends, his attraction to free-spirited Isabelle, and his growing friendship with school outcast Walter. This rich novel deals honestly with the pain of loss and the struggles of those left behind to reestablish their own lives.
---
If I Was Your Girl
by Meredith Russo
Ages 13–up
Amanda Hardy was born Andrew, but always knew she was meant to be a girl. After enduring bullies and her father's advice to be tough, she moves to live with her mother during the long and difficult physical transformation. She returns to live with her father, eager to begin her new life and finish high school in a new school, hoping to go unnoticed until she becomes used to her new self. But boys are attracted to her new beauty, and Amanda forms a tentative relationship with easygoing Grant, though she is afraid he will no longer like her if he learns the secret of her past. But can they really have a relationship if she refuses to share her truth? This sensitive exploration of the emotional journey of a trans teen is full of hope.
---

The Cabinet of Wonders:

The Kronos Chronicles: Book I
by Marie Rutkoski
Ages 10–up
In 16th century Bohemia Prince Rodolfo commissions Kronos, a gifted metalworker, to build a magical clock. When the clock is finished, the evil prince steals the metalworker's eyes and wears them himself. When the blinded Kronos returns home, his 12-yearoild daughter Petra sneaks off to Prague to recover her father's eyes with her pet tin spider Astrophil. An astonishing mix of history and enchantment will entrance readers.
---

The Celestial Globe
The Kronos Chronicles: Book II
by Marie Rutkoski
Ages 10–up
When Prince Rudolfo's monsters attack her, 13-year-old Petra escapes from 16th century Bohemia to London through a "Loophole" permitting instant time-space travel. Meanwhile, Petra's magician friend Tomik is captured by pirates seeking the second of two magical globes which offer Loophole control when combined. Supported by British spy John Dee, Petra builds her own strengths before rejoining the fight against the evil Prince Rudolfo. This fascinating mix of history and fantasy is the sequel to The Cabinet of Wonders.
---

The Shadow Society
by Marie Rutkoski
Ages 12–up
Darcy Jones (15) doesn't remember anything of her life before she was abandoned outside a Chicago firehouse at the age of five. While living in a series of foster homes, Darcy has acquired a reputation of being a behavior problem, but things are finally coming together for her as she develops her talent for art. A new boy at her high school reveals that Darcy is really a Shade, a creature who can disappear and reappear, and takes her to a parallel universe where Shades operate as terrorists and live in a Shadow Society.
---

The Winner's Curse
by Marie Rutkoski
Ages 12–up
Kestrel (17), the daughter of a Valorian general has two choices: join the military or get married. On a whim, she buys Arin, a Herrani slave at an auction. Arin (19) is a spy for Herrani rebels planning to overthrow the Valorian empire. Arin manipulates Kestrel's trust to learn Valorian military secrets while Kestrel uses Arin to deflect unwanted suitors. The growing respect and romance between them causes each to choose between loyalty to their separate cultures and a love that is forbidden. This spellbinder is the first in a trilogy.
---

Vibes
by Amy Kathleen Ryan
Ages 12–up
Kristi is pretty sure she can read minds, and absolutely sure that her peers think she is gross and disgusting. She is still mad at her father, who left the family two years ago, and hostile to her mother. Then events conspire to make her wonder if she can read people at all. This witty, funny, and poignant novel is sure to appeal to teens.
---

The Forest of Hands and Teeth
by Carrie Ryan
Ages 14–up
Mary's village is trapped by the Unconsecrated, flesh-eating zombies that lurk near the village fence. Inside, the Sisterhood, a convent-like order of religious women, control village life. When the Unconsecrated make it through the fence, Mary and several others escape to the Forest of Hands and Teeth. This riveting tale of survival highlights the capacity of humanity to persevere.
---

The Dreamer
by Pam Muñoz Ryan, Peter Sís
Ages 9–14
This fictionalized story of Pablo Neruda's early life in the small town of Temuco, Chile presents a shy child curious about the wonders of nature. Young Neftalí Reyes (Neruda's real name) admires his uncle who owns the local newspaper, but the boy's father has no patience for Neftalí's daydreaming and love of reading and writing. The poetic text captures the spirit of an artist who savors the sound of words and the importance of dreaming in the development of a poet.
---

Echo
by Pam Muñoz Ryan
Ages 10–14
Otto, who lives in the magical past, is lost in the woods when he is rescued by three sisters held captive by a witch's curse. He helps break the curse by carrying their spirits out of the wood in a harmonica, promising to pass the instrument along when the time is right. On Germany, Friedrich, an aspiring conductor, is trying to rescue his father from a Nazi prison camp. In Pennsylvania, Mike, a piano prodigy, hopes he and his brother Frankie can escape the orphanage by being adopted. In California, Ivy Maria struggles with her school's segregation policy and the accusations against Japanese landowners. All three are linked by their love of music and each recognizes the power of the harmonica when it enters their lives.
---

The Cardturner
by Louis Sachar
Ages 12–up
Seventeen-year-old Alton isn't thrilled with his new summer job of turning cards for his recently blind bridge-playing great-uncle, but Alton's opportunistic mother thinks it's a great chance for her son to bond with their only wealthy relative. Anton is surprised to find that he actually enjoys the game of bridge and finds himself growing unexpectedly fond of his eccentric uncle. Full of appealing characters and dry humor, this book presents a reflective teenager whose life is enriched by unanticipated connections.
---

Holes
by Louis Sachar
Newbery Medal 1999


Ages 10–up
Stanley Yelnats has been sent to Camp Green Lake, a juvenile detention facility in the desert. Each day the boys are required to did a hole five feet deep and five feet in diameter, and then fill it in again. Stanley suspects that this is not a character-building exercise—the warden is searching for something. This strange book will keep kids glued to the pages, eager to find out what will happen next.
---
He Forgot to Say Goodbye
by Benjamin Alire Sáenz
Ages 12–up
Two alternating teenage narrators from El Paso, Texas share the same pain: their fathers walked out on them years ago. Ramiro Lopez is the responsible son of a hard-working mother with a drug-addicted younger brother, Jake Upthegrove is disgusted with his mother and stepfather's materialistic values. The growing friendship between the two boys helps them deal with their sense of betrayal and the traumatic events they endure in this powerful and honest book.
---
The Inexplicable Logic of My Life
by Benjamin Alire Saenz
Ages 12–up
High school senior Salvador Silva is devastated when his grandmother is diagnosed with cancer. When a classmate insults his adoptive gay father Sal unexpectedly becomes violent and punches him. Adopted at the age of three, Sal has the support of a loving Mexican-American family and two close friends, but still feels out of place. The unopened letter from his biological mother doesn't help either. This compassionate coming of age novel explores themes of individuality and family.
---
Last Night I Sang to the Monster
by Benjamin Alire Sáenz
Ages 14–up
Zach (18) is bright, articulate, and in a rehab center for drugs and alcohol. But Zach doesn't remember how he got there, he only knows it was something really bad. Written as a homework assignment for his therapist, this beautifully written first-person narrative offers insight into addiction, dysfunction, and mental illness.
---
The Sin Eater's Daughter
by Melinda Salisbury
Ages 14–up
Twylla (17) lives in the castle and is engaged to the prince. Her mother is a Sin Eater, who eats symbolic foods representing the dead person's sins at their grave site. Twylla expected to follow in her mother's footsteps, but instead is selected by the Queen to become the goddess Daunen Embodied. Each month Twylla eats a poisonous substance that gives her the ability to instantly kill whoever she touches. As the executioner, Twylla is taken to the prison each month and forced to touch, and thereby kill, everyone accused of treason. The prince's royal blood supposedly makes him immune to Twylla's deadly touch, but he isn't willing to take the chance. Only a new guard sees Twylla as a person instead of the executioner.
---

Sketchy
by Olivia Samms
Ages 14-up
Bea Washington is a middle class high school senior just out of rehab for substance abuse. On her first day at her new school, Bea bonds with Chris, a bluntly honest gay senior unlike the rest of the senior class. Willa, the homecoming queen, presents a cheerful facade to hide the drug use that she uses to keep a brutal sexual assault buried. Bea's talent for sketching what others are feeling reveals the man who raped and nearly killed Willa, compelling her to find and stop him before he attacks again. This realistic examination of drugs, sex, violence, racism, and bullying is the first in a projected series.
---

A Map of the Known World
by Lisa Ann Sandell
Ages 12–up
When 14-year-old Cara's older brother dies in a car accident, her parents cannot rouse themselves from their numbing grief. Cara escapes into her passion for maps and mapmaking. Her art teacher, a new friend, and her brother's best friend all help to slowly revive Cara's emotional life and self-confidence.
---

The Rithmatist
by Brandon Sanderson
Ages 12–up
This fantasy is set in an alternate 20th century America composed of 60 loosely federated islands protected by the Rithmatists, who use powerful chalk-drawing magic to hold the wild chalklings at bay. Joel (16) is a student at Armedius Academy, studying the intricate chalk patterns, but never selected for training to become a Rithmatist. Then the more talented students begin to disappear, presumably captured by the wild chalklings, and Joel and his friend Melody are assigned to help Professor Fitch figure out what is going on and try to save their schoolmates. The complex plot promises several more volumes in the series.
---
The Impossible Rescue: The True Story of an Amazing Arctic Adventure
by Martin W. Sandler
Ages 10–14
In 1897 the early arrival of winter trapped eight San Francisco-based whaling ships off the western coast of Alaska. President McKinley ordered an expedition to rescue the 265 stranded whalers. Brought to vivid life through the use of primary sources — journals, reports, letters, and photographs — this suspenseful rescue attempts is told from both the perspective of the rescuers facing danger to save the whalers, and the whalers themselves struggling to survive in life-threatening conditions.
---

The Blackthorn Key
by Kevin Sands
Ages 10–14
Life is hard for orphans in the 1600s in London, and Christopher Rowe (14) is lucky to be apprenticed to Master Benedict Blackthorn, a kind apothecary. But someone is murdering apothecaries, and Master Blackthorn is attacked. Christopher flees, and with his friend Tom uses all the scientific skills he has learned to rescue his master and find the killers.
---
Pinocchio: The Origin Story
by Alessandro Sanna
Ages 5–14
This nearly wordless version of the Pinocchio story begins when a meteor crashes to Earth. A tree grows in the crater. Lightning hits a branch, and it scurries away on twiggy limbs. Pinocchio fights fire, snake, and shark before growing into a tree.
---

Fires of Invention
by J. Scott Savage
Ages 10–up
Trenton Colman (13) lives in Cove, an underground multi-level steam-powered city where inventions are illegal though mechanics are valued. Trenton is mechanically talented, but also creative, which may endanger his dream of becoming a city mechanic. When the city goes dark, one of Trenton's illegal inventions is blamed, but he discovers that the true cause is another unapproved device. His search for the inventor leads him to Kallista Babbage, a repair technician and the daughter of the infamous Leo Babbage who died in the explosion of one of his inventions. This exciting adventure is the first in the Mysteries of Cove series.
---

Anna and the Swallow Man
by Gavriel Savit
Ages 12–up
In 1939 Kraków, Anna (7) is left in the care of Herr Doktor Fuchsmann, a neighborhood pharmacist for a few hours while her father, a linguistics professor, is summoned to a meeting with the Gestapo. None of the university professors return from the meeting, and Herr Doktor Fuchsmann is too nervous to allow Anna to stay. Cast into the streets, Anna follows the strange tall man who talks to the birds. The Swallow Man teaches Anna how to survive in the hostile landscape that was her home, sometimes challenging her instincts for honesty and compassion.
---

The War within These Walls
by Aline Sax, Caryl Strzelecki
Ages 14–up
Misha, a Jewish teenager in 1940 Warsaw, is walled into a section of the city by the Nazis. Misha fights against the overcrowding and inhumane conditions of the ghetto by smuggling food until his younger sister disappears during a trek through the sewer system. When he learns that the Nazis plan to kill all the Jews by transporting them to concentration camps, he joins a rebel group led by Mordechai Anielewicz, determined to fight back no matter how hopeless their cause might be. Somber blue-and-white illustrations and spare prose tell the nightmarish story.
---
Fans of the Impossible Life
by Kate Scelsa
Ages 14–up
Mira is starting over at Saint Frances Prep, trying to live up to her promise to her parents to act like a normal person. Sebby, an openly gay foster child, is Mira's best friend. Jeremy, a painfully shy artist, has been living in self-imposed isolation after an humiliating incident at school the year before. Together Mira and Sebby construct a world of magical rituals that attracts Jeremy into their fantasy. Alternate chapters from the three perspectives weave a haunting tale of betrayal and resilience.
---

Various Positions
by Martha Schabas
Ages 14–up
Georgia (14) is a talented ballet dancer searching for acceptance. She doesn't fit in with her party-happy classmates and struggles to find a balance between her emotion-driven mother and domineering father. She hopes that acceptance to Toronto's premier ballet academy will solve all her problems, but discovers that the other students are just as cruel. Singled out by Artistic Director Roderick Allen as a potential star, Georgia attempts to become the perfect student. This debut novel features a suspenseful plot and strong first-person narration.
---

Fig
by Sarah Elizabeth Schantz
Ages 14–up
At the age of six, Fiona, known as Fig, worries about her mother, who is delusional. When her mother tries to commit suicide, Fig learns that she is schizophrenic. Over the next 11 years, as her mother moves in and out of hospitals and institutions, Fig begins to practice self-destructive acts, believing that her sacrifices will restore her mother to normalcy. Fig's father is worried about his daughter, but depends on his mother, who doesn't understand what Fig is going through, to take care of her while he farms their isolated land. It's not until her uncle catches Fig cutting herself that she finally feels that someone understands her. This exploration of mental illness and family bonds is painful and stunning.
---

Feral
by Holly Schindler
Ages 13–up
Claire Cain, an award-winning high school journalist, barely survives a brutal beating while working on a story in Chicago, and hopes that her father's sabbatical in Peculiar, Missouri, will give her a fresh start. Serena Sims died while working on a story in Peculiar, and Claire discovers her body, surrounded by feral cats. This intense novel explores the consequences women endure for speaking up for what they believe is right.
---

The Hired Girl
by Laura Amy Schlitz
Ages 12–up
Joan Skraggs (14) works hard on her family's farm in Pennsylvania. Joan loves to read and longs for more education, but her father refuses. Joan pours her longing out for a better life in her diary. When her father burns her books, Joan runs away to Baltimore, hoping that she can get a job as a hired girl, cooking and cleaning for six dollars a week. She is hired by a wealthy Jewish family, amazed by their unity as a close loving family unit. Joan learns about keeping kosher and is exposed to art, music, and literature. She grows to love the family, and is shocked when she encounters anti-Semitism. Joan's journey to adulthood is inspiring, and modern readers will be horrified by the amount of work required to cook and clean in the early 20th century.
---
Orbiting Jupiter
by Gary D. Schmidt
Ages 10–14
Joseph Brook (14) has had a hard life, suffering abuse from both his family and in a juvenile detention facility. He detests the color orange, flinches when approached from behind, and doesn't like to be touched. Assigned to the farming Hurd family as a foster child, Joseph gradually comes out of his shell, sharing the story of the daughter Jupiter he fathered at the age of 13 and has never seen. Jackson Hurd (12) narrates this tragic story of a troubled teen who wants to locate his daughter at any cost.
---

The Beginning of Everything
by Robyn Schneider
Ages 13–up
Ezra Faulkner (17) was a tennis star until a car accident leaves him with a serious knee injury the week before the prom his junior year. Beginning senior year as a non-sports star, Ezra finds that he has been dropped by the in-crowd and has to begin making new friends. He meets Cassidy on the debate team and falls in love, beguiled by her sparkling personality that soon reveals mood swings. The emotional crash that follows leaves Ezra struggling to recover from a setback even more overwhelming than the physical one.
---
Endangered
by Eliot Schrefer
Ages 12–up
Sophie (14), half-American and half-Congolese, feels out of place because of her mixed race when she visits her mother at a a bonobo sanctuary in the in the Democratic Republic of the Congo. Sophie takes responsibility for caring for Otto, an abused juvenile bonobo. While her mother is temporarily away from the sanctuary civil war breaks out and Sophie is trapped in a hostile environment and threatened by starvation, roving bands of killers, and natural hazards. To survive, Sophie and Otto live off the land, coexisting with other bonobos and trying to escape from the chaos of war.
---

Rescued
by Eliot Schrefer
Ages 12–up
Raja the orangutan grew up in captivity, stolen from Indonesia when he was young and raised as a pet by John's family in America. John (16) views Raja more as a brother than a pet, but when his parents separate John's father sells Raja to a roadside zoo. John is determined to save Raja and risks his life in a journey that takes them to Sumatra, where John realizes the true scope of the dangers facing Raja and the other orangutans. This powerful novel is the third in the Ape Quartet highlighting the issues facing ape species around the world.
---
Threatened
by Eliot Schrefer
Ages 12–up
Luc (13) is an orphan and debt slave in Gabon when he meets up with Prof, who dreams of becoming the African Jane Goodall. Prof hires Luc and the two head into the jungle to study the chimpanzees. Tragedy strikes and Luc is left alone in the jungle struggling to survive. He forges a tentative truce with a small family of chimpanzees and together the new tribe fights against human hunters, animal predators, and competing bands of chimpanzees.
---

Au Revoir, Crazy European Chick
by Joe Schreiber
Ages 12–up
Senior Perry Stormaire is not happy when his mother makes him escort Gobija Zaksauskas, their geeky Lithuanian exchange student, to the high school prom. But the night isn't nearly as boring as Perry had expected since Gobi turns out to be a secret assassin on a mission that takes the pair on a whirlwind ride through Manhattan complete with explosions, shootings, stabbings, and high speed car chases. This adrenalin fueled caper novel mixes romance, comedy, and tragedy into a unique coming of age story.
---

Perry's Killer Playlist
by Joe Schreiber
Ages 14–up
When Perry (18) ends up in Venice while on a 12-city European tour with his band Inchworm, he can't resist visiting Harry's Bar, where Gobi promised to meet him one day. The last time he met up with Gobija Zaksaukus, the Lithuanian exchange student and free lance assassin he unwittingly invited to the prom, five people were killed, and this encounter is no different. Gobi and the hapless Perry are soon racing across Europe with a trail of bodies and destruction in their wake. (sequel to Au Revoir, Crazy European Chick)
---

To Timbuktu: Nine Countries, Two People, One True Story
by Casey Scieszka, Steven Weinberg
Ages 14–up
This entertaining travelogue follows the author and illustrator on their two-year odyssey around the world. After graduating from college, the couple taught English in Beijing, traveled through Shanghai, Vietnam, Laos, and Thailand, and studied the role of Islam in the educational system of Mali. The present tense narration and cartoon sketches add sparkle to the exploration of each country's language, food, traditions, and politics, while highlighting the friendships made throughout the trip.
---

Titans
by Victoria Scott
Ages 13–up
Astrid Sullivan (17) lives in Detroit with her family after her grandfather lost the family farm in Wisconsin. Her father is on the verge of losing their new home in Warren County as a result of his gambling addiction, betting on mechanical horses called Titans. Astrid is determined to do everything she can, including becoming a jockey to race an obsolete first-generation Titan on the summer horse racing circuit, hoping to win the grand prize and save her family from homelessness.
---

Somebody Up There Hates You
by Hollis Seamon
Ages 14–up
Richard Casey (17) has terminal cancer. He meets Sylvie Calderone (15) on the hospice ward. Both have been given less than a month to live, and bond while staging a Halloween prank to take their minds off their reality. When Richard's grieving mother catches the flu and is temporarily banned from the hospital, the two escape with Richard's uncle's help for a wild night of Halloween celebration, pretending to be normal teenagers. Back in the hospital Sylvie declares her intention of losing her virginity to Richard. The hospital staff is charmed by their romance, but Sylvie's alcoholic father becomes increasingly unstable in his efforts to protect her.
---
Midwinterblood
by Marcus Sedgwick
Ages 12–up
The seven interconnected stories in this book move backward and forward in time, and feature characters with variations on the names Eric and Merle. Set on a mysterious and isolated Nordic island, the tales are part love story, part mystery, part folk tale, and part horror.
---

Revolver
by Marcus Sedgwick
Ages 12–up
It's 1910 in the Scandinavian town of Giron, 100 miles north of the Arctic Circle. Fourteen-year-old Sig has just seen his father die after a fall through the ice when a stranger appears, demanding the gold he says Sig's father stole from him 10 years earlier during the Alaskan Gold Rush. Sig's only protection is is father's Colt revolver hidden in the storeroom of the isolated cabin. The truth is slowly revealed as Sig struggles to decide if he will use the gun.
---

She Is Not Invisible
by Marcus Sedgwick
Ages 12–up
Laureth Peak (16) is blind, but her father has taught her to look for recurring patterns in events and numbers. When her novelist father goes missing during a trip to Switzerland doing research about coincidence, Laureth is concerned. Then she receives an email from New York from someone claiming to have found her father's notebook. Laureth's mother doesn't think there is a problem, so Laureth borrows her mother's credit cards and journeys from their home in England to New York with her seven-year-old brother to see for her. This mystery thriller narrated from the perspective of an observant blind person is enthralling.
---

White Crow
by Marcus Sedgwick
Ages 12–up
Rebecca reluctantly leaves her life in Greenwich to move to the lonely little town of Winterfold. There she meets Ferelith, a strange girl who left school at the age of 14 to live in a commune and doesn't seem completely human. Ferelith introduces Rebecca to the legends and dark secrets of Winterfold, including the journal entries of a local priest in 1789 who also finds himself in thrall to a mysterious stranger. This chilling novel, told from all three points of view, addresses themes of death and the mystery of afterlife.
---

Firstborn
by Tor Seidler, Chris Sheban
Ages 9–14
Maggie the Magpie meets a crow named Jackson who helps her navigate the prejudice and stereotypes that surround her, and teaches her the ways of humans and other animals. When Jackson is shot, Maggie is lonely until she meets Blue Boy, a solitary alpha male wolf. The unlikely pair become friends and Blue Boy eventually joins a pack and has a family of his own, while retaining his friendship with Maggie. Lamar, the firstborn pup, disappoints his father by not being the alpha male everyone expects.
---

The Sweetest Spell
by Suzanne Selfors
Ages 12–up
Emmeline Thistle was born with a curled foot in the village of Root. Because of her deformity, she was left to die, but the local cows protected and fed her. Later Emmeline is nearly drowned in a flood that destroys her village, but is rescued again by the cows. Emmeline discovers that she has the ability to churn cream into chocolate, a forgotten delicacy in the kingdom of Anglund. This magical ability makes Emmeline a valuable commodity, but all she wants is the love of Owen Oak, a dairyman's son. Magic and romance intertwine in this humorous fairy tale.
---

Between Shades of Gray
by Ruta Sepetys
Ages 12–up
Lina is a normal 15-year old girl who loves to draw and paint and dream about boys until the night in 1941 when Soviet soldiers invade her town. Separated from her father on a crowded train, Lina is sent to a work camp with her mother and younger brother. The three make a long and arduous journey north to the Siberian work camp north of the Arctic Circle, where they are forced to dig for beets as they struggle to survive. Using her art to maintain her sense of hope, Lina illustrates messages she hopes will reach her father in prison. Based on historical fact, this gripping novel illustrates the persecution suffered by the millions of Stalin's victims.
---

Out of The Easy
by Ruta Sepetys
Ages 14–up
Josie Moraine, the daughter of a brothel prostitute in the French Quarter in 1950s New Orleans, dreams of escaping from her life and attending college. Josie works in a local bookstore in exchange for a safe place to sleep and cleans the brothel to earn money for college. When Josie becomes involved in a murder investigation and a mob debt, escaping her circumstances becomes more unlikely than ever, but Josie is determined to be in charge of her own destiny.
---

Salt to the Sea
by Ruta Sepetys
Ages 12–up
World War II is ending in East Prussia, and thousands of refugees are desperately fleeing the country, many with secrets to hide. Four narrative voices describe the plight of the refugees who end up on the Wilhelm Gustloff, a ship they hope will take them safely to freedom. Florian is a Prussian boy carrying a secret parcel, Amelis is a 15-year old pregnant Polish girl with no papers, Joana is a 21-year-old Lithuanian nurse who is convinced she is guilty of murder, and Alfret is a German solder aboard the Wilhelm Gustloff, a doomed ship whose causalities will exceed those of the Titanic and Lusitania combined.
---
X: A Novel
by Ilyasah Shabazz, Kekla Magoon
Ages 14–up
Malcolm Little's parents told him he could achieve anything, but when his father dies and his mother is taken away he gives up his dream of law school and takes up a life of jazz, girls, and drugs. Imprisoned for theft at the age of 20, he converted to Islam and changed his name to Malcolm X. Co-written by Malcolm's daughter, this fictionalized first-person narration concentrates on his life from early childhood to imprisonment.
---
The Berlin Boxing Club
by Robert Sharenow
Ages 12–up
Karl Stern (14) has never thought of himself as Jewish since his family isn't religious. But in 1930s Berlin he is tormented and beaten by his classmates so his father's friend Max Schmeling, a boxing champ, agrees to train Karl as a boxer so he can defend himself and his younger sister. As the Nazi regime gains power, it becomes clear that Karl and his family aren't safe in German. A talented artist, Karl draws cartoons and comics as he dreams of finding freedom in America, falls in love with a Catholic neighbor, and meets a cross-dressing homosexual. This powerful historical novel examines racism and prejudice through the lens of both fictional children and real historical figures.
---

Bomb: The Race to Build—and Steal—the World's Most Dangerous Weapon
by Steve Sheinkin
Ages 10–up
This high-interest book tells the exciting tale of the race to build the first atomic weapon. In 1938, a German chemist split the first Uranium atom. Soviet spies worked their way into American and British scientific communities. A Norwegian commando force attacked a German heavy-water plant. And in the American desert a group of brilliant scientists worked in secret labs in Los Alamos. The suspenseful narration transforms this history into a thriller.
---
Most Dangerous: Daniel Ellsberg and the Secret History of the Vietnam War
by Steve Sheinkin
Ages 10–14
In 1971, Daniel Ellsberg, an obscure government analyst, leaked The Pentagon Papers, a 7,000 page collection of papers documenting the secret history of the Vietnam War. The Pentagon Papers exposed a pattern of deception that spanned 20 years and four presidencies, forever changing the relationship between the American people and the politicians who claimed to represent their interests. This accessible history presents the story with the excitement of a spy novel, portraying Daniel Ellsberg as a man who risked everything to expose years of government lies.
---

The Port Chicago 50: Disaster, Mutiny, and the Fight for Civil Rights
by Steve Sheinkin
Ages 10–14
On July 17, 1944, an accidental explosion at Port Chicago, a segregated California Navy base, killed more than 300 African-American service men and injured and additional 400. To protest the unsafe working conditions, 244 men refused to go back to work until the unfair conditions at the segregated dock were addressed. After the protest, 5o men were arrested and charged with mutiny, facing years in prison or execution. This well-documented look at a little known civil rights issue is fascinating and frightening.
---

Edgewater
by Courtney Sheinmel
Ages 14–up
Lorrie Hollander (17) used to be rich and pampered, thanks to a trust fund set up by her mother to provide financially for Lorrie and her sister. Ten years ago Lorrie's mother left town with her boyfriend, leaving her daughters in the care of their Aunt Gigi in her decrepit mansion on the edge of the privileged town of Idlewild. Lorrie is sent home from horse camp when her aunt doesn't pay the bills, and discovers that the trust fund money has run out. Lorrie suspects that Aunt Gigi has moved the money out of her reach, using it to care for the animals she is devoted to. Stuck at Edgewater for the summer, Lorrie gets to know Charlie, the handsome son of a senator living nearby, and realizes that his family has secrets as shameful as her own.
---

My So-Called Family
by Courtney Sheinmel
Ages 9–12
When Leah Hoffman-Ross's family moves to New York shortly before the start of the 8th grade year, she decides to try and pass as normal, instead of the child of Donor 730 from a Maryland sperm back. Her mother thinks her new stepfather and little brother should be all the family she needs, but Leah finds the database of the sperm registry and discovers she has a half-sister her own age. This thought-provoking book encourages readers to think about what really makes a family.
---

Gris Grimly's Frankenstein
by Mary Shelley, Gris Grimly
Ages 13–up
Acclaimed illustrator Gris Grimly presents a full-color graphic novel adaptation of Mary Shelley's original 1818 text. Comically gothic illustrations accompany the stripped down text, allowing modern readers to grasp the emotions within the densely written original story.
---

Nothing Can Possibly Go Wrong
by Prudence Shen, Faith Erin Hicks
Ages 12–up
Nate and Charlie are best friends despite their different personalities. Charlie is the laid-back captain of the basketball team, and Nate is the neurotic president of the robotics club. When it is decided that the high school can afford either uniforms for the basketball cheerleaders or a robotics competition, but not both, Nate declares war on the cheerleaders. The aftermath results in both sides being stripped of their funding for misbehavior. Nate's solution? Enter the club's robot in a battlebot competition in a desperate bid for prize money. This engaging graphic novel balances drama, humor, teenaged angst, and robotic geekiness.
---

The Amateurs
by Sara Shepard
Ages 14–up
It's been five years since Helena Kelly was murdered, and her killer still hasn't been caught. Younger sister Aerin, still consumed by grief, posts a request for help on the Case Not Closed (CNC) online forum that specializes in cold cases. Seneca Frazier (18) and Maddy Wright (19) answer, and join Aerin in the hunt for new evidence, uncovering secrets that Helena was concealing. (first in a new series)
---
Gateway
by Sharon Shinn
Ages 12–up
Daiyu was adopted from China by a white couple in St. Louis. Now a teenager, she often feels out of place. At a street fair, an old Asian jewelry seller tells her that her name means "black jade" and sells her a ring bearing that stone. Transported through a gateway into an alternate reality where America was colonized by the Chinese in the 19th century, Daiyu is recruited as a spy and falls for Kalen, who is in on the plot. Unfortunately, if Daiyu is successful, she must leave this reality and Kalen to return to her own time.
---

Looking for Jack Kerouac
by Barbara Shoup
Ages 14–up
In 1964, Paul Carpetti discovers Jack Kerouac's On the Road and begins to question the direction of his own future. When Paul's mother dies suddenly, his friend Duke convinces him to take a road trip to Florida in search of Kerouac, rumored to be living in St. Petersburg. On the journey the two confront changes in music, politics, race relations, and attitudes toward the Vietnam War in this sensitive coming-of-age story.
---
Challenger Deep
by Neal Shusterman, illustrated by Brendan Shusterman
Ages 12–up
Caden Bosch lives in two worlds. In his real life he has his friends, family, and attends high school. He is paranoid, thinks people are out to kill him, and demonstrates obsessive compulsive behaviors. In this other world Caden is on the crew of a pirate captain headed for the Challenger Deep, the ocean's deepest trench. There Caden is also paranoid, trying to understand the mutterings of his fellow sailors as they head toward unknown dangers. This gripping foray into the mind of someone suffering through paranoid delusions is based on Shusterman's experience with his son Brandan's diagnosis of schizoaffective disorder and his and psychiatric care.
---
What the Heart Knows: Chants, Charms, and Blessings
by Joyce Sidman, Pamela Zagarenski
Ages 12–up
This collection of nearly 50 poems is designed to provide comfort, courage, and humor while suffering through difficult moments in life, offering solace, inspiration, and strength to readers of all ages.
---
More Happy Than Not
by Adam Silvera
Ages 14–up
Aaron Soto (16) lives in a near-future Bronx much like our own world except for the Leteo Institute, a neighborhood facility where painful memories can be permanently erased. Aaron's Puerto Rican family is living in poverty, and he is haunted by his father's suicide, and dealing with often dysfunctional relationships with his mother and older brother. Then Aaron meets Thomas, and is forced to confront his sexual attraction to another boy and the resulting bullying he endures. A brutal beating brings back his lost memories. This frank and gritty novel explores the extreme social and cultural pressures to deny one's own reality in order to fit in.
---

They Both Die at the End
by Adam Silvera
Ages 14–up
Death-Cast is a service that informs the soon to die that their end is near. Mateo Torrez (18) and Rufus Emeterio (17) receive midnight calls, and a chance to connect with another teenager through the LastFriend app for their final 24 hours. Neither teenager has had an easy liife. Mateo's mother died giving birth to him and his father is in a coma. Rufus is the only survivor of a car crash that killed his entire family. The two share their stories and their anger at the unfairness, gradually revealing the impact they have had on those around them.
---

I'll Pass For Your Comrade:

Women Soldiers in the Civil War
by Anita Silvey
Ages 10–14
This non-fiction book tells the fascinating story of the women who risked their lives and reputations to fight in the Civil War. Vintage photographs, etchings, and memoirs illuminate the adventures and struggles of the women who cut their hair and disguised themselves as men to join the fight. Highly accessible language helps to put these unconventional women in historic context.
---

As Red as Blood
by Salla Simukka
Ages 13–up
Lumikki Andersson (17) visits the darkroom at her prestigious school in Finland and finds thousands of Euros covered in fresh blood. Living alone in a studio apartment far from her home and parents, Lumikki has been totally focused on studying rather than making friends, but the gruesome discovery leads to an alliance with Eliza, the spoiled daughter of a local narcotics officer, as they try to trace the origins of the money. This intense mystery is the first in the Snow White Trilogy.
---

Bruised
by Sarah Skilton
Ages 12–up
Imogen (16) is a black belt in Tae Kwon Do, proud of her ability to break boards with her feet and toss opponents more than twice her size. When a gunman holds up a local diner, Imogen freezes and the man is killed by the police. Imogen, who believed that her black belt made her invincible, blames herself for the man's death. After losing both her confidence and her pride, Imogen is ready to give up on martial arts until Ricky, another witness to the holdup, asks her to help him learn how to defend himself.
---
Stitches
by David Small
Ages 12–up
In this memoir, David Small tells the story of his boyhood in the 1950s. Believing that science can fix everything, his radiologist father subjected David to numerous x-rays for various childhood ailments, resulting in cancer that was untreated for years. At age 14, unaware that he had throat cancer and was expected to die, David awoke from an operation left him nearly mute. Beautifully told from a child's perspective, this pen and ink graphic novel is both dark and delightful.
---

The Georges and the Jewels
by Jane Smiley
Ages 10–up
Abby Lovitt (12) lives on a horse farm with her evangelical parents in California in the mid-1960s. Abbey's father warns her not to get too attached to any of the horses, and names all the mares Jewel and all the geldings George. Abby is being bullied by the "Big Four" girls at school and her older brother Danny has left home. Abby spends most of her time with the horses, especially with "Onery George," a gelding who will not look her in the eye and bucks her off his back every chance he gets.
---
100 Sideways Miles
by Andrew Smith
Ages 12–up
When Finn Easton was a child, he and his mother were crushed by a falling dead horse. His mother died, and Finn's back was broken, leaving him with a terrible scar and recurring epileptic episodes. Finn's father, a science fiction writer, used Finn's characteristics (the scar, epilepsy, and his quirk of measuring time by the distance Earth travels around the sun) as the basis for a character in a novel, which was a smash hit around the world. Now 16, Finn struggles to find his place in a world that treats him like a fictional character.
---
The Alex Crow
by Andrew Smith
Ages 14–up
Ariel, a 14-year-old orphaned by a civil war, is brought to the United States by the mysterious Merrie-Seymour Research Group. Ariel and his new step-brother Max are sent to Camp Merrie-Seymour for Boys, a detox center for boys addicted to cell phones and other technology. Ariel and Max aren't tech addicts, but since their father is one of Merrie-Seymour's chief scientists, the camp is free and Ariel's new step-parents hope the experience will help the boys bond. Meanwhile, a deranged bomber drives around with a home-made bomb, and the boys at camp believe a horned monster haunts the woods outside the camp. This appealing story is raunchy, profane, provocative, and funny.
---

Ghost Medicine
by Andrew Smith
Ages 12–up
The summer after his mother dies, Troy (16) and two friends work wrangling horses and coming of age. After each brush with danger (rattlesnakes, mountain lions) they pay homage to a mysterious force they call "ghost medicine" with tattoos and rituals.
---

Grasshopper Jungle
by Andrew Smith
Ages 14–up
Austin Szerba (16) is very confused — he is in love with his girlfriend Shann and also his best friend Robby. A series of unfortunate events results in the production of the Unstoppable Soldiers, six-feet tall super-strong mantis-like creatures, who are prepared to take over the world. Filled with black humor seen through the out-of-control sexuality of the 16 year old male human, this wild novel is funny, unsettling, and often gruesome.
---

Passenger
by Andrew Smith
Ages 14–up
Scarred from their earlier experiences in the hellish alternative world of Marbury Jack and Connor decide to destroy the Marbury lens that transports them. Unfortunately, the fractured lens make their out-of-control visits to Marbury bleaker and more gruesome than ever before. Reading The Marbury Lens before this sequel is highly recommended.
---

Stick
by Andrew Smith
Ages 14–up
Stark McCellan is known as Stick since he is so tall and thin. Now 14, Stick hasn't had an easy life. Born with only one ear, Stick has been bullied at school. His older brother Boston tries to protect him, but neither boy can protect the other from their abusive parents. When Stick realizes that Boston is gay, he tries to prevent a violent confrontation with their angry father, and Boston leaves home. Stick steals the family car and sets off in search of his brother, knowing he will never feel whole again without him.
---
Winger
by Andrew Smith, Sam Bosma
Ages 12–up
Ryan Dean West (14) lives in Opportunity Hall, the dorm for troublemakers, at the exclusive Pine Mountain school. Two years younger than his junior-year peers, Ryan Dean can't get his best friend Annie to see him as anything but a little kid, though he longs to be her boyfriend. Ryan Dean's roommate is the biggest bully on the rugby team. Doodling comics helps Ryan Dean cope with the pressures of school and puberty until a sudden tragedy changes everything.
---

Stand-Off
by Andrew Smith, Sam Bosma
Ages 12–up
Ryan Dean West is beginning his senior year at Pine Mountain Academy, still grieving over his friend Joey's death. Ryan Dean's new roommate Sam, a 12-year-old freshman, is driving him crazy. His rugby coach expects him to take over Joey's position on the team and as team captain. Ryan Dean realizes he needs help when he starts experiencing panic attacks and having visions of a figure who looks like the Grim Reaper that he names Nate (Next Acciden+al Terrible Experience). His girlfriend Annie offers sex as a solution to his pain, but it is Sam, whose own trauma helps him identify the pain behind Ryan Dean's facade, and Joey's brother Nico who help him begin to heal. (sequel to Winger)
---

The Way He Lived
by Emily Wing Smith
Ages 14–up
The six teen-aged narrators of this novel don't have much in common except a connection with Joel Espen, who died of dehydration after giving away his water bottle during a badly planned Boy Scout outing. As the six teens from Haven, Utah, try to make sense of Joel's death and his effect on their lives, their views of themselves and their community are transformed.
---

Trinkets
by Kirsten Smith
Ages 14–up
Eleventh graders Elodie (the new girl), Tabitha (the popular girl), and Moe (the bad girl) attend the same high school but move in entirely different circles. Their unlikely friendship begins with a contest to see who can shoplift the most stuff and develops into a realization that they have more in common than a shared love of the thrill of stealing.
---

Sekret
by Lindsay Smith
Ages 12–up
It's 1963 when Yulia Andreevna Chernina (17) discovers that her parents have kept secret her talent as a psychic. Using the safety Yulia's mother and autistic younger brother as blackmail the KGB forces Yulia to work as a psychic spy in Russia's attempt to win the space race. After joining the secret group of teenaged spies, Yulia discovers that her new friends can read her mind without her permission; even her most secret thoughts are no longer secret. Yulia suspects that the Americans aren't the real enemy, but she isn't sure who she can trust in this suspenseful historical thriller.
---

Shade
by Jeri Smith-Ready
Ages 14–up
Aura (16) was the first child born after the Shift, when ghosts became visible to the new generation, but not the old. How and why the Shift occurred is still a mystery, and those born before and after are still struggling through the change in perceptions. When Aura's boyfriend Logan dies of an accidental overdose, his ghost can still talk to her, but can't touch her or fully be part of her world like Zachary, a Scottish transfer student more than willing to comfort her. As Aura tries to come to terms with her grief, her relationships with the dead and the living grow ever more complicated.
---

Thornhill
by Pam Smy
Ages 10–14
In 2017 Ella Clark and her father move to a house that overlooks the Thornhill Institute for Children, a dilapidated former orphanage. Ella's father is rarely home, so when the lonely teenager sees a girl wandering around the Thornhill grounds, she crawls under the fence to introduce herself. In 1932 Mary Baines (13) is a lonely orphan at Thornhill when it is in the process of closing. Her few friends are adopted or moved to another orphanage, leaving Mary in the company of an unstable bully. As the staff is reduced, the bulling increases, and Mary plots her revenge. Intertwined narrations feature entries from Mary's diary, newspaper clippings, and eerie black and white illustrations documenting Ella's interactions with Mary's ghost.
---

Curveball: The Year I Lost My Grip
by Jordan Sonnenblick
Ages 12–up
Peter's freshman year gets off to a rough start. A serious arm injury has put an end to his pitching career, and his beloved grandfather, a photographer, is losing his memory. Peter tries to keep his injury hidden from his teammates, and his grandfather asks him to keep his fading memory a secret from Peter's mother. Angelika, his girlfriend and fellow photo buff, pushes him to tell the truth in this enjoyable novel.
---
Sway
by Kat Spears
Ages 14–up
Jesse "Sway" Alderman is a high school senior who runs a business making things happen: term papers, dates, fake IDs, etc. Sway's one rule is that he never gets emotionally involved, all his deals are strictly business. All Sway's careful resolutions fall to the wayside when football captain Ken Foster hires Sway to help him win the heart of angelic Bridget Smalley. Sway finds himself in love for the first time ever, and forms an unexpected friendship with Bridget's belligerent younger brother who suffers from cerebral palsy. This edgy novel expertly balances humor and poignancy.
---

Beast
by Brie Spangler
Ages 12–up
Dylan (15) is already over six feet tall and very very hairy. He is a good student and supports his widowed mother, but is mocked by his classmates, who call him The Beast. Dylan tries to hide his ugly face behind a hat and long hair and is horrified when his school bans hats. He falls off the roof and breaks his leg, ending up in a therapy class for self-harmers, where he doesn't pay much attention, missing Jamie's statement that she is transgender. A talented photographer, Jamie likes Dylan for the person he is, but their romance is endangered when he learns the truth Jamie thought he already knew.
---

Everland
by Wendy Spinale
Ages 12–up
London has been destroyed in a blitz of bombs and a disease that killed all the adults. Gwen Darling (15) and her younger siblings Joanna and Mikey spend their nights scavenging for food and their days hiding from the Germans, let by Captain Hanz Otto Oswald Kretschmer, known as Hook, who is searching for a cure for the deadly virus by capturing children who are immune. One day they capture Joanna. Gwen is desperate to rescue her sister and meets a strange boy named Pete, who offers the help of his band of Lost Boys, and the sharpshooter Bella. This fast-paced re-imagining of the Peter Pan story is enthralling.
---

The Boy on the Bridge
by Natalie Standiford
Ages 14–up
Laura (19) is an American studying in early 1980s Leningrad. Homesick, cold, and tired of inedible food, Laura is ready to give up until a young Russian artist rescues her from two aggressive gypsy women on a bridge. Laura is immediately attracted to Alyosha, but has been warned not to get involved with Russian men, who probably have ulterior motives for striking up a friendship with Americans. The desperation Laura sees among Alyosha and his friends gives her a new understanding of life behind the Iron Curtain.
---
Confessions of the Sullivan Sisters
by Natalie Standiford
Ages 13–up
Norrie, Sassy, and Jane Sullivan's incredibly rich grandmother, known as Almighty, has written the entire family out of her will because one of the eight members of the clan has offended her. Almighty is willing to forgive, but only if the offender confesses to the offense. If not, Almighty' s millions will go to the Puppy Poncho charity, which provides doggy rain gear for those poor dogs whose owners are too poor to but dog raincoats. So the three Sullivan sisters each write a letter to Almighty, confessing everything from love to murder in this wickedly funny novel.
---

Goodbye Stranger
by Rebecca Stead
Ages 10–up
Bridge Barsamian is now in 7th grade. When she was eight, she nearly died in a traffic accident and has been introspective ever since. Bridge and her two best friends swear never to fight, but Em's developing figure is beginning to attract boys and Tab is interested in feminism and social justice. Bridge's new friend Sherm unbalances the trio. This captivating novel captures the challenges of change, friendship, and love.
---

When You Reach Me
by Rebecca Stead
Newbery Medal 2010
Ages 9–14
Miranda (12) is the latchkey kid of a single mother law school dropout in late 1970s Manhattan. After reading A Wrinkle in Time, Miranda is obsessed with time travel, and receives mysterious notes which accurately predict the future. Over the course of her 6th grade year, Miranda describes the three important themes in her life: her mother's upcoming appearance on The $20,000 Pyramid, the sudden end of her lifelong friendship with her neighbor Sal, and the appearance of a deranged homeless man. This thought-provoking and realistic science fiction is enthralling.
---

Breakfast on Mars and 37 Other Delectable Essays
by Rebecca Stern, Brad Wolfe
Ages 10–up
This collection of essays will appeal to all students and teachers who have grown weary of the traditional five-paragraph essay structure. The 38 short essays range from the fully to the poignant and demonstrate that essays can be both inspiring and entertaining even when constrained by a style and a topic. A fifth grade teacher, Stern has collected exactly what every teacher of writing needs, great examples appropriate for middle and high school kids.
---

Murder Is Bad Manners
by Robin Stevens
Ages 10–up
Hazel Wong, an shy new girl from Hong Kong, and Daisy Wells, an outspoken English beauty, are best friends at the Deepdean School for Girls, bonded by their love for detective fiction and the intelligence they try to hide from their classmates in 1930s England. The two form the secret Wells & Wong Detective Society, and open their first big case when one of their teachers dies under mysterious circumstances.
---

Nimona
by Noelle Stevenson
Ages 13–up
Lord Ballister Blackheart has assumed the role of supervillain in order to expose evil inside the he Institute of Law Enforcement and Heroics. Nimona, a talented young shapeshifter, pesters Ballister until he agrees to take her on as his sidekick. Nimona's anger-management issues make her a chancy ally, but her ability to transform into just about anything is invaluable. This action-packed adventure, based on a web comic, melds medieval and modern elements.
---
Lament: The Faerie Queen's Deception
by Maggie Stiefvater
Ages 12–up
Sixteen-year-old gifted harpist Deirdre Monaghan is painfully shy and a bit bored with her dull suburban life. When a mysterious boy enters her life, Deirdre discovers that she is a cloverhand, one who can see faeries. Soon she is in the midst of a magical faerie war that brings a bit more excitement than she wished for. Fantasy fans will love this dark tale.
---

The Raven Boys
by Maggie Stiefvater
Ages 13–up
Every year Blue Sargent stands next to her clairvoyant mother who tells her daughter about the soon-to-be dead who walk by. Blue never sees or hears a thing until the year that a boy walks up and talks to her, introducing himself as Gansey. Blue discovers that Gansey is a wealthy student at Aglionby, the local private school whose members are known as Raven Boys. Blue knows the Raven Boys are trouble and decides to avoid Gansey and his misfit friends at all cost.
---

The Dream Thieves
by Maggie Stiefvater
Ages 14–up
The Raven Boys, Gansey, Adam, Noah, and Ronan, continue their quest for the legendary sleeping Welsh King, Owen Glendower. The mystical forest Cabeswater disappears, and the mysterious Grey Man is searching for the Greywaren, which enables its owner to steal objects from dreams. (second in the Raven Cycle, following The Raven Boys)
---

Blue Lily, Lily Blue
by Maggie Stiefvater
Ages 14–up
Blue Sargent has finally found a group of friends she can trust — the Raven Boys, a group of boys attending a private school in her hometown of Henrietta, Virginia. Or can she? The Raven Boys continue their quest to locate the tomb of the ancient Welsh king Glendower and Malory, Gansey's elderly British mentor comes to Henrietta. This mesmerizing supernatural thriller is the third in the Raven Cycle, following The Raven Boys and The Dream Thieves.
---

The Raven King
by Maggie Stiefvater
Ages 14–up
In this final book in the Raven cycle, Gansey and his friends are desperate to change his fate to die before the end of the year. Blue has been warned all her life that she will cause her true love's death with a kiss, which could be connected with Gansey's fate. Robotic bees, a powerful demon, a cloven-hooved girl, fast cars, and tree spirits help bring this quartet to an exhilarating close. (follow-up to The Raven Boys, The Dream Thieves, and Blue Lily, Lily Blue.)
---

The Scorpio Races
by Maggie Stiefvater
Ages 13–up
The Scorpio Races are held on the island of Thisby each November, racing against the terrifying faerie water horses that eat meat and drown people. Sean Kendrick races every year, winning on the stallion Corr. Puck Connolly races her ordinary horse against the killers, desperate to earn enough money to keep her home, and to ear the respect of her older brother who threatens to desert the family. This compelling novel explores themes of courage, loyalty, dread, loss, and the necessity of making hard choices.
---

Shiver
by Maggie Stiefvater
Ages 13–up
For years Grace has been fascinated by the yellow-eyed wolf that saved her from its pack when she was a child. Then she meets Sam, the yellow-eyed boy who was bitten by a wolf when he was a child. In winter Sam lives as a wolf, in summer he is human. As he grows older, Sam realizes that one day he may lose the ability to become human. When Grace and Sam fall in love one summer, Sam knows this is his last chance to stay human.
---

Heartsinger
by Karlijn Stoffels
Ages 12–up
Two musicians are born at the same hour on the same day. Mee, a singer of funeral dirges, can see inside a person's soul and his song can ease the pain of loss. The music Mitou plays on her accordion brings happiness. Together the two musicians are asked to travel to a faraway land to free the Princess Esperanza from a spell that forces her to spend her life gazing into a mirror.
---

Irises
by Francisco X. Stork
Ages 14–up
Kate (18) dreams of going to medical school at Stanford University, and her sister Mary (16) is a talented painter. When their strict minister father dies, the two sisters are forced to make some painful decisions. Their mother has been in a persistent vegetative state after an accident two years earlier, and the insurance company denies their father's policy. Then the church threatens to evict them from their home. Free of their father's loving but restrictive control, the two sisters begin to grow in unexpected ways as they struggle with supporting themselves and the decision of maintaining their mother's life support.
---
The Last Summer of the Death Warriors
by Francisco Stork
Ages 14–up
Pancho Sanchez (17) is sent to a Catholic orphanage after his father and sister die within a few months. Pancho is determined to avenge the death of his sister by killing the man he believes is responsible. D.Q., a fellow orphan, asks Pancho to come with him to Albuquerque as support during his brain cancer treatment. Pancho agrees since that's where the man he is stalking lives. But D.Q.'s "Death Warrior Manifesto," a document he has composed to help him live out his last days with purpose, gradually influences Pancho to consider choosing life over murder. This powerful novel deals with themes of responsibility, racial and family tension, and the purpose of life.
---
Marcelo In The Real World
by Francisco Stork
Ages 14–up
Marcelo Sandoval hears music no one else can hear and attends a special school specializing in autism and Asperger's. The summer before his senior year, he arranges a job caring for ponies, but his father wants him to work in the mail room in his law firm in order to experience the real world. and then attend a regular school in the fall. Readers enter Marcelo's private world as he navigates the unfamiliar world outside his school in this powerful novel celebrating the difference in all of us.
---

The Memory of Light
by Francisco X. Stork
Ages 12–up
Vicky Cruz (16) tries to control her depression, but her demanding father, who married his assistant shortly after Vicky's mother died six years earlier, doesn't provide much emotional support. When he fires Vicky's beloved nanny and sends her back to Mexico, Vicky tries to commit suicide. Waking up in the Lakeview Hospital Mental Disorders ward she is surprised to still be alive. As she attends group therapy with the other patients, Vicky learns to value her own strengths as she struggles to find a reason to keep living. This powerful novel is inspired by the author's own experience with depression.
---

Fallout
by Todd Strasser
Ages 10–up
Scott (11) is the only kid in the neighborhood with a bomb shelter in his back yard. When the disaster everyone mocked actually happens, the shelter is sealed with 10 people inside, six more than it was designed for. As time passes, supplies dwindle, and the adults begin to argue about who should be ejected from the shelter as they wait for the radiation levels to receed.
---

Borderline
by Allan Stratton
Ages 12–up
Mohammed "Sami" Sabiri's life falls apart when his father is accused of collaborating with Muslim terrorists to poison the water supply of New York City and Toronto. In the wave of discrimination that follows, Sami's mother is fired from her job and Sami is bullied at school. Sami goes undercover in an attempt to prove his father's innocence in this gripping thriller that grapples with the terrifying reality of racial and religious discrimination.
---

Heroes of the Valley
by Jonathan Stroud
Ages 10–up
Halli Sveinsson isn't handsome or tall or blonde like his siblings. He's short and dark and loves playing practical jokes. When one of his jokes back-fires, Halli is forced to set out on a quest where he encounters robbers and monsters and a girl who may have as quick a mind as his own. This coming-of-age-novel is a surprising look at what bravery really is.
---

The Ring of Solomon
by Jonathan Stroud
Ages 10–up
This prequel to the trilogy featuring Bartimaeus, an egotistical wise-cracking djinn, takes place in 950 BCE Jerusalem. Thanks to his magical ring, King Solomon has great power, and threatens the kingdom of Sheba when the queen rejects his marriage proposal. Asmira, the captain of the queen's guards, is sent to Israel to assassinate King Solomon and steal his ring. Asmira connects with Bartimaeus, then held captive by one of King Solomon's wicked court magicians, and great magic erupts. (Bartimaeus trilogy: The Amulet of Samarkand, The Golem's Eye, and Ptolemy's Gate)
---

Girl in Reverse
by Barbara Stuber
Ages 12–up
Lily's Chinese birth mother put her up for adoption at the age of three and disappeared without a trace. Adopted by a white American family, Lily has grown up knowing very little of her heritage. Now 17 and the only Asian in her high school, the racial slurs Lily has always endured grow worse with the Korean War. When her little brother finds a lacquered box full of strange objects hidden in the attic bearing Lily's name, she becomes obsessed with discovering why she was abandoned by her "Gone Mom." Her parents insist that she is now a member of a new family and should not be living her life "in reverse" but Lily is determined to investigate her ties to a beautiful new acquisition in the Chinese wing of her local art museum.
---
The Brothers Story
by Katherine Sturtevant
Ages 14–up
Twins Kit and Christy grow up in poverty in an Essex village. Christy is "simple" and dependant upon his brother. The hardships of the Great Frost of 1683–84 are too much for the teenaged Kit to bear, and he abandons his brother and flees to London, where he finds work as an apprentice to a struggling artist. Kit struggles with issues of familial responsibility, religion, class, and gender roles in this frank coming-of-age novel.
---

The Bitter Side of Sweet
by Tara Sullivan
Ages 12–up
Amadou (15) and his brother Seydou (8) are slaves on a modern-day Ivory Coast cacao plantation. Two years earlier the brothers were tricked into captivity by the promise of seasonal work, locked into a shed each night, and beaten if they do not harvest their quota of cacao pods each day. The arrival of Khadija, the first girl in camp, changes everything. Khadija fights back every day, struggling to escape, and reminding Amadou of what it means to be free. When Seydou is injured, Amadou realizes he will die if they don't escape, and the three make one final attempt.
---

Imaginary Girls
by Nova Ren Suma
Ages 14–up
Chloe (14) idolizes her older sister Ruby, a popular girl who is given the freedom to run wild. At a night party, Ruby challenges Chloe to swim across the reservoir, where she discovers the body of a London, a girl from school. Chloe and her father are forced to leave town, but Ruby is willing to do anything to get her sister home again. Two years later Ruby brings Chloe back and Chloe isn't sure if everything is the same or different. Ruby is still running wild, but London is alive and well. Chloe realizes that Ruby seems to be able to bend reality to suit herself in this spooky novel of magical realism.
---

All the Rage
by Courtney Summers
Ages 14–up
When senior Romy Grey accuses the sheriff's son of rape, no one believes the girl from the wrong side of the tracks over Kellan Turner, the town's golden boy. Relentlessly bullied at school by her former friends, Romy can only relax while working at the diner outside of town where no one knows her. When a classmate with ties to both Romy and Kellan goes missing after a party, Romy must decide if she is going to speak out again. This searing novel examines the pain and shame of young women outside the protection of society.
---

Some Girls Are
by Courtney Summers
Ages 12–up
High school senior Regina Afton used to be a member of the elite Fearsome Fivesome, but she is frozen out when rumors circulate that she slept with her best friend's boyfriend. No one believes the truth—Regina was nearly raped. As the bullying from her ex-friends escalates, Regina begins a tentative friendship with a loner she once bullied herself. Regina's inability to fight back against her former friends is very believable and very frightening.
---

This Is Not a Test
by Courtney Summers
Ages 12–up
It's the end of the world, and six teens who barely know each other take refuge in their high school while the undead zombie hordes lurk outside. Sloane Price, a junior who has flirted with suicide since her sister ran away six months ago, narrates. Sloane couldn't handle being alone with her abusive father, but the new responsibility of keeping her fellow students alive makes her reconsider what it means to live and to die.
---

Somebody Everybody Listens To
by Suzanne Supplee
Ages 12–up
Encouraged by her best friend and biggest fan, recent high school graduate Retta Lee Jones sets off to Nashville to make her name in country music. Living in the car she borrowed from her grandmother, Retta tries to make her hard-earned waitressing money last as long as possible as she searches for a way to break into the completive music scene. Biographical notes about other music stars who overcame great odds to become successful introduce each chapter, giving Retta (and readers) hope that dreams can come true.
---
Chasing Lincoln's Killer
by James L. Swanson
Ages 12–up
This exciting book tells of the assassination of Lincoln and the 12-day search for his killer through the streets of Washington DC, across the swamps of Maryland, and into the forests of Virginia. Period photographs and documents add drama to this fast-paced thriller, a young adult version of the best selling Manhunt.
---

"The President Has Been Shot!": The Assassination of John F. Kennedy
by James L. Swanson
Ages 12–up
An overview of John F. Kennedy's life and a profile of Lee Harvey Oswald bracket the dramatic account of Kennedy's assassination on November 22, 1963. Diagrams, period photographs, and source notes supplement the text.
---

An Ember in the Ashes
by Sabaa Tahir
Ages 14–up
Under the Martial Empire, all must swear a blood oath to serve the Emperor. Those who rebel risk the death of their families and all they love. Laia lives with her grandfather and older brother, barely surviving in the poorest part of the city. Her brother is arrested by the Emperor's Masks as a traitor, and Laia offers to spy for the Resistance as a slave in Blackcliff, the school where the Masks are trained. Elias is the school's finest soldier, but secretly longs for freedom which he can only achieve by enduring the Trials. Narrations from the perspectives of both Laia and Elias expose the brutal world they inhabit.
---

A Torch Against the Night
by Sabaa Tahir
Ages 14–up
Martial Elias and Scholar Laia barely escape with their lives from Serra, headed to the prison Kauf where Laia's brother Darin has been imprisoned because of his steel-making knowledge that threatens the Martial empire. Helene Aquilla, the emperor's new Blood Shrike, is ordered to hunt down her childhood friend Elias or forfeit the lives of her entire family. This intense thriller, the sequel to An Ember In the Ashes, sets the stage for an exciting trilogy finale.
---

Saving Montgomery Sole
by Mariko Tamaki
Ages 12–up
Montgomery Sole (16) has never fit in with most of her classmates at Jefferson High. Luckily she has two best friends, Thomas and Naoki, who are the other members of the Mystery Club, dedicated to exploring the weird and unexplained, from ESP and astrology to superpowers and mysterious objects. When a preacher from a homophobic church moves to town, Montgomery is nervous that his son will target her for being the daughter of lesbians and Thomas for being gay. The Eye of Know, a crystal amulet she bought online, seems to be having powerful effects on those who make her angry. Montgomery's passion for understanding the supernatural parallel her attempts to understand her classmates, her younger sister, and her own identity.
---

This One Summer
by Mariko Tamaki, Jillian Tamaki
Ages 12–up
Every summer Rose and her parents vacation at a lakeside cottage where Rose spends two weeks playing with her friend Windy, who is like the younger sister she always wanted. This summer Rose isn't content as she usually is. Just reaching adolescence, she is fascinated by the older teens and a bit bored by Windy's childishness. Rose's parents are fighting, and her mother seems both angry and sad. This graphic novel captures the pain and joy of growing up with a light touch.
---
The Bird King: An Artist's Notebook
by Shaun Tan
Ages 10–up
In this book of sketches and musings, artist Tan wonders why finished artwork is often not as powerful as the original sketch. Details from ideas for Tan's trademark hybrids — light bulbs with tails, cars with antennae, a flower whose bloom is a single human eye — get the attention that may have passed them over in the finished drawing. This visual feast will provide a springboard for the imagination of readers.
---

The Singing Bones
by Shaun Tan
Ages 12–up
Artist Shaun Tan captures the sprit of seventy-five Grimms' fairy tales in haunting sculptures. A short excrpt from the fairy tale appears on the left hand page, while a photgraph of the sculpture appears on the right, embodying the essense of the tale.
---
Tales From Outer Suburbia
by Shaun Tan
Ages 12–up
The fifteen very short stories in this book are whimsical, strange, and bizarre. The illustrations are also beautiful and yet disturbing. The combination makes the reader wonder what will happen next in each situation.
---

The Night Parade
by Kathryn Tanquary
Ages 10–14
Saki Yamamoto isn't happy when her family takes her away from her friends in Tokyo to visit her grandmother's remote village for the festival of Obon, honoring the spirits of the dead. The cell phone reception is terrible and Saki is bored by the preparations for the festival. When the local kids dare her to play a game in the graveyard, she rings the sacred bell, invoking a death curse. Saki has only three nights to reverse the curse with the help of three spirit guides. this modern fantasy highlights the contrast between Saki's devotion to modern technology and the power of cultural tradition.
---

Discovering Black America: From the Age of Exploration to the Twenty-First Century
by Linda Tarrant-Reid
Ages 10–up
This comprehensive history of black Americans begins with early black explorers and the roots of slavery and concludes with the inauguration of Barack Obama as president. Chapters examine the Revolutionary War, the Civil War, Reconstruction, the Jim Crow era, and 20th century social, political, and artistic movements. This accessible book will inspire readers to think more broadly and deeply about the African-American experience.
---

Emma-Jean Lazarus Fell Out of a Tree
by Lauren Tarshis
Ages 10–14
Seventh-grader Emma-Jean is extremely bright but doesn't connect socially with her classmates. In fact, she observes their interactions with a scientific detachment. Then Colleen asks Emma-Jean's help in dealing with the class bully, and Emma-Jean applies the principles of logic to the situation. Narrated in alternating chapters by two very different girls, this humorous book makes a great read-aloud.
---

Emma-Jean Lazarus Fell in Love
by Lauren Tarshis
Ages 10–14
The intensely analytical Emma-Jean is beginning to appreciate emotions that logic can't explain. Emma-Jean has made friends some friends in her 7th grade class, and is even considering asking a boy to the Spring Fling. This funny and heart-warming sequel to Emma-Jean Lasarus Fell Out of a Tree is sure to please.
---

Daughter of Smoke and Bone
by Laini Taylor
Ages 15–up
Karou (17) is an art student in Prague, except for the times she is called away to do errands for the loving inhuman creatures who raised her. Karou has no idea why she lives with chimera, who inexplicably require human teeth, and fears that she is somehow not quite whole. When black hand prints begin appearing on doorways, Karou is drawn into a deadly rivalry between devils and angels, and finally begins to learn about herself.
---
Days of Blood & Starlight
by Laini Taylor
Ages 15–up
Karou, a chimera, has reluctantly accepted her role in the war between the chimera and the seraphim, as has her estranged love Akiva, a seraphim. The violent conflict between the beasts and the ethereal beings is told from both Karou's and Akiva's perspectives in this grim sequel to Daughter of Smoke & Bone.
---

Lips Touch
by Laini Taylor
Ages 12–up
These three different stories all hinge on the consequences of a kiss. Contemporary Kizzy longs to be a normal, popular teenager and forgets the rules she learned as a child and is seduced by a goblin in disguise. Anamique lives in British colonial India, silenced by a spell cast upon her at birth. Just befor