Fairy Tales for Mr. Barker: A Peek-Through Story
by Jessica Ahlberg
Ages 2–5
Lucy is reading a fairy tale to her dog Mr. Barker when he suddenly dashes out the window. Lucy follows him into a cottage with three bowls of porridge. Lucy knows just where they are, and the golden-haired girl follows them into the next fairy tale scene, adding characters as they go. Cut-out windows throughout the book add interest to this light-hearted romp through fairy tale land.
---

There's a Princess in the Palace
by Zoe Alley, R.W. Alley
Ages 4–8
The tongue-in-cheek retellings of five fairy tales emphasize clever dialog over beauty and romance. The characters in the tales are connected — Cinderella's daughter becomes Sleeping Beauty who is not quite ready for marriage and runs off to live with the dwarves as Snow White. Her daughter in turn falls for The Frog Prince, and her granddaughter is the Princess who tries to sleep on the uncomfortable pea buried under layers of mattresses. Two mice provide running commentary in this lavishly illustrated oversized graphic novel, sure to become a bedtime favorite.
---

The Steadfast Tin Soldier
by Hans Christian Anderson, JooHee Yoon
Ages 6–9
The steadfast tin soldier has only one leg and cannot stand as well as the other soldiers. He falls in love with a paper ballerina and incurs the wrath of a frightening jack-in-the-box troll. Falling from the window, the soldier is eventually swallowed by a fish. Mixed-media illustrations accompany this retelling of the tragic fairy tale.
---

The Mitten
by Jim Aylesworth, Barbara McClintock
Ages 3–8
In this retelling of a folk tale, a young boy loses his red mitten while sledding. The mitten is found by a delighted squirrel who enjoys its cosiness until a first a rabbit, then a fox, and finally a bear beg to join in the warmth. McClintock's pen-and-ink illustrations illustrate the silliness in a wonderfully naturalistic way.
---

My Grandfather's Coat
by Jim Aylesworth, Barbara McClintock
Ages 4–8
A young man comes to America, becomes a tailor, and makes himself a handsome coat to wear to his wedding. When the coat wears out, he alters it into a stylish jacket, a snazzy vest, and finally a stylish tie. This joyful rhyming version of a Yiddish folksong shows grandfather restyling his beloved coat through four generations.
---

The Stepsister's Tale
by Tracy Barrett
Ages 14–up
Halsey Hall has been falling into disrepair since Lord Mountjoy squandered the family fortune and drank himself to death. Lady Margaret Mountjoy is in denial, and Jane (15) and Maude (13) tend to the livestock and chop firewood, making them look more like peasants than proper ladies. Then Lady Mountjoy suddenly remarries, presenting her stunned daughters with a new step-father and a pampered new stepsister Isabella (13) who treats them like servants.
---

The Steel Pan Man of Harlem
by Colin Bootman
Ages 5–9
In this retelling of the Pied Piper of Hamelin folk tale, a steel pan playing man appears and offers to rid Harlem of a plague of rats. Set during the Harlem Renaissance and featuring a mysterious magician from the Caribbean, this spell-binding tale is illustrated with beautifully detailed oil paintings.
---

Cinders: A Chicken Cinderella
by Jan Brett
Ages 3–up
The hen Largessa and her two daughters Pecky and Bossy are excited when the invitation arrives from Prince Cockerel to a feathered frolic. They don't even consider including poor Cinders. After they depart, a Silkie hen arrives to transform Cinders into the most beautiful pullet at the ball. Framed as a dream by an 18th century Russian girl, this re-imagined fairy tale is as elegant as it is enchanting.
---

The Turnip
by Jan Brett
Ages 3–5
A badger family discovers an enormous turnip growing in their back yard. As the first snow begins to fall, they try to pull it out of the ground to take home and cook for the winter. A hedgehog, a ram, and a horse are also unsuccessful in pulling up the giant vegetable. Then a boastful rooster pulls on the turnip and it flies into the air, kicked by a mother bear trying to make more room in her underground den. This funny retelling of a Russian folk tale will keep young readers laughing.
---

Cinderella, or the Little Glass Slipper
by Marcia Brown
Caldecott Medal 1955


Ages 4–8
This retelling of the classic tale by Charles Perrault is a skillful version that is both simple and romantic. The pen and watercolor illustrations complement the story beautifully.
---

Once a Mouse…
by Marcia Brown
Caldecott Medal 1962


Ages 4–8
The mighty tiger challenges anyone to say he was once a mouse, but the hermit knows it to be true, since he himself used magic to transform the mouse into a cat and then a dog and finally a tiger. And unfortunately for the too proud tiger, those changes can be reversed. Beautiful woodcuts illustrate this Indian fable.
---
Me and You
by Anthony Browne
Ages 4–8
Two parallel storylines tell the story of a lost little girl and a contented bear family. While the little blond girl becomes separated from her mother on a busy city street, the small bear and his parents visit a neighborhood park while waiting for their porridge to cool. The lost girl enters their cozy house, but flees when the bears return. Luckily her mother is right outside, and both families end up safe and sound and together.
---

Mouse & Lion
by Rand Burkert, Nancy Ekholm Burkert
All ages
This beautiful book is a retelling of Aesop's fable of the mouse who stumbles into a lion and pleads for his freedom, promising to help the lion if he is ever in need. Burkert's illustrations celebrate the beauty of the African savannah, often from a mouse point of view.
---

Brave Chicken Little
by Robert Byrd
Ages 4–up
In this version of the classic folktale, Chicken Little is sent of to the market to buy honey, flour, and milk. When an acorn hitting his head convinces him that the sky is falling, he gathers a group of friends (included Henny Penny, Roly and Poly Moley, and Froggy Wogg) and sets off to warn the king. Captured by a clever Fox, they are imprisoned but make their escape by throwing apples at the Fox, convincing him that the sky is falling.
---

The Goblin's Puzzle: Being the Adventures of a Boy with No Name and Two Girls Called Alice
by Andrew Chilton
Ages 8–12
A nameless young slave escapes from his master and becomes tied to a mischievous goblin. Plain Alice is the bookish daughter of a sage who longs to continue in his footsteps but is kidnapped by a dragon in a case of mistaken identity. Princess Alice, heir to the kingdom of West Stahope is pursued by the treacherous Duke Geoffrey who hopes to take over the kingdom by marrying her. Together the three fight against their dangerous foes, learning that a combination of logic and bravery is the best defense. This alternative fairy tale is great fun.
---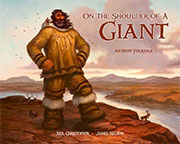 On the Shoulder of a Giant
by Neil Christopher, James Nelson
Ages 5–7
Inukpak is a lonely giant in the Arctic who finds an Inuit hunter one day. The hunter is so small in comparison that Inukpak believes he is a child, and adopts him. Inukpak feeds the hunter a whale, which he sees as a small fish, and makes him a shelter from his boot. The hunter accepts his fate and becomes friends with the giant. This retelling of an Inuit folktale features uniquely Arctic scenery.
---
The Runaway Wok: A Chinese New Year Tale
by Ying Chang Compestine, Sebastia Serra
Ages 5–8
Long ago in Beijing, a poor couple send their son Ming to trade some eggs for rice so that they can make a Chinese New Year meal for their neighbors. But Ming trades the eggs for a singing wok who promises exciting things. Ming chases the wok to a rich family's kitchen, where it is filled with delicious food soon delivered to the Ming's poor family's table. The clever wok also transports toys from the greedy rich child, and treasures from the dishonest rich father. Based on a Danish folktale, this jaunty tale will enchant young listeners.
---

Hans My Hedgehog: A Tale from the Brothers Grimm
by Kate Coombs, John Nickle
Ages 5–8
Hans is not a normal boy. Born a hedgehog from the waist up, Hans becomes an accomplished fiddle player and loves riding his rooster through the woods with his faithful hogs. After rescuing two kings and visiting their castles, Hans finally meets a princess who loves him as he is. This adaptation is a much happier version of the original fairy tale.
---

Chanticleer and the Fox
by Barbara Cooney
Caldecott Medal 1959


Ages 4–8
Chanticleer the rooster falls for the flattery of the fox and is caught. Luckily Chanticleer is clever enough to think himself out of danger in this retelling of the "Nun's Priest's Tale" from Geoffrey Chaucer's Canterbury Tales. Beautiful pen and ink drawings illustrate the fable.
---

Deep in the Woods
by Christopher Corr
Ages 3–6
Deep in the woods a mouse discovers a wonderful little house with nine windows and a red front door. The mouse moves in and wen other animals and birds pass by he invites them to move in. All is well until a gigantic bear appears and destroys the roof. Everyone, including the bear, join together to repair the house. This modern retelling of the classic Russian folktale celebrating of friendly cooperation is beautifully illustrated.
---

Yummy: Eight Favorite Fairy Tales
by Lucy Cousins
Ages 4–10
In the retelling of these fairy tales, the villains are scary and eager to eat their tasty prey. Bold and vibrant illustrations complement the slyly humorous text.
---

The Fairy Tales of the Brothers Grimm
edited by Noel Daniel
All ages
This collection includes new translations of 27 of Grimm brothers' fairy tales with vintage illustrations from the 1920s to 1950s. Classic tales like Cinderella, Snow White, Sleeping Beauty, and Hansel and Gretel, have a more modern feel while brief introductions describe the themes, symbolism, and contemporary relevance of the stories. This beautiful book will appeal to readers of all ages.
---
Jack
by Tomie dePaola
Ages 3–5
Young Jack tells his grandfather that he would like to see the world, make new friends, and live in a house in the city. His grandfather encourages him to go to the city and ask the king for a house. Along the way Jack collects a cheerful and noisy bunch of animal friends. Luckily the king provides a house big enough for them all.
---

Entwined
by Heather Dixon
Ages 12–up
Azela, the heir to the throne, and her 11 sisters live in the half-magical world of Eathesbury. When their mother dies after a long illness, their father the King banishes the girls from his sight and goes off to war without even saying good-bye. The sisters find a secret passageway to an enchanted pavilion under the castle, where they dance all night, breaking the rules of mourning. This magical tale is based on "The Worn-Out Dancing Shoes" by the Brothers Grimm.
---
Fable Comics
edited by Chris Duffy
Ages 6–12
Twenty-eight fables are retold by 26 talented graphic artists in comic format. Many of the fables are classics from Aesop, but some are more obscure. Though based on the originals, each enjoys artistic freedom as long as there is a moral at the end.
---

Fairy Tale Comics: Classic Tales Told by Extraordinary Cartoonists
edited by Chris Duffy
Ages 6–12
Seventeen classic fairy tales are adapted and illustrated in comics format by seventeen different cartoonists. Well-known tales like "Snow White" and "Goldilocks" are included along with lesser-known tales like The Boy Who Drew Cats," and "Rabbit Will Not Help." Both an introduction to comics and a new way to enjoy old favorites, this volume is fun to read aloud as well as savor independently.
---
The Girl Who Wanted to Dance
by Amy Ehrlich
Ages 6–10
Clara, who longs to dance, lives with her sad father and loving grandmother who tells her that her absent mother also loved music and dance. When a traveling dance troupe visits the village, Clara's father recognizes Clara's mother, and forgives her for leaving the family. This haunting fairy tale compassionately addresses the irresistible artistic urge and the pain of those left behind.

---

Little Roja Riding Hood
by Susan Middleton Elya, Susan Guevara
Ages 5–8
This retelling of the classic tale is spiced with Spanish words. Roja's mother is busy watching her favorite telenovelas, so she sends her daughter off to deliver some healing sopa to her sick abuela. Riding along the trail on her ATV, Roja meets a wolf who steals her cape to fool Abuelita into letting him into the house. But Abuelita is as clever as her granddaughter and the two deal handily with the wolf.
---

The Ant and the Grasshopper
by Rebecca Emberley, Ed Emberley
Ages 4–8
As a hard-working ant is carrying home a watermelon slide, she takes a break to enjoy a cheerful grasshopper making music with his band. The ant is rejuvenated by the music, but refuses to stop and join the band. So the grasshopper and his friends play the ant all the way home, making her work much more enjoyable, adding a joyful note to the classic tale.
---

The Princess and the Pig
by Jonathan Emmett, Poly Bernatene
Ages 4–8
Because of a mix-up in the royal nursery, Priscilla the princess has accidentally switched places with Pigmella the piglet. The king and queen are sure that their daughter's appearance and personality are the result of a bad witch, while the farmer and his wife are convinced that a good witch has given them the daughter they always wanted. Priscilla grows up poor but happy on the farm, but things don't go quite so well for poor Pigmella. This hilarious fractured fairy tale will delight young readers.
---
First Light, First Life: A Worldwide Creation Story
by Paul Fleischman, Julie Paschkis
Ages 6–9
Elements from creation stories from around the world are woven together into one whole, highlighting their similar story lines. Each page represents a different country or culture, celebrating both our commonalties and our differences.
---

Clever Jack Takes the Cake
by Candace Fleming, G. Brian Karas
Ages 4–8
Jack receives in invitation to the Princess's 10th birthday party by mistake. Too poor to buy her a present, Jack cleverly decides to bake her a cake, trading for the ingredients. But on the way to the party the cake is slowly demolished by a variety of creatures and disasters, so Jack arrives at the party empty-handed. When Jack tells the bored Princess the tale of the cake, she is enchanted and exclaims that his adventure story is the finest gift she ever received. Slyly humorous illustrations featuring expressive faces highlight this modern fairy tale that will appeal to both girls and boys.
---

Ophelia and the Marvelous Boy
by Karen Foxlee
Ages 8–12
Ophelia Jane Worthington-Whittard (11) is visiting a strange city where it never stops snowing with her father and sister after her mother dies. Ophelia is a sensible girl who doesn't believe in anything that can't be proved with science, so she doesn't quite know how to deal with the Marvelous Boy she discovers imprisoned in a nearly empty museum. The boy tells Ophelia that he was locked away by the evil Snow Queen, and recruits Ophelia to help him save the world from the Snow Queen. This re-imagining of the tale of the Snow Queen is magical.
---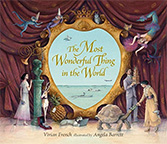 The Most Wonderful Thing in The World
by Vivian French, Angela Barrett
Ages 4–8
An overprotective king and queen worry about how to choose a suitable husband for their daughter, Princess Lucia. Wise Old Angelo advises them to choose the young man who can show them the most wonderful thing in the world. When Angelo's grandson Salvatore delivers his advice, Lucia asks him to show her around the city. Meanwhile a line of suitors show her parents wonder after wonder. Finally Lucia and Salvatore solve Angelo's puzzle together.
---
The Girl in Red
by Aaron Frisch, Roberto Innocenti
Ages 8–up
In this updated fairy tale, Sophie, dressed in red, travels through dangerous city streets on the way to her Nana's house. As she moves past walls covered with graffiti along the trash on the sidewalk, Sophie is trailed by a city predator, a frightening man in a dark coat. Alternative endings raise questions about violence and safety.
---

Hansel and Gretel
by Neil Gaiman, Lorenzo Mattotti
Ages 7–10
Lorenzo Mattotti's elegant black and white illustrations of the classic fairy tale inspired Neil Gaiman to write his own version. The pitch black of the India ink drawings of terrifying landscapes mirror the dark version of the tale, with a scary witch and a mother who decides abandoning her children is the only way the parents can survive. Though not a true graphic novel, this illustrated story alternates illustrations and text.
---

The Sleeper and the Spindle
by Neil Gaiman, Chris Riddell
Ages 13–up
This re-imagined fairly tale combines elements of two classic fairy tales: Sleeping Beauty and Snow White. Intricate pen and ink drawings add an eerie element to the darkly funny tale.
---

A Tale Dark and Grimm
by Adam Gidwitz
Ages 10–up
In this irreverent and retelling of eight Grimm inspired fairy tales, Hansel and Gretel take their fate into their own capable hands, and walk out of their own story and into the other tales. Avoiding the modern trend of softening the original tales, these instead revel in bloodthirsty scariness, sure to delight readers ready for some wickedly funny terror.
---

In a Glass Grimmly
by Adam Gidwitz
Ages 10–up
Classic fairy tales are re-imagined in this collection, which is not for the faint hearted! Jack, Jill, and a talking frog take on "The Frog Prince," "The Emperor's New Clothes", and "Jack and the Beanstalk." Dark humor abounds in this companion volume to A Tale Dark and Grimm.
---

The Grimm Conclusion
by Adam Gidwitz, Hugh D'Andrade
Ages 10–up
Jorinda and Joringel venture through forests and kingdoms, facing ogres and monsters, as they try to find their way home. Along the way they encounter dark versions of Cinderella and Sleeping Beauty as well as other less well known fairy tales. This witty and gory book is the third and final volume of the series that includes A Tale Dark and Grimm and In a Glass Grimmly.
---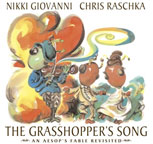 The Grasshopper's Song
An Aesop's Fable Revisited
by Nikki Giovanni
Ages 4–up
The grasshoppers sing while the ants work in rhythm. When the ants refuse to share the harvest, the grasshoppers take them to court. This amusing retelling will appeal to all ages.
---

The Dinosaur Tamer
by Carol Greathouse, John Shroades
Ages 4–8
This humorous tall tale is set in the old West, when cowboys like young Rocky tamed dinosaurs of all kinds. Narrated in classic tall tale prose, the dinosaur names and characteristics are authentic. Rocky's battle to tame T. Rex is a classic humorous epic that creates several American landmarks along the way.
---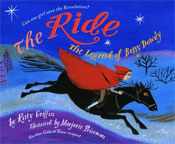 The Ride: The Legend of Betsy Dowdy
by Kitty Griffin, Marjorie Priceman
Ages 4–8
It's 1775 and teenaged Betsy Dowdy secretly sets off on an all-night ride to tell Colonial troops about the British advance on her North Carolina island home. With her red cape swirling behind, Betsy tears through the pages on her trusty black pony, narrowly escaping dangers in order to save her home. The author's note at the end reminds readers that Betsy's ride is only a legend, but the story of this courageous girl seems very real.
---

Little Red Riding Hood
by Brothers Grimm, Sybille Schenker
Ages 5–7
This retelling of the classic fairy tale uses die cuts and hand-cut silhouettes to add suspense and a touch of menace. Little Red Cap, as she is called in this version, is followed through the deep forest by the Wolf to her grandmother's house. the stunning illustrations elevate this picture book into a work of art.
---

Rapunzel's Revenge
by Shannon Hale, Dean Hale, Nathan Hale
Ages 9–up
In this graphic novel version of the fairy tale, Rapunzel lives in a fabulous walled garden Wild West. Defying orders, Rapunzel scales the walls to see the rest of the world and is shocked to find a wasteland of mines and factories. Banished to a forest tree house, Rapunzel uses her long braids to escape and fight against the villains.
---

A Story, A Story
by Gail E. Haley
Caldecott Medal 1971


Ages 4–8
In the beginning there were no stories for children to hear, so Ananse the Spider went to bargain with Nyame, the Sky God, to bring the stories down to Earth. Wonderful woodcut illustrations support the clever text in this retelling of an African folktale.
---

Twenty Heartbeats
by Dennis Haseley, Ed Young
Ages 5–9
Set in the Far East long ago, a rich man hires an artist to paint his beloved horse. After years of waiting, the artists paints the horse in little more than 20 heartbeats. The rich man is furious until he sees thousands of drawings of his horse in the artist's studio. Ed Young's incredible illustrations bring the story to life.
---

The Hero's Guide to Saving Your Kingdom
by Christopher Healy, Todd Harris
Ages 8–12
Known only as Prince Charming in the fairy tales, the saviors of Sleeping Beauty, Cinderella, Snow White, and Rapunzel were actually named Prince Liam, Prince Frederic, Prince Duncan, and Prince Gustav. Happily ever after isn't working out as well as expected, and the four princes find themselves cast out of their kingdoms. When Cinderella is captured by a witch, Frederic calls on the other princes for help and the four very different heroes must overcome their egos and work together to foil an evil plot against their kingdoms. This fast-paced adventure is very funny.
---

The Hero's Guide to Storming the Castle
by Christopher Healy, Todd Harris
Ages 8–12
The Princes Charming (Prince Liam, Prince Frederic, Prince Duncan, and Prince Gustav) reunite to help Briar Rose recover the Sword of Erinthia which has been stolen by the evil Deeb Rauber. The friendships and romantic entanglements between the Princes and their Princesses continue to grow despite the collective bungling of the Princes in this funny sequel to The Hero's Guide to Saving Your Kingdom.
---

Very Little Red Riding Hood
by Teresa Heapy, Sue Heap
Ages 4–8
Very Little Riding Hood is an energetic toddler looking forward to a sleepover at Grandmamma's house. Very Little Riding Hood loves everything, even the wolf, which she calls Foxie, who appears at Grandmamma's door. The three play happily together until Very Little Riding Hood has a toddler meltdown and demands her Mummy. This delightful retelling is the first of a planned series.
---

Very Little Cinderella
by Teresa Heapy, Sue Heap
Ages 4–8
Very Little Cinderella is upset when her two ugly Sisters head off to a party without her. Luckily her Fairy Godmother (the babysitters) comes to the rescue and takes her to the ball in her favorite blue dress, stripey hat, froggy coat, and yellow boots. She leaves one of the boots behind, which is returned by a princely boy and the two play happily ever after. (companion volume to Very Little Red Riding Hood)
---

Hansel & Gretel
by Holly Hobbie
Ages 3–6
Holly Hobbie's watercolor illustrations add emotional impact to this classic Grimm's fairy tale. The plight of the starving family that causes the stepmother to convince the children's father to abandon them in the woods is especially effective.
---

Goldilocks and Just One Bear
by Leigh Hodgkinson
Ages 3–up
In this humorous continuation of the classic story, Baby Bear is all grown up and Goldilocks is only a faint memory. When the bear wanders out of the woods, he makes his way to the penthouse apartment of Snooty Towers, eventually finding just the right porridge, chair, and bed before falling asleep. The family is outraged when they discover the bear, until the "mommy person" and the bear finally recognize each other.
---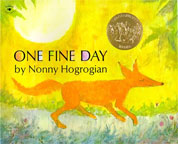 One Fine Day
by Nonny Hogrogian
Caldecott Medal 1972


Ages 4–8
In this humorous retelling of an Armenian folktale, a fox steals some milk from an old farm woman. She cuts off his tail, and the fox spends the rest of the day bargaining to get it back. The vividly beautiful illustrations bring this tale to life.
---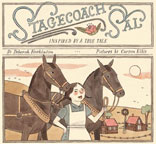 Stagecoach Sal
by Deborah Hopkinson, Carson Ellis
Ages 4–8
Sal can catch a fish with her bare hands, ride a bronco, and drive a stagecoach. When her Pa falls sick, it's up to young Sal to drive the stagecoach alone to deliver the mail. When Poetic Pete, the most polite bandit in all of California, boards the coach, Sal sings him to sleep. She continues her all-night singing marathon until they arrive in town where Sal delivers the bandit to jail. Delicate watercolor illustrations provide the perfect counterpoint for the rambunctious text.
---

The Ogre of Oglefort
by Eva Ibbotson
Ages 8–12
When Princess Mirella is captured by the dread Ogre of Oglefort, the young orphan boy Ivo sets out to rescue her with the help of a hag, a wizard, and a troll. But when they arrive at Oglefort castle, they realize that it's not the princess that needs rescuing, but the poor ogre. To avoid being forced to marry a nitwit of a prince, Mirella has been badgering the ogre to turn her into a bird for so long that he has sunk into a sickly depression. This hilarious book has a great time poking fun at fairy tale stereotypes.
---

Dust Devil
by Anne Isaacs, Paul Zelinsky
Ages 5–9
Angelica Longrider (introduced in Swamp Angel) was the greatest woodsman and wildest wildcat in the state of Tennessee. Grown too large for her home state, Angel moves to the great state of Montana, and wrestles a tornado to the ground, earning herself a giant horse named Dust Devil. The two are soon at work battling a gang of cowboy outlaws riding giant mosquitoes. The outrageous exaggerations of Angel's narration are perfectly matched by the stunning paintings framed by the wood they are painted on. Both boys and girls will identify with this courageous yet kind folk hero.
---

Meanwhile, Back at the Ranch
by Anne Isaacs, Kevin Hawkes
Ages 5–9
This rip-roaring tall tale features Widow Tulip Jones of Bore, England, who inherits a ranch in By-Golly Gully, Texas. Widow Jones arrives in By-Golly Gully in 1870 with two trunks of tea, a dozen pet tortoises, and three servants, determined to turn the ranch into a paradise. Widow Jones is quickly overwhelmed with suitors, since every man in Texas was unmarried at that time, and finding it hard to run a ranch with a staff of only three. But Widow Jones has a hilarious plan to make it all work out to everyone's satisfaction.
---

Brave Red, Smart Frog: A New Book of Old Tales
by Emily Jenkins, Rohan Daniel Eason
Ages 8–12
Seven classic fairy tales are retold in contemporary language. The basic stories aren't altered, but rather expanded with added character development. Additional whimsical details appear in the illustrations. Included are both well-known and lesser-known fairy tales: Little Red Riding Hood, Snow White, The Frog Prince, Hansel and Gretel, Three Wishes, The Three Great Noodles, Toads and Pearls.
---
The Fairy-Tale Princess: Seven Classic Stories from the Enchanted Forest
by Wendy Jones, Su Blackwell
All ages
Seven condensed fairy tales — Sleeping Beauty, The Frog Prince, Rapunzel, Cinderella, Snow White, The Princess and the Pea, and The Twelve Dancing Princesses — are retold with an emphasis on the princess element. The incredible three-dimensional paper sculptures are created from vintage book pages.
---

Lies, Knives, and Girls in Red Dresses
by Ron Koertge, Andrea Dezso
Ages 14–up
Twenty-three fairy tales are updated and retold in free verse written from the perspectives of both major and minor characters. This darkly humorous collection includes some gruesome surprises and unhappily-ever-after endings.
---

Levi Strauss Gets a Bright Idea: A Fairly Fabricated Story of a Pair of Pants
by Tony Johnston, Stacy Innerst
Ages 4–8
The story of how Levi Strauss came to invent the sturdy pants that bear his name is told in tall tale fashion in this amusing picture book. When Levi arrived in California in 1853, he noticed that the hard-working miners wore through their pants quickly, and created sturdy canvas jeans designed to last longer. Illustrations painted with acrylics on old jeans accompany this exaggerated tale of the Wild West.
---

The Little Red Hen and the Passover Matzah
by Leslie Kimmelman, Paul Meisel
Ages 4–8
This Jewish Little Red Hen asks her friends for help making the traditional Passover matzah. Unfortunately her friends aren't too eager to help. Couldn't they at least help schlep the wheat to the mill? In this hilarious version of the traditional tale, a hard-working hen finds the true meaning of Passover.

Where the Mountain Meets the Moon
by Grace Lin
Ages 8–12
Minli and her parents live on the Jade River in the shadow of Fruitless Mountain, growing barely enough rice to feed themselves. Her father tells stories every night to brighten their impoverished existence. One day Minli spends her only two coins on a talking goldfish, sure that it can bring her family good fortune. With help from her fish, Minli sets out to find the Old Man of the Moon, who she hopes will provide the secret to good fortune. Along the way she befriends the unfortunate and uses her wits to escape traps in this beautifully illustrated adventure that draws upon the rich history of Chinese folktales. (2010 Newbery Honor Book)
---

Starry River of the Sky
by Grace Lin
Ages 8–12
Rendi has run away from home and ends up in the tiny Village of Clear Sky where he becomes the chore boy for the innkeeper. Rendi is worried about the moans he hears at night, and concerned that the moon seems to have vanished. The mysterious Madame Chang arrives and trades her wonderful stories for tales from Rendi, gradually transforming the unhappy village. This compelling tale based on Chinese folklore is a companion volume to Where the Mountain Meets the Moon.
---

When the Sea Turned to Silver
by Grace Lin
Ages 8–12
The Tiger Emperor is forcing all the men of the mountain villages to build the vast wall surrounding their kingdom. At Pinmei's village, the emperor's soldiers also take her grandmother, the Storyteller. To save her, Pinmei and her friend Yishan set out to find the Luminous Stone That Lights the Night, the only thing the emperor values more. This beautifully illustrated retelling of the Chinese folktale is very exciting.
---

Fables
by Arnold Lobel
Caldecott Medal 1981


Ages 6–10
These short original fables have unexpected morals. The humorous illustrations add to the fun.
---

Princess Tales: Once Upon a Time in Rhyme with Seek-and-Find Pictures
by Grace Maccarone, Gail de Marcken
Ages 4–8
Ten familiar fairy tales are retold in poetic form. The intricate pen and watercolor illustrations include many tiny objects for readers to search out while listening to the poems.
---
The Hinky-Pink
by Megan McDonald, Brian Floca
Ages 4–8
In this retelling of a story from 1940, the humble seamstress Anabel is about to realize her dream of sewing a ball gown for a princess when a Hinky-Pink appears to rob her of sleep so that she is too tired to sew. Floca's active and detailed watercolors bring long-ago Florence to life.
---

The Funny Little Woman
text by Arlene Mosel, illustrations by Blair Lent
Caldecott Medal 1973


Ages 3–8
Long ago in old Japan a funny little woman with a silly little laugh chases a runaway dumpling and soon finds herself cooking dumplings for a band of demons. Her infectious laugh helps her charm the demons into releasing her.
---

Mama Miti
by Donna Jo Napoli, Kadir Nelson
Ages 4–8
This story of Wangari Maathai's mission to plant trees in Kenya is told more as a folk tale than a biography. Wangari Wangari becomes known as Mama Miti (Mother of Trees) because she knows her trees, and recommends the perfect one to plant to meet the needs of those she meets. Some trees produce edible berries, some make good firewood, some have roots that purify the water. Beautiful and colorful illustrations bring Mama Miti and her community to life.
---

Dark Shimmer
by Donna Jo Napoli
Ages 14–up
Dolce grows up on the small island of Torcello in the lagoon near medieval Venice. Freakishly large, Dolce is mocked by everyone except her mother. She learns the valued skill of making mirrors and is relatively content until her mother dies. Hoping to find other "giants," Dolce swims to Venice and is taken in by a nobleman and his daughter Biancaneve, soon marrying into the family. Prolonged exposure to the quicksilver vapors required by mirror-making drives her mad. While her husband is away, Dolce makes several attempts to kill her stepdaughter, who flees into the forest to take shelter with the dwarves. This clever spin on the Snow White fairy tale transforms the evil stepmother into a sympathetic character.
---
The Wager
by Donna Jo Napoli
Ages 12–up
Set in 1169, this novel tells the story of Don Giovanni, a wealthy 19-year-old orphan who suddenly loses his riches and his castle in a tidal wave and is reduced to begging for food to survive. The devil appears to offer a wager—if Don Giovanni agrees not to bathe or change his clothes for three years, three months, and three days, he will receive a purse that magically refills. Giovanni's descent into foul decay and eventual redemption is colorfully portrayed in this retelling of a traditional Italian fairy tale.
---
The Flint Heart
by Katherine Paterson, John Paterson, John Rocco
Ages 7–12
This retelling of Eden Phillpotts's 1910 fairy tale is both true to the original and adapted for the modern reader. In the Stone Age, an ambitious man demands a talisman that will harden his heart and give him total power over his tribe. The Flint Heart does exactly that, giving the bearer a lust for power and a tolerance for cruelty. After being buried for thousands of years, the Flint Heart is unearthed by a kind-hearted farmer, and wreaks havoc upon the lives of humans, fairy creatures, and animals. This humorous fairy tale is perfectly designed to be shared as a family, one chapter each night.
---
The Lion & the Mouse
by Jerry Pinkney
Caldecott Medal 2002


Ages 3–6
This adaptation of Aesop's fable is nearly wordless, but Pinkney's gorgeous illustrations tell the tale in stunning detail.
---
The Three Billy Goats Gruff
by Jerry Pinkney
Ages 4–8
Three hungry goats come to a bridge with lush green grass on the other side. The troll under the bridge is also hungry, eager for a meal of goat. The smaller billy goats convince the troll to wait for a bigger meal until the largest goat tosses him into the water, where a creature even larger than the troll awaits. Pinkney's ending addition changes the classic tale of revenge into one tinged with empathy.
---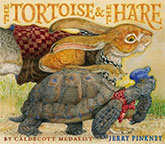 The Tortoise & the Hare
by Jerry Pinkney
Ages 3–6
This retelling of the classic Aesop's fable is set in the desert Southwest. Beautifully lifelike animals gather to watch the race as the perspective changes from the hare's over-confidence and the tortoise's diligent persistance.
---
I Am So Strong
by Mario Ramos
Ages 4–8
This self-centered wolf strolls through the woods, demanding reassurance from the fairy tale characters he meets that he is indeed the strongest creature in the woods. A small "toad of some sort" finally breaks the pattern by declaring that its mother the dragon is far stronger. Expressive illustrations enhance this satisfying tale.
---

Seven Fathers
by Ashley Ramsden, Ed Young
Ages 4–8
In this retelling of a Scandinavian folktale, a traveler in a blizzard seeks shelter from the storm. When the traveler stumbles upon a house, he asks for the head of the household to request a night's lodging. But the old man at the door says he is not the father of the house, and sends the traveler on a search for his father. Each old man is smaller and more wizened than the one before, until finally the traveler's request to the seventh father breaks the spell and the traveler is fed a feast and given a luxurious bed. The strange collage illustrations complement the suspenseful humor of the prose.
---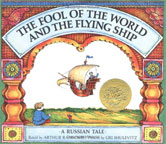 The Fool of the World and the Flying Ship
text by Arthur Ransome, illustrations by Uri Shulevitz
Caldecott Medal 1969


Ages 4–8
In this retelling of a Russian folktale, the simple third son is helped by those with magical powers to perform the impossible tasks set by the Czar and wins the princess. The colorful illustrations have a wonderful Russian folk-art look.
---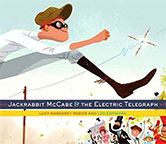 Jackrabbit McCabe and the Electric Telegraph
by Lucy Margaret Rozier, Leo Espinosa
Ages 4–8
Jackrabbit McCab's extremely long legs give him the power to outrun anything on the American frontier in the early 19th century. By his 18th birthday, Jackrabbit has outrun an antelope, a stagecoach, and even a locomotive. Challenged to beat a telegraph delivering a message to a town 25 miles away, Jackrabbit may have met his match.
---
The Invisible Kingdom
by Rob Ryan
Ages 8–up
The Prince (13) lives in a palace in the middle of the city. He doesn't see much of his elderly parents, and Lord Von Dronus, his stern tutor, demands that he follow all the rules of protocol, trapping the prince inside the palace. The Prince knows the palace inside out, and has made one friend, the young Bootman who lives in the basement and keeps the palace footwear shiny. The Bootman gives the Prince a special pen that writes in invisible ink revealed by a special torch, and the Prince decorates the drapes around his bed with an imaginary village. Discovering a window in the attic, the Prince begins to sneak out of the palace at night, fascinated by ordinary people going about their usual nighttime tasks. This modern fairy tale is the first of a trilogy.
---
The Little Mermaid
by Robert Sabuda
Ages 6–up
Ingenious pop-up engineering illustrates the classic Hans Christian Andersen fairy tale of the mermaid who leaves her home in the sea to follow her love.
---
Pinocchio: The Origin Story
by Alessandro Sanna
Ages 5–14
This nearly wordless version of the Pinocchio story begins when a meteor crashes to Earth. A tree grows in the crater. Lightning hits a branch, and it scurries away on twiggy limbs. Pinocchio fights fire, snake, and shark before growing into a tree.
---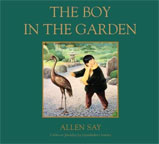 The Boy in the Garden
by Allen Say
Ages 5–8
When Jiro's father visits his wealthy friend Mr. Ozu, Jiro wanders through the vast garden. Near the teahouse he meets a beautiful woman who offers to weave something for him, just like the sad crane woman in the fairy tale his mother reads to him. Moving back and forth between the dream fairytale world and the real garden, Jiro wonders what is real and what is a dream.
---

The Sweetest Spell
by Suzanne Selfors
Ages 12–up
Emmeline Thistle was born with a curled foot in the village of Root. Because of her deformity, she was left to die, but the local cows protected and fed her. Later Emmeline is nearly drowned in a flood that destroys her village, but is rescued again by the cows. Emmeline discovers that she has the ability to churn cream into chocolate, a forgotten delicacy in the kingdom of Anglund. This magical ability makes Emmeline a valuable commodity, but all she wants is the love of Owen Oak, a dairyman's son. Magic and romance intertwine in this humorous fairy tale.
---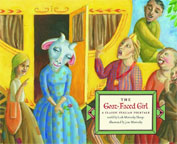 The Goat-Faced Girl
by Leah Marinsky Sharpe, Jane Marinsky
Ages 6–up
A lizard who is really a witch trips over an abandoned baby and adopts her. Raised by her lizard-mother, Isabella grows up beautiful but lazy. When she becomes engaged to Prince Rupert, her mother gives her the head of a goat in order to spur her into action. Rupert is repulsed by her goat head, and gives her three impossible tasks to complete before he will marry her. Beautifully detailed paintings illustrate the retelling of this classic Italian folktale.
---
Mirror Mirror: A Book of Reversible Verse
by Marilyn Singer, Josee Massee
Ages 7–up
This clever book of poems that can be read forward and backwards, shows that there can be more than one point of view in a fairy tale. "Mirror Mirror" is narrated by Snow White in one direction, and by the wicked queen in the other. "In the Hood" features the wolf anticipating his next meal one way, and Little Red Riding Hood reminding herself not to dawdle on the way to Grandma's. The rich illustrations reflect the dual images of the poems. Singer explains how to create a "reverso" poem in an afterward that encourages readers to try their own.
---

Follow Follow: A Book of Reverso Poems
by Marilyn Singer, Josee Masse
Ages 6–up
Fairy tale characters speak though "reverso" poems that can be read foward and backward, resulting in completely different meanings. Characters appear from many stories, including The Tortoise and the Hare, Thumbelina, The Little Mermaid, The Emperor's New Clothes, The Three Little Pigs, The Princess and the Pea, and Aladdin.
---

Jack and the Beanstalk and the French Fries
by Mark Teague
Ages 3–5
After Jack trades the family cow for a handful of magic beans his mother is thrilled with all the dishes she can make from the fruit of the magic beanstalk: bean salad, pickled beans, bean soup, refried beans, bean sprouts, bean dip… Jack is less than thrilled and is about to cut down the magic beanstalk when he meets the grumpy giant who is also sick and tired of beans. Together they plant a garden full of more enjoyable vegetables: tomatoes, corn, carrots, and even potatoes to make French Fries.
---
Jack and the Baked Beanstalk
by Colin Stimpson
Ages 3–6
Jack and his mother run a Depression-era café that's fallen on hard times. They are nearly out of money, and when Jack comes home with only a tin of baked beans, his mother throws it out the window in disgust. Overnight, the beans grow into a giant baked beanstalk that takes Jack to the castle of a giant who has piles of money. Luckily the giant has a secret wish to become a chef and the clever Jack comes up with a plan to cheer up the giant and save the café. Beautiful illustrations add to the charm of this humorous retelling of the classic tale.
---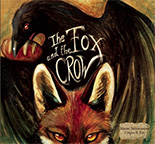 The Fox and the Crow
by Manasi Sunramaniam, Culpeo S. Fox
Ages 4–up
This beautifully illustrated book is a re-telling of the classic fable by Aesop in which the clever fox tricks the vain crow into dropping a tasty bit of bread. Alternate horizontal and vertical perspectives highlight the drama of the tale and bring the personalities of the characters to life.
---

The Singing Bones
by Shaun Tan
Ages 12–up
Artist Shaun Tan captures the sprit of seventy-five Grimms' fairy tales in haunting sculptures. A short excrpt from the fairy tale appears on the left hand page, while a photgraph of the sculpture appears on the right, embodying the essense of the tale.
---

The Seven Tales of Trinket
by Shelley Moore Thomas
Ages 8–12
Trinket (11) is determined to become a bard like her father, who disappeared years earlier. Guided by an old map and accompanied by her friend Thomas the Pig Boy, Trinket has seven adventures that turn into the tales that eventually define her as the Story Lass. Inspired by Celtic folklore, the often frightening stories feature ghosts, faeries, selkies, and banshees. The seventh tale reveals the truth about her father's fate.
---
The Heartless Troll
by Øyvind Torseter
Ages 10–up
This humorous graphic novel inspired by the the Norwegian folktale "The Troll with No Heart in His Body," uses fairy tale traditions to tell the story of Prince Fred, the seventh son of a King whose six older sons have not returned from combat with a huge troll. Mounted on his reluctant horse, Fred sets off to the troll's lair where he joins forces with a captive Princess to defeat the troll.
---

Interstellar Cinderella
by Deborah Underwood, Meg Hunt
Ages 3–5
In this futuristic version of the classic fairy tale, Cinderella is a talented natural mechanic, tinkering with her stepmother's appliances with the help of a robotic mouse named Murgatroyd, while dreaming of becoming a mechanic specializing in spaceship repair. With the help of her fairy godrobot, Cinderella fixes the Prince's broken rocket. The grateful Prince takes her to the Gravity Free Ball, but she vanishes at midnight, causing him to search the galaxy for her. The Prince proposes marriage, but Cinderella chooses to become his chief mechanic instead.
---

Breadcrumbs
by Anne Ursu, Erin Mcguire
Ages 8–12
Hazel, an imaginative 5th grader adopted from India, has just switched schools and can't seem to fit in. Her parents have just gotten divorced, and her best friend Jack refuses to speak to her. When he disappears with an eerie woman on a sled pulled by wolves, Hazel sets out into the snowy and enchanted Minnesota woods to rescue him. What Hazel doesn't know is that a shard of magical mirror is stuck in Jack's heart, causing the drastic change in his personality. Using elements of Hans Christian Anderson's "The Snow Queen," this magical fantasy explores the power of friendship.
---

Hamster Princess: Harriet the Invincible
by Ursula Vernon
Ages 8–12
This funny interpretation of the Sleeping Beauty fairy tale begins when an evil fairy curses the baby Harriett with a deathlike sleep to begin on her twelfth birthday. At the age of 10 Harriet learns of the curse and decides that since she must be alive for the curse to work she is invincible. She celebrates her new freedom by jumping off the tower and taking up professional jousting. Cartoon sequences are interwoven with text in this laugh-out-loud first in the Hamster Princess series.
---

Goldilocks and the Three Dinosaurs
by Mo Willems
Ages 3–7
Once upon a time there were three hungry dinosaurs, Papa, Mama, and a dinosaur visiting from Norway. After baiting their house with chocolate pudding, the three dinosaurs just happen to leave their door unlocked while they lurk in the nearby woods. Goldilocks, who seems to be wandering around unsupervised, enjoys the treat before luckily coming to her senses. This ironic retelling will appeal to those ready to move beyond gentler fare.
---

The Elephant's Friend and Other Tales from Ancient India
by Marcia Williams
Ages 8–12
Eight classic Indian folk tales are retold in this graphic storybook collection. Brightly colored comic-book style illustrations highlight the sly humor that runs through the tales in this accessible book.
---

Golem
by David Wisniewski
Caldecott Medal 1997


Ages 6–10
Elaborate cut-paper collage illustrations provide dramatic visuals for this retelling of the Jewish legend of Rabbi Loew who used his powers to create a gigantic Golem from clay to protect his people from persecution in the ghettos of 16th-century Prague.
---

Lon Po Po:

A Red-Riding Hood Story from China
by Ed Young
Caldecott Medal 1990


Ages 4–8
Three daughters left at home while their mother goes to visit Grandmother are almost fooled by Lon Po Po, the wolf pretending to be their Grandmother. Incredible illustrations that are both realistic and abstract add to the power of this retelling of the classic tale.
---

Rapunzel
by Paul O. Zelinsky
Caldecott Medal 1998


Ages 4–10
The beautiful Italian Renaissance-styled illustrations with warm golden tones bring the classic Brothers Grimm fairy tale to life.
---
Duffy and the Devil
illustrated by Margot Zemach, text by Harve Zemach
Caldecott Medal 1974


Ages 4–8
This comic version of the Rumpelstiltskin story is based on a 19th century play from Cornwall, England. The pen and wash illustrations are rich in detail and humorous interpretation of the characters.
---