Leo: A Ghost Story
by Mac Barnett, Christian Robinson
Ages 3–5
Leo is a ghost. When a new family moves into the empty house, he welcomes them with a tray of tea and toast. But the family is frightened and Leo is hurt by their fear. He leaves the house and meets Jane, a girl who is eager to have an imaginary friend to share adventures with.
---
Not Very Scary
by Carol Brendler, Greg Pizzoli
Ages 3–6
Melly is a green-skinned little monster who is usually very brave. On her way to cousin Malberta's house for a surprise, Melly encounters a coal-black cat, which she doesn't find very scary. But the two skittish ghosts she sees next make her a bit nervous, and the tongue twisting apparitions keep growing in number. Melly stoutly declares that each one is not scary, using a different adverb each time. This fun read-aloud is perfect for small children who prefer just a smidge of scariness.
---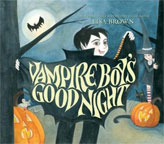 Vampire Boy's Good Night
by Lisa Brown
Ages 4–8
Bela, a young vampire, and his witch friend Morgan head out on Halloween night to discover for themselves if human children really exist. At a party they are surprised to find out that the others are really humans disguised in costumes. Speech balloons add to the fun in this look at Halloween from an outsider's perspective.
---

Bad Kitty Scaredy-Cat
by Nick Bruel
Ages 5–8
Bad Kitty is frightened by a scary parade of alphabetical trick-or-treaters including a Noisy Neanderthal and an Odious Ogre. Bad Kitty is so scared that she cowers beneath the couch with a comforting alphabetical collection of Halloween treats including bubble gum and candy corn before emerging to take on the trick-or-treaters with an alphabetical series of actions including kicking and lambasting.
---

Click, Clack, Boo!: A Tricky Treat
by Doreen Cronin, Betsy Lewin
Ages 3–7
Halloween is Farmer Brown's least favorite holiday. So he puts a bowl of candy on the porch, hangs a Do Not Disturb sign, and locks the door. But the animals have other plans and replace his sign with another that reads: Halloween Party at the Barn! This Halloween read-aloud is just scary enough to delight young readers.
---

Little Elliot, Fall Friends
by Mike Curato
Ages 4–8
Little Elliot and Mouse love living in the big city, but the arrival of fall makes them decide to visit the countryside. They admire the fall colors, eat apples, play hide-and-seek, and enjoy and autumn feast with some new barnyard friends.
---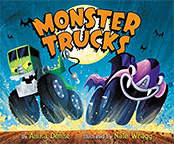 Monster Trucks
by Anika Denise, Nate Wragg
Ages 4–8
Frankentruck, Zombie Truck, Ghost Truck and others come together for Halloween fun on a moonlit night.
---

Pug & Pig Trick-or-Treat
by Sue Lowell Gallion, Joyce Wan
Ages 2–8
It's Halloween night and Pug and Pig are dressed in identical skeleton costumes. Pig loves her costume, but Pug hates it and tears it into pieces. Pig is crushed. Halloween is her favorite holiday and now she has no one to share it with. Pug saves the day by covering himself in mud except for a clean "mask" around his eyes, and the two happily pass out treats and go trick-or-treating.
---
The Spooky Box
by Mark Gonyea
Ages 4–8
Bold illustrations follow the nervous narrator's ideas of what might be inside the spooky black box that appears on the doorstep. It could be bats, or rats, or toads, or even a haunted cake. Finally the reader gets to open the flap and reveal what is really hidden inside the spooky box.
---
Halloween Good Night
by Rebecca Grabill, Ella Okstad
Ages 4–8
This clever Halloween bedtime story counts monsters in the format of the "Over in the Meadow" nursery rhyme. Capturing the mischievous fun of Halloween without the terror, this funny book is great fun to read aloud. "Yonder in the boneyard, where the bats swoop and dive, breathes an old granny zombie with her peeling zomblings five."
---

Black and Bittern Was Night
by Robert Heidbreder, John Martz
Ages 4–8
Written in nonsense verse reminiscent of Lewis Carroll's "Jabberwocky," this fun read-aloud tells the tale of "skul-a-mug-mugs" (skeletons) who try to frighten the "tall-bigs"(adults) into canceling trick-or-treating. But the candy-craving "tyke-tots" are determined to save their favorite holiday.
---

Just Say Boo!
by Susan Hood, Jed Henry
Ages 3–8
This rhyming book captures the fun, excitement, and nervousness that accompany Halloween. Three costumed children out trick-or-treating banish all fears with one magic word. "If three dinosaurs roar when you open your door, what do you say? Boo!"
---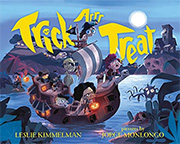 Trick ARRR Treat: A Pirate Halloween
by Leslie Kimmelman, Jorge Monlongo
Ages 4–7
Trick-or-treaters dressed as pirates traverse their neighborhood, demanding treats. Charlotte Blue-Tongue, Peg-Leg Pete, Glass-Eyed Gabby and their friends are so fully in character that they board a pirate ship before a monster appears to send them running home.
---
AlphaOops: H is for Halloween
by Alethea Kontis, Bob Kolar
Ages 4–8
The alphabet is putting on a show for Halloween, and chaos erupts. Z insists that the show must start with H because Halloween can't start with any other letter, and the rest of the alphabet appears out of order, dressed in Halloween costumes to suit their letters. Along the bottom of the pages, tiny pumpkins arrange the letters in their proper order.
---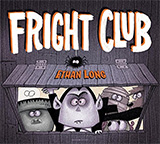 Fright Club
by Ethan Long
Ages 4–8
Each Halloween Eve the Fright Club meets to go over their plan for Operation Kiddie Scare. Only the scariest monsters are allowed, leaving out the cute bunny and squirrel. The rejected animals practice their scariest faces and sounds, proving to the other members of the Fright Club that everyone should be allowed to join.
---

Little Tree
by Loren Long
Ages 5–8
When fall comes all the other saplings let go of their leaves, knowing that will help them grow strong and tall. But Little Tree holds tight to his leaves and refuses to let them fall. As the years pass and the other trees turn green and grow throughout each spring and summer, Little Tree holds on to his brown and withered leaves and remains small. A squirrel, a fawn, and a fox offer advice, and eventually Little Tree knows he must make a decision or remain forever a little tree.

Hush, Little Monster
by Denis Markell, Melissa Iwai
Ages 4–6
A monster father trying to calm his cranky child softly sings his own version of the classic lullaby. "Hush, Little Monster, don't you howl. Daddy's gonna give you a screeching owl." Both parents and children will enjoy this beautifully illustrated version of the classic song Hush, Little Baby.
---

Scarecrow Magic
by Ed Masessa, Matt Myers
Ages 3–5
During the day Scarecrow hangs in the corn field, but as night falls and the full moon rises magic builds in the air. Scarecrow unties his ropes, leaves his clothes behind, and dives into a nearby pond, playing with his friends until the sun rises. The rhyming text balances the illustrations for just the right amount of scary thrills.
---

The Monsters' Monster
by Patrick McDonnell
Ages 3–6
Three tiny monsters (Grouch, Grump, and the two-headed Gloom 'n' Doom) decided to end their continual quarrel about who is the meanest by building the monster of all monsters. The monster they create is big and scary looking, but also the happiest creature alive. He giggles and hugs the tiny monsters and transforms them in an entirely believable way.
---

Ol' Clip-Clop: A Ghost Story
by Patricia C. McKissack, Eric Velasquez
Ages 6–9
The cold-hearted John Leep eagerly anticipates evicting the widow Mayes for not paying her rent. When she comes up with the payment, he hides one of the coins under his boot, and evicts her for being short. Mounting his horse for the ride home through the dark forest, he hears the "clip, clop" of a ghostly rider pursuing him. This ghostly tale will delight lovers of scary stories.
---

My First Ghost
by Maggie Miller, Michael Leviton, Stephanie Buscema
Ages 4–7
This how-to book comes with a free ghost and is full of advice for novice ghost owners, teaching kids everything they need to know to keep their new pet ghost healthy and happy. Delightful illustrations accompany the humorous tips on feeding, grooming, and the best games to play with your ghost.
---

Sharing the Bread: An Old-Fashioned Thanksgiving Story
by Pat Zietlow Miller, Pat Zietlow Miller
Ages 4–8
This 19th century family works together to prepare Thanksgiving dinner. Grandpa cooks the berries, Sister kneads the bread, Auntie mashes the potatoes, all to the direction of the middle child. The joy of working together toward a common and delicious goal permeates this Thanksgiving story.
---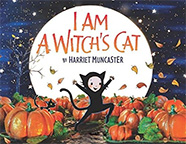 I Am a Witch's Cat
by Harriet Muncaster
Ages 4–8
The little girl narrating this imaginative book believes her mother is a good witch and she is the witch's special black cat. Together the two mix magic potions, grow magical plants, and plan broomstick rides under the full moon.
---

Zen Ghosts
by Jon J. Muth
Ages 4–8
Stillwater the panda dresses as a ghost to join Addy, Michael, and Karl for Halloween. After trick-or-treating they travel to Stillwater's house where another panda joins them and shares a ghost story based on a Zen koan that questions the nature of identity. Beautiful watercolors illustrate this haunting and magical tale.
---

Bow-Wow's Nightmare Neighbors
by Mark Newgarden, Megan Montague Cash
Ages 4–8
Bow-Wow's neighbors across the street steal his comfy green bed, and the dog is determined to get it back. Inside the haunted mansion he encounters a trick floorboard, a painting with moving eyes, ghost cats, and other classic haunted house themes. Children and adults alike will enjoy creating a narrative for this wordless book that ends on a happy note.
---

Vampirina Ballerina
by Anne Marie Pace, LeUyen Pham
Ages 2–6
Becoming a ballerina is hard for any little girl, but especially challenging for young vampirettes. This how-to book provides helpful hints (find an evening class) in a hilarious tone that balances vampire hauteur with upbeat advice. Young readers will identify with spunky Vampirina as she battles familiar demons, like stage fright, and not so familiar ones, like transforming suddenly into a bat!
---

Fletcher and the Falling Leaves
by Julia Rawlinson, Tiphanie Beeke
Ages 3–8
The young fox Fletcher is concerned when leaves begin to fall from his favorite tree. His mother assures him that it is only autumn, but to Fletcher the tree does not seem at all well. He tries to capture the leaves and stick them back on, but eventually the twig breaks off. The next day a beautiful sight reassures him that the tree is fine. The beautiful illustrations echo the magical transformation of the seasons.
---

Creepy Carrots!
by Aaron Reynolds, Peter Brown
Ages 4–8
Jasper Rabbit loves the carrots that grow in Crackenhopper Field, stopping for a snack as he passes on his way to school and Little League practice. But then the carrots start following Jasper around, appearing suddenly behind him in the bathroom mirror and as looming shadows in his bedroom. The orange and black illustrations add just the right touch to this deliciously scary story with a comic conclusion. (Hitchcock and film noir references will divert the adults reading aloud this parody of a paranoid thriller.)
---

Creepy Pair of Underwear!
by Aaron Reynolds, Peter Brown
Ages 4–8
Jasper Rabbit is proud to be growing up. He is not afraid of the dark anymore and has graduated to big-rabbit underwear, special green ones he convinced his mother to buy. But when the lights go out, the underwear have a strange green glow and are very creepy. Jasper tries to get rid of the creepy underwear, but no matter what he does, they keep coming back!
---

Bone Dog
by Eric Rohmann
Ages 4–8
Gus doesn't feel like doing much of anything after his old dog Ella dies, not even dressing up for Halloween. But remembering her promise to be with him always, Gus puts on his skeleton costume and sets out on Halloween night. When Gus is threatened by a bunch of graveyard skeletons, Ella, his very own Bone Dog, comes to his rescue, banishing the skeletons along with Gus's grief . Though some may find the bone dog unsettling, the comforting message that a dog's loyalty transcends death is presented with gentle humor.
---

Ten Orange Pumpkins: A Counting Book
by Stephen Savage
Ages 3–5
Counting down from 10, the pumpkins disappear in Halloween fashion. Graveyards, ghosts, and witches make appearances in this rhyming read-aloud, perfect for capturing the attention of young children.
---

Full of Fall
by April Pulley Sayre
Ages 3–8
Vivid photographs accompany poems that document the progression of changing leaves in the fall. From the first splash of color to the decomposition of fallen leaves, this beautiful book celebrates fall trees around the world.
---

Scaredy Squirrel Prepares for Halloween: A Safety Guide for Scaredies
by Mélanie Watt
Ages 4–8
Scaredy Squirrel gives advice about how to plan for the spookiest night of the year. Eight short chapters explain how to carve jack-o-lanterns (don't use a chainsaw!), decorate the house, pick a costume, and host a party. Timid and brave children alike will enjoy this funny book.