Itsy Mitsy Runs Away
by Elanna Allen
Ages 3–7
Itsy Mitsy has had it with bedtime, and sets off in her footed pajamas in search of the perfect place where there are no bedtimes ever. Dad helps out by suggesting things that Mitsy can't do without, beginning with her stuffed dinosaur and the contents of the refrigerator until she has packed her entire house, yard and all. This very funny book will become a bedtime favorite.
---

There's a Princess in the Palace
by Zoe Alley, R.W. Alley
Ages 4–8
The tongue-in-cheek retellings of five fairy tales emphasize clever dialog over beauty and romance. The characters in the tales are connected — Cinderella's daughter becomes Sleeping Beauty who is not quite ready for marriage and runs off to live with the dwarves as Snow White. Her daughter in turn falls for The Frog Prince, and her granddaughter is the Princess who tries to sleep on the uncomfortable pea buried under layers of mattresses. Two mice provide running commentary in this lavishly illustrated oversized graphic novel, sure to become a bedtime favorite.
---

Rock-a-Bye Romp
by Linda Ashman, Simona Mulazzani
Ages 1–3
This beautifully illustrated read-aloud muses about why a cradle containing a baby would be so high in a tree. The baby has a wonderful adventure from the tree branches to a farm full of animals to a ride down a river and finally to the security of rocking in Mama's arms.
---
William's Winter Nap
by Linda Ashman, Chuck Groenink
Ages 3–6
William is just about to fall asleep snuggled into bed in his cozy log cabin when a chilly chipmunk taps on his window asking for shelter. William says there is plenty of room for two, and makes room for the chipmunk in his bed. More animals appear, each bigger than the last, until a huge bear arrives. Is there really still room to share?
---
The Bear in the Book
by Kate Banks, Georg Hallensleben
Ages 3–6

At bedtime a small boy chooses his favorite book for his mother to read to him. Looking over their shoulders, readers join in this special time between mother and child as they read about seasonal change, sleep cycles, and hibernation. Just as the bear wakes up in the spring, the boy drifts off to sleep. Beautifully soothing and engaging.
---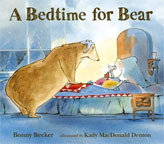 A Bedtime for Bear
by Bonny Becker, Kady MacDonald Denton
Ages 4–8
When Bear's exuberant friend Mouse comes to spend the night, Bear finds being a host difficult to say the least. Bear needs absolute quiet in order to fall to sleep, and Mouse is anything but quiet. But when scary sounds are heard in the middle of the night, Bear realizes that having a friend is more important than having things exactly his own way. Charming watercolor illustrations highlight the dry humor of the text and characterizations.
---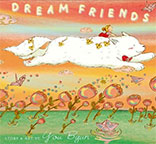 Dream Friends
by You Byun
Ages 3–5
Melody has a wonderful dream friend, a huge white cat who plays with her and shows her amazing things. Melody is lonely in her new home and would love to make a real friend, but she doesn't want to give up her marvelous dream friend. Different color palettes suffuse the beautiful illustrations depicting Melody's dream and real world in this enchanting bedtime book.
---

Go to Sleep, Monster!
by Kevin Cornell
Ages 4–8
It 's always hard to get George to go to sleep since he worries about the monster under his bed. Then George and his sister Anna discover that the monster can 't get to sleep because it is worried about the monster under its bed who is worried about the monster under its bed and so on to the center of the earth.
---

Shhh! I'm Sleeping
by Dorothée De Monfreid
Ages 2–5
The eight dogs arranged two to a bunk are sound asleep when Popov's snoring wakes Nono up. He climbs up to the next bunk to ask Misha for a story, which wakes up Pedro. The other dogs all eventually wake up, trading toys and glasses of water until they are all crammed into a single bunk. This funny book will quickly become a bedtime favorite.
---
Naptime
by Iris De Moüy
Ages 2–5
The thirteen jungle animals in this delightful picture book insist each and every one that they are totally uninterested in taking a nap. Each animal has a different reason (too big, too busy, too tall) but the little girl persuades the animals to close just one eye, and then the other, and that's all it takes for naptime!
---

All the Awake Animals Are Almost Asleep
by Crescent Dragonwagon, David McPhail
Ages 3–6
A mother tries to lull her small son to sleep by describing creatures from A through Z who find sleep a welcome end to the day in unique alliterative ways. Soothing watercolors illustrate the weary animals dropping off to sleep.
---

Beach Baby
by Laurie Elmquist, Elly MacKay
Ages Birth–3
A mother cradling a sleepy toddler at the beach promises that "everything will be here when you wake." The litany of common beach objects that follow — starfish, sand dollar, seal, sand piper — lull the baby to sleep. The beautifully lit diorama illustrations and restful text reassure young readers drifting off to sleep that everything will be waiting when they wake up.
---

No Go Sleep!
by Kate Feiffer, Jules Feiffer
Ages 3–7
Despite his parents' attempts, this stubborn baby refuses to go to sleep. The setting sun, rising moon, bunnies, owls, and even a car on the street add to the calming chorus of gentle cajoling to soothe the wide-awake baby. The lulling tone and gentle humor make this a perfect bedtime book.
---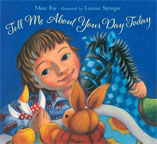 Tell Me About Your Day Today
by Mem Fox, Lauren Stringer
Ages 4–8
Once upon a time there was a small boy who loved bedtime. After a last goodnight from his mother, the boy snuggles up with his beloved toys and listens to their stories about the adventures they had that day. Rhyme and repetition make the tales easy to follow for young readers, with specific details illustrated by the warmly colored pictures.
---
Hide-and-Squeak
by Heather Vogel Frederick, C.F. Payne
Ages 3–6
A mouse baby starts a wild game of hide-and-squeak with his father in order to put off bedtime as long as possible. His willing father eventually manages to curb his son's rollicking energy and sweeps him off to bed. Warm and detailed drawings complement the rhyming text.
---

The Night World
by Mordicai Gerstein
Ages 3–6
Awakened by his cat Sylvie before dawn, a small boy creeps through the silent house to let Sylvie out. Outside the two discover the shadowy night world, warm and comfortable and full of stars. Then the animals gather, murmuring softly "It's coming…" as the first rays of dawn appear. This quiet enjoyment of the wonders of both the night and the day makes perfect bedtime reading.
---
It Is Not Time for Sleeping
by Lisa Graff, Lauren Castillo
Ages 4–7
A small boy narrates his nighttime routine after dinner is finished. "It's not time for sleeping," he declares, instead describing how he helps with the dishes, plays with the dog, gets into his pajamas, brushes his teeth, and listens to a story.
---
Halloween Good Night
by Rebecca Grabill, Ella Okstad
Ages 4–8
This clever Halloween bedtime story counts monsters in the format of the "Over in the Meadow" nursery rhyme. Capturing the mischievous fun of Halloween without the terror, this funny book is great fun to read aloud. "Yonder in the boneyard, where the bats swoop and dive, breathes an old granny zombie with her peeling zomblings five."
---

Goodnight Everyone
by Chris Haughton
Ages 2–5
The sun is setting in the forest, and as the background gradually darken, four little mice, three hares, and two deer sigh, yawn, and fall asleep while Great Big Bear tries to get Little Bear to fall asleep. Sleepy readers then say goodnight to each animal family, sleeping peacefully in its home.
---

Bedtime for Bear
by Brett Helquist
Ages 2–6
Just as Bear is settling in for a long winter nap, two rowdy raccoon friends beg him to come out and play. Bear tries to put them off, but eventually gives in and the three have a marvelous time playing in the snow. Finally even the rambunctious raccoons are ready for sleep. The humor and details in this winter romp make it a perfect read-aloud any time of the year.
---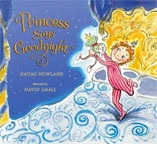 Princess Says Goodnight
by Naomi Howland, David Small
Ages 4–8
In this joyful bedtime story, a small girl imagines herself a princess and transforms her ordinary modern family life into royalty living in a castle. Rhyming text and enchanting watercolor illustrations add to the fun as the nighttime routine ends with the one thing every little girl, whether princess or not, needs before sleep—a kiss good-night.
---
All Ears, All Eyes
by Richard Jackson, Katherine Tillotson
Ages 4–8
This quiet book visits the forest at twilight, encouraging the use of ears and eyes to identify the forest creatures. The full moon helps to illuminate night creatures like bats, owls, and porcupines. Short lines featuring onomatopoeia encourage curiosity and quiet observation.
---

Lovabye Dragon
by Barbara Joosse, Randy Cecil
Ages 3–6
A lonely little girl in her bed in her room in her castle longs for a dragon for a friend while a lonely dragon in his nest in his cave in his mountain dreams of a girl. Eventually the two find each other and happiness in this charming lullaby book.
---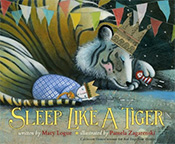 Sleep Like a Tiger
by Mary Logue, Pamela Zagarenski
Ages 4–8
A small crown-wearing girl tells her similarly crowned parents that she is simply not sleepy. They insist that she put on her pajamas and then the three discuss the ways different animals sleep. Bears are mighty sleepers, and snails curl up like cinnamon rolls. The image of the tiger sleeping to stay strong catches her imagination, and she dreams of herself curled up next to a sleeping tiger. This enchanting book will be enjoyed over and over.

The Moon's Almost Here
by Patricia MacLachlan, Tomie dePaola
Ages 4–8
Soothing verses welcome the slow rising of the moon. A small boy, wearing an old-fashioned nightgown, and his father, dressed in a Pierrot costume, watch the sky gradually darken from turquoise to deep blue before the moon finally makes a much-anticipated appearance in the final pages. This beautifully illustrated and reassuring book is perfect for bedtime sharing.
---

Good Night!
by Benoit Marchon,Soledad Bravi
Ages Birth–3
Good night my jewel. Good night my shrimp… Twenty different terms of endearment matched with a smiling cartoon face shining through the entire board book help to sooth our youngest readers to sleep.
---

Hush, Little Monster
by Denis Markell, Melissa Iwai
Ages 4–6
A monster father trying to calm his cranky child softly sings his own version of the classic lullaby. "Hush, Little Monster, don't you howl. Daddy's gonna give you a screeching owl." Both parents and children will enjoy this beautifully illustrated version of the classic song Hush, Little Baby.
---

Bunny Dreams
by Peter McCarty
Ages 4–8
In bunny dreams anything can happen. A bunny might find the perfect carrot, or learn the ABCs. A bunny might fly or count 1-2-3. This coy free-floating dream of a book is perfect for relaxing and drifting off to sleep and dreams.
---

Thank You and Good Night
by Patrick McDonnell
Ages 3–6
Maggie arranges a surprise sleepover party for her beloved bunny Clement, inviting his friends Jean the elephant and Alan Alexander the bear. A thoughtful host, Maggie has prepared an appropriate snack for each animal and then reads them bedtime stories. This homage to classic bedtime stories is charming and comforting.
---

Even Monsters Need Haircuts
by Matthew McElligott
Ages 4–8
Just before midnight on the night of the full moon, our young hero sneaks out to his father's barbershop to give haircuts to his monster customers. The wide variety of monsters patiently wait their turns as the young barber deals with each monster's individual hair requirements. This delightful book is sure to become a bedtime favorite.
---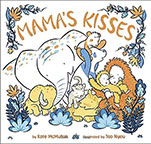 Mama's Kisses
by Kate McMullan, Tao Nyeu
Ages 3–5
It's getting late but the little panda, monkey, elephant, and leopard are in the middle of a game of pirates and have no intention of going to bed. When their mothers come searching for them, they disguise themselves as birds and flowers. But the mothers are determined and persuasive, promising kisses and cuddles in comforting rhymes.
---

The Way Home in the Night
by Akiko Miyakoshi
Ages 3–7
A mother rabbit carries her baby home through the dark quiet streets. The baby bunny explains that most of their neighbors are already home, and enjoys figuring out what they are doing by smelling (baking a pie) and listening (talking on the phone). At home the father rabbit tucks the bunny into bed, still wondering what the neighbors are doing.
---

A Book of Sleep
by Il Sung Na
Ages 1–5
When the sky grows dark, everyone goes to sleep except the watchful owl, who travels on a moonlit journey while observing the other animals settle into sleep. This beautifully illustrated bedtime book is destined to become a classic.
---

If Animals Kissed Good Night
by Ann Whitford Paul
Ages 3–6
Wonderfully silly presentation of animal parents and children kissing good night complete with nonsense sounds is sure to become a bedtime ritual.
---

Once Upon a Northern Night
by Jean E. Pendziwol, Isabelle Arsenault
Ages 4–7
This soothing bedtime book paints a picture in words and illustrations of a winter landscape. The beauty of falling snow, nocturnal animals exploring the night, the beauty of the northern lights work together to send the child peacefully off to sleep.
---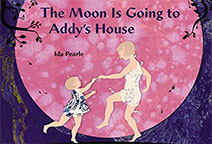 The Moon is Going to Addy's House
by Ida Pearle
Ages 3–5
After a playdate in the city, Addy and her family drive home to the country. The moon appears to follow them, and Addy decides that the moon is coming to her house. Beautiful collage illustrations accompany this soothing bedtime book.
---

Mr. Elephanter
by Lark Pien
Ages 5–8
Each morning the cheerful Mr. Elephanter goes to work at the Elephantery where is cares for three tiny elephanties. Mr. Elephanter's love for his small charges is evident in every gentle watercolor illustration, presenting a quietly humorous story of loving attention, perfect for soothing youngsters off to sleep.
---

Shhh! This Book is Sleeping
by Cedric Ramadier, Vincent Bourgeau
Ages Birth–3
A small pink mouse cautions the reader to hold the sleepy book very gently. The reader helps read a bedtime story, tuck the book into bed, give it a nighttime kiss, and turn off the light when finally the book is sleeping.
---

Goodnight, Good Dog
by Mary Lyn Ray, Rebecca Malone
Ages 4–7
This young dog has had such a wonderful day playing with his owner, running on the grass, and eating a delicious bowlful of food that he can't settle down for the night. He settles into his bed and finds that the same memories that were keeping him awake are just perfect for lulling himself to sleep and revisiting in his dreams. The story of this adorable pup is the perfect bedtime book.
---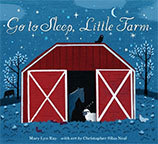 Go to Sleep, Little Farm
by Mary Lyn Ray, Christopher Silas Neal
Ages 4–8
As the animals on a small farm settle down for the night, a small girl inside the farmhouse mirrors their action. The beaver weaves a house in side the bog, a bear settles into a log, and the child snuggles under a mound of covers to enjoy a book. Soothing verse and illustrations convey the cozy sense of falling into slumber.
---
The Night Night Book
by Marianne Richmond
Ages 1–5
This quietly charming bedtime board book revisits the highlights of a busy day, wishing "night night" to each one. Comforting mixed media collages accompany the calming verses, a perfect pairing for winding down the day.
---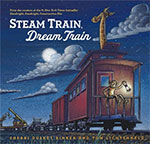 Steam Train, Dream Train
by Sherri Duskey Rinker, Tom Lichtenheld
Ages 1–6
This bedtime book begins energetically, as a variety of animals carry objects onto the train (monkeys with monkey bars, rabbits on pogo sticks, kangaroos tossing balls into a hopper) before settling down slowly to sleep. Beautiful moonlit illustrations add to the soothing tone.
---

My Dad Is Big And Strong, BUT…: A Bedtime Story
by Coralie Saudo, Kris DiGiacomo
Ages 3–8
A patient and long-suffering son tries to convince his wide awake father that it is time for bed. But Dad would rather swing from the chandelier and begs for just one more story. Children who hate to end the day will love this gently-humorous role reversal.
---
Dinosaur vs. Bedtime
by Bob Shea
Ages 2–6
The little red dinosaur is fearless and invincible in his bouts against everyday obstacles like a bowl or spaghetti or talking grown-ups until he meets his nemesis—bedtime.
---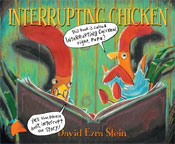 Interrupting Chicken
by David Ezra Stein
Ages 4–8
Though constantly reminded by her father not to interrupt the bedtime story, the irrepressible little chicken can't help interrupting the stories in order to save the characters from certain doom. After derailing three of her father's stories, the little chicken takes over the story telling herself, only to be interrupted in his own way by her very sleepy father. The funny illustrations vary in style to suit the story in this hilarious book.
---

The House in the Night
by Susan Marie Swanson,

Beth Krommes
Ages 3–6
Caldecott Medal 2009
Beth Krommes's magical illustrations amplify the minimal text to highlight the things in a house that really matter: books, art, music, and love. This bedtime book will be treasured by children and adults alike.
---

Beep! Beep! Go to Sleep!
by Todd Tarpley, John Rocco
Ages 3–6
A small boy is trying to get his three lively little robots to go to sleep. Every time he thinks they have settled down to sleep a new problem emerges: My sensor aches! I want more oil! Young children enjoying this bedtime book will empathize with the boy performing the traditional parent role.
---

The Rise and Fall of Mount Majestic
by Jennifer Trafton, Brett Helquist
Ages 9–12
One night 10-year-old Persimmony Smudge becomes lost in the woods and overhears a plot to steal the king's gold buried under the castle on the top of Mount Majestic. When Persimmony tells spoiled 12-year-old King Lucas about the intended theft, she learns that the gold is in the form of a belt buckle asleep under the small island they live on, the Island at the Center of Everything. In fact, the mountain is actually the belly of the sleeping giant. Persimmony and her friend Worvil the Worrier race to convince the island's inhabitants that the giant is real and may wake up at any moment. This humorous and fascinating tale would make a perfect bedtime read-aloud.
---

Bedtime for Chickies
by Janee Trasler
Ages Birth–4
The three little energetic chickies are not ready for sleep. They need a drink, and a story, and a visit to the bathroom, and just can't seem to settle down. Young readers will love going to bed with these adorable and very funny chicks.
---

The Loud Book!
by Deborah Underwood, Renata Liwska
Ages 4–8
The menagerie from The Quiet Book is back, this time with lots of LOUDS! Written in all caps and illustrated in brighter colors than its predecessor, this playful exploration of crashes, music, the sounds various objects make when they are dropped, and other sound effects will be equally popular bedtime reading.
---

Switching on the Moon: A Very First Book of Bedtime Poems
collected by Jane Yolen and Andrew Fusek Peters, G. Brian Karas
Ages Birth–5
This collection of 60 poems celebrates the universality of bedtime. Dreamy mixed-media illustrations by G. Brian Karas accompany the verses ranging from masters like Alfred, Lord Tennyson and Sylvia Plath to contemporary poets like Lee Bennett Hopkins and Children's Poet Laureate Mary Ann Hoberman.
---

The Big Book of Slumber
by Giovanna Zoboli, Simona Mulazzani
Ages 3–7
Even the fiercest animals sleep sweetly in this calming bedtime book. The lion rests his head on a white lace pillow, the fox wears flowered pajamas, the monkey tucks his banana next to him in bed. The peaceful scenes with contented sleepy animals will enchant young children as they drift off to sleep themselves.